Basecamp Mara, Kenya
Returning to Kenya's Masai Mara is always exciting and so it was early last December when we arrived at Basecamp Mara in the Talek area, in the center of the Mara. As location goes, this is pretty much as good as it gets. During the wildebeest migration season from July through about October, the Talek area is grand central with easy access to several known river crossing points.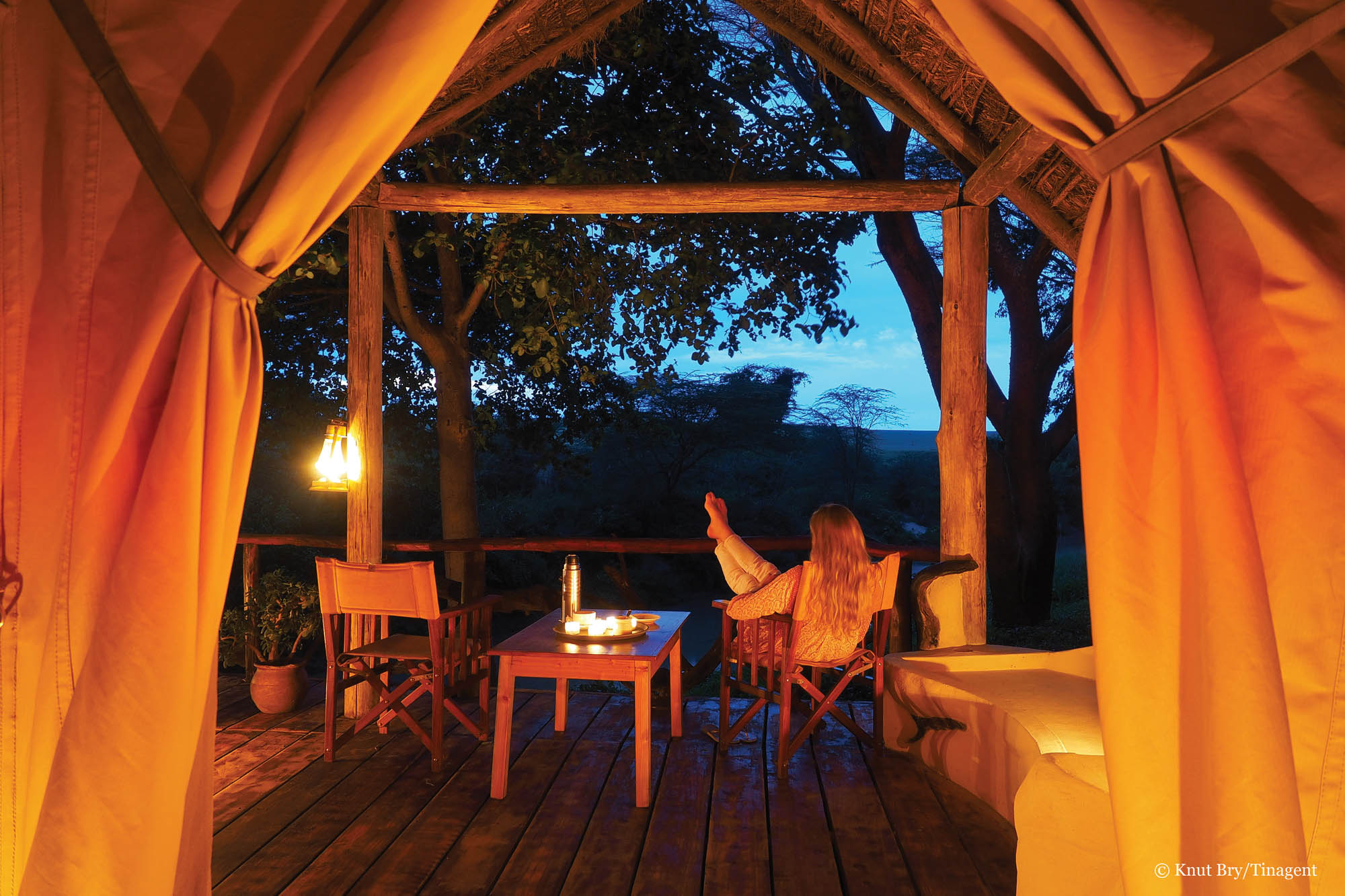 Our destination on the day – Basecamp Mara – is a tented camp which had gathered a measure of fame when former US president Barack Obama and his family spent time there when he was a US senator. If you ask for tent #9 you can rest your head in the same spot as the president of the United States once did.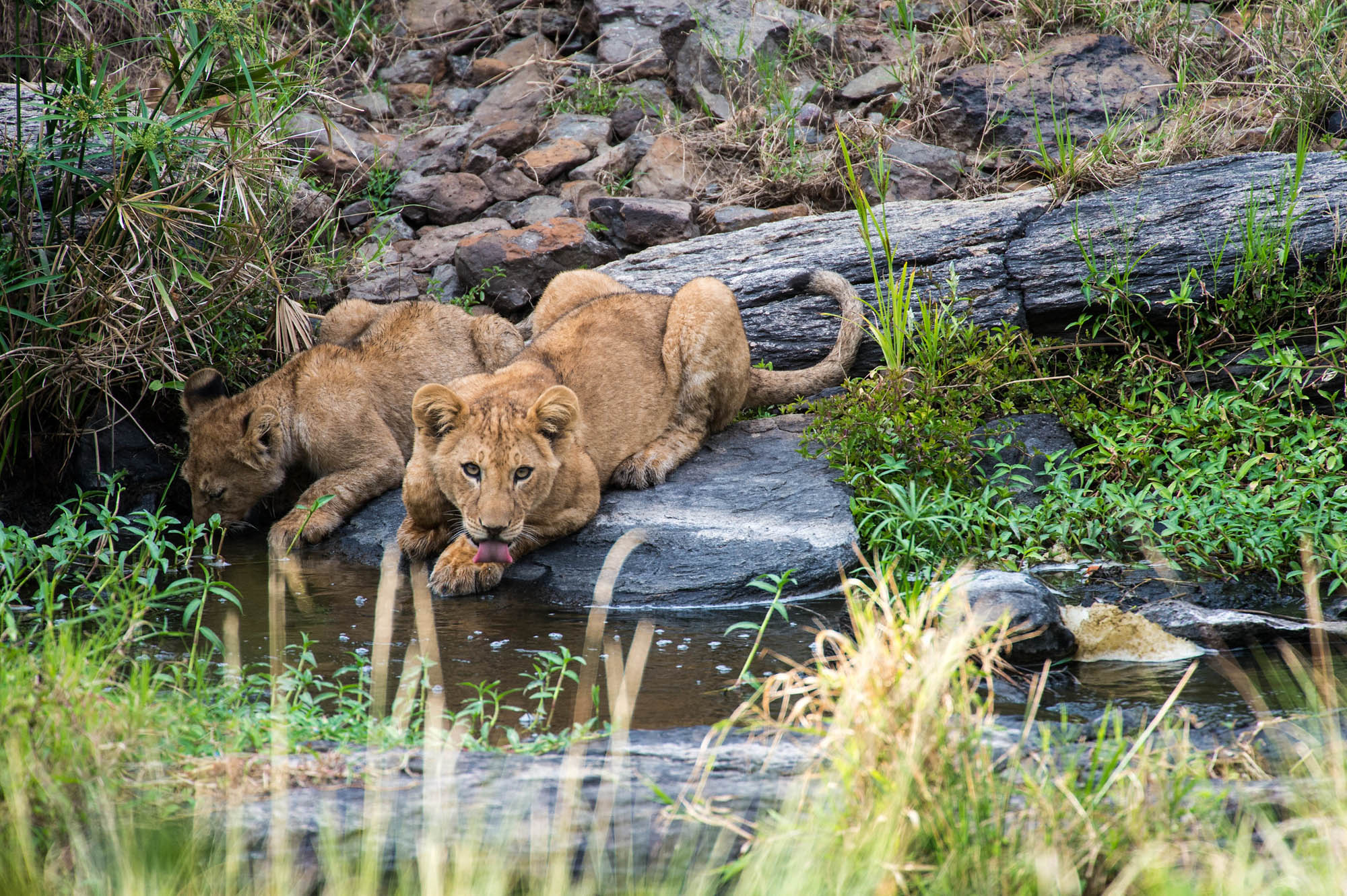 The Talek area is known for reliably excellent big cat sightings with lions, cheetahs and leopards being seen just about every day. Due to the high animal density, visitors can expect to see quite a few other vehicles as well. This is high octane safari with a competitive edge. Not for shrinking violets. What we would suggest is spending a few days here in addition to several days in one of the private Mara conservancies like Naboisho. In the conservancies there is a strict limit to the number of vehicles at any sighting, there is more freedom to drive off-road and at night and the pace is generally just a bit more relaxed.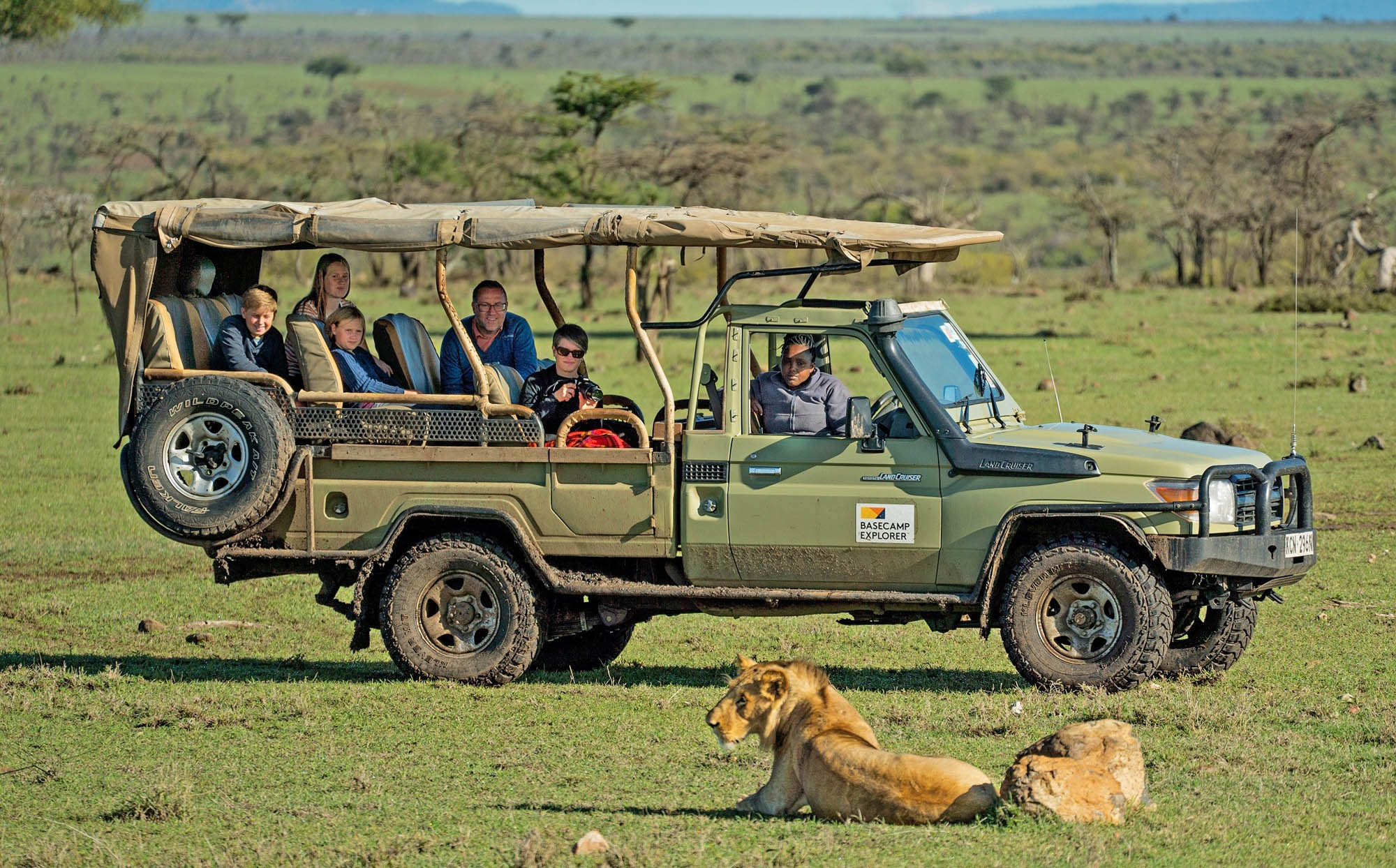 Inside the National Park conditions can and sometimes do deteriorate into a melee with too many vehicles at big cat sightings and unethical drivers getting in the way of animals or simply approaching them too closely. Such behavior is frowned upon by the professional guides. It is most prevalent in the busiest time of the year, during the annual migration season. So if you can travel during shoulder or off-season – such as in early November or May – you will likely be spared the worst of these transgressions.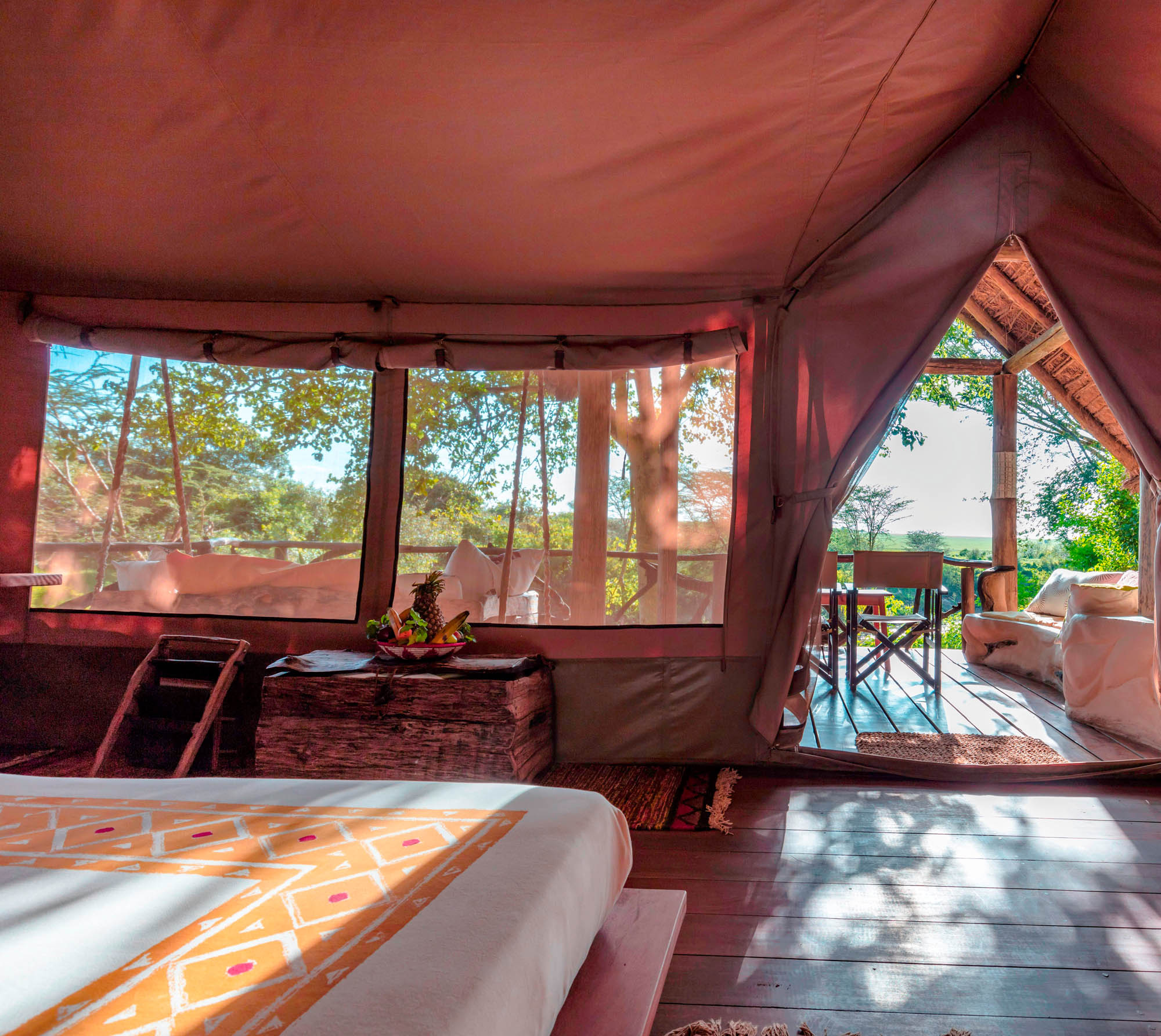 Basecamp Mara is a moderately priced tented camp situated on the banks of the Talek River. The large, heavily wooded site easily accommodates a total of 17 fairly basic but perfectly adequate tented rooms, an arts and crafts center, a dining room & bar and a separate reception area – with WiFi. Initially the reception area doesn't make a great first impression but once you start exploring the remainder of the grounds, the camp definitely grows on you.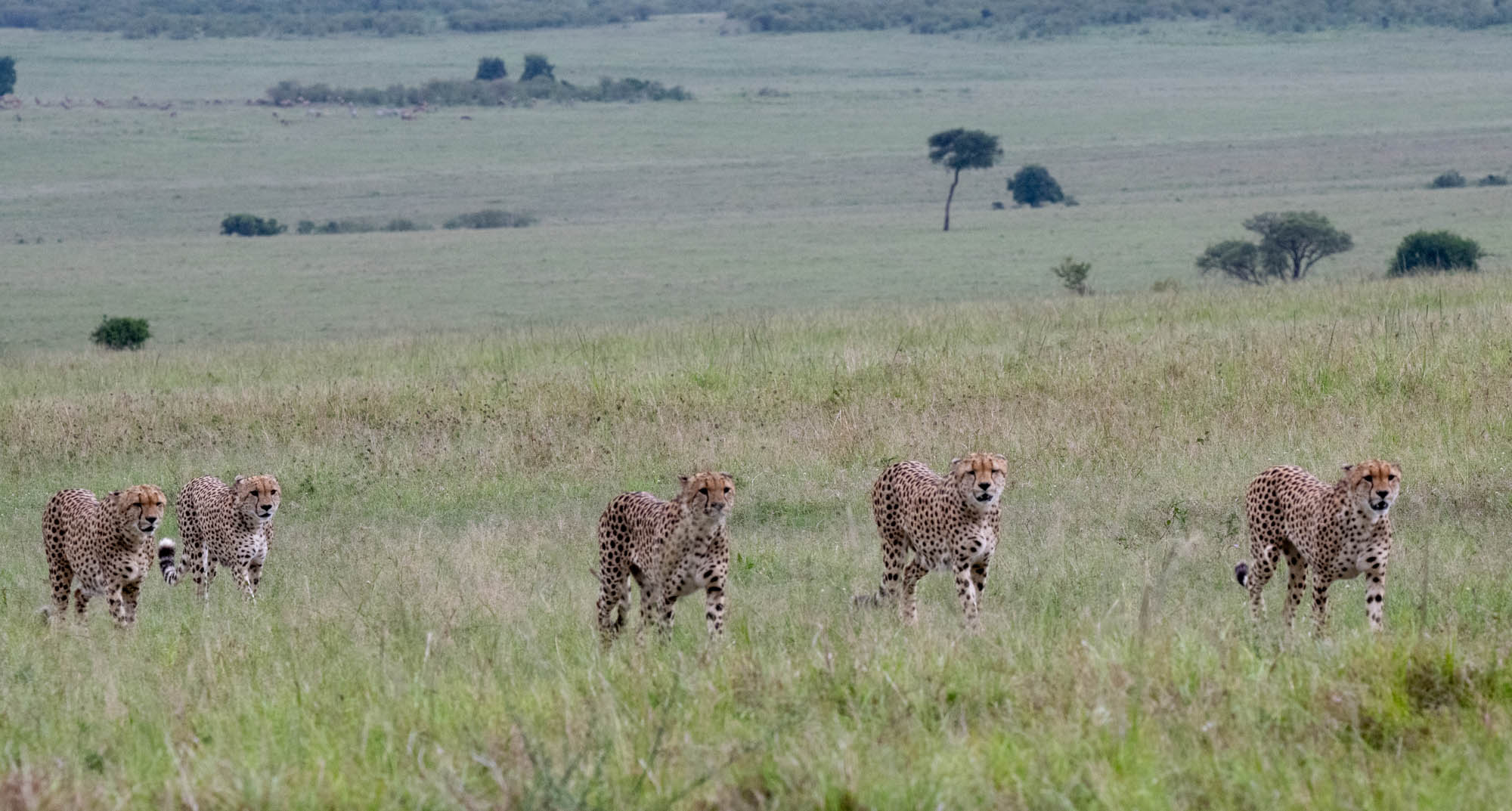 On our game drive into the Masai Mara that afternoon we found the famous coalition of five male cheetahs. They are notorious for taking down much larger prey species than a solitary cheetah would even dare to attempt. Such as fully grown topis (a medium sized antelope, similar to a tsessebe) and wildebeest. We watched the five boys for quite a while, hoping that they would take more than a passing interest in a nearby herd of topis. Unfortunately they did not appear to be in a hunting mode, so we let them be. Driving back down towards the Talek River paid off quickly, when our capable guide Derrick found a solitary male leopard, resting on a small mound.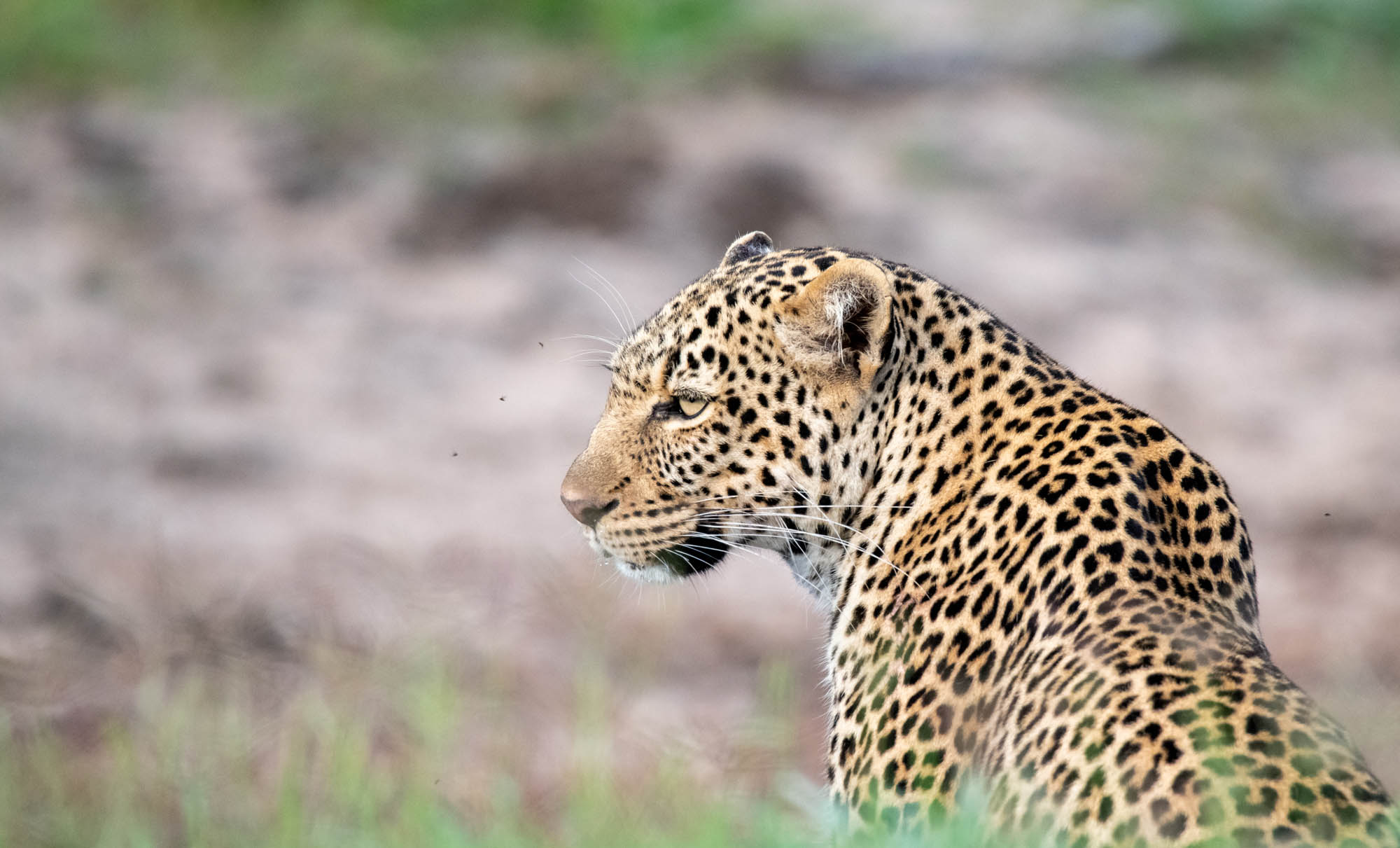 We spent a good amount of time observing this impressive animal – and I got some nice close ups showing his powerful neck and penetrating glare. Reluctantly, we had to return to camp. The light had started to fade and the clock ran out on us; all visitors have to be off the roads by sunset. It was a fantastic start to our Mara safari!
Dinner back in camp was excellent: a tasty tomato soup to start and a choice of steak or stuffed turkey. We had lots of fodder for conversation already after barely half a day in the Mara.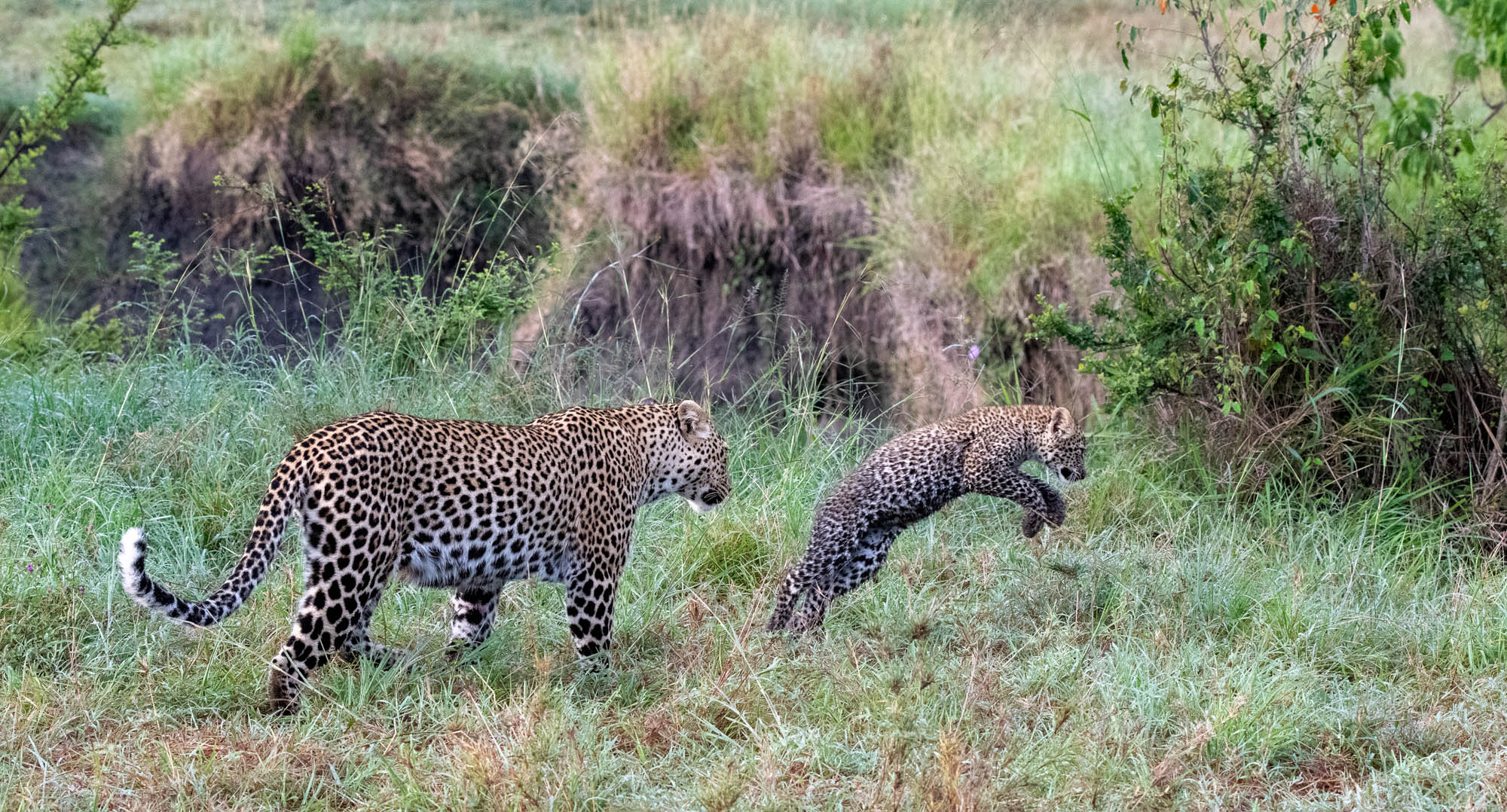 We were up early the next morning for yet another game drive in the Mara. Guests at Basecamp Mara walk over a footbridge to cross the Talek River where they then board their game drive vehicles. This way the Basecamp Mara vehicles can be in the heart of the best game viewing area very early. On this day we experienced one of our best leopard viewing episodes ever. It revolved around interaction between a female leopard and her young cub and a large powerful male, assumed to be the father of the baby leopard.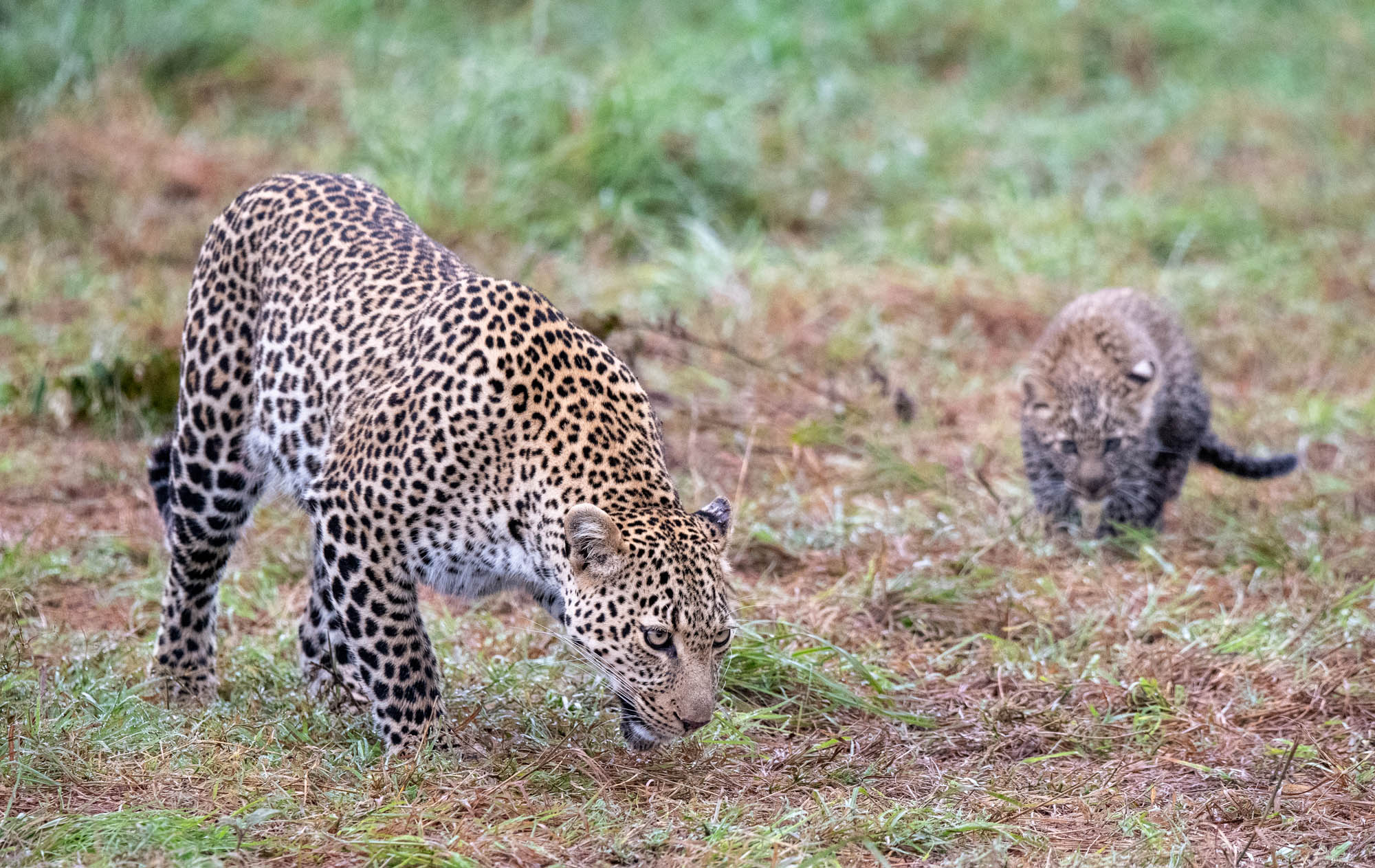 The female leopard seemed to be quite agitated, pacing around and making what appeared to be distress sounds. All of this and the behavior of the male leopard made us fear for the safety of the baby. Fortunately nothing like that happened.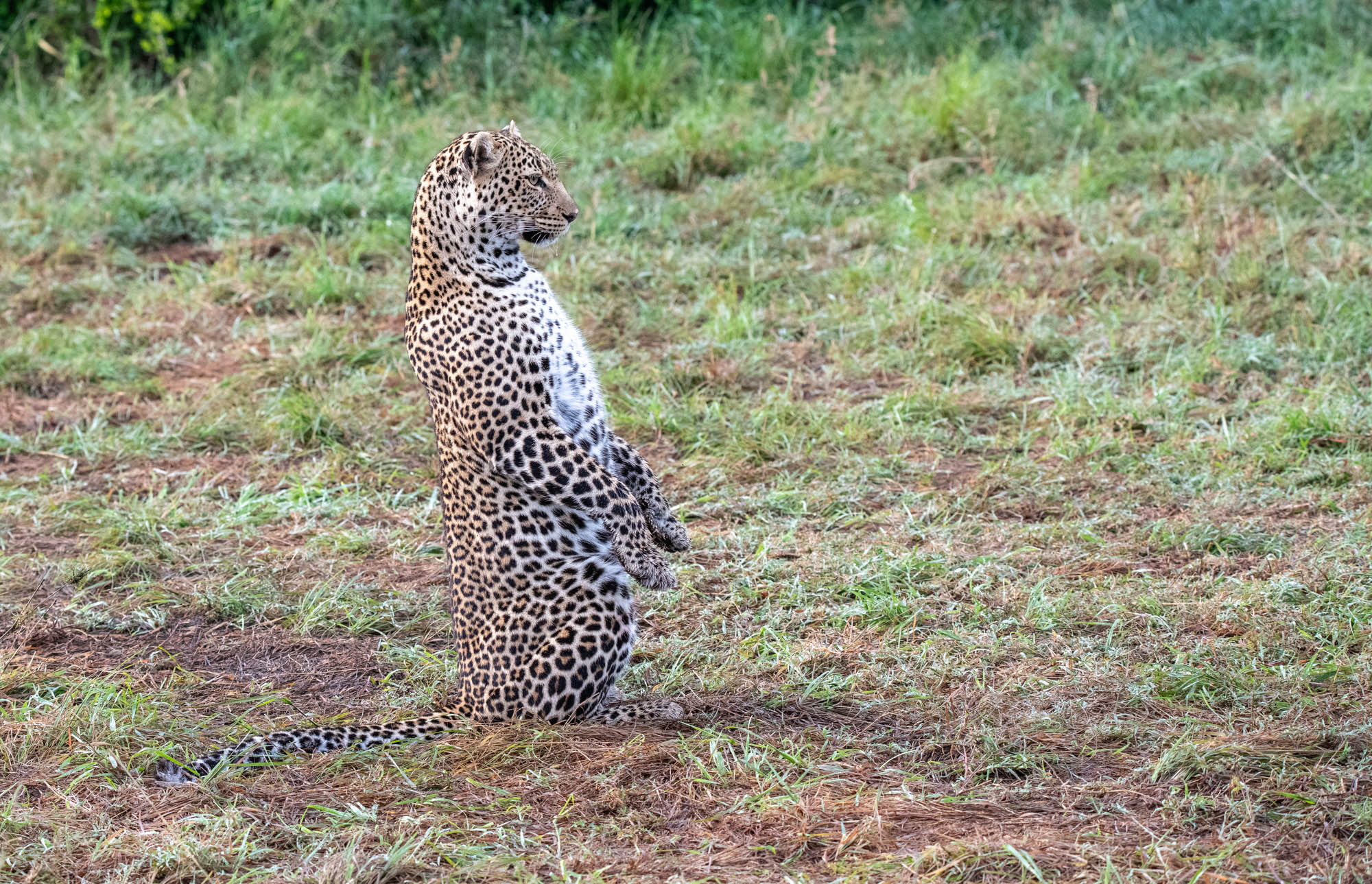 At one stage the female leopard stood on her hind legs with her front paws drawn up and to its chest, in the manner of a mongoose. A remarkable pose for a leopard which none of us in the vehicle had ever seen. This included a professional guide of many years' experience and five safari professionals with more than 100 years combined experience of the bush. One for the record books.
My guess was that the male leopard had designs on mating with the female but clearly she was not in a good situation for that, still caring for a young baby.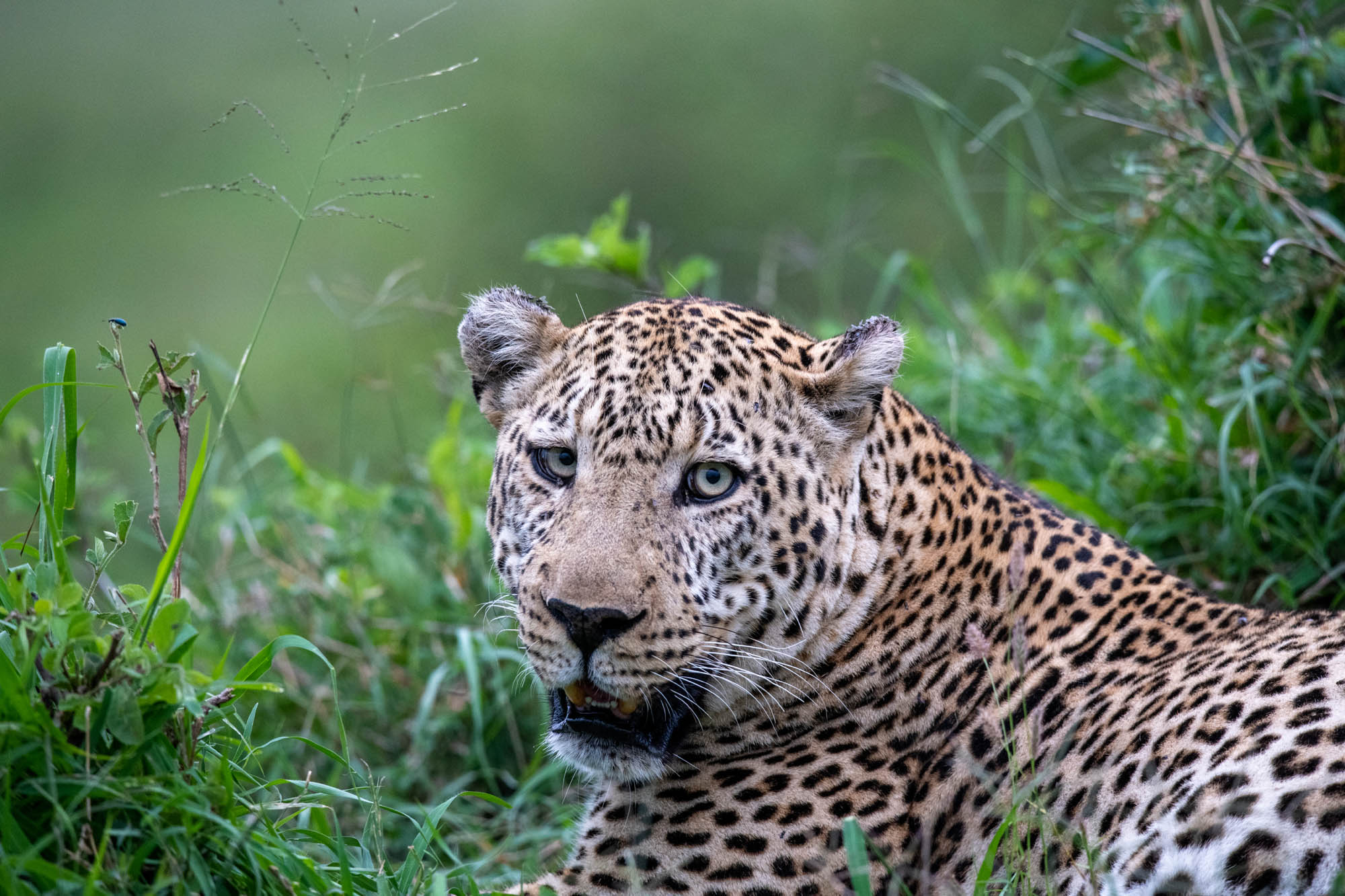 By the time we decamped the scene the three leopards were still in the same general area and we still did not know what turn the events would take. I later learned that the female leopard had successfully relocated a few kilometers away but not without incident as she was almost killed by a female lion in the process.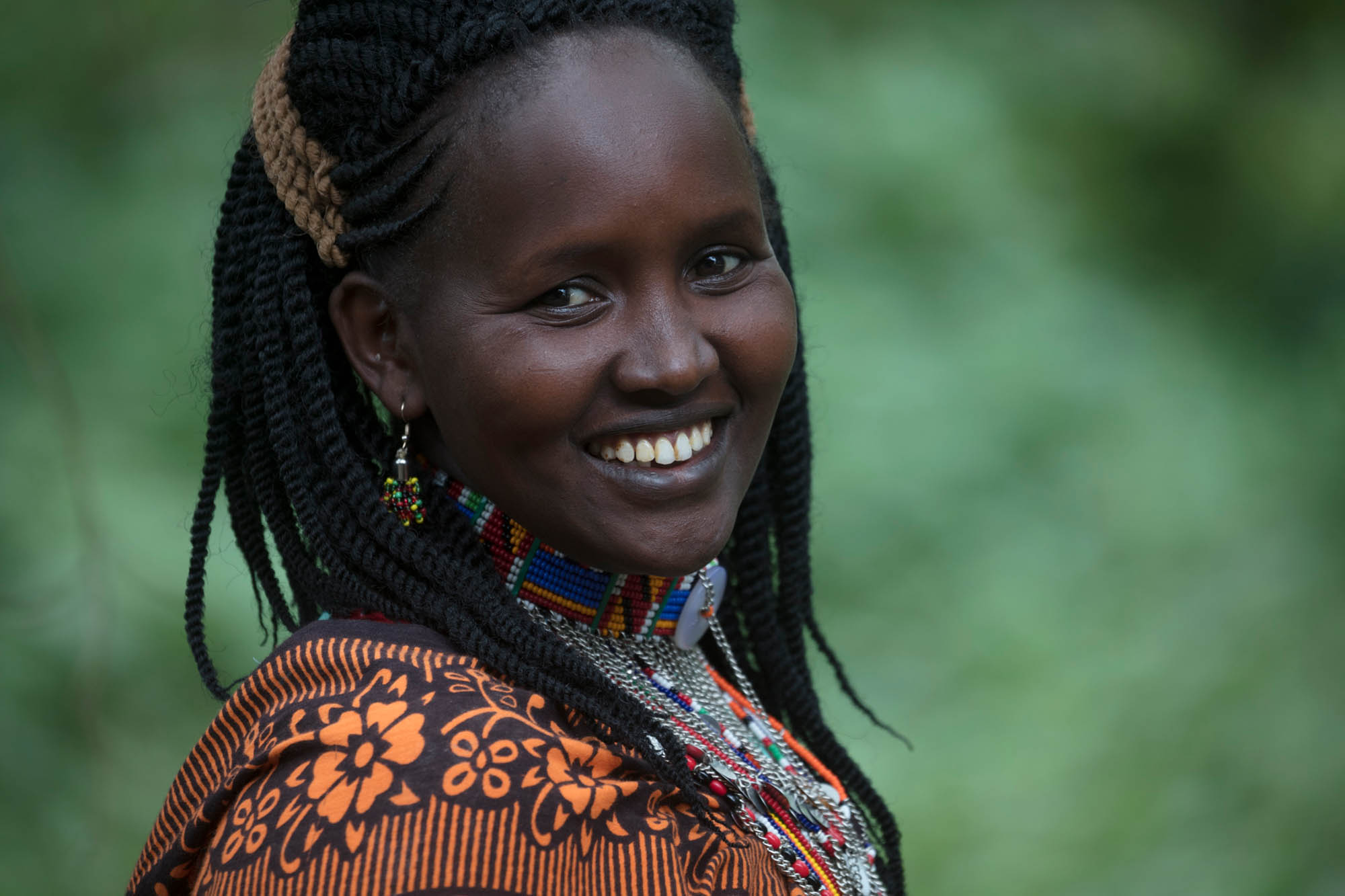 Back at Basecamp we watched a beading demonstration and learnt more about the BCMM arts and crafts project which grew from a small cooperative to now supplying some Nairobi stores. Jemima talked about some of the direct visible benefits of the program among its female members who earn as much as 75% of the income from the sale of merchandise, minus the cost of raw materials.
We also strolled through the Obama forest where the Obama family had planted four trees 15 years ago.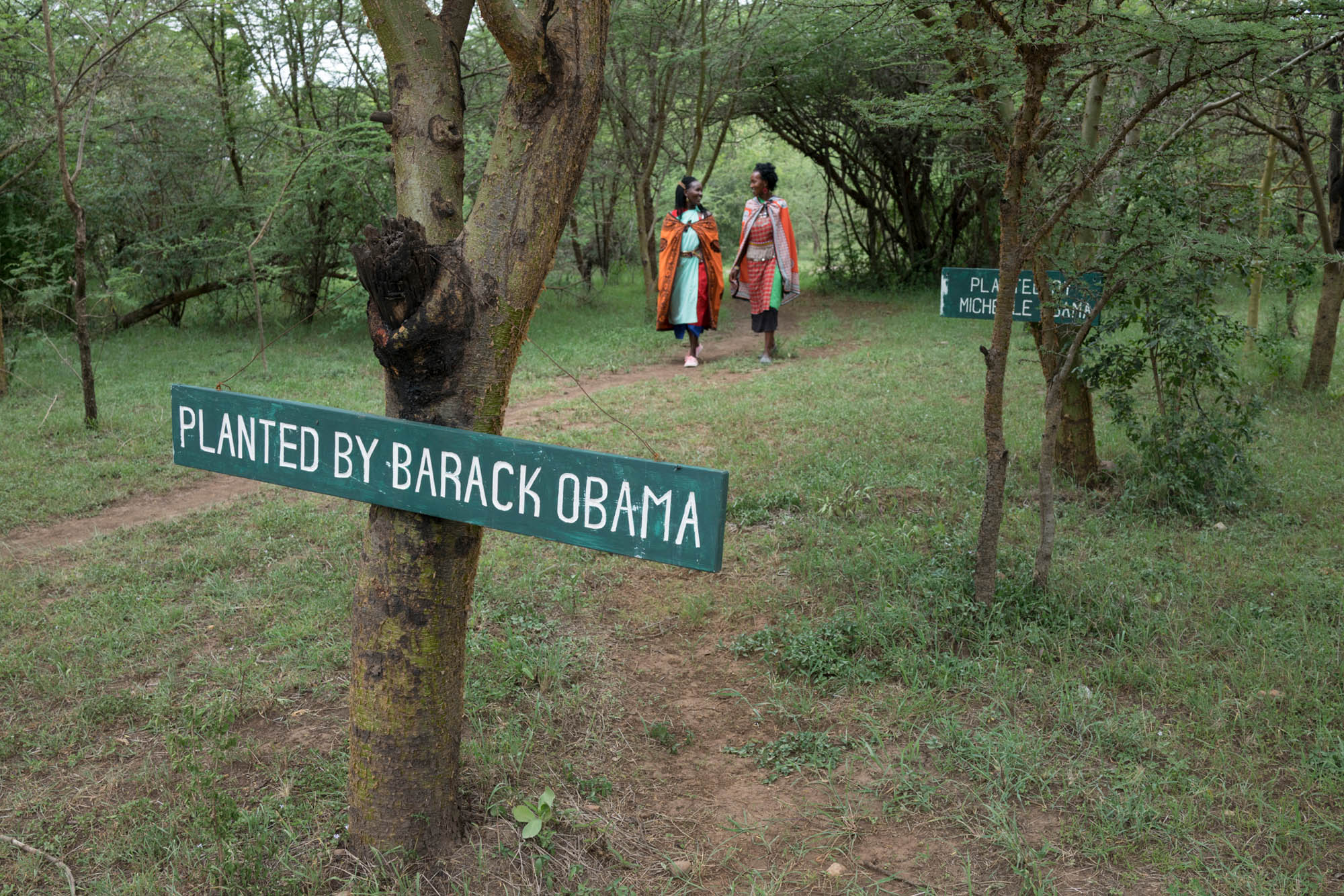 We visited the BCMM nursery which churns out hundreds of saplings used in Basecamp Mara's massive and ongoing tree-planting effort. All in all the company has been instrumental in planting more than 100,000 trees in the area around the camp, with visible effects. We were delighted to take part in this project helping to revive the Talek river ecosystem by planting a fig and olive tree. It is truly a reforestation in every sense of the word.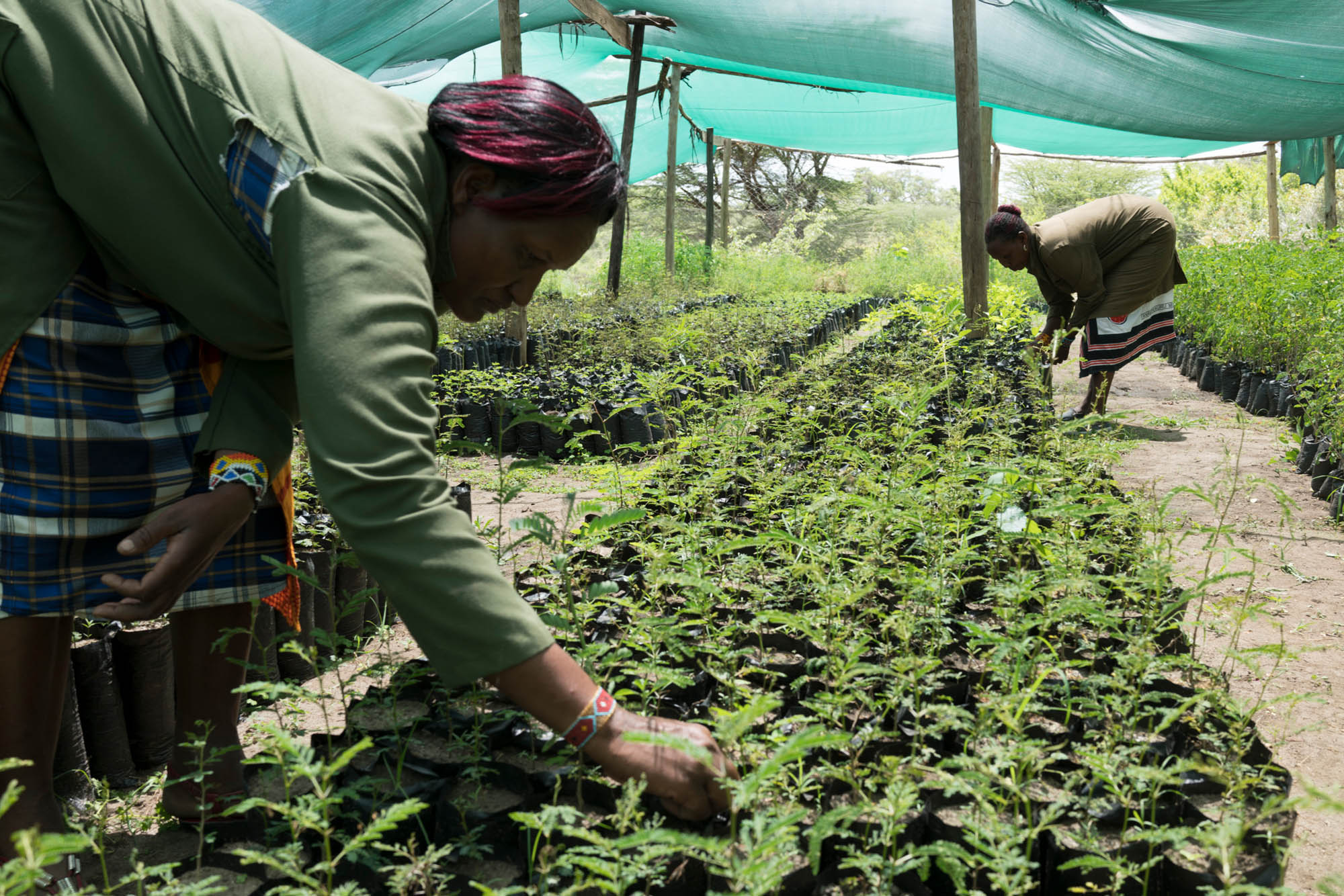 In our blog next Friday: we spend more time in the Masai Mara in search of and finding lions and cheetahs and a lot more, at two tented camps in the Naboisho Conservancy: Eagle View and Leopard Rock.
YOU MIGHT ALSO BE INTERESTED IN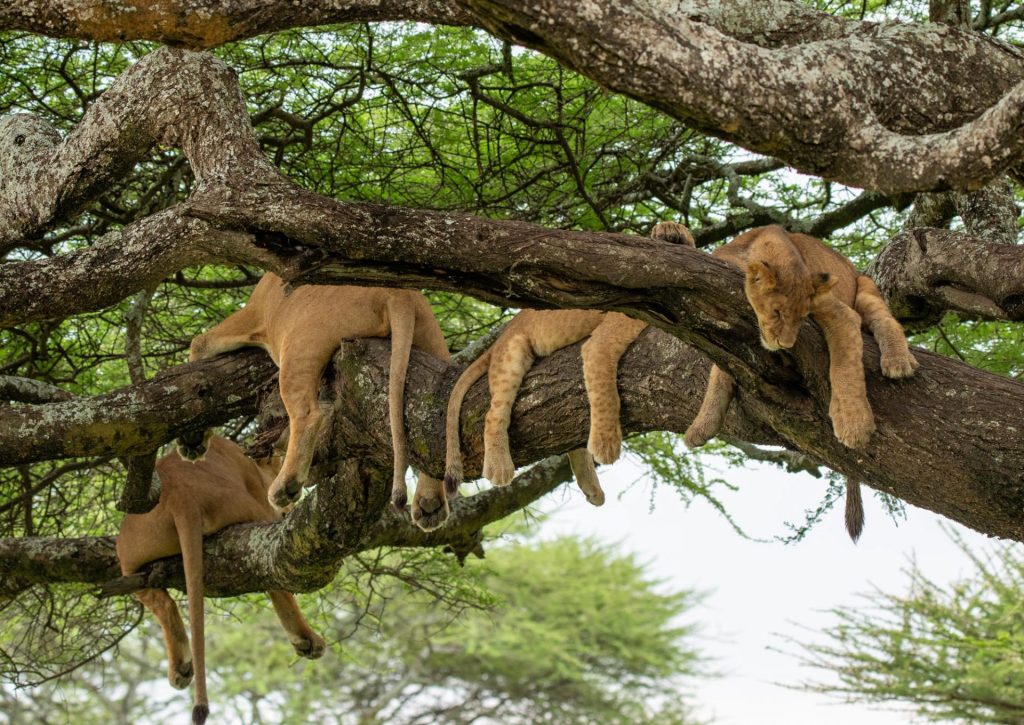 19th Nov 2021
Where to go on safari in 2022-23
As the Covid pandemic retreats worldwide, thoughts turn to resuming life the way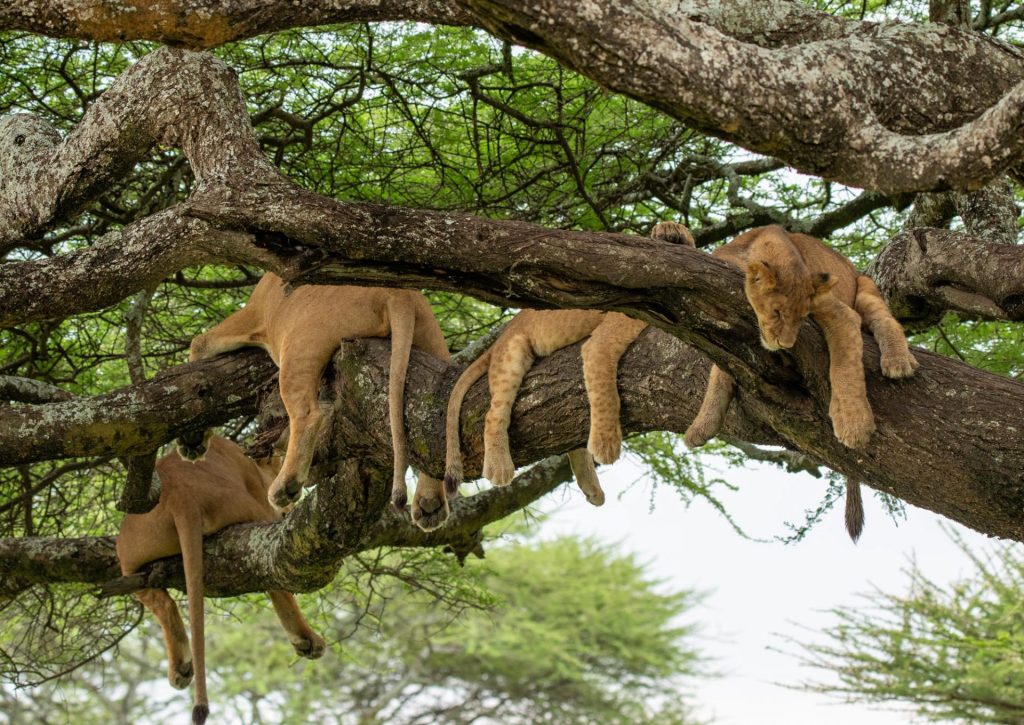 19th Nov 2021
Where to go on safari in 2022-23
As the Covid pandemic retreats worldwide, thoughts turn to resuming life the way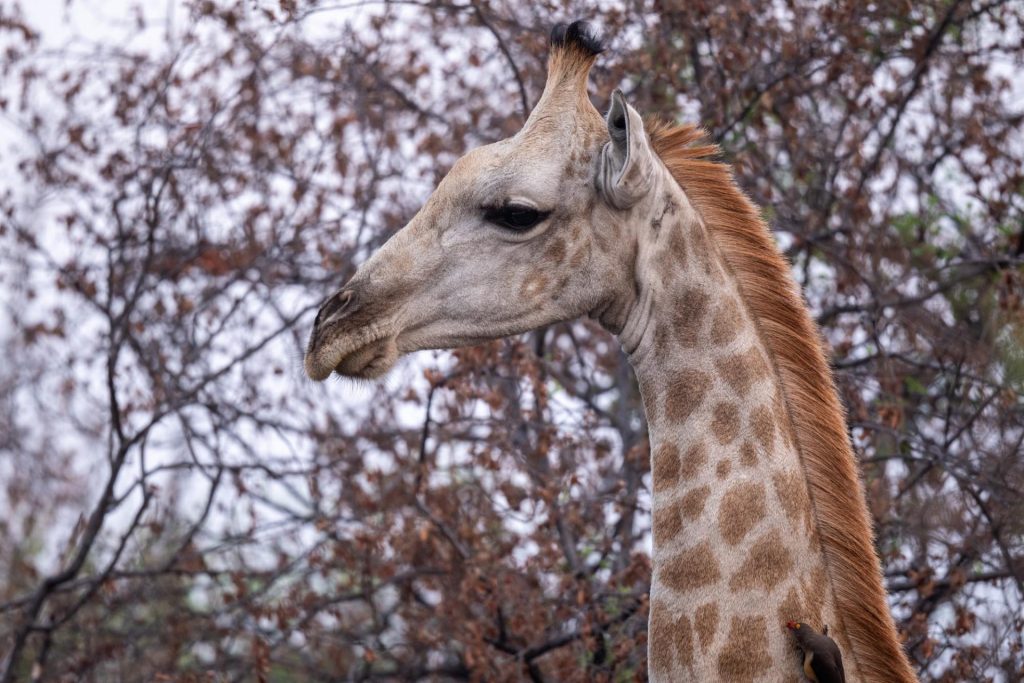 26th Mar 2023
Photography on safari
Fish Eagle Safaris was an early adopter of digital photography. Company founder Bert somewhat fondly recalls using a first generation Sony Mavica
SUBSCRIBE TO OUR NEWSLETTER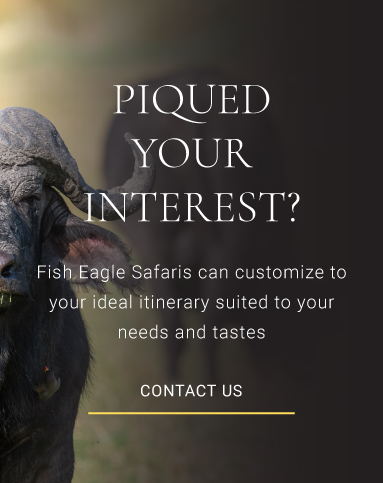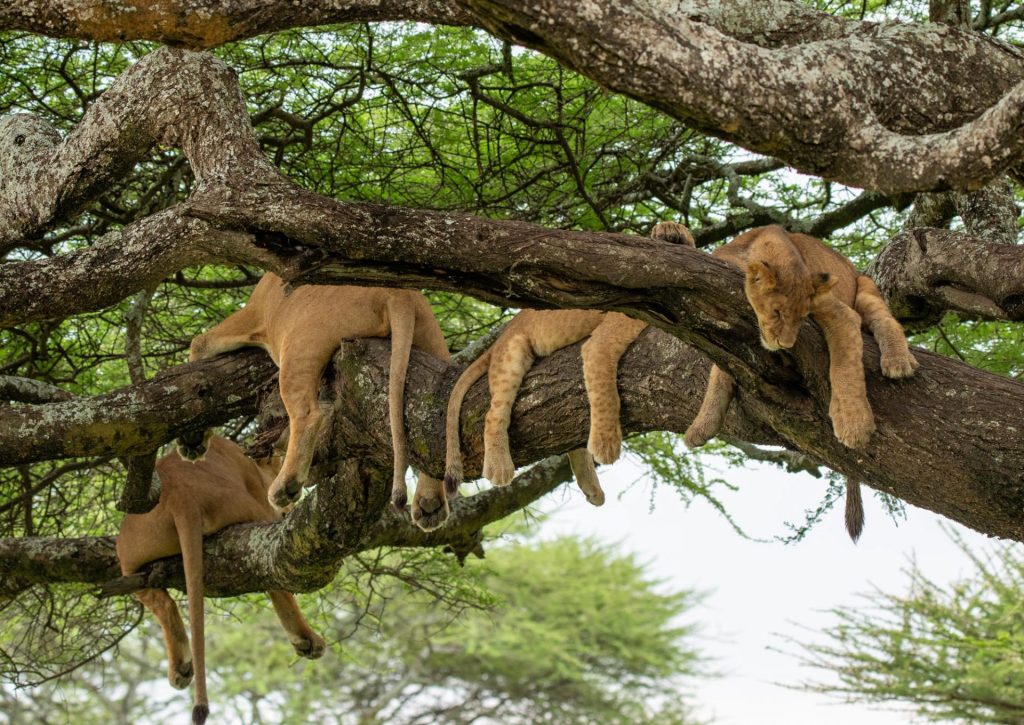 19th Nov 2021
Where to go on safari in 2022-23
As the Covid pandemic retreats worldwide, thoughts turn to resuming life the way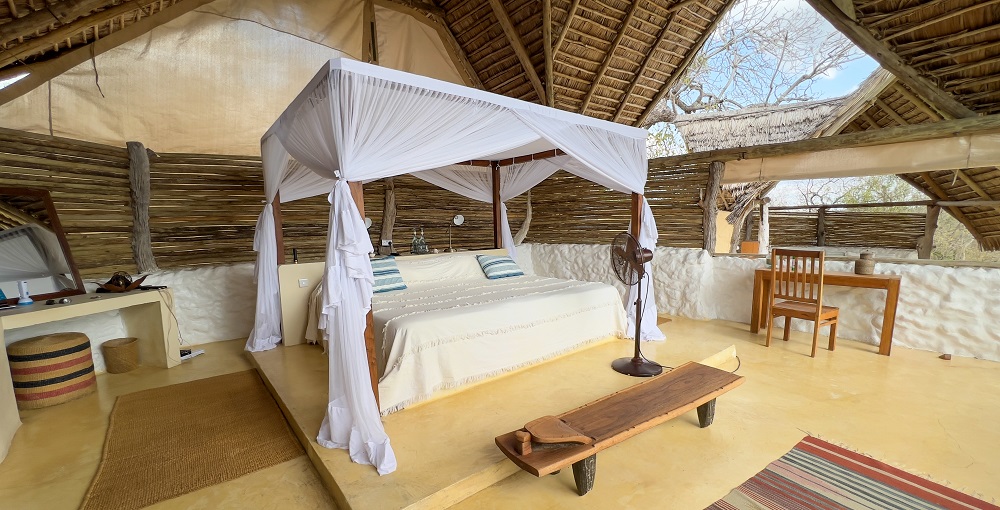 14th Sep 2023
48 Hours on Safari at Lewa Wilderness
Almost everywhere in Africa baobab trees are somewhat of a rarity, an object of special attention. Sometimes referred to as 'upside down trees' because