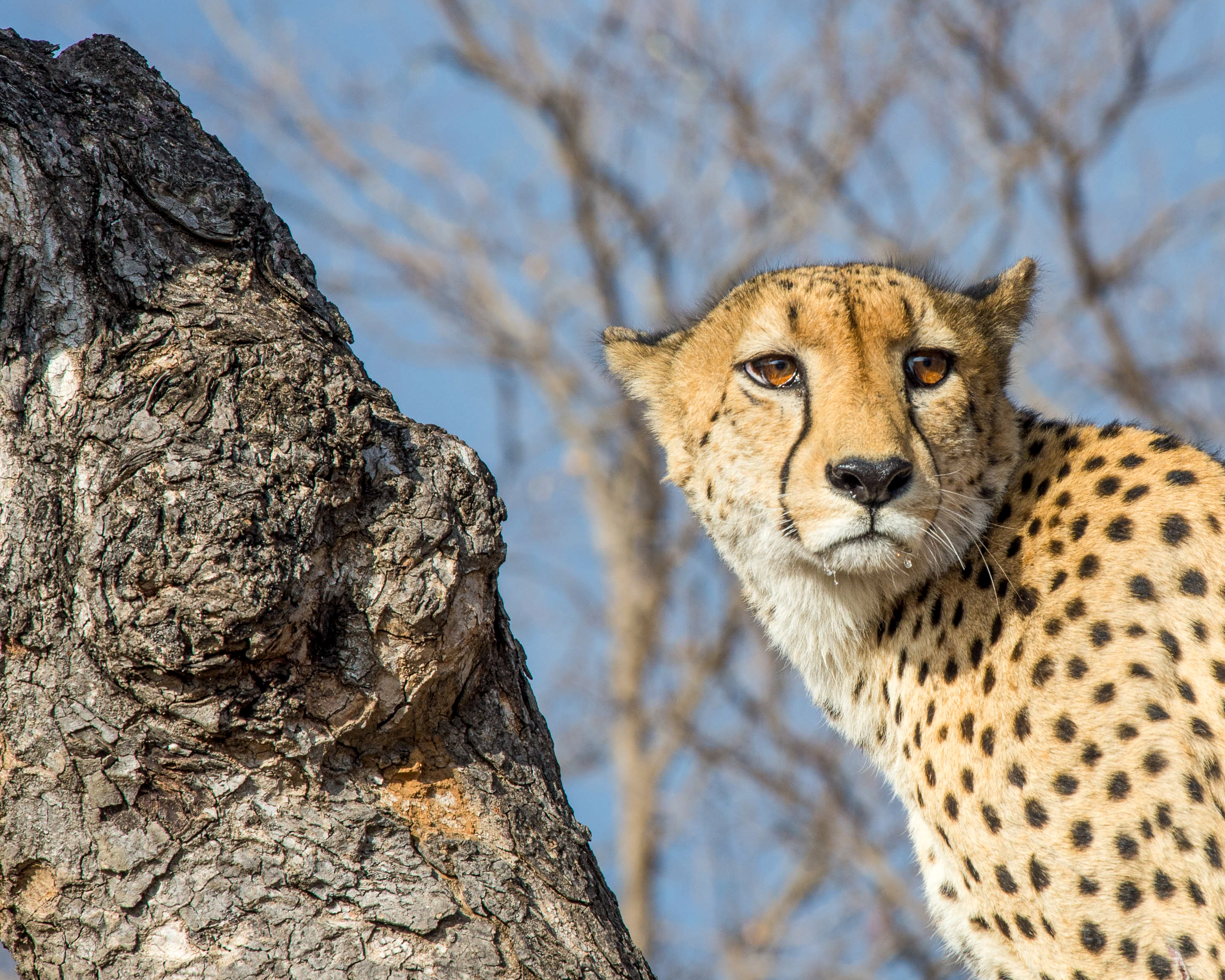 Cheetahs, cheetahs, cheetahs
For many visitors to Africa, seeing the big cats is #1 on their wish list.  Nobody wants to go home only to have to say 'no' to the inevitable question about having seen lions.  Even though the total number of lions in Africa have dropped alarmingly over the last few decades - largely due to habitat loss - they are still relatively easily seen in most wilderness areas.  Lions are also prolific breeders under the right conditions - with enough prey animals around - so they bounce back quickly and predictably after setbacks such as prolonged droughts.  Which means that on your next - or first - trip to Africa, you will almost definitely bump into lions if you spend a few days in practically any major game reserve or national park.  In Southern or East Africa.  So, did you see lions?  Yes.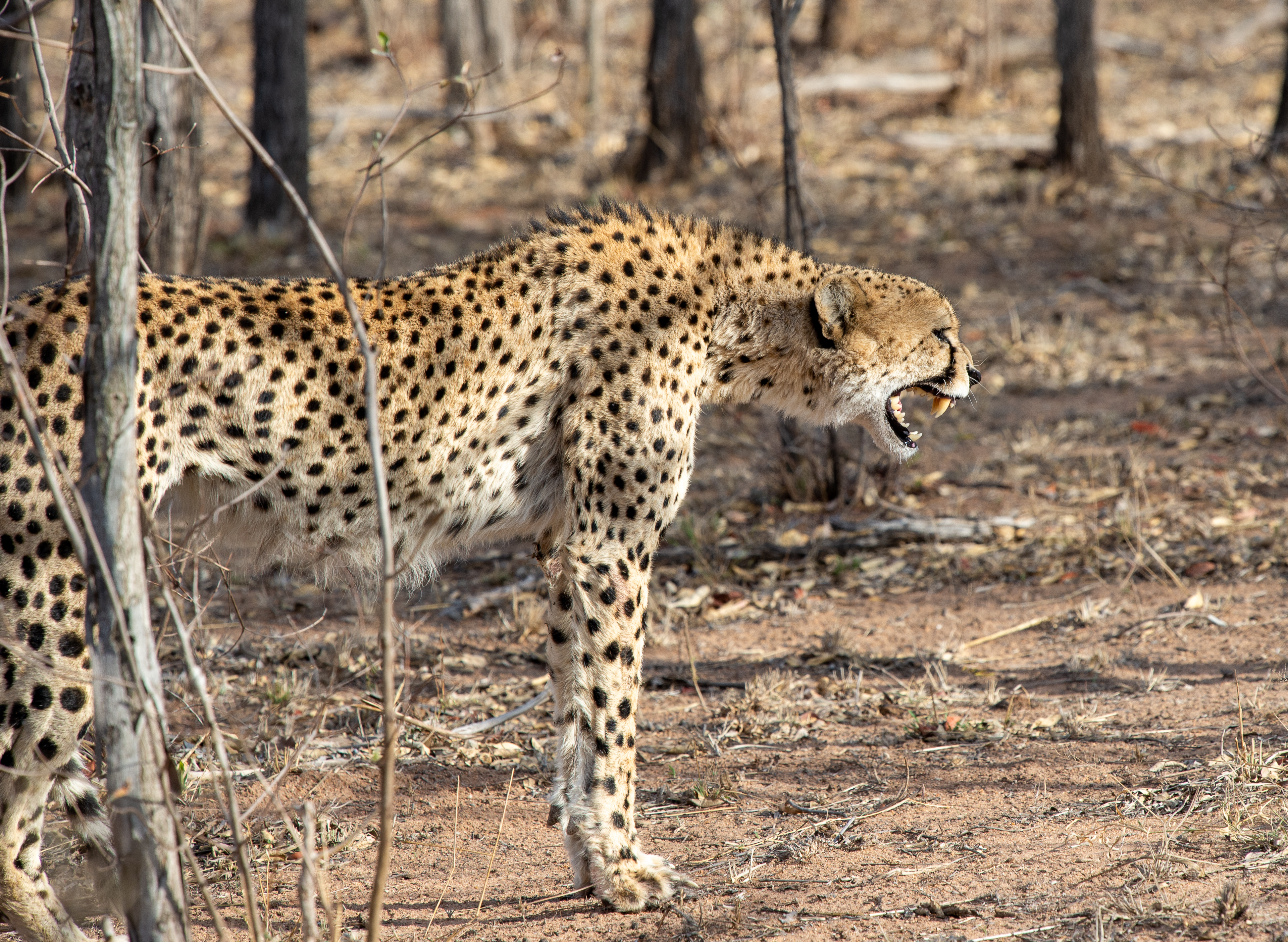 Other big cats are less frequently seen.  Leopards are supremely adaptable creatures and they are common in almost any non-urban African habitat except true deserts.  What makes them difficult to find and observe is their naturally elusive, shy and mostly nocturnal nature.  They are mostly solitary and stealthy creatures of the night. That is when they are out and about in search of prey such as unsuspecting smaller antelope, monkeys, baboons and the like.  Consequently, visitors see them mostly very early in the mornings or in the late afternoon, when they start to get active after resting up.  In areas where they are habituated to the presence of vehicles, such as the Sabi Sand reserve in South Africa, in parts of the Masai Mara and the Serengeti, in private concessions in Northern Botswana and at Mashatu in south-eastern Botswana, they are more readily seen as they don't conceal themselves at the first sign of vehicles, movement or humans.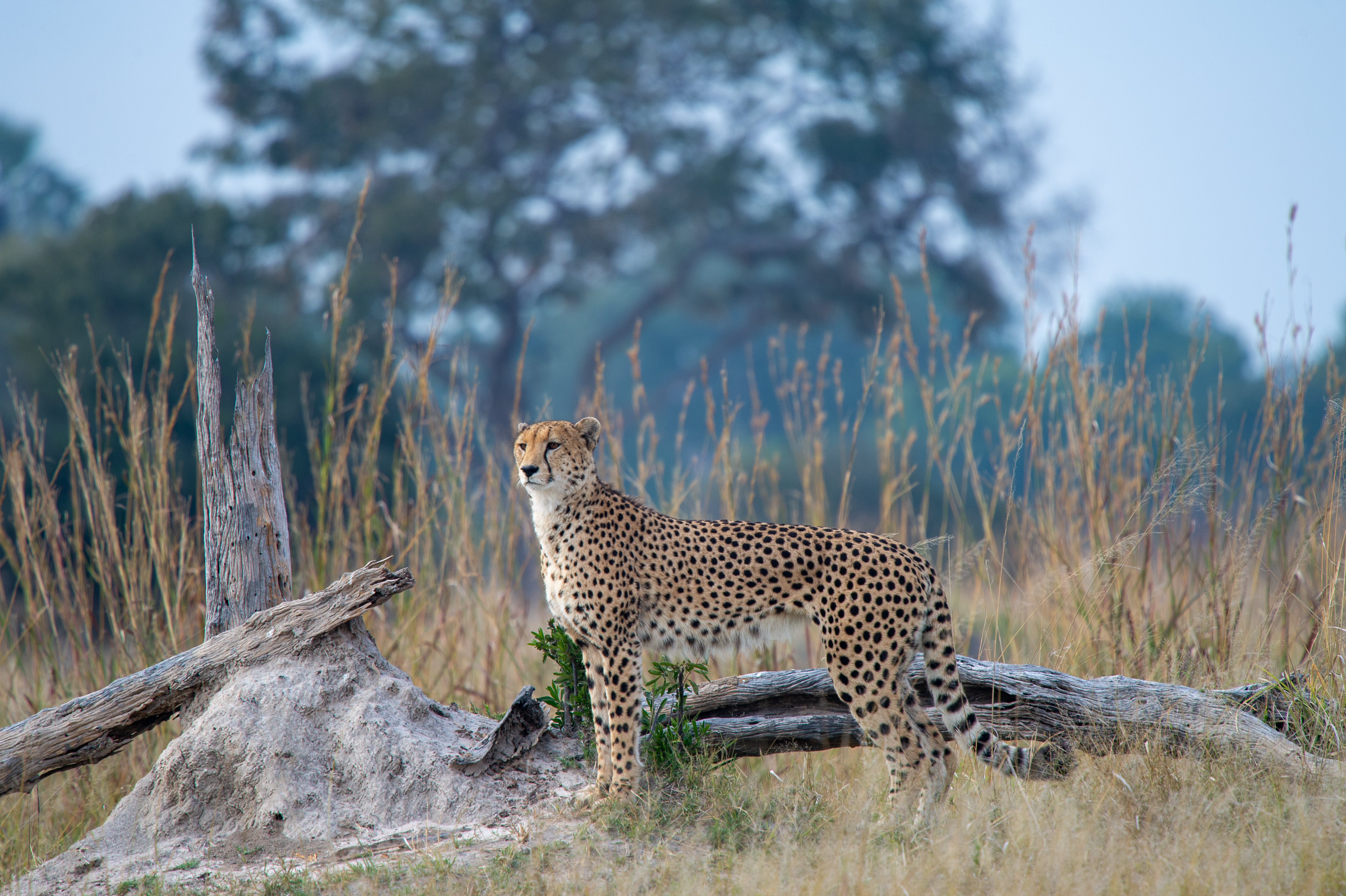 The other big African cat - the cheetah - is in a different league altogether.  It has a relatively tiny total population of about 7,000 in comparison with lions (approximately 25,000) and leopards (approximately 700,000).  Despite being as sparsely distributed as they are, cheetahs are quite visible where present, due to their diurnal nature and preferred habitat.  Cheetahs are adapted to hunt during the day which reduces competition from the nocturnal big cats, notably lions.  Cheetahs also prefer open terrain where they can use their amazing speed to its best advantage.  And they will often clamber onto anthills or stumps or other elevated spots to check out the area for potential prey - or danger.  Open terrain, broad daylight, a spotted cat perched on top of an anthill?  Bingo!  For me personally, a cheetah sighting is a highlight of any Africa trip.  They are just so rare, so beautiful and so special that even a brief glimpse of one of them will make your day.  
Here are some photos we took of cheetahs in six different areas in Southern and East Africa where they are regularly seen.  The captions summarize the back story about each photo and how it came to be.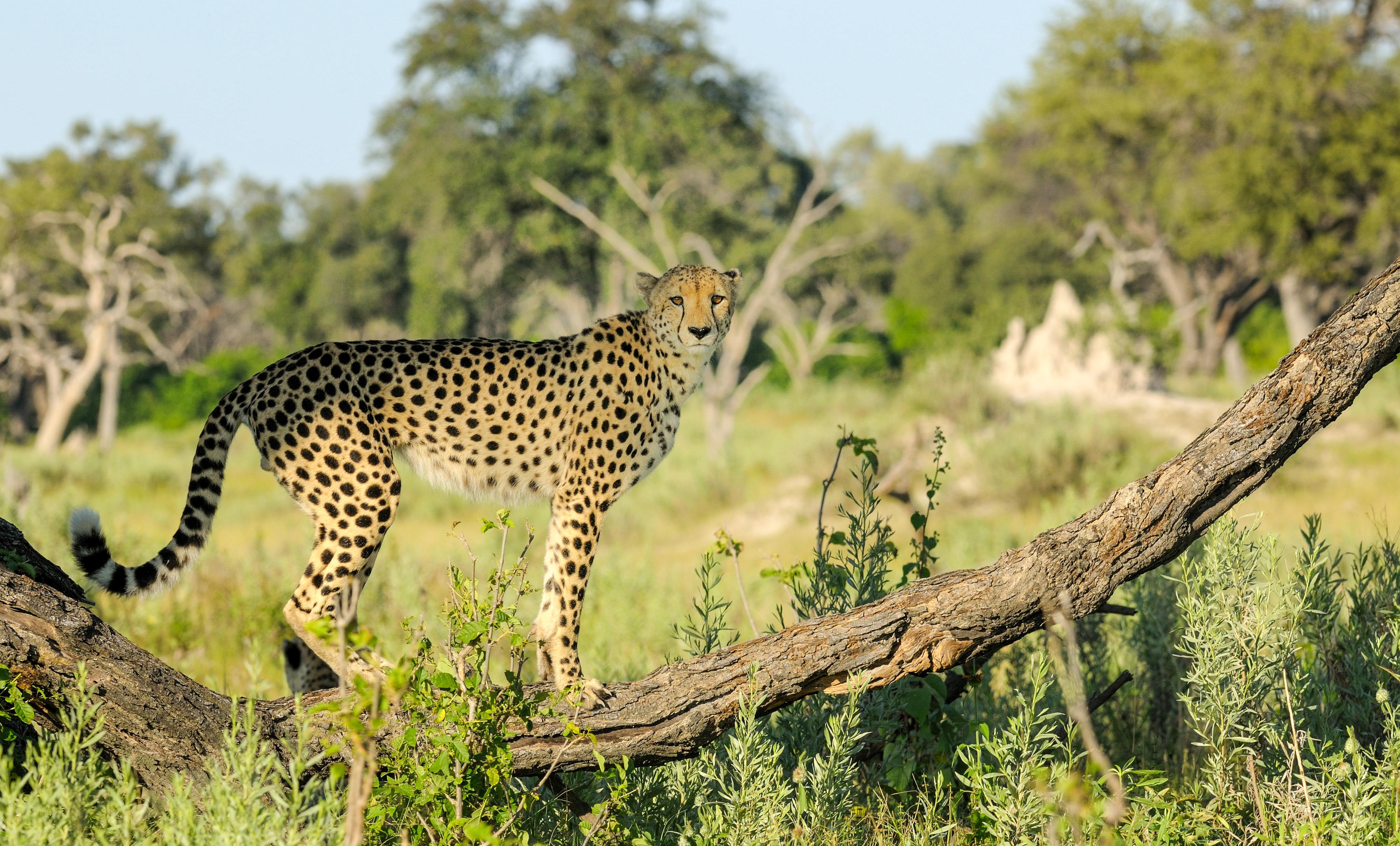 Selinda, Northern Botswana
This cheetah was part of a coalition of two brothers which used to move up and down along the Linyanti River in northern Botswana, spending weeks or sometimes months in an area.  For no apparent reason, they would then move along to a neighboring concession.  Less competition from lions or hyenas, more prey animals?  Who knows.  The reasons are hardly ever readily apparent.  The day on which we bumped into this particular cheetah and his brother, marked the first sighting of cheetahs on a game drive from Selinda, in several weeks.  So essentially, we got lucky. Being in the right habitat and spending enough time scanning open terrain along the Linyanti floodplain, just improved our luck somewhat.  We would get even luckier later that day, when we saw the cheetah coalition hunt and bring down an impala.  My advice to anyone wanting to see a cheetah kill?  Bring your best patience game as cheetahs take their time sizing up the area, the conditions and whatever their instinct dictates.  It took the brothers the better part of four hours to finally attempt a charge.  They were successful though.  Cheetahs are the most efficient of the big cats in terms of hunting success, bringing down about 40% to 50% of prey, as a percentage of total attempts.  By comparison leopards are successful about 30% to 40% of the time.  Lions bring up the rear in a significant way, being successful less than 20% of the time.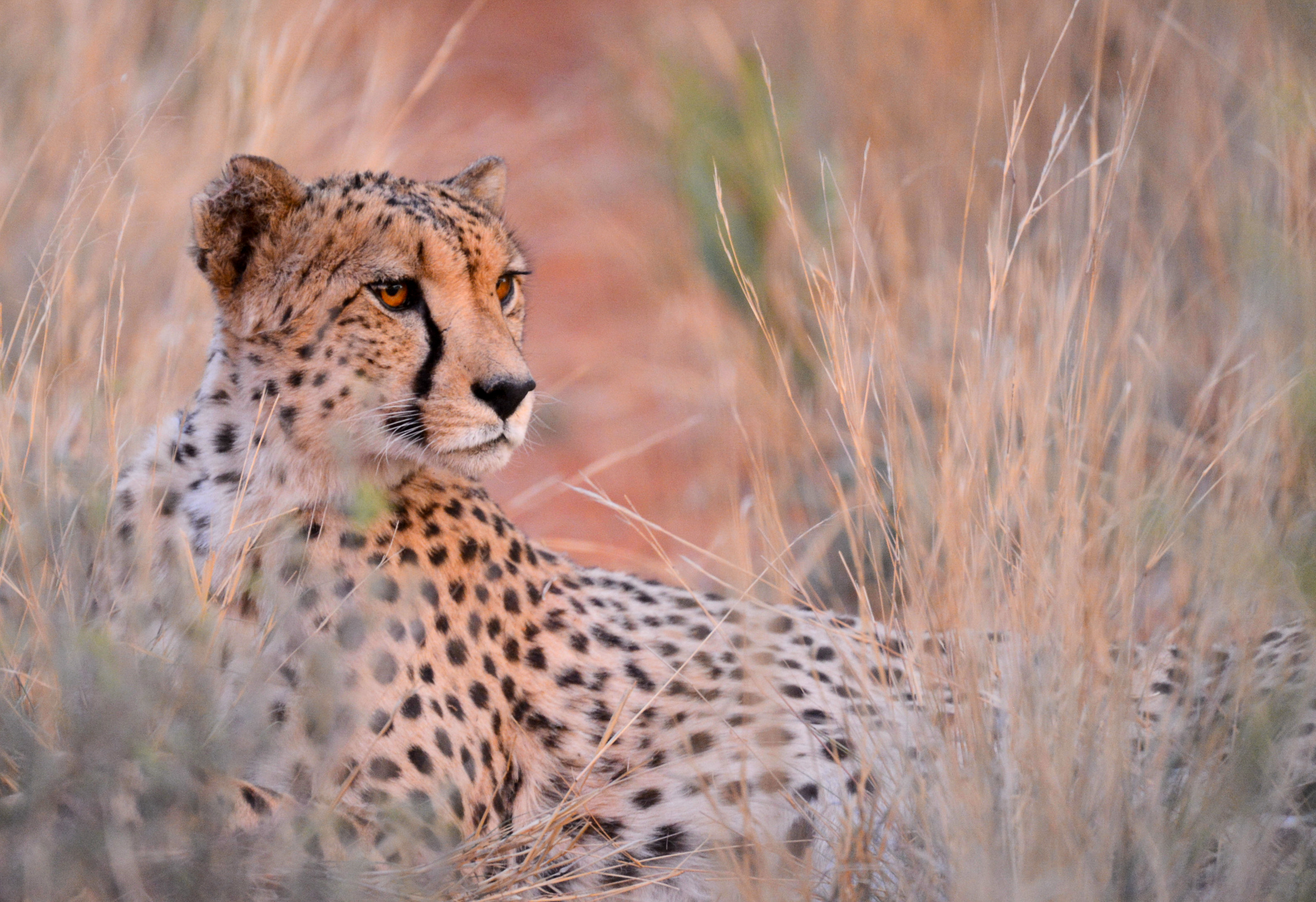 Tswalu, South Africa
Tswalu in the northern Cape Kalahari in South Africa is better known as one of the best places in Africa to see pangolins and aardvarks, but it is no slouch for some of the big cats, notably lions and cheetahs.  On our most recent visit to Tswalu (we will be returning this November) Kathy had set aside one afternoon to do some horseback riding.  We were at the stables and she was just about to set off into the veld with one of Tswalu's beautiful steeds, when word came on the radio that a couple of cheetahs had been spotted.  Kathy and I looked at each other and there was no disagreement:  the horses would have to wait for another day.  It was a longish drive to get to the cheetahs, with the light fading fast by the time we pulled up to them.  Even so, the decision was the right one.  Looking in our direction in the gathering gloom, the cheetah's ordinarily yellow eyes shone almost red.  The sighting would be brief but eminently memorable.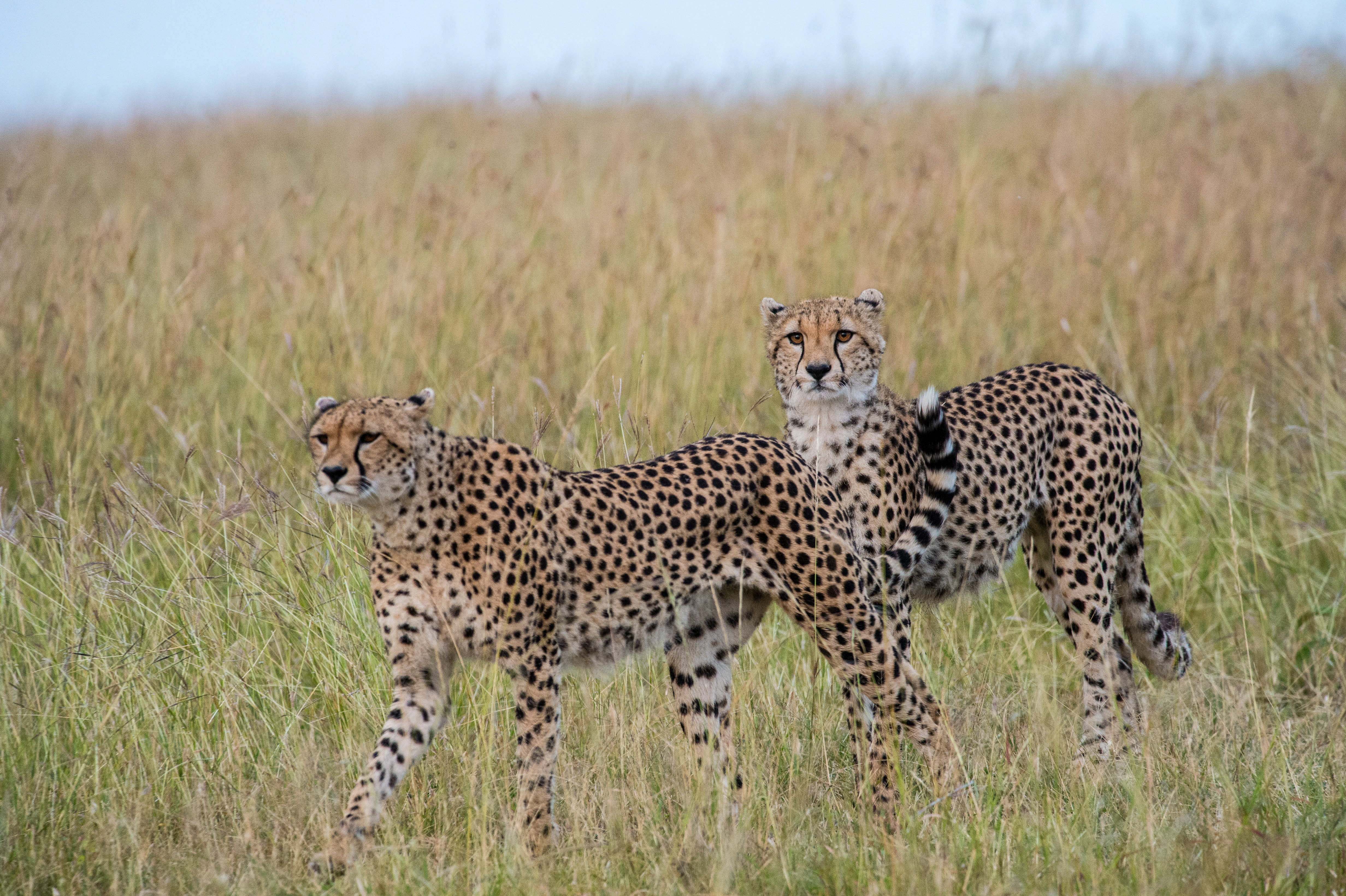 Masai Mara, Kenya
When I first saw these cheetahs on a game drive out of Mara Explorer Camp, one of the cheetahs had jumped on top of a game drive vehicle from Mara Intrepids.  I do not like to see behavior like that: it should have been prevented by the Mara Intrepids driver-guide.  The guides in the area are all aware of the propensity of some of the cheetahs to try to use the vehicle as an observation post.  And the guides know to avoid an incident, by staying clear of 'known perpetrators'.  It is potentially dangerous for the guests and for the cheetahs.  Getting bitten or getting run over, respectively.  Too risky all round.  We left the scene, deciding to rather return early the next morning.  It made all the difference.  We had the cheetahs to ourselves for the better part of an hour, observing them walking around and getting onto anthills - not vehicles.  The way it should be.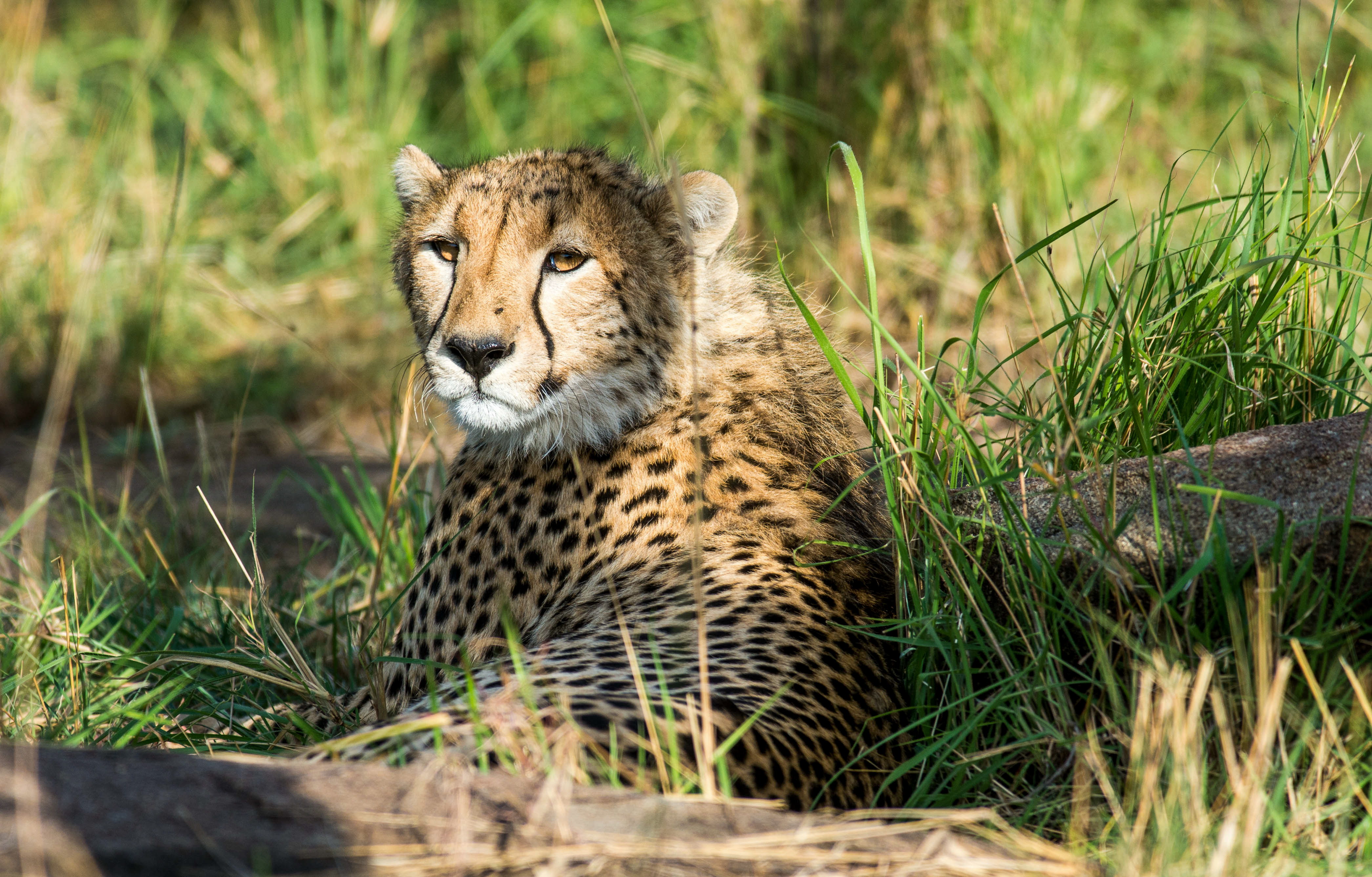 Serengeti Plains, Tanzania
Tanzania's Serengeti Plains and its northernmost extension, the Masai Mara in Kenya, are likely Africa's single best repository of cheetahs.  This is their habitat par excellence.  Open, rolling grassy plains with rocky outcrops, patches of woodland and riverine thickets, and plenty of prey in the form of Thomson's gazelles and impala.  Irrespective of the status of the annual wildebeest migration, the Serengeti and the Mara are great for the big cats, who have territories to defend and who do not move around with the wildebeest and the zebras.  In fact, on the day we saw this cheetah on a game drive out of Nomad Tanzania's Lamai Serengeti Camp, we experienced a rare big cat trifecta:  lions, leopards and a cheetah.  All in one game drive, not during the migration season.  Other parts of the Serengeti where we have experienced above-average cheetah sightings include the southern Serengeti (Kusini camp) and the western Seronera area (Namiri Plains camp).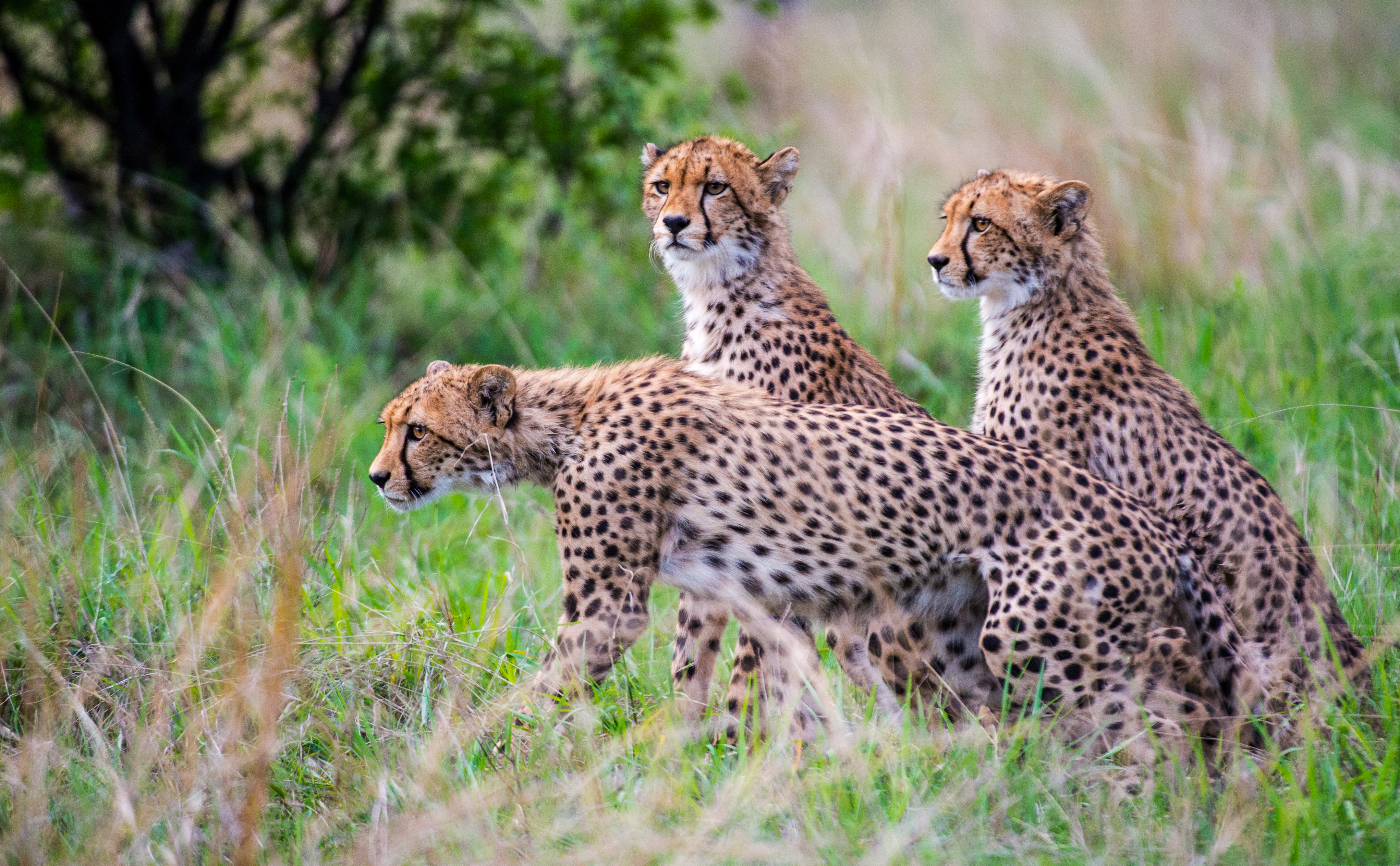 Hwange, Zimbabwe
Since we regularly started visiting Hwange National Park in north-western Zimbabwe in the 1990's, we've come to recognize it as a good and reliable area for cheetah sightings.  Just like elsewhere in Africa, the Hwange cheetahs move around and can't always be seen in the same spots.  So if you're keen on seeing cheetahs on a trip to Zimbabwe, we would suggest including two different camps, such as Somalisa or The Hide or Khulu Bush Camp, combined with Little Makalolo or Linkwasha or Camelthorn.  And give yourself plenty of time to find the cheetahs; five to six nights in the area would be ideal.  This trio of young cheetahs were following their mother around and getting a lesson in patience.  She wanted them to stay back and stay low while she approached some antelope.  It was not to be.  They kept showing themselves and following too closely behind her.  Which naturally spooked the antelope. All in a day of growing up.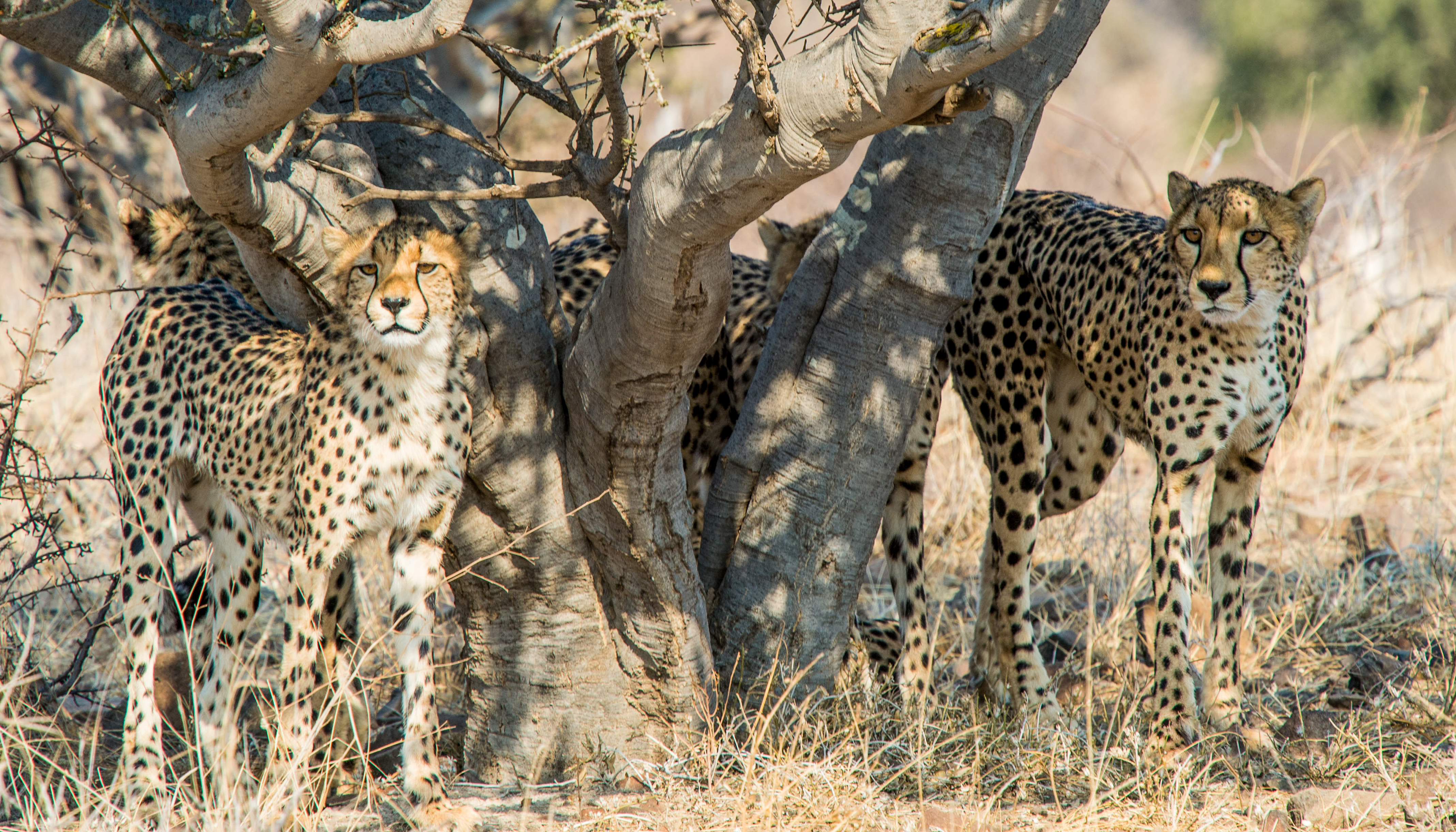 Mashatu, Botswana
Mashatu Game Reserve in far south-eastern Botswana is currently one of the best big cat destinations in Southern Africa.   Spend three or better yet four nights there and you will most likely get to see lions, leopards and cheetahs.  And not furtive 'drive-by' sightings either.  On a recent September visit to the area, we had multiple good sightings of both lions and leopards, and notched up two different cheetah sightings in the course of a 3-night stay at Mashatu Tented Camp.  What makes Mashatu a particularly good bet for cheetahs - and other big cats - is the fact that off-road driving is allowed which means that you can get quite close to these magnificent cats.  For photographers this is a major advantage over many other areas where vehicles are not permitted off-road.  Also, compared with most other good big-cat destinations, the Mashatu properties namely Mashatu Lodge, Mashatu Tented Camp and Euphorbia are moderately priced - at about half the cost of camps of similar quality in northern Botswana.  We recommend combining a 3-night WalkMashatu foot safari with a few days at one of the Mashatu camps, to make the most of the area.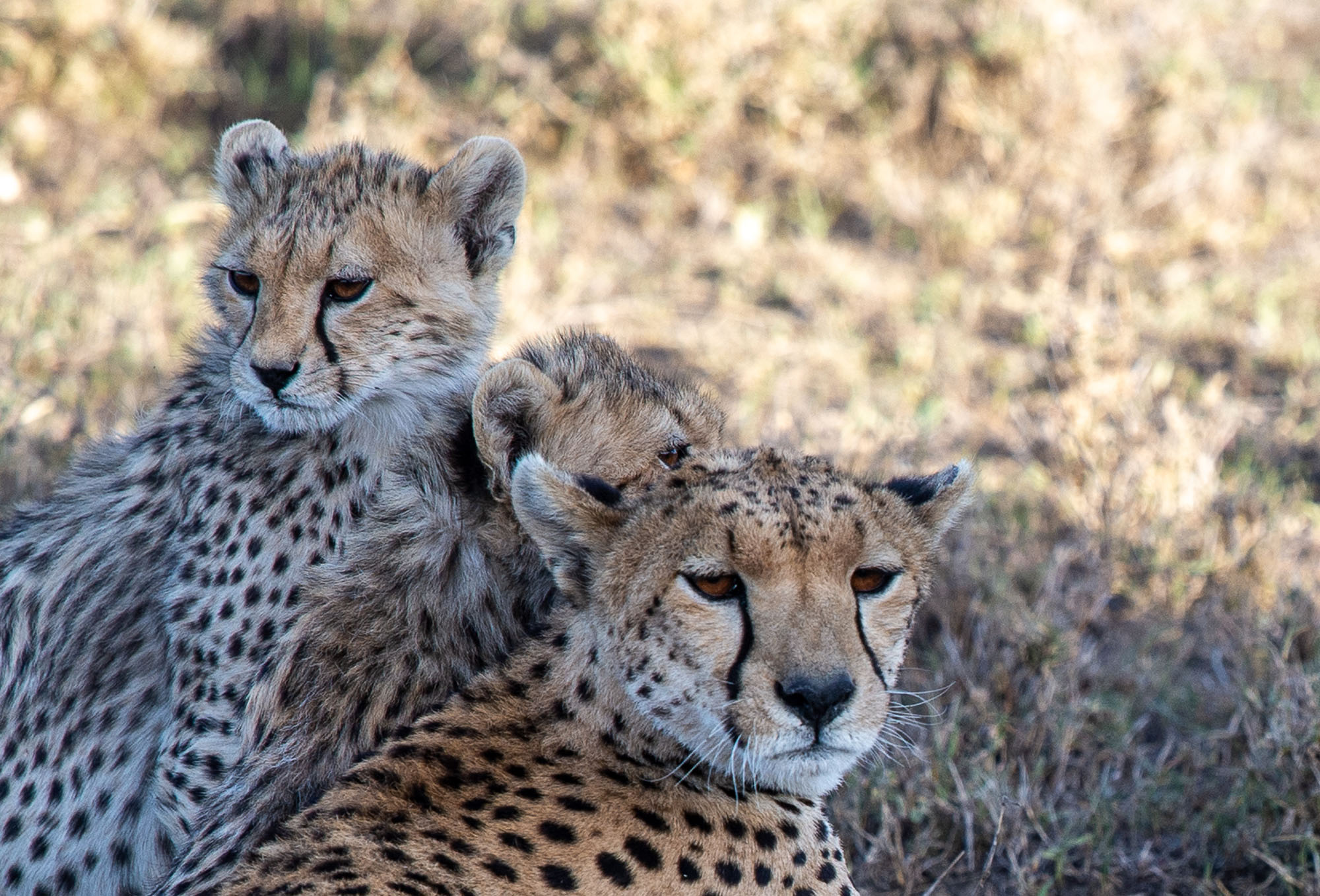 In our blog post next Friday, we will focus on one of the most popular and also instantly recognizable African mammals, the Giraffe.  There will be photographs, of course, as well as some information about places where they can be seen.  We will also review the various species you are likely to encounter in Southern and East Africa, and their conservation status.