$cat_name = 'category'; $categories = get_the_terms($post->ID, $cat_name); foreach ($categories as $category) { if ($category->parent) { echo $category->name; } } ?>
Jan 19, 2021
Sanctuary Olonana Camp, Masai Mara ACT 1: THE SETTING
Share: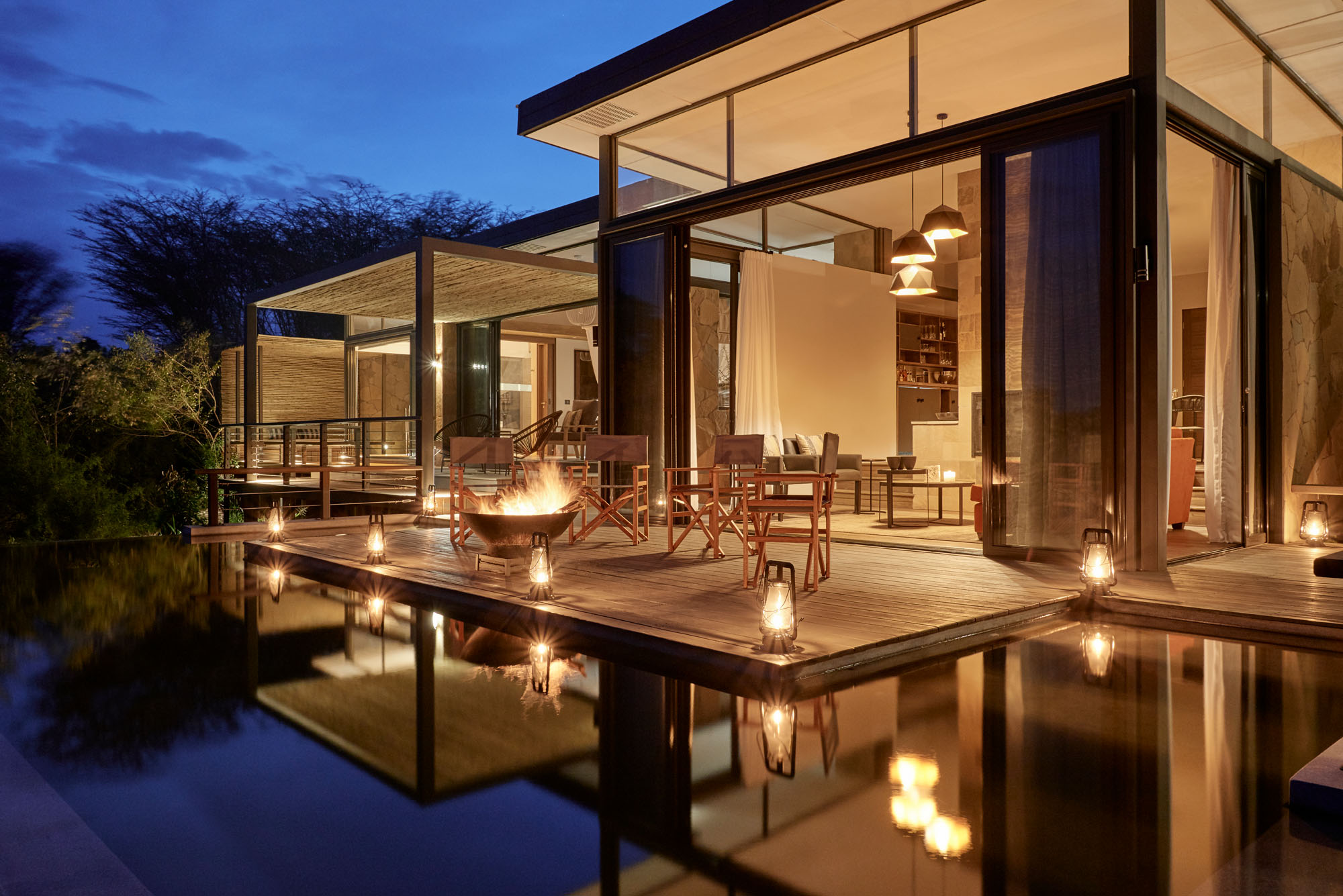 Sanctuary Olonana Camp, Masai Mara
Act 1: The Setting
Like the prelude to an opera, walking into Sanctuary's Olonana Camp in the far northern part of Kenya's Masai Mara, provides you with a glimpse of what's to come. You hear and see, maybe for the first time, whispers and fragments of what would later develop into beautiful melodies, and romantic arias. The makings of the orchestra is all around you: birdsong follows your muted footsteps along a forested path, with the low rumble of rushing water adding a note of drama and tension.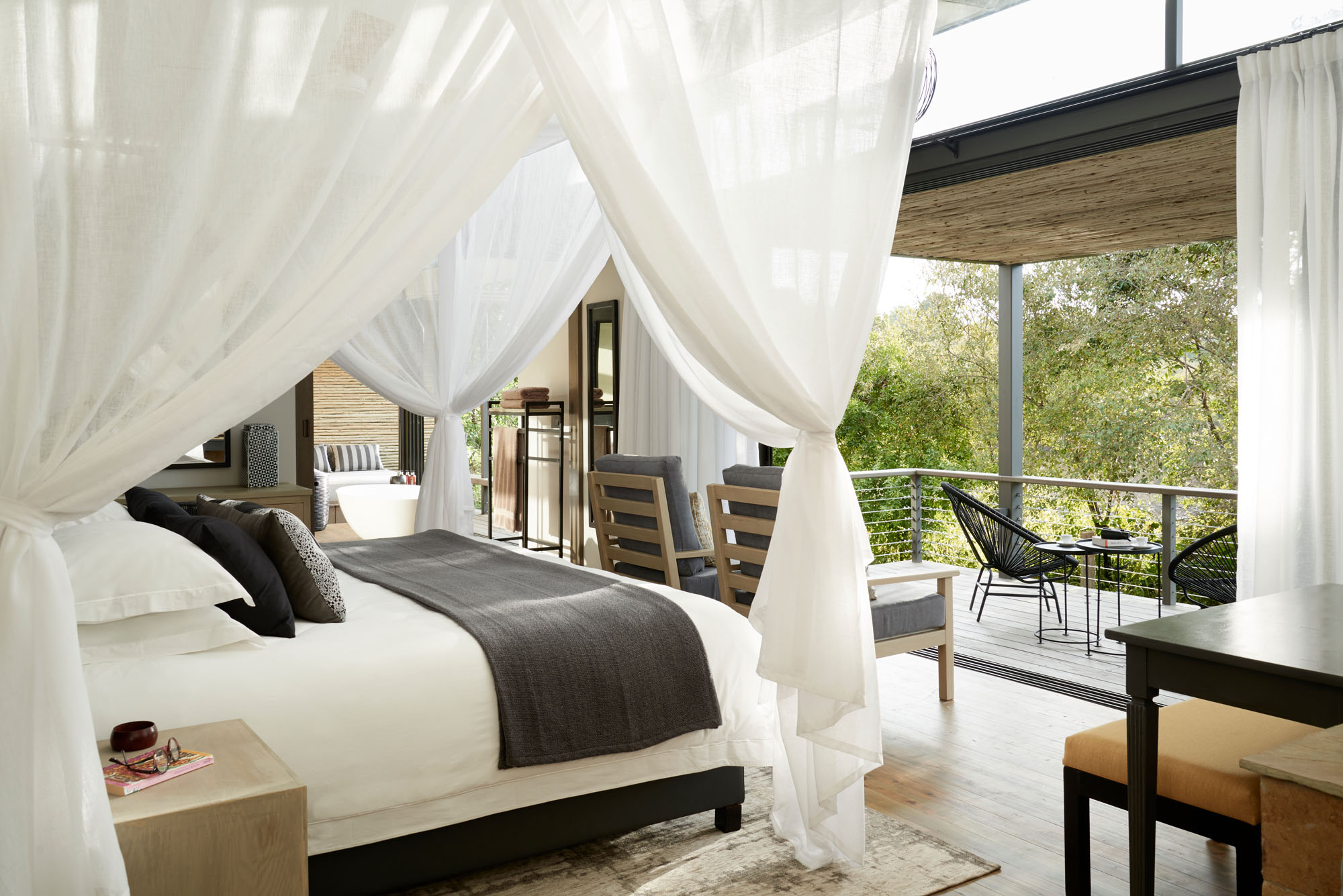 Olonana is tucked into a dense riverine forest along the edge of the Mara River, and while there are 14 rooms in total, you'd never know it, at first glance. The walkway takes you first to the impressive main lounge and dining room, and then it winds past signs pointing the way to the pool and spa, with the entrances to the suites visible on your right.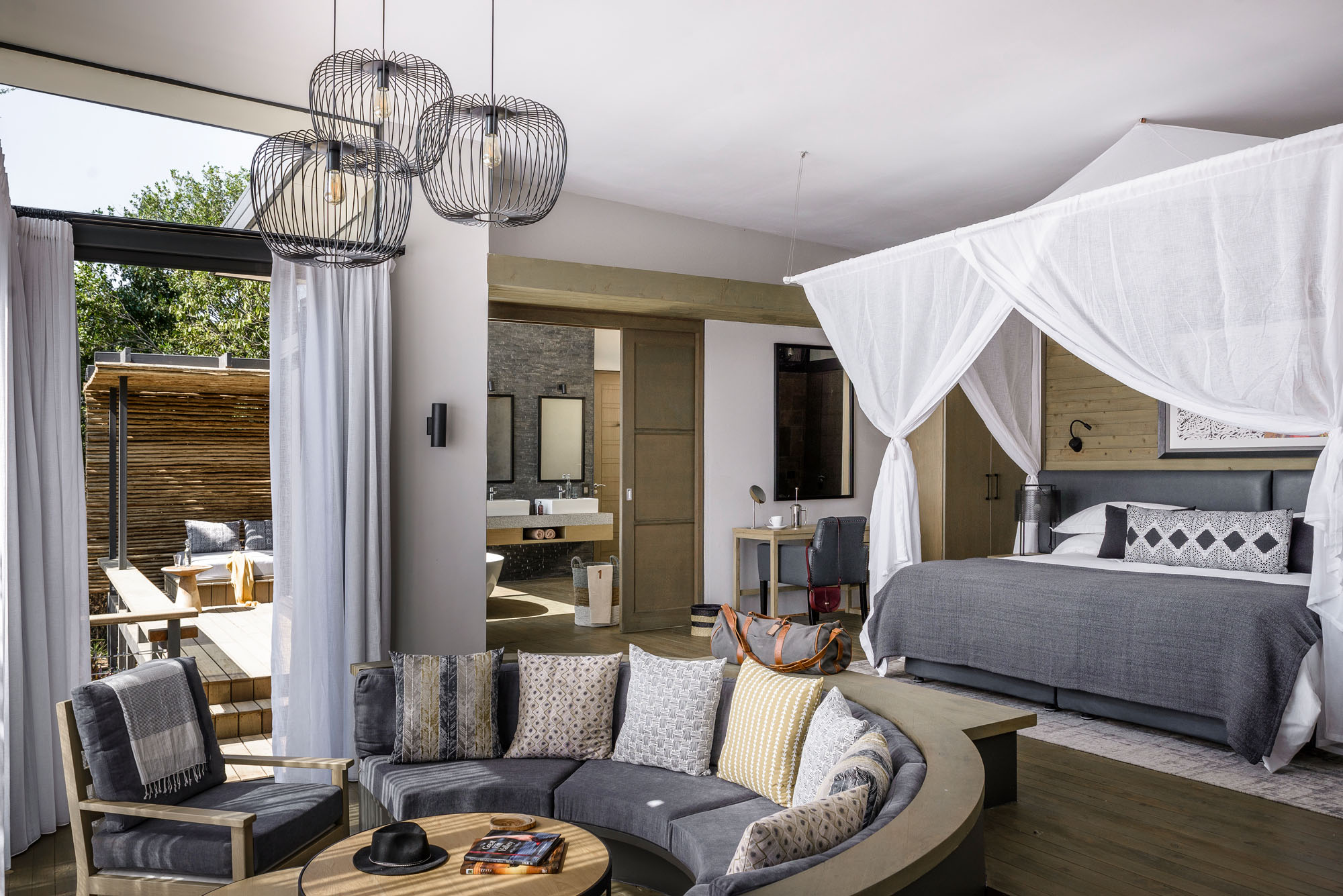 Act 2: The Suites
Enter your room and suddenly you're center stage with a striking view over the strongly flowing Mara River, its murky, swirling water obscuring two villains in the cast: hippos and crocodiles. To be sure, Olonana is not an operetta or musical theater. No. The room says it all. This is a grand opera with no expenses spared. We were in suite #6. It is fantastic, with a huge king size bed, two small but functional desks on opposite sides, a sunken lounge, a good-sized bathtub, a rain shower with triple shower-head, a wrap-around front patio and a double bed in an outside sala.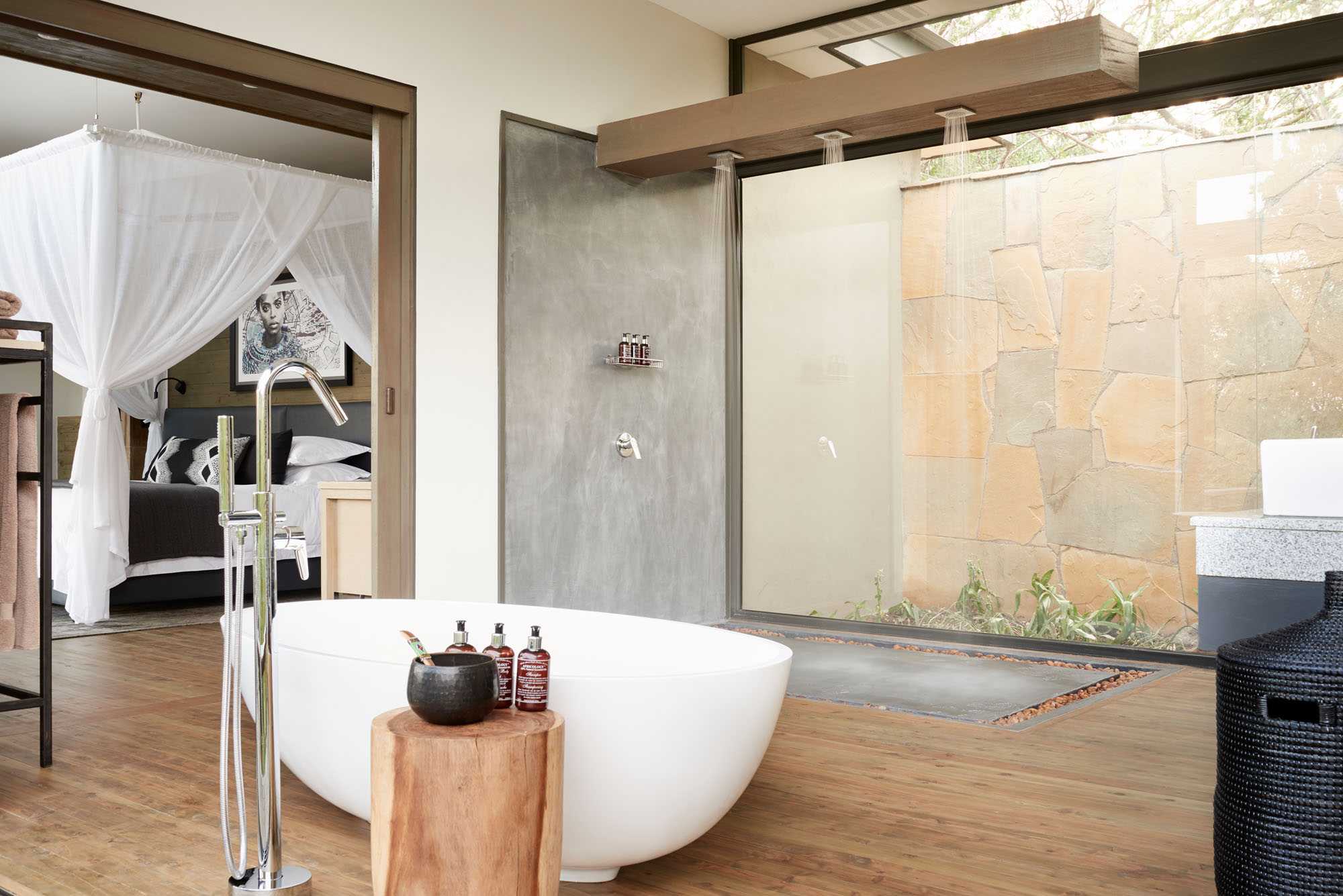 For those dreamy afternoon siestas when it is just you and the music of the river and the forest. The front of the rooms is all glass, with lovely views over the river and landscapes beyond. Everything is bathed in gorgeous natural light, creating a sense of being connected to the wilderness outside.
Three of the suites at Sanctuary Olonana have an extra bedroom, which make them ideal for families. The attention to detail extends to fully stocked mini-fridges and specially commissioned African art.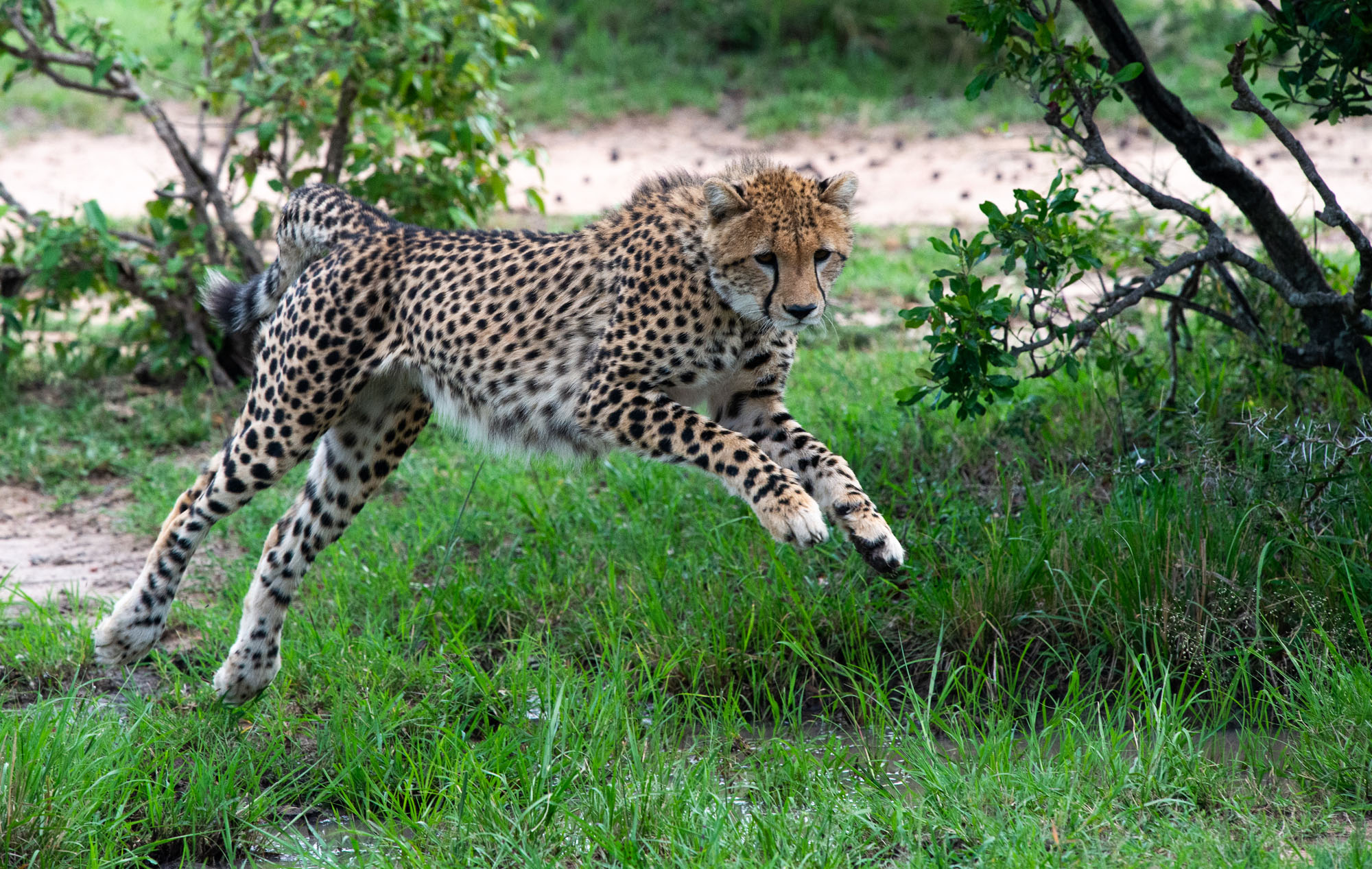 Act 3: The people and the place
Over the next couple of days or so, you meet all the other artists involved in the production. Starting with the camp manager and his staff. On the day we arrived Jackson Keiwua was in charge. He was most charming and all his staff members we interacted with were caring, welcoming and provided exceptional service. A lot of what the culinary team does, takes place offstage but the results speak for themselves. The meals were consistently delicious with ample but realistic portions.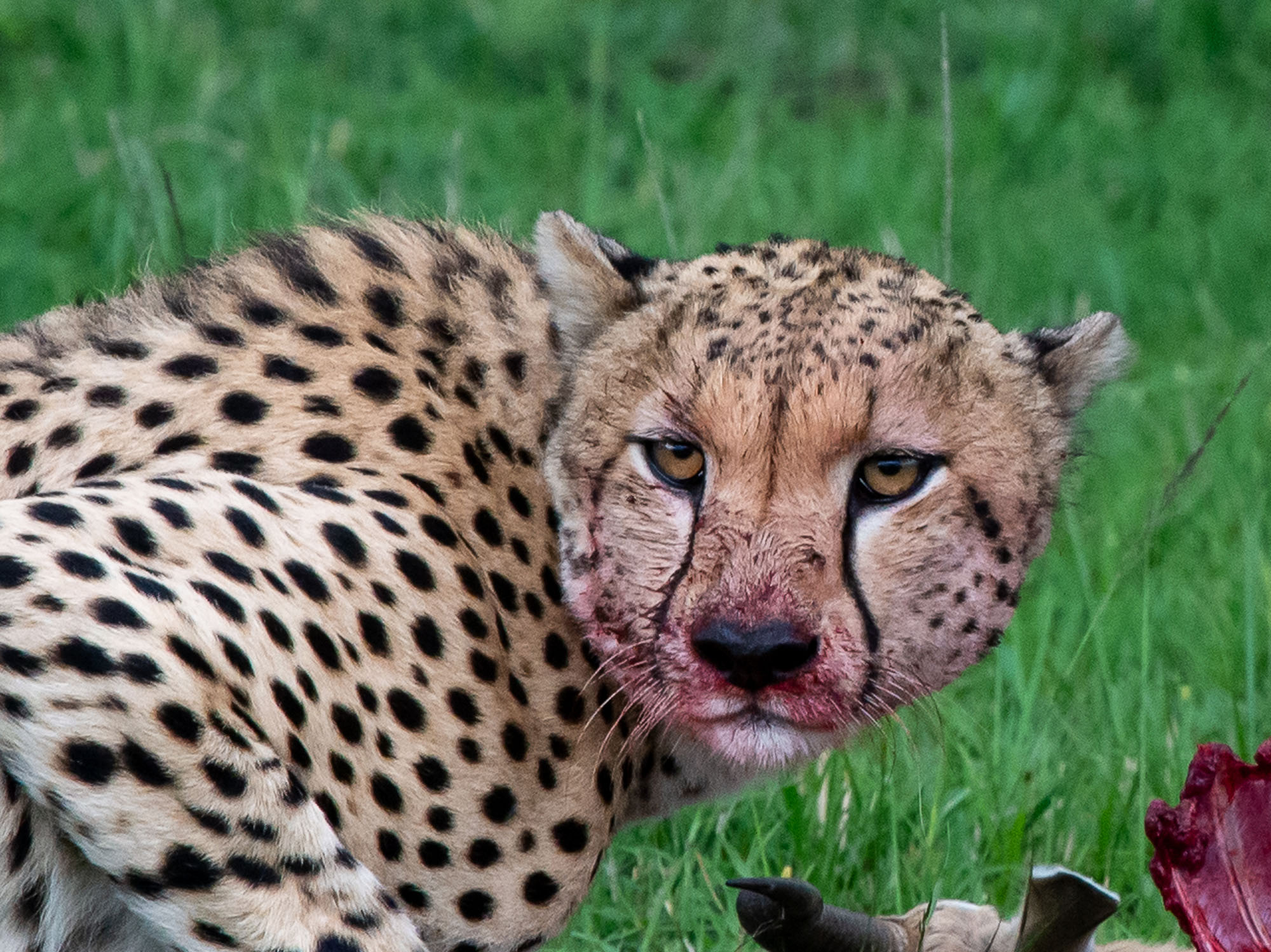 For a late lunch on arrival we could choose between chicken kabobs and a vegetarian dish, on another occasion we enjoyed a triple cheese ravioli, and a superb dessert: pavlova with fruit. A veritable chorus of yellow weavers were entertaining us during the meal, flitting to and from their nests, or building new ones. Singing and warbling non-stop. Dinner on our second night had two options as always: beef fillet or red snapper, finished off with a ginger snap and chocolate ice cream. Sweet music.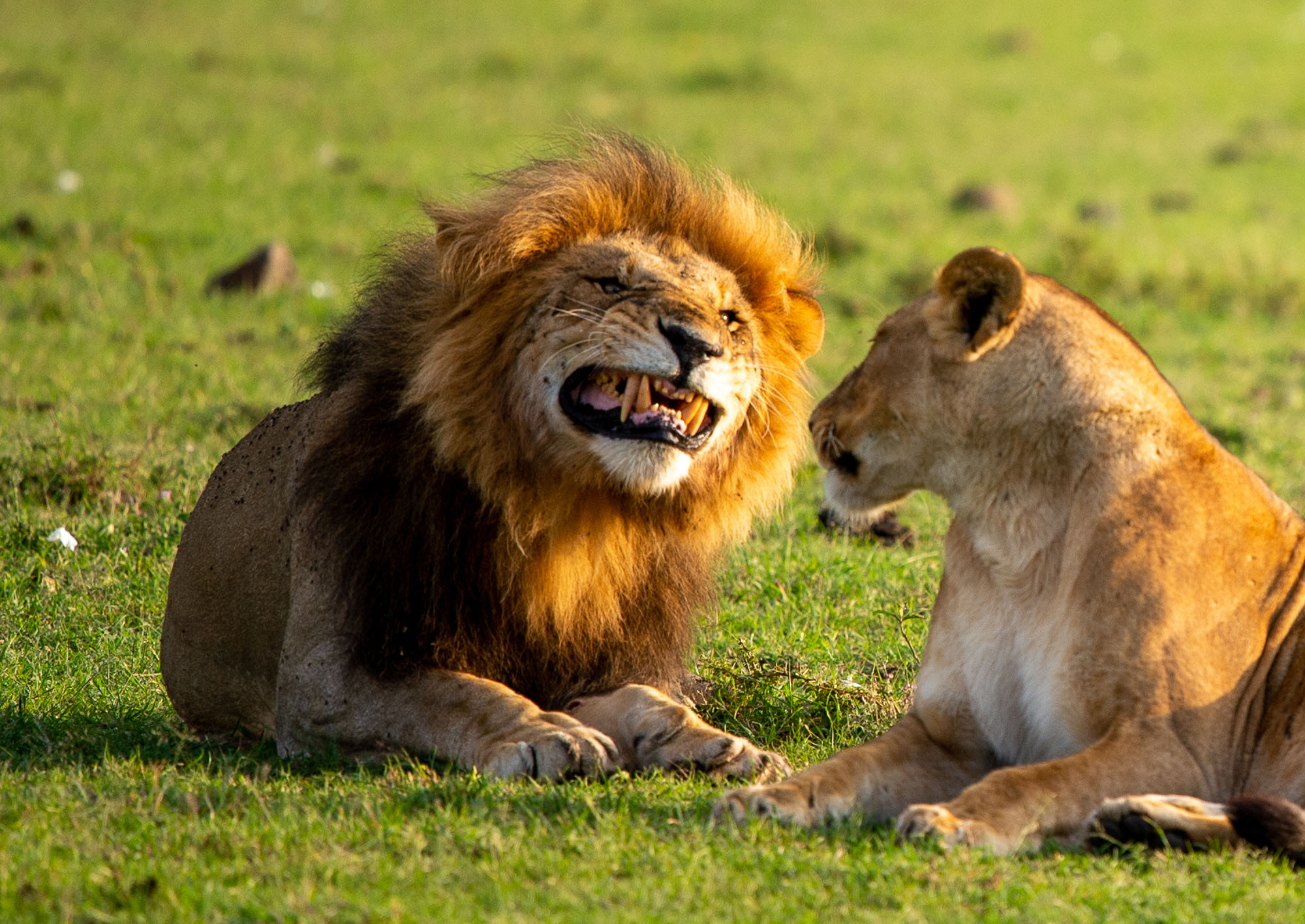 The main lodge interior serves as an extension of the surrounding wilderness with dramatic glass doors and windows letting in ample natural light. Ornamentation includes hand-crafted Maasai spears on the walls and patterned prints, with a pleasing, low-key mix of African elements and contemporary touches. Fulfilling a dual role as a dining and recreation area, there is a bar, fire pit, a separate library room (sometimes used for private dining) and balconies that hang over the rushing waters below.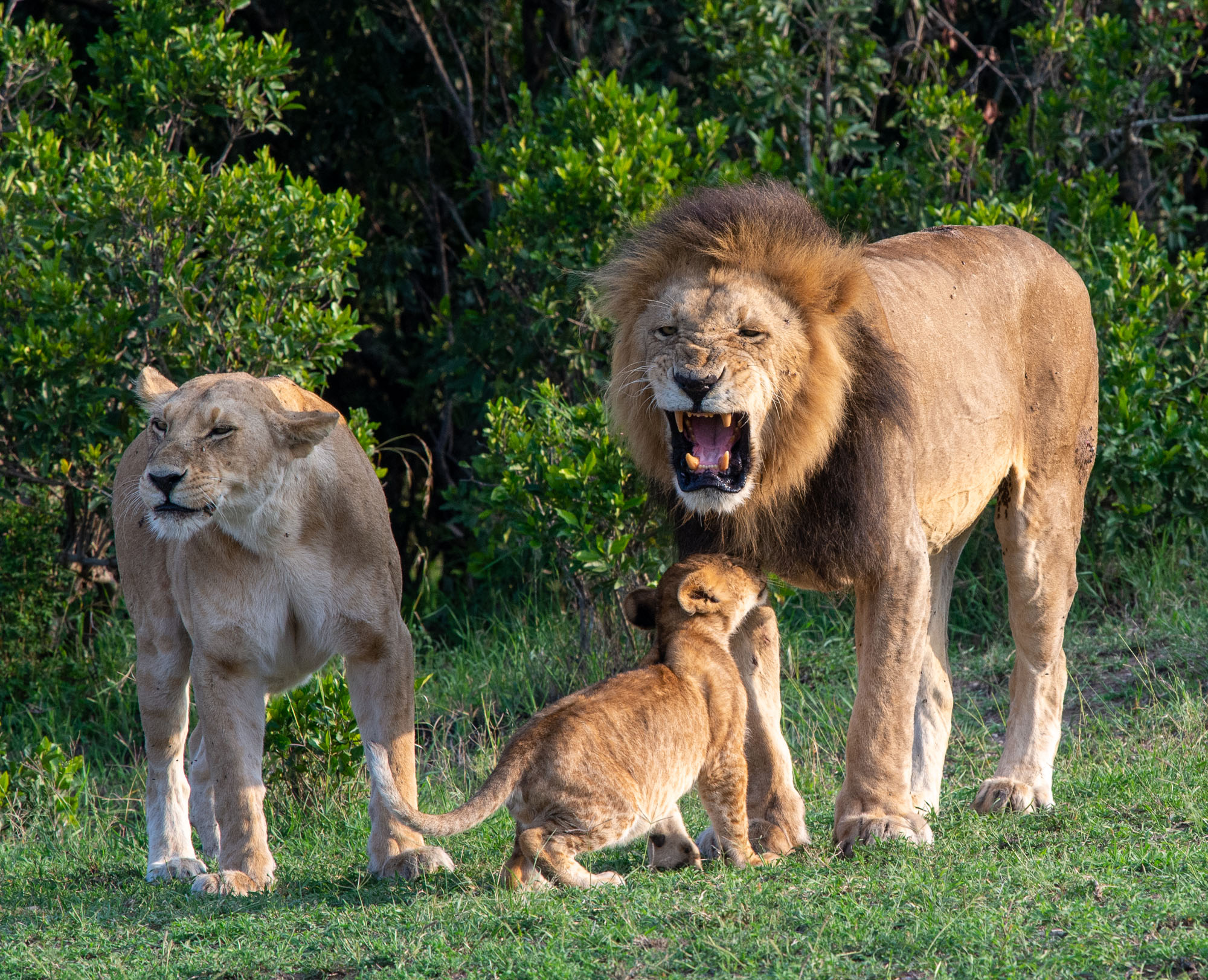 Act 4: The game-viewing
A well written opera has drama, conflict, sometimes death and of course a good measure of deception, flirtation and romance. And where do we find all this on a safari in Kenya? In the grand theater of the Masai Mara of course. The star role in the performance was reserved for our guide Benson. Our journey to Olonana was a long one. Starting off from Cottar's 1920s Camp, we drove clear across the Masai Mara from south to north. From the Sand River entrance to the park via Mara River Bridge – where Benson took over – all the way to the Oloololo Gate and another 20 minutes or so to the camp.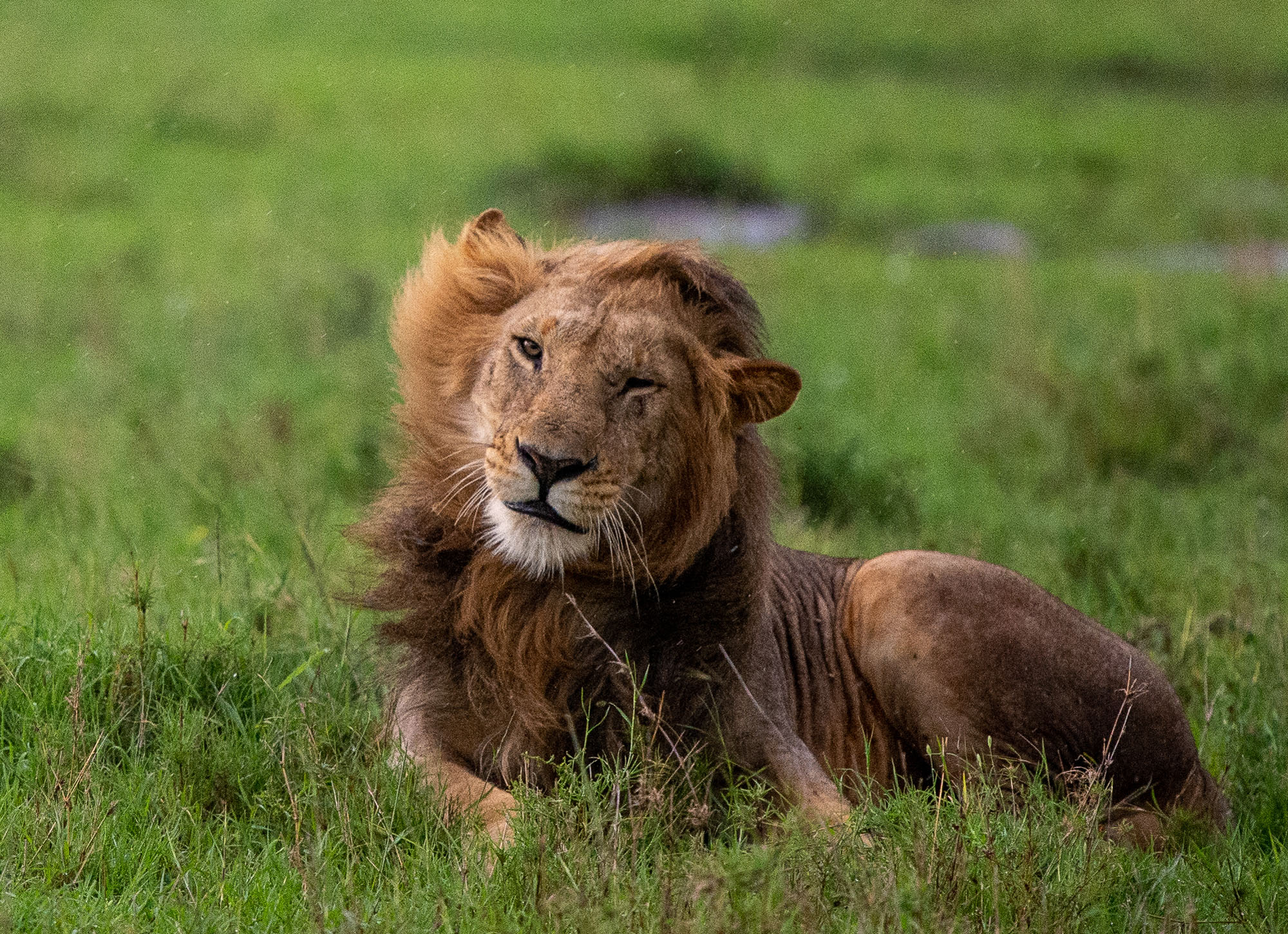 Along the way, we observed lots of wildlife including two different lion stalking events. The first one was a solitary female lion targeting a small group of zebra along the Sand River. Unfortunately for us but happily for them, the zebras were spooked by a few jittery red hartebeest and noisy guinea fowl alarm calls. It was not to be.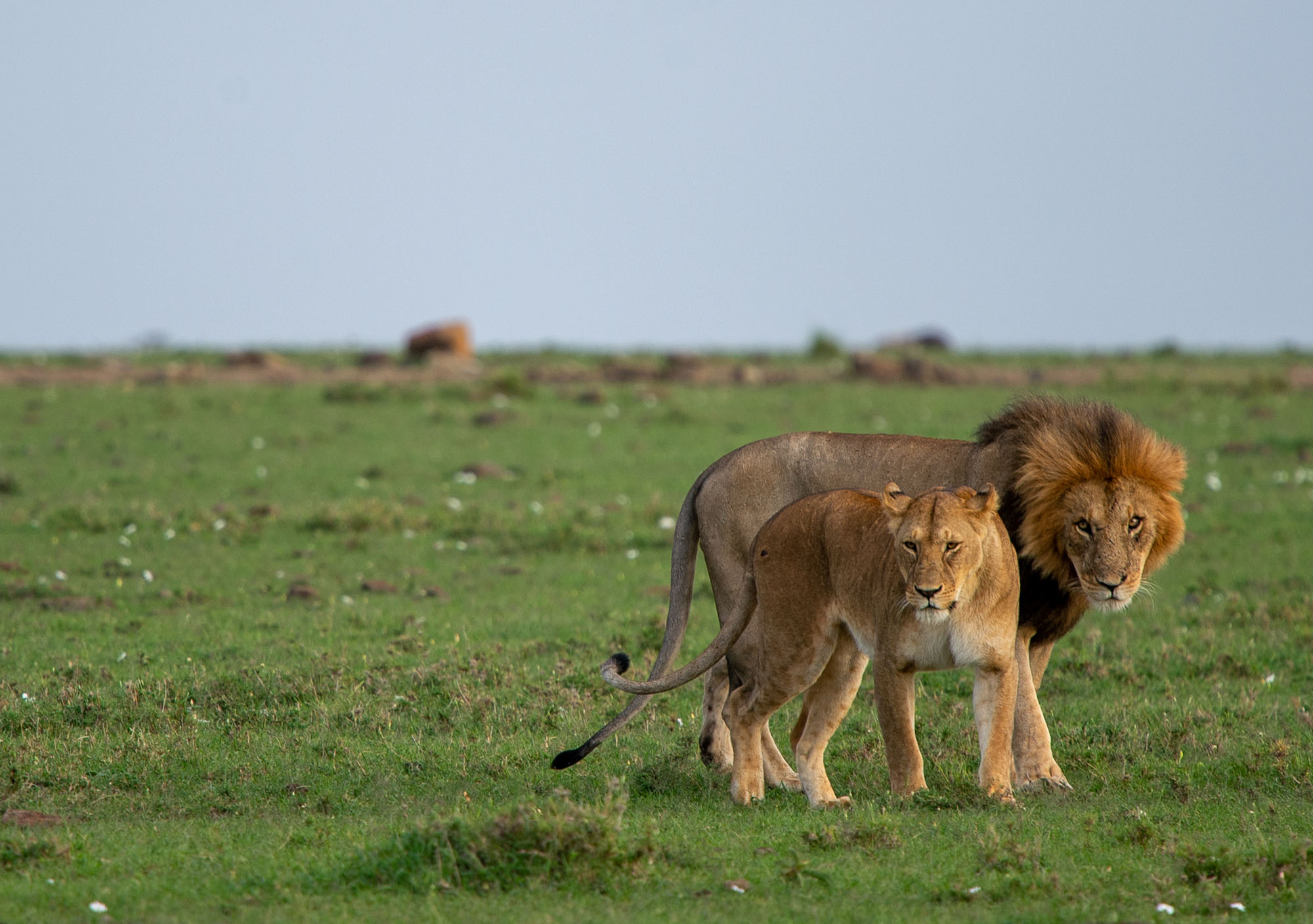 Around noon, we stopped to observe a group of three lions stalking a small group of waterbuck. Ending with a half-hearted charge, the attempt was ultimately unsuccessful but intriguing to watch, nonetheless. We had some superb views of elephants against the most amazing backdrops, sometimes just the big sky expanse of the Mara, other times the looming 'wall' of the Oloololo escarpment. We saw zebras on the move, gazelles and antelopes, warthogs seemingly everywhere, and even a hippo out of the water.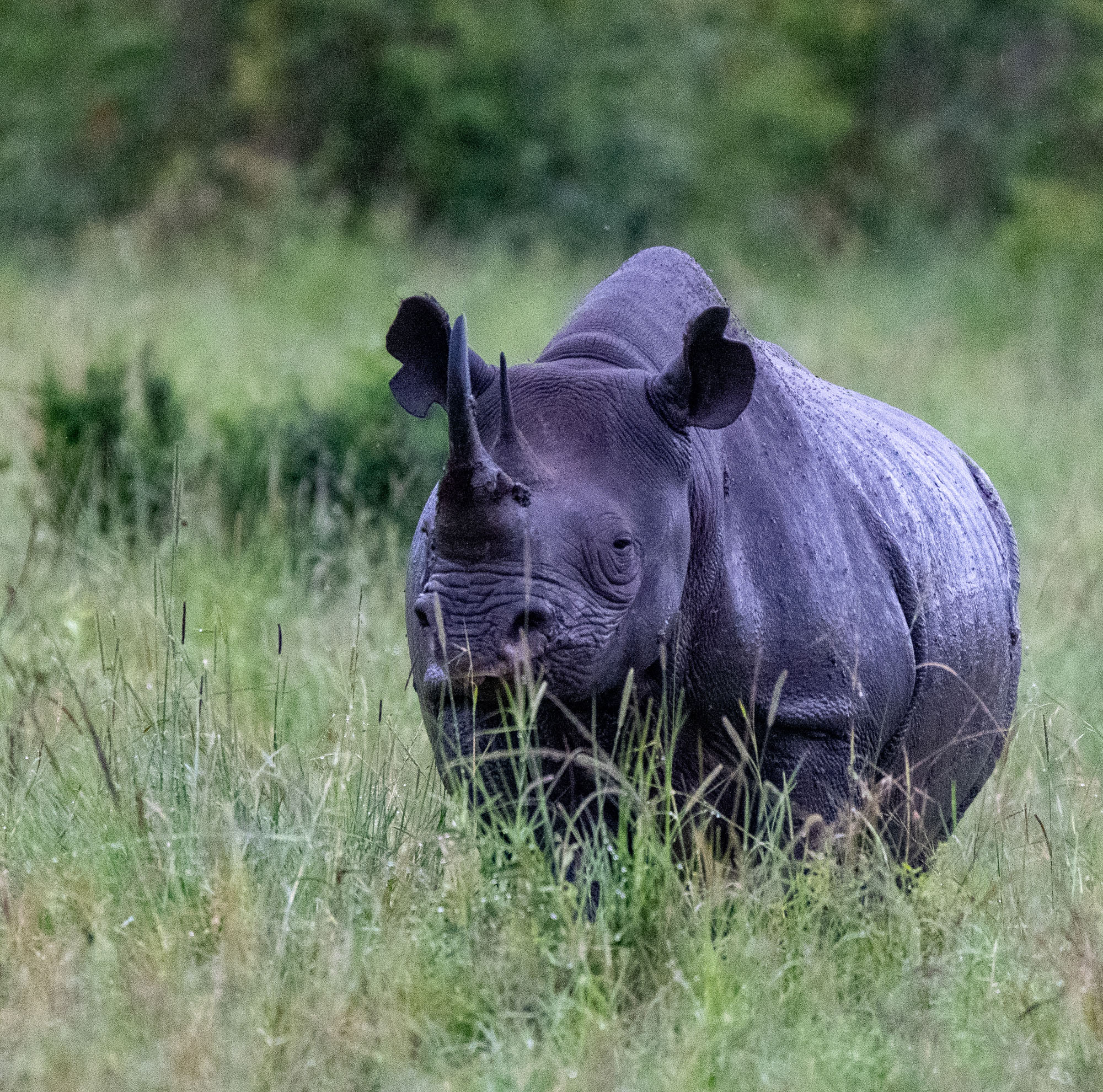 Like a good conductor, Benson knew the score intimately and timed everything perfectly. The game-viewing highlight of our stay at Olonana was unquestionably seeing a solitary black rhino, just after a heavy thunderstorm accompanied by a significant downpour. Even though visibility was poor, we were thrilled to see one of the handful of rhinos still to be found in this part of the Masai Mara National Park.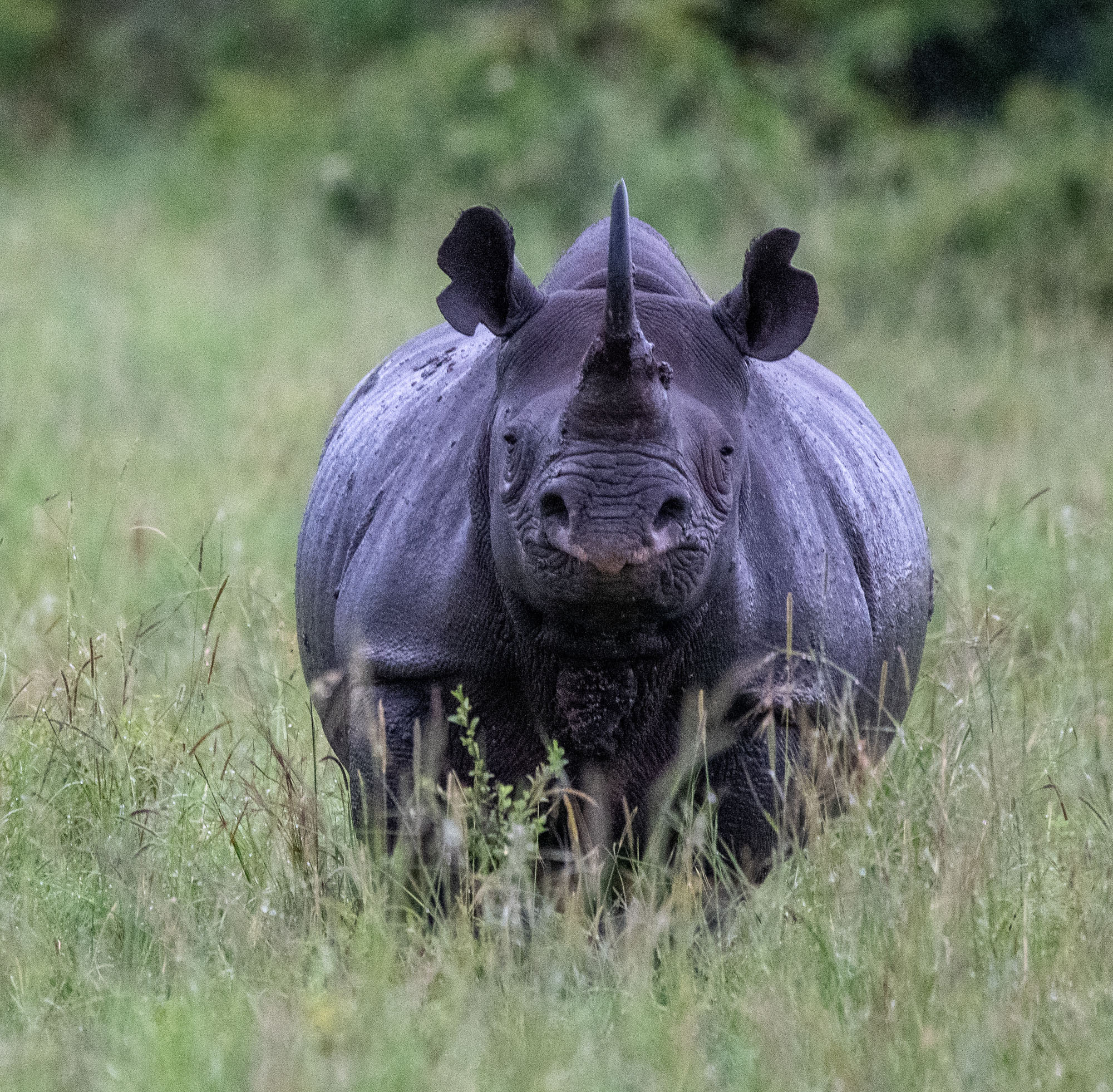 Conditions were not suitable for photography and I was ready to throw in the towel after 20 minutes of peering at the rhino from a distance, in either heavy rain or thick mist. Benson had other ideas. He stuck around an additional 20 minutes or so, even after the rhino seemed to have disappeared. It turned out that the animal was simply lying down. When it finally got back up – the rain had stopped falling by now and the fog had mostly dissipated – it started to walk almost directly towards us. We ended up with a bunch of good views and great photos of the black rhino. Seemingly staring right into the lens. Bravissimo!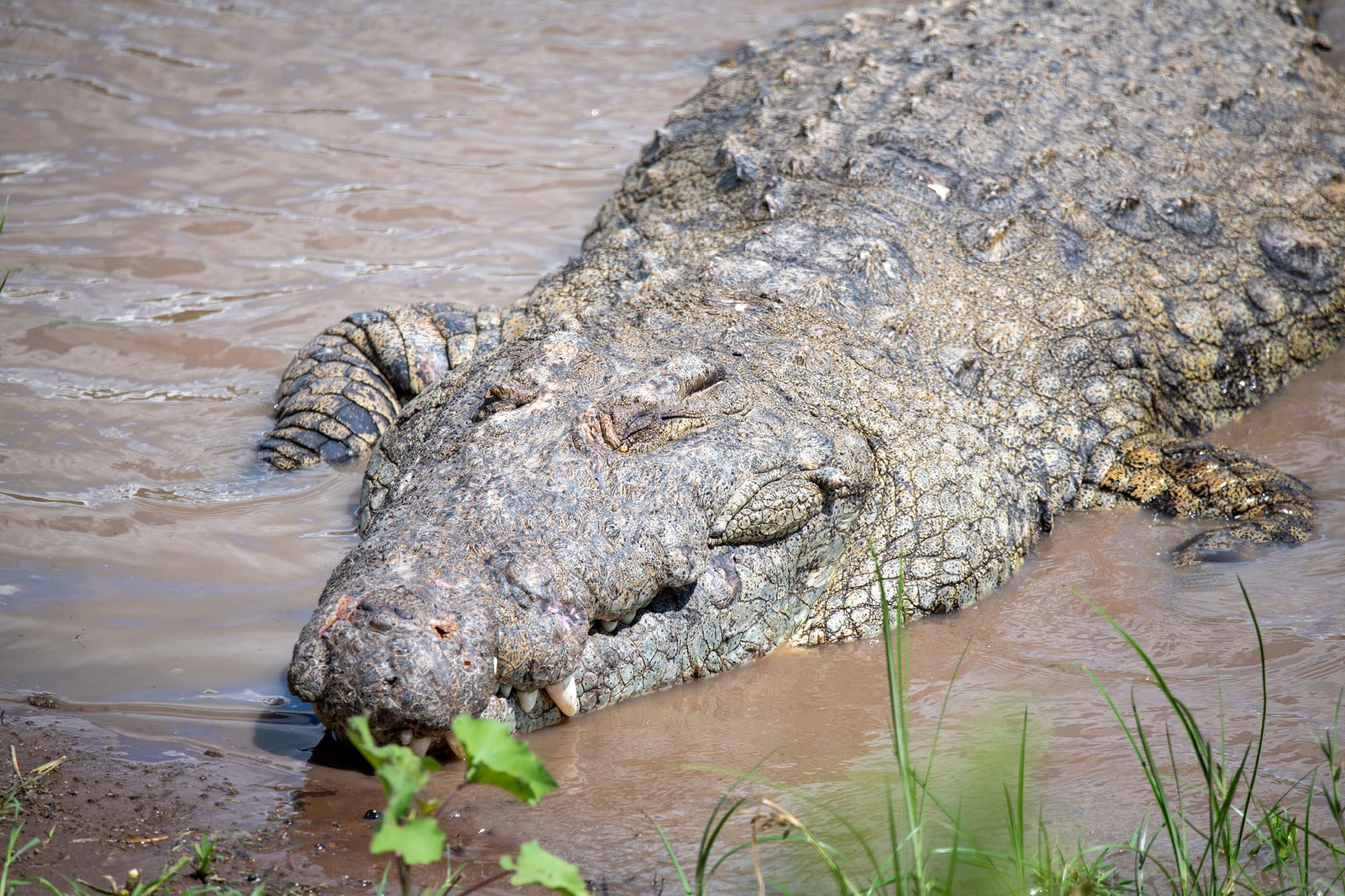 The following day we embarked on a near full day drive with a picnic lunch. The area had experienced abundant rainfall and the Mara never looked better. Beautiful green scenery stretched to the horizon in every direction. We drove all the way to the border of Tanzania, observing some big herds of elephant, buffalo and topi along the way. Benson's driving skills were pushed to the limit as he successfully negotiated several waterlogged, beyond muddy, downright treacherous spots. En route, we stopped at the main Serena crossing and saw six or so fierce-looking, old, gnarly crocodiles. Massive and truly prehistoric in appearance, they were death incarnate. Repulsive yet fascinating.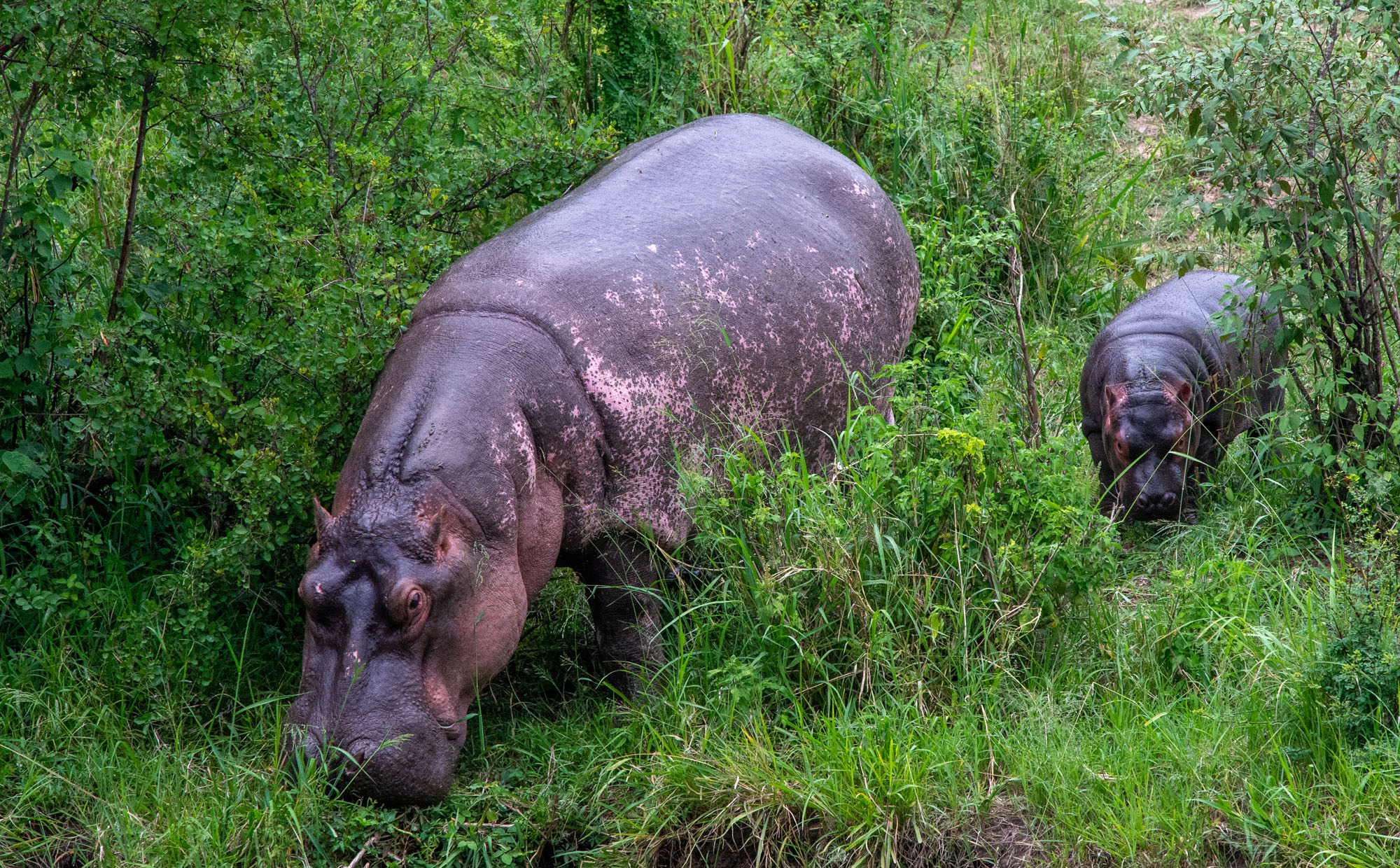 Planning ahead for the next performance
As the curtain fell on our Olonana experience, we were on our feet in a standing ovation. It was a marvelous performance and we were already thinking about tickets for the next time. For visitors contemplating a trip to Kenya and to the Masai Mara, what we can say is that Olonana will be a perfect first experience, an ideal introduction to what is special and unique about the Masai Mara. And even if you think you've seen and experienced it all before, this particular area of the Mara and this specific lodge have many advantages and accolades: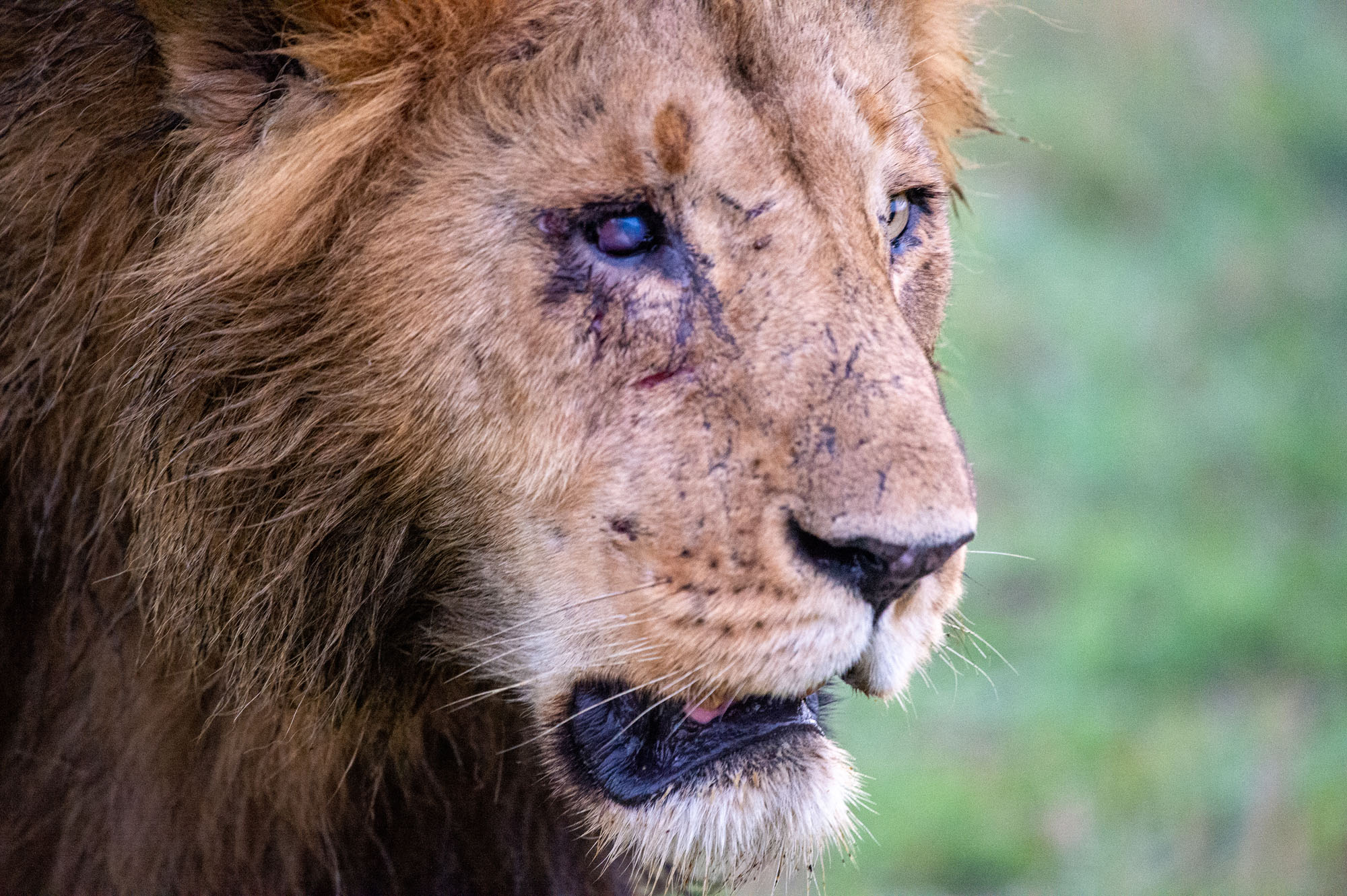 During the annual Wildebeest Migration, the action happens less than 40 minutes from the camp's doorstep

The camp is easily accessible, only a 45 minute flight from Nairobi

The luxury Geoffrey Kent Suite features 2 ensuite bedrooms, private dining, an infinity pool and private vehicle and guide

In addition to game drives, there are cultural visits, bush dinners, sundowners, balloon flights and scenic flights

Olonana is Gold Eco-Rated by Ecotourism Kenya and the winner of "Africa's Leading Eco-Lodge" in World Travel Awards 2015

Olonana is In the TripAdvisor Certificate of Excellence Hall of Fame. This accolade is granted only to properties that have won the Certificate of Excellence for five years in a row.

There is Wi-Fi (no extra cost) available in each room.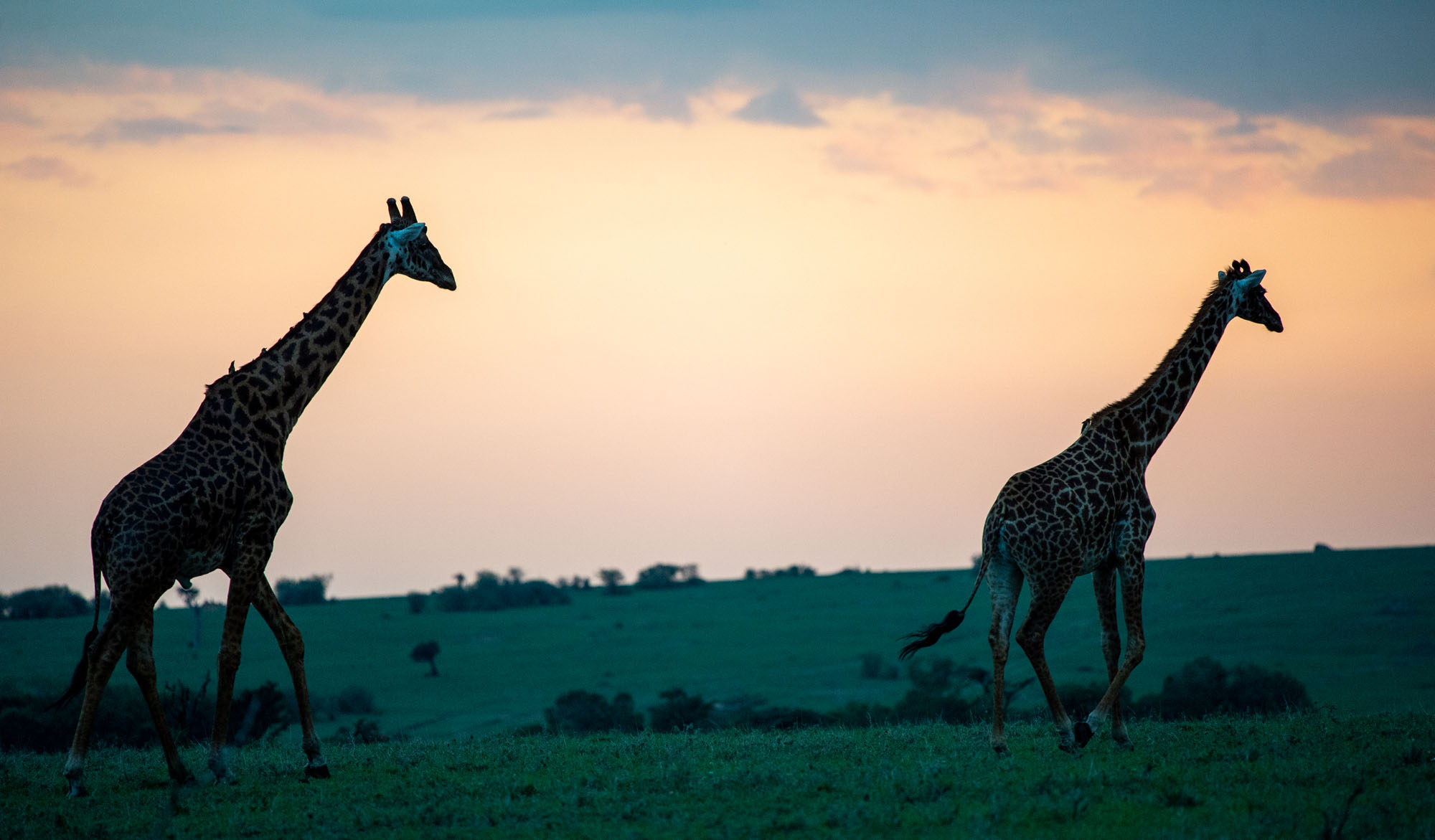 When you're not out on a game drive, you can swim lengths in the pool, enjoy an outdoor massage at the spa or walk through camp along the shaded forest path which runs from the main area to the suites.
From your private day bed you can observe the squabbles of the hippos in the river below, or follow the adventures of the golden weavers darting in and out of nests constructed directly over the water.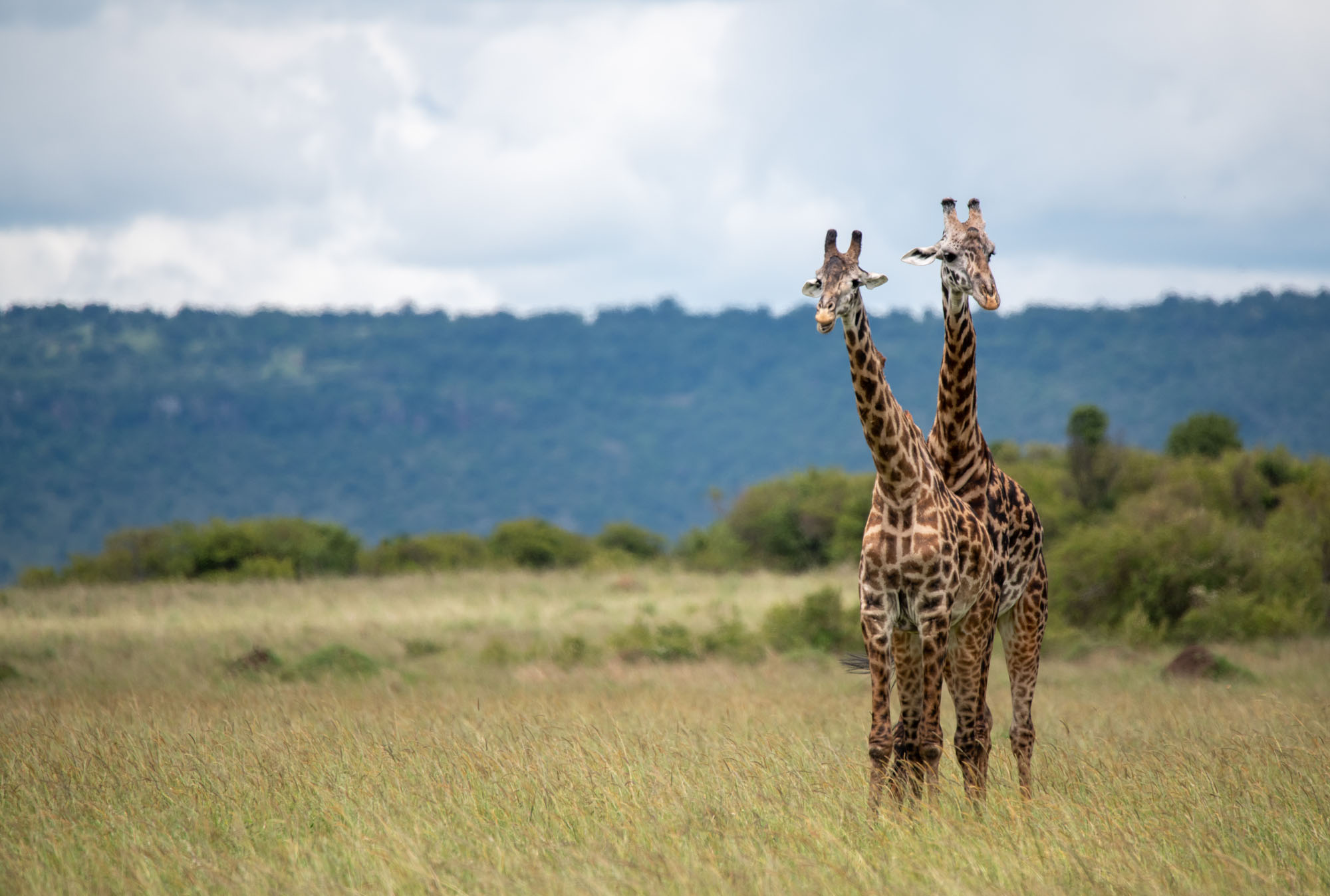 Next Friday's blog takes a look at a different part of the Masai Mara, the private Naboisho Conservancy, and specifically at a superb new property in the area, Great Plains' Mara Nyika Camp.
YOU MIGHT ALSO BE INTERESTED IN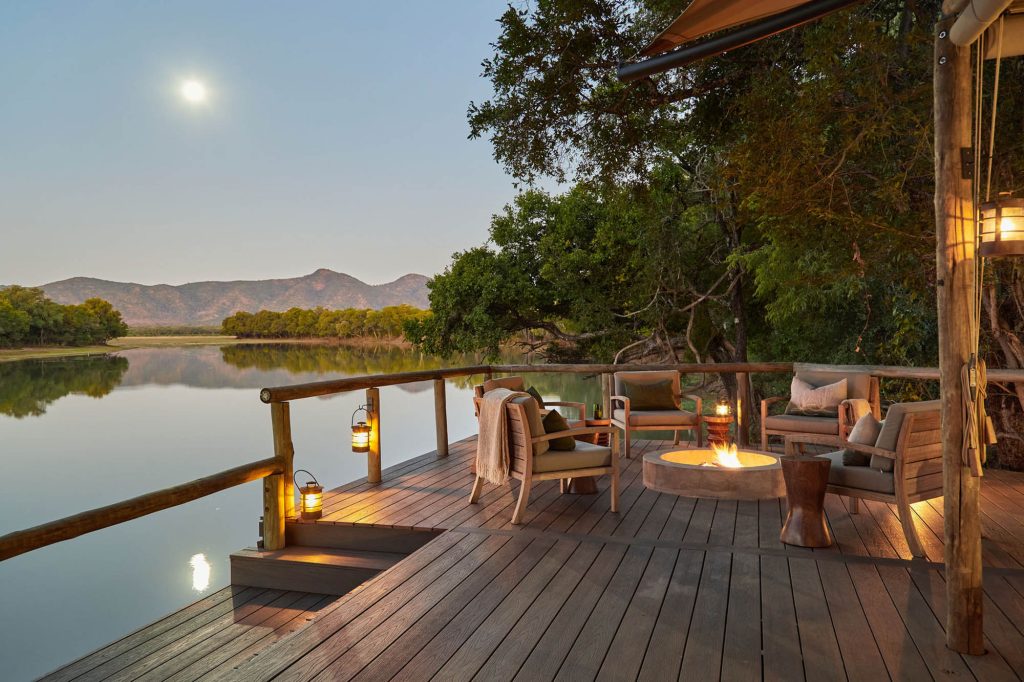 10th Sep 2021
Chindeni and the Bushcamp Company, Zambia
By late July we found ourselves at Chindeni, a small Bushcamp Company property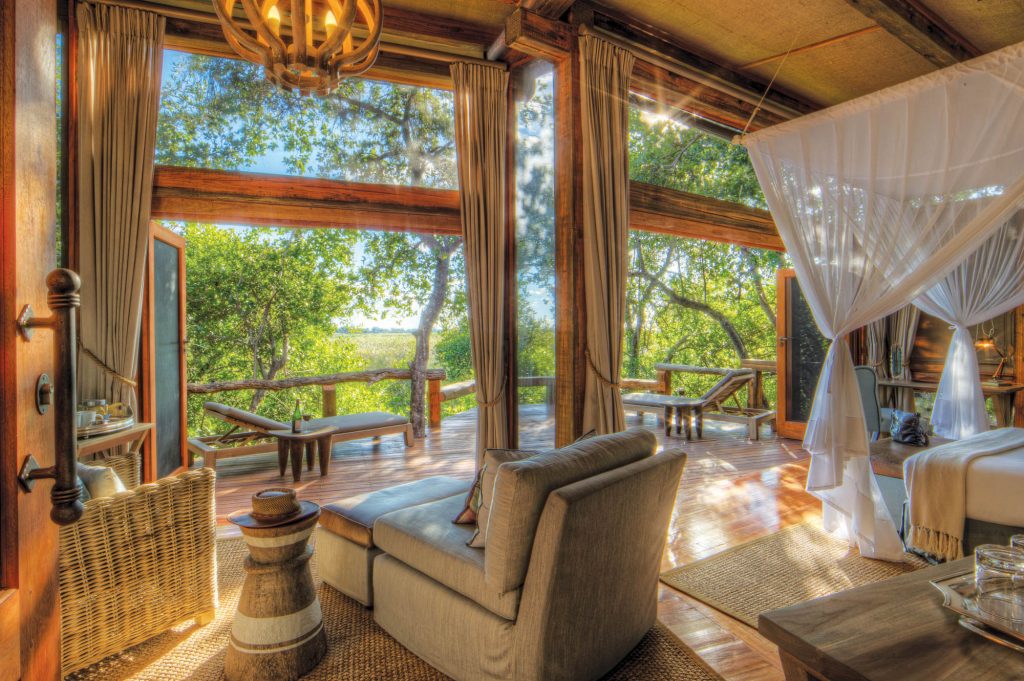 3rd Oct 2022
Camp Okavango, Botswana
Camp Okavango is in the heart of the permanent part of the Delta. In this idyllic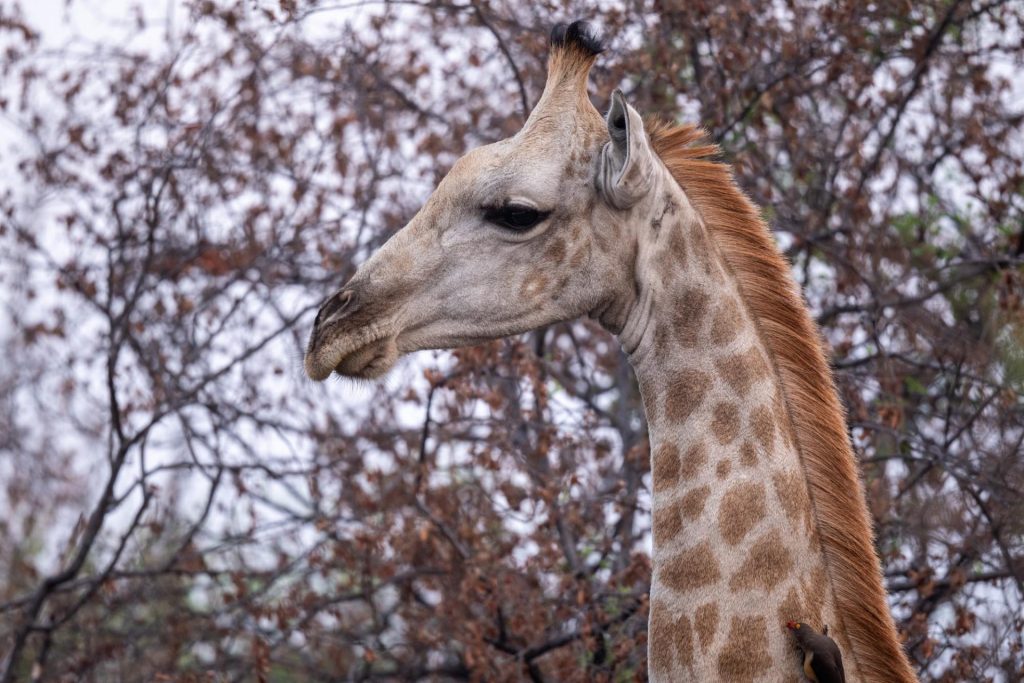 26th Mar 2023
Photography on safari
Fish Eagle Safaris was an early adopter of digital photography. Company founder Bert
SUBSCRIBE TO OUR NEWSLETTER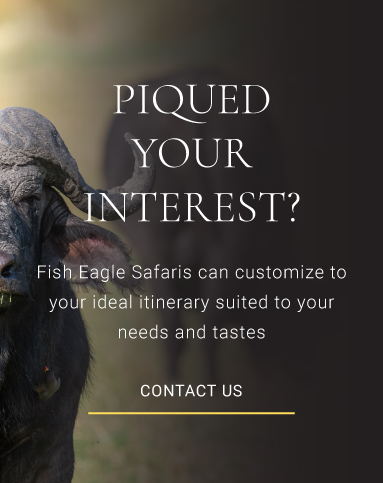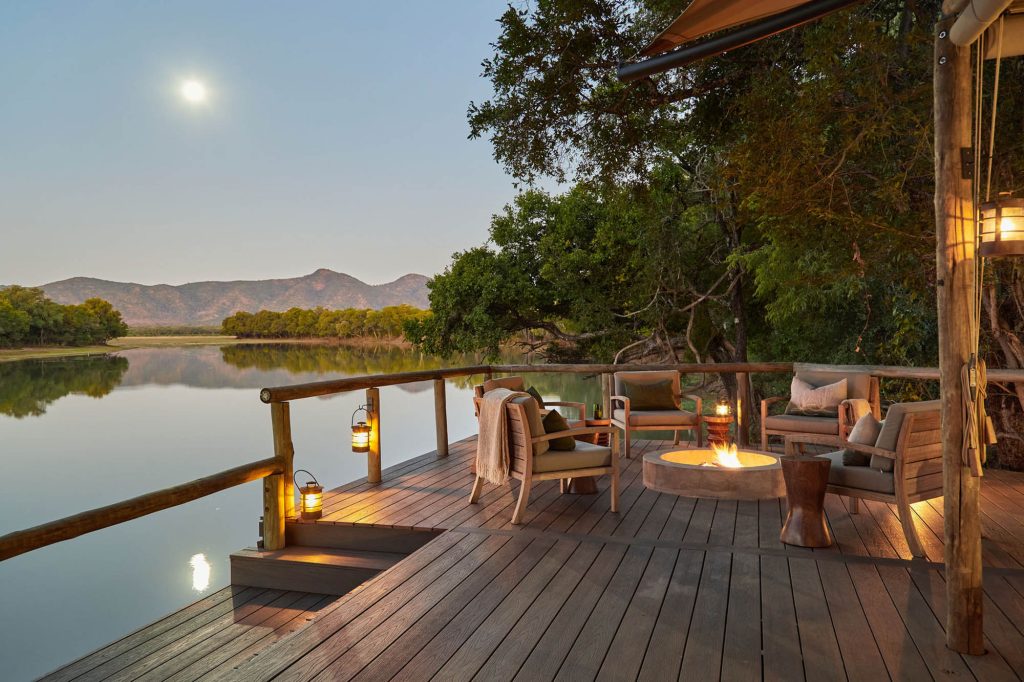 10th Sep 2021
Chindeni and the Bushcamp Company, Zambia
By late July we found ourselves at Chindeni, a small Bushcamp Company property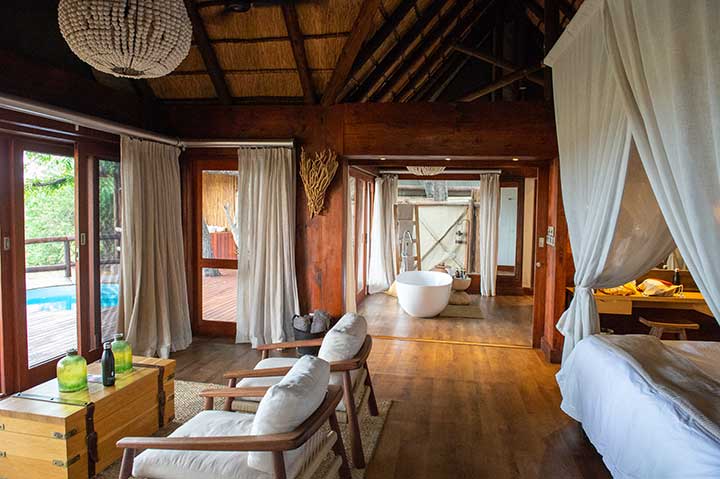 4th Aug 2022
On Safari At Belmond Eagle Island Lodge, Okavango Delta
What is the 'secret sauce' for an unforgettable few days on safari in Botswana?