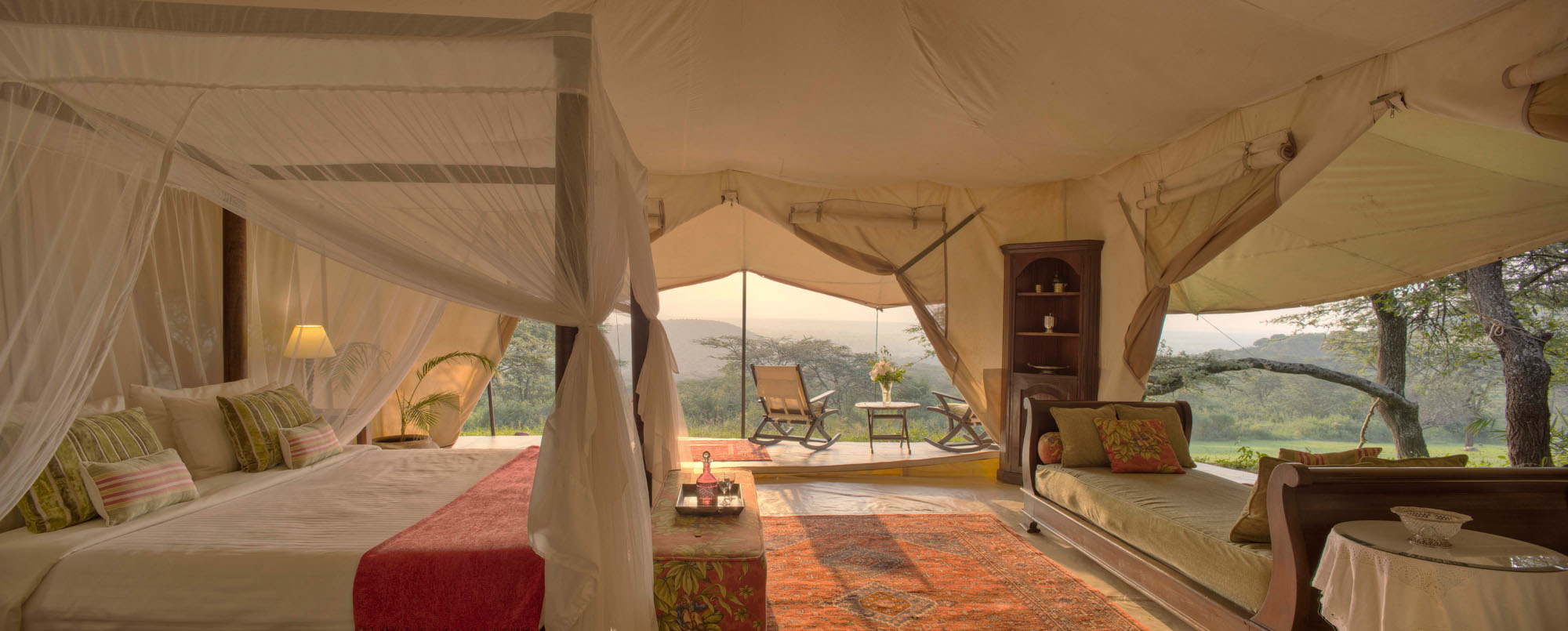 Cottar's 1920s Camp
Cottar's 1920s Camp in the far southeastern part of Kenya's Masai Mara, right on the border of Tanzania,  ticks all the boxes for an authentic, romantic, and above all private safari experience.  It all starts with the first impression.  Stepping out of the vehicle on arrival, your eyes are drawn to two beautiful, creamy white tented structures, the Explorers tent and Mess (dining) tent.  Both with classic safari interiors, and filled with antiques and paraphernalia from the Cottar family's decades of operating African safaris.  Turn your head to the right and there's a sweeping view over a large expanse of lawn into rolling savannah scenery.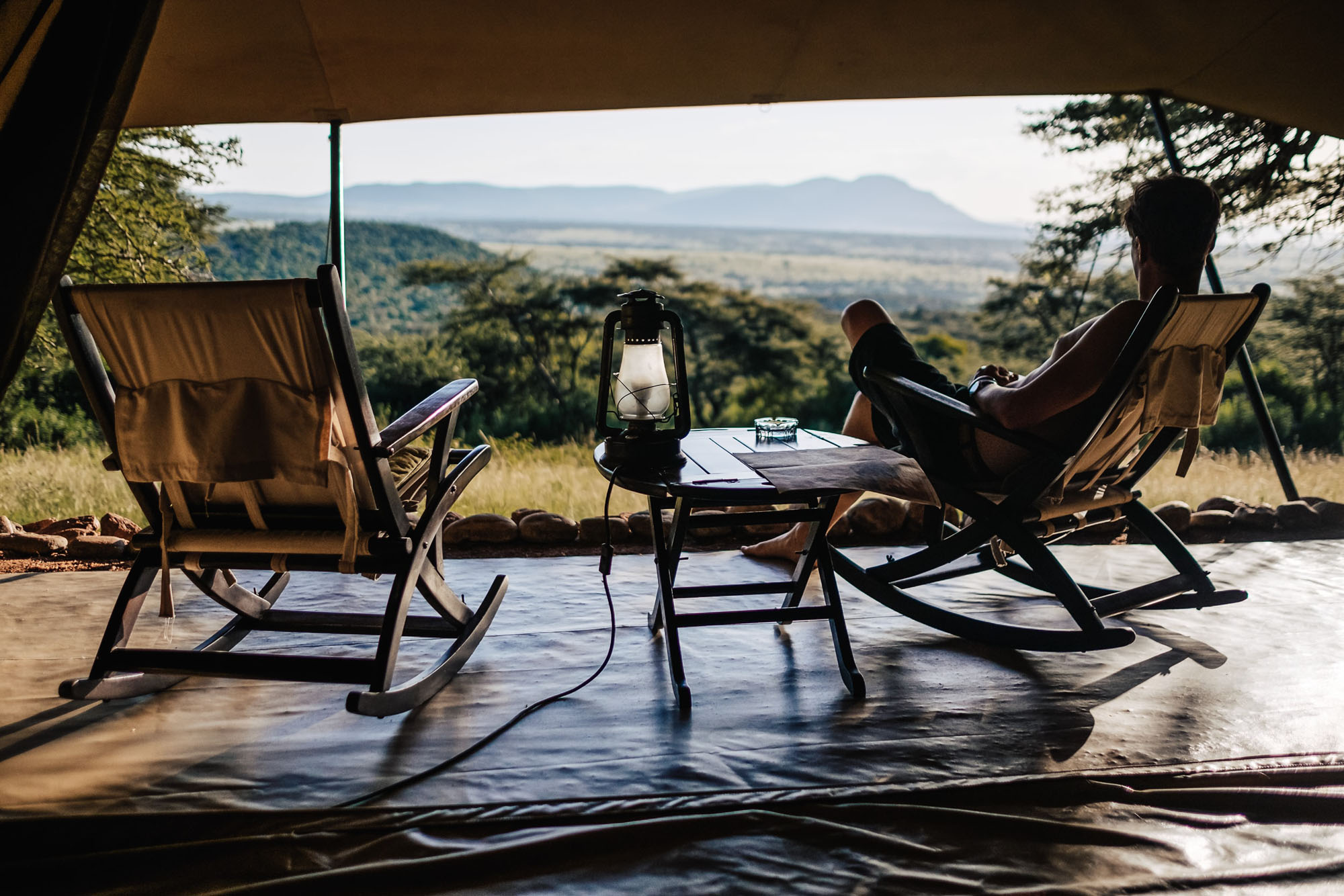 Cottar's / partimetravelers
Walk a bit further along a manicured gravel walkway and you're ushered into your splendid room for the night:  an elegant, spacious, white tented suite, with just as pretty a view over the Masai Mara as the main mess tent.  Luxuriously furnished and incorporating original safari antiques from the 1920's, the tents are more than a generous distance apart, ensuring a high degree of privacy with en-suite dressing room and bathroom, main bedroom and veranda.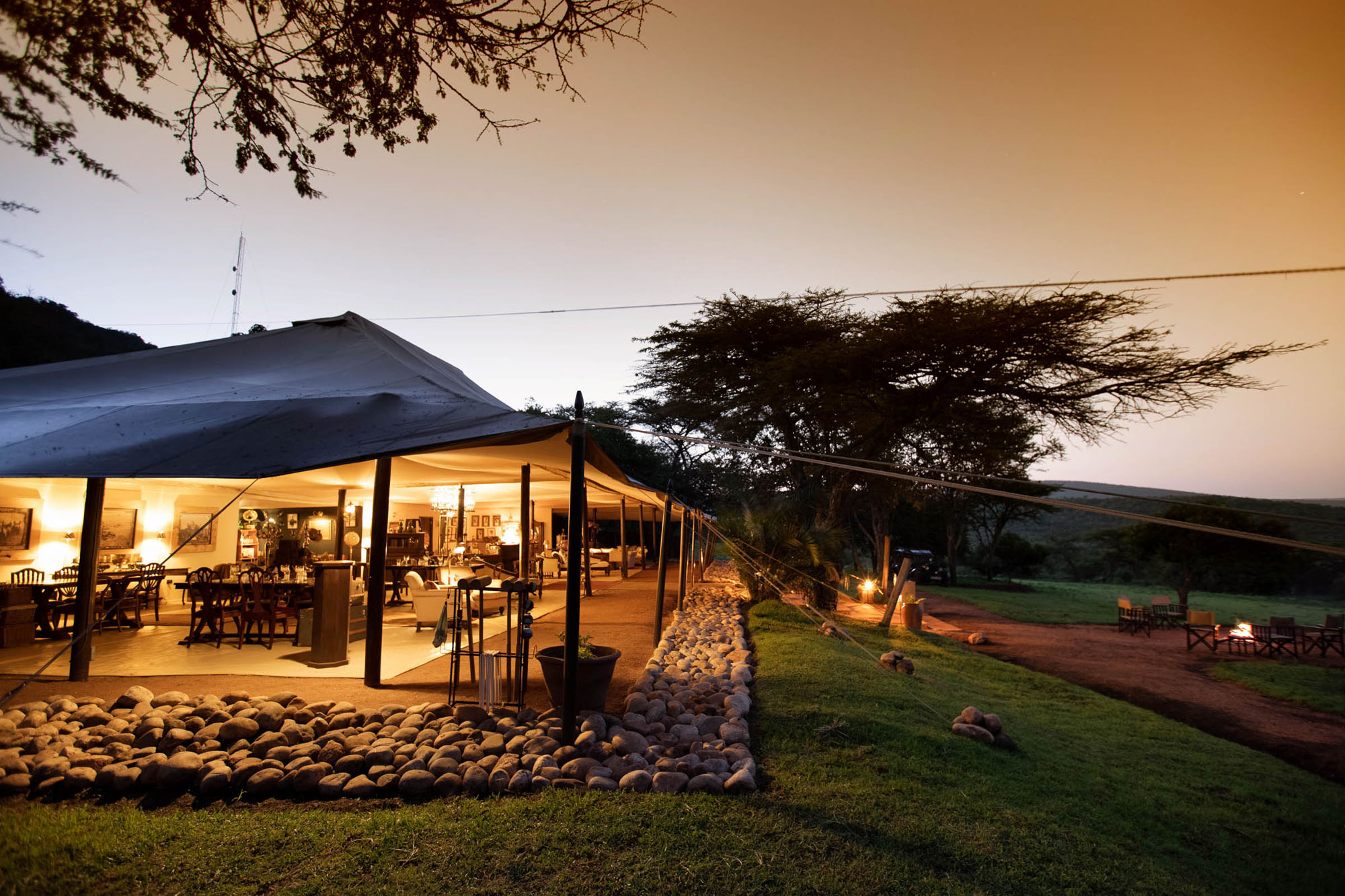 On our second night there we were treated to a private bush bubble bath experience on the verandah, in two canvas baths  filled to the brim with piping hot water and enough bubbles to cover a small pond.  Add some  chilled Prosecco and delicious snacks and the two of us whiled away one of our best hours yet on safari.  Soon after, we enjoyed a wonderful dinner served fire-side right by our tent, with a perfectly turned out roast turkey breast, mashed potatoes, a vegetable stir fry and a banana dessert.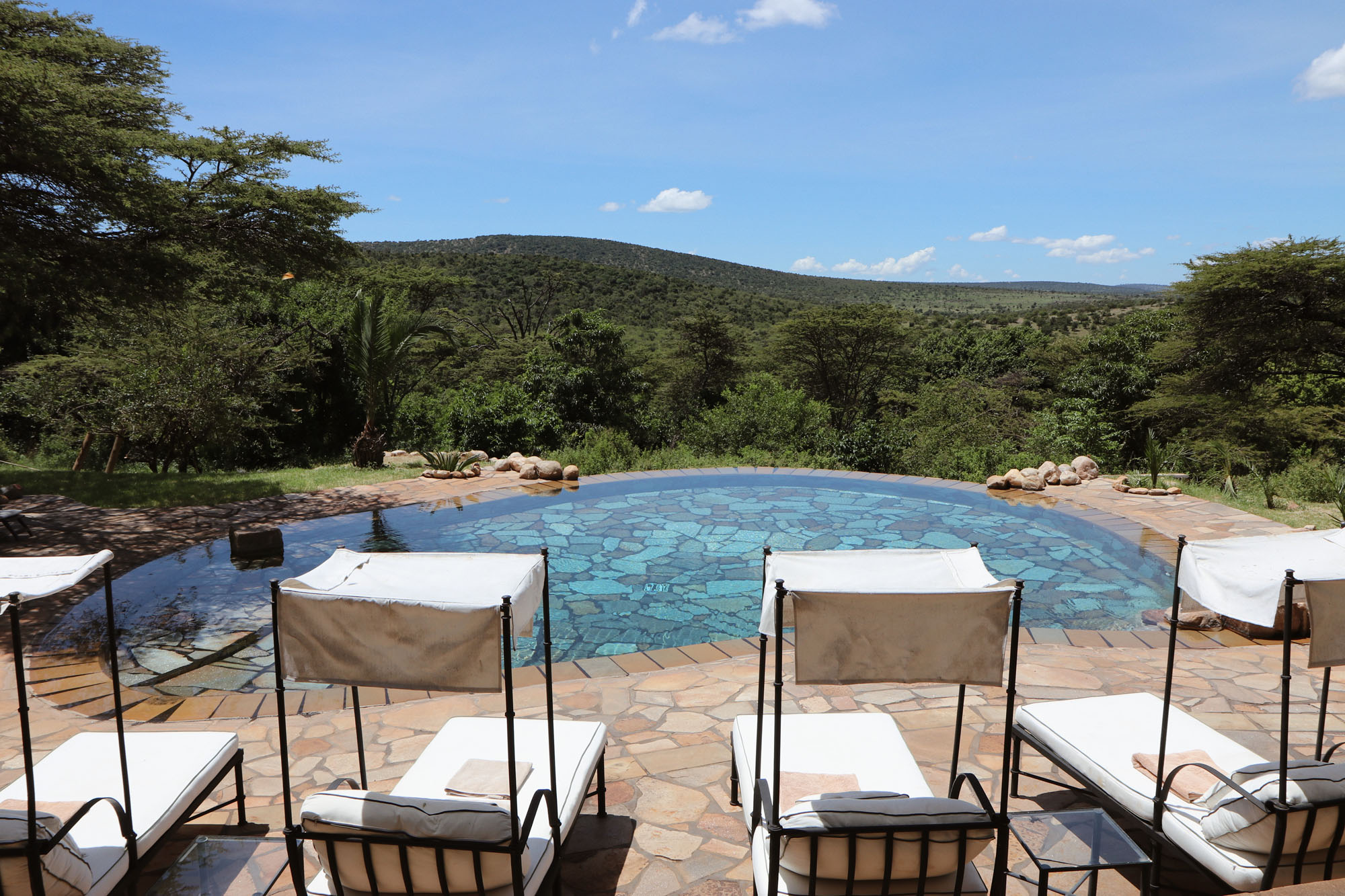 Some further exploration of Cottar's Camp reveals a large, sparkling blue pool with comfortable lounge chairs, a covered deck and expansive lounge area, complete with a bar, kitchen and restroom facilities.  The pool lounge area was the location for lunch on one of our days at Cottar's: home-made pita bread with a variety of fresh vegetables, melon balls with feta cheese, beetroot salad, olives, chili peppers, balsamic vinegar, a pork stir fry and homemade ice-cream over a red-wine infused pear.
Yet another discovery, a short car ride further up the hill on which the camp is located, is an award-winning  5-roomed private villa which can sleep up to 14 people.  With a 25-meter lap pool and the best views imaginable, the villa has its own dedicated staff including two housekeepers and a chef, and two private vehicles - three if needed.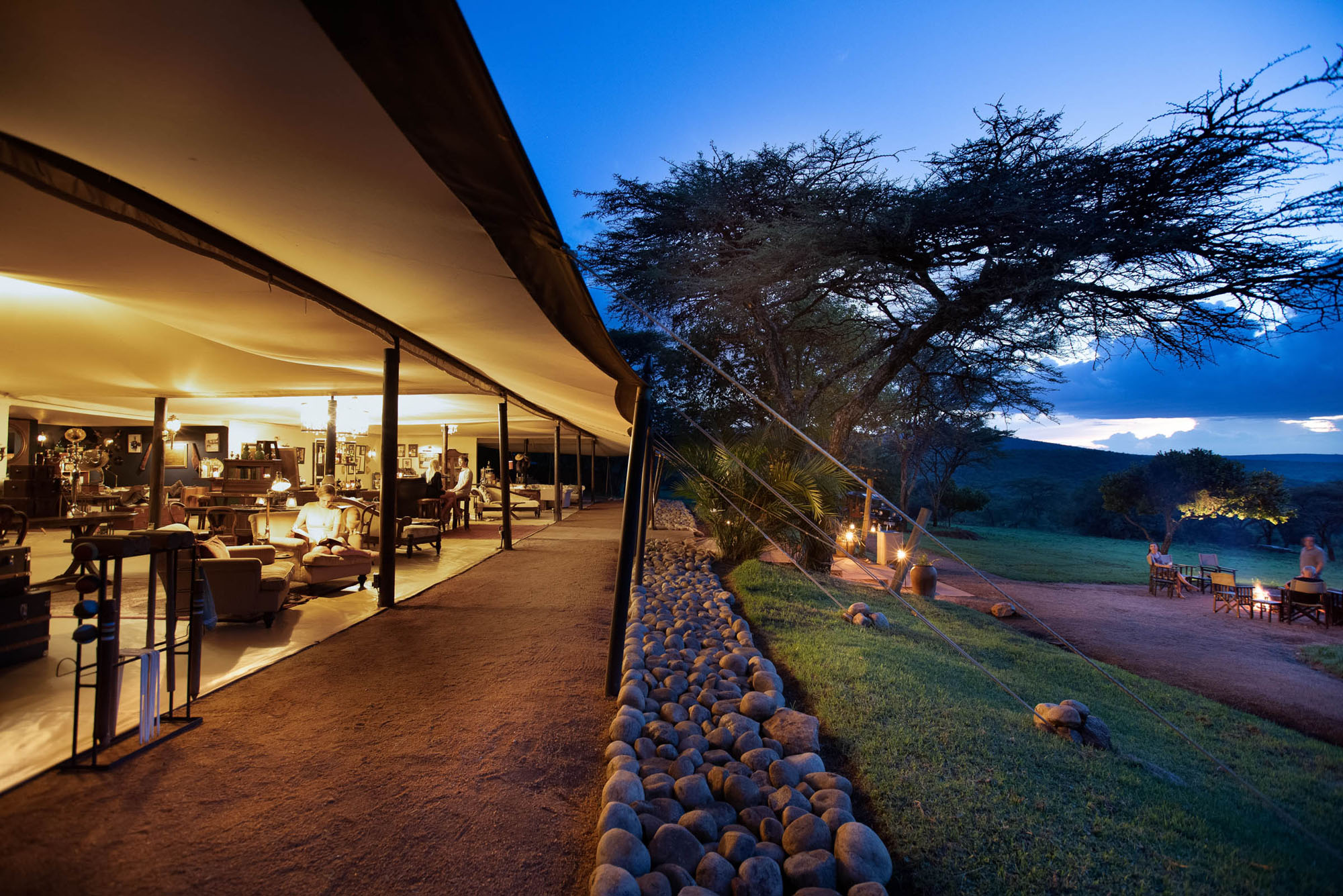 Beyond what the eye can see, or any brochure or website can reveal, Cottar's is the embodiment of what needs to be done to protect and preserve the Kenya safari business and all its stakeholders.  More so than any other safari camp I know of, Cottar's succeeds in blending the romance and elegance of a classic African safari, with the demands of a forward-thinking business which successfully operates in close partnership with the local Maasai community.   Over several generations and many decades, the Cottar family enterprise evolved from hunting to photographic safaris to the current model which offers a luxury, high quality wilderness experience in a sustainable manner, balancing the needs of the people, the wildlife and the environment.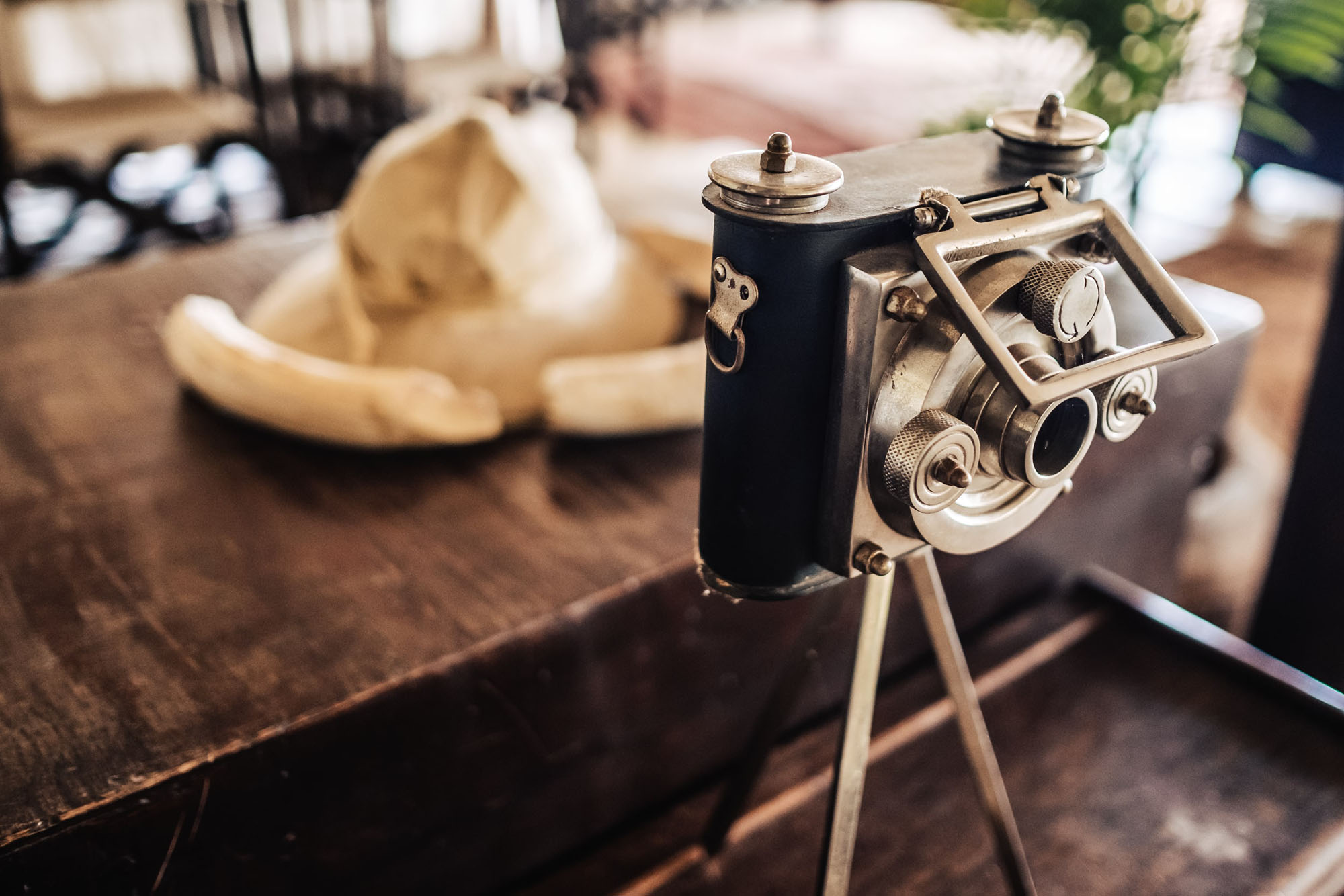 Cottar's / partimetravelers
Louise Cottar and the people of Cottar's Camp
It's a demanding, hands-on job to manage a safari camp, particularly one which sits on leased Maasai land, employs members of the local community and actively supports the community in various ways such as by building a school and providing meals for the children, conducting local health clinic visits, building a life-saving footbridge over the Sand River and becoming involved in anti-poaching and anti-deforestation projects, to name but a few.  During our short stay there I noticed co-owner Louise Cottar engaged in one-on-one meetings with local community leaders, no doubt ironing out one or the other issue.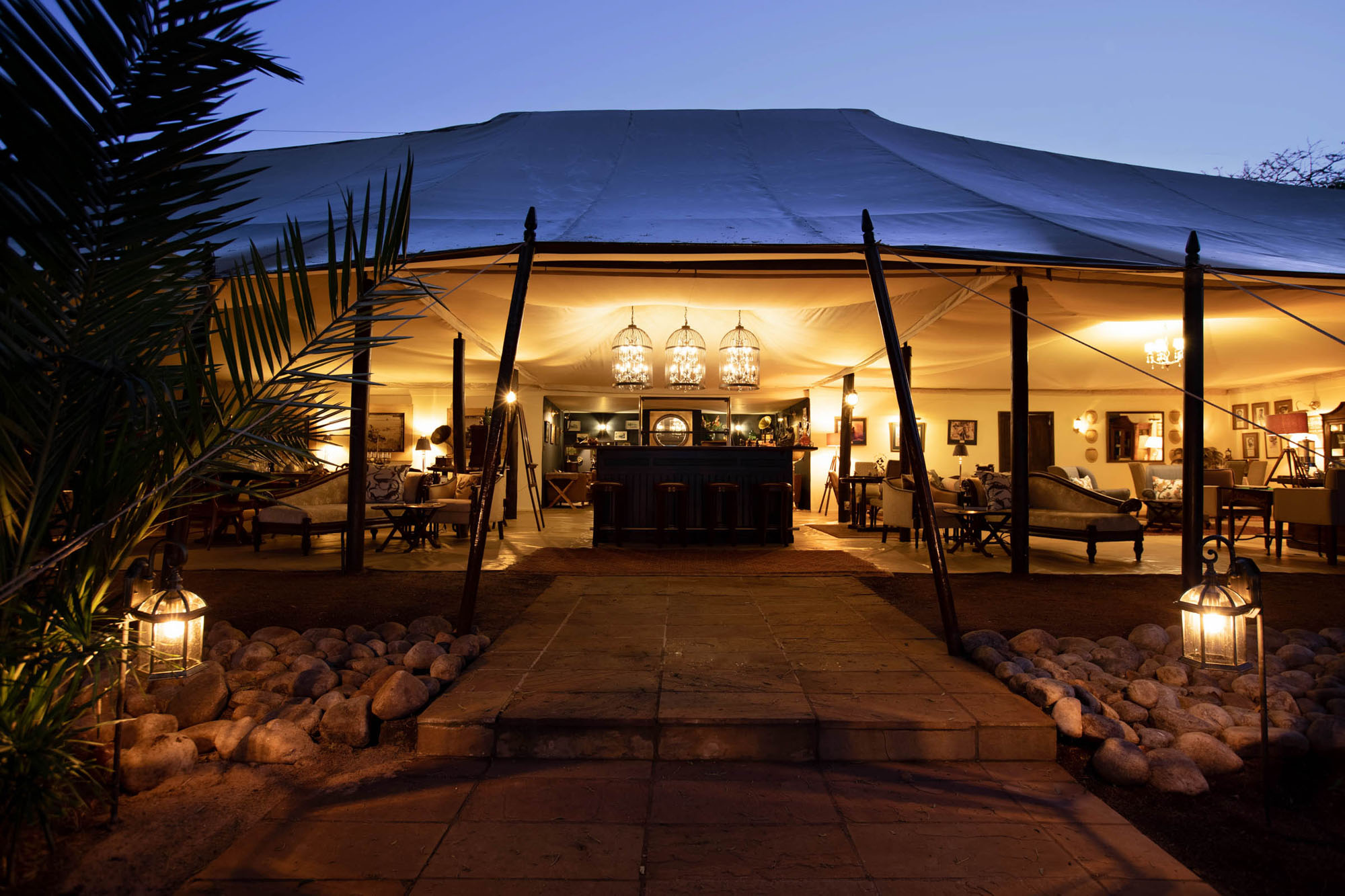 Cottar's / partimetravelers
Having first met Louise when we stepped off our aircraft after an hour or so flight from Nairobi - it quickly became clear that the success of Cottar's 1920 camp has almost everything to do with its people.  Louise was gracious and friendly, yet clearly very much focused on keeping up with the many demands of owning and managing a safari property of this stature.  Particularly at one of the most difficult times in the long history of Cottar's,  with most international guests having been absent from Africa for the better part of a year.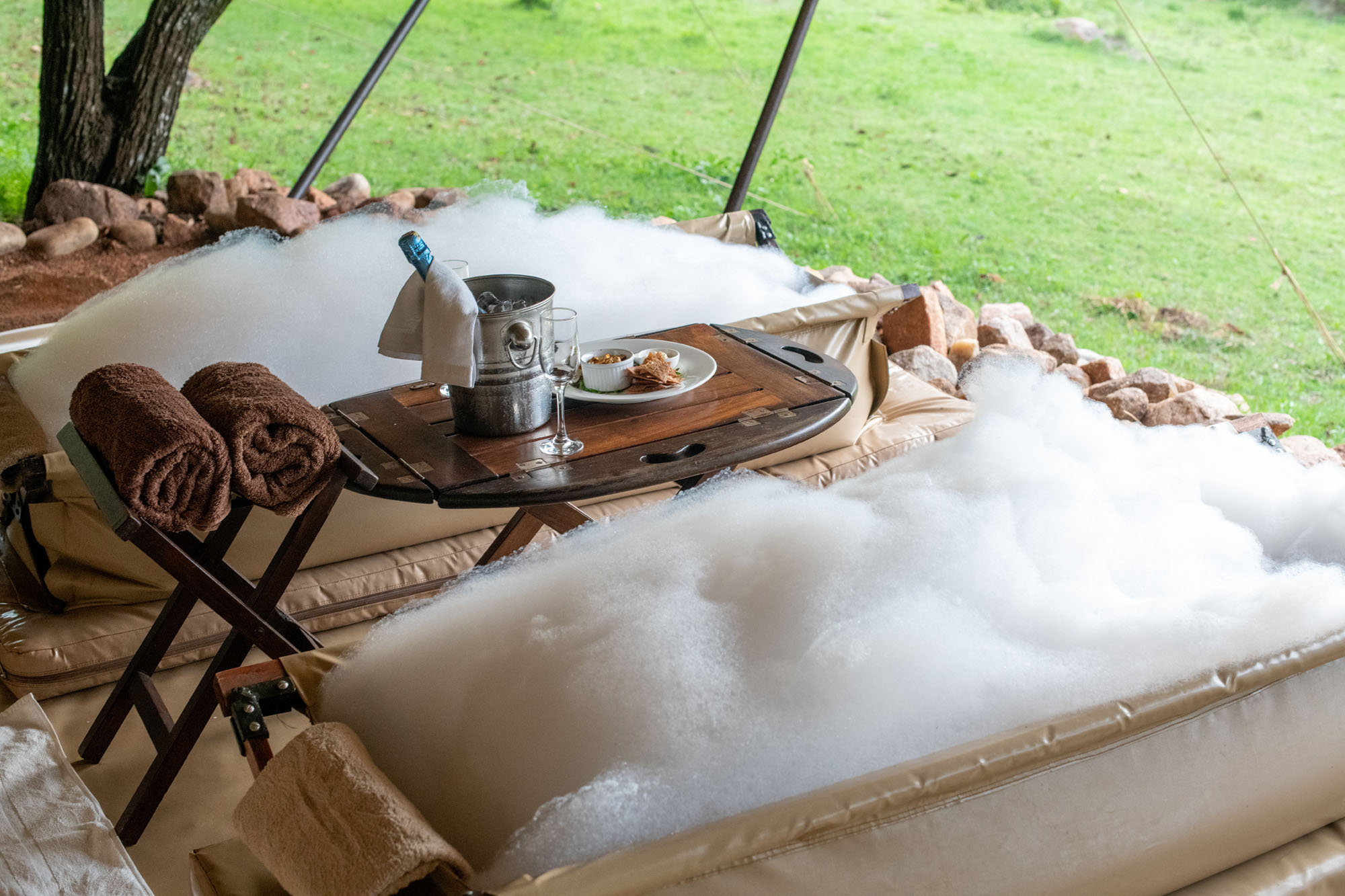 Just like Louise, everyone else we interacted with at Cottar's displayed a keen interest in our well-being, and judging by the stellar online reviews garnered over the years, this VIP treatment is enjoyed by everyone fortunate enough to spend some time here.  Camp manager Bruce Cattermole graciously dined with us a couple of times and was ready to arrange any number of activities for us including a run with the Maasai, an e-bike outing or a hike up Cottar's Peak.  Which unfortunately didn't happen due to a lack of time.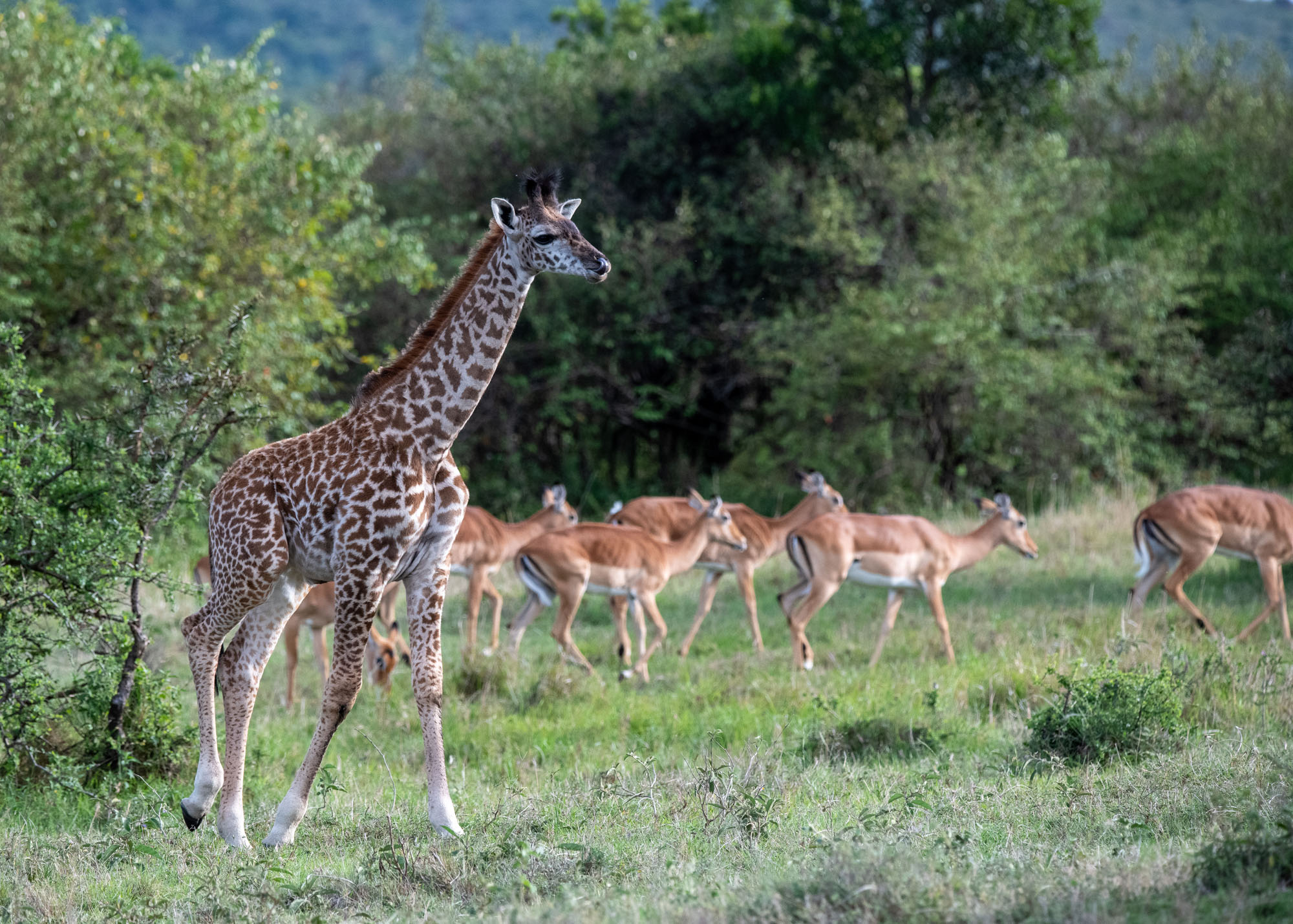 Game drives out of Cottar's Camp
Cottar's is known for the excellence of its guiding and our guide Wilson Tumake Mpatiani and his tracker Sallash proved to be a most capable team.  Our very first afternoon game drive at Cottar's Camp reinforced everything I had come to admire about the Masai Mara over the years.  As a natural spectacle there are few places in Africa that rival it.  And then there's the animals.  In what seemed like no time at all, we racked up sightings of 12 mammals, ranging from a white-tailed mongoose to a buffalo, from a topi to a giraffe.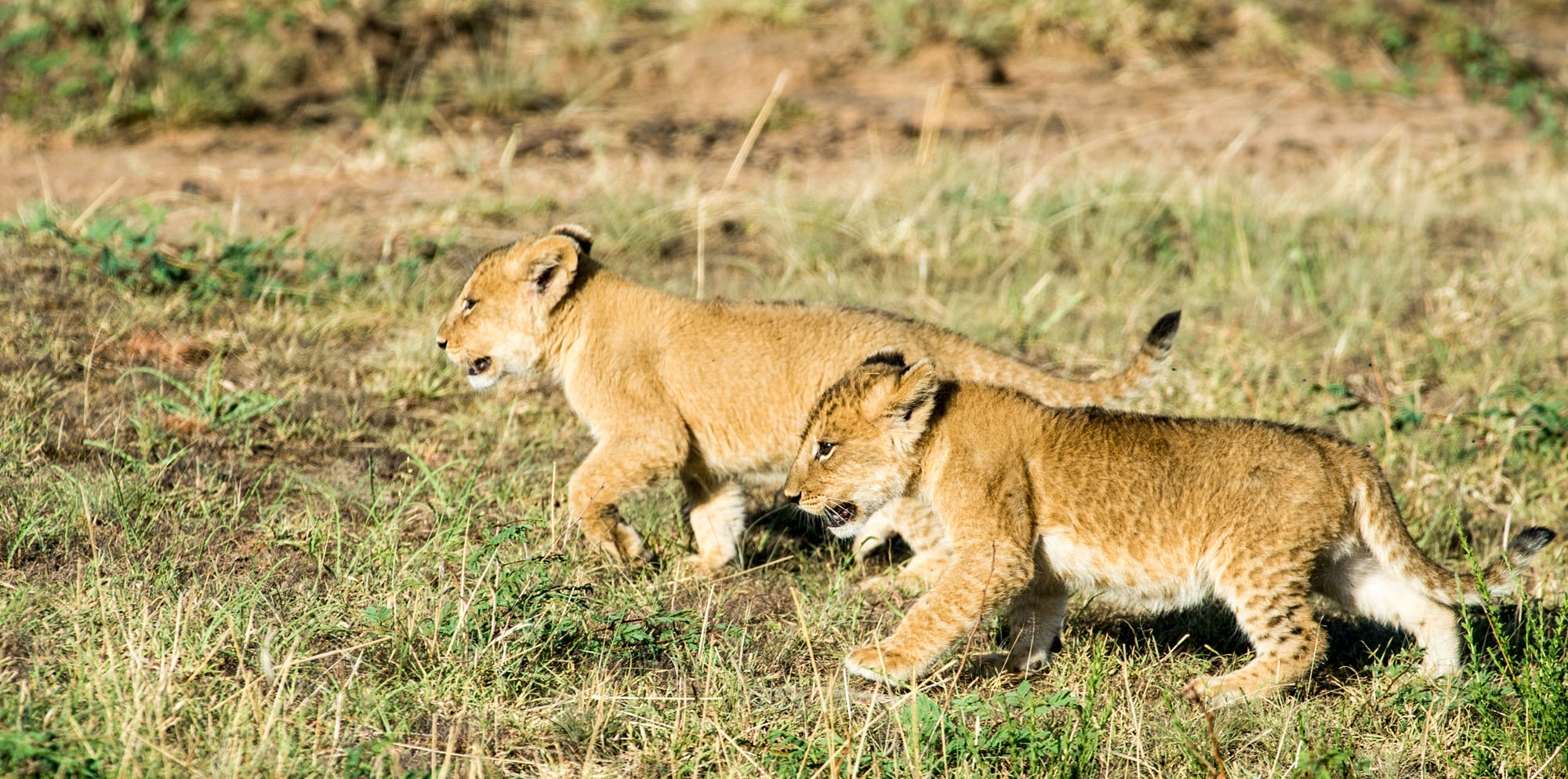 The following day we bumped into a pride of 11 lions, part of an even bigger pride of 22.  Their territory stretches right across the border into Tanzania.  We also came across a solitary female cheetah which appeared to be pregnant.  To be more precise, Sallash spotted her walking from an exceedingly long distance away, literally on the Tanzania side of the border.  There were giraffes everywhere!  Wilson remarked that this well-wooded eastern part of the Mara is known for having much higher numbers of giraffes than the more open plains to the west.  It stands to reason.  We were thrilled to also bump into several breeding herds of elephants on our outings from Cottar's.

On our second day at Cottar's, when we drove into the Masai Mara National Park, we were both simply overawed by the beauty of this part of the reserve.  There had been good rainfall for several months and the Mara was never in better condition.  It is visually one of the most arresting expanses of real estate likely anywhere in Africa.  There is just no way to do justice to this mosaic of grass, sky and rocky hills with a photo or description.  You just have to see it yourself.  A  soul-pleasing place where civilization as we know it ends and the primeval beauty of nature in the raw takes over.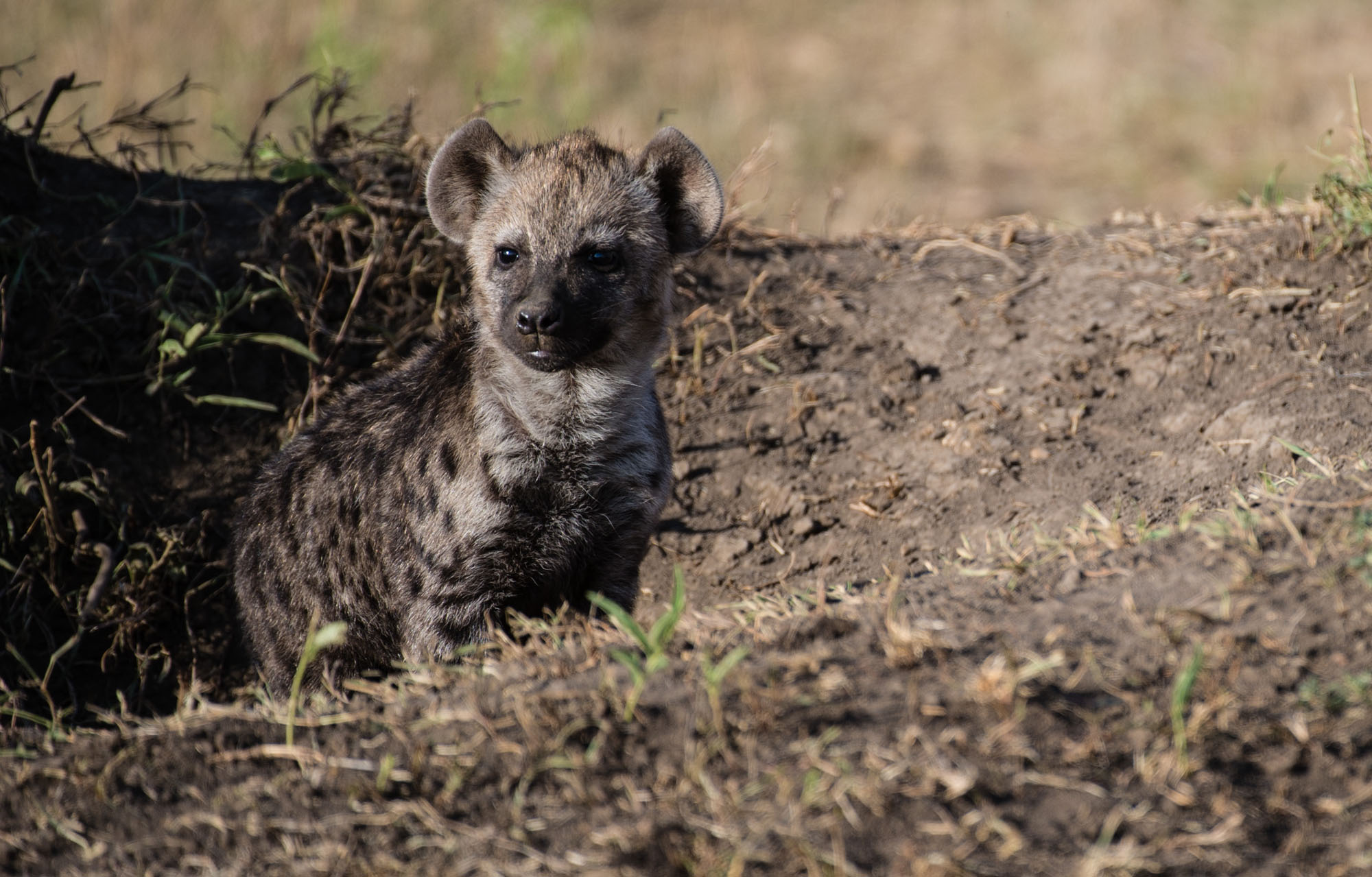 Every now and then I felt like just stopping for no reason to let my eyes linger on the beauty around me.  Is there really a place like this where one massive grassy plain merges into another one, where one series of hills on the horizon vies with another to be more like the Africa you had come to see?  Yes there is – but don't wait too long to get on a plane to Kenya - and to the Mara - to experience it for yourself.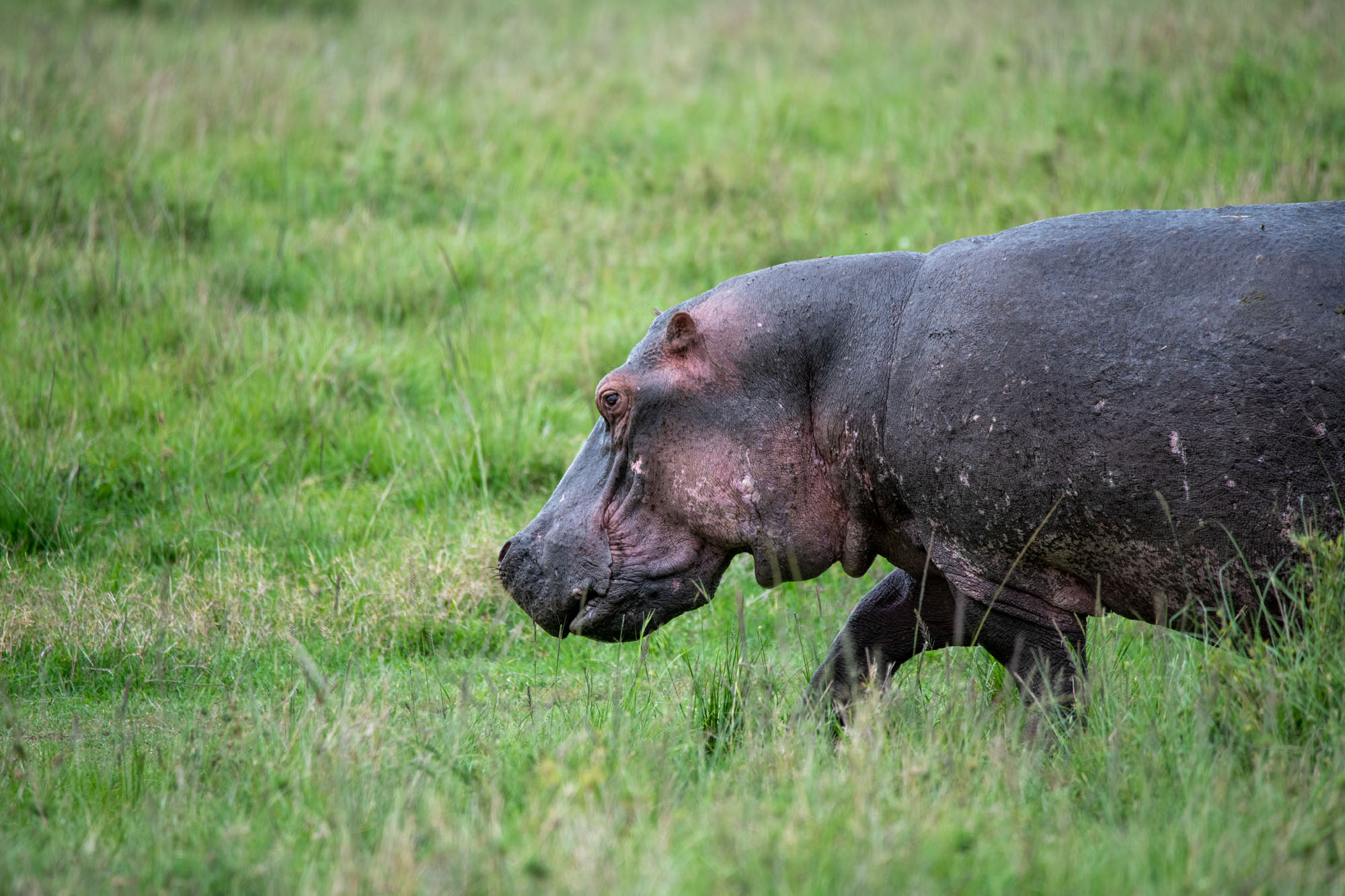 Clearly, Cottar's 1920's Camp has been successful in maintaining their reputation for wilderness and privacy, and for leading the way with their innovative and unique approach to sustainability.  Already,  Cottar's 1920s Camp is a Global Ecosphere Retreat member of the Long Run,  one of the world's largest initiatives led by nature-based businesses following the 4 C's: conservation, community, culture and commerce.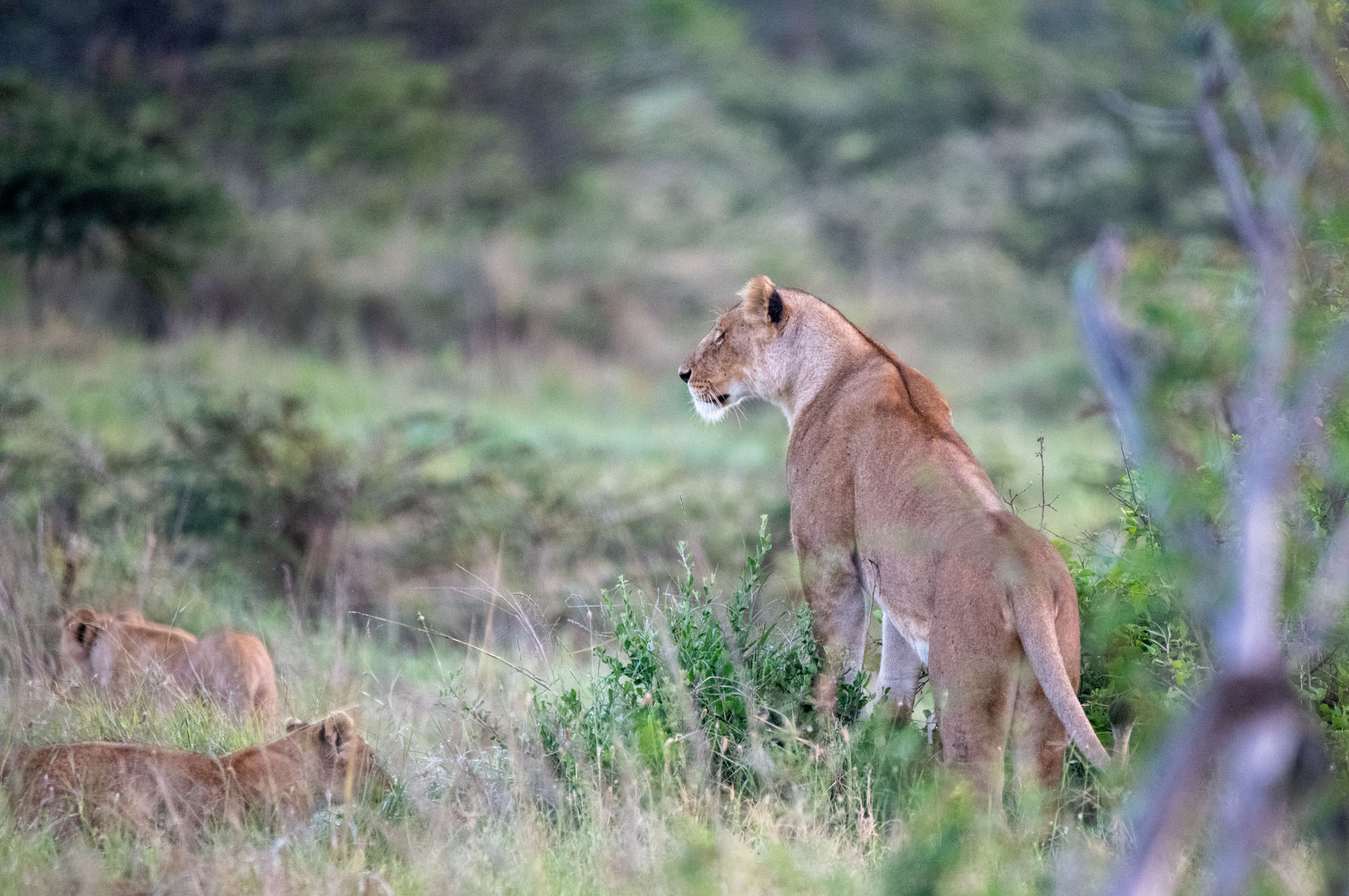 A talk by Letilet Ole Yenke - a local medicine man
In addition to the stellar game-viewing, another highlight of our stay was an early evening talk by a local hunter-gatherer, Letilet Ole Yenko, whose mother was a Maasai.  Letilet is a local medicine man who has had a book published (Letilet's Tales) and who features in a documentary - 'Life of an il Torobo Hunter-Gatherer'.  The documentary - which has had more than 9.5 million views on YouTube - can be seen here.   Letilet's fire-side talk had to be translated in real time as he speaks no English, but it was easy to see the passion and enthusiasm for his pastoral life reflected in his weathered face.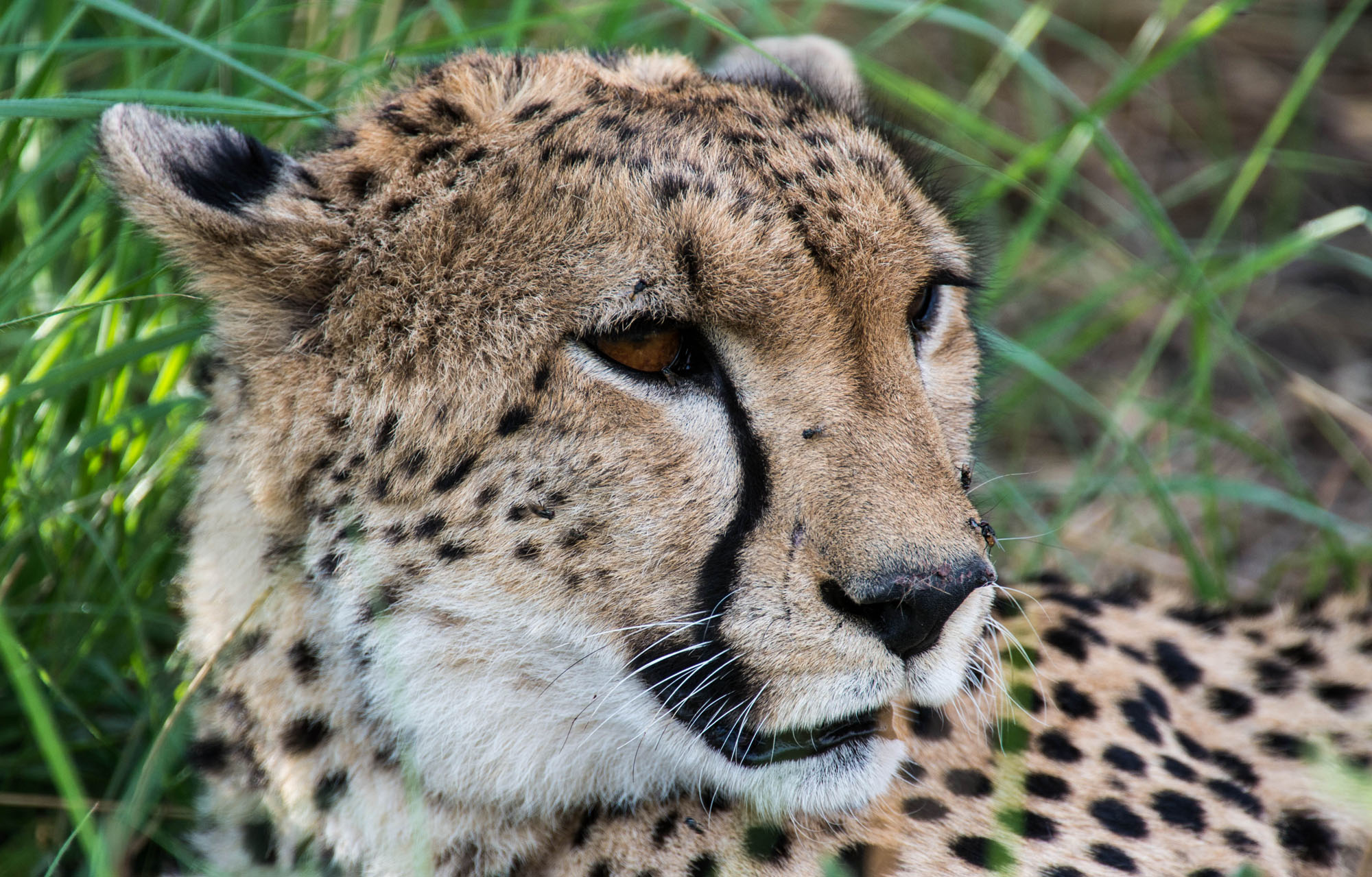 Letilet is exceedingly knowledgeable about more than three hundred plants in the vicinity of the camp and touched on the ancient and modern uses of quite a few – some useful for ailments, others for poison.  Letilet and other herbalists are passing on their knowledge to Cottar's younger guides, and Cottar's has lately been including more foraged plant items into its menus.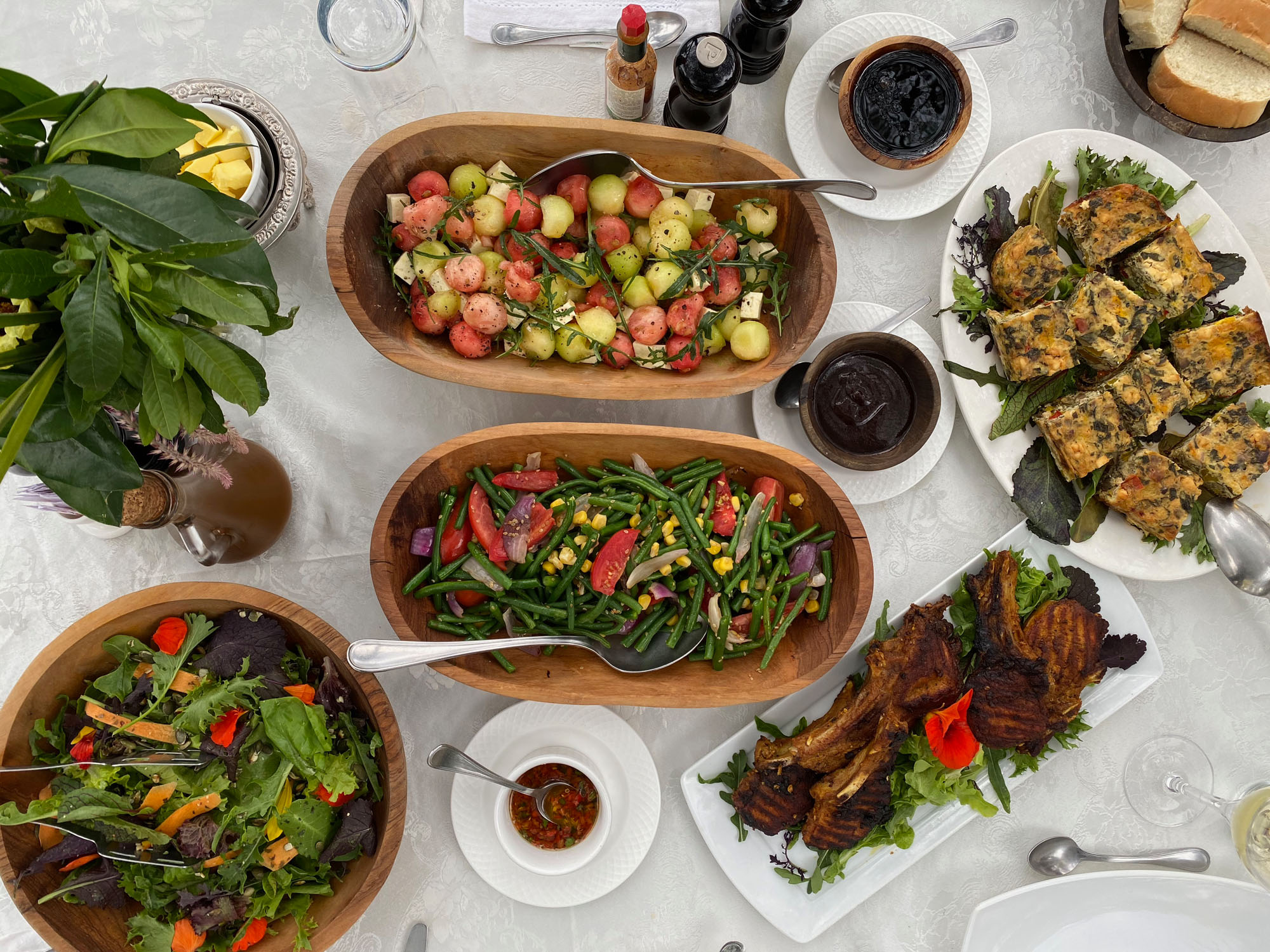 Which brings me back to dining.  Much of the produce which finds itself to your plate at Cottar's is as fresh as could be, having been sourced from the extensive on-site organic garden.  Shortly after our arrival we enjoyed a simply fantastic meal with a selection of fresh salads with micro greens - in addition to some juicy ribs and freshly baked bread - served al fresco at a couple of large tables on the lawn in front of the mess tent.  It was a perfect safari experience:  casual, convivial and essentially stress-free, even in the midst of the pandemic.  In that open-air setting with lots of space, and a light breeze pushing in from the plains, we could all set aside any concerns and enjoy the food and each other's company.
Cottar's looks ahead to the future
The Covid-19 lockdown allowed Cottar's to complete some refurbishments to several of the tents and structures and to further develop unique, purpose-driven experiences that contribute to sustainability.
Louise Cottar put it like this:  'Luxury safaris and the Big 5 game experience have become commonplace. We believe that travellers still value these elements, but that they also want to participate in a safari that provides values, purpose and impact. As such, we have spent the last year developing safari impact experiences that have a positive effect to the guests, to the complex and unique biodiversity that surrounds us and to the local Maasai community as we move forward into the next 100 years of providing safari and conservation services'.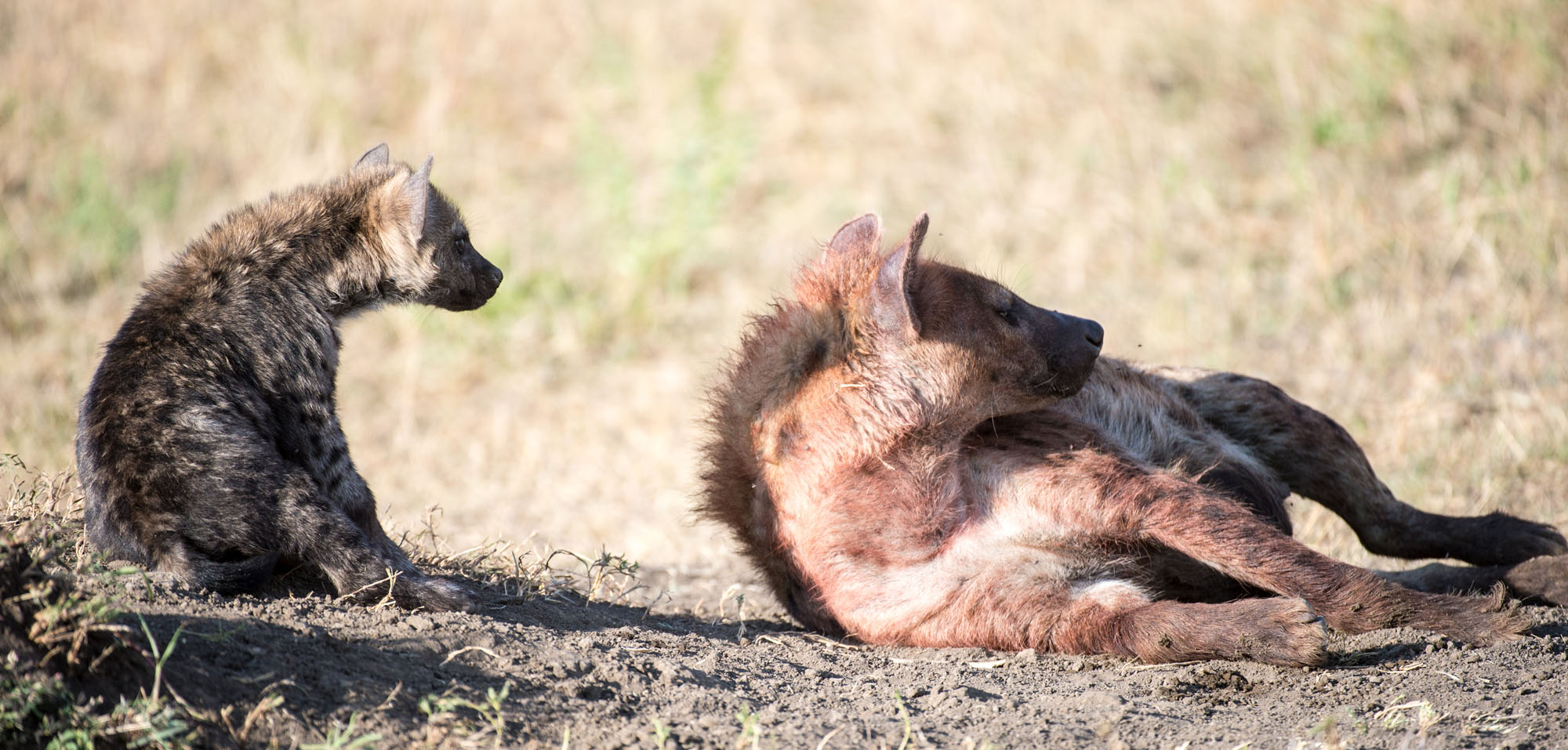 Some of those experiences include enabling guests to engage with and learn about vulture rehabilitation, spend time with the only all-female conservation ranger unit in the Masai Mara, learn about the unique medicinal plants of the area, forage and taste local wild food, tour the community-owned private conservancy and participate in a reforestation seed dispersal bushwalk experience.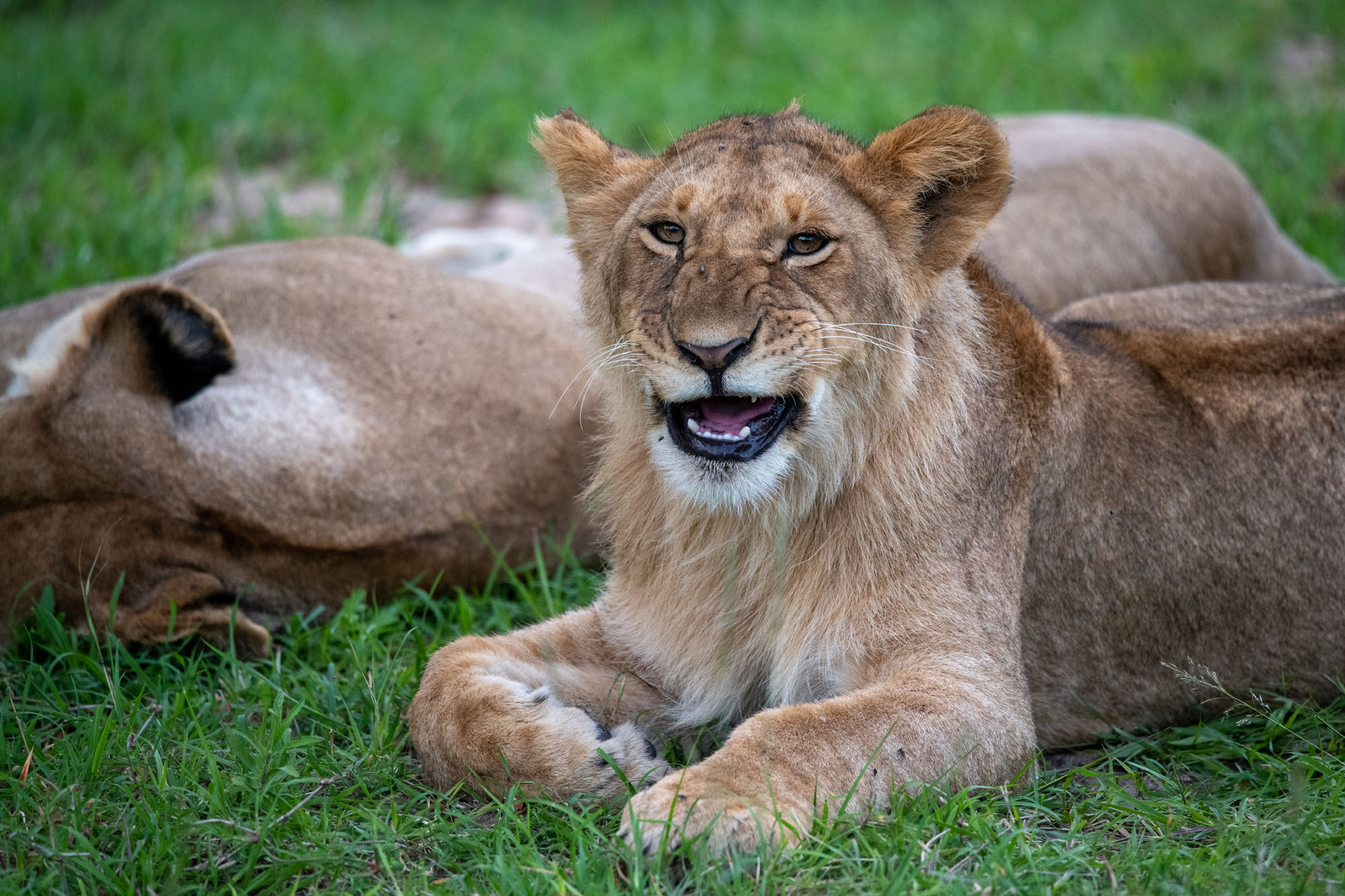 The Cottars have also developed a 'Full Circle' safari experience which enables guests to stay longer in the Maasai Mara, and move from the 1920s Camp to the Conservancy Camp to a mobile camp, to fully enjoy the amazing breadth of experiences that the Masai Mara has to offer.  We look forward to one day returning to Cottar's to experience more of this wonderful area and the family who is so dedicated to see it survive and thrive into the next generation and beyond.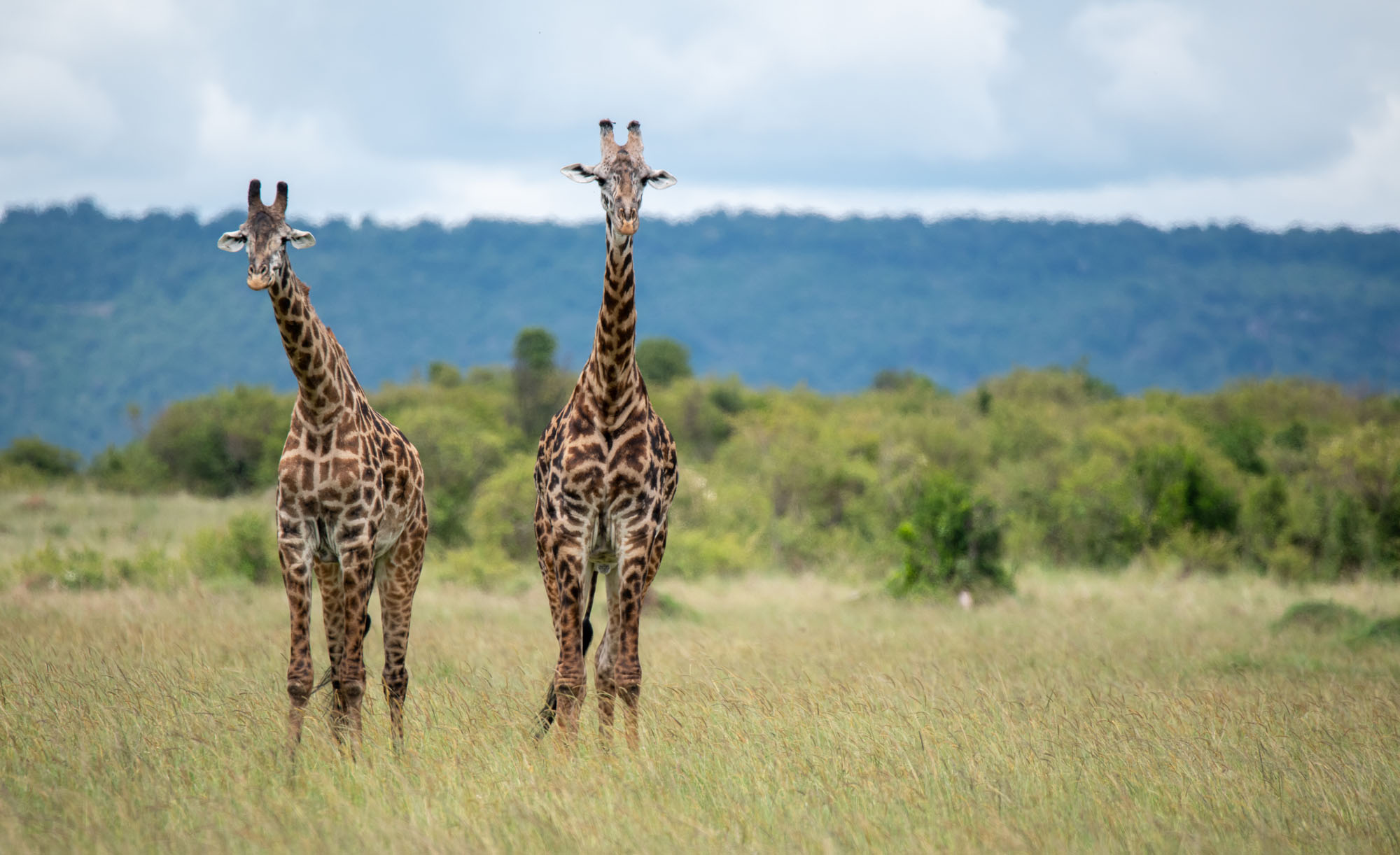 A note about Covid protocols:
Just like all the other Kenya properties we visited on our trip, Cottar's 1920's camp had a comprehensive Covid-19 protocol in place, starting with a foot-operated hand-washing and sterilizing stations at the entrances to the mess tent.  Guests' temperatures are checked regularly, they are provided with masks, the staff wears masks all the time, and diligent cleaning procedures are in place for luggage, vehicles and common areas.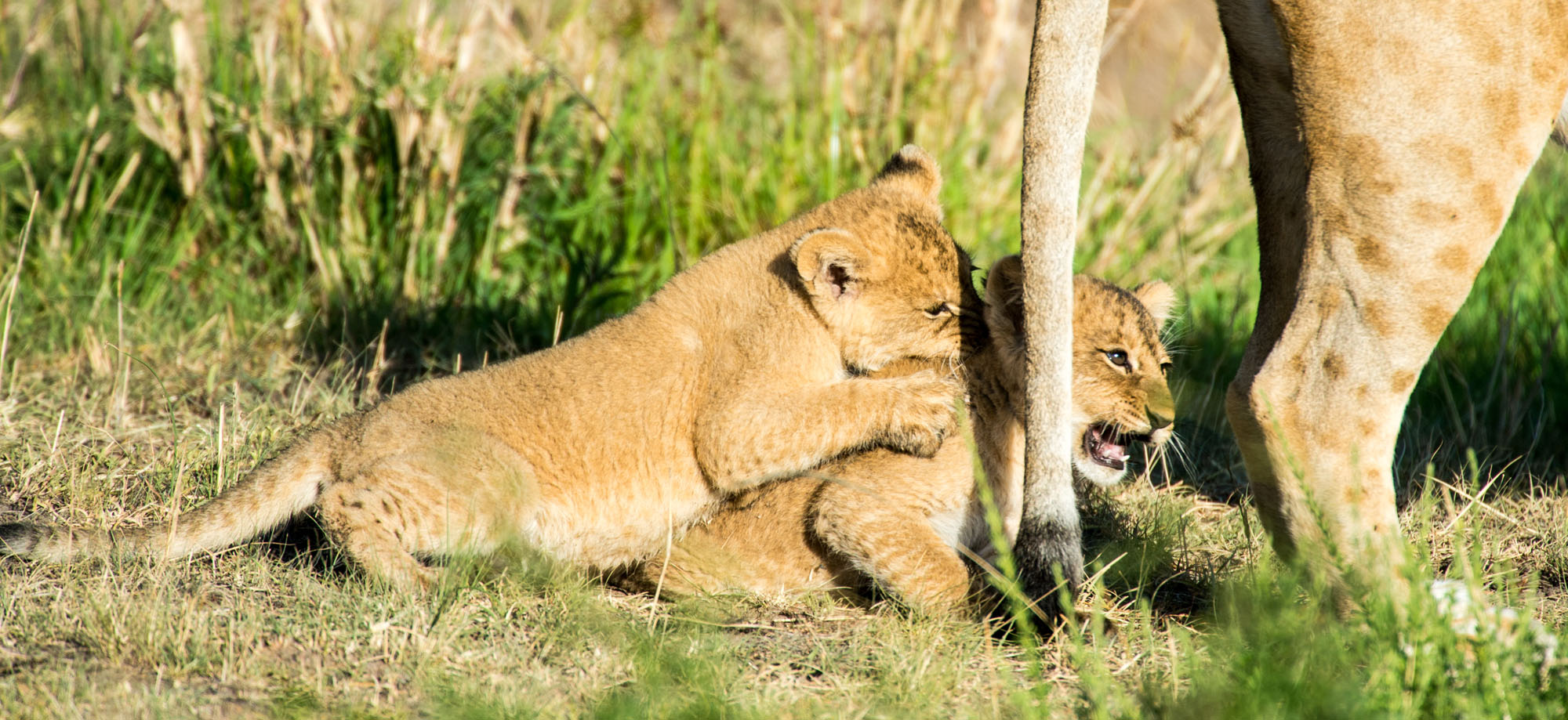 Our blog next week will take us to a different part of the Masai Mara, to Sanctuary's Olonana camp tucked away on the edge of the Mara river in the far northern section of the park. Set at the base of the Oloololo Escarpment, Olonana is an ideal base for visitors who would enjoy an elegant, modern lodge which is quite close to some of the best wildebeest crossing points during the annual migration season.