"Only in Africa":
Tiger Fishing
I believe the core activity on any great safari is the game drive. The animals are, of course, the main attraction and there is no better method of viewing them over the course of a trip. This should be the activity of choice for the majority of days in the bush. There are a few alternatives that can add to your trip if used in moderation. Walking, boat outings, and fishing immediately come to mind. Of these alternatives it is hard to beat a good fishing trip. Strictly catch and release of course.
For me there is nothing quite like waking up early in the morning knowing that I have a fishing trip coming up and thinking about what kind of fish I am going to catch that day. Although some days I don't catch a single thing. But let's not dwell on that, the morning before a fishing trip is an optimistic time. Tiger fishing on the Zambezi brings a special kind of anticipation because the quarry is so out of the norm.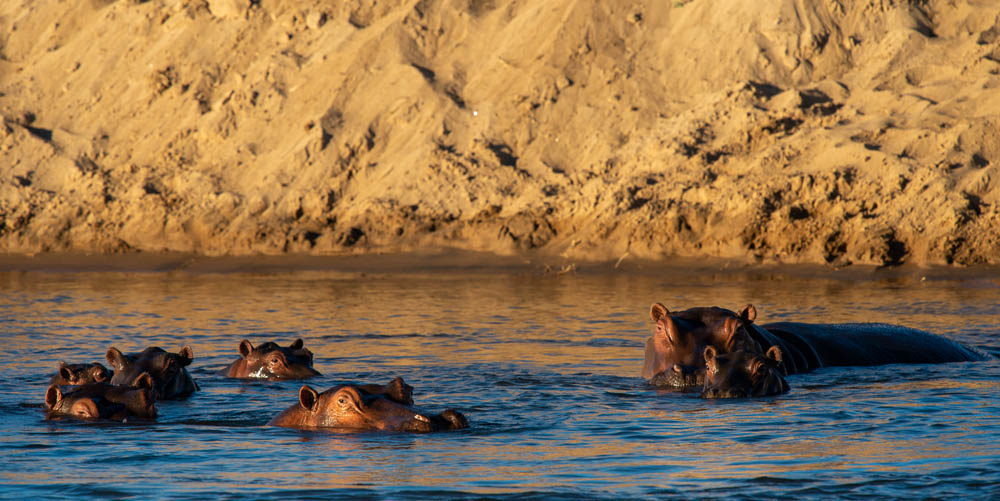 They are truly a beautiful fish, large, powerful, striking, especially with those cartoonish giant teeth. It is hard (if not impossible) to come up with a North American equivalent. Not an easy fish to catch under the best of circumstances but that is what makes reeling one in all the more special. In the back of your mind you know there is some monster lurking somewhere in the vastness of the river. Could today be the day when chance brings your lure into the gaze of one of these behemoths?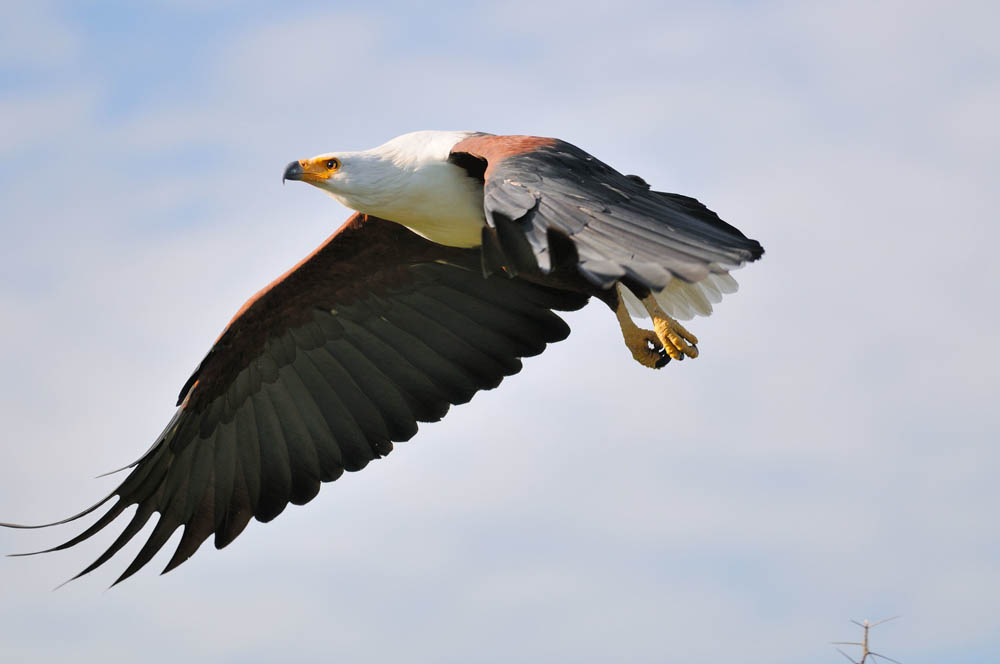 Tiger fishing can be physically strenuous with a constant flow of casting and reeling. As the morning passes and your approach afternoon it can get hot out on the water with the sun beating down on you. Despite this it brings a relaxing repetitiveness. Cast. Reel. Cast. Reel. Take in the amazing surroundings. A fish eagle perched on a nearby tree. Some hippos watching you noisily. The gentle wind keeping you cool. The belief that each failed cast brings you one closer to the inevitable bite.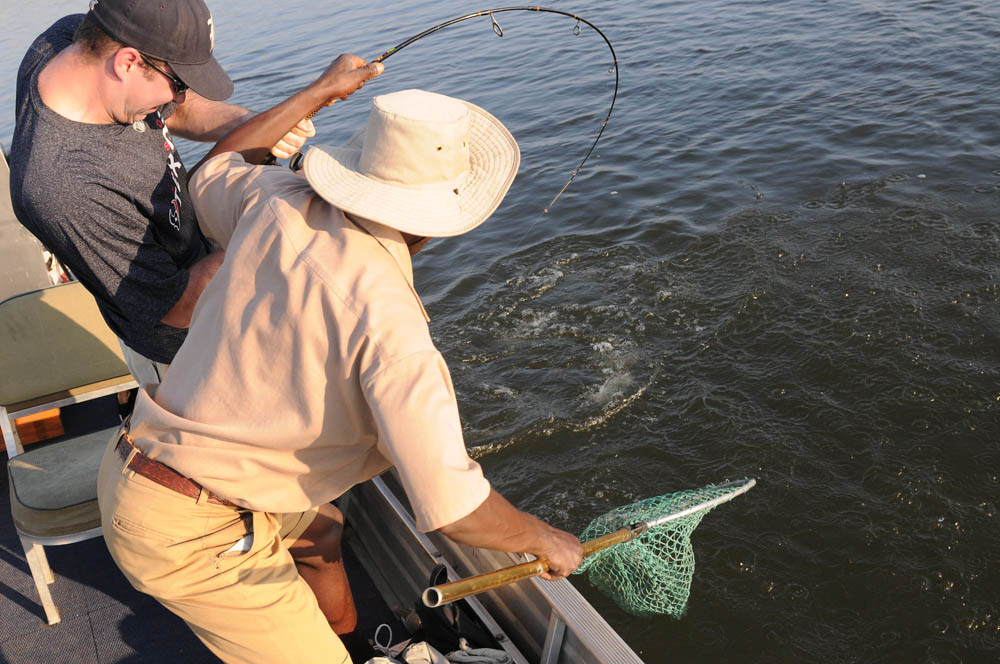 On my last trip in the Lower Zambezi I must have tossed a few hundred casts out in order to get about 2 good bites. I did witness a fish eagle swoop in near one of my casts and snatch a fish not 10 feet from my lure. No catch and release for her. He came so close in fact that I initially thought he was going to take my lure. What are the odds? That alone made the whole activity quite a special outing.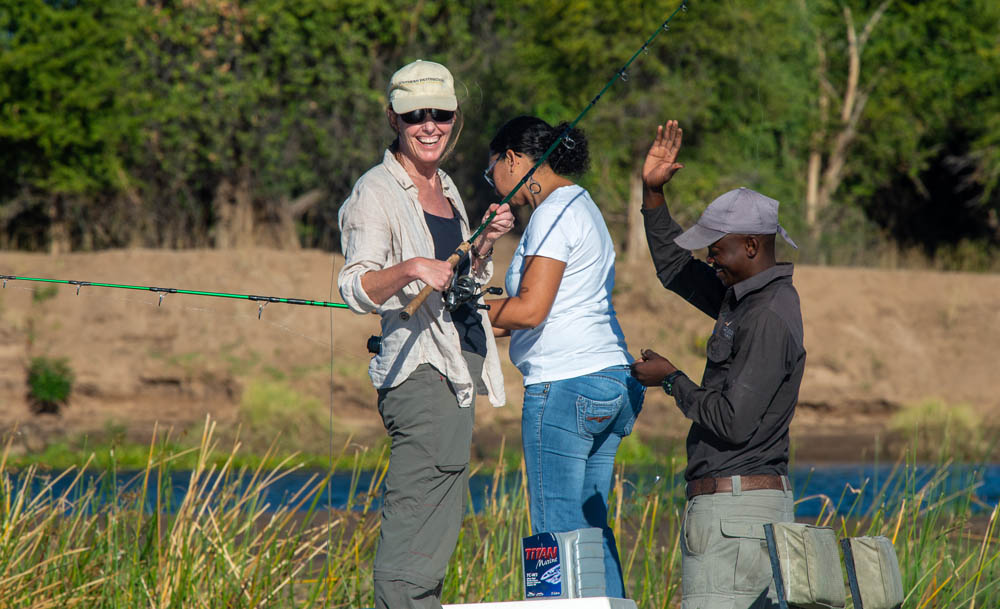 On top of all of this you will have a fantastic guide taking you to the best fishing holes, setting up all your bait, giving you instructions, and serving you snacks and refreshments during the course of the day. I was lucky enough to be the lone guest so I encouraged my guide to do some fishing with me. Lucky I did else I would not have gotten a look at the elusive tiger! These guys will bend over backwards to make your day a special one so I was quite pleased he was able to reel one in. Plus it gave me the opportunity to film it.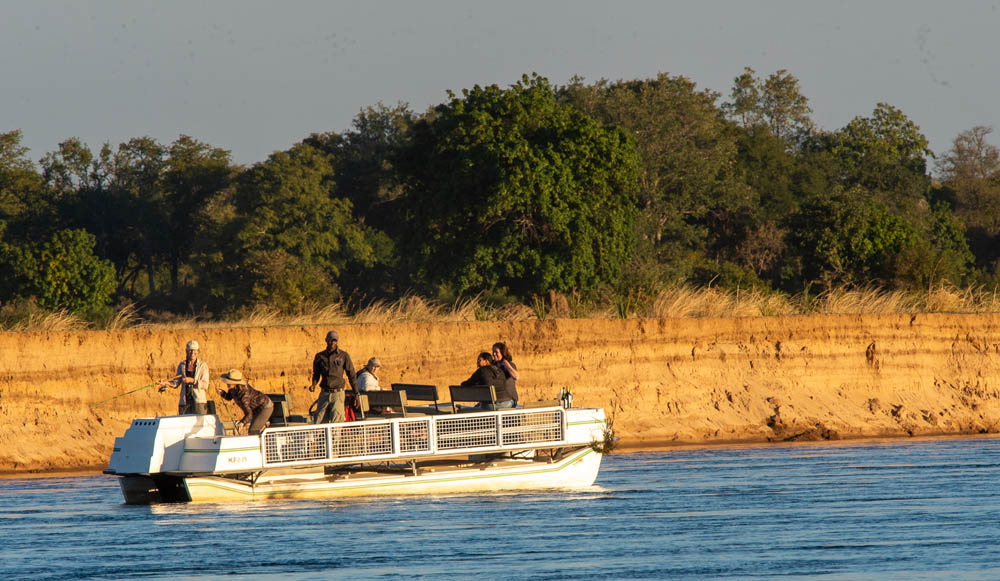 Everyone knows fishing can be an excellent source of bragging rights. This is especially true if you are travelling in a small group. Watching your loved one haul in a monster tiger is simultaneously thrilling and brings a slight pang of regret that it isn't your bait the fish chose. In the end it's all in good fun but that doesn't mean that we at Fish Eagle Safaris don't know who holds the office record for one of these guys. Bert and Kathy had success catching a few decent sized ones from the bank, not from a boat. He said what made it a bit more challenging was having to first catch the bait fish.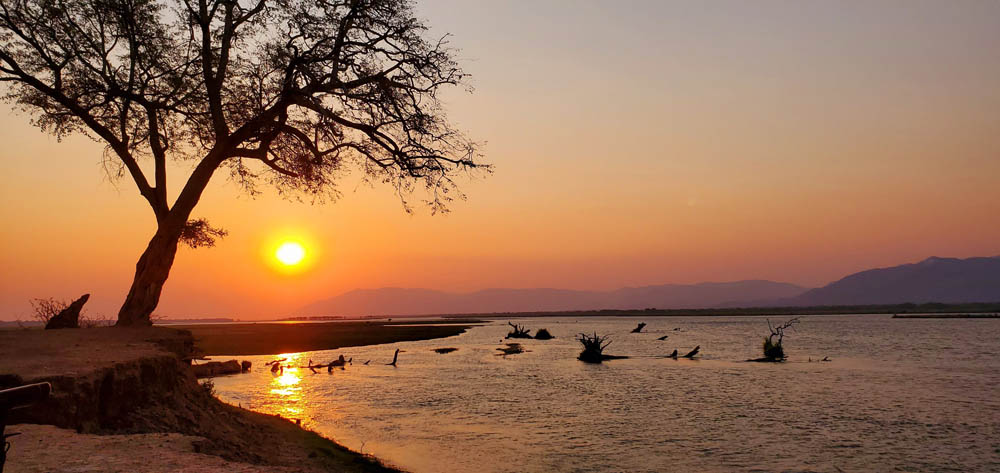 Kathy caught a nice 10 lb one and was certain she had gotten snagged on a log. She asked the guide for some help and as he took the rod he exclaimed that there was one on the line. Jason and I first went fishing on the Zambezi years ago and he was the first to hook one. I remember watching him frantically reel as his line went slack. I then remember seeing a huge tiger fish jump and if you looked close enough you could see it spit the hook out in our general direction. Pure heartbreak. At some point I convinced him to switch rods with me and I wound up pulling in a 12 or 13 pounder after a good fight. I don't think he has forgiven me to this day.