$cat_name = 'category'; $categories = get_the_terms($post->ID, $cat_name); foreach ($categories as $category) { if ($category->parent) { echo $category->name; } } ?>
Jun 15, 2014
Zanzibar June 2014
Share: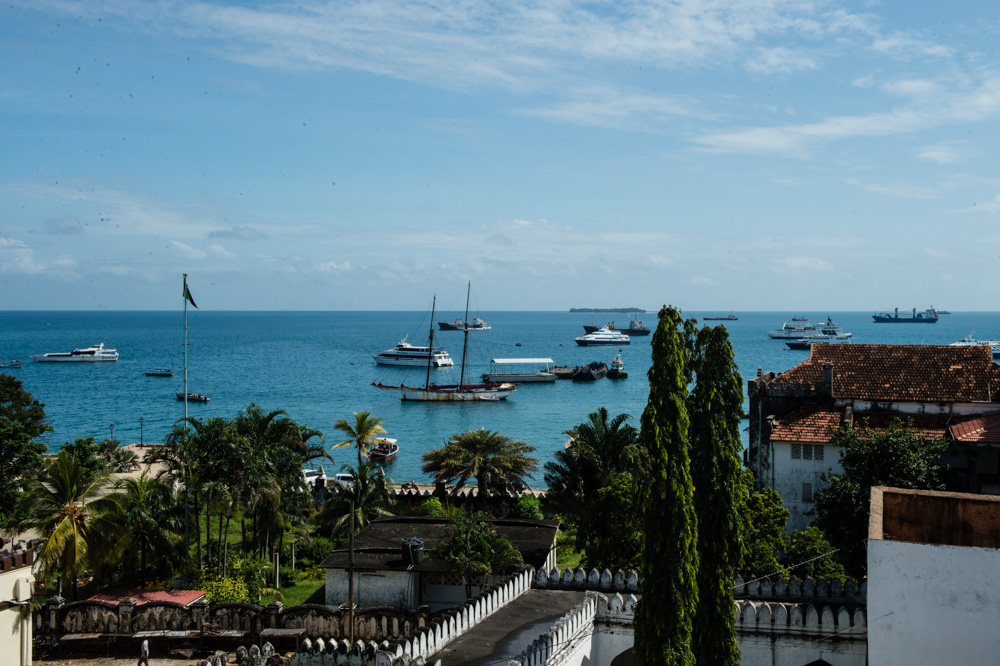 Zanzibar, June 2014
PART 1: STONE TOWN
June 9 2014. Soon after being picked up by our friendly and competent driver from Island Express at Zanzibar Airport, we were unpacking a few things in our attractive, high-ceilinged room at the Mashariki Palace Hotel in Stone Town. The room was air-conditioned, it had free – and fast – WIFI – and lots of hot water in the shower.
Friendly manager Michela – who is from Italy – showed us around and filled us in on the background, explaining that the hotel is a renovated portion of the former Eastern Palace, once the seat of the Oman empire. Restored to all their former glory, the rooms, stairways, entrance and courtyard as well as the beautiful rooftop terrace combine for a very pleasant and private environment.
Our room was comfortable and cool enough; it was nice to get complimentary bottled water as well. We liked the terrace breakfast with good coffee, great pancakes with local honey and eggs to order. Kathleen enjoyed her cappucino as well. The only issue we had was the proximity of the Forodhani Secondary School which operates in two shifts – this meant that some really loud children could be heard from our room from around 7:30A until 7:00P; so forget about trying to take a nap.
In its price category the Mashariki Palace is a good choice for Stone Town with a convenient location right alongside the National Museum, just off Forodhani Park, a couple of blocks from the port and with easy access to some of Stone Town's best shopping areas on Kenyatta Street.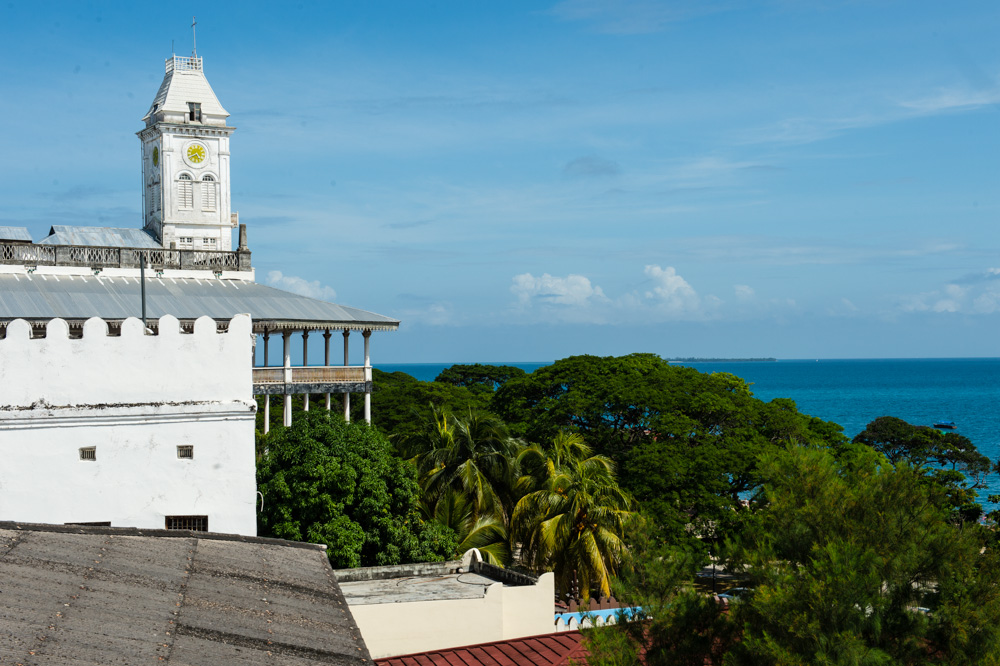 Unlike our previous much more structured trip to Stone Town this one was purposefully unplanned, a bit like the town itself. We had already done the guided tour of Stone Town (which we highly recommend); a Spice Tour (a bit hokey but fun) and an outing to Jozani Island to see the Redfaced Colobus Monkeys. So this time, we were just going to see where the alleys would take us.
Stone Town is colorful, bustling, seedy and – particularly on the edges – a bit squalid. The majority of the buildings there are deteriorating slowly, being mostly constructed with coral stone which needs regular maintenance but isn't getting it.
We walked out of the hotel and within minutes we were in the maze of alleys which criss-cross Stone Town like cracks on a centuries-old masterpiece. In some ways Stone Town is like an old painting: nice to look at but decaying before your very eyes, and needing lots of expert attention to restore it to its former glory and full brilliance.
We set off in a direction which we thought would take us to a bureau de change, but promptly got lost. There are few street signs in Stone Town and even fewer landmarks, so there is no way of telling how close to the coastal road you are. We wandered around for a while, recognizing some places from our previous trip to the area by sight and one by nose – the fish market – before making it to 'the big tree' (as directed by one of the locals) where we found the currency exchange place.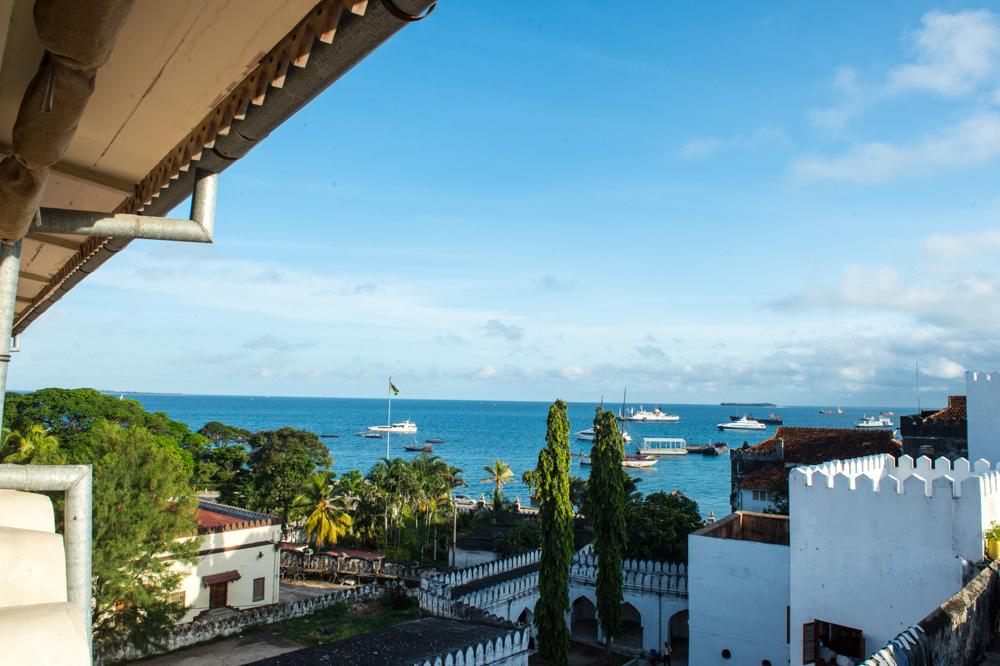 Having exchanged some dollars for Tanzania shillings (you get a lot – more than 1,600 TZS to a Dollar) we now had money in our pockets. Time for lunch. Purely by chance we stumbled upon the Emerson Spice Hotel on Tharia Street where we enjoyed a light lunch. Babaganoush, seafood curry, lentils, spinach and tomato salad, all nicely presented and very flavorful and fresh. The hotel manager gave us an impromptu site inspection and we checked out several of the hotel's large rooms. There was nothing understated about them: very colorful – flamboyant may be the best word to describe it. So if you're feeling like really slipping into the Zanzibari style the Emerson Spice might be just the place for you.
Trying to fit in a run of about 40 minutes duration in Stone Town was not easy. Running north towards the harbor got us tangled up in heavy traffic (no sidewalks!) and it was not much better going the opposite way. Few to no sidewalks and extremely narrow roads. I tried the beach but it had too much of a slant and peters out very quickly. Hopefully the running situation will improve at the coastal resorts over the following few days.
On this evening, we had drinks and dinner at 6 Degrees South. The food was fine and not too pricey – we paid about US$30.00 with tip for two light main courses – and the restaurant has an exceptionally good wine list and very attractive bar. At all times, we felt very safe walking around Stone Town at night in areas where there were other people around. I would just not wander off into any quiet streets.
A quiet day in Stone Town
We took it easy this morning in Stone Town. I was woken up quite early – around 530A – by a disembodied voice emanating from a speaker at a nearby mosque. The Muslim dawn prayer. Being up early, I caught up on some e-mails and then Kathleen and I did our daily 'prison' exercise routine, consisting of burpees, squats, jumping jacks, mountain climbers and pull-ups. Ideal for traveling with minimal to zero access to a gym, such as when on safari.
Next on the 'to do' list was breakfast on the rooftop terrace of the hotel. It was a good spot to experience the various flavors and colors of Zanzibar and of Stone Town in particular. To the right there were half a dozen or so small sailing boats slowly making their way across a dead calm sea, between Unguja (aka Zanzibar) and Prisoner Island. Closer in a motley collection of rusty barges, small freighters, ferry boats and a few sleek motorized yachts were all peacefully at anchor and bobbing gently in the mild swell.
Right next to the hotel there's the Forodhani Secondary School where this morning a demurely dressed but noisy group of youngsters were being instructed in the intricacies of reading, writing and arithmetic, no doubt. And all around, the rusty tin roofs of Stone Town were sticking out at odd angles. On the immediate right there was a family living in what seems to be rather primitive conditions under a few sheets of corrugated iron, on the very top floor of a building. I suspect they have chickens because one loud rooster competed with the guy from the mosque in waking up the neighborhood.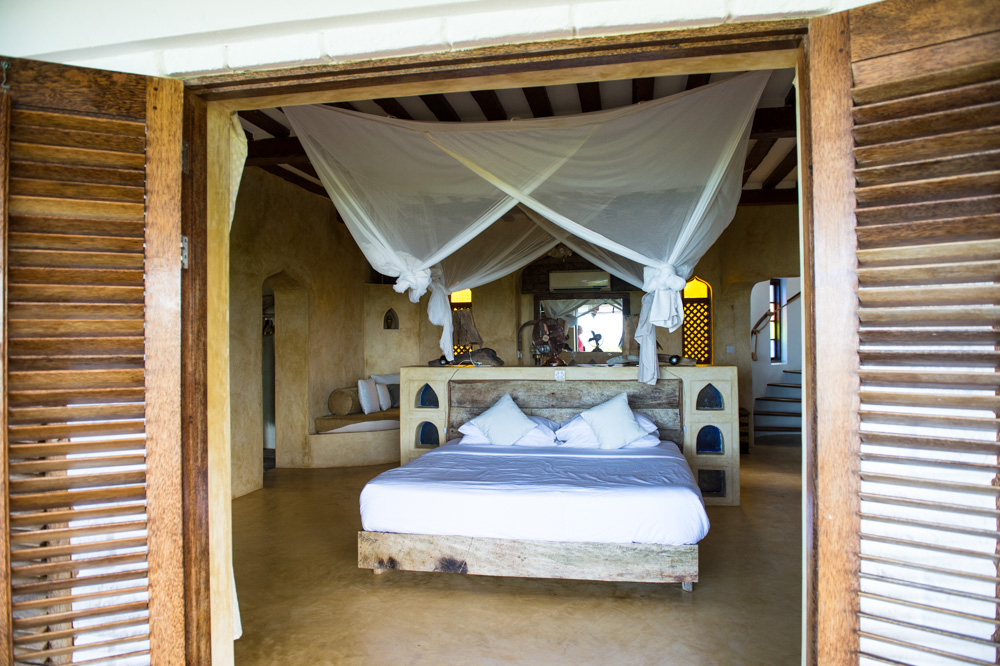 To the left, the slowly decaying tower of the House of Wonders, the one-time National Museum but now seemingly closed indefinitely, towers over the renovated Forodhani Gardens and park. At night a blizzard of food stalls spring up here with tourists and locals alike buying a variety of grilled sea food, chicken and other meat on skewers. Having seen the unhygienic food preparation conditions and flies all over the food, I would never eat there and would advise anyone else to look and browse but to have dinner somewhere else.
In the near foreground I could see a dirty, black-stained wall, a crumbling fence, a few palm trees, some exotic vegetation and pockets of trash which have seemingly avoided collection for several years. And always in the background the noise of the ubiquitous small motorcycles which take young men and their passengers on perilous trips down tiny narrow streets en route to unknown destinations on urgent tasks, judged by how often they lean on the hooter.
Then it was time for some shopping and Kathleen picked up a few items at Fahari. All of their products are made on Zanzibar island by local women, under the direction and training of Julie Lawrence, a British accessory designer and maker. We also needed an adapter – ours went on the fritz – and found one not too far away, for just a few dollars. In Zanzibar as elsewhere in Tanzania and Kenya you will need a 3-point rectangular adaptor for recharging batteries.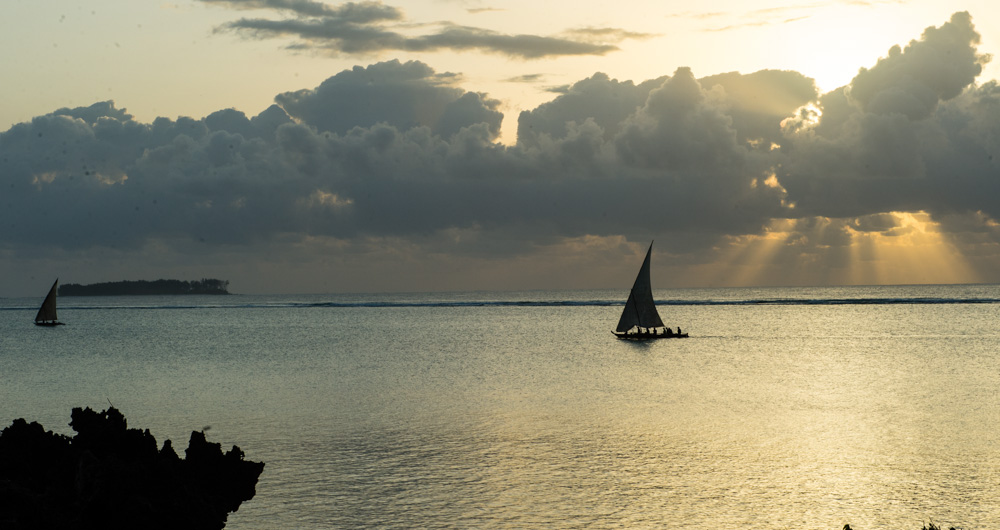 We bumbled around some more and somehow made it to The Post, a small restaurant and bar complex above the Kenyatta Road Post Office, the entrance being on Shangani Street. We found a cozy corner at the Tapas wine bar and enjoyed a glass of South African rose with a potato frittata and a red bean salad. The adjacent Cafe Miwa serves mainstay items such as steaks and seafood and a third restaurant – the Lemongrass – will be offering up Asian items soon.
Late this afternoon it was time for another run – this time I took the road to the airport and managed about 40 minutes or so without too many life-threatening moments on a road without much in the way of sidewalks. Lots of people out and about playing football, no doubt getting into a World Cup frame of mind.
Dinner this evening was back at the Emerson Spice Hotel where we tried the 5-course tasting menu, a bargain at US$30.00 per person. It was one of the best meals we've ever had on our Africa travels. Each delightful course made use of a fresh local ingredient such as octopus and snapper but with a delicious twist. Devilled egg & caviar, fruit ceviche & spinach leaf – it all was too much and too good by half. A nice touch: one of the hotel employees escorted us on the short walk back to our hotel.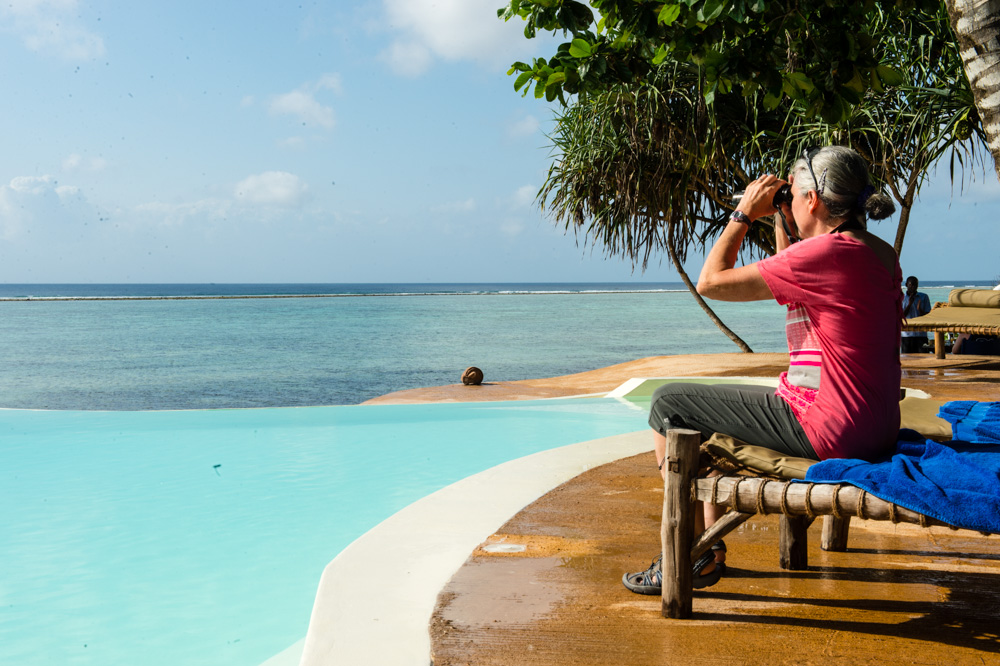 PART 2: MATEMWE LODGE
After an early breakfast at the Mashariki Palace, our driver from Island Express showed up at 0900A for the transfer of about 1 hr 15 minutes to Matemwe Lodge on the far north-eastern coast of Unguja Island. Initially we were stuck in a traffic jam caused by arriving and departing passengers for the ferry to Dar. Once past that, we made pretty good time along a good asphalt road, passing through several villages along the way.
Closer to Matemwe our driver had to negotiate a very rough dirt road for about 15 to 20 minutes through an impoverished village. I felt a little uncomfortable being chaffeured to a luxury resort while driving through the village, with women, children and men giving us blank stares from their very modest dwellings. It was unsettling to witness the squalor of the village, while anticipating a nice and relaxing time.
Ideally of course this should be a win-win situation with the villagers benefiting directly (a tourist levy or lodge contributions to educational or other facilities) and indirectly (employment, sale of goods & services) from the proximity to a lodge. This does not always happen in practice and many Tanzanian villages on the edge of tourist areas gain almost no benefit from the non-stop influx of visitors. At Matemwe Lodge there are several programs and objectives in place to better involve and benefit the local population. For example, they encourage visitors to leave extra clothing behind and they are active participants in the 'Pack for a Purpose' program, as well as helping with finance for school rooms.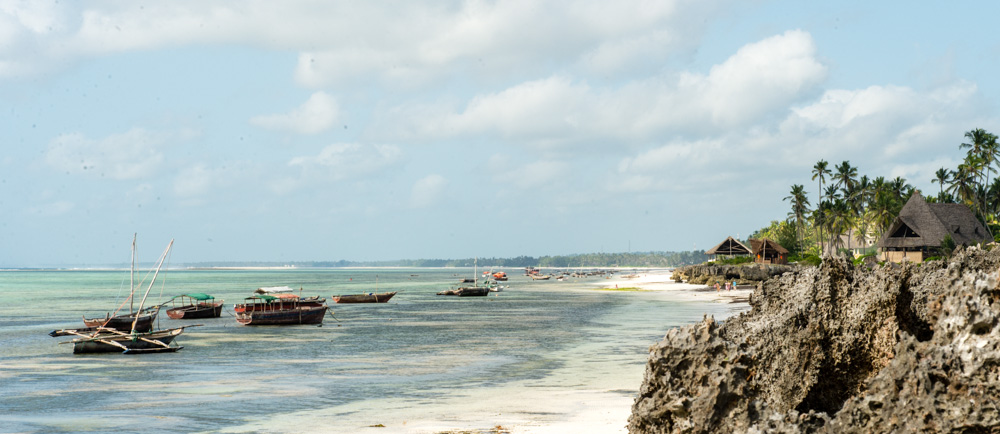 Operating a luxury resort catering to affluent foreigners on the edge of a poverty-stricken village is hardly unique to Matemwe. It happens all over the world and in many areas in Africa. Hand in hand with this goes tension, potential conflict of interest and issues with perception. Is there anything to be done about this? Of course yes. For one thing, visitors need to be made aware of the fact that their presence creates a powerful impetus for local upliftment. Lodges should – and some already do this very well – communicate how they involve local communities and how they work with them in the areas of employment, direct & indirect benefits, resource utilization, environmental protection and remediation. Asilia (who operate Matemwe) has a good track record in sustainable tourism and is committed to improving the livelihoods of their local neighbors.
On arrival at Matemwe it was obvious that great care is taken with the gardening and landscaping as everything was perfectly manicured and all the buildings had been repainted over the off season; the place really looked good. We were taken on a quick site inspection looking at some of the 12 standard rooms and four villas, as well as the dining area, bar, spa, beach and activity center. The Matemwe rooms – and the villas even more so – have as much space as you'll ever need and each room has an ocean view. Two of the standard rooms have plunge pools and all of them have nice big baths as well as separate showers with a good supply of hot water. There is no air-conditioning. Lighting was so-so but adequate while internet access was not: I could not get access from Room #1 and had to go and sit in the lounge to be able to get on the internet. Drinks are included but the list of included cocktails (as opposed to the list of ones you have to pay for) was not very exciting.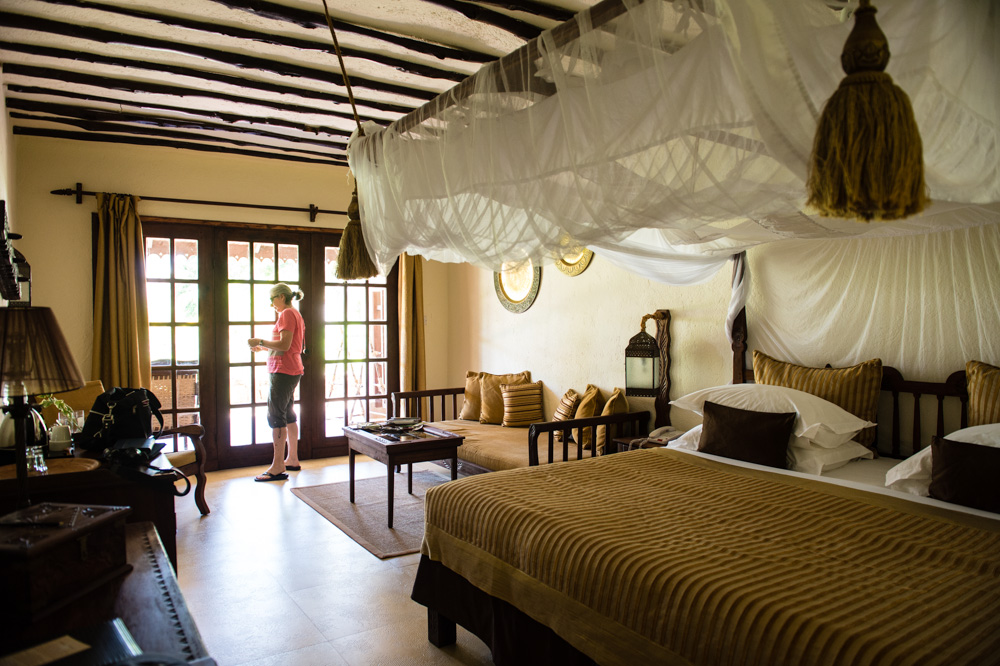 After freshening up we enjoyed a superb lunch (grilled fresh fish and a mélange of beans and chickpeas with basmati rice). The head chef could not have been more solicitous of our food preferences and personally discussed the meal options with us and kept a close eye on what was being served to us. Matemwe gets high marks for that.
Then it was time to explore the beach to the south of the main lounge area – perfect for exploring and running or walking. Would-be visitors need to know that the beaches here and elsewhere on the east coast are extremely tidal – many hours can go by when it is not possible to swim.
There are many activities at Matemwe (several of which are at additional cost) including snorkeling, SCUBA diving, a reef walk, village visit, kayaking, dhow sailing, Swahili cooking lesson, all day 'Blue Bay' excursion, big game fishing, and kite sailing. Plus several others.
We took a reef walk one morning from the activity center. Over the course of a couple of hours we walked out to the first line of coral reefs, looking at sea creatures such as sea urchins, sea cucumbers, starfish, small zebra fish and coral outcrops while slowly making or way in single file, being careful not to step on sea urchins. All around us to the right and left there were women poking around the reef back water, looking mostly for octopus or whatever edible items they could find. Earlier, there were women and young men with small sacks, collecting some stick-like sea-grass, apparently to be sold to Chinese distributors.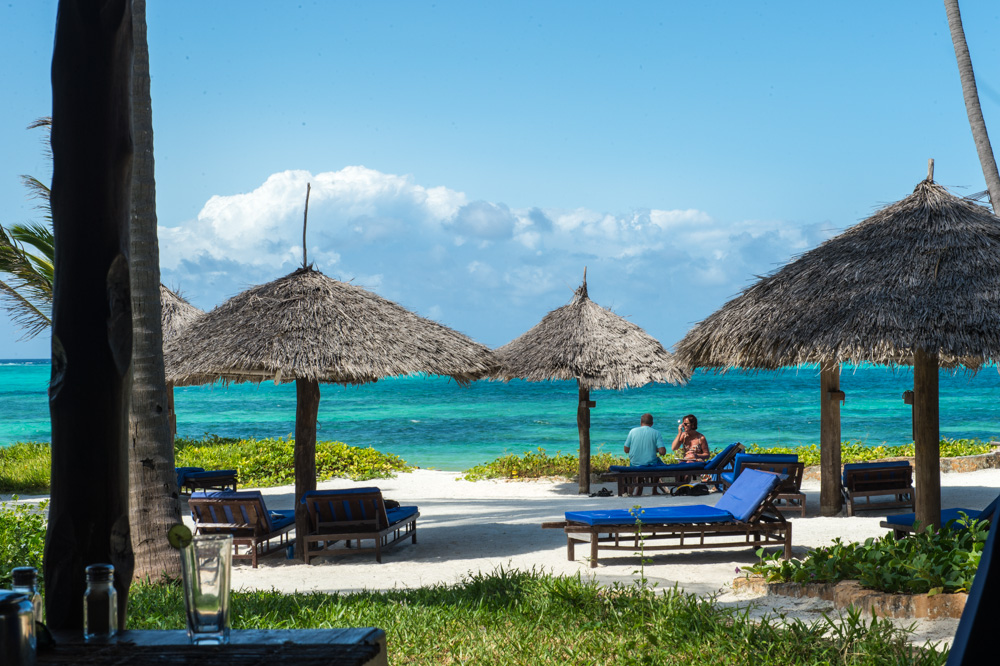 Some of the other guests had done a snorkeling excursion to a reef close to Mnemba Island, and reported enjoying it despite it being difficult to get there due to windy conditions. A stiff breeze comes up pretty much every afternoon (at this time of the year), sometimes becoming really strong. For SCUBA diving you're picked up by a small tender boat, and you then join up with the 'Scubafish' boat from the nearby diving center. Prices range from $85.00 p.p. for a single dive plus snorkeling to 4 dives over two days for $210.00 pp. Equipment rental is $15.00 per day (Information valid for June 2014).
The water around Matemwe Lodge is crystal clear but unfortunately there were a lot of trash items visible along the edge of the beach and on the craggy rocks in front of the lodge. Bits of fabric, discarded clothing items, plastic bottles, labels, shoes and insoles were widely scattered all over. We saw this at its worst due to the effects of the very high spring tide. Matemwe Lodge Manager Ross Owen noted that the lodge has an ongoing program to clean up the beach with one staff member doing this on a full-time basis.
It is a pity that trash dumping elsewhere in Zanzibar (Unguja) and in the rest of the Zanzibar archipelago is creating this unsightly situation. Adding to this there was a heavy fallout of seaweed, caused by the prevailing wind and exacerbated by the spring tide conditions (full moon).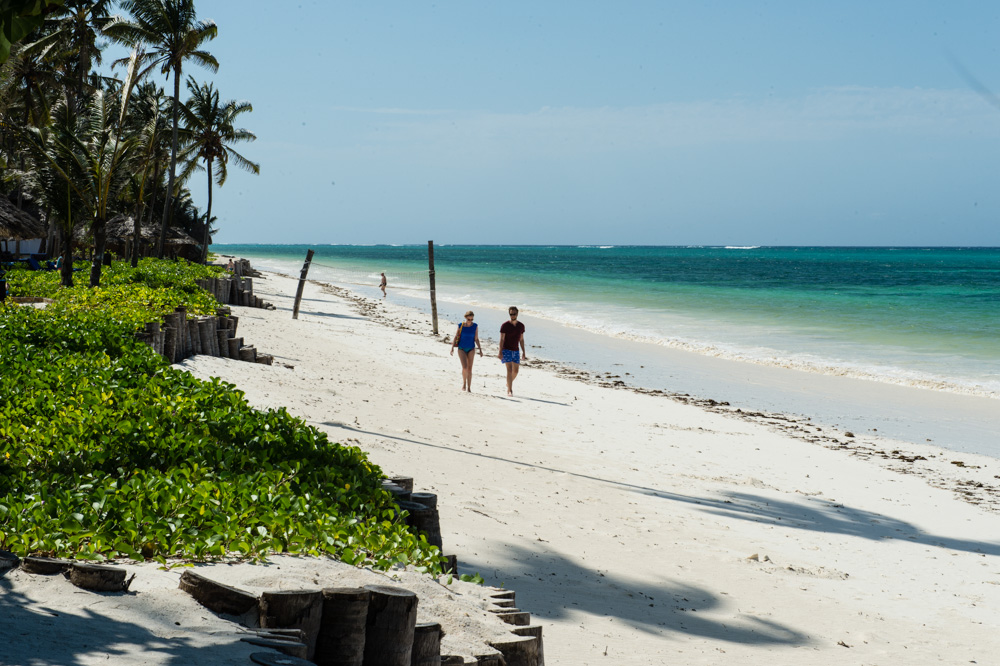 On a long run along the beach edge to the south of the lodge, Kathy and I witnessed several young kids using the beach instead of the woods, without getting too explicit about it. This is clearly not a sanitary situation and while few visitors are likely to see this first-hand (long-distance running not being one of the most popular activities at Matemwe) it is best that prospective visitors know about this.
At all times we felt totally safe running and walking along the beach and the locals were always ready with a wave and a 'jambo' or 'hakuna matata' as we trundled by.
In summary, Matemwe is not a 'beach resort' in the full sense of the word due to tidal activity. It is however ideal for a relaxing, peaceful stay with very few other visitors around. There are beautiful views from all the rooms, it has an exceptionally friendly and attentive staff, very good food and the all-inclusive rate makes it an attractive proposition particularly for visitors who are into snorkelling, diving and other water activities. Matemwe Lodge is a private retreat and over the course of just a couple of days or so, you will get to know the various members of the staff who will go out of their way to make your stay a very special one with special 'treats' like private al fresco dinners or breakfast on the patio at your room.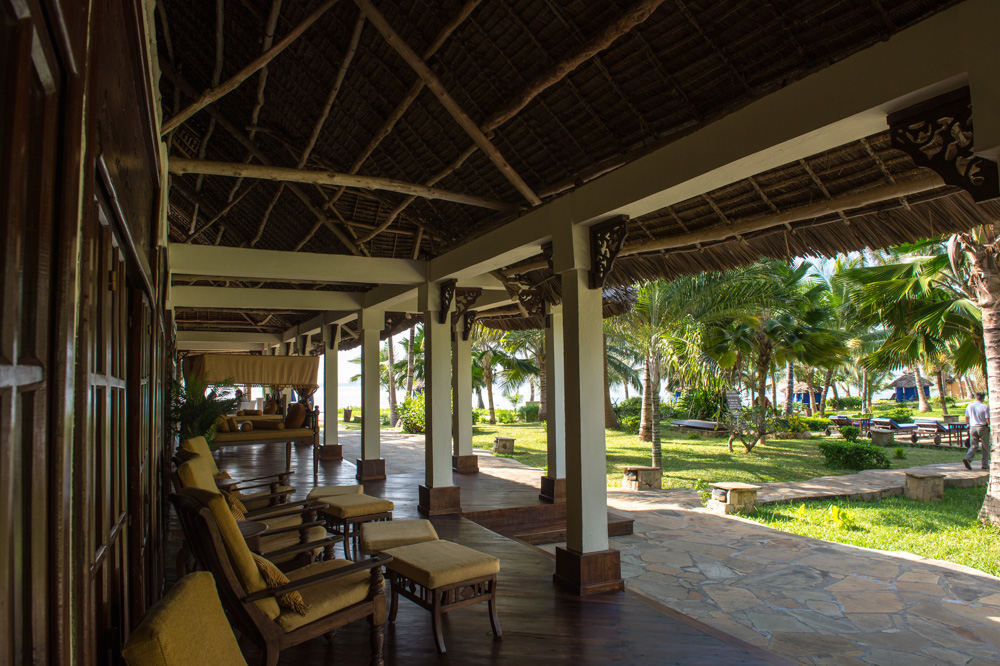 PART 3: BARAZA RESORT
June 13. We took it easy this morning at Matemwe before a road transfer of about 1 hr 30 minutes to Breezes, a much larger (70 room) resort on Zanzibar's East Coast. The first impression was that of a slick, well-managed resort and closer inspection confirmed that the property was immaculately maintained with a carefully groomed garden. Security was very visible with a 24-7 guard at the entrance to the residents' accommodation area.
After an introductory talk we were shown to our room #26, one of the deluxe rooms built in clusters of 8 to a block. It was a fairly generic hotel room with a king size bed, no TV, good air-conditioning, a phone, and a separate bathroom (small) and shower. In the front there is an outside patio with very little privacy, just a screen separating you from neighbors on either side. The room also had a mini-bar stocked with a few soft drinks.
On a stroll through the property we noticed a shop (with lots of clothing and other items from India), a gym (very compact and crowded) and various restaurants including the Sultan's Table, the Pool Bar – where we had some bruschetta, spring rolls and a beer – Breakers Restaurant and the bigger Salama restaurant where breakfast and dinner is served.
The resort is lively and would appeal to people who are gregarious and like to be around other people. There are several different common areas, many facilities (including a beautiful large swimming pool and tennis court) and a top-notch diving center, one of the best in Zanzibar. The Frangipani Spa is impressive and with professional therapists from Thailand, Bali and India, it offers a full range of massages, health and beauty treatments. The beach at Breezes is one of the prettiest we had seen in a long while.
Dinner was an elaborate buffet with multiple salad and main course choices: mixed green salad, beetroot, octopus salad, green papaya salad, sushi, Thai beef salad, spinach, potatoes, lentil curry, lamb kabobs, stir-fried crab, seafood spring rolls, beef, fish fillet and many others. Plus an ample selection of desserts.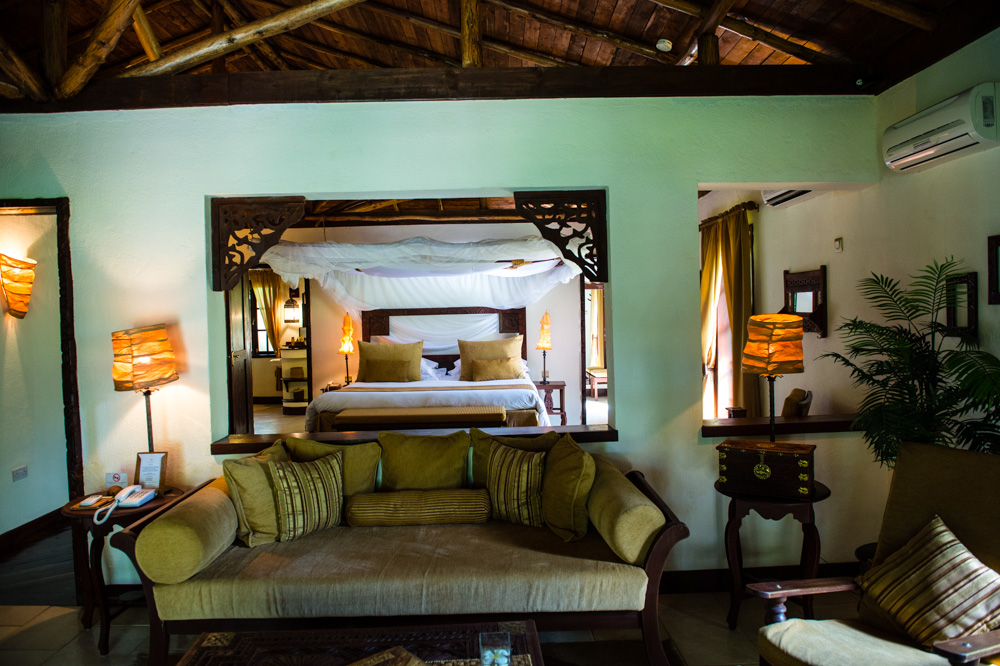 From breezes to Baraza, Zanzibar South-East Coast
Breakfast this morning likewise offered a wide variety of choices: seven kinds of fresh fruit including jack fruit, papaya, watermelon, grapefruit, orange, grape and mango; eggs to order, pancakes, omelettes, bacon, sausage, sautéed potatoes, baked beans, porridge, crepes, waffles, hardboiled eggs, cold cuts, various cheeses, breads, cinnamon rolls and more.
We inspected a suite at Breezes: it is similar in size to the standard room but it has a much bigger bathroom and walk-in closet and an expansive patio with a lot more privacy.
From Breezes we walked across to the adjacent property – The Palm – which is one of the three properties in the Zanzibari Collection. It is in a price category slightly higher than Baraza, where we would spend our last night in Zanzibar. The Palm is the smallest of the three properties with just 6 exquisite villas, in Swahili style. Each villa has two rooms – and can sleep 4 persons. No children under 12 accommodated. The villas have large bathrooms with shower and bath.
At The Palm, it is essentially a matter of 'what you want, when you want it', with highly personalized service. Each room has it own exclusive beach hut and private dining either in a beach cabana or in the main dining area.
From there we walked to Baraza. After half an hour or so – we were offered and accepted some coffee while we waited – we were shown to our villa #5 – one of the superb ocean view villas, about 50 meters or so from the edge of the ocean. Each room has it own private designated beach umbrella stand with loungers, with food and drink service.
By then, it was time for lunch and we enjoyed a lavish spread of salads, a pasta bar, various pizzas, several fresh seafood options, Swahili-style octopus stew, grilled squid steak, crab claws, chicken sate and many more. Plus multiple dessert options. No one's going hungry here!!
Even though I would have been perfectly fine selecting from the many vegetarian choices, Baraza had prepared a special vegan meal for me: a triple avocado surprise to start, a curried vegetable main course and a fruit mélange for dessert.
All the meals at Baraza were excellent but the chef – like others earlier on in Tanzania – seemed to assume that vegans eat mostly vegetables so it was vegetable pockets, vegetable curry, braised vegetable and various other vegetable dishes, on an on. It is time for a vegan 'time-out' on my next Africa trip!
Although our stay at Baraza was all too brief we thought that it was the best of the Zanzibar beach properties we had seen: small enough not to have a large, impersonal resort feel yet lively and exciting with stunningly beautiful rooms, common areas, pool and the most attentive of staffs. Take something nice to wear for dinner – you'll feel like dressing up a bit at Baraza to fully appreciate its elegant ambience.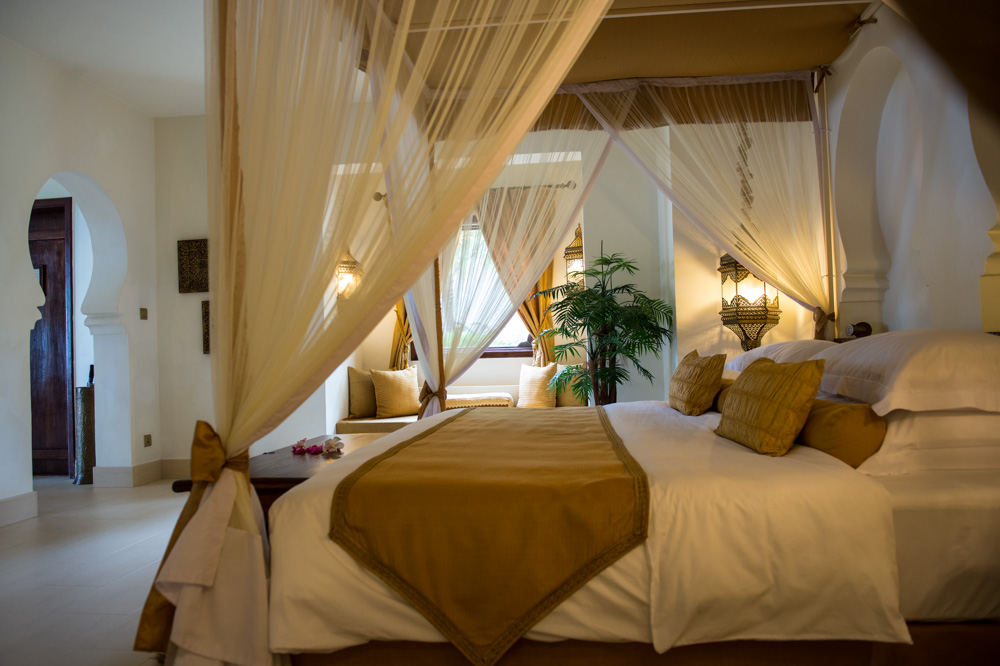 Last day inn Zanzibar
We had a very nice breakfast at Baraza this morning, spent some time at the pool and the beach and then made our way to Zanzibar Airport for the flight to Nairobi.
Should you have to fly from Zanzibar to Nairobi one of these days, I hope for your sake it is after the completion of the new Zanzibar Airport. In its present iteration the ZNZ International Airport is the dump of all dumps – and we've seen a few. The security and immigration facility – if you can even call it that – is laughingly inadequate and procedurally inept, with no signage at all except for where to pay your steep $48.00 departure tax.
You're fortunate to stumble into the passport control line and security is just for show with people going in and out of the security area with minimal checking. The seating area is dismal with dirty stained beige-colored walls, barely improved by the ubiquitous photographs of the presidents of Tanzania and Zanzibar staring down at you. The ceiling is something out of a post-apocalyptic movie with gaping holes and large water stains, and there are exposed cables everywhere.
Every now and then the muted din would be interrupted by a horrendously loud airport gong sound, preceding a distorted announcement of the next flight to board from Gate #1 or #2. There is a gate #3 but it is non-functional as our seats were right in front of it. I wish I could say that the 'duty free' shops were great, but that would not be the truth.
I was glad to get out of there. Running just 15 minutes or so late, we took a hot bus ride from the gate to the apron, boarded our Kenya Airways aircraft and took off for Nairobi. The 1hr 40 minute flight was uneventful – with a nice sighting of Mt. Kilimanjaro en route – and soon enough we were descending over Nairobi National Park on final approach for Jomo Kenyatta International Airport.