$cat_name = 'category'; $categories = get_the_terms($post->ID, $cat_name); foreach ($categories as $category) { if ($category->parent) { echo $category->name; } } ?>
Apr 18, 2014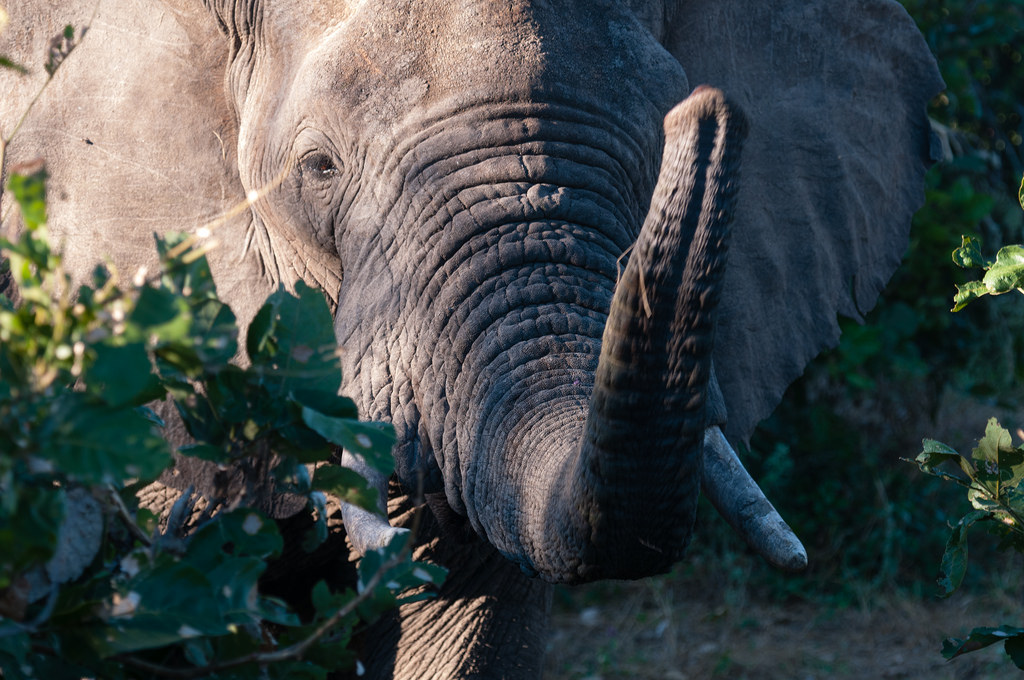 Kenya June 2014
PART 1: NAIROBI AND THE RIFT VALLEY

Writing a trip report about Kenya nowadays is an unenviable task. The country's tourism industry has lately taken a beating because of a string of attacks and bombings in coastal areas and in Nairobi – mostly claimed as their handiwork by Al Shabaab, a Somalia-based militant group. Ostensibly, the attacks are retribution for the Kenya Government's incursion into Somalia to pursue and eliminate elements of Al Shabaab.
Not only the attacks themselves but also the resulting 'travel warnings' issued by the UK Foreign Office and the US State Department and their counterparts elsewhere in the world, have resulted in a sharp dip in tourism arrivals. Many hotels along the coast – notably around Mombasa – have been closed and their employees laid off, with a loss of 5,000+ jobs just in that one area.
Having recently returned from a trip to Kenya, it is alarming to realize the wide discrepancy between outsiders' perception of the situation in the country, and the reality of it. There may be issues in a few isolated areas but everywhere on safari (Rift Valley, Laikipia & Samburu) I felt and appeared to be totally safe.
In my opinion, there are few if any safer travel experiences than being on safari in Kenya or anywhere else in Africa, due to the almost complete absence of other people, speeding vehicles, and the usual trappings of civilization. Almost no crime, no tension, just a peaceful and relaxed environment with friendly people totally intent on helping you make the experience the best one of your life.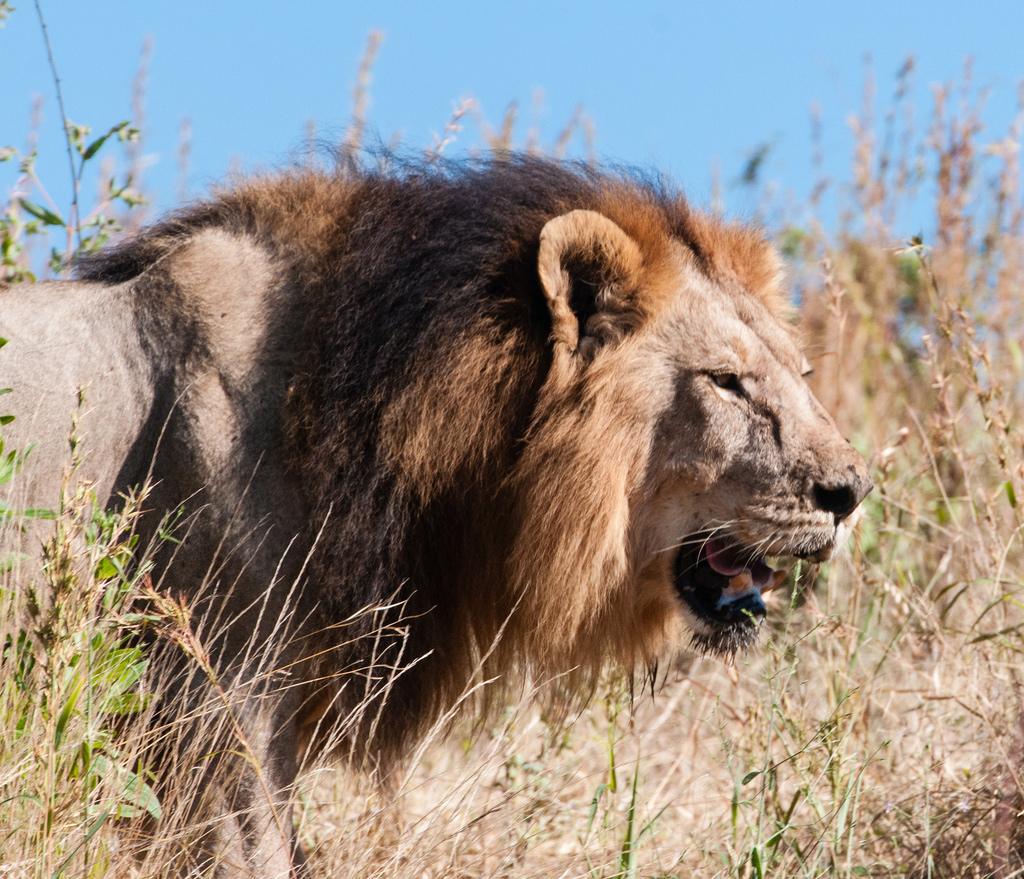 Travel warnings are a well-intentioned attempt by civic-minded governments to protect their citizens traveling abroad, but they are a particularly blunt tool. Isolated incidents of violence and intimidation – regrettable and tragic as the consequences may be to those involved – rarely make an entire country unsafe to visit. This is exactly the case inKenya. Probably 95%-plus of the country – including the safari circuit – is perfectly safe, but this gets lost in the publicity surrounding attacks and in 'travel advisories' which discourage all but essential travel to the country.
Travel advisories play right into the hands of the perpetrators of violence and indiscriminate attacks on innocent civilians. How so? By discouraging travel to a specific area or country, they cause sometimes irreparable and long-term harm to the tourism sector and hence the economic well-being of mostly emerging economies. They result in thousands of tourism jobs being lost with a ripple effect into many other areas of the economy such as transportation, food & agriculture and the retail trade. Stretch this over a number of years and you have entrenched and worsening unemployment, unrest, perhaps even political instability – all of which can be ameliorated with a vibrant tourism sector and strong and growing economy. And all of which can be exploited by persons or entities wishing to harm a country or its people.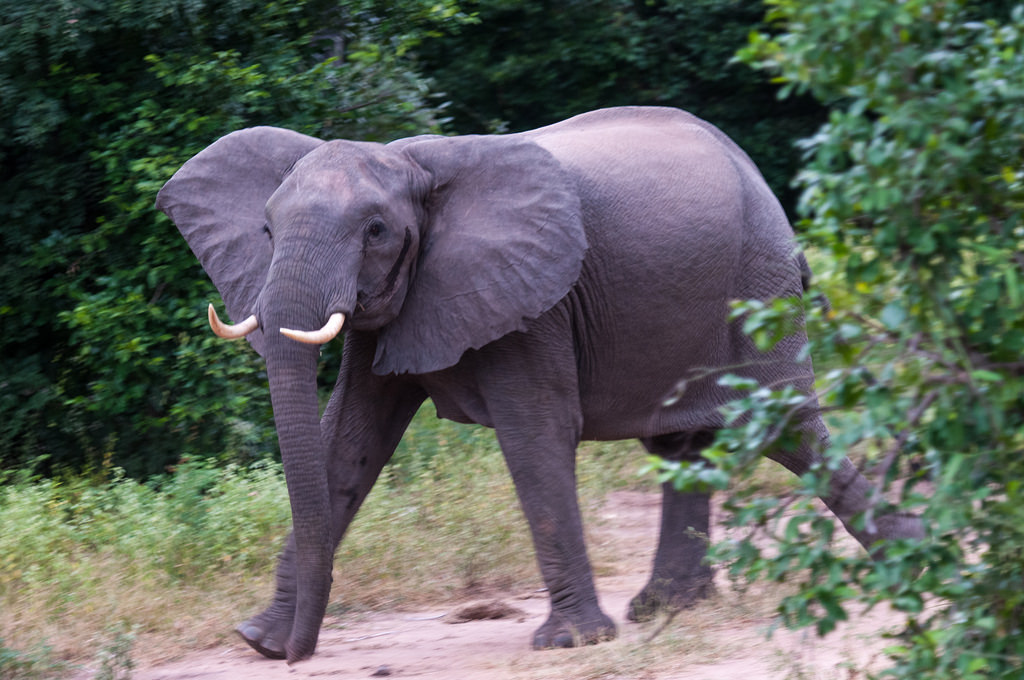 Wildlife conservation is yet another unintended 'victim' of travel advisories. It is self-evident that the presence of visitors in wildlife-rich areas act as a deterrent to poachers. Poachers operate much more effectively and devastatingly so when there is nobody around such as when camps are closed for the rainy season or when the number of visitors dwindle for whatever reason. Such as being discouraged by inane travel advisories.
Discouraging all but essential travel to an area or country is out of proportion with the intended outcome which is to protect a country's citizens from harm or injury as a result of a terrorist event. The specter of terrorism anywhere in the world pushes emotional buttons and the mass media exaggerate its risk and prevalence. Deaths caused by terrorist events are tragic and shocking but they are a miniscule number compared with almost any other cause of death and bodily harm.
If you travel to Kenya is it likely that you will become a victim of terrorism? No. You are about 1,900 times more likely to die from a car accident than from a terrorist attack and more than a 100 times more likely to succumb to the effects of contaminated food. Worried about being crushed to death by your television or furniture or being hit by an asteroid? Of course not – and those two events are about as likely to cause you harm as you are to fall victim to a terrorist.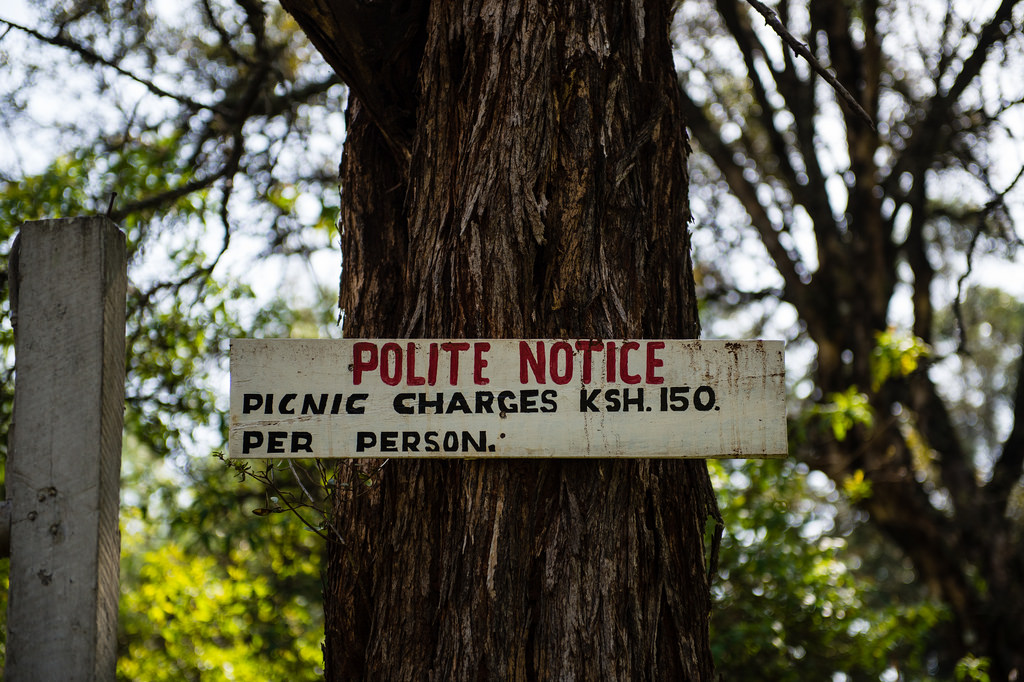 So do we stop driving because driving results in accidents and death? No we don't. And we don't stop flying because aircraft occasionally (but very seldom) crash. By the same token it would be daft to stop eating because of the potential risk of dying from contaminated food. Avoiding all risk is not possible except perhaps by seeking refuge in a remote cave somewhere. Which is not how we as free people choose to live.
Which makes travel warnings all the more pernicious. They purport to tell you how to live your life and what to do or not to do. Are people not capable of making their own value judgement about the safety of an area? Of course they are but 'official' statements made by high-profile government agencies carry a lot of weight. Which is unfortunate because discouraging travel to disadvantaged areas of the world – which are often the areas hit by travel advisories – is a sure-fire way to stymie development and progress.
As it is, many US states and cities are prone to chronic gun violence which results in the death of thousands of people every year, a lot of it gang-related. That, together with sporadic yet all too common and totally unpredictable mass shootings likely make large parts of the USA a far more risky proposition than the distant plains of the Masai Mara or the swamps of Amboseli. Where are the travel advisories when you really need them?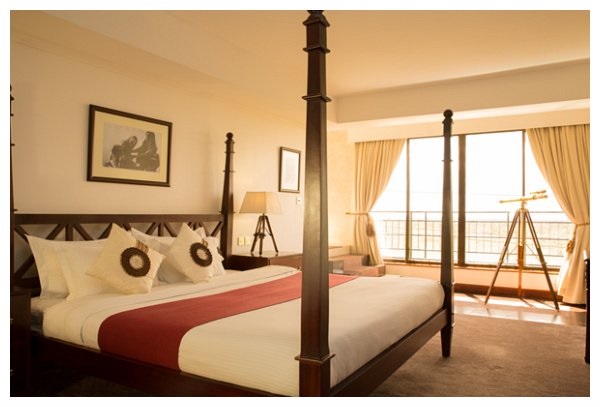 Nairobi
Our two most recent arrivals in Nairobi have been almost ridiculously quick and pleasant with a minimum of wait time to get a visa and to pick up luggage. I always carp about this but lately JKIA has been the exception to the rule. Kenyan immigration officials are now clearly authorized to smile and it is quite refreshing. I just hope it stays that way. When the old – horrible – international arrivals halls at JKIA burnt down a year or so ago, the airport was immediately a better place, despite the temporary inconvenience. When the new Unit 4 terminal becomes fully operational JKIA will have more parking (a real problem now!) and shuttling arriving passengers around on long bus rides will hopefully be a thing of the past.
In June this year we were inside our hotel room at the Ole Sereni in less than an hour from when our aircraft taxied off the runway. Not bad anywhere in the world! The Ole Sereni has a good location very close to JKIA and the happy hour Tusker draft at KS340 (about US$4.00) for 2 is definitely a bargain. Beyond that, there is not much that would distinguish it from any other run of the mill city hotel. The room itself was quite small, and it looked out over a construction site – a major road project which will likely take some months to complete. The rooms facing Nairobi National Park can apparently be very noisy at night due to boisterous bar patrons, so pick your poison… I found the bathrooms & shower arrangement to be a bit odd. Like so many other hotel rooms, it is impossible for one person to get up in the middle of the night to use the bathroom without disturbing the other (sleeping) person, due to the location of the lights.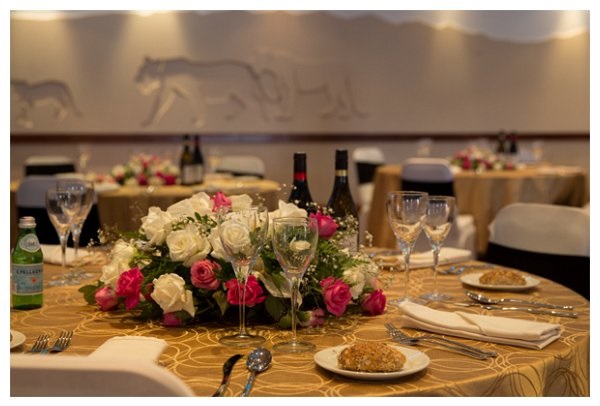 Perhaps we made the wrong menu choices but our experience at the main restaurant was sub-par. Kathy's medium fillet steak ended up being neither medium nor fillet. I guess fillet steak in Kenya is not what we know as fillet mignon in the USA. It was tough and overcooked. To their credit the restaurant offered a replacement sirloin steak which unfortunately was just as tough and likewise overcooked, but at least they tried. Order something else, not steak.
The Ole Sereni staff were friendly and helpful – and we will continue to use it as a good and convenient option for a day-room for visitors flying out of JKIA.
I was happy to recognize our good friend and guide extraordinaire Edwin Selempo – who would accompany me for the first few days in Kenya – in amongst the sea of faces as we exited the temporary international arrivals facility. Edwin has few rivals as an all-round superb guide and a traveling companion. Always courteous and mindful of others' needs – and often anticipating what you might need well before you become aware of it. Edwin is also well-informed and not shy to express an opinion which makes for great conversation and interaction. Being on safari with him is a rare treat.
Edwin arranged a day tour of Nairobi for Kathy which turned out to be one of the highlights of her Africa trip. Amongst others she visited the David Sheldrick Elephant Orphanage, the Giraffe Center and the Kazuri Bead factory where a range of hand-made and hand-painted beads are for sale.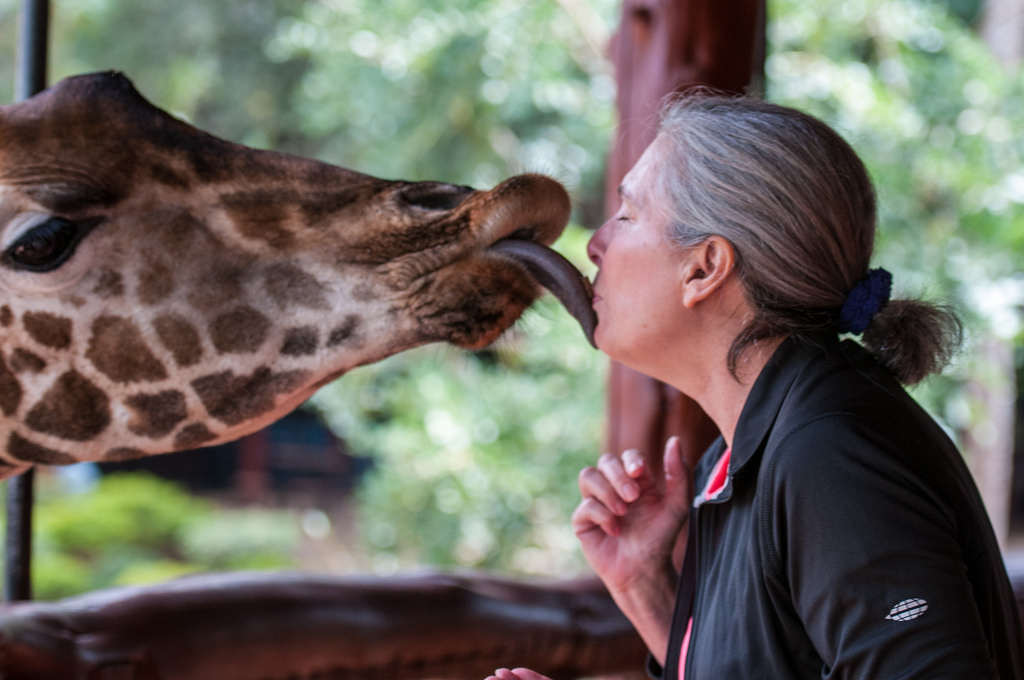 Lake Elmenteita Serena Camp
Meanwhile Edwin and I negotiated some unavoidable Nairobi traffic and headed out west towards the Rift Valley. Less than 3 hours later – and including a bird-watching stop for White-backed Duck at the Limuru Ponds – we made it to the Serena Elmenteita Camp, on the edge of Lake Elmenteita. I was pleasantly surprised by this property, anticipating a large hotel-like structure only to be shown to a beautiful tented room, one of 24 – all with lake views – to the left and right of a spacious, elegant tented lounge and dining room complex. We will definitely be using this property to accommodate our clients on future visits to the Rift Valley. Like all Serena properties I have ever been to in Africa, it is exceedingly well managed, everything works (including fast WIFI), there is good lighting and charging facilities in the room, the food is well prepared and attractively presented, everything is super clean and the service and hospitality are impeccable. Can't do much better than that.
The room itself was very comfortable with deluxe bedding, a small desk, a chest, ample clothing storage space, a bathroom with shower and a good hot water supply and a separate toilet. There is a well-lit pathway to the main area and the entire camp is inside a guarded and electrically charged fence to keep out buffalo and other unwelcome intruders.
Edwin and I soon sat down to a delicious lunch with two starter options, three main course options (fish, poultry and vegetarian) and a couple of desserts to boot. Like our dinner later that day everything was delicious, attractively plated and presented and with a good choice of wine by the glass or by the bottle. We tried a fine South African merlot. Drinks are extra.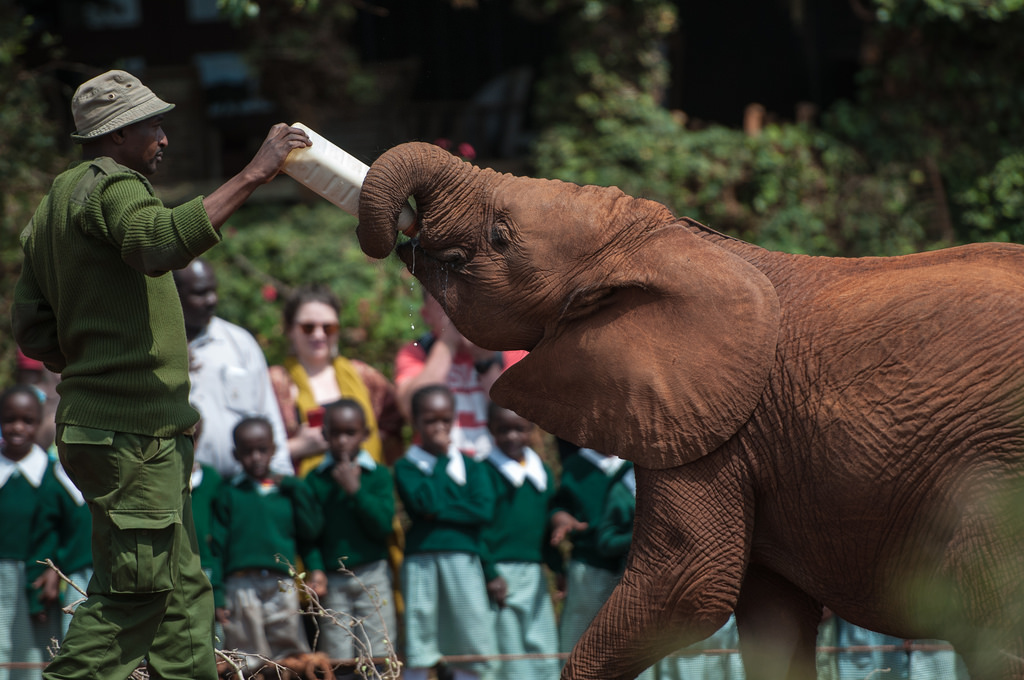 Edwin – who had previously spent several years based at Lake Elmenteita as a guide – took me on an afternoon game drive along the perimeter of the lake. Almost immediately we started seeing various mammal and bird species and in less than 3 hours racked up some impressive sightings including good numbers of waterbuck, zebra, eland, impala, Rotchchilds Giraffe, a leopard tortoise, black-backed jackal, gazelles and buffalo. Notable birds included Greater and Lesser Flamingo, lots of pelicans, yellowbilled stork, Augur buzzard and various others.
Lake Elmenteita Serena Camp is just half an hour from Lake Nakuru so over the course of a 2-day stay it would be easy to make a side-trip to Lake Nakuru National Park to see rhino & more buffalo and giraffe and perhaps a few other species.
The next morning, while enjoying a nice al fresco breakfast, I was struck by a feeling of being in a very remote spot with the lake right in front and a large rocky ridge protruding into my field of view, towards the left. It was deceiving because there is a highway just a few hundred meters away, and of course the property is barely 2 hours solid driving away from Nairobi. Even so it is a great spot for a couple of days of low-key game-viewing and exploring some of the Rift Valley lakes and national parks.
From Lake Elmenteita Edwin headed north to Nyahururu on a good asphalt road, stopping at Thomson Falls to take a few photographs. This 74 meter (243 feet ) waterfall in the Ewaso Nyiro river is quite impressive and the Thomson Falls Hotel – right next to the Falls – has a sparkling clean restroom facility. It is a very short walk through a small park to the edge of the falls – entry fee required. I was not impressed by the guy with the chameleon and the various hawkers. Just ignore them or have your pic taken with the chameleon and buy some cheap trinkets. The choice is yours.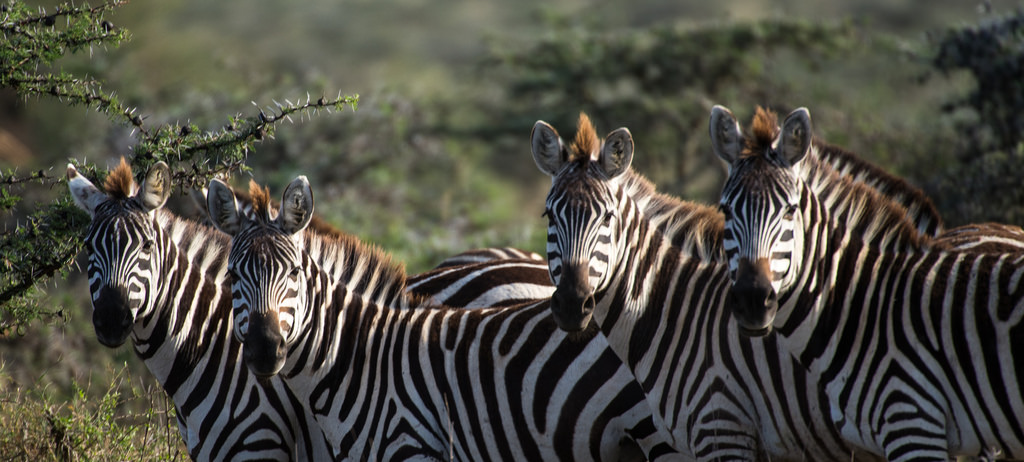 PART 2: LAIKIPIA CENTRAL PLATEAU – SEGERA AND SABUK
June 17. We were now well into the Laikipia plateau, the region of central Kenya more or less bounded by Mt Kenya to the east, the Aberdare Mountains in the south and the lower-lying, hotter and much drier Samburu region to the north. Laikipia's climate is characterized by relatively low rainfall (it is in the rain shadow of Mt. Kenya), with warm days and cool, pleasant nights. Altitude is mostly over a mile high so it never gets too hot and the proximity to the equator means it never gets very cold either.
Just beyond Nyahururu, we turned off the well-maintained asphalt road and then proceeded for about 50 km (less than 30 miles) along a dusty, sometimes rocky and clearly 'muddy when wet' road, eventually reaching the fence-line and gate of the Ol Pejeta (pronounced Ol' PEDG-uh-tah') Conservancy, a well-established and successful private ranch & game conservation complex. Ol Pejeta is a 'Big Five' destination, and is home to a few Northern white rhino which are on the very brink of extinction. It has re-introduced (from South Africa) southern white rhino and black rhino as well.
Not long afterwards, we were met at the gate of Segera by head guide David Lakili and escorted on a drive of about 30 minutes or so to the main compound. Almost all arrivals at Segera are by air, so this was not the usual procedure. Ordinarily arriving guests would literally taxi off the airstrip and to within a hundred meters or so from the entrance of the lodge, where they are met and escorted right into the property.
I had a few pre-conceived ideas about Segera, having been exposed to some of its marketing and publicity materials. Several of the notions were confirmed – and others dispelled – during an introductory walk-through with manager Jens Kozany, formerly at North Island in the Seychelles and prior to that the GM of the highly regarded Grande Roche in the Cape winelands. Jens is a hotelier of the highest order, with the skills of a seasoned concierge and the calm, unflappable demeanor of a manager capable of getting the most out of a large staff and meeting extraordinarily high standards.
Segera certainly lived up to my preconceived notions about the level of luxury and comfort. The villas are simply out of this world. Tucked in behind a massive cactus fence or hedge – which serves to keep out dangerous animals – they are elevated well above the ground to make the most of the gorgeous views over the plains and distant mountains and to enjoy the breezes which are typical of Laikipia. Hence no need for artificial air-conditioning which is a pleasant bonus here. No noisy fan at night.
Even though the days can be warm the villa was never hot – on a short afternoon siesta I was perfectly comfortable. Beyond that, the villa had the luxury of space, a separate shower with massive shower-head, his and hers washbasins, plenty of clothing storage and hanging space, a safe and separate toilet. Lighting was very good but I could never quite figure out the various on-off switches; it would have been nice to have had one master switch at the entry and by the bed.
One of the best features of my villa was an outside lounger on the verandah, as well as a massive jacuzzi-bath which I tried to good effect on the first night.
It was rather windy and even cold on my first night at Segera but inside the villa I felt snug and warm, and the ultra-luxurious cushions and bedding ensured a very pleasant night's sleep. The food and catering at Segera were likewise impeccable and went well beyond what I had experienced at any other African property to date. The range of meals and variety of items served was simply extraordinary.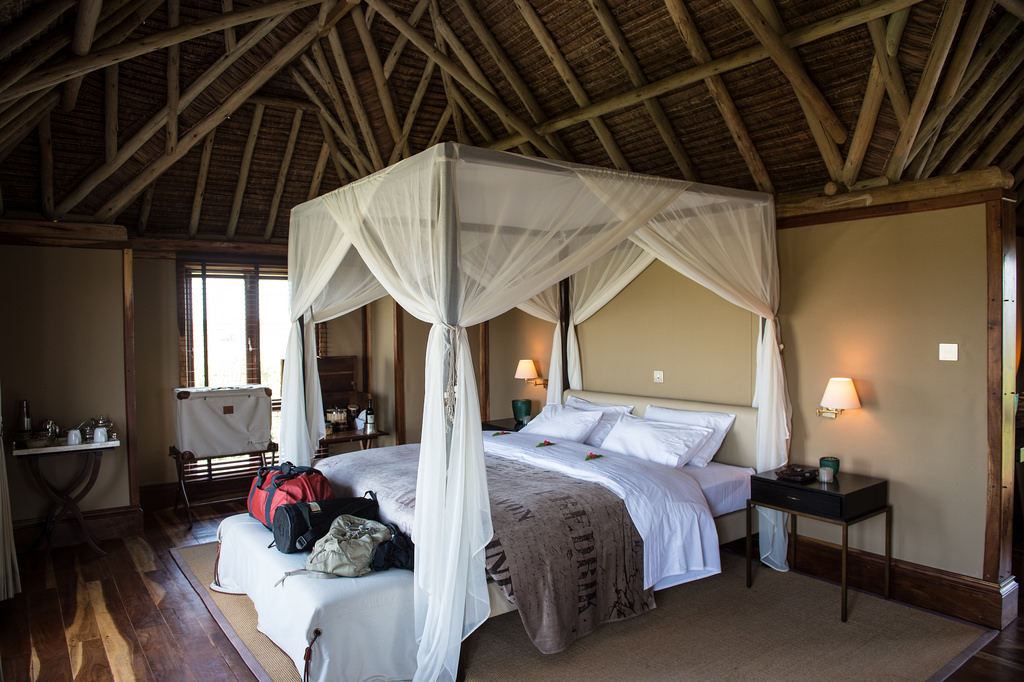 As alluded to earlier, I had some food issues at one or two of the other lodge earlier during my trip. Not at Segera. They executed the vegan dietary requirements flawlessly and even beyond that, made it fresh and exciting. I enjoyed various wraps, delicate salads, fresh bread and the most flavorful array of local African specialties including sukuma wiki, maharage, and several other delicious dishes, served with ugali and rice.
Segera maintains an extensive fresh produce garden so much of what ends up on one's plate in the vegetable, tuber and herb category is grown right there. Fresh, organic and delicious. Over the couple of days at Segera I tried a few of the wines on the extensive winelist, including a cabernet sauvignon, a chardonnay and a merlot and they were all superb. This is clearly a place where serious wine-lovers can explore some interesting vintages and varietals.
Segera is a place where one can and should spend some time at the lodge itself. It is refreshing and relaxing yet also stimulating. The variety of architecture, the inviting public areas, fascinating art installations and historical elements create a wonderful sanctuary. Within hours of my arrival I realized that Segera can inspire you to do something extraordinary. Spend a week there and you might very well decide to write a book or learn to speak Swahili. Segera is the result of a vision of a better future for its inhabitants – people, wildlife and livestock – and it is inspiring just to be there and to realize what can be done with drive and determination and the ability to harness the goodwill of the community.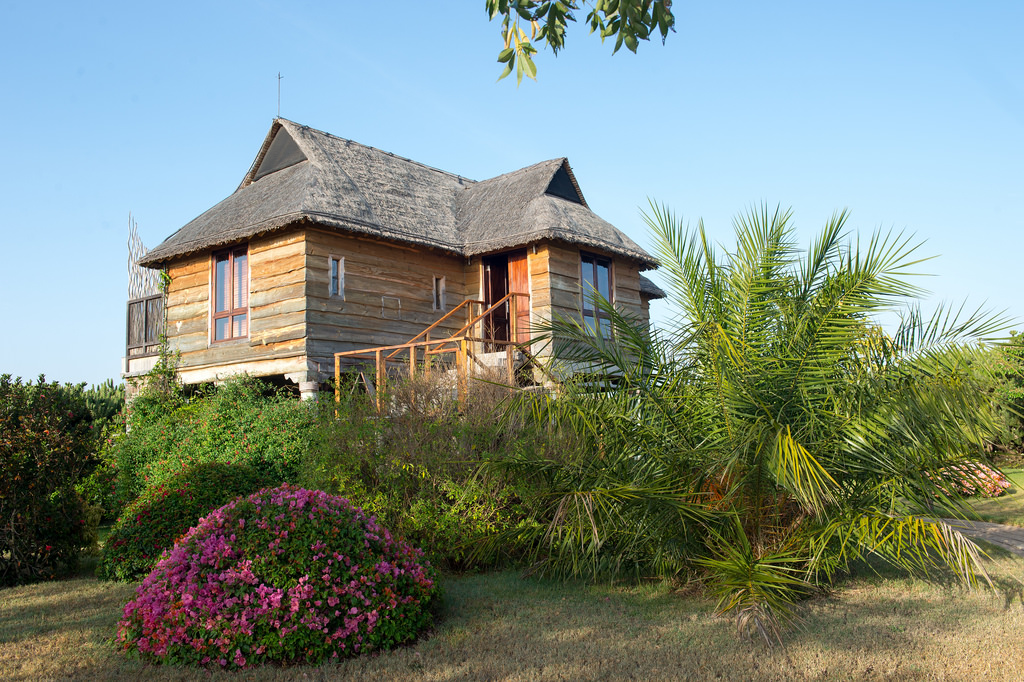 Clearly, Segera Retreat has already had a huge impact on its immediate environment and all the life forms which depend on it. It is astonishing to look at an aerial photograph of the homestead area taken just a scant 8 years ago, and to compare it with what there is right now. A true transformation.
The experience is most striking when one first arrives at the property and walks first past the paddock house, the wine tower, through the stables with their permanent art installation, past the gym and spa, the expansive pool and magnificent gardens in every direction, and finally all the way to your room. The walk is a multi-sensory experience: hearing various birds calling, breathing in the fresh air, smelling the sweet perfume of various flowering plants and trying to take it all in on a visual level. Around every turn, there is something different to be seen and savored; an unusual statue, a particularly striking cactus or a massive euphorbia tree being swallowed by a carpet of bougainvillea flowers.
At Segera, you are never far away from a pleasing and peculiar mix of bird calls – sunbirds and mousebirds being very vocal – as well as the haunting braying of zebras beyond the cactus hedge. The sound of zebras vocalizing is one of the most iconic of African sounds – right up there with the call of the African Fish Eagle. The whisper of a vapor trail left by a high-flying jet is sometimes the only reminder of mundane reality beyond this extraordinary place.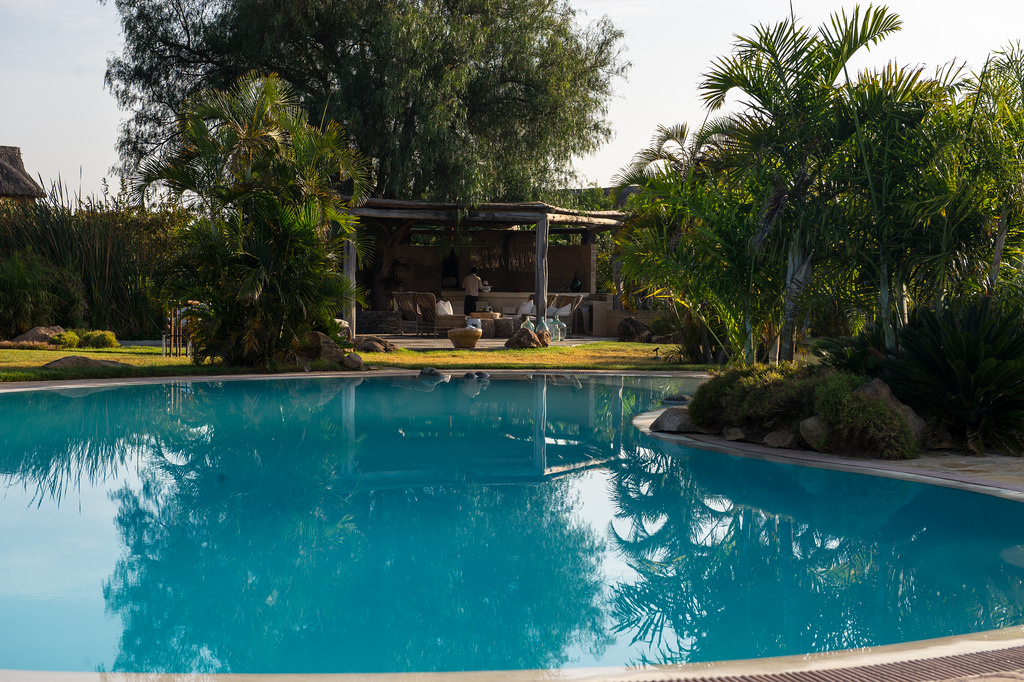 Segera is a retreat in the full sense of the word and it makes eminently good sense to spend at least four or better yet five days here. It is a destination unto itself where you can truly relax and reflect, tune out the dross of day to day noise and connect with a pure, uncluttered Africa. The clean air, the organic fresh produce, the sense of remoteness and privacy and the impeccable service and hospitality put this property in a very elevated status which few others in the world can match.
June 18. It was exhilirating to enjoy breakfast in the Paddock House overlooking the plains, with no ambient noise other than some bird calls and the zebras braying. The sense of solitude was complete. One could probably spend several days at Segera without doing much at all, just enjoying the villa, the pool, the gardens and lounging around, or getting a spa treatment, spend some time in the gym.
However – if you are so inclined, there is much to be seen in the way of wildlife including buffalo, elephant, zebra, greater kudu, Reticulated giraffe, impala and more. On an afternoon game drive we saw plenty of these.
We also did a short 2-hour walk in search of the rare Pata's Monkeys, and much longer hikes are available and recommended. The southern part of the Segera ranch lends itself admirably to such an outing and it would likely be a wonderful experience, during the course of a longer stay.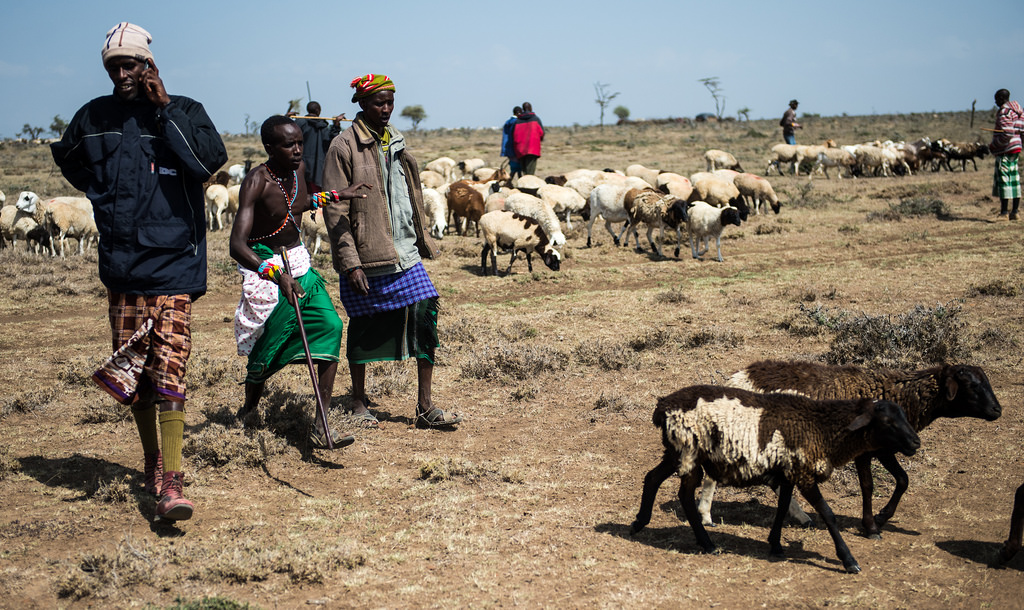 Market Day at Segera
One of the most fascinating outings during my short stay at Segera was a morning visit to a nearby market day, held weekly in the community land adjacent to the northern border of the reserve.
In an area which is noticeably heavily overgrazed compared with the ranch property, some 70 or so Samburu people from neighboring villages and manyattas had gathered to buy, sell and barter a variety of items ranging from fresh produce to dried beans, ugali meal, candy, herbs and spices, grocery items, shoes and livestock including goats, sheep and chickens.
Clearly there was quite a lot of buying and selling going on with various vendors exchanging cash for plastic bags filled with potatoes or dried beans and always generously measured, the large measuring can topped to overflowing and then another small handful tossed into the bag for good measure.
Many of the young men present were Samburu warriors – in a peculiar stage of bachelorhood when they live a relatively carefree existence with girlfriends but no possibility of marriage. Marriage is not an option as it is only allowed with a girl from a different clan. Handsome and even a bit vain, the warriors are turned out in splendid colorful costumes, complete with neatly done headgear and spotlessly clean kikoi-like main garments.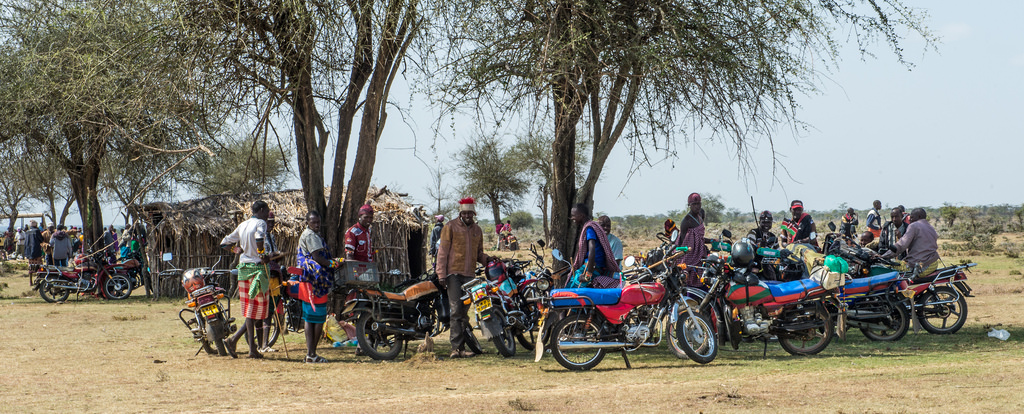 The young men – many of whom had arrived by motorbike – had gathered in the bike parking lot under a couple of trees. The young unmarried women were slightly on the periphery, chatting and lounging in small groups of 3 or so, no doubt exchanging some gossip and catching up with their friends. The sort of thing you do when you are not on Facebook.
There was some selling and buying of sheep and goats happening as well. Unfortunately I managed only a couple of photographs before the subjects started to demand rather exorbitant amounts of money to be in front of the lens. I had not anticipated this happening and it is a pity that Segera had no arrangement in place with the local community leaders, to prevent this situation. For a photographer to negotiate individually with every subject, is not ideal at all. It was uncomfortable and as a result some 'once in at lifetime' photo opportunities went begging.
Segera is a superb property and for visitors looking well beyond a game-viewing trip, it offers an extraordinarily luxurious and all-encompassing experience.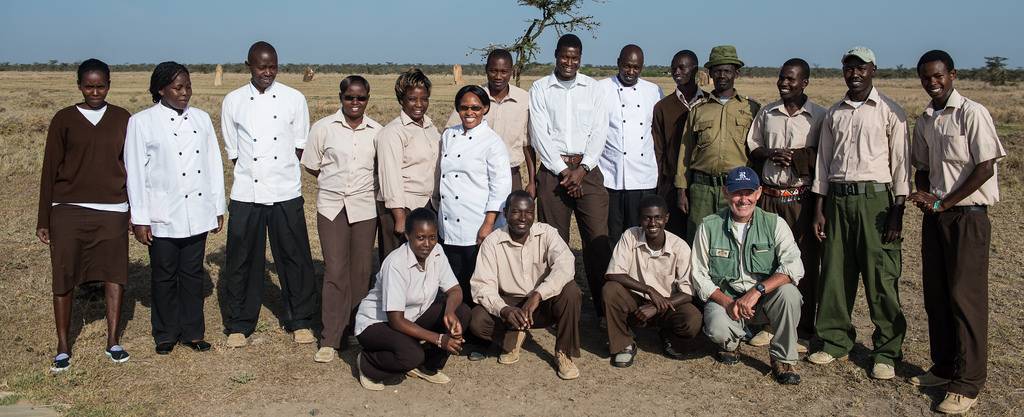 Sambuk: Place of the Camels
From Segera I traveled by road to Sabuk, another Laikipia property, but in completely different terrain right along the Ewaso Nyire River. As I was accompanied by Verity Williams, the owner and co-founder of Sabuk, I received an excellent introduction to the area. Verity is a veteran guide and long-time safari operator in Kenya and elsewhere in East Africa with special expertise in mobile camping safaris. She is a great conversationalist and we chatted away for a couple of hours en route. I am glad she was doing the driving and not me as some of it was pretty rough going.
As we got closer to Sabuk the landscape became quite dramatic with craggy outcrops and canyons giving way to impressive vistas over the distant hills. Just before turning off the main road – if one can call it that – you cross a large bridge over the Ewaso Nyiro River, and then travel a short distance up a rather steep little hill before coming to a stop close to the front entrance of the lodge. On the drive we saw a couple of elephants
The main lodge or mess (it has two wings, a dining room and lounge/fireplace) and the rooms – no two of which are the same – are bulky rock, cement and wood structures, all covered by huge reed-covered roofs. The initial impression is rustic yet impressive. I suppose one could describe Sabuk as being quirky and organic, with each room and the cottage annex (a self-contained until sleeping 4 persons with its own small kitchen and private lounge and plunge pool) having its own layout and different views.
Some rooms have a smaller verandah; most have a semi-outdoor bath with a view and there is a family room with a king size bed and three singles, one of which is a bunk bed. The family house – partially on a wooden deck – can sleep as many as seven persons.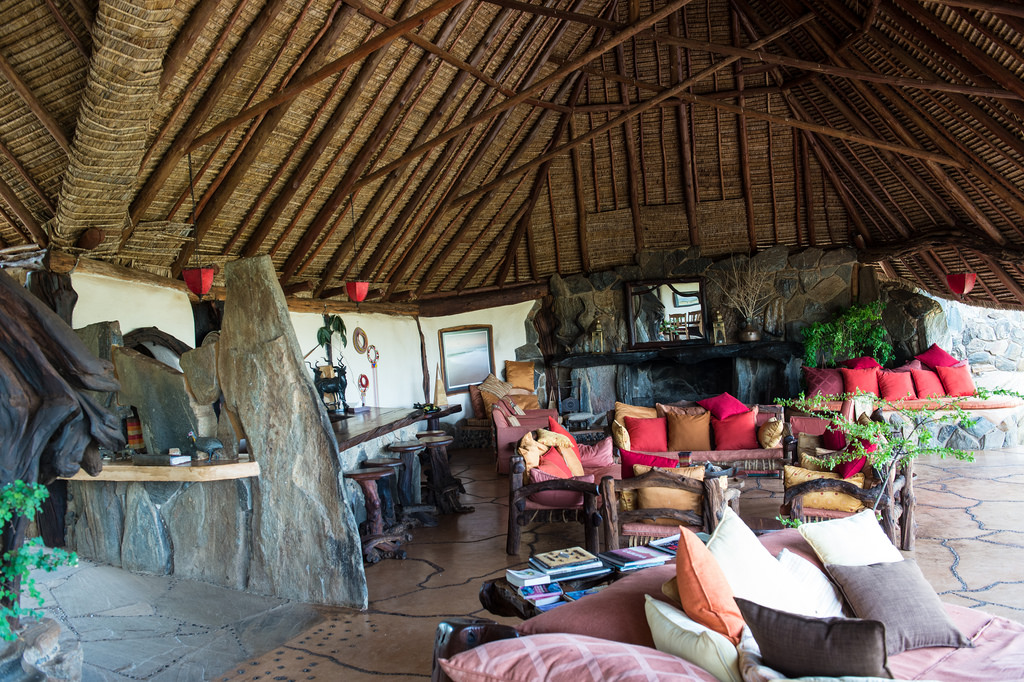 Of course, Sabuk is much more than a collection of rooms and buildings. It has personality and style and offers a unique combination of activities and surroundings in a very dramatic landscape.
Every room at Sabuk shares an inescapable and welcome bonus: the natural sound track of the water of the Ewaso Nyiro River being forced into a series of narrow rocky gaps right below the lodge. The result is a soothing curtain of sound, like a never-ending wave breaking gently on a beach. Add to that some drop-dead gorgeous views from practically every room and from various vantage points in the lounge and dining room, and you have a great setting for a relaxing, low-key safari experience.
What Sabuk does best – at least in my very limited experience of a couple of days there – is to introduce visitors (old and young, this is a great place for kids) to activities other than game drives. So it will appeal mostly to people who want to take a break from 'safari', get out of the vehicle and discover some other things to see and do. Amongst others, these include camel treks, hiking, fly-camping, a village visits and even some fishing in the Ewaso Nyire river.
Owner Verity Williams was always around to help with suggestions and to arrange activities – she and my two guides Tise and Gus certainly worked hard to make my stay at Sabuk a very pleasant one.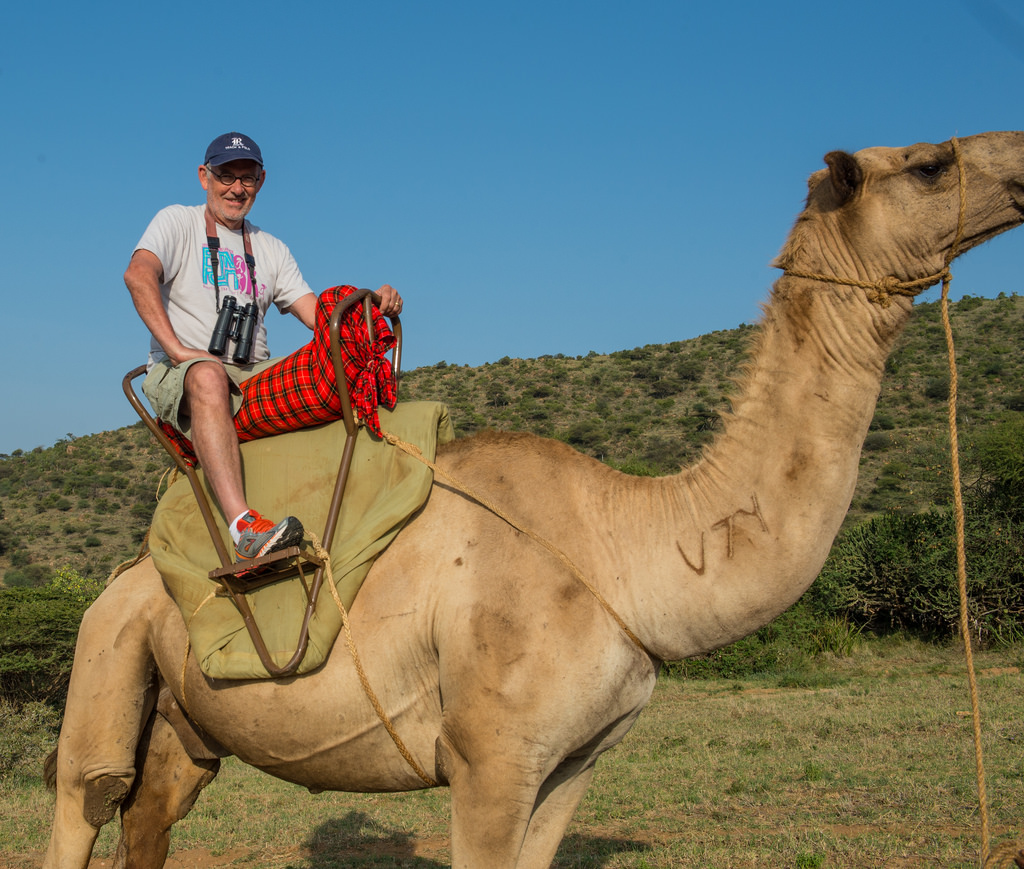 June 20: 'Your Camel is Ready'
It has been a long time since I've done anything completely new – and over the course of three decades on this earth I've never walked with, been on the back of or even been close to a camel. All this changed early on June 20 when Verity met me at the entrance to the lodge and announced: 'Your camel is ready'.
Minutes later, having been given a few perfunctory do's and don'ts, I swung my left leg over a camel's back. His name was Soro. Without much warning and rather abruptly Soro 'woke up' – meaning that he forcefully straightened first his back legs and then his front legs, so lean back right after mounting to avoid being pitched over the camel's neck.
Once up, a camel is quite stable and at walking pace there is a minimum of discomfort. I would not want to stay in the saddle for more than a couple of hours at a time but the view from up there was worth it. It is certainly high to the point where kids up to 8 years or so are best picked up once the camel is up, to share a ride with a parent.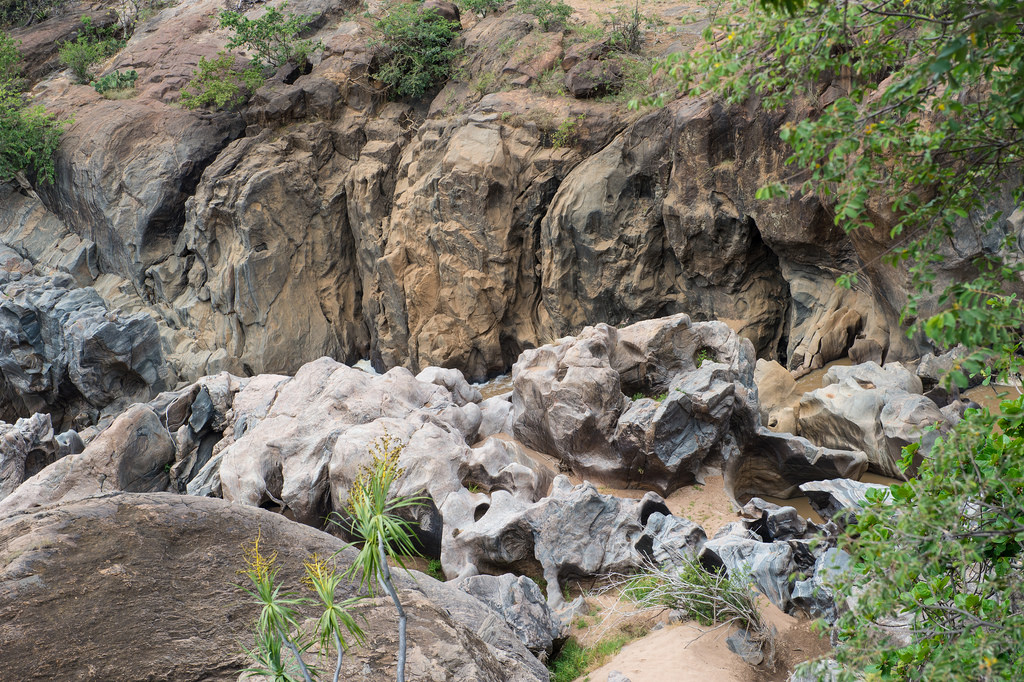 We traveled a mile or so to a nice spot in the bush where a surprise breakfast had been arranged for me, complete with a small portable table and chairs, a cook, coffee and breakfast to order. There was even a small portable toilet.
While I was there, a young American family with two boys aged 8 and 10 were spending 3 nights at Sabuk and the kids were clearly having fun, doing some exploring on their own and joining their parents on walks, camel treks and a fishing expedition. The food at Sabuk was good and wholesome and there was plenty of it, with nice vegetarian options as well.
I would be reluctant to recommend Sabuk to visitors wanting a luxury experience but if you enjoy 'camping wild' and wouldn't mind an occasional bat or spider then Sabuk would be right up your alley. That being said I've encountered bats in many safari properties – even some very luxurious ones…
Walking is highly encouraged at Sabuk and due to the many hills in the property, you are almost always able to scan a distant hillside or ravine for animals of one kind or another. We were not lucky with the animals when I was there, but rainfall and seasonality play a big role in that.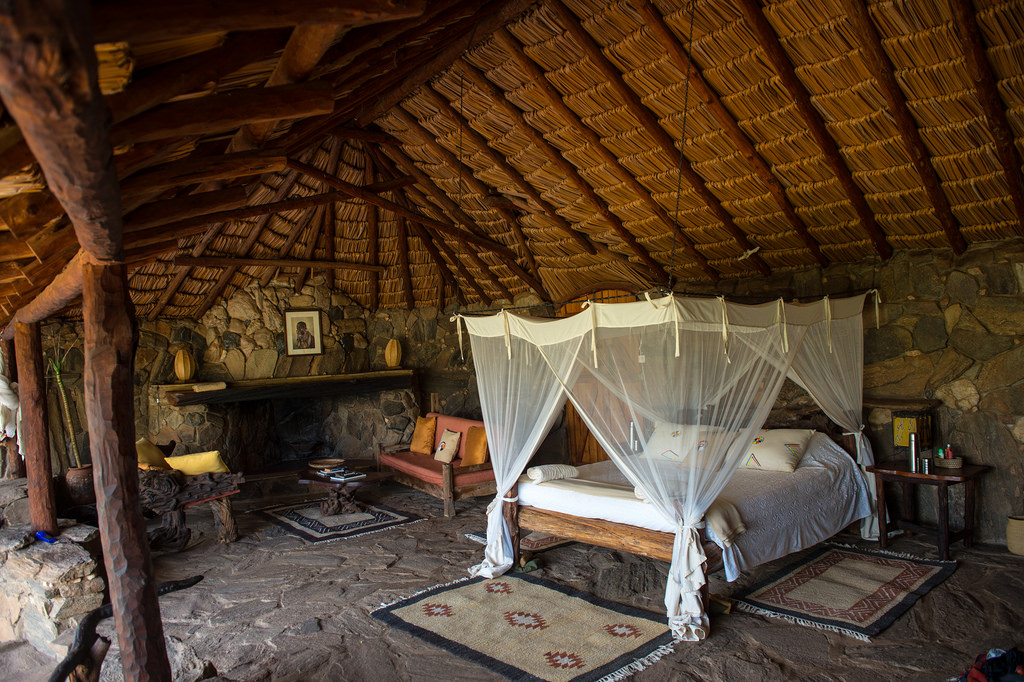 Over the course of a couple of days at Sabuk I saw a few elephants at a distance, some kudu, zebra, waterbuck and impala. I am sure they have better days, but Sabuk is not really a game-viewing destination. It has almost no roads suitable for game-viewing so even if there were more animals, walking and camel treks would still be a better proposition.
Not everyone will like the rough rock construction of the rooms at Sabuk and I also had some issues with the almost non-existent lighting. Another personal foible of mine is that I don't care for any bath that does not have an enamel surface – at Sabuk they have a terra cotta-like 'clay' finish which adds to the rustic feel of the place. I very much enjoyed the totally open front to my room – it is almost a necessity in the spot where the lodge is built. While some guests might feel a bit nervous about this, there is no reason for concern as the front of the rooms are well protected.
As long as would-be visitors know what to expect and visit Sabuk for the right reasons, they are likely to find a very special and very warm place.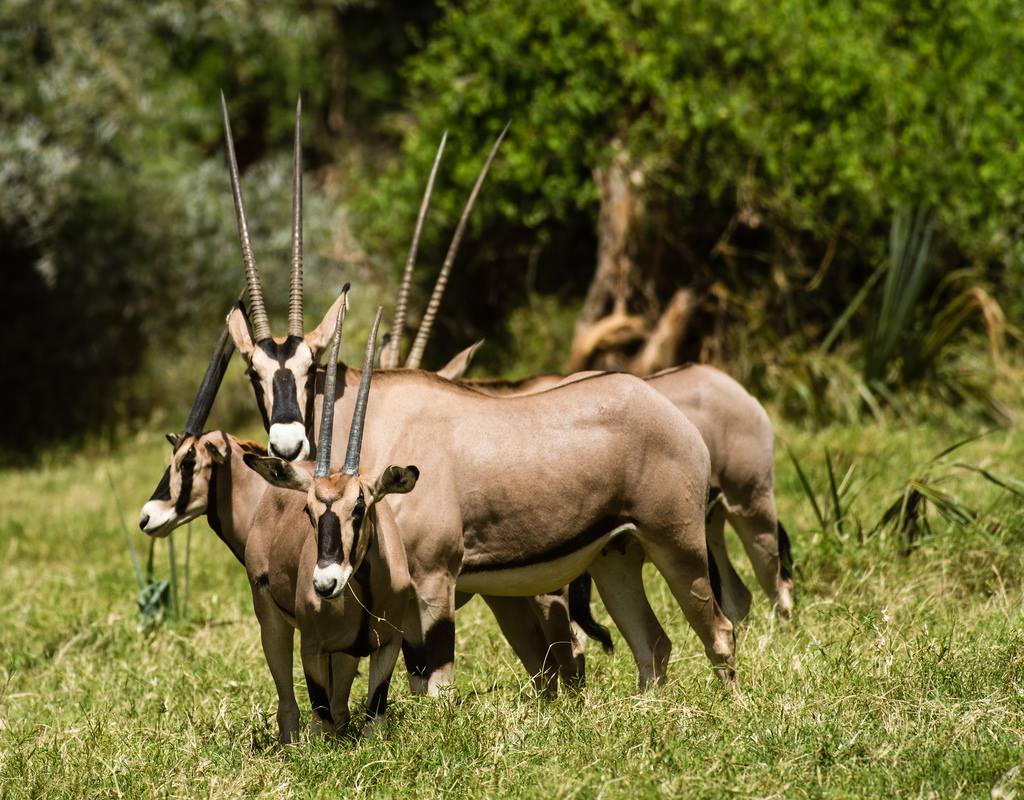 PART 3: SASAAB LODGE, SAMBURU
Sasaab Lodge
This June 2014 trip to Samburu was my third one to the area and while they have all been different and had various highlights, there are a few things about Samburu which never change.
For one, the area is very 'out of Africa' with the proliferation of acacia trees, the vistas over distant mountains and valleys, and the abundance of wildlife. It is unmistakeably Africa but totally the opposite of better watered elevated areas of Kenya such as the Maasai Mara.
There's nothing genteel about the place. Amboseli is harsh. It is almost always dry, and often in the grip of drought. This year again, I could see the early signs of what may turn out to be a very severe drought, barring some unexpected late-season rain.
So it is not surprising that many of the animals found in the area are adapted to deal with this harsh, dry environment and to even thrive in it. Samburu is well-known for its many endemic mammals, particularly the handsome Reticulated Giraffe, Grevy's Zebra, Beisa Oryx and the Somali Ostrich. Other animals to be found in the area are equally fascinating, such as the gerenuk, which feeds at a level well higher than that utilized by other antelopes. Seeing it standing on its hind legs and practically using its two front legs like hands, is a most peculiar yet singularly entertaining wildlife experience. That alone is probably worth a trip to Samburu.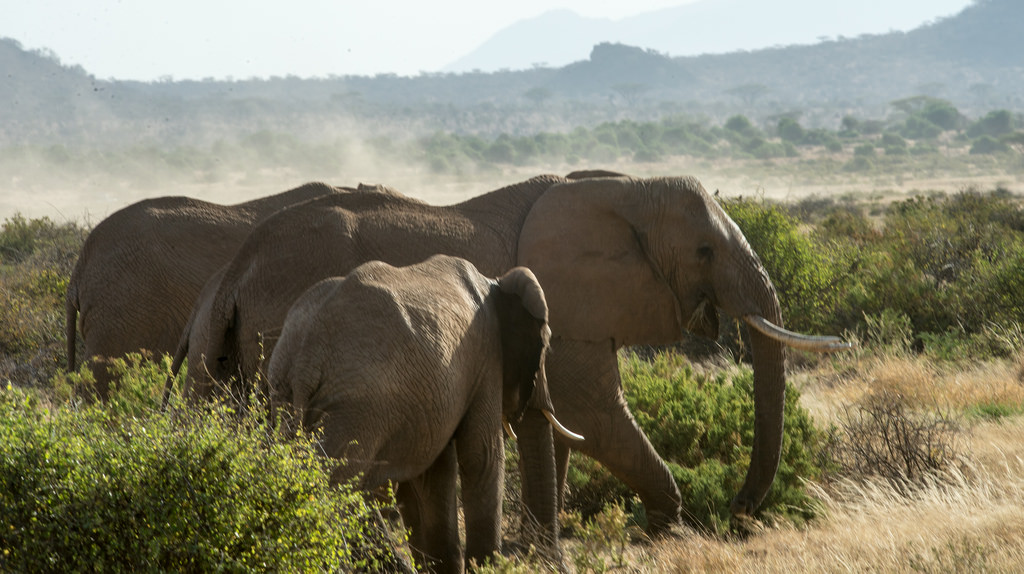 Samburu's elephants are likewise an interesting subject. They are the common Loxodonta Africana found all over Africa yet they are quite unmistakeable with their muddy reddish brown color, imparted by years of Samburu soil and dust coming into contact with their leathery hides. The Samburu elephants are not heavily tusked and are extremely tolerant of vehicles, so you will no doubt get some very good close-up views of them. Except if it is very, very dry when many of the elephants migrate out of the area to the highlands.
On the morning of June 21 I was driven to the airstrip at Loisaba, for the flight to Samburu. Loisaba's main lodge and family homes burnt down in a fire some months previously, and driving up to the airstrip it was remarkable to see the high number of elephants and other game in the previously burnt area. It was clearly much favored by the animals for its newly emergent vegetation and both driving in and flying out we saw literally dozens of elephants dotting the hillsides.
On this day, I would transfer to Samburu on a private charter flight. Flying as the only passenger on a private plane is quite a treat. And certainly not something we do all the time. But it was either this or a 6 hour road trip over horrible roads to Samburu. Easy decision.
The flight turned out to be one of the most interesting ones I've done in a long time. The young pilot asked and got a big 'yes' nod from me about low-level flying. So all the way from Laikipia to Samburu we were never more than 500 feet or so above the ground. An exhilarating experience compared with the more mundane feel from 5,000 ft and up. I could clearly see the elevation increasing as the ground dropped away approaching the edge of the escarpment. Right at the edge of the Samburu area there was a sharp drop-off with the Ewaso Nyiro River glistening below us, to the right and left.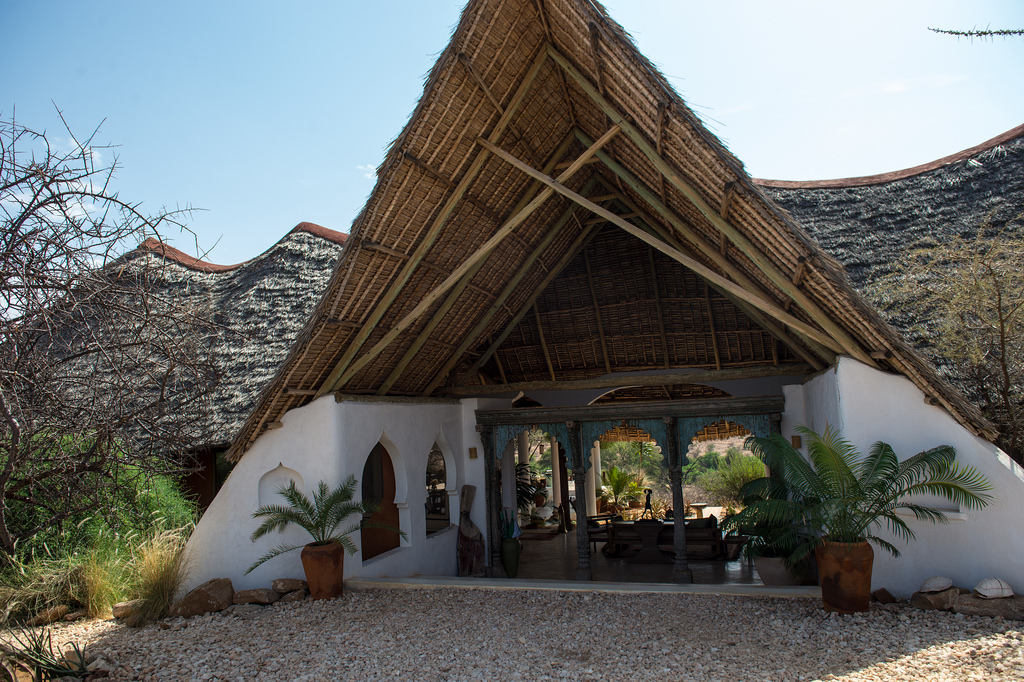 Even from the air, it was noticeable just how dry it was, as we were later to observe first-hand. Approaching the Ewaso Nyiro, the pilot glanced over at me (in the co-pilot's seat), gave me the universal 'the fun starts now' thumbs-up sign and then took the powerful single-engined Cessna 206 down over the water, right on the deck in flying parlance, at just 30 meters up from where the air stops and the land begins. Fun it was and the kind that you cannot find on a computer game or inside a movie theater. This was the real thing with lots of engine and propeller noise and extremely rapid forward motion which will get the adrenaline flowing in even the most jaded of adventure travelers.
Skimming over the wide shallow expanse of the Ewaso Nyiro was a whole lot smoother than the camel ride with an even better view. With its flat-six Lycoming engine generating about 300 horse-power, resulting in a cruising speed of 160 mph or so, the C-206 is not an ideal game-viewing platform that low down over the water, but I did see several elephants just off the water's edge on our left.
All too soon, a riverine forest with some very tall trees on the left and right edge of the river loomed up ahead of us. The pilot made a wise decision to pull sharply on the yoke and bank to the left. I could feel myself being pushed down into the seat as we swooped up and away from the river, the tops of the tall trees sliding away below and to our right. Bullet safely dodged. What a thrill! Who knew going on safari could be this much fun. From that point the Sasaab airstrip was barely 10 minutes away; we checked the runway for wildlife, came around and landed.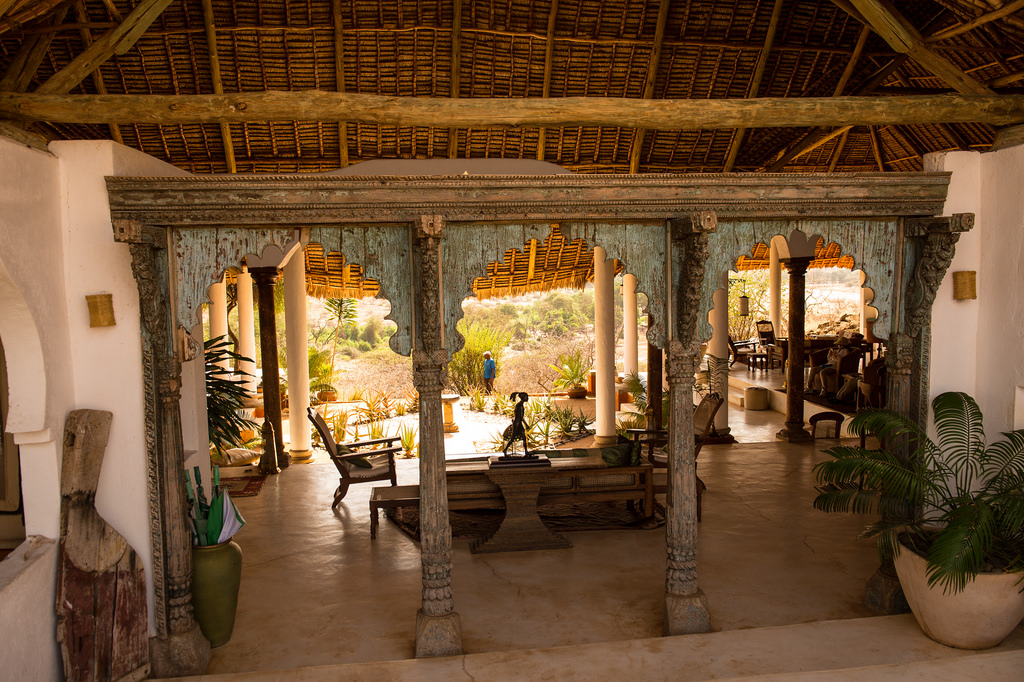 Twenty or so minutes later, I was being welcomed to Sasaab by lodge managers Ron and Margaret Gratzinger. Margaret's bubbly, sparkling personality makes her the ideal host and while she has lost the accent, her innate Southern charm is still very much intact. Ron strikes one as a steady, no-nonsense all-American guy and the two of them clearly work well together. I very much enjoyed their company over the next couple of days and so did the other guests who were there at the time, including a young Chinese couple from Hong Kong – celebrating a belated anniversary. Also with us for the two days were a grandmother and grand-daughter from New York. It turned out that the lady was the founder of Nickelodeon and she soon revealed her formidable personality and tons of charisma, much to our delight. For the first day we were joined by a French photographer and his companion – both seasoned Africa and world travelers – with a wealth of stories and experiences from remote, little-visited African locations. Like so often on safari in far-flung corners of Africa, our diverse little group enjoyed some splendid meals and get-togethers, quickly getting to know each other and making the most of our shared experience.
Sasaab's spectacular facade and entrance-way is the show-piece of its Moroccan inspired design, which is evident throughout the property and the rooms. My suite – it can hardly be described as a room or tent – had all the space in the world with a fantastic view over the Ewaso Nyiro and the valley and mountains in the distance. It is multi-leveled but there is a walkway (no steps) down from the sleeping quarters to the 'bathroom' – or rather the area which has a his and hers sink, a separate toilet and a semi-outdoor but private shower. The rooms are far from each other and they very much have the feel of a private sanctuary. The large king size bed has a view out over the river and plains as well, and it has a private plunge pool and verandah. For once the lighting was adequate and easily controlled from the bed.
The main lounge and dining room/bar area is expansive with several inviting and very comfortable stuffed chairs and colorful couches. An attempt by the barman at mixing a dry gin martini unfortunately failed due to an overabundance of vermouth. Like someone once said, very wisely, all you need to do to get the perfect dry martini is to walk through a room with a bottle of vermouth somewhere in it. Actually a tiny bit, maybe half an ounce or so, of dry vermouth is fine, but anything beyond that pretty much ruins the drink. And please – all safari bar tenders take a note – everything has to be icy cold. Including the glass itself.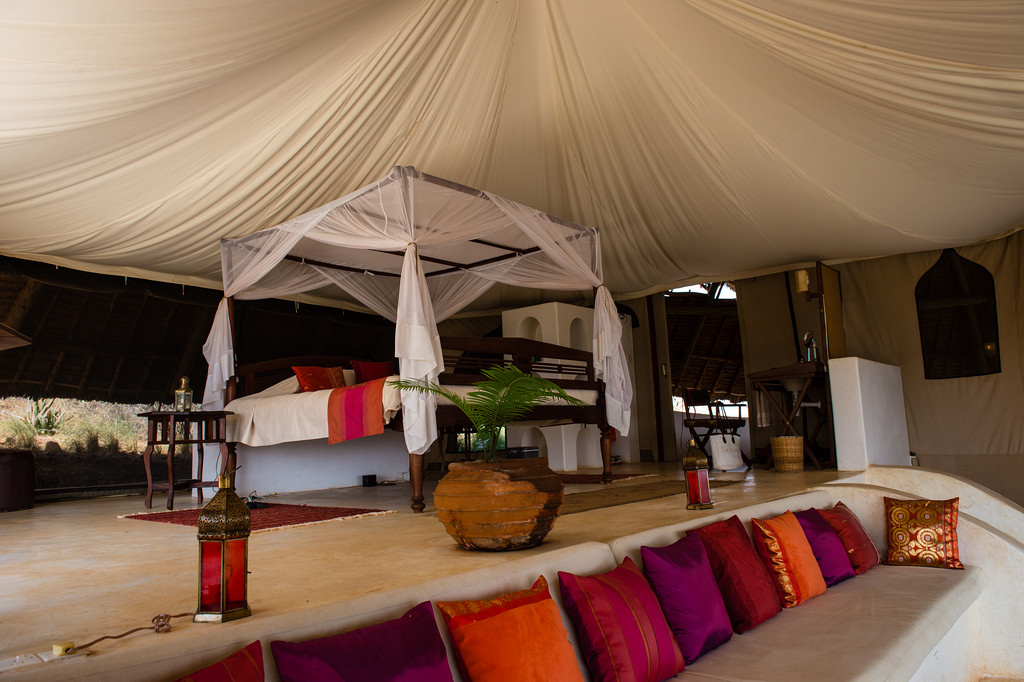 The grounds at Sasaab are home to a variety of birds and several dik-dik also hang out around the property, being fed some cabbage from time to time, I suspect. They are very tame and very photogenic although the ones by my tent disappeared by the time I had the camera ready.
On our first afternoon at Sasaab we took a bush walk – which was pleasant even if we did not see any wildlife – to a nearby rocky outcrop where sundowners were served a bit later. The young Chinese couple went on camel-back while the French couple and I were on foot. The sunset was not the most spectacular one I had ever experienced, but on the right day with the right sun/cloud mix, the spot would be amazing. As it was the snacks were great and the G & T top-notch. A perfect end to a very eventful day. Dinner that evening was served al fresco and our party of eight tucked into the expertly prepared dishes which included chicken breast, freshly baked bread, salad and other side dishes. All very elegant, much like the type of dinner party you would like to be invited to.
The next morning we were up and out quite early for a half day game drive to Samburu National Park. Initially the game drive was very slow with few animals seen, but it started to pick up by the time we had driven about an hour from the entrance to the park. This does present a problem, as it takes a full 2 hours total from the lodge to where one can reasonable expect good game-viewing. In the process you lose almost all of the good early morning 'golden hour' light, i.e. the first hour after the sun is up. Either you have to leave from camp very early or spend a couple of days at a different property inside the park. Serious photographers need to give this some thought in making a decision about where to stay in Samburu.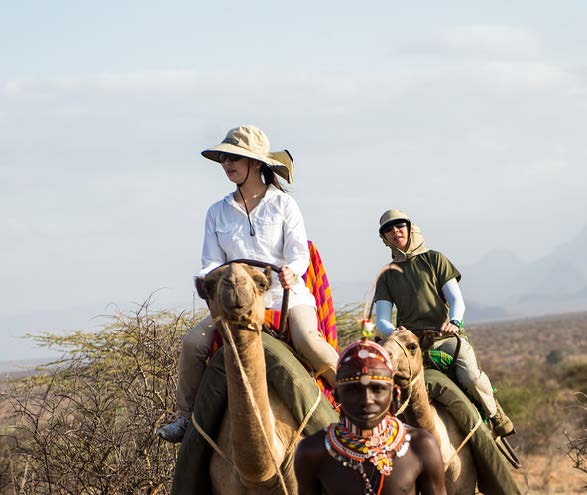 As it turned out the day of our drive was unseasonably windy – the wind reached near gale strength by late morning with the result that conditions were not ideal at all. Bird-watching was impossible and photography was most challenging. I managed to get a few half-decent pics, but nothing nearly as good as on my previous trip to the area. We did get lucky with some lions which walked right by us, saw a couple of groups of elephants, lots and lots of giraffe, plenty of Grevy's zebra, some gerenuk and a few other species. Mixed in with quite a bit of dust but what can you do. Our 'bush breakfast' was served on the banks of the Ewaso Nyiro and the Sasaab crew made the best of extremely trying conditions. I could not believe that our guide succeeded in getting a fire going to cook some delicious pancakes, amongst others. All in all, breakfast was quite nice despite the occasional swirl of dust blowing across the picnic site.
On the way back to camp we saw many more animals – it was a pity that the light was quite harsh by then because we did see several very special things including a bird of prey which had taken down a smaller bird (or maybe it was a hare), some dwarf mongoose peering out of a anthill, some young impala, more zebra and several giraffe, as well as some nice groups of oryx and Grevy's Zebra.
That afternoon we visited a nearby Samburu village. It was a sobering experience to see the very basic, stripped down existence which they lead, compared with the over-abundance of possessions which clutter the lives of most of us. Inside one of the rough houses (designed and built by the women) there was barely anything other than a few calf hides on the dirt floor and a couple of pots and utensils next to a smoldering fire. No chairs, tables, closets or gadgets. Nothing.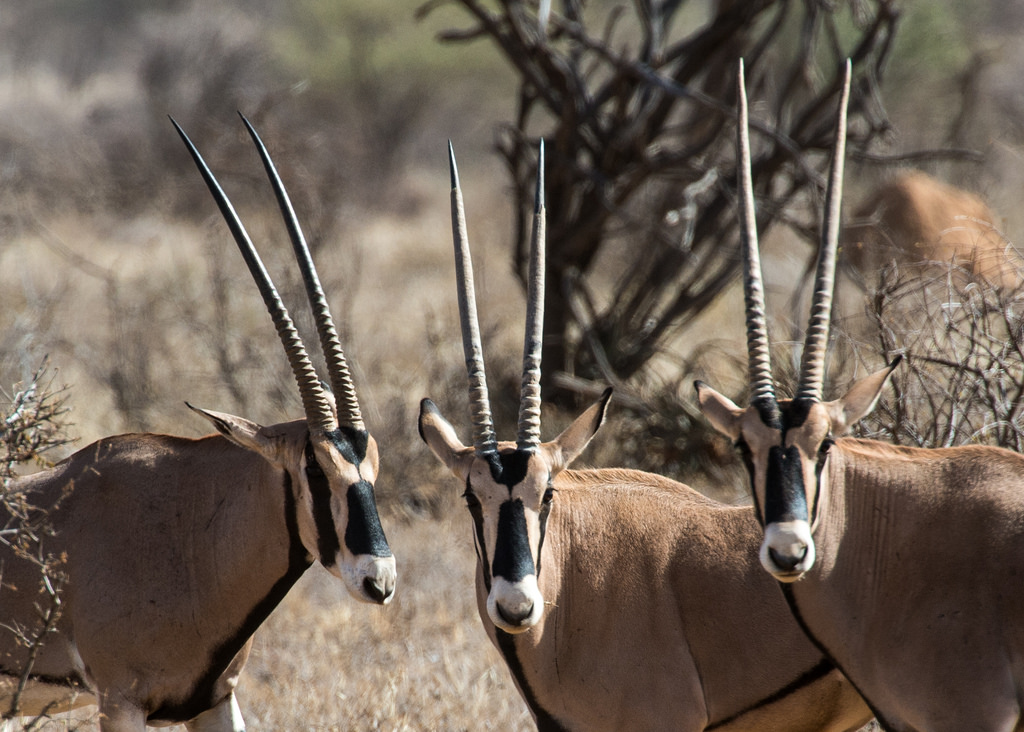 Outside, the kids were dirty and dusty but seemingly healthy and happy. Their diet is sparse and they probably don't know what it feels like to overeat. Things like candy and sugared soda are rarely consumed – never mind pizza or fast food. People who get most of their nutrition from ox-blood and goat milk are very lean and one of the kids actually wrapped his little hand around my calve, smiling and chatting away to one of his friends. What was said about the mzungu's oversize calves and later about his hairy forearms – the Samburu have no hair on their arms or legs – thankfully will never be revealed.
The smokiness of the room was rather over-powering and gave me a bit of a headache so I was not totally sad to have to say goodbye to the people in the village and get back into the car. Cultural interaction is almost always interesting but can be a bit depressing for some people. Other guests thrive on it – I suppose the point is that there is a very authentic Samburu village quite close to the camp and that guest are encouraged to visit it and take photographs without fear of having a fee demanded of them for every pic. Sasaab management has an arrangement in place with the village to take care of that. Even so, I was reticent to stick the camera into total strangers' faces. The kids were keen to perform in front of the lens, singing their local version of 'Freres Jacques' with big broad smiles lighting up their faces.
On the last day of my Kenya trip, Ron dropped me off at the Samburu airstrip (inside the National Park) and I spent the afternoon in a day room at the Ole Sereni in Nairobi before the long flight back to Amsterdam and then Houston.
On every visit to Kenya I have grown more fond of the country and its people. As I've said previously, I still consider it to be the Rolls Royce of safari destinations.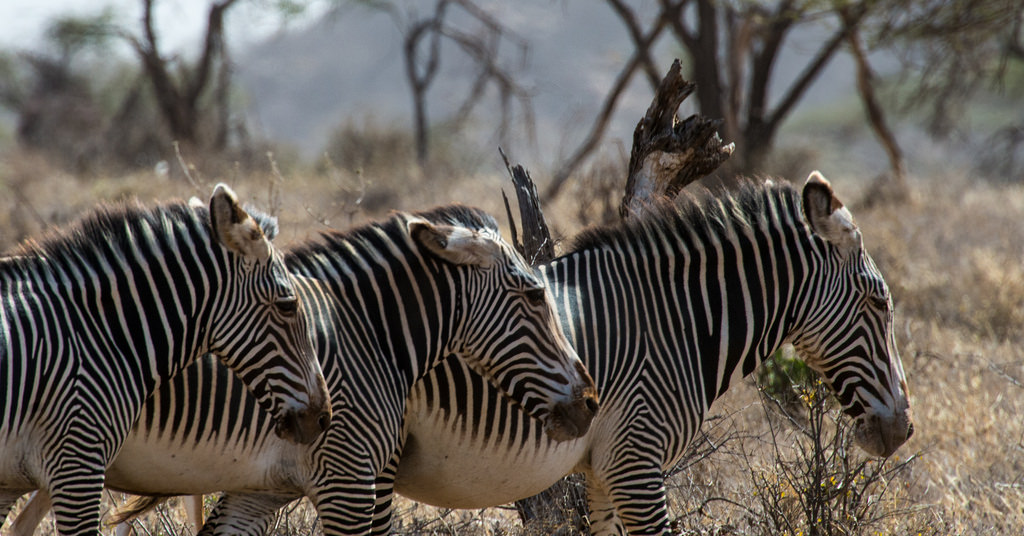 Nowhere else in Africa will you find such a stunning combination of abundant and easily seen wildlife, such diversity of habitat and scenery and such rich culture. Kenya was the original safari destination and once you get there, it is easy to see why.
Yes the Rolls Royce of safaris has a few dings, it needs a paint job and the leather seats need to be replaced. But its powerful 8-cylinder engine is still going strong; a little tune-up and it will be good for many more thousands of miles.
What is more, there are no friendlier people than Kenyans. They genuinely want you to love their country just as much as they do, and they will do anything to make that happen.
I look forward to returning to Kenya again soon and to become even better acquainted with this wonderful country. So many other places yet to be seen and experienced such as Lake Turkana, Tsavo and Kakamega Forest in the west. And of course I will just have to go back to the Masai Mara and Amboseli and to the Chyulu Mountains. The beautiful animals and the friendly people are waiting.