$cat_name = 'category'; $categories = get_the_terms($post->ID, $cat_name); foreach ($categories as $category) { if ($category->parent) { echo $category->name; } } ?>
Feb 18, 2014
Botswana February 2014 II
Share: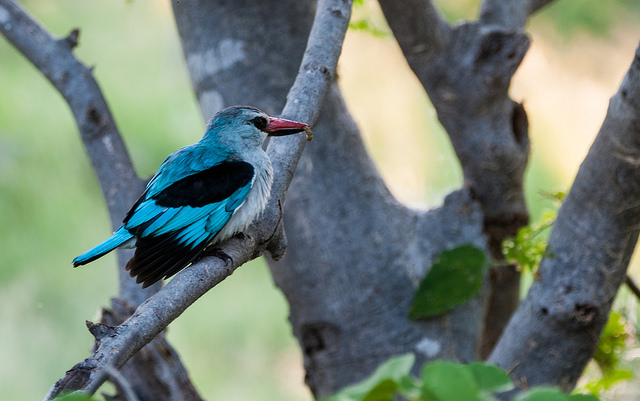 Botswana February 2014 II

PART 1: INTRO, CAMP MOREMI & XAKANAXA
This trip was a refresher for what is still considered the meat and potatoes safari destination in southern Africa, Botswana. It was the destination of the first educational I ever took with my brother back in 2007 and I have been back multiple times. When it comes to Botswana, the more the merrier, in fact I had been there as recently as two years ago in most of the general areas that I will cover in this trip report. We begin at a great Desert and Delta property, Camp Moremi, in perhaps the most iconic area of Botswana, the Okavango Delta.
After the standard flight from Johannesburg up to Maun we are quickly off to the property and upon arrival it is quickly evident that the rains have been heavy this year. The roads are tough to navigate and full of water in places. The area we are staying has a few public camp sites and we hear that on more than a couple of occasions self-drivers get stuck on the roads and require assistance from the camps. The heavy rain also makes the Mopani woodland quite beautiful and green, very lush. The downside to this, of course, is that it makes game viewing quite difficult as animals can disappear only a few feet from the road.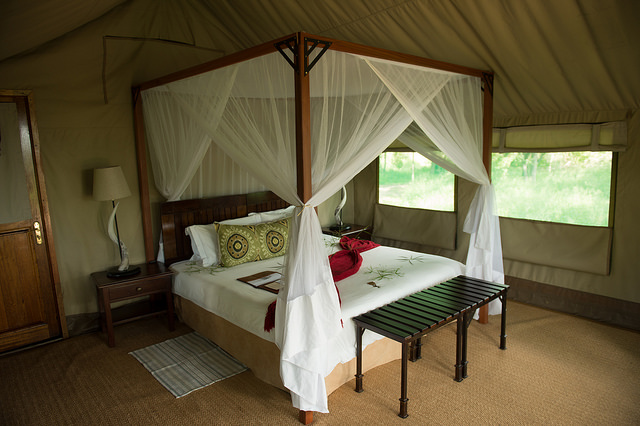 CAMP MOREMI AND XAKANAXA, EASTERN OKAVANGO DELTA
This camp was one of the few that I would get to stay at simultaneously with Jason and Sara. Our guide, Banda, started what would be quite a terrific run of knowledgeable and friendly guides that lasted through the entire trip. The camp itself is a nice looking camp with an outer fence that keeps out only the elephants. It has 2 central meal areas with dinner usually served upstairs and breakfast and brunch downstairs. The rooms are spacious with bathroom facilities in an adjacent door as well as a good view of the lagoon in front of camp.
We arrived in the afternoon and by the time we were finished getting our things in order in our rooms we were running just a little bit late and the vehicle had left to go on the afternoon activity. Not a problem at all as we were simply dropped off by another vehicle. This is a fairly common practice as the camps go out of their way to cater to each individual guest/group. Our game drives while at the camp were relatively quiet with some general game such as zebra, wildebeest, impala and other antelope mixed in. Saw some lion tracks on the second day and had heard them the previous night and that morning but we were unable to find them. Of course our clients would spend at least three nights here – not just one. Enough time to find and observe a good variety of game at any time of the year.
The transfer to Xakanaxa was done via boat and only took about 5 minutes as the two properties are literally adjacent. My first impressions on the camp were that it was similar to Moremi in many ways but the tents were significantly closer together.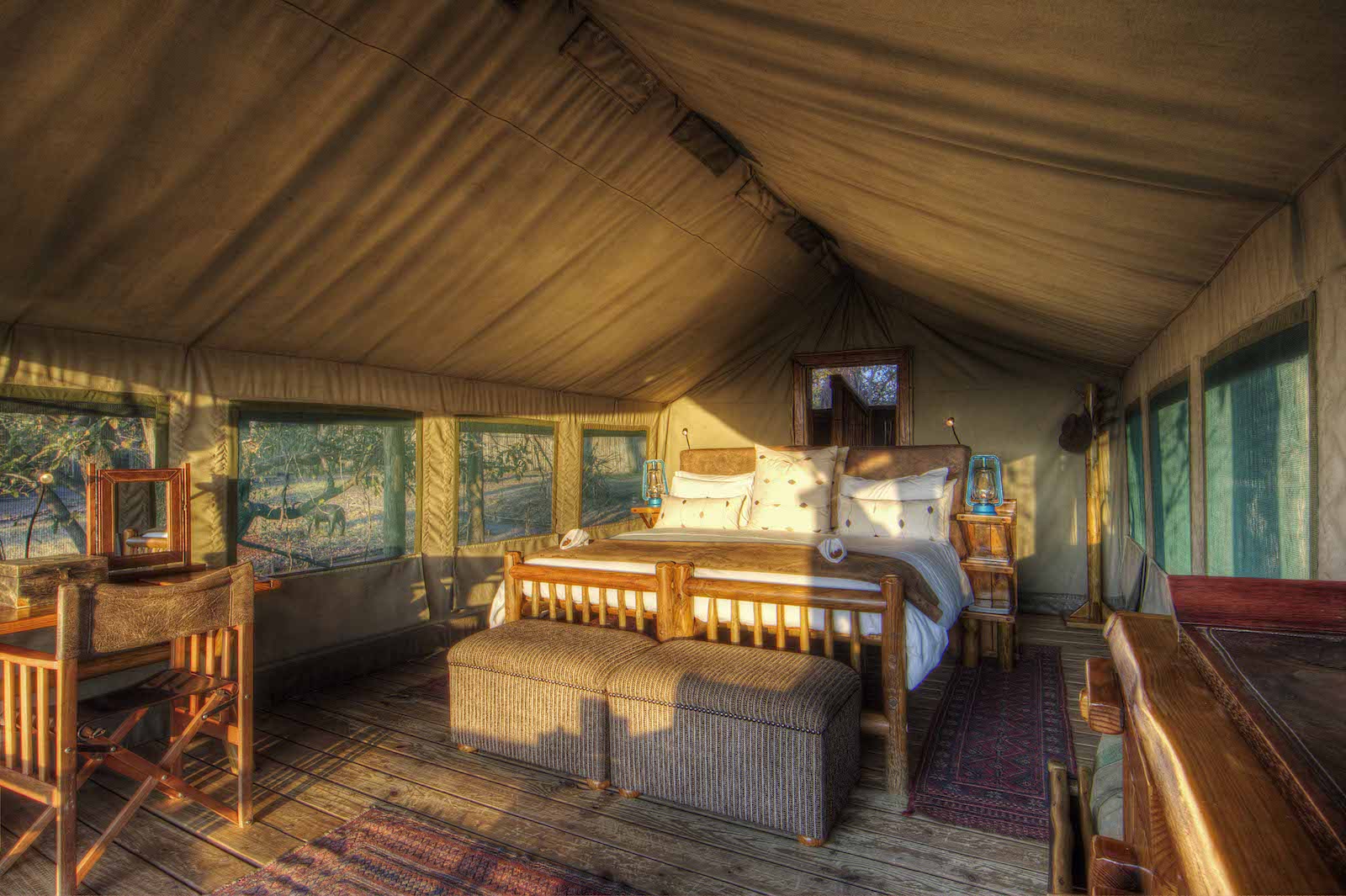 Our first game drive we were fortunate and were able to view a leopard that another vehicle had spotted. It was resting up before the evening hunt on top of a termite mound which made it easier to spot. It was tough to get a different angle due to the thick foliage but we decided to have our sundowner drinks and snacks in the vehicle while we stayed with the animal. Dinner that night was some very tasty lamb. It was a fun dinner with a group of Australians a couple from the UK and another single traveler also from the UK.
After a quick snack the next morning we were off at about 5:30. Not a long way out of camp we drove by some noisy guinea fowl which sparked the interest of our guide Ngande. He quickly put the vehicle in reverse and sure enough there was a leopard, briefly silhouetted against a small mound. It quickly took off and we were unable to get a good look at it afterwards but just another example of how a quality guide will help get the most out of your game drives. After this we spotted some red lechwe, waterbuck and a couple wattled cranes. Had a nice up-close elephant sighting and he seemed quite relaxed with us so nearby. After tea and some more snacks as we were heading back to camp we really lucked out and saw a leopard just as it was crossing the road in front of us. Because it was out in the open we had a fantastic view… for about 15 wonderful seconds. Once it headed into the bush it was invisible in moments. Had we come across the same location a minute earlier or later we might have gotten lucky and spotted the tracks but we would have had zero chance of spotting the animal itself.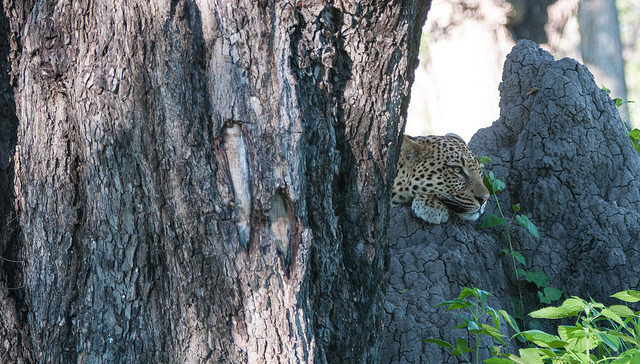 On our arrival back at camp we enjoyed a fantastic brunch with some especially tasty bream. There was a small croc sunbathing not far from where we ate and he must have just eaten something because his stomach was literally the shape and size of a watermelon. I got in a short swim, did some reading and took a bit of a nap before the evening activity.
That evening we took a boat cruise straight from camp. There were some beautiful birds spotted including African Darter and Jacana, nicknamed the "Jesus" bird as it appears to walk on water. Quite an excellent area for birding. From our boat we transferred onto mokoros and went for a short ride. We saw some antelope and giraffe in the distance and the painted reed frog up close. Dinner was great again with some excellent chicken.
The following morning all guests were scheduled to leave so our game drives headed in the direction of the airstrip along with our luggage. We got to see some general game and a very nice malachite kingfisher as well as a woodland kingfisher. I said my goodbyes to the other guests and our guide and it was off on a short hop to Chitabe Camp.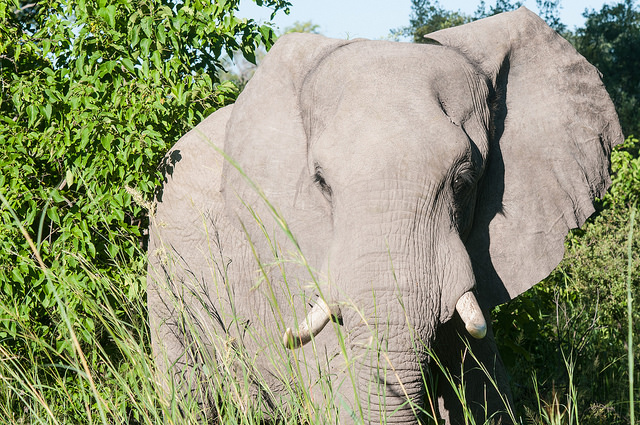 PART 2: CHITABE & LITTLE VUMBURA
CHITABE CAMP, SOUTHEASTERN OKAVANGO DELTA
Chitabe Camp is a traditional raised platform camp with spacious tented rooms. As I arrived and sat down for the safety briefing that occurs at every camp some other guests remarked that they thought they had seen me earlier. This drew a bit of a chuckle from me as I knew my brother was staying at this camp and of course it turns out they had seen him earlier. After the briefing I made my way back to my room and settled in before heading back for high tea. It was a typical high tea where I convinced myself that I would take it easy on the snacks and then proceeded to sample everything they had.
The highlight of our evening game drive with our guide Bebe was getting to see a small pack of 4 wild dog. They were relaxing in the waning sun although one of them was obviously a bit hungry and eager to get the others to go on a hunt. Shortly after we left them we came across a couple of lions taking a stroll just as the sun really started to disappear. A delicious chicken dinner was prepared for us as we returned to camp and shortly afterwards it was off to bed although there was a particularly noisy cricket that drew my ire throughout the night.
The following morning we woke up early and had a tasty little breakfast with some poppy seed muffins and toast to hold us over until brunch. This game drive would be abbreviated as we were scheduled to leave on a flight that afternoon, Jason and Sara to one camp, myself to another. We saw some nice birds and quite a bit of general game but a bit quiet on the predator side. On arrival back into camp we had time to finish packing and get in a fine brunch. Unfortunately, as we drove to the airstrip we passed the other guests arriving back into camp and heard about their lion and cheetah sightings just after we had gone. Needless to say I think we all would have traded in that brunch, especially for a chance to see some cheetah. This type of thing tends to happen though when all you have are 1 or 2 nights per camp.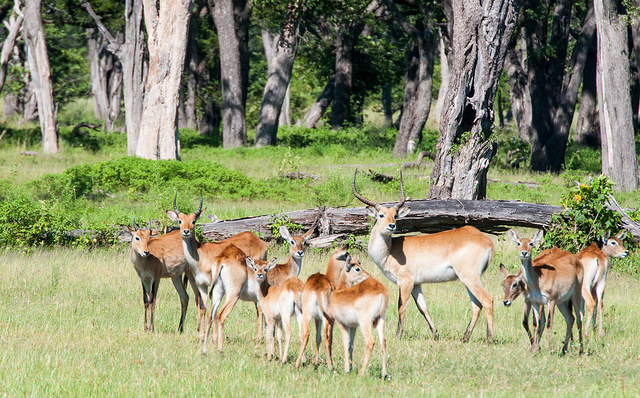 LITTLE VUMBURA, NORTHERN OKAVANGO DELTA
The next camp on the list was Little Vumbura and after saying my goodbyes and after a short flight I was meeting with my new guide, Kay, and we were taking the 40 minute drive to camp. Little Vumbura is actually built on an island so there is a short boat transfer involved as you head to and back from activities. Very good views from the tents out to some classic Okavango Delta scenery. The tents themselves are comfortable with doors separating the restroom area and the shower. As I said earlier it had been about 2 years since I was last in Botswana and as I was meeting some of the camp staff I instantly recognized someone but was having trouble remembering where I had last seen him. Terrible with names but great with faces. Quest was his name and eventually I remembered that he was previously the camp manager at Kalahari Plains Camp which I had visited on my last trip so it was nice to catch up with him. Ironically the two guests I would share game drives at the camp with for the following two days were a couple from England who had been to Little Vumbura 14 years ago and Kay had been their guide then so it was a day of coincidences all around.
Could not resist a small slice of carrot cake before our evening drive and it was mighty tasty indeed. Quite quickly after we left camp we saw a mother hyena with some very young pups. We watched them for quite some time and saw that their den was nearby. After this it was some birding as well as general game including a group of about 5 elephants having fun in a small watering hole and then getting back out and promptly dusting themselves down. We picked out a nice spot and had a sundowner before heading back to camp. As we all had some drinks around the fire in anticipation of dinner the staff entertained us with some songs. Had some more excellent lamb for dinner as well as crème brule and slept like a rock.
The following morning the park-wide wake-up call changed from 5:00 to 5:30 because it was getting a bit darker in the mornings so we got to "sleep in" a bit. After a small breakfast and some tea we were off on our game drive. We spotted a 'handsome' group of ground hornbill getting their own breakfast as well as the same hyenas we had seen previously. As we watched them we received radio notification that another vehicle had spotted fresh wild dog tracks so we sped off to try our luck with them. Not too long afterwards they were spotted and about 15 minutes later we had caught up and had a fantastic viewing of a group of 15. They were on the move and we followed for a good while not sure if they were hunting or just avoiding other predators. 5 pups trailed the main group.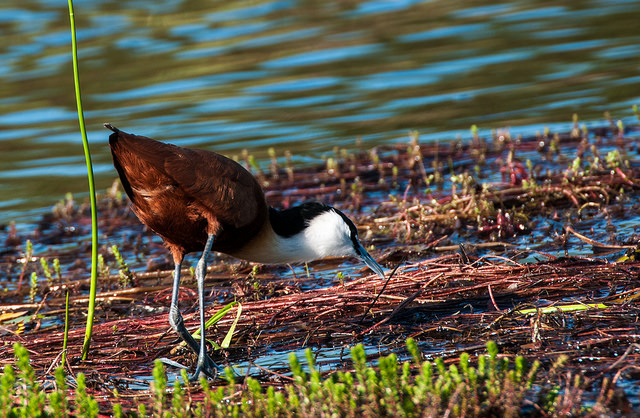 As well as the dogs there was a great amount of birdlife in the area and also some general game including tessebe, zebra, impala, wildebeest and hippo. Before wrapping up the drive we were treated to a group of elusive sable antelope. More than a few people I know rank them as the most handsome antelope. The contrast in color between the young ones (brown) and the adult is quite striking.
Evening activity was a boat cruise around the island. Not as much about the game as it is relaxing and changing up the routine a bit. Very nice birdlife and the scenery is excellent. Also got to take a closer look at some of the aquatic plants including the day and night lilies and all the papyrus. One of these days I hope to get a look at the sitatunga, the rare antelope usually found submerged in water eating papyrus.
It was a traditional dinner that night with a good mixture of some of the local meat and fish. We started with some "African Tapas" around the campfire and then all of the staff did some singing and dancing for us. These happen once a week at all Wilderness Safaris camps so if you stay for a decent amount of time you will likely experience it. In fact one of the starters was a combination of peanut butter and some of the delta plants we had just spent the evening looking at.
The following morning I was scheduled to leave but was still able to get in a full morning game drive. It was a good thing because we spotted a pride of 7 lion lounging in the shade. Literally the only time they moved was to get into a shadier spot as the sun shifted their cover. This is about par for the course as far as lion activity during the daytime. At one point a small group of impala wandered perilously close but must have gotten a whiff of the lion's scent because they scattered quite quickly. It drew a couple raised heads from the pride but it was really nothing worth their effort. After the lions we got to see the sable one last time before heading back to camp and grabbing my luggage for the trip to Selinda Camp.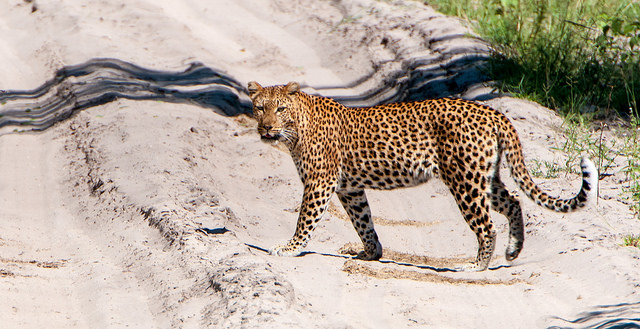 PART 3: SELINDA & DUMATAU CAMP
SELINDA CAMP, SELINDA CONCESSION, NORTHERN BOTSWANA
The flight schedule is usually pretty dependent on which guests from which other camps are heading where at which dates so you are just as likely to have a direct flight to your next camp or you might need to pick up some other passengers along the way. My flight to Selinda required about 3 such flights but they were all extremely short, none longer than 15 minutes, and loading and unloading occurs quite quickly so it's not much of a hassle. Once we landed at Selinda I was picked up by my guide, Lets, and we took the short 15 minute ride to the area where the vehicles are parked. Even though it is not in the Okavango Delta like the previous camps located on their own islands a boat is needed to cross the Selinda Spillway to get to camp. This takes between 10 and 15 minutes so a bit longer than most but not at all unpleasant and in fact gives you some birding opportunities going to and from camp.
The camp itself has a very spacious main area with a brand new pool that was actually just being finished as I arrived. The main areas and the tents are all raised but the pathways are not. The tents are very nice with plenty of space, especially at the back in the restrooms where they have a big bathtub in the middle. There are some innovative additional items such as a yoga mat and binoculars that you can take with you on your game drives.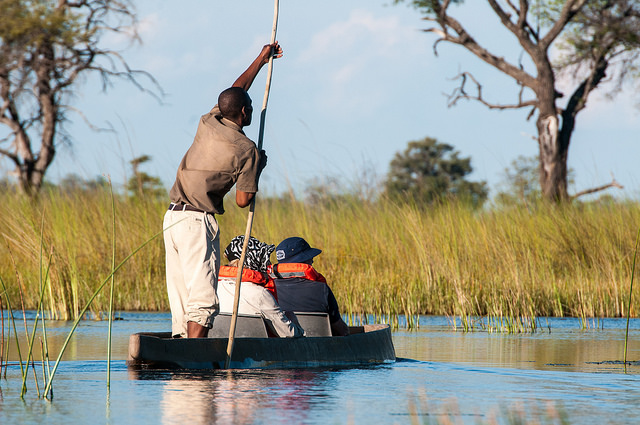 I was the only guest at the camp for the entire first day so I literally had the entire place to myself. After brunch with the managers they convinced me to concentrate a bit on the birdlife in the area and I went out with a checklist for the first time. Most camps have a generic checklist with all the bird, mammal and reptiles found in the area but I hadn't seriously kept up with them on any of my previous trips. After the evening drive I had seen 54 different species of birds and I kept that list nearby for the rest of the trip. It helped tremendously that Lets was an expert birder and anything I spotted he could quickly identify. Dinner at Selinda is usually a choice between two or three starters and entrees followed by desert. That night I had some wonderful grilled bream.
I marked off another 20 birds on the next day's first game drive and as we stopped for high tea we spotted a group of elephant heading towards some water. We were able to approach them on foot and get a great view of their crossing. On the afternoon drive we spotted the first jackal of the trip which I made sure to mark in my checklist. Another highlight was seeing a lone sable antelope. He was a bit shy but we managed to get moderately close for some pictures. There were a good amount of elephants and plenty of birds including two pelicans we spotted as we were enjoying our sundowner. Following dinner that night we did a bit of stargazing and I must say, even a poor night for stars in Botswana is breathtaking. If you see them with little to no moon it is borderline blinding.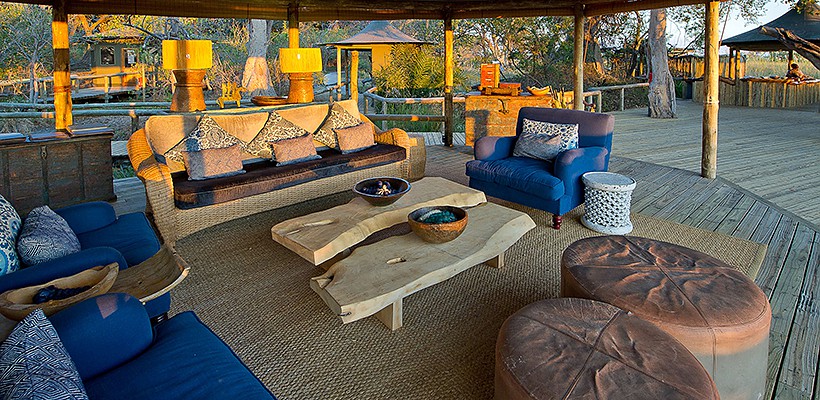 Final morning at Selinda got started on a unique note. I got my regular 5:00AM wakeup call and actually spotted a hippo from my tent. I crept out to get a closer look but made a little bit too much noise and he trotted off. Usually they come to pick you up 30 minutes after the initial wake up but when no one came for me I thought there might be a hippo too close to my tent for them to safely pick me up. About 20 minutes later my suspicions were proven correct as I was collected and told there had been a hippo doing some feeding nearby.
Got a nice close-up of a big male elephant standing right by the road in the early morning sunlight. He was calmly feeding, looking mighty dusty. Saw some more birds as we cruised near some water and actually picked up some fresh wild dog tracks heading in the opposite direction we were headed. I had a scheduled inspection of Zarafa Camp so we didn't stick with the tracks but Lets radioed it in to the other vehicles. Zarafa is quite spectacular with only 4 rooms but boy are they massive and luxurious. They are in the process of building a two-room adjoining suite that should be open shortly. Also have a rather large barge that they take out for sundowners. It looks like the reputation of the camp is well deserved as it is extremely impressive. By the time I was finished with the inspection the other vehicles had spotted the dogs and we later found them before heading off to the airstrip. 7 in total they looked exhausted and were just lying down under some trees and brush actually very near the concession manager's house.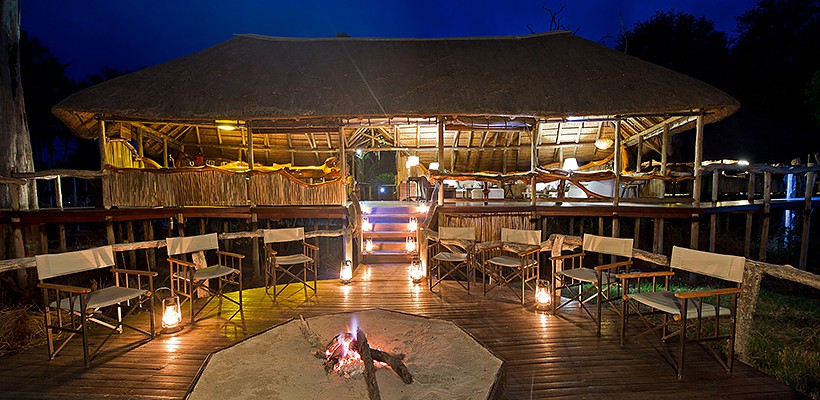 DUMATAU CAMP, LINYANTI CONCESSION, NORTHERN BOTSWANA
Almost felt guilty taking a flight from Selinda to Dumatau seeing as it couldn't have been much longer than 5 minutes. Ran into the same couple from England (Scotland originally) that I had gone on activities at Little Vumbura with and we were joined by another couple from Switzerland. Quickly it was noticeable that there were a good amount of elephant in the area but apparently it pales in comparison to the dry season when they are really all over the place in huge numbers. Saw some kudu which apparently the wild dog in the area tends to prefer or even specialize in taking, specifically the small ones. Speaking of which we spotted a wild dog who promptly disappeared into the bush. Took us a while of tracking him but eventually we caught up with the majority of them and saw about 7 of them fairly briefly in the road. They were on the hunt and moving fast. Wound up taking our sundowner near the channel in the hope that the dogs might chase something toward it but unfortunately it did not materialize. Apparently that is a favorite tactic of theirs and they are highly, highly successful hunters.
Dinner was great because we got to go out onto their floating deck right in front of camp and eat under the stars. Both lamb and chicken were served and they were both quite tasty. Not to scare anyone too bad but before and after dinner I found lone scorpions in my room. It was the first time I have found one in a room and to have it happen twice was quite a coincidence. The staff was quite thorough in going through my room afterwards and I didn't have any more visitors.
Our first order of business the next morning was to go to an elephant carcass that was about 12 days old. He had been wounded by another elephant and died after having his chest deeply punctured. The stench was palpable from a distance and got almost unbearable upon arrival but there was still some meat on the guy and that meant hyenas as well as vulture were still around in pretty good numbers. After this we drove to the Linyanti Swamp and saw some elephant as well as plenty of birds. A short drive from there is the mixed open woodland that is one of my favorite spots in southern Africa. As we returned to camp we were rushed to a boat as there was a group of elephants in the process of crossing the channel right in front of camp. We caught the tail end of this and then went on a short cruise were we spotted some lone bulls crossing and managed to get quite close.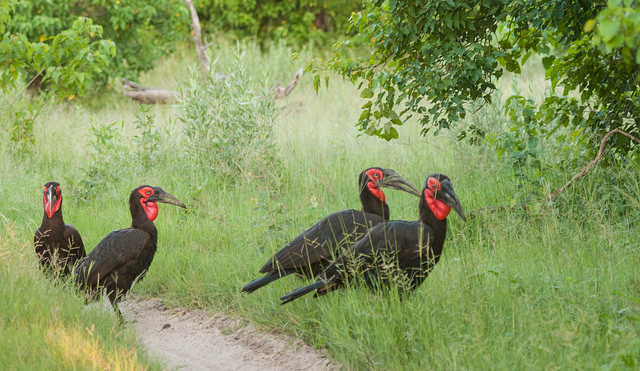 That evening we had a proper cruise on their larger, slower boat and were treated to a fantastic show with an amazing amount of elephants crossing in separate, large groups. There had to be over 200 in total and it happened directly in front of camp as well. We got to enjoy the spectacle with some drinks in hand and plenty in the way of snacks as well.
Final morning drive was excellent as early on we were told of a lion killing a small giraffe near Savuti Camp and although it was a bit of a drive we started heading that way. We made it and got to see 2 adult female lions with 3 small cubs feeding. A bit gruesome as the cubs especially were covered in blood but quite unique. The mother looked exhausted most likely from the hunt followed by dragging the carcass into some shade/brush to protect the kill and then presumably opening it up to allow the cubs to feed. It didn't look like she had even begun to feed herself at that time.
Overall it was an exciting and productive trip for me as I got to see some great new camps. Even after some heavy rains this year the green season delivered excellent game viewing and scenery. As I said earlier the guiding was especially fantastic which was a large reason for the game viewing and between that, a bit of luck, and a little bit more time at each camp guests should experience similar or better results on that end. The sheer amount of wild dog was likely worth the trip itself. I managed to avoid the rain outside of two very light showers that did not affect any of my activities and at no point during the trip did I have an uncomfortably hot night. During midday it can become a little bit toasty but that's what fans and swimming pools are for.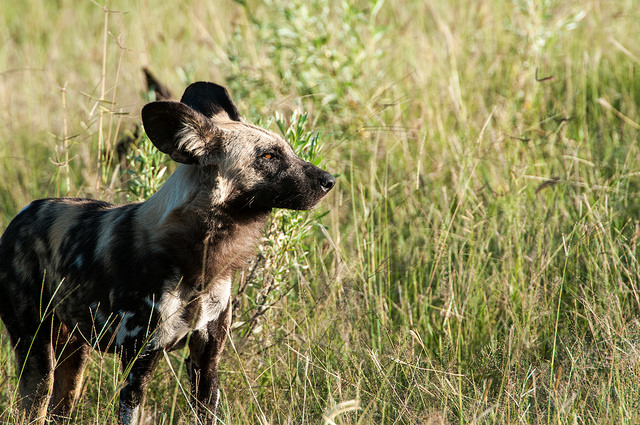 PART 4: COMBINED REPORT: NGOMA & VICTORIA FALLS
Ngoma Safari Lodge
At this point in the trip, Lyndon and Jason would finally be traveling together for the remaining 3 nights and Sara would be heading back home to return to the real world.
We met up at the Dumatau airstrip to share some stories and photos before our flight to Kasane where we were picked up for a 55km road transfer to Ngoma Safari Lodge. The lodge is located on the west side of Chobe National Park, where there are very few other camps. This is an important distinction between east and west Chobe, as in the east you will have to deal with many other vehicles while on game drives. At Ngoma, we only saw one other safari vehicle during our two game drives.
There were 8 rooms all facing a flood plain of the Chobe River. The view was spectacular even with the flood plain empty.
The rooms were once again quite luxurious. Beds facing a large wall of windows peeking out into the plains, sitting area to one side and a few stairs to the restroom which stood behind the bed. Each room has a private plunge pool as well where elephants have been known to come by and empty during the dry season.
The main area at the lodge had the same wonderful view with a larger rock pool down below. Our dinner had a few menu options including a large, well-cooked steak and some ice cream to finish off the night.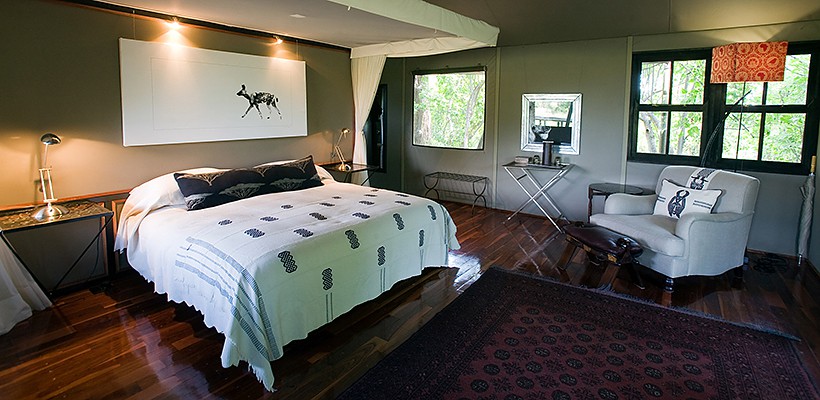 But I'm getting ahead of myself here. We arrived in time for our afternoon activity, but the guides don't recommend heading into the park for the evening. The path through Chobe is somewhat of a one way circle route that takes a certain amount of time to complete and the guides have to make it before the gates close. Instead of an evening drive in the park, the lodge offers night drives on the property just outside the National Park where they regularly see all of the same game including predators.
Our morning drive was exciting as we would be able to get into Chobe. We had to leave somewhat early for our transfer to Victoria Falls but we decided to stay somewhat close to the gate so that we could always leave quickly if we needed to.
This strategy ended up paying off quite well as we were able to see a female lion out in the open. She looked like she was hunting and ducked into a small dense group of trees and bushes. Once we made it to the other side we noticed a male was in the bushes as well! They looked at us for a little while and then went into the privacy of the bushes to continue what they had apparently been doing, mating.
There are plenty of other options for activities at Ngoma Safari Lodge including a drive to Kasane for a cruise and a village cultural visit. We have heard that Ngoma has received approval to build their own dock for the cruises so they can use their own boats eventually as well.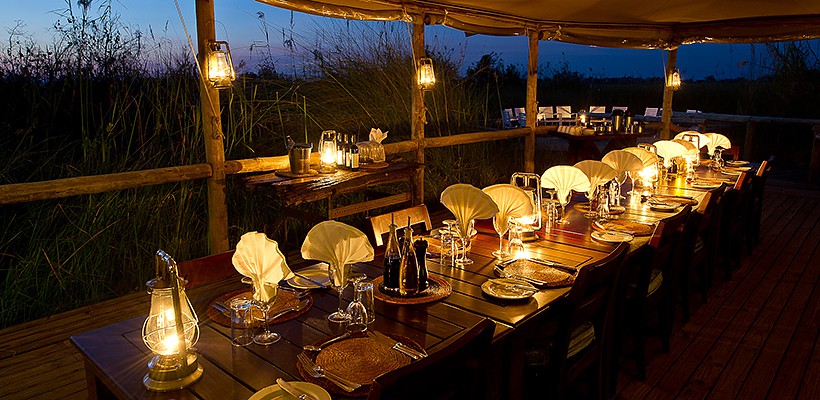 Victoria Falls Safari Club
We were picked up after our game drive for a road transfer to Victoria Falls Safari Club. Ngoma was kind enough to give us a pack lunch before we left as well. When we arrived at the border, customs and immigration were a bit odd as we had to leave our passports with them as the visas were being 'processed' and they managed to misspell my surname on my visa but I was told everything would be fine. Luckily it was!
The Safari Club is just a bit outside of Victoria Falls. We had stayed at the Safari Lodge next door but the Safari Club was new to us. The Safari Club is a private portion of the Safari Lodge, so at any time you can head to the Lodge and have drinks or meals but those staying at the Lodge cannot come have drinks or breakfast at the Safari Club. You are also given unlimited wireless internet but it was as most things are in Africa, slow. The rooms were also quite a bit nicer. They were very modern with a somewhat open concept restroom.
One interesting thing around there is the daily vulture feeding at about 3 PM just below the Safari Lodge. We both went to see them toss out a few dozen pounds of meat trimmings and bones so that over 100 vultures could feed. I must say, they smelled horrible.
We did have a somewhat major hiccup that was eventually resolved. Upon arrival we asked to be booked on the brand new Zambezi Explorer cruise ship. We were told the cruise pickup was at 4:30 and were out in the main area by 4:15. Once the transfer arrived the driver did not have us on the list and we were left behind, only to be rushed by another driver to try and catch the cruise ship. Unfortunately the ship we were rushed to was not the new one, which had apparently set off closer to 4:00, so we had to cancel our cruise.
The manager at Vic Falls Safari Club apologized to us and booked a transfer and the cruise for us on the following day at less than half price. It ended up working out well though, because that night we went to The Boma for dinner instead. If we had done the cruise AND the Boma we would have been over full.
The Boma was as it always has been, a very touristy experience with decent food at a somewhat high price.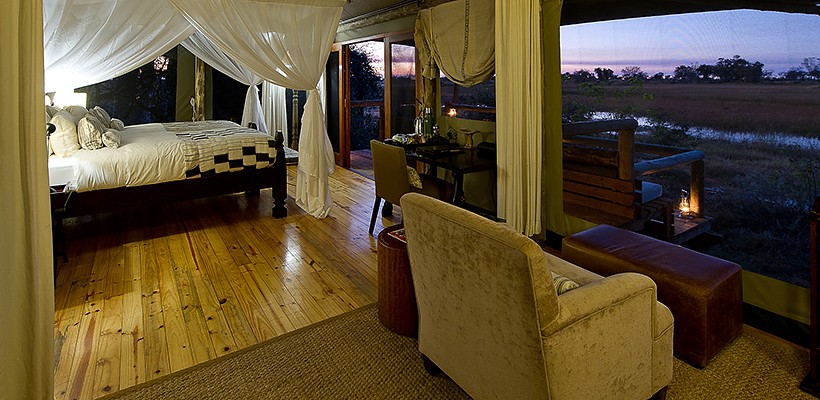 Victoria Falls Hotel
After a nice breakfast at the Safari Club, our second stop in Victoria Falls was only a 10 minute transfer away. While it was built in 1905, recent refurbishments have brought some modern characteristics. There is a computer room with free internet and we were given wireless internet passwords for 50MB of data, any additional amount and we would need to pay.
Our one afternoon at Victoria Falls Hotel would be quite busy. Just before lunch time we walked to the falls along the hotel's "private" path. We were unfortunately met halfway by nearly a dozen locals trying to sell or trade some of their curios. If you don't want anything you must just keep walking! But if you are interested in something, I would suggest bringing some old clothes, shoes, hats or cheap sunglasses to trade. I'm sure you could get quite a good deal.
The water level was very high at this time of year, so we couldn't risk bringing the camera down to some of the viewpoints. We saw some visitors that were completely drenched from spray! Even at one of the dryer spots, at one point the wind shifted and we were getting lots of water. Make sure you bring ziplock bags for your phones or larger bags for cameras if you want to go to all of the viewpoints!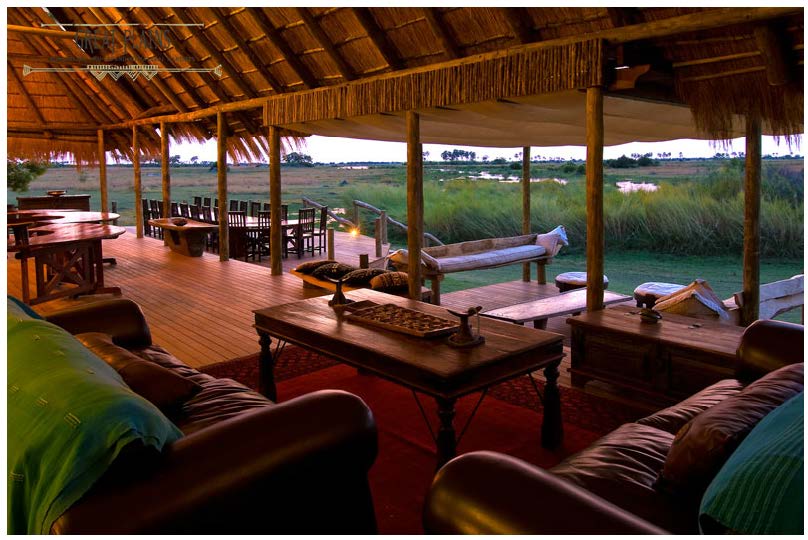 At 3 we were just in time for high tea. Bert had recommended it to us. It's a little pricey at $30, but it is meant to be shared between two and there is a huge variety of scones and cakes and treats to eat with your tea.
Lastly, we were picked up for our cruise on the mighty Zambezi Explorer. Once we finally got to see this ship we understood all of the talk we had heard. Three decks high, just gorgeous, it quite literally stood head and shoulders above the other 'cruise' ships. If you are going on a cruise in Zimbabwe, this is the only ship we will recommend from now on. For only a few dollars more than other cruises you get roughly 10-12 appetizers (enough to fill us to the brim after skipping lunch and dinner and only having high tea) along with any drinks you would like for the length of the cruise.
Our final morning on safari we headed for a late breakfast at Jungle Junction, one of the three restaurants at Victoria Falls Hotel. We would recommend having breakfast early on, as it seemed like the food was not as fresh as it could be.
We were once again off for about 24 hours of travel to get back to reality. Another educational safari in the books with 17 different properties during a 13 night trip. A few of the camps definitely stood out but we would return to any of them in a heartbeat. Botswana really is still one of if not the best safari destination in all of Africa.