$cat_name = 'category'; $categories = get_the_terms($post->ID, $cat_name); foreach ($categories as $category) { if ($category->parent) { echo $category->name; } } ?>
Jun 22, 2014
Southern Tanzania May-June 2014
Share: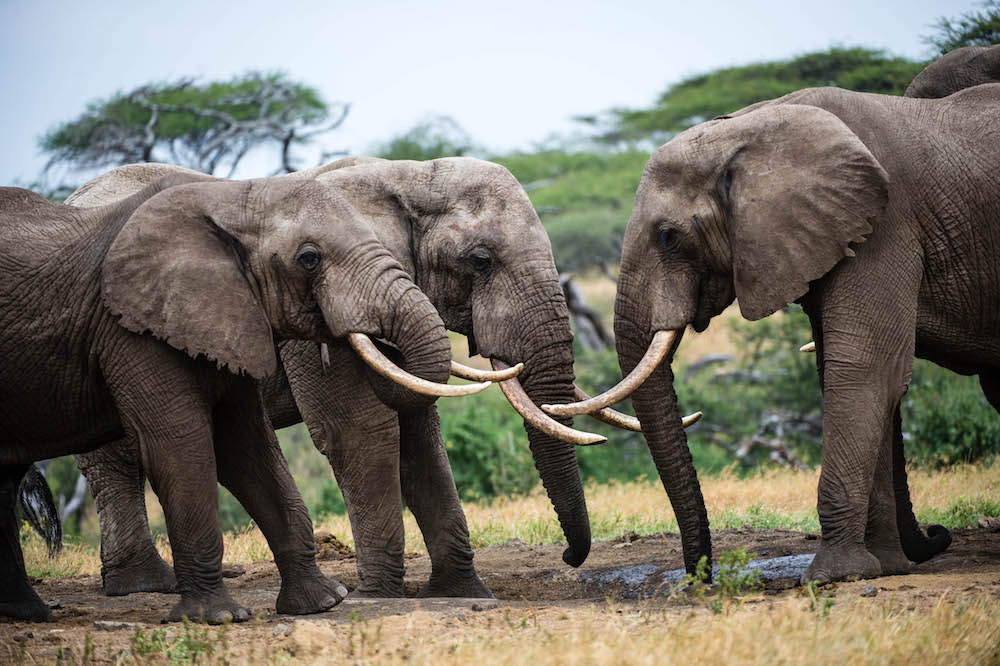 Southern Tanzania & Zanzibar Trip Report for February 2009
PART 1: STONE TOWN, ZANZIBAR ISLAND
It is a very long way from Houston to Dar Es Salaam in southern Tanzania. Getting there entailed two long back to back flights from IAH/Houston Intercontinental to AMS/Amsterdam, then AMS to JRO/Kilimanjaro, followed by a final hop of about 45 minutes to Dar, as Dar Es Salaam is commonly referred to. The first leg was pleasant enough with a good cabin crew making up for the extremely limited legroom in the Boeing 747 Combi. Candy and cookies in the galley between meals helped to relieve the unbelievable tedium of spending so much time in so little space. Our dogs have more room in their crates.
The second leg was on a relatively much roomier Boeing 777 but by then we were starting to get very fatigued. When we finally arrived in Dar, it was already 1145P. And a day later. And we still had to get visas.Should have done this before we left the USA! So we completed a visa application form, and handed over a C-note each for the privilege of entering Tanzania.The official scrutinized the bills and handed them back to me. Only 'new' US money is acceptable – my 'vintage' $100 bills
(printed in 1996) were no good.They could buy you a nice dinner for two in the USA, but not even a loaf of bread, never mind a visa, in Tanzania… Thinking but not verbalizing a few choice expletives, I handed over some crisp new 20's instead.Much scrutiny of the 'born by' dates later, the currency was given the thumbs up. Swell. Then followed a 20 minute wait while four other officials seemed to be taking turns handing off our passports to each other for additional scrutiny. Eventually we were off to the Kempinski Kilimanjaro Hotel in lovely downtown Dar. Even at night we could tell the place was a dump. The hotel was first class though. We were in a zombie-like state by then, but we did enjoy the huge big bath with scalding hot water. Otherwise the room was so-so. The highlight of our short overnight stay was watching the end of the last one-day cricket match between South Africa and Australia. The South African Proteas humiliated Australia by a 4 to 1 margin in the 1-day series having already clinched the test series.
Breakfast at the Kempinski was amazing. The array of fresh fruit was stunning, including excellent papaya, honeydew, bananas, apples, mango, watermelon, pineapple and granadilla (aka passion fruit). There were several types of bread, a dozen varieties of jams and preserves, sweet cakes, pastries, croissants, apple fritters etc. I was very happy with the choice of cereals with soy milk. For
those people wanting a 'real' breakfast, you could have eggs to order, three types of sausage (beef, chicken and pork), fish cakes, roasted vegetables, bacon, beans, and Belgian waffles.Not enough for you? Well then try the yoghurt, wild honey, dried fruit, three kinds of smoothies, cured ham, beef stew, or the large variety of cold meats and cheeses.
It is a short 25 minute flight on a Caravan from Dar to Zanzibar Island. At the tiny and rather dismal airport our guide Fauz picked us up and drove us to the Zanzibar Serena Inn where we would spend the next two nights. It was an excellent choice: a well-run property right on the beach with great views over the placid, clear water of the Indian Ocean. We ended up in one of the best rooms in the place, a corner 'prime room', with stunning views. I unpacked, laced on my running
shoes and went for a 5-mile jaunt along the beach, staying just on the edge of Stone Town. For lunch I enjoyed a spicy Zanzibar pilaf, and Kathleen had some locally caught cobia, also known as Ling.
Our first activity was a tour of Stone Town with our private guide Fauz, walking through the maze of narrow alleys, gawking at a bewildering array of old, decaying buildings of several different styles, mostly Indian and Arabic but also Portuguese. The place was somewhat reminiscent of Lisbon's Alfama district with its narrow streets. Stone Town is a fascinating place where an unrivaled cultural experience awaits visitors who cannot fail to be bowled over by the impact of this place. Stone Town hits you on many levels. Of course there's the dazzling visual impact of the place. Beyond what is visible, the sense of history and of bygone times is palpable. I would not have been surprised in the least, if a real Sultan appeared around the next corner. There is just so much to
see: the ornate doors, the plethora of balconies, both exterior and interior, the beautifully designed and often quite ornate lobbies of several building which are now hotels such as the Al Johari, the Dhow Palace, the Tembo Hotel and many others. There are houses of worship galore; some 48 mosques, a magnificent yet sadly dilapidated Catholic Church and many others.
The Wednesday and Sunday market adds an olfactory level to the Stone Town experience. Squeamish visitors beware: the fish market flat out stinks, at least on a hot Sunday in early February. But what a place! It would last about a week in any major US cities by which time the health authorities would shut it down.Refrigeration? Don't need no stinking refrigeration…And then there's the people of Stone Town. One is often hard pressed to even guess at their ethnic background. African, Turkish, Indian, Arabic, the diversity is astonishing. One thing that most of them do have in common is the Islamic faith, and the Swahili language.
PART 2: MANGROVES, MONKEYS, AND A SPICE TOUR
On February 2, still jet lagged, we were up at 0445A just in time to watch the second half of the Superbowl, broadcast live in Zanzibar on ESPN – without the commercials. What a game! Breakfast at the Serena dining room overlooking the ocean, consisted almost totally of local items, such as pigeon peas, fried banana, sweet potato, rice cake, Swahili donuts (mandazi), and sesame bread. Just after 0700A we departed with Fauz via a couple of small towns, en route to Jozani Forest. Driving in Zanzibar is an otherworldly experience, especially early on a weekday morning, when everyone seems to be on the road at the same time. At any stage, the narrow road would be replete with dozens if not hundreds of bikes, many with passengers and other loaded to the hilt, swarms of overloaded matatus (minibuses), and hundreds of pedestrians all seemingly hell-bent on crossing the road as soon as possible and in the most unpredictable manner. The effect is a ballet of traffic mayhem, performed in double quick time, with bandits flying at you from every angle. The impact is somewhere between frightening and hilarious, comical and suicidal, insane and inane.
At Jozani Forest our plus minus 3 hour outing included a stroll to the Mangrove Forest, some excellent Red Colobus monkey sightings, and a walk through an astonishing mahogany gallery forest. Our guide was an accomplished herbalist, and provided us with detailed information about a dizzying array of plants and their medicinal uses. The Mangrove Forest was particularly interesting with many species of tiny crabs, fish, and plants adapted to the saline water environment. The journey to Jozani is definitely worth the effort just to experience the lovely walk along an elevated boardwalk through the thick mangrove forest.
Another view of the mangrove forest showing the peculiarly adapted tree roots, typical of mangrove forests throughout the world. These trees are keenly sought for all types of construction, boats, furniture and a myriad other uses, making them (and the forests themselves) a very threatened habitat type
At the Jozani Forest Reserve, the 'must see' mammal is the endemic Red Colobus monkey. There were many of them moving low down in the brushy vegetation between the mahogany forest and the mangroves.
From there, we took a short detour to a small local ocean village resort, with rustic bandas overlooking a simply gorgeous and semi-deserted beach. If this were Miami, there would be hundreds of beach goers spread out on the sand. Here, there was barely a handful of people strolling along the soft white sand.
The highlight of this day was a Spice Tour. I didn't know quite what to make of the Spice Tour idea in advance of going. It sounded rather touristy, and I anticipated a visit to a factory or spice outlet, looking at different types of packaged spices. The tour instead turned into a fun and highly educational experience, with two young, enthusiastic local guides showing us where spices really come from. For example, we saw a pepper tree with green, red and black berries all on the same tree. We were treated to handling and smelling fresh turmeric root, lemongrass, cinnamon tree bark, some roots with a menthol (Vicks) flavor and several others. And of course the tour would not have been complete without Zanzibar's signature spice – cloves. We saw it right on the tree in three stages: immature, green with a small bulb (best for picking), and reddish mature. Along the way there were many kinds of fruits which we got to sample, including lychees, mango (green), banana, the weird Jack fruit, and fresh young coconut, from which we enjoyed both the juice and soft pulp. Finally, there were some vanilla beans on the vine and then a nutmeg demonstration. This was really amazing. You are shown a nondescript fruit, somewhat like an apricot in appearance. When split in half, it reveals a hard nutmeg kernel (the way you and I would buy it in a bottle), but here still surrounded by a red plastic-like sheath.
For dinner that evening, Kathleen and I wandered down a narrow alley in Stone Town (it is quite safe) to the Al Johari Restaurant, where she enjoyed some grilled prawns while I had a herb perfumed vegetable medley with a side order of spicy couscous. It was altogether quite pleasant, in an attractive room which was air-conditioned, an important consideration in Zanzibar at this time of the year.
Malaria is definitely an issue in Zanzibar: our driver-guide Fauz and the Jozani forest guide both mentioned multiple bouts with malaria; even their children have had to deal with this scourge.
The next morning (February 3) we had an early breakfast, and were then driven to Zanzibar Airport (like so many things in Zanzibar it really needs some work!) for the short 25 minute flight to Dar Es Salaam. From there, a friendly Canadian lady pilot flew us by Caravn (30 minutes) to Selous Game Reserve, where she dropped off a couple of passengers and picked up two more for the 1 hr 15 minute flight to Jongomero in the Ruaha National Park. Our Tanzania safari adventure was about to begin.
PART 3: INTO THE WILD, RUAHA NATIONAL PARK
The Cessna Caravan flight from the Selous Game Reserve to Ruaha National Park on Feb. 3 was one of the most interesting safari flights we have undertaken in several years. Just as we were gaining altitude coming out of the airstrip at Selous, the pilot pointed out the location of Sand Rivers Camp to us. We would return to this property a couple of days later. It has an ideal location right on the bank of the Rufiji River, overlooking a wide expanse of water.
Further along the way to Ruaha, we flew over some massive sugar cane plantations. Next was an impressive mountainous area which demarcates the escarpment. From the air I could clearly identify some prominent gorges, cliffs and waterfalls. Our pilot put the more than willing Caravan into a gentle climb as the ground was now 3,000 feet closer to us than when we were flying over the Selous. Finally, we descended into the Jongomero Airstrip for a rather tricky uphill landing. The Canadian pilot handled it with skill and confidence. I'd fly with her again anytime.
Jongomero had arranged a very nice welcoming ceremony for us with what appeared to be the entire camp staff complement bidding us a warm welcome, complete with damp towels and a refreshing drink. Our hosts Greg and Isabel introduced us to the camp, gave us the usual briefing (don't go walkabout at night, watch out for Kingo the 'camp' elephant, by all means drink the water but there's bottled mineral water at extra cost if you prefer) etc. and then left us alone to unpack and settle in.
Soon after, we were treated to a splendid lunch on the riverbank of the dry Jongomero River, a tributary of the Ruaha which in turn spills into the Rufiji. Yeah it took me a while to get it too. How vegan can you be in a place like this where people have to drive for 9 hours one way for a fresh tomato? Very. Jenny's Noodle House here in Houston would have been thrilled to serve such a nice spread including cellophane noodles, a fresh green salad, and an excellent aubergine side dish. The omnivores had some chicken satay.
At 1530 that afternoon, over tea, we met with our guide Kim for a safari briefing and then set out on our first game drive in Ruaha National Park, which is just about as remote an area as you can get to, nowadays. Remote, beautiful and very atmospheric. This is the Africa of old, when the word 'safari' did not immediately conjure up images of massive designer rooms, fresh cut flowers in the room and spa treatments. Ruaha is the real deal where you don't see many other vehicles. How about NO other vehicles! It might not be the best destination for people going on safari for the very first time. For them, Northern Tanzania's Serengeti and Kenya's Maasai Mara would be a better bet, with their wide-open spaces where the animals are essentially just waiting for you to clap your eyes on them. At Ruaha, you have to work a little harder to gain your game-viewing spurs. And certainly at this time of the year (February, after the first rains had fallen & many of the animals had dispersed) the game-viewing can be challenging, as the bush is exceedingly thick and you have to be persistent – and get lucky – to see some of the more elusive mammals. For example, we had a tough time finding buffalo, even though there are several thousand of them resident in the park.
However, if you are a real safari aficionado who had been to a few other places already, and if you appreciate Africa's truly wild and unspoiled places and everything they offer, then Ruaha is for you. By all means stay for a few days. Certainly no less than three nights, four would be even better. This place is made for slow travel. Put aside the Blackberry, banish thoughts of spreadsheets from your mind, and embrace the relaxed pace of the bush. Look at the stars, wake up with the light and enjoy the cleanest air you might breathe all year. Ruaha's climate is about as good as it gets on safari. This was mid-summer and we had to wear wind-breakers on the early morning and later afternoon game drives. There were some pesky tsetse flies here and there on game drives, but we found Mossi Guard (it is available for sale at the camp) to be practically 100% effective against these persistent pests.
On this late afternoon, we did pretty well by finding a couple of male lions, many dik-dik (superb tiny little antelope, bring your binocs!), some zebra (they just would not stand still for a pic!), a couple of elephants on the move, a few waterbuck and giraffe everywhere. I also picked up several new life birds, always a thrill. Ruaha is simply a dazzling birding destination, so if you also happen to be a birder, you'd be in heaven. Our guide Kim was an expert on the local birds so it was great to have him around.
The next morning, I was up very early and tried to do some ab and core exercises, but my heart wasn't in it. Even with the best of intentions, it is difficult to remain in an 'exercise' mode when you are on safari. However I think even camps without mains electricity would do well to make a stationary bike and a rowing machine (a Concept2 of course) available to their guests. But I digress. Breakfast was 'a la carte' with eggs to order, and sides of bacon, sausage, beans and mushrooms. I settled for a very creamy porridge of oatmeal cooked with soy milk, some toast and more of the lovely fresh fruit which turned out be a staple item at every meal we had in Tanzania. While enjoying breakfast, a dark shrike-type bird hopped out of the bush on my right hand side, and starting calling quite prominently, duetting with another bird not far away. Setting aside the marmalade, I picked up the binoculars, had a good look, checked out Birds of Africa and voila, a life bird (almost) before breakfast! Slaty-coloured Boubou.
The morning game drive (it starts at 0800A at Ruaha) was somewhat on the quiet side, although we got some excellent looks at giraffe, which seemed to be abundant in the area. Other sightings included Defassa waterbuck, some very elegant kudu (my favorite antelope I think), the ever entertaining warthogs, ubiquitous impala, zebra (skittish!), several troops of yellow baboons, vervet monkeys, and dik-dik around every corner. We were back in camp around 1200 noon.
The afternoon game drive initially started out slow but picked up later when we saw a nice herd of elephants with two young babies, in a very relaxed mood in the middle of the road. We stopped and observed them from far away, so as not to spoil their almost contemplative mood or cause them any stress. The elephants remained in the road for quite a while, peacefully milling about, browsing here and there and just totally in control of the space. Finally, they slowly drifted into the bush and disappeared from view.
At the conclusion of our sundowner stop on the banks of the Ruaha River, where we had been observing some waterbuck and a few marabou storks staring at the water in their usual desultory fashion, Kim started to pack away the fold-up table and other paraphernalia when Kathleen spotted something on the other side of the river. More lions, six of them in fact, standing and moving around in what appeared to be an agitated state. They were just a bit too far for a useful photograph but we had some good looks through the binoculars. Anticipating some action, Kim skillfully maneuvered the truck closer. Maybe the lions had some designs on the waterbuck? It was not to be and we returned to camp.
In the middle of the night Kathleen and I woke up to the sound of running water, of the 'babbling brook' variety. I immediately realized what had happened. Sometime the previous day, heavy rain had fallen in the catchment area of the Jongomero well upstream from the camp and this was essentially a flash flood. This was confirmed the next morning at first light. The Jongomero had turned into a real river overnight, having been a river of sand until then. Apparently this usually happens a little earlier every year, but we were happy to be there to observe the phenomenon. The water flowed quite shallow but more than 30 meters wide, the advancing rush of water carrying large chunks of foam with it. Some of the animals in the area must have been just as excited as were were to witness this welcome event. At around 0500A I had heard heavy splashing noises, no doubt caused by some hippo getting their feet wet.
Our last morning game drive at Ruaha was one of the best yet with some great close-up views of an elephant, a most relaxed bull who stood just meters from the vehicle, contentedly selecting mouthfuls of fresh green shoots. We also spotted several black-backed jackals, grey duiker, and naturally more giraffe.
All too soon we had to say farewell to the friendly people of Jongomero Camp. We hope to return here someday perhaps in the dry season and we will be sure to go out on a walk with Molly if he is still there. Next stop: Sand Rivers Camp on the mighty Rufiji River.
PART 4: SAND RIVERS SELOUS
By the time we made it to Nomad's Sand Rivers Selous lodge in the Selous Game Reserve in Southern Tanzania, we had twice flown over the property so we had a notion that this might be a special place. And so it turned out to be. The location is absolutely perfect. Perched on a rocky outcrop overlooking the broad and slow-flowing Rufiji River, the camp is everything any first-class African safari lodge aspires to be. Romantic, authentic, visually striking and very private.
The huge wood, brick and stone rooms with high canvas ceilings are totally open in front, with dramatic views over the river. Nights (at least in summer) are sultry but quite comfortable inside a huge mosquito net, a powerful yet quiet fan providing a cool breeze. Sleep comes easily among the rhythmic drone of frogs, the occasional grunts and snorts of hippo, and the pleasantly lulling effect of millions of liters of waters rushing off to the Indian Ocean, just meters away from your room. This is truly a place that dreams are made of.
On our first game drive, it quickly became apparent that wildlife is quite abundant in this part of the Selous Game Reserve. In short order I had taken my best photographs yet (at least on this trip) of elephant, one of which twice mock-charged us. Somehow I missed those pics but working with a brand new camera I guess that was to be expected. We also had some superb views of large numbers of Carmine Bee-eaters. Unfortunately our afternoon drive was cut short by 45 minutes or so due to a flat battery. Help came quickly enough for us to get back to camp in time to enjoy a hot shower before dinner at 2000. Compared with the stellar fare at Jongomero, my vegan dinner (beans and couscous with a mixed salad) was nothing special, but nonetheless quite satisfying. The regular main course was grilled snapper with veggies and couscous, dessert being a chocolate pudding. We joined an interesting group table hosted by camp managers Steve and Lynn, an Australian couple. Other than the two of us, all the other guests were British.
On February 6 we were up quite early at 0600 for an 0630 departure by boat up the Rufiji River into Stiegler's Gorge. The trip on a flat-bottomed aluminum skiff started out from just below the lodge, where the Rufiji stretches out for nearly a half mile wide, with massive sand banks and dense riverine forest on the edges. We saw literally dozens of hippo during the 2-hour trip into the Gorge, where we enjoyed a light breakfast consisting of sandwiches, fruit and tea/coffee. Despite several attempts, I just could not get a decent photo of a hippo, due to poor light and excessive movement on the boat.
Stiegler's Gorge was definitely worth the trip. Its raw African setting has been spoiled somewhat by a rather prominently placed new lodge, whose air-conditioned units seem out of place. Once past this lodge, the majestic beauty of the gorge with its very heavily wooded slopes is striking. Along the way we spotted several crocodiles on the sandbanks; apparently the bigger ones had been h0ther than the occasional baby-like wail of a Trumpeter hornbill, the screechy territorial calls of many rock rabbits, and the liquid gurgle when an upwelling of water boiled to the surface of this mighty river, one of the largest in Africa together with the Zambezi, the Nile, the Niger and the Congo. The three of us were mostly quiet too. There is little one can – and should – say when the force of nature is on display all around you.
Soon, we were back at the lodge for lunch: your choice of Coronation chicken (I did say many of the guests were British…) or a delicious vegetable curry with couscous, brown rice, a fresh green salad and an excellent fruit salad for dessert. Just as lunch got underway, a massive thunderstorm rolled through camp, sending everybody scampering for cover and the staff dashing around lowering protective canvas around the edge of the dining area. It was a formidable storm with drenching rain, high wind and a few massive thunderclaps.
The storm soon blew over and by 1600 we were ready for tea, followed by a quick inspection trip to nearby Kiba Point, Nomad's adjacent private camp, with just four rooms. Kiba Point appeared to be an ideal option for an extended family group or friends wanting total privacy and exclusivity. In the busy season, another advantage of staying there is that it has priority in terms of activities; the camp shares vehicles and guides with Sand Rivers. The rooms are similar to those at Sand Rivers, with larger bathrooms, a private plunge pool and two showers, one outside in the garden.
After checking out Kiba Point Kathleen and I and our guide Philip tried our hand at fishing off a large
sandbank across from camp. It was a fun and relaxing outing, even though we only caught one
small catfish. With the river in flood stage, fishing conditions were just not ideal. At other times of
the year I believe some very good catches are possible. Philip was a star – so personable, knowledgeable
and confident, everything you'd want your safari guide to be. Dinner was quite a convivial
affair with our hosts Steve and Lynn. It was tempting to stay up a bit later, but we were scheduled
to depart at 0530 the next morning on a long overland trip to Selous Safari Camp on the northeastern
edge of the Reserve.
Very early on February 7 we were having tea and coffee in our room when a bush baby – there
are several in and around the lodge that have become semi-habituated – lightly jumped onto the
railing in front of our room and then bounced up to the tea box. As I was trying to focus on the
animal in the semi-darkness (they are crepuscular, i.e. mostly active in the dawn and dusk hours) it
stuck its head into the milk pitcher and when we reacted, it jumped back, spilling milk all over the
place. I got off one or two more pics before we ushered our little mammalian visitor out of the
room and cleaned up its mess. This adds to the bottom line for staying at Sand Rivers: the rooms
are open so if you won't mind a visit from a small furry animal and won't get freaked out by an occasional
bat or two, then it is for you. We very pleasantly surprised at just how few insects there
were in the room, and this was the season when one would expect more.
Of course we were absolutely delighted at the unexpected company. Would have liked to have
gotten a better photograph though! Next: the long drive to Selous Safari Camp.
PART 5: OVERLAND TO SELOUS SAFARI CAMP
We were up at 0530 on Feb 7 2009 for yet another early breakfast (toast, jam & fruit – alas no soy milk at Sand Rivers Lodge for cereal). With Philip behind the wheel, we set off for what turned out to be a 5.5 hour overland expedition to Selous Safari Camp. Initially, it was very slow-going due to wet and muddy roads. Kathleen and I were both a bit tense but Philip capably guided the heavy Landrover vehicle through or around some nasty spots where it would have been easy to get stuck. As time went by, conditions improved and we started to relax and enjoy the trip. Early on, there were literally hundreds of birds around hawking flying termites from the sky. It was particularly impressive to see many carmine bee-eaters swooping around.
As a game drive, the overland trip was very successful with good views of hyena, side-striped jackal, several small herds of wildebeest, some zebra (still skittish), kudu, warthog and loads of giraffe.
The most amazing experience of the day was a stop at a small lake which produced as interesting a spectacle as I have ever experienced in Africa. There were literally hundreds of crocodiles in the receding lake, lined up side by side and nose to tail, just their heads and backs visible, lurking in the water while waiting for fish to get close enough. When this happy event (for the crocodile, not the fish) occurred, it resulted in jaws snapping shut, with a simultaneous splashing effect. As we were watching, all we could hear and see was one splash followed by another and then another, sometimes several in rapid succession. It's a tough life out there for a fish in an African lake, when there's literally nowhere to go. Philip told us that there was an estimated 1,000 crocodiles in this small lake. There were at least 300 of them visible from where we were parked, with many others either submerged or out of sight. There was also a massive raft of hippo in the center of the lake – with several egrets using them as convenient perching spots. Just to top it all, we spotted at least 20 different bird species in and around the lake. Too bad we couldn't spend more time here, but we had a long way to drive. Sand Rivers Selous Lodge uses this area for a stop-over point for their all-day game drives. I would recommending spending at least 3 nights at Sand Rivers and including the full day game drive in order to reach this area.
From here onwards the change in terrain is noticeable. It changes from riverine bush to open woodland approaching the Beho Beho Camp area, and then morphs into dense woodland in the eastern section of the reserve towards Selous Safari Camp. Just before we reached the designated meeting spot (where a Selous Safari Camp driver would meet us for the last stretch of the drive) we made a stop at Selous' gravesite. Selous Game Reserve was named after Frederick Courtney Selous, an Englishman whose knowledge of the African bush has entered the stuff of legends. From 1871, and for 40 years hence, Selous developed his intimate knowledge of the wilderness and served as hunting guide for personages as illustrious as (then) former US President Theodore Roosevelt. He died during World War I when he was shot by a German sniper not far from the Ruffiji River near Beho Beho on January 4, 1917. Selous was buried near the site where he died.
Our accommodations at Selous Safari Camp was one of the best designed tents we had experienced to date, octagonal in lay-out with a large veranda both in front and behind the tent; there is a large separate bathroom area and an outdoor (enclosed) shower.
Later that afternoon, we were taken on a pleasant boating outing on Lake Nzerakera, observing many species of birds, some gorgeous natural scenery as well as plenty of hippo and crocodiles. Dinner that night was one of the best on the trip, with delicious stuffed butternut squash as the main course.
On February 8 (another early morning) we enjoyed our first guided walk of the trip, with guides Mpoto and Mashaka. In single file, we walked for what must have been 4 miles or so total, through a variety of habitats including riverine forest and open woodland, making frequent stops when Mpoto would point out animal spoor, droppings, interesting plant species, etc. For example, Mpoto illustrated the symbiotic relationship between ants and a local type of acacia tree. As soon as the tree is disturbed (such as when a browser tries to feed on it), the ants appear in their hundreds and thousands, ready to defend their home against all comers. We also saw quite a bit of game which is unusual on a foot safari: hyena, warthog, giraffe, impala and elephant. At the end of the walk we were treated to a surprise breakfast in the bush, with fresh juice, tea/coffee, toast, egg frittata and oats porridge with soy milk for the vegan. There was also a fresh fruit starter.
Our last game drive at Selous Safari Camp was rather quiet; significant amounts of rain had fallen in
the area lately and this disperses the wildlife. Even so, we had our best sighting yet of a hyena with
a newborn cub. Other visitors who had stayed at this camp just days earlier reported excellent
game-viewing. Given the abundance of resident wildlife in the area, one can confidently visit Selous
Safari Camp with expectations for good to excellent game-viewing. The dry season from June
through September is the best time of the year to visit for game-viewing. As for Jongomero and
Sand Rivers Selous I would highly recommend spending a minimum of three nights at this camp. We
loved Selous Safari Camp and would definitely want to return there. Camp manager Jenny could not
have been nicer and the camp chef went out of his way to accommodate any special diets.
PART 6: SEA, SAND AND TURTLES AT RAS KUTANI
RESORT
Ras Kutani is a relaxed, friendly Indian Ocean Lodge, about a 90 minute to 2 hr drive or a very short flight south of Dar Es Salaam. A few days here make for a perfect end to a safari. No 0530A wakeups, no long bumpy game drives, no getting into and out of safari gear, identifying various new species or jockeying for the best position to take a photograph. None of that. It is easy to have fun at Ras Kutani. It involves a minimum of clothing, lots of sand and sea, great food, exotic cocktails for those so inclined, and great glorious sleep, with a real live ocean and actual wave sounds to take you away. Did I mention a beautiful, big white beach? Ras Kutani is the place to indulge in today's greatest luxury which is to do nothing. Just sit on your comfortable veranda gazing out over the Indian Ocean, take a nap, read a book, have another meal with some of the freshest ingredient you can imagine, or if you have to, catch up on your safari notes and photographs. The rooms are huge and have fantastic views over the lagoon and ocean, and great big comfortable beds where you'd be tempted to spend a lot of time.
Over the course of a 3-day stay there, we enjoyed some excellent meals including fresh seafood (caught by local fishermen and hand-delivered to the lodge), lots of exotic sub-tropical fruit such as granadilla, papaya, pineapple and mango, some wonderfully creative salads and some vegan staples such as herb-flavored couscous and tabouleh.
One morning Kathleen and I strolled over to the remnants of a ship which stranded near Ras Kutani many years ago and snorkelled in and around what remains of the wreck, observing many colorful species of reef fish. I was also able to resume my training for the Boston Marathon. On both full days there, I ran for about an hour along a sandy track to the main road. It was hot and humid, the sandy footing was not ideal and I was running with new shoe inserts. Even so, it was great to be back on my feet again. There are other things to do at Ras Kutani such as horse-back riding, kayak trips on the lagoon, a forest walk and village visits, but that is not why people come here.
On Tuesday Feb 10 we were told to gather at the beach at 1700 (high tide) to witness some young sea turtles being released into the ocean. The local representive of 'Sea Sense' removed the sand from some nesting sites (to which the turtle eggs had been relocated some 55 days previously) and voila, some 40 or so tiny hatchlings started a single-minded scramble to the ocean. The release was timed to occur right at high tide so as to give these vulnerable creatures the best possible chance to make it into deeper water. They need every break they can get: their chance of survival into adulthood is only 1 or 2 in a thousand.
Too soon, our trip came to an end and we had to get back in a car for the bumpy drive back to Dar Es Salaam. Ras Kutani will remain in our memories as a warm and special days to spend a few wonderful, relaxing days. The staff and management were incredibly caring and responsive to our every request – I never needed to ask for soy milk or rooibos tea! Special thanks to Jules for the Dar suggestions – they were all spot on!
We had the better part of a day to kill in Dar Es Salaam and ended up paying a cab driver about
US$45 for three hours, to drive us to various places around town, including The Oyster Bay Hotel,
Sea Cliff Hotel – where we enjoyed lunch with a glorious view – and ending up at the Slipway,
where we made a contribution to the local economy. Kathleen tells me that curios are about 50%
less expensive there than at the safari camps. We had a day room at the Kempinski Hotel which we
would highly recommend to other visitors in the same situation. We made use of the excellent
pool, I spent an hour on a treadmill in the well-equipped gym and we enjoyed a superb dinner at
the Oriental restaurant, reputed to be the best of its kind in Dar Es Salaam.
And then it was time to drive back to the rather dismal DAR Airport, submit to the usual indignities
and inconveniences of multiple security checks and eventually take to the air for the lengthy journey
back to Houston. We had packed a lot into what was not even quite a two week trip and I
would certainly recommend a much more leisurely visit for anyone else. So if you ever find yourself
planning a trip to this marvelous and largely unknown part of Tanzania, take it easy and spend
more time in fewer places. It is the secret to a great safari.