$cat_name = 'category'; $categories = get_the_terms($post->ID, $cat_name); foreach ($categories as $category) { if ($category->parent) { echo $category->name; } } ?>
Nov 18, 2014
Southern Africa Nov 2014
Share: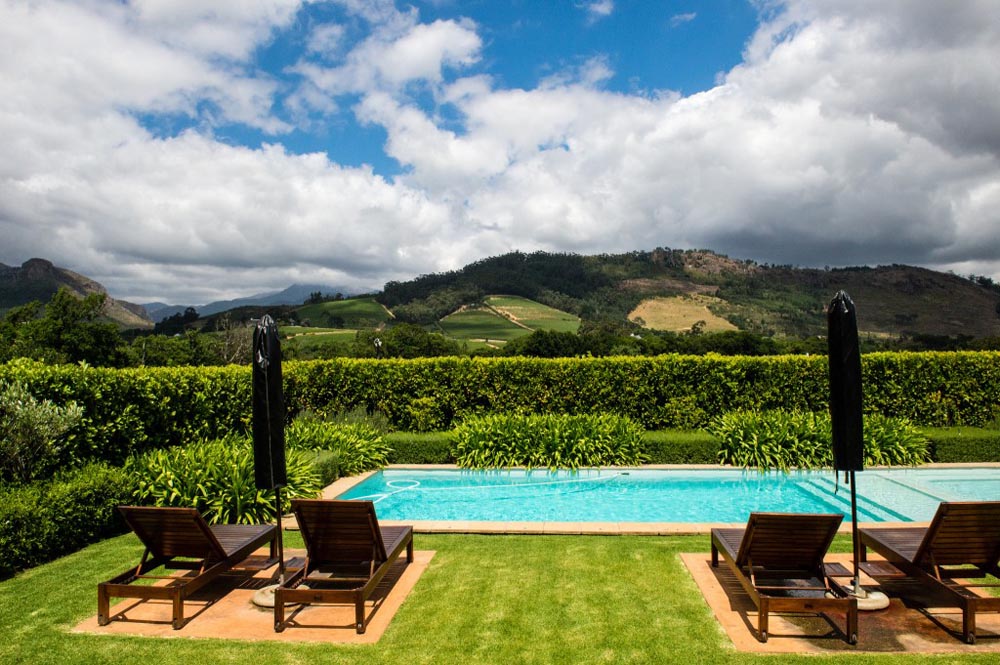 Southern Africa Nov 2014
PART 1: INTRODUCTION
My Nov-Dec 2014 marathon Southern Africa inspection trip ended on 24 Dec 2014 when my Delta flight from ATL to IAH touched down right on schedule. Kathy had to return to the USA about 10 days earlier. Between us we stayed at and inspected different safari lodges, camps and hotels in 3 countries: South Africa, Botswana and Zimbabwe.
There were many highlights which I will touch upon in more detail in the area trip reports to follow. If I were given the opportunity to go back tomorrow and pick out just two or three places, it would have to be Seba & Abu in the Okavango Delta for a once-in-a-lifetime elephant experience and the most drop-dead gorgeous natural environment and the Savute Marsh right now for astonishingly good game-viewing. I'd love to be able to go back and spend several days with guide 'Magic Mike' at Somalisa, stalking the perfect afternoon light and whatever it may shine upon. Cheetahs would be nice, elephant would be great too and I'd even settle for a steenbok, just to find myself back in that time and place. And yes I might want to add a few days at La Residence in Franschoek for the most blissful of sybaritic delights. Fabulous food, some of the best wines you may ever enjoy, looking out over vineyards & mountains, being pampered every step of the way, pinching yourself every time you re-enter your room. It doesn't get old quickly at all. In fact, La Residence has joined my very short list of 'Groundhog Day' places. You know. Those very special places you'd like to wake up in again and again and again…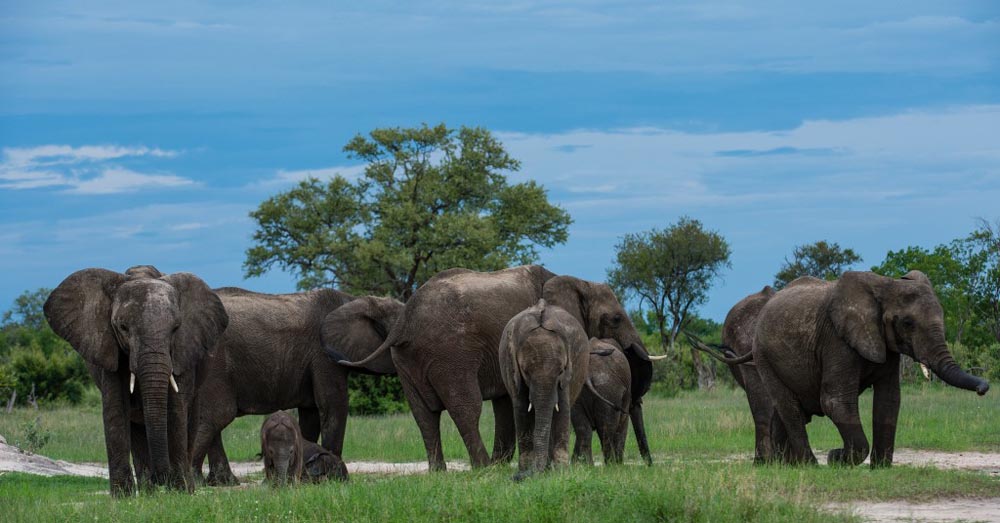 Predictably this trip once again illustrated our long-held belief that Southern Africa is very worthwhile visiting in the 'Green Season' – roughly from December through the end of March, the height of summer. This co-incides with the rainy season in the interior. Cape Town of course has a Mediterranean climate with the three rainiest months being the winter months of June, July and August. Weather was not an issue except that it was cooler than we had anticipated. So be sure totake a fleece on every outing. Our activities were not hampered by weather or rain, with the exception of one boat trip on the Chobe River which had to be abandoned due to lighting. Not a good idea to be in an open aluminum 'box' on an stretch of open water…
Here and there I was hoping for better light for photography but cloudy weather does have its advantages too, extending the number of hours of photography, particularly in the early morning. Under optimum full sunlight conditions, you'd have perhaps 2 hours of very good 'golden' light, but it is all over by 8:30A or so by which time it gets awfully bright with harsh shadows making photography all but impossible. Not so when it is overcast, with the soft, even light enabling decent shots pretty much any time of the day. Plus the fact that clouds always add atmosphere to sunset and sunrise shots, and those big, billowing white cumulus clouds can look pretty impressive as a backdrop to a landscape pic.
A few practical things: We flew from Houston to Johannesburg via Atlanta, on Delta. As we've done the last few times, it was 'economy comfort' all the way. The four extra inches of legroom – compared with regular coach – is a lifesaver as is the early boarding privileges. No worries about finding overhead storage space for your carry-on luggage and being closer to the exit you can beat the crowd to the immigration desk.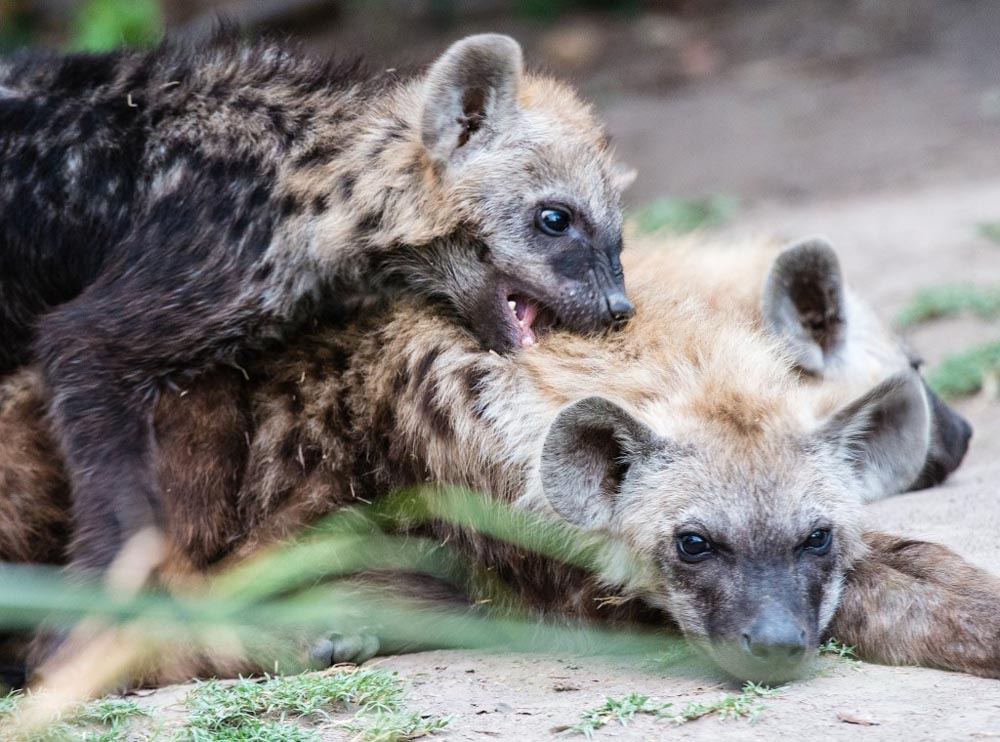 Delta's on-board service and amenities can best be described as mediocre to acceptable. The food was edible but not much more than that and I thought the movie selection was particularly bad. I had to resort to re-watching Australia (would have been nice to sing myself to Jo'burg…) and The Big Lebowski. Plus one or two other movies which I won't even mention by name for fear of inspiring someone else to try them. I somehow found a few episodes of Game of Thrones and House of Cards which helped to while away the long, long hours. As always, it was essential to have and use a good pair of noise-canceling headphones.
At Johannesburg's Oliver Tambo Airport the immigration and customs formalities were handled promptly (although I have stood in a 20-minute+ line there before) and it was just a short walk to the Budget counter where we collected a Toyota Camry for the 40-minute drive to Pretoria. Over the next few days we enjoyed a family reunion while we struggled to adjust to having abruptly skipped seven time zones. It was not as warm as we had anticipated in Pretoria which translated into nice running weather. We made full use of every opportunity to get a few miles under our belts, realizing that our exercise opportunities would be severely curtailed once on safari.
Next stop – Cape Town.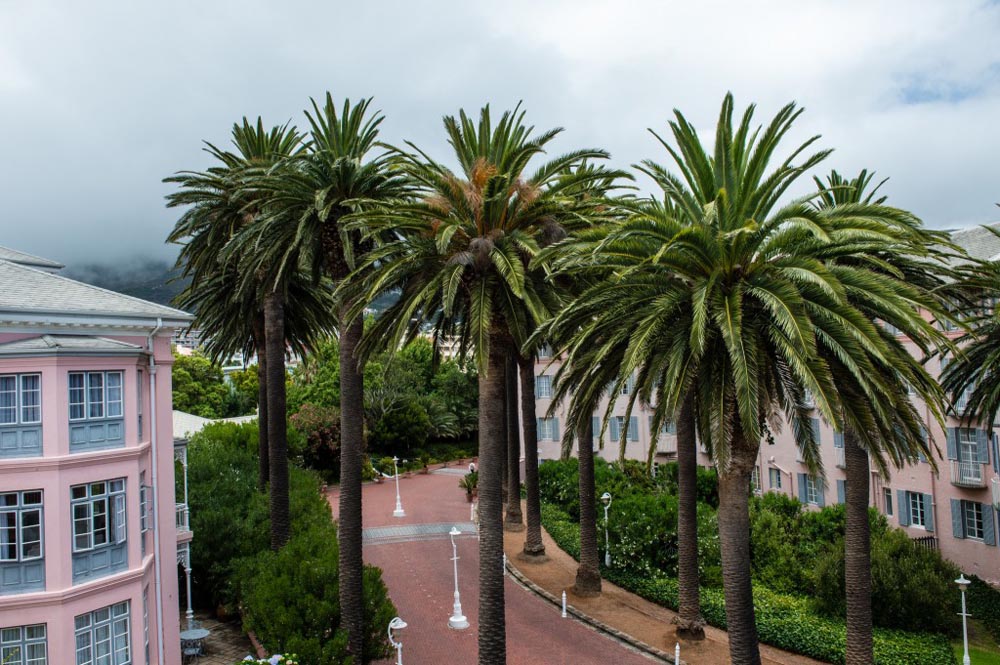 PART 2: CAPE TOWN
We started our educational trip in Cape Town and Franschoek, spending some time at a couple of our favorite properties and having a look at several new ones.
In Cape Town itself we divided our time amongst Four Rosmead, The Twelve Apostles and the Belmond Mt. Nelson Hotel. Four Rosmead – which we use for many of our clients – was near perfect in terms of location, rooms and hospitality. The managers and staff could not have been friendlier or more helpful, right down to setting an outdoor table for a 'call-out' lunch one day.
The Mount Nelson is as solid as Table Mountain itself – always dependable and with a great location, just a short walk away from Parliament, the Company Gardens and several museums. We had dinner with old friends in Claremont, so had to settle for high tea at the Mt. Nelson. It was the best ever! Even if you don't plan on spending a night there, by all means book their high tea.
We have mixed feelings about the 12 Apostles or 12A. It is a perfectly fine property but it felt a bit claustrophobic, with very narrow hallways and somewhat cramped common areas. The food and service were excellent and the rooms on the ocean side have beautiful views.
The highlight of our Cape Town stay was a half day visit to Kirstenbosch National Botanical Gardens. We went specifically to see and experience the new 'Boomslang' forest canopy walkway but predictably fell in love with Kirstenbosch all over again. Is there a more worthwhile place to spend half a day in Cape Town? I don't think so – it should be on everyone's 'must do' list for even the shortest of Cape Town trips.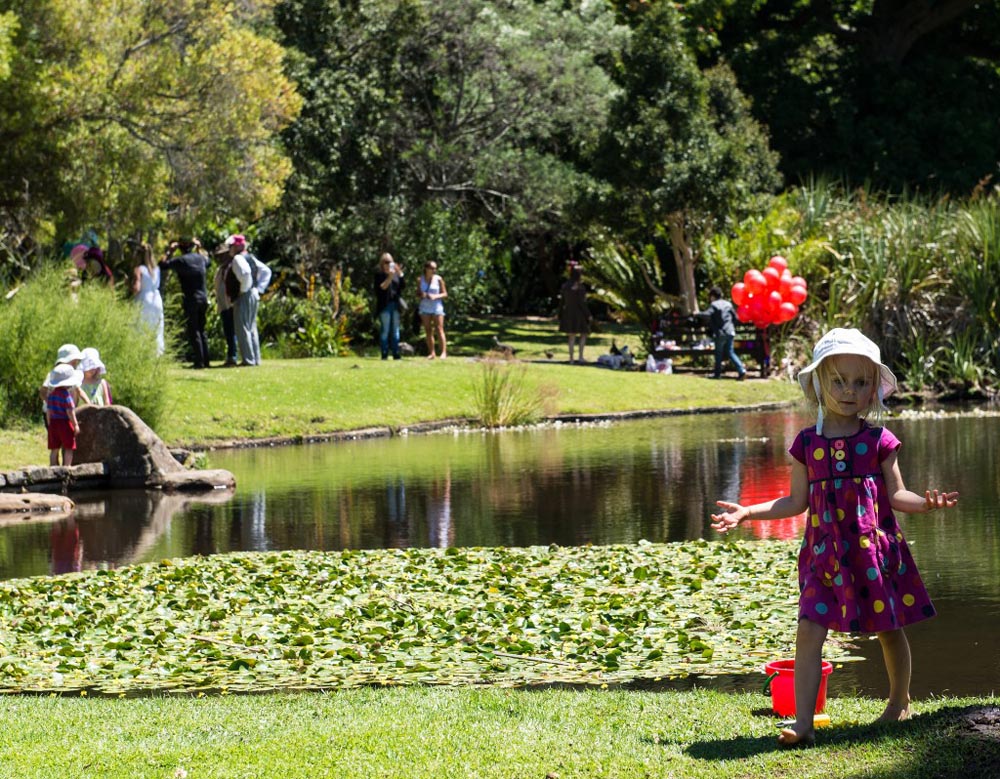 Friday 21 November 2014: Four Rosmead Boutique Hotel, Gardens, Cape Town
We have been sending many of our clients to Four Rosmead over the last few years to rave reviews. Somehow or other – mostly because they were full – we were not able to spend time there on our last two trips to Cape. This time we did and now we know why it is so popular.
It starts and ends with a high level of personal attention. In our case from duty manager Nadine who is a star. Nothing was too much trouble and even when we managed to break a (gift) bottle of sparkling wine the property handled our mishap smoothly and without a fuss.
First impressions count and Nadine's arrival briefing was complete and informative without being tedious. Without any prompting, she offered to make dinner reservations for us, which turned out to be a good move as Cape Town was already hopping, early in the summer season.
Dinner was at Baia, a popular seafood restaurant at the Victoria & Alfred Waterfront. The food was delicious and the service impeccable. It was a bit of a struggle with taxis going to the restaurant and getting back to the hotel but we had such a good time it did not really matter.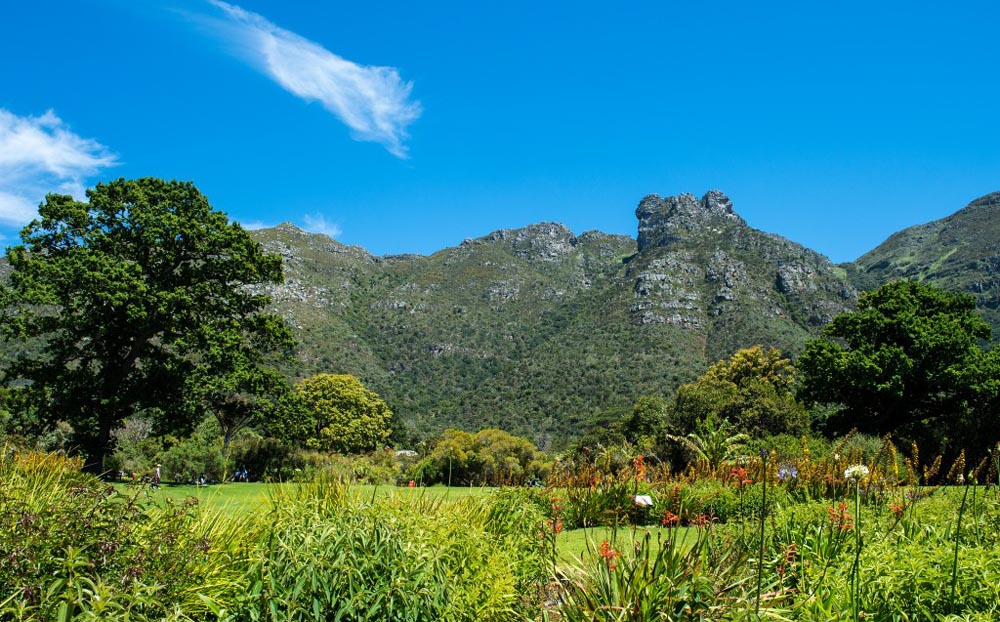 Saturday 22 November – Kirstenbosch National Botanical Gardens
When we woke up this morning at 8:15A instead of at 4:15A, we both knew that the dreaded jetlag was behind us. The plan was to spend some time at Kirstenbosch on this day, so soon after breakfast (corn fritters, eggs to order and toast), we headed out along De Waal Drive to this jewel of a place. Kirstenbosch is certainly one Cape Town attraction which you shouldn't miss when spending a few days in the Mother City.
At any time of the year there is something – usually many things – flowering and the views are always stupendous. Kirstenbosch is a national treasure. There are very few signs – in fact almost none – telling you not to do this or the other, because Capetonians and out of town visitors treat it with respect and care. There is practically no littering & even though it was quite crowded, we did not see any boorish behavior. Which makes Kirstenbosch pretty much the perfect place for family and friends to enjoy the great outdoors.
It practically goes without saying that Kirstenbosch is a photographer's delight and so it was on this day. I took a bunch of photographs of kids going to a Mad Hatter's party, beautiful vistas with the mountains in the background and of course flowers of all shapes and sizes. Kirstenbosch has some 350 tree species and countless types of shrubs, flowering plants, sedges, aloes and other succulents.
The main purpose of our visit was to see and experience Kirstenbosch's latest addition, the 'Boomslang' Tree Canopy Walkway. Clearly, we were not the only visitors who wanted to see the new walkway – there were lots of other people heading in the same direction. Once we were standing on one of its high points, we realized why: it was a novel and thrilling experience to look out over the gardens from about 10 meters (30 feet) or so up from the forest floor – and the structure blends into the environment fairly well. So it offers a new and unique perspective without totally sacrificing Kirstenbosch's 'natural' ambience.
After searching for an finding the last few blooming King Proteas (Protea Cynaroides), we enjoyed a not-so-light lunch at Moyo's which offers traditional South African menu items such as boerewors rolls and fish & chips. And Malva Pudding.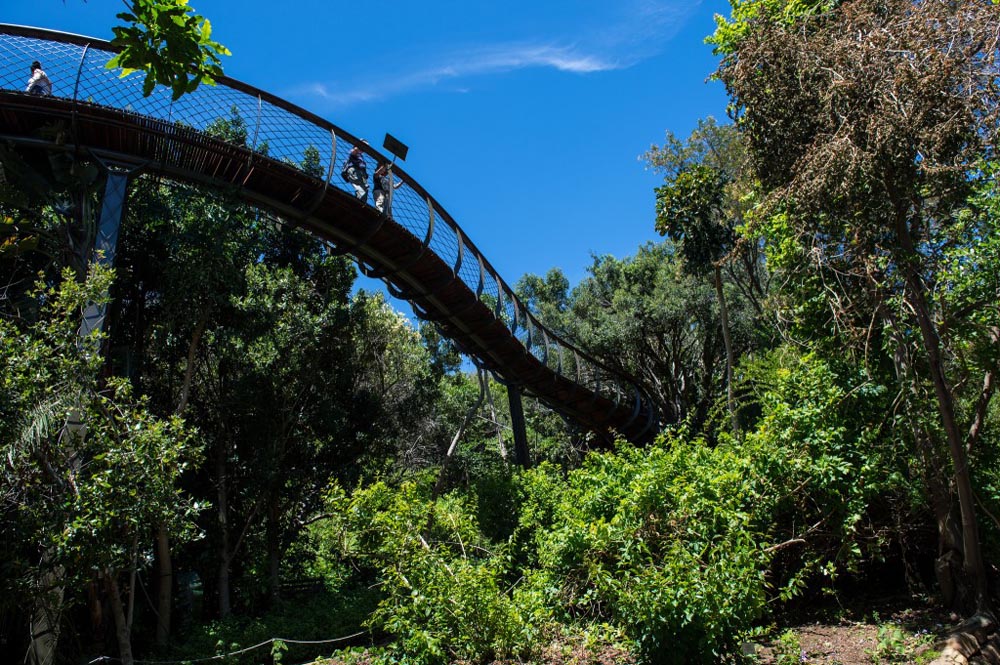 Sunday 25 November – Jogging along the Mouille Point Promenade
This morning we had a fairly early start, driving up and across Kloof Nek via Clifton (almost no parking there by 0900A) and Bantry Bay to the Mouille Point Promendade. This is the place to enjoy a run along flat terrain, not always easy to find elsewhere in Cape Town. We jogged about 4 miles out and back, enjoy the 'rave run' setting, kids, bikes, dogs, paragliders above and ships offshore. We even did a little bird-watching, spotting some uncommon African Oystercatchers, amongst others.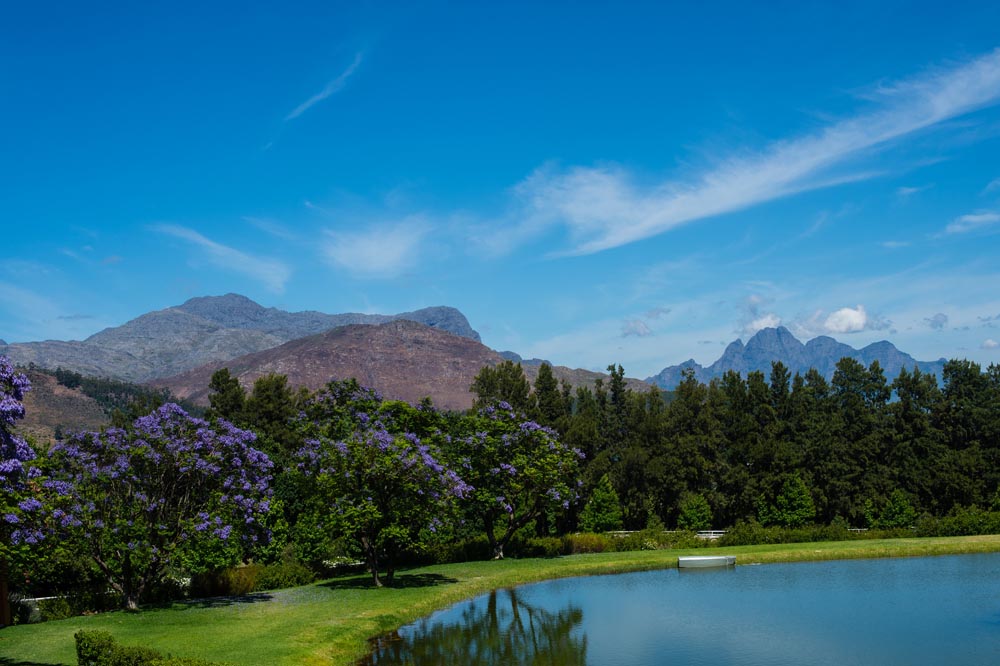 PART 3: FRANSCHOEK & THE CAPE WINELANDS
You don't have to be a wine-lover to enjoy the Cape wine lands – there's plenty of gorgeous scenery, history, culture and other things of interest to appeal to every taste. Even so, exploring a few of the wine estates in the area is definitely the thing to do. On one of our very first trips to the area back in the early 1980's the owner himself came to the door at Rustenberg, to welcome us and assist us with an impromptu wine-tasting. What a treat! Nowadays Rustenberg is a highly acclaimed winery and while we have not been back there lately, I wouldn't expect that level of personal service anywhere, in this day and age. Everything has grown in size, complexity and sophistication and while wine-tastings are as much fun as ever, they're a bit more structured.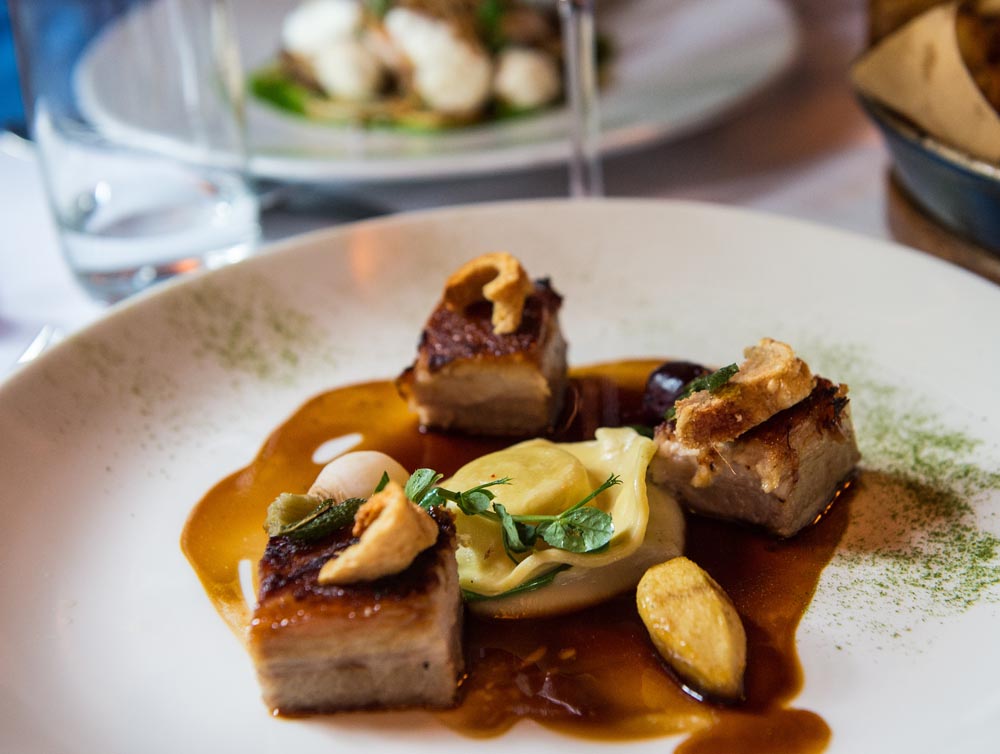 La Petite Ferme
Our most recent visit last November started with a drive from Cape Town via Stellenbosch, arriving in Franschoek just in time for a tasty lunch at La Petite Ferme, the well-known and highly regarded restaurant and guest house, overlooking the pretty Franschoek Valley. It was a little more expensive than I had anticipated, but our food was expertly prepared and presented, with some affordable and very tasty estate-grown wine available.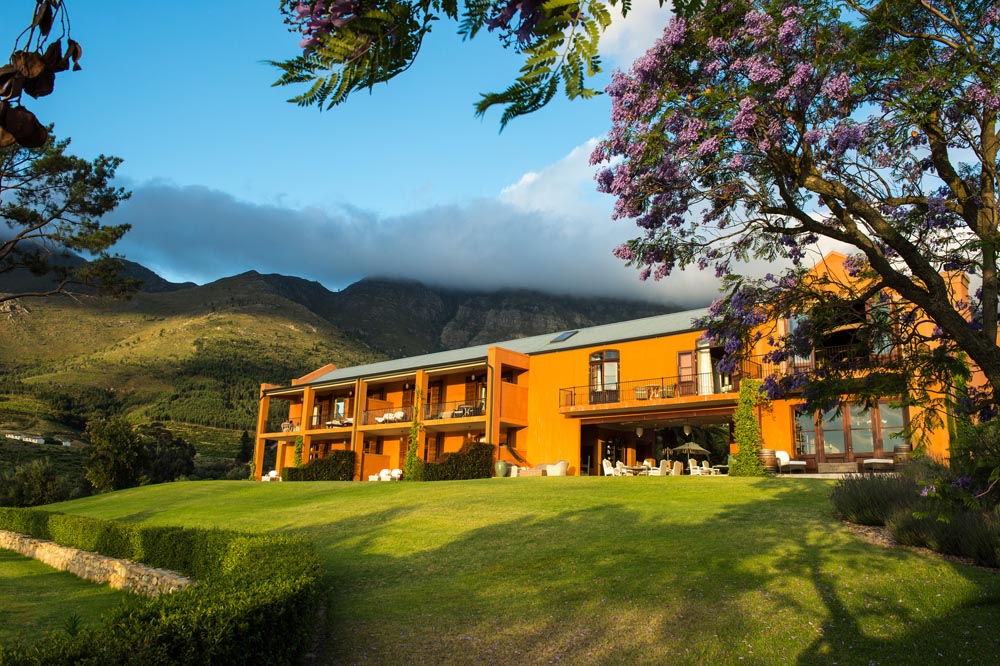 La Residence
By early afternoon, we were being welcomed at the imposing La Residence, a deluxe 11-suite property a few kilometers out of Franschoek village.
La Residence is simply out of this world. Does it get any better than this? Not really. Eclectic, elegant, sophisticated, all the superlatives apply to this amazing place. Add a fantastic view over the vineyards and mountains beyond, food to die for and attentive staff and it's a winner all the way.
Our room – #4 – looked out right over the vineyards, and it was quite spacious with a massive bathroom, really great tub, and french doors opening to the balcony. The main bedroom also had large doors opening to the outside. Plush bedding, goose-down pillows, elegant china, a full selection of complimentary drinks, wines, beers, candies, salty snacks, chips and more.
We were welcomed with an estate-grown rose and complimentary bottle of of the estate's rose wine as well. Nice double!
I spent about 40 minutes in the gym, which had a decent number of cardio equipment – and not a whole lot else. After a luxurious bath – there is no other kind at La Res – we got ready for dinner.
Dinner at La Residence is special. It starts with the setting. The beautifully lit main dining room with a simply massive chandelier sets the scene. On this evening, we sat down for a 4-course tasting menu which included lightly smoked salmon, locally sourced trout, gorgonzola pear salad, broccoli cauliflower soup, beet medallions, panfried hake, and the vegetarian option being a pasta with mushroom sauce. Dessert was a malva pudding – or flourless chocolate cake.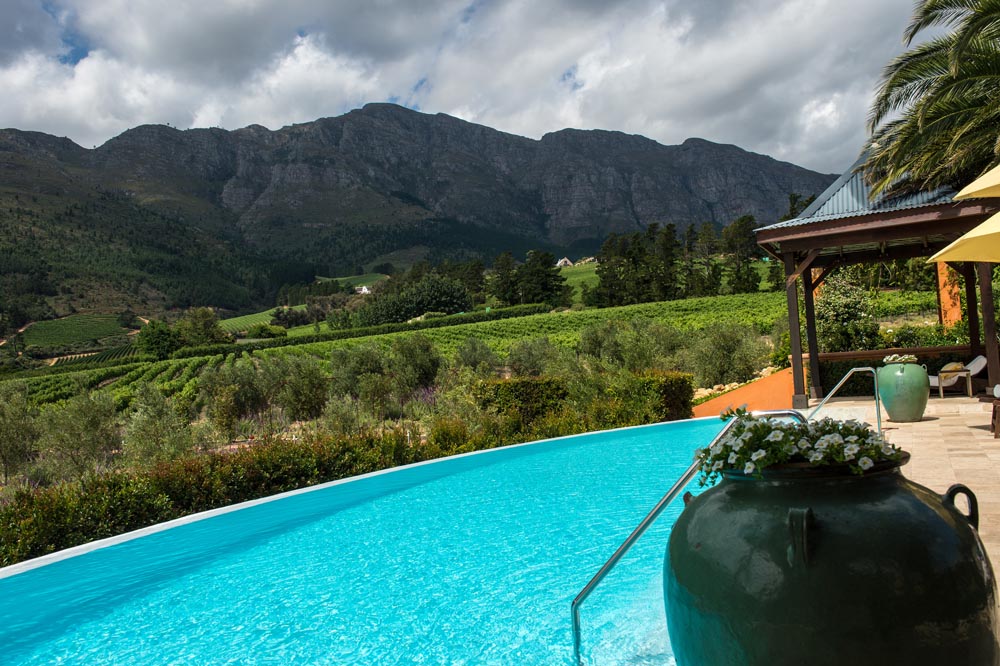 We enjoyed the very interesting wine pairings and the sommelier had some insightful comments about the various wines and where they were grown and bottled (mostly from the Franschoek area).
The next morning we did a full site inspection at La Residence, checking our 3 other rooms and all of the La Residence Villas, some with a private pools, some with 2 bedrooms and a child-friendly option as well. All of the rooms are individually decorated, demonstrating an amazing range of finishings and interior decorating of the highest standard.
From La Res as it is affectionately known, Kathy and I drove back to Franschoek town and checked in at Franschoek Country House and Villas. The Guesthouse is on the outskirts of Franschoek town, in a garden setting with standard rooms and villas. The villas are huge, with a lounge area with TV &, DVD player, a good-sized bedroom and comfortable bed, plus a large tub and separate shower.
We drove the 3 kilometers or so into town to support the local economy by buying a couple of shirts and trying some local craft beer. Then it was time for a 5-mile run along a quiet country road, passing a couple of interesting properties along the way, including Richard Branson's newly opened Mont Rochelle hotel.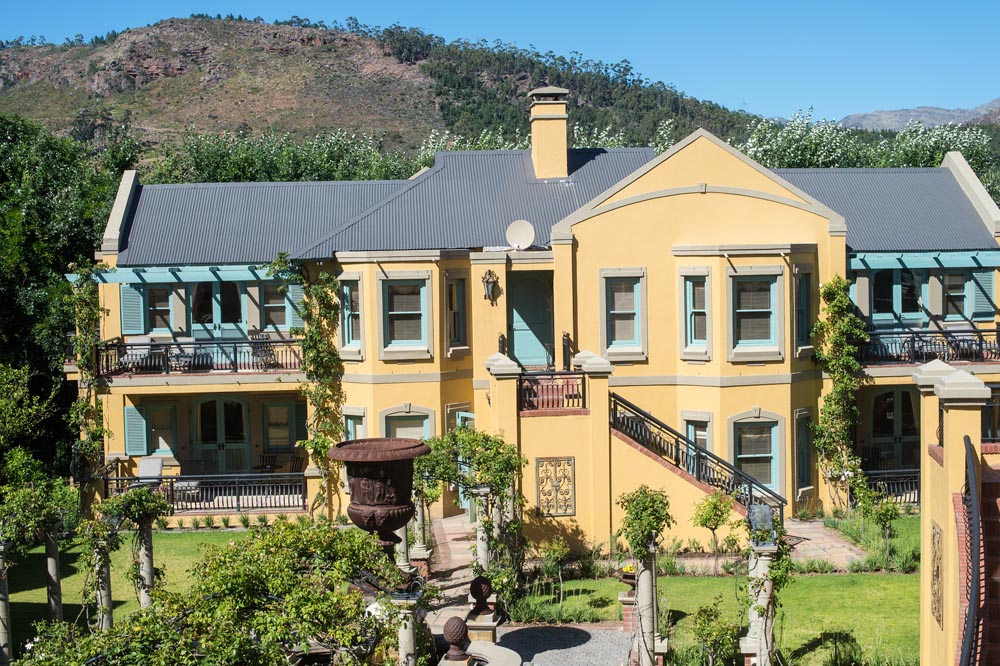 Monneaux Restaurant, Franschoek Country House
This evening, we tried the new tasting menu at Monneaux Restaurant and it turned out to be one of the best meals of our entire trip, if not the single best one. With some imaginative wine pairings, it was excellent value at about $50 per person. Some of the menu items were butternut croquettes or tempura mussels (pierre jourdan tranquille), seared Franschoek salmon trout (mont andre chardonnay), lamb rack with pistachio parsley crust (mont andre shiraz), panko crumbed brie (rickety bridge chenin blanc), frozen dark chocolate mud pie with turkish delight jello (nederburg noble late harvest). And good coffee. One of the best meals we've enjoyed in South Africa lately!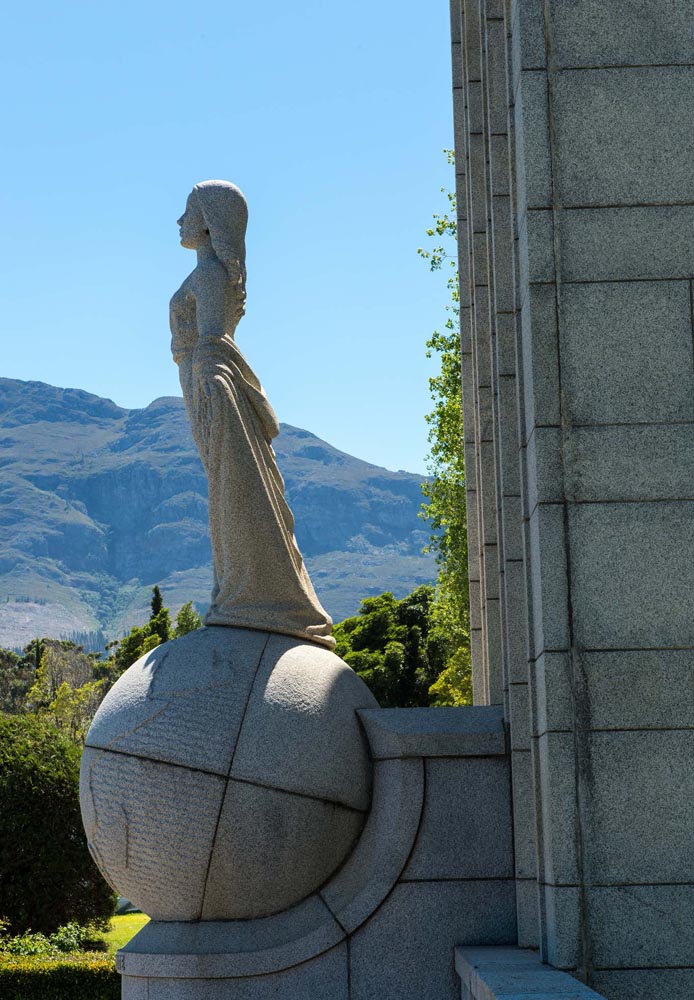 Huguenot Museum, Franschoek
It has been too many years since I last visited the impressive and very moving Huguenot Museum in Franschoek. The distinctive triple arch design and Coert Steynberg's beautiful sculpture of a young woman seemingly freed of the shackles of religious persecution dominate the top of Main Street, on the high side of the village of Franschoek.
We paid the equivalent of US$1.00 entry fee for the monument, marvelled at some impressive Protea Cynaroides (King Protea) in full bloom, lots of other pretty and colorful flowers and roses and then spent a good 20 minutes or so immersing ourselves in the monument and its symbolism.
It cost the equivalent of another US Dollar to enter the nearly Franschoek Museum – run by a different entity. Rather annoyingly, there was a blanket prohibition on the taking of photographs (with or without flash), ostensibly for 'security purposes'. Funny how this bogus catch-all phrase is used all over the world as an excuse when there is no real good reason to prohibit something.
Even so it was worthwhile spending some time in the museum which has a few very interesting artifacts, maps and pieces of furniture such as desks, wardrobes and beds plus family histories of various prominent Huguenot families, tracing their arrival particularly from 1688 onwards.
From there we drove back towards Stellenbosch for a delightful lunch and site inspection at Delaire Graf, a luxury lodge, winery and art repository with picturesque views over the Franschoek mountains. We enjoyed our linefish and langoustines served on the best restaurant deck imaginable, eventually heading back to Franschoek. On our last day in Franschoek we were hosted by Patrick Siebel, MD of Luxury Afica, on a sight-seeing, wine-tasting and site inspection trip in the Cape winelands.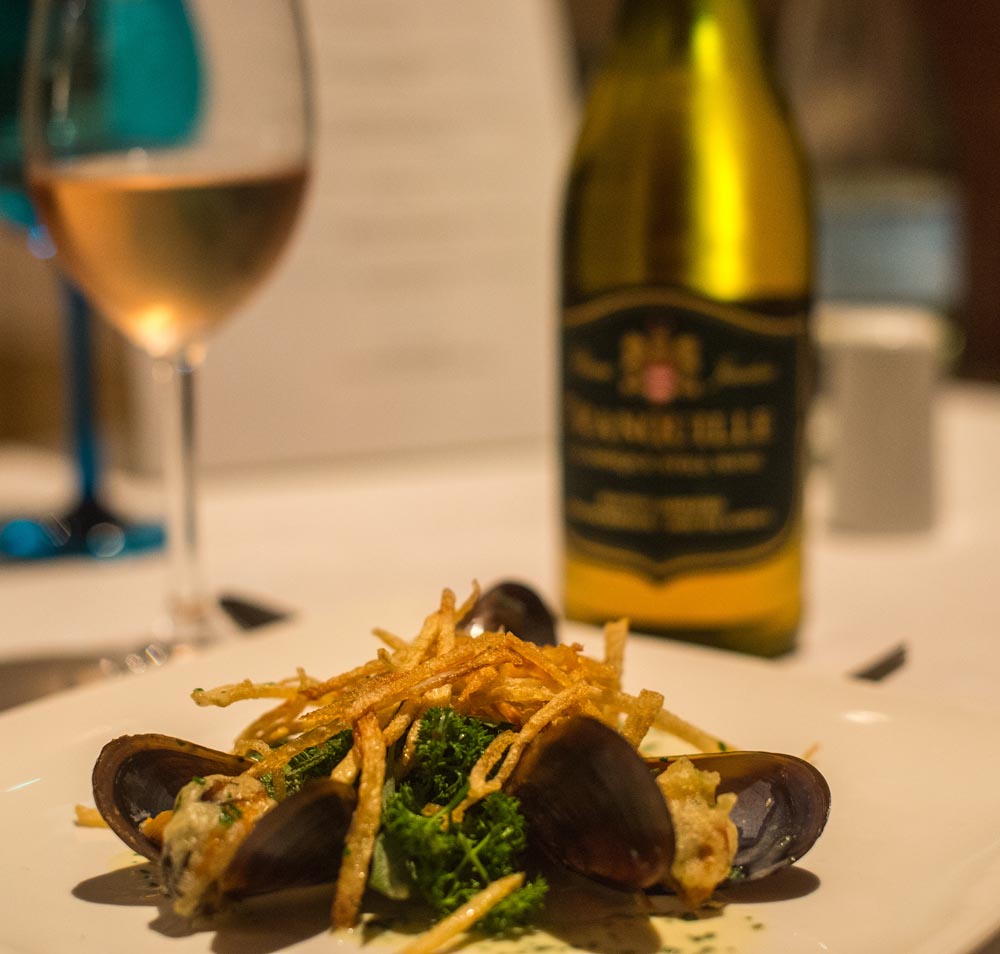 More food, wine & antique cars
On our last day in Franschoek we were hosted by Patrick Siebel, MD of Luxury Africa, on a sightseeing,
wine-tasting and site inspection trip in the Cape winelands.
We started off with a thorough site inspection at La Cle des Montagnes, a superb and clearly well-managed property consisting of four large and luxuriously appointed villas, ranging from two to four+ bedrooms. An excellent choice for accommodation very close to Franschoek, equivalent to being a guest in a stylish farmhouse with private garden and pool.
Then it was on to L'Ormarins, the famed Rupert-family property where classic cars, top quality wines and race horses combine to make it a 'must see' stop on the Cape winelands route.
We spent probably too much time gawking at the stunning collection of antique, classic and recent vintage automobiles, followed by a fascinating drive along the farm's private roads in a splendid vintage model Rolls Royce Silver Shadow.
Our L'Ormarins visit was capped off by a wine-tasting and we tried a little bit of L'Ormanris' Optima as well a Syrah and a Cabernet Sauvignon – and some brut sparkling wine. All were terrific.
Lunch on the day was at the acclaimed Terroir Restaurant in Stellenbosch where both our Cepe and Pork Belly main courses were delicious. Highly recommended.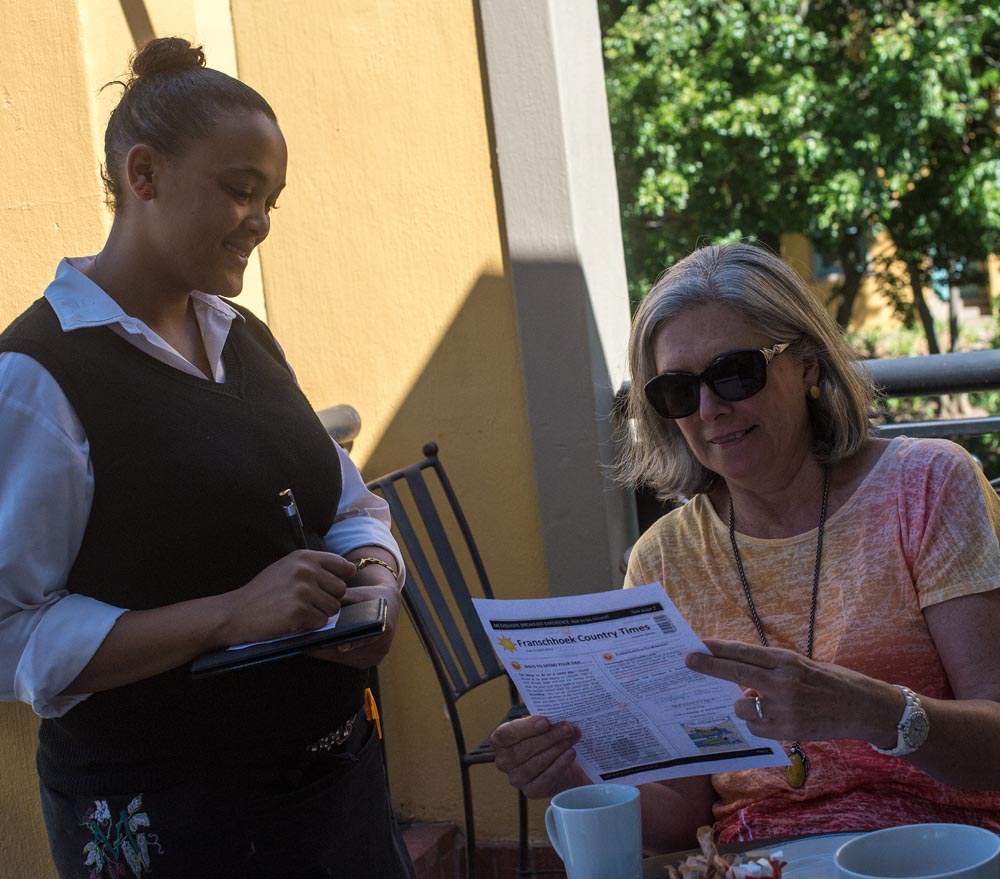 12 Apostles Hotel, Cape Town
By late afternoon we were being welcomed at the 12 Apostles Hotel, located right off the rugged coastline a few kilometers from Camps Bay. By far its best feature is the view over the ocean, so if you do stay at this hotel, be sure to get a deluxe room or suite on the ocean-facing side. Our 1-BR suite (honeymoon suite) was perfectly nice but the design and interior decor was not overly exciting; we did however like the very comfortable bed & pillows & slept exceedingly well.
We tried a local craft beer at the Leopard Bar and a light dinner at the casual restaurant, both receiving a big thumbs up. The passageways and common areas are somewhat cramped and a bit dark; but overall we quite enjoyed our short stay. Breakfast was one of the best of the trip with a huge array of items at the hot and cold buffet plus several a la carte choices.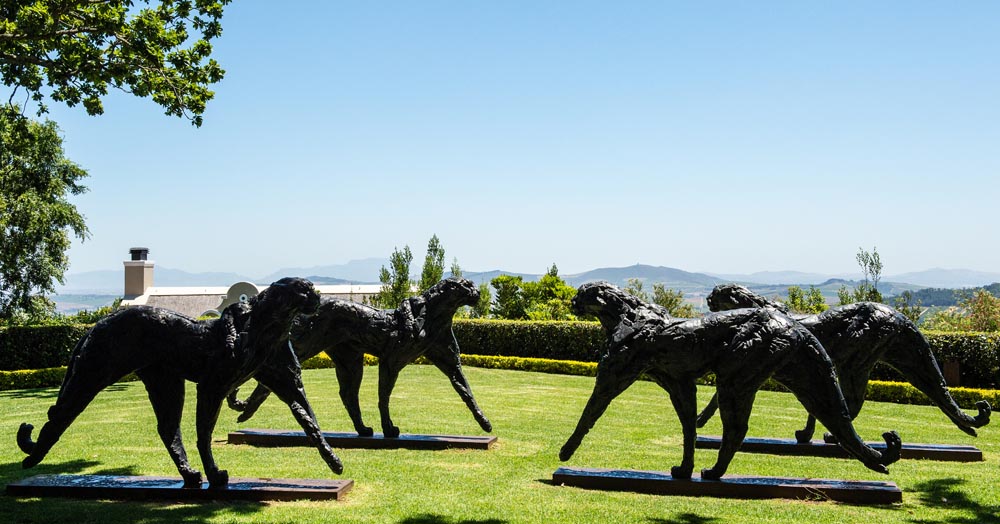 Mount Nelson Hotel
On the morning of 27 November we moved on to the venerable Mount Nelson Hotel which looked to be in splendid shape. And so it was. From the imposing arbor grove which makes for a very impressive arrival to the superb high tea, it lived up to our every expectation.
Our junior suite in the annex was spacious, quiet and understated – just what one would expect from the Mt. Nelson. The Nellie is a property where one could easily spend several days as the location is very convenient to downtown and just a short walk to the Company Gardens and Cape Town's museum district.
We did not have time for any meals at the Mt. Nelson – except for high tea – but will make a point of doing so on our next visit. From what we saw and experienced at high tea, we won't be disappointed. The Mt. Nelson house blend and premium export quality Rooibos was just what the doctor ordered. Plus a bewildering variety of sweets and a dozen or so types of sandwiches ranging from chili bites to more conventional cucumber sandwiches. Even if you're not staying at the 'Pink Lady' by all means go and enjoy the high tea – it is an experience!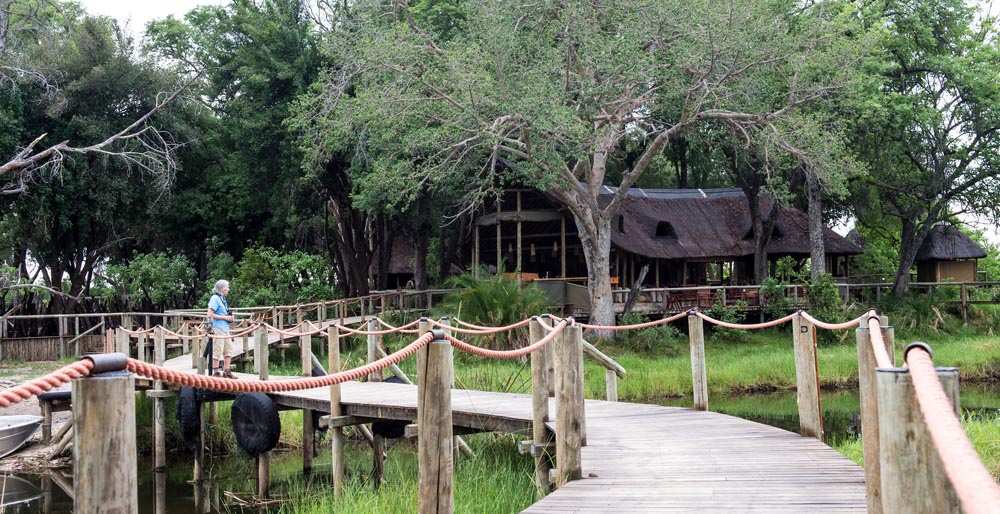 PART 4: XIGERA CAMP, OKAVANGO DELTA
Early on the morning of Fri 28 November, without the boxed breakfast lunch which the Mt. Nelson Hotel forgot to give to us, Kathy and I made the less than 20-minute drive to Cape Town Airport. Then we dove into the travel maelstrom, swept along like tiny fish in a powerful current. Drop off the car. Submit to security and check in. A cup of coffee at the Mug & Bean. Some walking and then waiting. More waiting. Two hours in the air to Jo'burg. A little more walking and more waiting. Cramped bus ride to an aircraft. Less than 2 hours in the air to Maun. And then we were there.
In real life it took more than half a day and added half a year to the aging process, of course. At least there was no luggage lost or broken into, no major delays or even minor mishaps. Springing a little extra for business class seats paid off handsomely with 'first on, first off' being the biggest bonus. A more comfortable seat, a little more legroom, food on real plates and wine in real glasses – meh. It is all about the priority boarding and fast exit.
One more flight awaited us that day, being a 20-minute hop by Cessna Caravan to Xigera. Real flying and great fun. By 3:00P that day, we were in the Okavango Delta. It was warm and there were some thunderstorms visible in the distance.
Xigera is a typical Okavanago Delta camp on an island with an imposing pedestrian bridge leading up to the lounge and dining room area. Everything is on a large, sturday boardwalk. Rooms are spacious and comfortable, but not luxurious. Good lighting, mosquito nets, hot water, effective ventilation. The stuff that matters.
Our afternoon mokoro outing was very successful. I saw and photographed a male sitatunga – this being my first photograph ever of this shy and elusive antelope. We found ourselves in just the most beautiful environment imaginable, papyrus groves in every direction, birds all around, and elephants hurrying past us and through the river. This is what the Okavango Delta is all about. No noise, almost no pollution, nobody else around. If there were a secret portal to re-connect with nature, this is where you are likely to find it.
The day ended much much less stressfully than it started, with a delicious dinner – your choice of peppered beef or bell peppers stuffed with couscous. Plus lots of other tasty items, freshly baked bread and a very sweet but very good dessert. It was early to bed for us.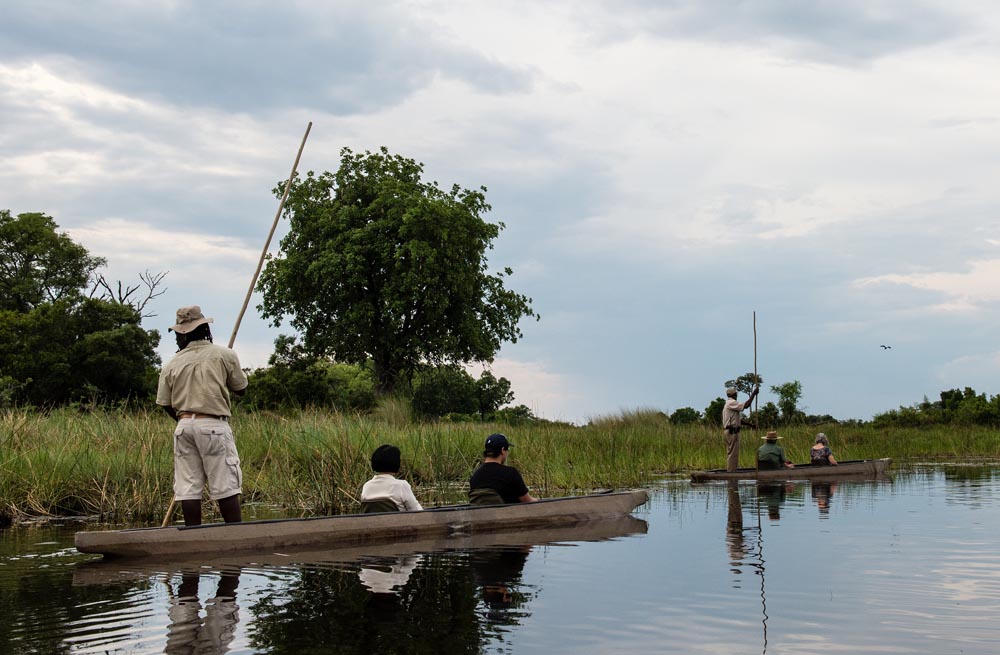 Enjoying Xigera and the Okavango Delta
On what turned out to be a Saturday morning – not that days of the week really matter on safari – we were up at 05:30A, for a game + birding drive. Again, we were pleasantly surprised by the abundance of wildlife. Lots and lots of birds, for sure, and also lechwe, impala, bushbuck and zebra. Then we transitioned to a boating outing on a channel in the Delta, from the boat station down to the Boro River. On arrival at the boat station we observed a good sized herd of elephants, plus there were – predictably – hippo in the pool. Back to camp for a late brunch and then – sleeping safari, aka siesta time.
By late afternoon, we took another longish outing with our guide Lesh into or close to the neighboring AndBeyond concession in search of more mammals. We came across quite a few: zebra, impala, kudu, tsessebe, warthogs and elephant. Oddly enough, no giraffe. Over the course of the first two days we did not see any predators but that is not why we came to Xigera.
Xigera is all about the water, the Delta, the water-adapted mammals and the birds. It is about tranquility and about being in a place where you set out on a morning or afternoon activity fully expecting to see lots of exciting things – but no other human beings.
And so it was. Over two days here, we saw a myriad of birds, beautiful landscapes, plenty of general wildlife and we enjoyed almost total exclusivity on activities.
Our final dinner at Xigera was again a delightful experience. It started with an entertaining and highly education talk by Dave Luck, a specialist guide, who talked about the Delta and about Northern Botswana, using a map to highlight some natural features, the origin of the annual flood, how various factors such as tectonic activity and even hippo channels affect the way the water disperses and so on. Very interesting.
The dinner menu was varied and exciting with couscous, rice and a variety of vegetables including butternut squash and green beans plus salads, chicken stir-fry, loin of venison, vegetarian crepes and more fresh bread. We also had a choice of chardonnay and shiraz table wine.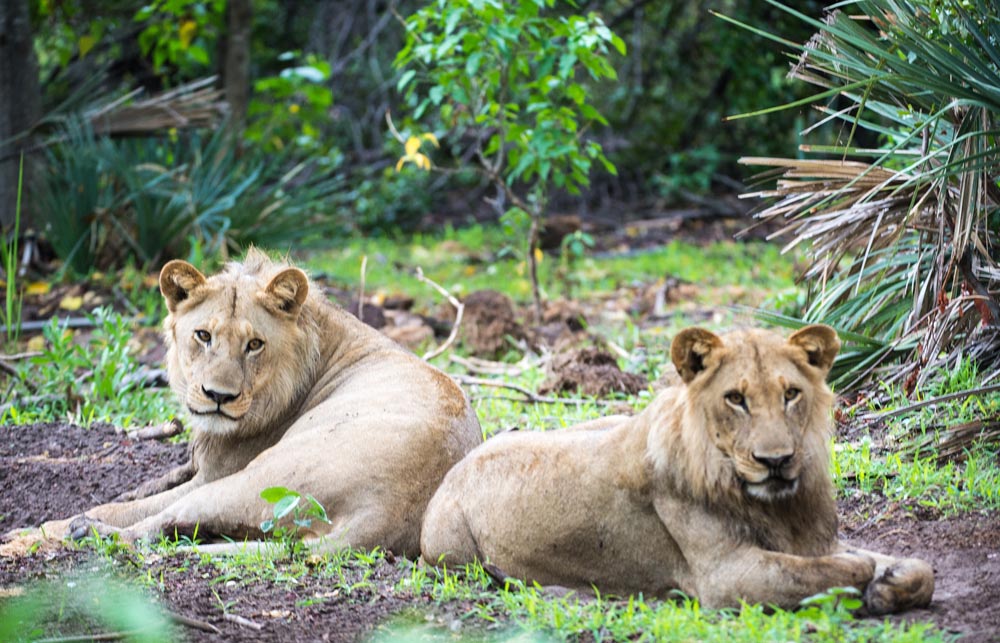 Lions at Xigera
Our intended plan this morning was to do a birding walk around camp, but overnight a pride of lions had walked into the concession from the adjacent Nxabega area. Naturally we went out to the spot where they were – near the Xigera mokoro station – and promptly bumped into one and soon after another four individuals, three males and two females. Quite handsome too and while the light wasn't perfect, it was soft and even with no harsh shadows.
The bottom line on Xigera: the camp is very comfortable, with a great lay-out, ideally located lounge and dining room area. The rooms are likely ready for a complete re-build to catch up with the rest of the Wilderness Safaris 'classic' portfolio, but the camp's location right on the edge of the permanent Delta is excellent. Although we enjoyed some exceptionally good game-viewing, Xigera is really not the camp for someone who is 'only' interested in big game. It is a great Okavango Delta camp choice – where the focus is on the Delta itself, the water, water-adapted wildlife including a wealth of birds, plants and of course water-related activities such as mokoro outings and boating.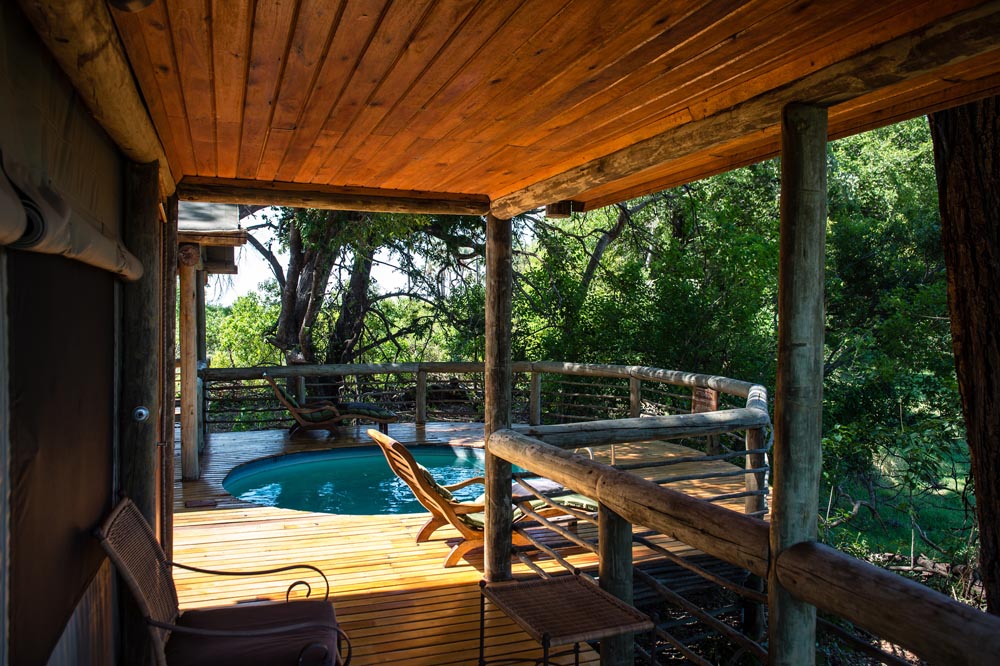 PART 5: SEBA CAMP, OKAVANGO DELTA
By early afternoon on Nov 30 we made the short hop to Seba in a Cessna 206. Our guide for the next two days would be Speedy. On arrival, Speedy gave us a short introduction to the concession and the area, what was currently being seen and what was possible, told us about the various activities and provided basic facts about the camp. All very useful information to have early on in one's stay at any camp.
Managers Tim and Haley continued the welcome and provided more information about the camp and our family room – which was very spacious and well-appointed – and then left us to settle in.
After tea at 4:00P, we set off on a game drive and saw good numbers of plains game – giraffe, kudu, zebra, buffalo, and also elephant and enjoyed one of our best sightings ever of hyenas, with three sets of hyena cubs around the den, playing and barrelling around, much to our delight.
The next morning – December 1 – we were up at 5:30A which was really 30 minutes too late, with the sun already well up in the sky by the time we started our game drive at 6:30A. In summer it is imperative to already be in position to take your best photographs right at first light.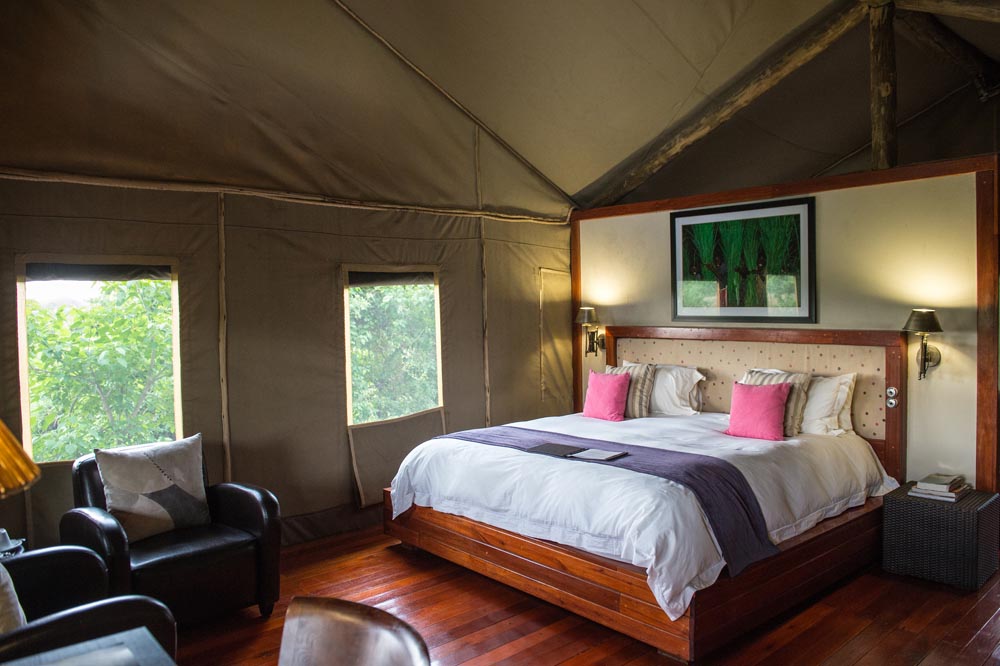 We were looking for a specific female leopard which had been observed the previous day, but had no luck with it. The game drive ended up being typical of an Okavango Delta outing with a fair number of general game species including zebra, giraffe (lots!), kudu and of course impala. Towards the end of the drive, while waiting to see if a lechwe would jump across a channel, a large herd of elephants emerged – one by one and sometimes two by two – from the edge of thick vegetation bordering an island.
Some of them – the vanguard – looked momentarily surprised by the presence of our vehicle in the road but proceeded ahead, making a slight detour around us, past a mokoro station. Eventually a long staggered line of about 40 elephants of all sizes paraded right by us. Bringing up the rear was a massive elephant bull who came closer to the vehicle than any of the other elephants.
After brunch that morning we attempted a nap but it was not entirely successful – too much light in the room.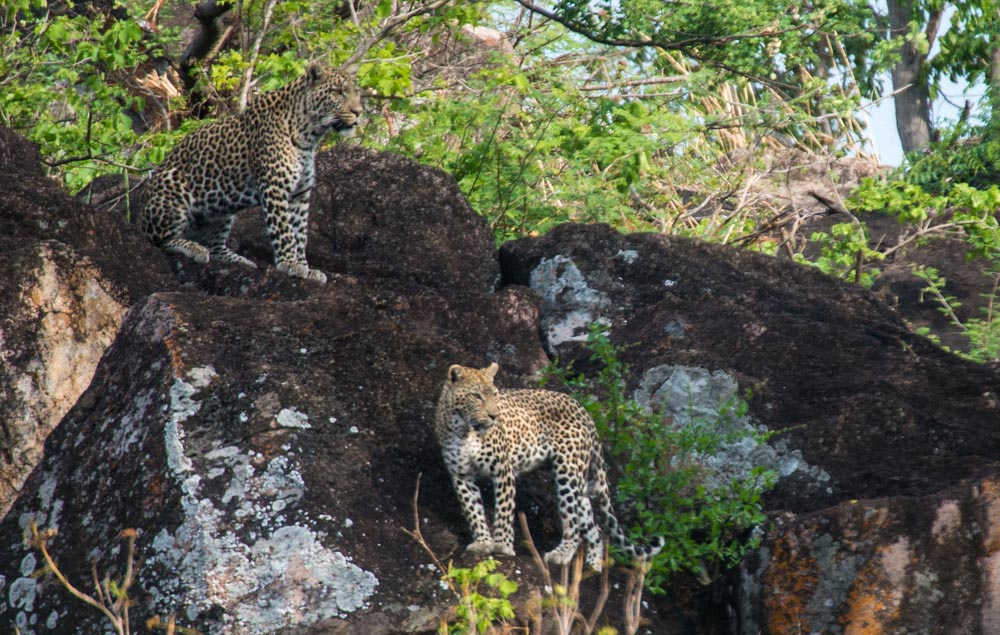 We find the elusive Leopard
The afternoon outing with Speedy was one of our best in several years. There was an abundance of wildlife: zebra, wildebeest, kudu, tsessebe, impala, warthog, giraffe and elephants, several with young to very young babies.
En route to our fishing location – a nearby lagoon – Speedy heard some vervet monkeys make an alarm call and sure enough – there was a female leopard walking in the floodplain, right in the open.
We turned around and drove in the same direction, and saw the heavily pregnant female leopard disappear into thick vegetation just off the road.
We searched for a while but did not see her again. Then it was on to fishing. We had a lot of fun over the next hour or so, with Kathy pulling out 5 catfish to my single one. I did lose a big one though!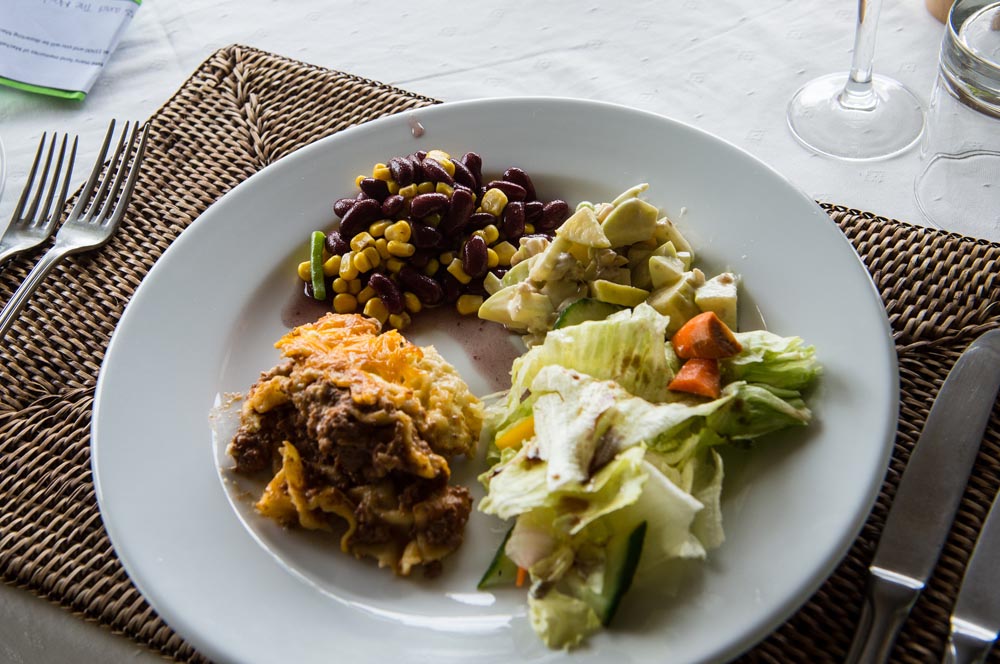 Romantic bush dinner at Seba
The day ended on a high note with a spectacular bush dinner on the edge of the water, on a small 'peninsula', with lots of lanterns on poles and candles creating a fairytale scene and atmosphere. It was all very romantic, complete with a full bar, two good South African table wines and an array of traditional African starters such as samoosas, followed by grilled fish, grilled rumpsteak, chicken tagine, roasted new potato, green beans, tomato salad and fresh bread. It was past 10:00P by the time we got back to camp. We were already starting to look forward to sending our clients to this camp!
Prior to dinner a very entertaining and well done singing and dancing performance was put on by the members of the Seba staff. Interestingly – but likely totally co-incidentally – a large troop of baboons were making a huge racket in a stand of trees behind us, as the group started to sing. They did not like the competition!
The next day – Dec 2 – we were up very early – 05:00A – to go in search of the leopard we had spotted the previous afternoon, but had no luck with that. We did find some kudu, zebra and more elephants, and I managed to get a few useful pics of birds in flight. By 10:00A we sat down to a hot breakfast in camp, and just after 11:00A flew out on a C-206 with Mack Air. Our routing took us 15 minutes to a place by the name of Xaraxai and another 25 minutes to Khwai River Lodge Airstrip, where someone from our next camp – Machaba – would come to meet us.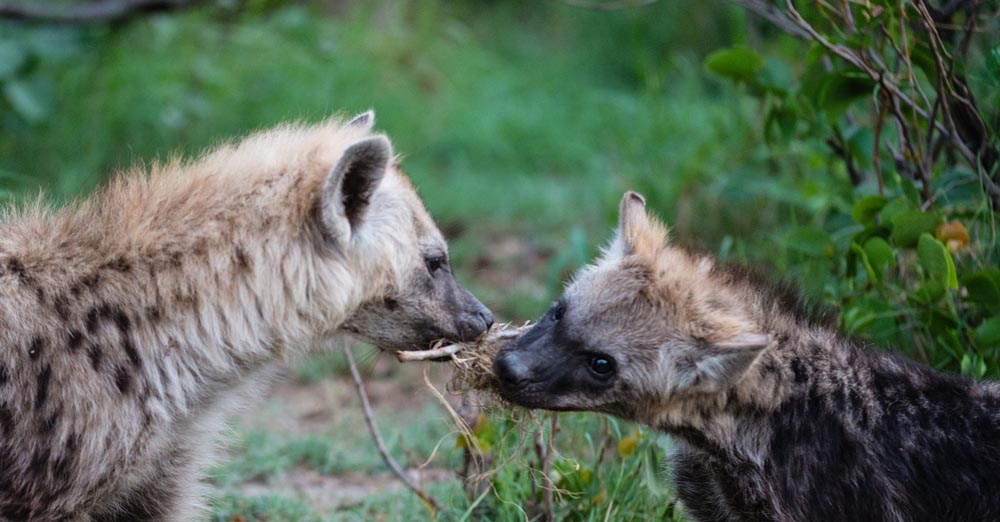 What makes Seba and the Okavango Delta 'special'
Our overall experience at Seba was a true reflection of every reason why people who come to Botswana once, often end up returning again and again.
This tented camp is located in typical Okavango Delta mosaic with large open stretches of floodplain, meandering waterways and papyrus-choked channels connecting with the Boro River, lagoons and small palm-fringed islands. It is remote, private and there is lots of game with very diverse activities including mokoro outings, boating, game drives and walking. The accommodation, hospitality and guiding are all first-class.
Nowhere else in Africa can you do and see so much in a practically pristine environment with hardly anybody else around. Over the course of 4 days at Seba and Abu – the two camps are just a short driving disatnce from each other – we saw perhaps three other game drive vehicles out on the roads – total – and shared a sighting with another car only once.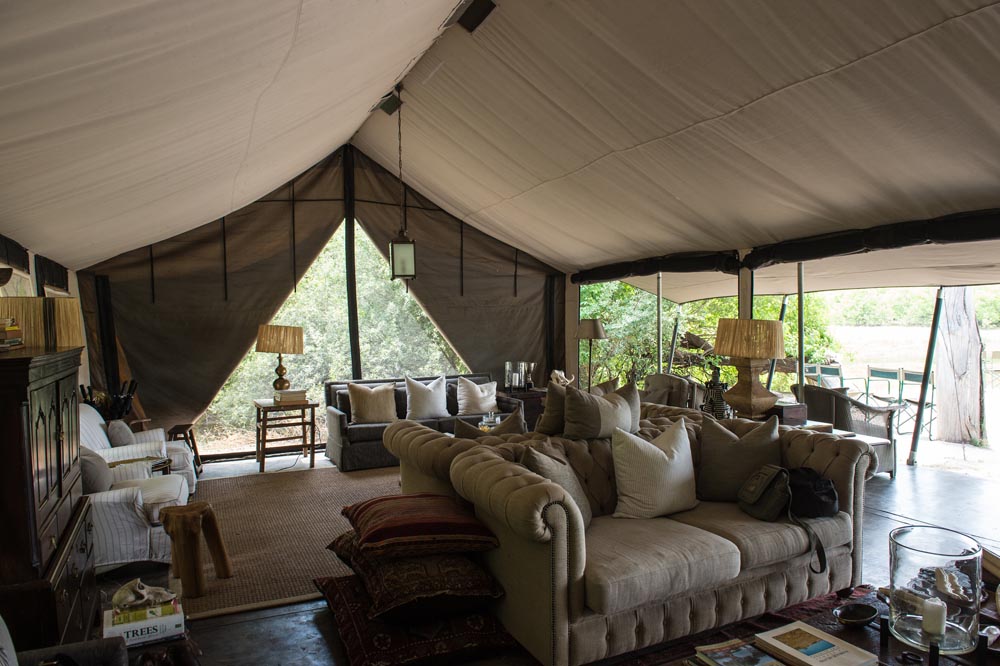 PART 6: MACHABA CAMP, KHWAI RIVER – MOREMI
Machaba is a mid-range tented camp – with some nice luxury touches – located in the Khwai region of Botswana, on the edge of the Moremi Game Reserve. Machaba makes a good first impression because of its excellent location on an elevated spot overlooking the Khwai River.
There is a spacious lounge and dining room to the left and right of the entrance area. We enjoyed a light lunch of baked tilapia with potato and beetroot salad & green salad, fresh bread & macaroni & cheese. All very tasty.
Then we were shown to our room #6 – one of the two family rooms in this very child-friendly camp which is happy to accommodate kids of any age. The room is a combination of two large tents with one king and two twin beds. The bathroom has an indoor and outdoor shower.
Unfortunately the room opens and closes with zippers, which can get very tedious very quickly. Also the tents are relatively close to each other – we could hear our neighbors, although indistinctly, thank goodness. Another feature lacking was a ceiling fan – the room was quite stifling by mid-afternoon and a ceiling fan would have made a big difference. As it turned out I spent about an hour checking and responding to e-mail – the outdoor WIFI hotspot worked very well – and then went straight to a game drive.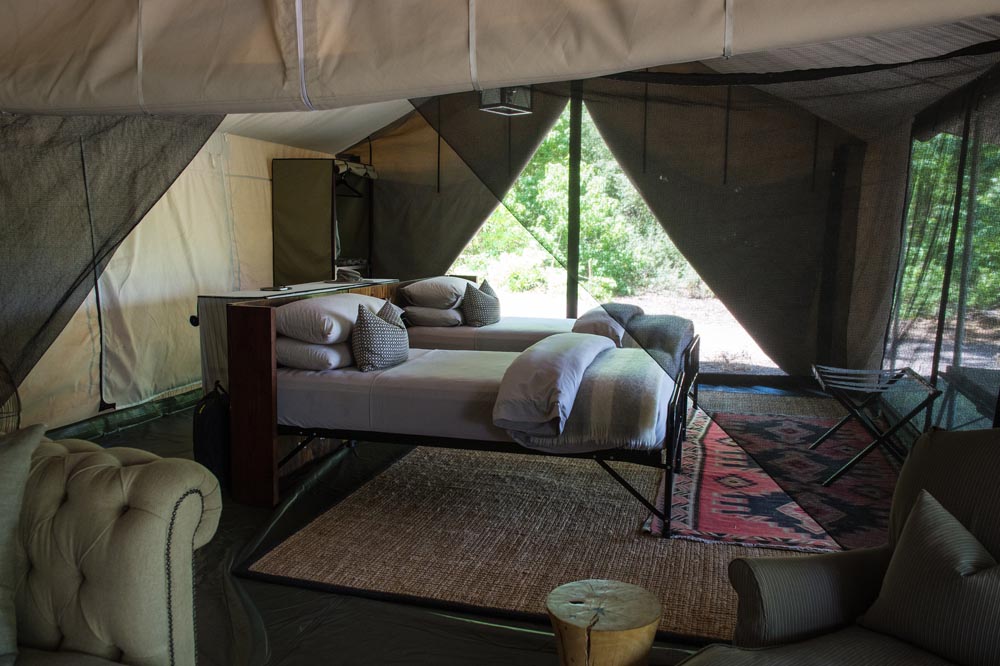 The game drive was successful with good sightings of elephant – several – and a solitary lion – a rather scruffy individual. Plus lots of lechwe, zebra, wildebeest and kudu.
Much of the information provided by our guide Leopard was superfluous to anyone who had been on safari before. However he gave a good pre-departure briefing, was very thorough and at all times concerned about his clients' well-being. After sundowners a short distance from camp, we returned to camp at around 7:40P.
Dinner at 8:00P was a festive affair with lanterns adorning a dead tree in front of the lounge. There was an open outside bar. After a bit of socializing in typical Botswana safari camp fashion, the dinner menu and choice of wines (a chenin blanc and a cabernet sauvignon) were announced.
Compared with lunch, the food was disappointing. The cauliflower was undercooked and the green peas overcooked. The beef curry did not have much flavor, with a distinct lack of spices. The curry side dishes which included coconut, a yoghurt mix, a tomato relish and a cucumber raita were good, as was the basmati rice and baked pumpkin. All in all the most forgettable meal so far on the trip.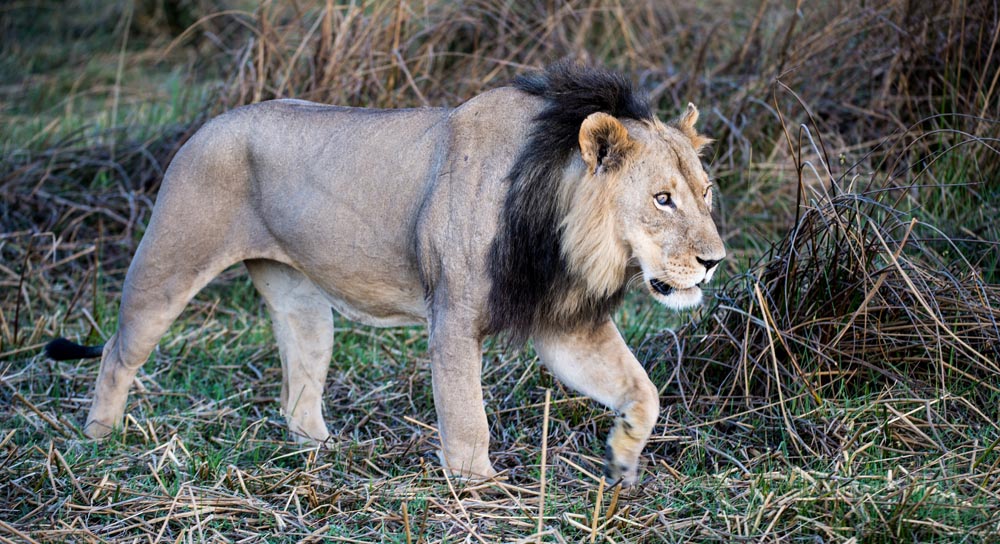 Mixed results on game drives at Machaba
Our morning game drive started slowly but picked up about 90 minutes later when we came across a large herd of buffalo. Unfortunately we had lost much of the nice morning light by then. On the way back to camp we stopped to observe two elephants dunking themselves plafyully and jousting with each other tusk to usk. It was truly a 'once-in-a-lifetime' sighting as the two behemoths went at each other for what seemed like the longest time. We were all thrilled to see it play out. Minutes later someone else drove up and asked if we had seen anything. We just looked at each other and nodded affirmatively. We sure had!
The afternoon game drive was very slow. We were all keen to find a leopard so spent more than 2 hours bumping around the bush in search of one – but found not a thing. In the process I watched in dismay as the perfect late afternoon light (the golden hour) came and went without an opportunity to point a lens at anything.
I think guides would be well-served to find something – anything – to light up for that one perfect morning and afternoon hour (cloud cover permitting). Impala, lechwe, kudu, elephant – there is not an animal out there that doesn't look good and photograph well in great light.
Overall the game-viewing at Machaba was unsatisfactory. No reflection on our guide Leopard who tried valiantly. We realize that seasonality comes into it, and that game-viewing is better in the dry season, with not as much vegetation which obscures one's view and with more animals concentrated around water.
Had we been able to drive into the adjacent Moremi Game Reserve – where African Painted Dogs and leopard had been seen – this might have turned out differently. However the lodge has what appears to be a self-serving rule that only guests staying 3 nights or longer are allowed to enter the Moremi Game Reserve.
In my opinion, it makes no sense not to fully utilize this asset. Most guests would be more than happy to pay the park entry fee which is less than US$20.00 per person.
I would likely recommend Machaba for the dry season when game viewing is at its best. Hopefully the camp can sort out the Moremi Game reserve access issue so that guests who spend only 2 nights there will also be able to enjoy it. On our last morning there – December 4 – the game drive was really very slow. I barely took the camera out of its case which is frustrating. Again, we were in search of leopard but to no avail. I did get a few useful pics of a couple of young hyenas at their den and some zebra.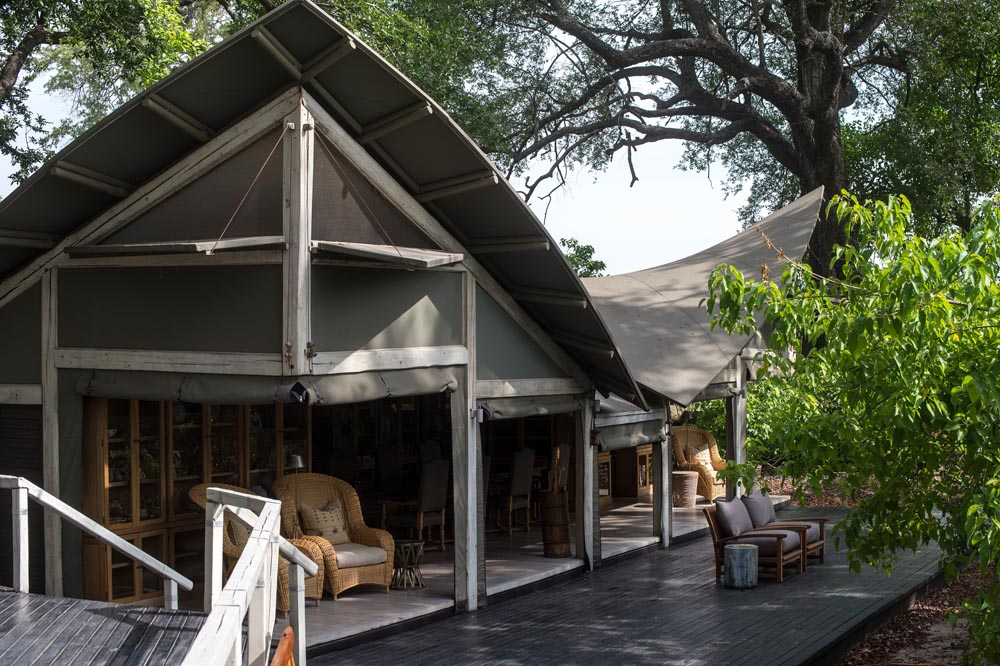 PART 7: ABU CAMP, OKAVANGO DELTA
Abu is a beautiful, remote camp in the Okavango Delta where six habituated elephants provide the lucky guests with a thrill of a lifetime, whether it is riding, walking with or just observing these amazing giants of the animal world.Right now the star attraction is little Naledi, a little more than a year old and pretty much ruling the roost. If you're at all keen on elephants, make your plans to travel to Abu soon, before Naledi passes out of the 'cute' stage…
This famous elephant camp is located in a beautiful 170,000 hectare concession, one of the largest in the Okavango Delta. We reach it by early afternoon on Dec 3 2014.
Abu Camp has a reputation which goes back many years to the early 1990's when Randall Moore brought back to Africa several elephants from the USA, notably Abu – the star of several movies and award-winning TV commercials.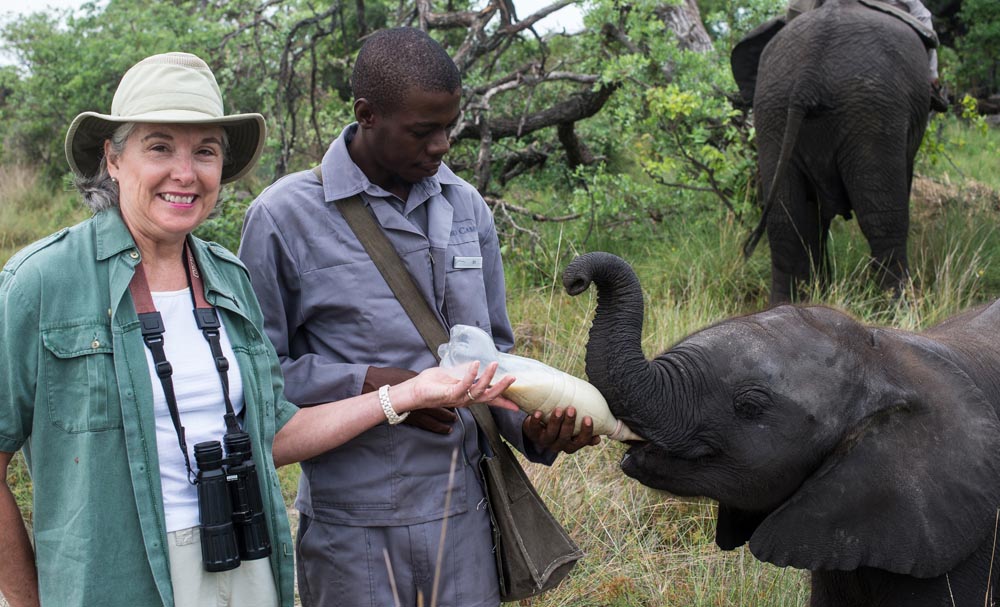 Abu Camp has had a couple of iterations since then. At one time it was mandatory to book a 5-night minimum stay which was not everybody's preference. Currently, Abu Camp is owned by Paul Allen and operated and marketed by Wilderness Safaris.
The property consists of 6 deluxe rooms, each with pretty views over the Okavango Delta floodplain, and with lots of space. There is no boardwalk except to room #3, which is the closest to the lodge. The rooms all have a high degree of privacy. They have an indoor shower and outdoor tub, his and hers wash basins and ample storage area. Plus a fully stocked mini-bar and coffee/tea station with a French press. There is a large patio with 2 chairs and a table.
The camp's main area consists of two structures with an 'undulating' roof, again with ample space and light. The focus is on providing a private, exclusive experience, with a high degree of flexibility. On our first morning at Abu this became quickly evident when we were having breakfast while a Scandinavian couple was already perusing the lunch menu.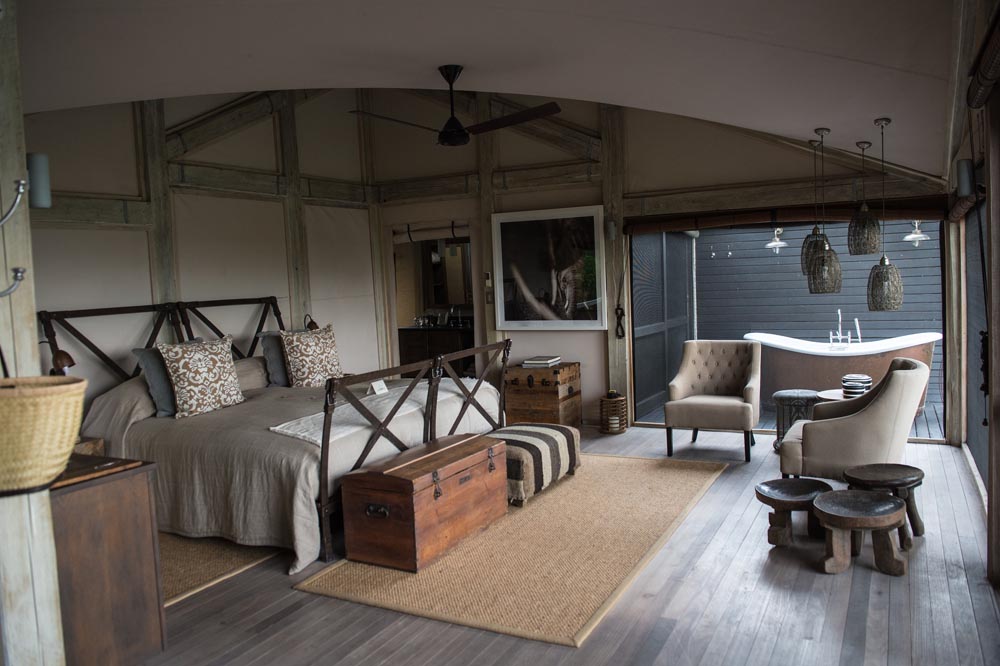 For the duration of our stay at Abu Camp, the food was superb. Amongst the memorable meals were a bush dinner in the form of 'bush tapas', an array of small servings of soup & various types of sate and other light bites, ending with a malva pudding. Quite satisfactory, fun and delicious.
After a thorough briefing from camp managers Aaron Gjellstad and Jamie Rose – both American – we settled into our room, unpacked, checked a few e-mails (Abu's WIFI reaches into room #3), and then got ready for our first activity – an elephant-back ride.
To be honest, I've always harbored some misgivings about actually getting onto an elephant's back, fearing that by doing so I would be crossing a line from observing wild animals to treating them like a circus animal.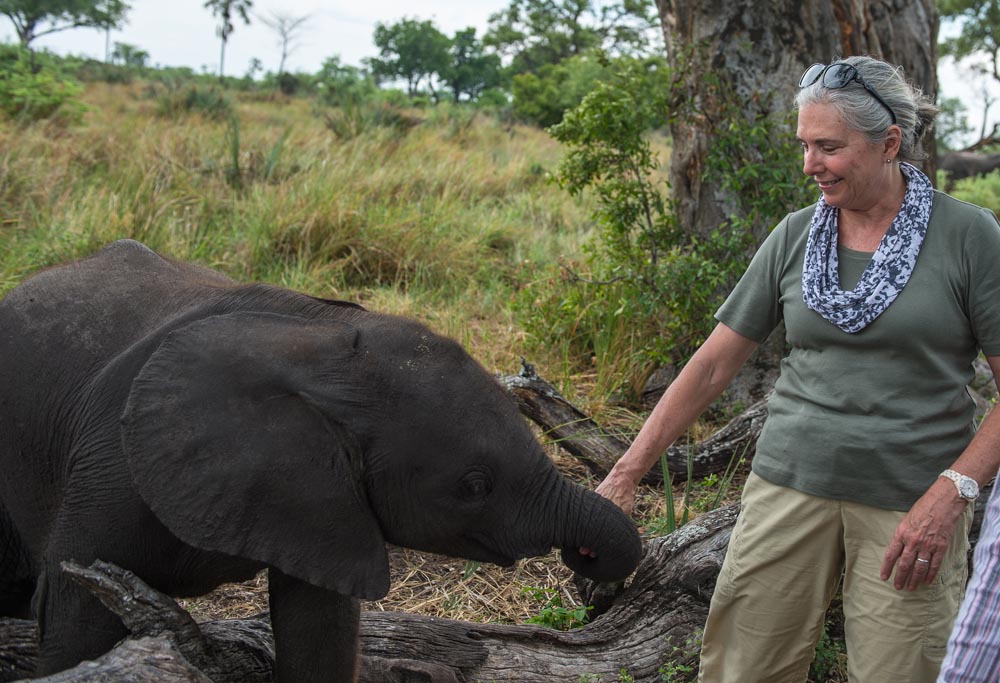 Being guests at Abu we did not want to pass on the opportunity to experience elephant-back riding and anyway, I would have felt like a jerk turning down the chance to try it, simply because of my own prejudice. I did not regret the decision. But more about that in a minute.
Earlier in the day – when we first arrived at Abu – we had been introduced to the herd so we knew that we'd be riding on Cathy (leading from behind) and Sherini (out in front).
The Abu herd currently consists of:
Kathy – 52 – from Uganda via Canada
Sherini – 29 – saved from a culling operation
Lorato – 6 – daughter of Ketimetsi & sister to Naledi
Pasika – 5 – saved after an African Painted dog attack
Waruna – 3 – daughter of Sherini
Naledi – 1 – bottle-raised orphan child of Ketimetsi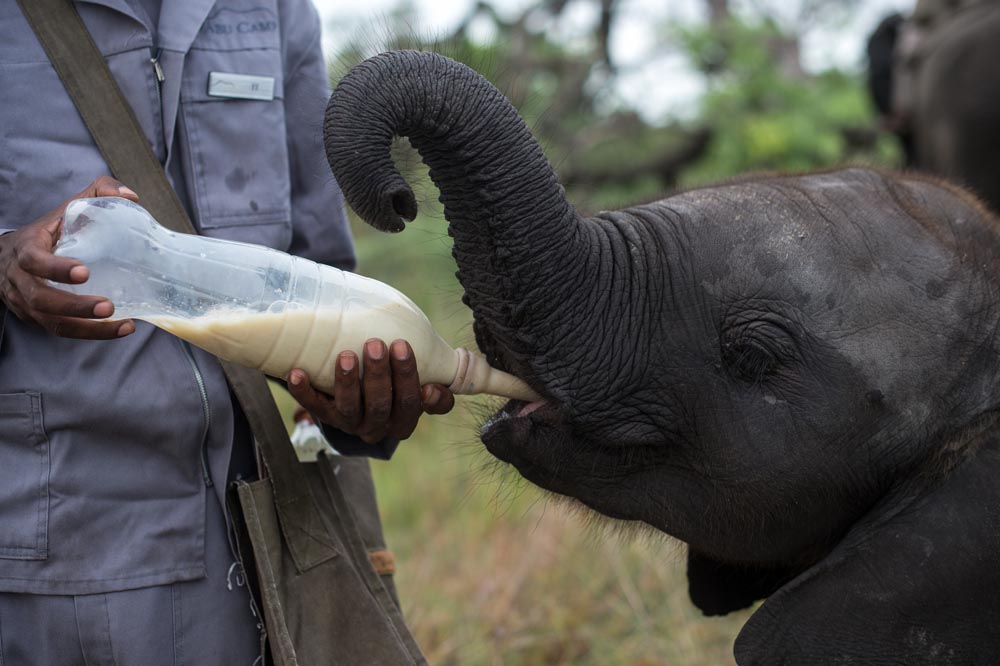 After some brief interaction with the elephants – including an obligatory but rather rambunctious 'cuddling session' with little Naledi – we climbed up on a small metal platform, and as nimbly as we could stepped across and into one of two sturdy seats right behind the elephant handler.
Having just ridden a camel for the first time earlier in 2014 in Laikipia (see this trip report), I can say that riding an elephant is much more pleasant than a camel. More steady, much more gentle and far less smelly. Rolls Royce versus Volkswagen.
On the afternoon ride the elephants walk back from a spot out in the bush at a steady pace – interrupted by brief feeding stops – to their boma, which took a little more than an hour on this particular day. We were sitting on the elephant 'saddle' in a straddle position which is ok for an hour or so – it might become uncomfortable on a longer outing.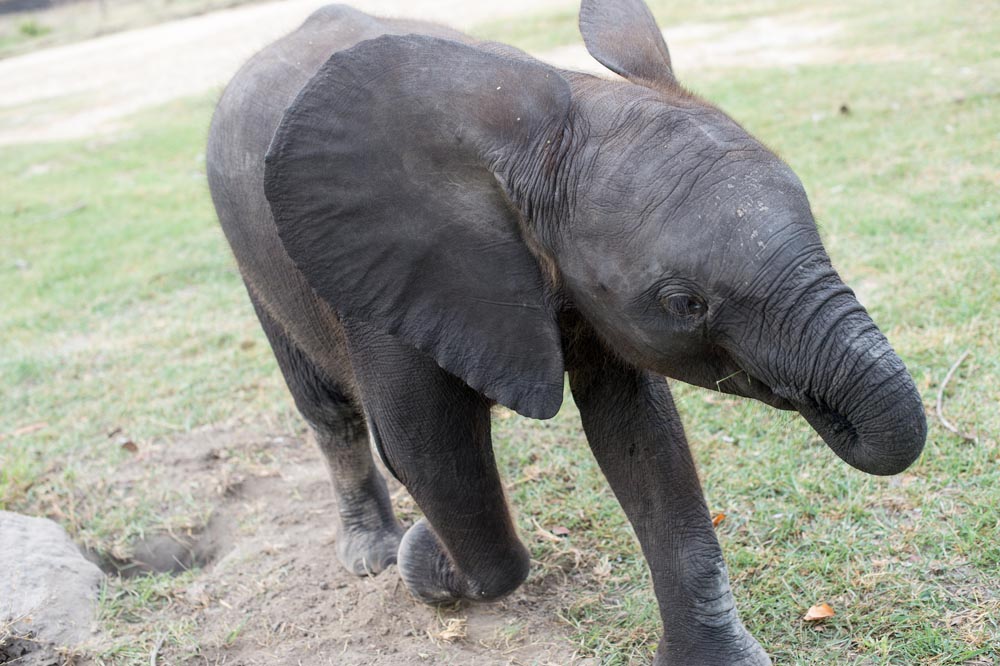 You can also ride side-saddle if you prefer. 'My' elephant – Cathy – was quite well-behaved and never lurched or made any abrupt moves. I was able to completely relax and take in the sensation of being transported through the wilderness in this most unique of ways.
Being on an elephant's back is a singularly bizarre experience. For one thing, you are about 4 meters – 12 feet – off the ground with a fantastic view of the surrounding bush. To your immediate left and right are two giant elephant ears (fortunately with a minimum amount of flapping on this rather cool day) and most interestingly directly in front the large trunk of the elephant, occasionally being extended right up and back with the tip coming to rest in front of the handler. All the better to receive a treat in the way of an elephant pellet which the handler doles out sparingly.
The best part of the ride is to closely observe the elephants when they stop to feed on a variety of plants and trees, ranging from grass to mopane trees to fresh silverleaf terminalia vegetation. Neither Kathy nor I had ever been able to observe elephants strip the bark off a thin branch at such close range. They would very skillfully roll it from left to right, the stripped wood being discarded or stepped upon and broken off, if there was another branch to be 'processed'.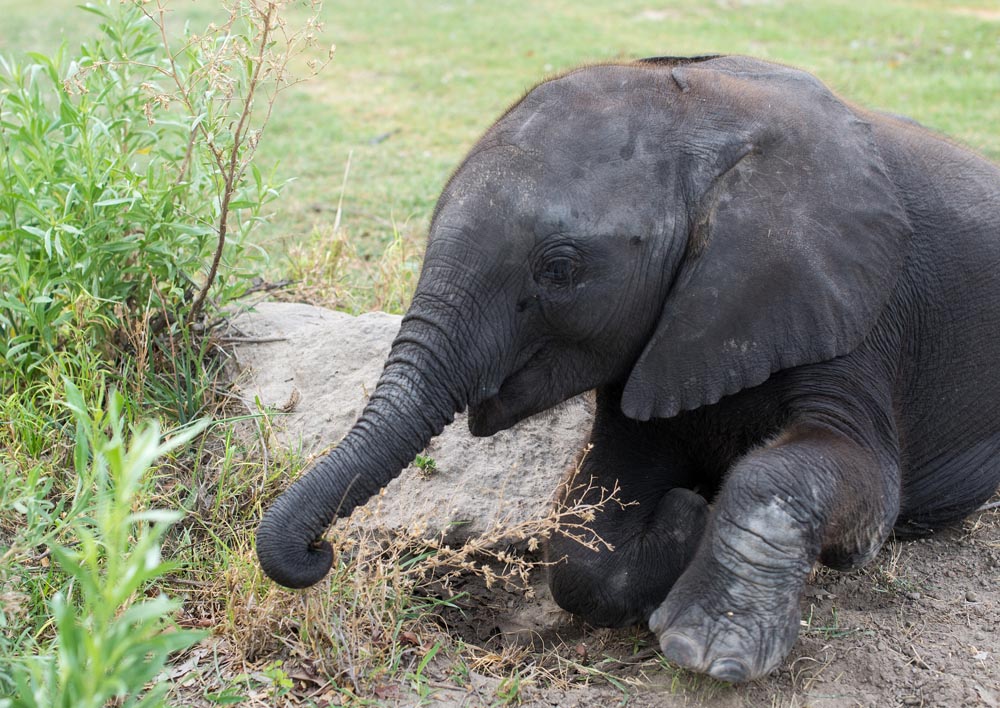 Quite a few times the elephants would all seem to stop and fan out, do a little feeding and then re-form in their pre-allocated positions. Twice en route Naledi consumed a large bottle of elephant formula, following on which she would rush to the front to retain her spot just behind sister Lorato – they are both dughters of the late Ketimetsi.
It was entertaining to see Naledi almost break into a trot, her short little legs practically whorling under her as she wiggled her way to the front of the line. Not far from the boma all the elephants walked to the top of a termite hill for a 'photo op', clearly pausing and posing for the cameras.
All too soon we were back at the boma where we dismounted. There was more to come. We were given big handfuls of elephant pellets (from a central bin) which we either tossed directly into the elephants' open mouths or placed in the upended tips of their trunks which they would expectantly thrust right in front of you. It was a nice way for us to say 'thank you' to them – job well done!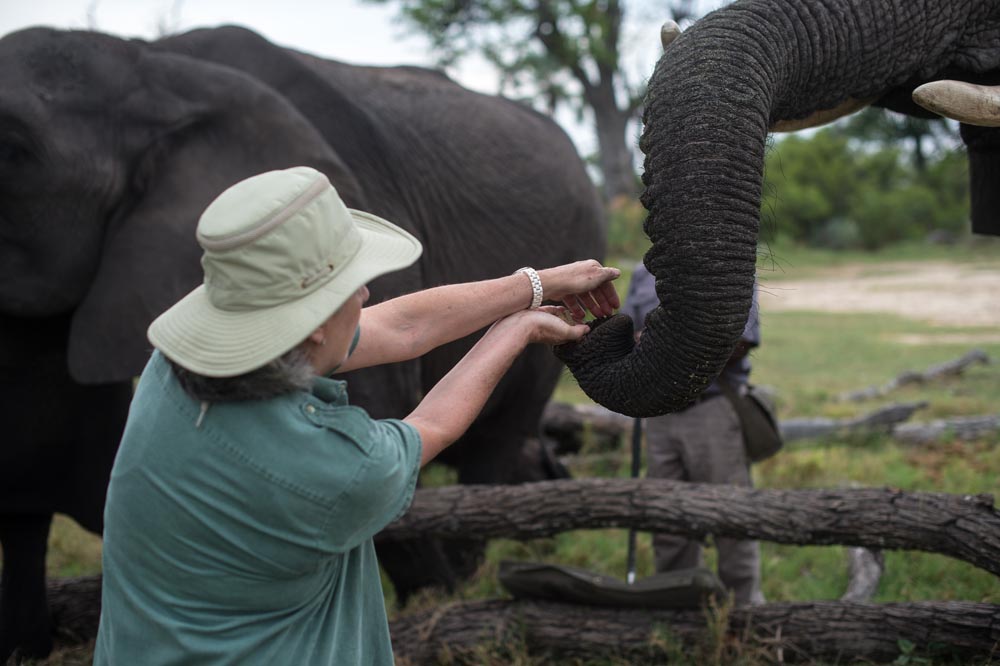 December 5 2014
Our morning activity at Abu Camp on the day was again elephant-related. As it should be. This time, however, we walked with the elephants instead of riding on them. Some guests may prefer this to elephant-back riding or they can do it as an additional activity, as we did.
It is of course completely different (then the riding) with the three of us walking behind five of the elephants and ahead of one (Cathy). Again, we were able to observe them feeding on various shoots, leaves and trees, and there was more time and opportunity to observe Naledi.
The pellet feeding at the conclusion of the walk, which also lasted a bit more than an hour, was a little less structured and Kathy was bumped by Naledi who was seemingly frustrated with the way in which the pellets were presented to her. Feisty little animal!
We had one more chance to interact with the elephants when they decided to take a mud bath & swim, close to the spot where we had earlier gone fishing out of Seba Camp, a few days ago. It was entertaining and sometimes hilarious to watch the elephants plunge into the water, splash and squirt it all over and wallow in the mud, often lying on their sides and wriggling their large bodies, clearly enjoying the sensation. This went on for well over 20 minutes with both Kathy and I taking lots of photographs.
Back in camp we enjoyed a short siesta followed by an afternoon game drive. Just like from Seba, there was plenty of game in the area and I got some useful pics of giraffe, impala and zebra and a few birds in flight.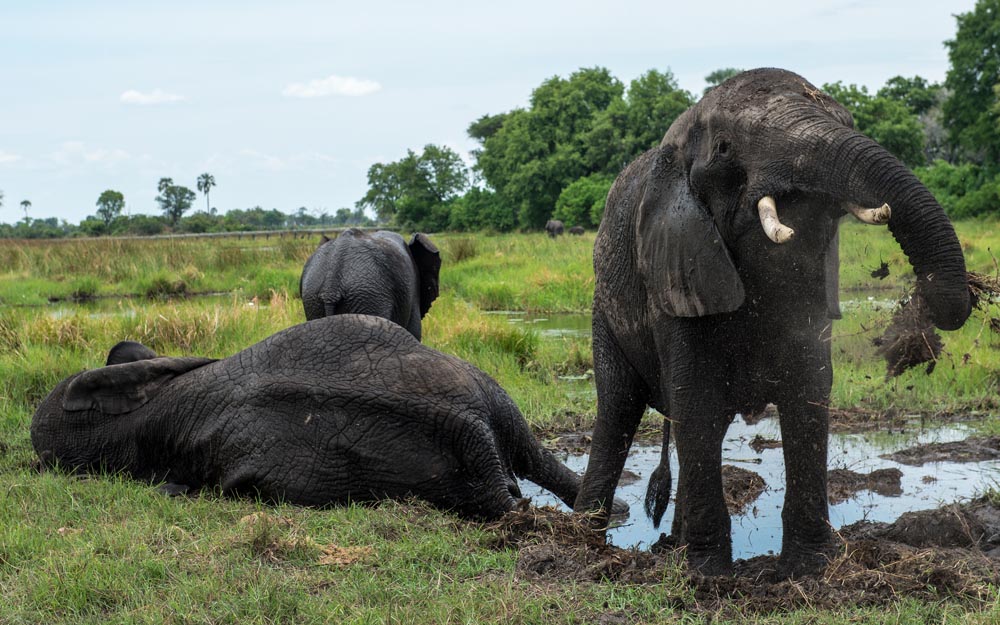 Dec 6
As a final farewell to the elephants of Abu, we had breakfast with them at the Boma this morning, observing their monring routine including feeding before they head out for the day. We were sad to see them go. Our stay at Abu turned out to be one of our most memorable safari experiences ever.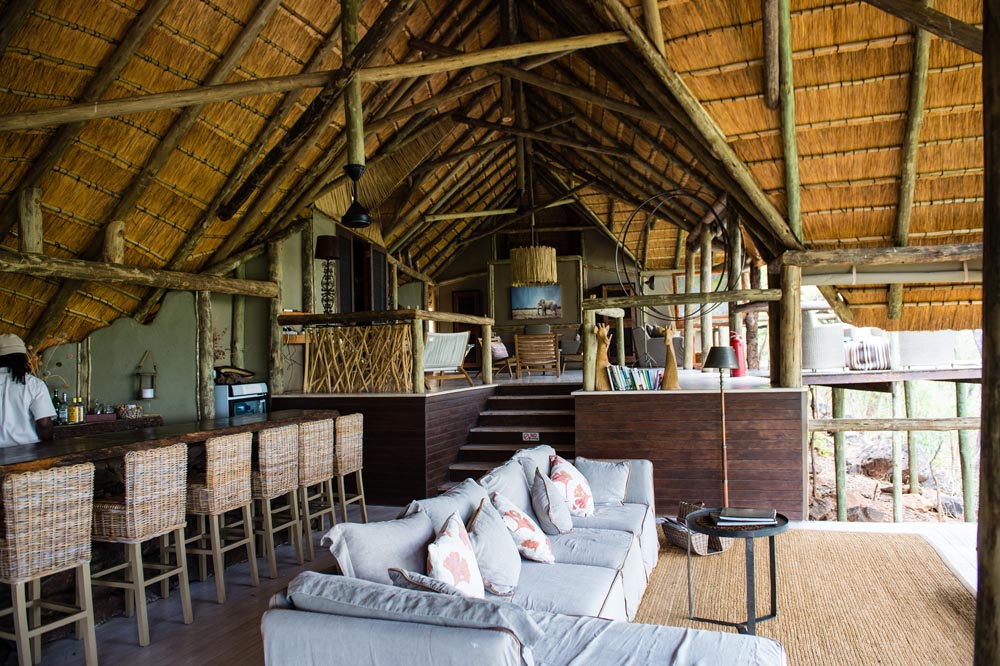 PART 8: GHOHA HILLS SAVUTI
From Abu and the lush environment of the Okavango Delta, we would now venture into a very different yet equally intriguing area of Northern Botswana – the near legendary Savuti. The Savuti Channel and Savuti Marsh – also spelled Savute – plus the adjacent Linyanti area stretching all the way to the border of Namibia – have for many decades been a popular and reliable safari destination. The area is well known for its abundance of elephants, particularly in the dry season when sometimes hundreds of them congregate around water.
From Abu we flew via Pom Pom (15 minutes) to Savuti Airstrip, another 35 minutes away, where our guide Bee met us and a young Australian couple Abigail and Ben. They had just been married for 6 days and it was fun to observe their reactions and impressions, with so much of what they were seeing and experiencing being completely new to them. They were a cute couple who was clearly having the time of their life on this, their first Africa trip. They had already spent some time in the Okavango Delta and Moremi.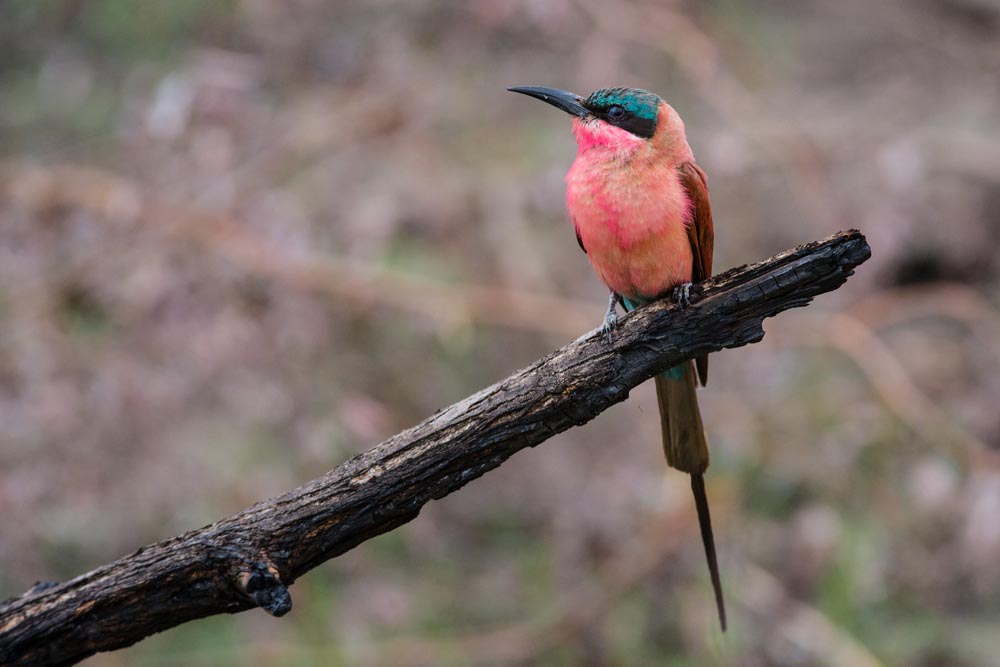 It was about an hour's drive to Ghoha Hills Savuti Camp, along a sandy road about 12 miles (20 kilimeters) from the Savuti Airstrip, in the direction of Kasane. The main lodge at Ghoha Hills has a spectacular setting and very pleasant, soothing surroundings, literally about as far away from everything as you can be in this modern world.
From inside the lodge one has an amazing view over the plains, as far as the eye can see. The lodge is spacious with a large dining room and adjacent lounge/library area as well as an outdoor verandah where a new outdoor breakfast deck will soon be added. There is free WIFI available inside the main lodge – I tried it a couple of times and it worked well. A note of caution: there are lots of step going up to the lodge – 23 – and down to the fireplace – 14 – which may be tricky to negotiate for less mobile visitors.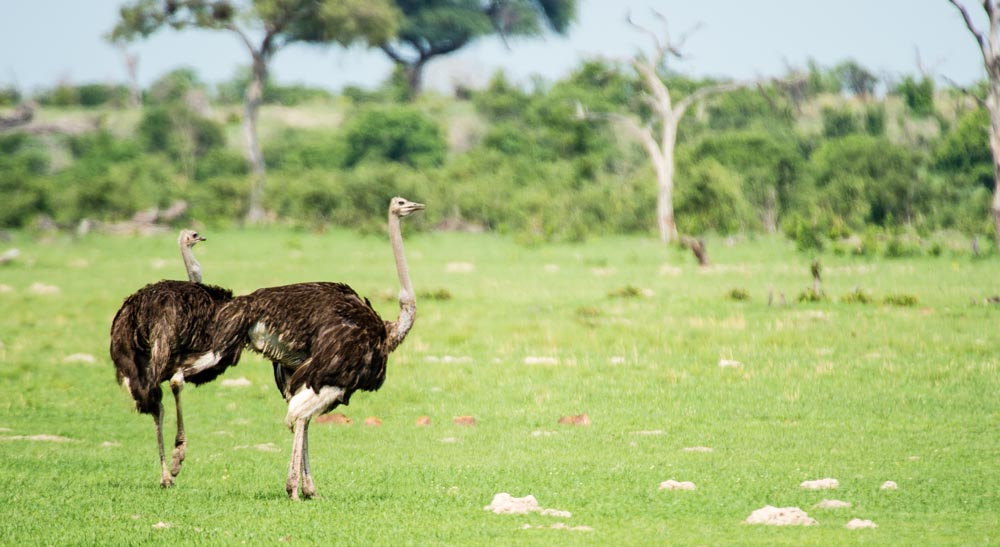 Our room was nicely appointed with lots of space and a very comfortable bed; we slept soundly both nights there. The room had a good mosquito next, adequate lighting and a high degree of privacy. The staff at Ghoha Hills was terrific. From an enthusiastic singing and dancing performance on arrival, to the friendly greeting on return to the lodge after an activity, the staff could not have been more welcoming. They clearly enjoy having people around. Their pre-dinner 'concert' was likewise very entertaining and one of the best we had seen in a long time in Botswana. Lots of enthusiasm, plenty of smiles and laughter and a refreshing 'joi de vivre'! Food and drinks were excellent all round. We were treated to tasty, well-prepared food – and beautifully presented. Clearly all dietary preferences can be catered for, portions are ample and everything was fresh. Our guide Bee worked very hard to find good sightings for us and we saw a good variety of mammals and birds that included elephant, impala, buffalo, lions, giraffe, kudu and roan (first ones for the trip) as well as zebra and other plains game.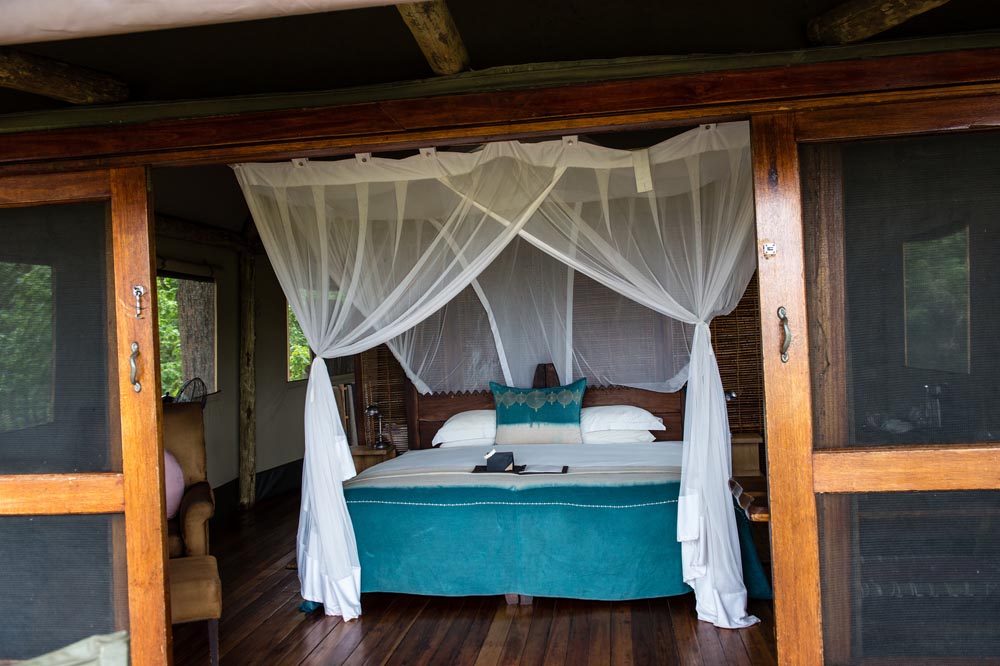 The full day drive to the Savuti Marsh ended up being overly long – 9 hours out and back. Too much for all but the hardiest of safari afficionados. We thought that leaving the lodge earlier would have been better, in order to get to the marsh when the light was still good for photography. As it turned out we got there when the light was already very harsh, so while the wildlife was ample my photographs of the lions which we saw as well as the many elephants, were below par.
The overall experience at Ghoha Hills was excellent and we really enjoyed the people, the setting, the warmth and genuine desire to please demonstrated by managers Abraham and Nanette and their staff, who went out of their way to make us feel welcome and comfortable.
We do have some reservations about the property though because of the relative scarcity of wildlife in the lodge's immediate environment, which necessitates a time-consuming outing to the Savuti Marsh to see the animals. We were told that a similar outing could be made to the Linyanti area. We did not have time to do this ourselves but guests who were at Ghoha at the same time as us, did go on the Linyanti drive and they did not see much in the way of big game.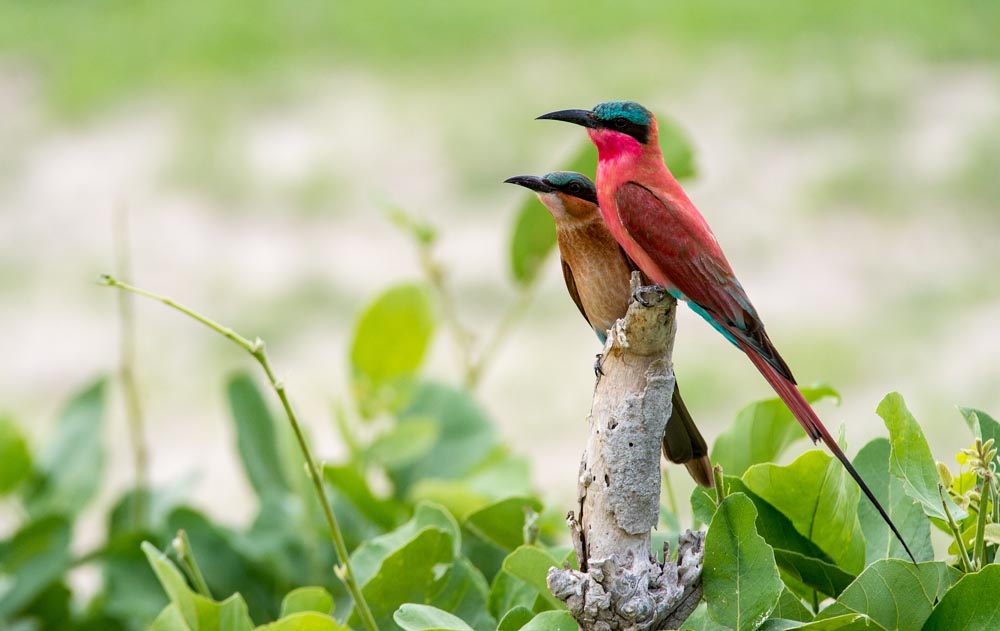 PART 9: SAVUTE SAFARI LODGE
From Ghoha Hills it was an hour-long drive back to the Savuti Airstrip where a driver from Desert & Delta Safaris picked us up for the short trip to Savute Safari Lodge.
The lodge had not changed much at all since my first visit here in December 2008. The one big change was the state of the Savute Channel which runs right in front of the camp. Back in 2008 there was an artificially maintained waterhole in front of camp and nothing else. At the time the Savuti Channel had reverted to being an ephemeral river or linear oasis – the kind of river which occassionally collects some water from local runoff with a few pools here and there, and some spots where elephants could get their trunks into clean water just below the surface of the sand. The water hole in front of camp was a hive of activity, particularly in the dry season.
By 2009 – for reasons that are still not entirely clear but likely the result of a heavier rainfall pattern over several years – also known as a wet cycle – the Savute Channel had started to flow strongly again and at least for a while the presence or absence of waterholes such as the one at Savute Lodge did not matter one way or another. There was water all along the channel from its source close to the Zibadianja Lagoon, almost all the way to the Savuti Marsh.
At least initially this made game-viewing in the area more challenging because it created more dispersal of big game species such as elephants and buffalo who did not 'have' to come to the few remaining waterholes in the dry season – they had access to water pretty much anywere.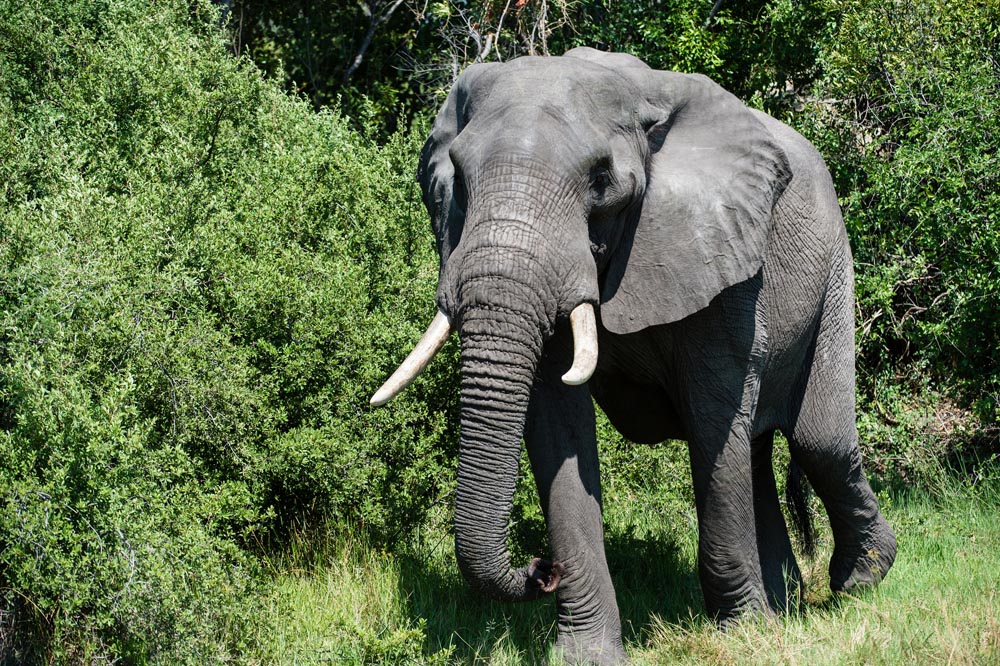 By the time we got back to Savute late in 2014, the Savute Channel was still flowing but not very strongly – and the elephants were back at the original waterhole in big numbers, trying to get to the source of the fresh water which they prefer to the muddy stuff available elsewhere in the channel. More about that later. The rooms at Savute Safari Lodge are very comfortable with a large bed – in our case two 3/4 size beds next to each other enclosed in a mosquito net – a sitting area with a couple of stuffed chairs and a separate bathroom with toilet and shower. The rooms are a bit dated and have a distinct 1980's feel – for now they are okay but will have to be redone or upgraded soon. In our room there were a few minor issues with plumbing, doors not closing properly & oddly enough the overhead fan stopped working once the power went off at night. Just when you need it most. Clearly the fans need to be on a battery-operated power source. The lounge and dining room are quite conventional and not very exciting by current safari camp design standards, but it really doesn't matter that much. Savute Safari Lodge offers an exceedingly comfortable stay at a reasonable price, and the management and staff are most welcoming and helpful. Everyone made a point of introducing him or herself and maintained a high degree of interaction with all the guests for the duration of their stay.
The grounds of Savute Safari Lodge are well maintained with good walkways and borders and several natural patches, resulting in an abundance of birdlife and small mammals such as dwarf and slendertailed mongoose and tree squirrels.
There is also a very nice pool with a view over the channel and the elephant activity in and around it. What made it even better was a cooler box close the pool with some soft drinks and cold beers. The water was on the chilly side as the pool is mostly in the shade, but it was refreshing and we made good use of the loungers.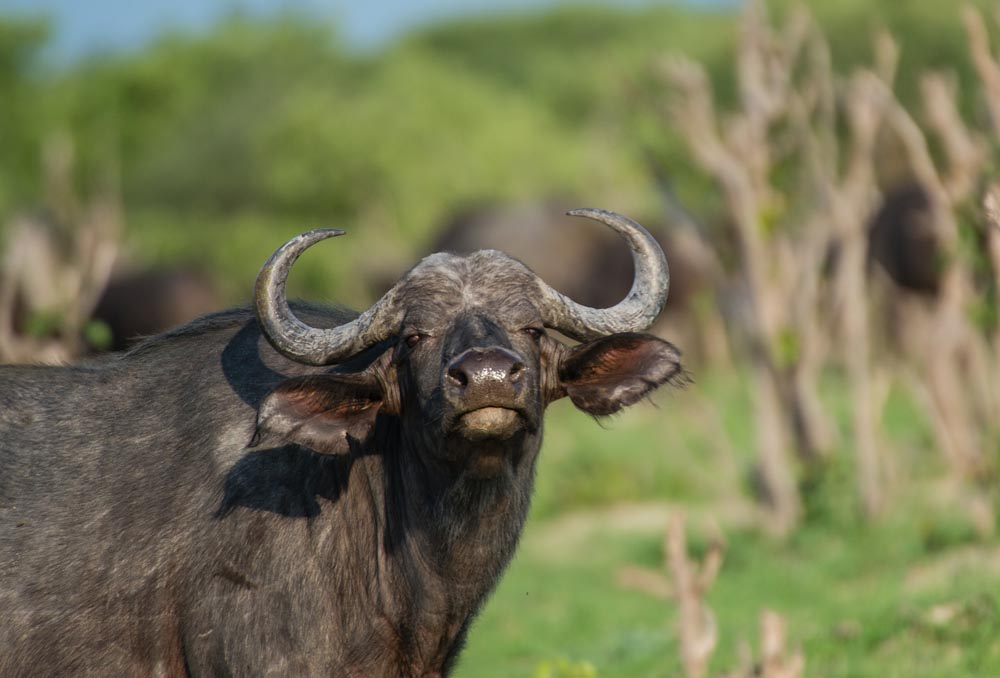 The focal point of the camp is the breakfast/dinner serving area which is elevated just above the electrified perimeter fence, overlooking a waterhole where fresh brackish water is pumped on a daily basis. The many elephants in this area all seem to want to put their trunk right over the jet of cool, fresh water. As a result, as many as 20 or more elephants would crowd into this relatively small space, taking turns at sucking up the much sought-after liquid.
From time to time, a spat would develop as one or more of the elephants would bar the entrance to another one, or warn off a rival on approach. Often this would be accompanied by deep rumbles, growls and a lot of trumpeting, from short warning blasts to long, intense expressions of anger, frustration or aggression.
It soon became evident that we had happened on upon a once-in-a-life time wilderness experience where the game-viewing was elevated to an almost surreal, hyper level. Never before had we seen such a high density of elephants spread out in such a large area. Not at Amboseli, not at Hwange, not at Chobe and not at Kruger Park. The number of large bull elephants roaming around the Savute Marsh on this trip was simply astonishing, and there were dozens of large breeding herds around every corner.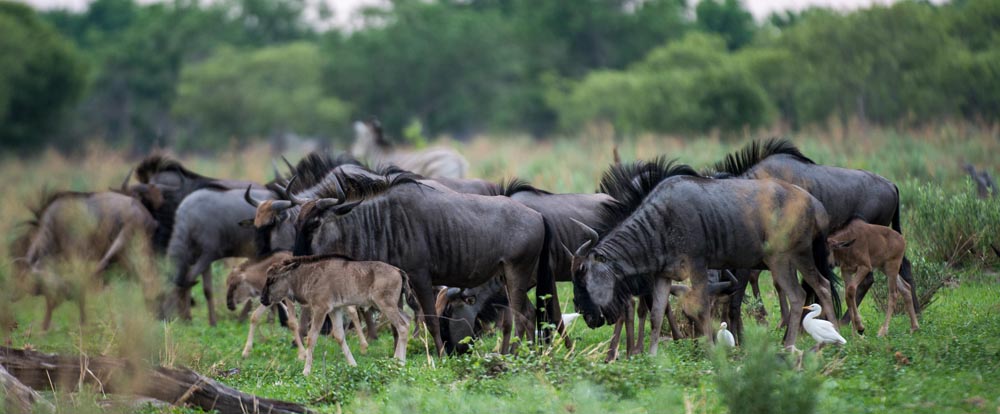 Our driver-guide had to take evasive action all the time, either driving off road to avoid the lumbering animals, or stopping and waiting for them to cross or – once or twice – blasting them off the road with the noise of the revving engine. The latter tactic was regrettable and we hope that he does not employ it too often as elephants have long memories and may exact revenge on (another) unuspecting driver elsewhere in Botswana, some day in the future.
In 25 years of going on safari, this ranked in the 'top three' of our ultimate elephant experiences, the other two being at Little Makalolo in early November one year and at Amboseli in June. It was a confluence of factors which we realize is unlikely to happen again. Possibly there was inadequate vegetation available in the Linyanti area with earlier rain creating ideal grazing conditions in and around the marsh itself. For whatever reason it seemed like every last elephant in Northern Botswana was in Savute that week.
What made the entire experience even more special, was the presence of so many other animals. There were zebras moving into the fringes of the marsh in their tens and hundreds, kudu of all sizes and ages around everywhere, hundreds of impala with multiple hundreds of babies, many giraffes, plus good numbers of wildebeest and even a few roan antelope.
On top of that we also found ourselves right in the middle of a massive herd of buffalo on the final afternoon, moving in the direction of a watering hole. A while later, we relocated to a different spot where two lionesses were watching the approaching buffalo herd, seemingly weighing up the odds of making a successful attempt at bringing one down. Ultimately they decided not to, which was a wise decision as they were totally outnumbered and would have been no match for the many large, powerful buffalo bulls at the waterhole.

December 10 2014
The game-viewing at Savute Safari Lodge did not stop at hundreds of elephant, zebra and other plains game.
We had previously – on the all-day trip from Ghoha Hills – seen the Marsh Pride on the edge of the marsh (duh). On the day of arrival at Savute Safari Lodge we went back to take a look at them and they were still in the same spot in the marsh, about 20 meters or so off the road.
On this morning we were on our way back to the marsh when our guide Gwist received word of the presence of a pack of African Painted dogs near the Rock Painting site. We promptly drove there, missed them on the first attempt and then enjoyed a very good – albeit brief – view of 5 or so of the animals moving from our right to left and eventually disappearing into the thick bush.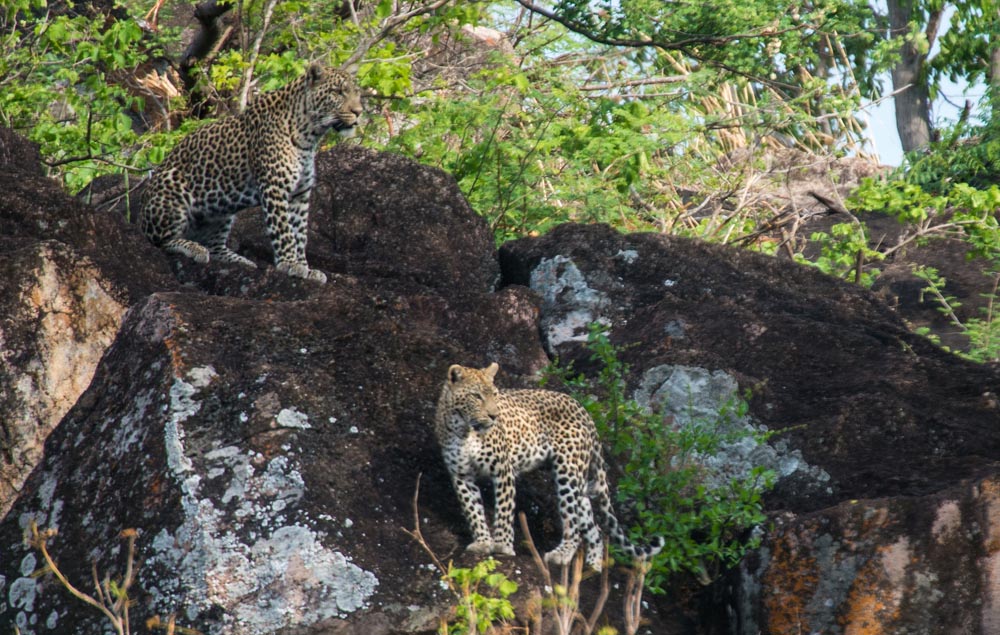 Just minutes later we were looking at a trio of mating leopards. Usually leopards are found either by themselves or in a mating pair. Or sometimes a female with youngsters. This was an exception as an older male leopard was vying for the attention of a female with a younger, more enthusiastic and energetic male. At first the older leopard was just resting up on a rock ledge but eventually he got into the action as well, displacing the young male towards the latter stages of the encounter.
The previous afternoon, we had seen the three of them as well and at that stage the young male had seemed to be in control. By this morning the tables had clearly been turned.
We spent the remainder of the morning looking a several lions (part of the Marsh Pride) on a dead elephant carcass. Only two of them were clearly visible – a very old female and one of her daughters. The others were mostly obscured by thickets and bushes. Driving around the edges of the marsh, our vehicle was followed by several carmine bee-eaters, intent on catching the insects stirred up by our activities. In the process I managed a fee decent pics of these colorful birds in flight – always something to behold.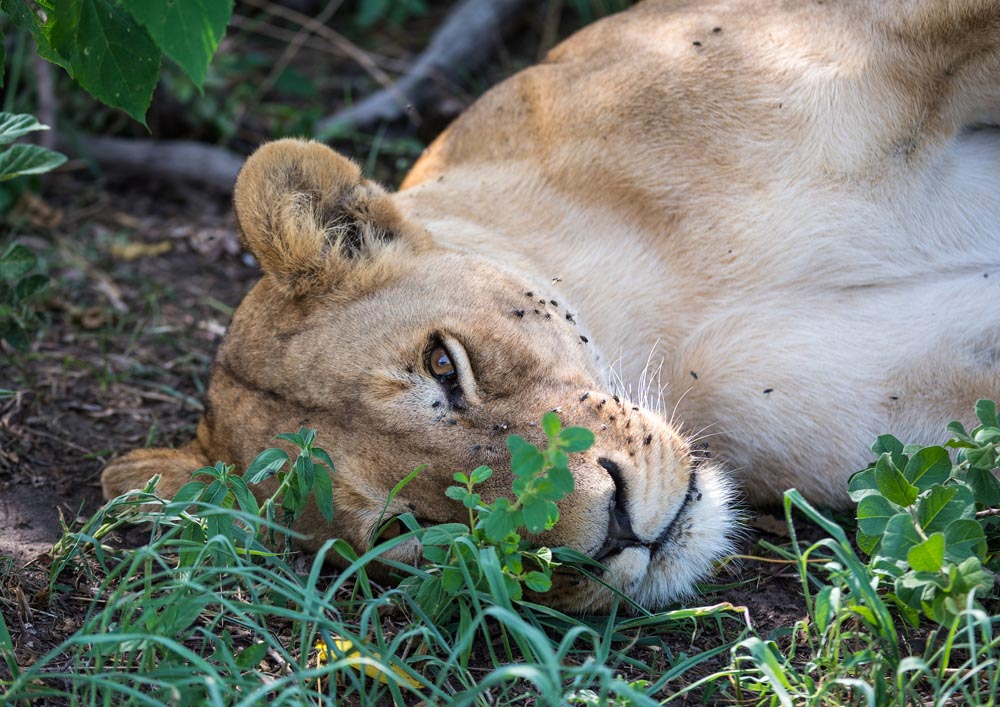 What we experienced at Savute in December 2014 was undoubtedly a once in a lifetime experience. I know that we could go back there for the next 5 years on the exact same dates and never have the same experience.
Even so, I think that conditions at the Savute Marsh and the adjacent portion of the Savute Channel will be favorable for game-viewing for at least the next couple of years. So if you are going to visit Botswana soon – or any time in 2015 or 2016 – by all means consider including Savute Safari Lodge or the nearby Belmond Savute property on your itinerary. You can thank me later.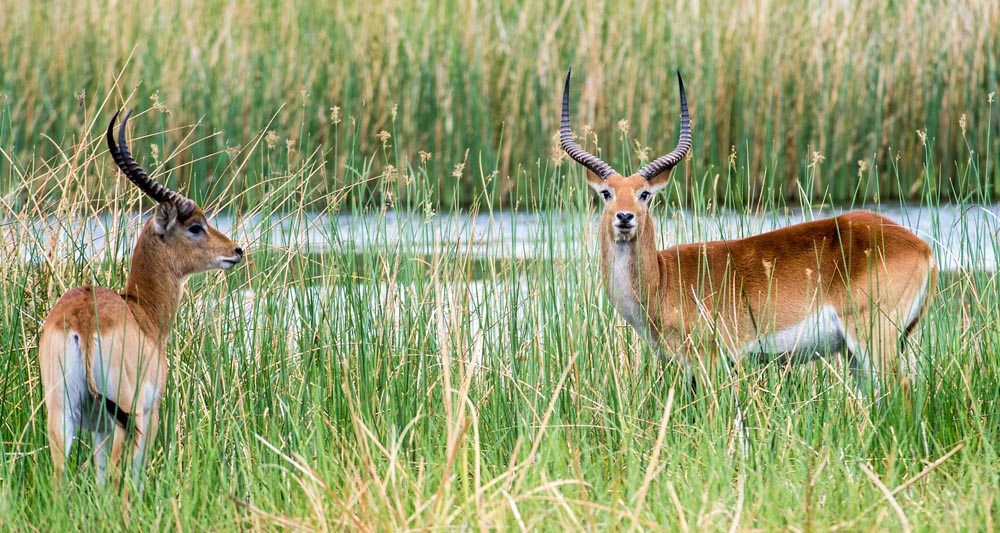 PART 10: DUMATAU CAMP, LINYANTI CONCESSION
Early on the afternoon of Dec 10 2014 – after a very smooth flight from Savuti with Mack Air – we arrived in the Linyanti Concession. Between Kathy and myself, we had visisted the area 6 different times in the past starting in the mid 1990's and spending various amounts of time at Linyanti Tented Camp, Kings Pool, Dumatau, Selinda, Lebala and Lagoon Camps.Of all of these visits, this most recent 2-night visit to Dumatau produced the least satisfying game-viewing. Surprisingly, we did not see any elephants there over the course of the two days, which was disappointing particularly because we knew that several good-sized herds were present in the area and had been seen crossing the Linyanti River.
Of course it all has to do with seasonality and luck. Early in the wet season – when the elephants are widely dispersed – it is possible to experience a couple of quiet days anywhere and prospective visitors should keep this in mind when booking green season trips. Give yourself enough time in any one particular area – at least 3 nights but preferably 4 – so that one or two quiet days won't matter as much. You will make up for it with some quality sightings – but they are sometimes few and far between. Don't forget: the animals move around in real time and could be anywhere, anytime.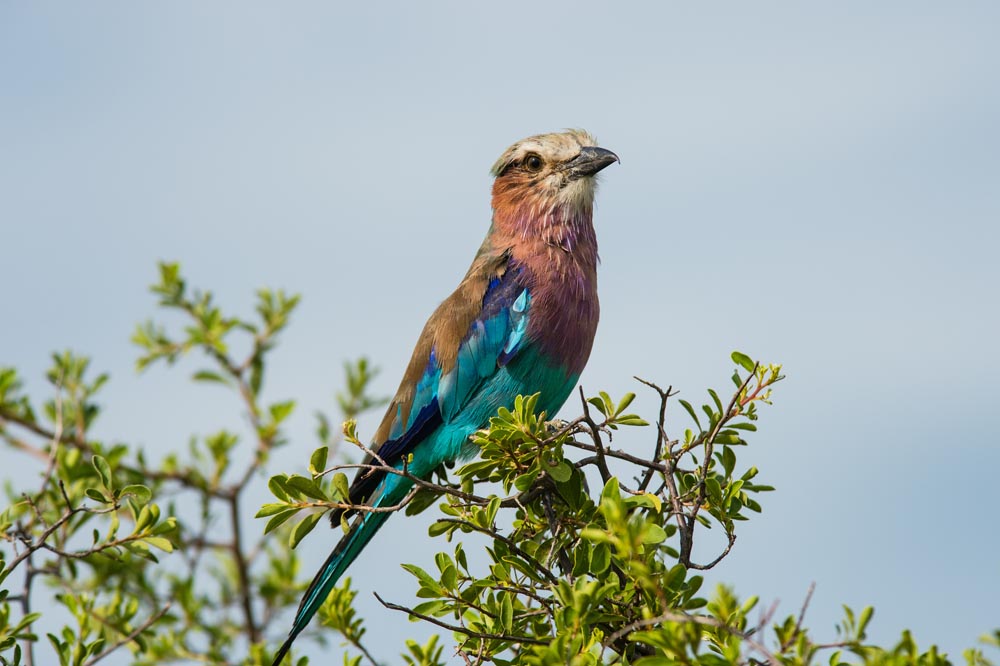 Over the years – both during the green season and later in the dry season – we have enjoyed some of our best game-viewing and most memorable sightings in the Linyanti-Selinda-Kwando region. Huge concentrations of elephants, leopards mating, lions hunting, a cheetah kill, African Painted Dogs pretty much every time – we've seen it all in this area. So we were probably a little spoilt and had set our expectations just a little too high. The few sightings which we did enjoy this time – there was very little in the way of general game – were very good though. One morning early we had our best lion sighting of the trip when we bumped into a coalition of two young males just entering their prime years. They were just waking up from a slumber and did not seem to be in any hurry to get going, giving us that flat, yellow-eyed lion look. The one which you know isn't exactly meant for you but which makes it quite clear that as long as you remain blended in with the vehicle, you're ok. Stand up and wave or put your foot down on the ground and everything changes. That look.
We also had a brilliant porcupine and small-spotted genet sighting on a night drive. Night drives are often rather dreary, uneventful outings but this one was quite lively and seeing the porcupine close up was very special. Particularly because we could see quite clearly that the porcupine was a good-sized, powerful animal – quite a contrast to its retiring, shy nature. Except of course when it is threatened.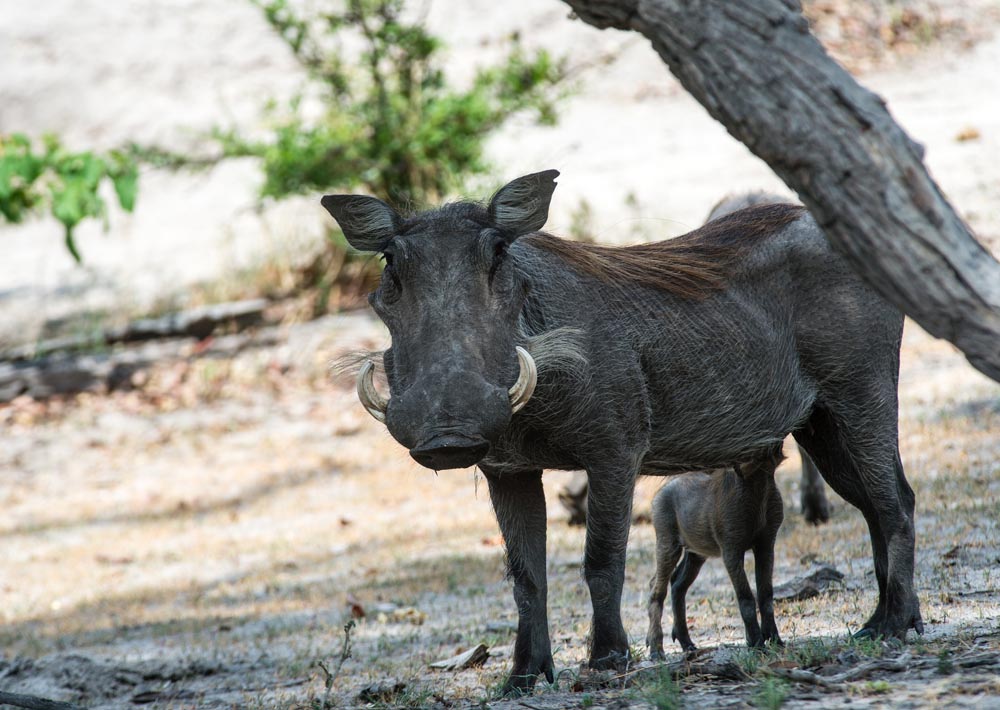 One of the most memorable events of the entire trip happened pretty much by chance when we were observing a Tawny Eagle feeding on something. Which turned out to be a snake – identified as a Puffadder when we finally moved up close enough to see it in the binoculars. Always risky to get closer to a bird on its prey as it may feel threatened and fly off. The Tawny started to look at us and gave us ample warning to stop approaching any closer. Which we promptly did. As the encounter proved once again, patience pays off big time in the bush. We must have been watching the Eagle feed for a good 5 minutes when a Yellowbilled Kite unexpectedly injected itself into the scenario. The kite repeatedly tried to rob the eagle of its prey, flying in and out and dive-bombing the Tawny over and over, hoping that it would abandon its kill.
When the kite unexpectedly gave up just when it seemed that it was getting the upper hand, the eagle quickly relocated to a different, safer spot, dragging the snake behind it, initially hopping along, before finally taking to the air. It turned out that the kite had indeed snagged a portion of the puffadder, so in the end it worked out ok for both of them. And we enjoyed a spell-binding few minutes on safari, plus we managed to take a couple of nice photographs! A win-win-win scenario…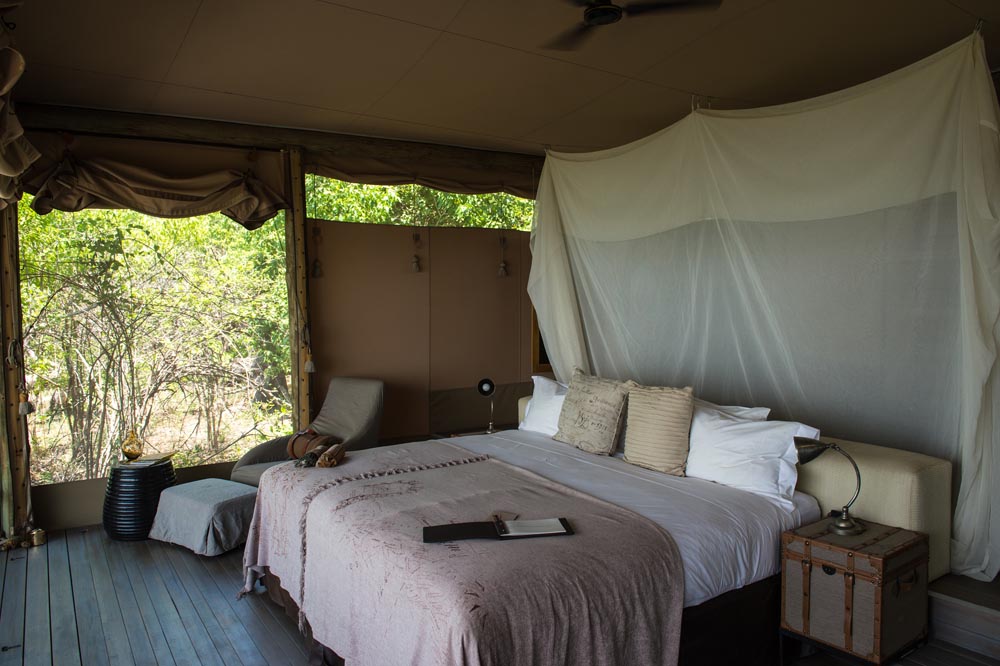 The new Dumatau Camp itself was fantastic and exceeded our every expectation. The communal area which consists of an expansive lounge, dining area and several separate small corners and circles gives the appearance of air and space even beyond what is there. Everything you ever wanted in a safari lodge and more. Elegant, exciting, fun to hang out in, an inviting bar plus several cozy, secluded corners for private dinners. You could spend 3 nights here without having two meals in the same spot. The variety of food, preparation and presentation were excellent and every bit the equal of several deluxe properties we had visited previously.
Our room was very private – and a good hike away from the main lounge area. The lay-out of the room had just recently been changed to move the shower to a different position in the room. Not having experienced the 'original' iteration of the room we can't say for sure if this is an improvement or not, but it worked great! There was plenty of space for our 'stuff', the bed was comfortable and while we had preciously little time to enjoy it, it had a nice view over the Linyanti River. We even saw some impala jumping over the boardwalk one afternoon when Bert had to return to the room to pick up something.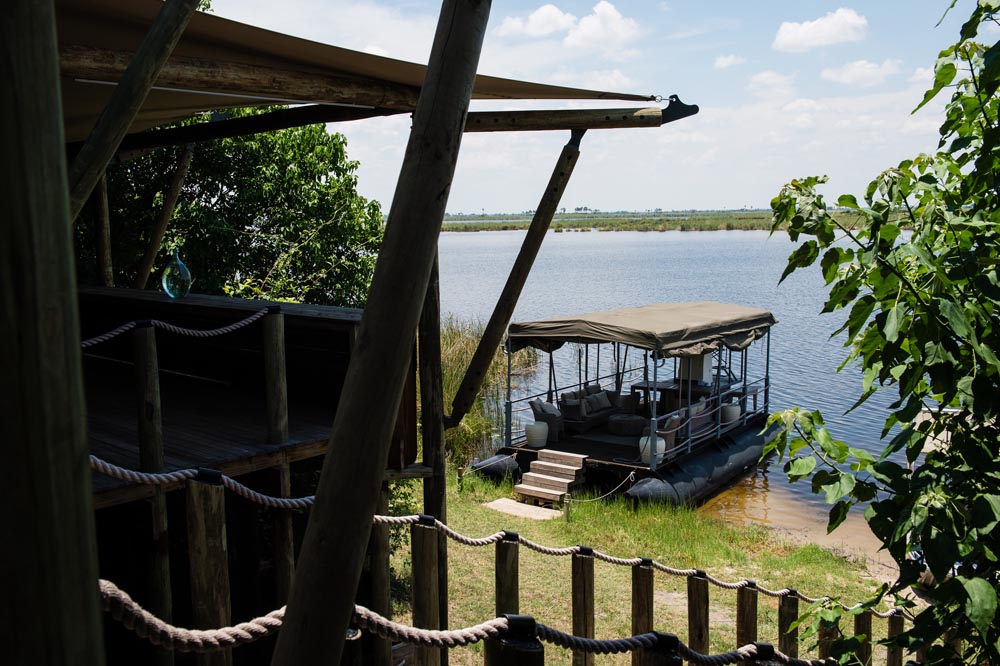 One of the best activities at Dumatau was an afternoon of fishing on the Linyanti River with Tim and Haley from Seba Camp, who happened to be at Dumatau at the same time. It was most successful and between the four of us we must have caught – and released – more than 20 decent-sized tilapia and African Pike, as well as catfish – a most fun outing!
But beyond just being fun, we enjoyed the beautiful surroundings and the complete privacy. There was not a person or another boat to be seen or heard in any direction. We had miles and miles of river, marsh and lagoon all to ourselves. That is what makes the private concessions in northern Botswana so special. You just flat-out don't have to deal with anything like the numbers of visitors and presence of other vehicles which often mar the experience in other more heavily visited safari destinations.
Another interesting activity which we tried out for an hour or so is a launch or pontoon cruise. The vessel which takes up to 15 or so passengers is able to cruise along the Linyanti River comfortably and smoothly, either up or downstream from Dumatau, and is ideal for brunch or sundowner outings. We would encourage all our clients to try this activity at some time during their stay at Dumatau.
PART 11: TUBU TREE CAMP, OKAVANGO DELTA
On December 12 2014 we returned to Tubu Tree Camp in the Jao Concession of the Okavango Delta, after an absence of about 3 years. It was still just as good and over the course of a brief 2-night stay we enjoyed close-up sightings of lions, a leopard, good numbers of buffalo, wildebeest, giraffe, kudu, impala and a few other mammals, and fantastic birdlife.
The camp and its sister property Little Tubu have proven themselves over and over to be reliable year-round Okavango Delta destinations, and we will continue to recommend either of these two camps as well as Kwetsani and Jao for our clients.
Tubu Tree Camp is no longer the small 5-room camp it once was, but despite now having 10 rooms along the same boardwalk (counting the 3 rooms of Little Tubu), the atmosphere really hasn't changed. It still feels quite intimate and very much in keeping with the ethos of the true, authentic safari experience: private and personalized and very much in tune with its environment.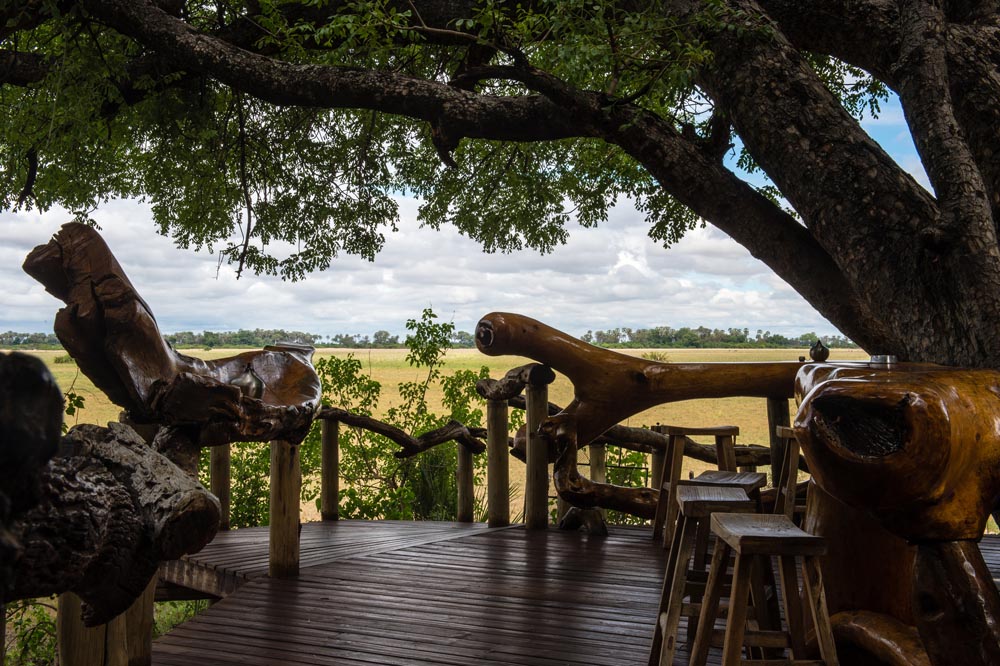 I still like the location of the rooms overlooking a large open floodplain. The newly improved and now larger rooms have a perfect balcony to sit and relax and observe whatever may be present in front of camp. On the day we arrived there were good numbers of zebra, wildebeest and impala around, as well as a small family of ground hornbills. Sitting and contemplating life on the verandah at Tubu Tree Camp is one of the under-rated joys of being on safari. Mostly we spend so much time on game drives and other activities that we neglect the reflective, introspective part of the experience.
The rooms at Tubu Tree and Little Tubu are right in the 'goldilocks' category of safari accommodation: not too big, not too small, not too fancy – just right. They are quite high on an elevated boardwalk and tucked right under the canopy of large trees – in shadow – thus cool even on a hot summer afternoon. The lighting is adequate, and although the ceiling fan is not the most effective one I've seen, it pushes enough air down and into the mosquito net at night to keep things comfortable.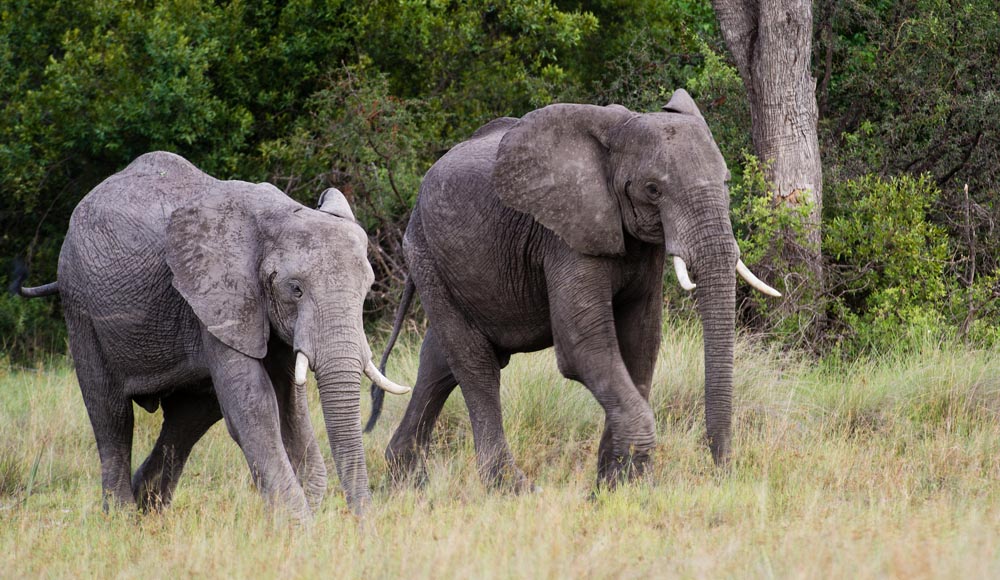 The outdoor shower at room #5 – it actually has 2 shower heads – passed Kathy's stringent outdoor shower test with flying colors. Most importantly, it is shaded, it has a natural feel (not just a conventional shower outside the room) and it received bonus points for the view. The rooms at Little Tubu are identical and the much smaller (3-roomed) camp is built on the same boardwalk as Tubu Tree.
The very intimate lounge and dining room as well as deck, swimming pool and bar area bear a strong resemblance to Tubu Tree as well, with similar stylistic elements. Little Tubu is operated as a completely separate camp with its own kitchen, vehicles and guiding team.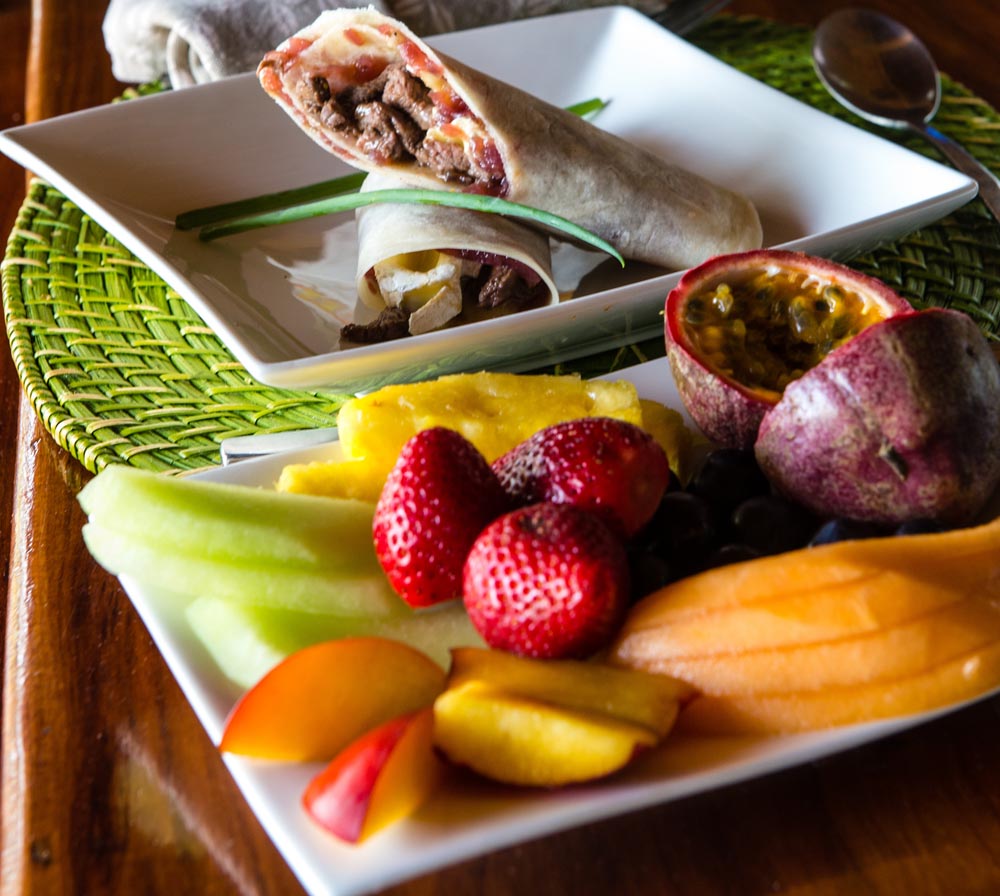 Dec 14, 2014
The game drive at Tubu Tree this morning with our guide Maipa (on loan from Jao) was great and reminded me of a couple of game drives at Mombo a few years ago. There was something to be seen around every corner: if it wasn't giraffe, it was zebra or wildebeest or kudu, or the occasional elephant. Plus lots of impala with tiny babies, baboons and a proliferation of birds. More often than not three or four mammal species could be seen at the same time.
Add to this some of the prettiest scenery to be found anywhere in Northern Botswana and you have yourself a wilderness winner.
Earlier, we went on an 8-hour long excursion with Maipa to go and take a look at Jao and Kwetsani camps, which we had not seen in several years.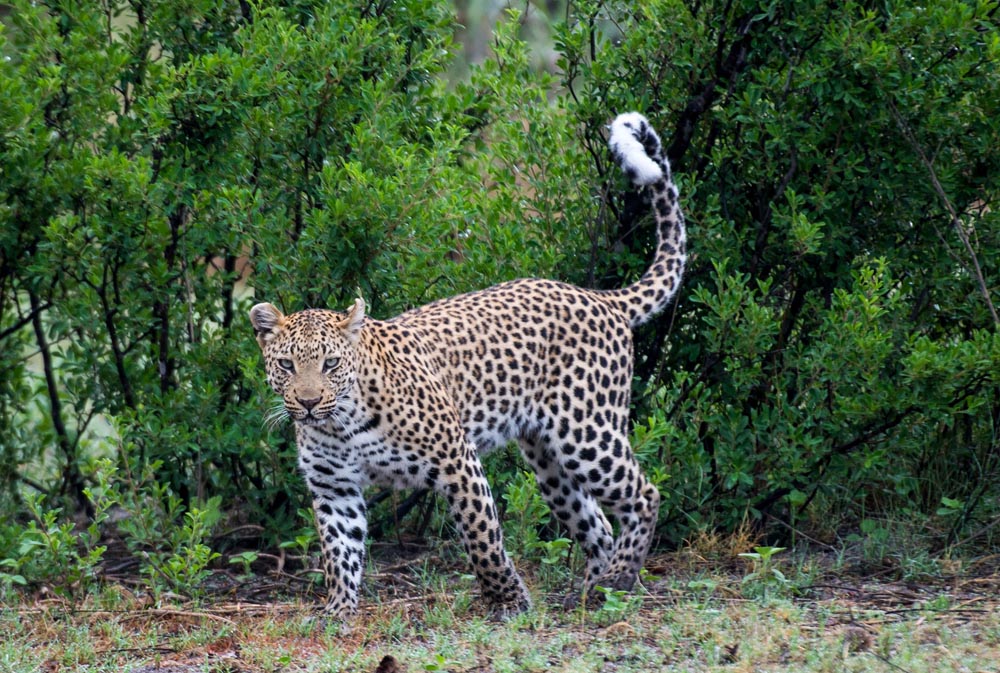 Jao was just as stunning and impressive as the first time, even more so now. Of all the Okavango Delta camps which we've visited over the space of 25 years, Jao still sets the standard in visual and dramatic appeal. The main lodge and dining room is nothing short of exquisite. Built in the style of a Balinese long house, the setting is near perfect. No matter where you are in camp you know that you are right in the heart of the Okavango Delta. Even when the water in the Delta is at its lowest in late November and early December the camp offers water activities such as mokoro outings and boating.
We took a quick look at the extensive wine cellar and also the expertly staffed full-service spa. These – plus a nicely equipped gym and a curio store stocked with all the things you've been looking for – elevate Jao into the upper echelon of deluxe safari properties. If you truly enjoy the finer things in life, then Jao is for you.
We also went to nearby Kwetsani for a quick walk-through. Of course the location was perfect as ever, overlooking a large grassy floodplain which is completely flooded in the wet season from about April through August. We still like the deck at Kwetsani as much as ever – it extends out from the cozy main lodge and dining room area quite a bit, creating the ideal platform to enjoy the special, almost spiritual appeal of the Okavango Delta.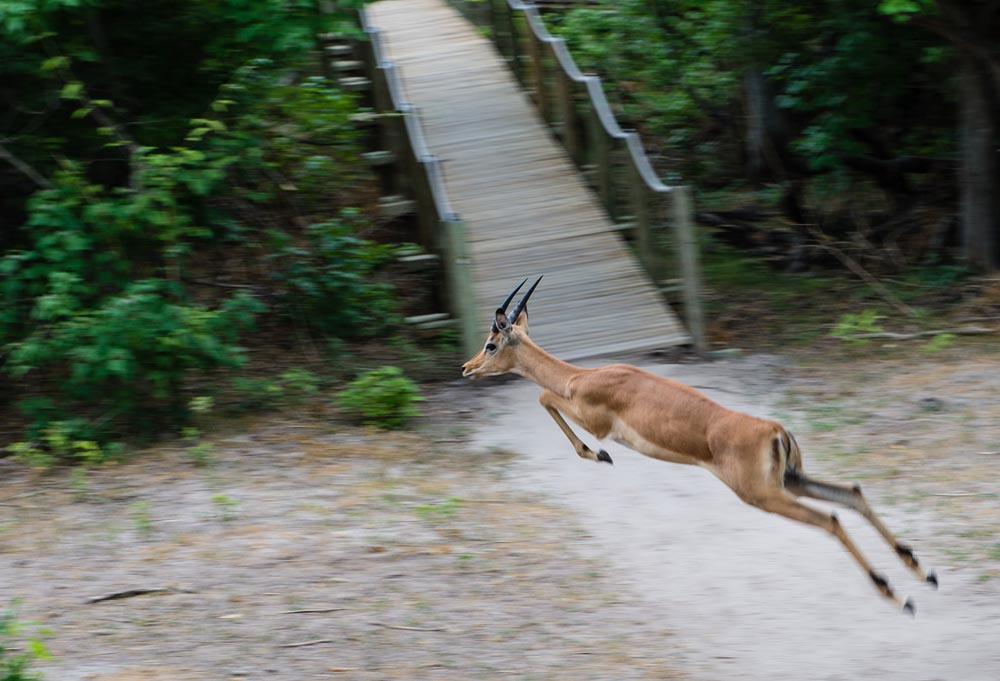 We were told that the camp would be closed for about 4 months until early winter of 2015 to completely rebuild the rooms from their current hybrid tented format to a 3-tent' configuration with a connected lounge, sleeping and bathroom setup. Clearly this will make Kwetsani even better than before. We will continue to recommend it to our clients who prefer a small property (just 5 tents) in a remote and beautiful setting with diverse range of activities including boating, mokoro outings, fishing and of course game drives on nearby Hunda Island.
Getting back to the game drive this morning, we had the best view yet on the trip of a leopard – apparently the 'camp female' – who crossed the road in front of us in full view, allowing several good photo ops before disappearing into a thicket.
Later on we also enjoyed good views of a herd of wildebeest before returning to camp for brunch.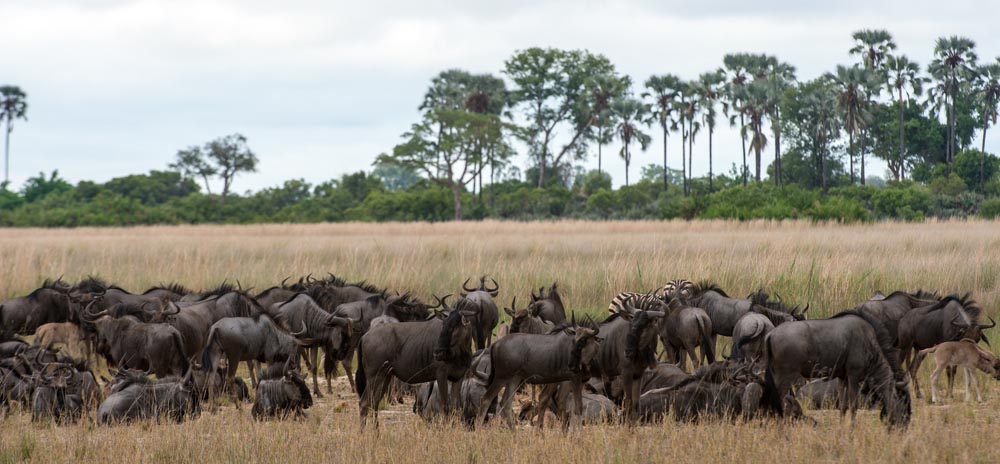 Alas, I then had to say goodbye to Kathy who was on her way back to the USA and to some good friends and clients from Southern Illinois with whom we had shared their last 2 days at Dumatau and their first 2 days at Tubu; lucky devils would be spending another several days there after our departure.
It was time to go. A quick trip to the airstrip, a final goodbye to our guide Maipa and there over the horizon – we could hear it before we could see it – appeared our Wilderness Air ride. Once more I pulled the shoulder strap tight over my left shoulder, clicked it into place, took a deep breath and watched the speed indicator climb to 80 knots which transforms the Cessna 208 from a bulky, lumbering collection of metal, rubber, plastic & synthetic parts into a powerful flying machine.
About an hour later, after brief stops at Vumbura and Chobe (Linyanti), we touched down at Kasane where I was met by a driver from Chobe Game Lodge.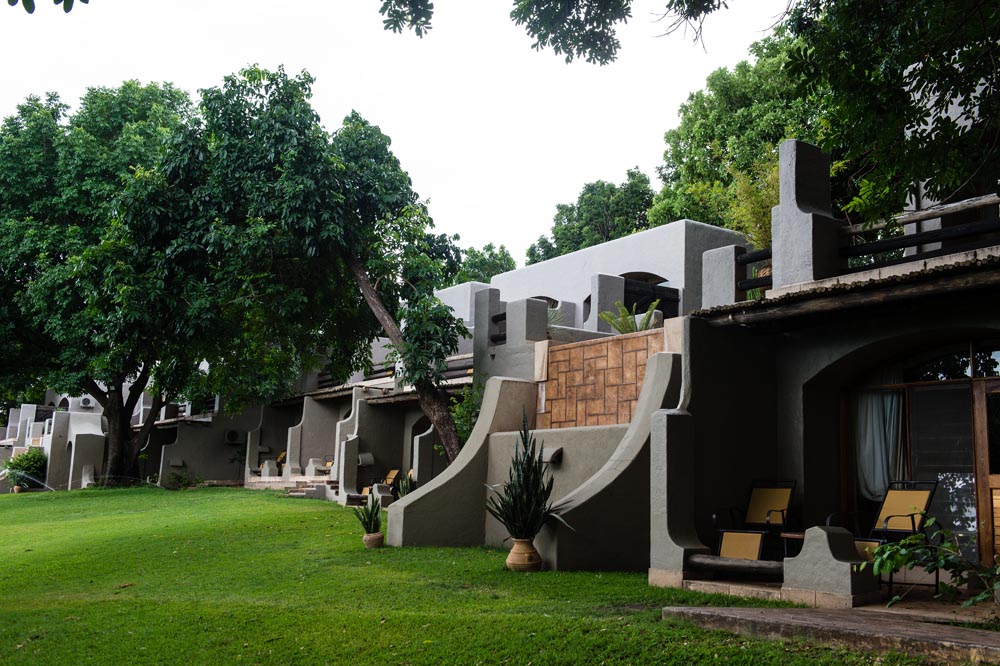 PART 12: CHOBE GAME LODGE
It was only about 7 miles or so from Kasane Airport (BBK) to the Chobe Game Lodge (CGL) which is of course inside Chobe National Park. Superficially CGL was the same as when I last visited it in 2008. The interior part of the lodge including the reception, bar/lounge, verandah and restaurant also remained very much the same as in previous years.
There have been some significant changes though and all of the rooms – some had already been completed – are slated for far-reaching modifications including remodeling and enlargement of the bathrooms.
Something which I noticed on arrival – for a late lunch – was the addition of an 800-meter long raised walkway which hugs the edge of the Chobe River and which makes the most of the fantastic views over the water and grassy plains beyond.
The walkway has several nooks where private dinners or other activities can be conducted and it is large enough – at the eastern-most point – to host an outdoor dinner for the entire camp.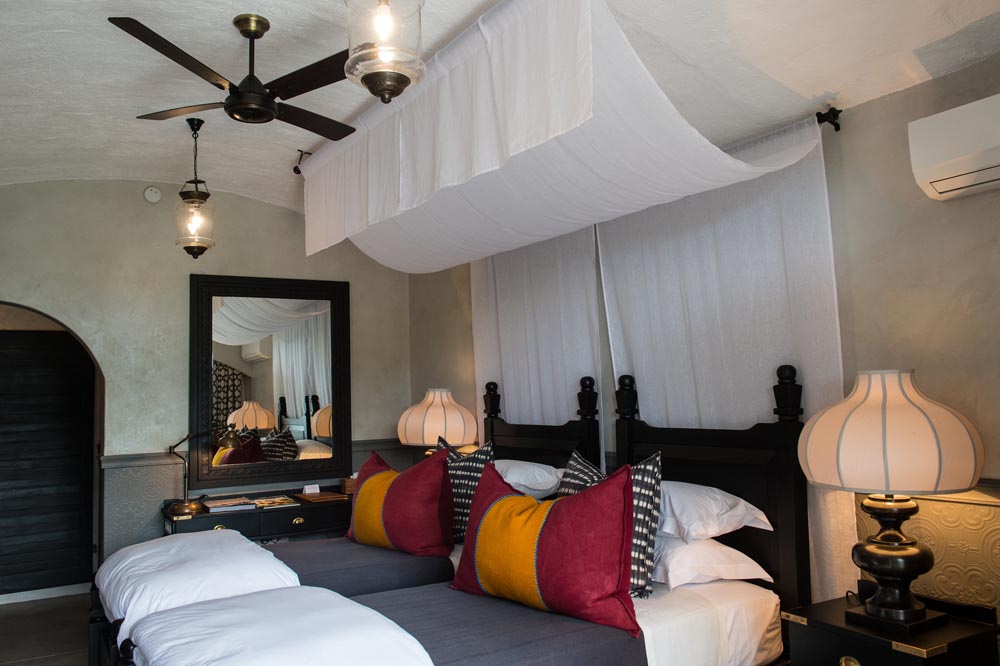 There are plans to extend the western portion of the boardwalk as well, all the way to the current boat jetty. Great idea!
Another relatively new addition is a large outdoor dining/boma venue, with oversize umbrella stands capable of providing shade for 30+ people if required.
The pool at CGL is still in an ideal semi-shaded spot, blending into the natural scenery. Once again I did not have time to use it…
From a previous visit to CGL, I recalled the wide choice and nice presentation of food dishes. If anything the food selection and choice was even better this time around. Invariably there were multiple choices of starters, main course and desserts for dinner and lunch, and an array of hot and cold items for breakfast. Coffee lovers take note: CGL has an espresso machine which produces some fantastic coffee!
In summer, morning game drives at CGL start early – at 0530A – which requires a wake-up call as early as 0430A to 0500A – depending on how quickly you can get ready. Most guests show up at the restaurant at just after 0500A for a cup of coffee or tea and a rusk or freshly baked muffin.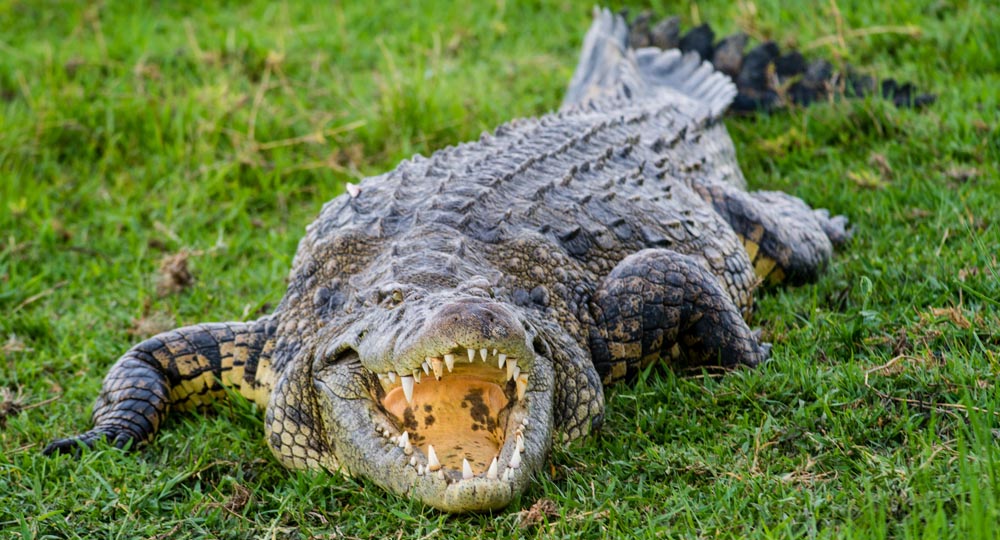 Then it is off on a game drive of about 3 hours duration under the capable stewardship of one of CGL's all-female guides. The very early departure has two main benefits: you get to enjoy the cool morning temperatures before it starts to get really hot around 1000A, and you mostly beat the crowd by being able to enjoy game viewing west of CGL for a good amount of time – as much as 2 hours – before other vehicles & day trippers from Kasane start to show up.
My first two outings at CGL – a boat trip on the day of arrival and a game drive the following morning – were quite slow. No elephants were seen and other than some hippo in the Chobe River, the only large mammals we saw were a good group of about 50 buffaloes. Plus hundreds of impala and all of their babies.
By the time a family of three Americans including their Peace Corps volunteer daughter joined us on the afternoon game drive on December 15 we were starting to get a bit anxious. Would they see something on their first ever game drive in Africa? Where were the elephants? There was no reason to be worried.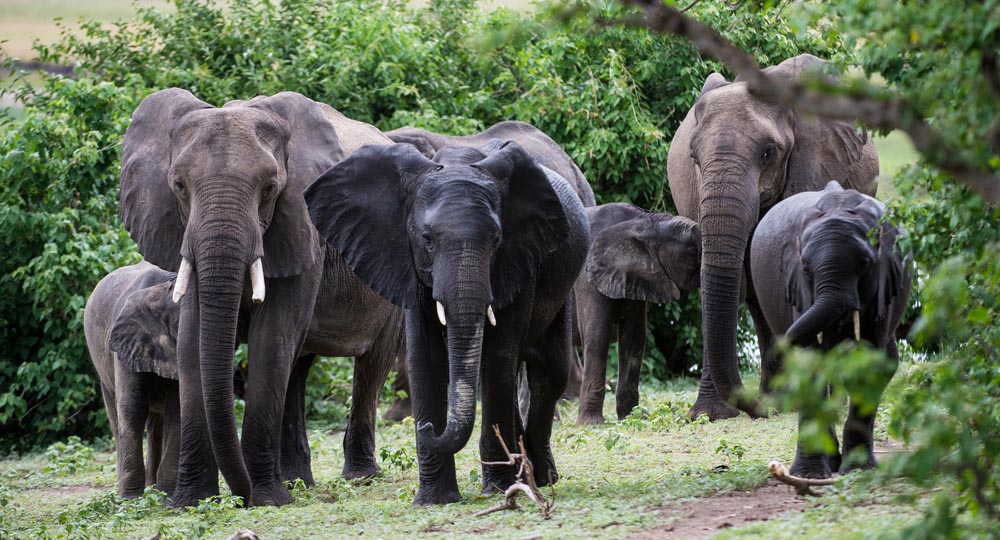 We were hardly out of camp when we started to see the first of what ended up bring dozens if not quite hundreds of elephants.
Some were coming back from the Chobe River and other were on their way there – at one stage we saw two large breeding herds cross paths while a third – smaller – group was observing from nearby.
It didn't stop with elephants. We also saw giraffe (many!), kudu, buffalo, and enjoyed a long-awaited sighting of a handsome pride of Chobe lions. There were about 7 or 8 individuals altogether, one young male on one side of the road and a group of about 6 females all lying more or less on top of one another.
We watched them for quite a while, with two sisters entertaining us with some playful jostling and display of affection.
Back in camp I had a rare chance to get some exercise, spending 30 minutes on the treadmill. A lot of 'damage' to repair once I get back to the USA…
My stay at Chobe Game Lodge was concluded with a 'behind the scenes' tour of the property's green iniatives which are significant and laudable. They are very serious about recycling everything from plastic and paper right down to glass bottles which gets crushed and mixed into bricks – in fact as much as 95% of all of the lodge's trash is sorted and recycled. CGL has a very effective grey water recycling program and it also generates a substantial amount of bio-gas on the property.
CGL is moving forward on other fronts as well: the lodge is now operating the first all-electric game drive vehicle in Botswana as well as an electric pontoon boat. Additional game drive vehicles are slated to be converted to all-electric configuration soon. As I can attest from personal experience, it is a novel and exciting experience to approach the wildlife on the electrically operated car as there is no noise to scare them off or make them apprehensive. Even the tiny impala babies, normally very skittish around regular game drive vehicles, let us approach very close on the quiet car. Cleary it will improve the game-viewing experience as the guide is able to hear 'clues' like alarm calls which might otherwise be drowned out by the noise of the engine. There is nothing wrong with the vehicle's ability to get into and out of 'real' 4-wheel terrain either!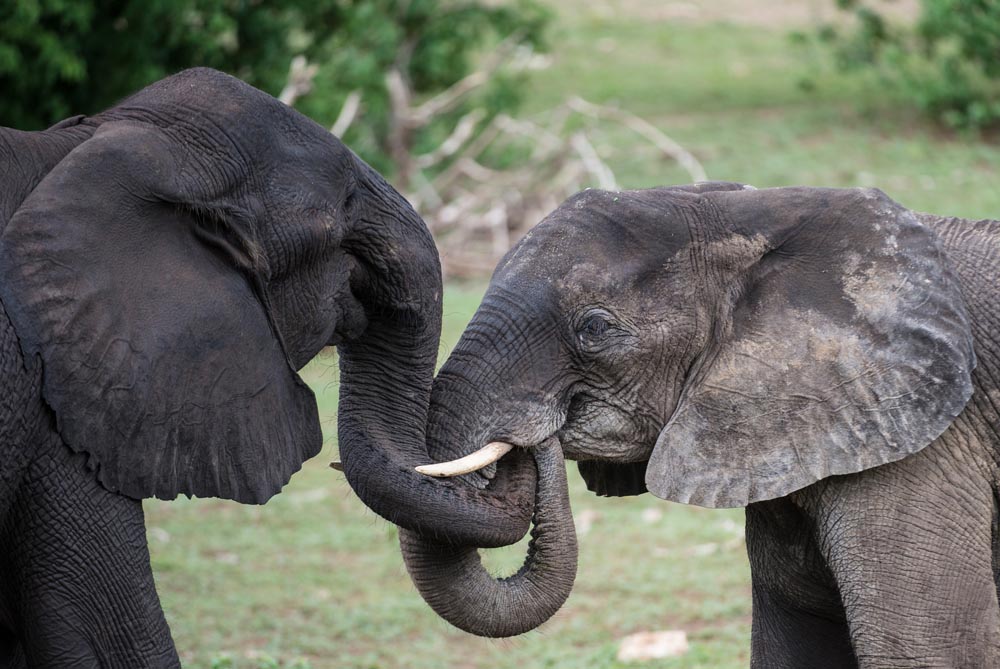 In conclusion – I've always been a Chobe Game Lodge 'fan' and my most recent experience there just underscored the many positives of staying there. It is the only lodge inside the Chobe National Park and it has an ideal location right on the Chobe River. Yes there are some restrictions being inside the reserve (no off-roading and no night drives) and at times there can be too many vehicles in one area or at one sighting. But these issues can be managed (for example with an early game drive start) and there is a very good road network so it is really not critical to be able to drive off-road. In a park environment like this it will cause chaos and ruin the place in no time.
The main reason to visit Chobe Game Lodge is to enjoy its proximity to the water and to take advantage of the much greater degree of exclusivity which you can get on a boat cruise on the river, as opposed to a game drive. Being on the river is a fantastic safari experience and lends itself to some of the best wildlife photographs of all, with animals inside or on the edge of the water, and a nice green backdrop to boot. A couple of nights at Chobe Game Lodge will improve almost any Botswana itinerary. Just don't go there thinking it will be like spending time in a small tented safari camp. Quite the opposite: CGL is a hotel in the bush but a very special one with superb atmosphere, game galore, a very long list of things to do, great for kids and just flat-out fun and entertaining.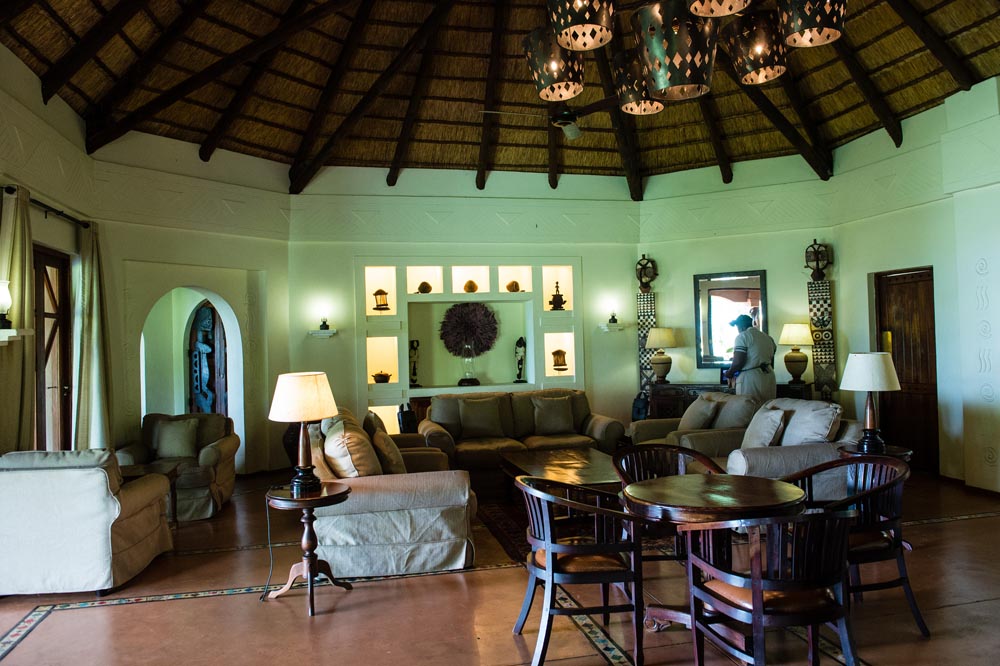 PART 13: CHOBE CHILWERO LODGE
It was a short transfer of only about 8 miles from Chobe Game Lodge to Chobe Chilwero Lodge (operated by Sanctuary), a 14-roomed property in the Kasane Forest Reserve, overlooking the Chobe River. First impressions were good: certainly the main lodge and dining room area and pleasant verandah fringed by a green lawn and lots of large, leafy trees are inviting and gracious.
The high-ceiling thatched buildings create a wonderful safari atmosphere, reminiscent of a private lodge of a much earlier era. There are no jarring notes – it is quiet, clean and elegant and styled in a timeless fashion.
The rooms at Chobe Chilwero are amongst the best I've seen and experienced anywhere in Botswana. Huge, with a large canopied bed and a wrap-around mosquito net as the centerpiece. Accessible on two sides, there is a very well-designed bathroom with massive free-standing bath, shower and outdoor shower, lots of storage space and good natural light. Bathrooms have to be quite special to look good in photographs but the ones at Chobe Chilwero are in that category! Mix in plentiful plug points, effective lighting and a good view and it all adds up to rooms that are first class in every respect.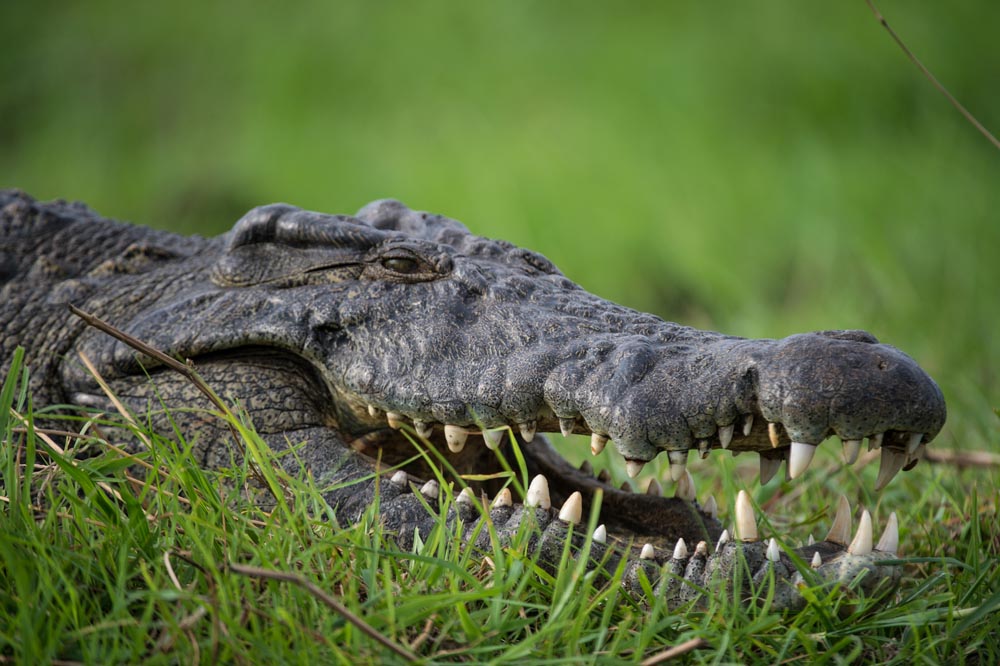 Meals at Chobe Chilwero were outstanding with printed menus, offering a variety of delectable options. I tried a grilled fillet of bream for lunch and it turned out to be the single best dish of the entire trip. Perfectly done and served with scalloped potatoes, it was the equal of deluxe restaurant fare, any day. The other meals didn't disappoint either. The soups and starters were delicious and creative as were the desserts. Plus a wonderful selection of fruit and other items such as cereals, muesli, cheese, scones etc. for breakfast, in addition to several hot breakfast options with eggs to order.
The afternoon activity on the day of arrival at Chobe Chilwero was supposed to be a boat outing on the Chobe River – I was looking forward to photographing some elephants along the river's edge – but it was not to be. We had hardly been underway for 10 minutes or so when we had to turn around due to running into some heavy rain and more importantly, lightning. Nobody wants to be in an aluminum skiff on the open water, within striking distance of a lightning bolt.
Our morning game drive on December 17 was mostly quiet but was enlivened later in the morning when we came upon several lions right along the river. There were several females and a young male, about 5 or 6 in total.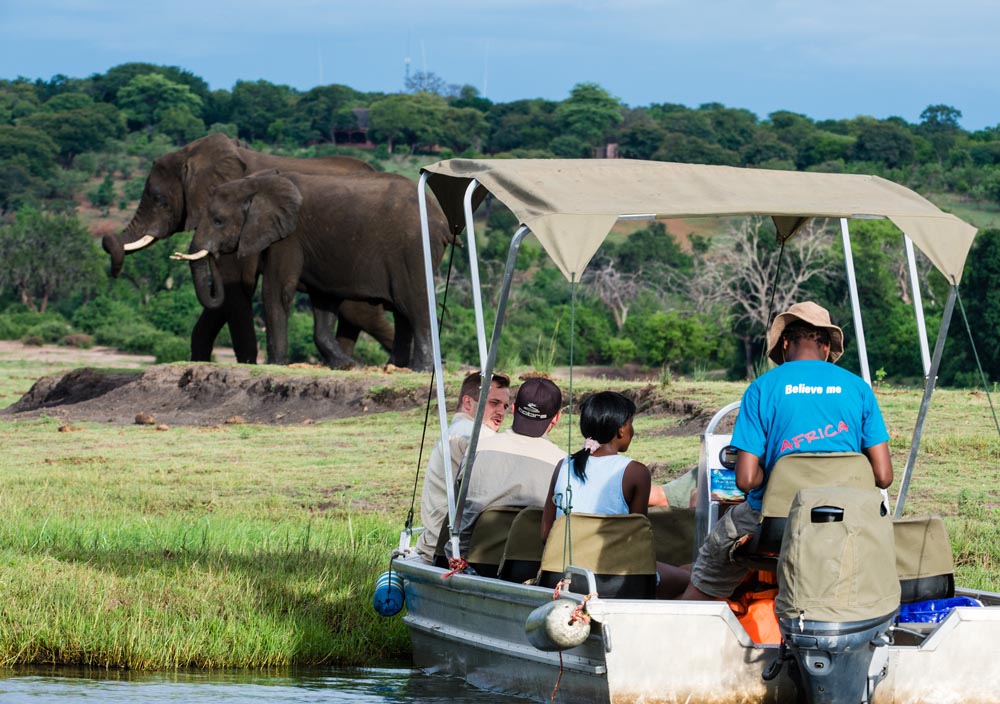 The afternoon activity was a definite highlight. From Chobe Chilwero Lodge, it is a drive of about 15 minutes or so to a jetty where we boarded a typical Okavango Delta-type aluminum skiff (just like the previous day). Within minutes, we were observing hippo and crocodiles close-up, including a fascinating interaction between an adult and several baby crocodiles.
Although we could not be sure, it looked as if the older crocodile was interested in catching and eating the recently hatched 6-inch long baby crocodiles. Fortunately for the youngsters, they were in an awkward spot on the top of a log, difficult to get to. We left the spot with the outcome uncertain. A fairly large water monitor was also eyeing the young crocs. It is a hard life out there, no wonder the survival rate of baby crocodiles is so low: as many as 40% to 60% of crocodile eggs hatch, but a very tiny percentage of hatchlings make it to adulthood.
Our next stop along the Chobe River was a group of about 20 or so elephants which we observed drinking, hosing themselves down and generally enjoying the water. They were almost all a very dark, almost black shade of 'elephant grey', clearly just recently having been immersed in water.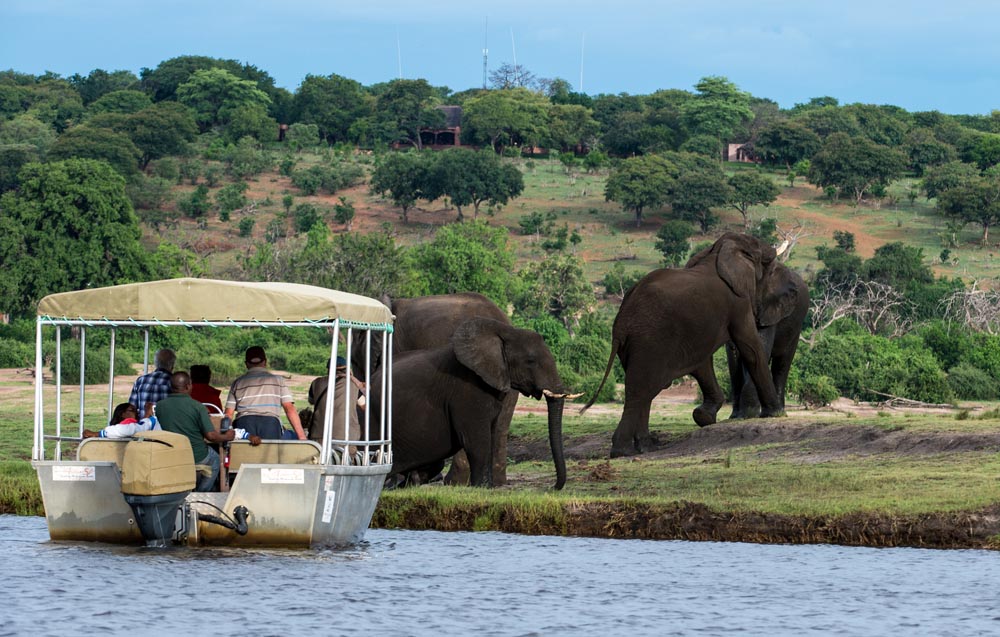 Two of the young bulls started to push each other around and delighted the many onlookers – there were several other boats from nearby lodges in attendance. This is what one comes to Chobe to see! After 20 minutes or so of observing the spectacle in decent light, we returned to the jetty and to the lodge, a much happier group than the rather bedraggled, damp bunch of the previous day.
The next morning, after an enjoyable breakfast at Chobe Chilwero, I would be off to Victoria Falls.
I've wanted to spend a couple of days at Chobe Chilwero for many years now and was very happy to finally get the chance to do so. The lodge was even better than I had anticipated and it would be a great choice for any visitor to the Chobe area, particularly for honeymooners or for anyone who puts a high premium on privacy in a luxury setting.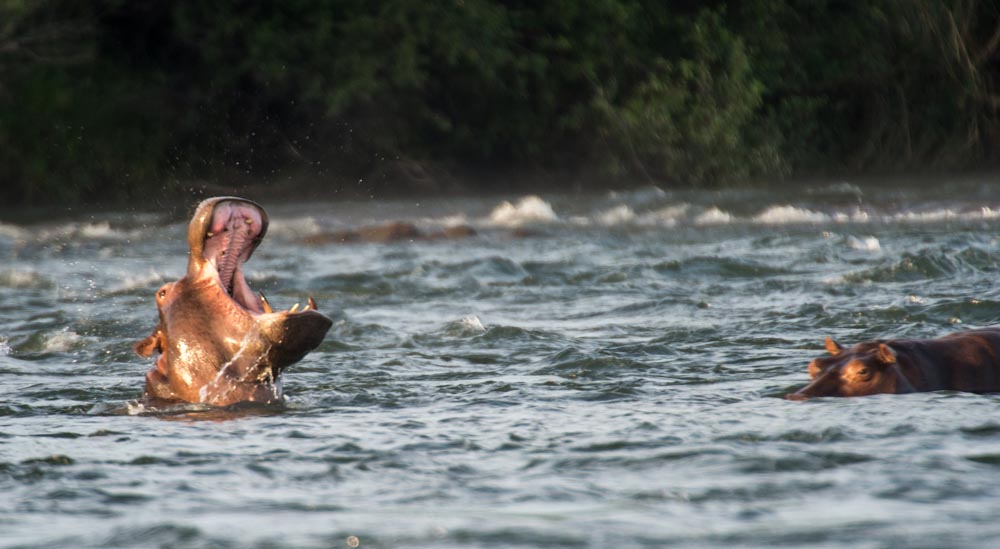 PART 14: VICTORIA FALLS – GORGES LODGE & ZAMBEZI SANDS LODGE
On the morning of December 18 – in keeping with my advice to prospective visitors – I opted for a road transfer from the Kasane area to Victoria Falls, instead of a flight. From most of the Chobe lodges and from Kasane Airport it is only about 90 minutes or so to Victoria Falls by road.
In my experience, it is the least stressful and most hassle-free way to get from the Kasane area or Chobe to Vic Falls. A competent driver, an air-conditioned minivan and a very well maintained asphalt road with minimal delay and perfunctory border formalities exiting Zimbabwe and entering Botswana. The flight is somewhat quicker but comes with a heavy load of airport formalities and potential delays. It is also more expensive and much more stressful.
My destination in Victoria Falls was Gorges Lodge, a property in the Imvelo Safaris portfolio. We primarily use – and personally prefer – to stay at the Victoria Falls Hotel in Vic Falls because of its location and old world charm.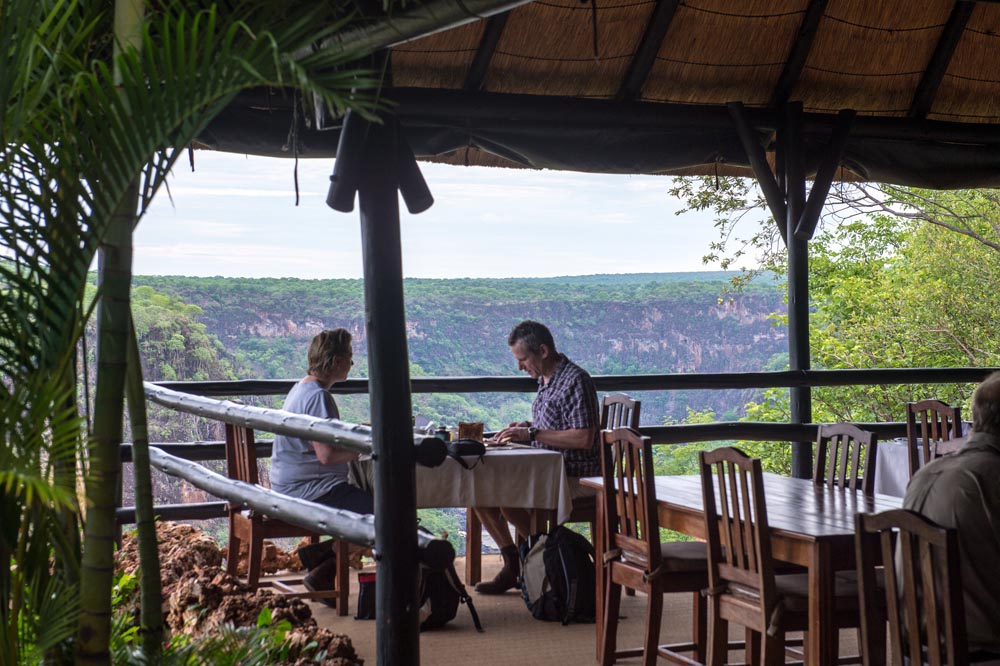 Even so, it is not everybody's cup of tea, so to speak, and for visitors who prefer a more quiet environment away from Vic Falls town with its attendant hustle and bustle, occasional helicopter noise and hawkers, Gorges Lodge is an attractive option. It is about 30 minutes or so by road from the Falls, with a simply spectacular location right on the edge of the Batoka Gorge below the Falls, right around rapid #18.
On arrival at Gorges Lodge, the first impression is of walking into a rainforest as the property is built right inside an immaculately maintained and very lush garden, full of gorgeous indigenous trees, shrubs and plants with birds all over the place.
First-time arrivals are taken through to the bar verandah where they get their predictably startling first look at the view down and across the Batoka Gorge. It is something! I know I must have visibly flinched as the railing overhangs the edge of the gorge and taking one's first steps towards it feels like you are about to plunge down into the void.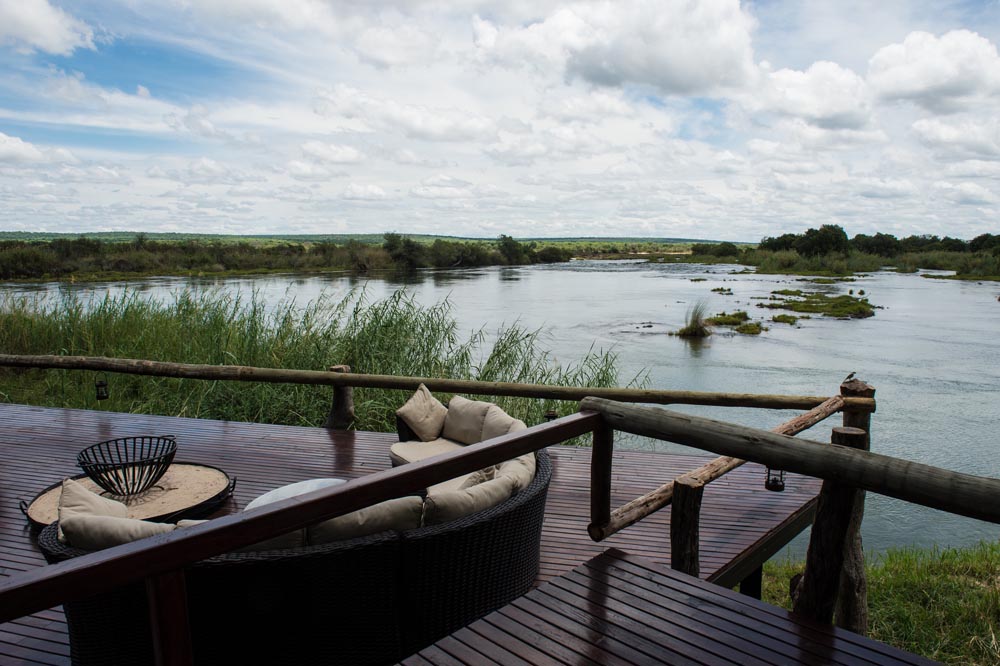 Just for the view alone, Gorges Lodge is worth considering as an overnight choice for a couple of nights in the Vic Falls area. There is more though. Managers Debbie and husband Chris are super-keen to make all visitors feel welcome and will take very good care of you. It is very easy to feel like you are at home at Gorges.
The interior of my room #10 was rather uninspiring with a utilitarian mix of furnishings and decoration. It feels a bit dated and could benefit from some styling and a cohesive interior decorating theme.
The bathroom by contrast, had recently been updated and the ample space, separate toilet with sliding door and large twin-headed 'his and hers' shower would satisfy all but the most demanding travelers. Water pressure was good and there was plenty of hot water available.
My overall impression of the food at Gorges is mixed: the afternoon snacks which were served with drinks during the eagle-viewing/gorge walk activity were excellent. A mix of mini meatballs, chicken wings and other hors d'oeuvres – all very tempting and delicious. Lunch and dinner were less successful, with way too much mayonnaise in one of the salads, and in the case of a poussin – totally overcooking the delicate bird. Portions were ample – maybe even too much for small appetites, the meals being pre-plated and brought to the table.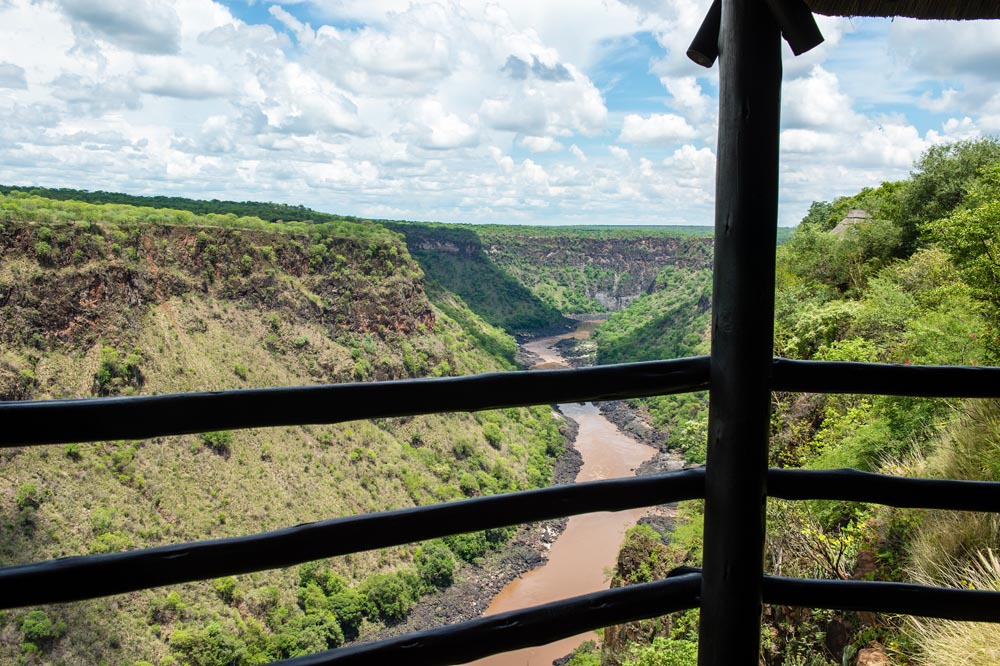 But Gorges Lodge is not so much about the food or the rooms. It is about the wonderful people who run it, the amazing views and the chance to see birds like Black Eagle and Peregrine Falcons practically at eye-level as they swoop past the edges of the cliffs.
With very limited time at my disposal – just one night – I managed a couple of decent pics of a Black Eagle and will have to come back to get a bit more depth of field in the shot the next time around.
What really sets Gorges apart from any of the Victoria Falls hotels is the fact that all meals, local drinks and two activities per day are included in the price. If you spend 2 nights and opt for the Tour of the Falls plus a sundowner cruise, you will be getting excellent value for money. We also enjoyed a splendid singing and dancing performance by a colorful and expressive troupe of local dancers & drummers.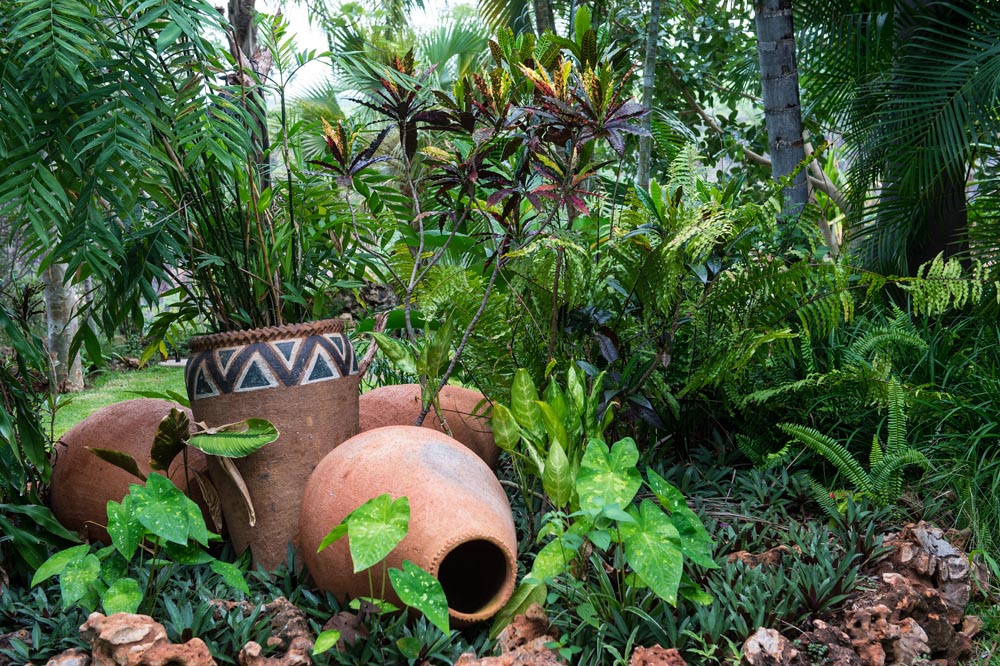 I had the opportunity to check out the site of Imvelo's next Vic Falls property, to be built and hopefully open by the fall of 2015. The location is even more stunning than Gorges, with a stupendous view down the Batoka Gorge accentuating the gargantuan depth and width of this simply awe-inspiring chasm. Batoka Lodge will be tented but will otherwise offer the same mix of activities as Gorges.
A bonus at both locations is the soothing sound of the Zambezi River drifting upwards from the bottom of the Gorge, where it rushes through a series of rapids, continuing a geological process which started some 100 million years ago.
The bottom line on Gorges Lodge: comfortable, warm and very casual. Nothing fancy, not suitable for families with toddlers or very young children, but otherwise family-friendly with ample family accommodation options.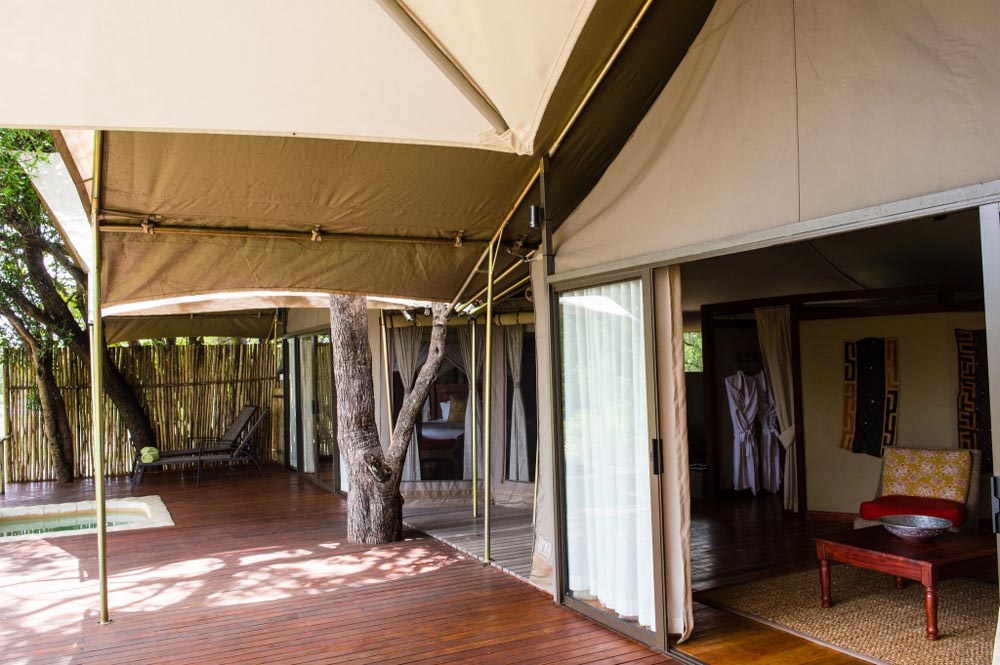 Dec 19, 2015
After a 5-mile run (another benefit of staying at Gorges = you can run), we enjoyed a leisurely breakfast before heading off to Zambezi Sands, Imvelo's (then) newest addition, about an hour's drive from Vic Falls, and about the same distance from Kasane on the Chobe road.
Zambezi Sands is a 4.5-star tented camp, located right on the banks of the Zambezi upwards of the San Simba Islands and just slightly upstream from a significant set of rapids.
Just like at Gorges Lodge – but a lot more so – this pipes in a wonderful natural sound track which makes for the perfect 'white noise' to lull even the most chronic insomniac to sleep.
The tents at Zambezi Sands are huge with separate lounge, bedroom and bathroom/toilet sections, plus a really nice outdoor shower (Kathy would approve) and pretty views over the Zambezi.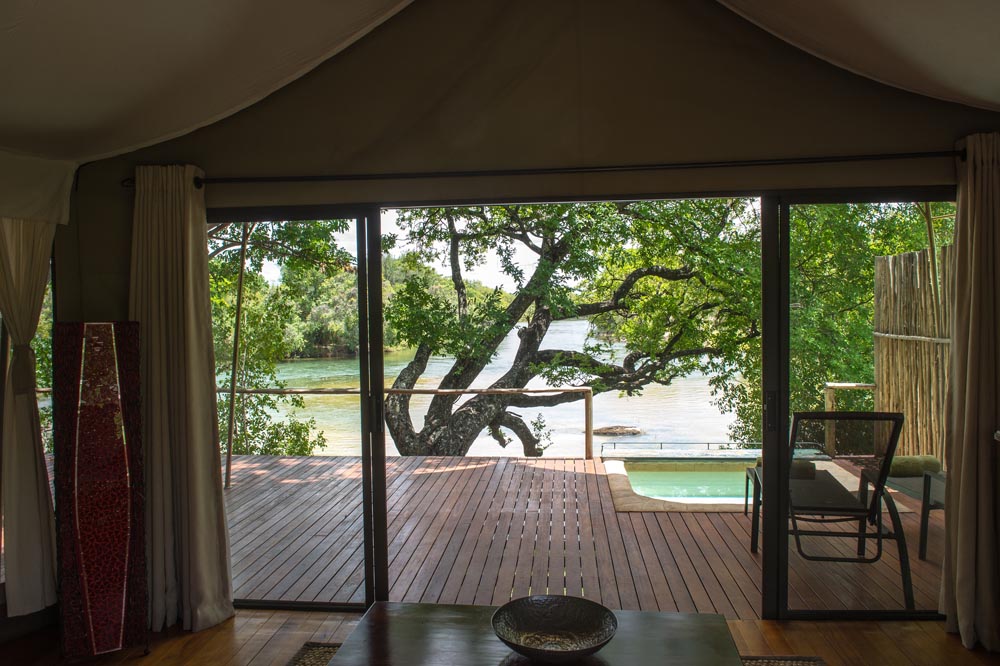 Zambezi Sands is located inside the Zambezi National Park and even though the property is not being primarily promoted as a game-viewing destination, a short game drive one afternoon delivered some good views of a herd of elephant, some giraffes, lots of kudu and impala and several other small mammals and lots of birds.
I was being guided by the redoubtable Mark Butcher – 'Butch' to his friends. Butch is an erstwhile Zimbabwe game ranger and Parks Board executive. Already somewhat of a legend in his time, what Butch doesn't know about the Zimbabwe veld, natural environment and wildlife, is literally not worth knowing.
Mark is confident in his abilities as a guide and business leader and it is clear that he commands respect from his peers and employees. I certainly benefited greatly from being in his company for several days. An activity which Mark favors and which many of us enjoy as an alternative to the relentless game drives so often associated with photographic safaris, is walking. It is definitely an Imvelo specialty, and is high on the list at Zambezi Sands which offers ideal foot safari environment.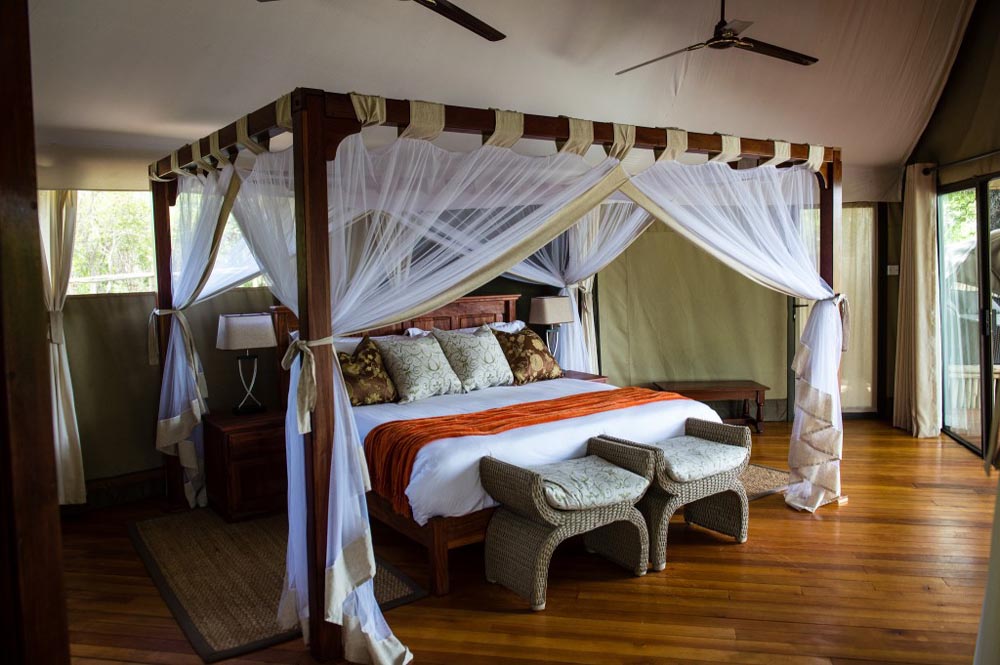 Of course the Zambezi and everything associated with it dominates one's stay at this river-side lodge. Boating, kayaking and fishing – the choice is yours. On my last morning at Zambezi Sands I tried my luck with some fishing in the river with guide Clint, but unlike the earlier successful outing on the Linyanti River in Botswana, the fish weren't cooperative. We had a couple of early strikes and Clint did have a really good sized Nembwe on the line. Plus we had some great views of a pod of hippo in fantastic early morning light.
By late morning on 20 Dec 2014, Butch and I hit the road towards Hwange National Park where I would spend the last three days of the trip.
Zambezi Sands is running a 'stay 3, pay for 2′ special offer through the end of 2015 so it is certainly an option to keep in mind for the Vic Falls area, particularly for slightly longer stays.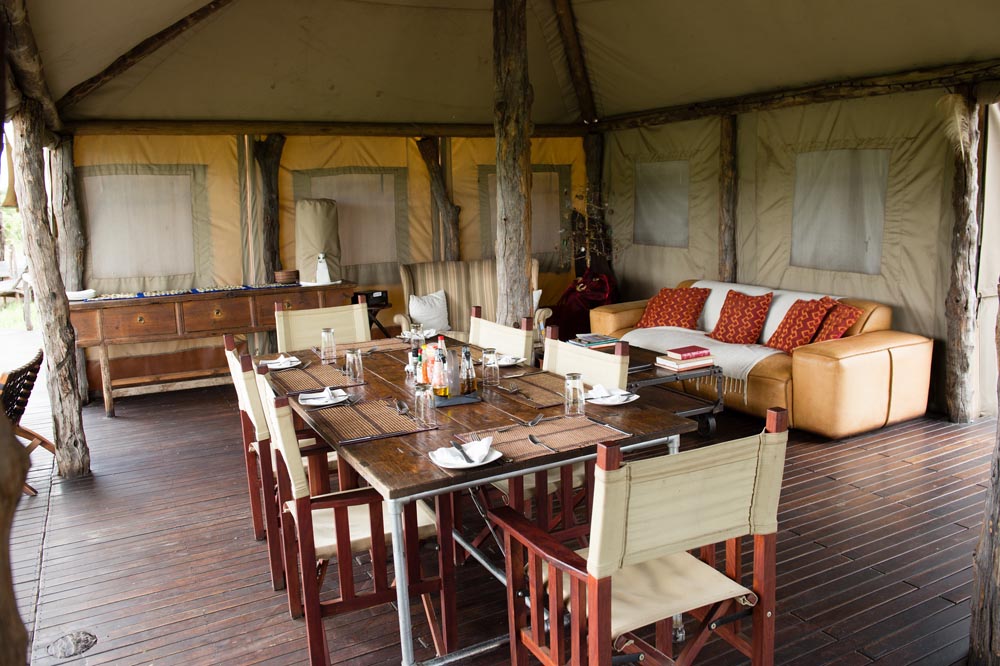 PART 15: HWANGE NATIONAL PARK, ZIMBABWE
Over the last three days of my Dec 2014 educational trip in Southern Africa, I checked out a trio of lodges in Hwange National Park, which we last visited in Nov 2012 – (Little Makalolo). On my most recent visit, I spent one night each at Camelthorn, The Hide and Somalisa and did a site inspection at Bomani Tented Camp.
All of these camps are already in the Fish Eagle Safaris rotation, and based on what I saw and experienced on this trip, we will be sending more of our clients to this spectacular park.
Game-viewing in Hwange is at its best in the dry season from about May through October and early November when sometimes huge concentrations of elephants can be seen at the water holes which are artificially maintained with a mix of diesel and solar powered pumps.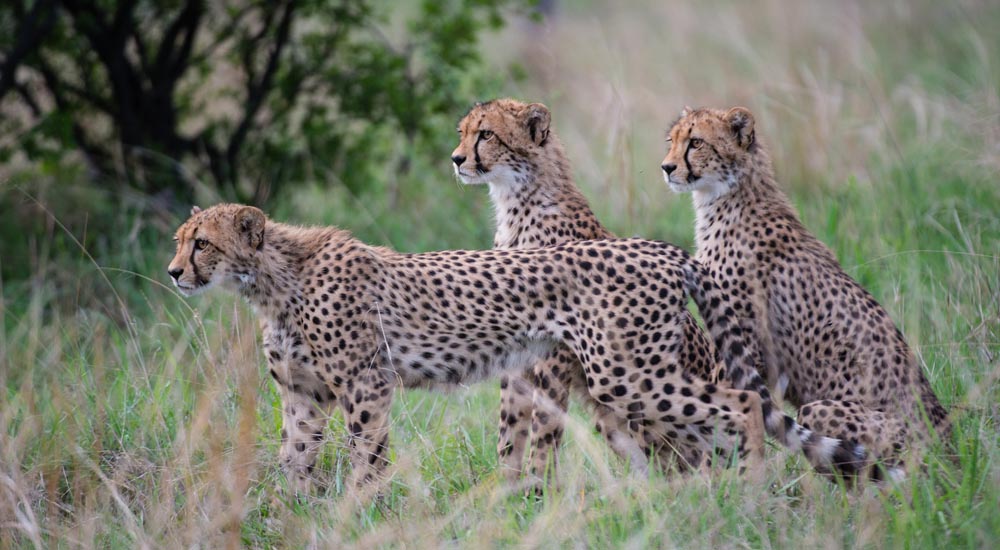 What I saw last December in the way of game-viewing under very wet conditions on this trip, confirmed some earlier impressions which can be summarized as follows:
Game-viewing in the green season can be slow or quiet at times, but if visitors spend three or four nights in a specific area or camp, they will see an abundance of species.

What is more, they will get to experience Hwange at a time when everything is literally bursting with new life. The elephants are not as densely concentrated as in the dry season, but they are practically giddy with the delight they take in the abundance of fresh water, emerging tufts of grass and fresh leaves.

Without exception the mammals are in good condition, there are lots of baby impalas, wildebeest and zebra around and this stimulates predator activity.

As open areas like the Ngamo flats and the 'vlei line' from The Hide up to Mgweshla Pan green up with emerging vegetation from mid-December through March & April, the open areas become magnets for impala, kudu, wildebeest, zebra, giraffe as well as roan and sable antelope. We even saw a few eland out and about. And always elephant, just not in great big numbers as later in the year.

Hwange is an exceptionally good area for predator sightings and if you spend 5 or so nights in total in the area, split between a couple of camps such as one in the far southern area and another one further north, you'd stand an excellent chance for lion and cheetah with leopard and African painted dogs being seen every few days as well.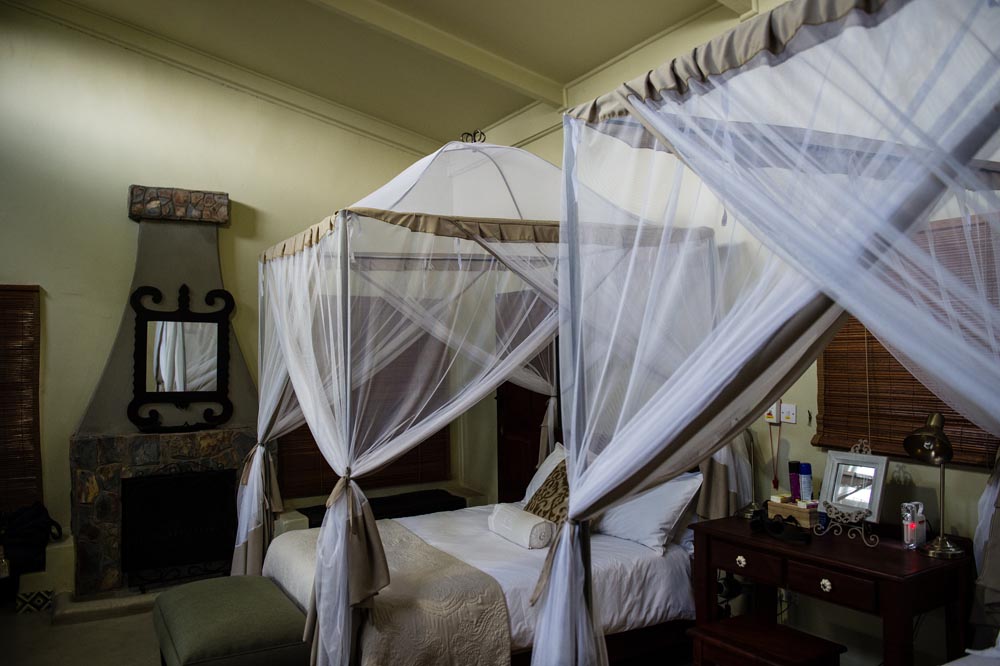 Each of the camps I visited had something special to offer and any one of them can be included in a Hwange itinerary, to good effect.
My guide at Somalisa was Michael who turned out to be the best of any of the guides on the entire trip – quite a character. I had not seen any cheetah on my Southern Africa trip and had pretty much given up hope of doing so, only to find them on my very last game drive out of Somalisa, on Dec. 22, and again the next morning on the way to the airport at Hwange Main Camp. So the trip definitely ended on a very high note!
Somalisa is a no-frills, low-key tented camp located on the edge of a private concession and within easy driving distance of Mgweshla Pan, one of the very productive open areas in this part of Hwange. My tent in Somalisa Bush Camp was comfortable and well equipped, the food was tasty and well-prepared and the small dining room/lounge tent looks out over a water hole which likely sees a lot of activity in the dry season.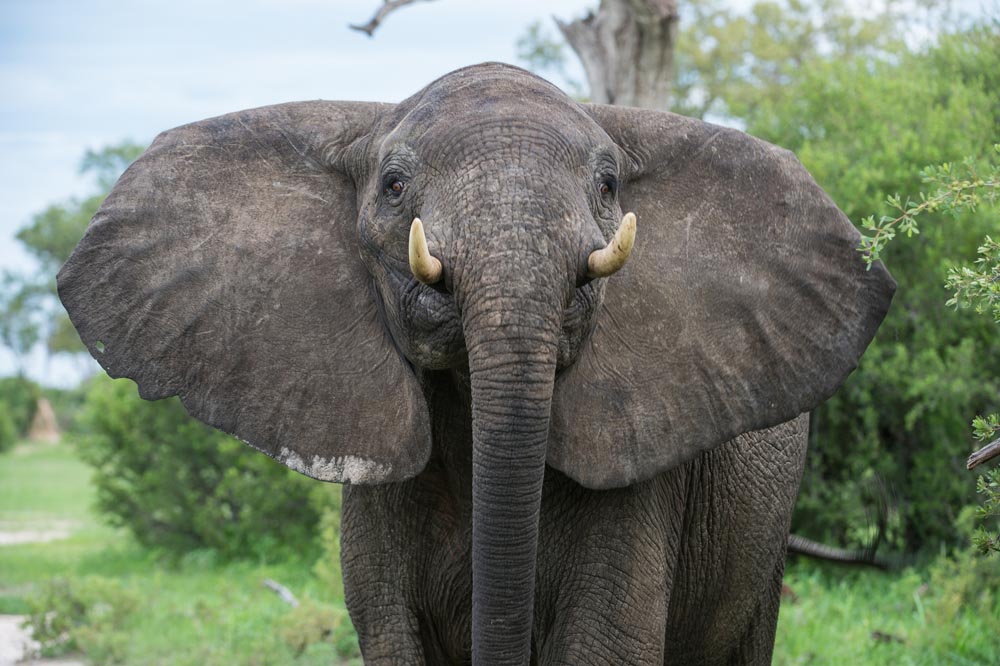 My brief stay at The Hide – from where game drives often also head along the vlei line past the Kennedy water hole to Mgweshla – was likewise very pleasant. The family style dinner – with everyone seated around a long oblong table – was particularly convivial, the food was good and even though my tented room was nothing special it had enough space, a nice view over the pan, and it was just a short walk to the main lounge & dining room area. The only game drive I had time for at The Hide delivered preciously little in the way of wildlife but that is sometimes how it goes in the green season – another couple of days there would have made a big difference. Of course in the dry season there is a lot of activity at the waterhole right in front of camp and the underground hide is the place to be.
My Hwange experience started with a drive from Vic Falls, which was a first as we had previously only flown into the reserve. Of course it takes much longer – depending on the camp you are headed to as much as 4 hours or so, but not an unpleasant experience particularly if you want to see and experience a bit of the countryside. The road from Vic Falls winds through well-wooded, undulating terrain. Once you are past the the hills around Hwange town itself – where the unsightly effects of surface mining for coal are all too evident – it is not too far to Halfway House where we entered the reserve proper and made our way along an isolated track to Camelthorn Lodge.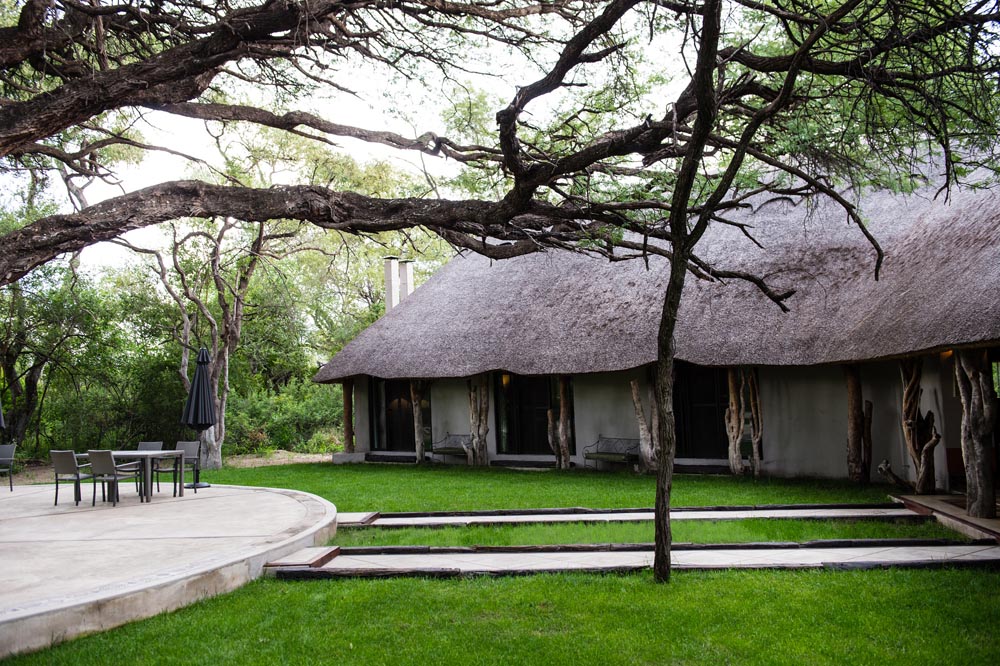 Camelthorn and the property adjacent to it – Bomani – are both excellent choices for accommodation and safaris in the far southern portion of Hwange. They have access to a private concession where night drives can be done, there are ample opportunities for walking and the 'piece d'resistance' is a superb sunken hide, much frequented by elephants and other wildlife in the dry season. I could see that the experience there would be akin to being in the stable with the horses – no need for a telephoto lense! From both Bomani and Camelthorn guests can also undertake an authentic village visit. The range of activities include game drives, pump runs (to check and service the pumps at the water holes and enjoy game-viewing along the way), foot safaris and just sitting and observing the wildlife from vantage points at the various water holes.
The hospitality, food and accommodation at Camelthorn Lodge were of a high standard. The brick and mortar rooms are quite large with very high ceilings, designed to be cool during the hot summer months and warm and cozy in winter. My room had a large en-suite bathroom with a bath and window overlooking the woodland, a large shower, separate toilet, fireplace, an outside deck, as well as an upstairs area with hammock and day bed.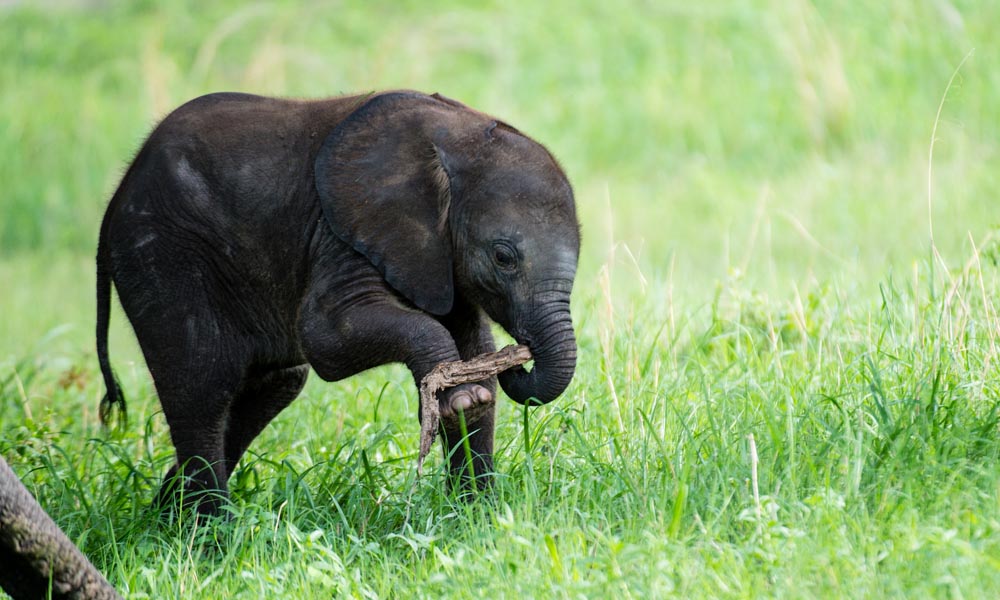 The very impressive main lodge is dominated by a huge ancient Camelthorn tree that covers a massive outdoor dining area- perfect for al fresco meals.
It is quite noticeable that the lodge is inside one of Hwange's last remaining patches of acacia woodlands, on the edge of the south-eastern corner of Hwange National Park. The many elephants which frequent the area do not have direct access to the lodge grounds due to the nearby buffalo fence and other impediments, so the grounds and surrounding forest have largely avoided their bark-stripping, tree-killing activities. Camelthorn and Bomani are close to the Ngamo Plains where abundant wildlife is present year-round.
In conclusion: We have been sending our clients to Hwange for 20+ years without interruption and will continue to do so – it offers a fantastic safari experience with excellent game-viewing, top of the line guiding, the friendliest people imaginable and all in a very relaxed, peaceful environment.