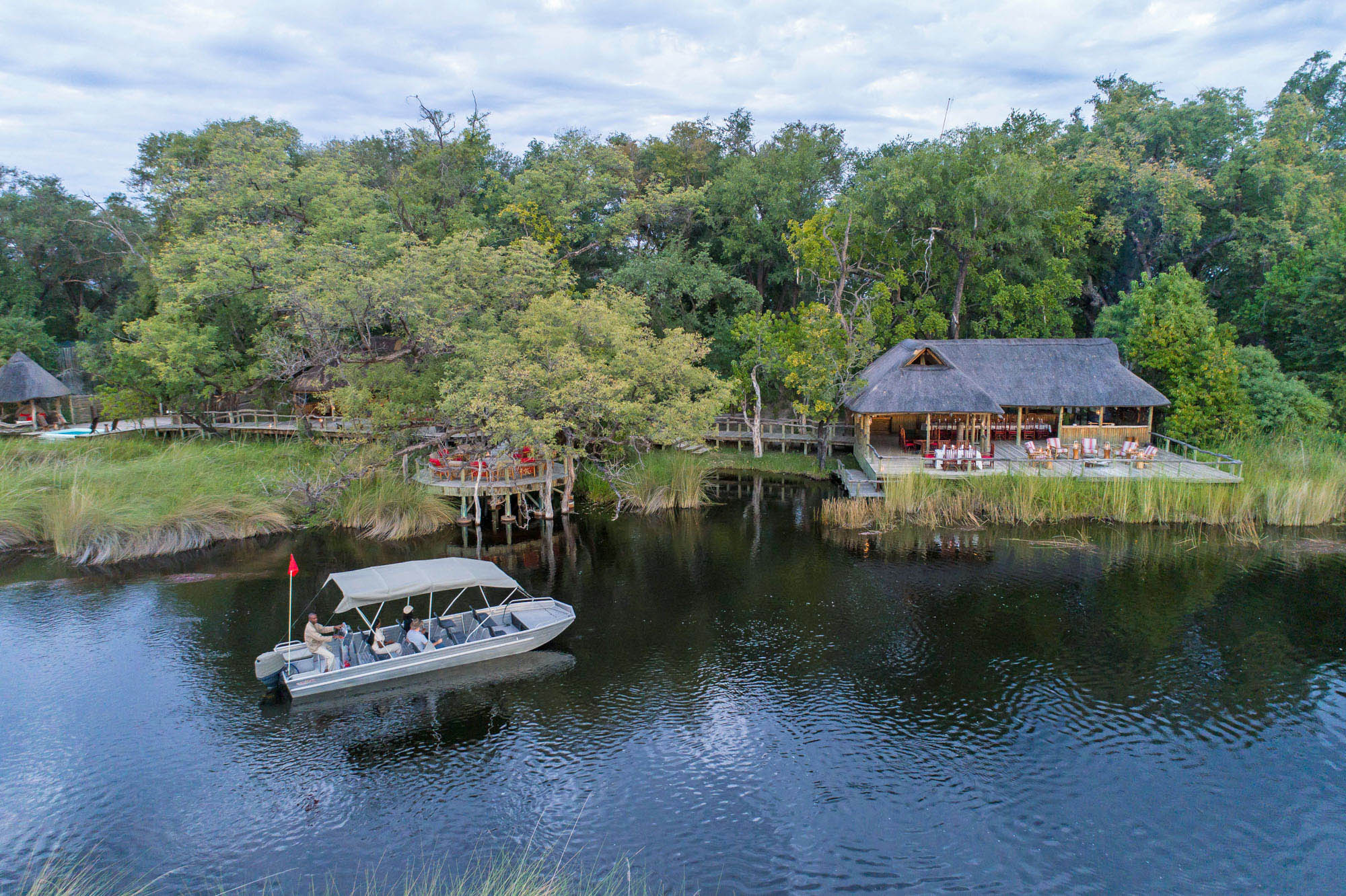 Xakanaxa Camp, Botswana
What is there to be said upon one's return from a trip to Botswana? That it was fun? Definitely. That it was educational? For sure, especially when visiting as many as 10 different camps in 12 days, as we often do on what we refer to as familiarization or more commonly 'fam' trips. That it was exciting? But of course. A safari is all about excitement, anticipation, even a glimpse of danger when you find yourself within spitting distance of some of the largest and most powerful mammals in the world. It is exhilarating, yet peaceful at the same time. Between game drives or other activities, there is ample time to relax and do (almost) nothing, perhaps gazing out over a watering hole or lounging by the pool with a book.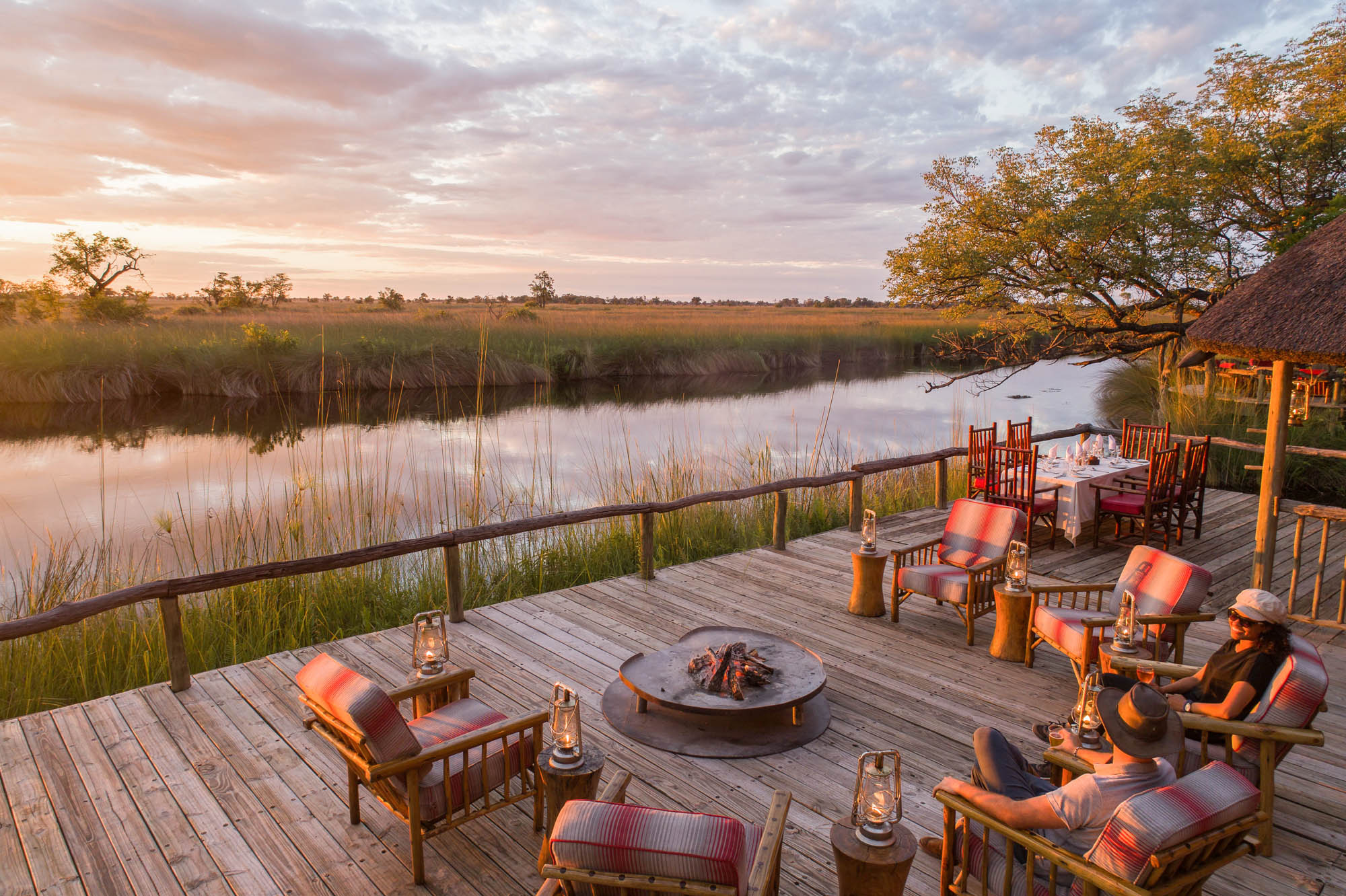 It is also quiet, almost startlingly so. The absence of practically any ambient noise is immediately noticeable on arrival at one's first camp. At night, it is easy to imagine hearing the swish of a shooting star, while the roaring of lions is only too real, sometimes uncomfortably close to camp. In the mornings, the absence of city noise becomes less noticeable, because this is when the bush explodes with the calls of a myriad of birds: francolins, robins, hornbills, kingfishers, louries, parrots, doves – all intent on getting an early start in yet another wonderful day in the paradise that is Northern Botswana.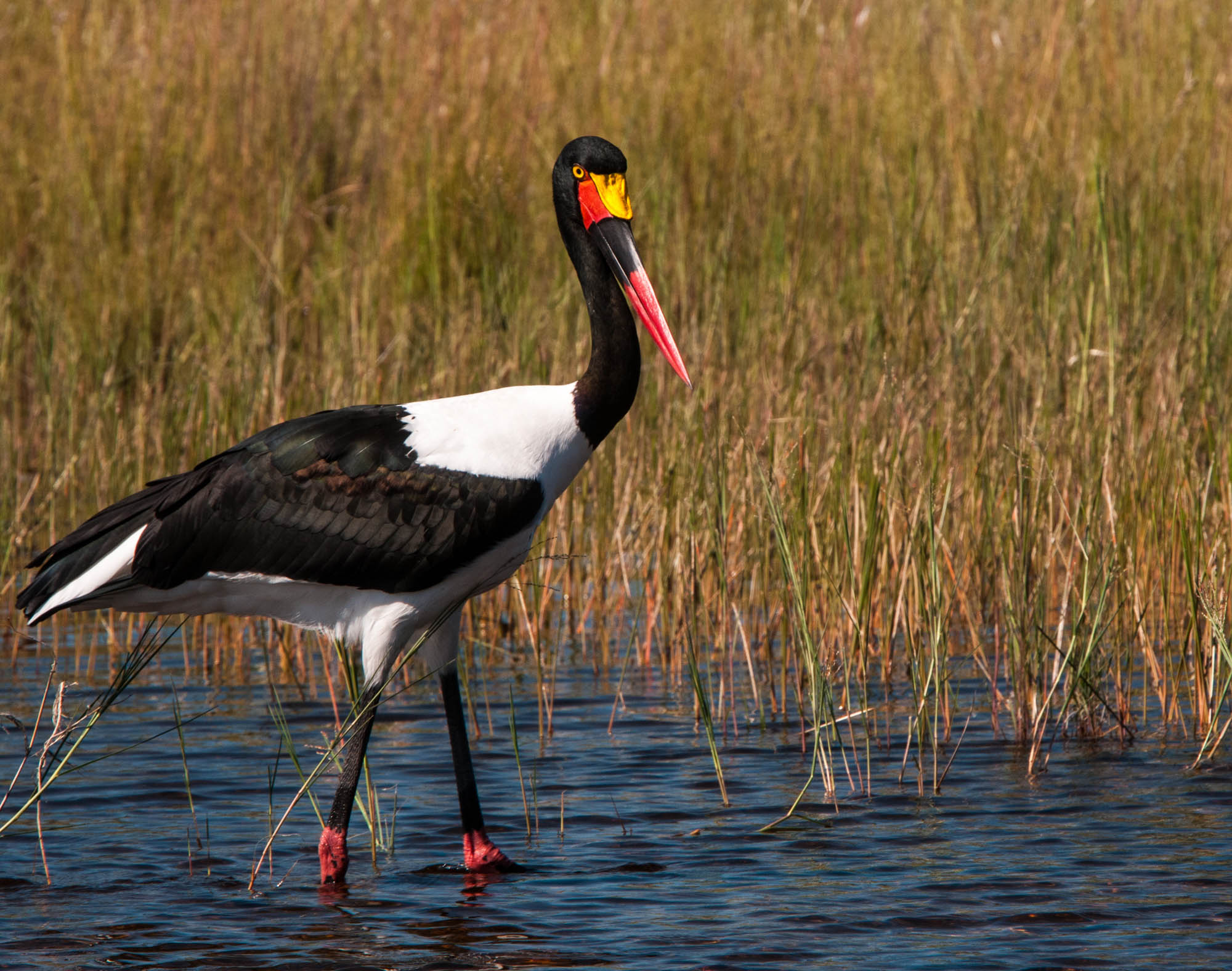 Visitors often travel to Botswana to find wildlife and come back talking about all the wonderful people they met. I can't imagine that anyone could not be touched by the warmth, spontaneity, genuine friendliness and dignity of the Botswana people. Spend a little more time in fewer places and you are likely to make some lifelong friends!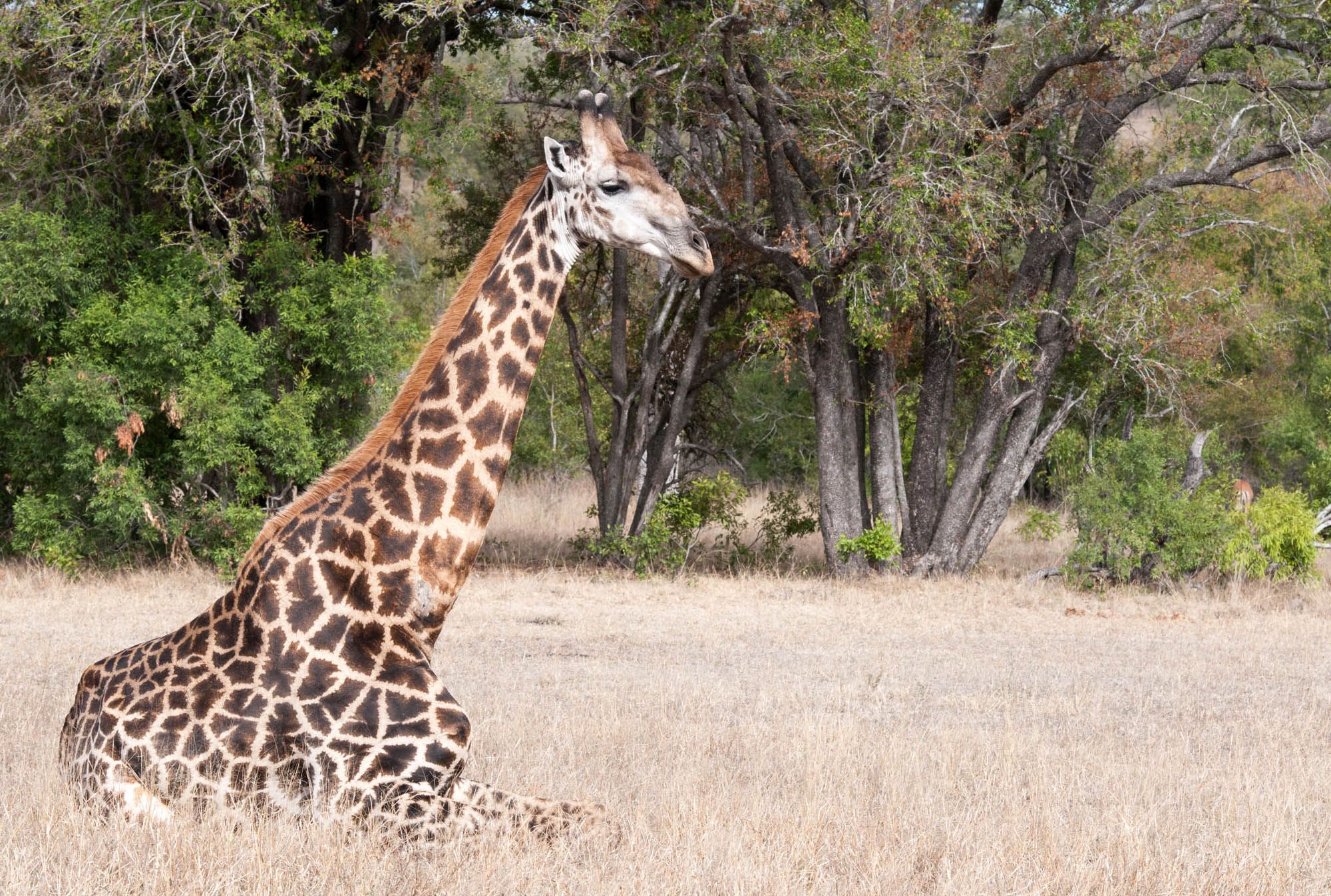 On his recent fam trip to Botswana, Fish Eagle Safaris' Lyndon found himself at Desert & Delta's Camp Xakanaxa ('kuh/KAHN/knee/kuh') on the edge of the Moremi Game Reserve, in early July 2021.    "The area is cold and dry this time of the year but due to exceedingly high rainfall earlier in the season, the presence of tall grass in many areas made game-viewing more challenging than might usually be the case.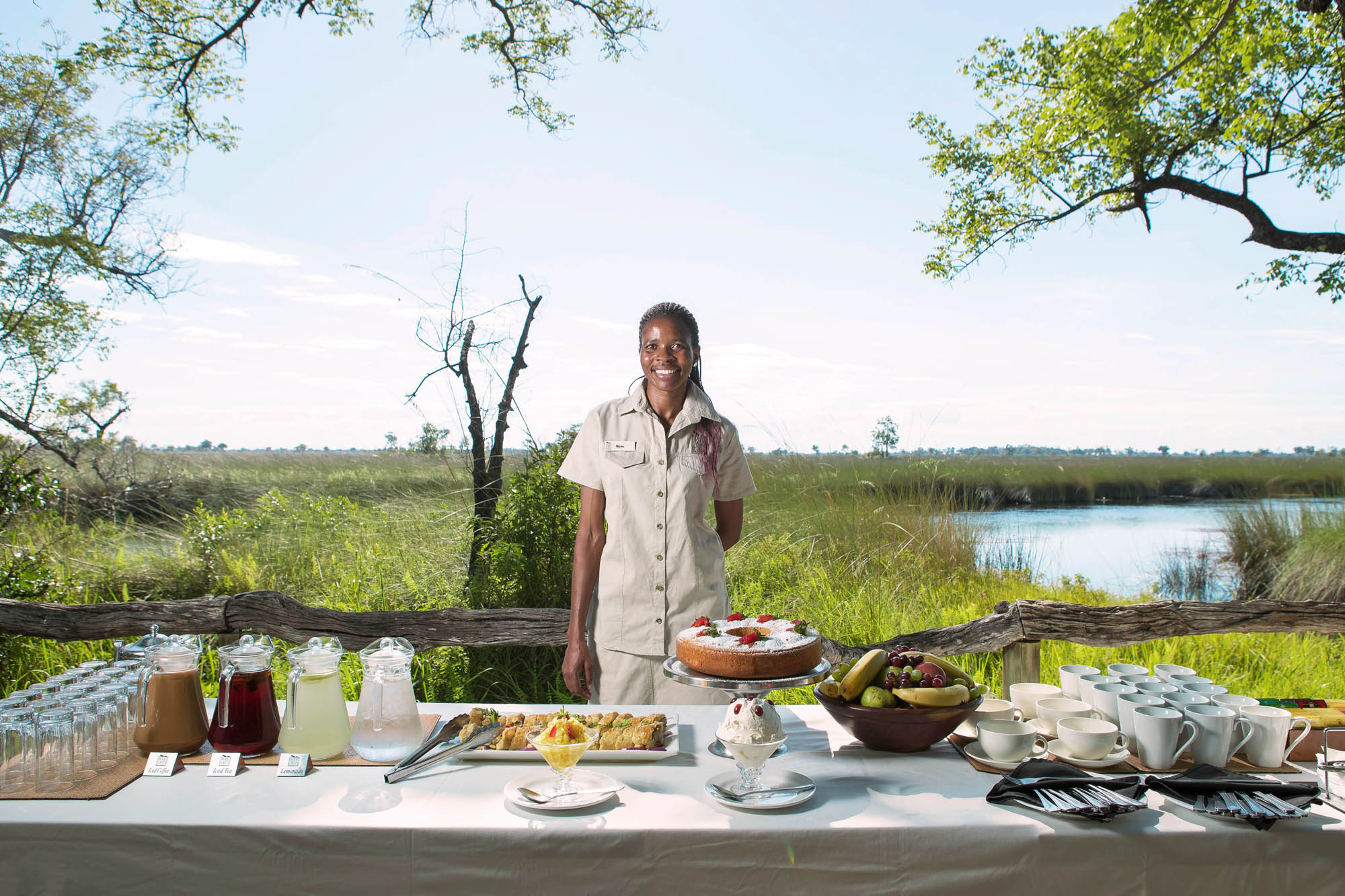 Photo - Great Plains Conservation
The camp staff have been great to this point but Xakanaxa takes the cake.  It prides itself on being the 'authentic' camp.  That became evident from the word go, when we were treated to a stirring song upon our arrival.  The rooms are quite simple with a bed in front of the room, and a partitioned bathroom behind.  More than adequate though.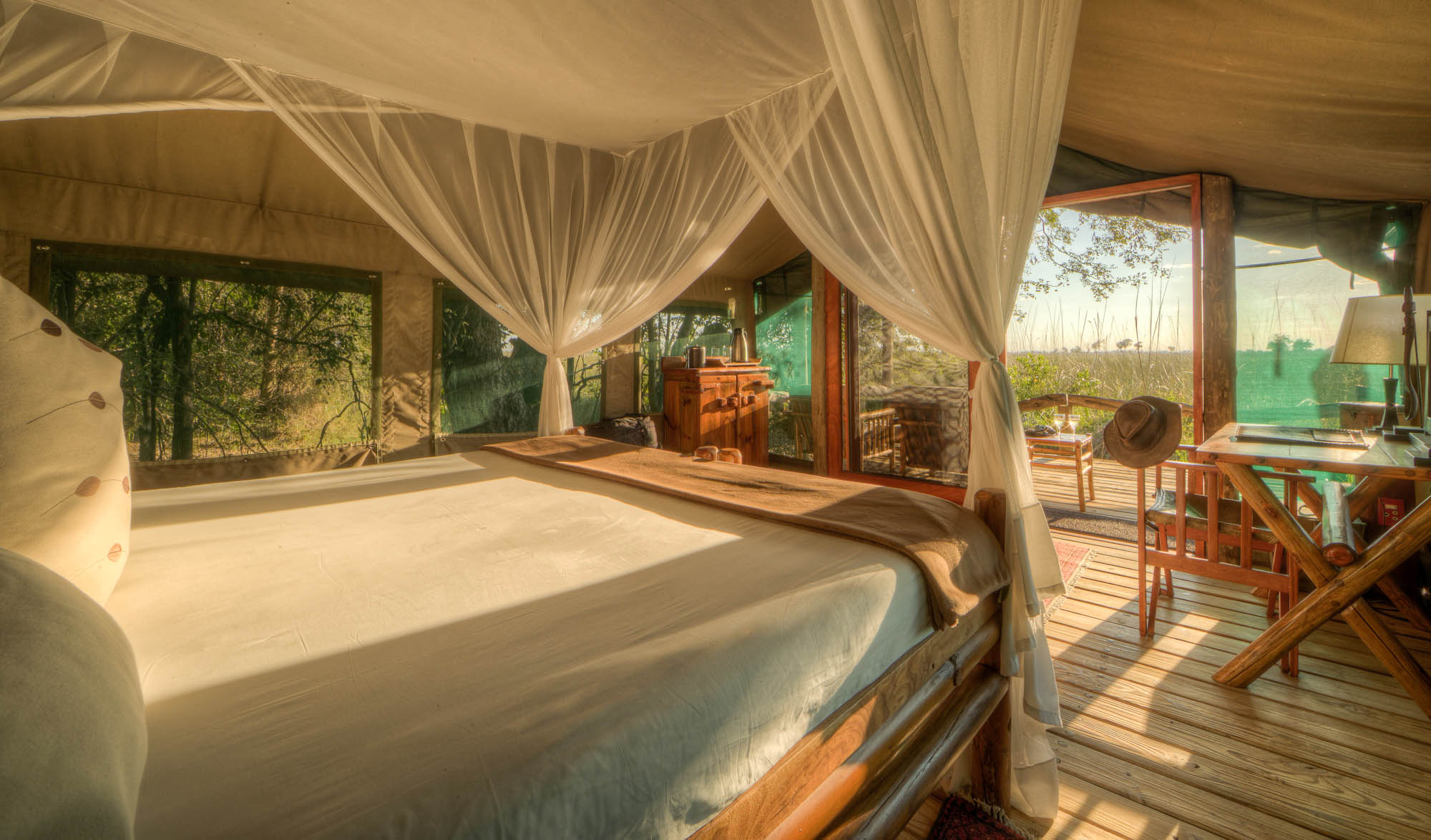 I thought that the spacing between the tents on the right hand side of the entrance was a little tight.  The main area has a top notch view over the beautiful Xakanaxa Lagoon, one of the largest of its kind in Botswana.  Baboons are a problem at this camp.  At the time of my visit, the trees above the tents were fruiting so the baboons stay overnight and can make a racket.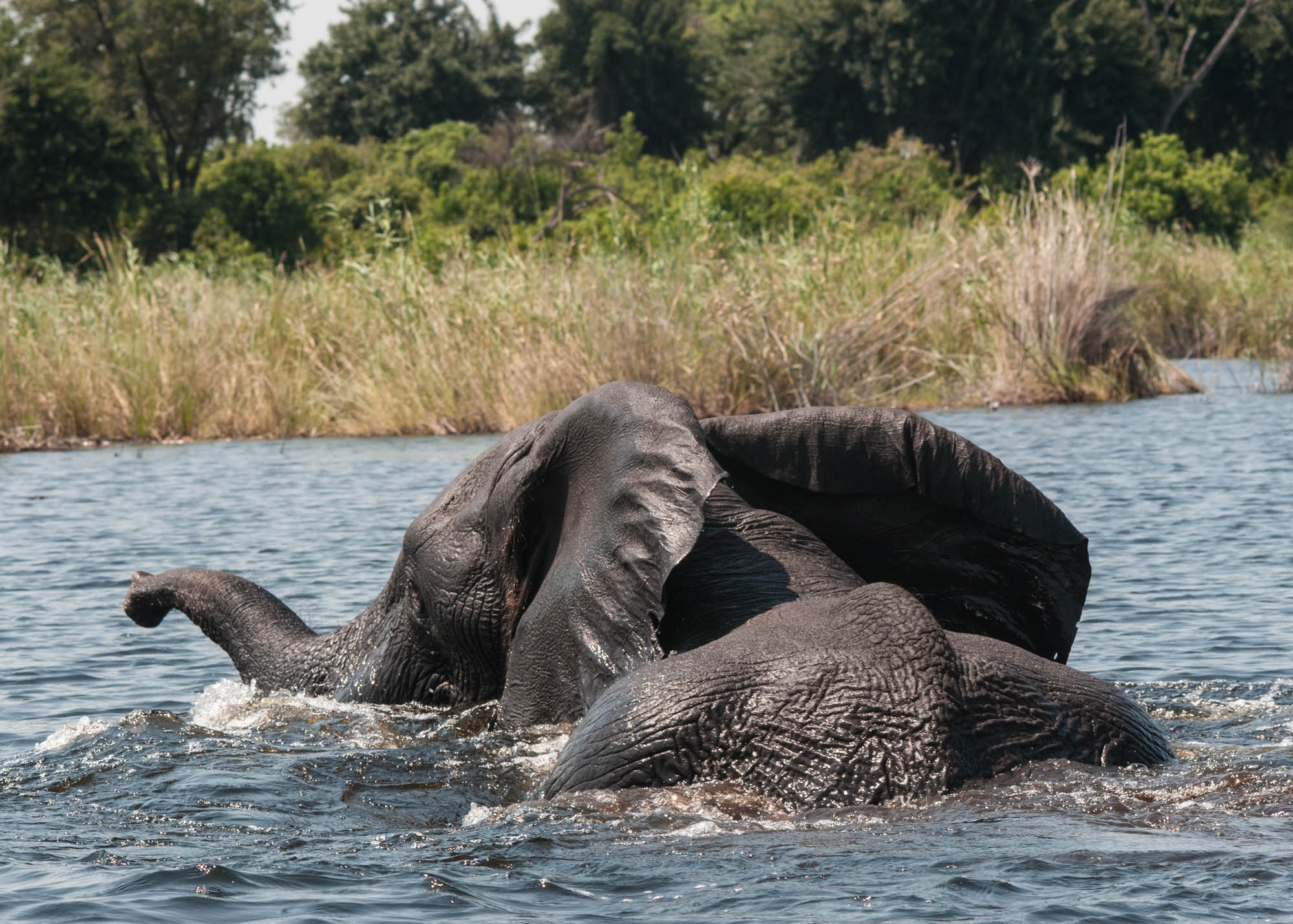 Our evening drive was rather quiet.  We did see some elephants, giraffes and general plains game.  The drive ended on a peaceful note at a pretty sundowner spot next to a body of water with a family of hippo.  We enjoyed some delicious grilled chicken kabobs and steaks as a snack - it almost but not quite spoiled my dinner appetite!  I think I caught a brief glimpse of a leopard as we made our way to camp after sundowners.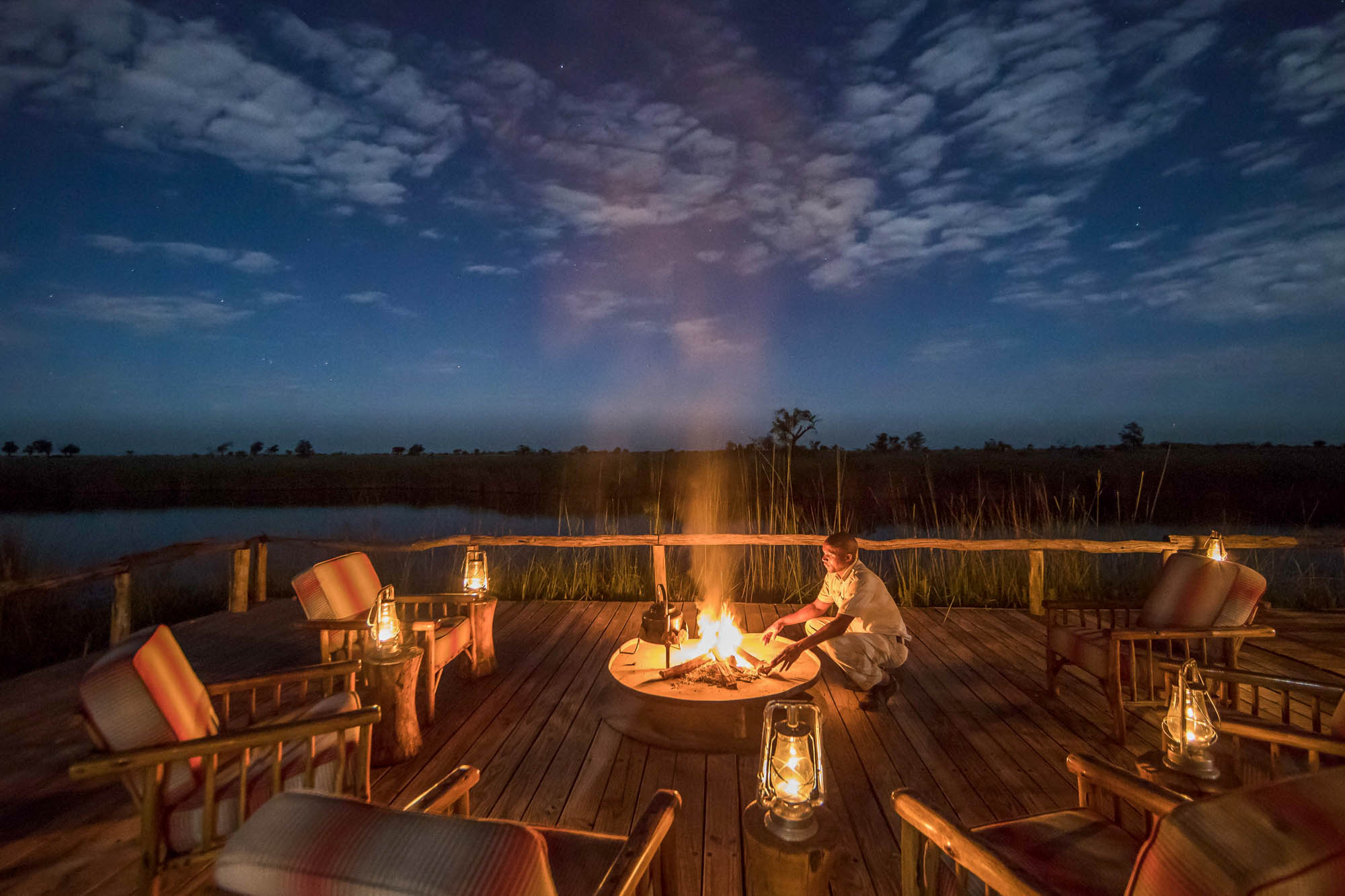 Photo - Great Plains Conservation
Speaking of dinner I think it is safe to say this camp wins top marks in this category as well.  Courses included grilled chicken, chicken stuffing, lamb, mashed sweet potato, mixed veggies and a cheesecake for dessert.  The starter was some wonderful mushroom and cheese dish.  It was fun being with a group and enjoying our meals at a long table with everyone around it.
Our final morning drive started inauspiciously but ended with a bang.  Our vehicle was just about to cross a wooden bridge when four African painted dogs appeared in front of us.  Our guide asked us to keep an eye on them as they headed to where we had come from, as he tried to reverse on the narrow bridge.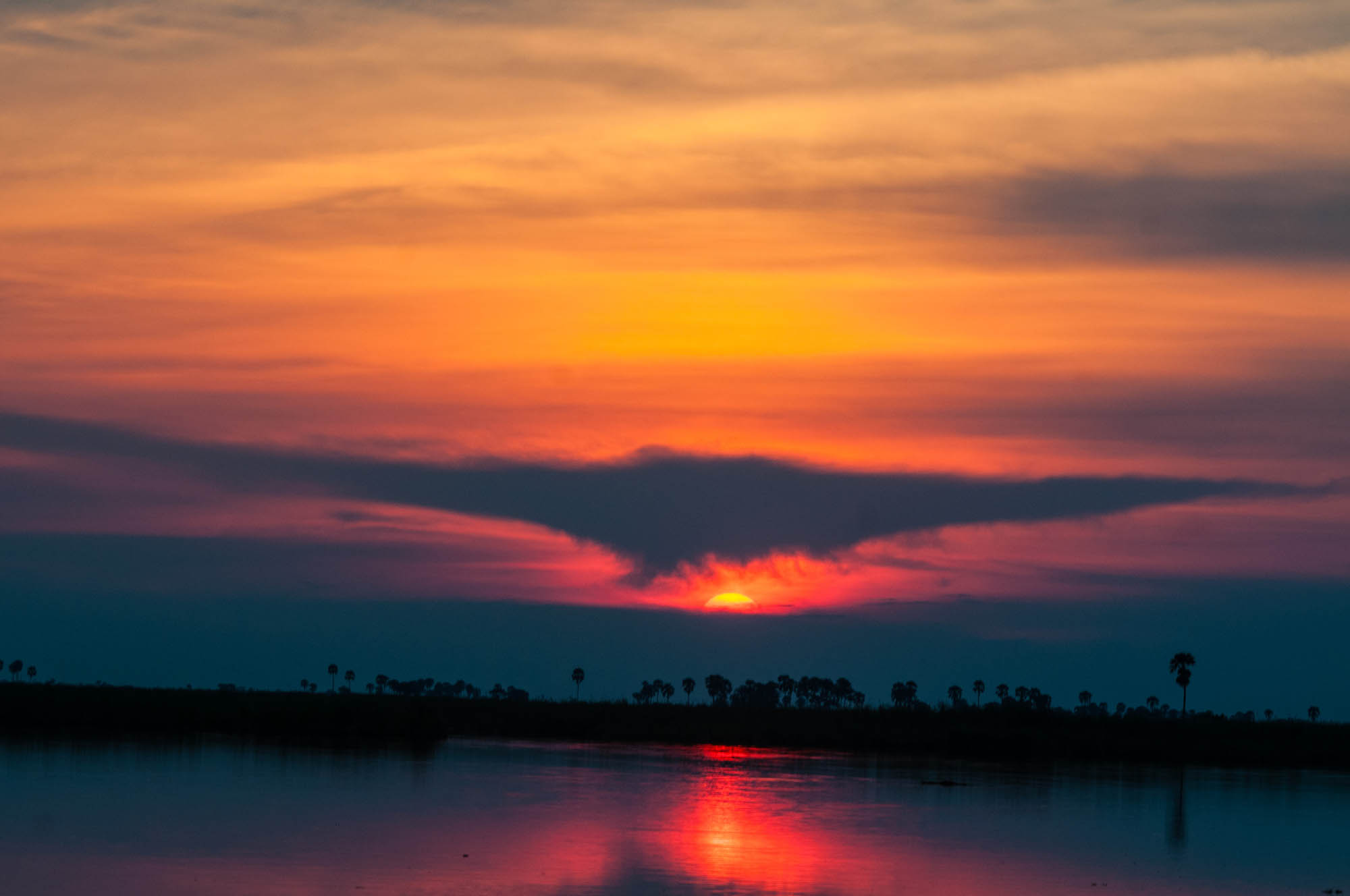 We only briefly lost sight of them and from there the chase was on.  Both for them - and us.  It is no mean feat to try to keep up with a pack of dogs on the hunt.  We were aided by a flock of hooded vultures who followed them in hopes of stealing some scraps after a kill.  The dogs chased multiple groups of impala right in front of us.  Thrilling.  Eventually they outran us but we will all remember this day.