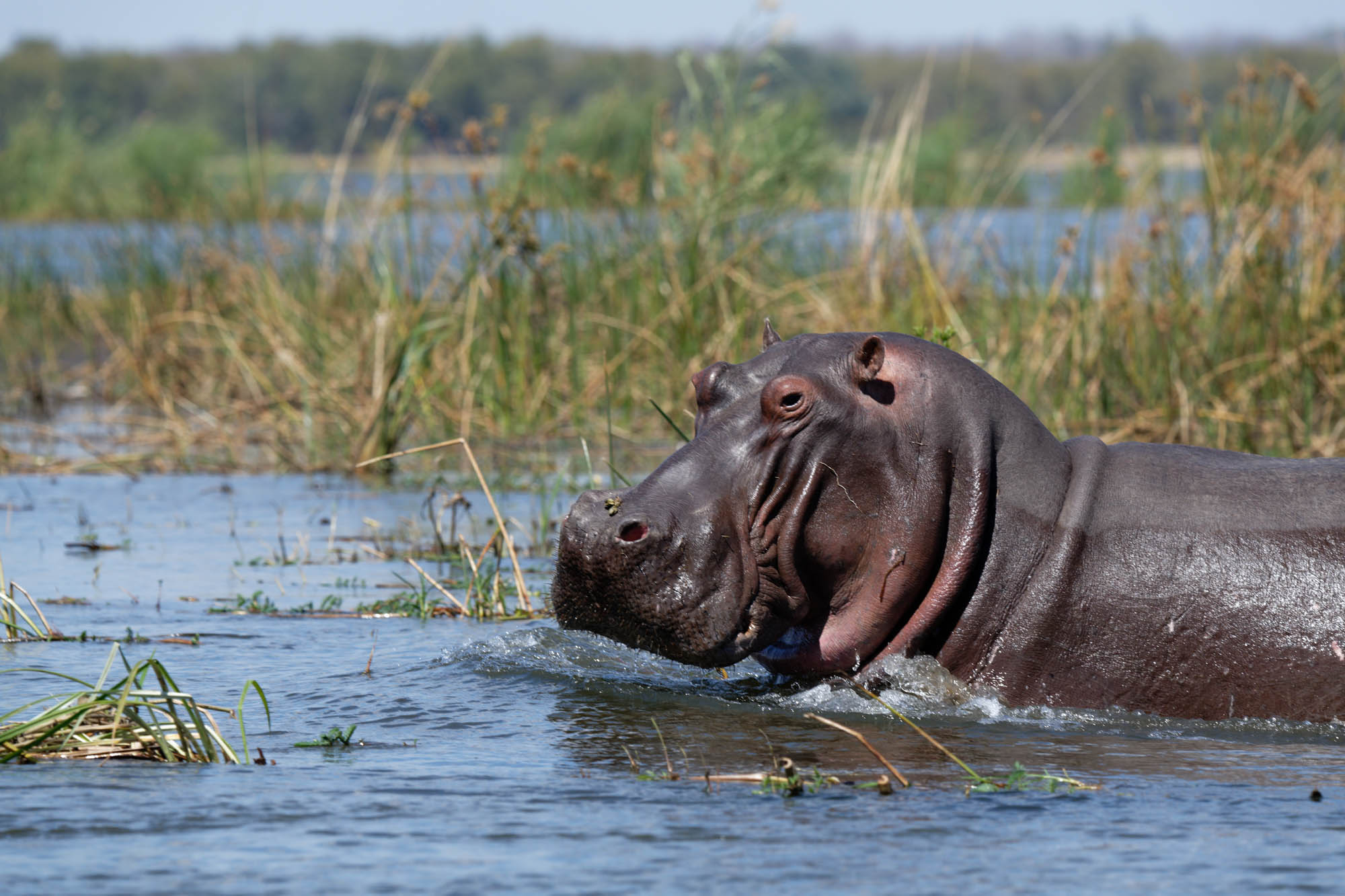 Dinner with the hippos - Time & Tide Chinzombo Camp, Zambia
Dinner on safari in the African bush takes on many forms.  At Time & Tide's Chinzombo Camp on the banks of the Luangwa River in Zambia in late July this year, it came with a side attraction of grazing hippos.  Those of you who have been on safari before - in areas where hippos are prevalent - will know that these giant herbivores leave their watery home at night to find sustenance in the way of grass and other plant material, on land.  On this magical night at Chinzombo, they didn't have far to go with plenty of emerging vegetation being available for them, just meters away from where we were enjoying our own meal.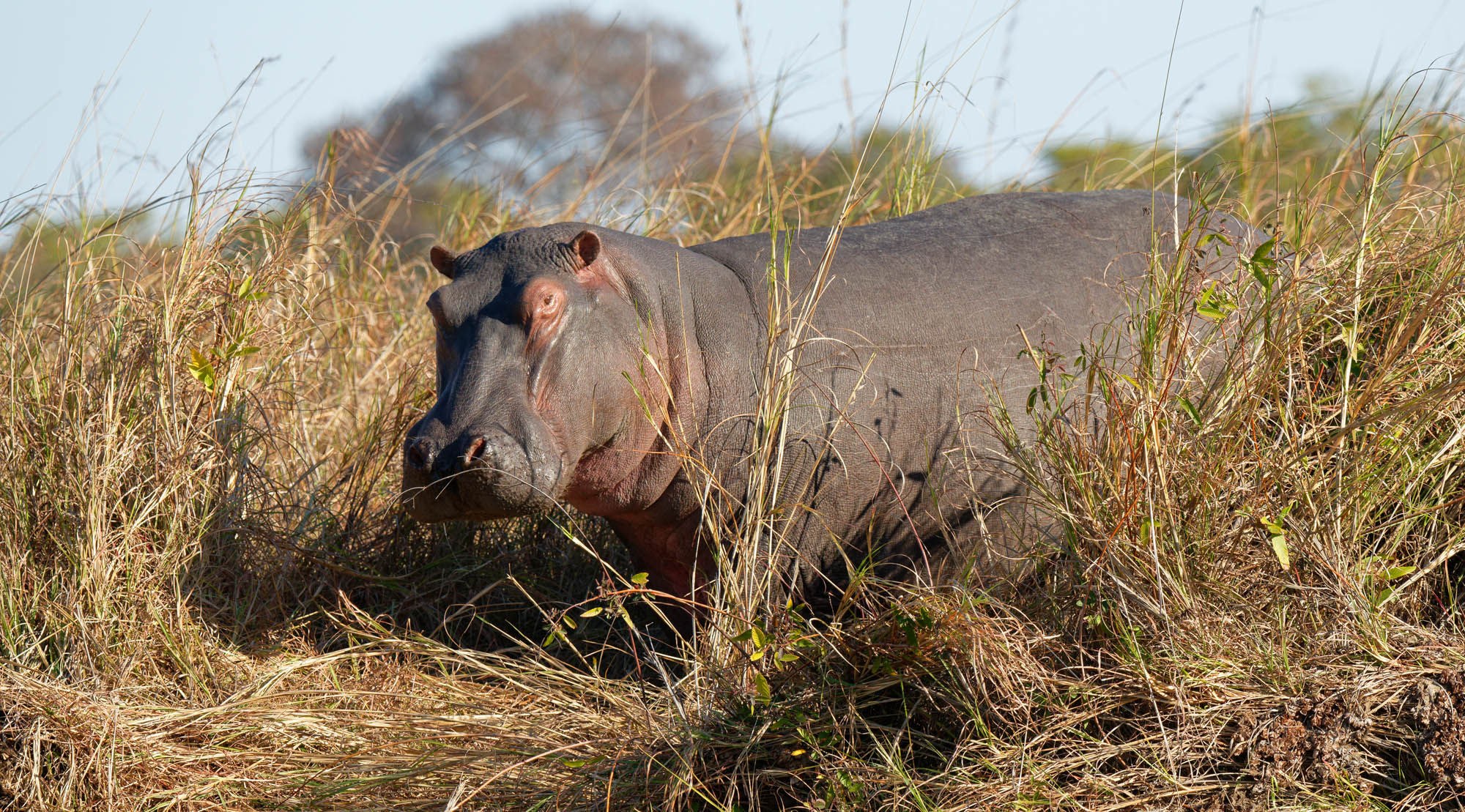 Dinner with hippos?  Only in Africa.  When one of the Chinzombo waitstaff closed a dinnerware cupboard a bit too firmly, it spooked one of the hippos which scampered away, momentarily.  Or perhaps more correctly, lumbered away... Either way, it was a unique experience to see these massive beasts so close up in an entirely safe manner as we were elevated on a huge indoor/outdoor covered deck, overlooking the Luangwa River.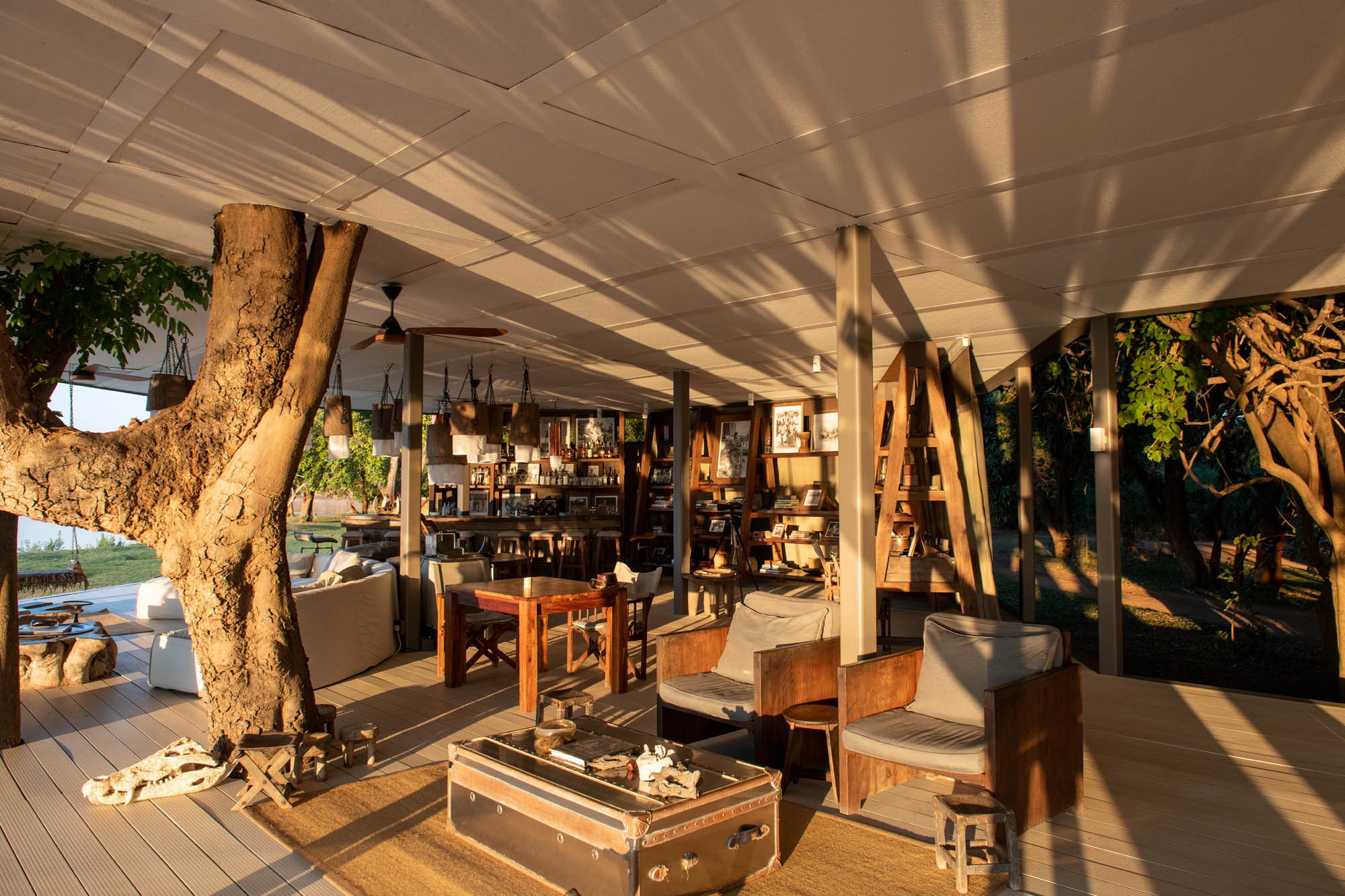 For visitors from the USA, Lusaka, Zambia is usually at the end of a long, marathon journey via Johannesburg or several other cities in Africa or the Middle East. So it was in my case in mid-July when I arrived in Zambia after three flights totaling some 25 hours aloft from Houston via Doha and Jo'burg. Fortunately with a short break in South Africa to visit my family and in the process adjust to the new time-zone.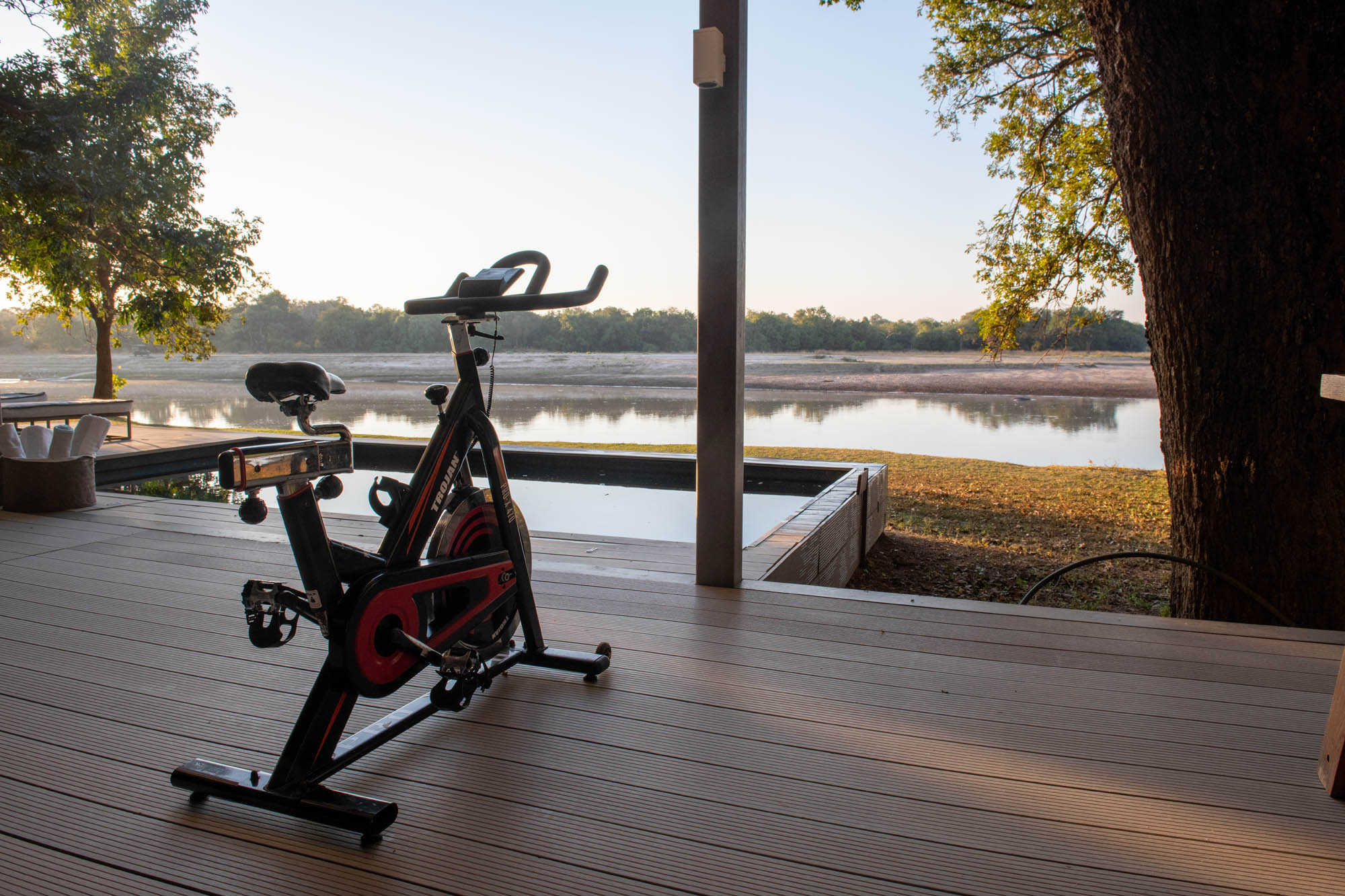 Mercifully, Zambian entrance facilities including a health check (checking of Covid certificate, handing over short pre completed form and temperature check) and obtaining a $50 single entry visa, took all of 10 minutes. Friendly and professional.
The impressive, brand new international arrival and departures hall (Terminal 1) was officially opened just days after we left Zambia, on August 5. For the time being domestic flights will continue to depart and arrive from Terminal 2, the old Lusaka Airport, which has clearly seen better days.
Photo - Great Plains Conservation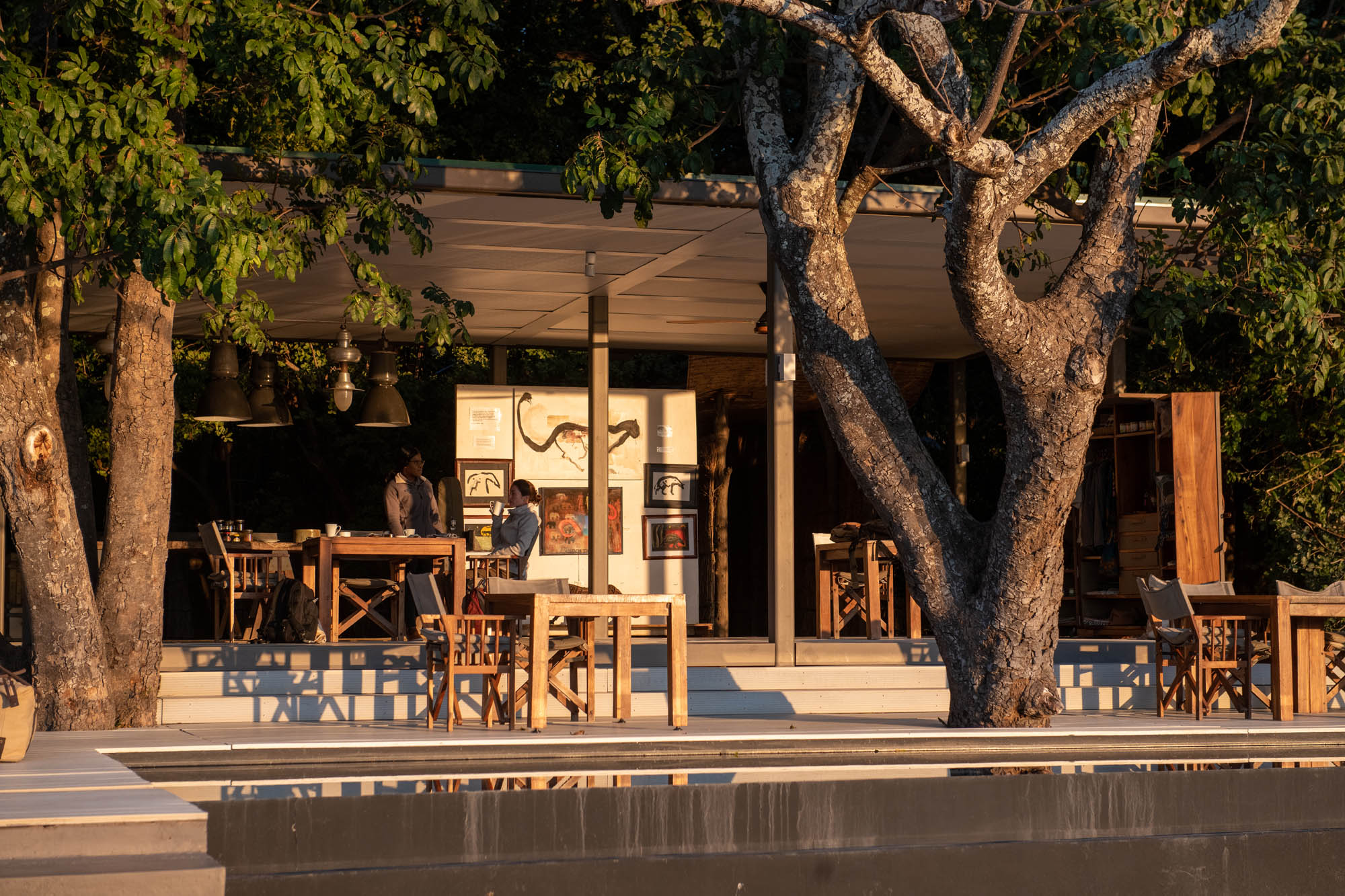 On August 6, Zambia also welcomed the first arrival of Qatar Airways which will initially service Lusaka via Harare, Zimbabwe, with 3 flights per  week on Wednesdays, Fridays and Sundays.  This means that Zambia can now be reached directly from the USA - without transiting either South Africa or Europe - on Emirates, Ethiopian and Qatar.
From Lusaka it took about an hour by air - on a 29-seater twin turboprop Jetstream 41 - to reach Mfuwe Airport. From there we were driven to Chinzombo Camp which would be the first stop on our 12-day fam trip encompassing the South Luangwa,  Kafue and Lower Zambezi regions.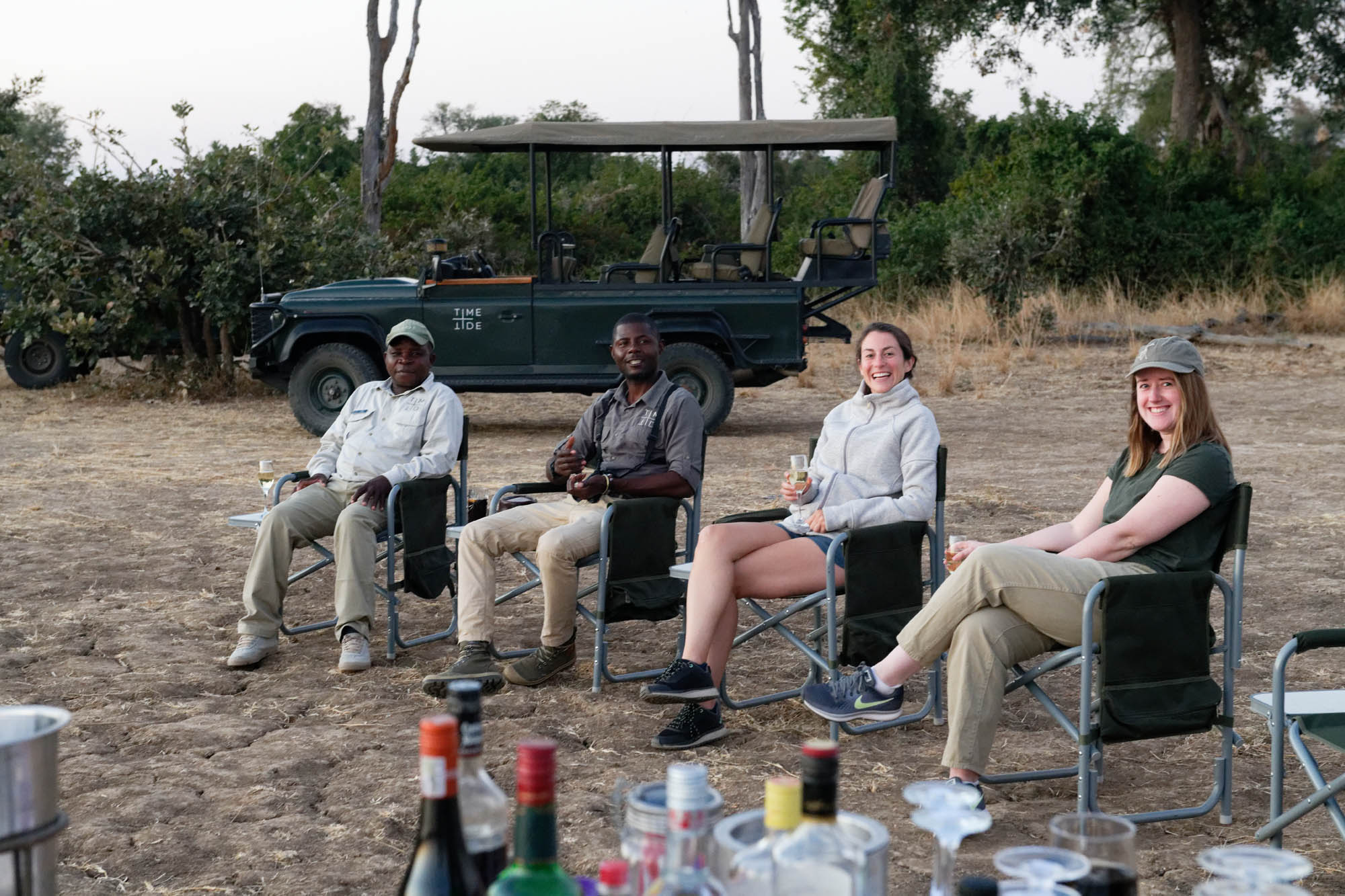 Our Chinzombo guide - Innocent - who would stay with us for the first few days of our trip - was everything one could ask for and expect in a professional safari guide:  friendly, enthusiastic and exceedingly knowledgeable.  Innocent has that special ability to blend and effectively communicate just the right mix of hard facts, story-telling and background information to keep things interesting, irrespective of whether you are watching lions or ant-lions.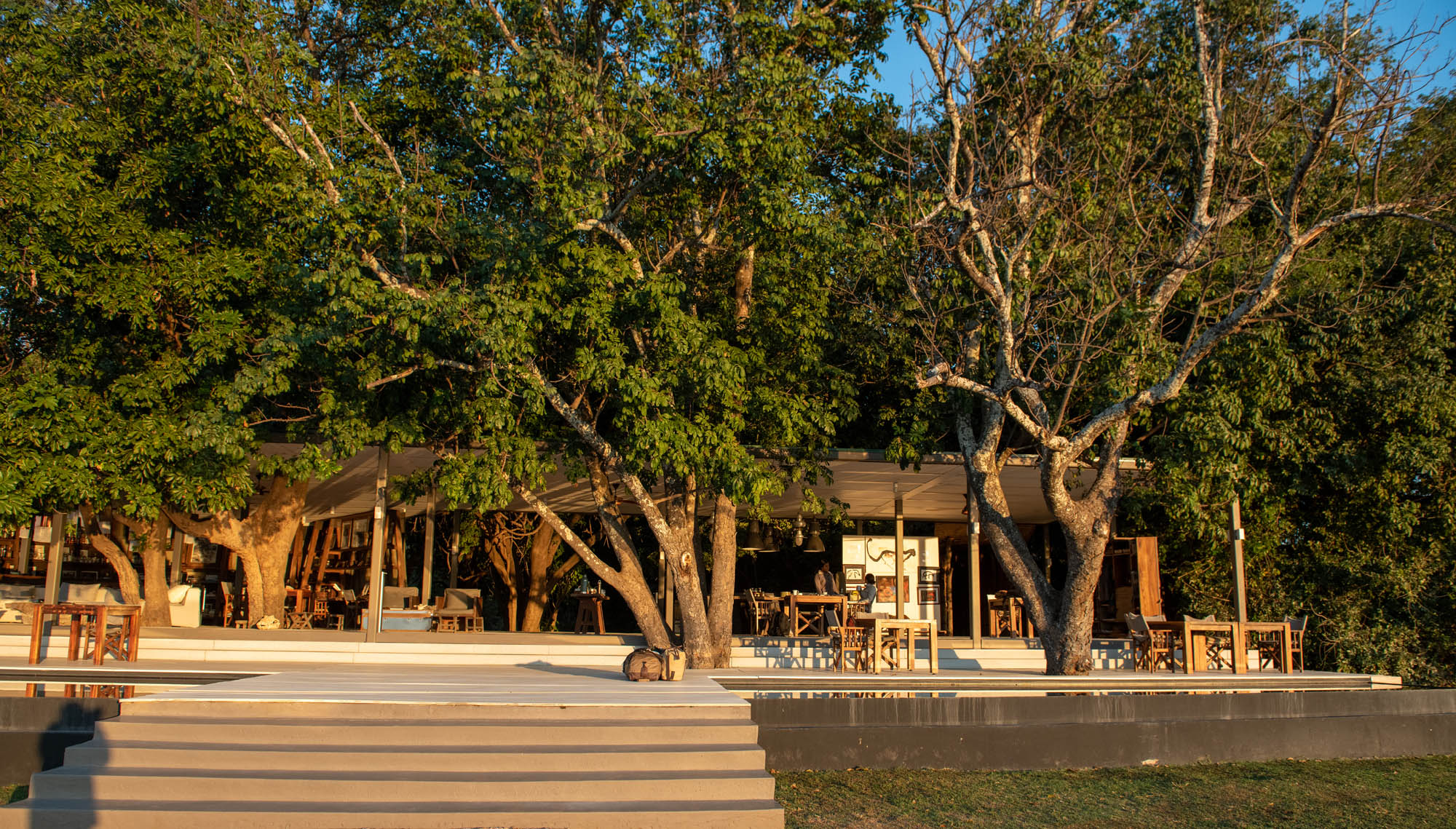 We certainly started on a high note. Time & Tide's Chinzombo camp is very small with only six spacious tented villas, including a two-bedroom, two-bathroom family villa. At the end of a long journey -  or perhaps towards the end of a safari - this is the perfect spot to relax on your verandah overlooking a sweeping curve of the Luangwa River.  Perfect for letting a pod of hippos lull you to sleep. Or more likely wake you up earlier than you might have wanted to.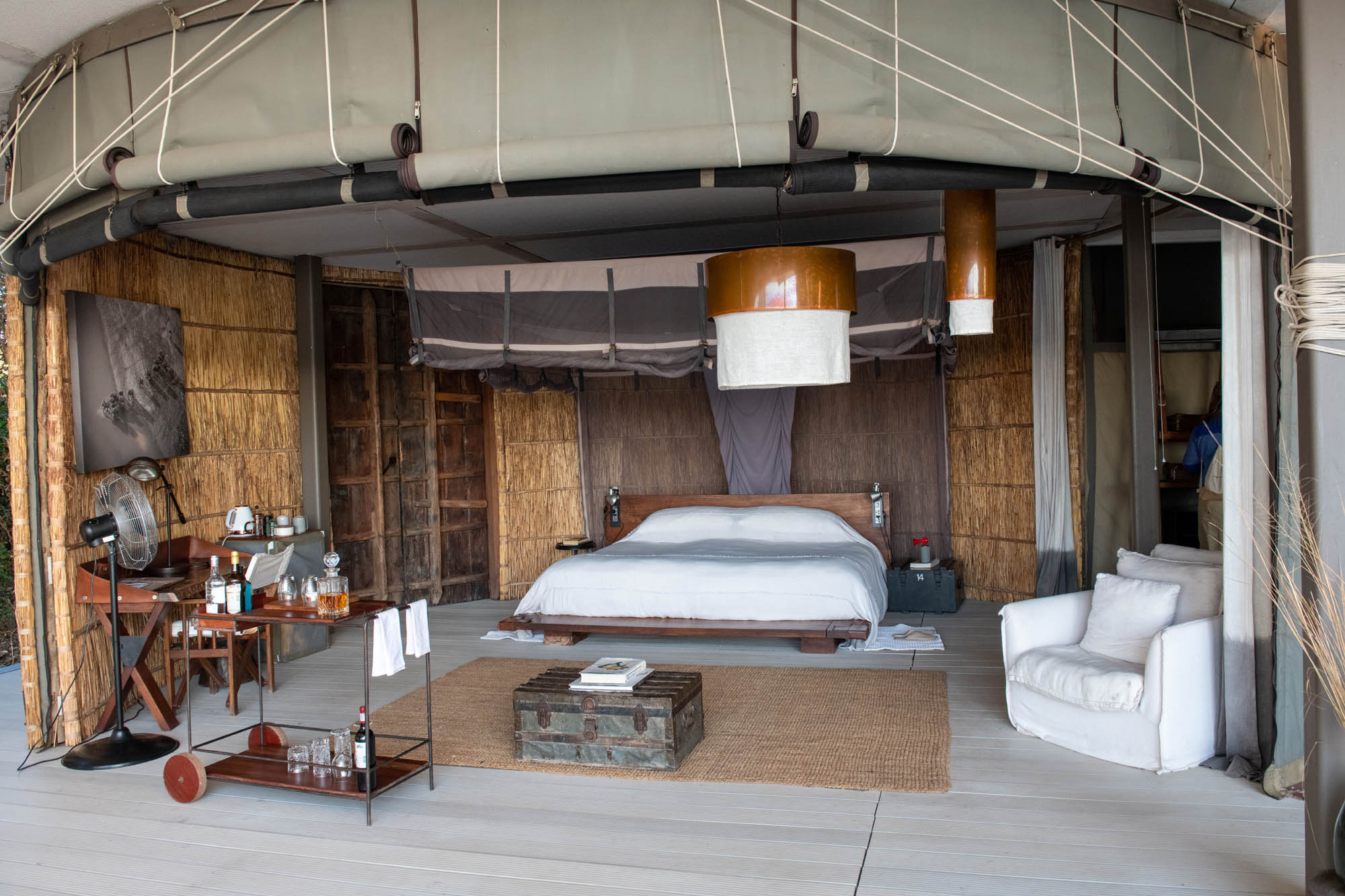 Named after a type of tree which grows near the camp, Chinzombo's natural building materials and vintage accents blend modern style with the best of a traditional bush safari camp.  The huge villas come with a king size bed or two ¾ size beds, a luxury mosquito net, and good reading lamps. There are plenty of charging points.  The separate enclosed indoor shower and separate toilet 'room' were the only less than stellar elements in the total mix.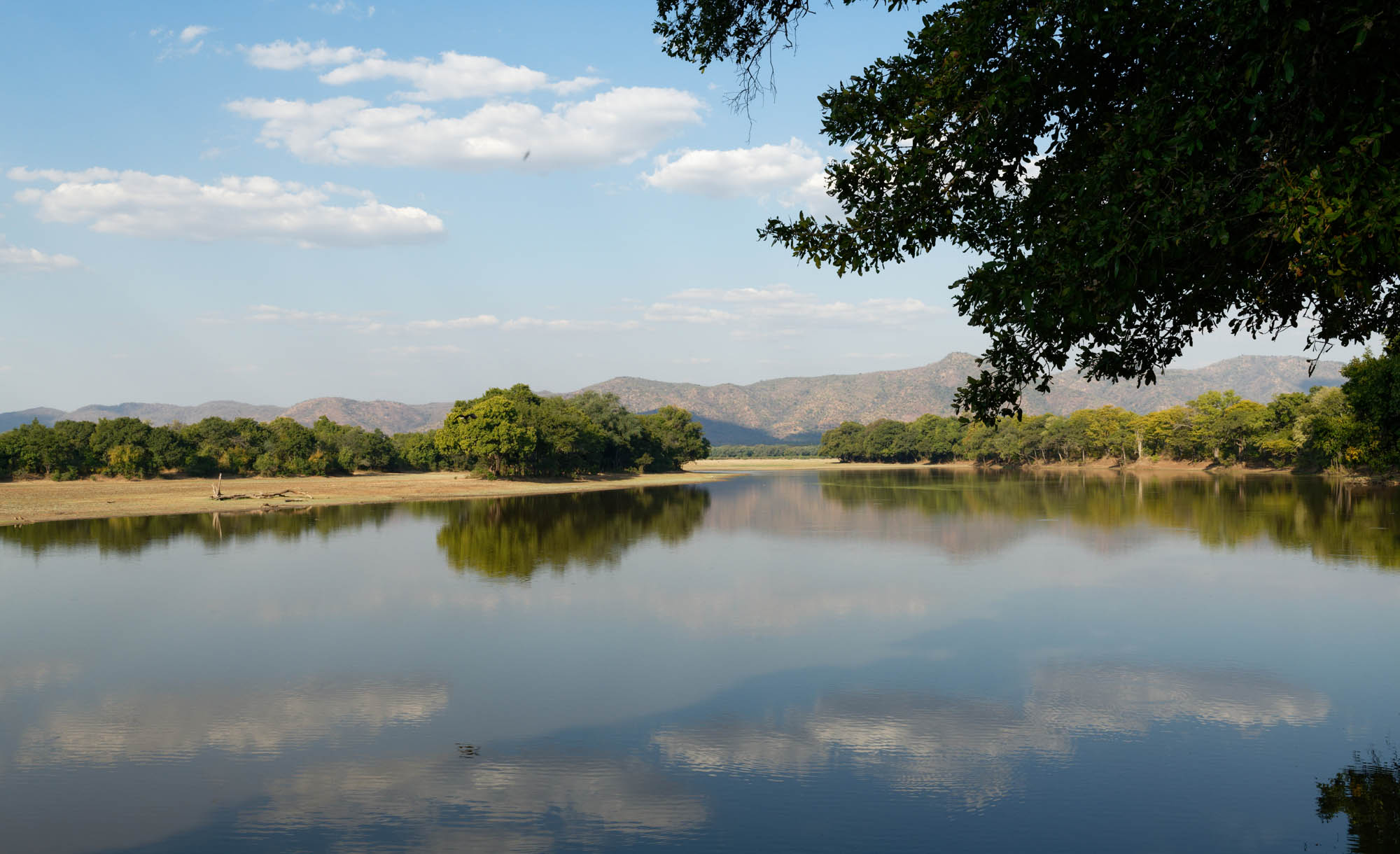 Tucked beneath ancient msikzi trees, each of the guest villas has a private pool and soaking tub with panoramic views over the river and wildlife.  If I'd had more time here I certainly would have spent some of it on the expansive shaded verandah, just the place to unwind with a book or to get pampered with an in-room spa treatment.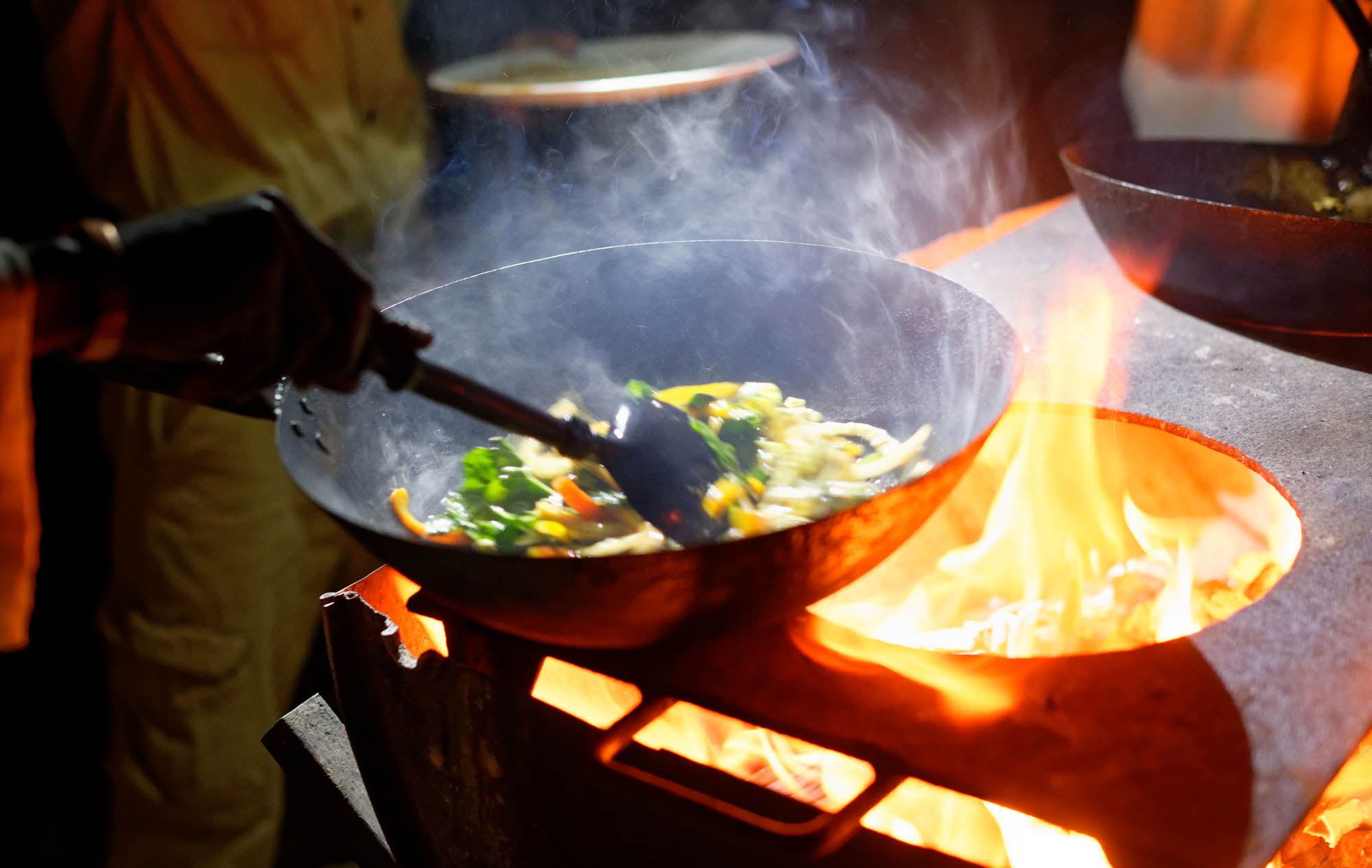 Down a winding path, the main lodge beckons; in my case from one of the villas closest to the main area, it was just a short walk.  This is where we enjoyed the  wonderful, hippo-enhanced dinner of grilled tilapia with rice and a delicious sauce.  The two other alternative main course options were fillet of beef or a vegetarian option.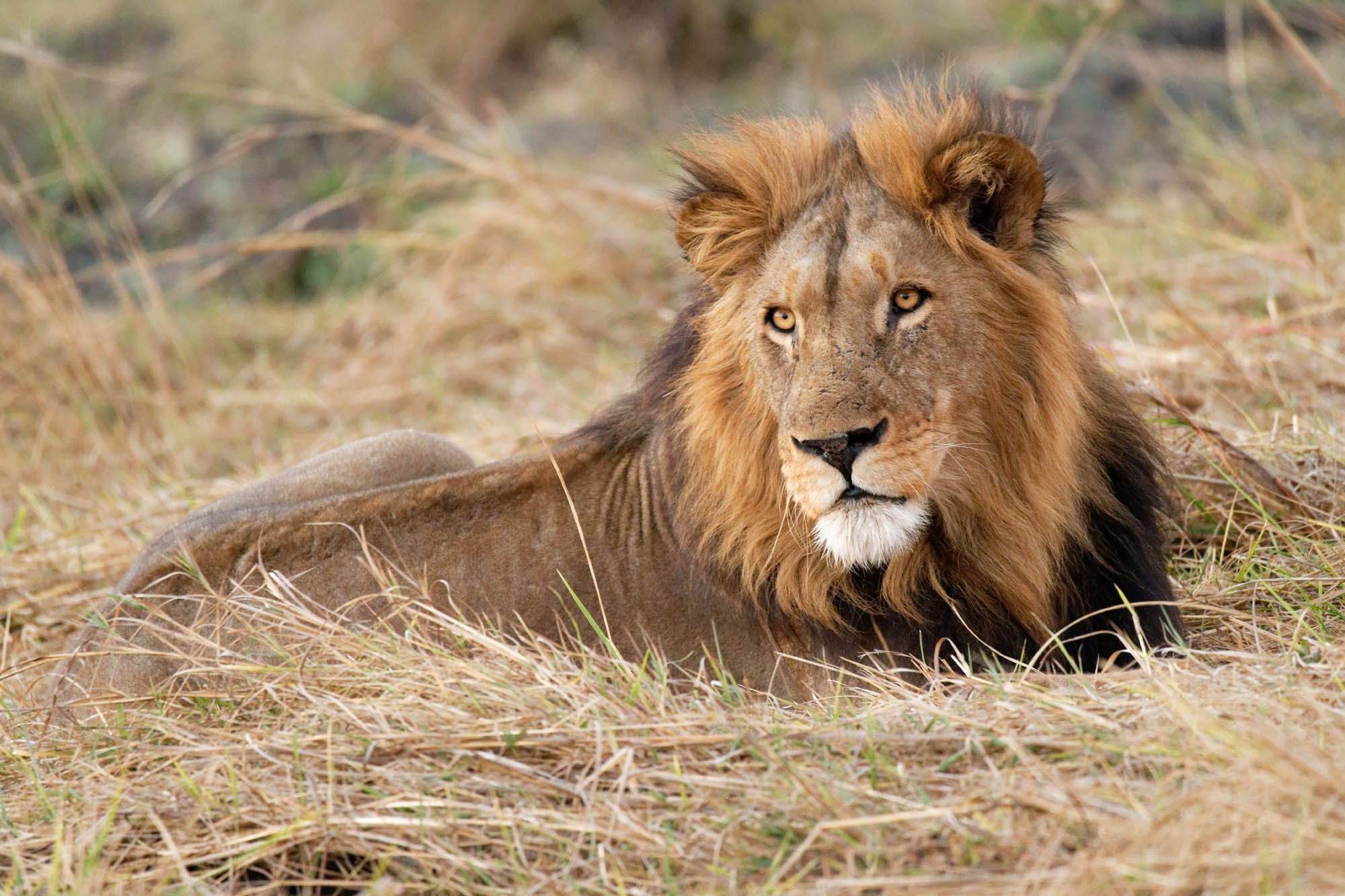 Later that evening I found myself listening to the sounds of lions and hyenas while enjoying a relaxing bath in the oversized tub, with even more hippos grazing away on the huge expanse of short grass leading down to the river.  Once heard, the distinctive sound of their large rubbery mouths grasping mouthfuls of vegetation at a regular, measured frequency, is hard to forget.  And just as effective as counting sheep, or listening to a soothing voice, to transport you gently across the elusive barrier between waking and sleeping.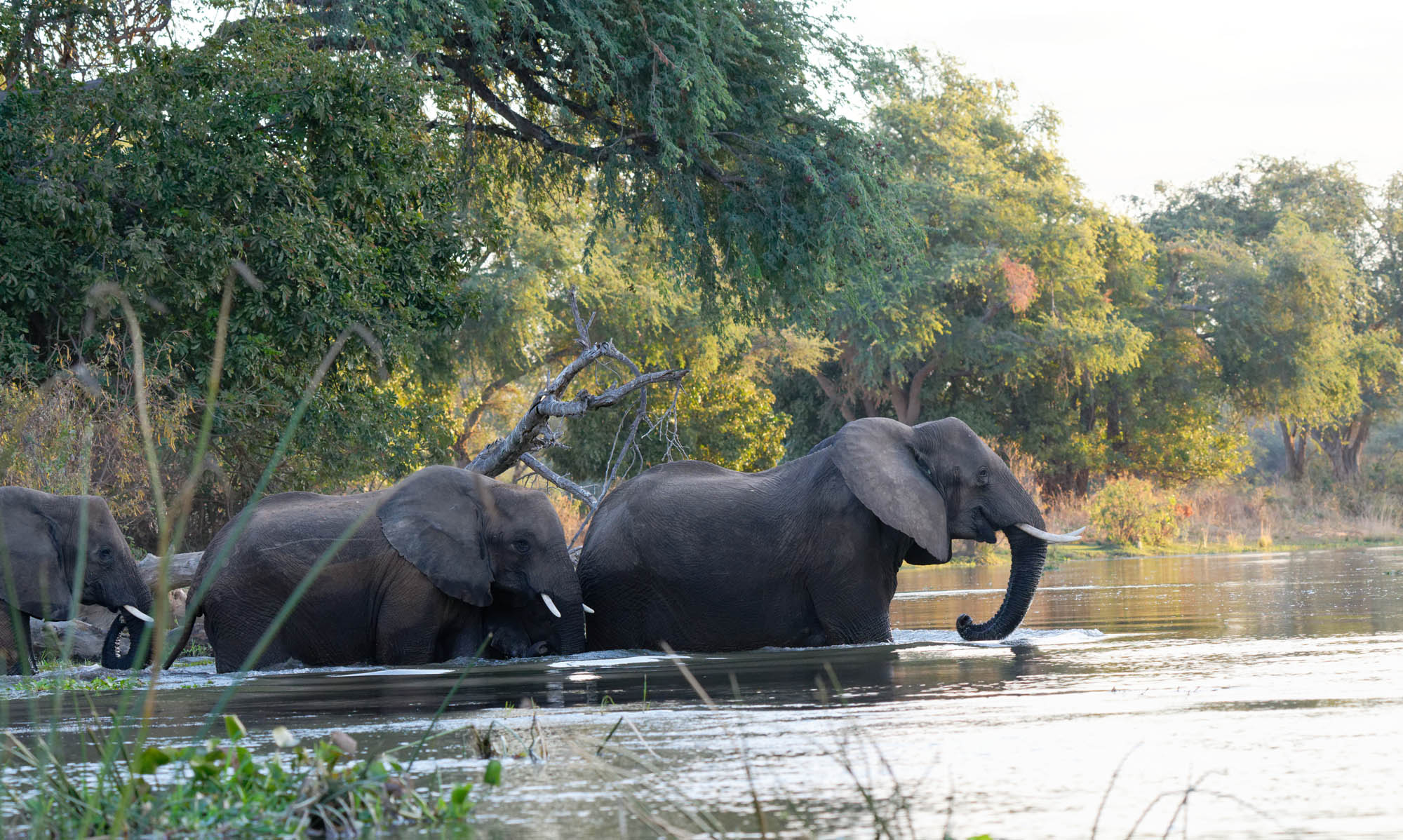 The Mfuwe area is one of the most game-rich areas of South Luangwa National Park.  Early the following morning we took a short boat trip across the river for a game drive en route to Time & Tide's Kakuli Camp, which would be our next stop.   In addition to all the usual suspects (elephants, buffaloes, zebras, giraffes, impalas, pukus, warthogs and an amazing variety of birds) we got lucky with sightings of lions and we witnessed extraordinary interaction between a hyena and a crocodile.  More about that in our blog next week.   In addition to game drives, activities at Chinzombo include safari walks and boat safaris, when the Luangwa River is high in late summer.  The camp is open year-round.