$cat_name = 'category'; $categories = get_the_terms($post->ID, $cat_name); foreach ($categories as $category) { if ($category->parent) { echo $category->name; } } ?>
Oct 18, 2013
Northern Serengeti October 2013
Share: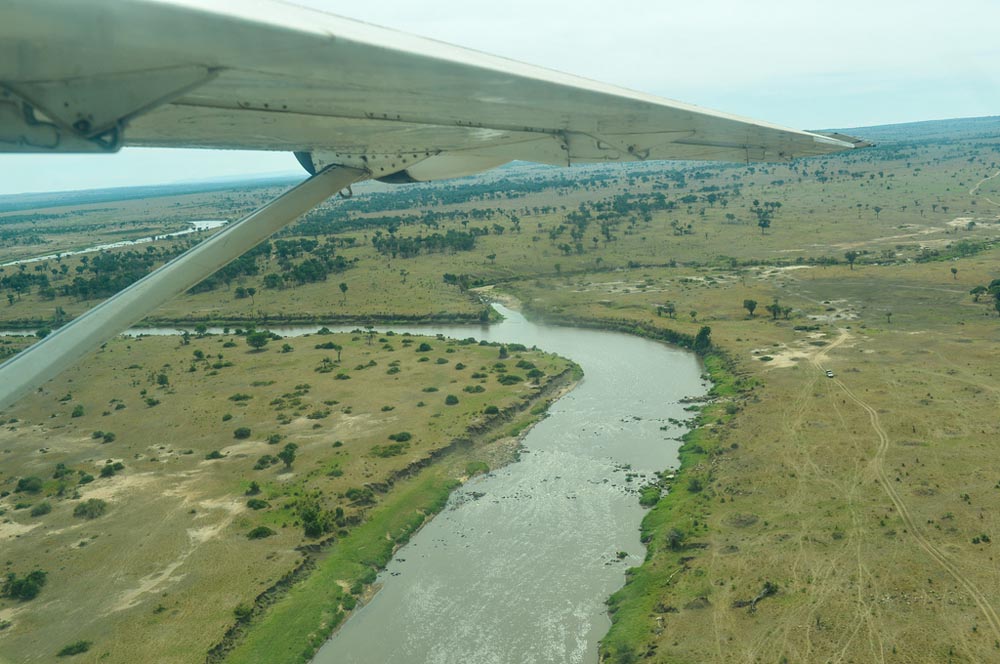 Northern Serengeti October 2013
PART 1: INTRODUCTION
It has been a few years since my last visit to the Serengeti in Tanzania. Previous visits had taken me to the southern short-grass plains in the Ndutu area, to Seronera in the Central Serengeti and also to the Grumeti area in the Western Corridor. This was a first: a few days at a couple of Nomad Tanzania properties in the far northern Serengeti, close to the border with Kenya and just south of the Mara where I had spent a few days in June this year.
After just 4 days in the area three things stood out: the Northern Serengeti is visually one of the most arresting bits of real estate likely anywhere in Africa. There is just no way to do justice to this mosaic of grass, sky and rocky hills with a photo or description. You just have to see it yourself. A soul-pleasing place where civilization as we know it ends and the primeval beauty of nature in the raw takes over. Every now and then I felt like just stopping for no reason to let my eyes linger on the beauty around me. Is there really a place like this where one massive grassy plain merges into another one, where one series of hills on the horizon vies with another to be more like the Africa you had come to see? Yes there is – but don't wait too long to get on a plane to Kogatende to experience it for yourself. Already, there are quite a few mobile tented camps in the area and several permanent camps, with more to come. It is not nearly as popular – and crowded – yet as the Masai Mara, but it won't be long.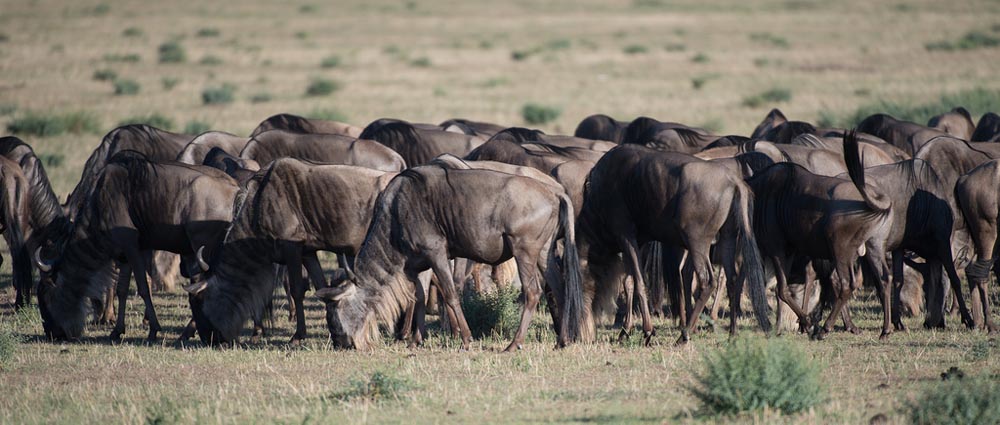 Which brings me to the second thing that struck me: the game-viewing. Even though our trip came right at the very end of the season, in late October, the quality of the game-viewing was of such a standard that even the most demanding 'big cat only' aficionado would have given it the thumbs up. A first-time visitor would have been blown away by the diversity and the sheer numbers of animals. By Day Two we had seen the Big Five (black rhino, lion, leopard, buffalo and elephant) and by Day Four we had notched up several game-viewing experiences which belong firmly in our own personal hall of fame of best game drives ever. More about that later.
Our third impression was of course the friendly and gracious reception we received from the management and staff at the two properties we visited and the range of accommodation options available in the area. We spent a couple of nights at two very different yet both authentically African properties, namely Serengeti Safari Camp and Lamai Serengeti, both operated by Nomad Tanzania.
Serengeti Safari Camp is a rustic mobile tented camp which moves several times during the course of the year to be as close as possible to the wildebeest migration. It recreates the style of an old-fashioned safari without too many modern trappings: comfortable and a lot of fun with direct contact with the wilderness. You expect to have some camp followers in the form of a herd of wildebeest stare at you as you exit the tent just before dawn to retrieve a welcome cup of coffee or tea. You're mildly disappointed if you don't hear lions, hyenas, owls or other wildlife kicking up a bit of a fuss outside the tent at some or other time during the night. And with a bit of luck you are treated to repeated doses of the Burchell's zebra's distinctive – almost birdlike – braying call, one of the most unmistakably African sounds of all.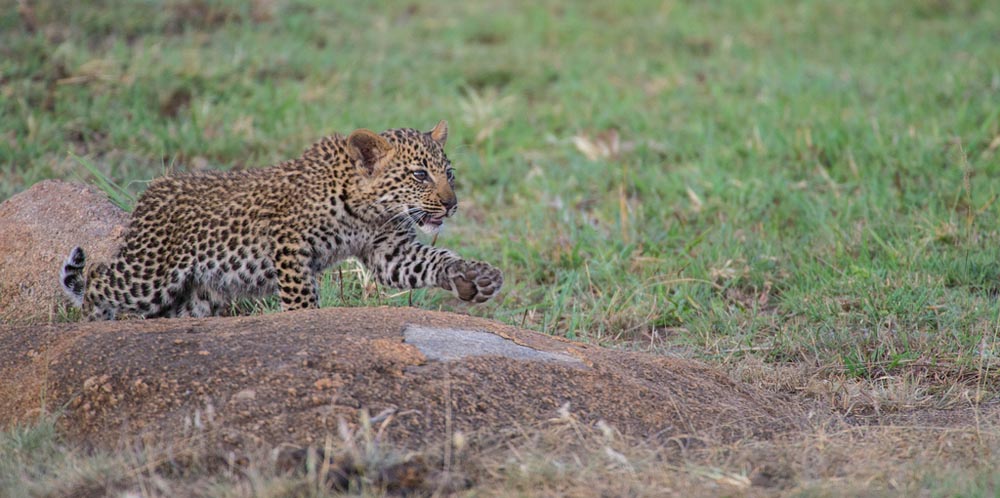 Lamai Serengeti is no less authentic of an African safari experience than Serengeti Safari Camp- it just comes with nicer rooms, an expansive lounge and dining room area and likely the best view of any safari lodge in Tanzania. The camp is located almost totally within the confines of a prominent rocky hill with a commanding view of the surrounding plains and toward the escarpment, the Mara River and the Masai Mara National Park. It makes absolutely the most of the location. Lamai has a few more rooms than Serengeti Safari Camp but it retains contact with the environment in a pleasing and effective manner. Sit at a particular table for lunch and you'll have a rockface a couple of meters to your right, and a massive expanse of plains, riverine valleys and hillocks, right in front of you.
We popped into two other properties in the area namely Mwanga Moto mobile tented camp, also in the Kogatende area, and Sayari, a beautiful and very stylish tented camp located on an elevated spot close to some reliable wildebeest migration crossing points on the Mara River. Both of these would be perfectly fine choices for a visit to the area as well. The tents at Mwanga Moto had a quality feel and appearance, and with a bit of color and some nice touches in the bathrooms it would make for a very comfortable tented camping experience. We liked the small enclosed porches a whole lot.
Sayari was quite stunning: both the rooms and the common areas were replete with pleasing design elements. Clean and uncluttered yet oh so stylish. On the day there were many pesky flies (regular ones, not tsetses) about, mostly because there was not even a whisper of a breeze in the air.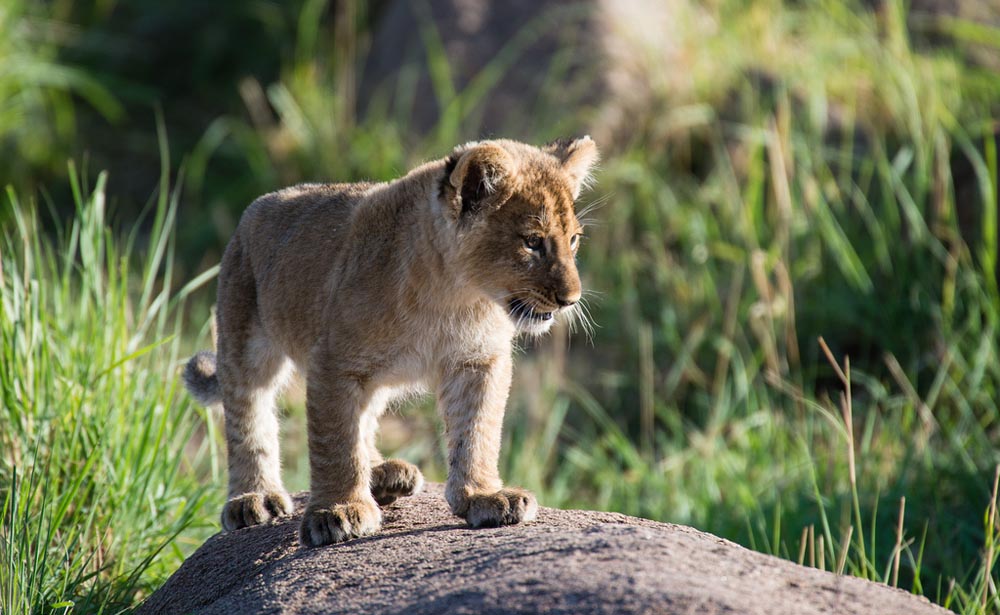 PART 2: BACK TO THE BEGINNING
Many Africa trips of course don't start in Africa, and neither did this one. It started two days earlier on a nice fall day in Houston, with the usual brusque treatment from the TSA, and the equally predictable late take-off on KLM bound for Amsterdam, in the same aging Boeing 747 Combi, as in June 2013. This time without the race horses in the back. We checked.
This time around the flight was a lot more bearable, dare I say enjoyable, due to an upgrade (which we paid for) to Economy Comfort. This will be our default choice of seating on KLM, Delta or Air France from now on. Price-wise it comes at a bit of a premium but nothing like the insane business or first class fares. And what do you get? Well for one thing as much as 4 inches of extra legroom and let's face it when you're flying, 4 inches is huge. You can opt for a 2-seater section and on a flight that isn't too full (like ours) you might even get lucky with an aisle and window in a 3-seater section. Add a' private' toilet, a dedicated flight attendant and a very quiet section of the plane (towards the nose) and you have yourself a real bargain.
Despite taking off more than 30 minutes late out of IAH, we were in Amsterdam right on time due to a strong tailwind. At times the aging B747 was zipping across the Atlantic at well over 700 miles an hour. That's about as fast as anybody has flown commercially since the demise of the Concorde! Of course that is ground speed – the plane itself was flying at its usual cruising speed of around 560 mph, we were just being pushed along by a very strong tailwind.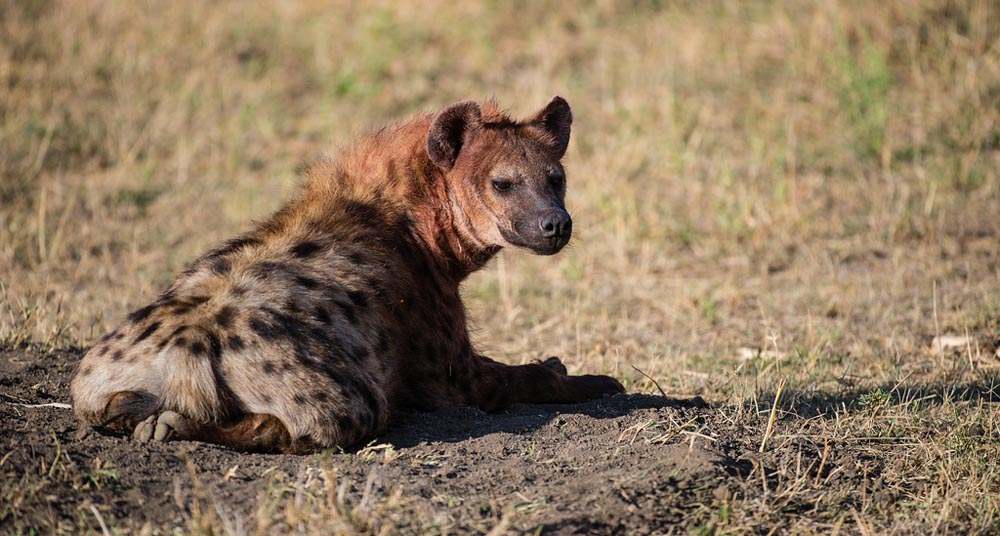 Amsterdam was sunny for once, the concourses were just as busy as always, with lots of chintzy clogs and pretty flowers on sale, for not much more than the price of a hot tea and a cafe latte. Somehow we whiled away three hours and then strapped ourselves in for yet another 8+ hours to Kilimanjaro. The on-board food was so-so, the movie selection totally uninspiring but I found (in the CD collection) a nice selection of opera music. So the next few hours were spent in the delightful and supremely talented company of Maria Callas and Anna Netrebko. Nothing makes time fly quite as well as the late Ms. Callas' rendition of 'Je Suis Titania' from Mignon. Or pretty much anything sung by Ms. Netrebko.
But back to matters at hand. On the flight from Amsterdam to Houston we were in regular economy class. Even though we wanted to, we were unable to upgrade to economy comfort upon checking in at IAH. Airlines are their own worst enemies when it comes to pursuing profit. Making it difficult for your customers to spend their money is never a good idea. Right? So it ended up being a very long and rather tiring flight – all of 8 hrs 30 minutes, watching a couple of movies ('Heat' was not too bad) and doing a little reading.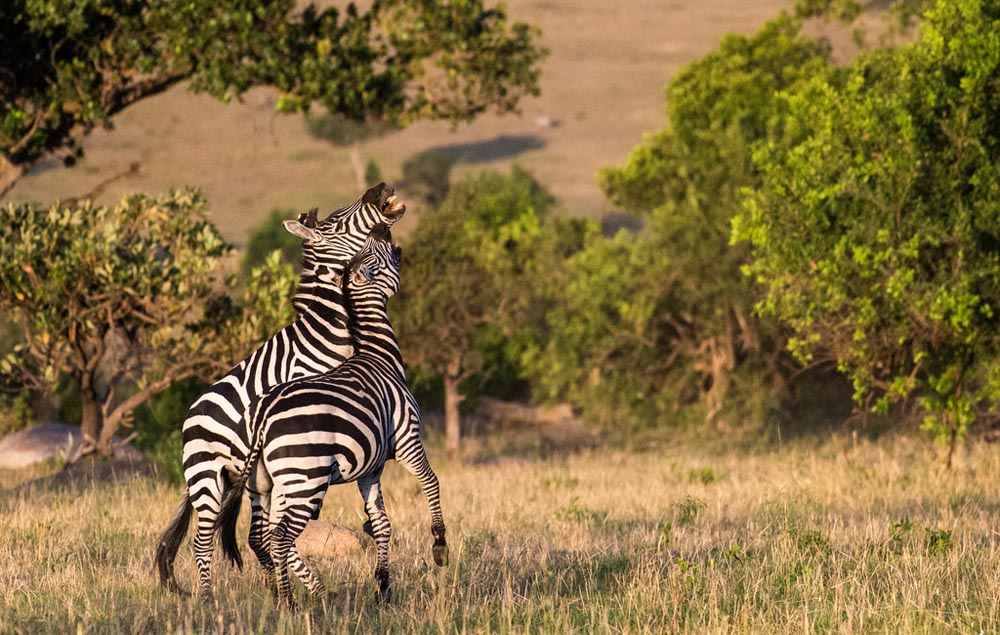 RIVERTREES COUNTRY INN, ARUSHA
We already had our visas for Tanzania but even so, it was a very slow process filing past the surly immigration official who preferred to make hand signals in lieu of speaking. Eventually we made it out to the luggage area, picked up our bags and headed outside where a Nomad Tanzania driver was waiting to take us to Rivertrees Country Inn which would be our digs for the night. By now it was just after 9pm and we were tired and maybe even a bit cranky. A very pleasant meal with a peppery carrot soup, a local bean dish, brown rice, beet salad, a fruit salad and fresh bread revived us somewhat.
The lodge is located amongst very pleasant surroundings, with a lovely garden and spacious grounds with a large deck from where there is a view over a riverine forest, some huge trees and various flowering plants. There were lots of bird calls on the morning of our departure.
The room is large and comfortable and there is a double bed with mosquito net – we needed it. The lighting was rather poor -it felt like we were already on safari. A hot bath was very welcome. There was a bit of a drainage issue when some water from the bath bubbled out onto the bathroom floor. Another minor issue was the fan only working when the generator is on. We could have used it going to bed.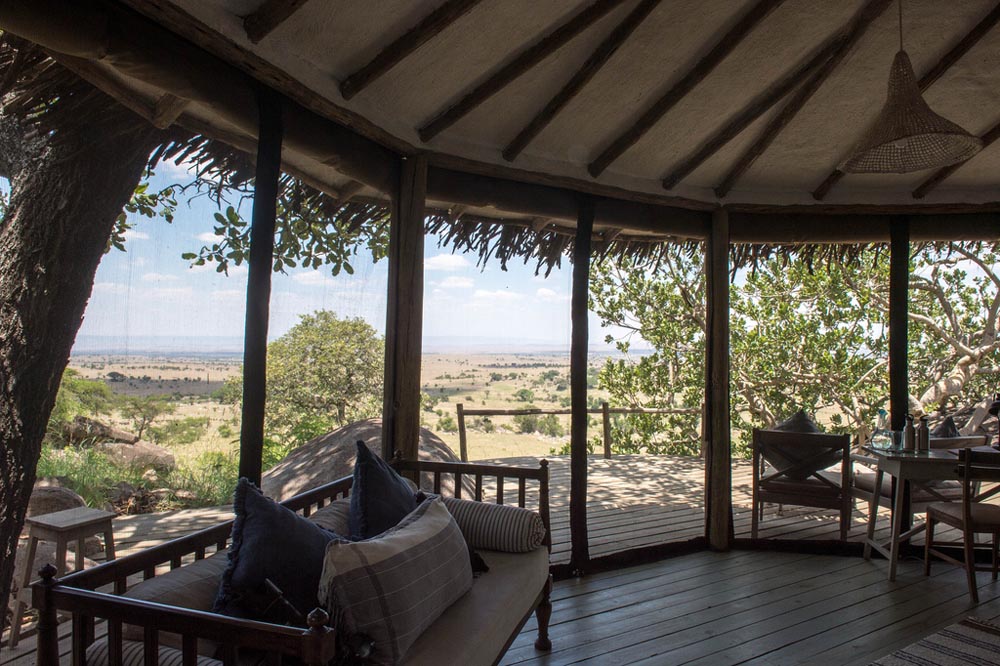 SERENGETI SAFARI CAMP
We were up quite early on Oct 24, and enjoyed a good breakfast at Rivertrees: porridge with soy milk, toast and a selection of fresh fruit. Then on to Arusha Airport, where after a minimum of formalities and a maximum price for a cup of coffee, we boarded a Caravan for the flight to Kogatende in the northern Serengeti. The first stop was a Lake Manyara and after that Grumeti, making it a 2-hr flight in total.
On arrival at Kogatende we were met by our Nomad guide Philip who happened to have been our guide at Nomad Tanzania's Sand Rivers Selous back in 2008. Nice to see you again Philip! Philip drove us to nearby Mwanga Moto mobile camp for a camp inspection and lunch.
We looked at a couple of the tents at Mwanga Moto (Firelight) and liked what we saw: spacious, nicely equipped and functional, particularly the bathroom and shower setup. Lunch was nice too with chicken, potatoes, avocado salad, a mixed salad with peppers, onions and cucumber. Camp manager John was clearly quite happy to have us. The lounge and dining room areas were quite cozy and colorful.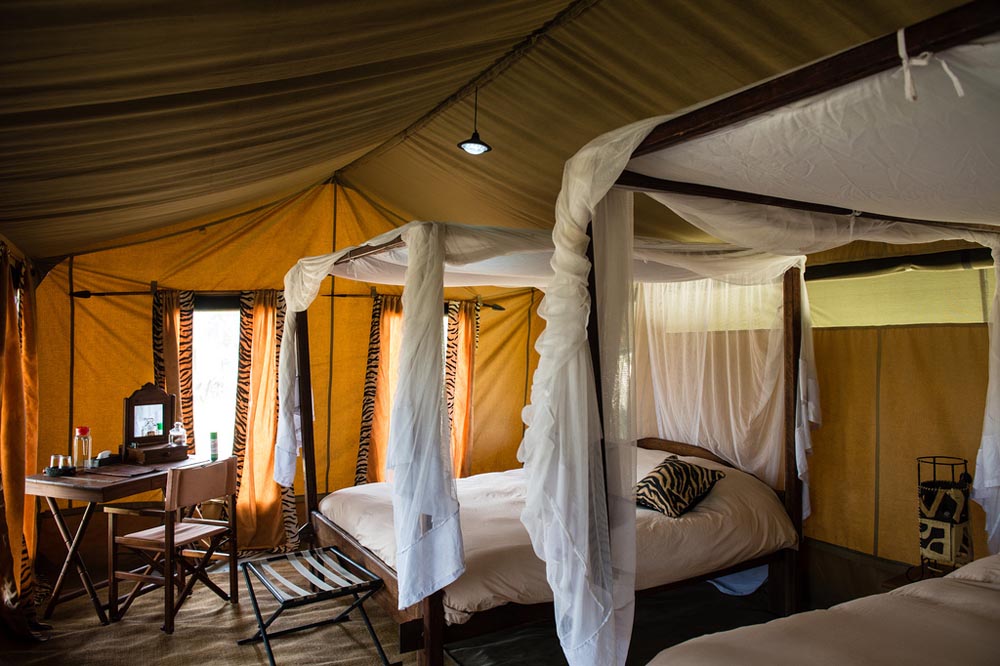 Serengeti Safari Camp – Housekeeping Notes
Being a mobile tented camp, SSC is quite basic but I think most visitors would be happy with the
overall level of comfort. There is plenty of hot water (on demand) for a bucket shower pretty
much any time you want it. Hint: the shower has two settings – trickle and ood – so adjust the
rate of ow to your preference. Here is how to make sure you don't get stuck all soapy with no
water left in the bucket: get yourself totally wet rst, lather & shampoo next (turn off the water
while you do this) and then rinse.
We would have liked to have some type of running water other than the bucket shower, for brushing
teeth and washing one's face in the morning. The room attendant puts out a couple of jugs
(one hot and one room temperature) in the morning but a small spigot on a metal or plastic tank
would be a great addition.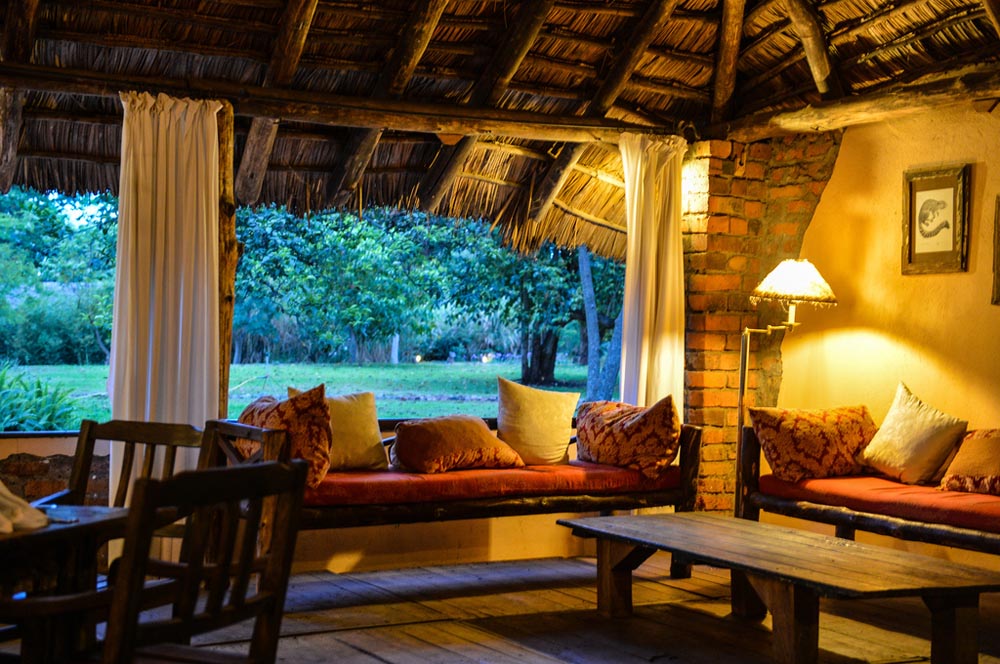 Then it was on to Serengeti Safari Camp. We were in Tent #4 (of 6), which was spacious enough with a comfortable bed and good pillows. We enjoyed an excellent dinner with Philip and a young couple from Hong Kong. In addition to a braised leg of pork the chef prepared a special vegan bean stew, together with carrots, potatoes & broccoli – nished off with dessert. On the way to the camp we had been experiencing superb game-viewing, despite the fact that we were driving in the middle of the day, usually a very quiet time. We saw hundreds of wildebeest, zebra, Thompsons gazelle, impala, eland, Coho reedbuck, giraffe, elephant, warthog, topi, and some interesting birds. Other additions to the list over the next couple of days were hippo, crocodile, Defassa waterbuck, Olive Baboon, yellow-winged bat, black-backed jackal and spotted hyena. And lions – plenty of lions. The first lions we bumped into (on the next morning game drive out of SSC) were members of the Gadenja pride – a female and three 4 to 5 month old youngsters. Not long afterward we came upon a group of 10 females and youngsters with another three lions a distance away. Our lion tally for the morning: 18. We spent an hour or so just sitting and waiting for them to possibly take an interest in a group of wildebeest, but no luck. By noon, we were back in camp for a lunch of vegetarian calzone, pea salad and a mixed green salad. Time for a shower (on request at this bush camp), and then a short nap. On the afternoon game drive out of Serengeti Safari Camp we made several major additions to the trip list including buffalo and black rhino. There were wildebeest everywhere, huge groups of them of several thousand moving through the area, possibly on their way back to the Mara. The Migration! Seeing a solitary black rhino in the fading afternoon light was electrifying. It was already too dark for a good photo but it really didn't matter. Seeing such a rare animal moving about condently in an open area reminded me of what it must have been like all over Africa, decades ago. Sadly, there are now very few places in the world where you can see a Black Rhino in a totally natural setting. I was fortunate to get close to some young jackals in very good light this afternoon, for some of the best pics of the trip to date.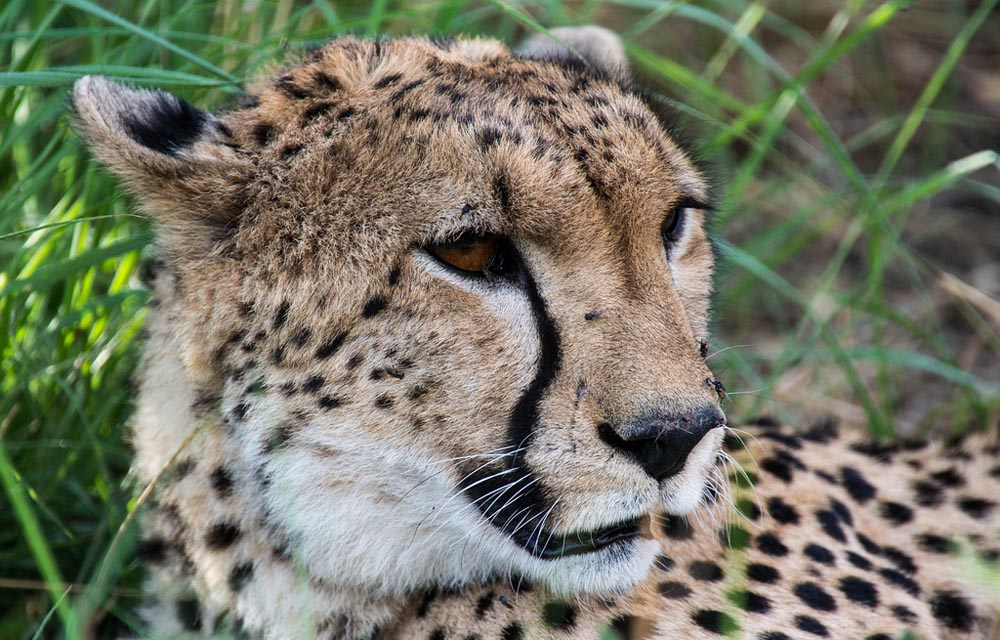 PART 3: LAMAI SERENGETI
Lamai Serengeti
It was another early start this morning with Philip – with very good game-viewing en route to Lamai Serengeti camp. We stopped for breakfast on the banks of the Mara River, having earlier seen the tragic aftermath of many of the animals having drowned in the river some weeks earlier, during the migration in the Mara. All in all I was quite unimpressed by Nomad's 'picnic breakfasts'. Good intention but no good. Of any meal, breakfast travels least well and is most unappetizing when served at room temperature. Cold fried eggs & sausage anyone? The company would be well-advised to scrap the picnic breakfast idea. Serve a light breakfast in camp and then return for a late brunch instead.
Just before noon we reached Lamai where there happened to be three cheetah lying in the shade, not far from camp. We jockeyed for position with about 5 or 6 vehicles in order to get a good angle for some photographs. Had this been the Mara, there would been 20+ vehicles around so I suppose a half dozen wasn't too bad. Then it was on to the camp. I had been anticipating my rst visit to Lamai Serengeti for several months and I was not disappointed. The camp is built in such a way that it almost becomes part of the kopje (hillock) itself. It makes the very best of its elevated location, with great to fantastic views from each room. We were in room #1 which apparently has the best views of any of the rooms. Not having seen all the other views I can't say for sure but won't dispute it: our room had a 180-degree view from the front & side of the room as well as from the bathroom, over the prettiest African plains scenery imagineable. Add a hodge podge of bold rocky outcrops and a line of low hills in the background and voila – as 'Out of Africa' as it comes. All very soothing to the psyche of your average city-dwelling denizen. It clearly took a lot of verve and imagination and some considerable derring-do to even imagine putting a lodge in this spot in the rst place. Never mind actually building it. But it works.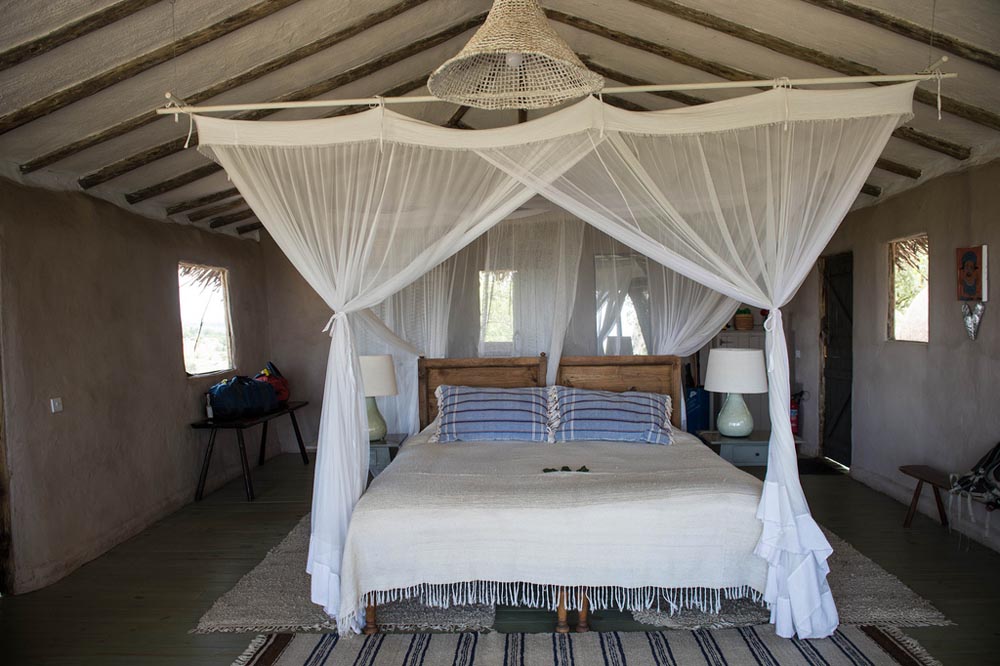 The camp is not without its shortcomings, although it is difcult to be critical about such a wonderful place. It is a slog to get to some of the rooms, and there are steps – many of them – pretty much anywhere on the property. So not a good choice for people with mobility issues. To get to and from Room #1 is really quite taxing – so be sure to ask for a room closer to the main area if you don't need or want the exercise. The two of us were quite happy to huff and puff a bit – exercise opportunities being a rare thing on safari.
The rooms are large and very comfortable and even on one of the hottests of summer days, we were never too hot. There is no fan but there is a large (approx 24 feet) gauze screen to the front which makes for very good circulation. So with just the slightest of a breeze, the temperature in the room is not an issue, very comfortable. The natural wood roof and light gunnite walls insulate the rooms pretty well too. There is a good size deck with a couple of comfortable chairs in front of the room, to sit and chill and enjoy the view.
It is a pity that the room itself does not match the unique setting. It is almost as if the designer had run out of ideas by the time the room interior had to be planned. For example: the bathroom has a totally stunning view but the furnishings are sparse and rather rough-hewn, with a shower in the corner as well as a very plain – totally standard – toilet and a rather unattractive vanity with his and hers bassinettes. There's plenty of space for a large tub which would have great; or better yet an outdoor tub making the most of the incomparable view.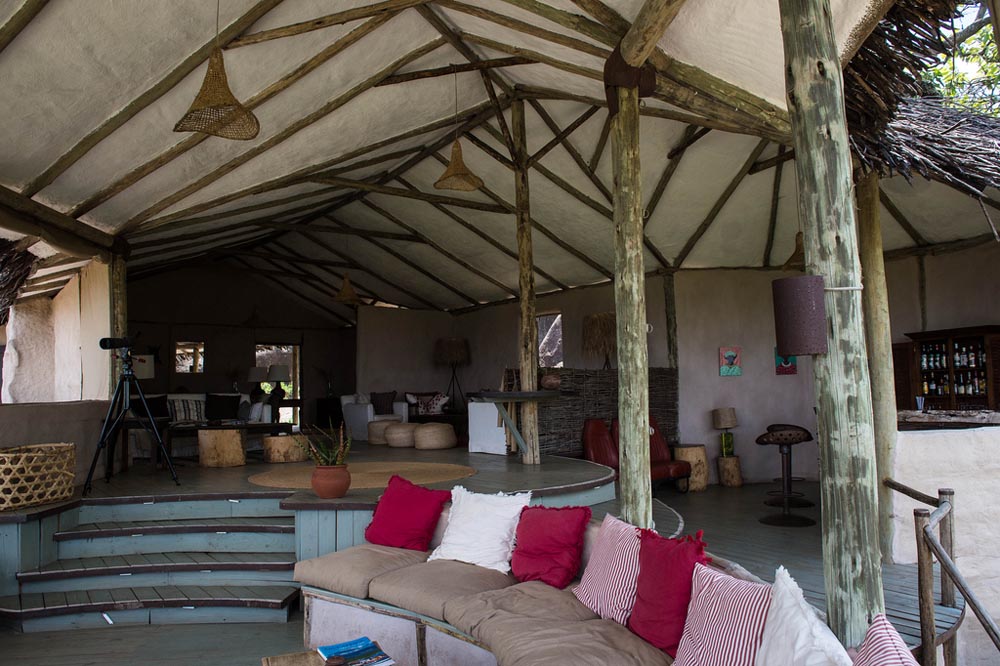 The bedroom portion of the unit is large but not necessarily a place where one would be tempted to spend a lot of time. The view from the bed is superb but it is obscured by a dark insect screen. Surely a sliding glass door would not be out of place here? The room just begs to be more open to its superb setting.
Of course I have no idea what the designer had in mind with the property. If the aim was something rather plain, even a bit rustic, then yes the muted colors, sparse furnishings, local materials and rough nishes do the job. Lamai Serengeti has an unbelievable setting and great game-viewing but if you are looking for a sleek, deluxe 'bush chic' property, this is not the place. It totally blends into its environment in terms of location, feel and appearance, and has a very authentic 'classic safari' feel. Lamai Serengeti is earthy and natural rather than glitzy and articial. If that rocks your boat then yes LS is the place for you.
I haven't said much yet about the game-viewing at Lamai and I should because it was simply amazing. Not just in terms of numbers – there's a lot of stuff to be seen – but the quality of the sightings was right up there with the best we have ever experienced in Africa.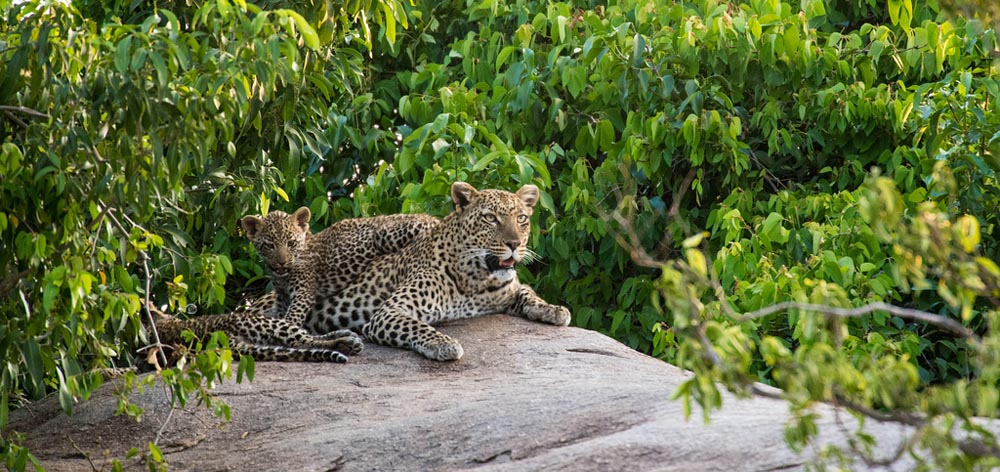 Our first afternoon game drive produced several scintillating sightings including cheetah, lion and leopard in that order! We took a second look at the three cheetah spotted earlier in the day, got a few ok pics and then moved on to a unique lion sighting: a lioness stretched out on the edge of a high rock cliff. She was completely relaxed, dozing peacefully in the late afternoon sun, likely seeking higher ground to escape the worst of the heat and possibly also the ies which were swarming all the other big cats in the area.
Then we went off to a nearby rocky outcrop where a family of leopard with 2 very young cubs had been seen the last two days. It did not take long for the rst little face to peer out from behind a rock ledge, and soon enough we were watching the antics of the two tiny leopard cubs clambering about, through the thick vegetation, along the edge of the rock face and beyond the outcrop when one of them decided to come and take a closer look at us.
Dinner at Lamai was fun – we were at a table with a few other agents and industry people – and like all the other meals here (except the packed breakfast) it was good and tasty. This evening's menu included a nice vegetable soup and for the vegans a stuffed aubergine (aka eggplant) and fresh fruit compote.
It was one of the hottest evenings of the summer, yet we were very comfortable in our room behind the large mosquito net. The evening sounds included a male lion roaring quite loudly – we subsequently learned that he was in camp that night. That's why they tell you not to go walkabout in the middle of the night…

Two More Game Drives In The Serengeti
Our last morning game drive in the Serengeti was a doozy. The morning routine at Lamai is a wake-up call with a hot beverage at 5:30A with the game drive starting at 06:00A. A bush breakfast is served around 8:30A or so, at a nice spot somewhere out in the bush. It is important to get out early because the heat builds up quickly and on a clear day temperatures reach 90F by late morning.
Our best sighting of the day was a lioness with three very young cubs, about 2 months old. They were cute as buttons, extremely playful and very photogenic as they charged somewhat clumsily but determinedly through the veld. Helter skelter they ran ahead of and sometimes away from their mother, one of the three in particular proving to be quite a handful. Mom had to backtrack a couple of times to corral her boldest child. It was rather worrying (for a human) to observe, knowing that the mortality rate of young lion cubs is extremely high at this age.
Back in the camp for lunch, we enjoyed yet another tasty meal, this time couscous, spicy vegetarian chapati rolls (atbread), a green salad and freshly baked bread rolls. Delicious!
Our nal game drive at Lamai produced a couple of memorable sightings, the best one being a Martial Eagle dragging its prey – a Banded Mongoose – and the other one an injured female lion struggling to survive a leg injury caused by a poacher's trap. The lioness was in very poor shape but was feeding on a wildebeest carcass; my feeling was that she could make it with some quick medical attention (to remove the wire still imbedded in her leg).
We enjoyed sundowners on a large at rock a ways out of camp, watching a beautiful pink-tinged sunset. As we stood there awash in the glow of the setting sun, and seeing the reected light on the rocks behind us, I was filled with a palpable sense of well-being. It was an 'Africa moment' when time and place fall away and just for a second you feel as if you're standing in the footsteps of your ancestors.
We slept well that evening, happy with what we had seen and experienced in the Serengeti, and looking forward to visiting some totally new areas (for us) in the Western part of Tanzania. Katavi and Mahale, here we come!