$cat_name = 'category'; $categories = get_the_terms($post->ID, $cat_name); foreach ($categories as $category) { if ($category->parent) { echo $category->name; } } ?>
Jun 18, 2013
Madikwe Game Reserve South Africa June 2013
Share:
Madikwe Game Reserve South Africa
June 2013
Tuningi Lodge & Madikwe Hills
Intro
By June 2 2013 – after a pleasant couple of days visiting with family – Kathy and I were on our way from Pretoria to Madikwe, a massive private game reserve in the north-western area of the country, just south of the Botswana border. In fact, it is possible to combine a visit to Madikwe with Botswana by road transfer to Gaborone from where there are regular scheduled fiights to Maun, the gateway to the Okavango Delta.
En route we stopped over at The Grove restaurant in Swartruggens where we enjoyed a nice breakfast; it was a good break on the approximate 4.5 hr journey. Part of the main road (N4) was under construction but within the next 6 months or so it should be all good.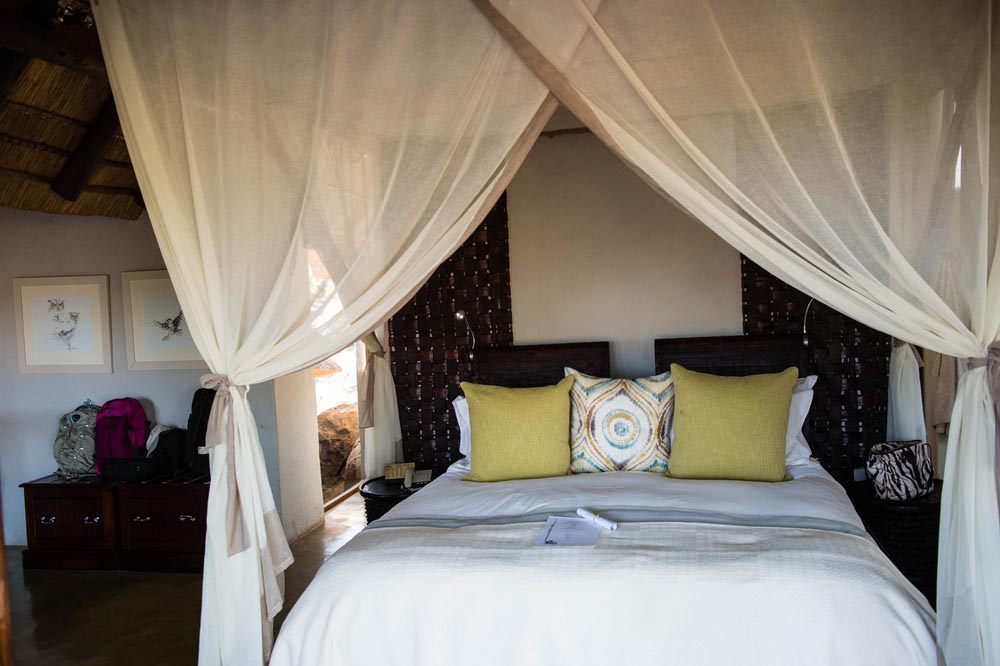 Tuningi Lodge
From Swartruggens it was about another hour to the entrance gate to Madikwe, and then a fairly short drive to our first overnight stop at Tuning Lodge, operated by Seasons in Africa. We were just in time for an afternoon game drive which was initially quiet, but it livened up really nicely at a water hole where we had some nice 'action' with several groups of elephant interacting, as well as a solitary white rhino. We also had a look at a couple of female lions with cubs, but they were all sleeping.
June 3 2013 – Madikwe
On the morning game drive we came across a particularly scraggly male lion which really looked like he had been through the wars. Another very interesting sighting was at the carcass of a 3-month dead elephant, which was smelly beyond description. There were several hyena active at the site, and one of them was actually right inside the body cavity, taking a snooze inside the dead elephant. There were also several jackals around.
The rooms at Tuningi are superb, pretty much the ideal luxury safari lodge setup: lots of space, high degree of privacy (no line of sight to an adjacent room), a nice sized verandah which is functional – not just decorative – and a separate bathroom with a full sized bath, indoor and outdoor shower and a toilet that has a door. This particular room had a few steps between it and the lounge but one of the others (room #5, a family room) is 100% suitable for guests in a wheelchair. There are no steps at all in the room itself, and no steps to the lodge. There are just 3 steps between the lodge and the outdoor boma area overlooking a small waterhole.
Tuningi impressed us on several levels. Between them Wilma and Heidi could not have been more friendly and solicitous of our every wish and request. We enjoyed having a young family with 2 kids around – the very precious girl (around 2?) and her slightly older brother elicited quite a few smiles all-round.
Lodges often claim the ability to make guests 'part of the family' but few actually manage it. If our very short 24-hr visit could be considered a true indicator, Tuningi really gets this right.
As far as catering goes, they had a special vegan menu printed up for us and it was excellent, with some of the highlights being a butternut casserole and a medley of beans wrapped in puff pastry. Both were delightful.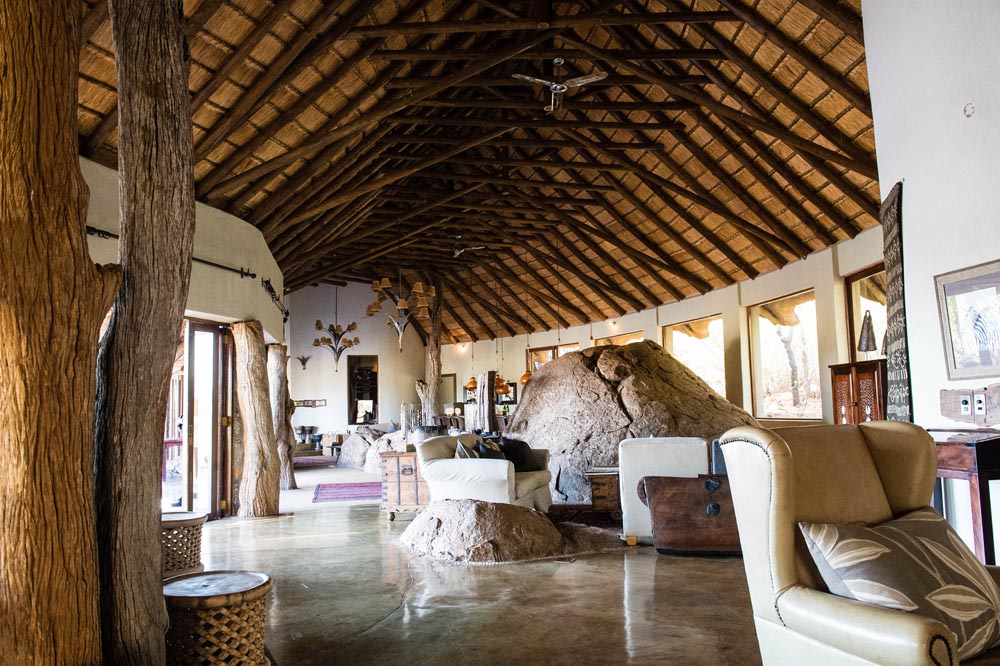 Madikwe Hills Lodge
At just before noon this day, we hit the road for Madikwe Hills Lodge in the Eastern part of Madikwe reserve. The rooms (suites only) and the general areas (lounge, dining area and massive deck in front of camp) were about as impressive as it gets. Our suite was spacious and luxurious, with a separate lounge/entrance area, a sleeping area with huge king size bed, a large outdoor deck with private plunge pool, a massive tub and both an indoor shower plus a true (not enclosed) outdoor shower.
White Rhino in Madikwe
Our afternoon game drive with Jacques started with a brief look at a couple of sleepy lionesses,
but improved very quickly when we parked close to two huge white rhinos on the edge of a
dam. They were very relaxed and posed for us for an extended period of time, even edging closer
to us to take a better look at the 'invader' parked too close to their midden. It was an electrifying few minutes with all of our collective attention totally focused on the two behemoths. You could
literally hear a pin drop in the vehicle as we concentrated on listening to their breathing and their heavy footfall. Another guest in the car did ask if the rhinos were in the same family as hippos. Really?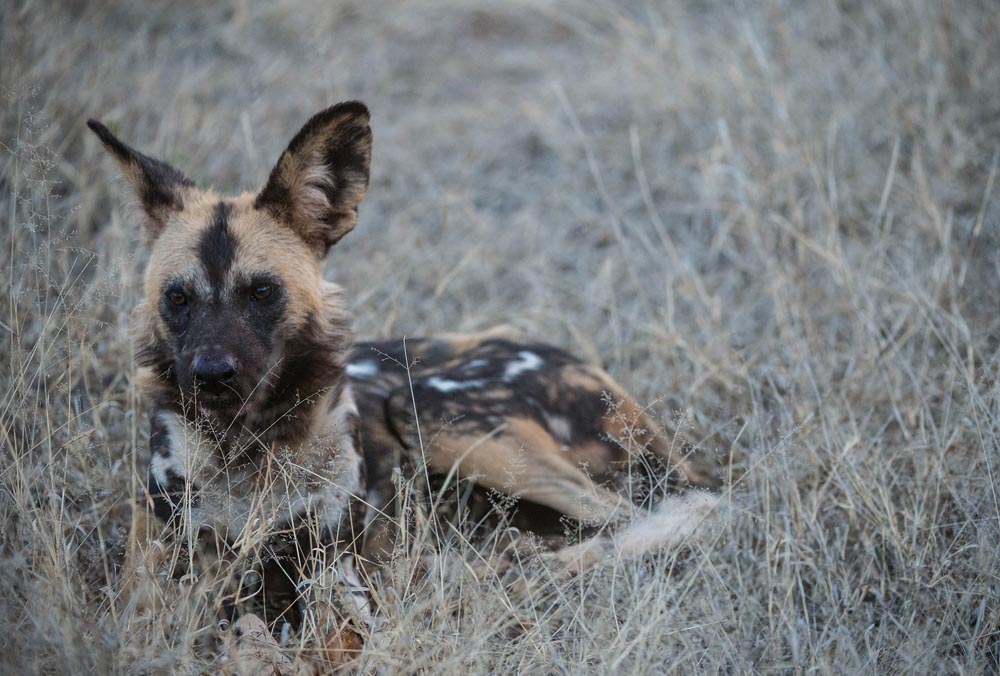 Wild Dogs – a Madikwe 'Special'
From the rhinos, Jacques headed out to the eastern fence-line where we were very fortunate to see a large pack of wild dogs running at quite a pace through heavily wooded area, clearly on the hunt. We got several good looks at them as they ran past the vehicle several times, seemingly totally oblivious to the attention from us and from a couple of other cars in pursuit. Unfortunately we rarely made a complete stop so it was very difficult to get any good photographs. Also the light
had pretty much disappeared by the time we saw the dog. Nonetheless African Wild Dogs is a mega-sighting anywhere in Africa so we considered ourselves very fortunate to have seen them again.
Dinner at Madikwe Hills on the deck was quite memorable – in every respect. It was a beautiful setting, the food was of gourmet quality – yet the service was on the slow side.
I was happy to find out that the WIFI at Madikwe Hills was working, having struck out at both Mashatu and at Tuningi. It is better not to have WIFI at all than to promise it and then not be able to deliver. Unfortunately the latter (promising it and not delivering) would happen all over the place.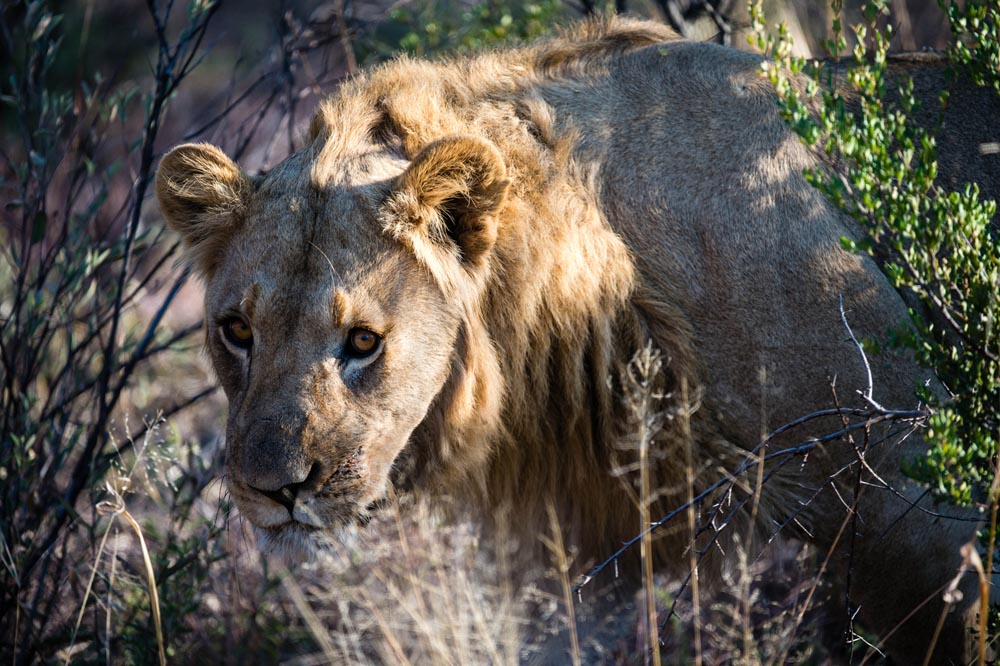 A Lion Kill at Madikwe
The next morning we headed out quite early – before sunrise – towards a very open area of the park, where we spotted a gorgeous adult male lion walking from west to east, our left to our right. With excellent morning light, we make several good captures as it slowly walked towards us, crossed the road behind the vehicle and continued walking east.
There was a large group of wildebeest on that side of the road and the lion headed in their general direction. None of us anticipated what would happen next. The lion suddenly started charging towards the wildebeest and managed to create some confusion with some of the wildebeest breaking to the left, and others to the right. In the middle of all this a young wildbeest somehow blundered too close to the lion: all we heard was the death scream of the unfortunate victim. A minute or so later we could see the lion dragging its prey in a northerly direction.
Interestingly, our guide Jacques had just talked about the fact that male lions do in fact hunt and successfully so. Many guests are under the wrong impression that the female lions do all the hunting. As we experienced in a very personal and memorable way, that is definitely not the case.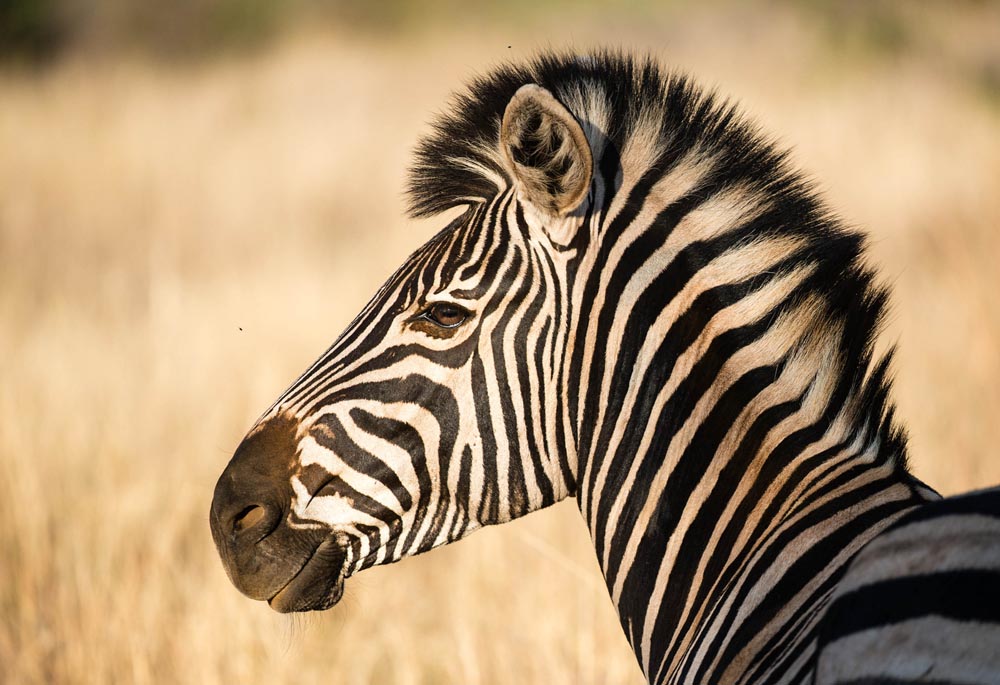 Madikwe Hills not suitable for all guests
We would certainly be happy to recommend Madikwe Hills as a good choice for our clients, but there are some issues of concern. For one thing the camp is not at all suitable for physically handicapped individuals. In fact it would probably the worst choice of any for a person with impaired mobility – there are just way too many steps on the paths between the rooms and all the facilities, and even in the rooms themselves. This is because of the nature of the terrain: the camp was constructed right on top of a series of massive boulders so the architect and the builders had to be very creative in blending some of the natural features into the rooms and other areas. Our suite had one side of a boulder inside the bathroom. The visual effect is stunning and it works wonderfully as a design element. It is just not very practical – or at least not for people who are not fairly strong on their feet.
The service at Madikwe Hills was way too slow, particularly at breakfast. Atfirst there was simply nobody there (early one morning); and when someonefinally did show up, it was near impossible to get them to take a food order, and equally slow to get whatever you wanted. We suspect that it has something to do with the management team not putting in much of an appearance in the lodge itself (at least not when we were there), seemingly content to stay in their office suite which is part of the reception building.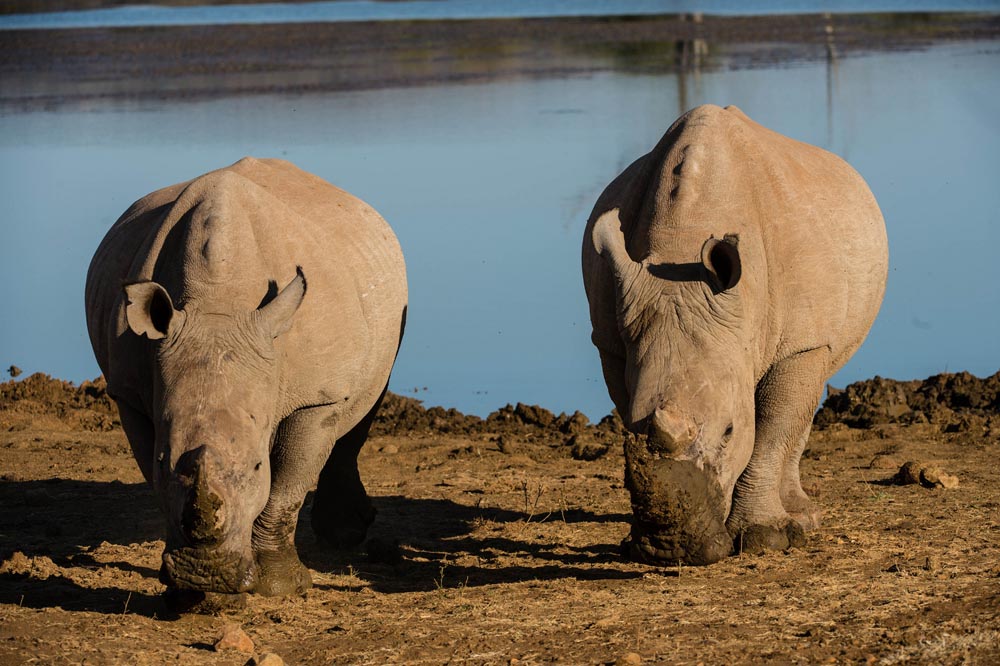 Vehicle seating policy at Madikwe Hills not ideal
More importantly though, we were surprised and dismayed to find out that Madikwe Hills has a policy of taking up to 8 guests in the same vehicle on game drives. Inclusive of the seat next to the driver there are 10 seats altogether on the vehicles, so with 8 guest the seating works out to be one (in front); two rows with 2 persons (plus an empty seat in each of those rows) and then one row with all 3 seats occupied.
This means that some unfortunate person travel possibly halfway around the world and pays a hefty daily tariff at this superb and decidedly upmarket lodge, only to be stuck in the middle seat between two other persons, on a game drive. This is unacceptable at a lodge in this price category, in our opinion. At moderately priced or 'cheap' safari lodges this may be a more common occurrence and given the lower cost, possibly an acceptable trade-off. Just not at a property such as Madikwe Hills.
I know that there are private vehicles available and I would always recommend their use for really serious photographers or for family groups or others who are concerned about being in the same vehicle with someone who may have a completely different idea of the pace and 'focus' of a game drive. Such as having serious birders – who want to stop at and identify literally every different species of bird they encounter – in the same car with people who are only interested in big cats. If your interests are widely divergent from the 'average' game drive which focuses mostly on mammals but not to the exclusion of everything else – and which stops at a sighting long enough for everyone to get multiple photographs if they wish – then you should be in a private vehicle.
For 'regular' guests who just want to take some good photographs and/or video, and who don't insist (for example) that the guide stays with any particular species for an inordinately long period of time – a personal vehicle is redundant and the additional cost is not justifiable.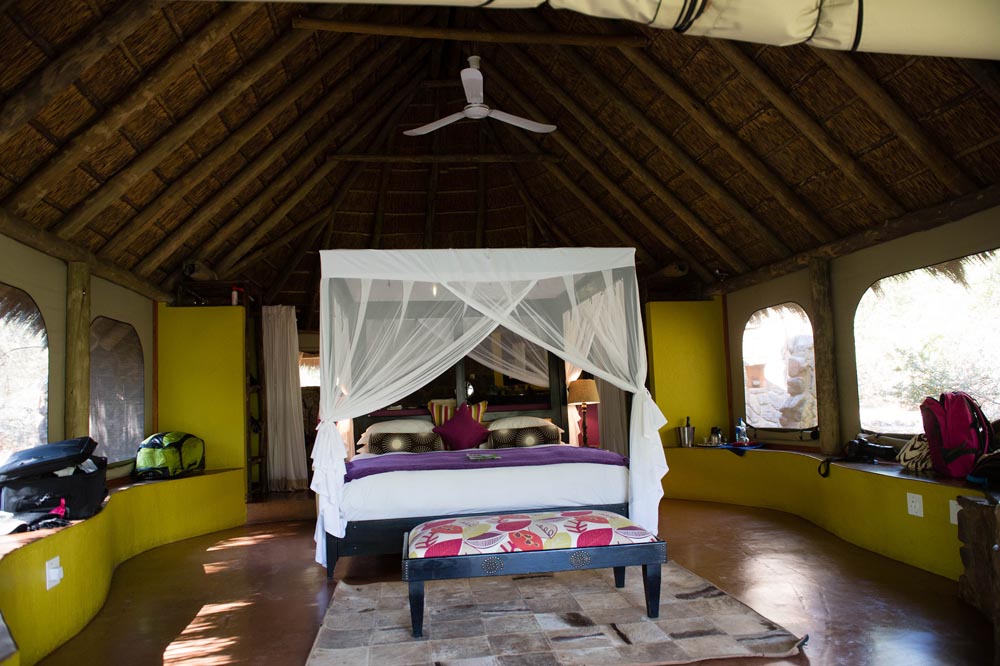 JACI'S SAFARI LODGE
June 4 2013: Jaci's Safari Lodge
By midday on June 4, Kathy and I headed from Madikwe Hills to Jaci's Safari Lodge, located right along the Groot Marico River on the eastern-most border of Madikwe Game Reserve. Jaci's Safari Lodge and its sister camp Jaci's Tree Lodge are two of Madikwe oldest and also most popular and highly regarded properties.
Our hybrid tented room (some canvas wall and zippers, otherwise a permanent structure) was quite comfortable and spacious enough and would make a fine stop-over for a few days. The room did have a few rustic touches such as a large tiled bath, and an outdoor shower which is difficult to access, with zipped up flaps between it and the room. The outdoor shower did not drain properly.
One other design feature which we did not care for, is that the toilet has no door whatsoever and it is not private at all. There are two odd 'corner' steps down into the toilet from the bathroom, which can be tricky to negotiate at night. There is a curtained partition between the main room and bathroom but it is real rigmarole to have to close it up every time you use the bathroom and/or toilet.
On the plus side, the room had a great patio overlooking a small stream, under floor heating and electric blankets. Lighting is adequate; there is ample shelf and hanging space for clothes and other stuff. As well as several well-places plugs for recharging camera batteries and other equipment, any time of the day or night.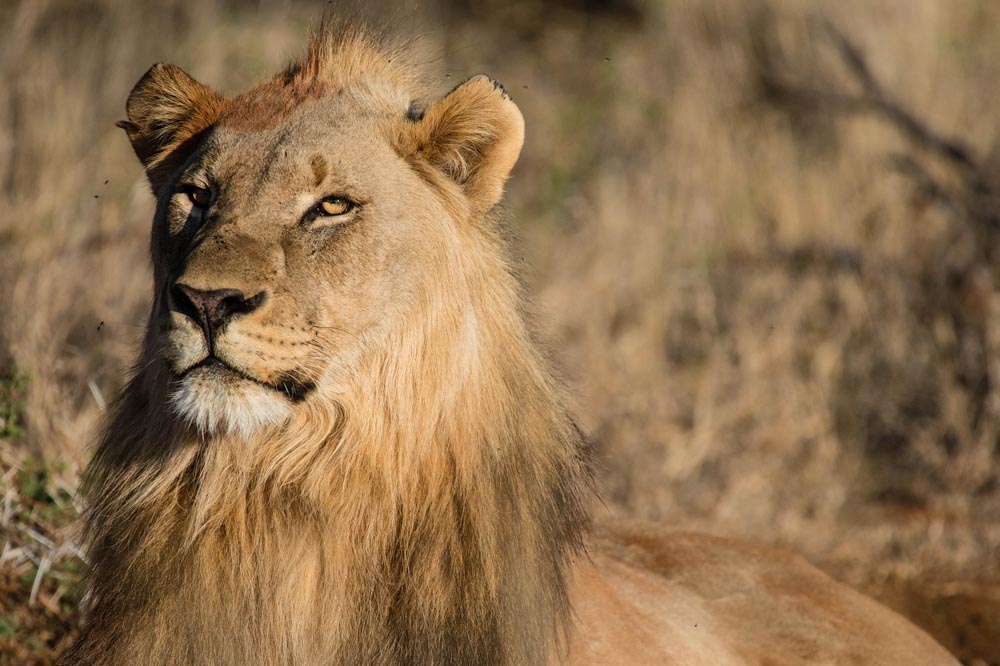 Lions with Ollie at Jaci's Safari Lodge
That afternoon we met our driver-guide Ollie who would spend the next couple of days with us: he turned out to be very friendly and knowledgeable and extremely familiar with the area. With Ollie, we started to see lions again almost immediately, the first sighting between two females with 9 cubs – they were in the process of devouring a wildbeest. We tried for the wild dogs again but got to the area a little late, and struck out. We did manage to get a pretty good look at a serval cat on the way back into camp.
Dinner at Jaci's Safari Lodge was excellent. We dined privately at fire-side – it was very romantic – and we appreciated the fact that the chef had previously come to talk to us about our dietary preferences. They really went out of their way at Jaci's (both lodges) to make the vegan food choices as exciting and varied as any we have enjoyed before.
Our morning game drive on June 5 was on the quiet side. Ollie had decided to travel to the south in the hopes of picking up the tracks of 4 male cheetah which had lately been seen in the area, or to find some black rhino for us. In the end we settled for a pretty good look at two young male lions who were taking a siesta near one of the giant electric pylons (#178).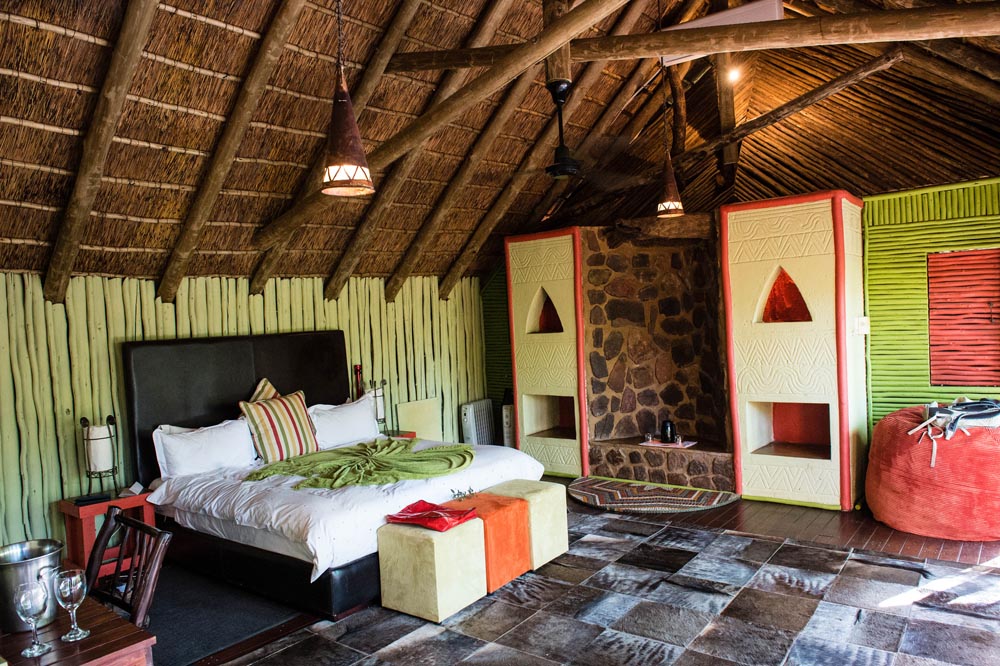 Jaci's Tree Lodge
More lions and wild dogs – this time from Jaci's Tree Lodge. We packed up our stuff this morning and the bags were taken off to the nearby Jaci's Tree Lodge, a sister property. We were joined by 2 guests from the UK on the afternoon game drive – and almost immediately ran into a gorgeous male lion which we had heard calling earlier that morning, near day-break. He was checking out the scenery and put on quite a show for us before he settled down in a depression, to doze off. We then headed off to the eastern fence-line where we got lucky again with the wild dogs.
Ollie's anticipation on where the Wild Dogs would pop up next was uncanny. We ended up being perfectly positioned to see them at several different spots. Other than on our previous encounter with the dogs out of Madikwe Hills, the vehicle was 100% stationary a couple of times, so I could get off a few decent shots. Guides in pursuit of wild dogs would be well advised to keep this in mind: nobody can take pics from a moving vehicle. You can be on top of the dogs in perfect light but unless you stop your vehicle so the guests can take their pics, it will remain just a great visual experience for them. Slowly creeping along is no good either. Just stop the vehicle, ask the guests if they are positioned correctly and give them a chance to press the shutter.
Just before sundowners that evening, close to the Madikwe Airstrip, Kathy and I also had a good view (brief and in poor light, but better than on the Mashatu Walking Safari) of a brown hyena. Apparently these animals are quite common at Madikwe.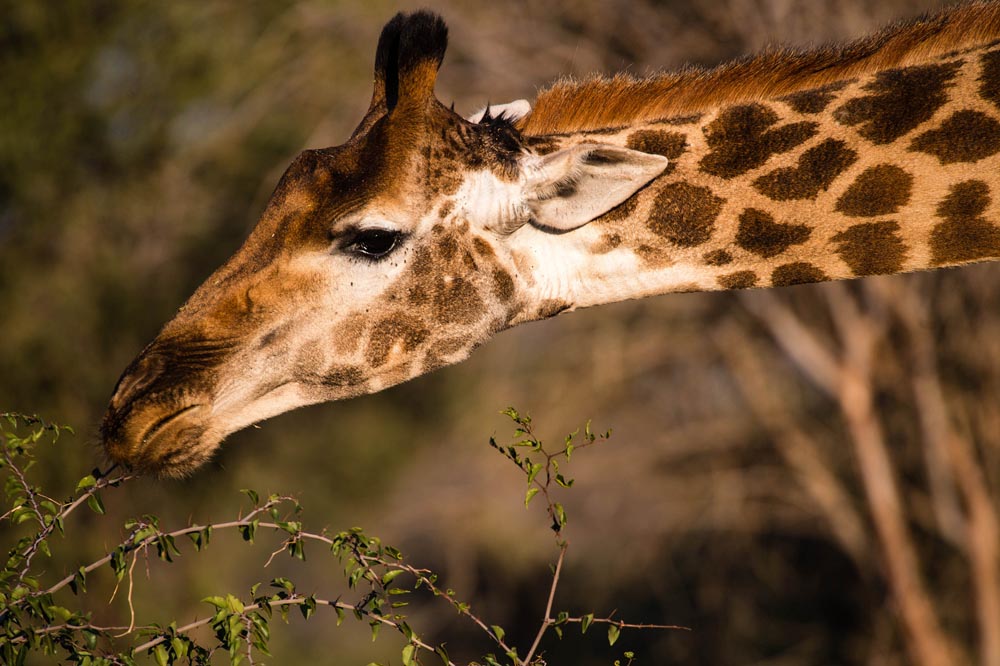 On the way back to the lodge we saw a herd of 30+ elephants drinking in the marshy area in front of Jaci's Tree Lodge. It was amazing to see them all – big and small – moving around at night. In the bright starlight and even more so in the beam of the spotlight they looked exactly like 'great grey ghosts' – almost soundlessly padding around on their giant fleshy feet. Elephants are not exactly nimble but their agility and sure-footedness can be astonishing. They can turn on a dime, can accelerate like a mountain bike and they are much faster than even Usain Bolt, reaching speeds of 40 kilometer per hour, about 25 mph. Almost twice as fast as most of us are able to run. Beware.
This evening, we enjoyed dinner at the boma at Jaci's Tree Lodge. It was a very special affair outdoor around a large fire, with space heaters put at our back for an all-round toasty experience. The food was excellent. The special vegan offering was a curried bean stew, while the rest of the crew tucked into an oxtail casserole (declared to be superb) as well as various charcoal-grilled meats including lamb chops and chicken breasts.
Our last game drive with Ollie was very satisfying with good views of some young elephants jousting, as well as the previously seen two female lions with 6 cubs (three were temporarily absent) in very good light.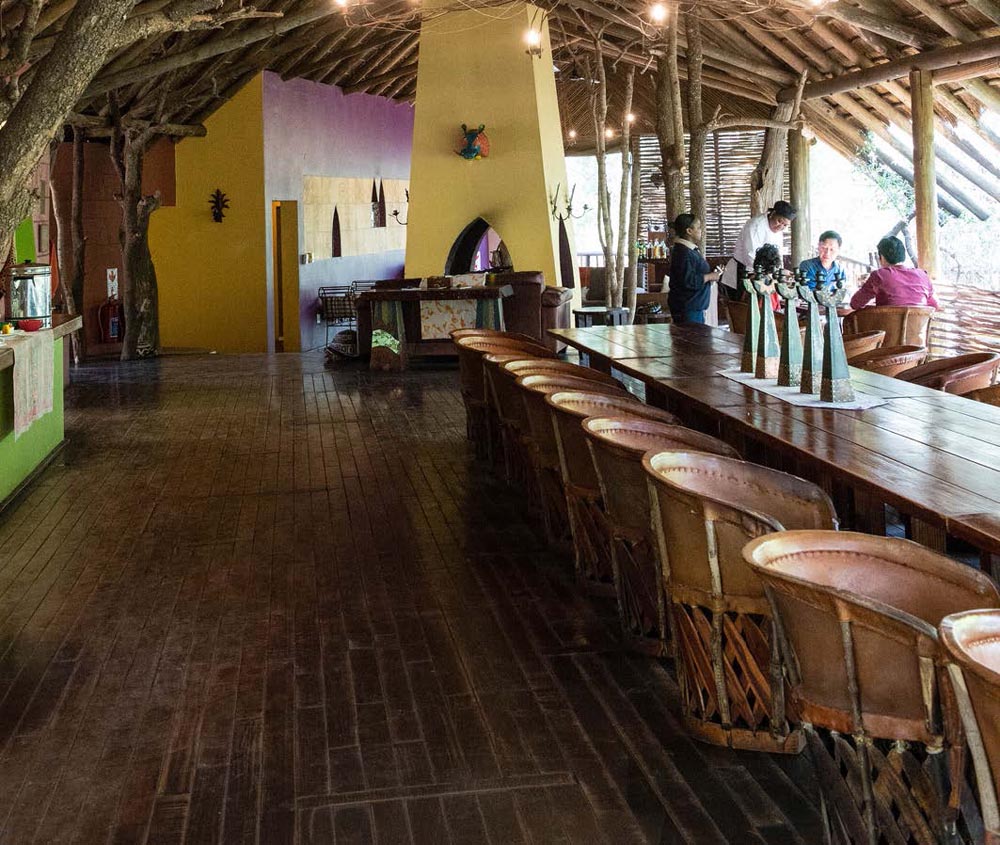 PART 3: MATEYA LODGE
By midday, once again, we headed out to our last Madikwe property – Mateya Lodge, which was actually not very far at all from Madikwe Hills Lodge. We were simply blown away by this fabulous deluxe property. The main lounge & dining room is a 'de facto' art gallery with dozens of authentic – and some clearly priceless – African bronze statuettes and other artifacts, some made of wood or stone. There were also many original oil paintings on display, several by the renowned Paul Augustinus. Owner Susan Mathis who hails from Atlanta GA had apparently collected most of the bronze statues over the course of 2 years while traveling with a private aircraft through western and central Africa. Ms Mathis lives on the property except for a few summer months when she returns to the USA.
We spent the next two nights in a massive room with a view over a water hole (seeing white rhino, giraffe, wildebeest, zebra, baboons, impala and kudu in the process). There was a huge marble bath with his and hers indoor showers with 2 faucets and shower heads as well as an outdoor shower, side by side. Doors open up in front of both the bathroom and the living quarter areas for views over the plains. From the bedroom the doors open up to a huge outdoor patio with large private plunge pool right in front. There are 2 comfortable wicker chairs on the left hand side of the patio and a glass-topped table and chairs as well as two loungers on the right. We easily could have spent a lazy morning or afternoon right there, particularly in one of the warmer summer months.
Our Mateya ranger was Francois who was extremely knowledgeable about every aspect of the nature experience at Madikwe, from birds through rodents to elephants. We very much enjoyed our time with him and he was at all times most considerate of our requirements, making sure that the vehicle positioning was just right for both of us, every time. We enjoyed a quiet dinner with Francois in front of the indoor fireplace at Mateya on our day of arrival there. It was impeccable: a 5-course affair complete with guava sorbet as a 'degustation'. I was really happy to see a stir-fried tofu dish on the menu as well, together with a fantastic salad. We had our pick from amongst 3800 to 4000 bottles of wine in Mateya's private wine cellar (except for Ms Mathis' special French wine collection). In the end my choice of a Rustenberg Merriman turned out to an excellent one. It worked particularly well with Kathleen's main dish which was (farm-raised) kudu fillet as I recall.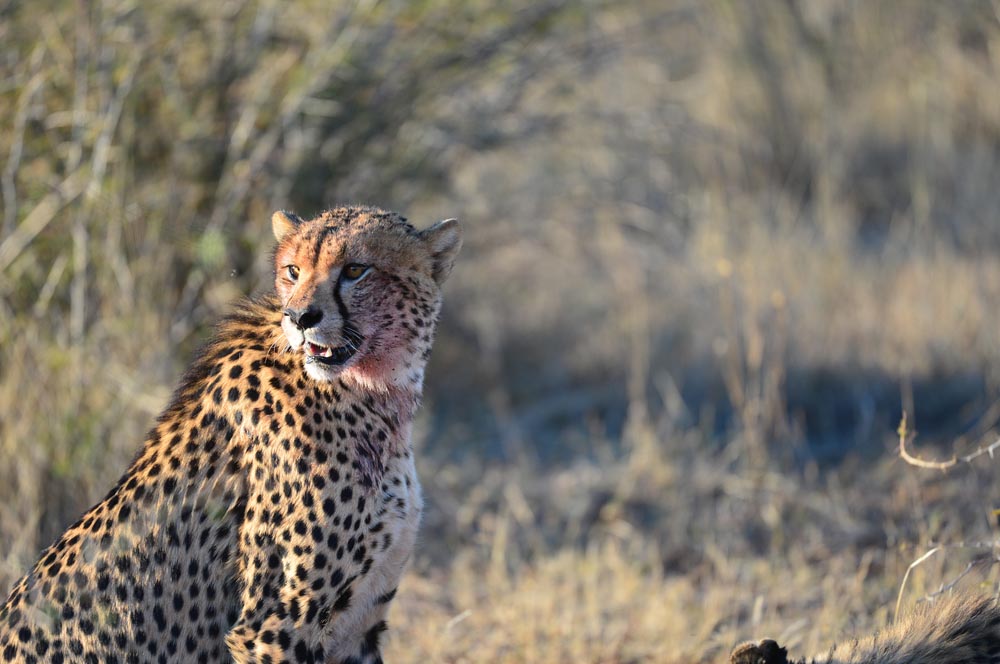 Birds and Cheetahs at Mateya
The two game drives on this day combined perfectly for everything one could hope for on safari. We enjoyed some bird-watching in the morning – as well as taking photographs of some rather wary Ground Squirrels – and then went off for some bigger and better things in the afternoon. No doubt the highlight of our stay at Madikwe – a coalition of 4 superb male cheetahs. We stayed with the cheetahs for nearly half an hour, watching them taking chunks of meat from a freshly killed juvenile wildebeest. It was one of our better cheetah sightings of the last few years, and both Kathy and I made some good captures of the cheetahs' bloodied faces in pretty good afternoon light.
On the way back to Mateya we also had a look – not the best yet but a good glimpse nonetheless – of a pair of black rhinos. We had been looking for them high and low so it was nice to finally find them.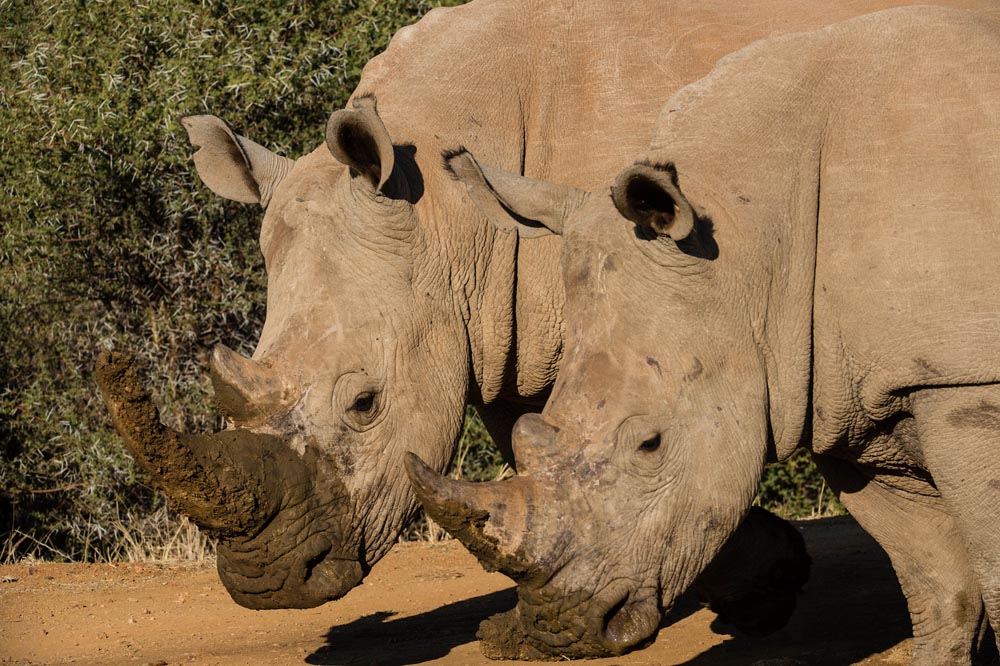 Rhino Poaching – nowhere is safe
We were very dismayed to learn that the scourge of rhino poaching had already extended its grim tentacles to the far-off reaches of Madikwe. Several of these amazing animals had already been killed in the reserve over the last couple of years or so. Like elsewhere, it is just about impossible to effectively protect these rather amiable behemoths against the lethal attention of intruders who slip in at night, stay clear of lodges and game drives, commit their murderous deeds and then disappear with their grizzly trophies in a sack. It is hardly more difficult than it would be hunting for cows.
Unless something is done soon to reduce or control the growing demand fro rhino horn it appears to me that the species has very little chance of surviving in viable numbers in the wild. There will always be small, heavily protected pockets of rhino here and there, but effectively the species will be lost to mankind, within the next 20 years.
It is a slowly unfolding tragedy of monumental proportion. It would be a stain on our collective conscience if this signature species – such as clear and distinctive link with the prehistoric past – were to disappear due to greed, ignorance and horrible mis-information and apathy.
This evening Kathy and I were treated to a private dinner in the wine cellar at Mateya. Just the two of us sitting side by side with some 4000 bottles of wine spanning 3 sides of the room, right in front of us and to our left and right. Our attendant Connies was keen to show us some of Ms. Mathis most prized French wines, including several splendid Bordeaux, some from the Pauillac region, a Chateau Mouton Rothschild and many others. With our meal – Kathy had a steak with peppercorn sauce and my special meal was a medley of quinoa and red beans with fresh vegetables – we enjoyed a fine Pinot Noir. It was a fitting end to a lovely stay at Madikwe.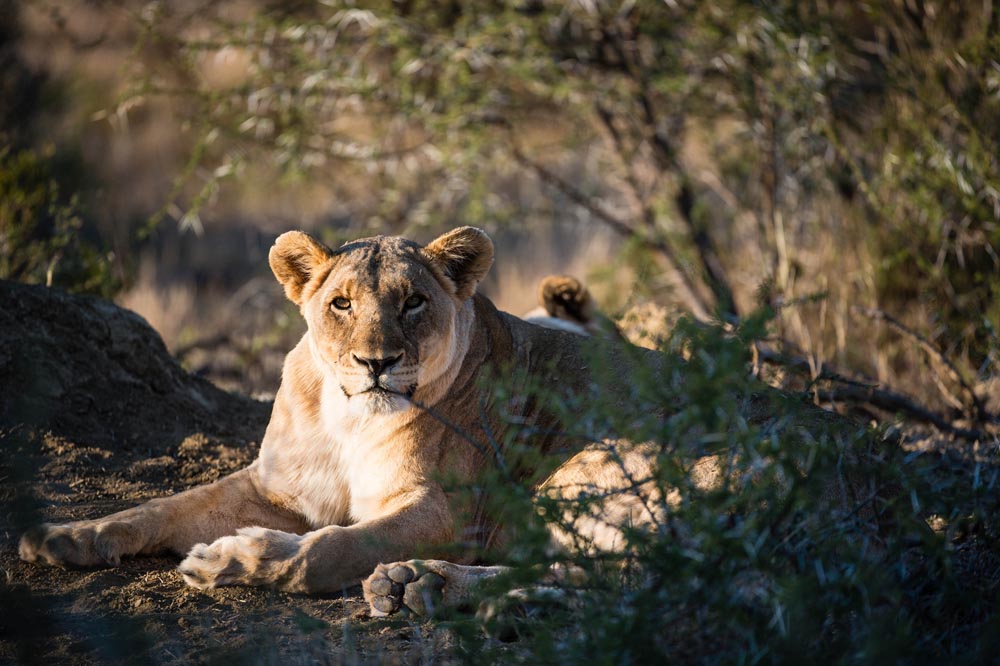 June 9 _ Johannesburg
We skipped the game drive this morning, took it easy and then drove back direct to Oliver R Tambo Airport, this time using a different route via Sun City. From the Madikwe gate it took just about 4 hrs of moderately fast driving (at or just above the legal speed limit which varies widely) to reach the airport. The first 40 kilometers or so are on a dirt road which is a pity: it is not a bad road but I think most people who may consider doing this trip on a self-drive basis would likely prefer to stay on asphalt throughout. The total distance was round 325 km or just over 200 miles, right into the Budget Car Rental return bay. The signposting for the car rental return area at ORTI is just as bad as ever, with a few tiny unobtrusive signs not quite pointing the way…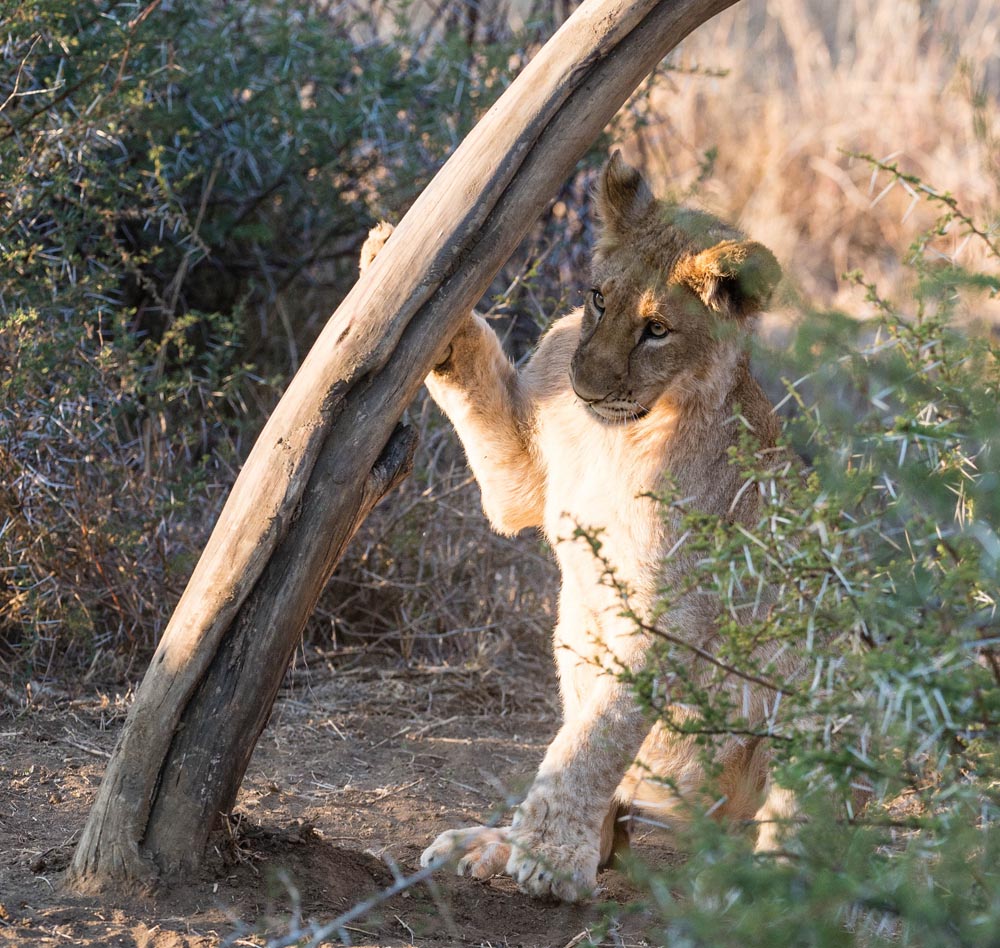 CityLodge at ORTI a good choice
Kathleen was supposed to depart for Houston via Paris early this evening but as it turned out her Air France flight was delayed for all of 18 hrs. Quelle horreur! Fortunately we had a room at the CityLodge ORTI. So we had a nice dinner together and she was off early the next morning.
The CityLodge ORTI is an ideal stop-over for a quick overnight in Jo'burg, especially with a late arrival and/or early departure the next day. It is at most an 8 to 10 minute walk (in complete safety) from one's room at the CityLodge to the terminal A or B check-in counters. The rooms are on the small side but they have a bath plus separate shower, an HD TV screen, WIFI on demand (at additional cost), a built-in safe and the rooms are fairly well insulated. We never heard any aircraft noise, just some slamming doors and cars honking.
The restaurant has a pretty good casual restaurant, at least judged by its breakfast offerings. One of the hotel's best features is its proximity to a slew of restaurants less than a six minute walk from the foyer. These include Nando's Chicken, Ocean Basket, Fournos Bakery, Kauai (vegan options), Fish n Chips, Anat Mediterannean, Raj Indian, Wimpy Burger, Spur Soaring Eagle Steak House & Burgers, Mugg & Bean and Woolworths for some quality take-aways.