$cat_name = 'category'; $categories = get_the_terms($post->ID, $cat_name); foreach ($categories as $category) { if ($category->parent) { echo $category->name; } } ?>
May 18, 2013
Mashatu Game Reserve & Walking Safari May 2013
Share: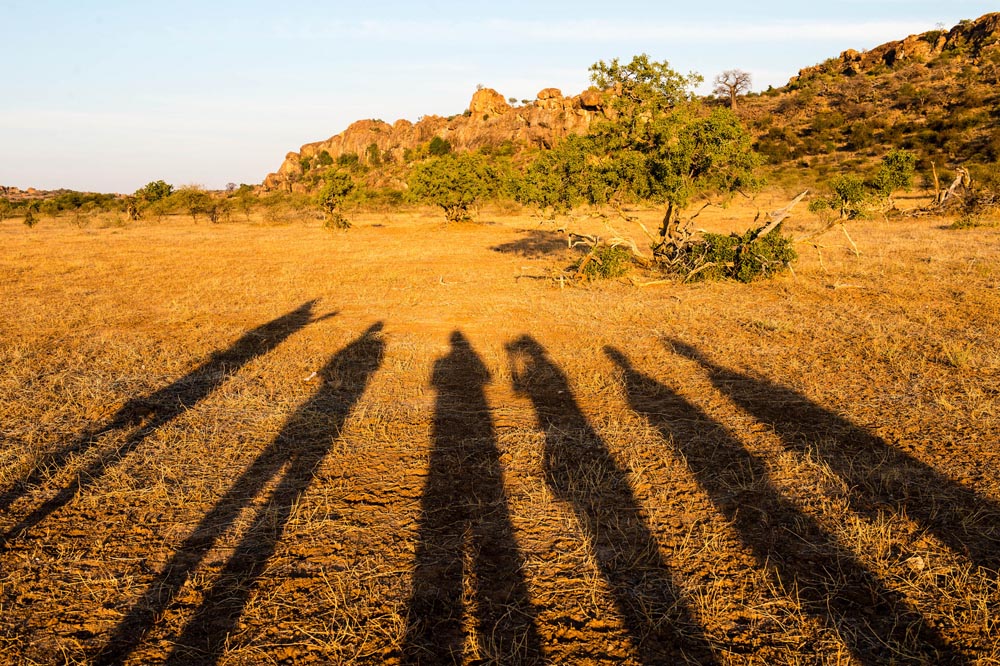 Mashatu Game Reserve & Walking Safari May 2013
PART 1: JOHANNESBURG
Intercontinental Hotel – Oliver R Tambo Airport
Once more and again, Kathy and I made sure that we had our passports, braced ourselves for the TSA 'scare-port' treatment and plunged into the maelstrom of ultra long-distance travel, which would take us from Houston to Johannesburg in just about 24 hours total.
Flying this far this fast plays havoc with almost everybody's sense of time and place. Our human bodies were just not designed to be suddenly transported over multiple time zones at 500+ mph.
Somewhat bleary-eyed and jetlagged, but happy to be back on terra firma, we were met by a smiling representative of the Intercontinental ORTI. It was hardly necessary – the hotel is less than a 3 minute walk from the customs exit – but it was a nice touch anyway.
Soon enough we were up in 7th floor room with (good security, need room key to access any specific floor), where a welcome hot bath and a change of clothes revived us somewhat. A very late dinner (several vegan side dishes in addition to an array of more standard fare) and not too much later we were fast asleep, totally exhausted from the two long back to back flights.
The first leg from Houston to Amsterdam was rather uncomfortable in an ancient 747-combi with very little leg room and less than comfortable seats. The movie selection was ho-hum, the food totally unremarkable, but there were some good music choices so we strapped on our noise-cancelling headphones (standard equipment on all flights taken by Fish Eagle Safaris personnel), fired up the Kindles and got to grips with the latest Reacher novel. Well at least I did; I am sure Kathleen had something a bit more substantial going.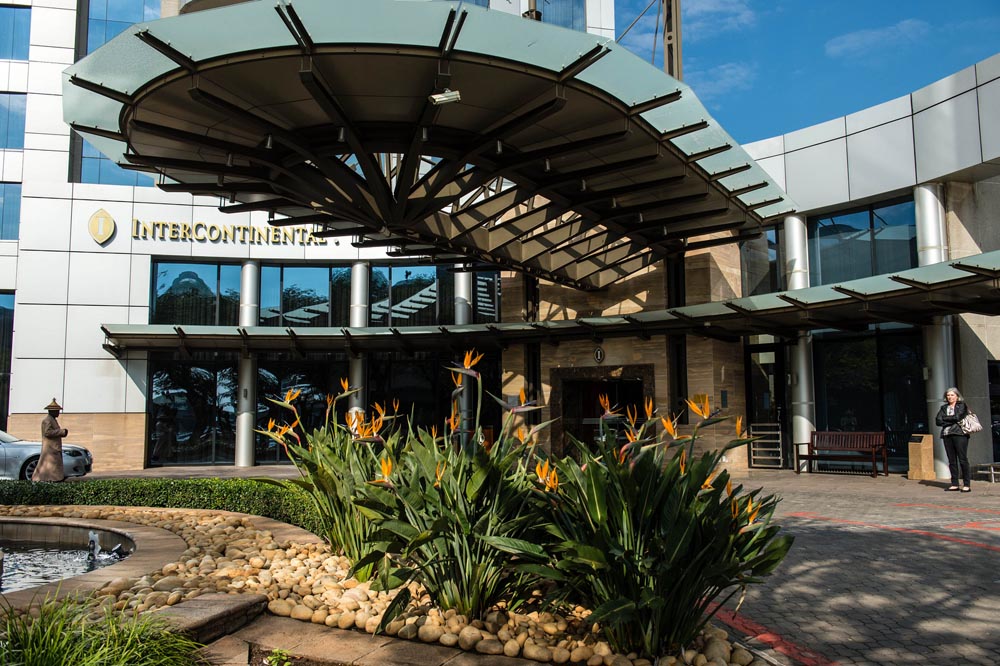 Just after landing in Amsterdam a strong horse-manure smell wafted through the rear section of the plane, emanating from an open door between the main cabin and the cargo section. It turned out that there had been 15 horses on the plane with us, all the way from Houston. As I said to Kathy, I bet those horses had more leg room and better food than us.
We whiled away a couple of hours at the giant Schiphol Airport in Amsterdam with some overpriced coffee and Dutch apple-pie (not bad!), checked some e-mail and had to submit to yet another frisking from some rather over-zealous Dutch cousins of the TSA.
Just after 9:00Pm the day after we had left Houston in the early afternoon, our feet touched African concrete. A longish walk to the immigration counter where formalities were dealt with quickly and efficient (no visa required, no silly forms to complete) and our luggage was on the carousel in a matter of minutes. All that was left was the brief walk over to the IC Hotel.
We slept solidly until after 7:00 on the morning of May 23, enjoyed a very tasty breakfast at the InterContinental's exceptionally well-provisioned buffet breakfast. I took some exterior photographs of the hotel which is a little oasis of calm amidst the hustle and bustle of Africa's largest airport.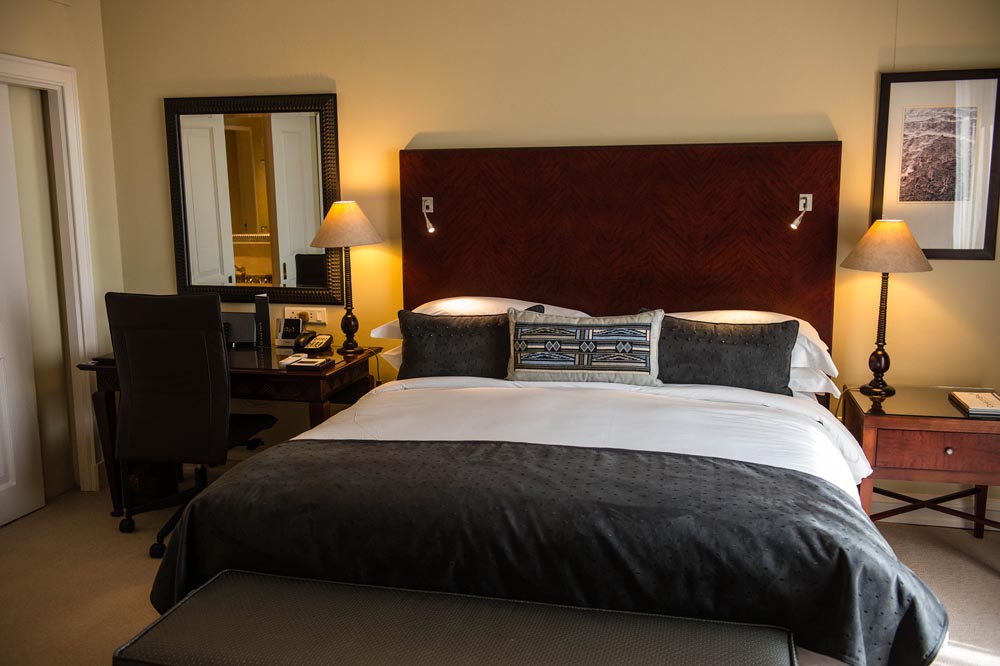 We checked out a suite (impressive!), the spa, gym and pool area (nice!) as well as an executive room. Considering the high daily tariff for the room, the 'standard' deluxe rooms at the IC are on the small side. However what you are paying for here is mostly location and unquestionably it is #1 in Johannesburg in this respect. The hotel is almost ridiculously close to the international arrivals hall. Even so, the rooms are practically 100% soundproof and even during the very busy early morning take-off frenzy, we could not hear a single jet taking to the skies. Very impressive. The same can be said for the curtaining which turns the room into a pitch-black dark cavern any time of the day or night. Just what a jetlagged body needs. I quite liked the bath – just a good size – and there is a very amply proportioned shower as well, and a separate toilet with door. The room had a good quality TV, handy plug points, plenty of space for clothes & other stuff. Also the bed was super comfortable with some of the nicest, softest pillows we've ever come across. Kathy liked the espresso coffee maker and while we did not have much time to use it, the mini-bar was more than adequately stocked.
I have nothing negative to say about the IC; perhaps it would be a good idea to have a light switch for the bathroom inside the room, rather than on the bedroom side of the sliding door. At night it makes for a few awkward moments as the 'awake' person tries to sneak into the bathroom and has to switch on the bright bathroom light in view of the 'asleep' person.
The Intercontinental is of course also the safest option of any Johannesburg hotel. There is just about zero exposure to any kind of danger or potential danger. You walk (escorted at night) across an interior airport road, look up to your right and there it is, a few meters to the right.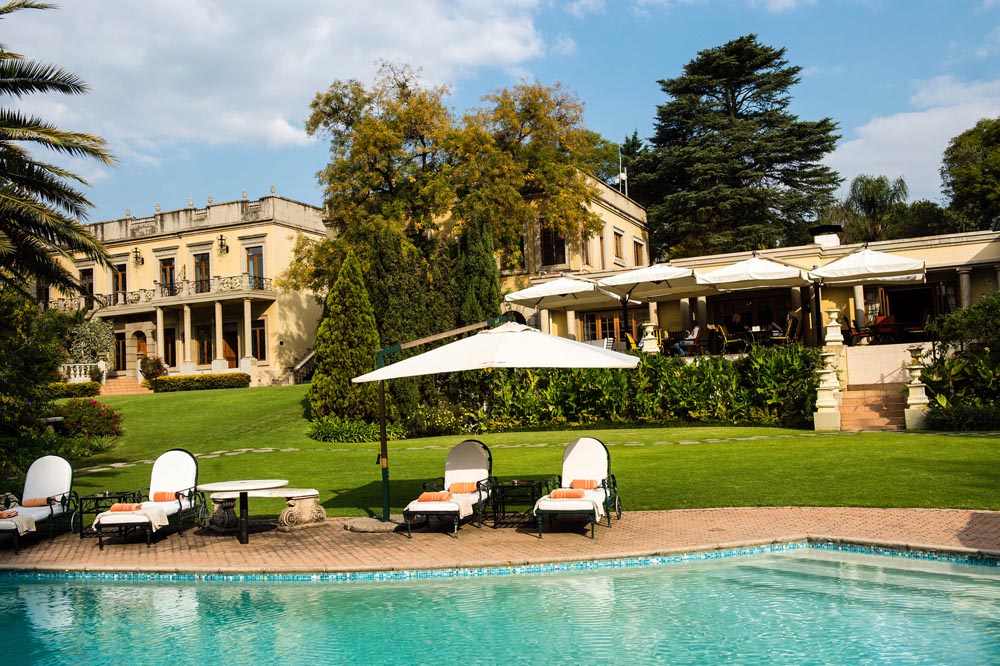 Fairlawns Hotel Sandton
By 1300 a driver from Wilro Tours picked us up for the approximately 30 minute drive to Sandton. Wilro is the always-reliable company which we use through our destination management company Wilderness Safaris for all of our clients' Johannesburg and Pretoria transfers and tours. As always they showed up in a spotlessly clean, seemingly new vehicle. Smoothly and efficiently we made our way back to Fairlawns Country Hotel in Sandton, on Alma Road just off Bolling Ave.
We had spent a night at this property before, in November 2012, but we arrived late and left fairly early the next morning. Not what you need to do at Fairlawns. Ideally this should be a 2-night stay. Take the time to enjoy this absolutely splendid jewel of a property, with an authentic country hotel feel, yet just a couple of miles from one of the busiest business centers in all of Africa – and the world.
This time around we were in Room # 15 – the Mandela suite – appropriately decorated with some African artifacts, and with walls reminiscent of a light ochre clay.
The room itself is absolutely massively proportioned in every way: huge entrance foyer with couch, a business nook with adaptors and a second phone, a divider, and then an huge middle area with a king size bed, facing a large HD television set.
The bath is equally large, with exceedingly hot water – don't burn yourself! – and a jacuzzi function if you are so inclined. I soaked for quite a while trying to burn away the jetlag. It didn't work.
That evening my brothers Francois and Nick joined us for dinner at the Terrace Restaurant and we had perfectly splendid time, reminiscing over times gone by and reflecting on the various scandals currently besetting both the US and the South African presidencies. It's a small world.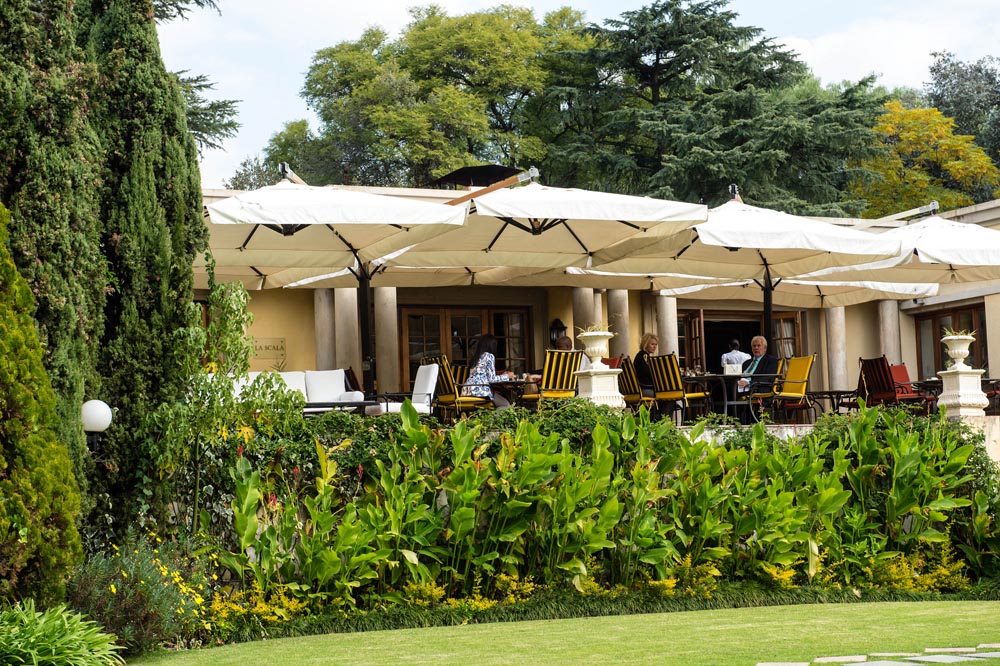 May 24: Breakfast at Fairlawns
We enjoyed a very convivial breakfast with John and Anna Thacker, owners of the Fairlawns Hotel. What a gracious couple – and wonderful hosts. We shared a few comments about children and grand-children (theirs, not ours), agreed on the fact that Jo'burg has the world's finest or possibly 2nd finest climate after Harare, and tucked into the superb cold buffet with perfectly ripe fruit, including gooseberries, even prickly pear and our favorite – papaya. There were also many cheeses, cold cuts, smoked salmon, an array of breads and much much more. In addition to that you're free to order one of many hot breakfasts (eggs to order, bacon, sausage, Eggs Benedict, crumpets, oats, omelets and frittatas.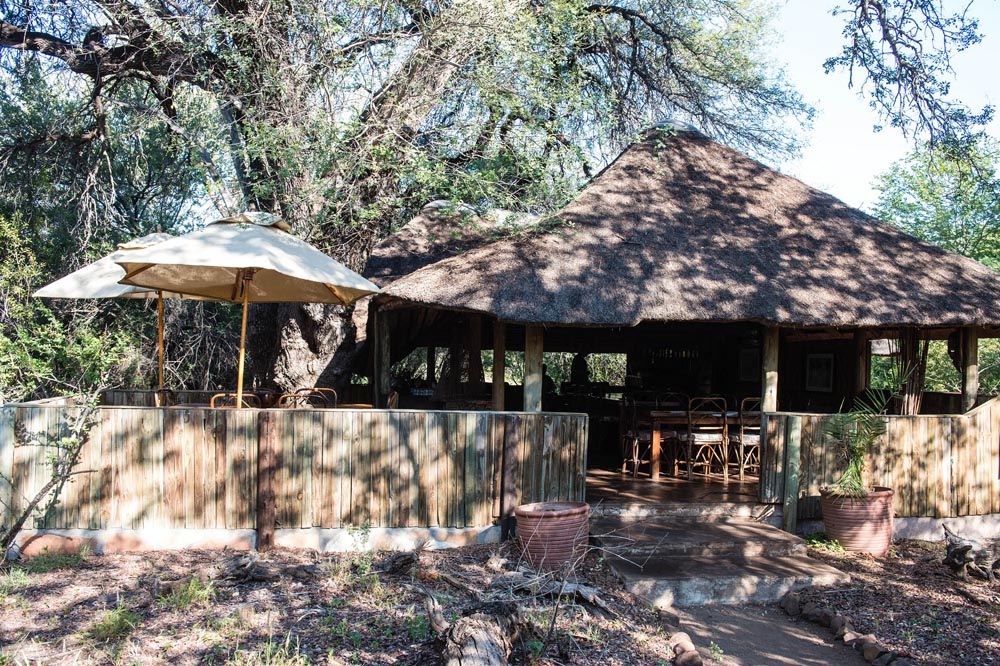 PART 2: MASHATU TENTED CAMP
We took a last look around Fairlawns- it was a perfectly gorgeous late fall morning in Johannesburg – collected our stuff and made out way back to ORTI with Thokozane, our Wilro driver. Very pleasant and efficient, he expertly got us back to the airport in good time. Unfortunately our SA Airlink flight to Pholokwane was running about 20 minutes late and that together with a short delay at the border crossing (by boat across the Limpopo) meant that we could not do an afternoon game drive.
It was no big deal – we needed a bit of time to get settled in, check out the camp, and catch up on a few things. Including this journal. En route to camp we did come across a nice journey of giraffes. Dinner this evening was excellent, with a special vegan dish (actually more than one) being offered in addition to some goat stew, breast of chicken, a nice cream of leek soup, plenty of fresh vegetables and a creamy ice-cream for the omnivores and a fruit filled pastry for yours truly. Tomorrow: our first game drive at Mashatu in several years!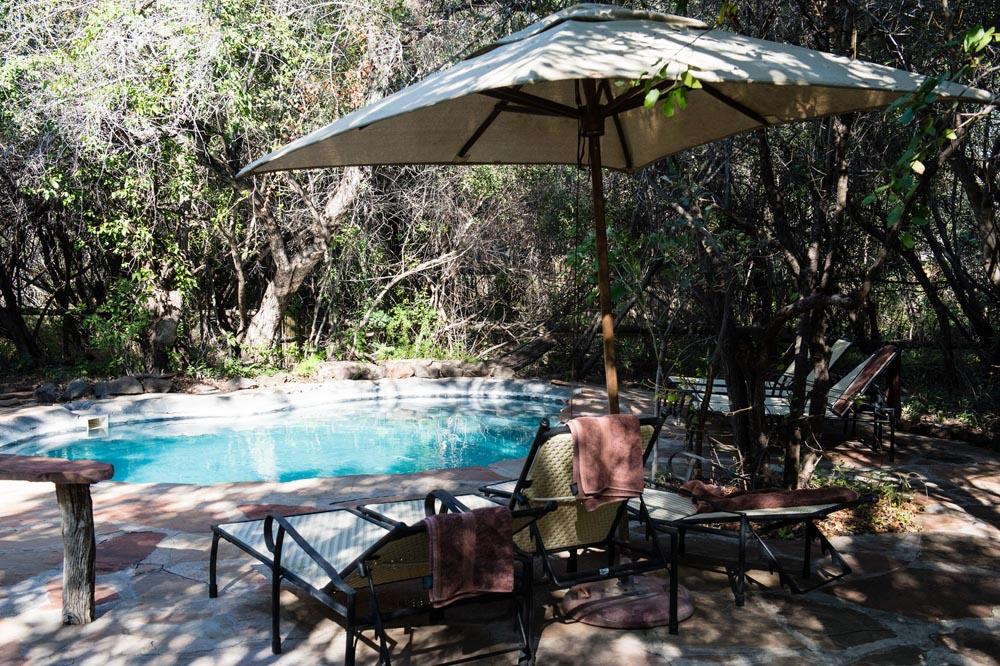 May 25 2013: Game drive at Mashatu
It is quite amazing what a decent night's sleep can do – feeling refreshed for the first time since we left the USA, I woke up 3 minutes before the scheduled wake-up call of 6:00A. It was quite cold – probably upper 40's F – but with some good layering there was no need for a very heavy jacket. After a quick cup of coffee and a small bowl of porridge we were on our way with our guide Daniel and tracker Commando. The first hour was rather slow but then we started picking up quite a bit of action: first two female lions and then a group of 9 cubs – of several mothers – ranging up to 18 months old. They were a little wary of the vehicles put we good a few decent photographs before they linked up with the females and disappeared into the bush.
Not long afterwards we were practically surrounded by a large group of elephants moving from our right to our left, coming to within just a couple of meters of the vehicle. The elephants were very relaxed and one or two of them barely raised their ears at our presence, turning their heads towards us as if in greeting. It was a very impressive sightings, with nearly 50 elephants of all ages filing by us. At the same time another even larger herd was passing right by another vehicle, just 300 meters or so away from us. Elephants everywhere!
On the way back to camp we passed by more elephants, and saw a good mix of other game including lots of impala, some kudu, zebra, giraffe and several eland. As they tend to do, the eland kept their distance but we were able to get one or two decent captures.
By about 1000A we were back in camp and half an hour later it was time for brunch: quite a spread of salads, meats, cheese, egg dishes, bread, potato au gratin, a fruit tray, juices, toast with several jams and even a medley of black-eyed peas and white beans prepared specially for the vegan…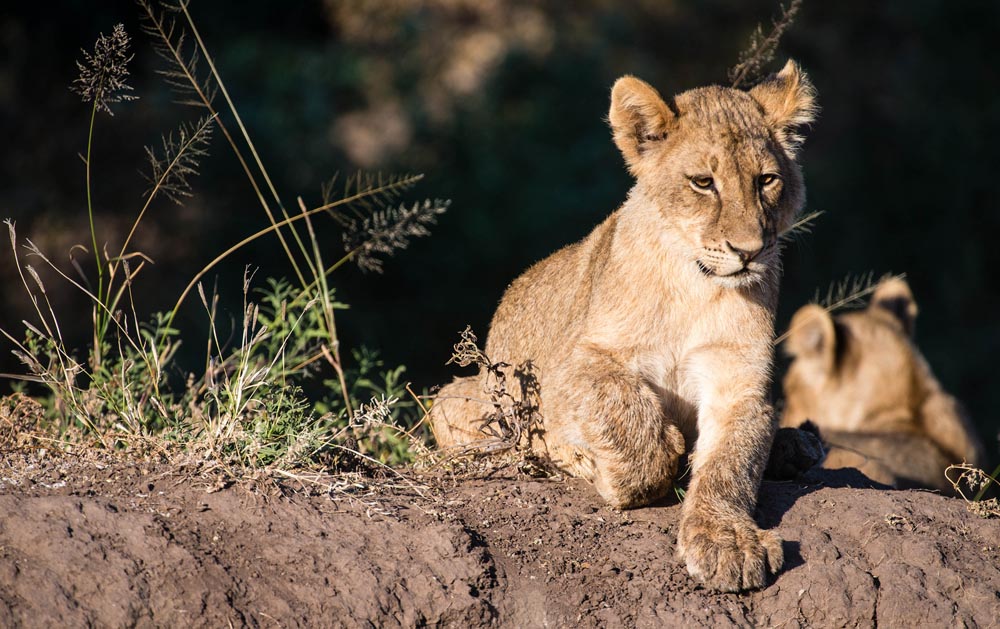 After a short siesta (a much-needed hour-long nap was most welcome!) we enjoyed yet another great spread for afternoon tea, and then set out with Dan and Commando to go and find some more wildlife.
Not too far out of camp we witnessed a single elephant giving himself a mud bath. Not just any old mud bath – a thorough dousing from head to toe. Repeatedly he would gather up a trunkful of muddy water and spray it all over himself until he was reduced to a shiny mud-covered spectacle. Eventually the elephant tired and appeared to take a little mini-nap, flat on his side in the mud pool. Then he got up, walked a little further and found a source of dust, which he proceeded to spray all over himself again. Many spas would have been envious of this multi-step treatment!
Shortly afterwards we enjoyed one of the best sightings of the trip so far – two elephant herds walking in near single-file, comings straight towards us in great afternoon light. They just veered off the road slightly, passing to our left, some of the young ones moving closer to their mothers and giving us a quizzical look. Of course there was the predictable young male flapping his ears at us while giving us 'the look'…
Our next find was a pair of jackals which seemed quite relaxed, yet their ears were constantly tipping upwards to catch a stray sound which could result in food – or flight.
Our 2-night stay at Mashatu Tented Camp was an excellent re-introduction to the area and its wildlife. We still had a few things to do but for the next few days our focus would shift to some cultural endeavors as well as a walking safari.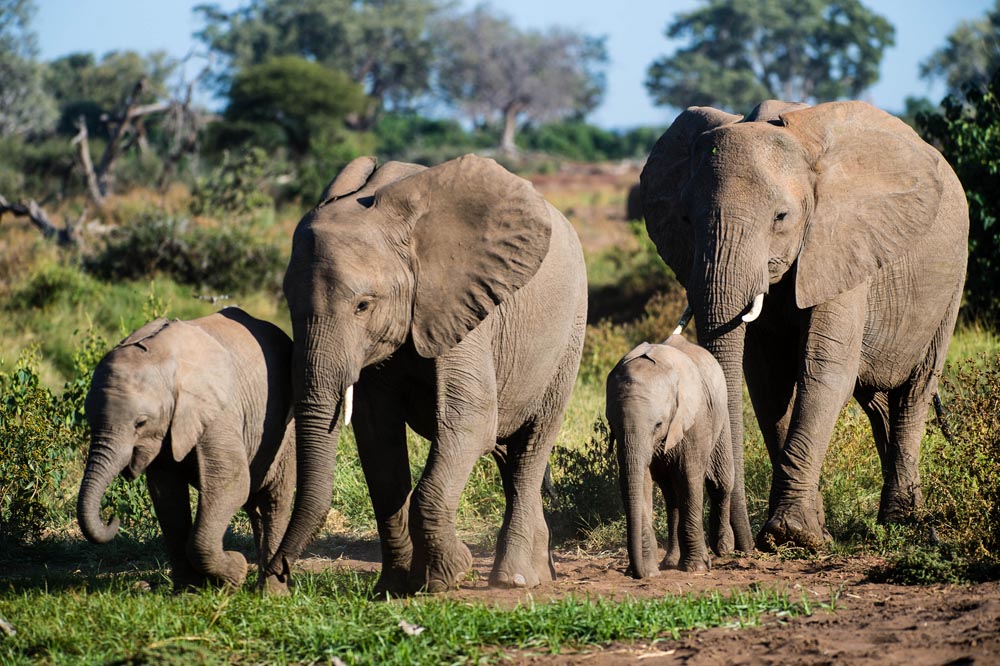 Cultural Visit To Mothlabaneng Village
Early on the morning of May 27, we met our cultural guide Gaone (aka Booboo) for a half day trip to Mothlabaneng village, where we experienced a glimpse of life in a typical Botswana village. The village was quiet, peaceful and neatly laid out with simple but functional houses lining the streets. There was almost no traffic and the only sounds to be heard were children playing and adults exchanging greetings. We peeked into a trading store where I was not surprised to see many of the staples I had grown up with in South Africa (traditional mealie meal (maize flour) with which to make sadza, Huletts cane sugar, Marmite, Maltabella and several others. It was very basic, and the average American visitor would be astonished by the lack of brand choices.
From there we drove to the school (it was a Sunday so no one there) and then on to a small shop & tradecraft center where a few of the local women were busy weaving baskets. We observed the process for a while and checked out the wares for sale – a nice collection indeed. Kathleen picked up one or two things while I tried to get a photograph of a few children who were entertaining themselves swinging on a dilapidated fence. The kids were keen to speak English and were quick to respond to my questions about their grade level and who their teachers were. Soon enough, I was being quizzed about the weather in Houston, and I was almost stumped when asked if I had any special skills and abilities…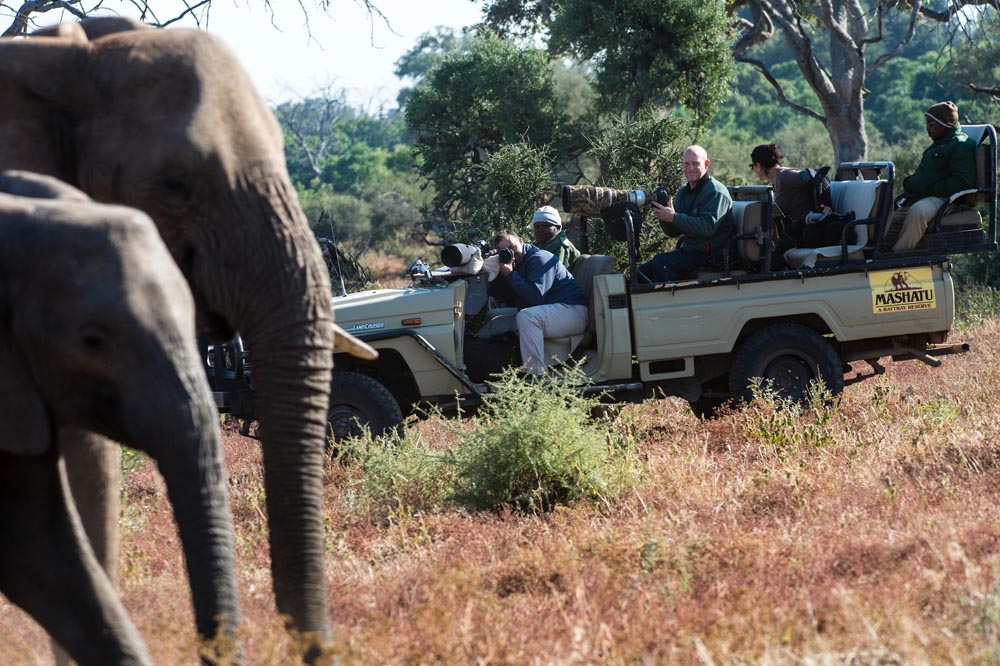 With lots of useful information and background information from Gaone, we inspected the local Kgotla (large circular open-air gathering place) where an important meeting was scheduled to take place the next day, to select a new chief for the village. A chief is ordinarily a hereditary position, passed on from father to son or daughter, but the villagers had collectively decided to democratically elect a new leader.
Our last stop was at a rather rudimentary palm wine production facility, but that would be a charitable description. In actuality it was just a local guy tapping sap from a few palm trees, in what appeared to be a singularly unhygienic manner. Once fermented this local brew is said to be quite potent not only because of its alcoholic properties, but also for its 'cleansing' effect. I am not surprised.
We enjoyed an al fresco lunch at a very secluded and sheltered rocky spot – where Gaone pointed out some fading yet still quite fascinating rock art examples – and were then transferred to the base camp of the Mashatu Walking Safari operation.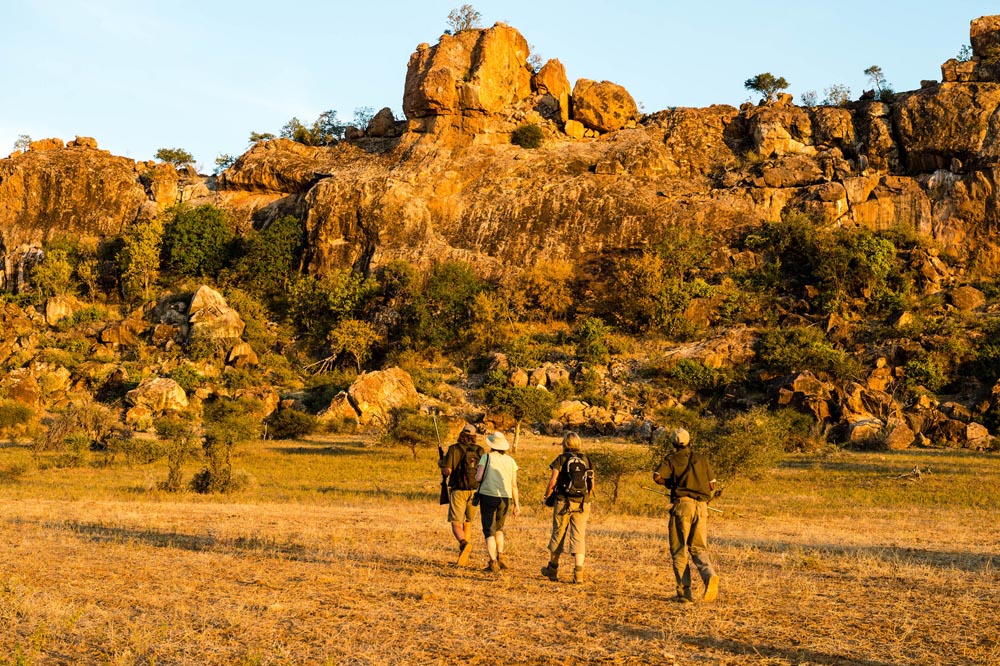 PART 3: MASHATU WALKING SAFARI
After introductions all round, we received a very thorough briefing from Stuart Quinn, whose enthusiasm and passion for the Tuli area and all of its beauty and wildlife became evident practically immediately. He was to lead our small group of travelers from Southern African and the USA on a walking safari which lasted only a couple of days, but which made a impression that would last indefinitely. Some of the ground rules were to walk in single file, taking turns to walk in front just behind Stuart, to keep the volume down and to follow his instructions at all times. Most importantly – in the event of something untoward happening – don't run!
The overall objective was to experience nature in its totality. We would not be just driving through it in a loud, intrusive vehicle.
The walking safari would not be a dangerous or risky business – but we would stay well clear of elephants, particularly breeding herds. Compared with the usual walking trail in most other areas – which consists of a specific pre-determined route from which one cannot deviate – the Mashatu Wilderness Trail can take you anywhere, anytime. So Stuart may opt to deviate from a planned route depending on wildlife movements, the fitness level and enthusiasm of the group, or their specific interests.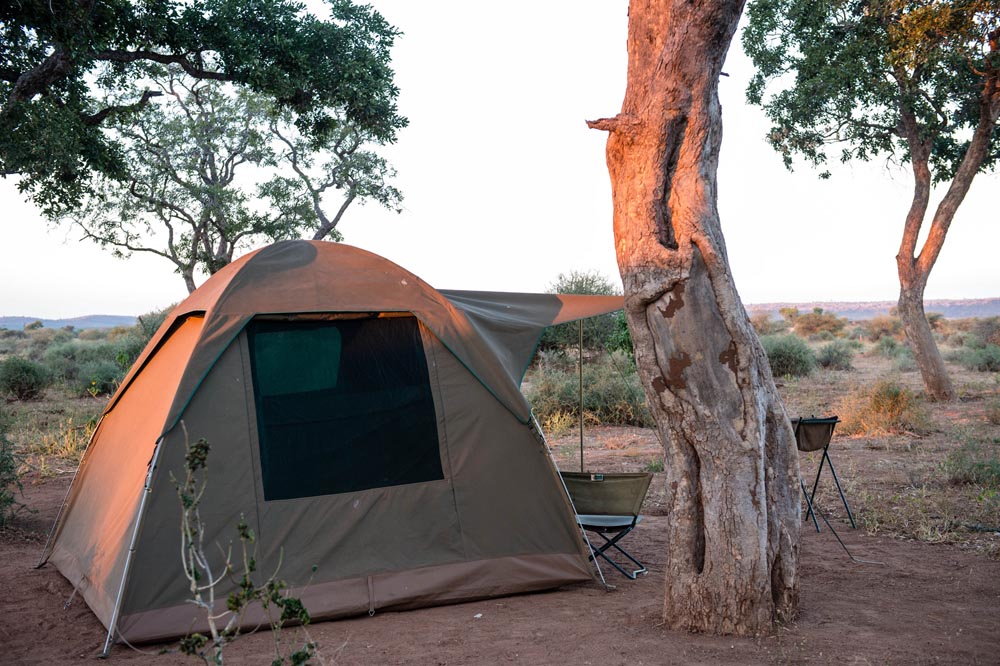 Overnight At Trails Camp
Fairly late on the first afternoon, we set off from Serolo Camp at a fairly brisk pace, over mostly level to gently sloping terrain, passing through mopane forest & shrub, clearly well utilized by elephants. Our route winded down towards the Limpopo River floodplain where we crossed over just the corner of a large marshy wetland where we could see several ducks and other waterbirds in the distance. From there the terrain and vegetation changed quite rapidly into mixed woodland, where we started to see quite a few mammal species including zebra, impala and kudu.
It was almost dark when we reached the overnight trails camp, which consisted of several pre-erected 'stand-up' tents, in a heavily wooded area. Our tent had two small but comfortable cots side by side, with just enough space between them to move around, and a small area at the foot of the bed for one's luggage.
There was no interior lighting at all, and just a few paraffin lamps elsewhere in the camp site. We immediately realized that we had way too much luggage for a walking safari (it was an ordeal trying to find something in amongst a large duffel bag in the dark) and that headlamps would have come in extremely handy.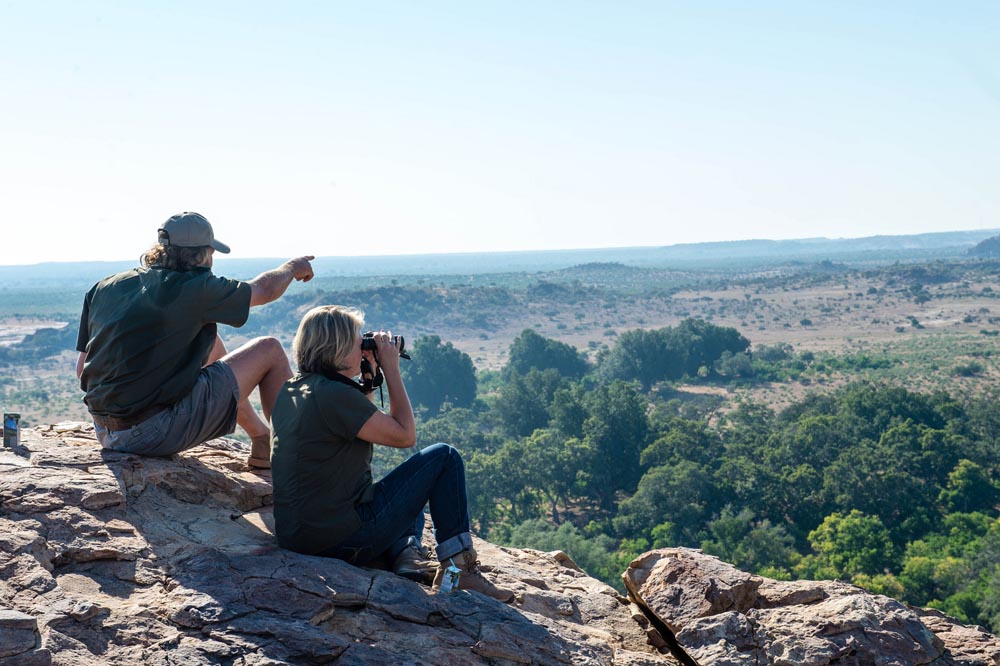 We managed though and within 20 minutes or so (there was warm water available for a bucket shower if you were so inclined) we were seated comfortably around a camp-fire. It wasn't very cold yet but temperatures drop rapidly after sunset in this semi-desert environment with a cloudless sky. Later in the winter months of June through August one would be well advised to take a well-insulated jacket and to plan on layering as it can get very chilly early in the morning, only to warm up again, as the sun rises.
We enjoyed some brilliant star-gazing with our fellow trailists Emil (a professional photographer) and Adelle (a photo-journalist by profession) and then sat down to a wonderful dinner prepared by Stuart's wife Annelien and her kitchen crew. We were all rather tired so we went to bed early & fell asleep promptly. Out in the bush there is an almost total absence of ambient noise, just a beautiful natural sound-track consisting of calls and sounds made by elephants, hyenas, jackals and some restless birds. Someone even heard some lions in the distance. Not me.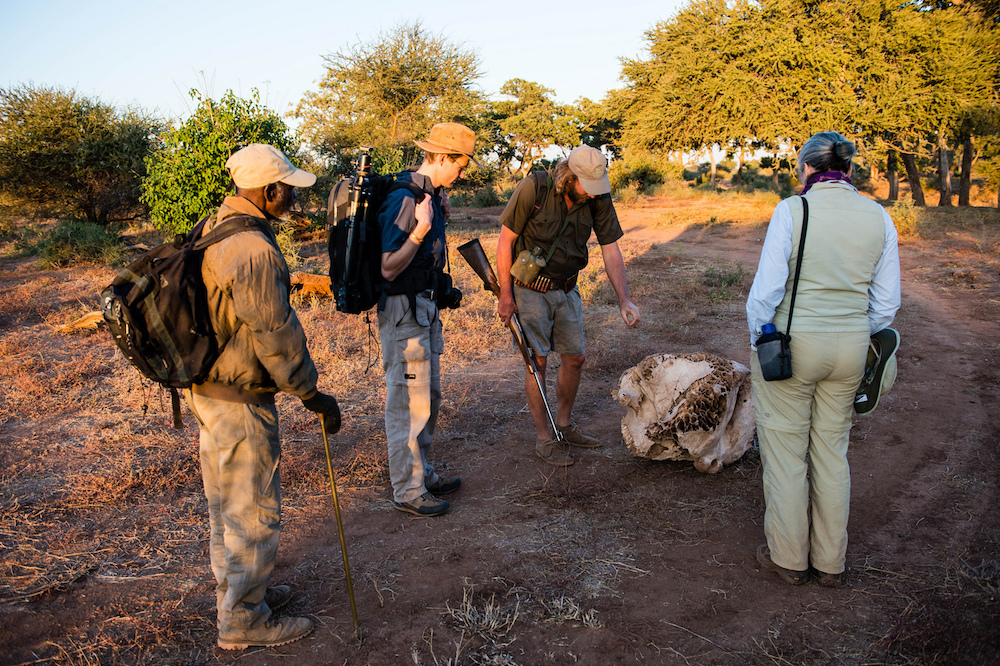 The View From Eagle Rock
We were up early the next morning for a light breakfast and coffee or tea with rusks, again around the fireside. The morning walk would take us to Eagle Rock, an impressive promontory with a near 360 degree view over parts of the Limpopo Valley, with the Motloutse River in the foreground. As we approached the rocky area, we saw quite a bit of wildlife again, even some giraffe giving us their characteristic stare.
Along the way, Stuart pointed out various interesting geological features. Much of the rock was sandstone, with very visible 'globules' to be seen. These were round knobby protrusions or holes, depending upon whether the matter which caused their formation was softer or harder than the surrounding rock. If softer, the globule would wear away faster, causing a round hole; if harder, it would take much longer to erode, resulting in one of the knobby protrusions.
We clambered onto Eagle Rock where we promptly saw a Black Eagle take to the sky. Many of its favorite prey animals – dassies (also known as rock rabbits) were to be seen scampering away. From atop Eagle Rock, there were amazing views in every direction.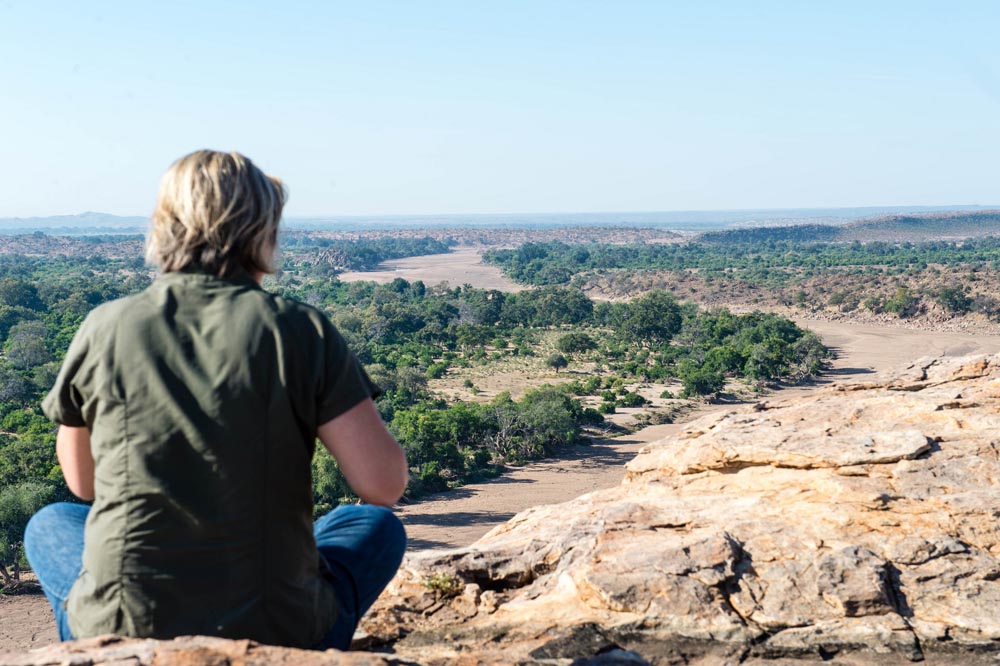 From there we made our way to the next overnight stop but not before a most interesting encounter with the rarely seen Brown Hyena. Stuart had mentioned the presence of the animals in a particular spot – a large overhanging rock which formed a wide shallow cave of sorts. We crept up to the area through a narrow rock canyon, hoping to surprise one or more of the brown hyenas near their den. As it turned out, we did not surprise them: they had heard our approach and were lurking on the 'exit' side of the canyon. Kathleen saw the brown hyena first as it bolted into its escape route, and Stuart and I also caught a glimpse of the dark shape as it slipped away.
As interesting as the sighting itself was the brown hyena clan's boneyard. There were in excess of 40 to perhaps even 50 different bones – mostly skulls – lying around right in front of the shallow cave entrance. Most were impala horns with the top of the skull still attached, other were baboon skulls – even a much larger skull of a young elephant could be seen. The older ones were ivory white, while more recent scavenging finds such as a fairly fresh set of impala horns still had a pinkish tinge at its base, the animal having lost its life not very long ago at all.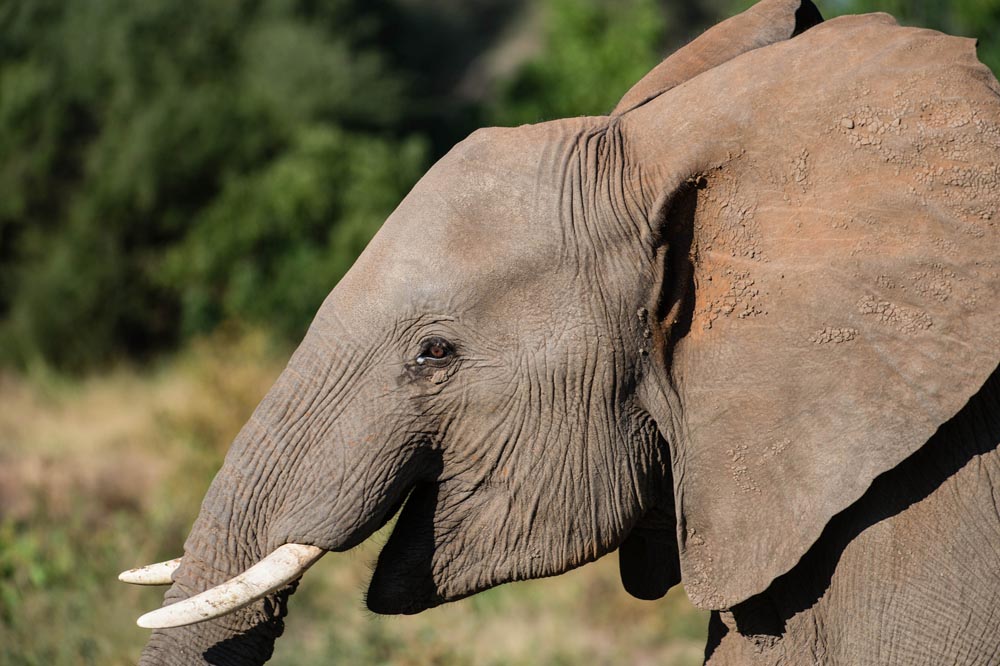 Creeping Up On Elephants
At the enclosed but open-air Kgotla encampment, we dropped off our stuff, enjoyed a much needed and very welcome hot shower and took a bit of a siesta. Then we were off down to the Motloutse River where we saw about 30 to 40 elephants drinking and mud-bathing. Soon enough they were joined by first one, then another and yet another herd walking out of the bush on the other side of very wide expanse of sandy gravel, making up the river-bed. Crouched down so as not to break the sky-line too much and alert them to our presence, we crept closer for some great views of these imposing beasts. As always, it was endlessly entertaining to watch their interaction and particularly to observe their dominance displays.
By the time yet another herd approached the scene and started moving towards our right (the others were in front of us and to our left), Stuart wisely decided that it would be safer to move away from the river, just in case we got surrounded by elephants. Which would not nearly be as much fun as just observing them from a safe position.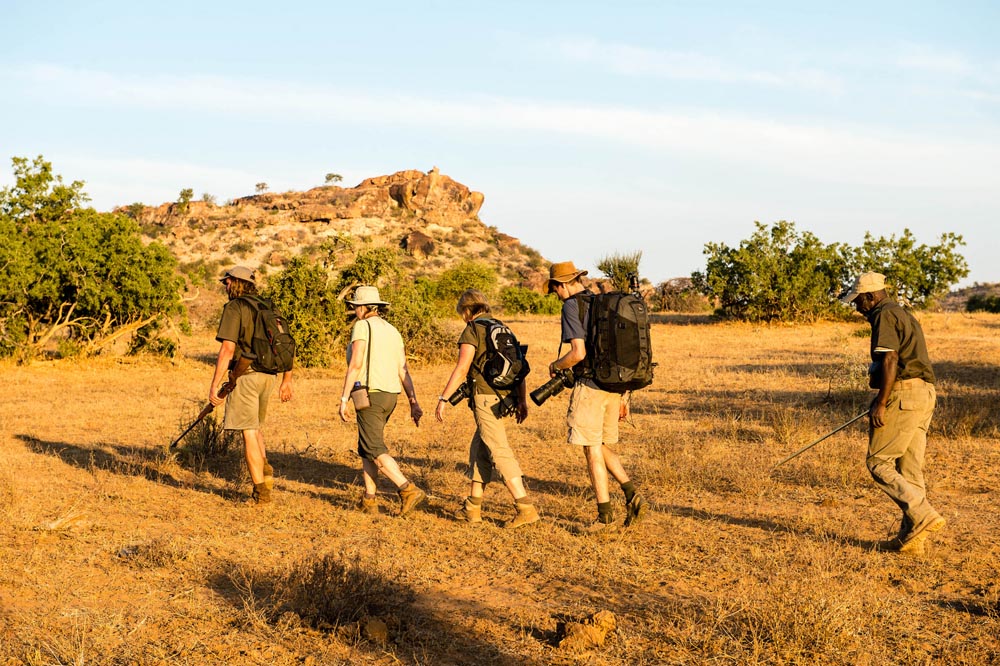 We cut through a marshy (yet currently dry) area with lots of elephant foot holes, through a very thick patch of bush and then on to the Mmamagwa Ruins and Rhodes' Baobab, which we reached just as the sun was setting. The views over the valley, with the sun setting right in front of us, were superb. A tiny rock elephant shrew entertained us scampering out from its rocky shelter right to our feet, quite unafraid of our presence. We had worked quite hard getting up the slopes and enjoyed a well-earned sundowner drink and some salty snacks there before we made our way back to camp, this time by vehicle.
We spent yet another enjoyable evening around the campfire, with good conversation, and a tasty, wholesome 'home-cooked' meal, with a couple of glasses of nice wine. By 10P we were snugly settled down in our individual cots, 6 of them spaced out in 4 clusters inside the open kgotla enclosure, right under a massive mashatu tree. It was quite an exhilarating experience to sleep in the open with nothing but sky and stars above. Kathleen and I both slept exceedingly well, she to such an extent that she did not even hear two lions who called very loudly around 0500A.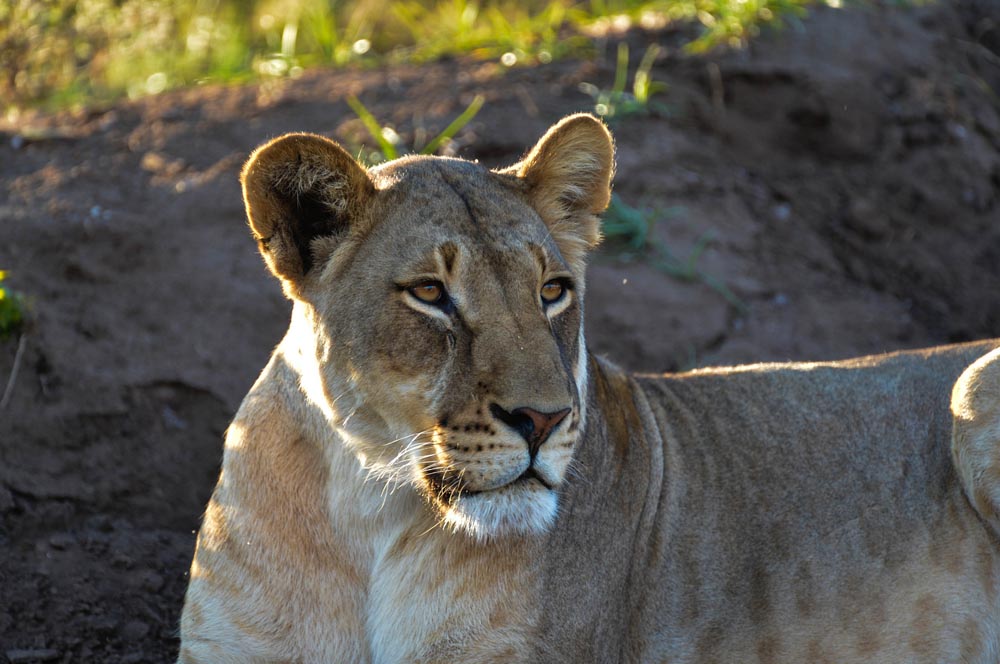 Trying To Walk Into Lions
After a light breakfast we set out with Stuart and Johannes to track and hopefully catch up with the lions. It was heavy going through thick sandy terrain, through and across the riverbed in a westerly direction. It was relatively easy to follow the tracks until they started to split up and re-converge in an almost circular fashion.
It turned out that two lions had met up there and the greeting ritual, with lots of moving about – had caused the disrupted tracks. Once the guys had figured it out, we were on our way again. Unfortunately time caught up with us as one of our party had to be at the Botswana/South Africa border by 1000A.
In the end the chase was almost just as good as the catch. In our mind's eye we could see the lions bounding towards in slow motion just like in the National Geographic documentaries. Perhaps the imagined version of walking into lions – which is what we were trying to do – is better than the real McCoy. Maybe some other time!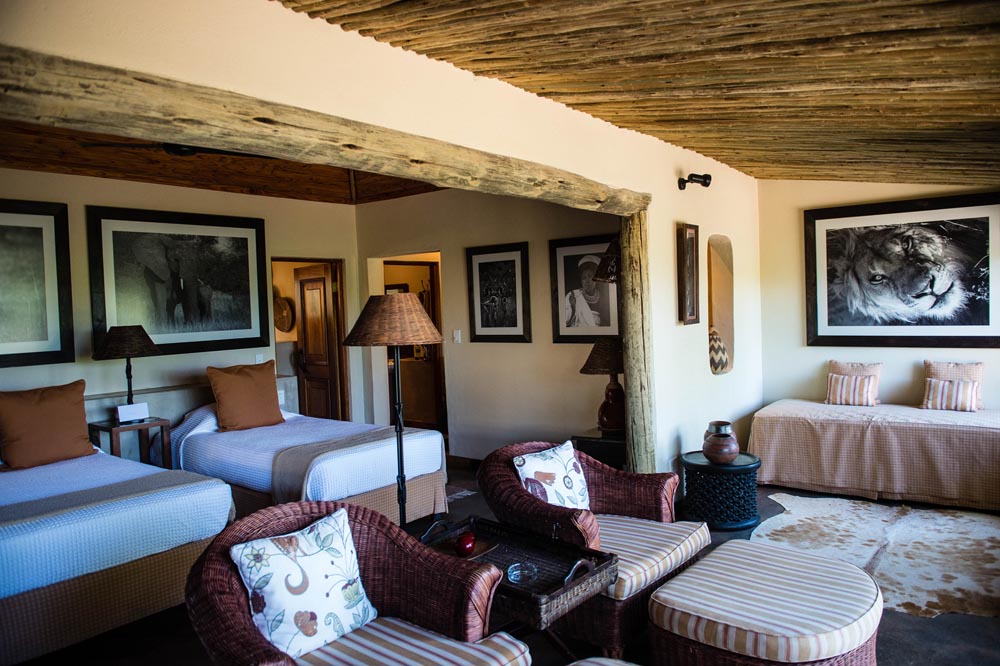 PART 4: MASHATU MAIN CAMP
From the Kgotla, we were driven back to Mashatu Main Camp with a short trip inspection at Limpopo Horse Safaris en route. We did a quick walk-through of the stables (very impressive, lots of room), the tack room and the reception area, and afterwards we went to see the horses. Beautiful they were too! We tried to get a photograph with a very tall black horse with massive hooves, but he was not too friendly. An equally good-looking white horse turned out to be much more obliging.
Apparently the horses work for a week (going on safari with riders out in the bush), followed by a week of rest and then a week of training.
Over the next three days at Mashatu Main Camp, we experienced some of the best game-viewing ever, superb guiding, unrivaled hospitality and catering, retiring each night to a comfortable yet not overly luxurious or ostentatious room.
Mashatu offers in my opinion the ideal mix for several days on safari. The game-viewing is reliably good to excellent: if you don't see leopard on a 3-night stay at Mashatu, you might consider yourself unlucky or jinxed. We enjoyed 3 different sightings of leopards while there: one at night on an impala kill, a young female at point blank range during the day, and yet another female walking briskly through the woodland, on our last morning.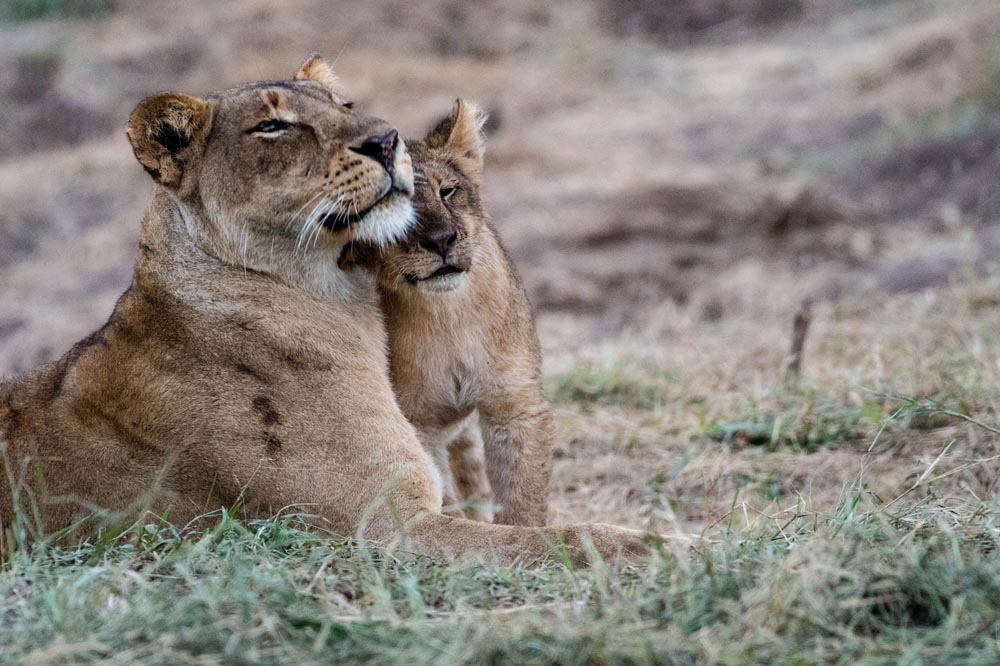 Since my last visit to Mashatu the lion population has mushroomed: we saw several lions every day, including a couple of female with 9 cubs of varying ages between them, four other females and a mating 'three-some' of lions (2 males and a female), possibly one of the females mentioned previously.
On our last game drive one of the two males (a set of brothers), and his concubine put up quite a show for us, right in front of another Mashatu vehicle. I captured a few particularly good images – and so did Kathy.
Mashatu is more than predators though: we had some of our best views ever of eland, and spending a few hours in a hide with professional photographer Mike Dexter proved to be fun and educational. I captured a few good bird photographs and missed one potentially excellent one (a missing wing-tip) and I would recommend booking a few hours with Mike or one of his colleagues on any trip to Mashatu. Whether you are a rank beginner, have a new camera or just need to take your photography to a different level, there are few places better to do this than at Mashatu.