$cat_name = 'category'; $categories = get_the_terms($post->ID, $cat_name); foreach ($categories as $category) { if ($category->parent) { echo $category->name; } } ?>
Apr 18, 2013
Katavi & Mahale Mts National Parks Nov 2013
Share: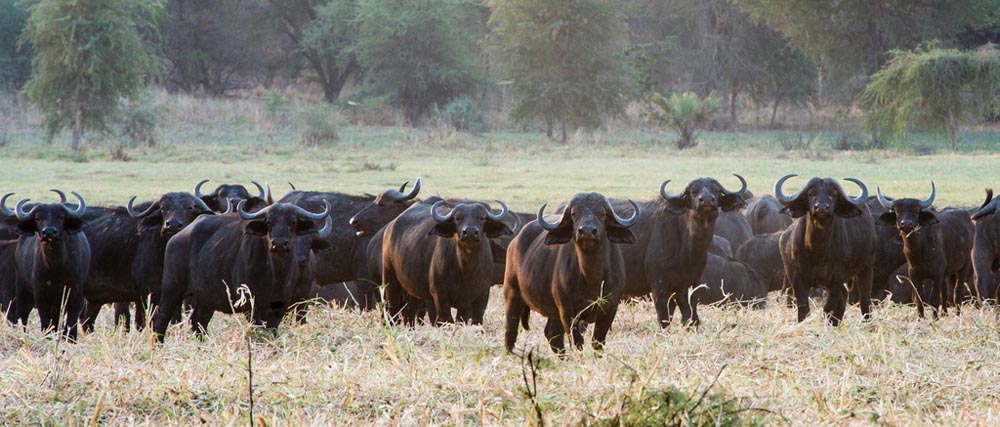 Katavi & Mahale Mts National Parks Nov 2013
PART 1: INTRODUCTION
Katavi. Katuma. Katsunga. Kapapa. There are several K-words to remember on a trip to Katavi National Park, one of Africa's most remote wildlife sanctuaries, tucked into the southwestern part of Tanzania.
Not too many visitors actually make it to Katavi. It is remote, not very easy to get to (a long flight from either Arusha or Dar-Es-Salaam) and it does not have as many roads and amenities – or as big a selection of lodges – as many other East African parks. Once you do make it out there though, you'll probably want to return again and again.
Why? Well – mostly for the same reasons as above: It is far from anywhere, rather tough to get to, there are few roads, very few other visitors and just a handful of camps. Katavi is the anti-Mara, the anti-dote to over-travelled African game parks where minibuses line up like gluttons at a buffet, for their passengers to gawk at overly habituated vehicle-climbing cheetahs to the sound-track of clattering shutters.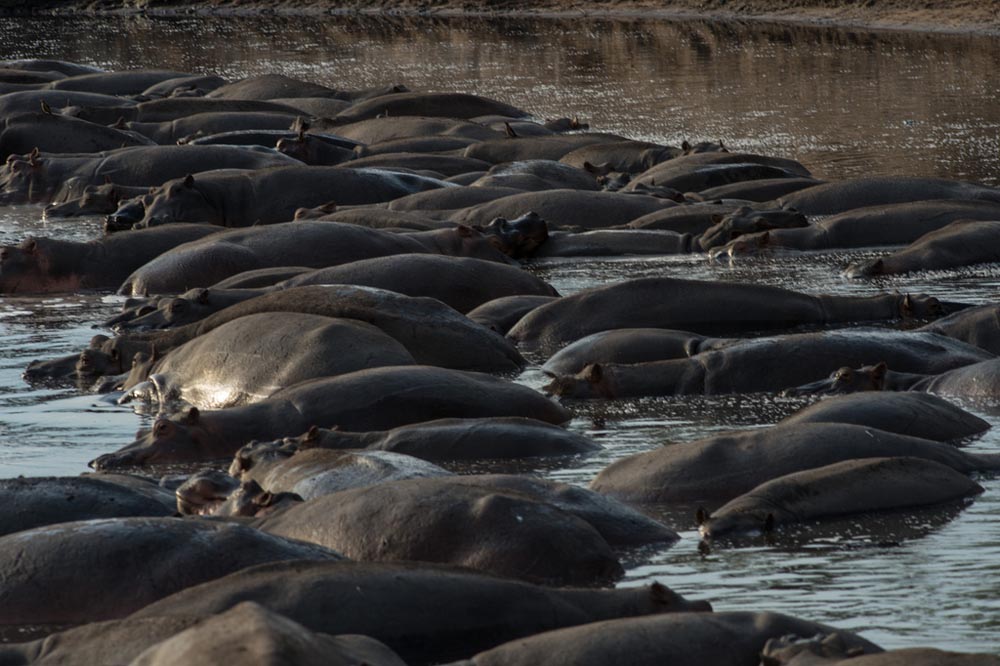 There's none of that in Katavi. It is unvarnished Africa – raw and unltered and totally remarkable. Katavi is Tanzania's third largest park and it is famous for its large buffalo herds which can reach more than 3,000 individuals at times. We did not see that many at any one time as the big herds disperse late in the dry season (October & early November). Even so, we experienced several other dramatic sightings including literally hundreds of hippo jammed together in small, rapidly drying pools, a very healthy lion population, leopard, good numbers of elephant and a wealth of general plains game such as giraffe, zebra, impala and Defassa waterbuck.
Katavi is Africa with a wild, harsh edge. It's not that easy getting there, and it's not a walk in the park being there. The late dry season months of October and November can be quite hot in the afternoons, and chances are that you will have a minor run-in with a few tsetse flies here and there, not to mention some African cousins of the June bug, during dinner.
Go all the way there and brush off these and a couple other minor inconveniences such as a lot of zipping and unzipping tent openings, and you will be amply rewarded. Having traveled to just about every 'safari' region in Southern and East Africa, Katavi struck me as one of the last few totally unspoiled game sanctuaries in Africa. There are few roads, not many other visitors and miles and miles of wilderness where Africa looks you straight in the eye.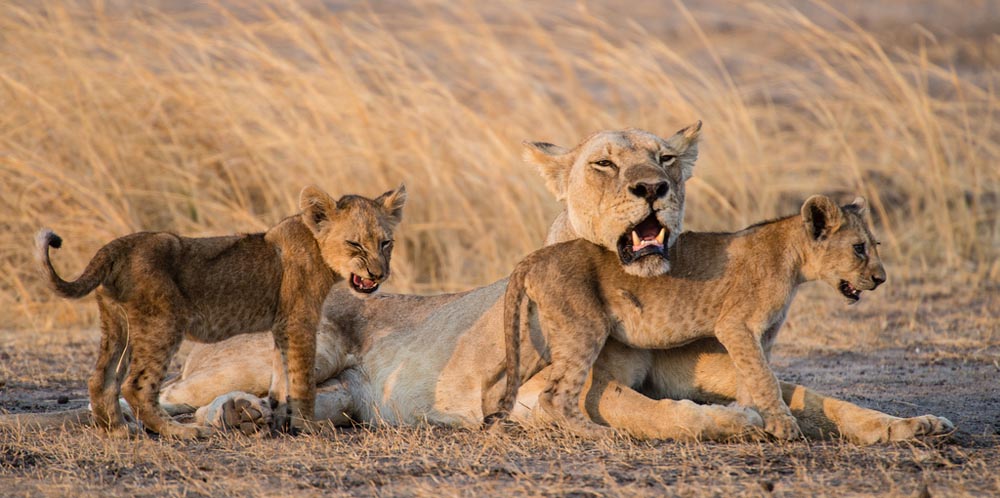 This is not the Serengeti where the grass is ample and almost all the animals are in good condition, unless there is a drought. This is a place of feast and famine, where survival of the ttest really means something and where every organism is tested to the limit during the long dry season.
By late October the hippos are literally at the end of their rope with sometimes hundreds of them 'trapped' in shrinking, smelly pools of mud. They are very stressed and very close to the breaking point, losing as much as one third of their total weight in the process.
And it's not just the hippos that have it tough. The large herds of buffalo have to disperse because no one area of the park can sustain so many of them in close proximity. Every animal other than the predators is reduced to just eking out an existence until the first rains come.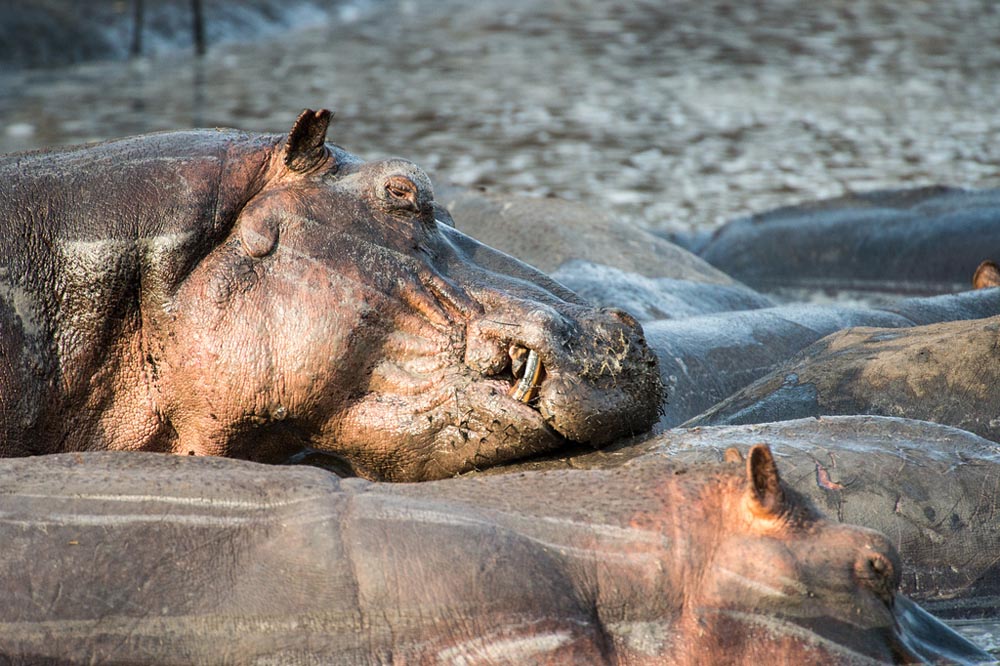 Heat & Hippos In The Wilderness
By the time we walked into our tent at Chada Katavi on Oct 28, it was hot, probably close to 90F.
We had been traveling for several hours, having made two long back to back fights on a Tanganyika Flying Company (TFC) Cessna Caravan from Kogatende to Tabora (for refuelling) and then to the Katavi airstrip just off the Katsunga floodplain.
The tented rooms at Chada Katavi are quite large with a separate but connected bathroom with bucket shower (hot water by arrangement, on request). A single small spigot supplied water for washing one's hands. We were initially somewhat dubious about it, but the en-suite chemical toilet employs an efcient yet minimally water-intensive ushing mechanism. All the zipping and unzipping to get into the tent and out of it, as well as into and out of the bathroom enclosure, gets a bit tedious. The insect screening is quite good though so you just have to take it in stride.
Chada Katavi is a bush camp through and through. The tents are quite widely dispersed in a massive wooded forest with sandy paths connecting the various tents to the separate lounge/library and mess tent. Oddly enough the lounge tent was right out in the open and not shaded by one of the many trees in camp. It was not heavily frequented by anyone in camp while we were there. Just too hot.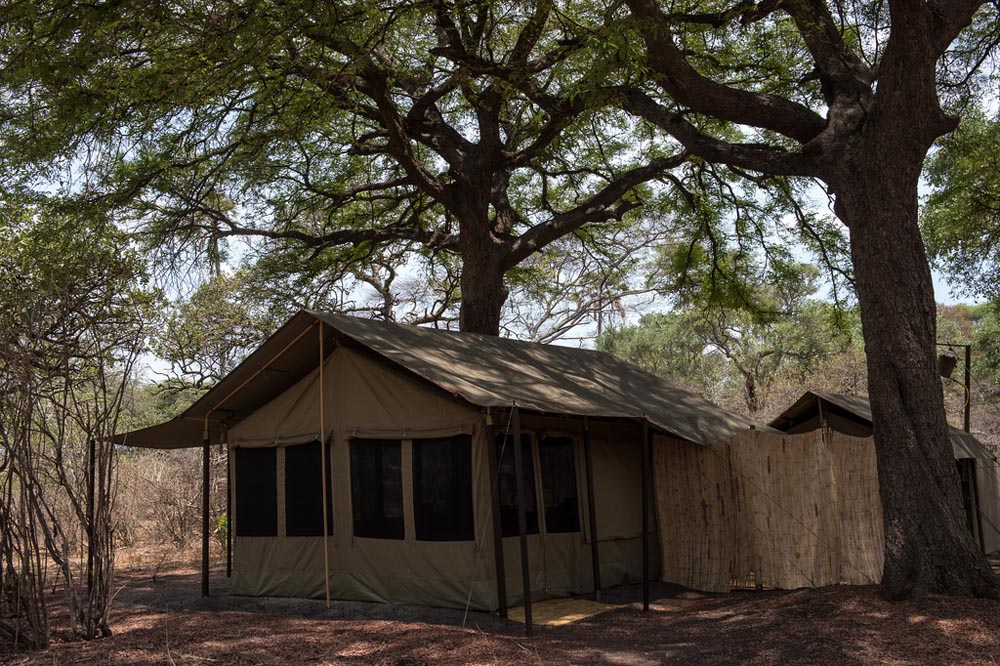 After tea which was served at 4:00P, we set off with camp manager and guide Mohamed Kassim on a game drive which took us to the Katuma river where we were quite astounded at the sight of raft after raft of dozens of hippos packed into muddy pools: cheek to cheek, tail to tail with no space for any one of them to do a 360-degree move. In ones and twos they glared at us, rearing back a bit as we approached. But they soon relaxed and there was less in the way of warning displays such as big toothy yawns, than I had anticipated.
We also observed a few Yellow-billed Storks shing in the rapidly disappearing pond, plucking one after another small catsh out of the murky, smelly water. The stork would then throw the small fish around, seemingly catching and losing it several times, after which it would be swallowed whole.
Then we were off to another spot with even more hippo packed into a very small area. What a sight! Not long afterwards we came upon the Chada pride of lions, numbering around 16 or so. There were 3 young cubs not quite 3 months old. I made a few decent captures of the young lions, who were intermittently taking milk from their mother, half-heartedly playing with each other, trying their paws at tree-climbing or just sitting about and staring at the human intruders.
By around 6:30P or so it was time to head back to camp which we did; it is about a 20 to 25 minute drive to Chada from where we were, close to the Fox camp. After a welcome shower we enjoyed cocktails around the camp fire and then it was dinner time. Nothing too exciting this evening but tasty and well-prepared: beef or lentil stew with couscous, butternut squash, and fresh green beans. Then a cup of coffee and it was time for bed. Lala Salama!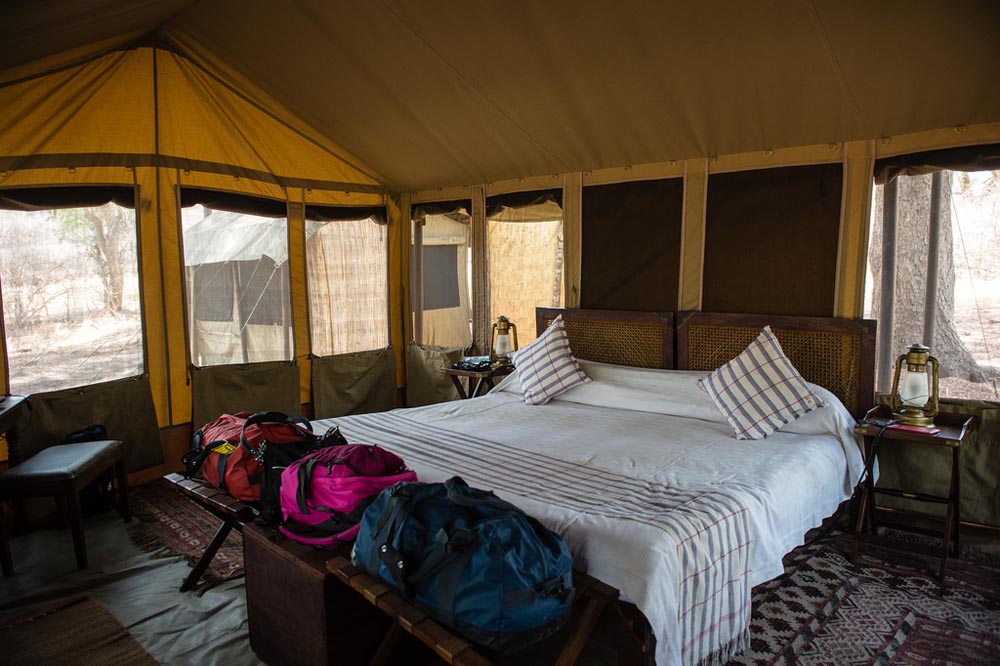 At exactly 3:45A – I checked – I was awakened to the sight of a large grey ghost approaching our tent from the left (where the main entrance is). I woke up Kathy: 'Look, an elephant!' We both stared out of the pitch black tent trying to see the behemoth in the moonless night. By now he/she had moved really close to the tent and then something strange happened. The elephant leaned in and started scraping the tent with what seemed to be its hide, producing a rough scratching sound. In the dead of the night, it was extremely loud and most disturbing. What on earth was this elephant trying to do – flatten our tent?
I've never felt threatened inside a tent before but I must admit that this time, I started feeling around for a ashlight and mentally calculated how long it would take to unzip the door opening and make an escape. And then it dawned on me. The elephant was using its trunk to literally hoover the seeds of a massive tamarind tree from the verandah and roof of our tent. We were in no imminent danger of getting trampled; this particular elephant has been pulling this stunt for a long time! He knew exactly where to lean in under the verandah to get close to the source of the delicious, nutritious seeds. In doing so he got us really worried for a few seconds because he was pushing on the poles which keep the tent in place. I started giggling and thought about trying to get a photo but setting of ashlights right then might not have been a good idea. So we just relaxed, listened to a bit more scraping and scratching going on and then it was quiet. Our seed-eating pachyderm had moved on to scare someone else.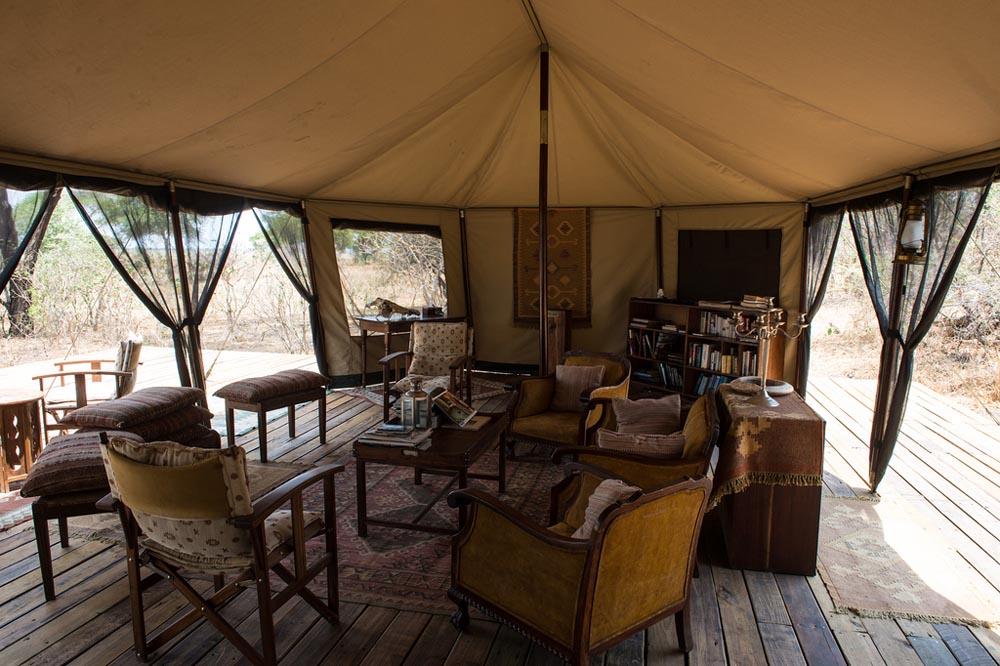 PART 2: CHADA KATAVI & FOOT SAFARI
Birds And Crocodiles At Chada Katavi
The next morning it was all about the birds and the crocodiles, and the hippo. We witnessed one of the most amazing sights we had seen in years when a giant of a crocodile started tossing around a large dead crocodile, shaking it in its massive jaw like a limp rag. Cannibalism is never a pretty sight, but this was fierce! There were hundreds of other birds around the pond, including yellow billed storks and pelicans. We were impressed by the high density of African Fish Eagles at the bridge with two waterholes on either side. This is the bridge with the sign which prohibits free game-viewing or photography. Sure.
It is a short drive from there to the camp headquarters where we witnessed a spectacle like no other. There were several hundred hippos packed in literally wall to wall in a morass of mud and thick sludge-like water. Hardly moving and seemingly resigned to their plight to waiting out the dry season, they were just enduring the stench and discomfort, waiting for better days. One could not help but feel sorry for the poor beasts.
We then drove to the main (Katsunga) pan, where we had another picnic breakfast at a lovely spot beneath some trees. The 'vegan' option was a cold toasted egg sandwich without bacon. Something got lost in the translation there, but not a big deal. I just don't much care for picnic breakfasts, vegan or not. It would be different if there was a re or hot plate to grill something, but I think the point has been made. Over coffee we admired the pretty scenery and took some photographs of giraffes moving across the open plains, fringed with large stands of Borassus palms.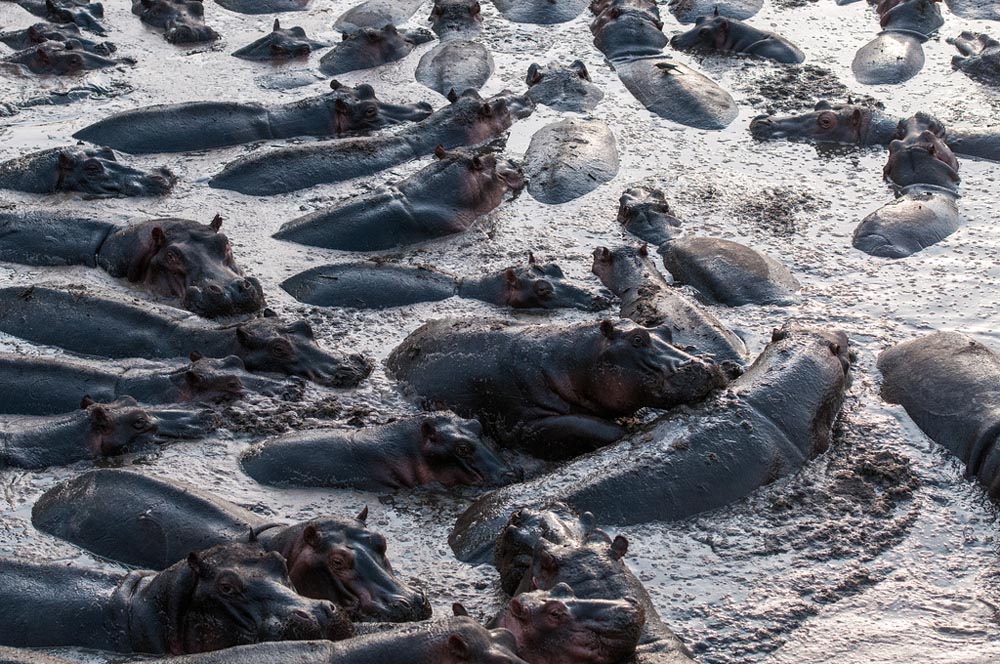 We drove past Katuma Bush Lodge and Fox Camp – both of which I think have a somewhat better location than Chada Katavi, being closer to the main river and oodplain. Earlier in the dry season the Nomad property – which is on the edge of Chada Pan – has a grandstand view of the huge buffalo herds for which the park is famous, so it all depends on conditions. However it felt like we drove quite a distance on most game drives, to and from the most productive game-viewing areas.
Just before we returned to camp for lunch and a siesta, we checked out another few individuals belonging to the Chada lion pride; this time a male (known for his grumpy behavior) and three female lions, one older female and two young ones.
That afternoon, it was back to the lions, observing a female with two young cubs around 3 months of age. The lions seemed to be hiding in the grass, possibly getting into position for a late afternoon hunt. We left them temporarily to have sundowners with a breeding herd of elephants as 'entertainment' in the background. The next activity was a night drive which produced a good crop of nocturnal animals including three genets, several lesser bush babies (one good clear sighting) and one of our best ever views of a Serval Cat.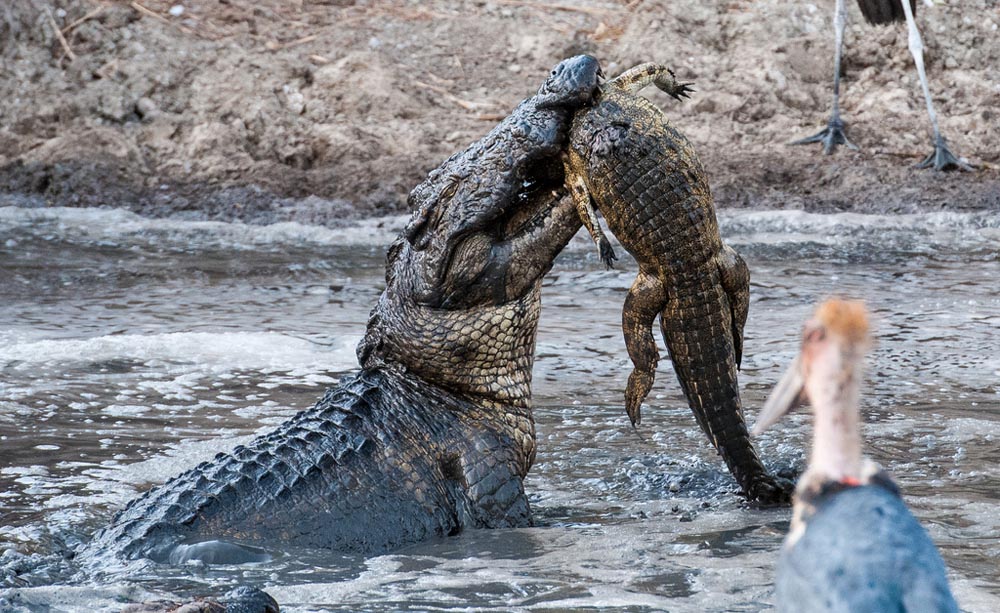 A TWO GUN FOOT SAFARI
This morning (Oct 30) at 6:30A four of us plus our guide Mohamed and a TANAPA (Tanzania National Parks) ranger set out on a 2-gun foot safari. As it turned out that was two guns too many, the most dangerous game we encountered being warthogs. Of course it is well-advised to be protected at all times as one could come across elephant or buffalo unexpectedly – with unpredictable results.
Mohamed was exceptionally knowledgeable about various plants and trees, and we learnt some fascinating things about elephant dung (responsible for spreading Borassus palm seeds), a salty shrub (which the animals seek out for – duh – salt), acacia melliora (thorns low down but not high up), sausage trees (size matters – it's a long story) buffalo thorn tree (natural viagra for the Hadzabe) and we watched the leaves of a 'touch me not' shrub close up at the lightest of touches. It was a pleasant outing and a nice change of pace from the vehicle.
A bit later that morning we saw two sleeping elephants next to Mohamed's tent, right in camp. They were quite relaxed, just taking a nap.
ALL THE WAY TO PARADISE AND BACK
At around 10:00A we set off to Paradise to check it out briey and then to go on to Palahala Camp for a site inspection. Our friendly and competent Starlight driver-guide was Promise. It was a long 2-hr trip to Paradise but we did see quite a bit of game en route, including giraffe, impala, zebra, ground hornbills, a few buffalo and some hyena.
It's true what your mother told you. Getting to Paradise is not easy. It was a good 40km from the bridge across the Katuma River and several stretches of the road to Paradise were infested with some pesky, persistent tsetse ies. By now I was well-prepared for them and really had very few issues. They tend to like some people more than others and unfortunately I am in the 'favored' category. So here's what you do: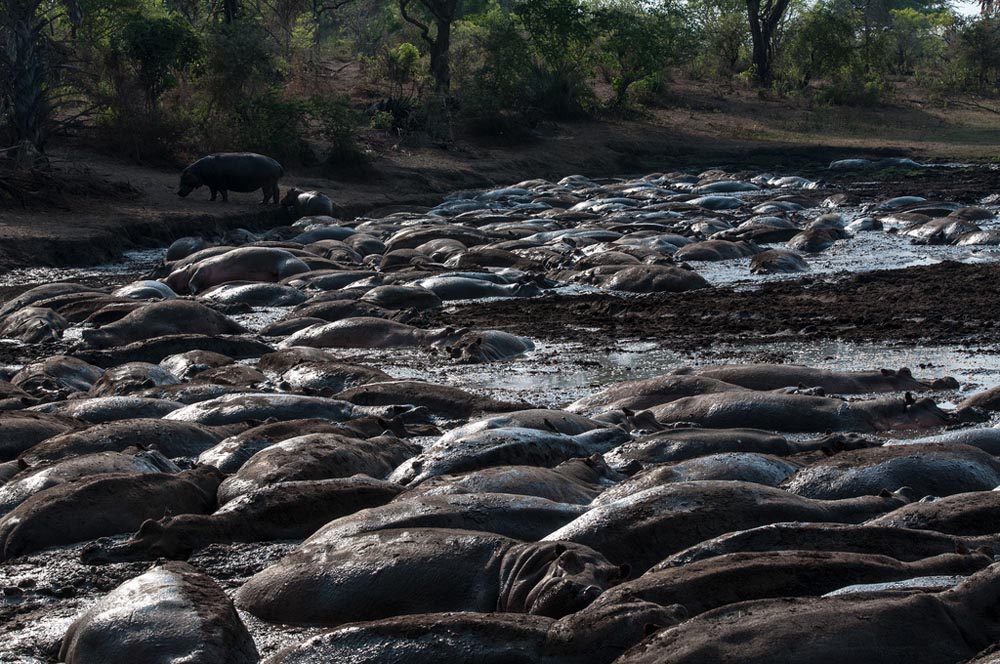 Bert's Tsetse Fly Protection Plan
Over the years I have had a few run-ins with tsetse ies. Most memorably on a drive along a tsetse fly corridor to a camp in Zambia which I don't think is even in business anymore. Here are my hints on how to avoid being bitten by these useless pests. Or at least to reduce the damage they can do.
i) Before you put on anything for the day's outing, spray yourself all over with -preferably – Peaceful Sleep which is a very effective TF repellent. If you don't have that on hand then use whatever DEET-containing spray or roll-on or cream you have on hand. Try to cover as much of your body as you can (even your back as they will probe and/or bite through clothing).
ii) Wear a neutral color long-sleeved shirt and long pants – shorts are just too much of an invitation. Tuck your long pants into your socks (the longer and thicker the better) and use some Peaceful Sleep or other spray or insect repellent liberally around the ankles. The TF like ankles A LOT! If you want some extra protection, wear gaiters around the ankles. The gaiters might even protect you from other biting flies.
iii) Put on a hat to cover your head. Next time I might even take some sturdy biking gloves for certain tricky spots or activities (a boating trip in Odzala-Kokoua, Republic of Congo come to mind). iv) Then spray yourself again – including on your clothing and socks, everywhere – with Peaceful Sleep. Repeat as often as necessary.
v) Take a small spray bottle with a Dettol anti-septic mix with you (2/3 water, 1/3 Dettol with some lotion to make it stick) and either spray it on every 20 to 30 minutes or so, or whenever you see TF activity increase around you. The TF don't like the smell of Dettol. Yeah you will smell like an inrmary but trust me, TF bites itch like crazy.
vi) Take a cortisone cream or other anti-itch cream with you & apply it to a bite immediately. Take a couple of Benadryls if you get several bites. It happens.
vii) When there are a few tsetse ies around, stay calm and don't panic & ail away. It might be that movement attracts them, I don't know. Still testing this theory – might have to book a trip to the Kafue region of Zambia to check it out.
viii) If you do get bitten, don't worry too much – it is not fatal and you won't get sleeping sickness. I am told that the reaction to the TF bites reduces sharply after a week or so of getting bitten. If the choice is to get bitten by TF repeatedly for a week to build up resistance or do all the stuff above to avoid getting bitten, it should be an easy decision. Chances are you won't need to take all of these measures but best to be prepared. Nobody likes to be bitten. The good news? There was not a mosquito to be seen anywhere in Northern or Western Tanzania. Too dry.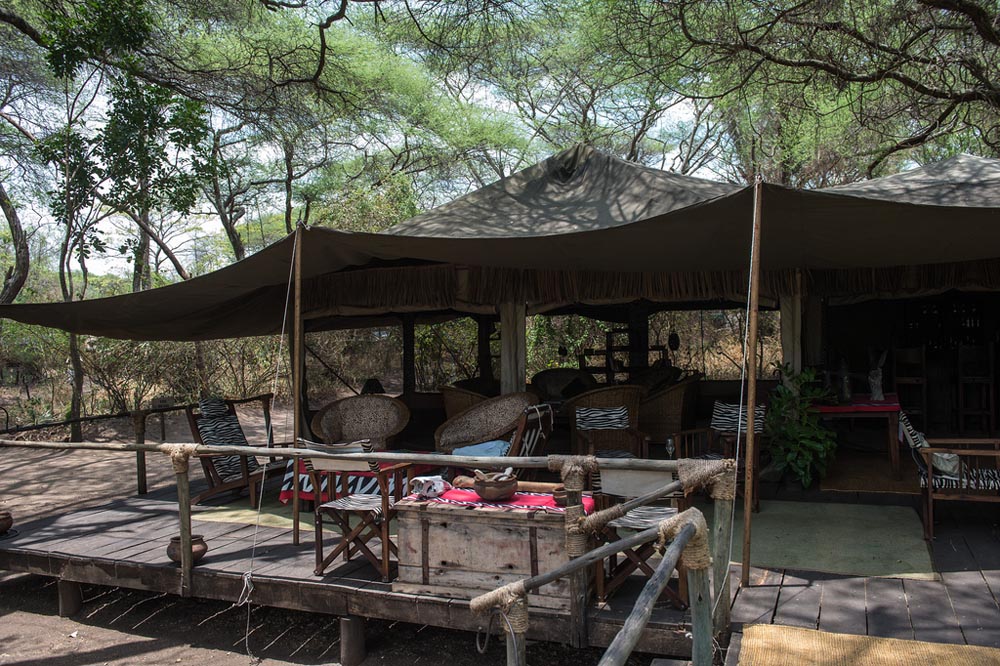 GOODBYE KATAVI
Our last game drive at Katava was relatively quiet. We saw some of the usual suspects (impala, giraffe, zebra, waterbuck and of course dozens of hippo) but no predators. A couple of good elephant sightings were most welcome, as we had not previously had any opportunities to photograph them in good light. I managed a couple of decent shots of a small herd moving from the Katsunga oodplain to the adjacent woodland. We also bumped into the only Roan antelope which we would see on the trip – a handsome yet shy individual who did not permit us to get any closer than about 500 meters.
Then it was back to camp to pack and enjoy breakfast (toast, baked beans, fruit and good Tanzania coffee). After making our contribution to the Tip Box we said our goodbyes & headed off on the 30-minute drive to the Katavi Airstrip. Soon enough a TFC Caravan appeared as if out of nowhere, ew over the runway to check for giraffe, banked again and came in for a landing. Within minutes the aircraft was airborne again, this time with us on board, and the pilot punched in the GPS coordinates for a small airstrip on the edge of Lake Tanganyika, just north of the border of the Mahale Mountains National Park. Next: chimps on the lake.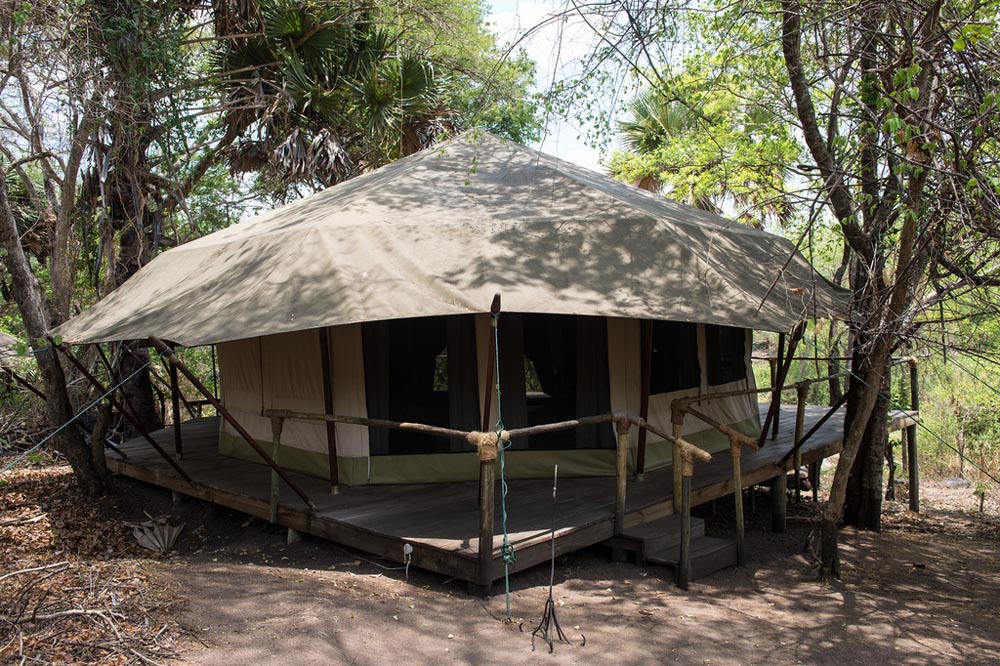 Once we got to Paradise, it was worth the trip. For one thing, the most amazing Borassus Palm forest dominates the landscape on either side of the river. It towers above the surrounding bush and thick riverine vegetation. We drove by several pools of clear water, at least compared with the dirty, muddy pools of the Katsuma River. We saw several bushbuck and a nice small group of Lichtenstein's Hartebeest, a local specialty. The previous day some African wild dogs had been seen in the area, but we missed them as well as the roan antelope commonly seen here. Of course we were driving at the worst time of the day.
Palahala Camp – which is what we had come to see – consists of 8 rooms and it has a large mess tent and lounge area, conducive to spending some time reading and relaxing. The tents are large and somewhat elevated on a deck with a view of the Kapapa River. We did a back-of house inspection and I was impressed by how clean and well-organized everything was. By the time we got back to the lounge several elephants had wandered into the picture and over lunch we observed them drinking and feeding. We did pretty well ourselves with those two activities, tucking into some rice, a lovely coleslaw and a chicken curry dish, rounded off with a creme caramel. All in all a cozy, friendly camp with a good location. It is rather a long way from the camp to the Katsunga Pan area for game drives.
Back at Chada Katavi I spent an hour catching up on some e-mails, and shortly afterwards we departed for sundowners on the Chada Pan. As it happened, there was a really nice herd of about 300+ buffalo right in the open oodplain. Mohamed maneuvered the vehicle so that we had the sunset in the background. This is what you come to Africa for. Enjoying a gin & tonic while the sun sets over a gorgeous African scene, with a near 360-degree view of nothing but grass, a tree line on the horizon and a sky as big as Texas. And of course a few hundred buffalo.
Rather reluctantly we returned to camp by about 7:00P for a leisurely dinner – more like a feast really with a rice pilaf, roast pork, a traditional local bean dish, ugali, spinach and a mixed cabbage salad. Yum!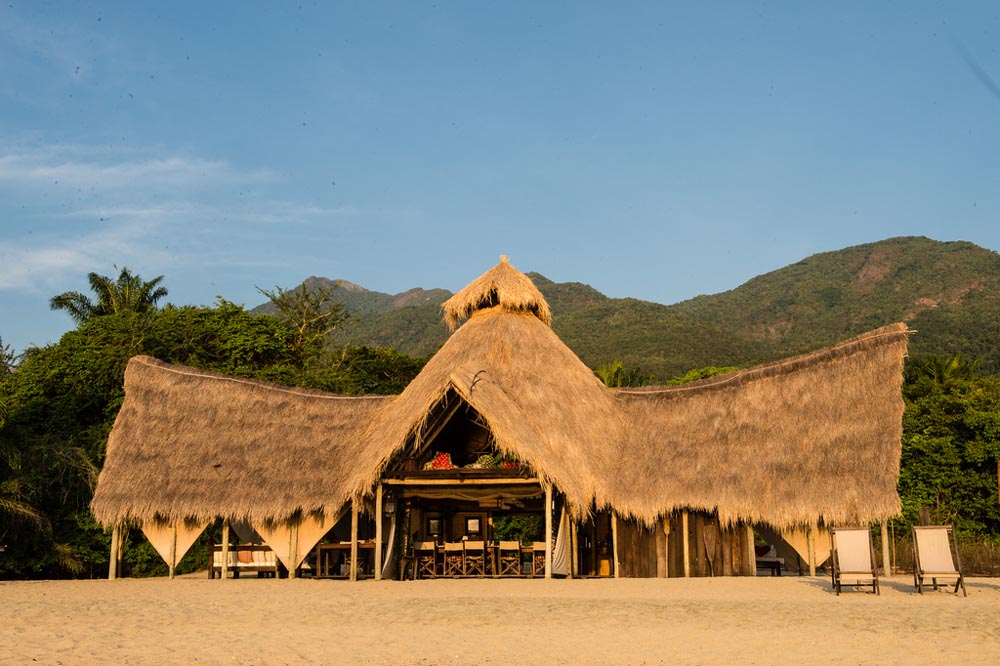 PART 3: MAHALE MOUNTAINS NATIONAL PARK
MAHALE MOUNTAINS NATIONAL PARK
It is barely over 40 minutes by air from Katavi National Park to the Mahale Mountains National Park but the two areas could not be more different. In fact they might just as well be 1,000 miles apart, they are so dissimilar.
Greystoke Mahale is tucked into a narrow sandy strip along the edge of Lake Tanganyika, below the densely forested Mahale Mountains with the mountains of the Democratic Republic of Congo visible about 30 miles across the lake. The mountain and the lake – most people would be hard pressed to pick a favorite or to guess which of the two is the most dominant feature. They are both equally impressive and both essential to the Greystoke experience.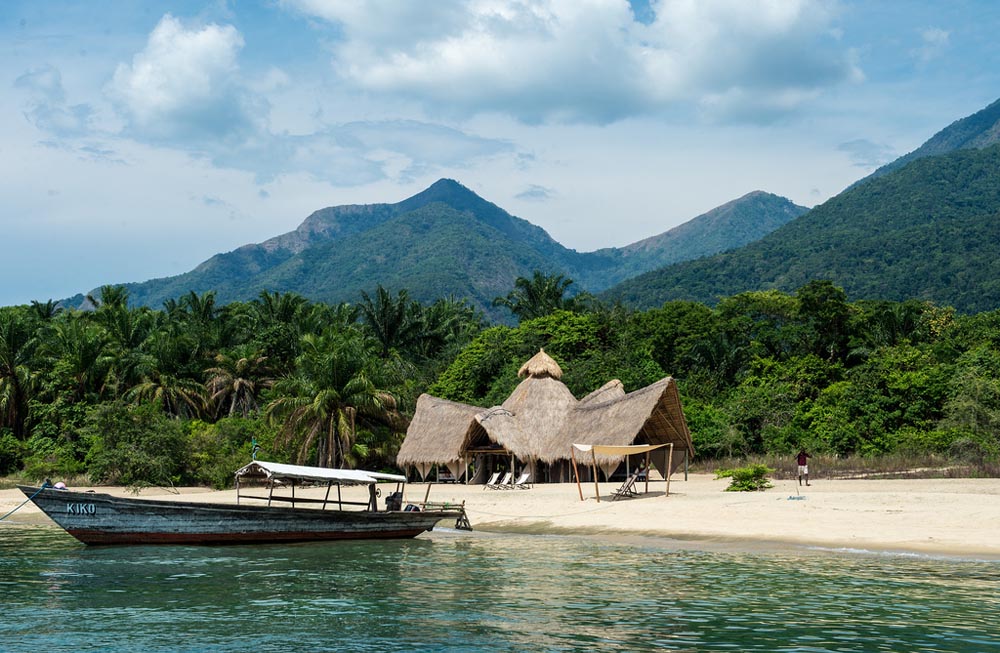 Mahale is best known as a sanctuary and research area for a group of about 60 habituated chimpanzees, plus several hundred more wild ones which inhabit the national park. Having trekked for chimpanzees before in two different areas of Uganda I can say that the Mahale experience was by far the best I have experienced. The chimps are very well habituated and hence very tolerant of humans being close to them. The leafy ever-green forest habitat is superb and makes for a perfect backdrop. If you've never seen chimps before and want to do so, or if they are your favorite animals, a visit to the Mahale Mountains National Park should denitely be on your short list.
Even if there were no chimpanzees here it would be a more than worthwhile destination. Amazing views, the super deep-water swimming opportunities, shing, kayaking, birding, hiking – the area has it all and more. We spent quite a bit of time boating (on a motorized kayak) but it is also possible to just relax and take it easy. The beach at Greystoke rivals many a coastal resort area, with the prettiest lake imaginable spilling out onto a white sandy beach.
On our first afternoon we spent 30 minutes or so suspended in what is estimated to be 17% of all of the fresh water in the entire world. Lake Tanganyika is one of the world's cleanest lakes due to the absence of industry, and that is not likely to change soon.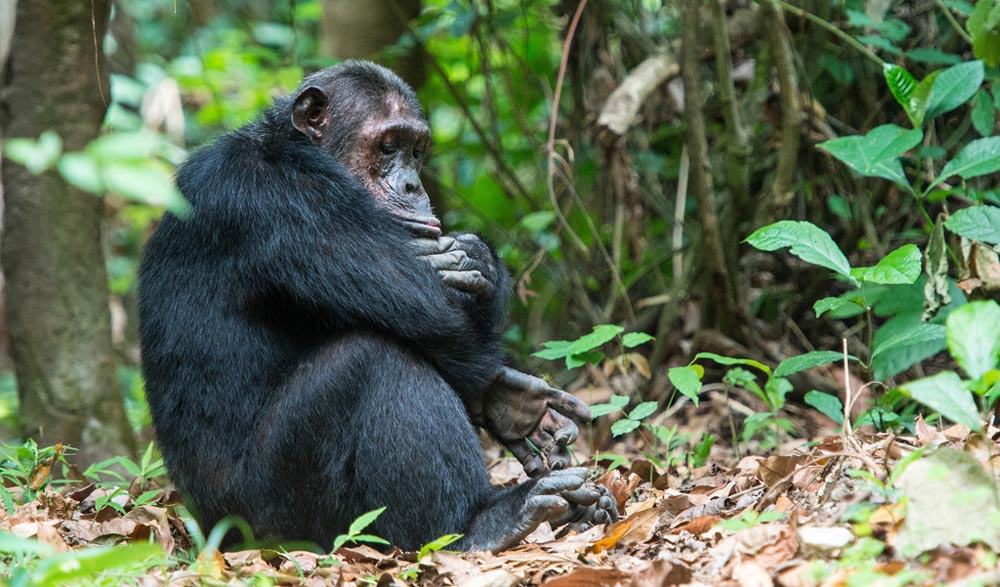 Over drinks that evening, we received a thorough and entertaining brieng from Robert about chimpanzee trekking, correcting some of the TANAPA brochure advice regarding tree-hugging (don't do it) and making eye contact with the chimps (don't worry, it is ok).
Soon after we retreated to our room, we knew that we would have no trouble falling asleep that night. Why? Because we were going to be lulled to sleep by the most hypnotic sound of all – waves gently crashing on the sand in seemingly endless procession. Just like being at the ocean. And so it was. Safely ensconced behind a large mosquito net (there were no mosquitoes), we drifted off to sleep happy in the knowledge that there would be no elephants scraping the seeds off our roof tonight.
The rooms are large A-frames – open to the front and very airy – with a connected bathroom/shower (hot water on request) and toilet. The room has an upper level lookout deck & relaxation area as well, but we only ventured up there once. The view from our room could at best be described as a 'partial' lake-view room. But it really didn't matter – the rooms are great and perfect for the place and the environment.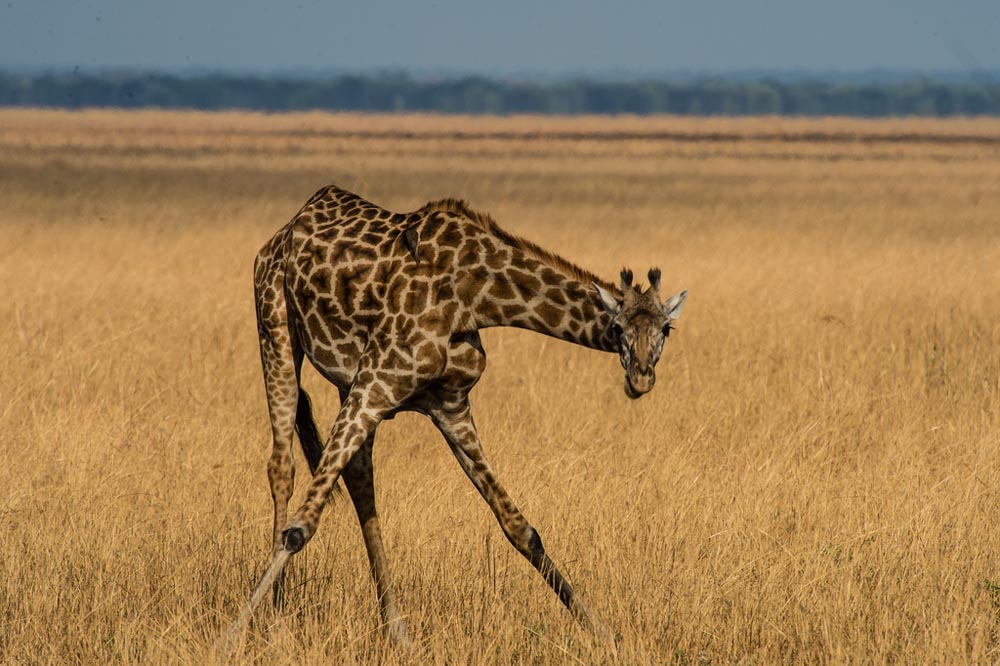 Not The Best Of Days In Paradise
Sometimes even an idyllic place can turn out to be disappointing, just for a day. So it was at Mahale this day. It started with the chimps not putting in an appearance. Having been told that they had been right inside the camp the previous day, we were expecting this chimp trekking thing to be a total breeze. It didn't quite pan out like that.
Breakfast was early (07:30A) with no word on the chimps' whereabouts. So we had another cup of coffee. And waited. And waited some more. No messages from the scouts that the animals had been seen, no calls to be heard, nothing. About 2 hrs 30 minutes later I think the guides decided to send us out on a walk just to keep us occupied. And sane.
It was nearly 10:00A and already quite hot & very humid in the forest interior, by the time we set off. 2 hrs and 15 minutes later we traipsed back into camp after a tiring trek through the bush and gallery forest of the lower slopes of the Mahale Mountains. We had seen some up and down paths, some impressive trees, many shrubs and lots of rocks but – no chimps.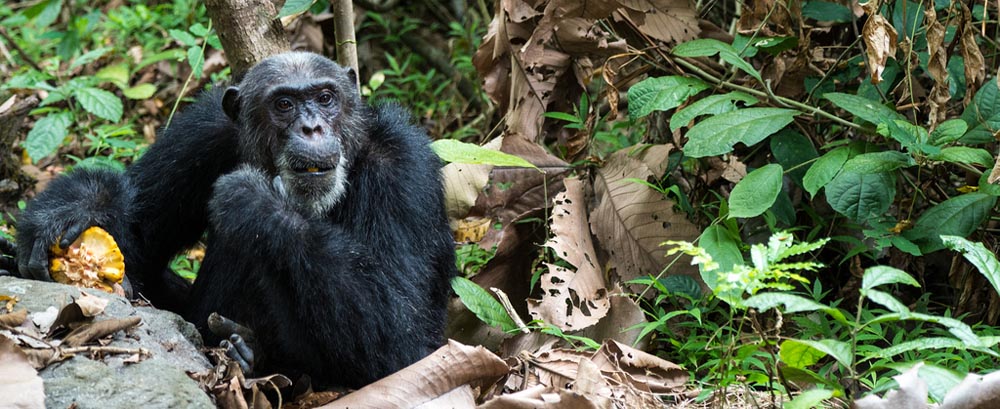 It was a somewhat dispirited group that sat down for lunch. Of course the unspoken thought was, what if the same thing happened again the next day, and the next? Would we be the rst group ever not to see the chimps at all? The Swahili-style lunch with ugali and beans, a great mixed green salad and vegan pizza improved the tenor of the day quite signicantly.
And just then we got word that one of the guests had spotted two chimps at bungalow #5. We looked at each other in astonishment. Excellent! Grabbed our face masks and scurried over the hot sand to bungalow #5. Where we didn't see anything except other would-be chimp watchers looking around for chimps. Clearly, the chimpanzees had scampered back into the thick bush and were not seen again that day. Drat. Chimps 1, Tourists 0.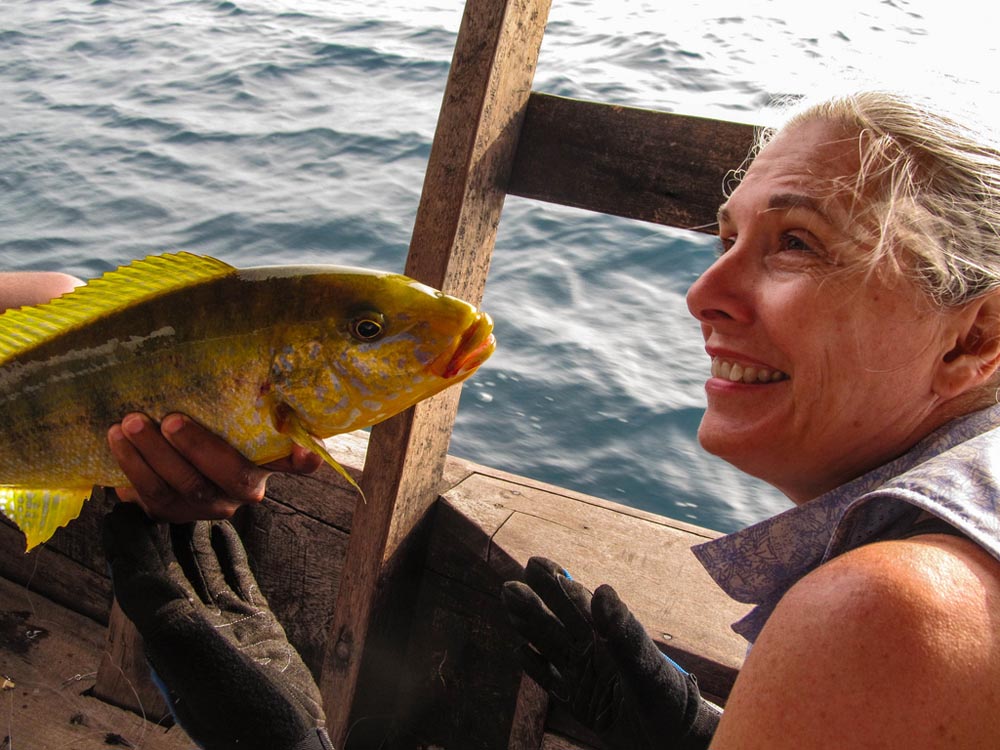 I took the afternoon off to nurse some tsetse fly bites from the previous day. Regrettably I had not followed my own tsetse y protection advice (link) while on the swimming outing and had received several nasty bites. It seems that my black lycra/polyester swimming trunks made a nice target. Bullseye. It was a bit of an unpleasant surprise to find out that the tsetses were active along the shoreline of Lake Tanganyika and even well into the lake itself. The little devils are seemingly quite keen to take a boat trip themselves. So by all means venture out into the lake for a swim and some shing – you don't want to miss either of those activities – but go prepared. Cover up well until it is time to go into the water. And take your Peaceful Sleep spray as well as the Dettol mix, just in case. The TF are more active on bright sunny days than when it is cool or overcast. Also they are not found inside the forest canopy – so don't worry that the TF will spoil your chimp trekking. It is not an issue in the forest itself.
I rejoined the group for sundowners at the bar built into a small rocky outcrop on the northern side of the property. Kathy and a few other guests had gone out swimming and shing and she caught several nice-sized Yellow-bellied cichlid, much prized locally for its culinary qualities. Dinner was couscous, green beans, broccoli and a very nice chickpea stew. The regular menu included a lamb tagine as the main course. And some fresh fish!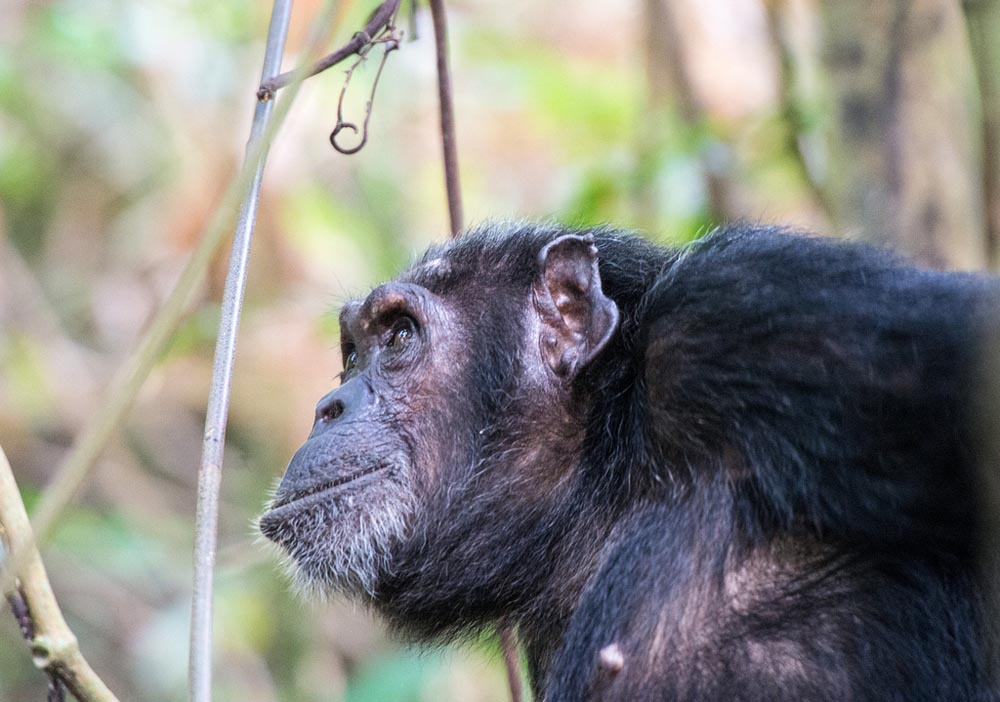 PART 4: CHIMPS AT MAHALE
Forecast For The Day: Warm With Chimps
We woke up to what promised to be another warm and rather muggy morning on the shore of Lake Tanganyika. And so it was, but with one signicant difference, compared with yesterday. At breakfast at 08:00A we were informed that the chimpanzees had been sighted and that they were about one hour's 'gentle walk' away. So off we went single file into the forest up and down but mostly just up and often rather steeply so. We went through a couple of dry rocky streams with a little water here and there, sometimes scrambling up a slope, other times crouching beneath some low branches.
We stopped a couple of times for water (you carry your own water bottle & the guides provide re-fills) and to take a breath of air. Without exception, we were sweating heavily and feeling the strain of two days' worth of solid exercise.
As we approached their position, we could hear the chimps long before we saw them. They were being very loud, making a range of sounds including some exuberant whoops and screams. And then, without much introduction, there they were. First one chimp high in a tree, then another one sliding down a tree stump and soon enough there were seven or eight of them visible in every direction.
Over the next hour or so we moved positions several times as the chimps either descended from or ascended into the trees. We observed quite a bit of interaction between individuals: young and old, they all apparently know their place and respect authority.
Photographic conditions were about as bad as they could be. Very poor light inside the forest gallery, and severe backlighting issues against the sky. Several of the younger chimps did their best to show off their acrobatic skills but in the poor light and with limited visibility (too many leaves and twigs!) it was just about impossible to capture the action.
I did manage a few decent portraits and some limited interaction, mostly feeding and grooming.
Every now and then we'd follow one or two of the chimps along one of the many footpaths in the forest. Our guide Robert knew all the chimps by name, sex, age and rank, and gave us ample warning when a 'naughty' individual was close by. We observed individuals of all ages ranging from about 6 months to well over 50 years. They were mostly quiet and not very demonstrative.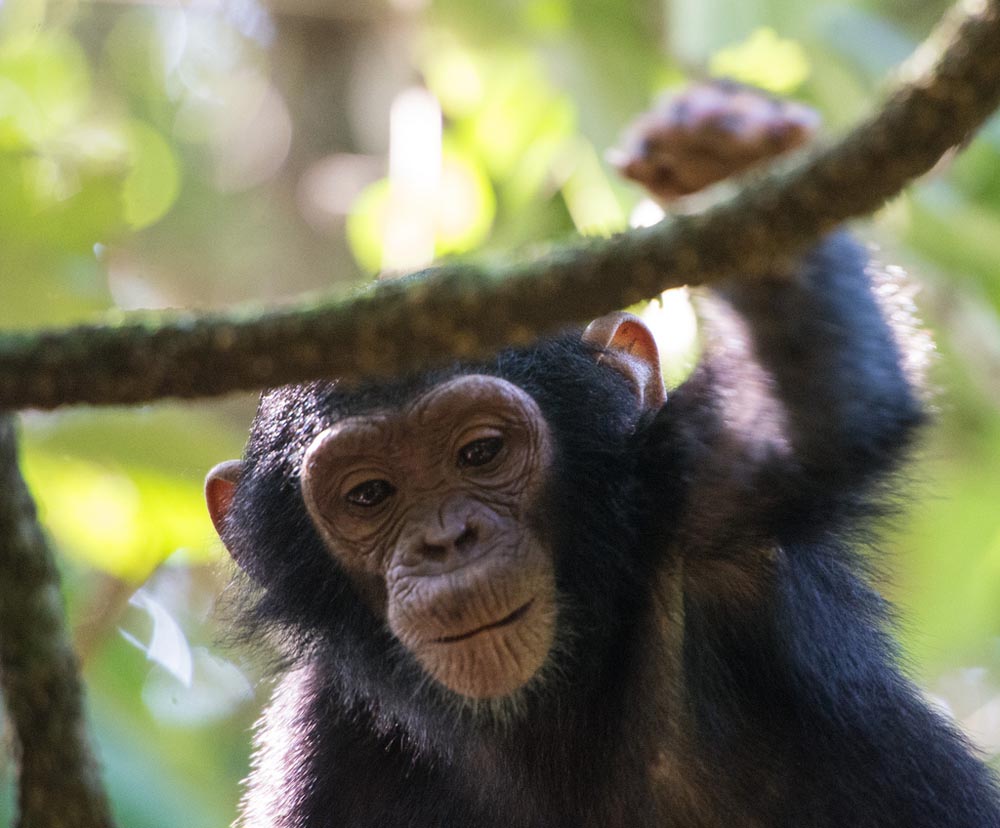 When our allotted 1-hour viewing time was over, we lowered the cameras, took a last look at the chimps who were moving into thicker bush and re-grouped a short distance away to have a drink of water. It was a happy group of campers who trudged back to the lodge. We were all very tired, perhaps even a bit dehydrated because of the heavy exertion in the hot humid conditions… Nobody cared – we saw the chimps!
By the time we got back to the lodge just over 3 hours had elapsed since we rst set out earlier that morning. It felt great to enjoy a cup of tea before we took the sandy path back to our respective rooms for a much-needed shower.
As usual, lunch was at 1:00P. It was usually lighter fare such as pizza, salads, fresh bread, pilaf, meatballs with tomato sauce & pasta salad served buffet tyles. Then it was time for a short siesta until 3:30P. After a cup of tea and coffee and a cookie, we set out for another dhow cruise, first checking out some hippo a couple of kilometers to the south. Followed by shing for Yellowbellied Cichlid. The shing is quite good but with only two persons being able to participate at the same time (with hand lines being trawled behind the boat) it is a bit limiting for a bigger group. The lodge needs some decent shing gear which could turn this activity into a very popular draw.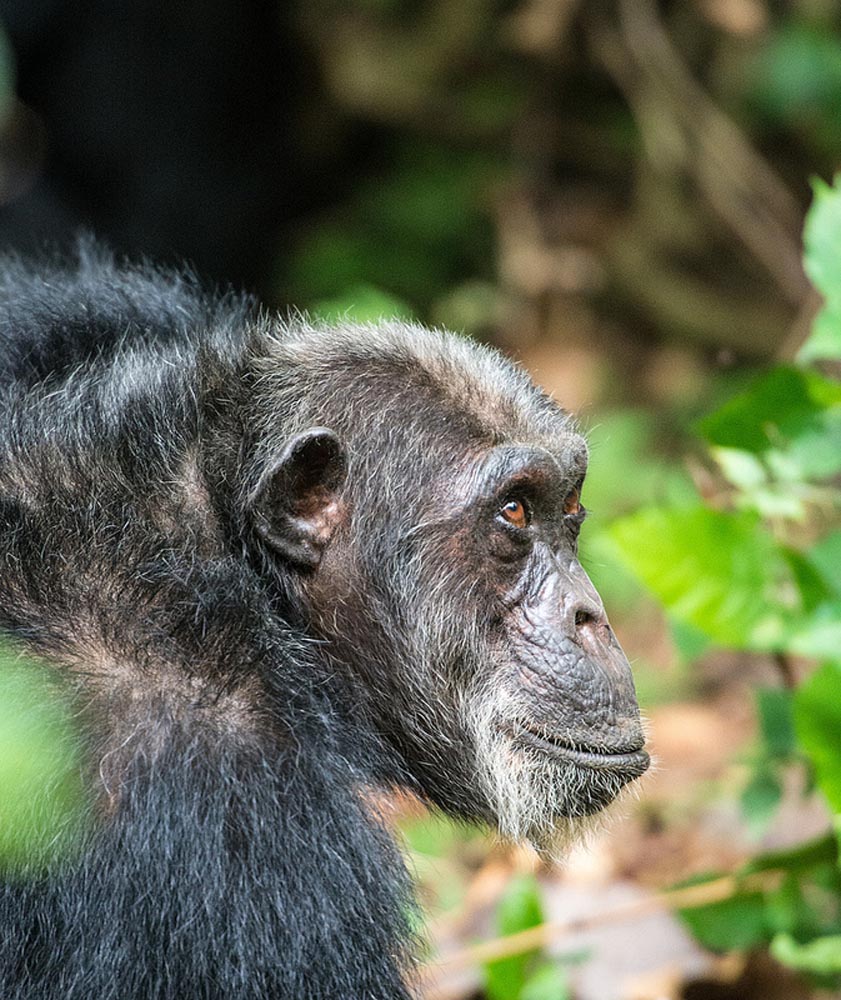 Our Second Chimp Trek At Mahale
This morning's chimp trek was every bit as much fun and exciting as the previous day. Starting from the Japanese research station, the going was a bit easier than the previous day. Even so, by the time we got onto the chimps, a good 45 minutes had elapsed and it was deja vu all over again. We were hot and sweaty in the humid conditions. Being overcast, the temperature was several degrees lower than the previous day, which helped somewhat.
On this day, the chimps appeared to be mostly quite relaxed, sitting around in the open just resting or feeding, or busy with mutual grooming. Like the previous day there were individuals of all ranks and ages, including the alpha male Primus. We were amazed at some of the facts imparted by our guide Robert.
It turns out that despite their seemingly idyllic situation, the chimps were far from living in a cocoon of innocence. They are tangled up in political and sexual spats and ghts on a never-ending basis, and the maneuvering and plotting can be Machiavellian. Imagine pretending to be removing ectoparasites from a rival, but not doing so in fact. Thus setting up the unwitting beneciary/victim for a long-lasting negative outcome and potentially debilitating illness.
For a while there, we became very much part of the troop of chimps, sitting around not far from them, and feeling their glances on us as they casually ambled by. We took great care not to get in the way of some of the' naughty boy's such as Christmas, who is known to charge and scare an unsuspecting tourist every now and then.
An hour or so later we were all quite ready to take off our facemasks and to return to camp for some tea. Just like the previous day, the total duration of the excursion was just over 3 hours.
Here are a few things which might be useful for future Mahale chimp trekkers: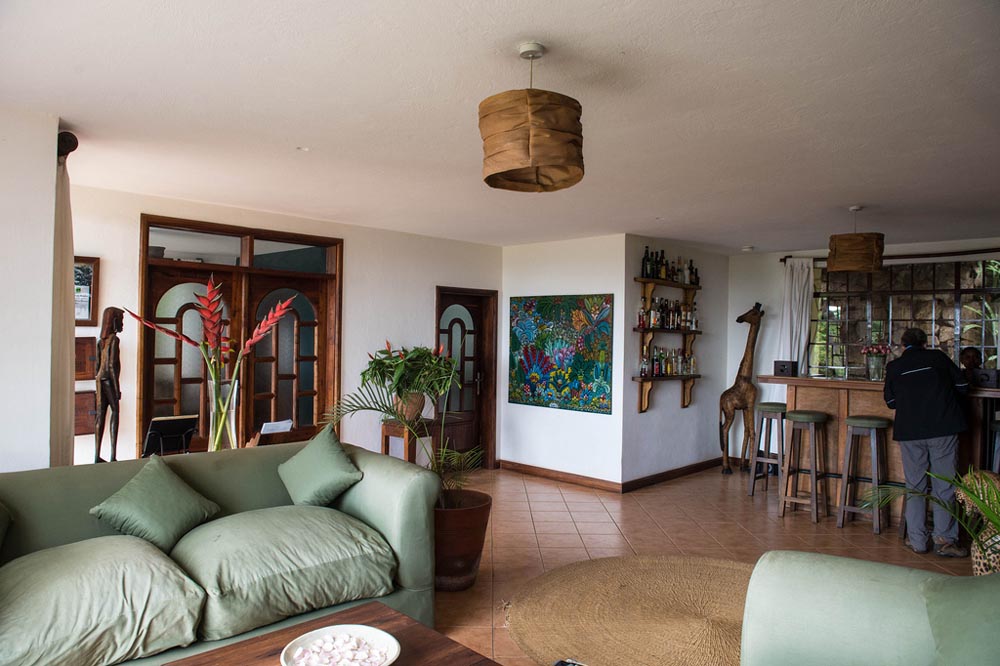 Bert's Mahale Mountains Chimp Trekking Hints
* It is denitely a good thing to be fit and relatively agile as there is some scrambling (up and down) and rock-stepping to be done.
* In the warmer months dress appropriately (long trousers to protect legs and lightweight long or short-sleeved shirt with good ventilation/absorption). There were no tsetse ies or other biting flies present within the forest interior.
* Good boots with grippy soles are 100% necessary. You could be in for a tough time with the wrong shoes. No flip-flops!
* Light is an issue in the forest interior so to get decent pics of the chimps, bring a fast (f2.8) lens in the 70-200 mm range, and preferably a camera that can produce acceptable images at a high ISO setting. Long telephoto lenses are not essential – you will get closer to the chimps than you might anticipate.
* Drink plenty of water before the start of the trek and also during. Dehydration is a major concern during the warmer months and it can sneak up on you with very little warning.
* Denitely go on more than just one chimp trek as they are all quite different & the chimp behaviour and interaction vary greatly day to day. If you've seen one you certainly haven't seen them all.
Our last afternoon outing at Mahale was yet another dhow cruise devoted to swimming in the lake and shing. We had our best shing outing to date, landing several good-sized yellow-bellies and quite a few smaller ones as well. All good: sashimi with cocktails and freshly sautéed sh for dinner. Less than one hour from the lake to the plate. Can't beat that.
Dinner was under the stars on the beach, right in front of Greystoke Lodge. It was a perfect, cool night. I think we were all 10 a bit sad to see our Mahale experience come to an end.
Arusha And Nairobi Interlude
A visit to Mahale Mountains and to Greystoke ends just like it started, with a 90-minute boat trip along the Mountains, just off the shoreline of Lake Tanganyika. Just like on the day we got there, we marveled at the sight of the thick green forest clinging to the slopes like feathers on a bird.
From a distance it looks like a soft, inviting cushion of leaves. Having been inside of it, of course we knew that the forest was a lot more robust than that, with some giant (species?) trees making up the bulk of the vegetation.
Back where we started at the airstrip, we piled into two Caravans and powered into the air, turning back for a last, long look at beautiful Lake Tanganyika. From there the pilot headed back to Tabodra in a ENE direction. It took 90 minutes to reach Tabora, where we refueled and then a long 1 hr 55 minutes to Kilimanjaro Airport.
Then a final short hop to Arusha Airport from where we were driven to the Onsea House. Our room for the night was at the adjacent Macheo Wellness Center. It was one of the best rooms on the trip to date, complete with a big bathtub (what luxury!), and a TV (which didn't work). Other nice features in the rooms were lots of storage space and hangers as well as a mini-bar. And free WIFI!
We enjoyed what turned out to be the best meal of the entire trip, in the excellent company of Lizzie who heads up Sales for Nomad Tanzania. It was a really nice evening but we were rather bushed after flying a few hours too many, that day.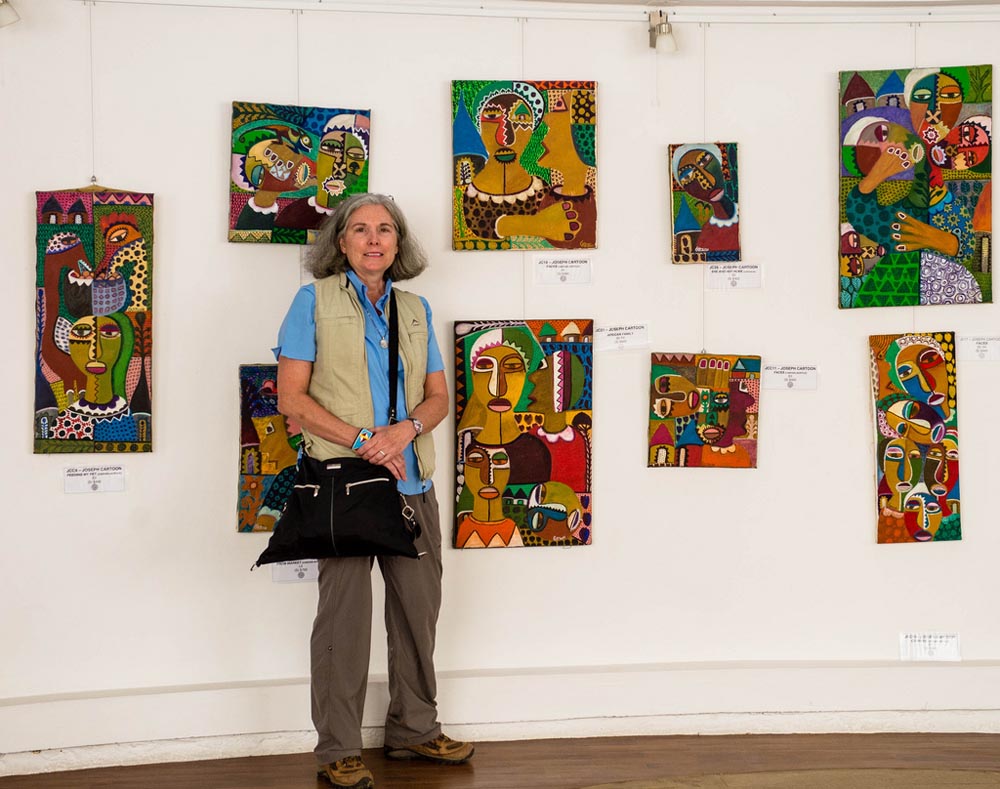 A Birthday On The Move
Kathy's birthday started 90 minutes earlier than planned when we were woken up at 5:30A instead of at 7:00A due to a mix-up of wake-up calls. Some decent coffee and a breakfast out on the patio got us going. Just after 9:00A we were picked up by Zubeda for a bit of a shopping tour of Arusha. We just shook our heads in amazement at Arusha's traffic and the manner in which handcarts, goats, taxis, sedans, motor bikes and dozens of matatus (mini-bus taxis) run helter skelter all over the place in every direction. Somehow – miraculously – nobody seems to get hurt too often. It is a study in chaotic synergy.
Not too much later, we were in the rather dismal, dirty departures hall of JRO (Kilimanjaro) Airport, for the short flight to Nairobi. I was pleasantly surprised by how quickly we were able to obtain a transit visa (from a downright bubbly immigration official, go figure!), and collect our luggage. Much more efficient and faster than Johannesburg and miles better than Kilimanjaro and Houston's George Bush Airport.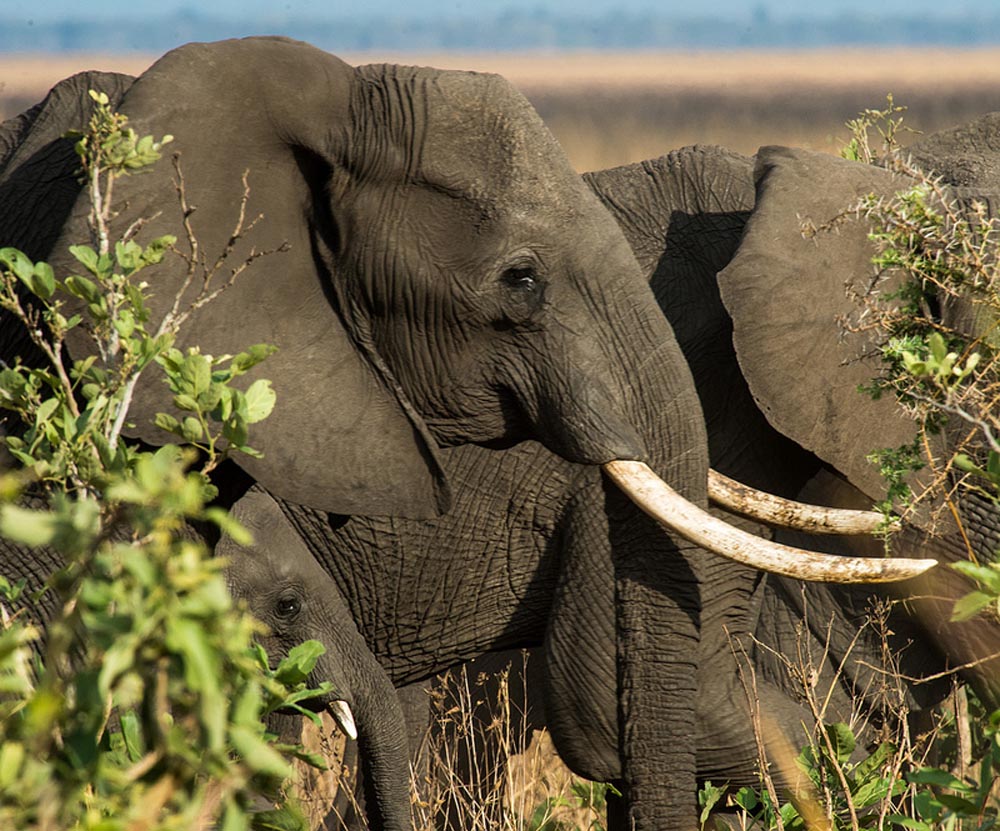 Our very friendly transfer driver Spencer dropped us off about 20 minutes later at the impressive Boma Hotel. We were on the 7th Floor in a spacious, well-lit room with everything you'd expect in a good 5-star hotel. It was quiet, comfortable and spotlessly clean.
The only down note: service at the Johari restaurant was glacially slow. It took more than an hour for our a la carte order (nothing out of the ordinary) to make it to our plates. Also the barman did not know how to mix a dry gin martini. Never a good sign. Otherwise no complaints.
Breakfast was good and available very early (at 05:30A) and checkout was speedy and painless. Getting out of JKIA was more of an effort than arriving. A chaotic security check right where you enter the building (no time at all to prepare) and then a lengthy wait in a dismal holding area.
Our Kenya Airways flight to Brazzaville took off 15 minutes early but otherwise it was uneventful. Congo here we come!