$cat_name = 'category'; $categories = get_the_terms($post->ID, $cat_name); foreach ($categories as $category) { if ($category->parent) { echo $category->name; } } ?>
Apr 12, 2013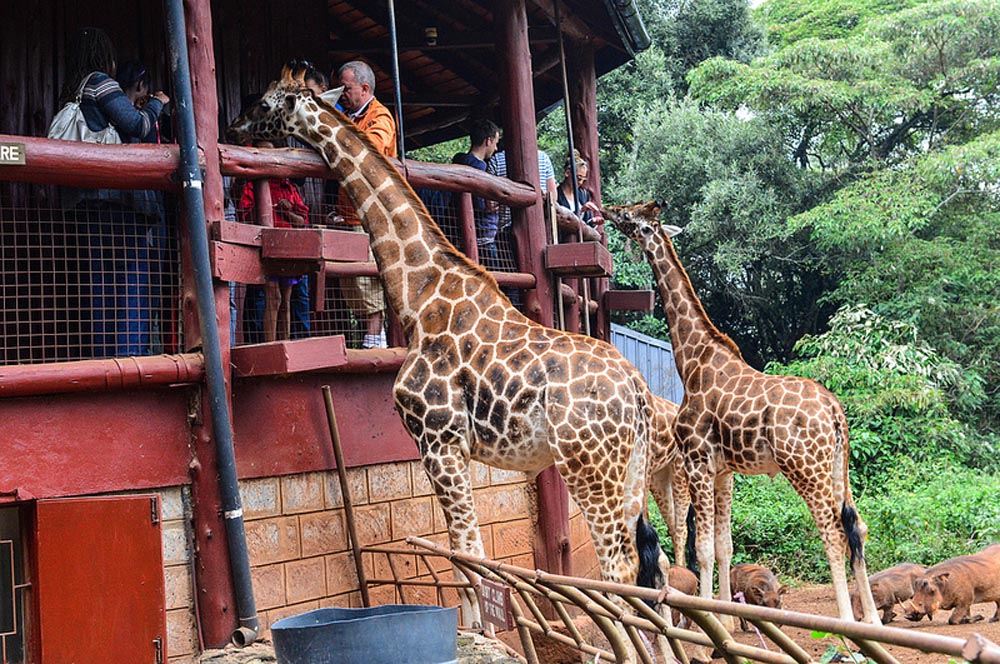 Kenya June 2013
PART 1: OVERVIEW & OL DONYO
June 9, 2013
My first ever flight on Kenya Airways did not start very well, with a ridiculously slow check-in process at Oliver R Tambo Airport. It took all of 90 minutes. The explanation'? 'Too few people working'. That is the answer I got, seriously. To make matters worse, we were delayed for nearly 2 hours. In the end a ground supervisor promised me an upgrade to business class, but I had to take it up again with a flight attendant before I finally made it to the front of the plane. Once we were airborne I relaxed and picked up where I last left off with Jack Reacher on the Kindle. All good.
It was a breeze getting a visa at JKIA Airport on arrival, the immigration official was downright pleasant. What a shock. Just as shocking but not in a good way, was the condition of the airport. To describe it as a dump would be kind. It was great to see the effervescent Lydia from our Kenya destination management company Origins Safaris again. Always helpful, efficient and friendly!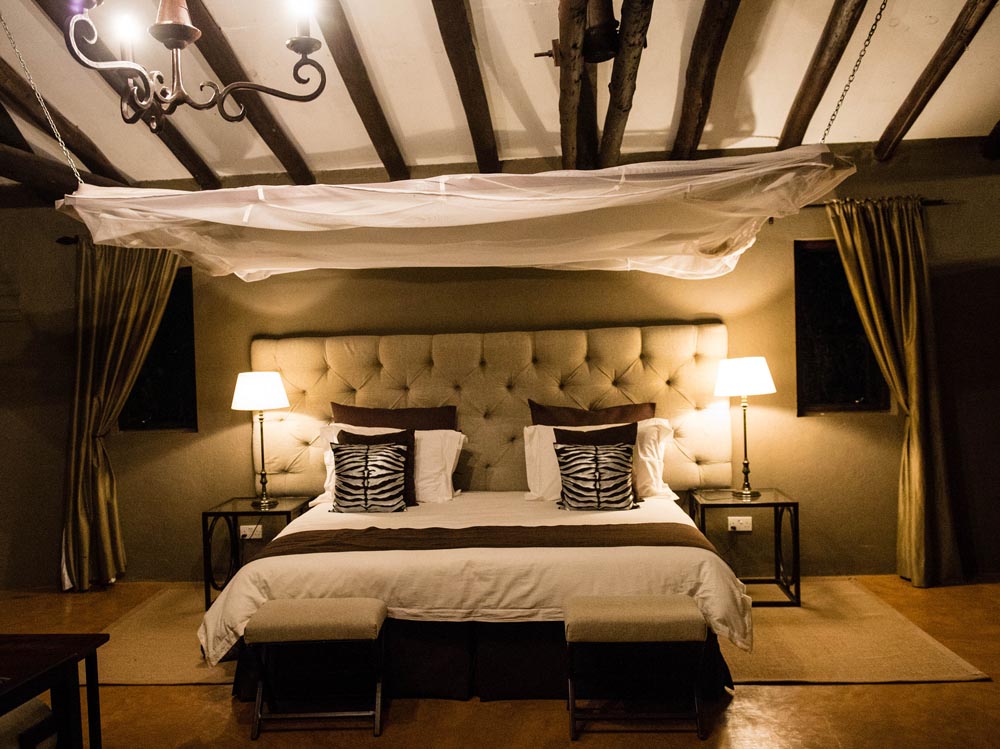 Dinner At The Emakoko
Due to the lateness of the Kenya Airways flight, getting to my destination – The Emakoko Lodge – was a little bit involved as my Origins driver – the always smiling and capable Lazarus – could only take me to the gate of the Nairobi National Park, which closes at 1800. From there, an Emakoko driver took me the rest of the way. It was already dark so we did not see any wildlife; just some nightjars which I believe were Montane Nightjar.
I was quite famished by the time we got to the lodge; the vehicle has to negotiate a short but bumpy rocky stretch of downhill road (aka Emakoko Highway), parks on the edge of a stream and you then walk across a small bridge into camp. Over a very nice dinner with tomato soup, a lentil stew, basmati rice and a great fruit salad the co-owner and manager Anton (aka Anthony) filled me in on the lodge and its environment. Its best feature of course is its location right on the edge of Nairobi National Park and about 30 to 40 minutes from both JKIA and Wilson Airports, depending on traffic conditions.
There's plenty of rhino, lions, giraffe, and all kinds of other game to be seen in Nairobi National Park during the day. And the park has a huge long bird-list as well. Another nice feature of The Emakoko is that all meals and drinks are included, unlike a regular hotel. I spent the night in a spacious room with a king size bed with mosquito netting. The lighting could be brighter, but it was adequate. Filtered water was supplied.
For visitors coming from N. America I would recommend two nights at the Emakoko on arrival. First night just to crash after the horribly long journey, with lots of stuff to do on the full day there. A game drive for some rhino which are scarce elsewhere in Kenya except for Lake Nakuru & Lewa, some general game and then some other Nairobi activities such as Giraffe Center, Sheldrick Elephant Orphanage and the Karen Blixen Museum. This could also be done with one night there at the start of the trip and one night at the end.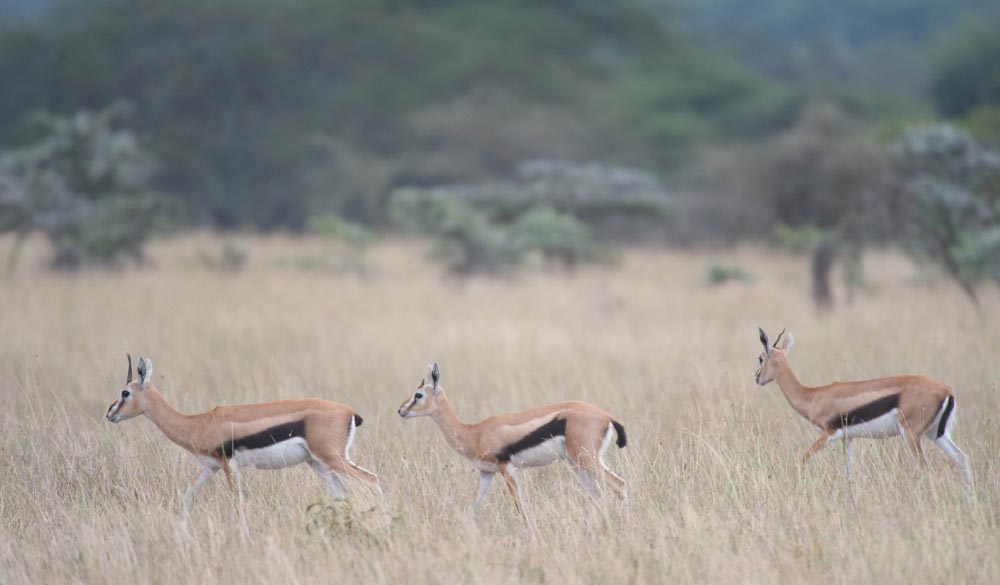 June 10
I was up at 0500 this morning for an early breakfast (toast, black coffee, and some porridge), and then took off on a drive of about 40 minutes to Wilson Airport. The Emakoko is about 20 minutes from the main or KWS Gate of Nairobi National Park and from there it is about 20 minutes to Wilson, sometimes a bit more if the traffic is really bad.
On the way to the gate we got lucky with a sighting of two lions right in the road. We had to slow down for them to find an escape route to the left. There were also lots of Spotted Thicknee and more (suspected) Montane Nightjars.
By 645A we were in the 'departure hall' at Wilson Airport where a rather perfunctory security screening was conducted before 9 of us boarded a SafariLink Cessna Caravan. We waited in line for 15 minutes or so for a take-off slot. Wilson is an extremely busy airport. A burst of power, a noisy rush down the runway – and then it was wheels up en route for Ol Donyo in the Chyulu Hills, about 40 minutes south-east of Nairobi.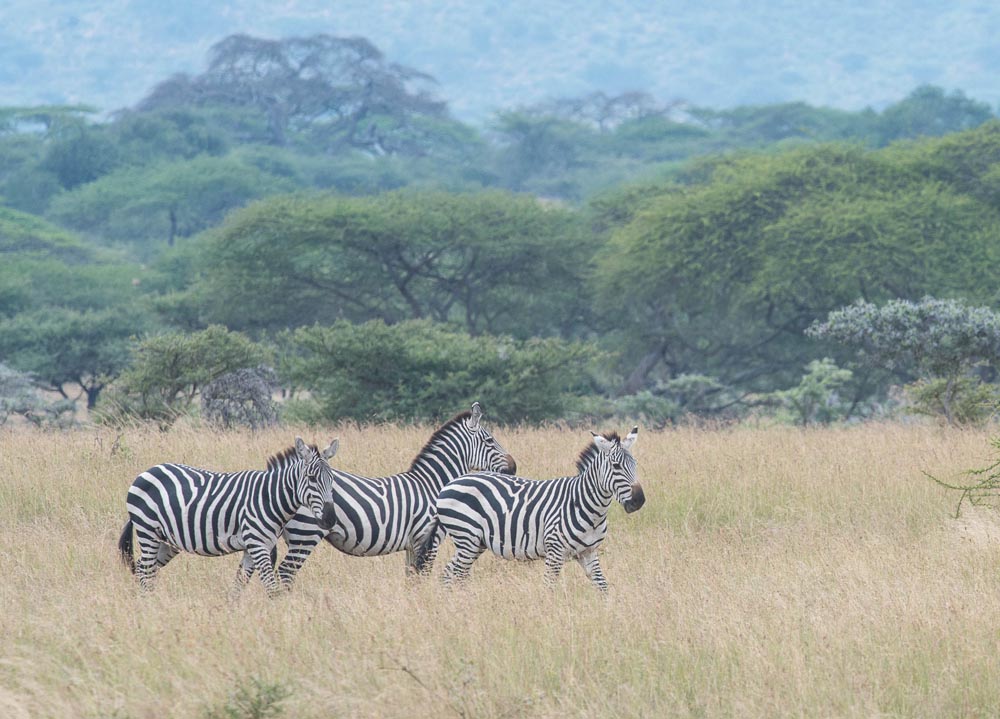 Kenya Overview
I had a fantastic time in Kenya. Ol Donyo exceeded my expectations. It is a fabulous place which just has tons of 'Africa appeal' right from the moment you land in what appears to be just a grassy plain. There are the views (superb!), the people (managers Ray and Alyssa appear to be tailormade for this place), the rooms (stunning) and on top of that the various experiences including the game drives, birding, a bush breakfast and all the others which I didn't have time to try. It is a true 'dry oasis' – paradoxical as a lot of water would likely ruin it. I really enjoyed taking a bath, knowing that the big elephants at the hide below the hill were keenly anticipating my modest contribution to their well-being. Water is trucked to the lodge each day and everything is recycled. It was encouraging to hear about the great conservation strides that have been made on the Mbirikani Group Ranch. I plan to read more about it – clearly did not have enough time to get detailed information about anything.
From there I took a sojourn with Edwin Selempo of Origins to Amboseli. Amazing elephants!! They are really chewing up the place though. And even more stunning views – I even had a fairly decent view of Kilimanjaro one afternoon. I also really enjoyed Tortilis Camp, had quite a pleasant night at the Serena (as always very well managed) and took a quick look at Ol Tukai, which seems to be a perfectly good option for slightly more budget-minded visitors.
Then it was on to Mara Toto in the Olare Orok Conservancy. From the word go I experienced unbelievable game-viewing there: on one afternoon game drive of barely 2 hours we saw 17 different mammal species with at least 8 of them within view at one stage. Not to mention great lions and a final morning with brilliant cheetah viewing. Just Edwin, me and the 2 cheetahs for more than an hour, no other vehicle close by!
How can anyone not like being in a camp with Lorna and Kim – and Richard. I did not see a photographer from Vogue around, they are missing out… The rooms are perfect for the setting; maybe a tad close to each other but as long as people know about that, it would be ok. We took a quick look at Mara Plains but it was difficult to get a real 'feel' for it without all the interior stuff in place. It doesn't matter though, I know where it is, how close it is to the park, the quality game drives in the conservancy, and so on.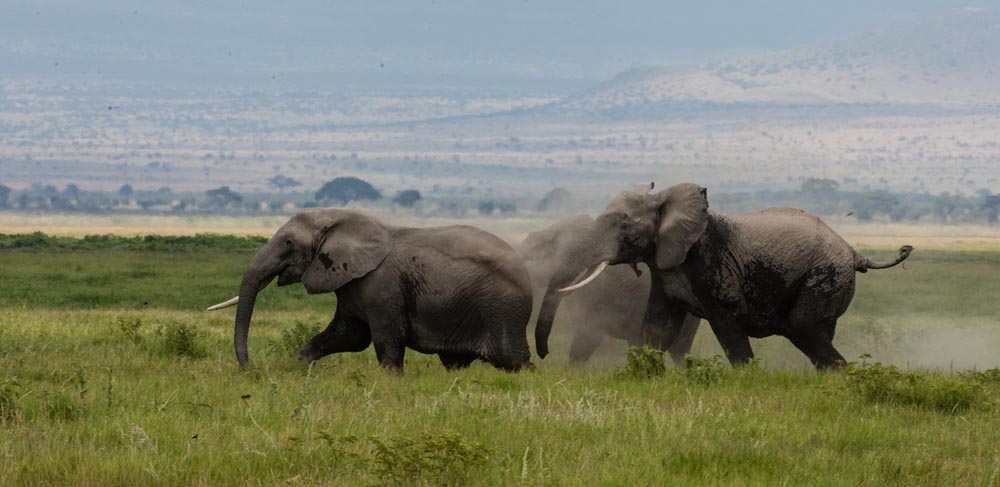 From there it was off to Lamu (fascinating area and lovely people at Manda Bay). I did not spend a lot of time in the town itself there but a short walk in search of Ali King's confirmed what I had been told: Lamu is rather dirty and smelly. I prefer nearby Shella by wide margin – have to go back there some time when the Peponi Hotel is open.
I also spent a night each at two really interesting new properties in Nairobi, so different yet both appealing. Lions on the road on my way out of The Emakoko on Day 2, and the most advanced state of the art security barriers at Hemingways, very impressive. Massive hunks of meat being served for dinner there, all very manly as one would imagine. Fantastic room at Hemingways, complete with motion detected light in the walk-in closet. Wow. Plus a large-screen HD TV that appears out of a faux travel trunk. Really. As for the Emakoko it would be perfect for 2 nights, for people that can take an extra day at the start of a trip. Do a game drive, see some rhino, great birds, lions, who knows what. Get a bit of a taste of what a safari camp is going to be like – and then go on to where-ever.
I am also very happy to have finally done the 'tourist' circuit in the Karen area. Loved the baby elephants at Sheldrick's and the giraffes at the Giraffe Center. The guide at the Karen Blixen Museum was very thorough. I know almost as much about Ms Blixen now as I know about my own mother.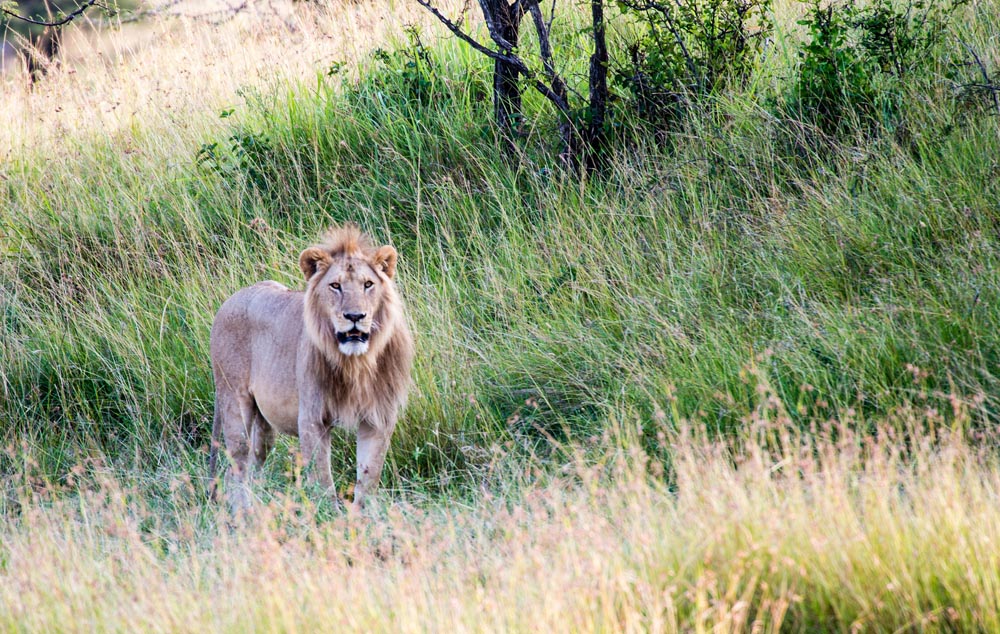 Back To Ol Donyo
The scheduled flight from Nairobi arrives in Ol Donyo quite early, so my guide James Seki and I had quite a bit of time for a game drive en route to the camp. There was a lot of plains game around. In less than an hour we saw Fringed Oryx, Grant's Gazelle, Thomson's Gazelles (lots!), Zebra, Wildebeest (plentiful!) Giraffe, Warthog, and a good variety of birds including Coursers, Lapwings and lots of Superb Starlings.
On the drive into camp we had a really close encounter with a solitary elephant bull, who seemed to be screening new arrivals. I must have gotten the nod – and was checking into my room at Old Donyo Lodge shortly afterwards.
From the lodge patio, there is an amazing view over the plains and twin hills in the background. On a clear day Mt Kilimanjaro is the main attraction. I received a very friendly welcome by the young managing couple Ray and Alyssa, who are both US citizens. The cell phone coverage at Ol Donyo was spotty but ok, unfortunately the WIFI never worked.
Due to some lingering issues with a foot injury I did not get to try any of Ol Donyo's many activities beyond game drives, which include mountain biking, horse-back riding, and foot safaris. For active visitors who want to get out of the vehicle and extend their experience beyond just game drives, Ol Donyo would be ideal. In the dry season – which is most of the year except for March and April and perhaps early May, there are several large elephant bulls to be seen from a well-constructed hide overlooking a few small waterholes right in front of camp.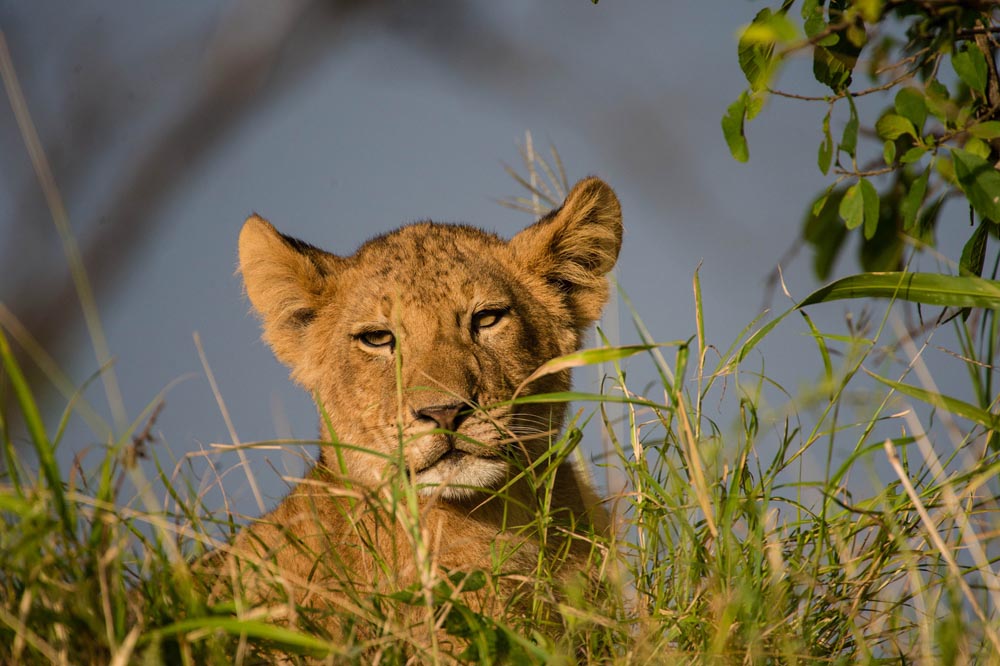 During the time of my stay at Ol Donyo one of the other guests saw both lions and cheetah in the area, so it appears that many years of conservation in the Mbirikani Ranch Conservation area is paying off handsomely. I concentrated on some bird-watching and over the course of two full days in the area racked up more than 100 bird species, including several 'life birds' and many colorful and exceptionally interesting ones such as Gymnogene, Narina Trogon (in camp), African Hoopoe, Secretary bird, Pale Chanting Goshawk, Martial Eagle, Gabar Goshawk, and Hartlaub's Bustard.
The area around Ol Donyo is dry with no ready access to water for man or beast. It is a curse and a blessing. Every day a tanker has totravel a long distance from Mbirikani all the way to the lodge, transporting a valuable load of water for the bathrooms with bath & shower, and even a pool. Would it be easier to drill a borehole closer to the camp? Probably yes and less expensive too, but that would inevitably lead to more people moving into the area, which would change it completely.
On the day I left Ol Donyo – by road to Amboseli – we stopped a ways out of camp and standing outside the vehicle, I realized that I could not see a building, a house, a car – not even another person – in any direction. Using binoculars. 360 degrees of nothing, except beautiful grassy plains, zebra and wildebeest in the foreground, a couple of giraffe in the background, slowly moving in front of and then past some hills. This is the Africa of old, of true undisturbed wilderness. There is not much of it left but you can still experience 'old Africa' at its best at Ol Donyo. Go there.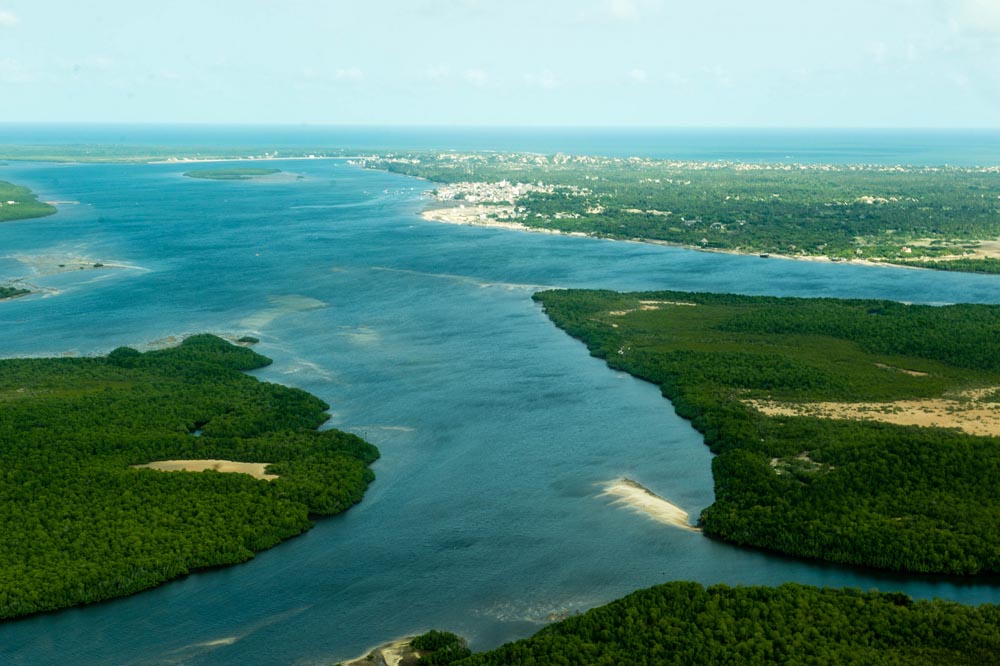 PART 2: AMBOSELI & MASAI MARA
Amboseli
With Edwin Selempo at the wheel, it was not too long a drive at all from Ol Donyo to Amboseli. For anyone spending 3 nights at Ol Donyo, I would certainly recommend doing a full day excursion to Amboseli National Park, unless the reserve is on your itinerary as well.
Within minutes of driving into the park, we were looking at upwards of 60 elephants happily feeding and cavorting in the massive Amboseli swamp, some of them practically totally submerged in the abundant water.
Any Kenya trip should include a stay in the Maasai Mara. Samburu is a close second and Lake Nakuru would be my choice for the third most productive area. If anyone had the time and budget to add a fourth Kenya destination, it would have to be Amboseli.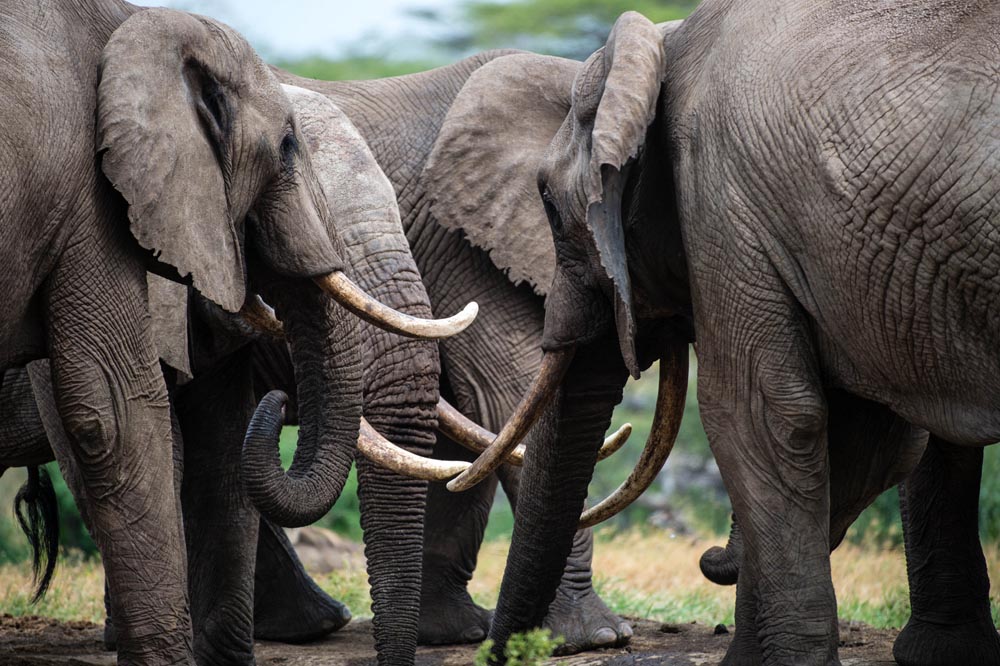 Elephants At Amboseli
The reserve might even be higher on the list for people who are fond of elephants. There are few – if any – places in Africa where elephants are as central to the experience as at Amboseli. They are almost everywhere to be seen, and seen as well as one could ever wish for. Sometimes semisubmerged in a swamp, they are beautifully offset by a flat, green expanse. In the late afternoon they may be captured in great light, making their way back to forested areas for feeding.
And everywhere they are as entertaining and engaging as always, almost human-like in their little spats and testing their strength, particularly the younger ones.
It was not all elephants all the time at Amboseli though – we saw a wide range of other plains animals including zebra, giraffe, wildebeest, some buffalo, Coke's Hartebeest and also hyena, Bat-eared Fox, African wild cat as well as a beautiful serval cat. As at Ol Donyo, the birding at Amboseli was phenomenal. Here, some of the notable species included Collared Pratincole, Taveta Golden Weaver (very localized), Greycrowned Crane, Spurwinged Geese, Saddlebilled Stork, African Spoonbill, Goliath Heron and many other woodland species.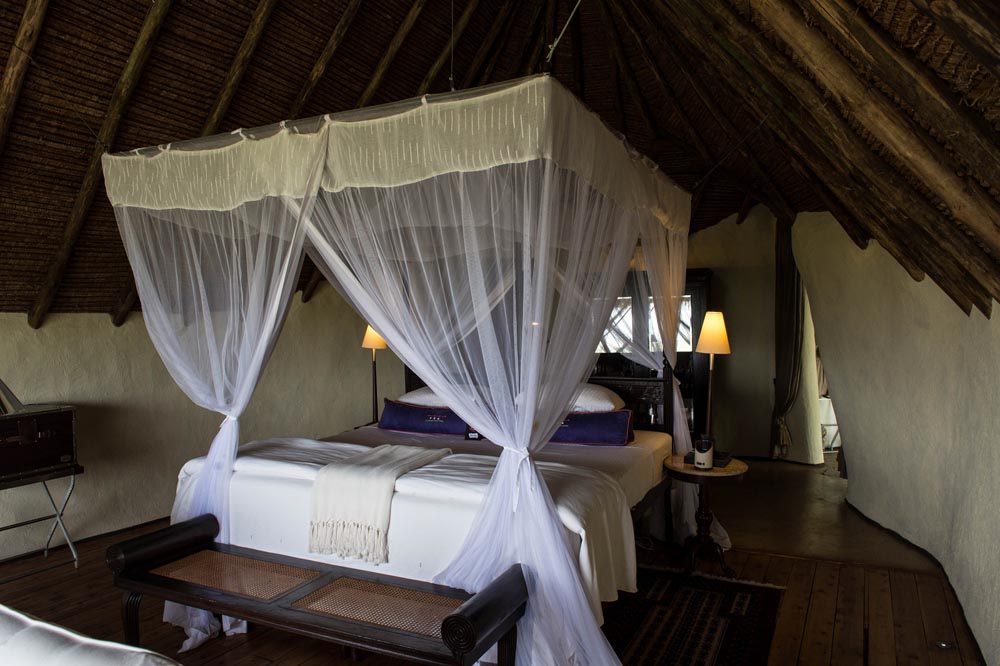 Tortilis Camp At Amboseli
My Amboseli accommodations were at Tortilis Camp and then Amboseli Serena. Tortilis would certainly be my first choice due to its much smaller size, its setting overlooking Mt Kilimanjaro (when visible) and its access to a private concession area for game drives, not open to the many other vehicles which sometimes turn Amboseli into a very busy, very dusty place. The tents at Tortilis are not fancy but very functional with a small bathroom and shower, and a really excellent dining room and lounge area, with a pretty garden and nice views over the valley, even when Kilimanjaro is shy to show itself.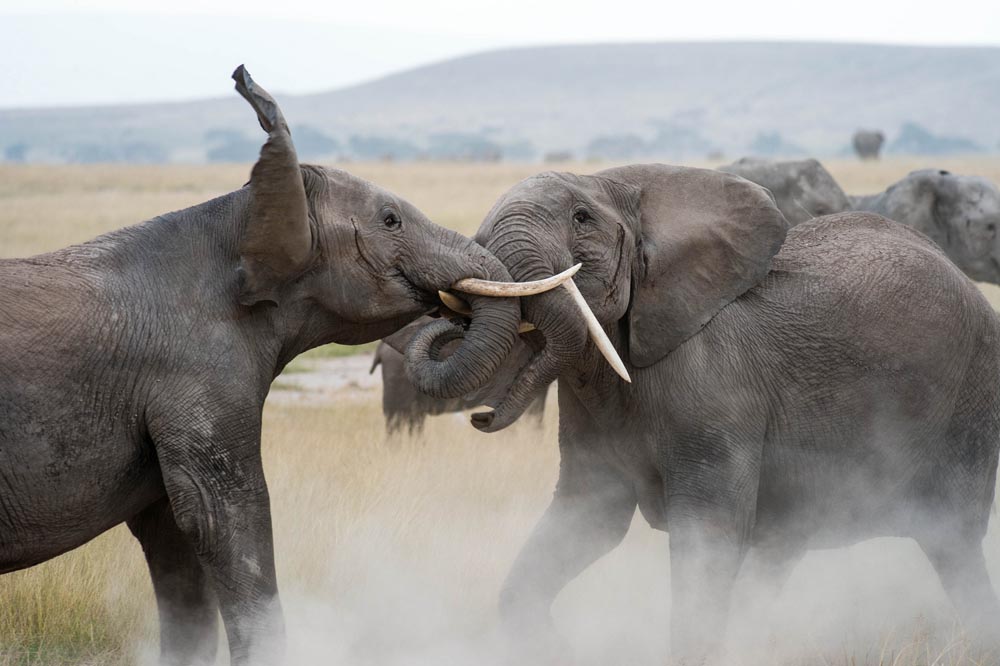 Amboseli Serena
The Amboseli Serena was quite a pleasant place to stay as well, even though it is bigger than most properties we prefer. I have always found the Serena Lodges to be superbly managed, and this one was no exception. The friendly and efficient check-in set the tone. The room was compact but well-equipped with a king size bed, a bathroom with shower and a spacious corner desk/working area. More importantly the hotel had working WIFI – and relatively fast – in all the rooms.
Lunch at the Serena was fun with a huge variety of choices including several Indian-inspired dishes, rice, breads, sambals, salads and a dizzying variety of more conventional fare. Breakfast the next morning was even more impressive. Brioche, fruitcake, banana bread, Russian stolen, scones, farmer's bread, muffins, croissants, several kinds of sliced bread for toast, 16 hot breakfast items, including 2 kinds of beans (baked and masala), plus of course bacon, sausage (pork and beef), cold meats, cheeses, 6 different fresh fruits, juices, cereals, yoghurt, and eggs or omelets every way you could possibly want them.
On the way back to the Amboseli airstrip for the flight to Wilson, I popped into Ol Tukai Lodge for a quick walk-about. It looked like a perfectly fine place and with a good location in Amboseli too. Definitely worth keeping in mind, if the price is right.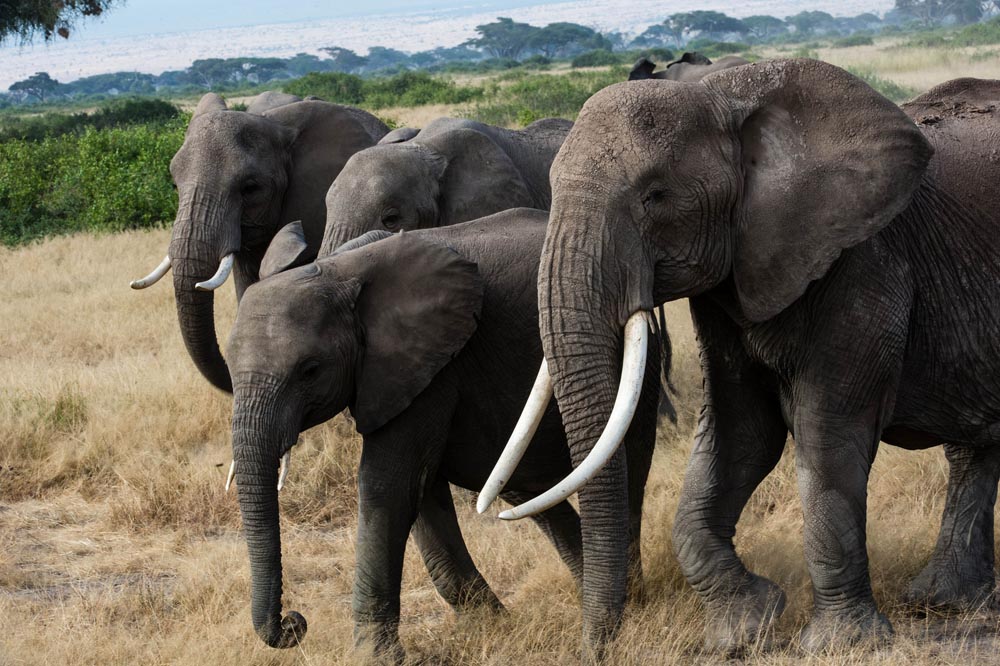 Last Words About Amboseli
Amboseli is a 2-night destination at best, in my opinion. You could fly in or even drive in early out of Nairobi, and then fly out to Samburu or connect to or from Tanzania with a road transfer to the Namanga Border Post.
Amboseli is very, very dusty so bring adequate protection gear for your camera equipment. There is no off-road driving allowed but that is not a big impediment as elephants and most other wildlife can easily be seen from the existing – very good – road network.
The park attracts a lot of visitors as there are many camps – some of which such as Serena (60 rooms) and Ol Tukai (80 rooms) are quite large. Many visitors also come from the nearby Kenya coastal resorts. So don't expect to be on your own, particularly in the dry season from about May through September, and also February – warm but a very good month to be there.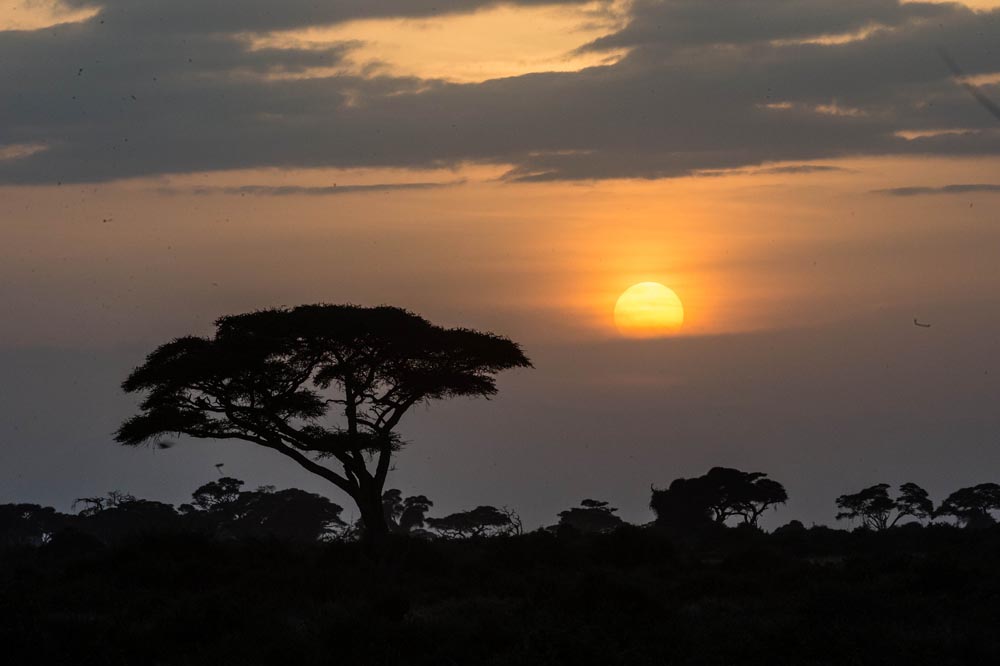 The Maasai Mara
On June 14 at just after 10:00A I was on my way back to the Mara after a quick and efficient turnaround at Wilson Airport. Ol Kiombo Airport was at the same spot as the last time, not far from Mara Intrepids and just a few kilometers from the edge of the Masai Mara National Park. After a splendid lunch with Lorna and Kim – and Richard – we set out on a game drive in the Olare Orok Conservancy. In a matter of less than 2 hours, we notched up no less than 17 mammals species, including wildebeest, zebra, impala, buffalo, warthog, giraffe, eland, dikdik, topi, Thompson's Gazelle, lions, scrub hare, Grant's Gazelle, banded mongoose, hippo, waterbuck and elephant. The next day we added cheetah, baboon, hartebeest and a several more species.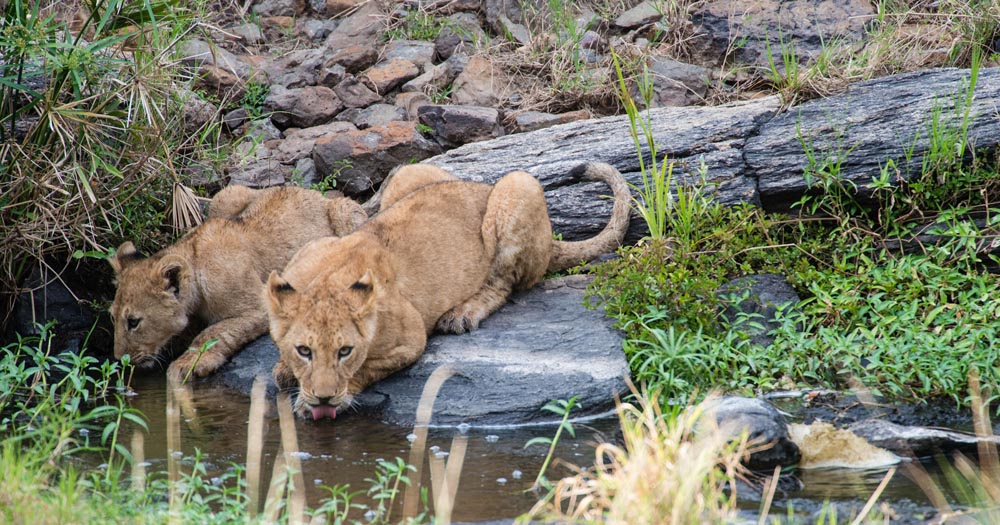 Lions At Mara Toto
We watched the interaction between some lions (brothers and sisters, the latter now with pups and not at all impressed with the interest shown by their brothers). As the darkness descended, we hoped for the best for the many cubs of various ages and made our way back to camp.
The next morning we set off early for the spot where we had seen the lions the previous night, with packed breakfast and plenty of coffee. En route, we saw more buffalo, elephant, giraffe, topi and hyena. And then spent a couple of hours observing the lions (3 females and 9 cubs) eating, dozing, playing, hiding, rolling, drinking and jumping. Sometimes more than one of those at the same time. Very entertaining and very enjoyable. This is what safari is all about. No rush, no pressure – just you and nature and perhaps a camera. With enough time not be starting through thelens the entire time.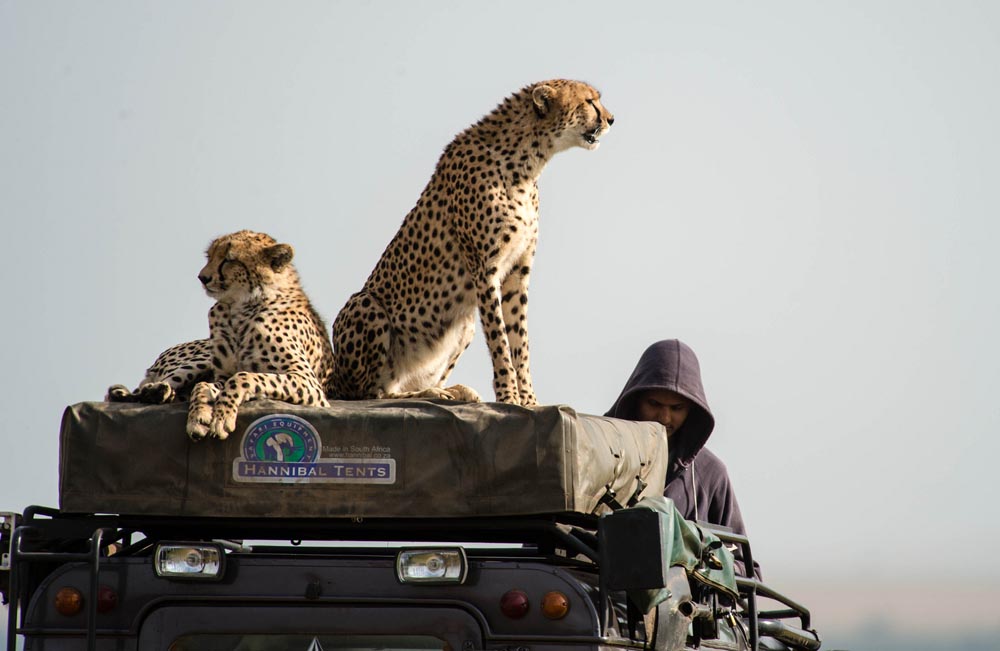 Cheetah In The Masai Mara National Park
That afternoon, James and I went out to find some cheetahs. Which we did – unfortunately not exactly where we wanted to see them. What drew our attention was a congregation of cars – this was inside the Maasai Mara National Park. As we approached, I noticed that there were two cheetahs on top of one of the vehicles. They were calmly surveying the surrounding plains. Not 3 meters from them was a guy in a hoodie, seemingly reading a book. He would occasionally look up the cheetahs to see if they were still there. Or something.
Eventually the cheetahs – first the one and then the other – jumped off the vehicle and walked fairly close to us, from our left to right. They were interested in some Tommies which we could see at the bottom of the hill.
The cheetah never got up to speed on this hunt due to the presence of some pesky Topi, known for their good eyesight. They are known to ruin things for a cheetah on the hunt because of their annoying habit of snorting which alerts everyone near and far to the presence of a predator.
In the end two vehicles from Mara Intrepids got in between the cheetahs and their intended prey and put paid to what slim chance they had of salvaging the hunt. It was not to be. We enjoyed a nice sundowner with two other guests – Mary Ann and Jo Ann – as well as with Lorna and Kim, and returned to camp in a happy mood.
Dinner was quite special with a delightful risotto as the main course. And then – surprise – authentic American S'mores complete with marshmallows, Hershey chocolate and Graham Crackers, toasted over the coals. Not 100% vegan but occassionally when in Rome, you've got to make like the Romans.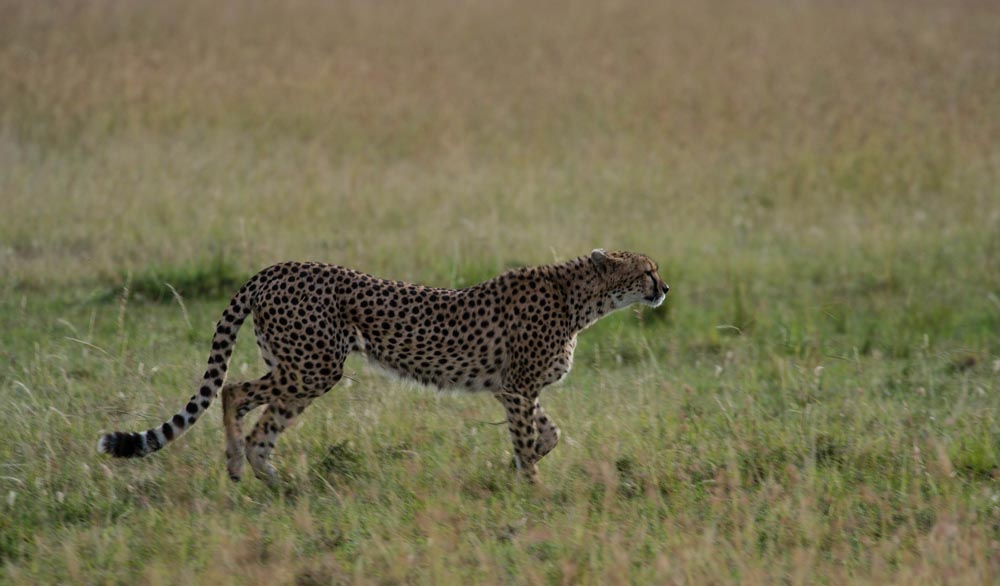 June 16 Cheetahs On Fathers Day
I started Father's Day on a high note with the best game drive of the trip with just Edwin and me and the two cheetah females (mother and adult child), for well over an hour. Initially, under less than ideal light conditions, they both climbed atop an anthill to survey the scene. Shortly afterwards they engaged in an extended display of affection. Due to the poor light the photographs were good but not great.
The cheetahs then walked off, passing right in front of us and to the ridge of a nearby hill, well off the main track, close to the National Park boundary. In this spot there was little chance of any other driver finding the cheetahs – and all the more opportunity for us to enjoy their presence in solitude.
The cheetahs eventually sat up in good light, adopted a stalking posture and emerged from behind an anthill, even giving us a nice big fat yawn. Nothing much happened over the next few 20 minutes or so, so we decided to return to camp for breakfast and to finish up packing.
Before long, goodbyes were said and I was on my way with Safarilink to Nairobi, where I was treated to an excellent lunch with the always friendly and elegant Lydia at the restaurant at Wilson Airport.
Then it was off to Lamu in a Caravan with SafariLink – a solid 1 hr 45 minutes at around 165 miles per hour.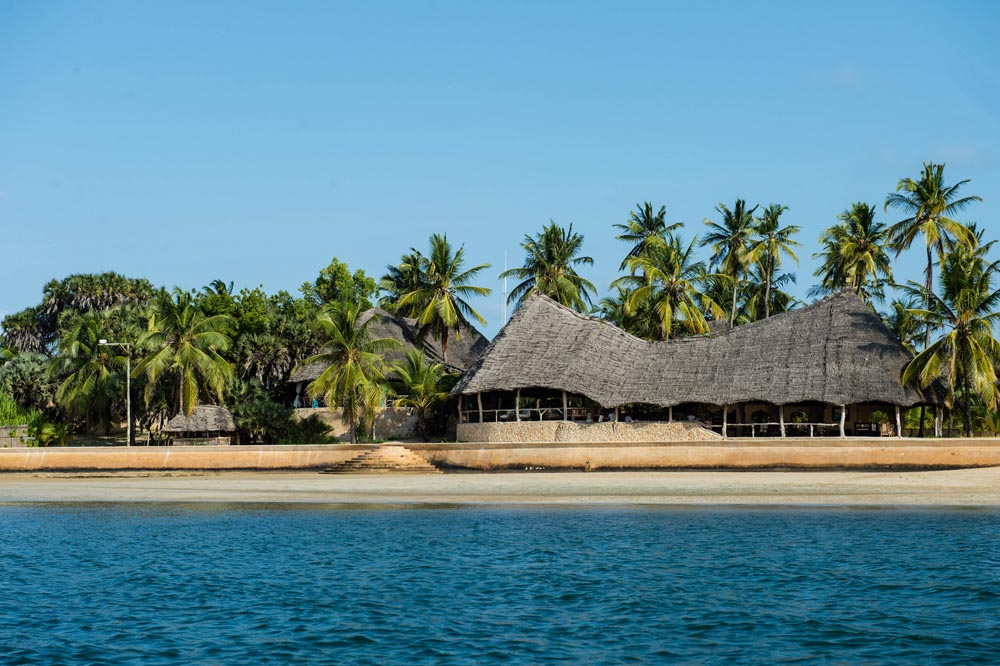 PART 3: LAMU
Manda Bay – Lamu
Lamu was a complete sea change from everything we had done on the trip to date. From the moment I arrived at Manda Bay it was clear that this was really a 'do nothing' or 'do very little' kind of place. Somewhere to enjoy the real luxury of an overly busy, overly structured life which is to gaze out over the ocean, read a book, relax, enjoy the water and just leave the schedule behind.
Manda Bay is an ideal two or three night break to relax, catch up on trip notes & photographs or perhaps to do a little fishing and explore the interesting towns of Lamu and nearby Shella. Of course if you're the active outdoors type, there are many water sports available, ranging from snorkelling and paddle-boarding to kayakying, windsurfing, laser sailing boats, skiffs, kite-surfing, water skiing, deep sea fishing (best from October to the end of May) , and bay fishing. Some of these at additional cost.
Co-owner and manager Bimbi soon had me briefed on a few important issues at Manda Bay. Rule # 1 is that you can go barefoot. Some of the others: there are many good local cocktail options, cellphone reception is good, the shower water is salty but there's plenty of it, and the main generator is switched off at 10:00P, so do any battery charging before then.
I promptly dropped my stuff, got out of the safari gear, and went for a 30-minute run along the beach in the direction of the ocean inlet. The tide was coming in, the sun was setting and my rather depleted travel batteries were well on their way to being recharged by the time I got to my turnaround point, all alone on a deserted beach. The sun was just the most gorgeous big red balloon slowly dropping to the horizon as I was making my way back. Realizing that I was not going to be back in time to capture it photographically did not even bother me. I had seen and experienced it.
Dinner at Manda Bay was a very convivial affair with guests, friends and family – some from Kilifi and others from as far away as London and several young people, all around a long table set outdoors. There was a gentle breeze and the animated chatter was muted by the soothing sound of lapping waves. Regrettably, my evening was marred when I bit into a massively fiery hot chili pepper which caused my diaphragm to go into a spasm. For a few minutes, as I struggled to control some violent hiccups, I thought I might just 'lose my lunch' right there and then. Fortunately that kind of catastrophe was avoided, but let's just say that I did not care much for the food that evening.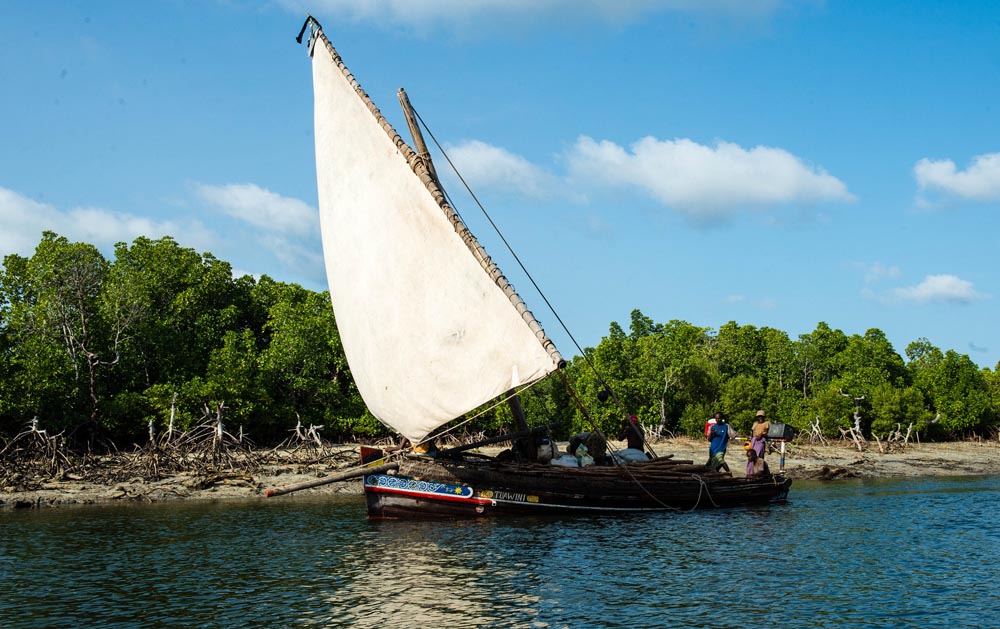 Monday June 17
I took it easy at Manda Bay this day, where every day feels like a Saturday anyway. Here, you can just pretend – it doesn't take much imagination – that you are part of an everlasting weekend, just Saturday and Sunday following each other in Groundhog Day fashion. I enjoyed a quiet cup of rooibos tea in front of my room, and then went in for breakfast. It ended up being baked beans and toast. I declined an offer of eggs, which was oddly interpreted as a yes for bacon. The coffee was good.
I spent the better part of the morning working on this trip report sitting at a great spot at the bar overlooking the bay. One could easily write a book sitting exactly there with dhows passing by, the high tide lapping up against the base of the building and sunlight bouncing off the water in thedistance. Did anybody say Hemingway?
For lunch, the main attraction was fresh crab with giant claws, much enjoyed by all. I was quite happy to be served some baked tofu – it was covered in a rather oddly spiced Nasi Goreng crumb crust. It was also a bit over-baked. Let's just say that it was a good try but not successful. The accompanying tomato salad was not bad though.
Dinner that evening – which was again served at a communal table outside – was definitely the best yet at Manda Bay. An excellent starter (vegetable samoosa with a mildly spicy fresh tomato sauce) was followed by a really tasty main course of roasted chickpeas and vegetables and a perfect desert of mango with a Lyle's Golden syrup sauce.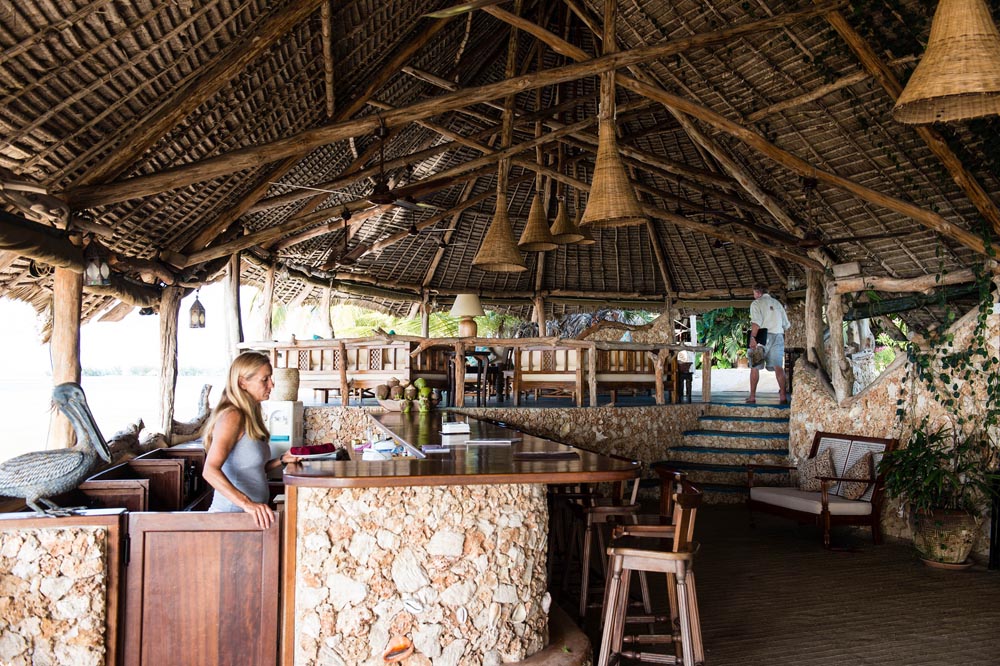 18 June 2013
I am clearly ready to wrap up my travels through Africa. My normal gregarious self-abandoned me this morning, and I chose to have breakfast solo, rather than with a seemingly nice couple from California. After nearly a month on the road I had exceeded my quota of social chit-chat, comparing notes about kids and dogs and so on. I was just not up to it today.
Bimbi had organized a boat ride for me to Lamu – essentially it was a shopping trip as I had a long list of kikois and kikoi pants to buy. My first attempt fizzled out in Lamu. I tracked down the store I had been told about earlier – Ali King's – but they did not have a huge selection, did not seem to know their own prices and also did not want to accept US Dollars. So I had to make my way back to the main drag in Lamu, winding along a few rather dingy alleys, to a bank where I exchanged $100 for a fairly hefty wad of Kenyan shillings. Beware. Everybody in Lamu wants to be your agent. I had to wave away several unwanted applicants and one guy had the nerve to actually stick with me, 'escorting' me around to places and giving me unwanted and unheeded advice about the quality of merchandise, good places to shop and so on. I guess he did not mind having an imaginary client.
By then I had decided to take Bimbi's advice and asked the boatman to take me to nearby Shella, a prettier, cleaner and less smelly – and quieter – version of Lamu. I did a walk-through of the Peponi Hotel premises (it was still closed until July 1) and then walked up the street to a very well stocked gift store to make my purchases. The prices were clearly displayed – no bargaining or haggling allowed – and they were good, almost 40% less than in Nairobi for merchandise of a similar standard.
Manda Bay is a good choice for family groups or other people who are keen on water sports such as paddle boarding, kayaking, windsurfing, laser sailing boats, kite sailing, and skiing (all levels). There are some skiffs for fishing and serious off-shore ffishing for marlin, sharks, sailfish, yellow fin tuna and dorado can also be done, the best time being from about October to the end of May.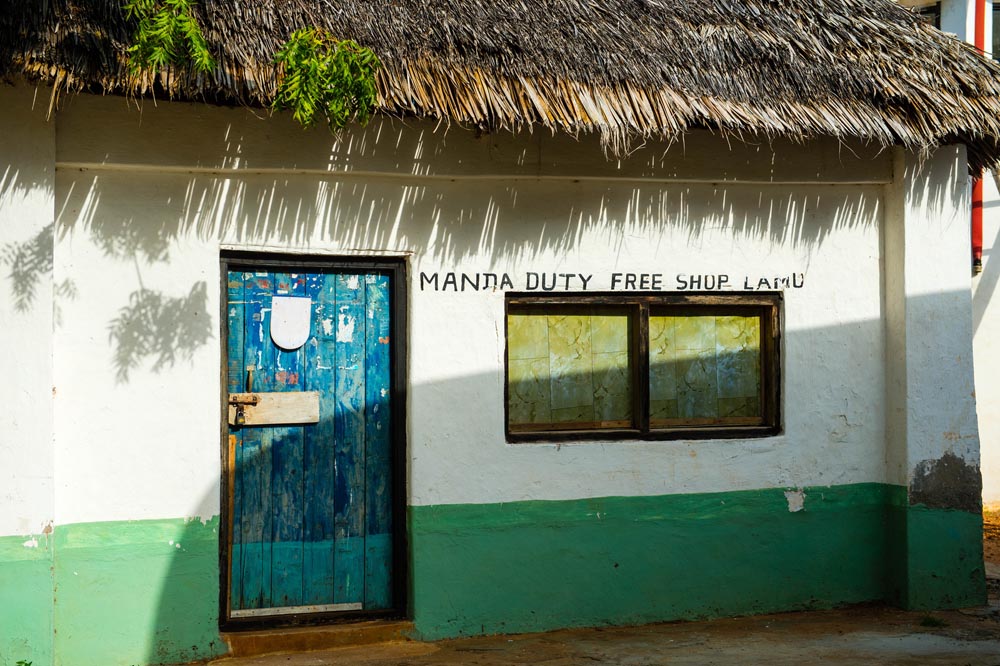 A Few Words Of Advice About Manda Bay
Would-be visitors should know that Manda Bay is quite rustic: my room (#3) was very plain and rather tired-looking with a utilitarian bathroom. As I had been warned, the shower water was very salty and not always very hot. Some of the things that I did not care for included people smoking everywhere, including during meals at the table (outdoors and in covered patio areas) and also widespread use of cell phones in common areas. This is a real no-no at most safari camps and I think it is a practice that any resort should discourage. Nobody wants to listen to other people's business negotiations, when you are on holiday.
Buzz and Bimbi and their staff could not have been nicer and more accommodating, and there is a lot to like about Manda Bay such as the great setting right along the bay with superb views to the east and west. It is possible to see a gorgeous sunset and sunrise from the same spot. Just don't go there expecting a luxury resort. That it is not. There is no real beach in front of the property either – the entire shoreline is covered by water when the tide comes in. I hinted around a couple of times about wanting to do some fishing but nothing came of it. Also I was never sure exactly what was included in the price and what was not. For example one's wine glass was readily re-filled during dinner. I had an uneasy feeling that it was costing me, but not how much. In the end my bill for optional drinks and other services such as the boat trip to Shella was not too high but for some people this may be an issue.
I am glad that I extended my stay in Kenya to include a couple of nights on the northern coast. The area had taken a shellacking due to some security issues a few years ago but it is good to see that the resorts are bouncing back. Places like Manda Bay merit inclusion on a Kenya trip for many reasons. Many people – and most kids and young people – can take only so much of day after day of bouncing around rough roads cooped into game drive vehicles. Spending a few days in a beach area in-between safaris is a great idea for family groups and for others who like to spread their wings a bit, and who want to diversify their Kenya experience. Of course nearby towns like Lamu and Shella offer a lot more in the way of cultural experiences, visual appeal, seafood and authentic local cuisine and some great shopping for easily transportable items such as kikois, kikoi pants, kangas and other fabrics. So add a couple of days to your trip at the end or break it up with a few days in-between two safari areas – you won't regret it.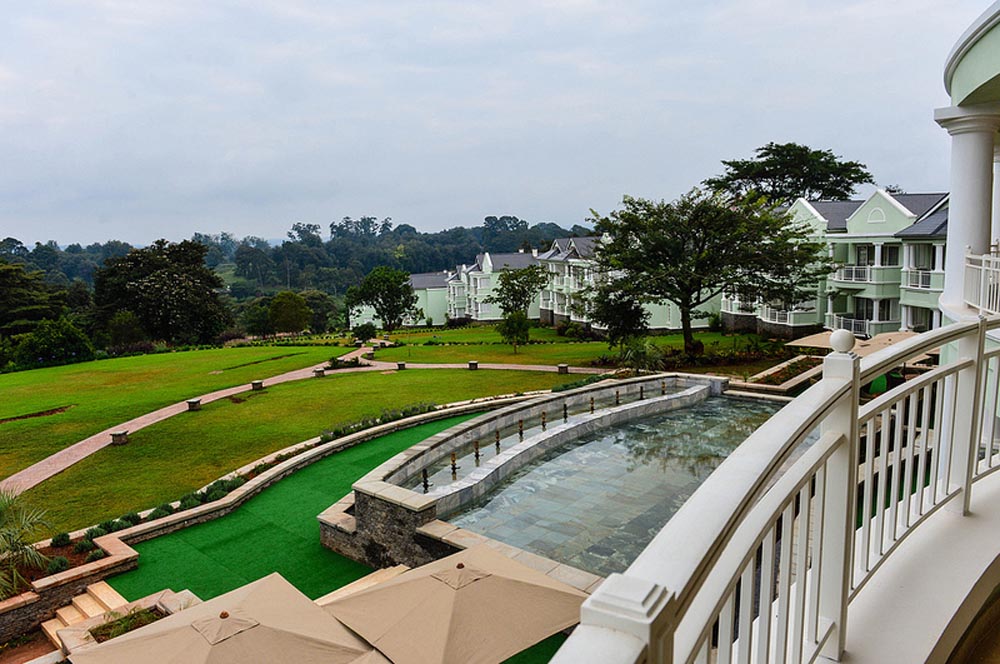 Hemingways Hotel Nairobi
By early evening I was back in Nairobi and fighting the traffic along Langata road. In the end Lazarus made a u-turn and took a detour ending up on Ngong Road, to get us to Karen and to the brand new Hemingway Hotel. The room reminded me a lot of the wonderful Saxon boutique hotel in Johannesburg, but Hemingways is just a lot bigger and more 'grand' in the old-fashioned sense of the word. It starts with a massive foyer with an oversized chandelier, twin staircases and a superb garden view from the balcony.
The standard suites are just as impressive – huge and well-equipped with a slide-away TV (built into a faux trunk), a desk and chair with fast, free WIFI, fully stocked minibar, tea and coffee making equipment and supplies, a huge walk-in closet with movement-activated light and a safe big enough for a 17-inch laptop. There's even a plug for recharging one's laptop inside the safe. What else? A shower with multiple showerheads, an oversized tub and marble everywhere. My only complaint? The light switches are totally confusing.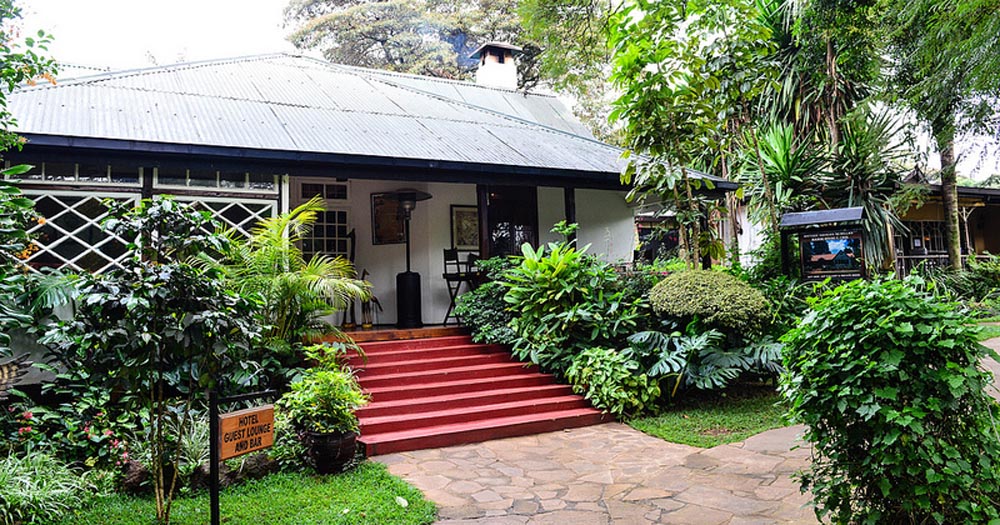 19 June – Nairobi
On this day I finally got around to doing some of the Nairobi-area activities which many of our clients have done in the past, and for which I have never time.
Our first stop this morning was a site inspection at Karen Blixen Cottages (hotel). I really liked the beautiful garden setting, the large attractive rooms and the cozy common areas. It felt like a very appropriate place for Nairobi: lush, colorful and on a manageable scale with only about 16 rooms total. For visitors who want to visit the Giraffe Center, the Sheldrick Elephant Orphanage and the Karen Blixen Museum, this would be an ideal spot to spend a night or even two.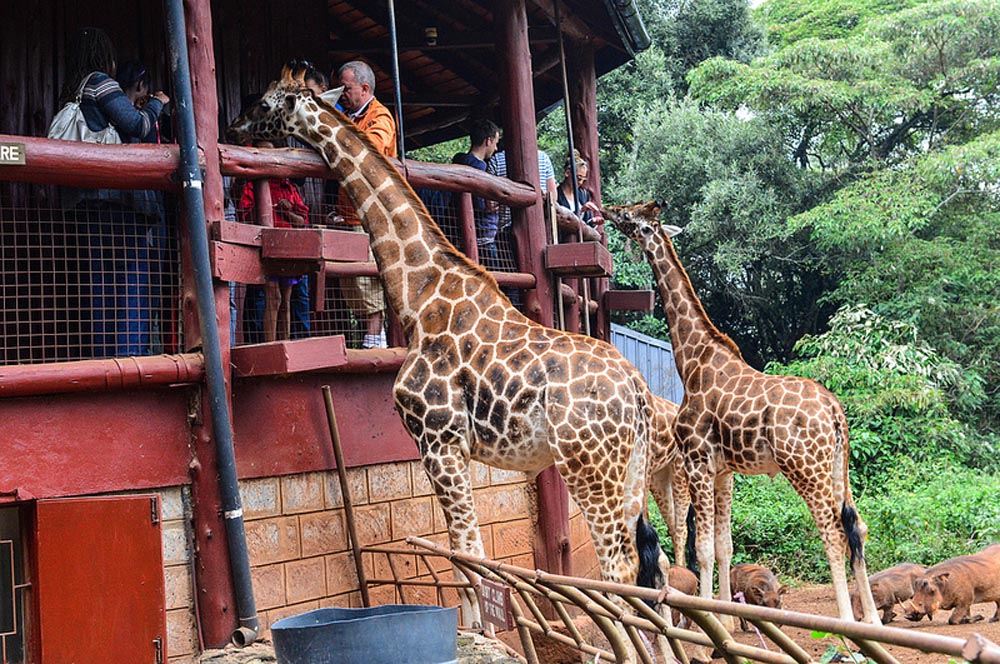 Karen Blixen Museum
Our second stop was at Karen Blixen Museum. The original homestead is fascinating and walking through it with a local guide really takes one back to the turn of the century. It is not difficult to imagine Karen sitting in her office writing or entertaining guests in her dining room. I was surprised to learn how 'primitive' some aspects of life were, at the time. Kitchens and bathrooms like we know them just did not exist back in the day.
Giraffe Center
Next was Giraffe Manor hotel and a visit to the Giraffe Center. This atmospheric hotel which resembles a Scottish manor house is hugely popular and deservedly so: who doesn't like a giraffe to pop in for breakfast, or to peek into your room on the 2nd floor? The rooms themselves were also superb, by the looks of it, and the entire place looked in absolutely tip-top condition. I might have to try this hotel on a future trip to Nairobi. Giraffes are such entertaining creatures and to be able to feed them and interact with them at such close quarters will add a lot of fun and excitement to what might otherwise be just a ho-hum overnight in the city.
We also took the opportunity to feed some giraffes at the Giraffe Center – an educational program which raises money for Rotshchild giraffe research and relocation as well as for general conservation education, particularly amongst the youth of Kenya. The feeding platform which is just a short walk away from the Giraffe Manor Hotel is open daily from 9:00A to 5:00 and visitors are given handfuls of dry pellets which the giraffes with their amazingly long tongues gobble up avidly. It was as much fun feeding a giraffe as it was watching a bunch of kids doing it – lots of girls squealing…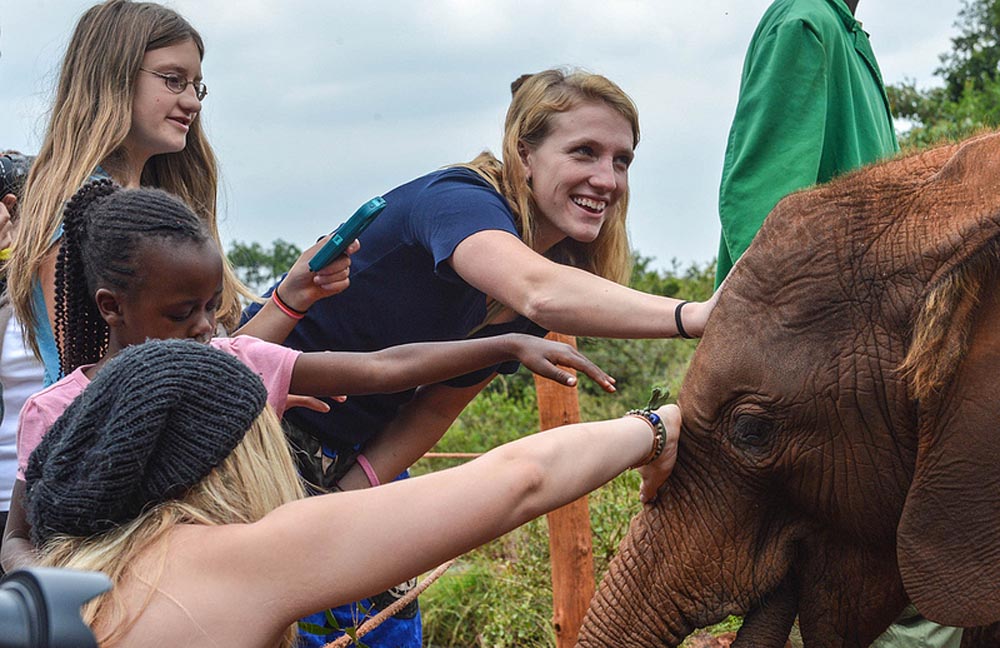 Sheldrick Elephant Orphanage
Finally, I spent about 45 minutes at the Sheldrick Elephant Orphanage, watching a succession of young orphaned elephants being fed by bottle. The David Sheldrick Wildlife Trust is today the most successful orphan-elephant rescue and rehabilitation program in the world and one of the pioneering conservation organizations for wildlife and habitat protection in East Africa. This is a most worthwhile project and certainly worth an hour of anyone's time. Unfortunately elephant poaching is on the increase all over Africa and the tragic side-effects include an ever-greater number of orphaned youngsters. I got some great photographs of the baby elephants and their handlers, and well as a big group of school children visiting that day. A few of the kids were initially quite apprehensive but it wasn't long before they started to touch some of the baby elephants and being very up close and personal with them. I was thinking to myself that that is where and how the David Sheldricks and Richard Leakeys of the future are made: just one random wildlife encounter could be the spark that totally changes a young child's life forever.
The rest of the day was given over to more food – a delightful lunch at a restaurant in Karen – and then a meeting with Origins Safaris' Steve Turner at Hemingways. Always good to get the insider perspective and an update on what is happening in the wildlife tourism arena in East Africa.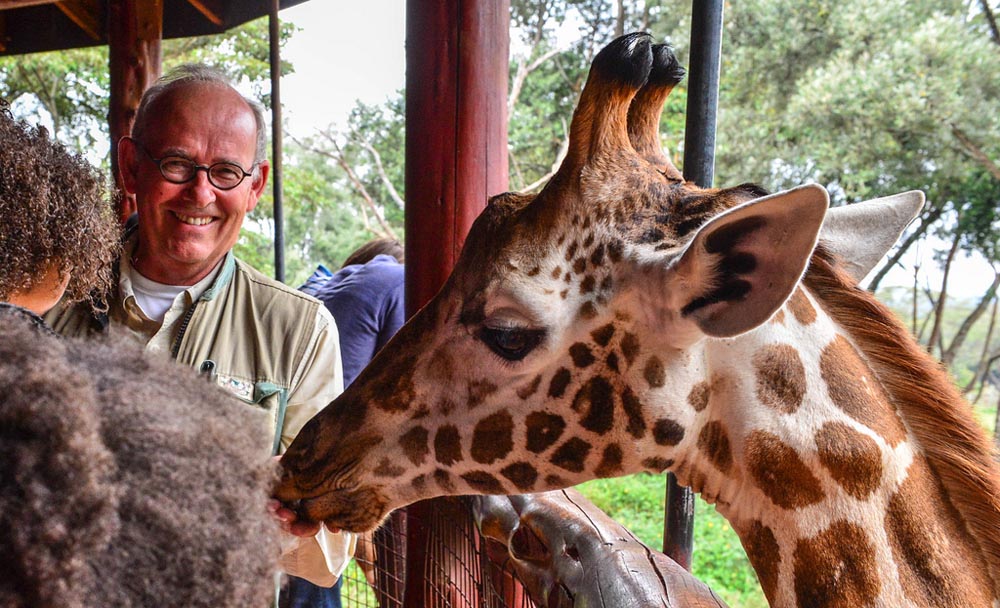 Back To Houston
By early evening, we had to make our way (slowly – it is Nairobi, remember) to JKIA for my flight back to Amsterdam and from there all the way to Houston. The boarding process in Nairobi was laughably inept and chaotic with hundreds of passengers herded together for several hours in a small pre-boarding lounge where there was neither water nor toilet facilities. Confusion reigned as to the order of boarding, nobody could hear when their seat row # was being called. Just all round unacceptable. Things started to improve as we got airborne. This time around KLM had correct dietary information and the 'vegetarian non-dairy' meals which they served were quite palatable. It felt like forever to get back to Houston with a long (4 hr) lay-over in Amsterdam along the way. In future I think I will avoid taking KLM to JNB from Houston in favor of a direct flight on SAA or Delta. Just one too many frisking and security check!