$cat_name = 'category'; $categories = get_the_terms($post->ID, $cat_name); foreach ($categories as $category) { if ($category->parent) { echo $category->name; } } ?>
Feb 18, 2013
Namibia February 2013
Share: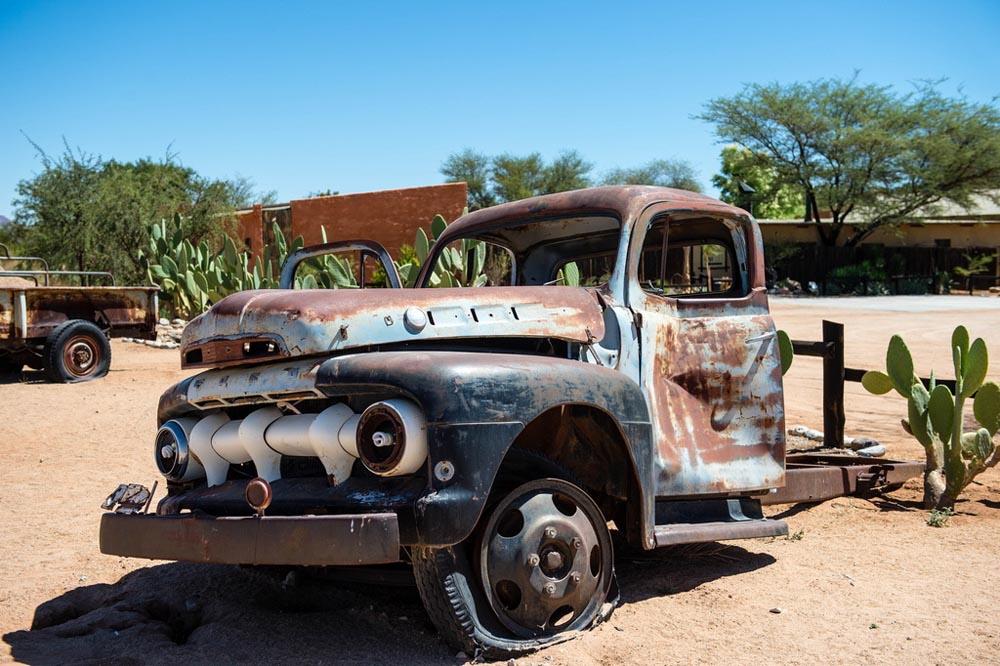 Namibia February 2013
PART 1: SOSSUSVLEI LODGE, SOSSUSVLEI
After all the difficulties we had with Delta during our previous trip together, we had zero issues this time. We recommend some noise cancelling headphones for these long international flights. All Fish Eagle Safaris employees use Bose QC15 headsets which are just amazing. We did arrive in JNB early enough to enjoy our favorite restaurant, Ocean Basket, in the Emperor's Palace complex. The Metcourt Suites were very nice as usual. Just a 5-10 minute shuttle away from the airport and free shuttles back to the airport at any time you need. Our flight in the morning departed very early, at 6:15 AM, but we were able to request a shuttle to arrive at 4:15 for our pickup.
Once we arrived in Windhoek, we were introduced to the rest of our group and our Safari Wise guide, Mark. Our group consisted of a couple of ladies from California, two from Poland and one that lives in JNB. We were given some nice arrival documents including our itineraries, brochures for multiple camps, and a road map which would help us later during our self-drive. We almost immediately set off for Windhoek where we had a quick tour of a few landmarks in town. It seemed like we had all day to get to Sossusvlei, but we would need the whole day as we found out later.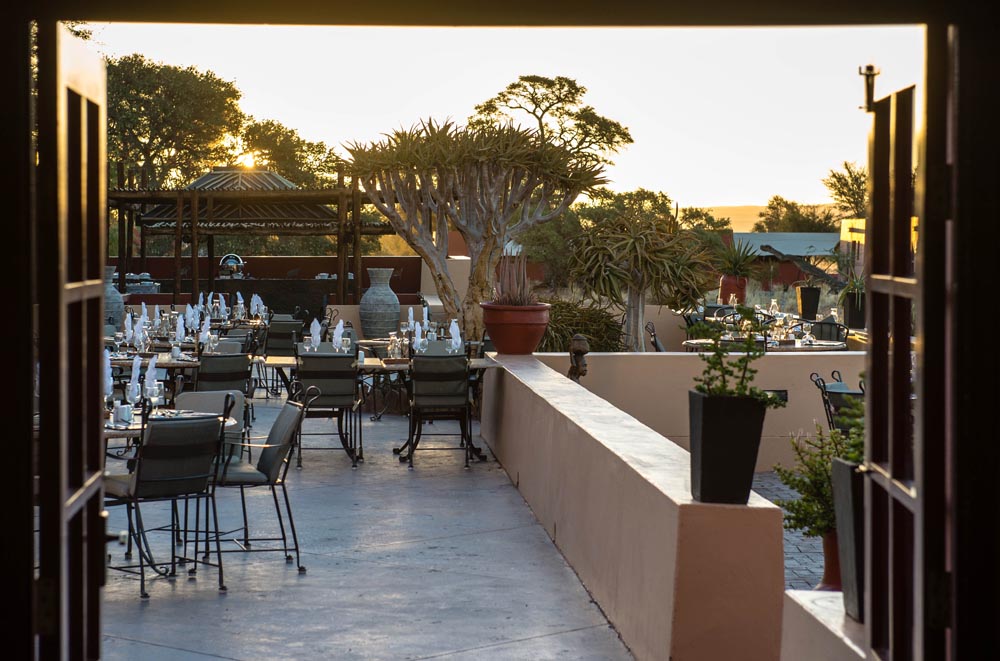 About two hours into our drive to Sossusvlei Lodge, we turned west toward a town called Aub and quickly experienced our first (but not our last) flat tire in Namibia! There wasn't much drama though, Mark quickly changed the tire and we were on our way once more. After 4-5 hours of driving we arrived in Solitaire, a common stop between Windhoek and Sossusvlei. Solitaire is well known for apple crumble, which we would try later on during the trip.
We left Solitaire running quite late. The flat tire and some slow travel over gravel roads had us moving quite slowly. We had no way of knowing, but only 10 minutes from our destination we had our second flat tire! This one took a little longer to change, and by that time (roughly 4 PM) it was very hot. We finally arrived at Sossusvlei Lodge about 3 hours later than expected, but the lodge quickly took our mind off the long drive.
Sossusvlei Lodge has a large open outdoor eating area surrounding an open plain with a manmade water hole in the distance. There is a tall observation tower that helps you see for miles. The tower itself looms over a nice pool area and the bar. Speaking of the bar, Namibia has quite a lot of German influence in the country which has led to some very nice beers. If you enjoy beer, you can't go wrong with the local brews in Namibia.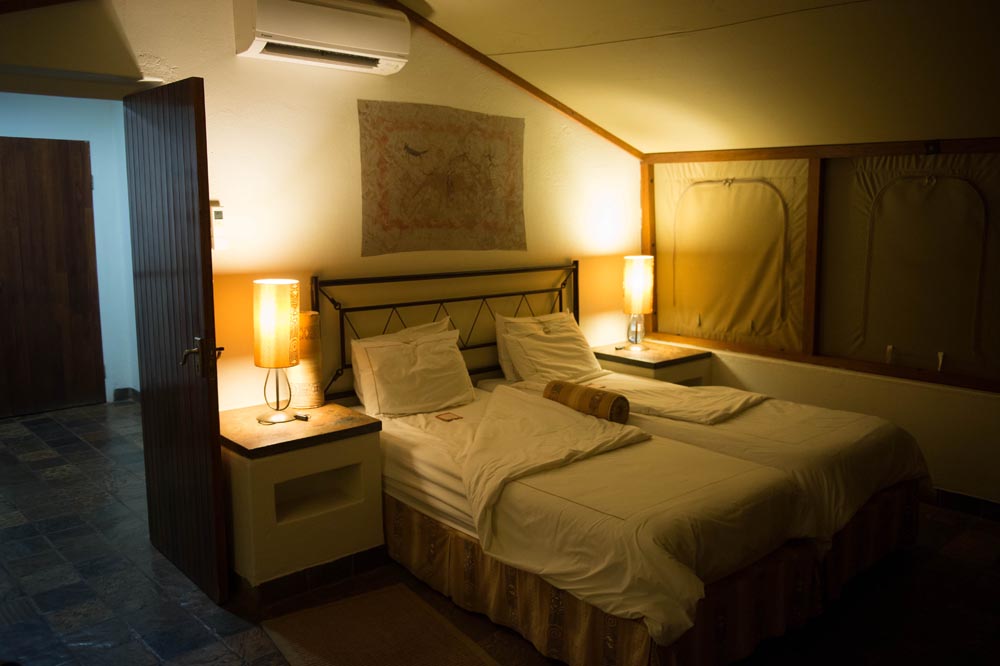 The rooms at Sossusvlei Lodge are quite big. Each room comes with an AC unit, which can help during the hot months. The lodge also had one of our favorite dinner buffets. Not only did they have the basic buffet selections including hot or cold appetizers and salads, but for your main course you can choose and of 9 local meats including oryx, springbok and ostrich. If exotic meats aren't your thing you can always choose more common cuts including beef, chicken, fish and pork. Not only do you get to select your meat, but the chef cooks it for you on a very nice outdoor grill. All this talk about meat might have some vegetarians or vegans worried, but the buffet has a huge selection of vegetables and starches. You can even have another chef create a stir-fry with ingredients (including sauces and seasonings) that you select.
Activities were quite nice at Sossusvlei Lodge as well. Our choice was obviously to go into Sossusvlei / Dead Vlei and see the dunes. If you were to spend more time in the area the lodge offers many other activities including ATV rides, nature walks and even archery. We left quite early for our dune trip as you're allowed in the park just at sunrise. Most tourists like to stop at Dune 45 to climb it, but we stopped just for a quick look. It's a lovely area and an iconic spot to climb but if you aren't there very early the crowds are immense. We drove on to Dead Vlei which was just stunning. The colors of the sand and the sky paired with the dead trees and salt pan were amazing. Jason tried to recreate a few iconic photographs of the pan and we think he did a decent job. After Dead Vlei we drove on to Sossusvlei for a lunch in the shade. Even in the shade it was quite hot, so once again get there early! You don't want to be halfway up a dune when the temperatures get too high. Our final activity was a quick trip into Sesriem Canyon. The canyon has been carved out by water over millions of years. You can actually still see some spots where debris has been deposited during extremely high tide. It was very hot later in the day though, so we only stayed for a short time at the canyon.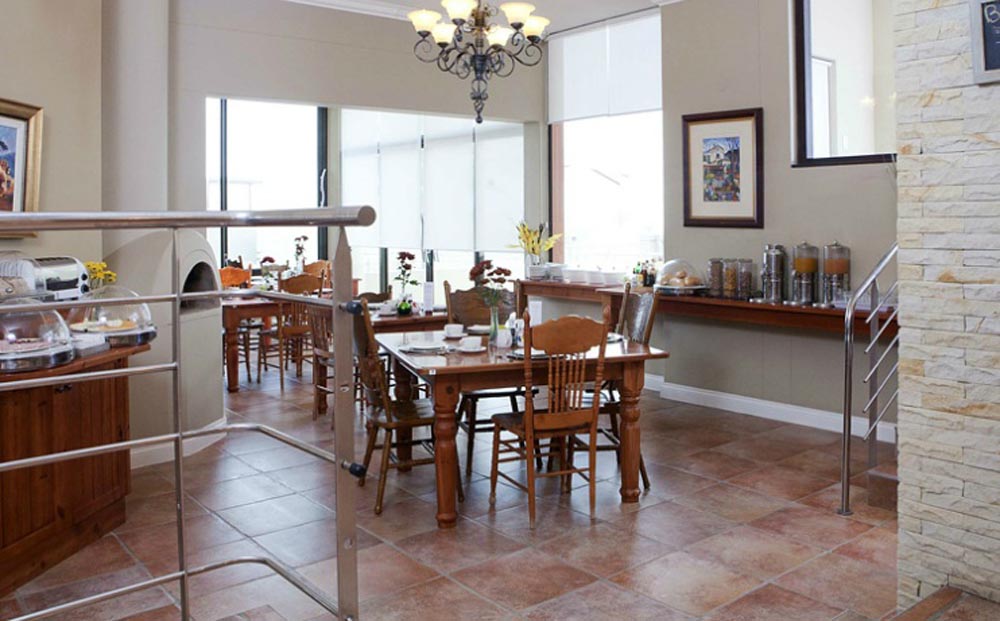 PART 2: SWAKOPMUND, CRUISE AND DESERT TOURS
Our final morning in Sossusvlei was quick. We left early in the morning for Swakopmund. All in all it was a fairly scenic drive with multiple landscape changes as we drove. We went from the red dunes of Sossusvlei to huge open plains to mountainous ridges and canyons. Finally we ended in Swakopmund with its coastal dunes. Unlike the dunes of Sossusvlei which have turned red over millions of years of rust, the Swakopmund sand and dunes were very nearly white in color. Lucky for us we had no flat tires this leg and arrived in the nearby town of Walvis Bay in the late afternoon. After a short tour we drove another half hour north to Swakopmund.
We stayed at Atlantic Villa, a boutique guest house just on the outskirts of town. The rooms were unique but had plenty of space and amenities. Our room had two bedrooms, two bathrooms and a living area similar to an apartment home. Overall they were very nice accommodations. We also visited the Swakopmund Boutique Hotel, the Swakopmund Hotel and Hansa Hotel which we would later stay at. Each was a nice choice, but in Swakopmund it's more about what you do than where you stay.
For dinner on the first night we walked just down the road to a restaurant called The Wreck. The outside was shaped like the hull of a boat, hence the name. If you stay at Atlantic Villa we would highly recommend it. It was affordable and each of the agents with us enjoyed their meals. The Amarula ice cream was especially good.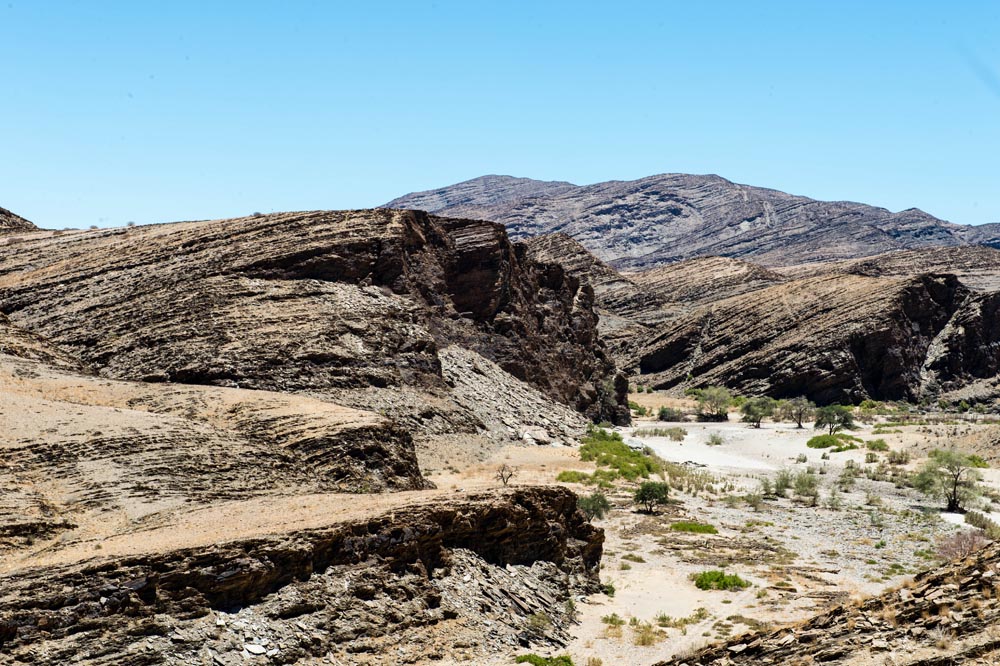 Living Desert Tour, Swakopmund
Without a doubt one of the highlights of my Namibia trip was the Living Desert Tour. Our guide, Chris, who is a native Namibian and about as full of energy as anyone I have ever met, came to pick us up at the hotel. It was evident from the start that he was going to be an entertaining and insightful host and I do believe he could captivate me while talking about some seriously mundane topics. Thankfully the tour itself was the farthest thing from it and when you combine those two factors it makes it a must see in my opinion.
It just so happened that out of our group everyone chose to partake in the Living Desert Tour except for Jason who instead went on the Dolphin Cruise. Because of this we only had to make one more stop to pick up a couple other clients before heading to the dunes to get started. Almost immediately upon entering the dunes we all step out of our large vehicles for the introduction/briefing. In all there are two guides, each with their own vehicle. Chris does most of the talking while the other guide scours the nearby dunes in search of life. So while he is off trying to find us a snake or gecko we are learning about the dunes. We learn about leeward and windward, how the quadbiking is ruinous to the desert animals and the landscape. We learn how the seedpods and grass that get blown in from as far as Botswana form the bottom of the food pyramid and we learn a few of the animals that make up that pyramid. All the while Chris is jumping between English for our group and German for the other group in the second vehicle. Instead of slowing us down he makes it fun and keeps it lighthearted with a lot of jokes and both our group and the Germans have a good sense of humor about it all.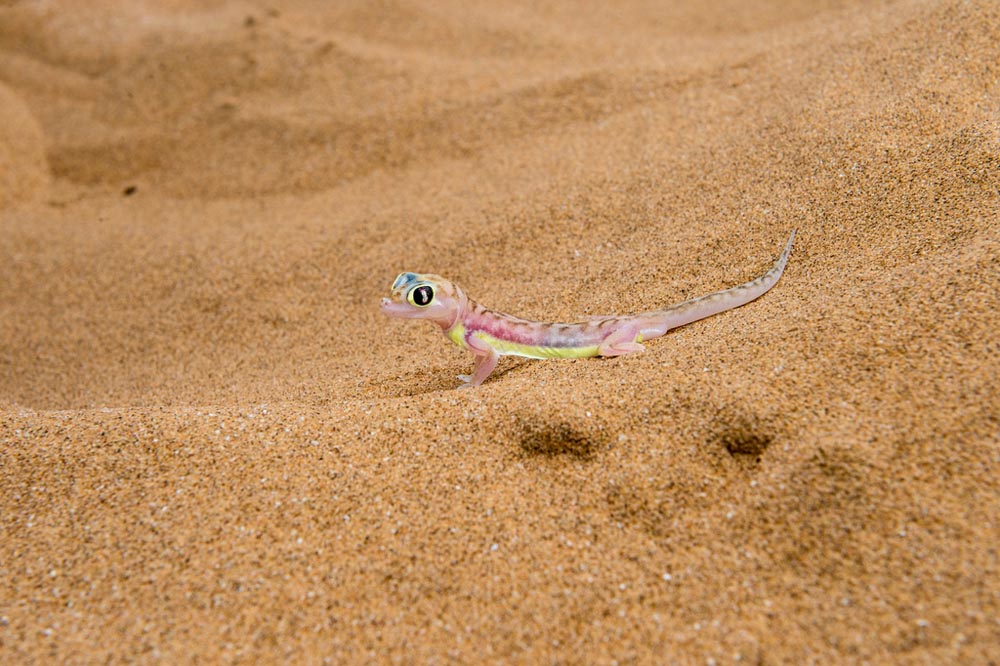 After getting some of the basics we set out to find our first living creature. Chris spots a telltale sign of a dune gecko and begins to dig. The tunnel splits off in two directions and he follows the one path. It splits again and he is getting a look on his face that says he might be digging for a while. Luckily he has chosen the correct path and uncovers an absolutely beautiful gecko. Properly referred to as the palmetto gecko, this guy is so iconic that he is literally the face man for the company's ads (Living Desert Adventures). After we all take turns getting close and photographing him we scamper off and find a small dancing white lady spider. These guys roam the dunes and when threatened can curl into a ball and quickly roll down the side of the dune to escape danger. Next we find some skink tracks and find a couple of the blind, legless snakelike creatures. They are smooth to the touch and Chris shows us how they practically swim through the sand.
Of course snakes are always a big draw but as the day goes on and it starts to heat up a little bit the guides are finding less and less snake tracks. Luckily they spot some very faint markings on the side of a dune and Chris manages to discover a tiny dwarf adder. 99% of the population of Swakopmund has never seen this guy, according to Chris, and it is easy to see why. This little guy buries his entire body in the sand and all you can are two black eyes. He pops up his tail and uses it as a lure to any geckos or lizards that come near. Eventually we were able to see him out in the open and he was kind enough to pose for us.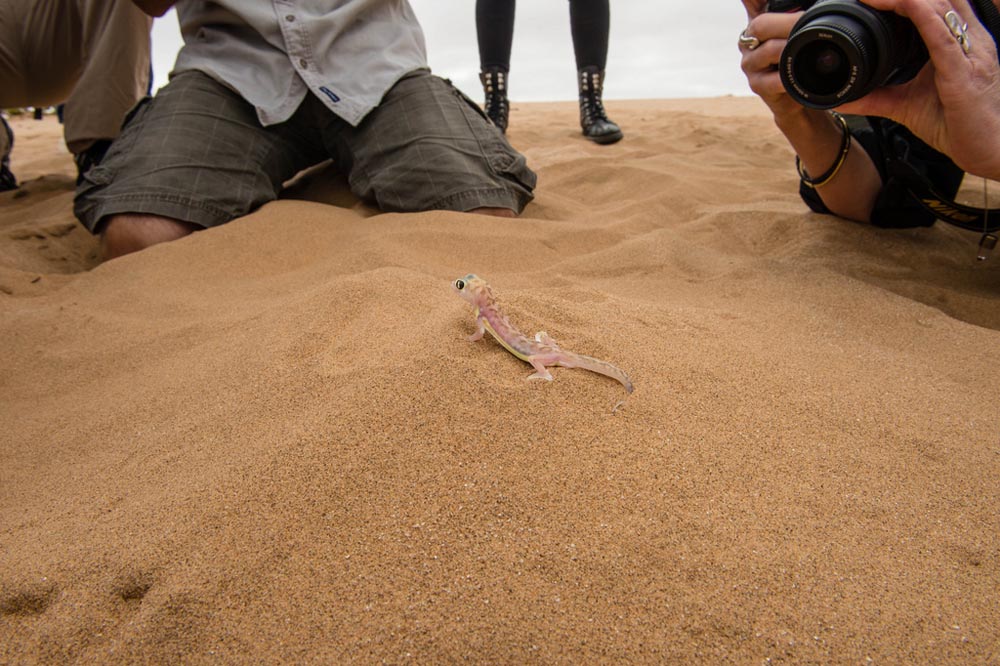 After this our next objective was to find a chameleon. Chris and his fellow guide got out of the vehicles and scoured a massive area while we waited patiently. Unfortunately they came back empty-handed and we were about to drive off when someone spotted a rather large chameleon right in front of our vehicle. He had been not 15 feet from us the whole time and blended in so well that it took us all that while to spot him. As Chris handled him he changed color which they apparently tend to do when they are feeling a little bit of stress. As a peace offering he was given a few grubs and to all of our delight he went after them with those famously long roll-up tongues. We observed him and photographed him for quite some time before moving on. We ended the tour with the landscape photography portion, a fantastic way to wrap up this fine trip.
The food on our second day in Swakopmund was quite good too. After our activities, most of the group decided to have a light lunch on the pier at a restaurant called The Jetty 1905. A bit of an odd recommendation, but be sure you check out the restrooms if you visit this restaurant. Each room is unique with pictures on the walls showing how the town was built. For dinner we went to Kucki's Pub in the middle of town. Once again we had great food. Our dessert recommendation here is the crème brulee which was excellent.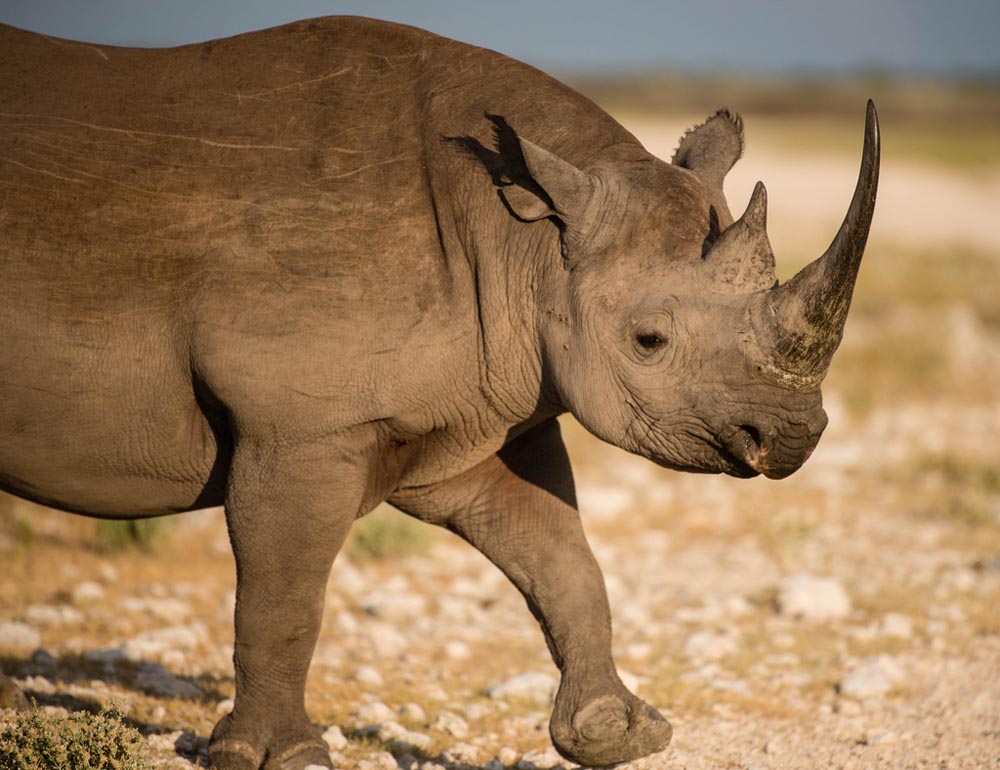 PART 3: TALENI ETOSHA VILLAGE, ETOSHA NATIONAL
PARK
Today we departed for our first true game viewing opportunity in Namibia, Etosha National Park. The drive was about 5 hours again but felt much shorter as a large portion was finally on paved roads. We arrived at Taleni Etosha Village at about 4 PM and as a group decided that we would quickly unpack and head out for an evening visit to the park. Since this visit was not planned, we had to pay the park fees which were very inexpensive.
This first game drive was quite memorable. We had only just entered through the Anderson park gate and began heading toward Okaukuejo when suddenly (on a paved road mind you) our right rear tire had a blowout! This was easily the most jarring of the 3 flats that we had on this trip because we were going slightly faster on the paved road. Our guide Mark did a great job of keeping control of the vehicle even though he struggled to slow us down. The only problem with a flat in the park was that officially Mark could not leave the vehicle to repair it by himself! We had to request help from Okaukuejo. Luckily the rangers were quick to respond and had our spare tire on in a few minutes. Finally we could head out to do some actual game viewing.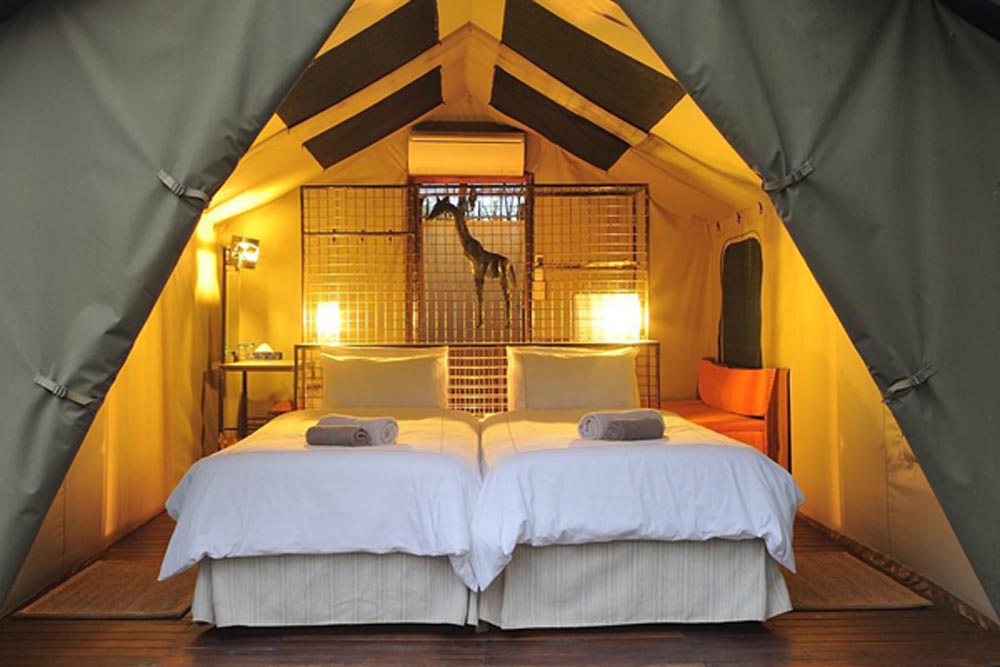 Mark drove us through Okaukuejo toward a watering hole named Gemsbok Vlakte. It's known for being a nice flat open area for lots of wildlife to congregate. We noticed a vehicle was stopped at the watering hole from a distance, which is usually a good sign. But while we scanned the horizon, something seemed to move a bit differently than the springbok and zebra in the area. It was our first lion sighting, but certainly not our last. Two lions, one male and one female, were on their way to the water hole for a drink. This brought our attention to the water hole itself, where it seemed a large dark skinned animal was already drinking. It was a black rhino!
We quickly drove to the parking area around the water hole and got directly between the lions and the water so they would walk as close to us as possible. This ended up being a great move and we were both able to get some great shots of the lions walking, the rhino backing up, the lions drinking with the rhino nearby. Unfortunately it was quite a quick evening due to the flat tire so we had to head back and be out of the park before sunset. As we left, we were lucky enough to see two more black rhino! A mother and calf that had been drinking slowly walked away from the water hold and gave us a quick glance.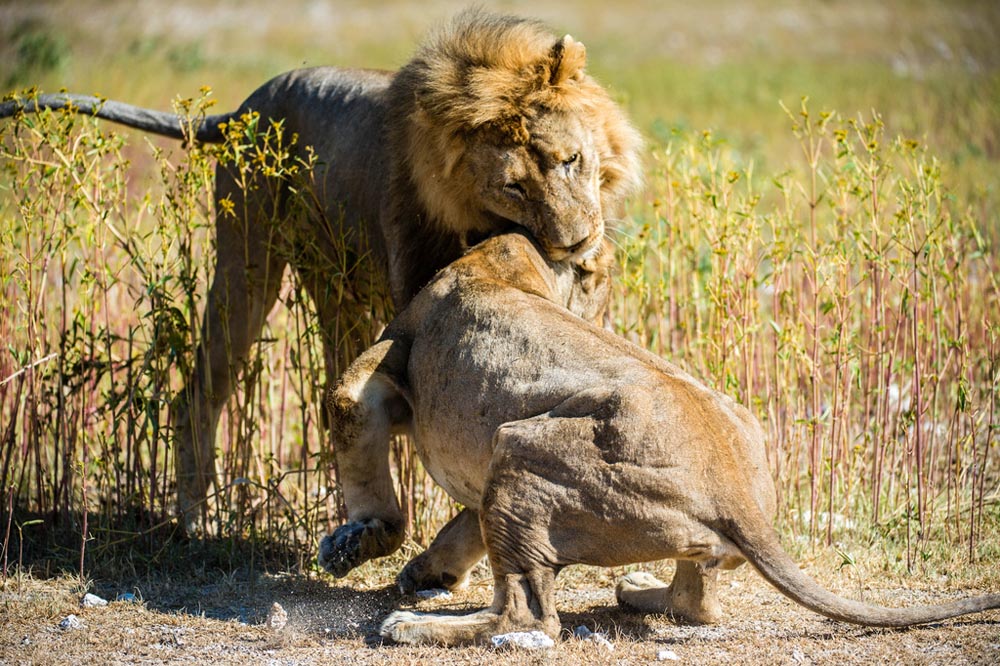 Taleni Etosha Village itself is owned by the same company that owns and runs Sossusvlei Lodge so many of the same food choices can be had there. We had a similar buffet of game meats and a stir fry option with plenty of other buffet choices for dinner. Breakfasts have a huge selection as well with omelet/egg stations where the chefs will prepare eggs any way you like. The rooms were nice sized permanent tents with en suite facilities (even though they were technically outside the main living area of the tent).
Our second day in Etosha went quite well once again. We managed to come across half a dozen lion early in the morning, two of which put on a nice roaring show for us. It really is impressive to hear the vocal power of these lions! Another pair of lions just down the road posed for Valentine's Day while holding hands. We even got to see two different lions mating. It seems like Etosha had Vday planned for us all along. The evening game drive unfortunately got rained out as a large thunderstorm was blown in. It was actually impressive to see how quickly the weather could change. The rain only lasted about 45 minutes but it was enough to get us out of the park and back for an early dinner.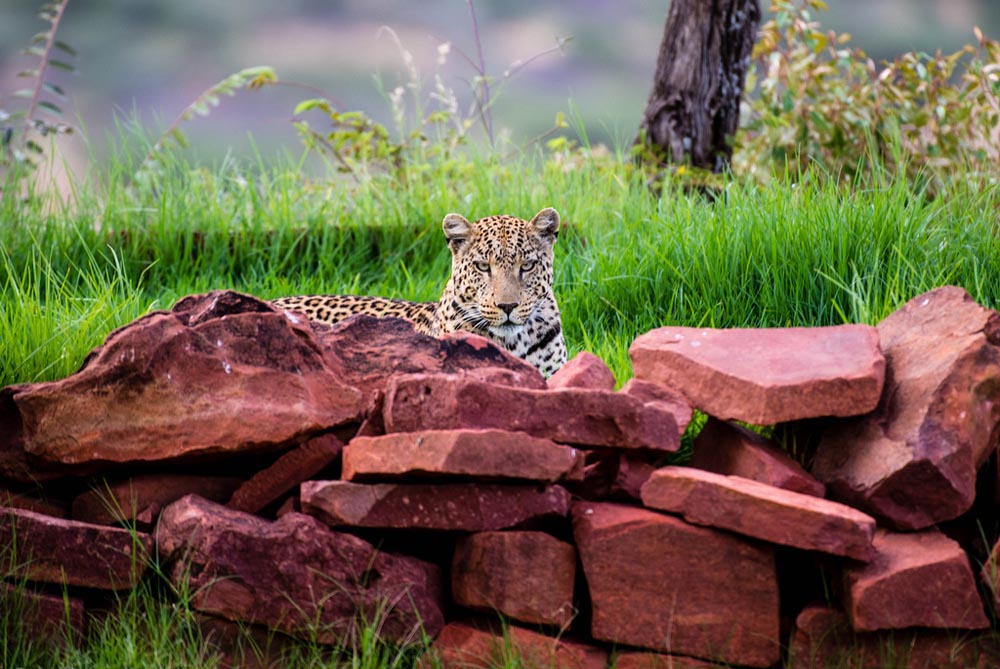 PART 4: OKONJIMA, HOME OF AFRICAT
While we had wonderful luck with lions in Etosha, we didn't see any leopard or cheetah. They really are much more secretive and difficult to see. Today we were on the way to Okonjima, the home of the AfriCat Foundation. AfriCat is well known around Namibia for teaching the local population about how to live with predators instead of trying to exterminate them as if they were pests. Many of the leopards and cheetah in the Okonjima reserve are previously rescued and re-released into the wild successfully. The drive was very short and all on paved roads. We arrived in time for a nice rest and a wonderful lunch salad before our afternoon activity: leopard tracking.
We left the camp at around 4 to try and find a leopard via tracking collar. This might sound easy, but the landscape at Okonjima is quite mountainous and full of areas a vehicle cannot traverse. We spent about an hour tracking a weak signal from a leopard and decided that a higher altitude would help out. Just as we made it to a nice cliff to track from, we noticed what looked like a leopard statue in the middle of a green grassy garden. Sure enough, we found our leopard! She rolled around in the grass for us then walked toward us, eventually heading off into the bush where she hid from everyone for hours. Our vehicle was the only one to get a glimpse of leopards that evening. While the viewing was very short, it was memorable.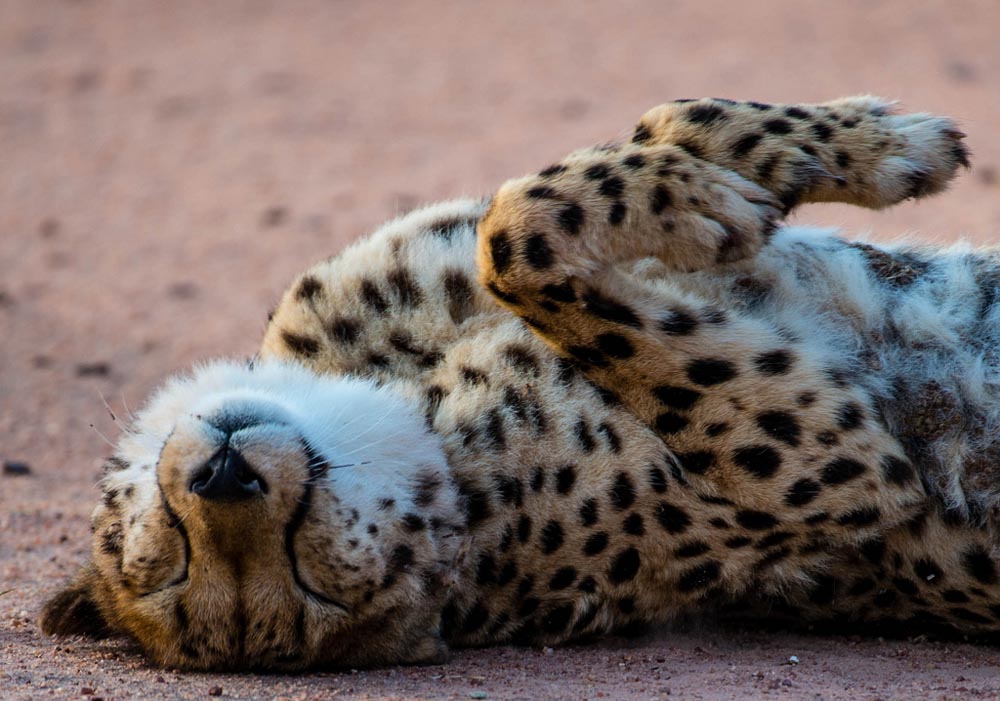 Okonjima main camp itself was just outside the reserve which was a good thing. It was safe to walk between the lodge and tents without fear of wild animals interfering. There were still some antelope and warthogs around, which have a chance to come drink at the lovely water hole that the main eating/lounging area surrounds. The room we stayed in was a large round chalet with en suite facilities and about a third of the wall was a large open window with a view of the bush. For dinner there was a set menu, but the kitchen will listen to requests from guests. Breakfast had a somewhat small buffet but included an egg/omelet station which is always our first choice for breakfast.
Our morning activity was cheetah tracking. We thought it would be all in the vehicles but after getting close to the cheetah (also via tracking collars) we left the vehicle and went on foot! We were all a bit nervous but the guides assured us that the cheetahs we were tracking had previously been released successfully into the wild by AfriCat. While they were not tame by any means, they were habituated to humans over the years. We finally stumbled across two lovely cheetahs resting in the morning sun, their bellies obviously full. Never have we been so close to cheetah on foot. It was quite an experience that we will never forget!
After about an hour of viewing, we decided to leave the cheetah to have their rest. We were off to the main offices of AfriCat which was a very educational visit. They showed us how AfriCat works to educate the local farmers and their children about living with predators. While there, the "Adopt a Spot" program was brought to our attention. It helps visitors donate small amounts which add up to adopting an entire cheetah or leopard. Here's a photo of Jason painting the spot that we adopted for Fish Eagle Safaris!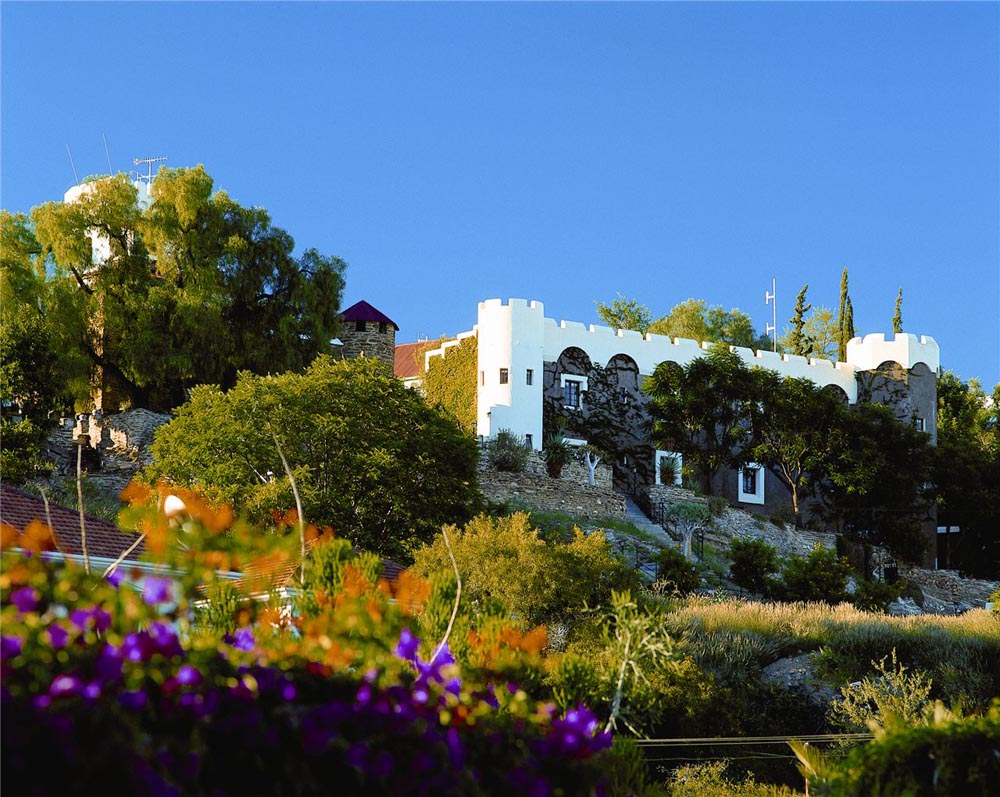 PART 5: SELF DRIVE, WINDHOEK AND SOSSUSVLEI
As we left Okonjima, we realized that this wasn't the end of our trip. We had done nearly a full circuit in Namibia but had new places to see and new experiences to keep us busy for a couple more weeks. We can definitely say that the second circuit was worth it. Learning things we may have missed, or even hearing them a second time truly did help make this trip memorable.
Once we arrived at the Windhoek airport it was time for goodbyes to our group of agents. From now on it would be just the two of us driving all around Namibia with a map and a gps unit to keep us on track. The map would actually help more than the GPS unit, as a few of the roads we were planning to take were not listed on the GPS. Particularly the roads leading to camps in Sossusvlei and Damaraland were not available. If we were to travel mainly with the GPS unit we would have needed to direct us to a town near the camp and then hope for signs, which were few and far between. We did, however, request an extra spare tire as we had quite a few flats with the Safari Wise portion of our trip. Luckily the extra would not be needed, but at the time it was worth the cost. One other thing that we had to get used to was driving on the other side of the road! A few sketchy moments in and around town really teach you quickly where you can and cannot go. I also can't tell you how many times we went to the wrong side of the car (driver to the passenger side, etc). It was quite an adventure.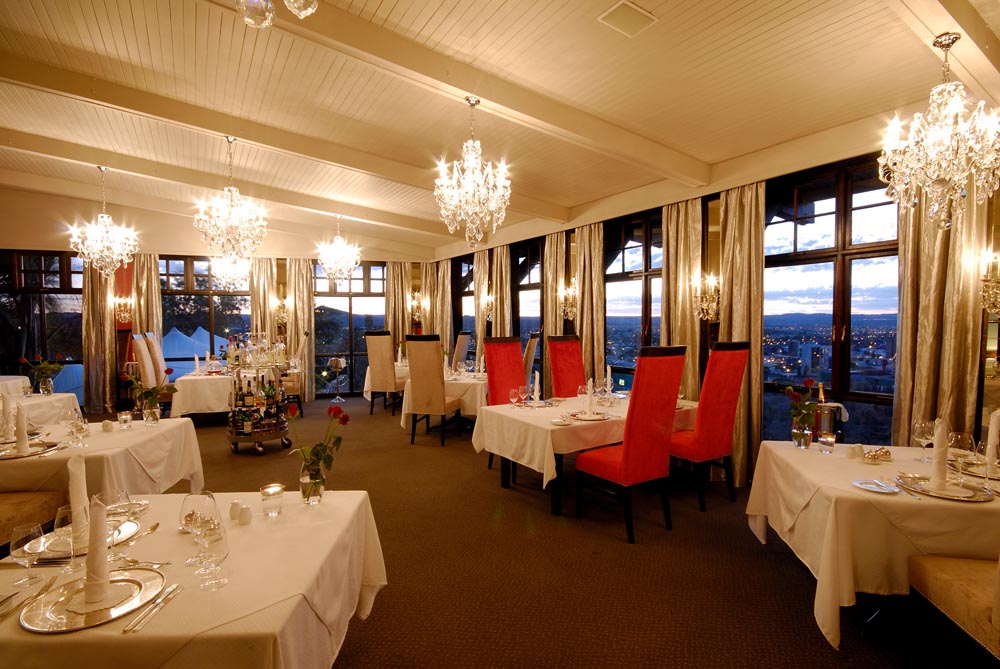 Our first stop was the Hotel Heinitzburg, which is one of only 3 actual castles in Windhoek and the only one that is accessible to the public. They've added rooms nearby that are structured similar to a castle wall so you can really get the feel of the place. The rooms were large and seemed very formal in their decoration. We had a dinner at the attached restaurant, Leo's at the Castle, which had delicious food. The only snag was a local power outage for about fifteen minutes which was handled well by the staff.
The next day we stayed at the Olive Exclusive, the more luxurious brother to the Olive Grove Guesthouse. Our room was a junior suite which was just beautifully decorated as you can see in the photos. We would eventually stay for dinner, which was once again excellent. For lunch we went to the famous Joe's Beerhouse for a rare Sunday buffet lunch. As with any buffet, we enjoyed being able to try a multitude of main courses, sides and desserts. The atmosphere was very social and we were seated with a group of total strangers but found the conversation quite interesting. We would have liked to visit Joe's for a normal a la carte menu but just weren't in town for long enough to do so.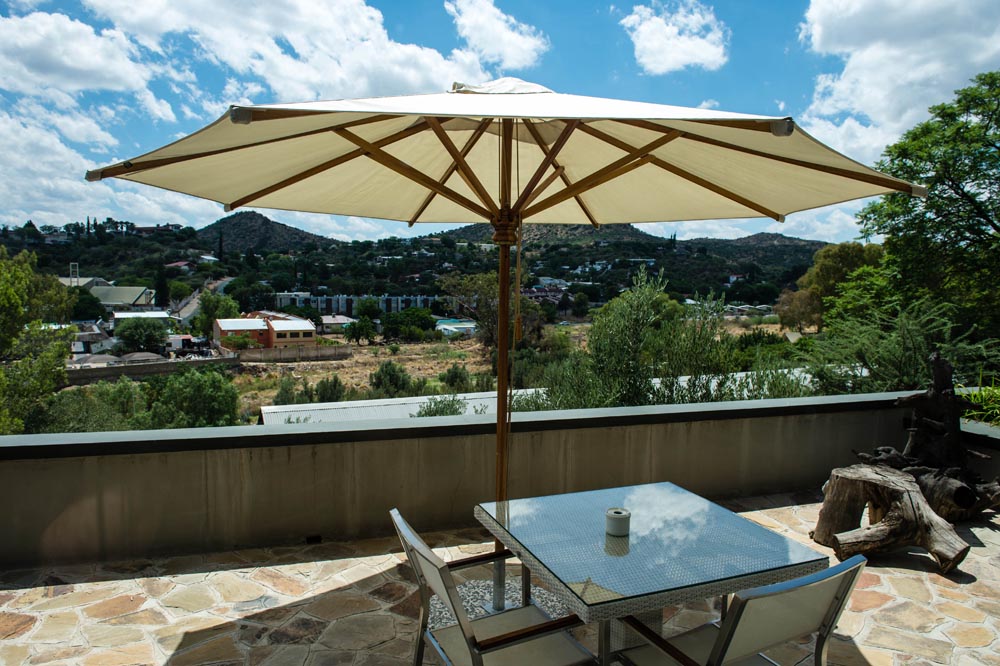 In the morning we enjoyed a leisurely and tasty breakfast at the Olive before departing for Sossusvlei. We decided to take the same route that our Safari Wise guide had taken just because we were familiar with it, even though it did net us two flat tires the previous trip. Driving ourselves took much less time than driving in a full group. We were able to plan our breaks and driver changes, all in all the drives went very well throughout our self-drive experience. A stop at Solitaire on the way was a necessity. We tried some of the famous apple crumble, which was quite good but perhaps our batch wasn't their best work as it did not live up to expectation. Roughly 5 hours after we left Windhoek we arrived at Little Kulala. The camp is set just beyond a dried up river bed with some large dead trees similar to those in Dead Vlei. The dried river bed actually still has subterranean water, which made it a prime choice for a camp. We did learn that the wind at Little Kulala can get quite harsh, so plan ahead with dust covers for your cameras!
As with all Wilderness Safaris camps, the staff was excellent. Our guide Felix was one of the best guides on our trip, pity we were there for just one night. The rooms had en-suite facilities and air conditioning with private plunge pools and a deck for relaxation. It was a bit too sandy and windy for relaxing on the deck at times but the plunge pool was a nice escape from the heat. Our real focus at Little Kulala was to climb one of the dunes. On our previous trip we had been to Dead Vlei and Sossusvlei but only managed to walk around the base of some of the larger dunes, finally we would have the opportunity to actually reach the peak of one. Felix gave us a wonderful idea to climb a dune that is rarely used. He called it the arm of 'Big Daddy', which looms over Dead Vlei and is very popular (albeit very difficult) to climb. The arm was not as tall but still managed to have all 3 of us, Felix included, out of breath every 20 or so steps. Once at the top we had an amazing view and were able to glide down to the salt pan that is Dead Vlei for some more photography. This entire area really is breathtaking and we highly recommend spending a morning in the area.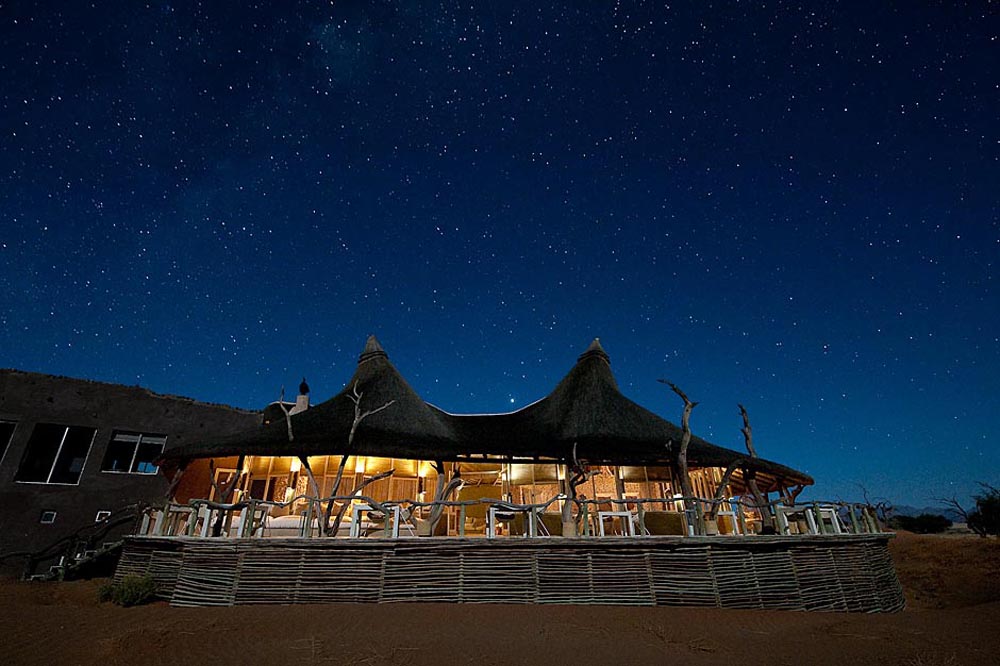 Our second camp in the Sossusvlei area was Sossusvlei Desert Lodge, owned by AndBeyond. The Desert Lodge was the most luxurious camp throughout our safari. Each room had amazing views of a large valley where zebra and springbok made their way to a man made water hole. Sossusvlei Desert Lodge has a variety of activities to keep you busy. Not only can you go to Dead Vlei and Sossusvlei if you leave early in the morning, but you can drive to the star dunes, petrified dunes, quad biking, game drives, sundowner drives and even star gazing at night. Our first activity was a drive up to the local petrified dunes. The drive itself was amazingly steep, quite exciting actually. The dunes themselves have been solidified into a near rock like consistency over millions (or billions) of years. They represent the final stage in the dunes' life cycle, very interesting to see. Our second activity was so fun that it ended up being our third activity as well, quad biking! The Desert Lodge has a quad bike track in the dunes nearby where guests can ride at their own speed in and around the sand. Please note that these bikes are very powerful, so if you choose this activity and it's your first time riding them you can take your time. The views alone are worth the time spent.
The final night in Sossusvlei would be at Wolwedans Dunes Lodge in the NamibRand Nature Reserve. The camp itself is quite far south and while they do offer hot air balloon rides, they do not offer trips to the dunes in Sossusvlei as it would simply be too far away. Once again we were surrounded by amazing landscapes and views. The Dunes Lodge is actually physically built on the top of some dunes, quite interesting. The rooms were nice enough but we were told that at night the wind can hit quite hard, which can cause portions of the tent to flap around noisily. We were given earplugs just in case, but luckily the wind stayed low during our stay. The highlights at Wolwedan's were the beautiful sunset and our 5 course dinner with some of the best food we had eaten throughout our trip.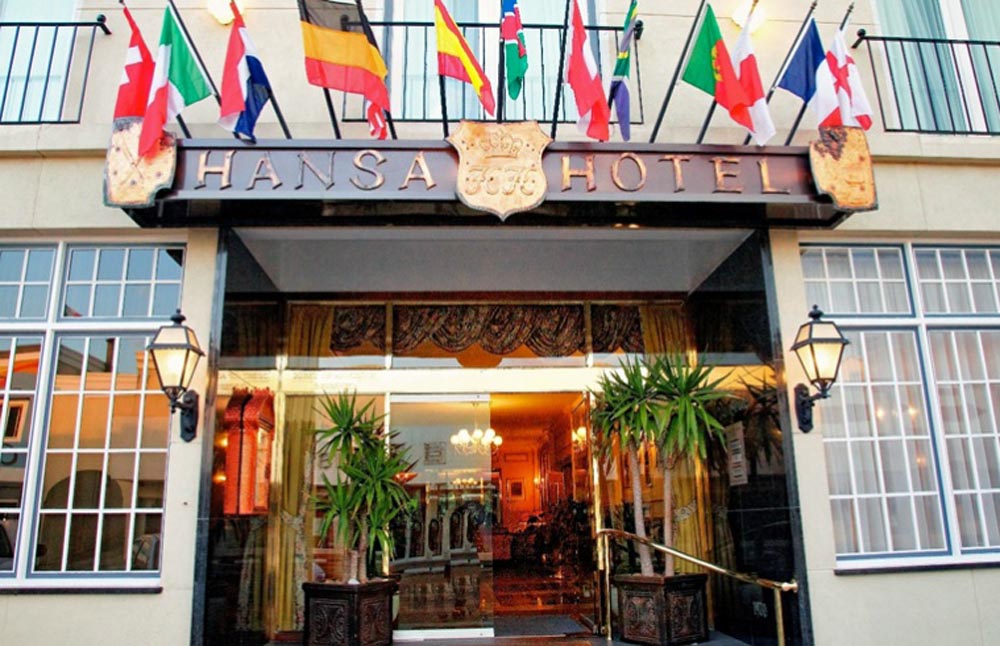 PART 6: SWAKOPMUND
We departed on a roughly 6 hour drive once again toward the town of Swakopmund. Our destination this time was the previously mentioned Hansa Hotel which was directly in the center of town. This was the best feature of the hotel, as we were able to walk to restaurants, shops and all around the main part of town and never be more than a 10 minute walk from our room. We took advantage of covered parking across the street and left our rental there for two nights for under $5 per night. Our only complaint about Hansa Hotel was the smoking policy. The hotel allowed smokers in the restaurant, the bar, the lobby and even in some of the rooms. It didn't ruin our stay at all, but there were a few awkward moments while sitting in the lobby where someone would sit right next to us and begin smoking.
We had been staying in touch with our Safari Wise guide, Mark, who was trying to put together a shark fishing expedition out of Henties Bay for the following morning. Alas, when we arrived we learned that a fishing competition would have all of the charter boats out of commission for the same day that we would spend on the coast! Instead of fishing, he put together some more quad biking for us which we thought would be a bit boring as we had already done it twice at Sossusvlei Desert Lodge. The terrain that we biked on was very different than before. We were out in the open, able to go full speed at times without worrying about where the track went and if there was a sharp corner up ahead. Our guide led us up the sides of some nice large dunes allowing us toalmost fly downhill. This quad biking was an entirely different experience, and for us, a very exciting one.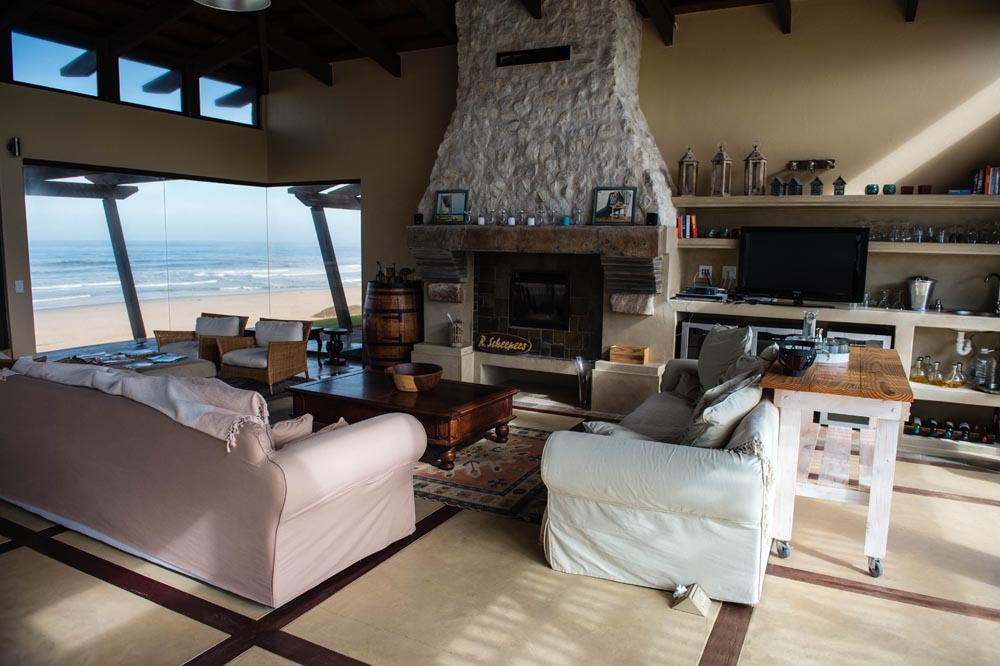 While in Swakopmund the previous time we were able to dine at some very nice restaurants, but didn't have enough meals to visit all of the town's favorites. This time we did manage to eat at The Tug, a very well-known restaurant on the coast. Both of our lunches were spectacular and we were seated right at the window (the entire wall was one large panel of windows) for a wonderful view. We also ate at our favorite, Ocean Basket, one more time and had a good time watching and learning some Rugby.
On our way out of Swakopmund we were asked to visit a guest house called Ietsiemeer in Henties Bay. The location was fabulous; you could walk out of the doors of the main lounge and instantly be on the beach. They offered fishing from the shore, so it seems we should have stayed here in the first place after our problems with getting a fishing charter. If you're looking for a small quiet guesthouse, Ietsiemeer really does seem like a fine option.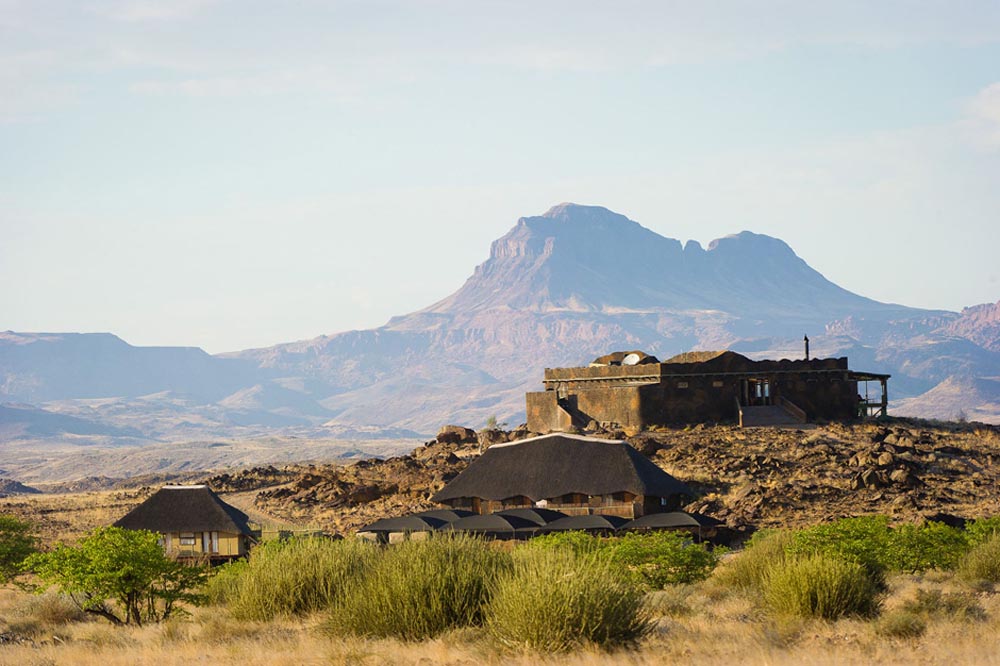 PART 7: DORO NAWAS AND DAMARALAND CAMP
We had a solid 5 hour drive to get to our first camp in Damaraland, Doro Nawas. Most of the drive was on gravel road and although it was smooth sailing for the most part you should always be on the lookout for sudden dips or bumps in the road because if you are traveling too fast it is a recipe for disaster. We arrived in camp and thought that we had dodged some bullets only to discover the following morning that we had a flat tire. Apparently a piece of wire had found its way into the tire and overnight it had gone almost completely flat. Luckily for us it happened in camp and there was no problem and only a small fee getting it fixed up.
Back to our arrival, the camp itself is set up on a nice rocky hill and we arrived right around the middle of the day during a bit of a heat wave so to say it was hot would be an understatement. Between 110-115 degree temperature, a scorching sun and rocks soaking all of that heat in it can be rather unpleasant even for someone growing up in Texas. Luckily the rooms provide shade and a fan not to mention the camp's swimming pool which we frequented during our stay. It cooled down significantly in the evening and night but even then I would classify it as warm and because of this we declined the option of having our bed pulled out and sleeping under the stars instead opting for the steady breeze from the ceiling fan.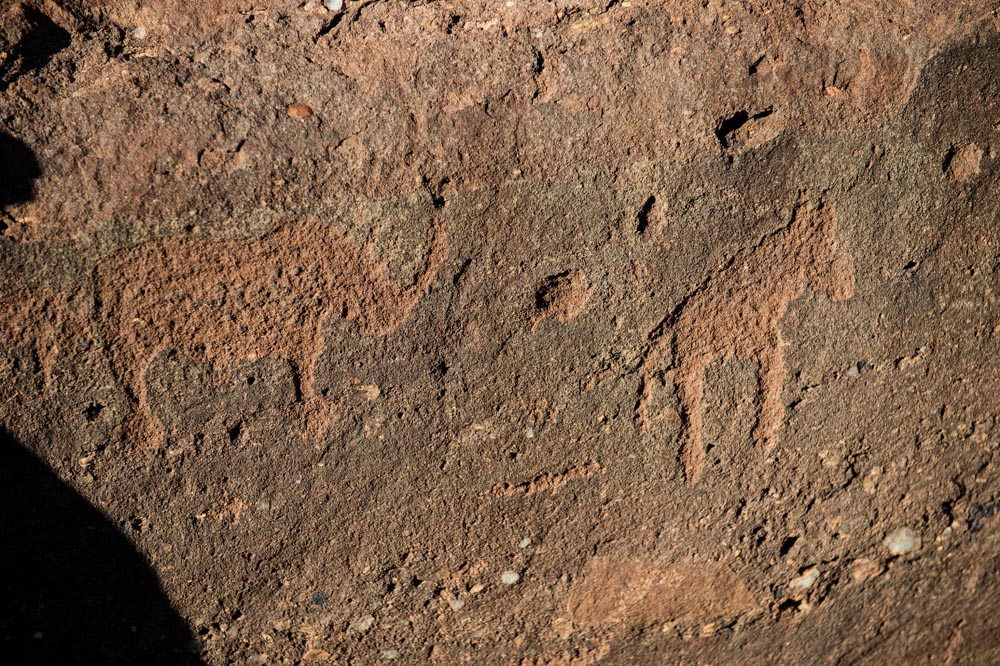 The terrain and geography is really stunning, reminiscent of the southwest United States. The area is arid and mountainous with igneous rocks all around. Desert adapted vegetation thrives such as the different types of Euphorbia and the national plant, the Welwitschia mirabilis. Oryx was the most commonly seen antelope in the area followed by springbok and the occasional Kudu.
For our first activity our guide, Reinhold, was keen on finding the desert adapted elephant herd that had been in the area the day before. We left camp at about 4 after some snacks at camp and set off on the trail of elephant. It was still blazing hot at that time so be sure to bring more water than you think is necessary because you should be taking in a lot of it. Our first stop on the elephant search was a local village that has a permanent source of water. The elephant are said to frequent the area and we see signs of their passing all around. Unfortunately we had missed them by a couple hours so we had to start tracking them from there. For the remainder of our afternoon drive it seemed like we were on their heels but in the end we found tracks that appeared to go up into the mountains to a point we could not follow. The next day in fact our guide talked to a fellow guide who said he had gone on foot from the point the tracks ended and he had seen the elephants moving down the far slope of the mountain. On occasion the elephants move out of the area for 4-5 days at time and it just so happened that they chose the days we were in Damaraland.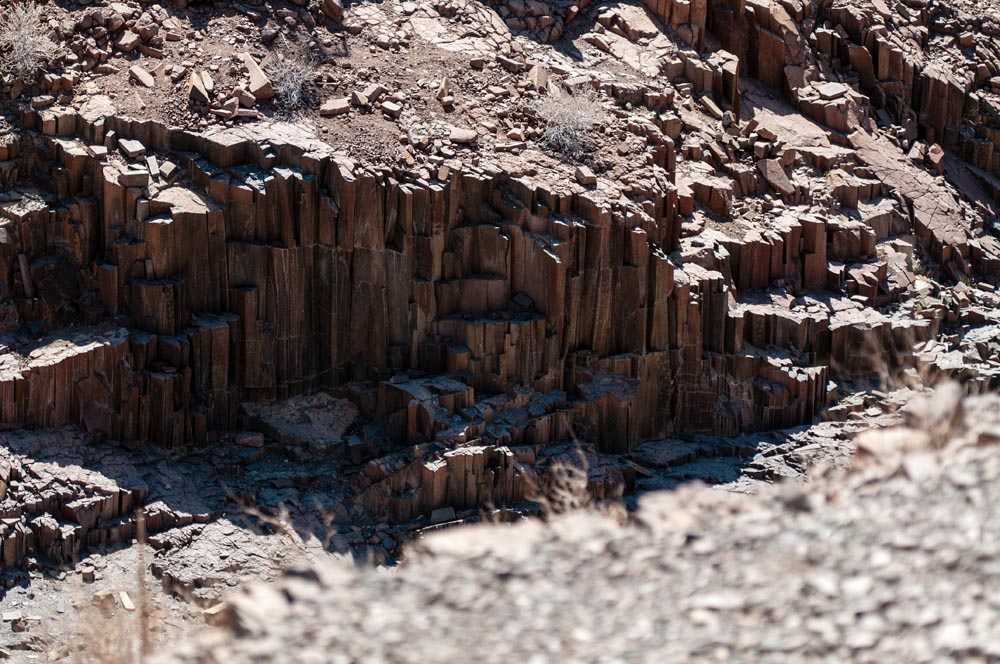 That evening we had a nice dinner at the camp and discussed our planned itinerary for the following day with our guide. The following morning we set off for Twyfelfontein, Namibia's first World Heritage Site and the location of the largest collection of San rock art in Africa. The rock art consists of animals found in the area and also contains maps of waterholes. A few of them are different in that they depict combinations of animal and man, said to be witchdoctors transforming into said animals. There is quite a bit of walking involved in the tour and as mentioned earlier it is quite hot so come prepared with water and some nice sturdy shoes/boots.
After resting up a bit we took off to go take a look at a few of the interesting natural formations in the area including the "Burnt Mountain" and the "Organ Pipes." The Burnt Mountain is actually somewhat of a literal term as basaltic rock magma rising from the depths did indeed scorch sections of organic sediment turning it a nice crisp black. The Organ Pipes, just a stones throw from the Burnt Mountain, can also trace their origins to rising magma. In their case they are the remains of molten rock pushing through the Earth's surface.
Lastly, we took a visit to the "Living Museum," which is a recreated traditional Damara village. Some of the highlights include getting a lesson on many useful and interesting herbal remedies, taking a look at the village blacksmith and his tools, seeing how leather, mostly goat, is tanned and used, the making of traditional jewelry, and of course some singing and dancing. Photographs are encouraged and the people are extremely friendly.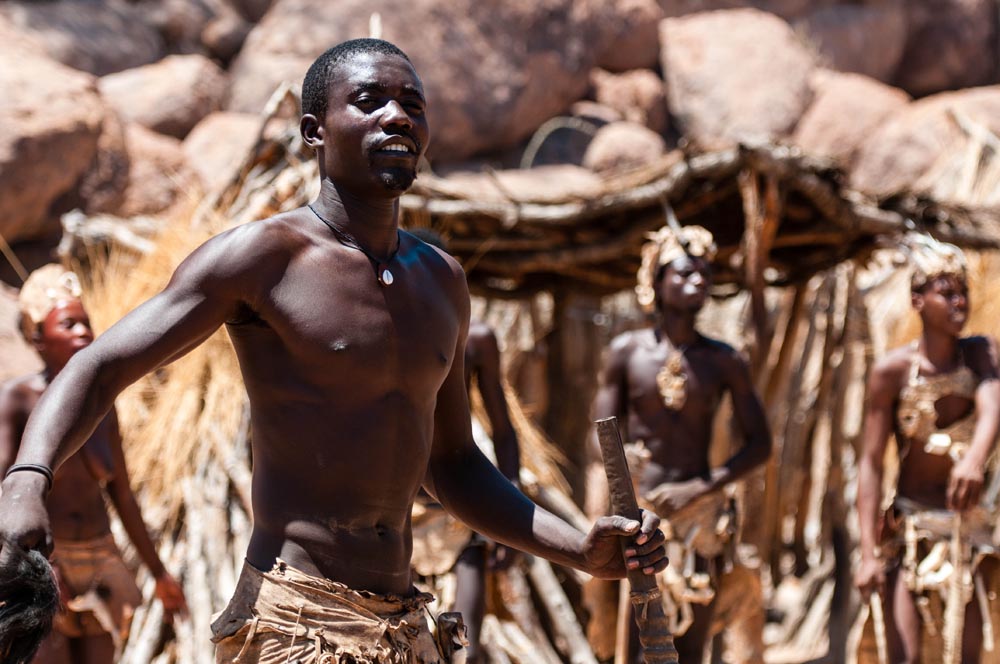 Our drive from Doro Nawas Camp to Damaraland Camp was nice and easy and took about 45 minutes to an hour. There is a parking spot for non 4×4 vehicles that we took advantage of and we waited about 20 minutes to be picked up by a couple guides. Damaraland Camp has a great location with a couple of fantastic walking trails and beautiful scenery all around. The activities are nearly identical to Doro Nawas as they are so close in proximity.
The highlight of our stay in the area had to be our rhino tracking activity. We had to get up quite early in the morning, get in a quick breakfast and then drive about an hour to get to a hotspot of sorts for rhino. We waited a little while in the vehicle while the rhino trackers (3 in all) went to a nearby hill to scout the area. After a short while they signaled for us to make our way towards them. It was a bit of a hike over some rocky terrain but it was well worth it because there were two nice black rhinos waiting for us in the distance. We managed to get some very nice photos and even got relatively close before they heard us and took off. Once they decided to go it was amazing watching them and listening to them. Where we had been creeping silently and struggling with the terrain they were loud and unbelievably fast. By the time we got back to the vehicle we had worked up an appetite and ate our picnic lunches, all the while feeling very pleased with the outcome of our rhino tracking.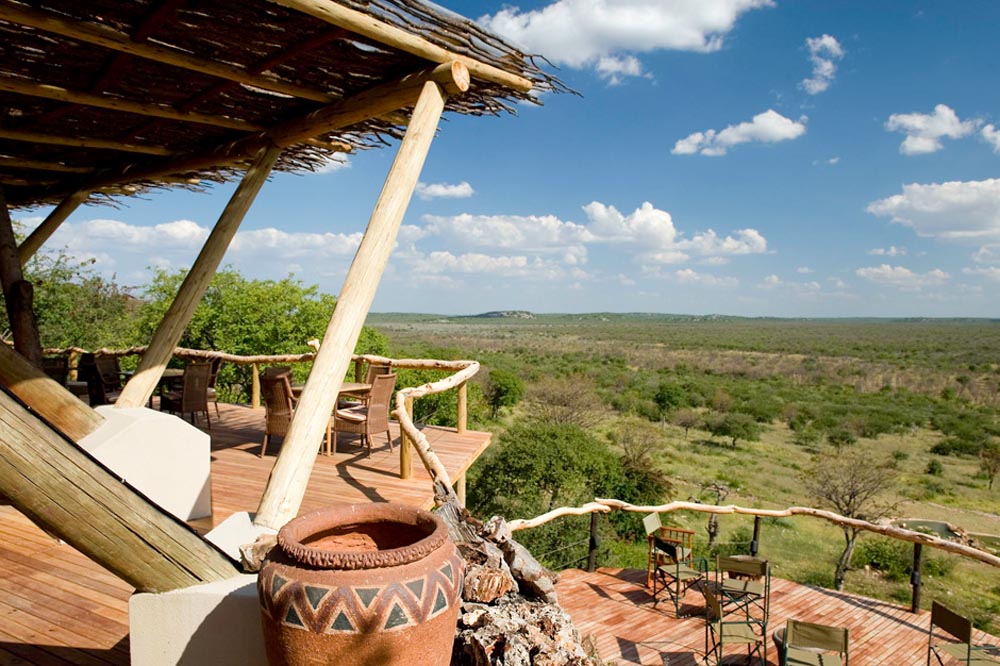 PART 8: ONGAVA LODGE, ETOSHA NATIONAL PARK
It was another road trip to get from Damaraland back to Etosha for our 2nd visit. This leg of the trip wasn't really bad at all seeing as the majority came on nice paved roads and by this time we are probably feeling just as comfortable driving on the left side of the road as the right. We had inspected Ongava Lodge earlier so we knew it was located just outside the gate to the park in an adjacent reserve (Ongava Game Reserve). The lodge itself is well located, elevated on a hill with a fantastic view of a watering hole and the surrounding area. Our room was a short walk from the main area and it as well did not disappoint. The room was rather sizeable, had a similar view although not elevated of the watering hole and came equipped with an air conditioning unit. This proved helpful but it was not nearly as hot as it had been in Damaraland so Ongava Tented Camp, the smaller and more intimate Wilderness camp located in the same reserve, isn't lacking much.
Our evening game drive was inside the reserve, as is the usual custom at Ongava. There had been a lion sighting nearby but unfortunately by the time we arrived they had gone into the bush and were not visible. The Reserve has a nice population of antelope and they were on display from the outset but overall it was a rather quiet drive. Our guide discovered some promising lion prints and we tracked them for quite some time but they eluded us just as the earlier lions had. We had our sundowners a bit later than usual and headed back to camp for dinner.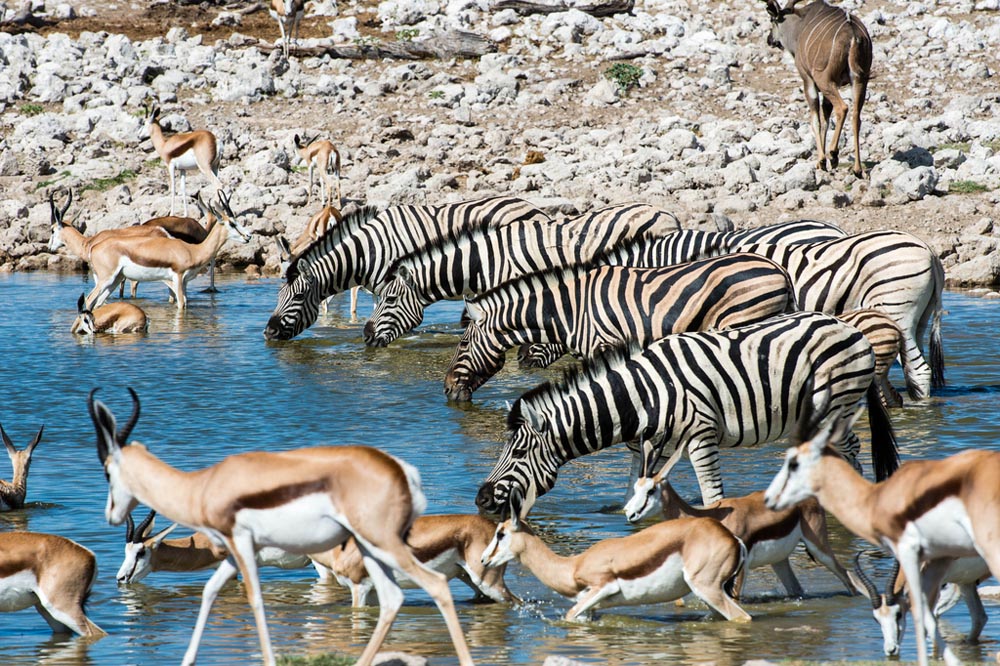 Little did we know the best sighting of the day would come as we ate our dinner overlooking the watering hole at night. A group of 4 white rhinos came to join us and they stuck around until just before dinner ended. This was really a special experience because it is rare to be able to spend so much time just observing these animals. To be able to relax, enjoy some good food and watch the rhino interact with each other while having a drink was a real joy and made us completely forget the quiet game drive we had just returned from.
In the morning we headed into the park and almost immediately found some lions lounging around. It was still cool in the morning but these guys seemed content to lie around all day. There were a couple of interested glances from some of the young males who must have caught scent of some prey but I would venture a guess that this pride could have been found in that general vicinity for the next few hours at least. After spending some time admiring the lions we stopped at a nearby watering hole and must have seen a group of at least 14 giraffe, some heading towards the water some already bending over in their unique way and getting a sip of water.
We made our way back onto the main road and got to Okaukuejo to check out a very popular water hole. We were not disappointed as it was crowded with antelope and, more importantly, a couple of elephants. We must have spent a solid 45 minutes there just watching the animals come and go. One particular kudu had the most impressive set of horns I have ever seen and of course elephants are endlessly entertaining.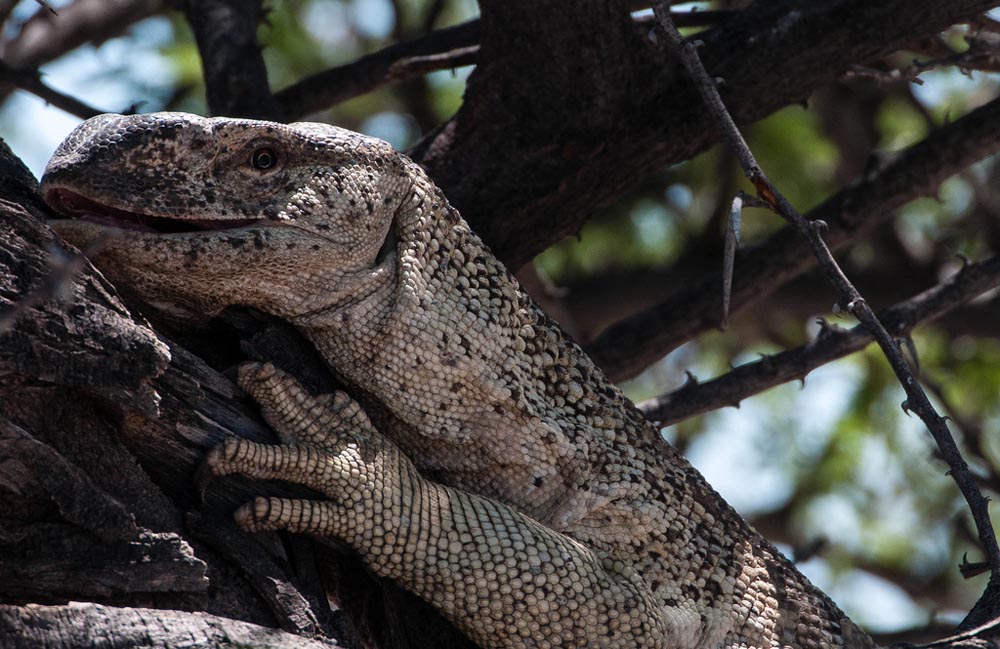 After a quick restroom break at Okaukuejo we went deeper into the park and came across a zebra kill surrounded by jackals. We had just missed a hyena that had been feeding there but we saw him scampering off in the distance. After scouring the area our guide found a large male lion in the distance who must have been responsible for the kill.
For the evening we took our final game drive in the Ongava Reserve and apparently we saved the best for last. After driving up one of the rocky hills for quite some time we came to a watering hole near the summit. It seemed quiet and we drove off for a couple of minutes but wound up returning. It was a good thing we did because as we rolled up in our vehicle we witnessed a large pride of lion make their way to the water. Once they all arrived we counted 18 lions in total, many of them young cubs. It was the most we had ever seen in one sighting and quite spectacular. They took turns drinking and would then go lie down only to have one of the young ones come over looking to play. After a while the sun started to set and some of them came to rest in the shade of our vehicle. We stayed with them for at least an hour and I wouldn't have minded another one, just a great sighting and a fantastic way to end our time in Namibia.