$cat_name = 'category'; $categories = get_the_terms($post->ID, $cat_name); foreach ($categories as $category) { if ($category->parent) { echo $category->name; } } ?>
Oct 18, 2012
South Africa & Zimbabwe October 2012
Share: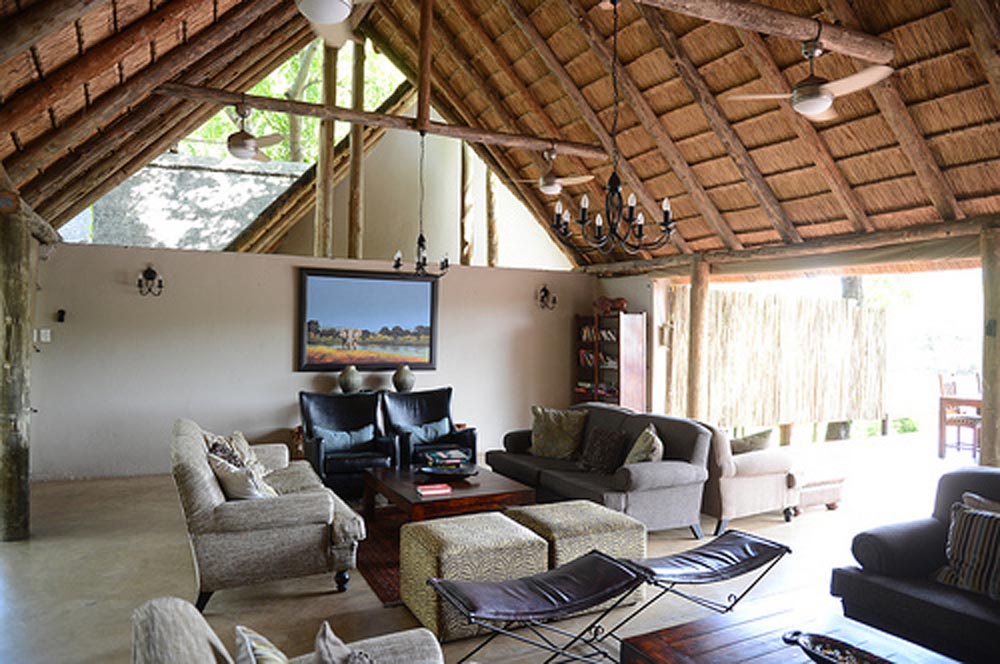 South Africa & Zimbabwe October 2012
PART 1: SIMBAVATI CAMP, TIMBAVATI RESERVE
If a trip could start on an auspicious note, this one certainly did. Dulles Airport in Northern Virginia closes at 600P on Oct 30 due to expected high winds from Hurricane Sandy. Our SAA flight to Johannesburg via Dakar slips out just in time to dodge a possible 2-day delay, at 20 minutes to six.
The flight itself was unremarkable, just the way I like them. Not a great selection of movies on SAA, food ok, seat not too bad, legroom bearable, distance and duration pretty much unbearable. After an overnight stay at the Metcourt Suites at JNB Airport (clean, convenient, safe and with easy access to restaurants), it was just a short flight with SA Express (impressive in-flight service with light sandwich snack and drinks served in about an hour) to Hoedspruit and a road transfer of about 45 minutes or so at maximum speed of about 35 mph to Simbavati Camp in the Timbavati Reserve, adjacent to the central portion of Kruger Park.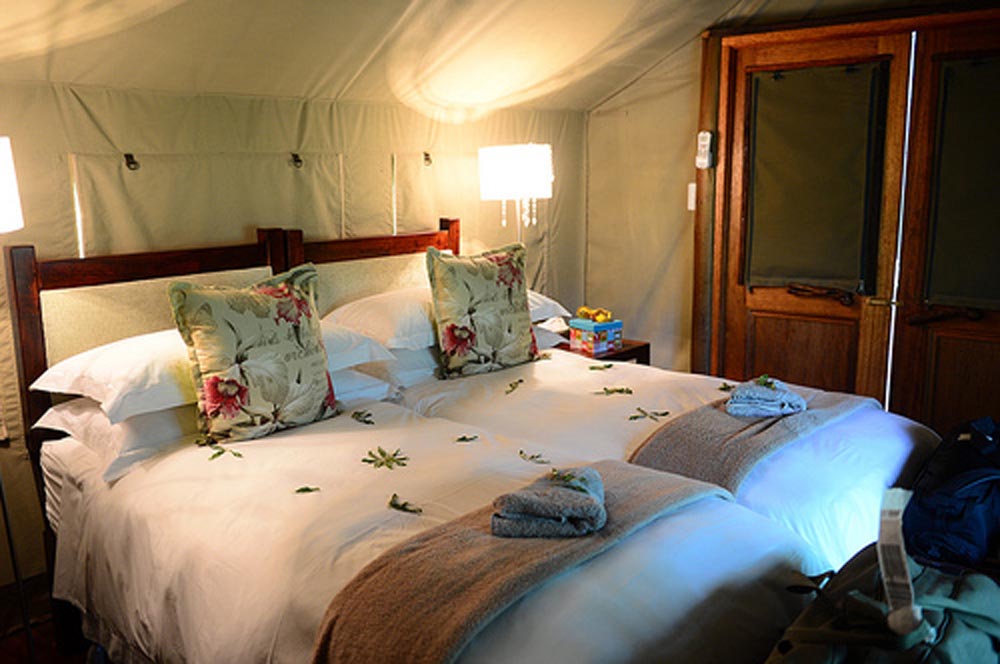 Simbavati Camp, Timbavati Reserve – 30 & 31 Oct 2012
The very friendly reception which I received from Hayley at Simbavati River Lodge was the first of several positive impressions. There is no lack of space in the huge thatched lounge and dining room complex overlooking a river. At the time of my visit there was no water flowing, and only some of the rooms (the three chalets and first 2 tents) actually look out over water. The remaining tents have a partial view over the dry riverbed, or have a 'bush view'.
Early in 2012 (January) this and many other lodges in the Timbavati and Sabi Sand areas of South Africa were severely damaged by floods, caused by the remnants of a tropical cyclone hitting the area. Simbavati did a great job repairing and rebuilding the camp in double quick time and it now looks almost new! Even so, I have for many years refrained from sending any clients to the Kruger Park area in Jan and Feb for this very reason.
The camp consists of 3 family chalets (brick and mortar), each with 2 rooms and a communal bathroom leading out of one of the bedrooms (so not suitable for 2 couples). The chalets have good verandahs with views over the rivers, as have the first few tents. The others are surrounded by bush.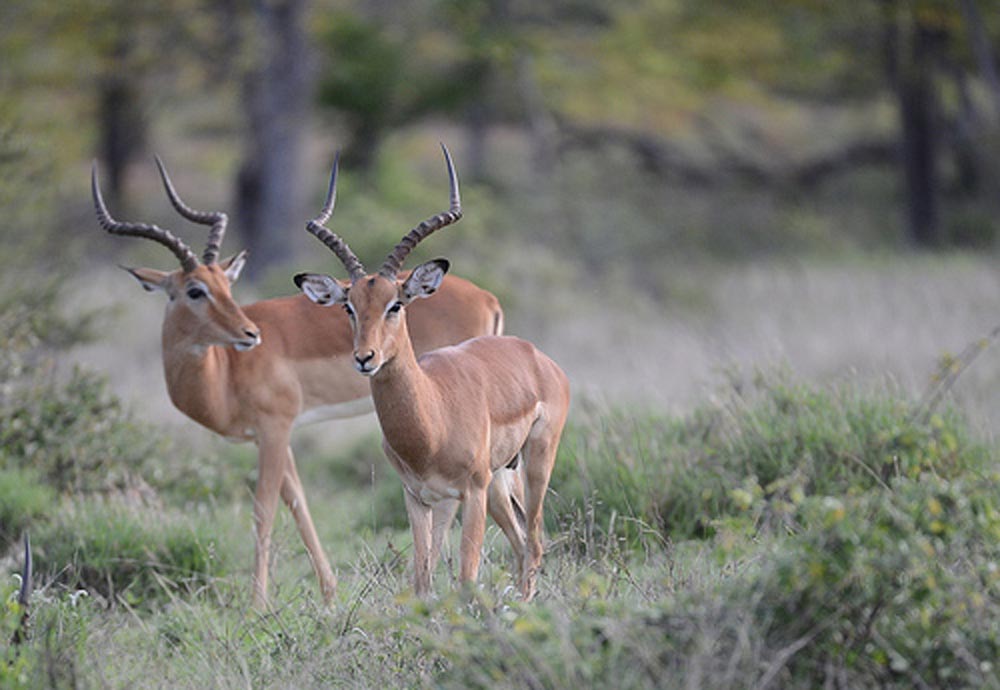 Privacy is is not great: the rooms are quite close to each other; from my 'Leopard' tent I could see the guests on the verandah of Chalet #3. However I could not hear them. The tented and chalet rooms are effectively air-conditioned, and I like the design of the tents with separate en suite bathrooms, with a regular door between the sleeping area and bathroom. Bathrooms have 'twin' showers with 2 shower heads next to each other, and either indoor shower and outdoor bath or vice versa (indoor bath and outdoor shower).
After settling into my room, I enjoyed a light lunch (brown rice and butternut squash salad & some fresh fruit) before going out on an afternoon game drive at 4:00P. It was a fairly quiet game drive with not a whole lot of general game but we did have a really good elephant sighting with a small breeding herd practically surrounding the vehicle and feeding just about on top of us.
Dinner was quite enjoyable too with 'pap' (polenta) with a tomato and onion sauce, a mixed salad and traditional malva pudding for dessert.
I spent a fairly peaceful night but was woken up at around 2:00A by the sounds of hyena cackling close to the room. Unbeknownst to me, there was drama at the other end of the camp. A leopard had killed a waterbuck, then losing it to a pack of about 9 hyenas, only to get it back and drag it into a tree, where we saw it the next morning. The inhabitant of the tent where the waterbuck was taken (a lady from Japan) apparently did not get a wink of sleep as the events unfolded practically in her room; the waterbuck scuffled right up to her tent as it was attacked by the leopard and she had a bunch of loud hyenas excitedly calling right at her doorstop almost the entire night!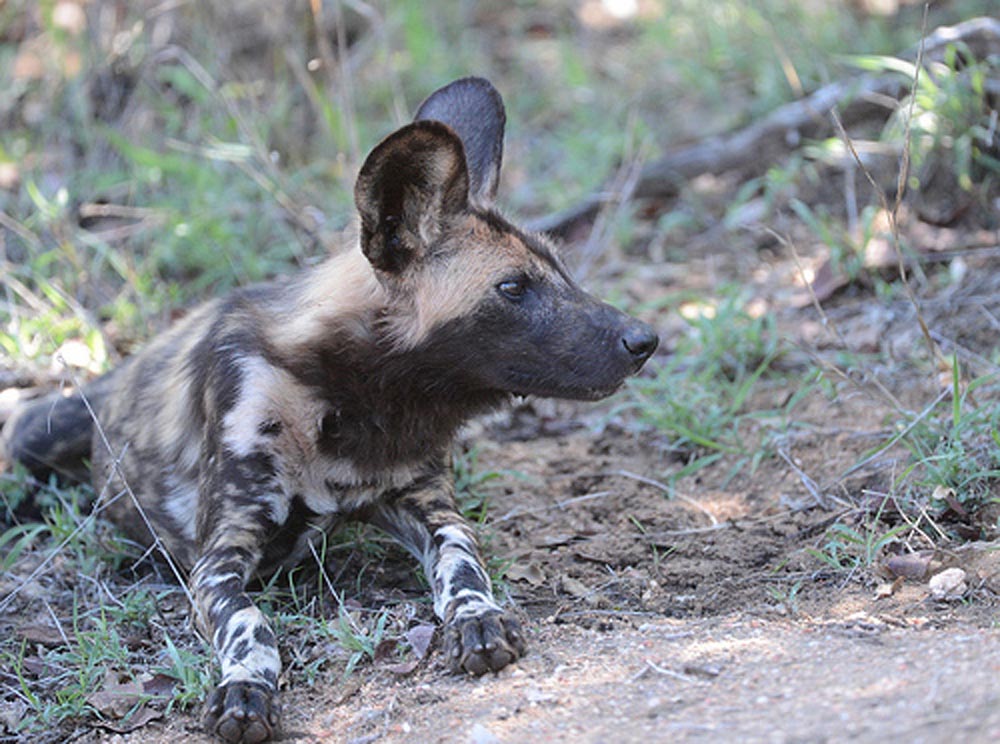 WILD DOGS AT SIMBAVATI – 31 Oct 2012
Up at 5:00A, I enjoyed a very light snack and departed on a game drive at 06:00. It was pretty quiet again until nearly 9:00A, with some general game including a good giraffe sighting. Right around 09:00A our guide started to follow some wild dogs track and about an hour later we were advised by radio that one of the other guides had located the dogs. What followed was an exceptionally good sighting of a very large pack of 26 wild dogs, which had just recently killed and devoured an impala. If you looked closely, you could still see some fresh blood on some of their muzzles. At the sight of the kill itself there were just a small pile of bones, with a bunch of vultures fighting over the scraps. Several of the dogs were youngsters and it was fascinating to watch them interact with each other, and running through the woodland.
Back in camp, breakfast consisted of maltabella porridge, fresh fruit and toast – and then it was time for a siesta to catch up on some much-needed sleep!
The afternoon game drive was in search of some lions which had been seen that morning – it was a bit of a drive but we located the three young lions and had some point blank views of them, one chewing on a carcass and the other two dozing. We spent quite a bit of time with the lions before driving back to camp, bumping into a couple of large white rhinos en route. They were impressive and I think I got quite a few decent photographs in the process. Other than that, we saw plenty of general game including zebra, giraffe, impala and wildebeest.
Any criticism of Simbavati would have to be confined to the number of persons on the vehicles. All three the vehicles were full with as many as 9 persons on just about every game drive. In my opinion that is 3 persons too many: nobody should be 'forced' to sit in a middle seat on a game drive, even in a totally open vehicle. I overheard one of the children (part of a very nice quiet English family) saying "…I just don't want to be in the middle in the middle…" I agree with the boy: it is no fun being in the middle seat in the middle row of 3 seats. I was told that the camp strives to have a maximum of 7 persons per vehicle on a game drive. All I can say is that they need to do what is necessary to make this happen. Every time. Serious photographers visiting this camp will be well-advised to pay the extra $250 or so for a private vehicle and guide, or to sign up for one of their regular monthly specialized photography safaris.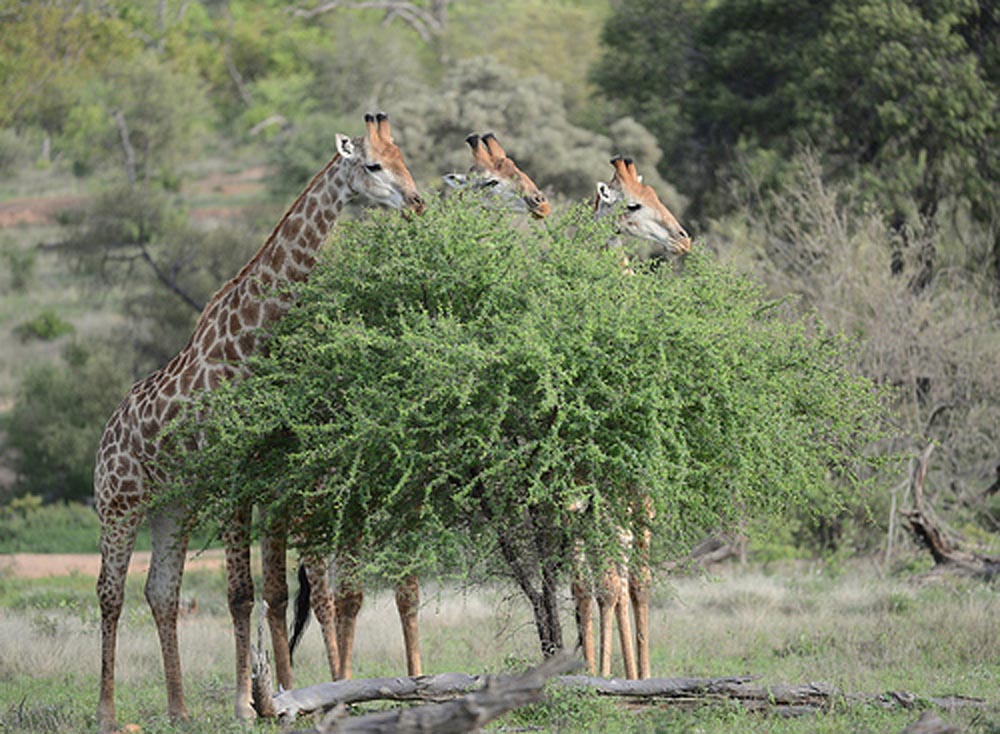 Our Simbavati guide Diff was personable, knowledgeable and very good at dealing with sometimes divergent demands from the various guests. Two of the couples (one American and the other French) had not been on safari before and wanted to spend more time with some of the 'common' and sometimes almost overlooked animals. All safari camps will be well advised to keep this in mind: not all guests want to spend hours driving around in search of wild dogs or other high pro-file species. Of course they don't mind seeing those special animals but not at the expensive of taking some time to look at giraffe, kudu, zebra, wildebeest etc. The Simbavati guides need to be reminded to give a proper safety briefing before each drive – some of the guests on our drives were not advised about not standing up in a vehicle, not making objectionable noises to attract the attention of the animals, and so on.
There were several nice touches at Simbavati:·
Very high level of personal and friendly attention from the managers.
I thought the tent worked really well with very little space wasted and good lighting
(this is crucial, nobody likes to stumble around in semi-darkness!), coffee and tea supplies and water.
Quiet yet effective air-conditioning
A small box with all necessary adaptors is provided for each tent and there are
ample plug points for recharging batteries.
On the last morning drive at Simbavati we had some really close-up views of elephants and of another pair of white rhinos. Even though the game-viewing was rather difficult due to the high grass (they had had early rain) it was definitely more than satisfying and I think it would pass muster with even seasoned safari-goers.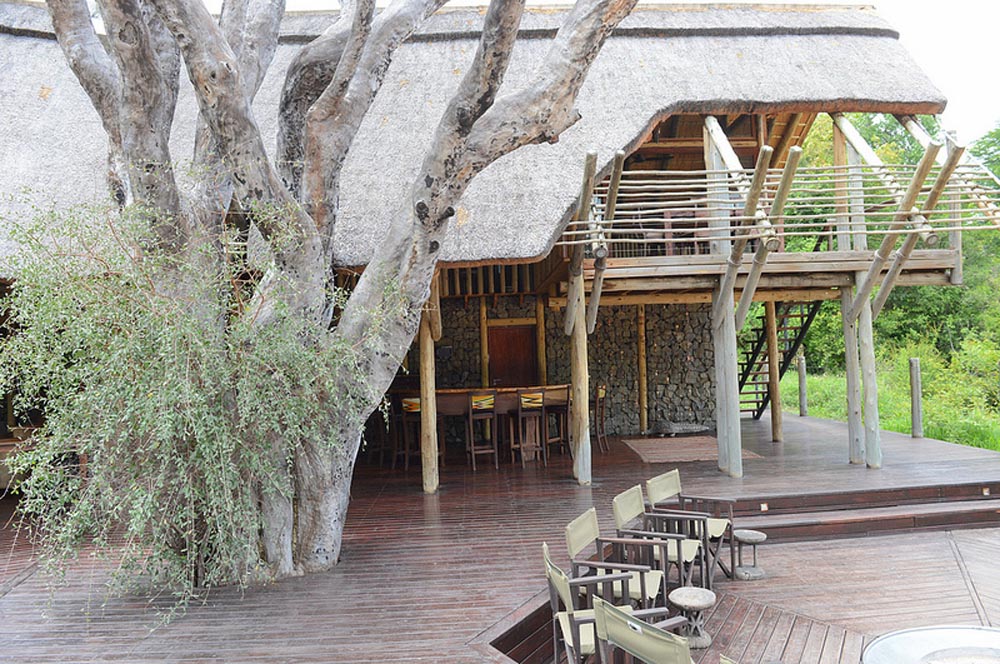 PART 2: RHINO POST CAMP
It took almost 4 hours to transfer by road from Simbavati to Rhino Post, which is located in the southern portion of Kruger Park, not very far from Skukuza Camp, and bordering on the MalaMala concession. En route to Kruger Park, I was surprised at the traffic congestion on the main road going through Acornhoek.
Having completed some entry formalities at the Paul Kruger gate of Kruger Park, we made a quick stop at the park shop for a newspaper and some candy, always a scarce commodity at a safari property. We arrived at Rhino Post Camp just in time for afternoon tea – and I was pleasantly surprised with a special separate vegan platter.
At just after 4:00PM, we were off on an afternoon game drive, 6 persons in a comfortable vehicle, with somewhat limited visibility due to a roof cover. The sides were completely open though. Rhino Post game drives cover terrain both inside and out of the concession, making use of the extensive Kruger Park network of roads.
We saw a fair number of general plains game and chanced upon a leopard but it was too far off the road for any useful photographs.
The evening meal was most enjoyable, with some convivial company, amongst others a family party from Colorado who more or less took me under their wing. I enjoyed a vegetable soup and a superb couscous-based main course as well as an exceptionally tasty dessert, consisting of a banana filling in pastry, with a fruity sauce.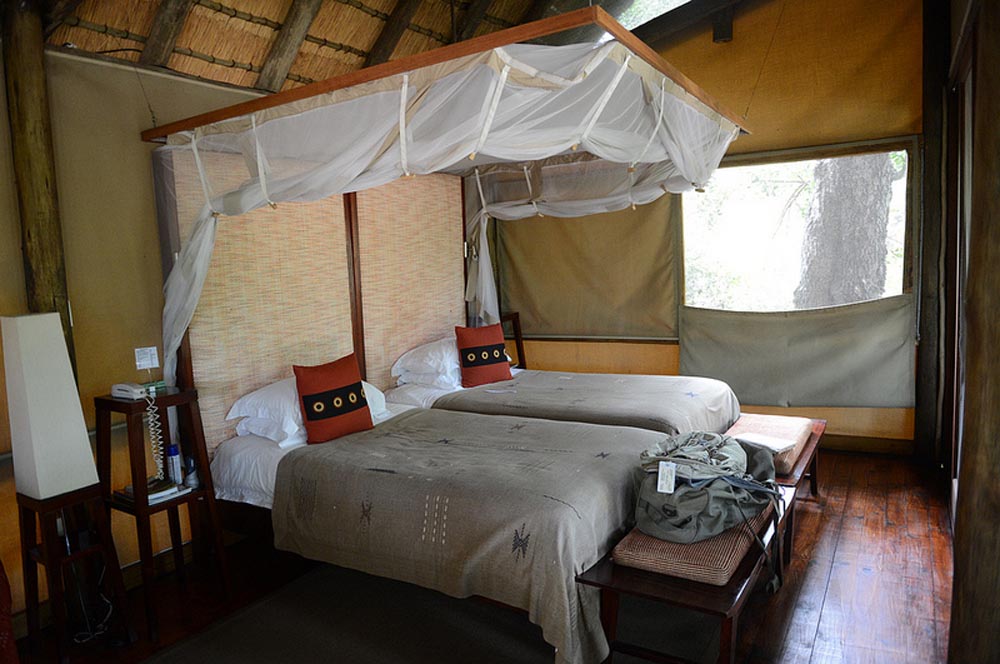 The rooms at Rhino Post are terrific with views to the outside from everywhere including the huge indoor bath and outdoor shower. There is an inside shower as well. The bed was comfortable, there is plenty of space to hang clothes and to unpack, the lighting was fairly good and there are ample plug points for recharging. There was also a small mini-bar fridge with mostly soft drinks and a few beers.
I thought the main lounge was well-designed with a bar and lounge and large deck where tea is served, and a separate kitchen and dining room for breakfast and dinner. The choice of wine was above average for a game lodge.
Our Rhino Post guide James was extremely knowledgeable and very competent and treated us to some rally interesting facts and background information, a lot of which was new to me too. What impressed me most was James' versatility: he was just as good with birds as he was with mammals and other life forms.
Come to think of it, all of the staff members whom I interacted with were exceptionally friendly and helpful. On my last morning there one of the members of the kitchen staff engaged me in a long conversation about my family, about living in the USA, and we touched on several other topics such as the various seasons in Kruger Park. Summer is hot, winter is cold and the best time to go is from May to October. I agree.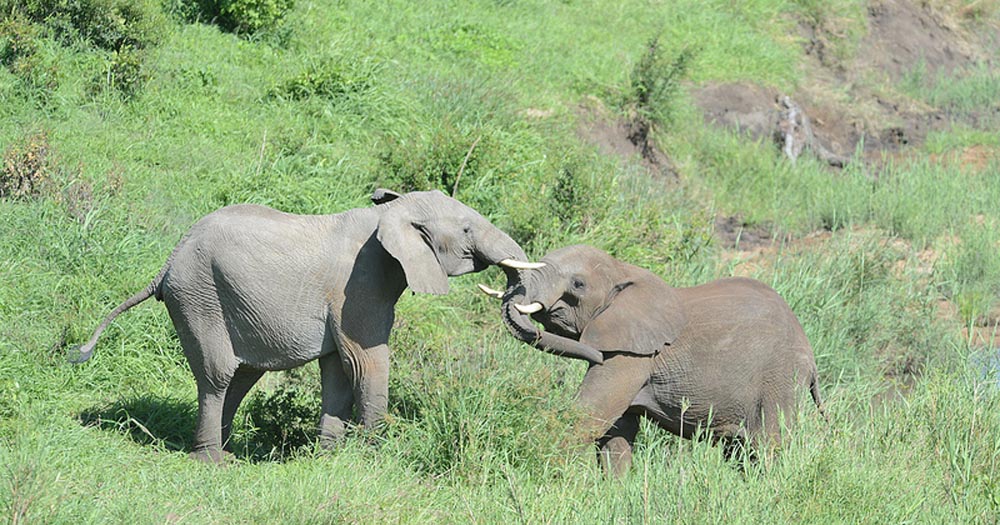 November 2: Elephant everywhere
The southern portion of Kruger Park had had unseasonably early – and heavy – rain so by early November the vegetation was thick which made game-viewing very challenging, to put it mildly. As a result the morning game drive started our rather slowly. An hour and a half or so into the game drive we saw a couple of elephants, semi-obscured in thick bush, quite far off the road. Fortunately we stopped for a better look as a couple more appeared, then three more, followed by another 20 and before we knew it, we were witnessing the slow progress of a huge breeding herd of 300+ individuals moving from our left to our right.
This is the kind of event that makes Rhino Post special. None of the private game reserves adjacent to Kruger Park have the size and scope of the Park itself. They offer fantastic game-viewing and you can go off-road to get photographs of the ecto-parasites on a buffalo's hide, if you wished. Inside the Park there are restrictions on driving off-road (prohibited) and there are often several other vehicles around a sighting. Even so, it is only inside the Park itself that one can truly appreciate the simply amazing size and grandeur of the place, such as when you experience a massive herd of elephant moving through the woodland in a manner that truly speaks to them being one with their environment. Nothing contrived or artificial about it.
The elephants were totally relaxed and many of the youngsters were in a playful mood, scooting down a hill or engaging in playful jousting their siblings. It was truly an unforgettable experience.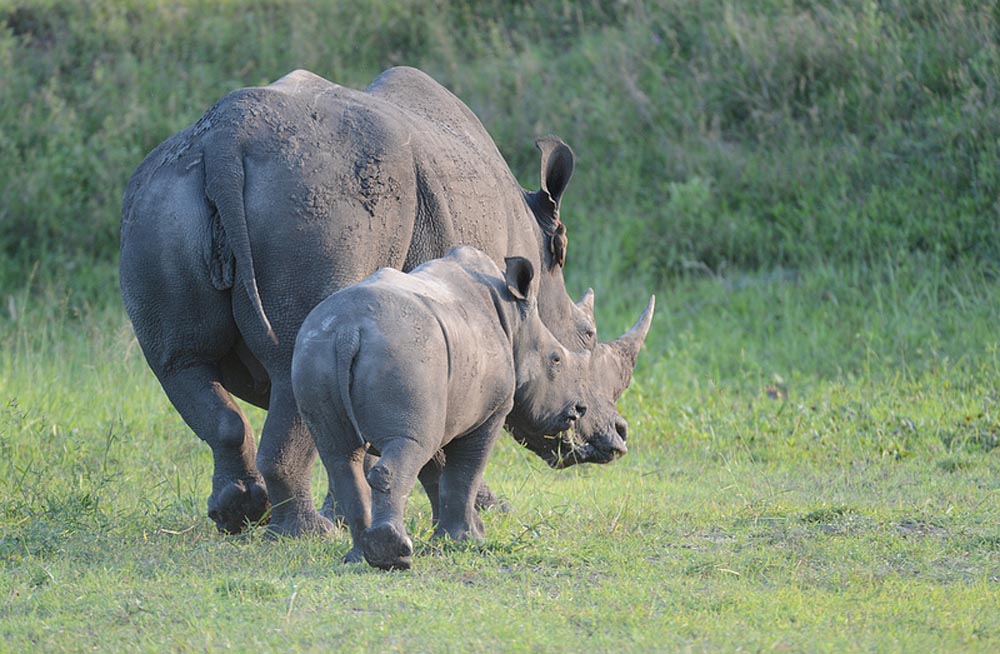 Rhino Post may not be the best choice for very serious/professional photographers unless you can spend a minimum of 4 nights there to allow yourself enough time to get lucky with some of the more elusive cats such as leopard. I think in most instances you will. However being limited to the roads certainly does impact on one's ability to get good close-up photographs of the subjects of your choice. Be sure to bring a long lens of 400mm+ or a good zoom.
For visitors who are interested in the full spectrum of a wilderness experience, Rhino Post will be very appealing. Certainly there are many opportunities for 'Big Five' game-viewing, but some of them will be on roads shared with any number of other vehicles from nearby Skukuza, the biggest camp in Kruger Park.
However, even after a short visit, I was again struck by the impact of visiting the magnificent sanctuary that is Kruger Park. Driving up from Rhino Post to the Orpen Dam area gives you a sense of the vastness of the reserve and the almost limitless potential for exciting sightings. As I noted earlier, our game-viewing was impacted by the thick bush conditions, but what we saw was of high quality. For example, on our afternoon game drive on November 2, we spent nearly half an hour observing 3 white rhinos, and I obtained several good photographs. During all this time, only one other vehicle showed up at the same sighting.
On the morning of November 3 I did not go out on a game drive as I had to transfer by road (about 2.5 hrs) to Kruger Mpumalanga International Airport , a pleasant enough small regional airport. From there I flew on SA Airlink to Jo'burg, to meet Kathleen off her flight from the USA. We picked up a car from Budget and headed to Pretoria for a few days with family. It was very enjoyable and great to see everyone again.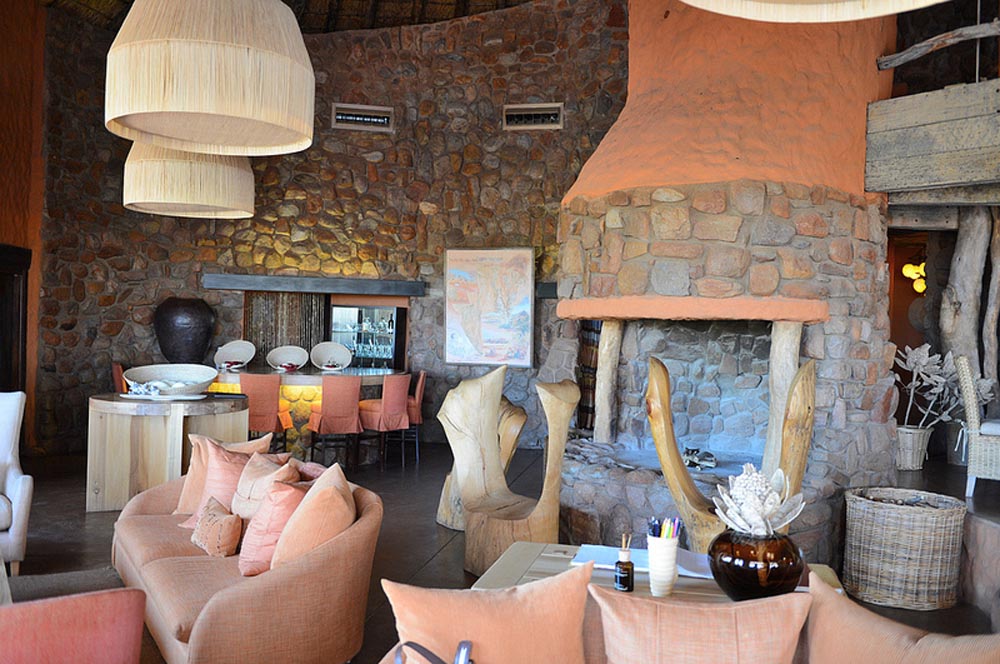 PART 3: TSWALU LODGE, NORTHERN CAPE KALAHARI
In the early afternoon on November 6 Kathleen and I boarded a twin KingAir at the Anglo American hangar on the eastern side of Oliver Tambo Airport, perspired a bit while waiting for our take off slot, and then started to relax as our FedAir pilots powered the aircraft up to its cruising altitude of about 20,000 feet above sea level. We helped ourselves to some cold water and chips, clamped the Bose QC15 noise-cancelling headphones over our ears and got back to where we had last switched off our Kindles. Let's face it, gadgets have taken over the world and you may as well play the game. If there's one gadget that you just 'have' to have though, it is the Bose QC-15. What a difference it makes; hugely beneficial on long transatlantic flights for watching movies or TV shows (no painful ears or excessive noise leakage) and even better on noisy small propeller-driven aircraft such as a Cessna 206.
A little more than 1 hr 30 minutes later, we descended into typical sparsely vegetated Kalahari scrubveld and duneland, at Tswalu. On arrival we were met by our guide Jolyon and his tracker for a drive of about 20 minutes from the airstrip the lodge. The Motse lodge is an impressive structure in terms of size and design, with striking brick red colors and lots of stone, together with a massive thatched roof combining for a very pleasant visual effect.
Our room was no less pleasing. For one thing it was huge, with a large foyer and lounge area leading to the bedroom and 'study', with a separate large bathroom (his and hers vanities with a nice-sized bath as well as inside and outside shower) plus an outdoor verandah area. It was hot – in the 90's F – so the extremely effective air-conditioning was a much necessity. It never even hesitated once during our 3-night stay, and of all the African safari lodges I have visited in more than 20 years, this one definitely has the climate-control thing down to a fine art. The very lavishly stocked mini-bar and a selection of snack foods ranging from biltong (jerky) to dried fruit and nuts, all contributed to a very cozy and luxurious place to rest one's weary head after a day on safari in the Kalahari. The bedding and pillows were first-class.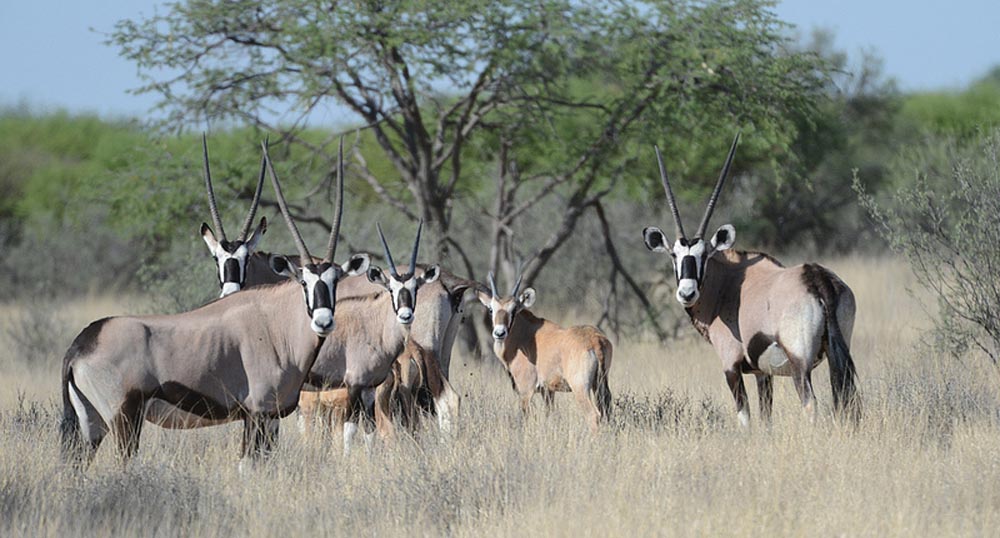 At 5:00P that afternoon we set off on our first game drive, and there was definitely plenty of general game about, notably gemsbok, kudu and springbok. However our mission was to find and see the Northern pride of lions and in that we were very successful. Soon enough we were parked and observing them feeding on a wildebeest kill. There were 3 cubs of about 8 weeks old, 1 subadult 1-year old female, 2 adult females (mother and sister) and 2 adult males about 4 years of age.
It was interesting to observe the feeding hierarchy and dynamics. The dominant female was aggressive towards her 1-year old daughter, favoring the interests of the 3 younger cubs. Much to the displeasure and consternation of the young female!
We sat and watched the lions until the sun had set.
Meals at Tswalu were all great, with a very wide range of choices from breakfast through to dinner. Amongst others I recall a very good vegetable stir-fry with pasta and a delicately flavored vegetable curry.
The breakfast selection was equally good with a fresh fruit platter, eggs to order, oats with soy milk, fresh English muffins and whole wheat toast, while lunch featured items such as a 'club' sandwich. Of course for omnivores there are multiple other meat, poultry and fish choices.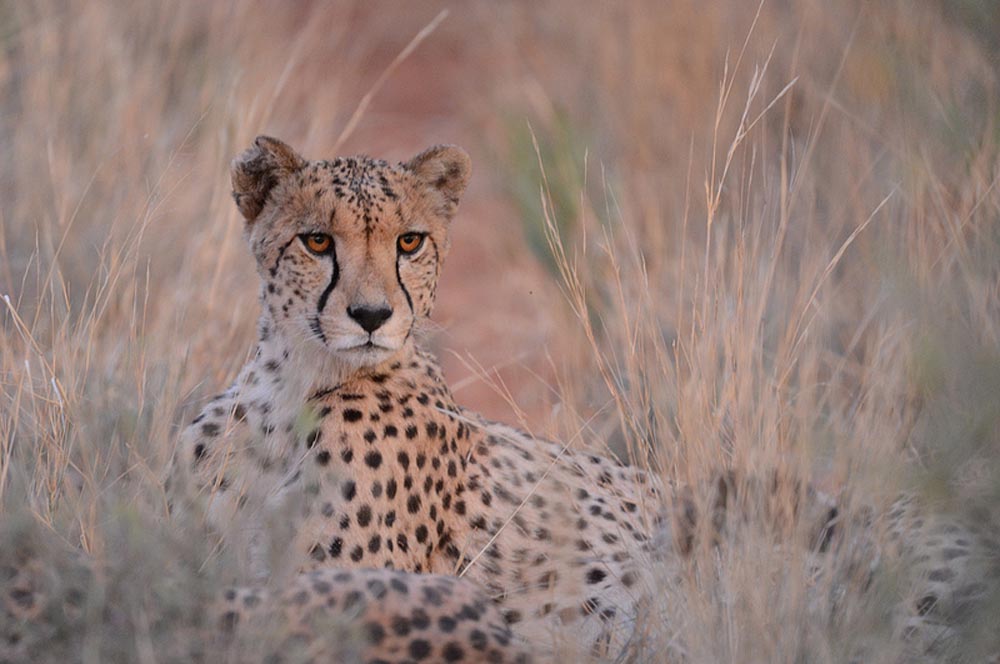 07 Nov 2012: Cheetah trumps horseback riding
On our morning game drive, the objective was to find some Black Rhino but we struck out. As on the previous afternoon, there was plenty of general game around though and we saw plenty of gemsbok, kudu, springbok, and some eland as well.
Kathy had intended to do some horse-back riding this afternoon, but a cheetah sighting got in the way. Just as we were on our way to the stables, word came that a coalition of two male cheetahs had been spotted. Having to indulge in some 'vulturing' as the guides call it (i.e. horning in on a high profile animal found by someone else) we had to take our turn. The rule at Tswalu is that the guide (and his guests), who had made the original sighting can stay with the animals indefinitely. The other cars can take turns of 20 to 30 minutes.
As it 'turned out' we got lucky with a great white rhino sighting while we were waiting for our turn with the cheetah brothers. We crept up on four of these pre-historic behemoths, all of them trying their best to make sense of our 21st century vehicle, with a brain that had not evolved much beyond the era of the dinosaurs, some 60 million years ago. Talk about a generation gap!
By then, the light was fading fast and we got to the two cheetahs just in time to get a half decent look – they were heavily obscured by grass – and to snatch a few quick photographs when one of them lifted its head to survey the terrain.
Right at sunset the most amazing orange-red glow filled the sky and lit up a nearby hilly range in perfect golden light. Soon after, we stopped in a clearing and our guide Jolyon and tracker set up an elaborate al fresco dinner in next to no time.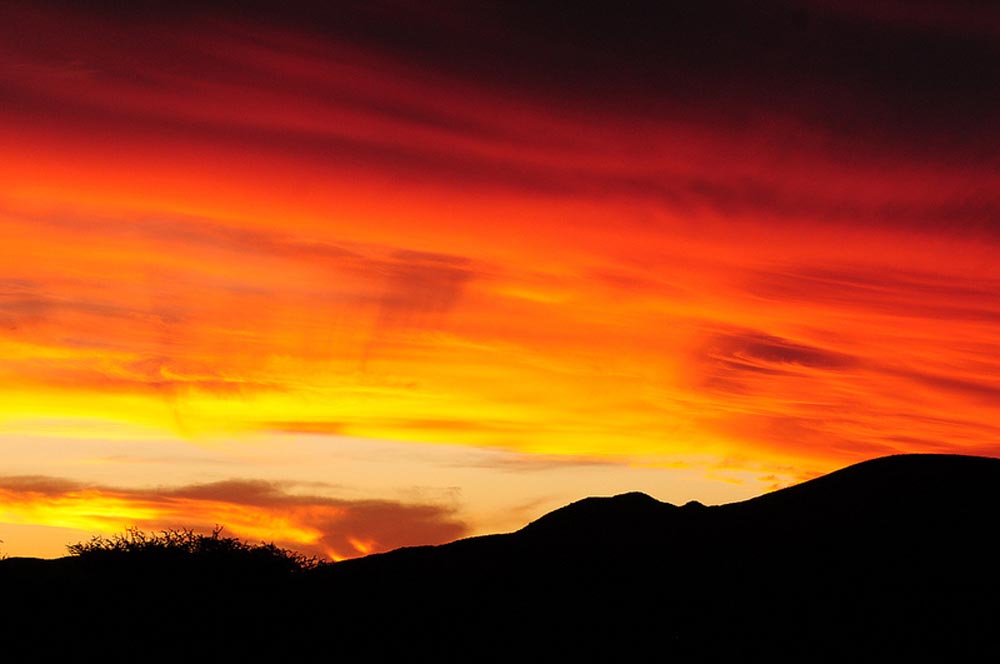 Under a sky full of stars, and an atmosphere devoid of almost any sound except a few birds settling down for the night, we enjoyed a most delightful meal. It was another good day on safari in Africa. Which also happened to be our 31st anniversary!
On the way back to camp Kathleen and I practically simultaneously spotted a dark form scurrying along in the grass, just about 10 meters off the dirt track, to the right.
Almost immediately we realized that we had spotted an aardvark, that near mythical beast which is almost exclusively nocturnal and hence rarely seen. At Tswalu the chances of seeing an Aardvark is in the 60 to 80 percentile range, for a stay of 3 or 4 nights – with a better chance in the winter months when they are often seen in daylight. So if this elusive animal is on your 'must see' list, Tswalu should be on your 'must visit' list!
The aardvark appeared to be on a mission to get back to its burrow and it barely paused on the way. I managed to snap off a couple of quick photographs, none of which turned out great but at least two of which were adequate to prove the point. We had seen an aardvark!!
The Aardvark is not just unusual because it is a weird-looking nocturnal mammal that is rarely seen. It is unique in many ways, making it the only species in its own exclusive order the Tubulidentata, typified by having peculiar tubular teeth. Aardvark feed mostly on ants and termites, catching and eating as many as 50,000 insects in a single night.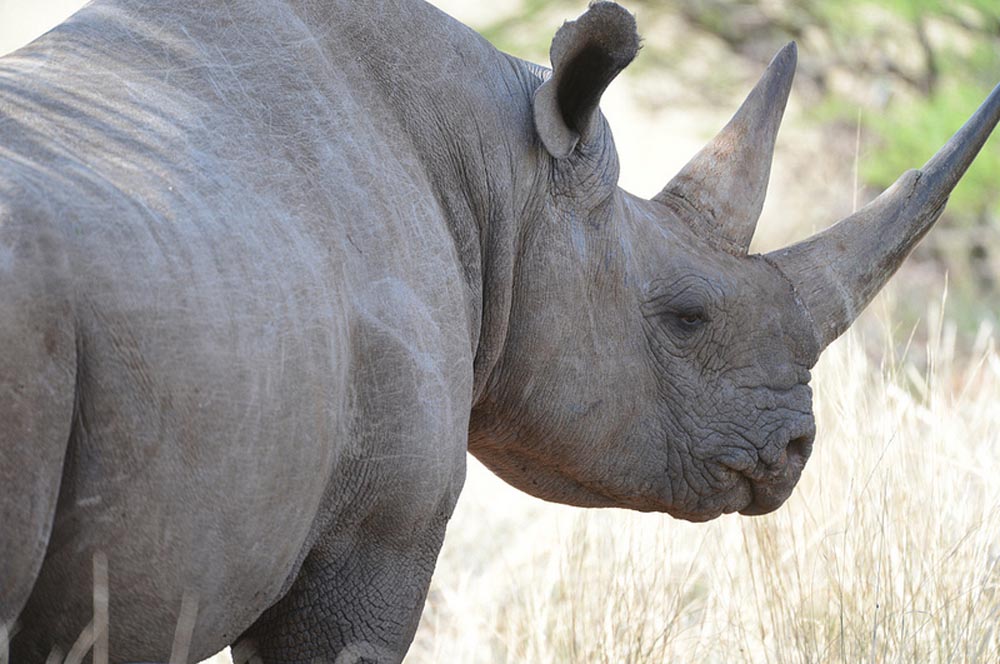 08 November: Another species of rhino
In summer, mornings at Tswalu come very early with a knock at the door at 0500A. 15 minutes later, we join up with some other guests for a very light breakfast (juice, muffins, rusks, coffee and tea) and then we were off, each party in their own private vehicle with a private guide.
This morning, we were trying again for Black Rhino. Jolyon drove to the southwestern part of the reserve where a specific black rhino female is known to hang out. Trying to find some fresh tracks, our guide and trackers stopped every now and then for a short walk in the bush, looking for the tell-tale footprints. All they found were white rhino tracks.
Fortunately for us another vehicle located the black rhino mother and calf – but it was a good distance away. Arriving on the scene about 20 minutes later, we were fortunate to be able to observe the rhinos from very close up for the next 30 minutes or so.
The young rhino was suckling intermittently, emitting the strangest 'mewing' sound when he was not. The sound was very cat-like and not at all in keeping with the burly, sturdy young rhino. We managed to capture a few decent photographs of these usually very nervous, even aggressive animals before making our way back to camp for breakfast.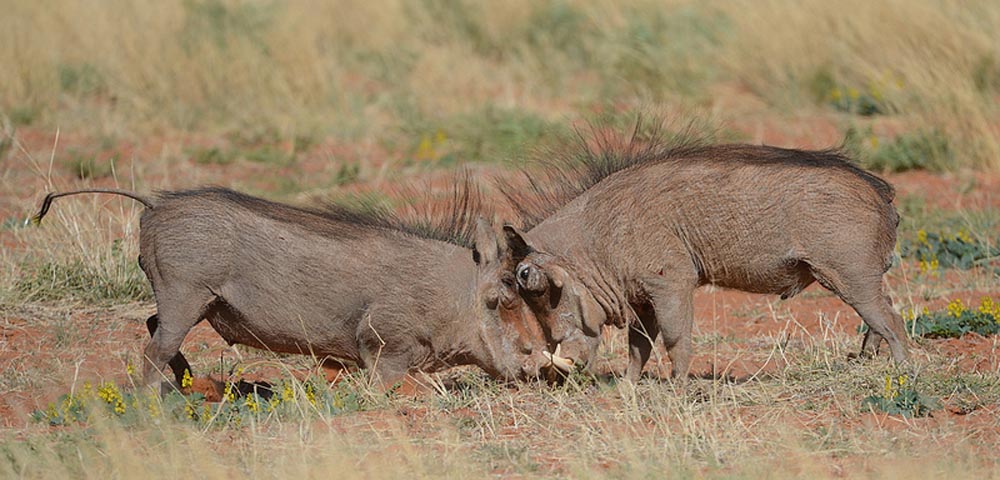 After an excellent meal on the terrace over the pool, Kathy and I rested up a bit in the comfortable air-conditioned room at Tswalu.
Later that afternoon, we ventured out again, stopping at a watering hole where we observe mammals such as warthog coming to drink, and several small colorful birds as well.
By 6:00P we were well underway to the site of a 'dune event', Tswalu's version of a bush dinner. Complete with tables and chairs set up outside, a large potable grill, and of course a bar, this was a nice change of pace and I think we all enjoyed the spectacular sunset over the Kalahari sunset while enjoying another superb meal. Note to self: always have a good standard lens in your day pack.
We did not see another Aardvark on the way back to camp, but we did have a very good sighting of an Aardwolf; in fact we ended up with two sightings of this rarely seen mammal while at Tswalu. It is much more hyena-like in appearance than an Aardvark, and is indeed part of the hyena family. However when it comes to diet, an Aardwolf is an extremely picky eater. In South Africa it feeds almost exclusively on two types of harvester termites.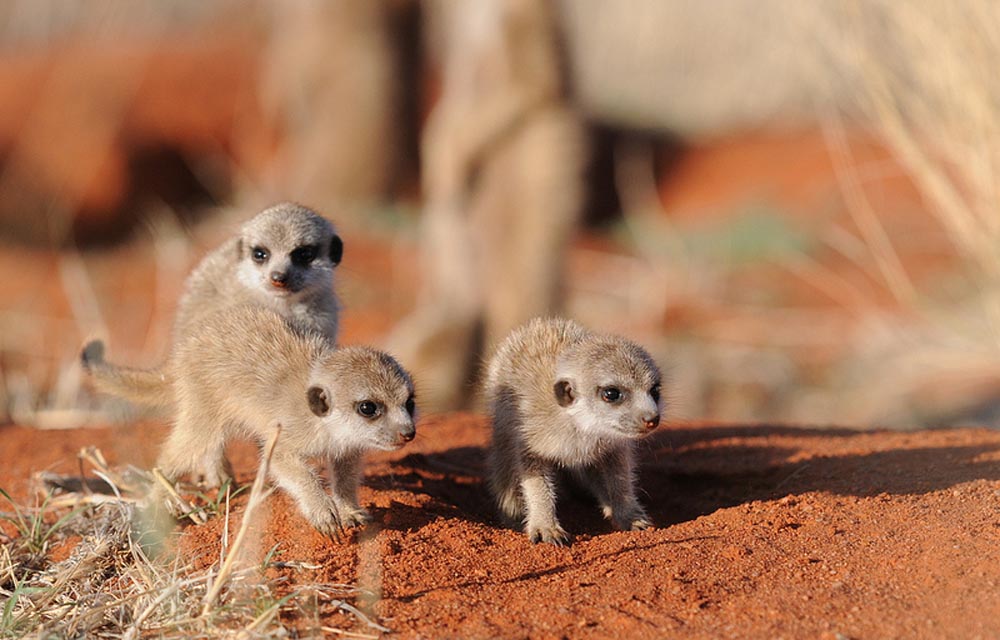 09 November: The Meerkat family
Our last morning at Tswalu was one of our best yet! First it was off to the stables to check out the horses. We were surprised to have more than a dozen beautiful horses greeting us, ranging from a few small child-friendly animals to a couple of hulking Clydesdales. They were ready to be fed, clustering together right at the fence, just like guppies in a fish tank waiting for the flakes to fall. A couple of the horses were happy to be petted and we were happy to indulge them. I took a few photos, we checked out the very comfortable stables and then departed for the Meerkat colony.
Fifteen minutes or so later, we were being briefed by Johani and Leah, who gave us a brief overview of the two meerkat colonies at Tswalu. And laid down a few do's and don'ts: Don't touch them, don't cast a shadow over them and don't make any sudden movements. After a few more minutes, first one, then another and soon enough a whole bunch of meerkats emerged from their burrow to cautiously check out the surroundings. We were delighted to observe a whole bunch of baby meerkats just reaching the 'cute' stage where they start playing with each other, running around, clambering all over each other and the adults and just generally acting out. We snapped away merrily, hopefully capturing some nice 'meerkat moments'. After about 20 to 30 minutes, the meerkats started to disperse into the woodland to forage for food, and we bade them and the two girls farewell.
By 2:00P we were on our way to Johannesburg, cruising well above the clouds at over 300 mph in Tswalu's very comfortable Pilatus C-12, easily one of the nicest pressurized single turbo-prop aircraft around. We spent the night at Fairlawns Hotel, in Johannesburg's northern suburbs. The transfers from and back to the hotel were very competently handled by Wilro Tours. We enjoyed an excellent dinner at the Fairlawns restaurant, and an equally good breakfast the next morning. The rooms are extra-large and each one is decorated in a complete different style and color scheme. The hotel would be a good choice for someone looking for a bit of local flavor and it is definitely in the 'anti-corporate' category. So if a cookie-cutter generic hotel room is not your style, by all means consider Fairlawns.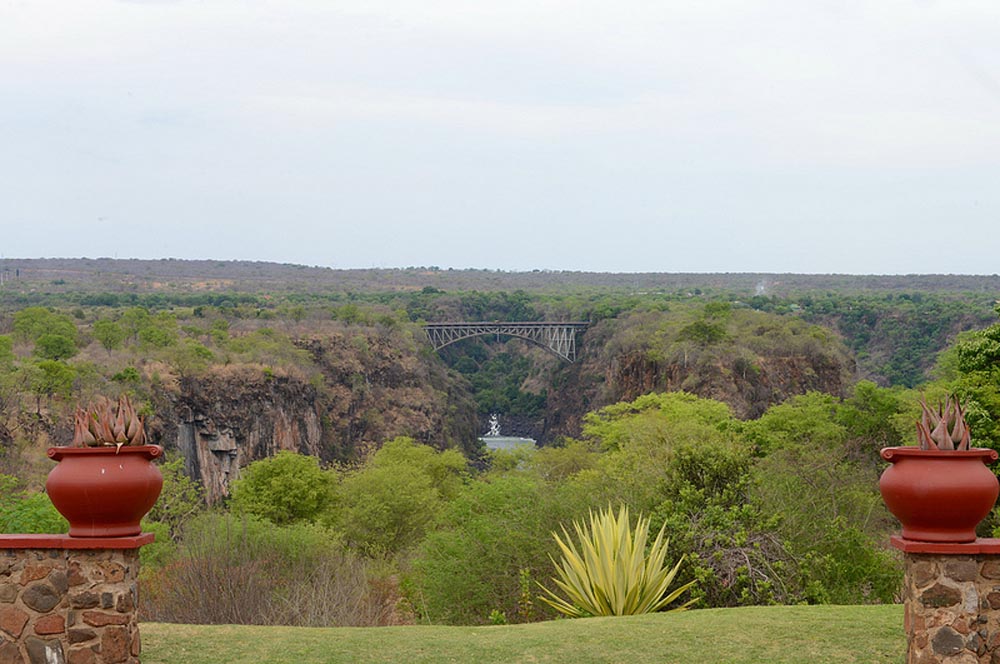 PART 4: VICTORIA FALLS
Nov 10 & 11: The Victoria Falls experienceOver the last few years, I have grown somewhat skeptical of the Vic Falls experience as the area has become more commercialized, and of course it went through several very lean years when Zimbabwe's internal strife caused widespread poverty, food and fuel shortages and extremely bad press, resulting in a dearth of visitors.
The good news is that Victoria Falls has lately been improving for the better in several ways. The local economy seems to have stabilized now that Zimbabwe is on a US Dollar-based monetary system. Small change is made in South African currency though, which you will experience if you go to the very new and very well stocked grocery store just off the main road in Vic Falls town. Other signs of the area's improving fortunes? Several new properties have opened lately including Elephant Camp, Victoria Falls River Camp and there is a new wing to the Victoria Falls Safari Lodge. It probably won't be long before the Ilala adds some additional rooms – its location is just too good.
One aspect of Vic Falls that hasn't improved is getting there by air on an international flight. We have flown into Victoria Falls on British Airways from Johannesburg in early November, two years running now. Any uncertainty we may have harbored about the visa process at the airport is now gone. It was slow in 2011 and it was even slower in 2012. We know for sure now that it is exceedingly slow so do whatever you can to get to the head of the line. Get a business class seat on the flight into Vic Falls (it is not hugely more expensive), ask for a seat in the front of the economy cabin (row 10 is a good bet), but above all don't dawdle. It can be the difference between 10 minutes in the line to get your visa, or 1 hour+. If you haven't completed your visa application en route, do it while you walk up to the counter.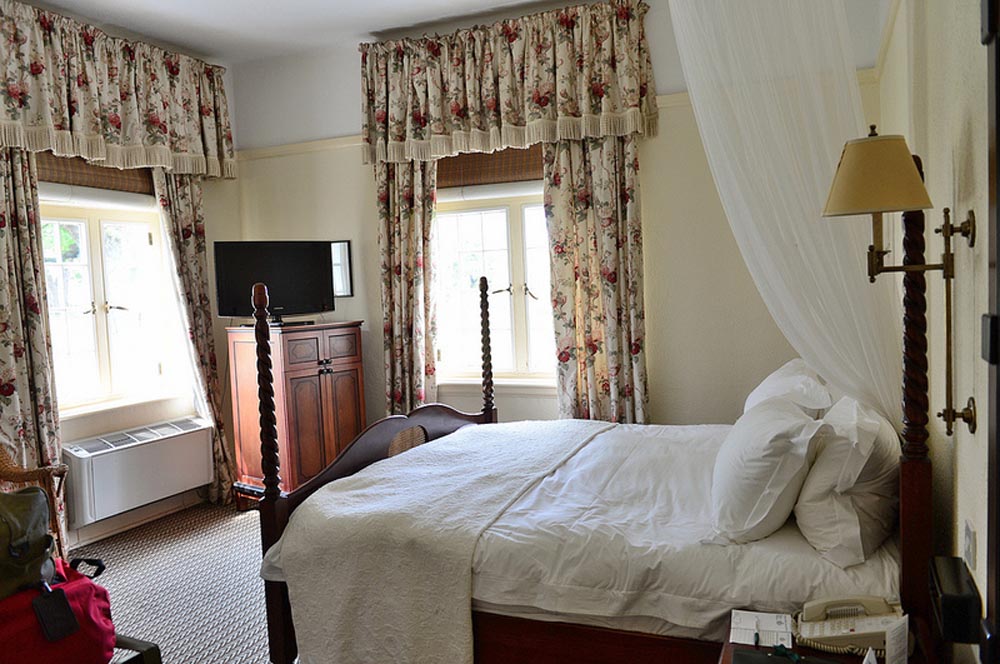 It is really a disappointment that the Zimbabwe immigration authorities have not done anything to improve their process. There is no reason why two officials should jointly scrutinize the same passport, pass it back and forth, with much talking while this is going on. Surely all that is needed is a completed visa application form, a valid passport and US$30 in cash. The process should take 3 minutes tops.
Our amiable transfer driver Abiat soon had us at the Vic Falls Hotel, and in short order we were unpacking in one of the deluxe rooms, with a nice view over the garden and beyond, to the famous train bridge spanning the Zambezi River gorge.
The room itself was adequate if nothing else: a comfortable King Size bed, windows that could open and close, heavy drapes that kept out light, and a utilitarian bathroom.
The Victoria Falls Hotel is more than just a room though, it is an experience. Where else can you feel like a 1920's movie star strolling through a living museum, marvelling at the amazing collection of old posters, stepping into a private room frozen in a turn-of-the century time warp, or sipping a dry gin martini or even a Pimm's #1 Cup in the utmost of genteel surroundings.
The interior hallways with the superb 'British Character' cartoon collection from Punch magazine (take the time to read a few!) are like an illustrated version of Zimbabwe and South Africa's history around the early 1900's. Pause and peruse the priceless old BOAC and SAA posters, and take a trip down memory lane with the illustrated slogans and products from long gone British colonies and protectorates. The sun has set on the British Empire everywhere except at the Victoria Falls Hotel in Zimbabwe.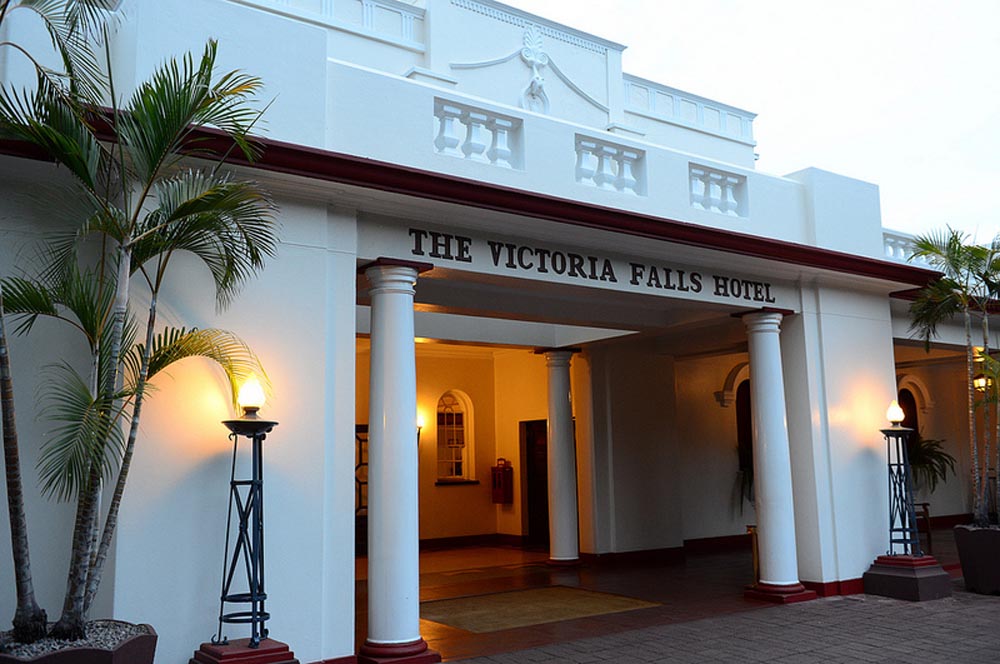 That afternoon we strolled around the grounds of this grand old lady of a hotel which is still in terrific shape at the ripe old age of 108 years. The grounds were in almost as good a shape as they were in November 2011; the only difference being that this year the early rains had not yet fallen, and Vic Falls town was bone dry. As a result some of the lawns and plants were a bit stressed.
As always, there was quite a lot wildlife around, notably baboons and vervet monkeys. We saw some monkeys checking the building systematically for open windows, so be sure not to leave yours open. There was also an entertaining family of warthog with youngsters, which attracted a lot of attention from amateur photographers.
High tea (served from 3:00P to 6:00) is not inexpensive at $30.00 for two persons (it is actually adequate
for 3 persons) but worth every penny. Dainty sandwiches, freshly baked scones and a variety of cakes and pastries vie for attention in a 3-tiered serving dish, and with that of course it is 'derigueur' to have a large pot of excellent local Zimbabwean tea, fresh from the eastern highlands.
All the other services and meals we tried at the Victoria Falls Hotel were perfectly fine. We enjoyed a light dinner on the terrace one evening, had a drink at the bar and even used the 'internet room' with computers to check on what was happening back in the USA. It was all good.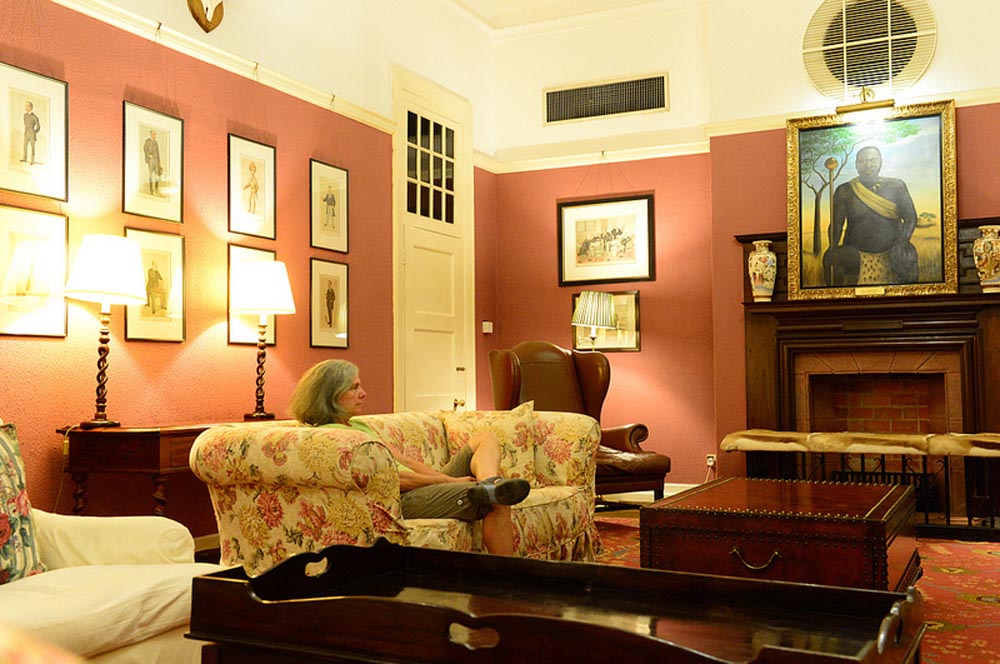 Late in the afternoon – it was a Saturday – we saw a small steam train from the Victoria Falls Steam Train Company depart from Victoria Falls Station on a sunset bridge run to the Victoria Falls Bridge. We will definitely try this activity on a future trip to the Vic Falls area. It is operated on most Saturdays, leaving the Vic Falls Station which is literally just opposite the hotel, at 5:00P.
After tea, we strolled over to the nearby Ilala Lodge, our #2 hotel recommendation in Victoria Falls. I took a few photographs in the garden and we tried one of the local cocktail specials, relaxing on the verandah overlooking the wooded area in front of the hotel. As always, we marveled at the beautiful trees and flowering shrubs and it was easy to fall into a pensive mood in the quiet, relaxing atmosphere.
As we did in November 2011, we enjoyed dinner at Mama Africa's restaurant, a 10-minute walk from the Vic Falls Hotel. The restaurant has some rough edges and will likely not be to everyone's taste. Surely no menu item on any restaurant anywhere in the world should be called an 'Elephant Turd Steak'. I realize it has to do with the size of the piece of meat, but still… Service was also a bit cavalier – and slow – but unfortunately that is typical of almost all Southern African restaurants, even in the cities.
Our vegetable curry with sadza (polenta) was good and nicely perfumed, no real complaints there. I had been looking forward to hearing the African Jazz Band but I'm afraid the performance was very amateurish. Our enjoyment of the meal was also spoiled by an obnoxious European smoker, who lit up several times in a packed verandah, during the course of the meal. We were technically outdoors but it was very boorish and selfish of this person to smoke so close to many other diners.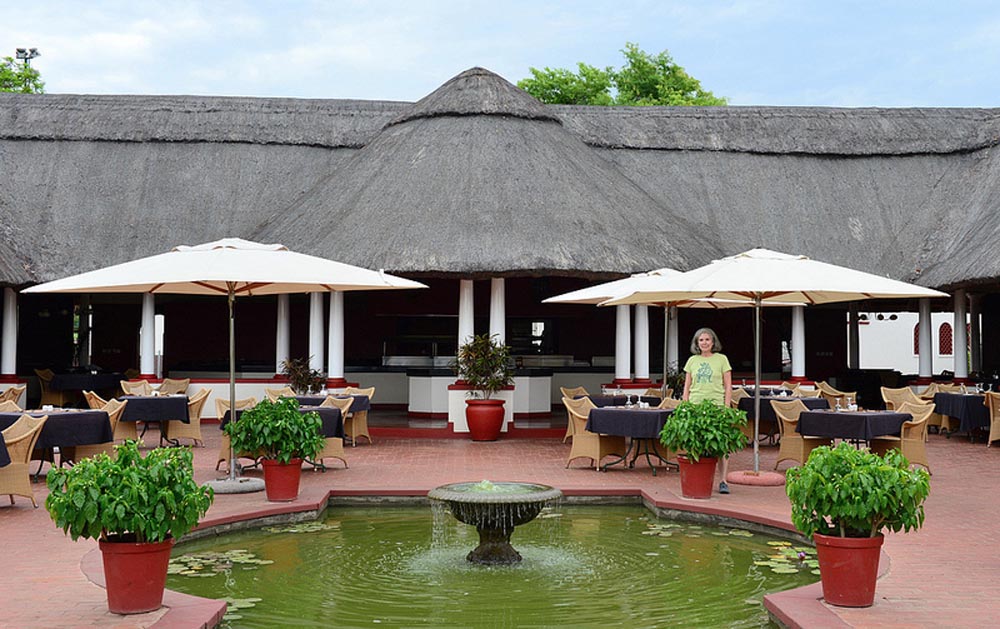 November 11: Re-discovering Victoria Falls National Park
Early on this Sunday morning we had a superb breakfast at Jungle Junction Restaurant or JJ as everyone calls it. There was a huge selection of fresh fruit, cereals, eggs to order, various meats, sausages, bacon, beans, various types of toast, sweet pastries, rolls, cheeses, coffee, tea and juices to choose from. Plus a great view over a pond, fresh African sunshine and in the distance, a whisper of mist above the Victoria Falls themselves.
The Falls are at their lowest in the month of November so we were not expecting much on a guided Tour of the Falls with our very friendly and knowledgeable guide Abiat from Wilderness Safaris Zimbabwe. I was not impressed by the entrance of $30.00 per person. Hopefully the authorities will make the entrance ticket valid for several (3?) days so that visitors can check out the Falls at various time of the day and early morning or evening.
That being said I don't think that our thirty bucks was a waste of money. Quite the contrary. I had not done this walk along the Falls in several years which is a mistake. Since my previous visit, the Falls authorities have revamped the entrance facilities and visitor center to something which any US National Park could be proud of. Good interpretive maps, a well-marked self-guided trail and a series of paved lookout points which span the Falls from left (Devils's Cataract) to right (Livingstone Island on the Zambia side) make it a real pleasure to visit the Falls on foot. We stopped at many of the lookout points and took a bunch of photographs including some of the wildlife, which include baboons, monkeys and very tame bushbuck.
Unfortunately for visitors on the Zambia side of the Victoria Falls there is no water visible at this time of the year. All you can see are the 'Victoria Walls' and not the 'Victoria Falls'.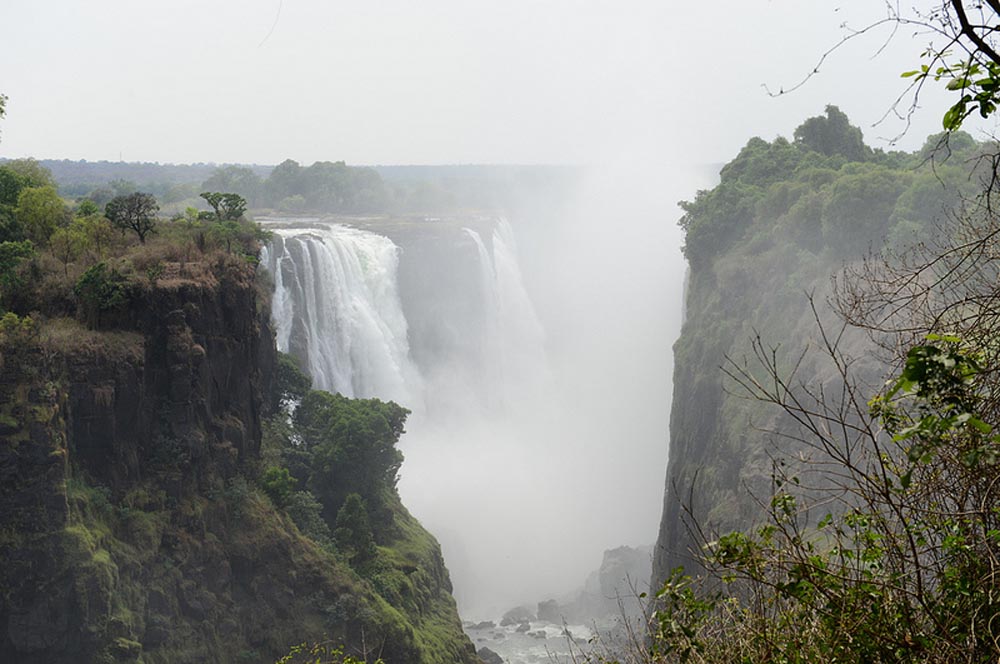 Later in the day we checked out the new Elephant Camp near Victoria Falls, and we were certainly impressed with the elegant air-conditioned rooms and comfortable dining room and lounge. Two sight-seeing visits per day to Victoria Falls town are included in the full board tariff. If you prefer an upscale safari lodge atmosphere in a quiet, secluded area then this would be a good choice for a couple of days in Vic Falls. We also had a look at the rooms at the new Victoria Falls Safari Lodge Club, a recently opened addition to the VFSL. I liked the very modern rooms with regular ceiling and good insulation. Unlike the rooms in the original portion of the VFSL, the rooms in the new wing are very effectively air-conditioned. Not all visitors will be thrilled with the 'open plan' bathroom design, but it is a minor flaw.
We enjoyed a tasty lunch – vegetarian rollups – at the Vic Falls Safari Lodge restaurant. I was pleased to see several new vegetarian additions to the menu, compared with the situation one year previously. We watched from the upstairs deck as a horde of vultures and marabou storks descended onto the dusty terrain for what appears to be a daily 'feeding'. Stupid idea.
On the way back to the hotel I briefly popped into a new supermarket just off the main road in Vic Falls village, and was impressed with the variety of goods available for sale. Vic Falls is back big time!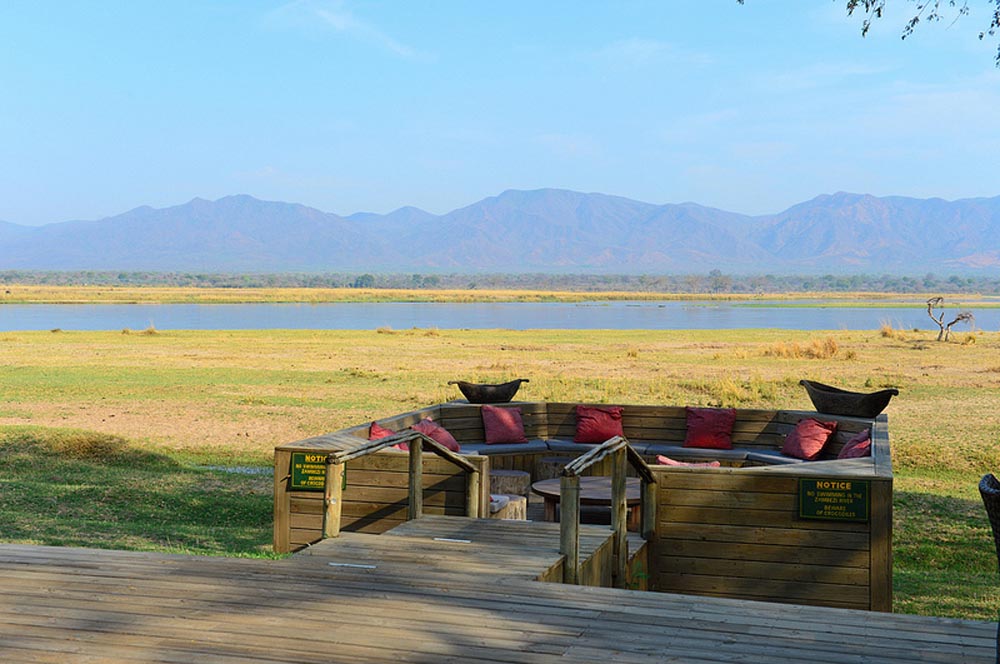 PART 5: RUCKOMECHI CAMP, MANA POOLS
Nov 12 & 13: Ruckomechi Camp, Mana Pools
Much too early this morning – at 06:30A – we had to leave the Vic Falls Hotel to catch a charter flight to Ruckomechi Camp in the Mana Pools area. Maybe there were legitimate flight safety issues which necessitated such an early departure but surely an extra 30 minutes for breakfast would not have been too much to ask? Nobody is very happy traveling on an empty stomach with no prospect of getting something to eat until midday.
We took off at 07:30 and about 1hr 45 minutes later we landed at a bone dry Mana West airstrip. The first rains were imminent (usually mid-November) but clearly had not fallen yet. The wooded areas surrounding the airstrip were totally bare of ground cover, with large patches of red sandy soil visible everywhere.
Mana Pools National Park is known for significant habitat diversity, and it was quite visible on our drive to camp and on later game drives. From mature woodland we drove through mopane scrub which gave way to riverine thickets and soon enough to a wide floodplain adjacent to the Zambezi River. In the dry season this area acts like a magnate for wildlife, and over the next couple of days we would often see 4 or 5 species of mammals congregated along the floodplain. These included large numbers of baboons, impala, kudu, zebra, waterbuck, eland, warthog and elephant, with hippo in the water.
One of the main features of Mana Pools is its view over the Zambia escarpment to the north. The hills loom into view from everywhere: the porch of your tent, while dining and of course most noticeably while enjoying water activities such as canoeing, on a boat cruise, or while having sundowners on a bluff overlooking the Zambezi.
On game drives, we had exceptionally good looks at a small pride of lions (2 females, 2 cubs) and eland, in addition to all the other more common species. Wild dog and leopard had also been seen a day or two prior to our arrival.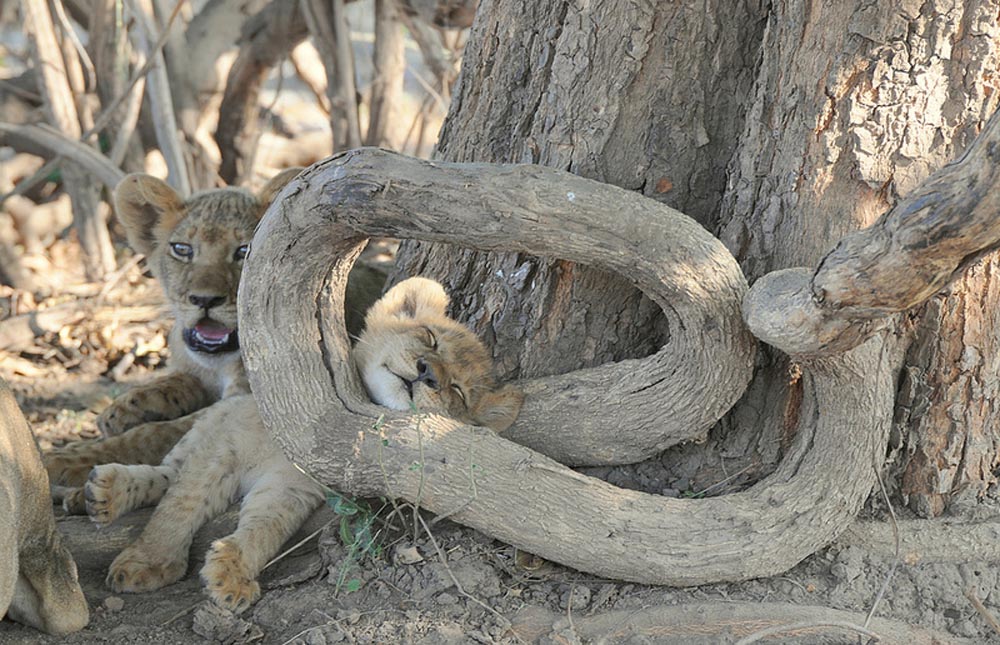 Our fishing expedition on our first afternoon at Ruckomechi was not successful but another guest – Al from Portland – caught four Tiger Fish on an afternoon outing. Hint: his guide's name was Champion.
Kathy and I both enjoyed the boat cruise on the Zambezi very much. The vessel is a stable pontoon with comfortable seats, providing unobstructed views of hippo, elephant on the islands, carmine bee-eater colony (summer) and many others items and things of interest. And always the beautiful Zambia escarpment in the background.
The best feature of Ruckomechi Camp is the pool, at least in the hot summer months of October and November, when it offers a welcome relief from the extreme heat which often reaches 40C (100F) with relatively high humidity. On two occasions we tried to take a nap during the siesta period only to abandon it in favor of the pool where a dip in the cool water felt really good! This camp is probably not the best choice for October and November, unless you are impervious to heat and dead set on experiencing the amazing concentration of wildlife on the Zambezi River floodplain.
The tents at Ruckomechi are good, yet they have a couple of design issues. It would have been nice to have some sort of partition between the sleeping area and the toilet/bathroom. Also overhead fans are sorely needed – the portable one in our room was of very little use and it was exceedingly noisy.
The Ruckomechi staff were superb without exception – they could not have tried harder to meet our expectations and needs. Our vegan food preferences were handled very effectively with special meals and snacks ranging from lentils to veggie kebabs and sadza. Our guide Damesh was fantastic and really a most engaging and all-round interesting guide with a great ability to expand on a question and turn it into an appropriate and interesting 'nature lesson' without being pedantic or long-winded.
On our last afternoon at Ruckomechi we enjoyed an excellent sundowner on a high sandy point overlooking the Zambezi River and the escarpment in the background. Beautiful sunset!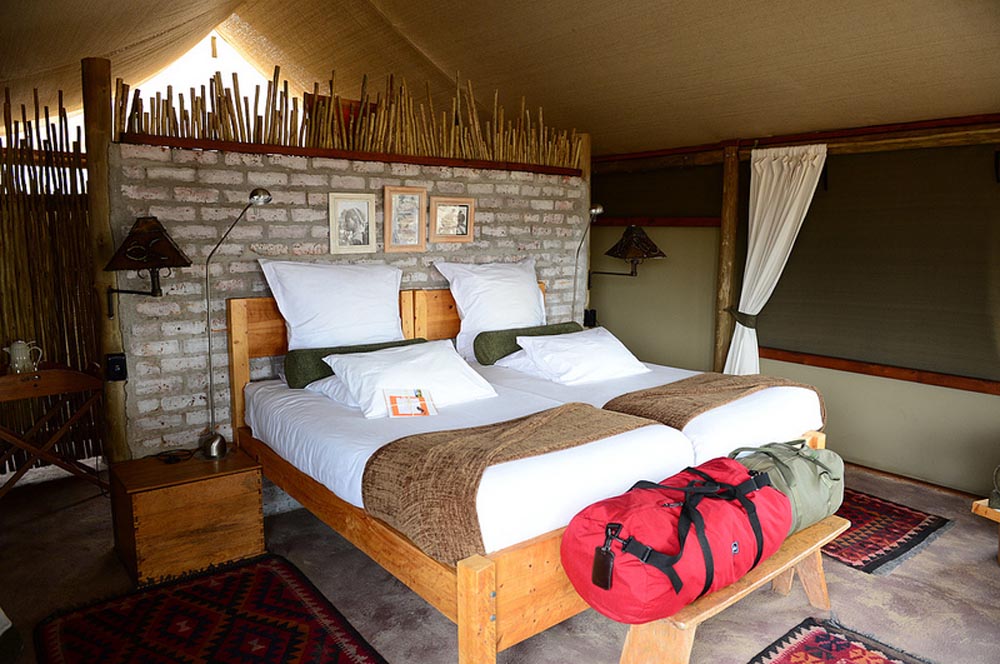 PART 6: LITTLE MAKALOLO CAMP – HWANGE
Nov 14 & 15 – Little Makalolo Camp – Hwange Game Reserve
From Ruckomechi we flew cross-country – around 1 hr 30 minutes – initially right over the wall at Lake Kariba, then past the Chizarira area, eventually to Hwange National Park, where we would spend the next 2 nights at Little Makalolo Camp.
I have been sending clients to Little Makalolo for many years (my colleagues having visited the camp several years ago). Now I know why everybody comes back from this beauty of a small camp with such great reports. The rooms are really nice – although some of them are a bit close to each other – there is a pool, and the lounge and dining room is first class.
What really sets the place apart from a run of the mill camp is the large artificially maintained water hole right in front of camp, with its own log-pile hide.
Barely 20 minutes after arriving in camp, Kathy and I were driven to the hide by our guide Tendai who is also the General Manager of the two Wilderness Safaris concessions in the area. Tendai is what every young guide should aspire to be: professional, courteous, very knowledgeable with great ability to anticipate game behavior and movement and funny to boot!
We were soon ensconced in the steel frame partially buried in a massive log pile, and not long afterwards the first of several elephant herds walked out of the woodland to the waterhole, accelerating the closer they got.
Initially drinking in a tight group, they soon start to disperse, all the while continuing to slurp up multiple gallons of water every few seconds.
We were highly entertained by the antics of several very young baby elephants, some of whom had not quite mastered the myriad of muscles controlling trunk movement. This resulted in some strange – even hilarious – twisted trunk formations. One of the youngsters even gave up on the whole trunk thing, simply kneeling down and drinking by mouth, the way most of us do it.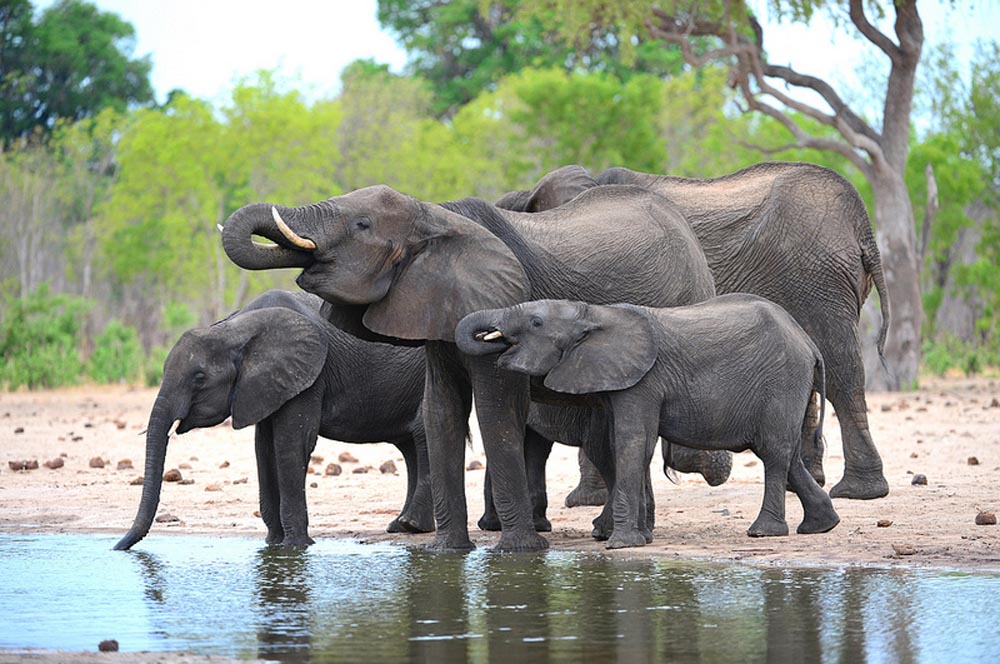 Over the course of perhaps 90 minutes or so we saw three different herds come through, ranging from 5 to about 20+ elephants.
We returned to camp for a little unpacking, enjoyed afternoon tea (the food at Little Makalolo was
the best in Zimbabwe!) and then set out for an afternoon game drive. There was quite a bit of general game in the area, including giraffe, kudu, zebra, eland and lots of steenbok. The game was not as concentrated as at Ruckomechi, and sometimes 20 minutes or so would go by without anything of interest being seen especially when driving through the woodland.
The scenery at Little Makalolo is superb, with different types of woodland consisting of mopane, false mopane and very striking rosewood forests, amongst others. Birdlife was exceptional with lots of birds of prey, rollers, shrikes, bee-eaters and other woodland species to be seen.
For sundowners Tendai stopped the car about 15 meters or so from the edge of a large pan (pumped waterhole) where an elephant had very recently died. Tendai was careful to keep us upwind of the elephant which was being besieged by various species of vultures and Marabou Storks.
Soon a huge herd of elephant appeared out of the bush and started to drink on the opposite side of the waterhole. They were very thirsty and some of the younger elephants were almost running by the time they made it to the edge of the water. Between Kathy and I we made hundreds of impressions of elephants in all kinds of poses and stances.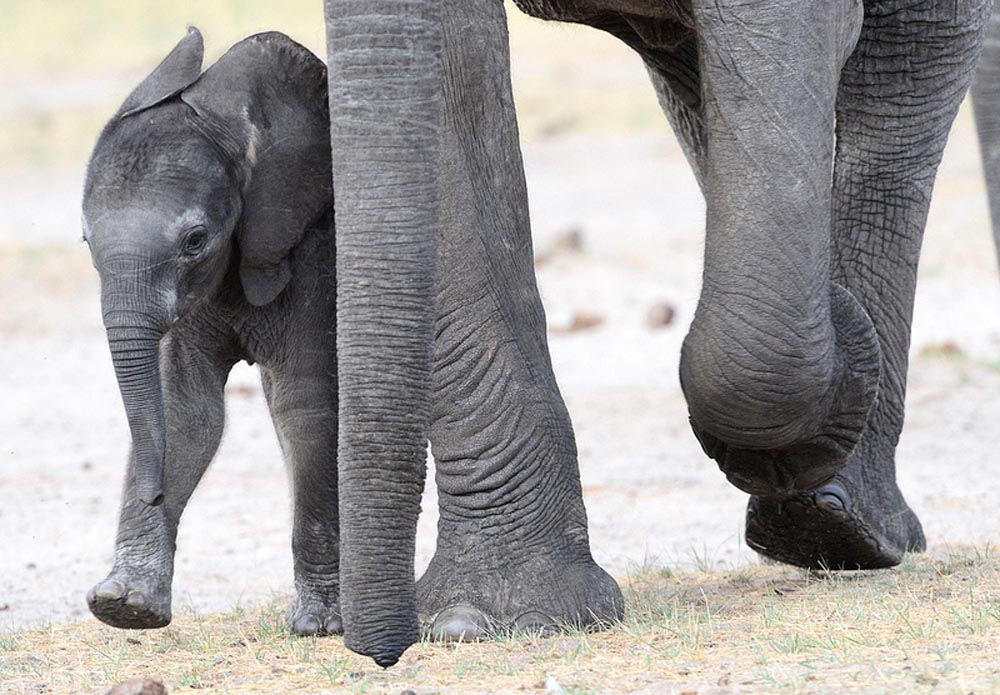 Then things started to get really interesting. Initially one of the large herds of elephant started to move around the pan, circling back and passing right in front of us, walking from our right to left, almost all of them giving us a glance before moving on. It was something! I have neglected to mention that the three of us were sitting outside, next to the vehicle, facing the pan, with the vehicle right at our backs.
Just then, Tendai said that another herd had approached from behind and sure enough, by standing up we could their large ears and trunks across the top of the seats. They were staring at us too.
Cautiously at first and then more boldly, they came around on the left and right hand side of the vehicle, padding right by us on their way to the life-giving water. I realized that Kathy was starting to get a little stressed with the near proximity of so many elephants when her camera went quiet and she just sat there taking in the spectacle. Awesome! A gin and tonic never tasted so good.
Several lions had been seen in the Makalolo Camp area the previous day and we heard them calling
from time to time during the elephant episode. So on the way back to camp Tendai was on the lookout for the pride. It was almost completely dark when we finally saw them. Seven adults lions including several young males were walking right towards us, spaced about 20 meters apart. One by one they passed the vehicle on our right, so close that we could hear their large feet crunching the dry vegetation and lightly thudding on the soft sand.
Some of the more bold lions stayed quite close to the vehicle, never leaving the road. The more cautious ones took a bit more of a detour. All of them gave us a good look, one of the females stopping momentarily to try to get a fix on us, and one of the young males speeding up and accelerating as he went around, a bit more wary and skittish than the others. Another magic moment in Africa!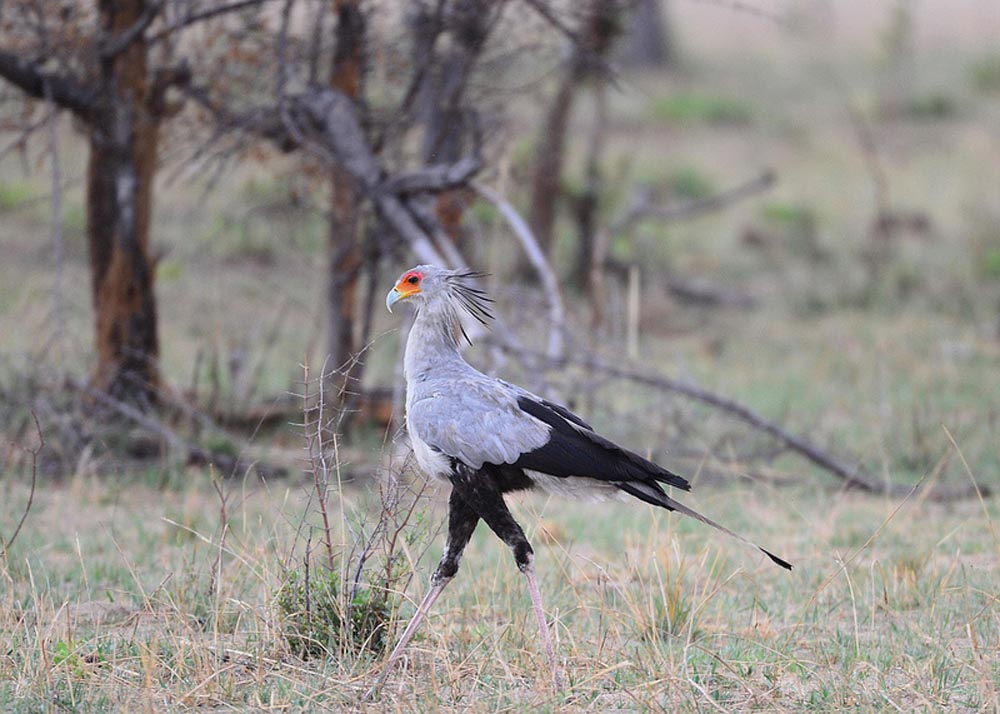 15 November: A new life bird for Bert's Africa list
Our objective this day was to find a Rackettailed Roller, a bird which had eluded me for nearly 3 years – and to hopefully see some Sable Antelope as well. On the latter the results were somewhat disappointing: we saw two Sables that morning but neither of them was close enough for a usable photograph.
The search for the RTR turned out a lot better. It took a while to find the first one in a stand of false mopane and rosewood forest. The dipping flight initially gave it away and I could clearly see the spatulate tail feathers a bit later, nailing the identification. It was a case of 'better view desired' though. Fortunately I didn't have to wait long: about half an hour later we enjoyed superb closeup views of the RTR with clear views of the pale blue breast (no lilac like the Lilacbreasted Roller) and of course the tell-tale tail.
At the very next waterhole we visited, there was a massive herd of 500+ buffalo and we spent probably 40 minutes or so just sitting there and watching them come, drink and go. Quite a spectacle. Not long afterwards, we enjoyed a delightful late morning brunch in the bush, courtesy of the Little Makalolo catering staff. They really do go to extraordinary lengths to keep the guests happy!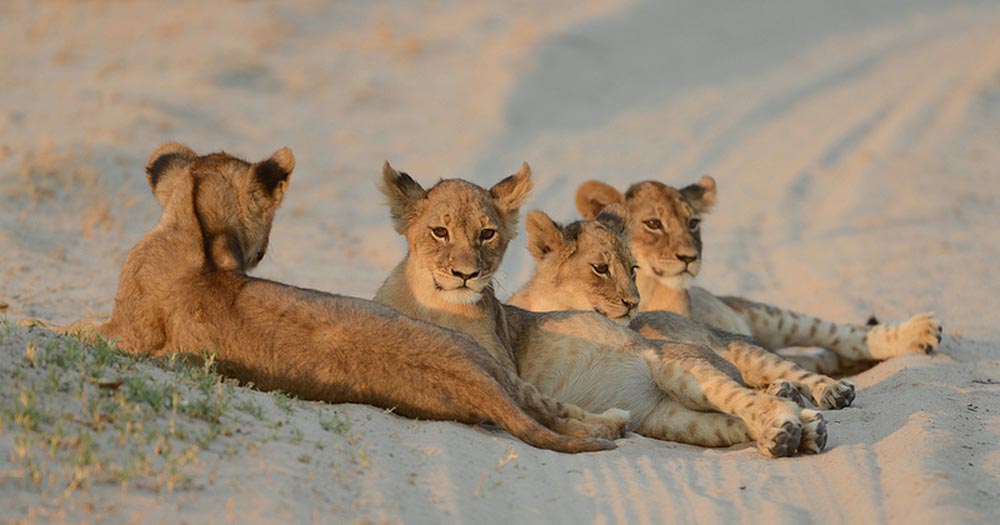 By early afternoon we were at nearby Davison's Camp – a perfectly fine alternative option in the area if Little Makalolo is not available and great for travelers on a slightly smaller budget. At Davison's we also observed Wilderness Safaris' Children in the Wilderness program in action: this philanthropic effort takes groups of up to 24 disadvantaged children into the Wilderness for a nature, wildlife and educational experience. The 11 & 12 year old kids were just completing an early afternoon project, following on which they entertained the guests with some very lovely and moving ensemble singing.
From Davison's Camp we drove to the eastern portion of the concession which ends at the railway track stretching from Victoria Falls to Bulawayo.
For a while, we watched an extended baboon family – especially the youngsters – get up to all kinds of antics. Then we were alerted to the presence of a different pride of lions, which we observed for a very brief time in good light. Unfortunately it had taken us too long to get there, so there were very limited opportunities for photographs. The drive back to camp was in the dark and mostly quiet but we did manage to see some springhares, a large-spotted genet and a civet, which livened things up a bit.
As before, the evening's dinner was excellent with a wide variety of vegan options in addition to the more conventional chicken and beef main course options.
Early the next morning, we were out on our last game drive at Little Makalolo, spotting more elephant, some good sized wildebeest herds, kudu and enjoying some really nice views of eland, before we had to say our goodbyes and board a Caravan which would take us back towards the east, to Lake Kariba.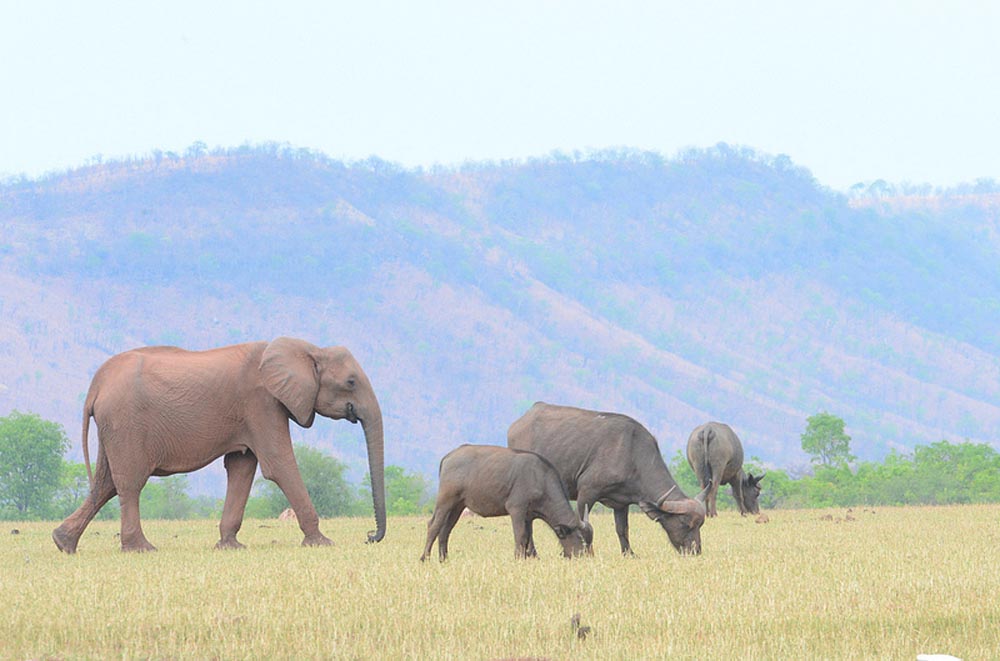 PART 7: BUMI HILLS HOTEL, LAKE KARIBA
Nov 16 & 17: Bumi Hills Hotel, Lake Kariba
The Bumi Hills Hotel is located on a perfect spot, high on a bluff overlooking Starvation Island and the Umi River area of Lake Kariba, the world's largest man-made lake by volume, which filled up in 1963.
The hotel was once a thriving concern in the 1960's and 1970's but fell on hard times during Zimbabwe's era of civil unrest and conflict in the 1990's when farm confiscations, economic woes and food shortages reduced tourism numbers to a trickle.
The Bumi Hills Hotel has now been beautifully restored and it would be a great addition to any Zimbabwe itinerary, the lake and nearby Matusadona National Park offering a wide range of activities including game drives, walking, boating and fishing.
Our standard room (#1) was perfectly fine and quite comfortable. We did have a major issue with the air-conditioning though. It was switched on at night at about 9:00pm until about 5:30AM, the reason being cost-related (there is no mains electricity; all power is generator-driven). During summer on the shores of Lake Kariba it is really critical to have an air-conditioned room around the clock, so I would not recommend this hotel for travel from about October through March, unless this issue can be addressed.
The air-conditioning issue aside, the Bumi Hills Hotel has a lot going for it. The location is arguably one of the best in Southern Africa, with a simply stupendous view over Lake Kariba and the surrounding hills in Zimbabwe and beyond to Zambia.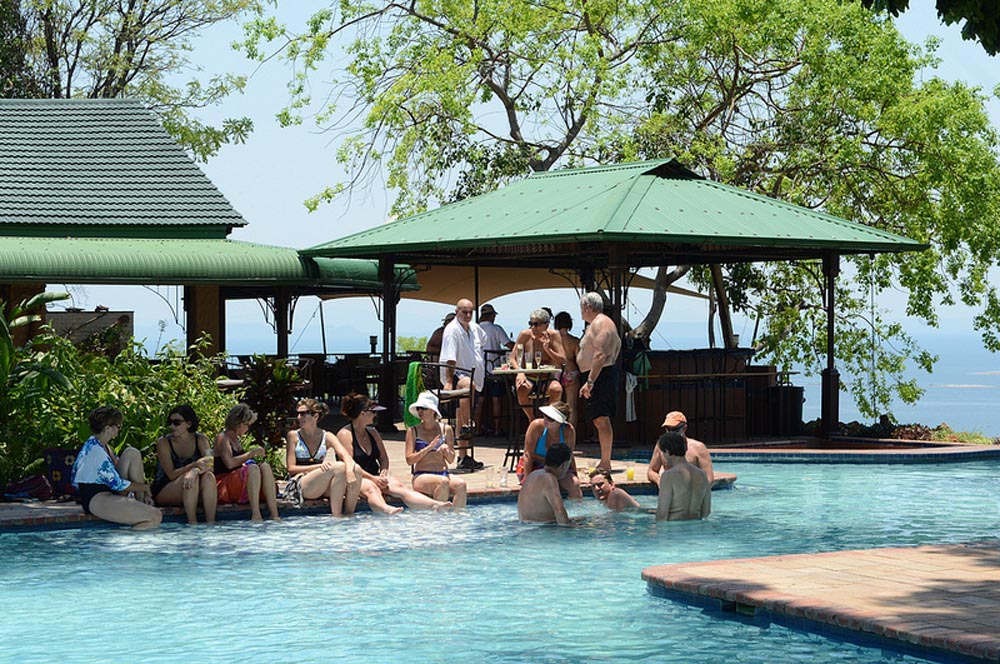 The infinity pool is one of the prettiest and best-maintained I have seen anywhere and if you pull your lounger to the right hand side of the pool, close to the ledge, you may just nix the idea of any activities and spend a lazy late morning or afternoon right there.
There is an outdoor bar on the other side of the pool, a terrace as well as an indoor dining area, a TV room and full sized billiard table, so plenty to keep oneself occupied right around the lodge itself. If you do venture out into Lake Kariba – and of course you would – fishing can be very good for both bream and Tigerfish, the latter being most active in the hotter summer months from October through January.
One afternoon we took a boat cruise which doubled as a game drive due to the many mammals along the shoreline, as well as hippo in the water, crocodiles all over the place and many African Fish Eagles as well as other water-associated birds such as cormorants, gulls and terns. There were dozens of elephants, all looking very red due to the dusty red dirt residue on their hides, as well as buffalo, waterbuck, impala, warthog and baboons.
The food at Bumi Hills was very good, made even better by the table for two with a view, where we enjoyed all our meals. Truly, one could not ask for a more spectacular spot – we were never in a rush to finish up a meal! On the last night I was treated to a local sugar-bean stew served with sadza, and some greens on the side. They could have served that every night! Some really good local South African wines were included in the rate, definitely a good idea. The manager looked after us particularly well and was around constantly inquiring about our well-being. Very much appreciated. Even though there was a large party of 25 or so Zimbabweans at the hotel at the same time – celebrating someone's 50th birthday – we never felt 'left-out'.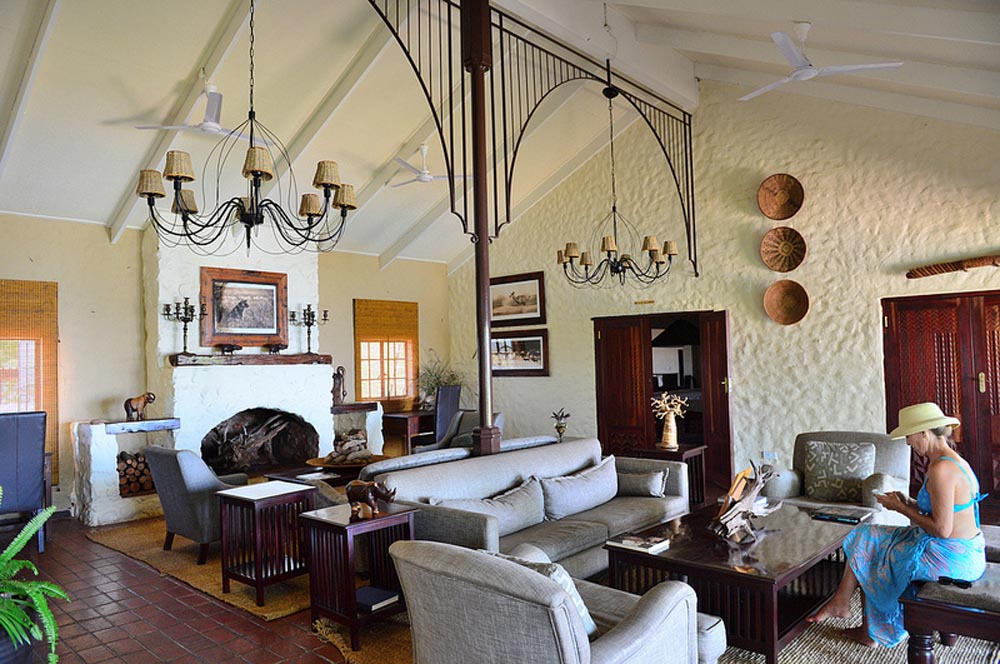 On the second day, Kathy and I took an inspection outing to nearby Musango Lodge, which we have used a few times in recent years. We really liked what we saw at this lodge, which has an impressive main building/lounge; if you sit in the right spot you can watch the sun come up in the east, turn your chair around and watch it set again in the west. With unobstructed views in both directions. Just like Bumi Hills, Musango Lodge has a long list of activities even including, and the rooms looked very comfortable, consisting of tents inside a rock/brick shell. We were there in the middle of the day – it was hot – but the interior of the tents was quite comfortable. So for someone wanting to include Lake Kariba and who prefers a traditional safari camp, Musango would definitely be the right choice.
Early on November 18 we enjoyed a last breakfast at our special table over the lake, packed away the last few items in our hand luggage and started on the first leg of the long, long journey back to Texas.