$cat_name = 'category'; $categories = get_the_terms($post->ID, $cat_name); foreach ($categories as $category) { if ($category->parent) { echo $category->name; } } ?>
May 18, 2012
Uganda & Rwanda April May 2012
Share: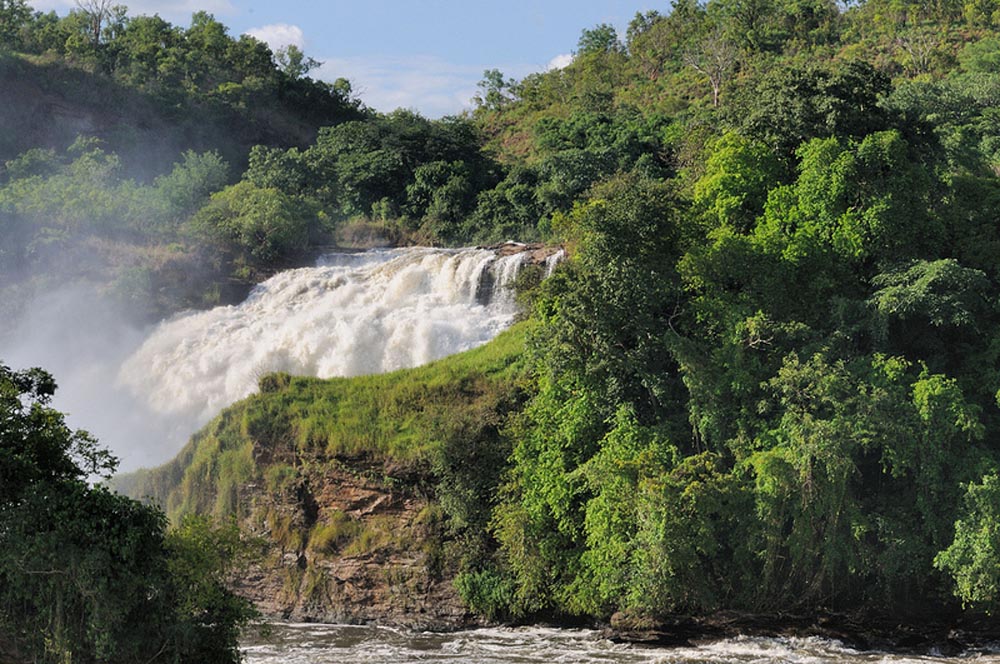 Uganda & Rwanda April May 2012
PART 1: UGANDA & RWANDA
The signature moment of my April-May 2012 educational trip to Uganda and Rwanda was an unexpected surprise which will be a good memory for years to come, even if I don't return to this lovely part of Africa again soon.
It happened along a muddy mountain road barely one quarter mile or so from Nkuringo Lodge where our group of 10 had spent a night prior to what would be – for all of us – our first ever gorilla trek. Many of us had not slept too well that night. I know I was up at 0415 that morning, feeling rather apprehensive about the gorilla thing. What if they were not there on the day? What if I slipped and broke something before getting to the spot where we were going? What if it rained all morning? What if —
As we were walking along this isolated little road with barely a soul passing by, I shook off the fatigue for a moment and realized where I was. Africa! Time to look around and take in what there was to see. Turning my head to the left, my eyes fell upon a stupendous view which must surely rival the pyramids of Egypt. In the distance, three massive volcanoes jutted into the pale misty sky, a faint vapor trail above one of them signifying that it was all but dormant. The volcanoes, several other hills, the clouds, the mist and the vegetation merged into a scene that can't be found anywhere else in the world. A couple of Grey Crowned Cranes flew by down in the valley from right to left, their telltale crowns and long legs rendering them unmistakable. I walked on, all the images swirling around in my sleep-deprived brain.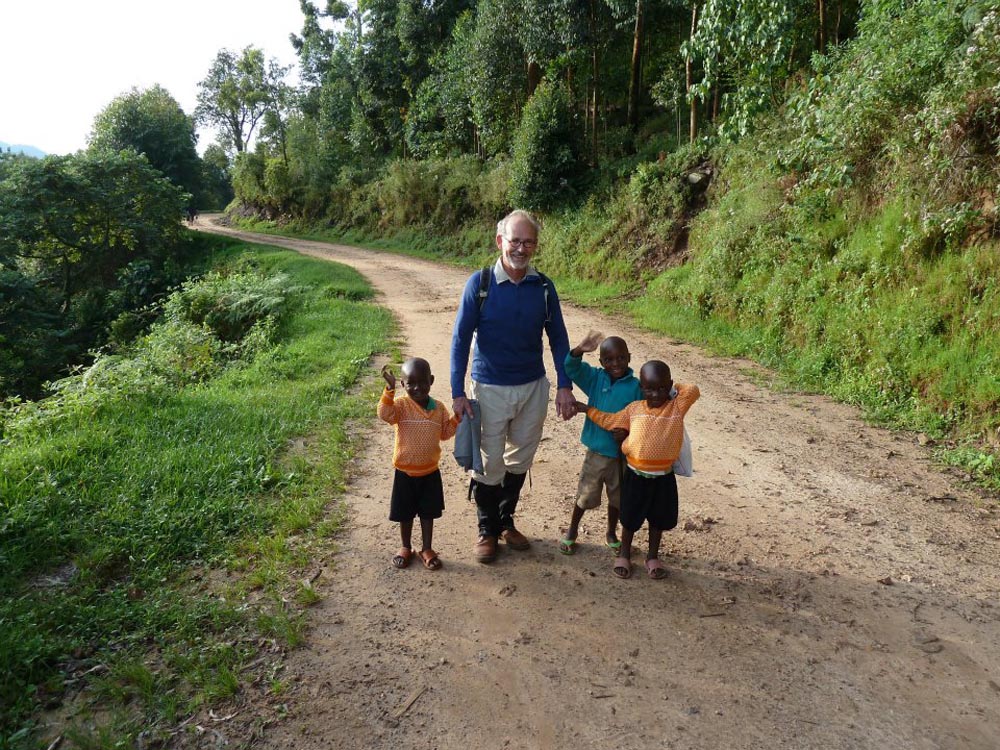 Lagging behind the other four persons who would be trekking the same gorilla group that morning, I was completely lost in my thoughts when three cold little hands suddenly gripped mine, two on the left and one on the right. Totally spontaneously three little Uganda boys – one set of twins and a slightly older friend – had decided that I needed some company and maybe a sympathetic face to look up at me. No question, I did. Their timing was perfect and although I couldn't understand a word they were saying, their gentle touch and their sparkling eyes said it all: "Don't worry mzungu, you're going to be just fine. Relax, give that heavy bag to a porter and don't worry so much about the photographs. Just enjoy the experience!"
Barely 30 minutes later, our small group were face to face with the most impressive big apes still to be found wandering this earth: the gentle giants who inhabit Bwindi Impenetrable Forest and a few other patches of similar habitat in neighboring Rwanda and the Democratic Republic of the Congo. The Mountain Gorilla. There are less than 800 of these great apes left in the wild, so it is an awesome experience – in the old-fashioned sense of the word – to behold them right there in front of you, stuffing their faces with big handfuls of leaves, clearly relishing every ounce of the approximately 40 pounds pounds of food they consume every day.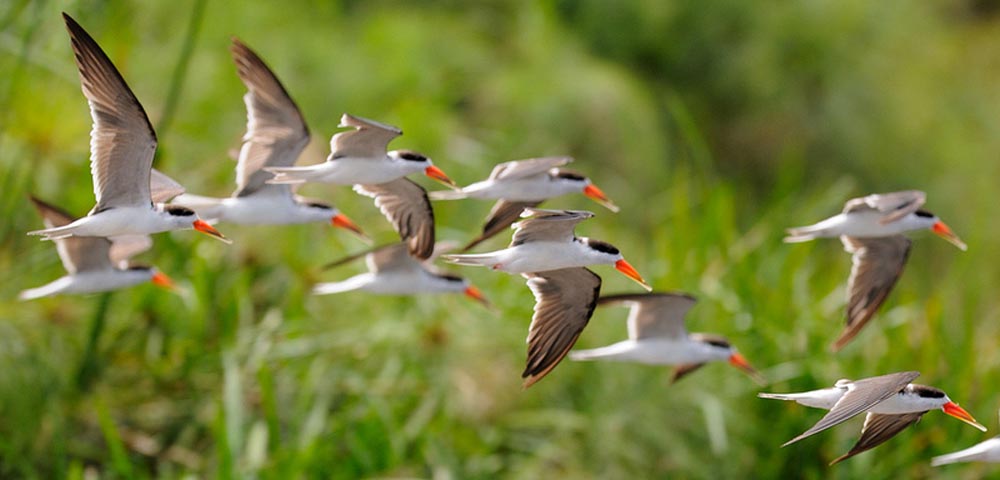 In the space of less than an hour, we had experienced the very best of Uganda – and the same would be true of Rwanda which we visited later – namely supreme scenic beauty, beautiful real people, and the wild 'people' of the forest, in this instance gorillas, in other places chimpanzees and an amazing array of monkeys.
Our familiarization trip to Uganda and Rwanda with The Far Horizons was an unqualified success. I certainly learned a lot and I am very enthusiastic about both Uganda and lovely little Rwanda. As I said: friendly people, amazing wildlife, beautiful scenery and interesting places to spend a night or two or three.
Our trip started in Entebbe, Uganda, which was not too painful to get to from the USA on KLM via Amsterdam. Non-stop Houston-AMS , 3 hr lay-over and then direct to Entebbe with a 1-hr stop in Kigali en route. Very quick and friendly border formalities entering Uganda (US$50 for the visa paid on arrival, need proof of Yellow Fever) and that was that. I exchanged US$200 for a whole boatload of Uganda Shillings (current exchange rate US$1 = 2,500 Uganda Sh) , met up with David who was also booked for the pre-trip extension to Murchison Falls, and off we went to The Boma, our guest house for the night. It was barely 10 minutes or so down the road. Nothing fancy but with a great location, clean and comfortable – good food and a great garden which would really appeal to birders.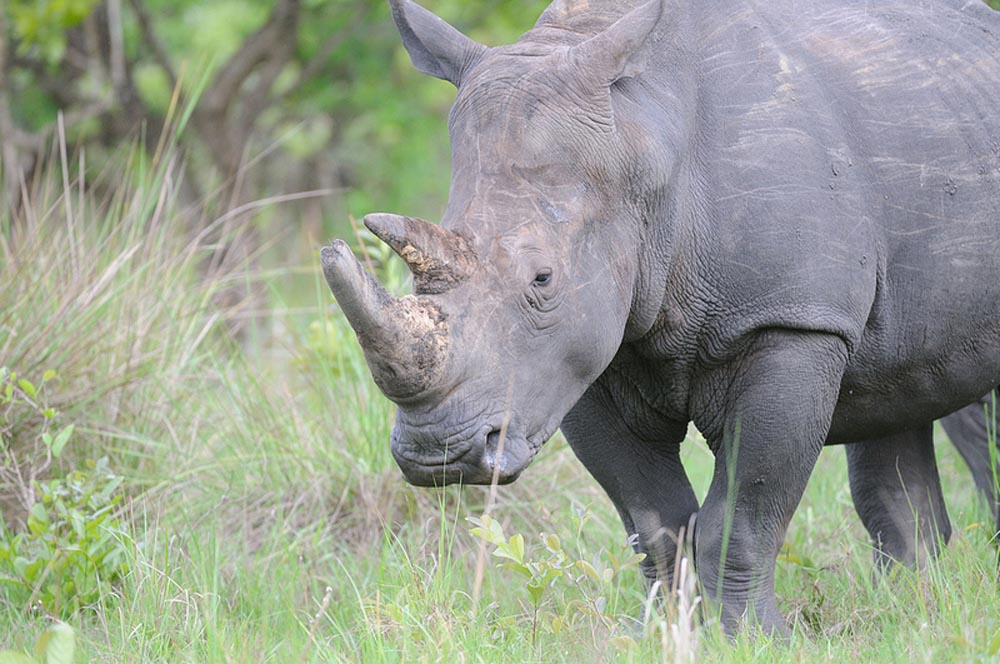 Ziwa Rhino Reserve And Murchison Falls Np
The pre-tour portion of the trip started with an overnight at Lodge in the Ziwa Rhino Reserve. The main activity here is finding and observing white rhino on foot. The rhino are under 24-hr observation for anti-poaching reasons, so it is not difficult to find them. We drove for perhaps 15 minutes or so from the Park Headquarters with our guide and armed ranger, got out of the vehicle and found the small group of rhino just minutes later. Initially they were quite cooperative and continued grazing while we snapped a few photographs. The guide could probably have imparted a bit more information than he did, but as soon as the rhino started moving, he had his hands full leading us in a brisk walk in the direction they were heading. As it turned out the rhinos started moving more and more rapidly and we did not see them again. Ordinarily white rhino are quite placid and behave a lot like cattle, just imperceptibly moving away in the presence of humans.
Amuka Lodge at Ziwa is fine for a quick stop-over en route to Murchison Falls National Park. It definitely needs some work: the rooms are quite large yet they have a Spartan feel to them which can easily be changed with a few furnishings, a wall-hanging or two and additional lighting. The bathroom is huge but can only be reached by leaving the room. The lodge's best feature is definitely the communal lounge and bar area: aged mahogany timber is used in a creative and very memorable way with natural stone and canvas giving the lodge a very solid, authentic feel. The food and hospitality was great: owner Johan Genade and his sons are always around to keep an eye on things and to pitch in with a barbecue dinner. I was impressed with the variety of foods and did not lack for vegan options.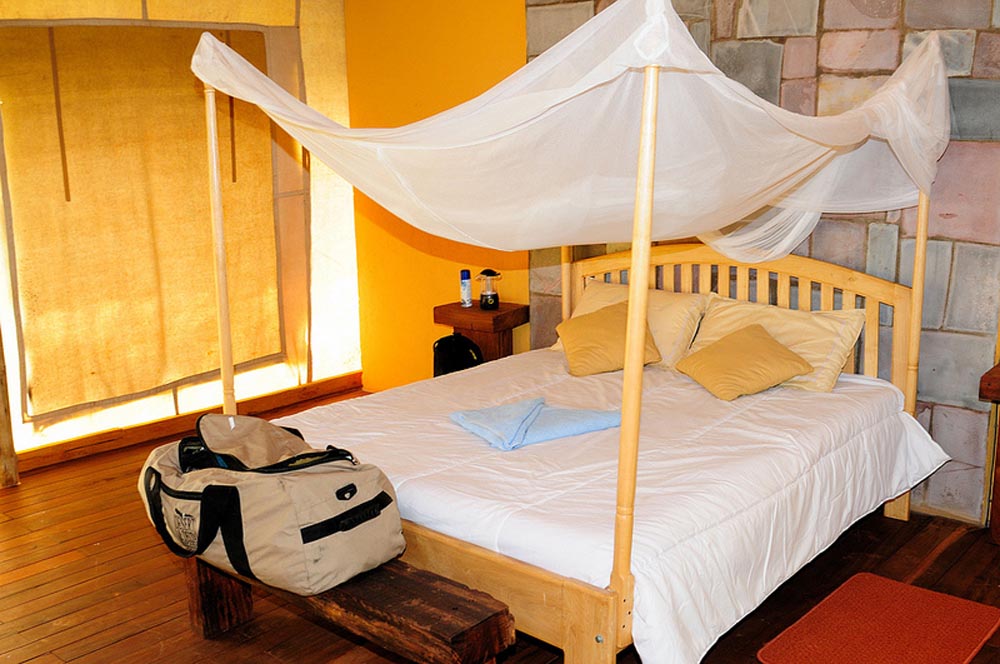 Ziwa Rhino Sanctuary has become increasingly popular with tourists visiting the Murchison's Falls National Park as it is conveniently located just over 100 miles from Kampala, en route to the park. Ziwa is the only place where rhinos can be seen in the wild in Uganda.
From Ziwa we drove up to Murchison Falls National Park, spending the night at the very pleasant Paraa Lodge, on the northern bank of the Nile River. The area is spectacular in several ways: boat cruises on the Nile River are very productive with excellent bird and other wildlife sightings, with the Shoebill Stork being a highly prized find. We boarded an afternoon 'sunset' cruise on the Nile from Nile Safari Camp to Paraa Lodge – this turned out to be one of the most enjoyable outings of the entire trip. This massive river was teeming with birdlife as well as hippo and crocodile.
I would not hesitate to recommend including Murchison Falls National Park on any trip to Uganda. The landscape is somewhat reminiscent of the Maasai Mara, with lots of rolling hills and open plains, even prettier than the Mara. Plus there is the Nile River and Lake Albert as well. We were taken on a good game drive the next morning (lots of giraffe, buffalo, Jackson's Hartebeest, Uganda Kob, some elephant, oribi, Patas monkeys and several other species, but no lions) which was followed by a second river cruise in the Nile Delta area. This is where I finally came face to face with a Shoebill, which obligingly took to the air right in front of us. These amazing birds, which are specially adapted to predate lungfish, have an almost cartoon-like massive bill which gives it an ungainly appearance, with the bill being almost as big as the entire head of the bird. We got some very good pics of African Skimmers, as well as various herons and other water birds. One of the best outings of the trip by a long margin!
Come to think of it, the birdlife in both Uganda and Rwanda was fantastic: even though I really had no time for any proper 'birding', I still ticked off a bunch of life birds including the Shoebill and several other endemic or highly localized specials. The boat trips on the Nile River at Murchison Falls provided ample opportunities for photographs of birds in flight. I had not seen an area this good since a visit several years ago to the Tana Delta of Kenya (Delta Dunes Camp).
Our second (upstream) launch trip on the Victoria Nile River took us to the base of the actual Murchison Falls. As we approached the Falls, the river starts to get more and more narrow and the two sides of the canyon move closer and closer. Not surprisingly the velocity of the water rushing downstream starts to increase. It got really interesting as our skipper – a very capable and knowledgeable guide – had to crank up the outboard motor to keep our skiff from being swept backwards. The Nile River was in near flood stage so the current was massively strong and there were some ominous-looking whirlpools and standing waves in a couple of places. While all this was going on, the Falls themselves were coming into better and better view as we approached, so I would look at the rapids for a second, then lift my head towards the Falls, snap off a pic only to turn back to the rushing water to see if we were still moving in the right direction. Steering to the left side of the river – which was slightly less turbulent than the other side – we eventually made it to a safe docking point, but not before seeing a crocodile gorging on a huge Nile perch. Looking around, we quickly realized that this area is simply infested with crocodiles; they hang around here to feed on fish killed by the violent whirlpool effect of the water going down the Falls.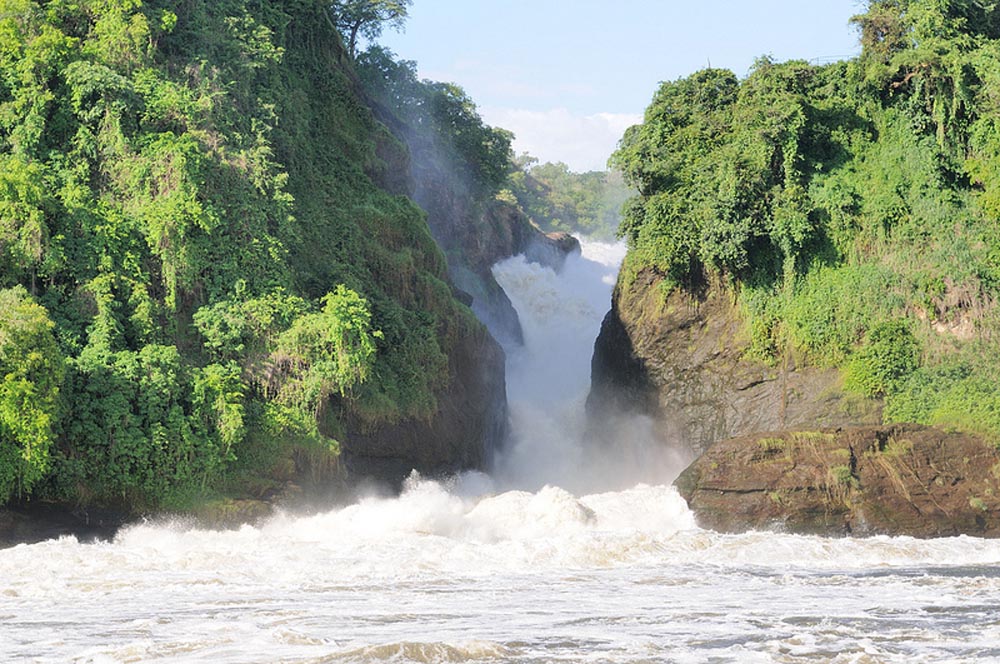 At the base of the Falls we disembarked and hiked up to the top of the Falls. It was a pretty arduous walk, with a little bit of scrambling here and there and of course it was very hot and steamy. Don't do this if you're not at least reasonably fit – or at least take it very easy and tote some water. If you do make the walk, be prepared for one of the best experiences you might find in East Africa: being this close to the fury of the entire Nile River exploding through a narrow gap in the rocky gorge is just flat-out amazing! I marveled at the fantastic power of nature in this raw and 100% unspoiled display of force and violence. It gets better and better as you get closer to the top – observing mountains of water crashing downwards with a thunderous roar is mesmerizing. One viewpoint is better than the next; there are some overlook points with superb views over the adjacent Uhuru Falls as well. I really rate this experience to be every bit as impressive as Victoria Falls; very different as there is no huge curtain of water and the drop itself is not that high. However it is the proximity and the unbelievable force that practically shakes the rocks you are standing on, that does it for me. Emerging at the top, after a quick drenching from the spray, we were greeted by a few rangers. No curio sellers, no soft-drink dispensers, just the sound of the water behind you.
Paraa Lodge and its sister property Mweya Lodge were built in the 1950's and although they are both great places to stay, they have retained somewhat of a 'colonial' flavor; also both of the lodges are quite big with as many as 50 rooms. On our short stay at each of the lodges, this never bothered me. The rooms at Paraa were perhaps a bit dull and not overly big but they have private balconies and pretty nice views over the pool or the river. There are several public areas so we never felt crowded, in fact I did not really see many other people except a handful at mealtimes. No complaints about the food at Paraa: extensive buffet choices and a comprehensive a la carte menu as well; several vegetarian/vegan options.
We also made an inspection visit to Nile Safari Camp which appeared to be a good choice for the Murchison Falls area as well. The common areas and most of the rooms have great views over the Nile itself and the lodge is quite small (a mix of 12 wooden chalets and tented rooms). A couple of the rooms appeared to be rather close to each other and the views from at least one of the verandahs were obscured by the overhang from the roof. A couple of the rooms we saw were very nice though.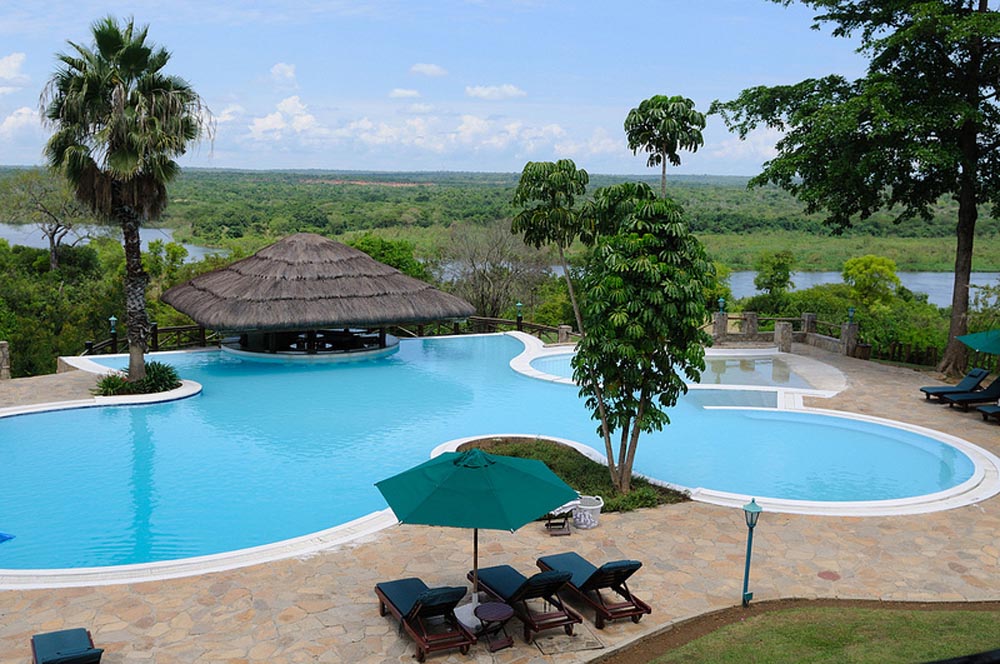 Apes And Monkeys
Of course the primary reason for going to Uganda is the abundance of apes and monkeys: we had some superb chimp sightings in Budongo Forest Reserve, which made up for the subsequent Kibale Forest chimp trek which turned out to be rather unsatisfactory with the chimps mostly way up in the trees and moving around.
We were very lucky with the chimps at Budongo Forest Reserve where one individual posed quite happily for the cameras. I did not have the right lens otherwise I might have had some really good chimp pics! At one stage several of the chimps literally 'fell' from the trees, grasping one or two seemingly flimsy twigs as they came crashing down. You don't see that kind of stuff in the movies, folks! Awesome!
Budongo Forest can be included on any Murchison Falls itinerary, probably best at the end of this segment, before returning to Entebbe/Kampala. The night prior to the chimp trek at Budongo we slept at Budongo Eco Lodge, a very pleasant 'no frills' lodge right on the edge of the forest. The big advantage of staying here is that you can walk literally right out of the lodge, to the start of the chimpanzee trek or birdwatching outing. No additional driving involved. This is an important consideration in a country such as Uganda where (at least for now) most transfers between areas are by road.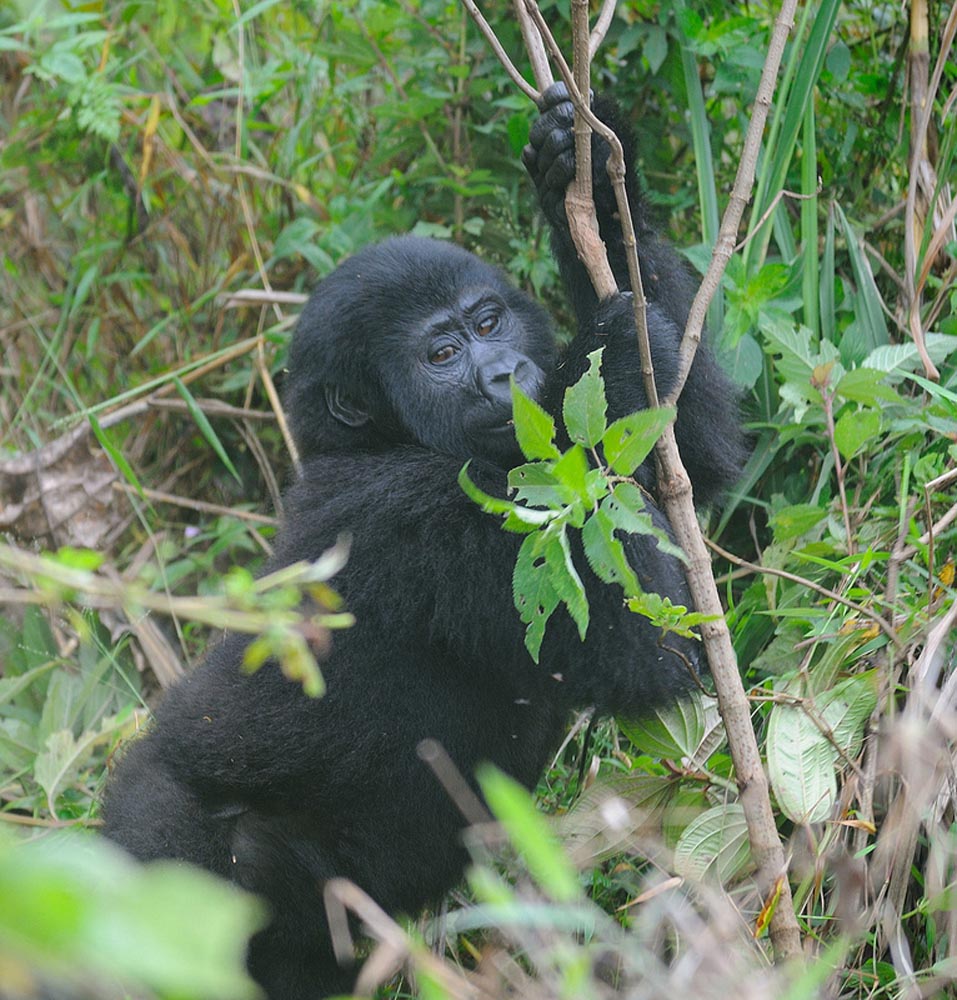 The gorilla trek in Uganda (southern sector of Bwindi Impenetrable Forest) was good if somewhat tricky: we had to walk down and along a very steep slope, not for everybody! We got very close to the gorillas but photography was difficult: they kept turning their backs on us or dodging behind the vegetation – inadvertently one assumes. I did not have the right photo equipment for a gorilla trek. My 200-400 zoom lens was too much glass and too heavy; I could barely pick it up towards the end. My other lens – a 28-70mm 2.8 zoom lens was just a little on the short side. The ideal lens would be a 70-200mm 2.8: will have to get one of those before the next trip! A good 100-400mm zoom lens would also work.
The gorilla trek on the Rwanda side (Volcanoes NP) was easier although not by much – it involved quite a long walk with some pretty rough spots towards the end, close to where the gorillas were. This time the gorilla family was in a wide open area and I would have gotten some great shots if the weather played along. All went well until about 10 minutes before we got to the gorilla group. About 1 hr walk, not too strenuous, nothing like the slopes of Bwindi. It started to pour just minutes before we got to the gorillas and never let up, in fact it got worse. I took a couple of quick shots and then packed my camera and lens away; I did not want to risk potential serious damage to the camera and/or lenses – just too much water around. Someone else in the group (a dentist from Sheffield England) had 2 cameras seize up on him. Even so it was a great experience. Even in the rain we marveled at the proximity to those magnificent animals. Back at the lodge the staff cleaned my muddy dirty boots in no time and they are now as good as new. So high marks to everyone at Sabinyo Silverback Lodge.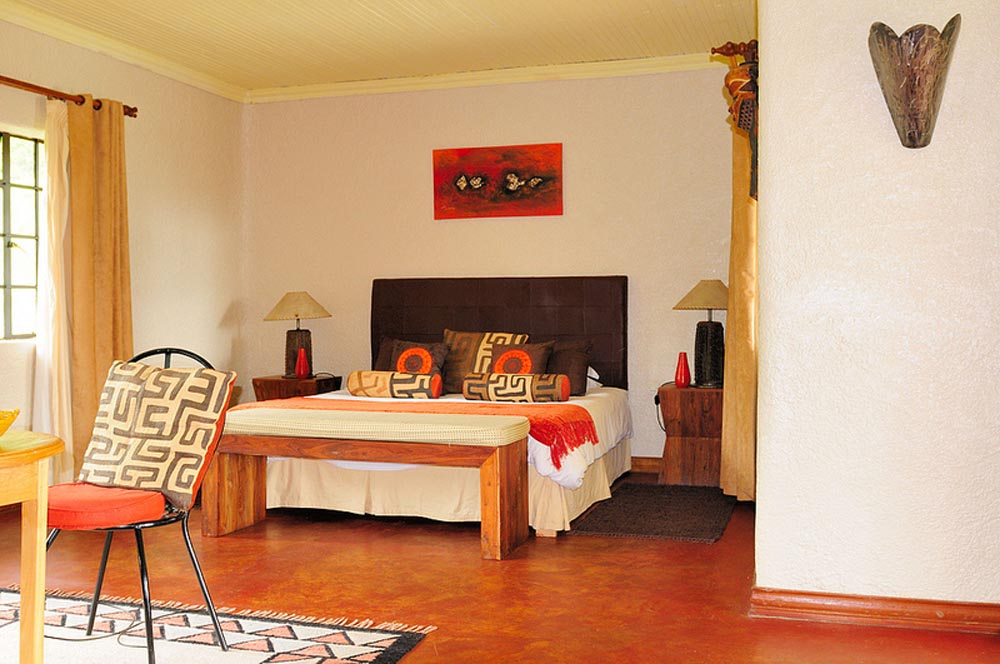 The service and food at Sabinyo Silverback lived up to expectations: it was impeccable in every way. On the afternoon that I got there after being driven from Kigali (2 hr 30 minutes), I requested some red wine and was pleasantly surprised when a bottle of Nederburg Pinotage showed up. Promptly enjoyed a glass of it while soaking in the best bath I had in the entire trip: the tubs at Sabinyo seem to have been form-fitted for someone of about 5′ 10″ (178 cm): in a pinch it will accommodate slightly taller or shorter persons too… The water was near boiling hot and there was lots of it! Nice robes too – not to mention those cute gorilla gift items for all guests, two hot water bottles in the bed and lots of space to unpack and hang stuff.
A few of us also did a Golden Monkey trek in Volcanoes National Park. I would not necessarily recommend this activity as a high priority on anyone's list of things to do in the area but it was a worthwhile outing nonetheless. Our local guide was very entertaining and made abundantly sure that we got some good looks at these rather elusive little creatures. Initially they were in the open on the edge of a bamboo forest but the lighting was no good for photography, with the sky behind them getting blown out. We waited a while for them to hopefully come down to ground level, but that did not happen. Eventually we ventured into the dense bambook forest and for the next hour or so it was a case of hide and seek with the monkeys, grabbing photos where we could. Sometimes it turned into a bit of wild goose chase because we would be following a guide beckoning us along, only to find the monkey already gone when we got to the 'right' spot. So it goes. If you have an extra day in this area, by all means sign up for the Golden Monkey trek; it is also the perfect substitute for those younger members of a party (under 15) who do not qualify for a gorilla trek.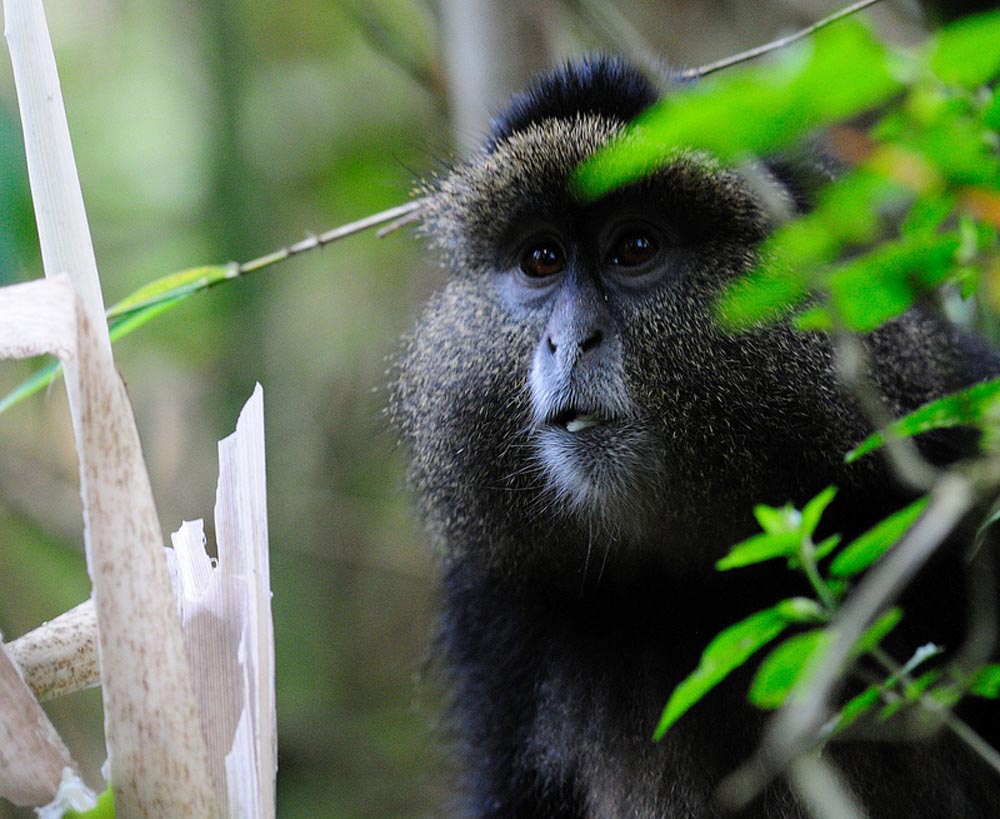 The night prior to the Golden Monkey trek we spent at Gorilla View Mountain Lodge. I can't say that I was very impressed with this lodge, but most people would probably find it a perfectly fine place to stay for one or two nights, as a base for a gorilla trek. For one thing, it is very close to the park headquarters and for another it is not nearly as expensive as the only other close-by option. I was a bit put off by the initial appearance: the reception/lounge area is very dark and poorly lit – the generator is switched on and off at various times during the day. So on arrival one got the impression of being in a power cut situation. The rooms are large and they were rather cold and very, very damp. Probably something to do with the time of the year but really it felt like someone had sprayed my bed with a fine water mist, when I finally got into it that night. A huge bonfire in my fireplace did not really make much of a difference. Also the bathrooms are massive but poorly designed; there was nowhere to put anything or hang anything, and the water pressure was not great. The food was ok: very plain and not really exciting at all (a large buffet) but it was edible and there was a lot of variety, especially in the way of vegetables and starches. Vegetarians and vegans would be quite happy with the choices.
Coming soon in part 2: Kibale Forest, Queen Elizabeth National Park, Kigale and Nyungwe Forest. Also a bit more about our guides and hosts.
PART 2: UGANDA AND RWANDA
It is raining softly at Nyungwe Forest Lodge in far Southwestern Rwanda. Through the glass panels in front of the lodge's spectacular dining room, my eyes are drawn to shifting patches of fog clinging to and sometimes obscuring the beautiful primary forest covering the hillsides beyond the camp.
I can practically feel the heavy cloud bank closing in, with giant 90-feet tall trees disappearing in the gloom. The hills turn into massive waves and a tsunami of fog advances in my direction. This is the theater of the wilderness, the living breathing manifestation of nature at its finest. It is moments like these that distinguish an Africa trip from just traveling somewhere. Those moments when you forget about the trappings of civilization and truly bond with the environment such as when you are gazing upon gorillas in a rain forest, following chimpanzees scattering through the trees or checking the slow wing-beat of a blackheaded Heron flying down the Nile River. A little mental flashback to eons ago when our forefathers roamed the African savannah. Welcome home.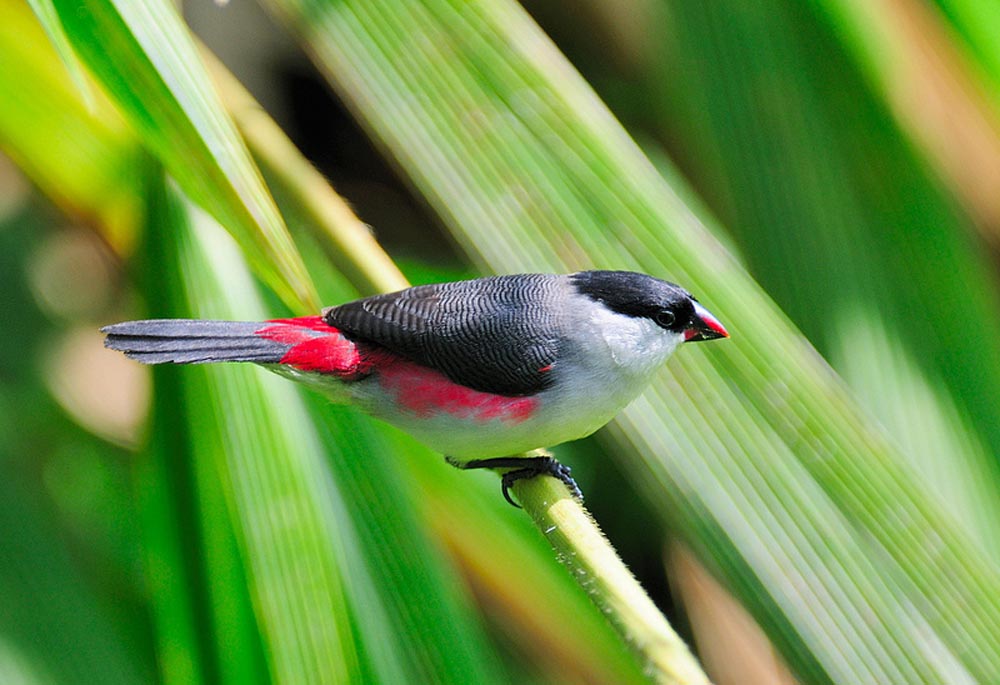 A cup of Rwandan coffee later, my fleeting Africa moment was gone – and the forest was back. The fog had dispersed. I turned my attention to a beautiful little black-capped waxbill feeding low in the vegetation on the edge of the lodge. It was the last morning of my Uganda and Rwanda journey and I was mentally bracing myself for re-entry into the daily routine awaiting back in the USA.
We had seen and experienced some amazing places and things up to that point. Previously I had mentioned walking with rhinos, trekking chimpanzees and Golden Monkeys, coming eye to eye with the rare Shoebill Stork, experiencing the awesome power of the Nile River thundering down Murchison Falls and of course the highlight of all highlights: observing Mountain Gorillas in their rain forest habitat.
There were several other stops on our itinerary starting from Entebbe in Uganda where our party of 10 visitors had gathered in late April 2012. We started off in a westerly direction towards the country's well-known game reserves.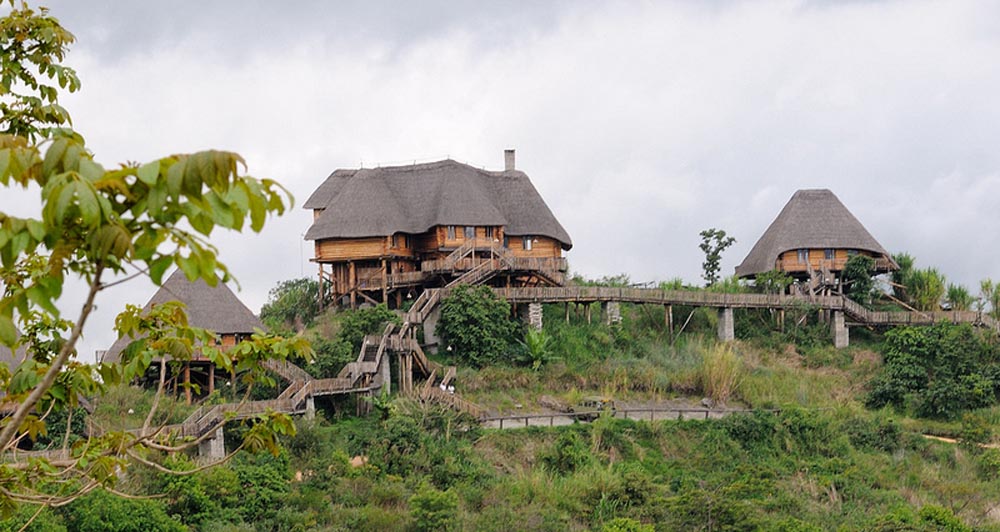 Kibale Forest National Park
After a long drive (almost 7 hrs) from Entebbe via Kampala – with nearly 2 hours being spent just to get from Entebbe to Kampala and out of Kampala – we reached the striking Kyaninga Lodge, a massive log cabin construction perched on the edge of a crater lake. It was easily the most impressive lodge structure we saw on the trip. If you are ok with negotiating a lot of stairways and steps, you will love this place! Everything about it is interesting, warm and inviting, particularly the large fireplace, bar and dining room with a fantastic view over the crater lodge.
While some members of our party hiked around the crater lake, I ran – or rather jogged – the same route. It was not easy going as the often very narrow path was wet, steep in places and also quite rocky in parts. Probably best suited for hiking. Great views though and a bonus sighting of some vervet monkeys along the way. I added another few miles of running on the dirt road from the lodge to a nearby village. As was the case on all my little running jaunts while in Uganda and Rwanda, I attracted quite a bit of attention with everyone being very friendly: lots of smiles, 'how are you's', and even a few inquiries about my well-being such as "… are you physically fit?" I got the impression that some of the younger kids wanted to practice their English. Fine by me!
Later that evening we enjoyed drinks in front of the cozy fireplace, and then a superb dinner with a curried vegetable dish.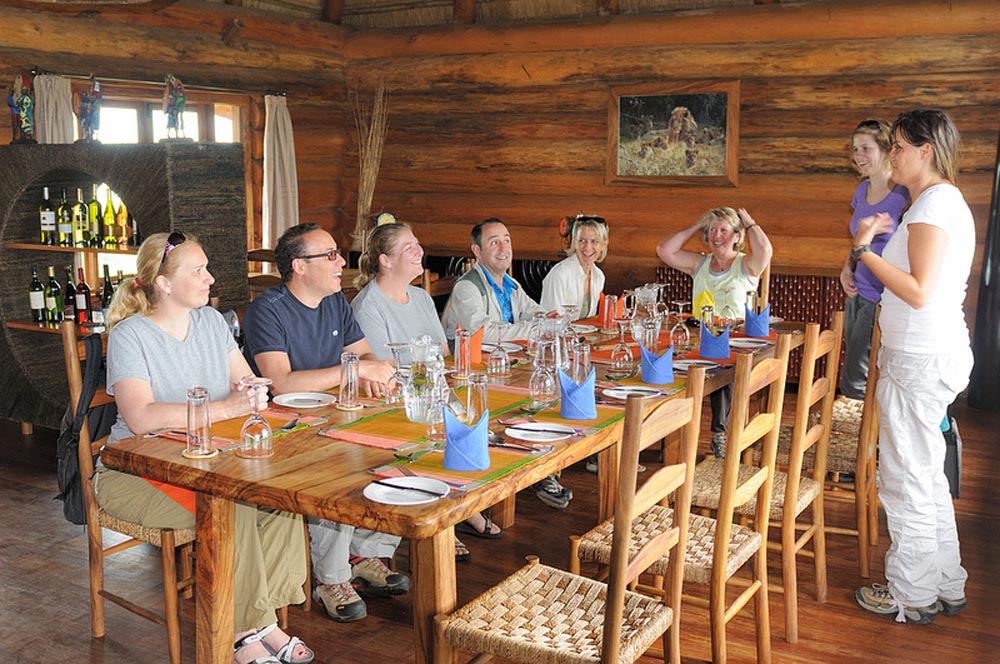 The following morning we trekked for chimps at Kibale Forest and as I had mentioned earlier, it turned out to be a frustrating and ultimately rather disappointing outing. There was a lot of hiking involved. Although the trails were initially quite good – much easier-going than Budongo Forest – it turned into a rather tedious and fruitless pursuit. We trudged around this admittedly beautiful forest for near on three hours without actually getting any really good looks at the chimps. There were a few of them scampering around the tree-tops but with no clear looks or any chance at photography, we all felt rather glum at the end of the proceedings. For a while towards the end there, we followed a small party of chimps along a pathway inside a cane sugar plantation. Unfortunately they headed into the thickets and by that time most of us had enough of the pursuit. It was hot and we were getting pretty hungry so by unanimous consent we called it a day.
On the way back to the lodge – in the vehicles – we spotted some chimps in the trees and actually got some decent looks at several of them descending to the forest floor. We tried to get some better looks by following them into the undergrowth but it was not to be: in fact the last 20 minutes or so of the chimp trek turned out to be more frustrating than any other part of it: very dense forest which made for exceptionally difficult walking. It was a relief when we realized we were back at Primate Lodge. Lunch at Primate Lodge was a bit of a grab-bag affair consisting of potato salad, vegetarian pizza, a pasta salad, fried fish fingers, and a couple of other items. It took a while to get ready but it didn't matter: we were starving and would have enjoyed pretty much anything edible by that stage!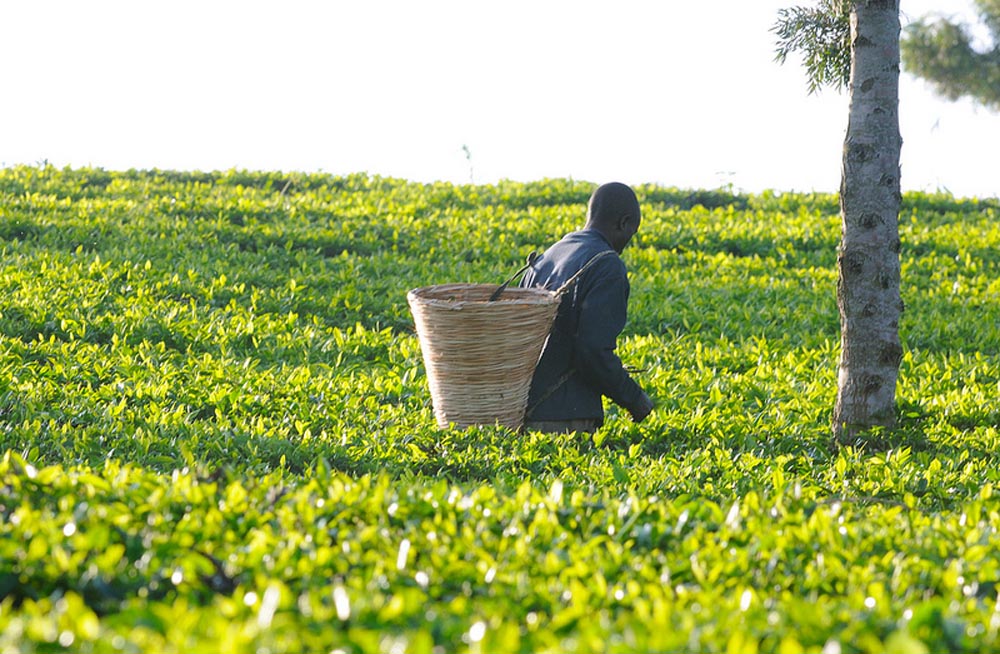 Ndali Lodge
Most of us – except a hardy few including Omar and Lut – opted out of yet another hike around the Bigodi Wetland Forest. Our thoughts had already turned towards the next destination which was Ndali Lodge, a stone and thatch construction stunningly located amidst the Bunyaruguru crater lakes region of Western Uganda. It was difficult to decide which view – from Ndali Lodge – was the best. The crater lake on one side or the spectacular Ruwenzoris (the Mountains of the Moon) on the other side. My room (#8) faced towards the mountain and in retrospect that was my preferred vantage point.
Dinner at Ndali Lodge that night was splendid, with genial host and co-owner Aubrey Price regaling us on stories of bygone years, and more specifically giving us the history of the family-owned farm and lodge. His late father Captain Mark Price reclaimed the property in the mid-90's and built the lodge which opened in 1996. It is a lovely property and the experience of staying there is very much like being a guest at someone's country home. It is very relaxed and casual, with homestyle food (roast chicken on the night we were there), and a great breakfast with the freshest eggs you can imagine. You simply have to have some of the ginger & lemongrass tea! My room was very comfortable and I thoroughly enjoyed the luxury of another hot bath, with plenty of piping hot water available. Ndali Lodge does look a little frayed at the edges: nothing major but I just got the impression that upkeep is not quite what it should be.
Reminder for Kibale Forest: It is essential to wear long pants and hiking boots with long socks to tuck pants into or alternatively (or even additionally) some gaiters. There are safari ants in the forest which can inflict a painful bite and there are lots of nettles and other plants with thorns so by all means protect your lower legs.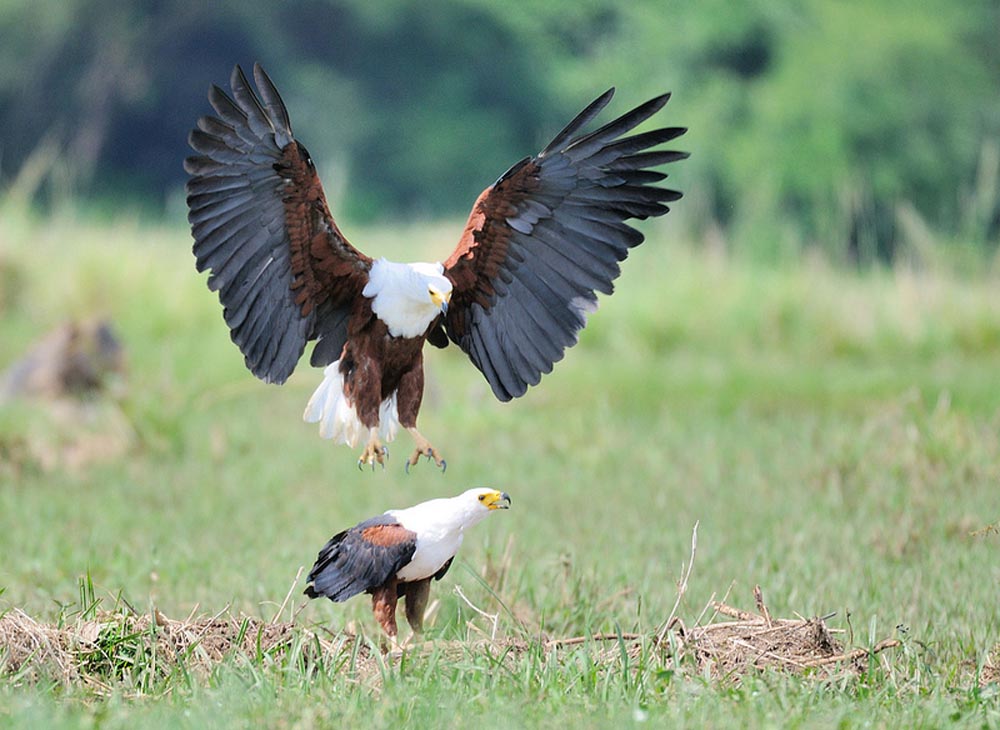 Mweya And The Kazinga Channel
Our next stop was Mweya Safari Lodge (same group as Paraa Safari Lodge) with a very similar feel. However at Mweya it was quite a hike to the room, which had a very nice view over the Kasinga Channel but with parking spaces (and tarmac roads) right in front of the entrances to the rooms. This does not make it feel like a very wild place but of course appearances can be deceiving. The next morning – walking to the dining room – I saw the telltale signs of several hippo having visited the road right in front of our rooms, the previous night.
Everything else at Mweya was perfectly fine: the large dining room & lounge with great views over the water, the food (good coffee!); the bar (I showed them how to mix a dry gin martini!) and the amazing birdlife around the lodge grounds. It is a pity that I did not have time to do some birding here, but it can clearly be very rewarding.
Our two activities at Mweya were a Banded Mongoose trek on the day of arrival and a cruise on the Kazinga Channel on the day of departure. The mongoose trek was a first for probably all of us. It was quite amazing to see a whole group of mongooses – there must have been 30 or so of them – come scampering out of the woodland to inspect the 'bait bucket' (they know there's good stuff in there!) and see them clamber all over the scale without any coercion on the part of the research assistants. Banded Mongooses with their sharp little faces are definitely in the 'cute' category – but that is not why they are being studied. It has to do with their peculiar breeding hierarchy where all females are allowed to breed, in contrast with most cooperative species where only one female (the alpha) breeds and suppresses the others from doing so.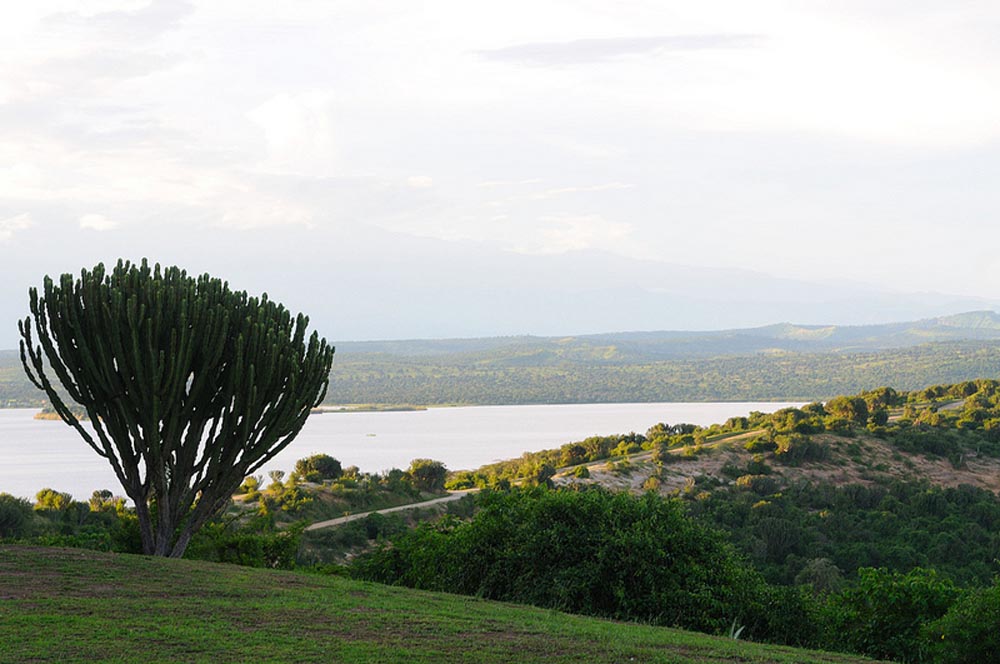 The cruise on the Kazinga Channel was definitely a highlight. Even if there were no wildlife or birds to be seen, this would be worthwhile excursion – a peaceful and relaxing cruise along a beautiful shoreline. Of course there were plenty of interesting things to be seen including many buffalo, a few elephants at a distance, plenty of crocodiles, hippo everywhere and a staggering variety of birds with literally dozens if not hundreds of pied kingfishers, a couple of other kingfisher species, herons, egrets, storks, and African Fish Eagles every few hundred meters. Some of them have clearly seen one too many cruises go by, because they just sat there and stared at us, not even bothering to take off. Eventually one pair did put on a bit of a show for us and I captured a couple of good images.
En route to Mweya we had made a slight detour and stopped over for lunch at the superb Volcanoes Kyambura Gorge Lodge. This superb lodge has great views over the gorge and the lush savannah of Queen Elizabeth National Park. The very eclectic main lodge building has been sensitively restored (it was originally a coffee store and processing plant) to create a stunning living space with several luxurious contemporary spaces for guests. The rooms are no less impressive either, each with its own color scheme and distinctive design elements.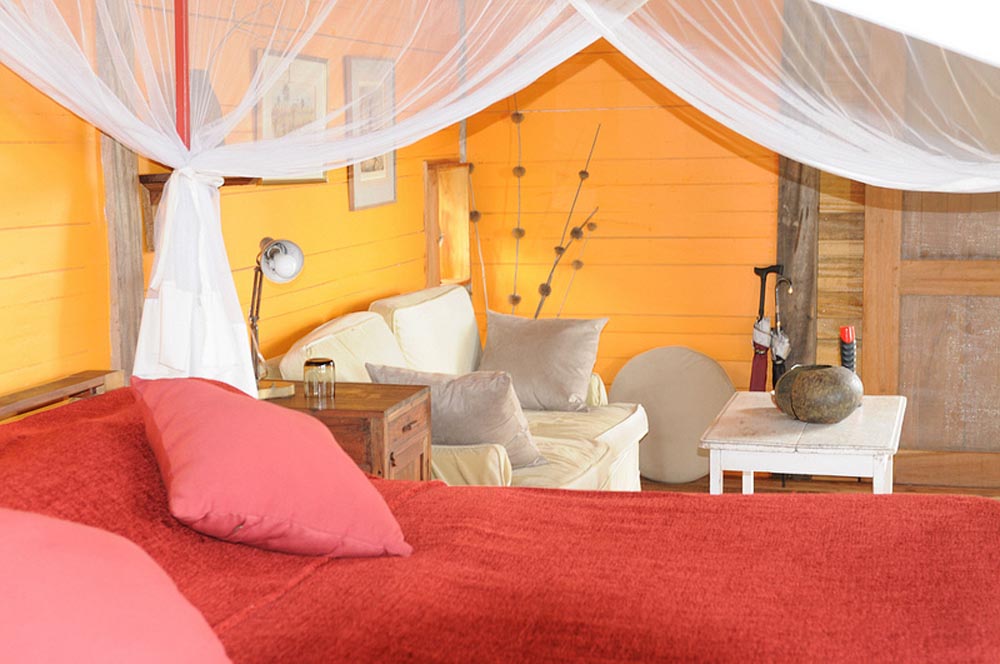 Ishasha Wilderness Camp
From Mweya we headed towards Ishasha, a less-traveled part of Queen Elizabeth National Park. This time, it was not too long of a drive, just a couple of hours or so – with lunch enjoyed picnic-style en route.
As a group we all really liked this remote tented camp on the edge of the heavily flowing Ntungwe River. It is a low-impact camp with pretty basic but very spacious tented rooms and a very functional, yet quite attractive main area consisting of a lounge and dining room under canvas. Contrary to so many of the other properties we stayed at in Uganda and even later in Rwanda, this place really felt like it was way out there in the wilderness and it was! Camp manager Neil was very friendly and welcoming and had set up a riverside sundowner for our group, which was a great way to relax a bit, enjoy a gin and tonic and a nice spread of snacks as well as each other's company outside of the vehicles. Dinner was quite good too: a vegetarian take on shepherd's pie which most of us preferred over the meat choice.
That night it poured (we had rain several nights during the trip) and the river came up even higher. I was not the only person in the group to suffer from disturbed sleep – some water did in fact get into the bathroom portion of my tent. By early the next morning the river in front of camp was in fact noticeably higher but it was still well under its banks: the only casualties were a few low-hanging weaver nests.
We missed out on the tree-climbing lions at Ishasha but they are there; visitors should just spend a bit more time than we did! The Ishasha region of Queen Elizabeth National Park had plenty of other game though; we enjoyed some excellent views of buffalo, large herds of Uganda Kob, Topi and giraffe, amongst others. Ishasha is definitely a good place for a stop-over en route to Bwindi.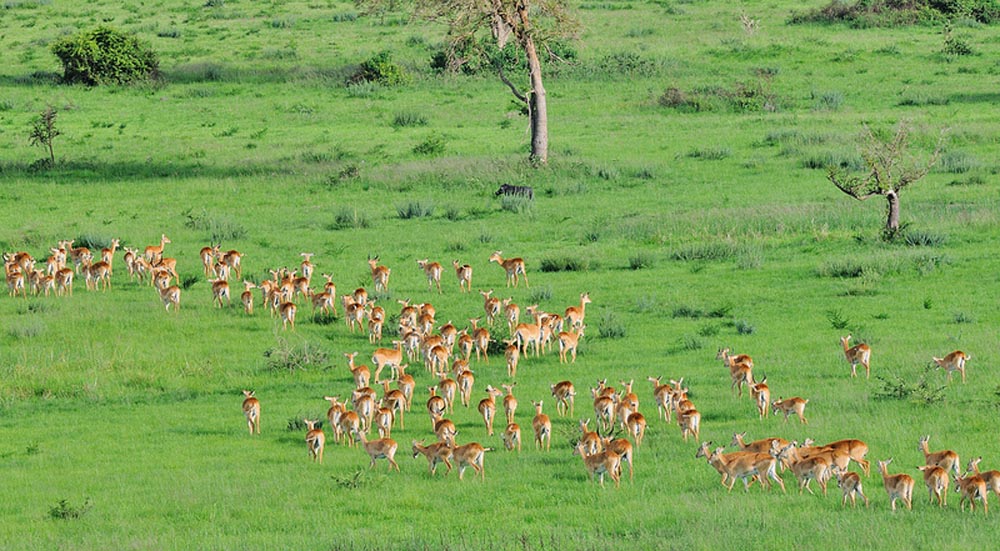 Buhoma & Bwindi Impenetrable Forest
Our long drive from Ishasha to Buhoma was made even longer due to a bridge being out: it was the rainy season and apparently bridges are fairly regularly being washed out at this time of the year. Driving in the wet season in Uganda is definitely an adventure: very narrow roads in places, muddy conditions and plenty of slopes, hills and ravines make for some nervous moments. Our driver-guides Male and his colleague Abdul handled it professionally and calmly and I felt extremely safe at all times.
Even so the twisty roads and poor conditions make for very slow progress. When there are detours involved such as on this day, it can seemingly take forever to get somewhere. Fortunately, the people of Uganda – and particularly the children of whom there are many everywhere – are very friendly and welcoming. If we got waved at once, we got waved at a thousand times, and each time more enthusiastically than the previous time. Little kids would literally drop whatever they were holding and come running towards the road helter skelter, just to gawk and wave at the collection of msungus passing by.
By lunchtime we reached the village of Buhoma right outside of the northern edge of the Bwindi Impenetrable Forest. Our accommodation for the night was Mahogany Springs lodge, where we received an enthusiastic welcome and which certainly impressed me as being a good choice for a stay in this area. I shared a large cottage 'suite' with a huge common area and two big rooms, very comfortable bed and shower with plenty of hot water. Dinner was great too, as were the views of the impressive forest from the front of the lodge. What I did not have time for was to do some birding in the gardens: there were lots of interesting-looking species including sunbirds flitting about, but I was planning on some running.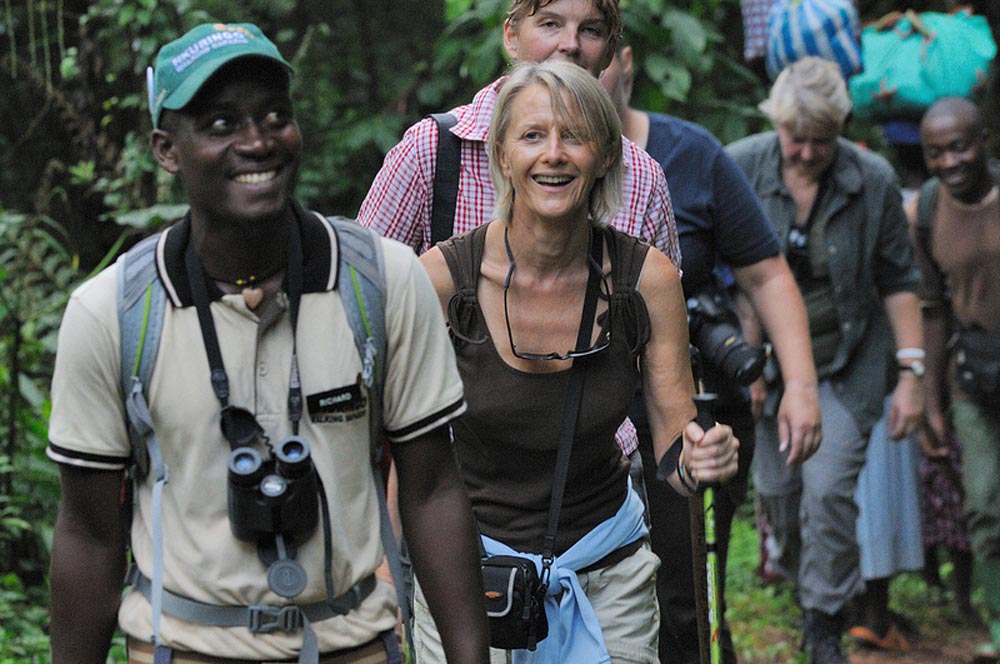 Which brings me to a general observation about visiting Uganda and Rwanda: it is a perfect destination for active travelers who want to get out of the vehicle and enjoy some invigorating exercise by running, walking or hiking. Outdoor exercise opportunities are practically non-existent in most Africa destinations such as Botswana, Zambia, Zimbabwe, Kruger Park in South Africa, Mashatu, Pafuri etc. and many East African areas such as the Maasai Mara and the Serengeti, Samburu and others. Very few camps have gyms or any kind of exercise equipment or facilities. So visitors end up gaining weight and getting 'stir crazy' through a lack of exercise. Not so in Uganda and Rwanda. Almost every day – with a few exceptions such as inside Queen Elizabeth National Park or parts of Murchison Falls National Park – I could take to the roads and run as far as I could go.
As it turned out my running outings were some of the most memorable events on the entire trip. Invariably, the scenery was spectacular and always, there were interested observers and often other participants. This was certainly the case at Buhoma where I ran along a narrow winding mountain road, first through the village itself – with all kinds of interesting shops lining the streets – and then further into the valley below. All along the way there were friendly villagers measuring my progress and checking out my bright orange running shoes. Several times a few kids would join in briefly, big smiles lighting up their faces as they outpaced me, their bare feet lightly skimming over the rocky surface. On the way back a young man – he turned out to be 21 and his name was Robert – accompanied me for quite a distance. Initially the long machete (panga) in his right hand was a bit disconcerting, but just for a moment as his big wide grin dispelled any apprehension I might have felt. Machetes are as common as cellphones in Uganda – especially in the rural areas. Soon enough Robert and I were chatting about family (him married one year, 1 child; me married 30 years, 2 children) and where we were from. Me from Texas, him from just across the road from our lodge in Buhoma Village. I had made a new friend.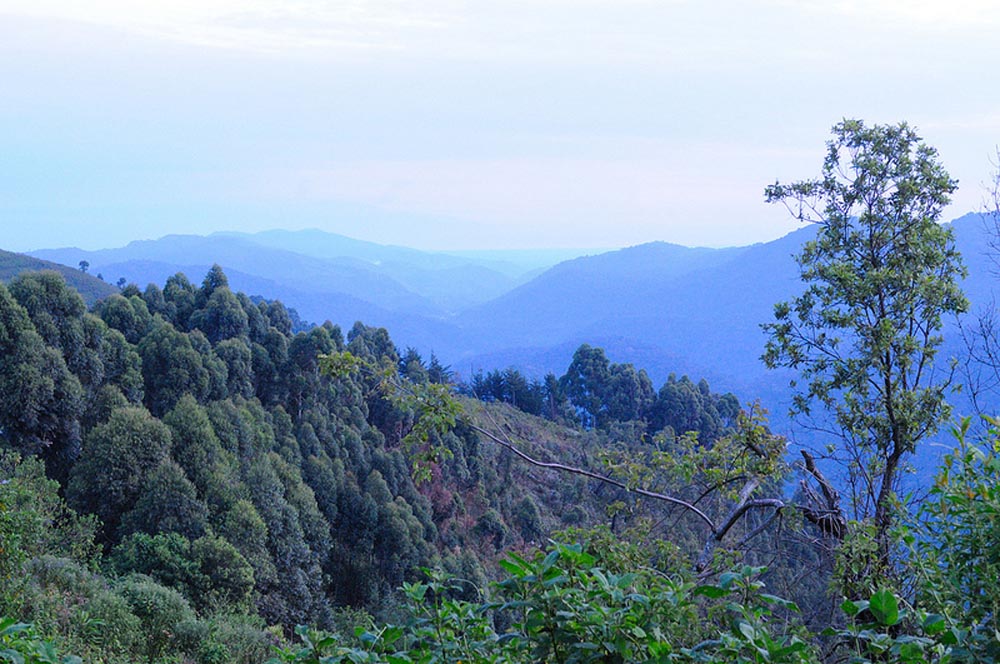 The next morning our little group set out on a hike of about 4 hours through the Bwindi Impenetrable Forest. With porters carrying our bags it was much easier than most of us had anticipated. Really more of a stroll through a beautiful forest than a serious hike. The environment was spectacular with giant trees pretty much shielding us from direct light, creating the typical interior forest gloom, a soft light with few shadows – great for photography if you have a fast lens. The best part of the hike was at the end where we enjoyed real cappuccino coffee or tea if you preferred. From there it was a bit of a slog as it started to rain quite heavily and we were all 'trapped' on a steep, muddy trail up to the spot where the vehicles were parked, about a half mile higher up. It was interesting, to say the least. I was drenched and was worried about my camera gear. Thanks goodness the Nikon brand is very rugged and a bit of water turned out to be no problem.
Our stop for the night was Nkuringo Lodge, which arguably has the best location of any of the Uganda lodges (and that says a lot considering we stayed at Kyaninga and Ndali) with stupendous views over the mountains and the volcanoes. On arrival we were all pre-occupied with getting dry and taking care of our soaked boots – a fireplace with coals came in very handy for that purpose. Dinner later that evening was quite enjoyable. By this stage I had started to ask for the local specialties so my bean dish with maize porridge (posho) was perfect. Nkuringo Lodge was one of the more basic camps on the trip with shared bathrooms & showers and dormitory-type rooms with inadequate lighting and really nowhere to unpack or hang anything. Even so the location makes up for the lack of facilities and for budget-minded travelers this would not be a bad choice. Shortly after arrival I strapped on my running shoes again and went on a 10-k run down towards the village at the base of the valley – the lodge is up against the crest of the hill. It was not one of the easiest runs I have done in my life but it was certainly the most spectacular – a rave run if ever there was one. Definitely in my personal 'Hall of Fame'of running ranking right up there with outings at Grootbos in the Southern Cape (sun sinking into the ocean to my left), San Francisco with the Golden Gate bridge in the background, and the Maasai Mara where I did a 'game run' one day a few years ago. Saw more animals – including buffalo – in an hour of running than I have seen on many many game drives lasting several hours, elsewhere in Africa. The run at Nkuringo Lodge was sublime with constantly changing views of the mist over the mountain valleys and the far-off volcanoes.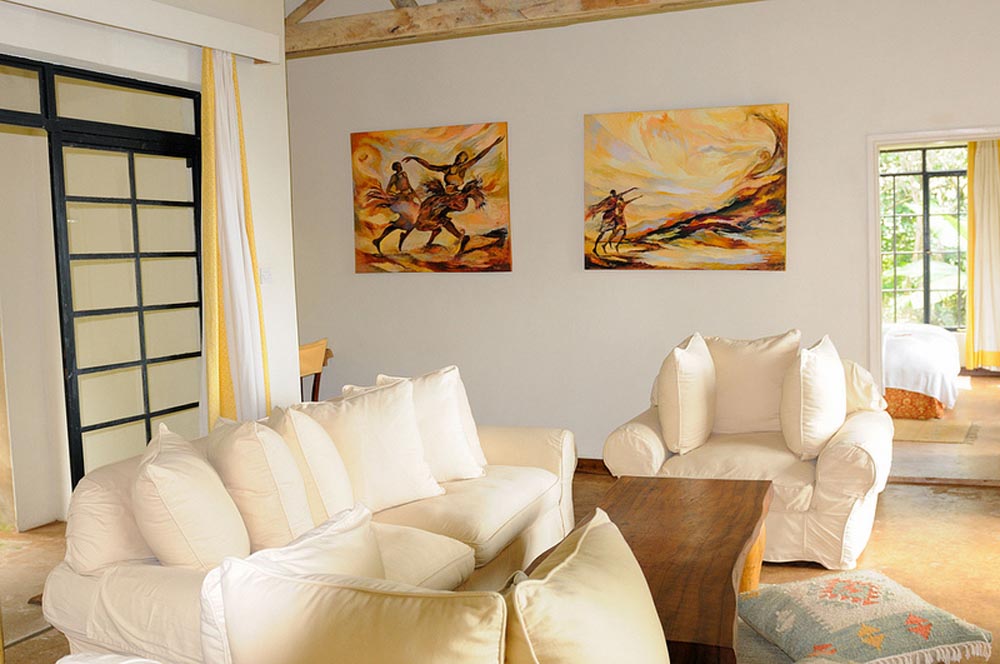 The next day early we embarked upon our first gorilla trek which I dealt with in Part 1 of the trip report. It was a happy bunch of travelers who arrived at the deluxe Cloud's Lodge the next afternoon. I think we all loved the beautiful setting – again with jaw-dropping views over the mountains and volcanoes – and the beautiful lounge area and dining room at Cloud's. The rooms were pretty nice too: soft linens , lots of space, lots of privacy. One of our team members – Gabi – celebrated her birthday on this day so dinner was a festive affair complete with birthday cake and sparkling wine. We had a great time and the dinner itself was good too if somewhat unimaginative – a variation on the usual vegetarian stew.
The only disappointing aspect to the stay at Cloud's was the picnic lunch which they packed for us for the next day's trip into Rwanda. It looked like someone threw together a few sandwiches and that was it: they completely forgot to include a vegetarian option so I was not impressed. The day itself was pretty much a washout as we had to make a long detour due to a blocked road (large truck got sideways) and we did not make it to our destination – supposedly a Batwa village – until hours after the daily trek/outing was supposed to start. Some of the roads en route, especially the last couple of miles – were bone-jarringly bad. In the end we made the long journey out to Mgahinga National Park for absolutely nothing. We did not see any of the Batwa people. Or their village. A few of us hung around the vehicle while the real troopers took a short walk. We then 'enjoyed' the picnic lunch (sorry for the sarcastic note) and bumped our way back to the main road to drive out of Uganda and into Rwanda. The only redeeming feature of the day was some spectacular scenery over a lake which we were 'forced' to circumnavigate due to the detour. It was one of the prettiest scenes of the entire trip and as you can tell by now, I am running out of superlatives to describe the views. How many times can you say spectacular, gorgeous, stupendous or mind-blowing…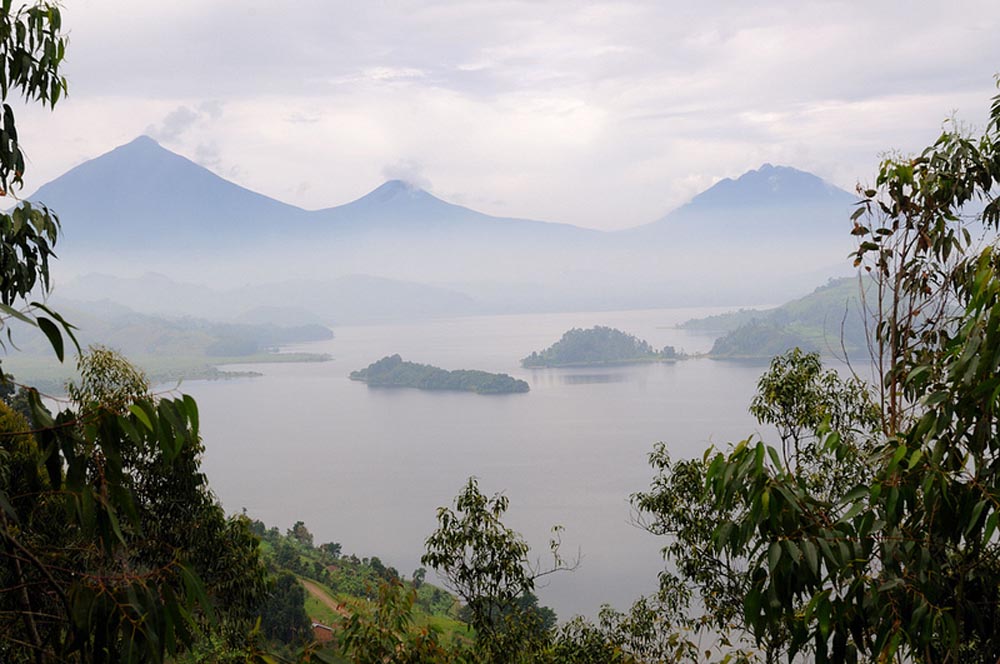 RWANDA
After a rather tedious yet uneventful border crossing from Uganda – nice not to have to pay for a visa! – we found ourselves in Rwanda, dodging the many pedestrians competing for road space with trucks, cars, motor bikes, bicycles and what not. Quite a scene and it was to be repeated pretty much throughout Rwanda. The roads are mostly paved so quite easily negotiated, they are just narrow with practically no thought for the well-being of the hundreds of pedestrians. There are no shoulders – mostly just deep ditches to get rid of the large amounts of rainwater which fall here in months including March, April and May. It was getting to be late afternoon by the time we made it to Gorilla Mt. View Lodge where we spent the night and where several of us did a Golden Monkey trek the following morning. This was also covered in Part 1 of the trip report, as was my subsequent gorilla trek in the same area, but based at the superb Sabinyo Silverback Lodge.
The following evening we were in Rwanda's sparkling and attractive capital city – Kigali – at the Serena Hotel. My room was perfectly fine, with everything you could possibly want for a comfortable night's sleep including a room that gets totally dark, soft pillows, and it was quiet. All the other amenities including a nice range of toiletries, a real bath (not a shower person…), in-room mini-bar and good lighting were bonuses. On my subsequent stay at the Serena things did not initially go well as I found myself in a room without hot water – for several hours – and it turned out to be very noisy with a loud band playing pool-side, right below my room. The Serena handled it well though, upgrading me very quickly to a Junior Suite.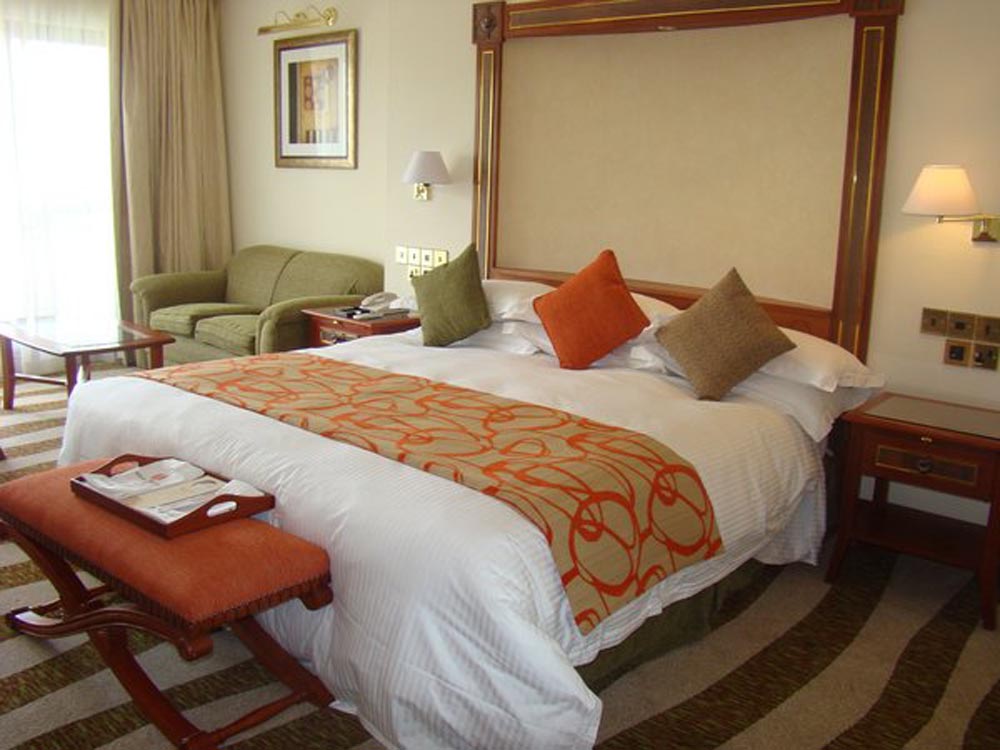 On the last night of the main part of the trip, our group enjoyed dinner at Khana Khazana, a large and clearly quite popular Indian restaurant. It took a while to get our orders in but as it turned out the kitchen was fairly quick. The restaurant has a very extensive menu with a bewildering array of Indian specialties. Fortunately I spotted Chana Masala, a reliable chickpea stew. Just what the doctor ordered and it was pretty tasty! We thanked our hosts, said our farewells – some members of the group would be departing later that same evening – and went back to the hotel. As a group we had grown very close in the space of just 10 days or so, and there were several new friendships established. It was a particularly amiable yet very well-travelled and knowledgeable group of people. I hope that we will be able to meet up for a similar trip to Mozambique next year.
The following two days I spent at Nyungwe Forest (a 2-night minimum stay is recommended, 3 nights would be even better as it would enable guests to do a chimp trek as well as some walking and possibly a visit to the local tea estate). I would recommend the area for visitors to Rwanda who are keen on hiking/nature – there are some spectacular trails and an impressive Canopy Walk, as high as 90 meters in places, with amazing views over a beautiful primary forest. Nyungwe is also a chimpanzee trek destination so visitors can extend their stay in Rwanda by a couple of nights and do a chimp trek there. There are flights available in both directions from Kigali to Kamembe (about 1 hr drive from Nyungwe Forest) but I would recommend driving from Kigali to Nyungwe and stopping over in Mutare for a visit to the King's Palaces (traditional and modern) as well as the superb Rwanda ethnographic museum. I found the visit to the two palaces to be particularly insightful and it really opened my eyes to the ancient history of Rwanda stretching back to the 11th Century. There is so much focus on the time period from colonial times until the Genocide and its aftermath, that the early history tends to be glossed over.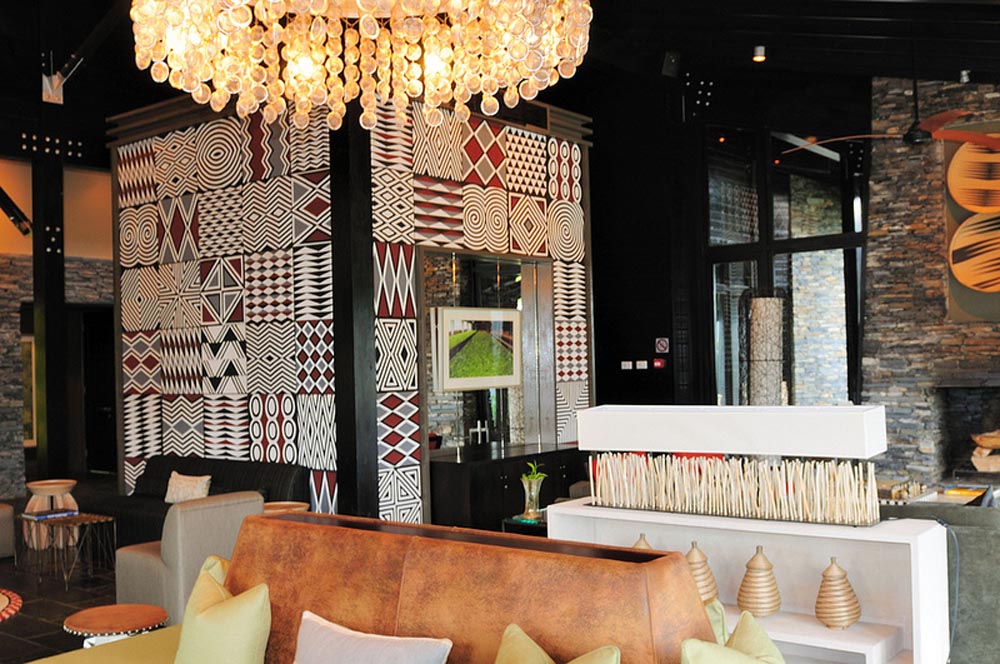 Nyungwe Forest Lodge was the best of any of the properties we stayed in during the trip – only Sabinyo Silverback and Clouds rivalled it but the rooms at Nyungwe Forest Lodge are really nice, tucked in on the edge of the forest. The food was very good too – the chef was happy to serve me the local fare consisting of posho (a variation on polenta) with beans and dodo (locally harvested wild spinach).
Our time spent at Nyungwe Forest was mostly contemplative and relaxing but we did undertake a stroll along the Ngishigishigi Trail, deep inside the forest itself. On the day it was quite foggy and the interplay of mist, color, light and shade made it a very special experience. All thoughts of time and place disappear as you become totally focused on the colorful flowers, massive trees and tree stumps, and swathes of bright green moss seemingly growing on just about every surface. Butterfkies, secretive birds and monkeys chattering in the distance add yet another layer to the experience. The canopy walk which took us some 90 meters (more than 270 feet) above the forest floor was well worth the effort. It is a very sturdy construction and all but the most height-phobic individuals should feel comfortable looking down upon the tree-tops, imaging what it would be like to lift off and land softly on a branch below.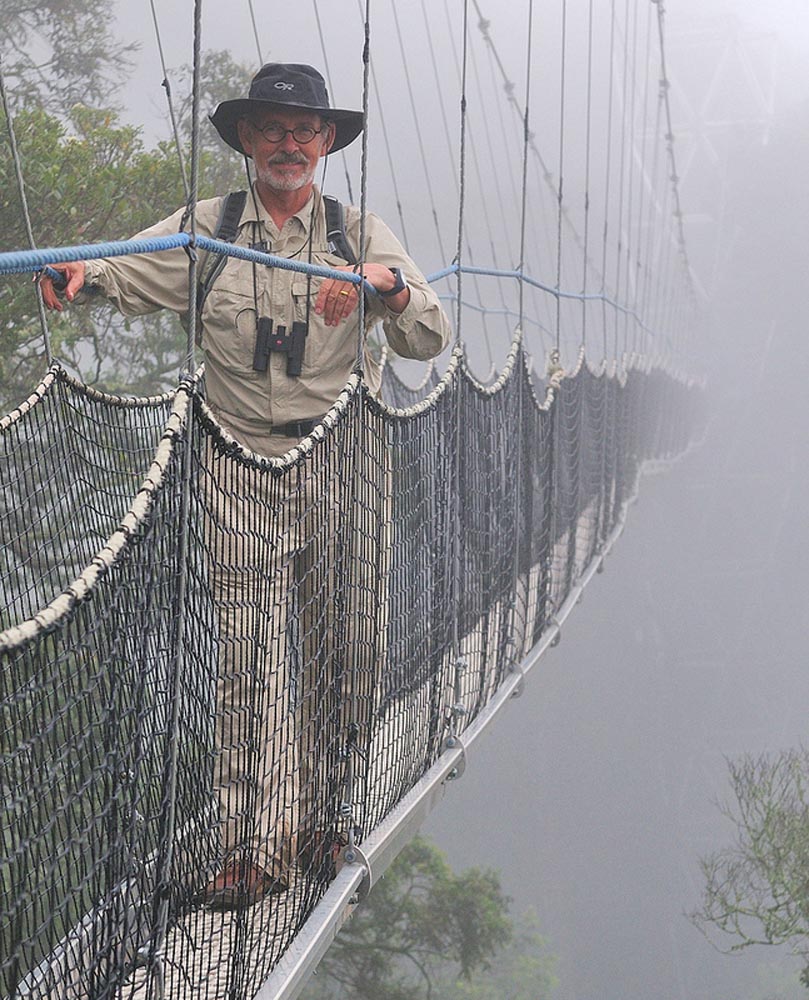 Conclusion
It was too much of a whirlwind trip (one night stands galore!) to get a truly representative sampling of the wildlife but if one were to spend a few days each in the Murchison Falls NP and in Queen Elizabeth National Park (Mweya area with the Kazinga Channel and Ishasha), you should come away with some pretty decent game sightings in Uganda.
In addition to that, Kibale (for chimp trekking) and of course Bwindi for a gorilla trek should be on any Uganda itinerary. I would be inclined to add a second chimp trek at either Budongo Forest or at Nyungwe in Rwanda if that country is part of the itinerary.
In Rwanda the focus is very much on gorilla treks at Volcanoes National Park; time permitting (or for children under 15 years) a Golden Monkey trek – in the same general area – is also a fun outing. Nyungwe Forest is spectacular and a drive out there, with a stop at Mutare for the museum and the King's palaces – are highly recommended also.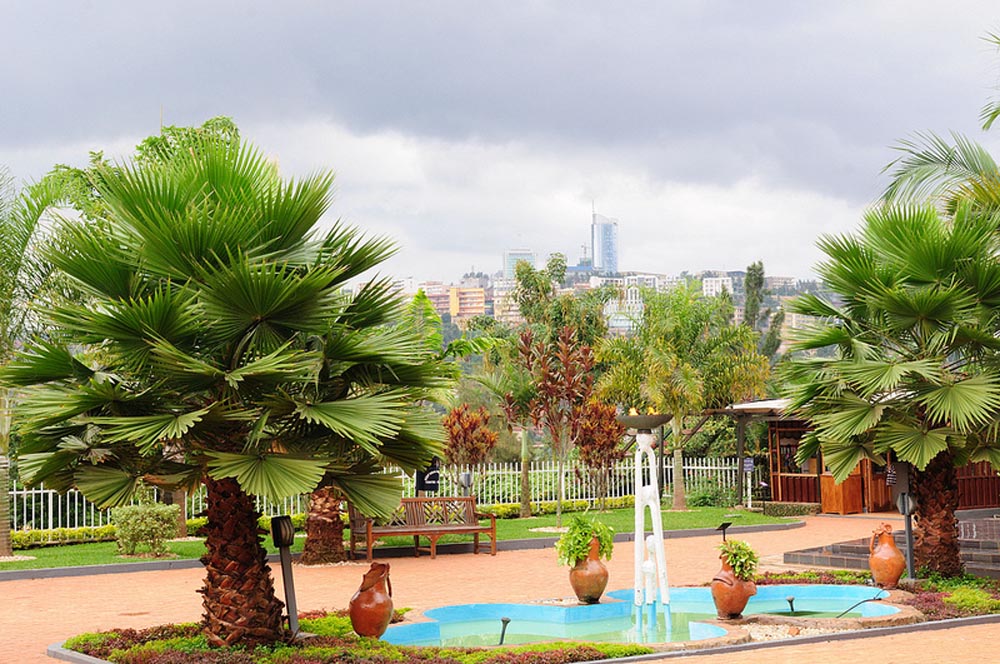 In summary I would say the best reasons to visit Uganda and Rwanda are the apes and monkeys with chimps and gorillas at the top of the list; scenic beauty; and then wildlife (mammals, reptiles, birds etc). Of course the people and cultural experiences rate very highly in my book – some of my most memorable moments were all about connecting with people while running or on activities.
For anyone with more than a passing interest in birds and birding, both Uganda and Rwanda are loaded with spectacular and in many cases endemic or near-endemic species.
Our hosts – The Far Horizons company – could not have been more helpful in the time-frame leading up to or during the trip itself. I received complete and very useful formation well in advance and was for once well-prepared right down to gaiters and a water bottle. Patrick Shah and his capable team in Uganda and Stella Wadulo and her support staff in Rwanda did a sterling job all-round and we all felt extremely well taken care of and safe. It was a great trip and I will certainly do what I can in future to encourage travel to this wonderful, lovely part of Africa.