$cat_name = 'category'; $categories = get_the_terms($post->ID, $cat_name); foreach ($categories as $category) { if ($category->parent) { echo $category->name; } } ?>
Nov 10, 2013
Congo November 2013
Share: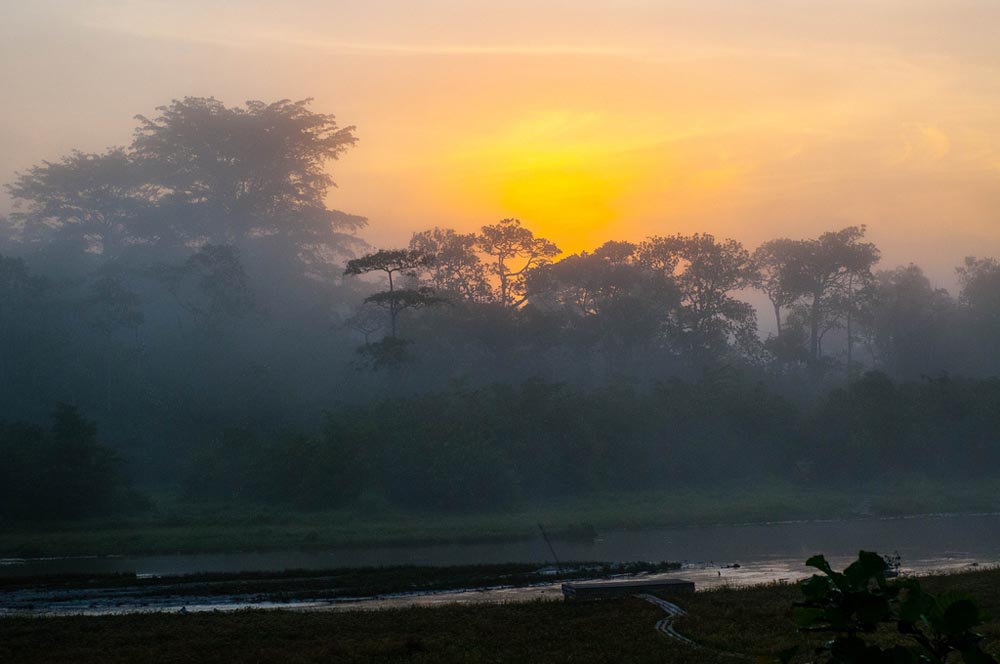 Congo November 2013

PART 1: INTRODUCTION, ODZALA-KOKOUA NATIONAL PARK
BEHIND A MASK IN THE CONGO
If you had asked me to nominate my favorite animal 6 weeks ago I might have said cheetah. Ask me now and the answer is Western Lowland Gorilla. Over the course of a 7-day trip to Odzala-Kokoua National Park the gorillas predictably stole the show. Finding them, hearing them, and then -finally – seeing them was the best African wildlife experience of my life to date. This was the thrill I expected to feel upon seeing the mountain gorillas in Uganda and Rwanda but never did. Neither of my two gorilla treks there even remotely matched the spectacle of Odzala's gentle tree-climbing giants. Gorillas are awesome animals anywhere but put them in the trees, add motion, movement – up, down and side-ways – and you have a wildlife experience without equal.
Admittedly, we got very lucky with both our gorilla treks. The first one came pretty close to being very disappointing, before a couple of obliging animals decided to make themselves available to the admiring and ever grateful visitors. Had that not happened, we may have had to return to camp with nothing more than a few glimpses, some hairy faces peering around tree trunks and dark blobs moving through the leaves.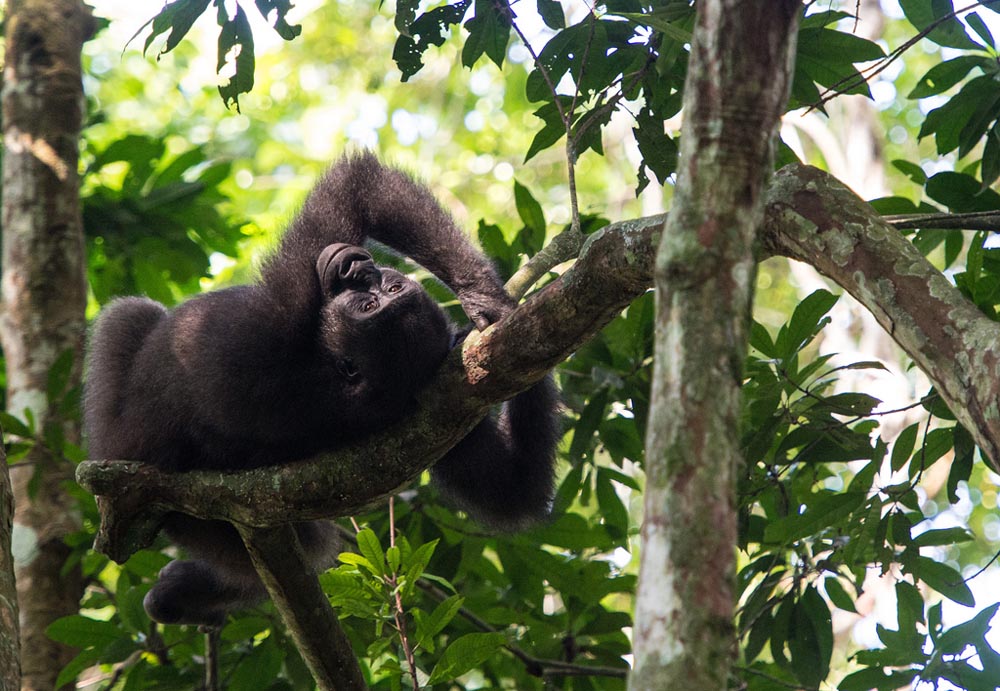 Our second gorilla trek was good almost from the word go with a decent look at the dominant silverback (in a tree) and very good to superb views of a couple of the other family members.
Gorillas being gorillas, a rainforest being a rainforest, one has to assume that there is a possibility of one or maybe even both of the treks being below par. It could happen. My sense is that the tracker and the guide will do absolutely everything they can to make sure that everyone gets a good look at a gorilla. During our visit the trackers (who keep the stopwatch) were very liberal with time management and I certainly never felt rushed. When they called time we were all quite happy to call it a day.
By contrast the wildlife experience at Lango Camp was somewhat disappointing. Perhaps we were just not there at the best time of the year. There were good numbers of forest buffalo around and the bird-watching was a lot better than at Ngaga. We did have a sighting of a small group of hyenas, some bushbuck on the edge of the Bai and a couple of fairly good sightings of forest elephants. But not much else. It was fun walking in the Bai down the Lango stream where we witnessed some impressive flocks of African Grey parrots and Green Pigeons flying right by us. Unfortunately our boating trip on the Lekoli River was extremely quiet with I think one glimpse of a couple of monkeys and a far-off view of some elephants. And fewer birds than I had anticipated, the highlight being an African Finfoot.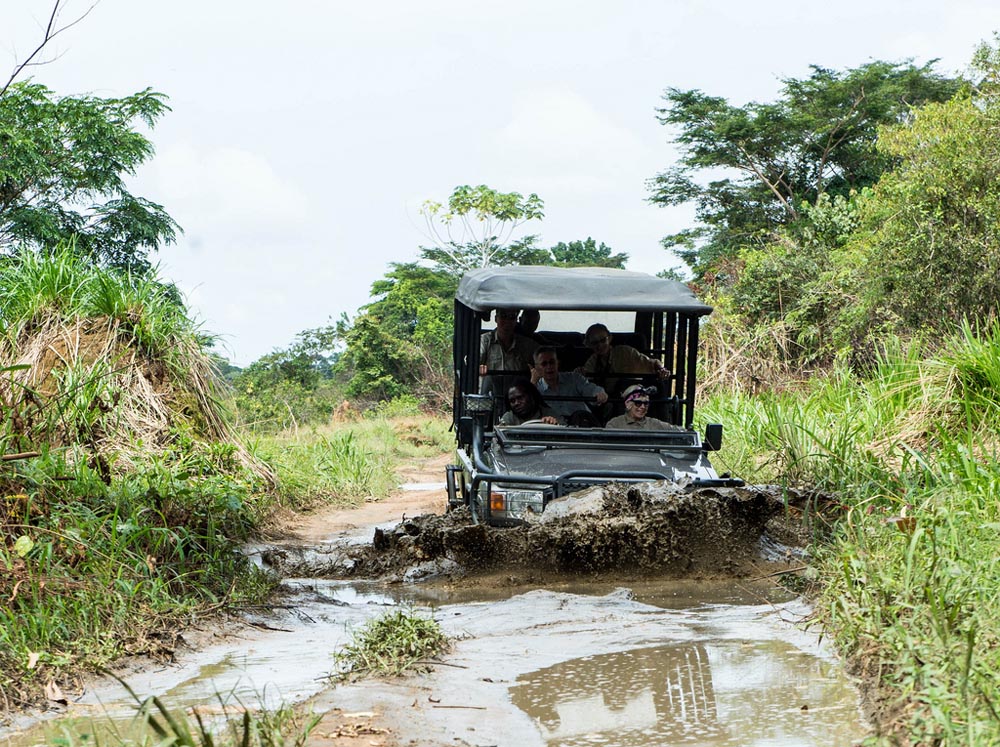 Clearly it takes luck – or a longer stay – to see some of the more elusive species such as sitatunga, bongo and giant forest hog, not to mention the various forest duikers or water chevrotain. We dipped out on most of the other primates as well, with decent views of only colobus and putty-nosed monkeys.
Would I go back to Odzala-Kokoua and would I encourage anyone else to make this long and expensive trip? Definitely yes – in fact I am already planning a return trip to neighboring Gabon to explore some venues to combine with an Odzala trip. At this stage the most promising candidate is Loango National Park in Gabon.
I had previously experienced tropical rainforests in East Africa but the Congo basin is a whole new world. 'Congo' is a very evocative word infused with adventure, exploration and excitement and the reality of it is no less romantic than the notion. It is an intriguing area simply bristling with life and energy and for avid African wildlife enthusiasts it offers a rich and diverse experience which should be filled with many firsts.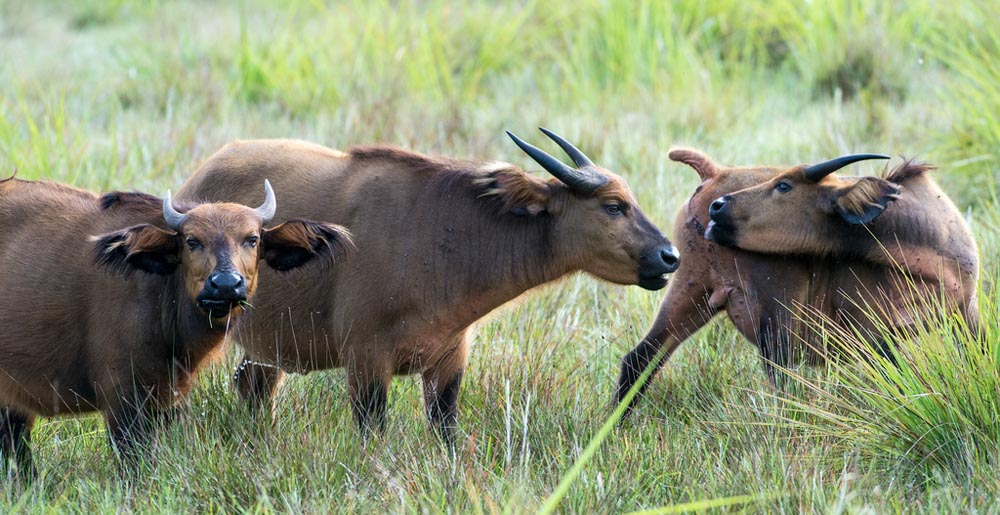 THE PREQUEL
Tell someone you're going to the Congo and you might get all kinds of reactions, depending on how well you know them. All the way from 'Are you nuts!' through to 'Are you sure that's a safe place?' During the lead-up to this trip this would be the cue for my discussion of the 'good' Congo (i.e. Republic of Congo aka Congo Brazzaville) and the 'bad' Congo (Democratic Republic of Congo, aka DRC or Congo Kinshasa). Some parts of the DRC are definitely off-limits including the eastern region – others are probably worth exploring but perhaps just not quite yet.
By contrast the Republic of Congo (Congo Brazzaville) is quite stable and safe and we never felt even a twinge of unease or apprehension. The people we met could not have been friendlier and more welcoming of our presence. It might be different if you were to travel there on your own, but with a good local operator it was really pretty uneventful, in terms of logistics.
The French invented and perfected the 'art' of bureaucracy and even though their former Congo possessions have long been independent, those old bureaucratic ways have persisted. So, as a result, you need an official letter of invitation from the Republic of Congo (ROC) Government to visit the country. Your tour operator (Wilderness Safaris in this instance) handles that on your behalf. This signed letter, plus several other documents including proof of Yellow Fever inoculation, needs to be sent to the ROC Embassy in Washington DC to get your visa. We used Travisa for this & they did a great job – it was pricey though.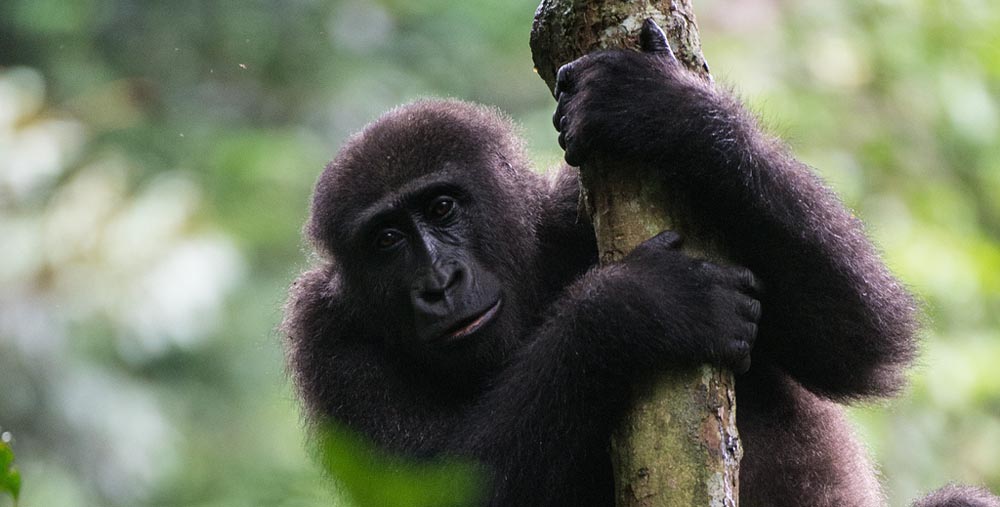 Anyway cutting to the chase, on the day we arrived in Brazzaville on a Kenya Airways flight from Nairobi a very surly French-speaking immigration official demanded to see our letters of invitation. He wasn't interested in my explanation that we had sent the letter of invitation to the ROC Embassy to get a visa, and that the fact that we had a visa in our passport 'proved' that we had letters of invitation. We just did not have them on us…
We were pulled out of the line and made to stay back with two Dutch businessmen (Heineken employees) who were getting exactly the same treatment. I pretty much just shrugged my shoulders and looked befuddled – and after a while – when he learnt that we were 'touristes' en route to Odzala – the official handed back our passports and curtly waved us through. Whew! A rather bumpy introduction to the Congo. There was more to come.
The driver from Mikhaels Hotel who was supposed to take us to the hotel never showed up. They knew we were coming and had our arrival details, basically just a screw-up on their part. Which caused an unnecessary delay and much grousing from me. Eventually we got into a taxi and was driven the few miles to Mikhaels Hotel in Brazzaville.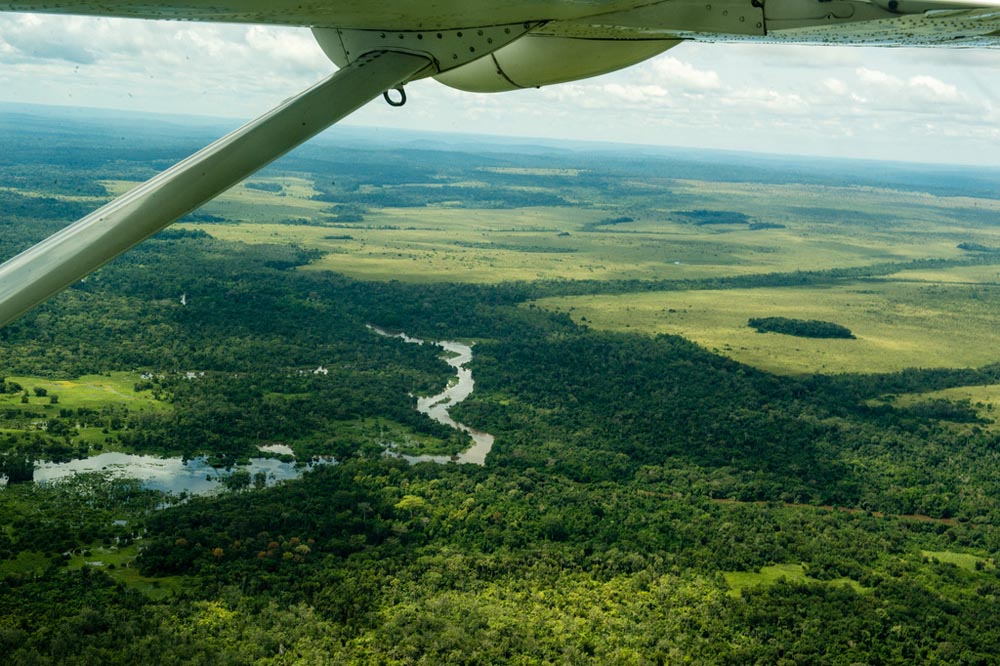 MIKHAELS HOTEL, BRAZZAVILLE
At first glance the Mikhaels was a nice place: imposing lobby, great coffee while we waited for our room and a friendly manager who took time to answer all our questions. Unfortunately an overnight stay exposed several flaws. For one thing, everything is over-priced. Notably the restaurant, but also the drinks with the exception of local Congolese beer (Ngok or Primus, made locally by Heineken). For example, we paid as much as US$12.00 for a mediocre glass of wine and nearly $50.00 for a rather plain dinner (Saka-Saka – a local vegetarian dish – rice & pomme frites with 2 soup starters) for the two of us. We had a few other minor gripes about the hotel: very small rooms – or at least some of them – tiny showers, and very slow internet/wifi. All in all an okay choice in Brazzaville – but we may try a different hotel the next time around.
By the way the Saka-Saka is made from plantain leaves – otherwise known as manioc or yuca – ground up with palm oil and some seasonings. Served with plain white rice it is quite delicious and definitely worth trying if you are an adventurous diner. It has an an earthy flavor reminiscent of Marog, a wild spinach dish from South Africa. [Marog might be a species of amaranth – I will definitely have to follow up on that]. I was not at all impressed having to pay $4.00 extra for a 'condiment' platter with hardly more than a dab each of of ketchup, mayonnaise and what looked like mustard.
And don't get me started on the poor excuse of a laptop in the business center. In typical French fashion the rather important @ key is non-functional. To get an @ symbol into an e-mail address you have to do 'control' and zero at the same time. Very logical and totally intuitive. Right.
ACROSS THE EQUATOR TO ODZALA-KOKOUA
On the morning of our departure to Odzala, it was raining in Brazzaville. A lot. Clearly a big tropical storm had moved into the area and wasn't going to clear out soon. And so it was. Our flight out of Brazzaville was delayed by about 90 minutes. No problems with that; the local representative of Wilderness Safaris smoothed things over considerably by having us wait out the delay in the airport's comfortable business lounge. We enjoyed some good coffee and got to know some of the other members of our group – all of whom were seasoned Africa travelers.
When we finally took off it was towards the south and we could see a couple of landmarks near our hotel, the one being a very ugly cell-phone tower. The pilot then banked to the left and made a gentle 180-degree turn pointing us pretty much due north. Just to our right and below was the Stanley Pool of the Congo River, an almost lake-like widening of the river which also marks the first navigable stretch of this major waterway. From the air the volume of water and the strength of the current were impressive. If you didn't know any better, you'd think the Congo River was in flood stage, but of course its rate of flow is fairly constant, having catchment areas in both the southern and northern hemispheres.
It took just less than 2 hours non-stop from Brazzaville to the landing strip at Mboko in Odazala-Kokoua National Park. Along the way we peered out from 15,000 feet to stare at magnificent forest patches sliding by underneath us, sometimes contiguous for many miles. As we approached Mboko the habitat changed quite dramatically to a more open, mostly savannah landscape with strips of riverine forest and patches of tropical forest. Mboko is about an hour's drive from Lango Camp, one of Wilderness Safaris' two classic camps currently being operated in the area. We would not visit it until day 4 of our stay. Our first stop was the other camp – Ngaga. Ngaga is hardly the most mellifluous of options for a camp name, but that's where we were headed.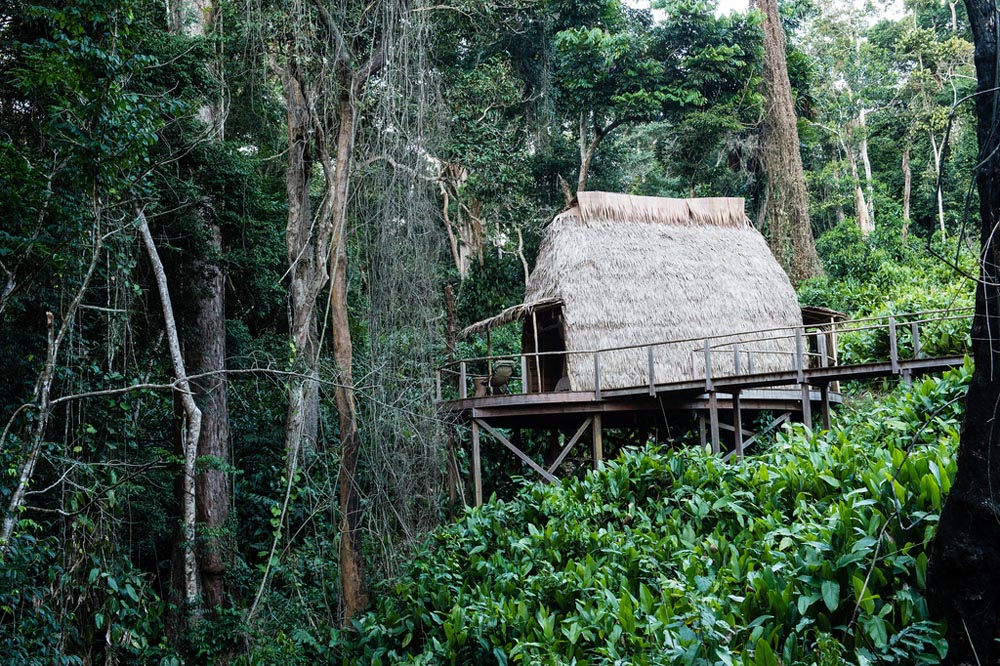 NGAGA CAMP – THE PLACE OF THE GORILLAS
For the three nights you spend at Ngaga Camp, you will never be far from the Marantaceae forest. Right around the camp it is the most dominant vegetation and on both of the gorilla treks we walked alongside and through massive stands of this giant herb. It reminds one a bit of a very dense kelp forest with heavily entangled stems and a profusion of massive leaves. From above it looks like a thick carpet or even a giant vividly green lawn. One glance makes it clear that a Marantaceae forest is all but impenetrable. All you can is to follow the same paths used by forest elephant (where they are present, not the case at Ngaga), forest buffalo, gorilla, forest hogs and other animals. It is believed that Marantaceae forest is an intermediate stage in the reforestation of the savannah, in this area.
The Marantaceae forest in front of and around Ngaga Camp is most impressive and it totally obscures the walkways from the lodge to the bungalows. Just 2 metres from the edge of the camp boardwalk you're way over your head in the Marantaceae – only to re-emerge a the edge of the walkway to your room.
Which brings me to the rooms. At Ngaga they are elevated several meters above the Marantaceae with the front opening & small verandah with chairs and table, literally just a few meters from the edge of the closed canopy forest. We spent some time sitting there and just listening to the sounds emanating from the forests. Several birds which I never saw, some cicadas, frogs and other tropical rainforest sounds which I might never have heard before. One bird call in particular was intriguing as it was familiar to me – the very distinctive call of the green coucal, known locally as the yellowbill.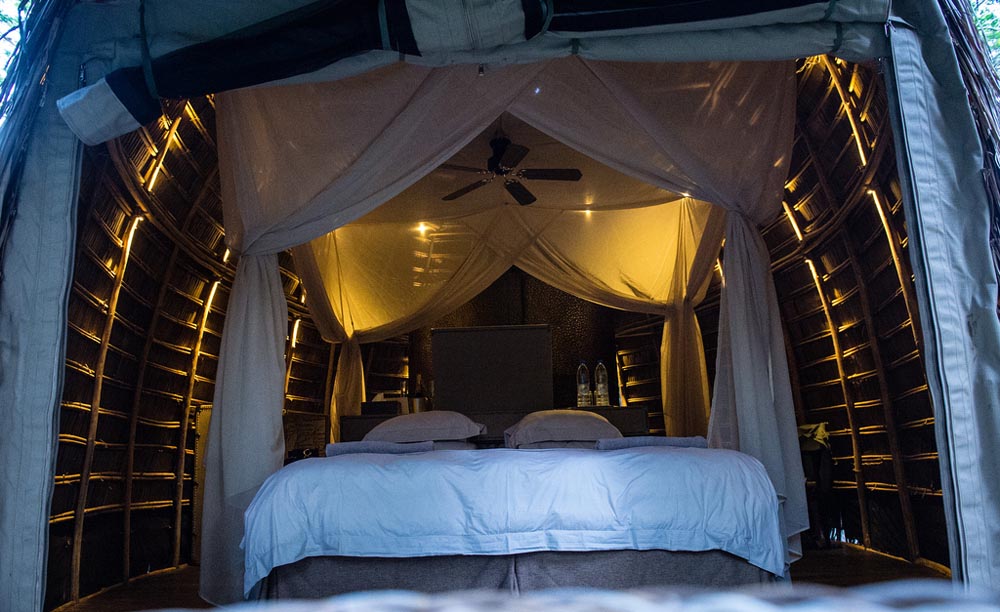 Like I said, I never saw the yellowbill or for that matter many birds at all, at Ngaga. Which is not unusual in a forest environment. A forest just does not give up sightings left, right and center. It parcels them out slowly and selectively – or sometimes not at all. You're not driving up to gazelles in open savannah – you are searching for elusive species – many of which are largely nocturnal or furtive by nature. Further complicated by limited visibility and limited vantage points. So take a large dollop of patience and a stiff measure of reasonable expectations with you on your first trip to this area. You won't see everything you've come to see. However almost everything you do see will surprise and delight you. My best advice is not to get hung up on a long laundry list of exotic species. Make the destination itelf part of the experience, enjoy the magnificent forests, the bais, the rivers and the overall experience of being in one of the last few truly pristine places in Africa.
Back to the rooms at Ngaga. The elevated location right on the edge of the forest is perfect and the size – just 6 rooms – and scale of the camp is ideal. A hotel in the bush would be out of place at Odzala considering the fragility of the environment and the tone of the experience. The bee-hive styled huts are made of locally sourced materials and minimalist in style and execution: nothing superfluous or ostentatious here. A very comfortable mosquito-net ensconced bed, a rather odd but functional bronzed metal toilet/bathroom structure and a very effective hot water system. Not a lot of space to hang or store things, but cozy and well insulated from the exterior. We never had any issues with bugs.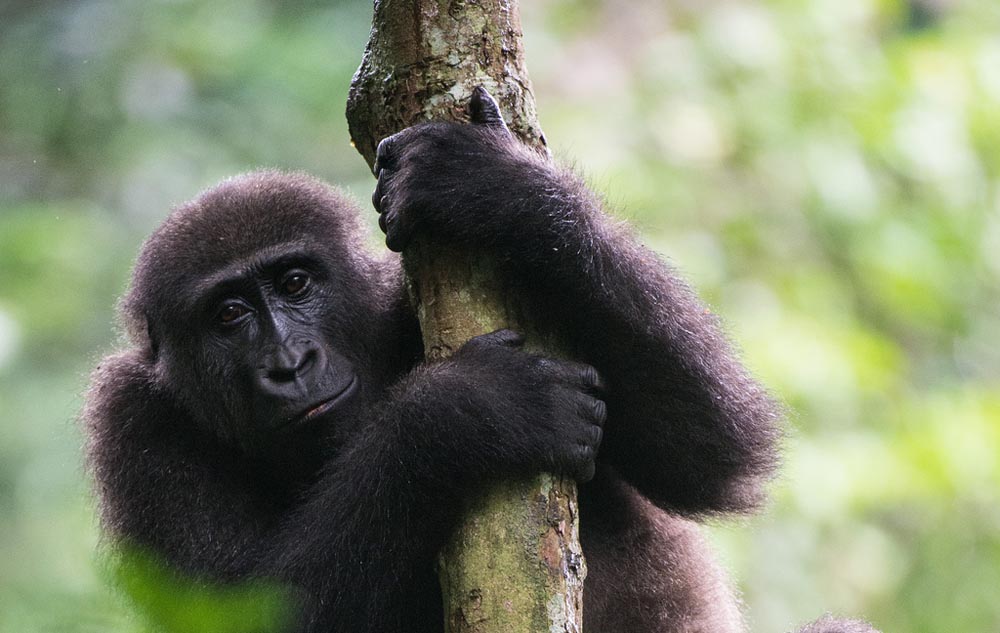 The low-key yet impressive lounge and dining room at Ngaga is several meters higher than the rooms, on the high side of the Marantacea forest which leads down to the edge of the forest. It has the same 'no-frills' feel and look of the rooms, again quite appropriate for the setting. Looking out from the dining room, the Marantacea has the appearance of an overgrown tea plantation and visually it has the same soothing, pleasing effect. In the distance is the rain-forest, sometimes partially obscured by mist.
The food and hospitality at Ngaga were impeccable and manager Olivier was a star. He was entertaining, helpful, friendly and made sure that we were well-briefed and well-prepared for the gorilla treks. The same can be said about or Wilderness Safaris guide Justine Brown. She was knowledgeable, very friendly and considerate of our well-being. Her driving skills were superb too! The other half of our group was guided by Maxwell Muswere (who hails from Zimbabwe) and they had the same high opinion of his skills.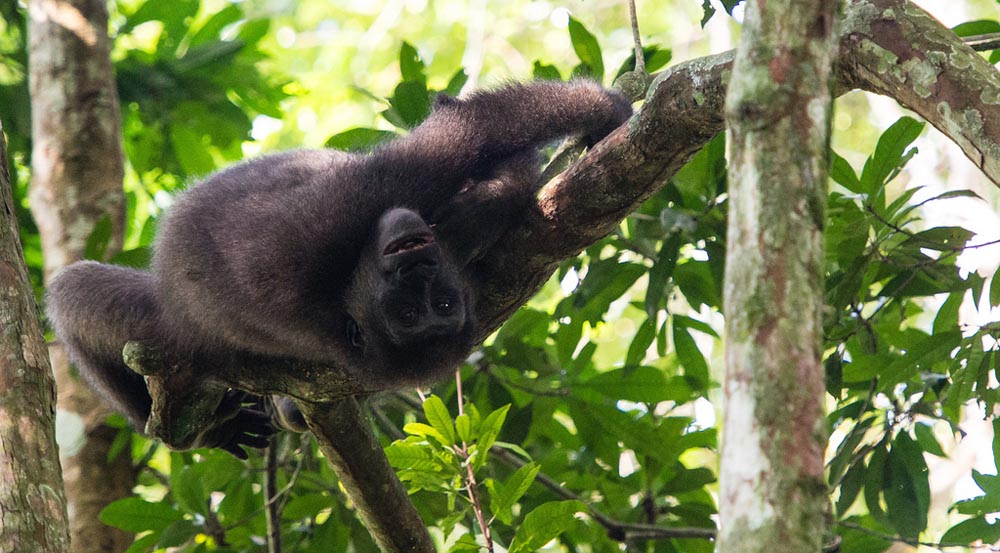 PART 2: LOWLAND GORILLAS
THE GORILLA TREKS
There are similarities between gorilla trekking at Odzala-Kokoua and in Uganda and Rwanda, but not many. There are no formalities, no bureaucrats, no groups being randomly allocated to guides or a dance troupe entertaining the tourists before they are driven to the trailhead. It is very much a scaled down operation which adds immensely to its appeal. No porters either, in an attempt to keep the groups as small as possible.
You walk right out of camp with just a single tracker leading the way, the only other non-visitor being your Wilderness Safaris guide. Unlike the East Africa trips, there are no huge slopes to be tackled although on both days we had to resort to a bit of scrambling down steep embankments here and there, and there is a limited amount of slightly more difficult walking through swampy, boggy areas where waterproof boots come into their own. At worst one could describe this as moderately difficult. It is not quite a walk in the park but as long as you are capable of walking – with minimal resting – for up to an hour or two – you should be able to tackle this. Unlike the mountain gorilla habitat the forests of the Congo basin are about 900 to 1,500 feet above sea level so there are none of the high altitude issues encountered in places such as Volcanoes National Park in Rwanda.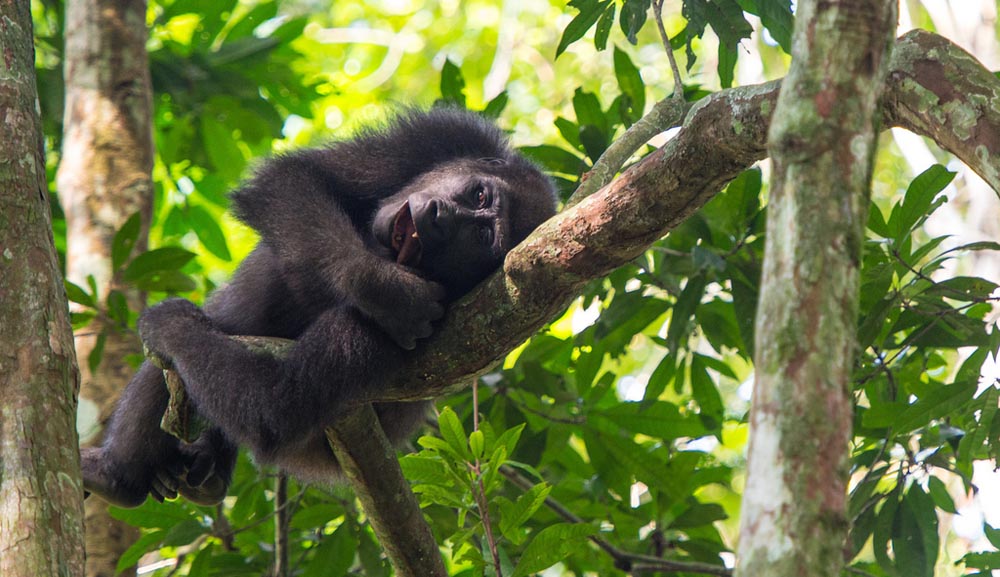 The way the gorilla trekking works at Ngaga is that there are two main habituated gorilla groups, headed up by two silverbacks – Jupiter and Neptuno – respectively. Currently each group is assigned a tracker who takes a small party of 6 persons to see 'his' group on two consecutive mornings, currently Friday and Saturday. Once the camps reach full occupancy there will be a second group of up to 12 in camp arriving on Sunday and doing gorilla treks on Monday and Tuesday.
The two gorilla treks – to the Jupiter and Neptuno groups – are done simultaneously with the visitors switching out trackers and gorilla groups (but not their Wilderness guide) on the second day of tracking. On both days with guides Zephryn and Calvin we walked for about 45 minutes to an hour until we made contact with the gorillas. This does not mean that we went very far, less than 2 miles from the camp to where the gorillas were hanging out.
On the afternoon of the day prior to the gorilla trek, the tracker locates the spot where the gorillas will be spending the night. He then uses that as his reference point the next morning, taking the trekking party to this last known location. This is one of the reasons for the gorilla treks starting as early as they do: the aim is to reach the gorillas while they are still fairly close to the nest and while they are still feeding.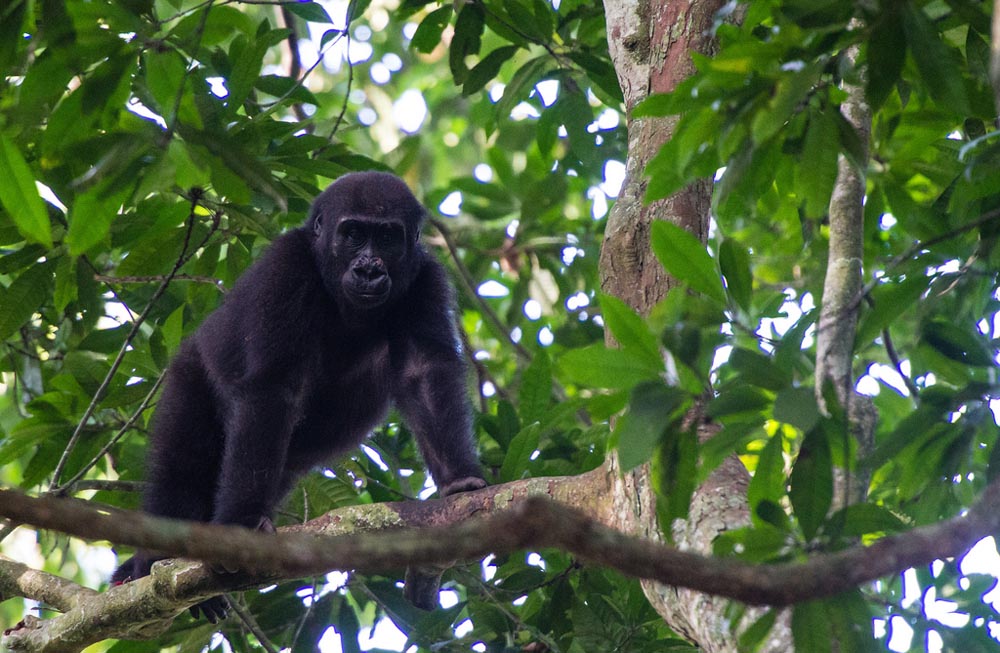 Western lowland gorillas rarely move more than 3 kilometers (less than 2 miles) per day, but in the event of a disturbance – such as the presence of a leopard – or conflict they can move quite rapidly through the forest. All the more reason to admire the tracking skills of the Odzala trackers who work solo and have to tease out clues about the whereabouts of the animals in a very tough tracking environment. Rarely is it as easy as seeing footprints in mud. Mostly the clues are subtle: a few broken twigs here and there, some discarded half-eaten fruit or a torn Marantaceae leaf. When there is ripe fruit available the gorillas seem to favor it over other vegetation such as the Marantaceae leaves.
As I mentioned in my introduction, we got lucky with the gorillas on both days, finding them relatively quickly and ending up with some good views. Photographic conditions were never ideal with significant back-lighting issues. An animal or bird in a tree can be a photographer's worst nightmare particularly if the background lighting is bright or harsh. There is just no way to properly expose a very dark object like a black gorilla and not burn out the sky or light behind. We do the best we can and hope that the object will move to a position where it has a dark leafy background. Sometimes it happens and sometimes it doesn't. Over the course of the two outings I made perhaps half a dozen useful captures. Once or twice I might have done better with a longer (500 mm) lens but I would say 80% of the time the 70-200mm 2.8 lens with a 1.7 tele-converter worked quite well.
It is essential for the group to remain quiet and calm and to limit conversation and rapid movement. We managed that both times and the results were remarkable. After a while one or more of the gorillas moved closer – out of curiosity – and started to look at us. The tables were turned – we were being tracked! This resulted in the best views on both of the outings with a couple of curious gorillas descending quite low and either just sitting there looking at us, or even lying upside down in what seemed to be a very comfortable positioning, checking us out.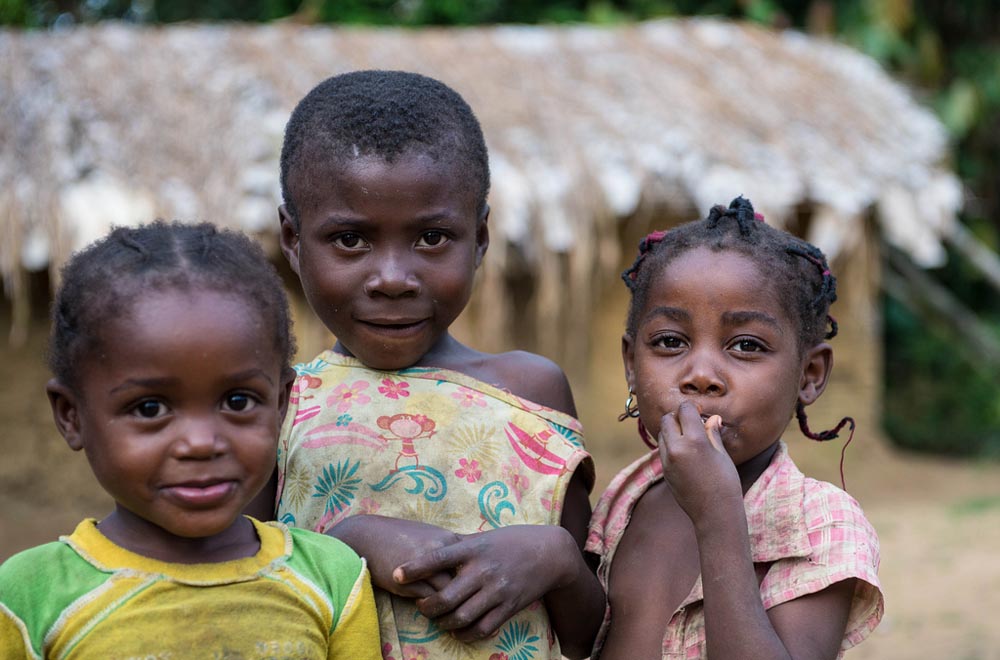 All in all having the gorillas up in the trees and moving about added a whole new dimension to the gorilla trekking outing. On my two gorilla treks at Bwindi in Uganda and Volcanoes National Park in Rwanda I did not observe much activity beyond the gorillas stuffing their faces with big handfuls of bamboo shoots and other vegetation. Not so in the Congo. It was vibrant and dynamic – at one stage a fairly big branch snapped under the weight of a gorilla and the whole shebang came crashing down, much to our and the gorilla's surprise, one would think.
I think all 5 of us felt that it was an exhilarating experience. A good pair of binoculars is essential as the gorillas are rarely seen close-up. Once contact has been made with the gorillas, all visitors have to wear face-masks. A protective head-net is optional – I did not personally find the sweat-bees to be annoying enough to don the headgear.
We also did a couple of forest walks at Ngaga in the afternoons and while they were mostly rather quiet we did see a few interesting birds and some putty-nosed monkeys. And lots more Marantaceae.
A brief outing to a local village was interesting but also a bit depressing – unfortunately there is nothing idyllic about poverty no matter where in the world it is observed. I've become a little bit cynical about this but I think the point is that a short walk-through in any African village does not provide visitors with even the vaguest of clues as to the real issues and challenges faced by the inhabitants. Yes there will be some smiling kids dressed in rags, chickens and goats and skeletally thin village dogs roaming around but there is nothing bucolic about it. And an hour or two later you will still know practically nothing about the inhabitants.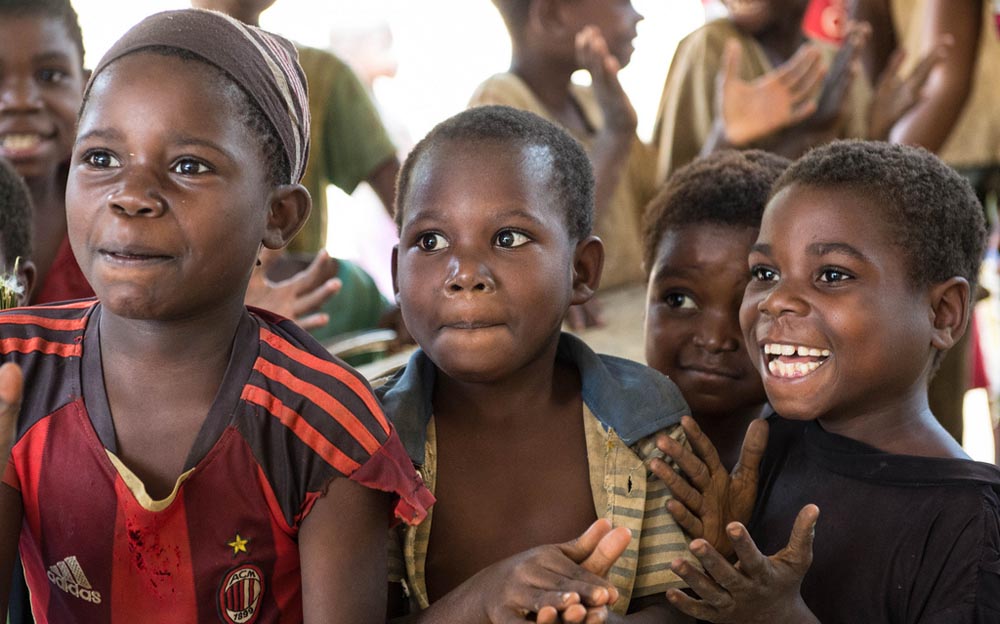 PART 3: LANGO & DEPARTURE
A 'PYGMY' VILLAGE AND THEN ON TO LANGO
Our 4th day in Odzala-Kokoua National Park unexpectedly turned into a very long traveling day. The usual 4-hour or so journey from Ngaga to Lango Camp dragged on to 7 hours due to a couple of stops along the way at a church service and then again at a pygmy village which turned out not to have any pygmies. Or pygmy huts for that matter.
It was interesting nonetheless as the villagers – who had to date not received many or maybe any visits from Odzala tourists – tried their level best to entertain us. There was a dancer with what seemed to be leopard spots painted on his skin dancing away to the rhythmic sound of a couple of drums, and lots of kids and adults enthusiastically cheering him on. A few of our group were more enthusiastic than others to join in. We took some photographs and departed wondering whether this was a good idea or not. Was there any tangible benefit to the village – and would this lead to any long-term association with the inhabitants? Probably not.
Finally we made it to Lango where our vehicle promptly got stuck in a quagmire of mud just a few meters from the front entrance of the camp. The entire camp is elevated on a boardwalk which is set inside of a small forest on the edge of Lango Bai which is an open clearing or saline. The view from the open fireplace or for that matter from anywhere in the lounge and dining room area at Lango is pretty spectacular. In the early morning when there is some fog around, even more so.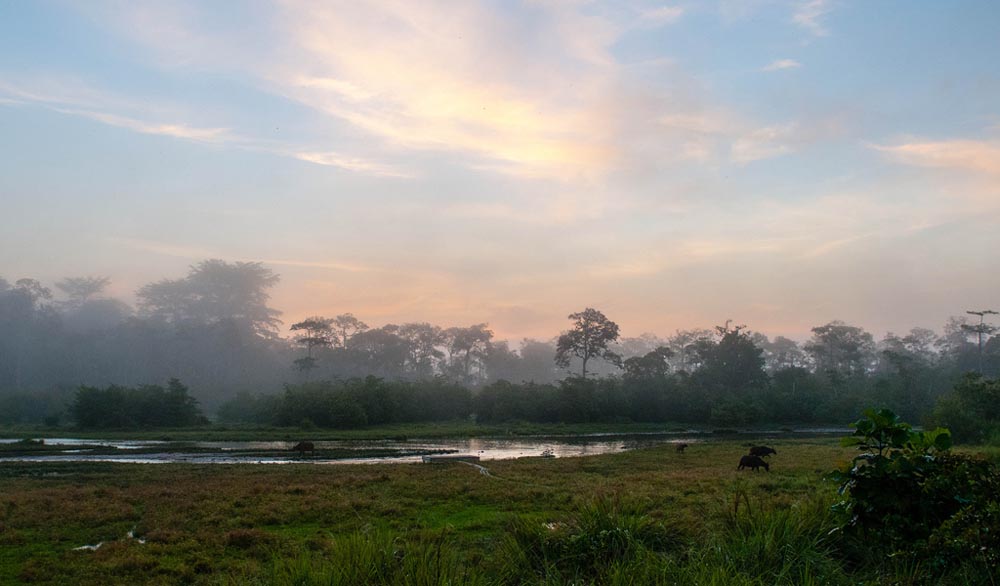 We were hungry and perhaps a bit crabby after such a long journey. As a result some housekeeping issues at Lango assumed bigger important than they might have otherwise. The fans in the dining room did not work and it was really quite stiflingly hot on the day. The warm water apparatus in our room (a paraffin boiler) was ridiculously ineffective. We never knew if we were going to get just steam, a sudden rush of scalding hot water, cold water or nothing at all. As far as I know this system has now been replaced with the same very effective units as at Ngaga. Also – our shower had a leak (they were waiting for the silicone sealant) and the mosquito net was really dirty with stains all over it. Very surprisingly, the entire back 'wall' of the room at Lango was open. I have stayed in several rooms on safari which were open to the outside such as at Sand Rivers in the Selous – and it can be a very effective design element. At Lango it just makes no sense. The camp is built right on the edge of a swamp with a heavy insect presence day and night – there is no way it should be partially open. We were told that the materials to cover the back of the rooms were en route.
Everything else I said about the size and scope of Ngaga being ideal for the setting also applies to Lango. This is indeed a light footprint and it clear that sustainability is taken seriously here.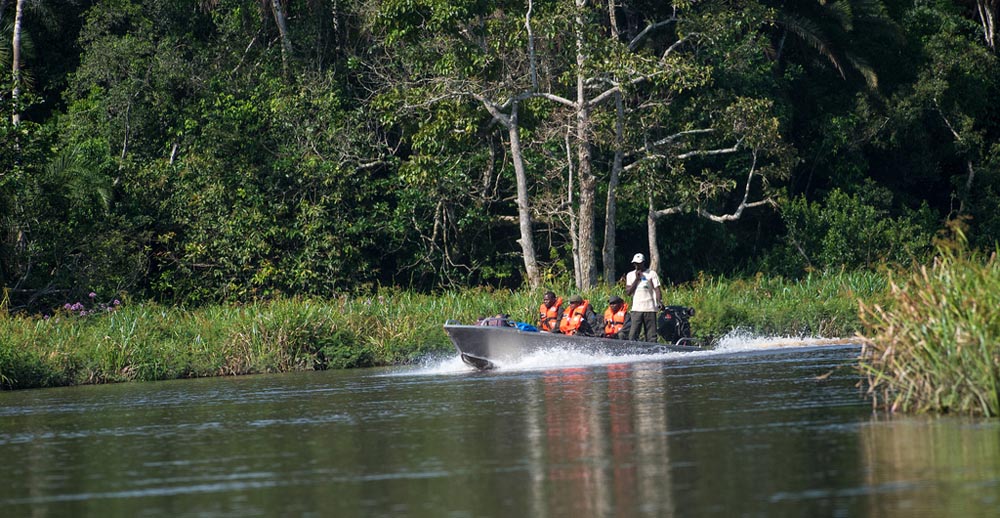 ON A RIVER IN THE CONGO
This morning we reverted to our early start regime. Up at 05:00A, breakfast at 5:30A and off on a river cruise just after 6:00A. The actual river trip didn't start until about 08:00A because it takes more than an hour to get to the boat ramp which is near the as yet un-opened Mboko Camp. In truth, we could have gotten there a lot earlier if we had not stopped for several animal and bird sightings along the way including Forest Buffalo, Palmnut Vulture, Forest Elephant in the distance and spotted hyena.
At the boat dock our skipper 'Rock' had to bail some water from the aluminum skiff (which can take up to 8 passengers) and it took a while before we were underway, mostly drifting down the strong current of the Lekoli River.
It was quite exciting to be in a boat on a river in the Congo. For a minute there we felt like explorers of old, traveling into terra incognita. Any romantic notions of stepping into a Joseph Conrad novel were soon dispelled by several tsetse flies who were hitching a ride. We were well-prepared with a Dettol mix and I had applied Peaceful Sleep before getting dressed and also on the outside of my clothes. Almost nobody got bitten & the TF were reduced to just a nuisance. One did make it to an unprotected spot low on my ankle below the edge of the boot. So to repeat: spray the ankles and feet liberally, wear long, thick protective socks and tuck your long pants into the socks.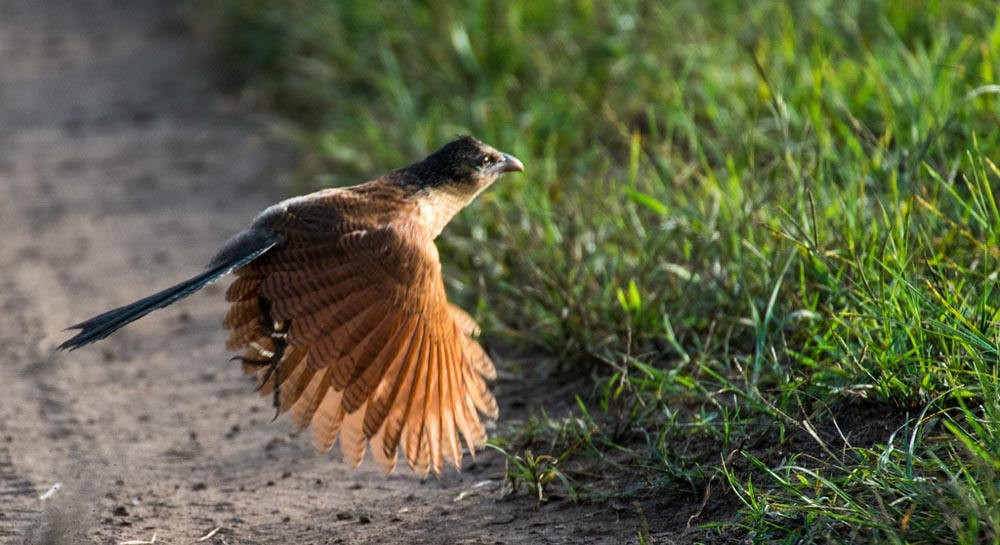 The trip down the river did not deliver a lot in the way of game sightings. We saw a couple of elephant in the distance and had brief sightings of puttynosed and colobus monkeys. We did enjoy a very good sighting of the rarely seen African Finfoot (male). Several other bird species were either seen pretty well (a few) or just glanced before they flew away or ducked into the undergrowth (most of them). Just another day in the life of a bird-watcher in a tropical rainforest.
It was a long way back from the boat to camp. Well over an hour and with not nearly as much to be seen as early in the morning. Lasting impression of the boat trip: amazing riverine vegetation, towering trees, almost mangrove-like conditions. A bit like Louisiana but without any Cajuns. The group consensus on the boat ride was fairly unanimous: too far to drive to the dock and too quiet. Lots of trees, but not enough animals.
We enjoyed our siesta this day and then went out on a low-key 'Palm drive' by late afternoon, along the fringe of the wetland area, staying on high ground. We saw lots of birds, some forest buffalo and enjoyed a pretty good sighting of Forest Elephant. It was a small party of 4 or 5 elephants, slowly making their way across an open area, right below and across from where we were parked.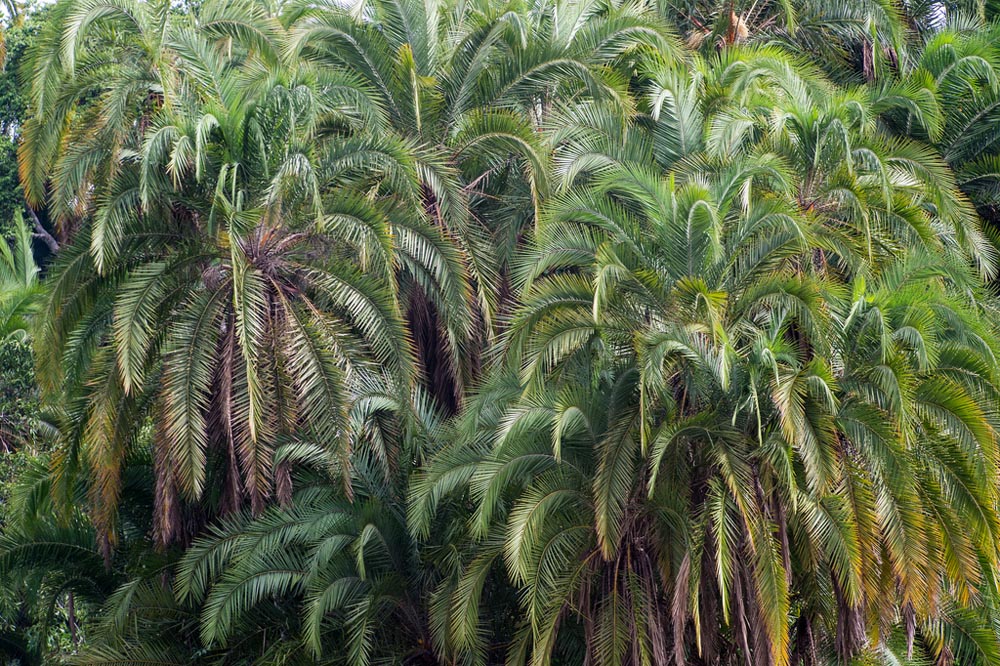 WALKING IN THE BAI
This morning our activity took the form of a walk along the Lango Stream which empties into the Lekoli River. This was a first for most of us. Willingly and purposefully stepping off a small dock into the sandy bottom of a flowing river is counter-intuitive behavior. Our instincts are to stay dry, and certainly not to embrace the water, at least not fully clothed.
On this day the 'water walk' was destined for a slow start due to a complication in the form of a small group of forest buffalo. They were standing and feeding exactly where we wanted to go. One male took a particularly keen interested in us, approaching to within 20 meters of us. If it were a Cape Buffalo our guide Justine would not have allowed it nearly that close. These local forest buffaloes were apparently a lot less aggressive. Even so, we were not about to prove or disprove the theory and kept a safe distance.
This necessitated a muddy detour through an extensive boggy area. One or two ous almost lost a shoe and there was a tense moment or two before we were able to veer back into the water, onto firmer footing. For the next couple of hours or so, we were mostly splashing gently through water. Here and there the stream narrowed and deepened. A few times the water came up to mid-thigh level, higher than even most gumboots. There was no way to keep your feet and pants dry except perhaps by wearing a good pair of fishing waders. Better to just go with the flow and use shoes which you don't mind getting wet. Just be sure that they strap on securely.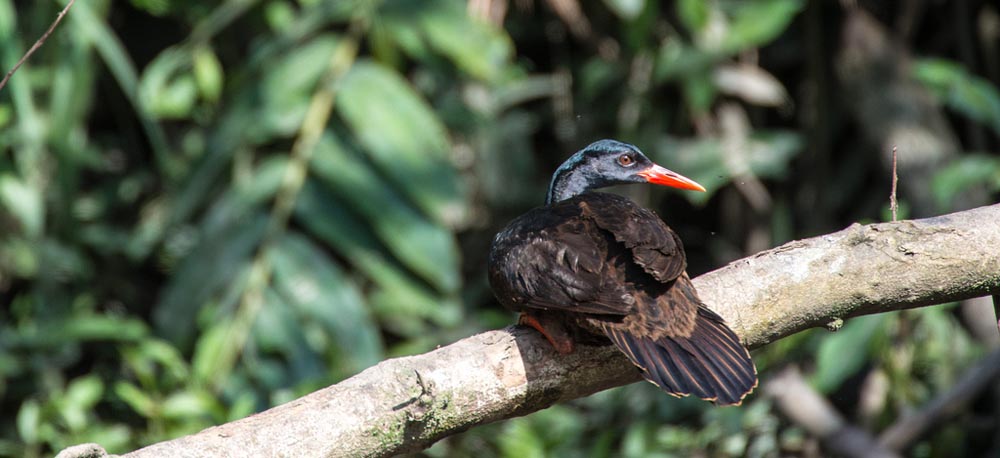 The 'buffalo delay' ended up being fortuitous because we soon saw a forest elephant crossing the stream not too far from us, walking from our left to our right. This ended up being the best forest elephant sighting of the entire trip.
A bit further on we reached a clearing with some white (salty) patches – the so-called 'saline' which attracts a lot of wildlife notably African Grey Parrots and Green Pigeons. For several minutes we seemed to be in the middle of a bird storm with hundreds of parrots and then pigeons flying over in huge flocks, twisting this way and that. The changing angle of the light caused them to change color repeatedly – quite a spectacle. Standing there I realized that I was seeing and experiencing something that is possible in very few places in the world – likely only to be seen in the Congo Basin rainforest. We tried to take some photographs to capture the moment but it was like trying to photograph fish flashing through a breaking wave. An impossible task.
We turned around at a small island where we enjoyed some juice & water and a light snack. Working quite a bit harder – dragging our legs through the current – we slogged back upstream to the lodge. Despite out initial apprehension the stroll in the Baie ended up being the most popular activity at Lango.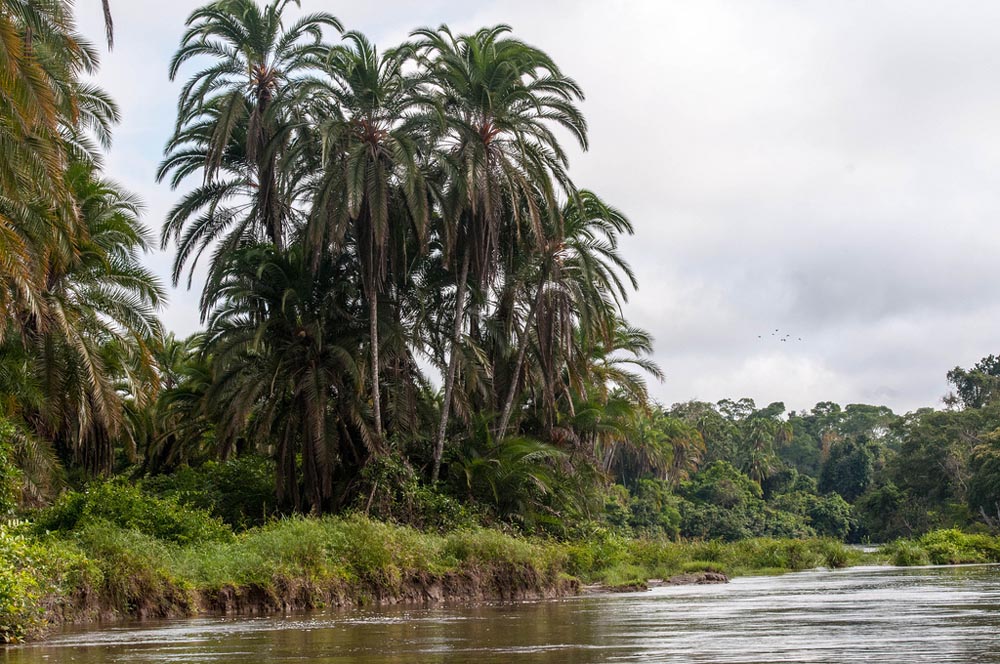 As a group we decided to forego a second boat trip. Instead, we opted for a short forest walks which was an uneventful but pleasant outing. We very much enjoyed our last sundowner on African soil, toasting a successful trip with a G & T or some local Congolese beer, with a nice spicy 'Hot Mix' snack from France.
It was dark by the time we got back to camp. Our Congolese adventure was almost over. One last dinner with some new-found friends, one last attempt at coaxing some hot water from the recalcitrant paraffin heater system and then we settled down for the night. Safely behind the confines of the mosquito net we managed just a few small pages with large typeface on our Kindles before our room #2 reverted to the utter darkness of an equatorial night.
Even though we couldn't see our hands in front of our eyes, our sense of hearing made the rest of the night quite exciting. Mostly because a group of Forest Elephant which congregate and apparently socialize in the Baie in front of camp, on a regular basis. Perhaps it had something to do with the waxing moon, but they were out in force this night. Several times they woke us up with their trumpeting and squealing shrieks. We were close enough to also hear their deep communicative rumbling sounds.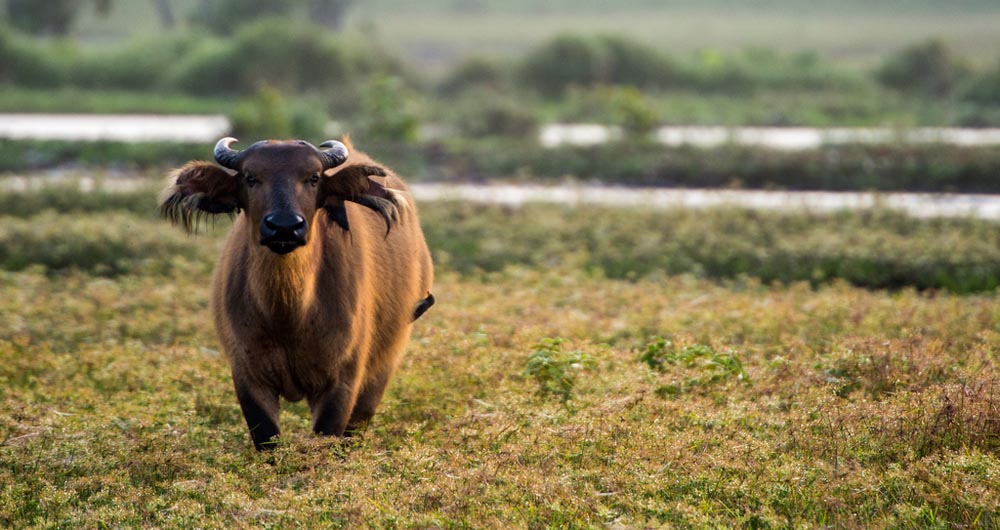 A DAMP GOODBYE FROM ODZALA
On the day of our departure – Wednesday Nov 13 – we woke up to the sound of heavy rainfall at around 05:00A. It did not let up until past 07:00A – fortunately we had protective plastic bags for our camera gear and other sensitive equipment. Shortly after breakfast we got onto our game-viewers and splashed through the mud and water to the airstrip, a trip of about 90 minutes. I think we were a bit apprehensive about taking off under less than ideal conditions but once again the Caravan demonstrated its suitability for rough terrain. It took to the skies in a burst of power and we all exhaled, turning our thoughts to the last phase of our journey and the trip home. We were damp and a bit tense but as the aircraft inched closer to Brazzaville one could sense the mood improving. Soon enough the usual banter resumed as we discussed our various plans. Some members of the party would go on to the DRC and other African destinations.
We would be going home to Texas but not until late that night, so it was very convenient to have a day room at the Mikhaels Hotel. We enjoyed a late lunch at the Mami Wata restaurant which was a fascinating spot overlooking the wide Congo River with Kinshasa clearly visible across the water. There were a couple of interesting things on the menu (pizza and Saka-Saka amongst others) and the local 'special' cocktail – with quite a bit of Curacao and hence very blue – was definitely palatable. Yes the joint is over-priced just like the restaurant at the hotel, but by then we were inured to silly prices. I would recommend doing this – and it is just a short $2 or $3 taxi ride from the Mikhaels Hotel.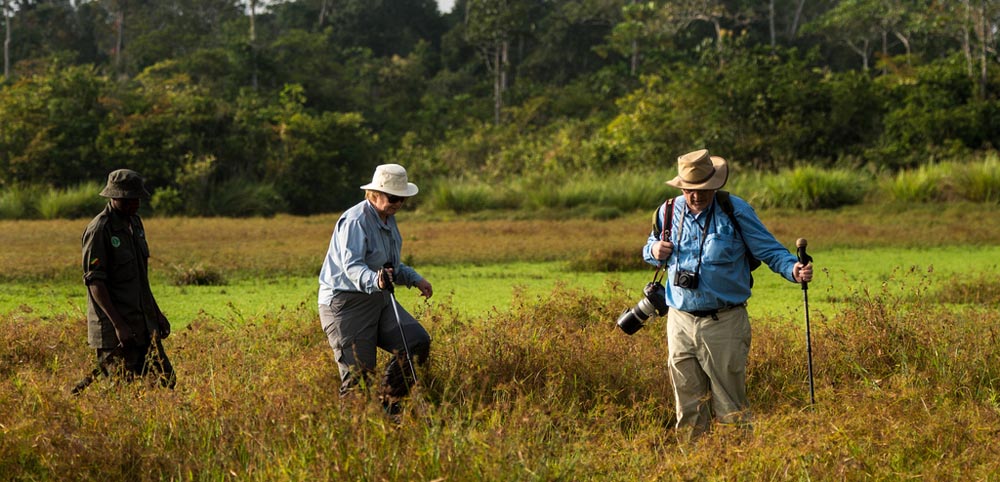 A FEW AREAS FOR IMPROVEMENT
As I said in my introduction, Odzala was all about the gorillas for me and I would happily have spent all 6 nights at Ngaga and spent more time with them. At other times of the year Lango is likely better – it was just not nearly as exciting or productive from a wildlife perspective, as Ngaga.
One hesitates to be critical of 'nuts and bolts' issues at camps located in a remote area like this. I realize that operating conditions are far less than ideal. Obviously getting anything into and out of Odzala – or the Republic of Congo for that matter – is a logistical nightmare and involves a lot of bureaucratic obstacles.
However, if the operator wants to position Odzala-Kokoua in the same 'basket' with North Island in the Seychelles and Abu Camp in Botswana, they are going to have to step up their game significantly. There was an unfinished, somewhat improvisational feel to several of the elements of the experience, notably the accommodation and some of the activities such as the village visits. Unlike practically every Wilderness Safaris property I had ever been to in Southern Africa, everything did not work well. Sometimes very little worked – like at Lango – and there was no apparent sense of urgency to get it fixed.
The level of service at Lango leaves a lot to be desired. Perhaps it was just a training issue but the local staff just did not seem very guest-friendly, if one could put it like that. Little things like not enough coffee in the morning and an apparent reluctance to make more, or just not being available at the right times. I also had some (vegan) food catering issues at the camp, particularly with breakfast when sometimes the only option was fruit and a piece of toast. Nobody at the camp seemed to realize that our group hardly touched the selection of cold meats which was put out every morning. The same platters kept re-appearing with the same result. The food was generally palatable and perfectly fine but the presentation was not the best. Plenty of pizza but not enough pizzazz.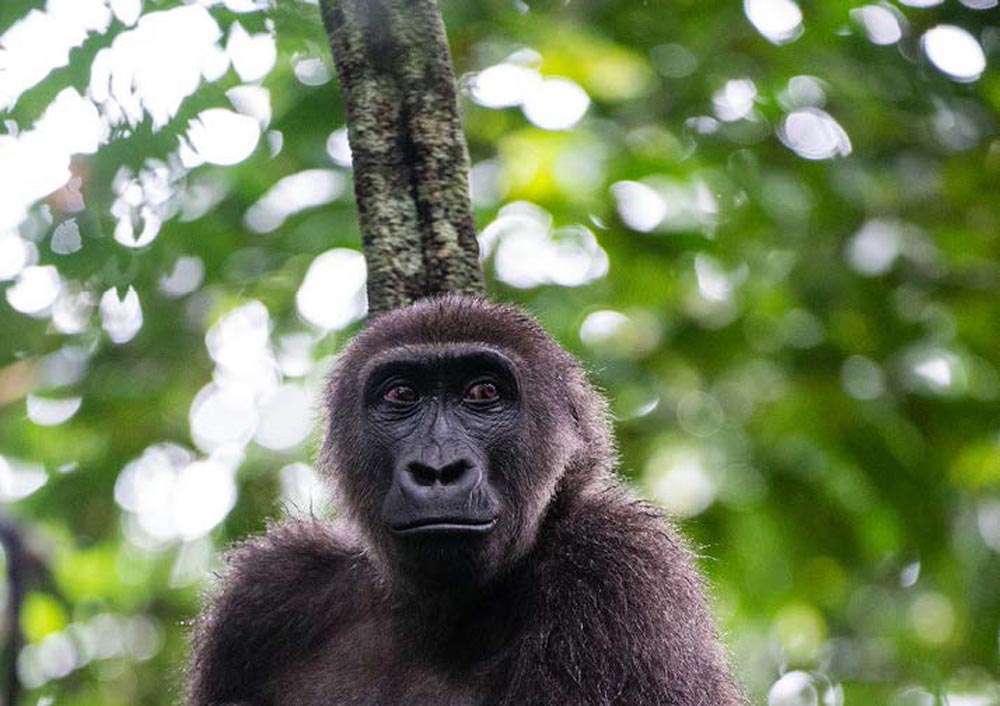 Not including the gorilla experience which was phenomenal I thought the two properties were too focused on delivering just the basics such as accommodation, food and activities. Yes it is admittedly much more difficult to do that in a hostile environment like the Congo, but the aim should always be to delight and surprise guests with little extras, going beyond the expected or the mundane . At Odzala-Kokoua the setting, the novelty of visiting the area, the exotic wildlife and of course the gorillas overshadow any shortcomings but at this price-point visitors are going to expect more. Hopefully these are teething issues which will be dealt with promptly.
Useful Hints:
Would-be visitors to the Republic of Congo should print a color copy of the 'Letter of Invitation' and have it ready on arrival.

You will be asked for proof of Yellow Fever inoculation on arrival.
At Mikhaels Hotel, restaurant proportions are gigantic. So order for one, it is more than enough for 2 persons.
Visitors are not encouraged to give away items like pencils or other small gifts to village children; it leads to enmity and creates expectations which cannot always be fulfilled. The camps buy items like baskets direct from the villages.
If you do want to reward someone for a job well done, consider bringing a soccer ball for the camps or a bird-book or other guide for the trackers.