$cat_name = 'category'; $categories = get_the_terms($post->ID, $cat_name); foreach ($categories as $category) { if ($category->parent) { echo $category->name; } } ?>
Feb 18, 2018
Kenya Trip Report – February 2018
Share: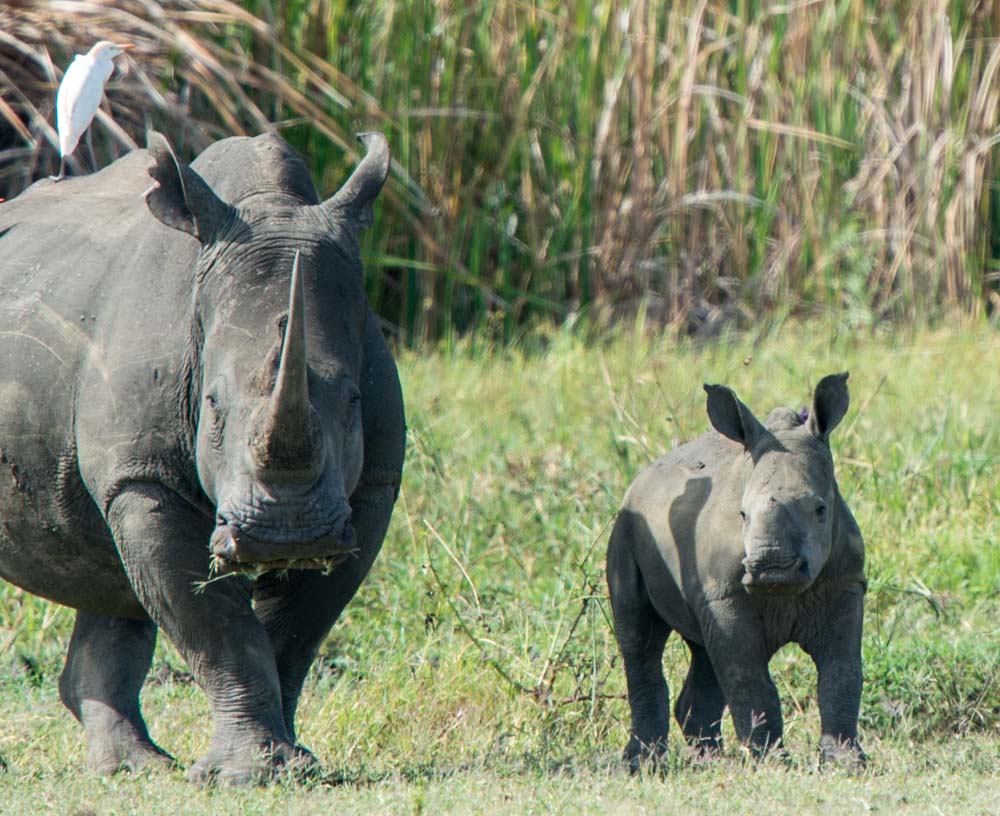 Kenya Trip Report – February 2018
Part 1: Introduction & Tawi Lodge, Amboseli
One cancelled trip later – thanks or rather no thanks to Hurricane Harvey – I found myself back in Kenya in early February.
Every time I return to Kenya I grow fonder of the place. Kenya is like your favorite leather jacket. It may have a couple of rough patches on the elbows but it feels more comfortable every time you wear it. Dependable, great value, a little dated but one of the best investments you've ever made.
Is Kenya the best overall safari destination in every respect? Maybe not – but it is certainly the best one for a first safari. Year-round and regardless of the status of the wildebeest migration, Kenya is a jewel. Friendly people, lots of animals and birds and all of them easily seen – with more diversity than any other safari destination or country. Venture out on your first game drive on the Masai Mara and marvel at the fact that you may be looking at six or seven mammal species all at the same time, or stare at the elephants seemingly posing between you and Mt Kilimanjaro in the background, at Amboseli. Your first view of a Reticulated Giraffe, or a Grevy's Zebra, or ducking into the low entrance of a Samburu manyatta hut to be confronted with how little some people get by with. It is all astonishing, often life-enriching and almost always utterly fascinating.
Much improved roads – compared with a decade or two ago – also make it quite easy to get around Kenya by car. But be careful though as road safety standards are likely not as high as where you come from. Flying between areas in Kenya has always been relatively easy and the country likely has the best network and schedule of charter flights of any African safari destination. And for the most part not outrageously priced either.
I'd be among the first to acknowledge Kenya's shortcomings which are well known. Corruption, poor governance, traffic congestion in Nairobi, pollution and seemingly unchecked population growth are among the chronic issues, some of them intractable. Fortunately, few of these negatively impact a visitor's experience. Burgeoning population numbers create other issues such as over-grazing due to unrealistically high numbers of cattle and other livestock. Hand in hand with that goes erosion, loss of habitat and growing incidence of human-animal conflict.
Even so, the long-term outlook is not all bad. There are many positive things happening in Kenya in the conservation field. Anti-poaching activities have been stepped up and there is increased focus on cooperation among safari operators, local government bodies and the people living in and around the wildlife areas. There is a growing realization that unless the people themselves are invested in the well-being and survival of the large mammal species, the well-meaning efforts of outsiders, conservation groups and wildlife authorities often fail to produce the desired results.
The bottom line? A well-planned Kenya safari, with the logistics in the hands of a competent destination management company like our long-time partners Origins Safaris, is an immensely satisfying and rewarding experience. Add excellent guiding, the friendliest and warmest people you can imagine, an amazingly wide range of activities and habitat diversity and you have the supreme safari destination.
Discovering some of the areas of Kenya beyond the 'usual suspects' like the Masai Mara, the Rift Valley and Samburu has increased my admiration for the country even more. On this most recent visit I was keen to explore two areas which I had not been to before, namely Meru National Park and the Mathews Range. More about that to follow. My first few days were spent back at Amboseli, at Tawi Lodge.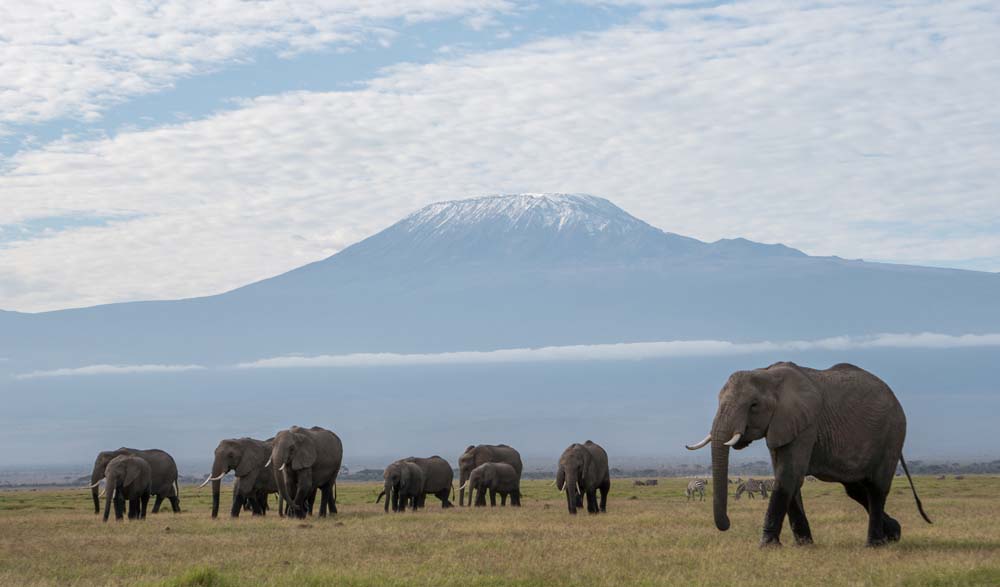 Tawi Logde, Amboseli
Third time was definitely the charm for me at Amboseli. I'm a huge fan of the park for reasons that become obvious pretty quickly once you get there. The elephants of course. Plus other wildlife – sometimes a lot more and a greater variety than you might expect. And the mountain: Kilimanjaro – often seen looming in the background in all its sky-piercing glory. Often, but not always. Over the years, I've caught some half-decent glimpses of Kilimanjaro – from Amboseli – but nothing like this time. This time I could see Kili from a rear seat in the Cessna Caravan charter flight, long before we landed at the Amboseli airstrip, having departed from Nairobi's Wilson Airport about 50 minutes earlier. From just a speck on the horizon Kilimanjaro grew increasingly closer and more prominent until it totally dominated the skyline. The passengers in the window seats were getting even more excited than me. Lucky them: first timers and they get to see Kilimanjaro in all its glory. As it turned out Kilimanjaro remained clearly visible for the duration of my 2-night visit.
Tawi Lodge hit all the right notes from the accommodation to food & beverage and most importantly the guiding. My extra-large brick and mortar room – with a tented entrance – was comfortable and inviting even though it could use a fan. It did cool off nicely at night though. Fittingly for a room as big, there was a large bath tub and a separate shower. Plus, a king size bed with mosquito net and a fireplace. The best feature of the camp was of course the views of Mt. Kilimanjaro from the exceptionally well-maintained and pleasant garden. Which is a great birding spot, by the way. I also enjoyed seeing some animals come to the waterhole in front of camp; among these were eland, giraffe and elephant. Tawi also has a large pool. The food which was served plated was good and ample with plenty of choices: usually a starter, a choice of two main courses and dessert. Drinks were extra in my case but can be included in the rate. The South African-born managing couple were around all the time and very approachable.
Activities at Tawi include camel-back riding which I did not get around to enjoy this time. I did have time for a solid afternoon walk, turning around at a pleasant sundowner spot with – no surprise – more views of Kilimanjaro. This time with a frosty Tusker beer in hand. From this vantage point the soft, golden afternoon light turned Kilimanjaro into a beautiful painting, complete with a very prominent snowcap. I was reminded of the saying that Tanzania has the mountain, but Kenya has the view.
My several game drives with Tawi head guide Pili Pili – he also goes by Julius – were superb in every way. Julius knows Amboseli as well as anyone in the area, and demonstrated an uncanny ability to find animals and to predict and anticipate their movements. The hallmark of a good, experienced guide. As a result, I enjoyed numerous good opportunities to see and photograph lots of elephants with Kilimanjaro in the background. Every keen Africa wildlife photographer's dream!
What really surprised me about Amboseli this time was seeing such a wide variety and large numbers of other mammals: wildebeest, giraffe, zebra, Boho reedbuck, Grant's gazelle, Thompson's gazelle, warthog, hyena, gerenuk (on the Tawi private concession), hippo, countless birds, dik-dik, buffalo, lion and cheetah. I think I should stop there for fear of creating the impression that Amboseli is the Mara. it is not. It is a relatively small reserve with a limited road network and spending two nights there is optimal. You can experience the elephants in and around the swamps, hopefully get a nice view of Kilimanjaro, and with some luck see a good number of other animals, in the space of a couple of days at Amboseli. If you are a super-keen photographer and just 'have to' get that once in a lifetime shot with a large mammal between you and the open mountain, then yes, a bit more time would be advisable.
Part 2: The Mathews Range, Kitich Forest Camp
After a brief stop-over in Nairobi, it was on to the north and more specifically the Mathews Range in the greater Samburu area.
In Nairobi I spent a pleasant afternoon and overnight at Karen Gables, a guest house a couple of doors down from Hemingways, the luxury boutique hotel. Karen Gables is nothing like Hemingways though. With only 6 rooms or so, it offers a 'home-stay' experience with the affable Dutch owner, his two young children and a couple of dogs around most of the time. I very much enjoyed the large, comfortable room, excellent cooking (dinner and breakfast) and the pool. The surrounding suburb is a good place to get a run in and I managed 10K passing the Kazuri bead factory and stopping short of the busy Langata Road. My lungs reminded me that Nairobi is a mile-high city!
At the time of my visit, Kitich Forest Camp was a solid 2 hr 30-minute drive from Kalama Airstrip. Currently, it is more easily accessible with a Cessna 206 based at Kalama, so that guests can hop over to camp or fly over to Reteti Elephant Sanctuary or further beyond on a scenic flight. The Ngelai (Kitich) airstrip is about 45 minutes from camp.
By the end of my two-day stay at this intimate and personal camp which has only six tents, and having experienced the superb hosting of Emma Hedges and her wonderful team, I was reluctant to leave. Set in a beautiful forest glade alongside and overlooking the Ngeng River, this low-key classic property is about as peaceful, remote and private a spot as one can find anywhere in Kenya. The anti-Mara. Located fairly high on the upper slopes of the Mathews Mountain Range, known ecologically as a 'sky island', Kitich Forest Camp is all about walking and exploring forest trails and crystal clear mountain streams.
On our first morning there, we set out on a 2-hour amble along the Ngeng River, a clear mountain stream. Resting up at a pretty natural rock pond (it's ok to jump in!), we enjoyed the kind of solitude and peaceful environment becoming increasingly difficult to find anywhere else. But even here, in this seemingly idyllic setting, the world's problems are not far away. Climate change, which is widely held responsible for erratic rainfall, results in unusually long dry spells. In the Mathews Range this leads to forest invasion and cutting down of trees to feed the vegetation to domestic animals such as goats.
On a subsequent outing, we went in a different direction – following the river upstream – concluding the walk with a delightful picnic lunch on the banks of the river. While our walks were quite relaxed, we did come upon some elephants which gave us a look before they stomped away; we disturbed a leopard resting on a tree limb (it crashed into the thickets before we could eyeball it), we identified (thanks to fellow traveler Richard Turner) several interesting birds species, and we marveled at the profusion of butterflies. Some of the notable ones to be found in the area include the endemic Noble Swallowtail, African Blue Tiger and Mocha Swallowtail (aka flying handkerchief). The area boasts some 300 species of birds, 150 species of butterflies and of particular interest is an endemic giant cycad, a plant which dates back to and has hardly changed since the Permian, around 250 million years ago. The one to be seen in the forest here is the Kenya Giant Cycad, encephelartos tegulaneus.
At night, the atmosphere at Kitich turns magical, and the glade is lit for guests to observe nocturnal visitors which may include leopard, elephant, bushbuck, and buffalo. Kitich provides old fashioned safari comforts, including soft & fresh linen, comfortable double beds, iced drinks, and gracious dining. I certainly enjoyed my comfortable tented room with bucket shower and indeed the food was delightful. Among the highlights were marinated pork chops served with grilled potatoes and fresh vegetables. The desserts were consistently excellent. Some of the staff have worked at Kitich for decades and it shows. People encountered in the area are Samburu and Ndorobo, a semi-nomadic pastoralist community related to the Masai. The camp relies on solar power and LED lighting. Most of the staff are from the local community and fresh goods are mostly sourced locally.
Kitich Forest Camp offers a refreshing variation on the traditional safari in a part of Kenya which hasn't changed for 30 years. It is not a twice a day game drive camp and there is no mass tourism. It is an uninhabited wilderness where you can do some proper walking, swim in the natural rock pools, enjoy a bush picnic, learn about birds & butterflies, discover ancient cycads and unwind by a log fire to the soothing sounds of chirping tree frogs.
At Kitich, you will feel at one with nature, a world away from the world. It is serene, pristine – a hidden treasure. Need a break from the relentless game drives and the clattering of other people's camera shutters? Spend a couple of days at Kitich and go on to Sarara or Samburu with your batteries recharged.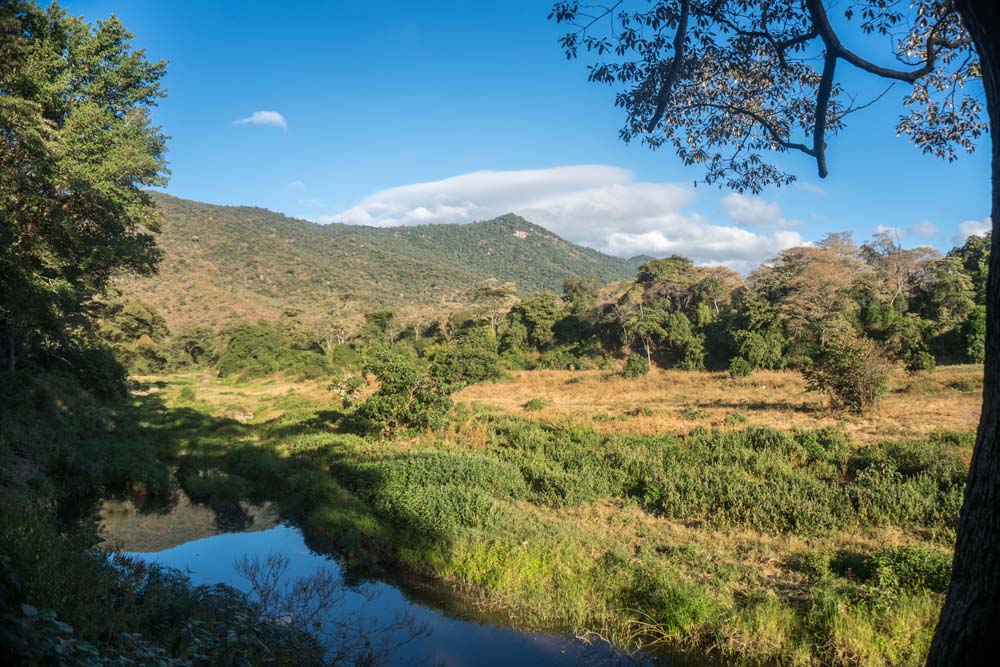 A few observations about the Kitich Forest
The special plants of the Mathews Range – the Encephelartos or cycad species – are unmistakable, odd looking palm-like plants. They are a primitive group of plants which flourished over 250 million years ago, concurrent with the dinosaurs. A few remaining species are found in tropical areas scattered all over the world including several countries in Africa. The cycads are the most characteristic plant of the Mathews Range, growing in dense forest and forest edges. They are highly endangered and their numbers are slowly dwindling due to habitat loss and pollination challenges.
Croton is the dominant tree at lower altitudes in the Mathews range forest. Be on the lookout for the Wait-a-bit thorn, a shrub-like tree found in the bush and along forest edges; its nasty hooked thorns will definitely trip you up if you brush by too closely.
Of the wild fig trees there are eight species found around Kitich. These trees start off as seeds carried in the belly of a fruit-eating bird, deposited in leaf litter and then germinating in the axis of two branches. They form roots which grow downward along the trunk of the tree until they reach the ground. Once reaching the ground the wild fig starts to grow aggressively and in the process it often strangles and replaces the host tree. Remnants of host tree are sometimes visible in holes in the fig tree, or sometimes it simply has a hollow inside. Wild fig trees are an important source of food for fruit-eating bids such as touracos, as well as bats and other animals. They are a constant supply of food because they do not all fruit at the same time and at no time of the year is there a fig tree without some mature fruit. Among the birds most frequently seen around wild fig trees are Hornbills, starlings, barbets and green pigeons.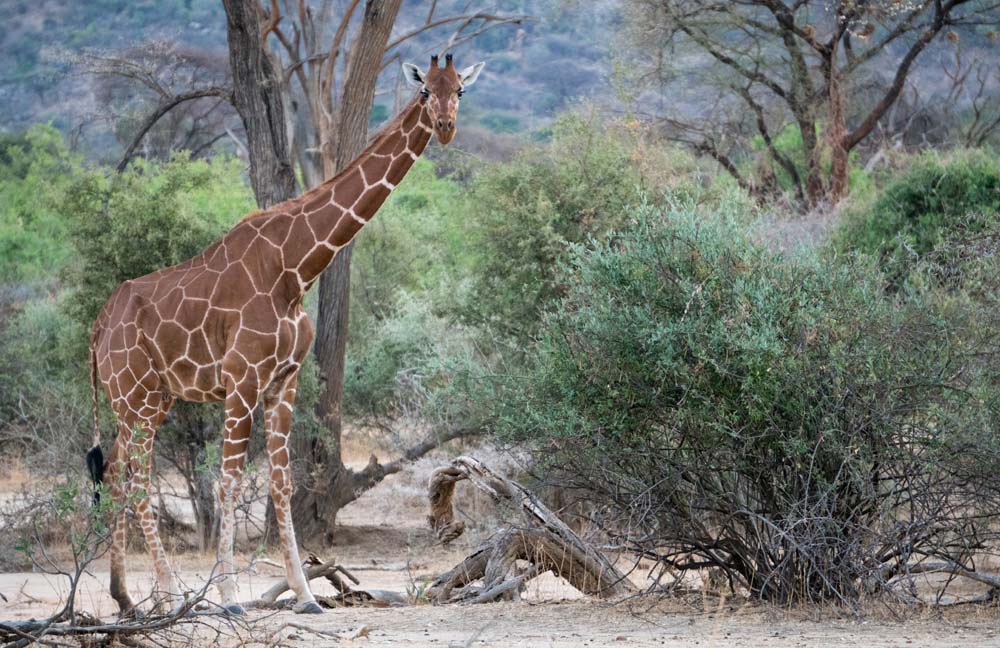 PART 3: SARARA CAMP, NAMUNYAK CONSERVANCY

Sarara made a good first impression. From its imposing main lodge there is a fantastic view over the Mathews Range. Always a plus for any property which I visit? Animals in camp on arrival. This time, it was in the form of two large elephant bulls at the water hole below camp. The remainder of my 2-night stay at Sarara confirmed and strengthened the initial impressions. Sarara is a seriously good choice for a place to spend a few days on safari in northern Kenya.
The area is remote and private with no other vehicles or visitors around, other than the camp guests. From being a shooting gallery for roaming bandits from Somalia – who decimated the elephant and rhino population in the 1980's and early 1990's – the Mathews Range has become a conservation success story and Sarara plays no small part in it. As we could see for ourselves, there are nowadays numerous elephants and many other wildlife species such as the remarkable Reticulated Giraffe, gerenuk antelope and others populating the area.
One of the highlights of my visit to Sarara was visiting the Singing Wells. This unique dry-season spectacle involves observing Samburu warriors forming a human chain with their buckets, retrieving water for their livestock from the wells in the dry riverbed below the camp. All the while chanting traditional family songs to their cattle, they pass the water up by hand, to be deposited in drinking troughs. More about that later.
Sarara offers a particularly diverse range of activities for guests. In addition to game drives and visiting the singing wells, the list of available activities is a long one indeed: bird-watching, walking/foot safaris, Samburu homestead visit, climbing up to 8,000 feet in the Mathews Range, a day trip to the 'sacred mountain' of Ololokwe, scenic helicopter trips to Mt. Ololokwe or to go trout fishing or all the way to Lake Turkana, overnight fly camping, and finally a Sarara bush pony horse-back safari.
A particularly worthwhile outing from Sarara is a visit to the nearby Reteti Elephant Sanctuary which has rescued more than 40 orphan elephants in its first year of existence. Reteti, which helps to protect the remote Mathews Range, is Kenya's first community owned elephant orphanage. We listened to a presentation, experienced some first-hand interaction with the young elephants and I took a few photographs of the staff at work.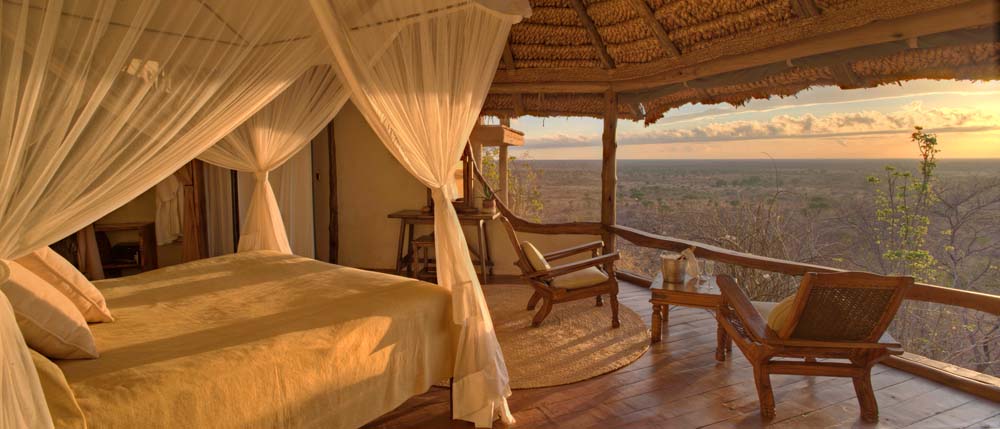 Sunrise at Sarara
Don't oversleep the sunrise at Sarara. Summer, winter or fall, it happens just before 7 in the morning. With several bird calls preceding it and heralding it, the sun gently lights up the Mathews Range which can be seen in the front left quadrant of a simply stunning view over the acacia-strewn woodland. The view is seemingly never-ending, fading into a hazy confluence of earth and sky.
At times like these you can let your mind wander along with the views of the mountains, sky and bush. Like I did, you may experience a sense of belonging, of inner peace and clarity. In this timeless place, past and future seem to fall away and like the natural creatures around us, we can embrace the present with all our faculties. Look, listen, smell, feel. This is Africa at its finest, in front of your very eyes.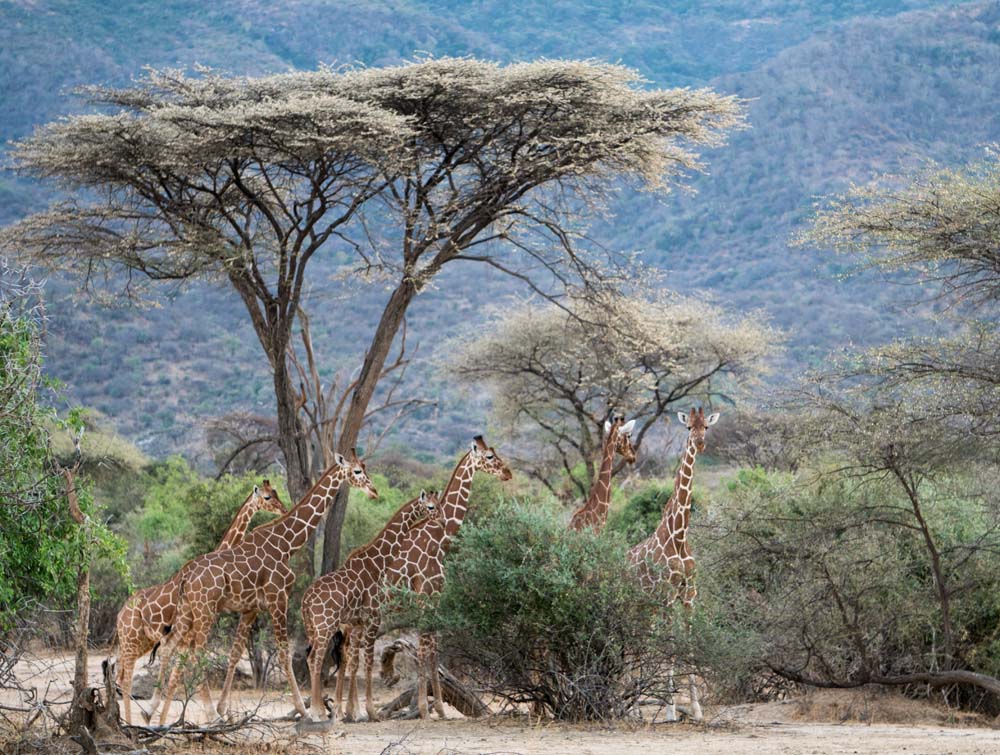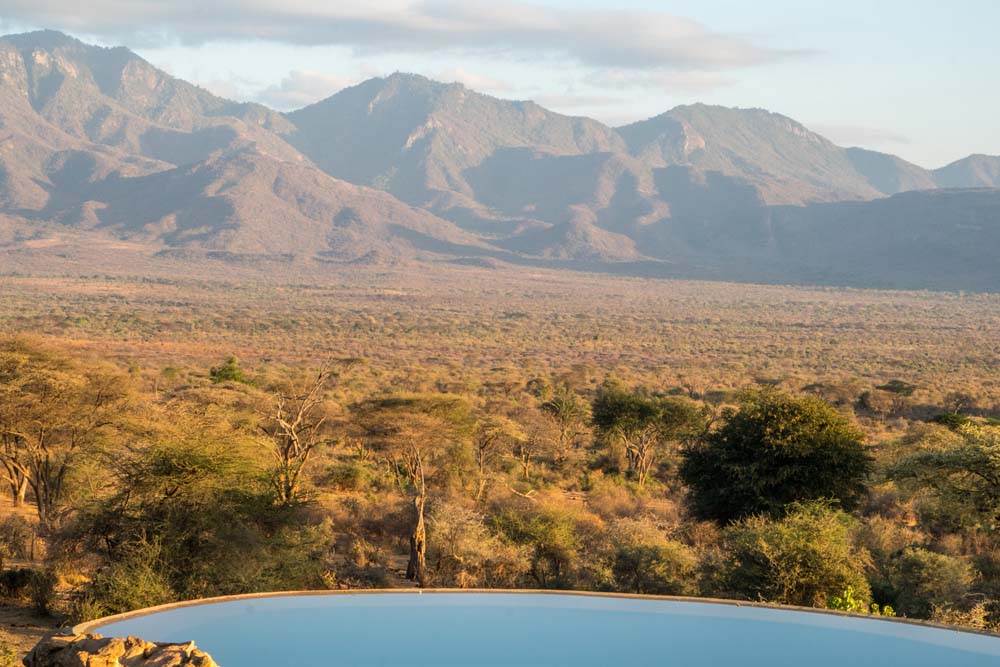 The Singing Wells
On my first morning at Sarara, a few of us started off walking out of camp after breakfast, in the direction of the river, to visit the famed singing wells. I had no idea of what to expect at the wells and was somewhat apprehensive that the experience would be artificial or canned or would feel awkward. Quite the opposite happened. Upon first walking up to the cattle watering area, there were already about 1,000 plus head of cattle present, bunched together but held apart in herds by closely attending Samburu tribesmen, clad in their traditional red wraps.
As you get closer, you realize and observe that the cattle are being called or mostly sung – to the side of a water trough on the edge of a deep well. At various levels in the well – depending on the depth of it – two or three Samburu men – stripped naked – are wedged in on the side of the well, passing up a bucket of water from the bottom of the well upward from one person to the next, to be deposited in the trough. The Samburu herder would be singing a traditional repetitive or rhythmic phrase and melody, recognized by his cattle as the signal for 'water'. Six or so of the cattle would separate themselves from the melee of other cattle and herders and quickly approach the trough, lower their heads and start to drink. All the while being closely observed by the herders, who would intervene with the crack of a whip or a loud exclamation if one animal got out of line or stayed too long. Each herd gets watered every second day and it is a communal activity – the Samburu work together and use each other's wells, depending on the level of water. In the height of the dry season the water can be as far as 16 to 20 feet or more below the surface. This watering activity takes place every morning in the dry season, starting around 10am or so, when the cattle is deemed safe from attacks by predators.
Experiencing the Singing Wells was special for all of us. Right here in Samburu is probably the only place in the world where it can be experienced. It is pastoral in the full sense of the word, animal and man in close proximity, illustrative of the close – one may even call it emotional – bond between the Samburu and their much-loved cattle. No photography is allowed at the Singing Wells; this is something you simply have to go and see first-hand!
While fascinating to observe the practice, the abundance of cattle is a growing issue in the Namunyak Conservancy. By early 2018 there were already too many cattle in the area, estimated to be around 20,000 total. This displaces many wild animals including lions, which simply cannot thrive around such intense human and domesticated animal pressure.
As a result, Sarara is not a full-on 'big game' experience. There is plenty to see, for sure. Lots of elephants and Reticulated Giraffe, some gerenuk and lesser kudu, but not much else.
My stay at Sarara was made even more special because of the personal attention of the managing couple Rob and Meg, who are raising their young daughter Eva in this most wonderful of places. Rob and Meg are naturals to the role of camp management, with an easy-going nature and friendly, welcoming manner. Even so they clearly have a firm hand on the wheel in terms of maintenance, overall standard and quality of food & beverage, the appearance of the lodge and so on. Accommodation at Sarara is first class. The hybrid tented rooms are large and comfortable, with en suite toilet, and hot and cold water on demand. My room – #5 – had a separate yet connected (a few steps) outside bathroom with a shower with a view over the landscape.
Food at Sarara was stellar with well-prepared home-style cooking, such as roast chicken, leg of lamb, a great variety of pizza, pasta, frittata, with beetroot and many other salads for lunch. Always with a tempting dessert. More than enough in the way of variety, choices and certainly quantity, to satisfy a demanding palate.
Dinners were communal, mostly served al fresco overlooking the water hole where there was almost always some wildlife present, including elephants, kudu and baboons.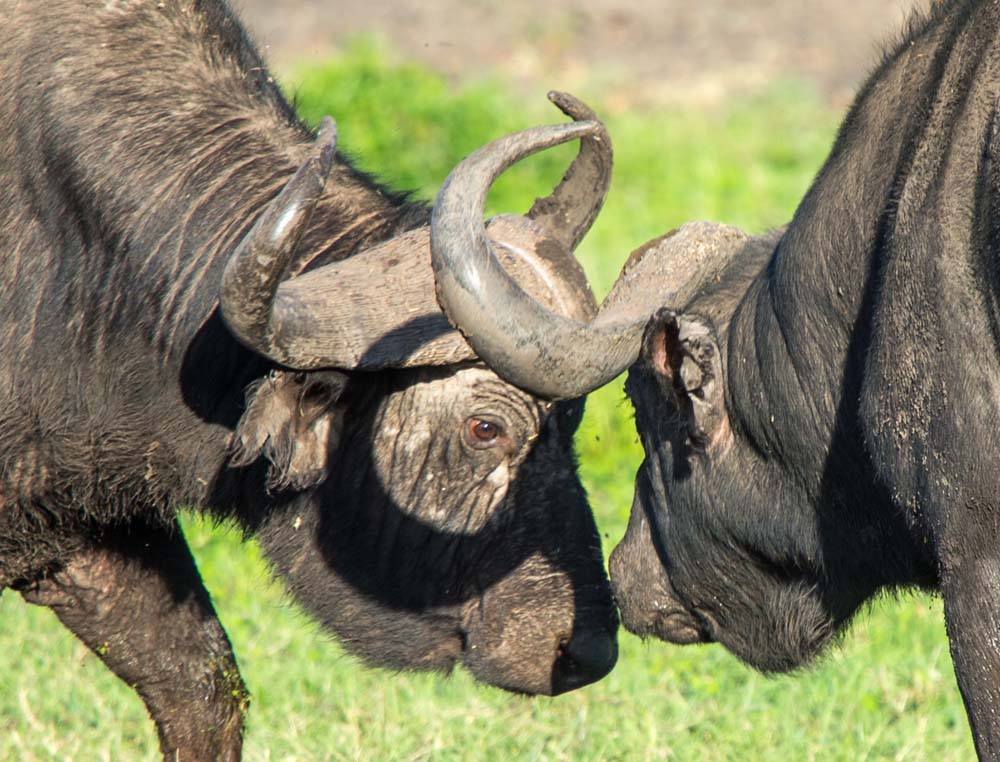 PART 4: MERU NATIONAL PARK
Just like the Mathews Range, Meru National Park was hitherto unknown to me. I had seen an occasional reference to it, mostly to do with Elsa's Kopje, but never gave it much thought as a wildlife destination.
After spending 5 days in the area, we will certainly be placing Meru in the rotation for Kenya trips. What do you say about a place where you can see 18 different rhinos in a day, spend an hour with a pride of lions without so much as another vehicle driving by, and enjoy seeing elephants, buffalo, two species of zebra, the superb Reticulated Giraffe, and a wealth of others mammals and birds.
I would call it underrated and that appears to be definitely true about Meru NP. For someone who is not simply out to 'tick' the Big Five mammals in a day or two, and who prefers to experience Africa in a more relaxing and peaceful area with preciously few other visitors round, Meru National Park is an attractive proposition. Its wide-open plains may not quite rival those of the Mara but they are impressive nonetheless.
Meru has no less than 15 permanent streams and rivers which run across it from west to east; these life-giving sources of water ensure there is always something of interest to see in the area.
When I was there in late February it was more dry than usual, with not much rain having fallen since the previous November. Even so, Meru was in much better shape than Samburu. Judging by the thriving wildlife and abundance of young animals the park clearly has some spare capacity.
One morning we found a relaxed pride of lions along one of the rivers, no doubt planning to ambush one of the many solitary buffalo we'd seen close by, earlier. Or perhaps they were lying in wait for a huge herd of perhaps 600 or so buffalo which we saw the following day. Strung out in a massively long procession it would be relatively easy for the lions to cause a disturbance and isolate one of them.
At the Meru rhino enclosure, a significant and growing number of black and white rhinos are being heavily protected from poaching with admirable results. Over the course of one morning and one afternoon rhino drive, we saw 18 different rhinos, 20 in all. Some were far away or partially obscured in the bush, but just as many were in the open, providing some nice photo ops, particularly two females with their offspring. The black rhinos gave us the slip this time around, but they are definitely there too.
Meru is a little bit wilder than most other game areas in Kenya and particularly for first time visitors to Africa its diversity, variety of landscapes and raw appeal make it an interesting option, an ideal first stop on an African safari. We spent 2 nights each at two properties in Meru namely Elsa's Kopje (Elewana) and Rhino River Lodge, just outside the park boundary.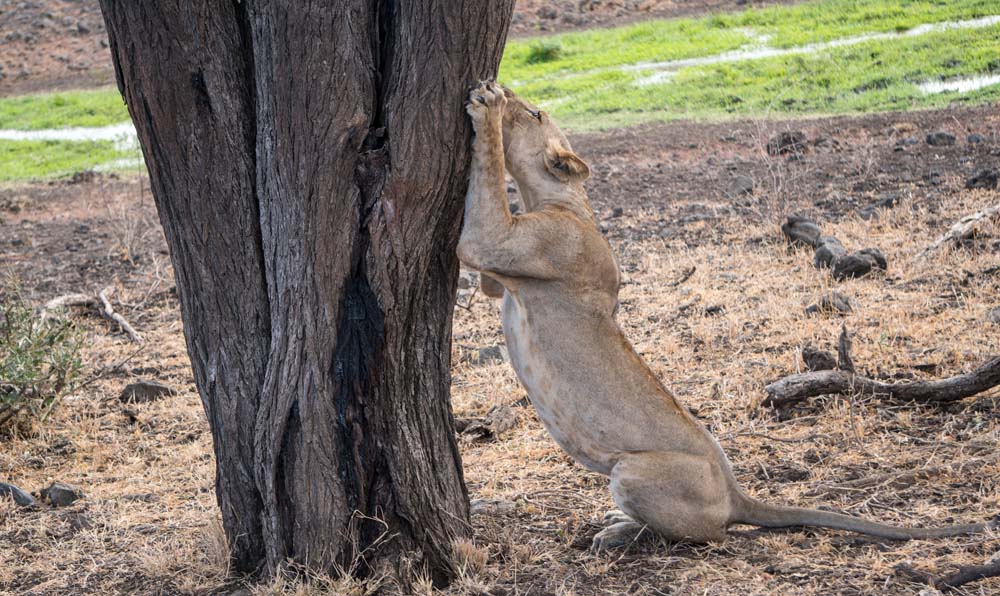 Elsa's Kopje Camp
Elsa's Kopje surprised and delighted me in several ways. For one thing the rooms are stunning and even more so the private house and family room. Elevated above the plains amidst a profusion of large boulders and rocky outcrops, the camp is blended so well into its environment that it appears to be smaller than it really is. From my room #10 I could hardly see any other room and while I was barely 50 meters from the main lounge and dining room, it was completely out of sight.
The rooms are spacious, well-designed, well-lit and hard to find fault with in any way. A comfortable bed, great views, effective mosquito net and abundant hot and cold water on demand in a shower. I would have preferred a bath and was told that the room would indeed be getting a tub view a view, soon!
What else did I like about Else's Kopje? Attentive and clearly hands-on management, friendly staff, superb food with lots of choices, terrific packed breakfast (we tried them twice) a super nice pool among the rocks, and lots of habituated hyraxes. The part of the camp which I saw – and my room in particular (#10) – have lots of steps and slopes, being built into the sides of a kopje or hillock. So persons with mobility issues should definitely request a room with the least number of steps to negotiate.
Our second Meru property was Rhino River lodge, located just outside the reserve, right at the entrance to the rhino boma. If you definitely want to see some white rhino – and have a shot at some black rhino as well – then this property would be a good choice. Rhino River Lodge is a comfortable tented camp; its strengths are location (on the edge of a gorgeous forest), food (Italian specialties in the bush!) and value. The 6 rooms at Rhino River Camp, raised on platforms above the gently flowing Kindani River, lack for nothing except perhaps mosquito nets. Even so there are a few things which need attention including the decking planks, the practice of feeding a troop of resident Greater Galagos, and spotty Wi-Fi availability. Don't come here expecting a luxury, sophisticated tented camp as you may be disappointed. But for what it is – a solid 4-star property with friendly staff and exceptionally good food, Rhino River Camp delivers a comfortable and interesting experience.
Rhino River has an exceptionally nice swimming pool, a well-stocked bar and restaurant area and numerous nature trails for you to explore the private property. The bird-watching is excellent with as many as 180 different species of colorful birds having been recorded here. Resident mammals in and around camp include Syke's monkeys, baboons, dik diks, bush babies, porcupines, and the occasional bush buck.
For the last five days of my Kenya educational trip, I was fortunate to have a private Origins Safaris guide along, in the person of Zachary Methu. Zachary is not only a true expert in all things ornithological, he is also a superb all-round guide who is passionate about every aspect of nature and the environment. It was easy and fun to keep the conversation going with him on pretty much any topic, whether it was the side-effects of excessive and long-term chewing of miraa, or the calls of rarely seen birds which we encountered in the riverine forest around Rhino River Camp. With Zachary and Richard Turner – an accomplished young naturalist – around, there was no need to consult a guidebook or website. These guys had all the knowledge and experience right at their fingertips. As so many of our guests have found out over the years, the presence of a KPSGA Silver guide – like Zachary – makes a world of a difference and turns what would be a nice trip into an unforgettable experience.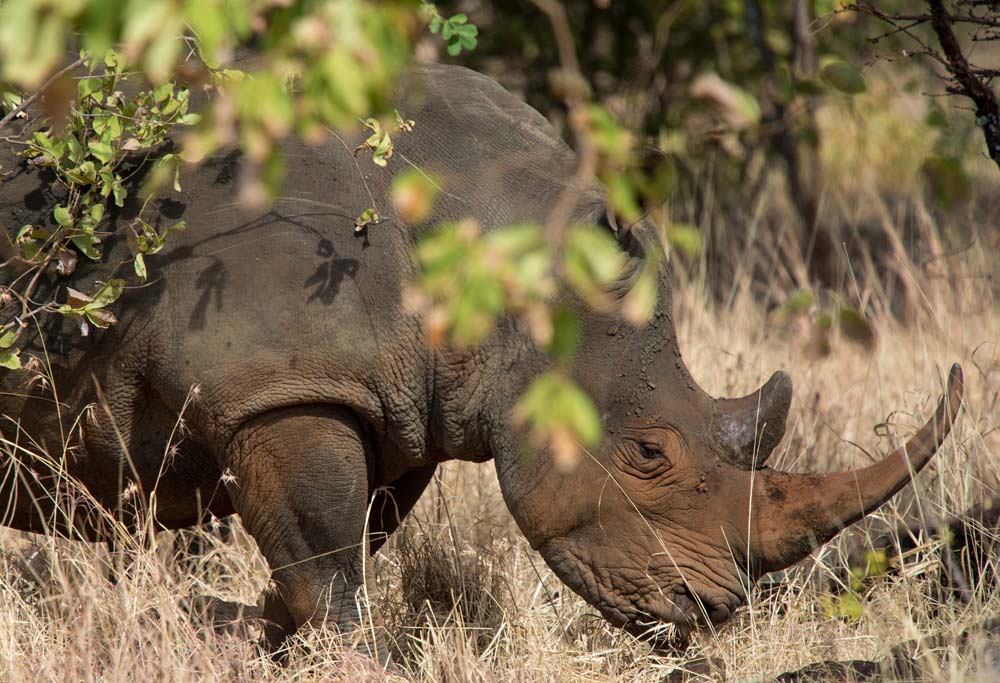 Conclusion
Everything I saw and experienced in Amboseli, the Mathews Range and in Meru National Park proves once again that Kenya is Africa to the core. Wild, fascinating, sometimes harsh and unforgiving, yet exciting and still ready to be explored after all these years.
Kenya is Africa because of its diversity of people, culture, habitats, animals and birds – a magical mix which never fails to delight visitors, no matter how often they return. There is always something new to be seen, somewhere else to go, a different season to experience.
Kenya is Africa because it evokes a sense of time and place which is unmistakable. Amboseli, the Mara, Tsavo or Samburu: they are all Africa to the core and experiencing them changes you forever. It is no different at the base of the Mathews Range or looking out from your room at Elsa's Kopje Camp in Meru. You'll know you are in a special place.