$cat_name = 'category'; $categories = get_the_terms($post->ID, $cat_name); foreach ($categories as $category) { if ($category->parent) { echo $category->name; } } ?>
Jul 12, 2019
Kenya & Rwanda, Volcanoes National Park, Nyungwe, Akagera 2019
Share: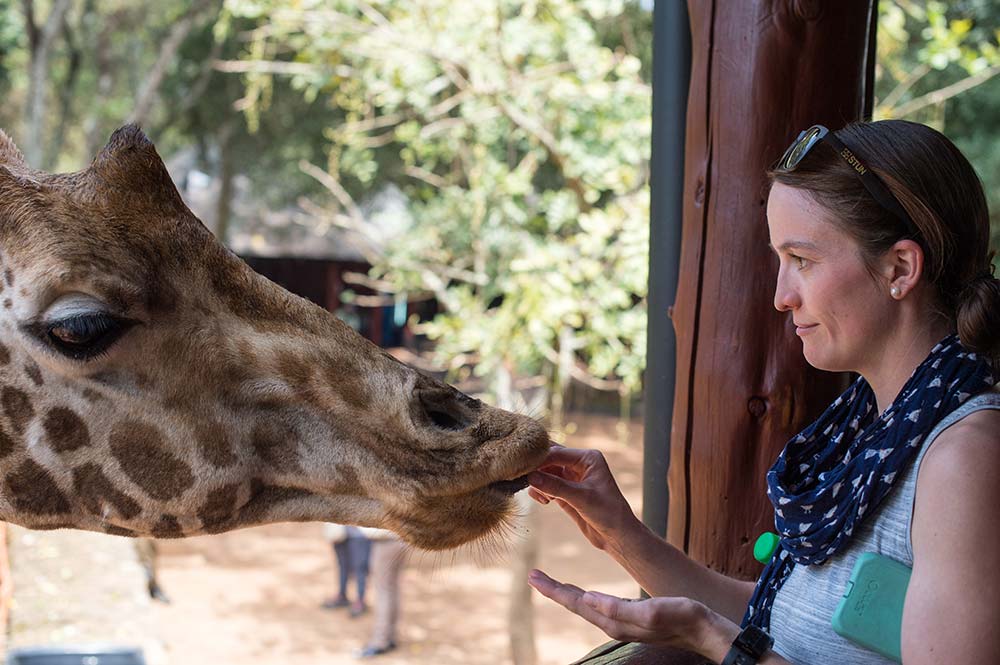 Kenya & Rwanda 2019:
Masai Mara, Little Governor's Camp, Volcanoes National Park, Nyungwe & Akagera
Part 1: Traveling with Kenyan Airways, non-stop JFK to NBO
Board a nonstop overnight flight from New York City to Nairobi on Kenyan Airways, add a short charter flight to the Masai Mara the following morning, and you can be on safari that afternoon. Leaving behind the concrete jungle and stepping onto the African savanna in less than the time it takes to drive across Texas. Watching wildebeest moving over the open plains instead of automobiles clogging a freeway. Hearing birdsong – not noise. Clean air and beautiful sunsets, stars like you may never have seen them before. Plus of course lions, giraffes, elephants, hundreds or even thousands of wildebeest and many other animals and birds. Africa just like you imagined it.
That's exactly what we did recently: flew non-stop from JFK to Nairobi on the inaugural Kenyan Airways flight, a break-through for tourism to Kenya and East Africa. Getting from the USA to East Africa used to take at least 20 hours, with an unavoidable stop-over in Europe, the Middle East or Johannesburg. No more. We left JFK at around 1:00pm on a Monday, spent approximately 13-hours aloft in a comfortable Boeing Dreamliner, and deplaned at Nairobi's Jomo Kenyatta International Airport the next morning just after 9:00am.
Could my economy class seat have been softer with more legroom? Of course. Were the in-flight meals something to write home about? Of course not. To be sure, we did enjoy a great send-off in New York and an equally rousing reception in Nairobi. Don't expect that on your non-inaugural flight – but hopefully you'll get the same friendly in-flight service.
We spent a few fun hours in Nairobi feeding and posing with the amenable Rothschild's Giraffes at the Giraffe Center and then getting fed ourselves: a tasty protein over-load at the Carnivore Restaurant. From there it was a short drive to Wilson Airport, some happily minimal formalities (luggage check, boarding pass) and then it was up and away in a Cessna Caravan belonging to Governor's Aviation.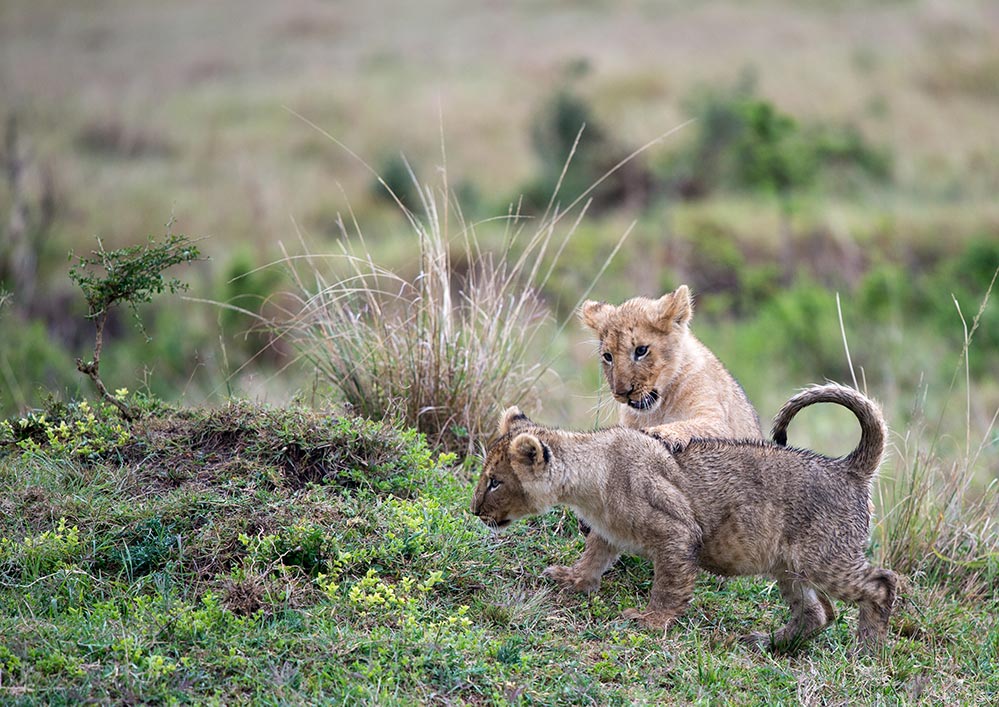 Part 2: The Masai Mara and Little Governor's Camp
Less than an hour later we were on the ground in the Masai Mara, marveling at the sight of hundreds of wildebeest scattered in small groups, in practically every direction. It immediately became obvious why the 'migration' was still in the Mara: it was wet and there was abundant fresh grass everywhere. Clearly quite a bit of rain had fallen over the preceding few days and more would fall while we were there. All good though, as it had minimal impact on our stay.
The Mara being the Mara, the game-viewing was predictably good, with fantastic views of seven lions including three young males just coming into their prime. The lions were active, and any photographer would have been more than happy to see and capture them in the soft light.
Naturally there were many other species present as well, including plenty of Topi, Thompson's Gazelles, Plains Zebra, eland, elephants, buffalo, warthog and impala and some impressive birds. On the second day in the area we saw some more lions, a lot more wildebeest and we witnessed a simply amazing scene of what appeared to be dozens of giant Nile crocodiles converging on the remains of a wildebeest, creating a vortex of furious twisting and turning as they jammed together, ripping away at the rapidly disappearing carcass. It only lasted a few minutes, and we were too far to get a decent photograph, but it was one of those 'once in a life-time' experiences that will remain vivid in our memories.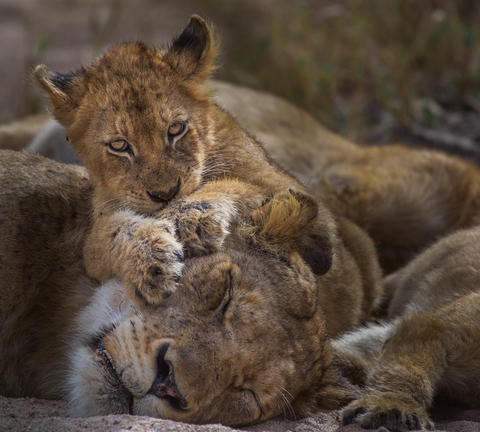 On a subsequent game drive, we saw a different lioness with two cubs, and we had great views of a large buffalo herd in excess of 300 strong. Plus of course many more (thousands) of wildebeest with zebra mixed in, here and there. Even though the duration of our stay was quite short, the experience once again demonstrated just how consistently good the game-viewing is in the Masai Mara, year-round. This is the spot to choose for your first, or only, or umpteenth safari. Did we miss anything in particular? Maybe cheetah, usually a Mara regular. However, we knew that they were in the area and had been seen just prior to our arrival. For our clients, we would recommend 3- or 4-nights total in the area, which would provide ample opportunities to find pretty much everything, without a great rush.
We would spend two nights at Little Governor's Camp in a comfortable tented room, 17 of which are tucked into the edge of a forest, overlooking a natural swamp, often frequented by animals and birds, ranging from hippos to giraffes, elephants and even the occasional rhino. The polished wooden deck in front of the tents is an ideal spot to observe the action or simply to chill and enjoy the serenity of this vehicle-free area.
Meals and all-round hospitality at Little Governors were superb. The food was tasty, fresh and expertly prepared. Good selection/choices for breakfast and the dinner on the first night was excellent. Plus points for the Little Governors room included effective charging facilities. Not so good? The lighting. Adequate but not great. And totally not up to scratch was the WiFi which was glacially slow.
Access into Little Governors is by boat (a brief ferry-like trip across a narrow part of the Mara River) and then on foot through a patch of riverine forest. Steps? Yes, there are quite a few of them leading down from the vehicle parking area into the river gorge and more on the other side going up. Some may find the down, across, up and reverse/repeat procedure to be mildly tedious by day 3 or so but let's face it, on safari we can all do with a bit of exercise. For guests who have serious mobility issues there is an option to be driven to Little Governors Camp, by way of a bridge over the Mara River.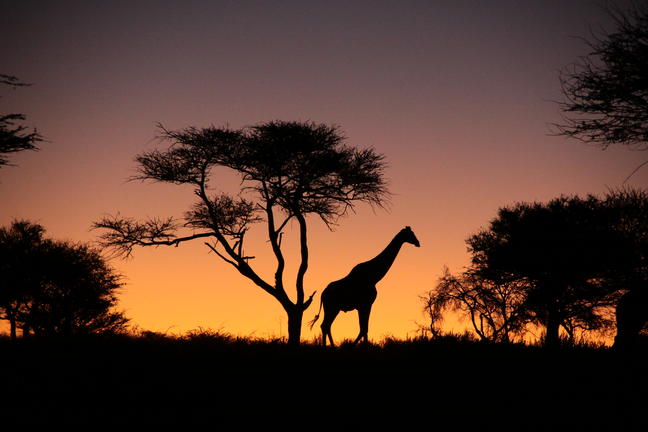 On our second day in the area, we had a look at the newly refurbished Il Moran Camp, and enjoyed lunch at Governor's Camp. Governors is an ideal family safari choice, offering great value for money. In the evening our small group were guests at a spectacular bush dinner, complete with Masai dancing and an enviable spread from the Governors Mobile Kitchen. The Mongolian stir-fry spread had seemingly endless choices with chicken, beef, pork and vegetarian options with rice noodles, mushrooms, bell pepper, hot peppers, fresh ginger, garlic onions and more. Plus, several delicious dessert options.
Our Governors Camp trip came to an end with an enjoyable breakfast at Governors Private Camp – beautiful grounds and an ideal setting on the edge of the Masai Mara. Using this property on an exclusive base is affordable for even smaller groups as long as the bed-night count reaches 12 or more. For example, 4 persons for 3 nights.
By that afternoon, after the flight back from the Mara, we enjoyed a late lunch at Talisman Restaurant and then went on to JKIA for the 1-hour flight to Kigali. It was a bit of an ordeal getting out of Kenya, with the final immigration clearance process taking at least 20 minutes due to a malfunctioning passport scanner.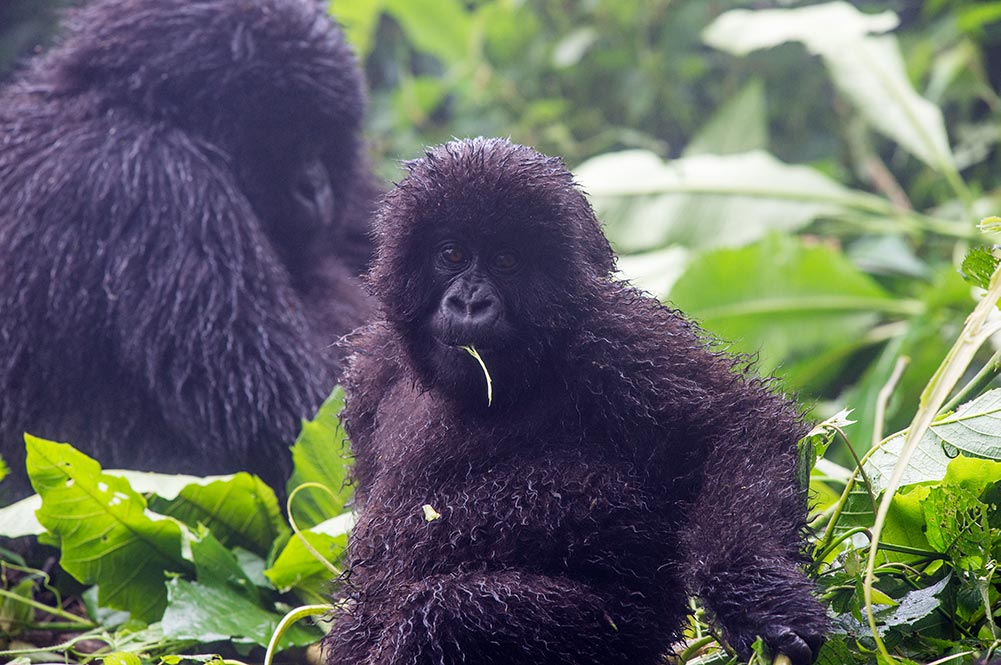 Part 3: Sabyinyo Silverback Lodge
From Kigali Airport it took about 40 minutes to get to Heaven Retreat, the small luxury lodge which would be our home for the night. It was a comfortable and stylish spot, made all the more special with a superb dinner at Heaven Restaurant. The next day we enjoyed an early morning run, a Kigali city tour (including the Genocide Museum for some members of the party who had not previously seen it). Then it was off to Rwanda's Northern Province, a drive of about 3 hours, with a stop-over in Musanze en route. It was rainy and rather cold, which set the tone for the next few days.
Sabyinyo Silverback Lodge offered a friendly and exceedingly comfortable respite for the following couple of days. The lodge main area and room interiors had been spruced up since my first visit in 2008, but I was happy to see that it had lost none of its charm and gracious hospitality. Sabyinyo Silverback still felt 'just right' for its environment and totally in keeping with the gorilla experience in its broadest sense. The rooms are comfortable and nicely appointed with lots of space, a nice fireplace (it gets cold at night at 8,500 ft asl), a tub, and lots of privacy. The food was consistently excellent and above all the staff and management were beyond friendly and efficient.
We were happy to see that Sabyinyo was in the process of constructing a pathway to improve access to the lodge from the parking area below. Up to now, the walk which involves almost 180 steps, has been rather challenging for individuals with mobility issues.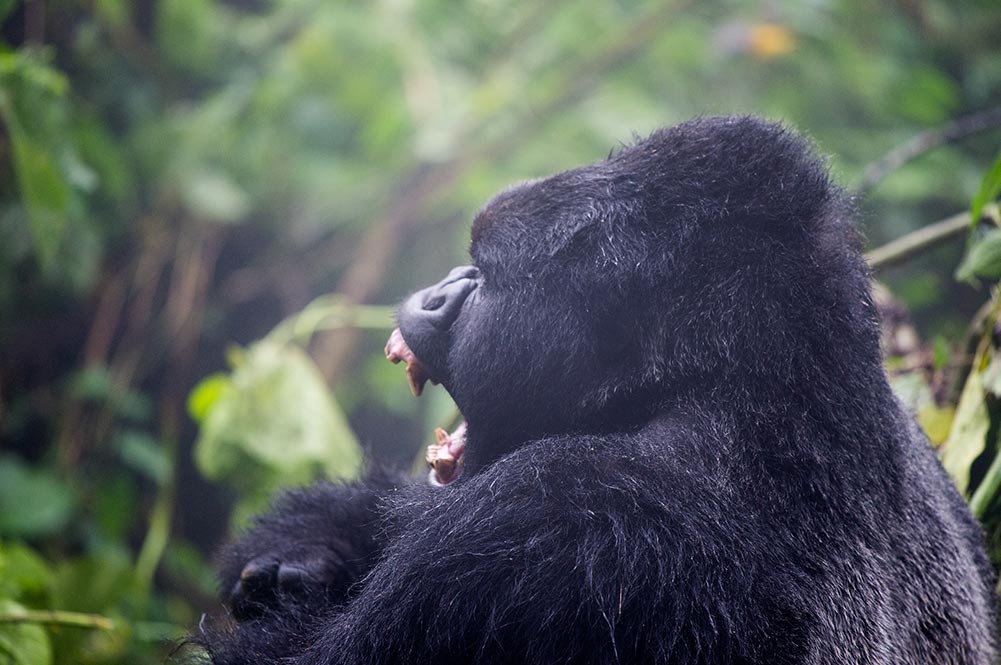 Part 4: Gorilla Trek at Volcanoes National Park
The big day had dawned. Our gorilla trek event commenced with a gentle wake-up knock at Sabyinyo Silverback Lodge. Our butler Peter handed over a small tray with coffee, tea and hot milk. It was 6:00 a.m. By 6:30 a.m. we were sitting down for a hotel breakfast with an array of buffet items, as well as eggs to order.
Down the 180 steps to the parking area, and off on a short 10-minute drive to the Volcanoes National Park Headquarters, where we spent 20 minutes or so standing and sitting around and enjoying a cup of Rwandan tea or coffee, while permits were being checked. Then it was time for a briefing by our guide Eugene. We were to visit the Kwitonda family of gorillas, which happened to be the biggest group in the area, with 34 individuals. Babies, juveniles, sub-adults, adults and silverbacks.
Leaving at just after 0800 a.m., we walked on an easy trail along a gentle slope with nothing more than a few rocks to slow us down. A kilometer or so along the track, we crossed over a bridge, at the entrance to the forest. By 1015 a.m. we had located the gorillas and the hour-long magic ensued.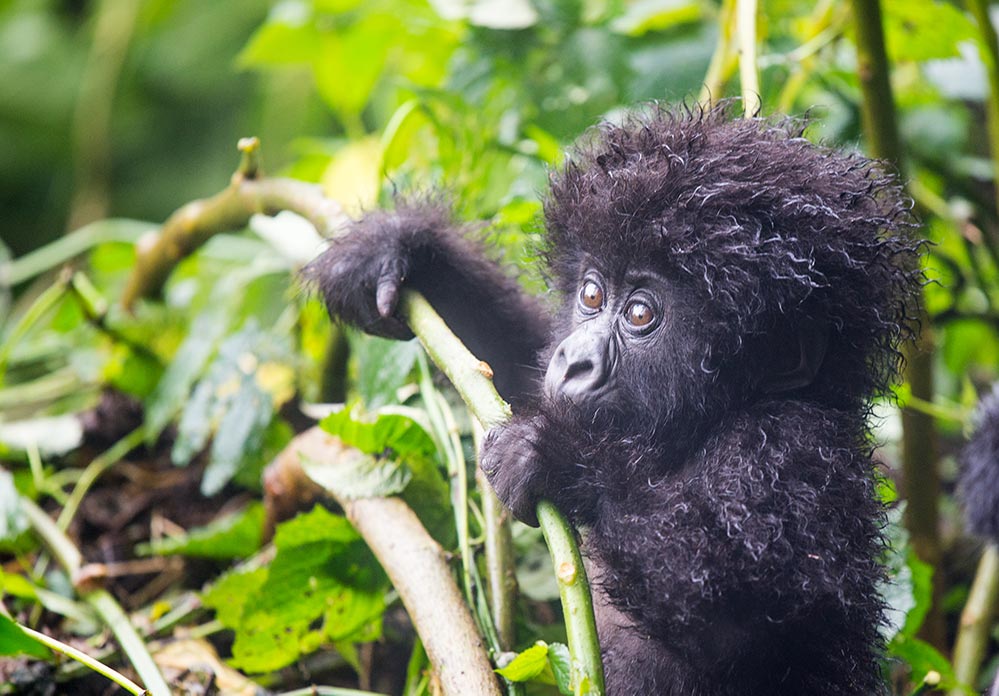 When we first saw them, the Kwitonda family group – we would end up seeing about 15 to 17 individuals – were gathered in a clearing in the forest. For the better part of an hour we observed them feeding, playing, resting – and resting some more. A couple of youngsters were gamboling around, tumbling, jumping, chest-thumping and climbing onto high spots, playing 'king of the castle'.
A female was nursing her baby, yet another female was cradling her 3-month old baby protectively, and the #2 silverback male was in a pensive mood, posing for a series of 'selfies' with excited visitors positioning themselves between a camera and the gorilla, for the obligatory Facebook or Instagram pic.
As the hour slipped by all too quickly, we watched this 'slice of ' life' portion of a day in the life of a gorilla family' daily existence, in awe and fascination. It was easy to imagine that almost all of their days in this beautiful sanctuary were spent in the same bucolic fashion, surrounded by family members while enjoying tasty bamboo shoots, as well as leaves, stems and fruits of many other plant species.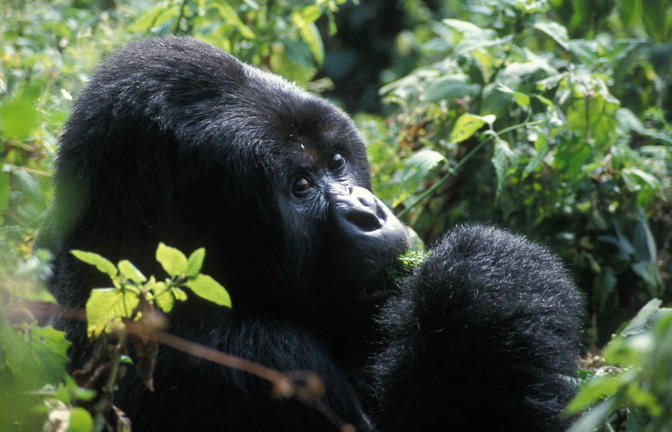 It was all perfectly clear, to see why these stunning animals are as universally revered and sought after as they area. They are undeniably at the pinnacle of the animal world, the very embodiment of the most special thing that can be lost, if global wildlife conservation attempts fail.
At least for the mountain gorilla prospects are good, for now. Their numbers have increased by 26% since 2010. Furthermore, there are plans in place to extend the size of Volcanoes National park – home to these striking animals – by up to 23% over the next few years.
Our party of 8 visitors from the USA had hiked up the slopes to spend a little time with the Kwitonda gorilla group, the largest of the 12 gorilla families in the area. Concurrently there were 8 or 9 other visitor parties of up to eight persons hiking elsewhere in the park, observing other gorilla groups such as Sabyinyo, Bwenge, Susa, Karisimbi, Agashya, Hirwa, Ugenda, Umubano, Amahoro, and Titus.
This happens day in and day out, year-round, with visitors contributing as much as US$19.2 million in 2018 alone, towards the conservation of the Mountain Gorilla.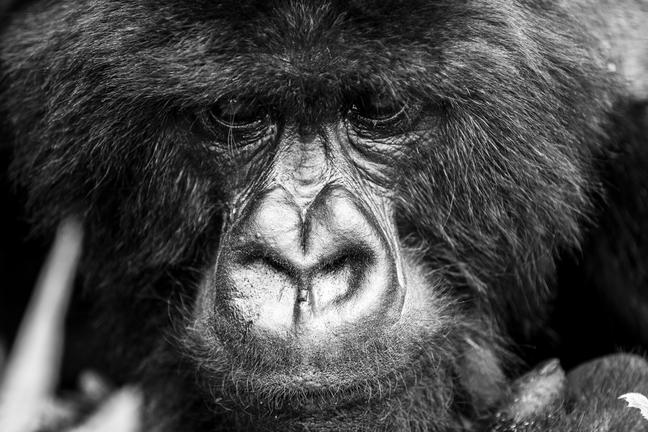 Here is the worrisome thing about being in the Volcanoes National Park, or at any of the major lodges in the area: you can hear people from almost anywhere. From outside your room at Sabyinyo Silverback, at Bisate, even while observing the Kwitonda gorilla family. As I said to the manager of Wilderness Safaris' Bisate Lodge, in terms of wildlife survival, having people living within earshot is like being inside a grass hut and hearing a fire popping not too far off. The greatest threat to all wildlife anywhere in the world is habitat loss, an unavoidable consequence of human population expansion and intrusion into the wilderness.
A few gorilla trekking hints courtesy of Wild Frontiers:
A 7 meter (21 feet) distance should be observed at all times from the gorillas; the further back you are, the more relaxed the group will be.

Always keep your voices down. However, it is okay to ask the guide questions. Do not smoke, drink or eat when you are near the gorillas as this might inevitably increase the risk of food/drink droplets falling and increase the risk of transmission of diseases.

Flash photography is not permitted – when taking pictures move slowly and carefully.

Do not touch the gorillas – they are wild animals.
Tipping for the gorilla trek? Yes of course. As follows: Each of the two porters: $20 each. For all four of the trackers, $20 to share. For the guide, $20 to $30 per person.
The following morning, we were the guests at a memorable anniversary, celebrating the 10-year existence of Sabyinyo Silverback Lodge and its association with SACOLA. The Governors Camp Collection operates Sabyinyo which is owned by the Sabyinyo Community Livelihoods Association (or SACOLA), consisting of members from the surrounding communities. Through the SACOLA trust, Sabyinyo Silverback Lodge has delivered more than US $3.3 million in revenue since 2006.
SACOLA now reaches over 5,800 households in the villages outside Volcanoes National Park. For many people displaced by the Rwandan genocide in the early 1990s, the struggle to rebuild has forced them to exploit the natural resources for subsistence. With income from the SACOLA trust via the Sabyinyo Silverback Lodge, the economic pressures to clear forest for small farms or hunt bushmeat for local markets are lessening. In this way sustainable tourism enterprises like Sabyinyo Silverback Lodge are playing an important role in protecting and safeguarding the mountain gorillas and other wildlife of Volcanoes National Park.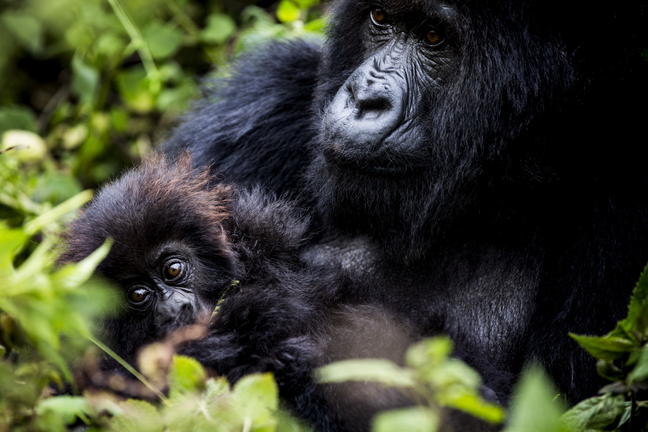 Part 5: Bisate Lodge
On a recent visit, we found Bisate to be every bit as good as advertised. Nothing about this unique property was a let-down. It is small and intimate with only 6 villas; great for getting everybody in camp together in front of the fireplace, before dinner. The design features are amazing, and we loved the room: ideal size & lay-out and the double-sided fireplace was super effective. The dome-like shapes work beautifully, with nothing jarring, nothing out of place. Lighting was excellent. Overall the room was super comfortable and cozy in the chilly climate. Food & all-round hospitality were excellent too; I enjoyed chatting with the young lodge manager who was very forthcoming and relaxed.
The community walk/tree planting ceremony with local guide Aline Umutoni (who happens to be a good birder) was a highlight for both my wife and me. To be sure, there are many steps around the lodge. I don't think it will be much of an issue for most people, but for guests who have mobility issues it might very well be. The work that is being done to rehabilitate the hill & surrounding area is amazing and very visible, already.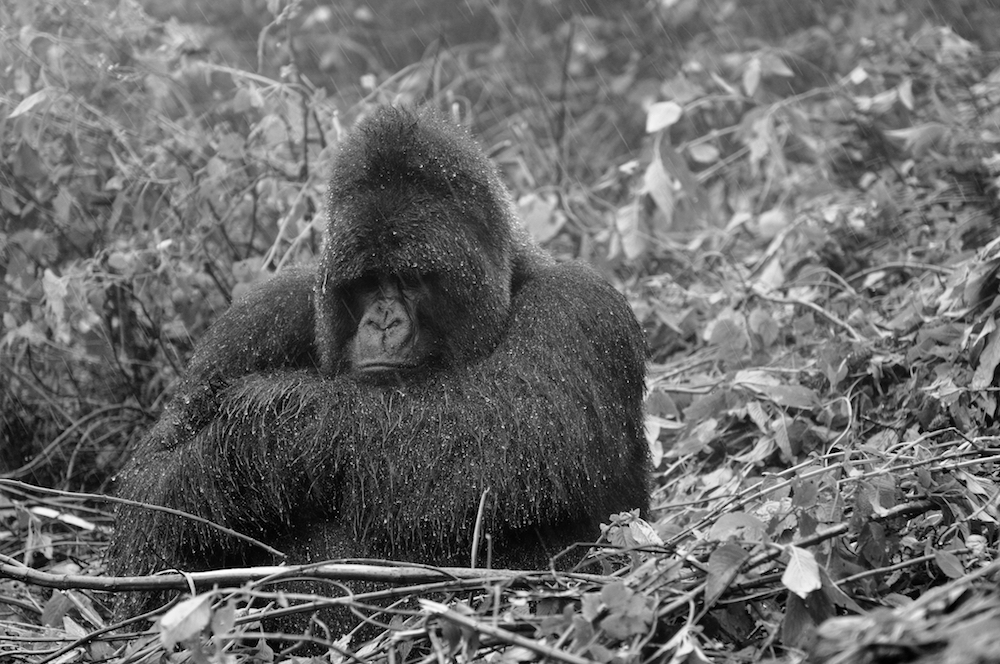 Part 6: Hiking Bisoke Crater
Many visitors to the 5 Volcanoes areas are intrigued by the prospect of hiking up one of the craters. As was I. Bisoke seemed like the obvious choice with supposedly 'the best' views of any of the crater hikes. Under good to ideal conditions the hike would be fun and mildly challenging. It traverses a steep path which ascends to about 3317 meters (12,200 feet), through a beautiful tropical forest. This first half of the hike was muddier than I anticipated, but we made decent progress up to a spot called 'the beach'. From there right to the summit, the hike was exceedingly difficult due to a significant amount of rain having fallen in the few days prior. Conditions could not have been much worse, with more than a foot of mud in many areas, making each step treacherous. Six hikers started and five made it to the top. They were all young, fit and experienced hikers. And without exception, they complained about the conditions of the trail, to the point of saying that it was dangerous and that a slight misstep could lead to a twisted ankle – or worse.
In the end, we all made it to the top and down in one piece. Unfortunately, the allegedly spectacular views from the top were obscured by mist and fog, but it was satisfying to have reached the crater lake at around 12,000 feet. We stood on the rim for quite a while donning heavy jackets to ward off the cold wind whipping across the crater edge.
The way down was a 3-hour challenge of perseverance and strength with everyone's legs tested to the limits. The porters were invaluable for their assistance and I for one, would not have made it without the assistance of a porter. No way. Should you attempt the Bisoke Crater hike? Perhaps yes, but then only when the trail is dry. This is not a wet season activity and should be avoided completely during or just after any heavy rain. It becomes an uneven, muddy quagmire – no fun at all!
Even so, if you are up to a significant physical challenge, pay your $75 permit fee for the Bisoke trail and give it a go. You'll gain a considerable measure of respect from the locals, in addition to the sense of achievement and self-satisfaction gained by completing such a tough hike.
Be sure to hire a porter, wear sturdy hiking boots (waterproof or close to it), take plenty of water and try to schedule the hike once you are acclimated to the higher elevation of northern Rwanda.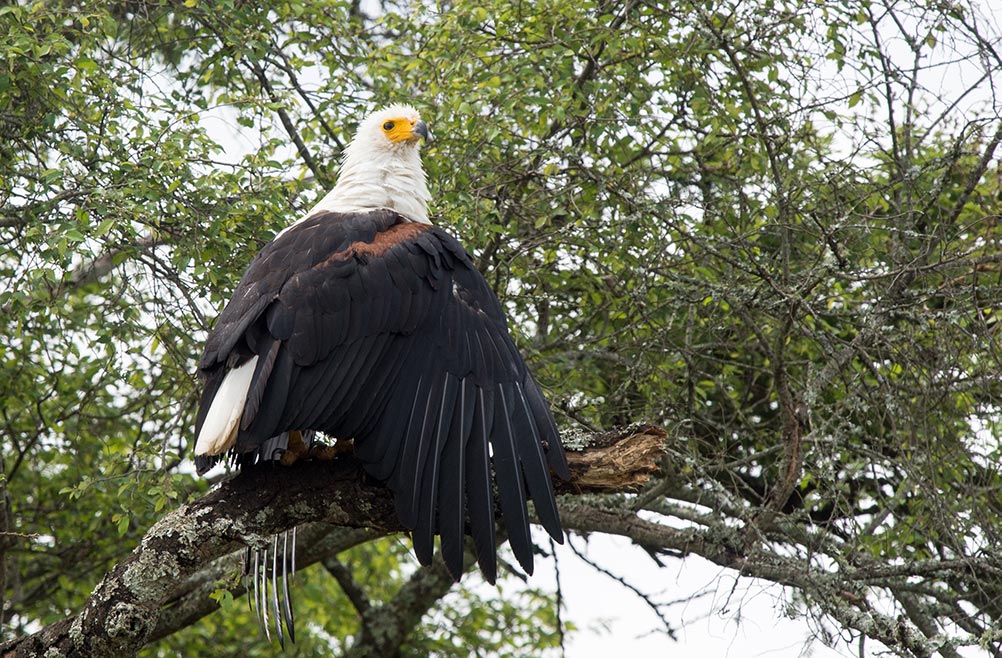 Part 6: Virunga Lodge
We spent the night at the Virunga lodge, a luxury 12 room lodge with jaw dropping views of the twin Lakes of Ruhondo and Bulera. At any time of the day, but particularly at sunrise, the views from the lodge are simply spectacular. Depending on the vantage point, one can see anywhere from three to all five the surrounding volcanoes namely Sabyinyo, Bisoke, Gahinga, Karisimbe and Mikeno.
The rooms at Virunga are large with a separate lounge and fireplace, a good-sized bedroom, plenty of space to store luggage, and a separate shower and toilet.
The lighting can be better; it was difficult to see one's clothing to be able to make choices in the morning, or for packing. The showerhead and water pressure could be better too.
Dinner and breakfast were fine, if not spectacular. Virunga Lodge is about an hour's drive to Musanze and from the Volcanoes National Park HQ, where the early morning pre-trek briefings take place. So instead of getting up at six or 6:30 AM, you'll be up at five or 5:30 AM. It is a bumpy ride from the Lodge to the main road, smooth from there all the way to the Headquarters.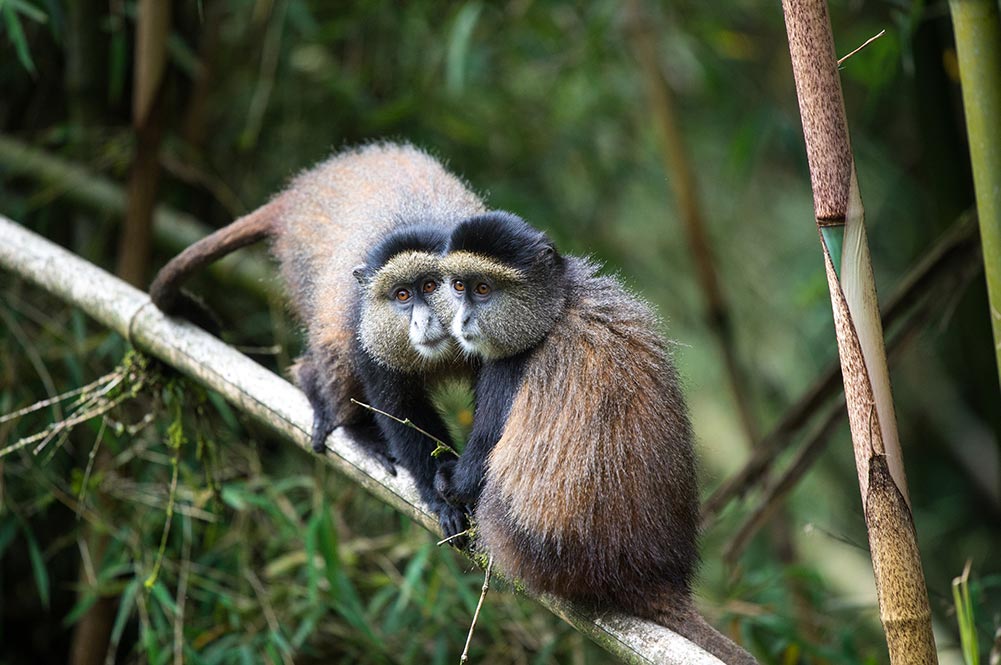 Part 7: Golden Monkey Trek
Our last day in the Volcanoes National Park area was spent trekking golden monkeys. Compared with my earlier golden monkey trek some years ago, this one was infinitely better with pretty much unlimited scope and opportunities for the best golden monkey photos ever. Plus of course an unrivaled opportunity to observe the golden monkeys' behavior. We watched them feed on the ground, in the trees, and pulling apart emerging bamboo shoots to get at the sweet, juicy core. There was a female golden monkey with a tiny baby clinging to her chest, peering at us inquisitively. There were youngsters mock fighting, juveniles and adults performing prodigious jumps, large males slowly making their way around. Even though the light conditions were sub optimal, I did manage to get a few decent shots of the golden monkeys, one of eastern Africa's prettiest primates.
An hour later we trekked back through the dense montane forest, through a prominent bamboo thicket with signs of buffalo all too evident, across the stone wall demarcating the park perimeter and back to our parking spot.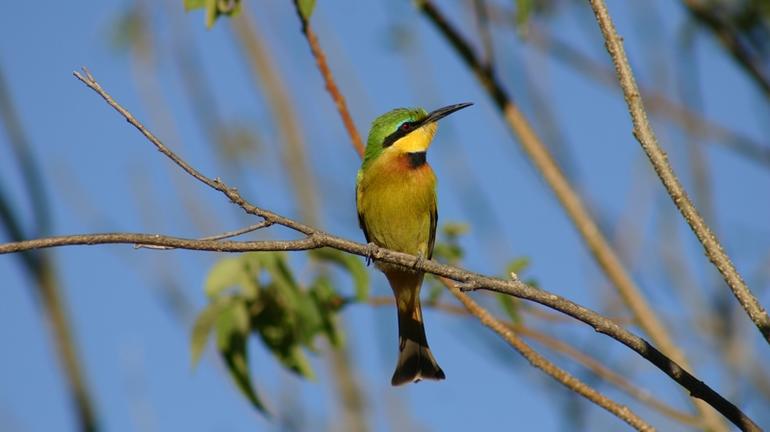 Part 8: Five Volcanoes Boutique Hotel
From there it was a short drive back to Musanze, where we spent the night at the Five Volcanoes boutique hotel. This nine-roomed hotel is a great choice for a moderately priced property with easy access to the gorillas, and without all the steps of some of the luxury options. Our deluxe room was quite spacious and well lit, with a separate bathroom with a good shower and toilet. With a TV (multiple channel options), tea and coffee making facilities (be sure to ask for milk) the room was a good spot to rest up after a strenuous hike.
While compact, the grounds and gardens were pleasant and leafy, with lots of birds around. The Five Volcanoes hotel also has a VIP suite for exclusive use and a family cottage. The nearby Volcano Manor is a luxury residence for a group of 10 to 15 persons, sharing five bedrooms, a fully equipped kitchen, office room, living room, outside bar and lounge, complete with swimming pool, jacuzzi, and tennis court.
Dinner at Five Volcanoes was better than anticipated. The rather uninspiring menu – something was clearly lost in translation – did not come close to describing the well-prepared local dishes. My fish entree was a keeper: subtly perfumed with a spice mix, but not overpoweringly so and with good texture and degree of doneness. Kathy had a vegetable korma which was served with aromatic rice. The stew was a bit heavy on peas, but otherwise quite tasty. Side dishes included boiled potatoes, a staple food in Rwanda, and carrots.
Breakfast the next morning was perfectly fine as well. Star of the show was some nicely done omelets with toast; there was a limited number of buffet choices including muffins, pancakes, fruit etc.
Our next stop – Nyungwe Forest – was a long drive away – about six hours to be exact. It is possible to shorten this journey considerably by flying from Kigali to Kamembe and to then drive around 40 minutes to Nyungwe. This time around I wanted to make the drive along Rwanda's Route 1 along the western border with the Democratic Republic of Congo which is mostly formed by the huge Lake Kivu.
It took the better part of 90 minutes or so from Musanze before we had our first glimpse of the lake, beautifully framed by the lush green hills and patches of floodplain.
Part 9: Driving in Rwanda
We found the roads in Rwanda to be generally first class, with mostly smooth asphalt surfaces in good all-round condition.
Keep in mind that almost all the roads are exceedingly winding and you are constantly driving either downhill or uphill. Due to these conditions – which make it difficult to pass slower vehicles – average speeds are low and it can easily take almost 2 hours to cover 100 km. Twice the duration of what we are used to in Texas and in many other parts of the USA. So, while driving in Rwanda is not at all boring due to the gorgeous scenery, one has to be vigilant at all times and be on the lookout for bikes, goats, lots of children – and even members of the armed forces on foot patrol.
What you won't see are lots of cars. In fact, there are surprisingly few other vehicles on the road because private car ownership is a rare achievement in most of the rural areas. Despite traffic being extremely light it is not without danger. We witnessed some unnecessary speeding and several incidents of ill-advised overtaking and other risky behavior. Rwanda road safety mortality is quite high by US standards.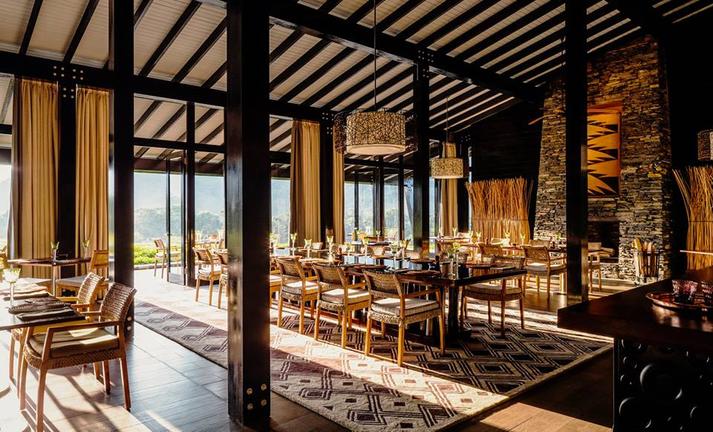 Part 10: One & Only Nyungwe House
One and Only Nyungwe House is a strikingly designed lodge located right on the edge of a huge tea plantation overlooking a towering national forest – part of Nyungwe National Park – which has few rivals in East Africa as forests go.
This was my second trip to Nyungwe, and I was no less impressed with the natural beauty of the area this time around. The combination of tea plantations, hills, and beautiful vistas in each direction, is timeless if anything. It was even more breathtaking than the last time because the tea plantations were in full green and not cut down to the mid-level as the last time. Picture perfect.
Meals at One and Only were stellar, with chef Treasure Makwanise – who hails from Zimbabwe – turning out some superb main courses including grilled fillet of sea bass and pork belly, and his interpretation of some local dishes. Ditto on the side dishes and desserts such as apple crumble with ice cream. Kathy enjoyed her $28 pink gin cocktail as well as a performance by local dancers and drummers and singers. If you're looking to get in on the action, this is your opportunity to participate, so go for it!
The following morning, we took a short birding outing with a local bird guide – Sam – and the excursion turned out be a lot more fun than I thought it would be. Sam really knows the birds well and the area around the lodge was surprisingly 'birdy'. We ended up with a bunch of great birds including several new life birds for both of us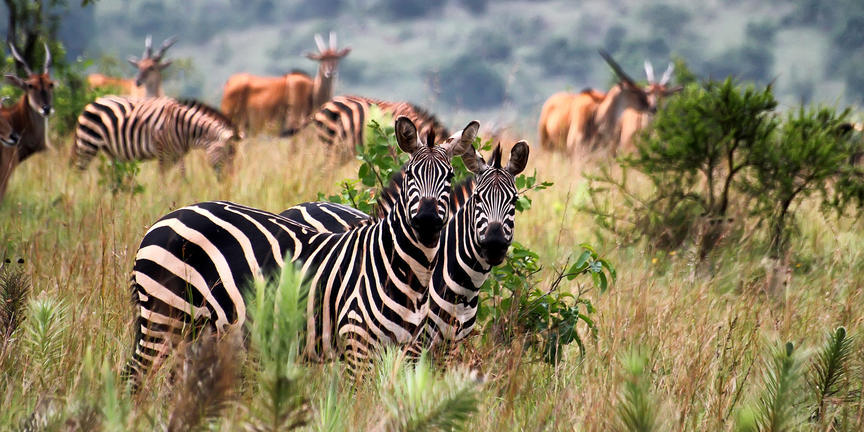 Part 11: Akagera National Park
Our final two nights in Rwanda were spent at the beautiful and very scenic Akagera National Park, located in eastern Rwanda, along the border with Tanzania.
We spent 2 nights in the park at Ruzizi in the south. Our tent was comfortable and getting around was quite easy along the elevated boardwalk. Having dinner at night overlooking the lake was fun and romantic, although we could have used more light there. The food was good and nicely presented. Our afternoon boat outing from Ruzizi was excellent with the guide finding and pointing out several new life birds for us, in addition to a bunch of the more regular species including African Fish Eagles, various cormorants and darters, herons, kingfishers and weavers.
What became quite clear right away, was that the northern part of Akagera is the place to be. The roads in the south (maintenance an issue) were mostly through heavily over-grown bush and thickets with visibility a major problem. We didn't see much in the way of animals there.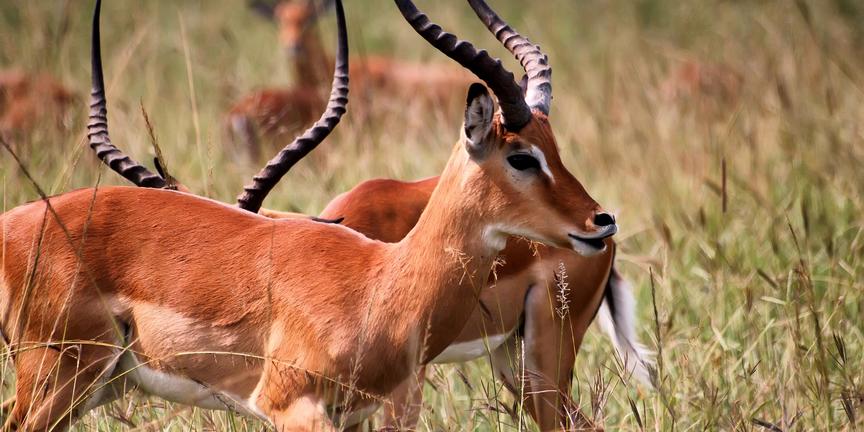 That changed quickly once we got about halfway up to the north, with the terrain opening nicely with great visibility in every direction. We saw tons of antelope there as well as buffalo and giraffes everywhere. No elephants though, but there are at least two good-sized herds of elephants in the park. I think with a 3-night stay most visitors should be happy with the diversity and quality of the viewing. To be sure, it is not a Masai Mara experience. But of course, it is also not the Mara in terms of congestion & presence of other vehicles. Very few, thankfully! The place is incredibly beautiful (scenic) – and very different from anything I've seen elsewhere.
We visited the site for Wilderness Safaris' Magashi Tented Camp which was then under construction. It has subsequently opened, and we have already received excellent feedback from guests who have spent some time there. Among others they saw lions and leopards – and good general plains game.
We did see some tsetse flies in Akagera and I got one bite, but to be sure, it was much worse in the south, in the more heavily forested areas. I checked with Wilderness Safaris and they do not think that it will be an issue in the cool/dry season. Plus, they are putting out tsetse fly traps and taking the necessary steps to combat it. Even so I think it would be a good idea to keep it in mind in terms of having long-sleeved shirt(s) and good protective socks (for the ankles) as well as perhaps a scarf for your head.