$cat_name = 'category'; $categories = get_the_terms($post->ID, $cat_name); foreach ($categories as $category) { if ($category->parent) { echo $category->name; } } ?>
Mar 18, 2017
Kruger Park Trip Report – Green Season 2017
Share: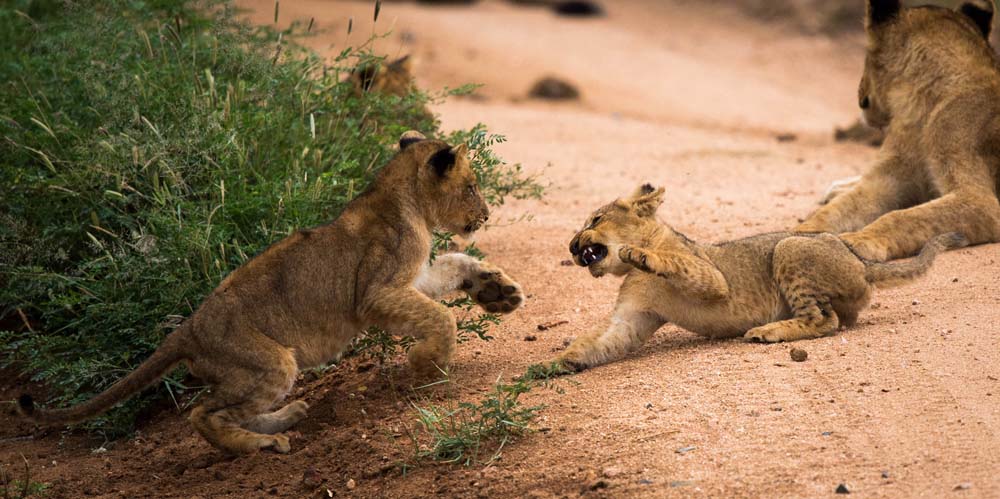 Kruger Park Trip Report – Green Season 2017
PART 1: DELUXE ACCOMMODATIONS AT SABI SABI EARTH LODGE
Kruger National Park is easily South Africa's most well-known safari destination. It's a place where wildlife documentaries are filmed and viral videos are captured. I know many of you will remember "The Battle at Kruger", a viral video with lions, buffalos and a crocodile in a fight for their lives near a waterhole. That extraordinary video was captured within the park, and extraordinary things happen there more often than you might think. I finally got to visit Kruger Park after many years and many safaris to other destinations. We have sent countless clients to camps in the Sabi Sand and Timbavati regions of Kruger Park, so they were the focus of this educational trip. So, in March I flew with my lovely wife to South Africa, hoping to capture our own 'epic' safari photograph or video.
After a very short stop in Pretoria to visit some of our family, we were off to Kruger. We boarded a small regional jet at OR Tambo International Airport and flew just under an hour to Skukuza Airport in Kruger. The airport itself is really quite pretty. Thatched roofs and modern Afro-chic décor set the tone for the trip in a great way.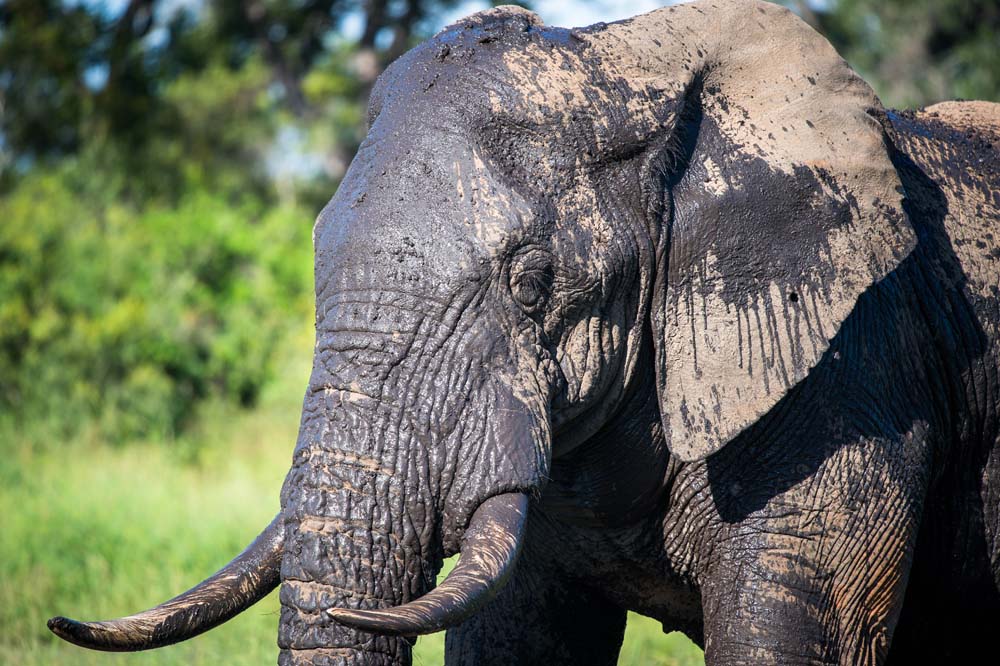 We were met by our guide from Sabi Sabi, Conrad, who led us to our vehicle for the 'game drive transfer' to Earth Lodge. It was mid-day so we didn't expect too much, but managed to see a small amount of general plains game including giraffe and zebra before arriving at camp.
Earth Lodge is Sabi Sabi's premiere or deluxe camp. The entrance takes you through an earth tunnel into the main lobby area which surrounds a small pond with a waterfall coming from the roof. The entire camp is neatly camouflaged and integrated with the surrounding grass and brush. The décor is very modern but mixed with 'earth' themes. Pillars are made of tree trunks and dried grass is mixed into the concrete on the walls. We were shown an aerial view of Earth Lodge and you could hardly tell anything was there as most of the buildings literally have grass growing on their roofs. Quite unique.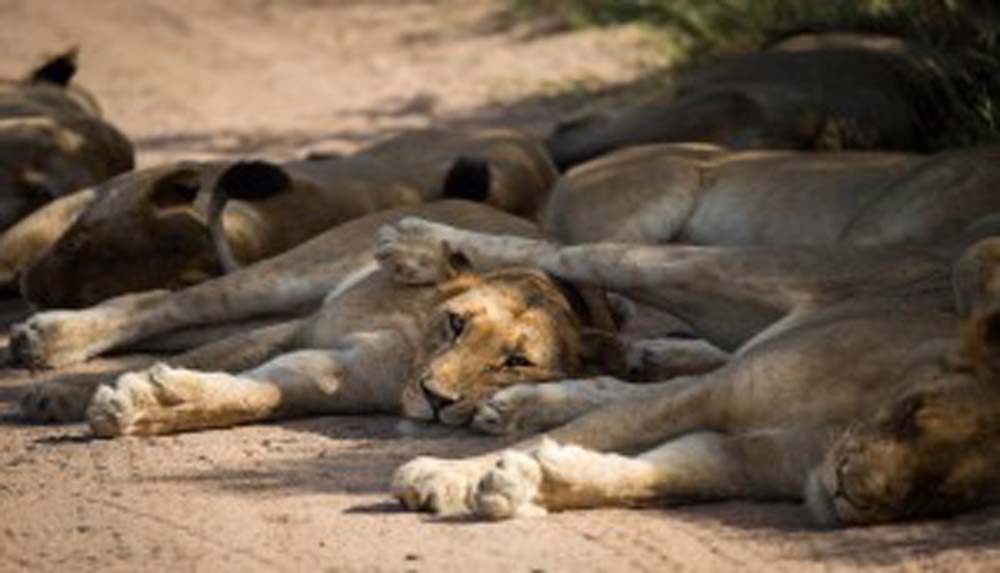 The meals at Earth Lodge were delicious and very fresh. Certain parts of the menu changed on a daily basis and we thoroughly enjoyed each meal. During the green season it is a bit difficult to deal with bugs during evening meals. A romantically planned meal can quickly be ruined by a few dozen flying insects. This is just something to be ready for, particularly in the green season.
During March of 2017, Kruger Park and much of South Africa was in the middle of quite a long drought. Typically, the green season brings a good amount of rain and very green vegetation which brings life back into plains game. There had been a little bit of rain, but the grass and vegetation was not nearly as green as I have seen in past trips in February/March to other countries. Because of the drought some of the plains game was struggling, which meant predators were thriving.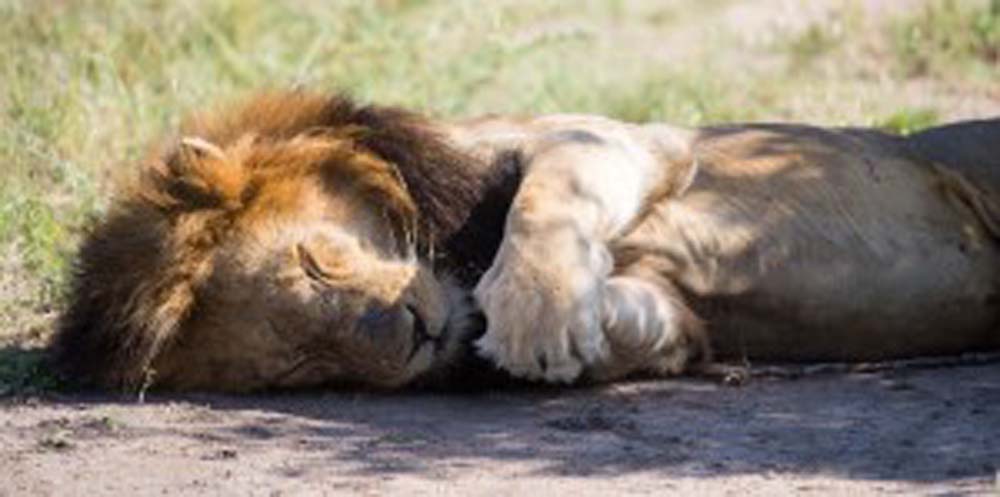 On our first game drive we came across a large pride of lions including 3 black maned males, 4 fully grown females and about 10 cubs. The pride had taken down a kudu and were quite close to being finished eating, but the males were still trying to guard the remaining pieces of the carcass from each other. It was quite an amazing sight to see with lots of growling, snarling and a surprise visit from an elephant scaring both us and the lions as well. In the following days we would see this pride again, but without the 3 males. We would meet up with them further north at later camps as these 3 Majingilane males are well known for being the dominant males in the area. Subsequent game drives from Earth Lodge would get us good looks at a couple of leopards, elephants and even rhino.
I had the opportunity to visit the other Sabi Sabi properties for a quick inspection. All 4 camps are wonderful, high end properties. Selati is their historically themed camp with a great 'Out of Africa' feel. Bush and Little Bush camps being the camps of 'Today' getting a reputation as a 'luxury home in the bush'. Any of the Sabi Sabi properties would make a fine addition to a Kruger Park itinerary.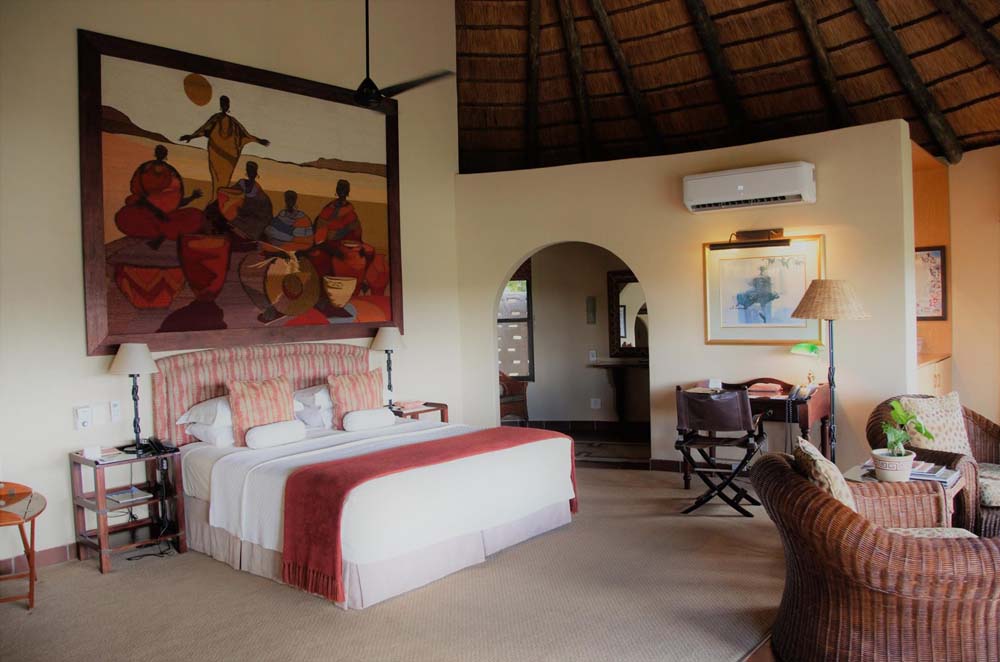 PART 2: MALA MALA AND KIRKMAN'S KAMP

Mala Mala Sable Camp
Our next stop was a staple property visited by many Fish Eagle Safaris clients in the past, so I was long overdue for my first visit. Mala Mala – in our case Sable Camp – was less than an hour away by car from Earth Lodge. We made our way to Mala Mala in time for lunch where we were visited by one of the resident bull elephants having his own lunch nearby. That bull elephant has been known to follow the riverbed adjacent to Mala Mala and eat any vegetation he can reach.
We were visiting just before a somewhat major renovation of the rooms, so things were set to change quite a bit. At the time of our visit, the rooms had two separate 'his and hers' restrooms. Some guests loved this while others thought it to be quite odd. Mala Mala decided to renovate into one large restroom including a shower and a tub and in many cases keeping 2 separate toilets. We'll have to come back soon to see the difference, but I can tell you that our clients have been very pleased with the renovations.
As one might expect, just before a renovation is due the rooms seemed a bit dated to us compared to other properties. The view from many of the Sable Camp rooms is quite spectacular, however. They each have a view out over the Sand River and surrounding bush.
The Mala Mala Game Reserve is well known for being one of the best areas for predators in the Sabi Sands which makes it one of many excellent options in the area. Our game viewing experience didn't disappoint as we were able to almost immediately see a large pride of lions including 2 males and 6 females. As is typical of lions during the summer months, they were taking a nap.
During our remaining game drives we saw plenty of elephant, hippo, and leopard right by Mala Mala camp, and nearly a hunt attempt by a lioness at dusk. She seemed to be following some impala, but was distracted by a male lion roaring in the distance. Predator interactions like these are always very interesting to watch.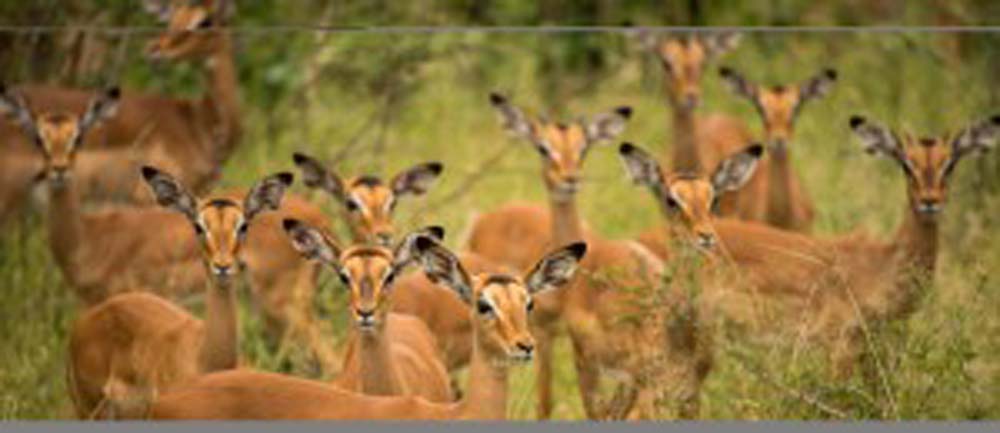 Mala Mala wasn't perfect, however. We may have been spoiled by the food at Earth Camp, but we just didn't love the buffet style that Mala Mala offered for lunch and dinner. Some of the options were good, but just not up to par with other camps we would visit during this trip. Our clients haven't had an issue with these buffets, however, so take this criticism with a grain of salt.
I was able to visit Rattray's at Mala Mala, the most luxurious of the properties on Mala Mala Game Reserve. The suites were more like high end condominiums with plenty of space and another amazing view of the Sand River. If you're looking for a deluxe property in the Mala Mala area, this is it!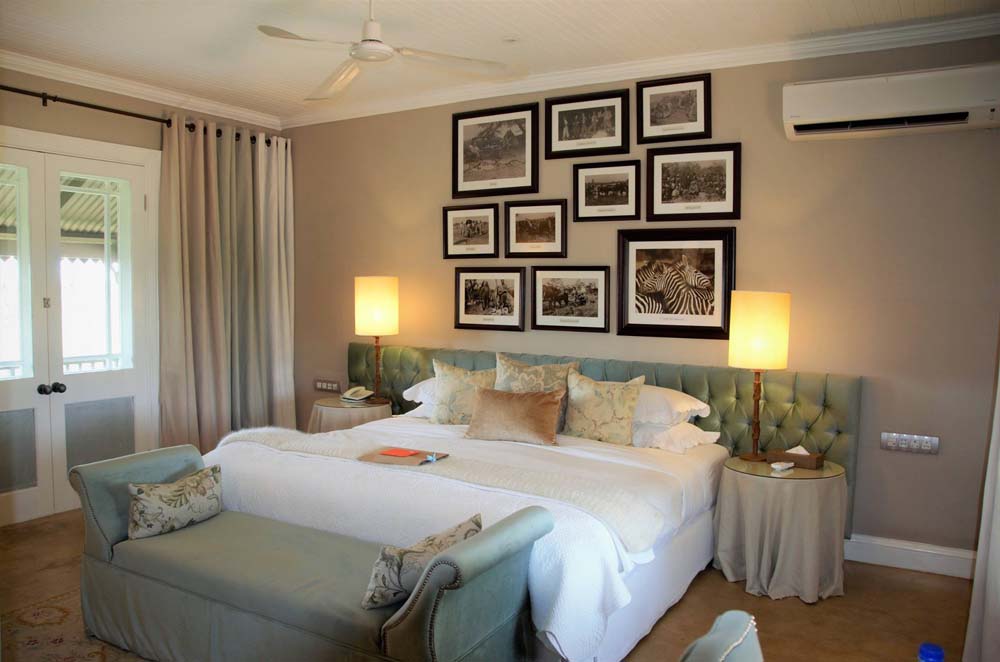 Kirkman's Kamp
In the 1920s, Harry Kirkman joined a cattle ranch in what is now known as the Sabi Sand reserve. As cattle was his business, he developed a reputation as a lion hunter while trying to protect his cattle. After quite a long drought, the cattle business was mostly abandoned in favor of safari camps. Originally, quite a few supported hunting, but by 1935 even the famed lion hunter Harry Kirkman became a conservationist. He served as a ranger for 24 years and was named the warden of the Sabi Sand private game reserve in 1959.
Harry Kirkman's homestead on the Sabi Sands has now been remodeled into Kirkman's Kamp. Within the buildings you will find quite a lot of memorabilia from Harry Kirkman himself. Quite a lot of it is hunting related, such as lion skulls and animal pelts. Obviously hunting is no longer permissible but it is interesting to note the history of the area. When you're visiting, look around and ask about a few artifacts. Their stories may interest you.
The property is located within the Mala Mala Game Reserve, so game viewing is very similar to that of Mala Mala. There are two rooms per 'building' each of which have been recently renovated. The rooms themselves are very clean and comfortable with small porches that look over the Sand River. The main area absolutely captures the early 1900s but with a slight modern touch. The beds and linens at Kirkman's felt like the most comfortable ones during our trip. If you want a touch of 'home' feel with your safari experience, you can't go wrong here.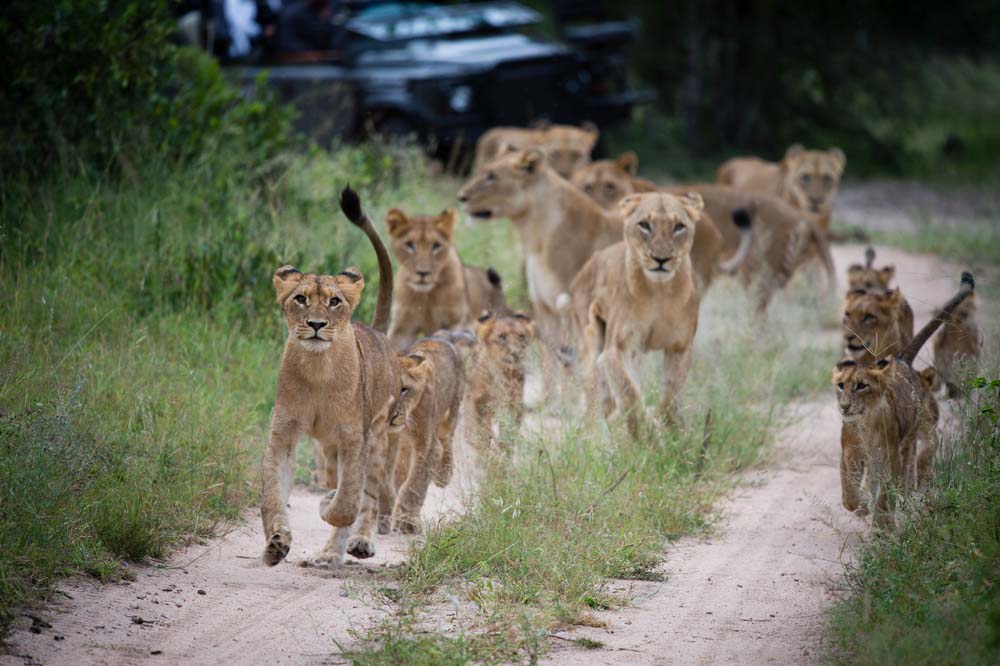 Our guide was Gareth, who was wonderful. He quickly found us one of the local leopards who was about 12 years old. The male was in the process of tracking down a female leopard, and as they found each other a hyena stumbled upon them in the road. We got to watch quite an interesting encounter with lots of hissing and growling just before a quick rainstorm hit us. Not to worry, ponchos were ready on the vehicle and we made our way back to camp. It was dark at the time, so our photos didn't come out too great.
The following morning we came across a pride of 16 lions! There were many cubs in the pride which made for some great photos. One of the females had been injured so she walked without the use of one of her hind legs. These kinds of injuries happen quite often, and our guide mentioned that she would eventually starve if her leg didn't heal.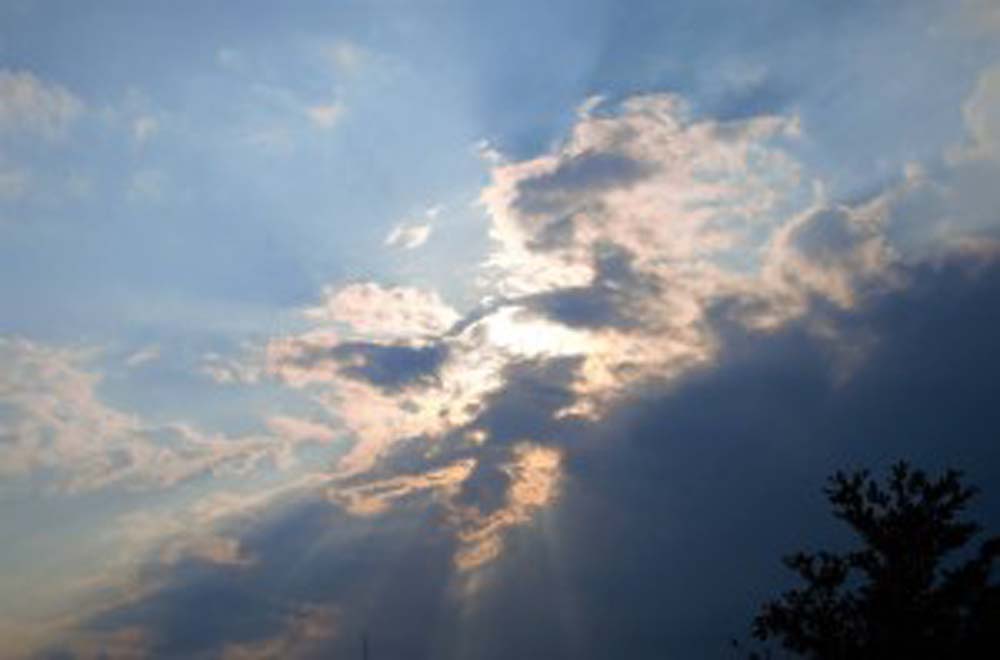 Once again very fresh food at Kirkman's. They offer an a la carte menu with a nice selection made to order. They even did some small surveys of the clients after meals asking what we liked and didn't like so they could keep the menu tuned to their guests' palates. I thought this was a great touch, and even though most clients had nothing negative to say about the meals I'm sure it helps the staff stay on their toes.
I have highly recommended Kirkman's Kamp since my visit and I will continue to do so. I believe it is one of the best values in the Sabi Sands.
Since our visit, &Beyond has opened a deluxe property in the same general area as Kirkman's Kamp, so if you are looking for even more upscale accommodations, ask us about Tengile River Lodge!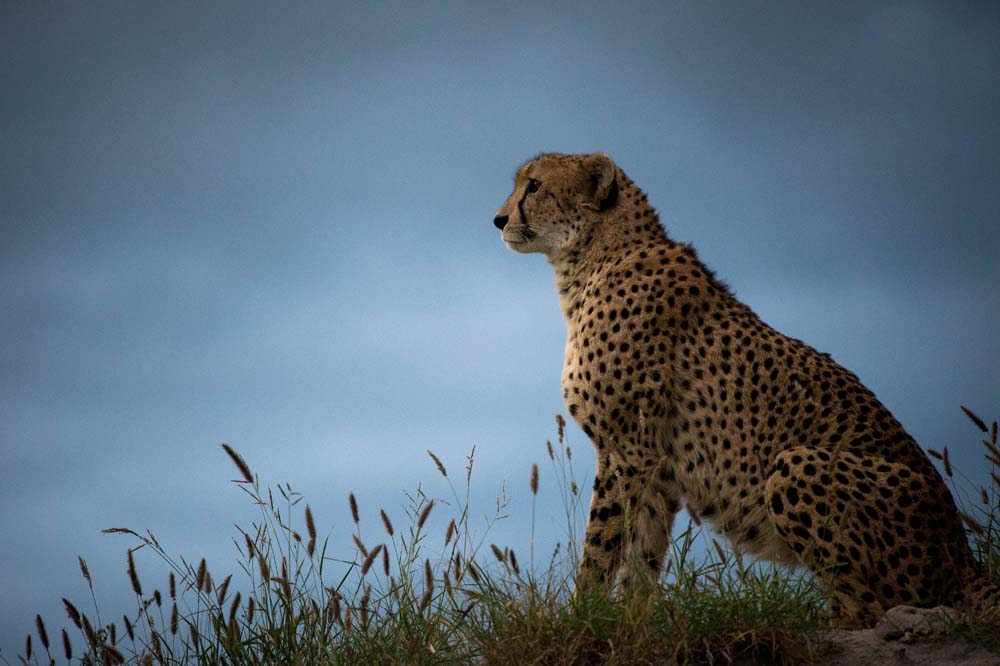 PART 3: DULINI AND NGALA SAFARI LODGE
Our final camp in the Sabi Sand area was a new one to Fish Eagle Safaris. Originally we had been scheduled at another nearby property that we have sent quite a few clients to – Savanna Game Reserve – but due to availability we were moved to Dulini Lodge. I thought it would be interesting to go in without doing any previous research, so when we arrived I was quite impressed.
Dulini has just 6 chalets, spread apart nicely. Each chalet has a view to the Mabrak River which was dry during our stay. With a stout four poster bed, sitting area, private plunge pool and a restroom large enough to do cartwheels, we definitely felt pampered. A few resident nyala spent the entire day grazing around our suite, which helped remind us we were in the middle of the African bush.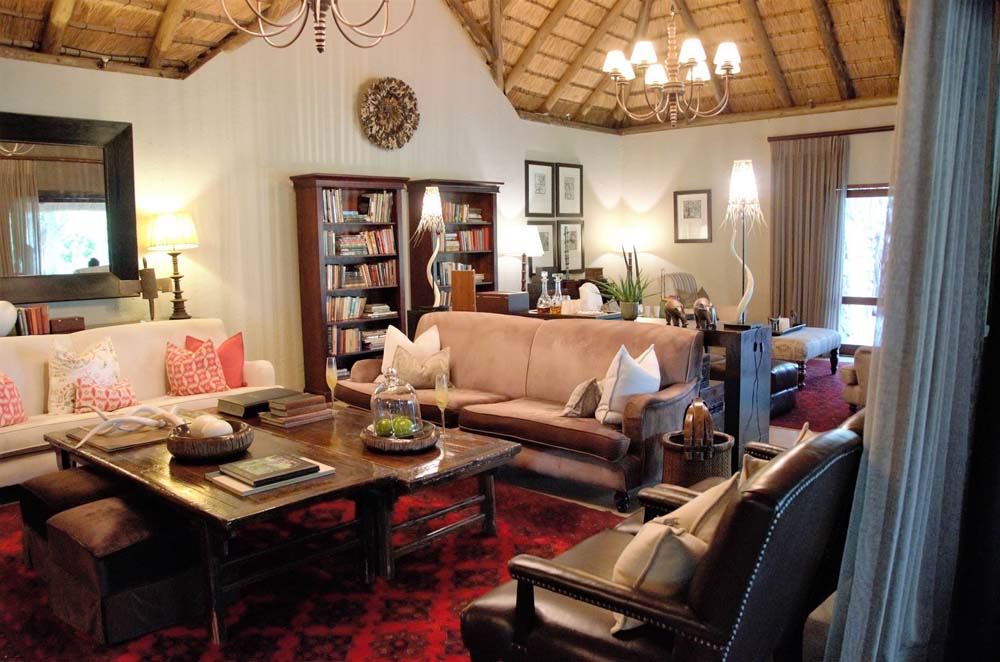 Our guide, Dinamosi, was wonderfully boisterous. He had a story or joke to tell about every tree stump, mongoose or blade of grass we saw. He quickly found us a pride of lion having a siesta with uncomfortably full bellies. Towards the end of the evening, we were lucky to have a great cheetah siting as well. It was quite dark, but the photos came out well.
The following morning was a whirlwind of rhino, wild dog and a fleeting glimpse of some buffalo. It would be our only buffalo sighting in the entire Sabi Sand, although we saw plenty more in the Timbavati region. With the addition of cheetah, wild dog and buffalo, we had seen the 'Magnificent Seven' while at Dulini during the course of just one-night drive and one morning game drive. For those that do not know, the 'Magnificent Seven' consists of the same animals in the 'Big 5' plus cheetah and wild painted dogs. Seeing these seven animals is difficult to do in an entire safari but we managed it in under 24 hours!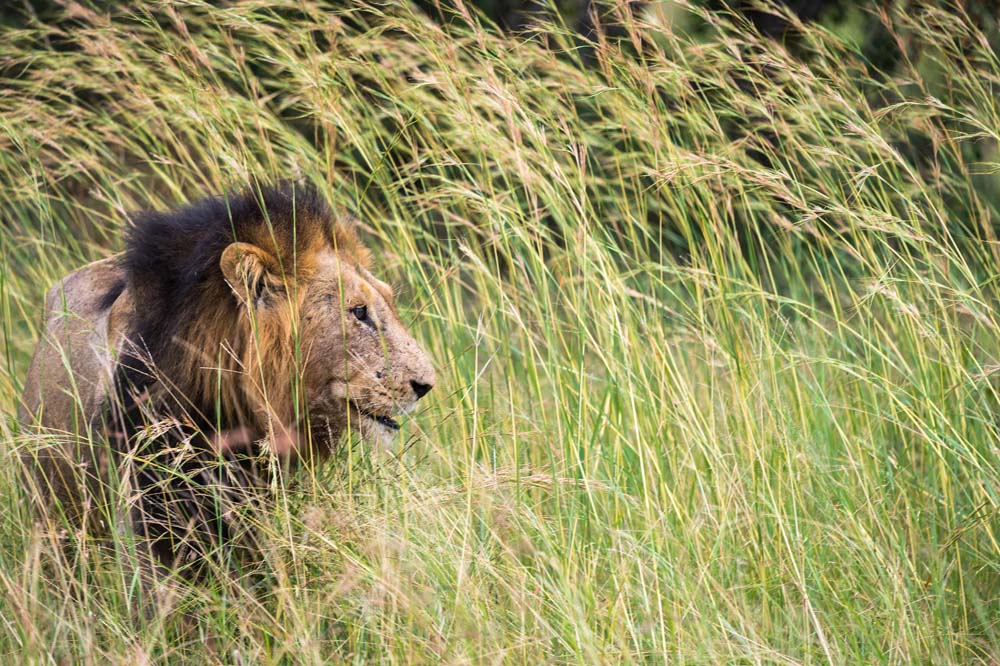 As you can see in most of the photos, there was a good amount of grass growing even though the region was in the middle of a serious drought. Many times, the grass helped add environment to these photos, but one time in particular it hampered what I thought was a perfect photo. We had a viewing of the same Majingilane male lions that we had seen at Earth Lodge. As I was tracking him through the tall grass I felt like I had snapped a real winner, only to find out the grass was in better focus than the lion. Perhaps next time I'll get that perfect photo.
All in all, Dulini is an excellent lodge with a great location. Many of the camps in the same region – Savanna, Ulusaba, etc. – open their property borders with each other. The beginning of your game drive will take place specifically within Dulini's range and after an hour or so the borders are open for exploration. The system works quite well as we really didn't see many other vehicles except at the cheetah and wild dog sightings.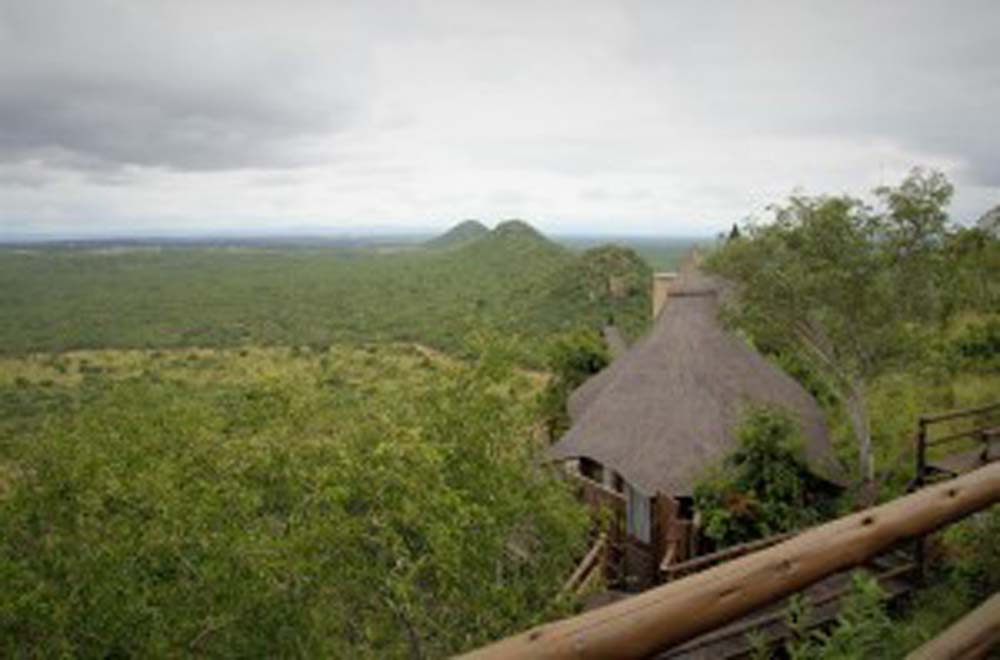 Ulusaba
Before our departure transfer, we made a quick stop at Ulusaba for a sight inspection. These Virgin Limited properties are another great choice for upscale safari accommodations. Ulusaba Safari Lodge is on the open plains while Ulusaba Rock Lodge is up at the top of a large koppie (rocky outcrop) with amazing views. We would recommend splitting 3-4 nights between the two properties to get some great diversity in your lodging while staying in a highly active game viewing area.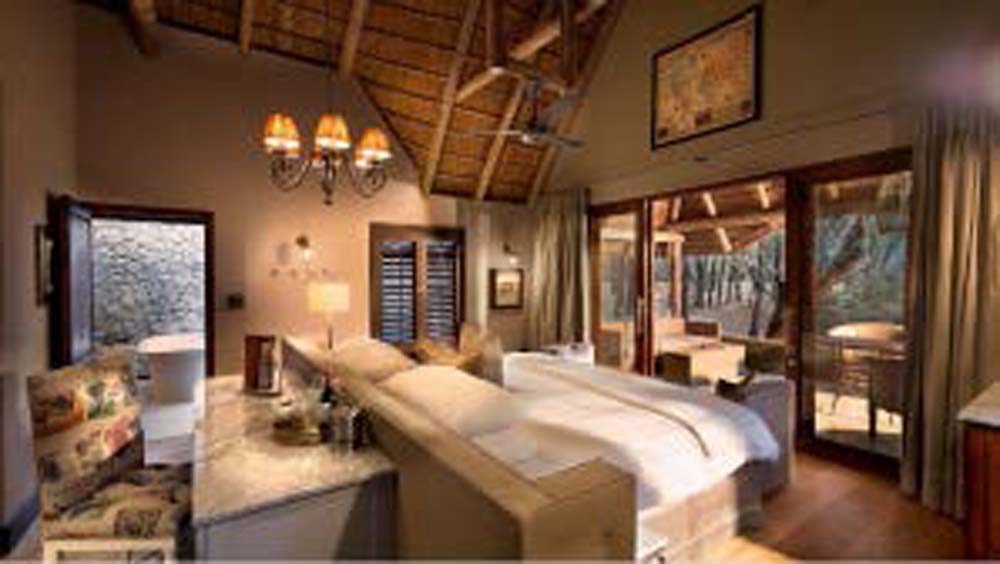 Ngala Safari Lodge
After our inspection of Ulusaba we started driving north to the Timbavati region. The drive is quite long, about 3 ½ hours, but there is a flight option for anyone preferring that method. We had only recently used Ngala for the first time with a large booking. After hearing the rave reviews, we asked for a visit and were not disappointed.
We stayed at Ngala Safari Lodge, which is Ngala's larger property. It includes 21 total cottages including 4 for families and 17 for couples/pairs. The smaller Ngala Tented Camp is their sister property which is even more luxurious and has fewer suites. Bert has since visited Ngala Tented Camp and returned with equally good marks.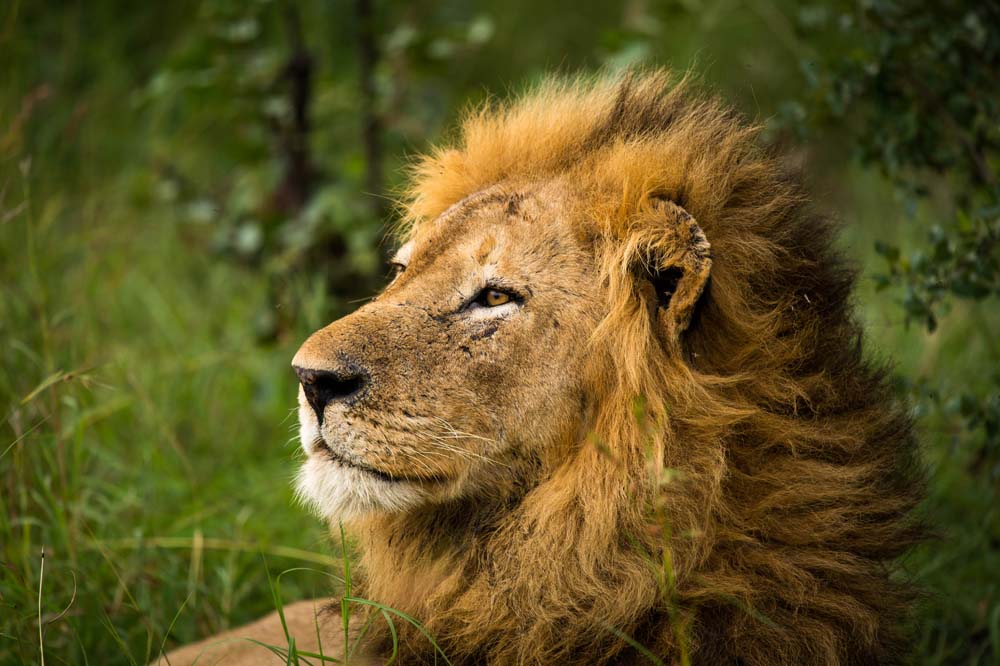 As with any &Beyond property, you are made to feel extremely welcome and at home while staying at Ngala. We arrived just in time for afternoon tea before the evening game drive and got to meet our guide, Lyle, and the other 3 guests that would be joining us on game drives. The high tea and snack station is right beside the camp's waterhole, which attracts a good amount of plains game during the morning and afternoon hours.
The rooms at Ngala Safari Lodge are laid out similarly to Kirkman's Kamp (another &Beyond property) but felt larger inside. A single building holds two separate suites which is great for families traveling together. Each suite is divided in a way that still feels nice and private – think African Safari Duplex. Similar to Kirkman's Kamp again, the dining menu was wonderful. With meat, chicken, fish, and vegetarian options. They even provided a digestif cart with dessert wines and brandy after the meal.
The Timbavati region was quite a bit drier than the Sabi Sands. Even though it was towards the end of the rainy season, both areas were in the middle of a very long drought. They had had a few decent rains in Sabi Sands but only some light rain in Timbavati. Because of this, the grass was still mostly brown and dry, plains game was struggling to find food and predators were very active. We still managed to see a good amount of all types of game, but we were only in the area for one evening game drive and one morning game drive. I think a two or three night stay is mandatory to get the best out of any safari camp.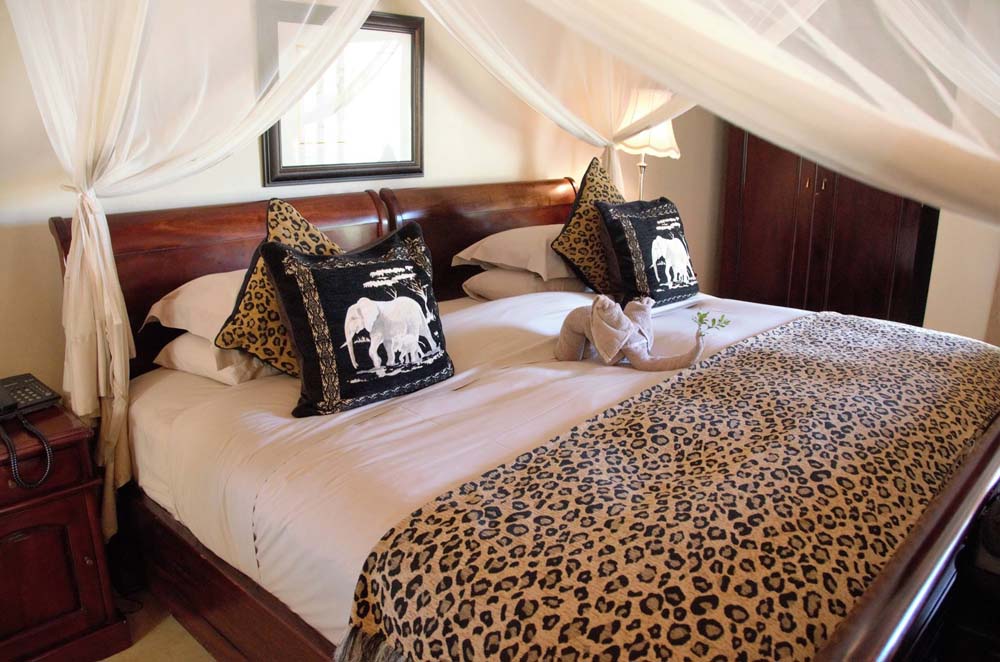 PART 4: KINGS CAMP AND TANDA TULA

Kings Camp
The next stop in my crash course of Kruger Park area safari camps was Kings Camp. Roughly an hour drive from Ngala Safari Lodge, Kings Camp stands on a private section of the Timbavati with 9 suites and a private Waterbuck Villa next door. The suites are permanent structures with thatch roofs and lots of rich wood furniture. Our suite had a private verandah looking out into the wilderness where a few impala and other antelope could be seen grazing on a daily basis. Beyond the suites there was a gym, spa and gift shop towards the entrance to camp.
The managers of Kings Camp were extremely nice and seemed to be everywhere all at once. We had a bit of an issue with our suite's thatched roof smelling musty after a recent rain. Without much fuss we were moved to the Waterbuck Villa for our second night in camp which was a big surprise! I was told that the Villa had been booked by Matthew McConaughey only a few months before we stayed there.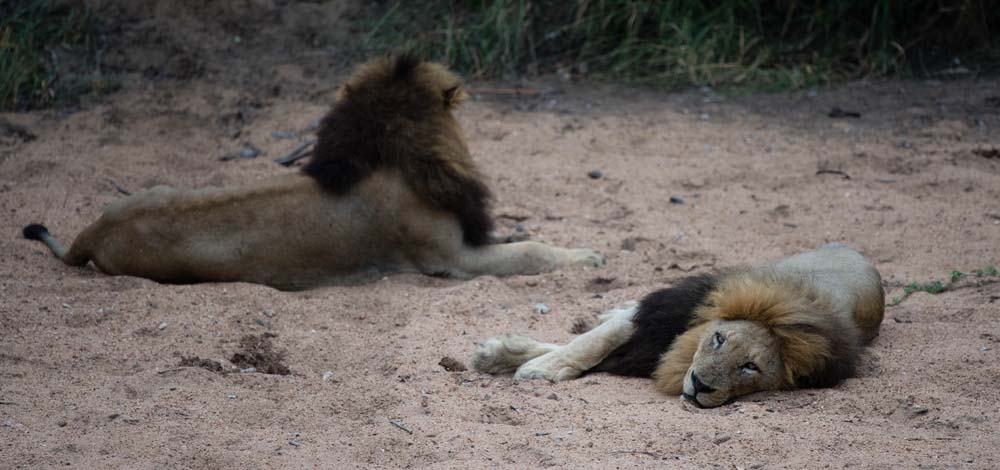 Once again, game was plentiful in the Kings Camp Private Reserve. Lions were feeding on a somewhat recent kill while hyenas tried to steal the carcass. We struggled to get a good position to take photographs as their encounter was within a ditch. A couple of white rhino also stumbled upon us during our morning tea break. The experience got my heart racing, as it is still exhilarating to see such large animals so nearby while on foot.
After one of our morning game drives, we seemed to be heading back to camp for breakfast but took a little detour. We were surprised to find some of the camp staff and other camp guests in an outdoor dining structure along a dry riverbed. The table was set with fruit and bread with a breakfast buffet on the other end adjacent to the 'kitchen' where some of the camp chefs were busy cooking breakfast to order. The idea was wonderful, but bugs are a little difficult to control, so it was to be expected that we would have lots of flies trying to land on anything they could during the meal. All-in-all a successful concept with some concessions one must make while in the wilderness.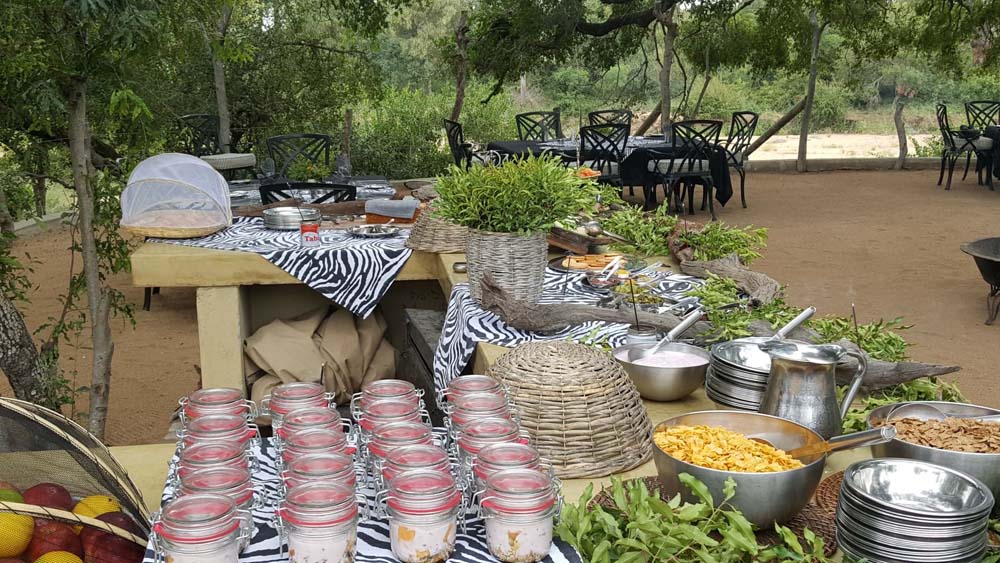 Another surprise at Kings Camp was their willingness to do nature walks. After breakfast, we were offered the option of being driven back to camp or walking and we chose the walk. The managers have built a few different outdoor breakfast areas all within walking distance of the main camp. So, each guest will have at least one 'bush breakfast' and a chance to walk back to camp. I do suggest taking the walk as your guide will teach you about many of the small things that are missed during a typical game drive. It may not seem interesting now, but learning about animal tracks, dung, plant life and trails is made exciting by a good guide!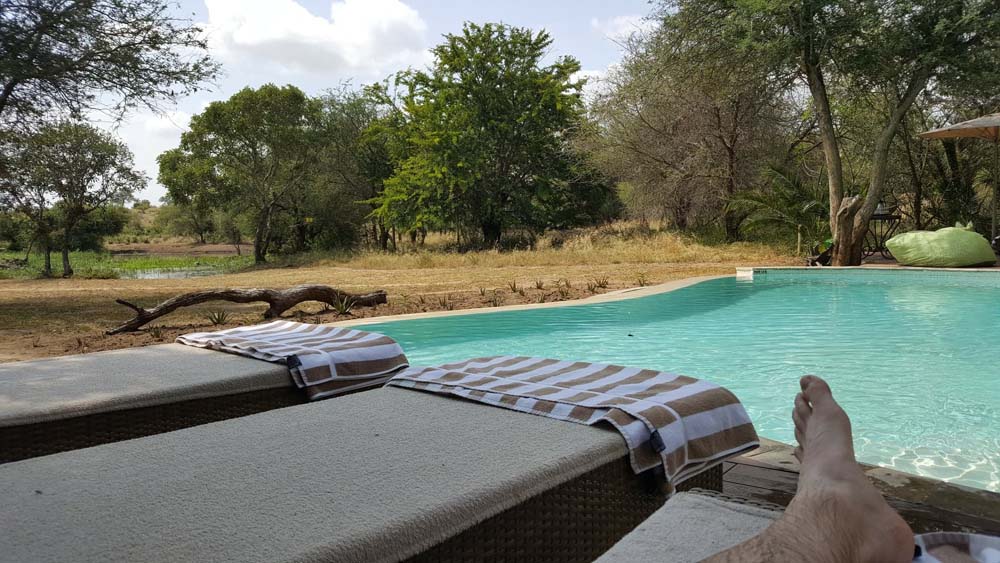 Tanda Tula
With just two nights left on our Kruger Park whirlwind safari, I felt like we had seen just about everything there was to see. After staying at multiple types of camps and lodges, I felt like I knew what to expect with regards to safari accommodations in Kruger. All of the other camps had permanent structures with a good amount of space and extras like air conditioning. Once we got to Tanda Tula, I was reminded more of a Botswana style tented camp in the best possible way.
Tanda Tula Safari Camp sits on the banks of the Nhlaralumi riverbed which is almost always dry. The main area has a large thatched roof and displays a good amount of elegance, but still feels like a safari camp. Looking toward the pool area, we noticed a local warthog family 'mowing the grass' and a few guests relaxing. Beyond the pool was a small waterhole with a few impala having a drink.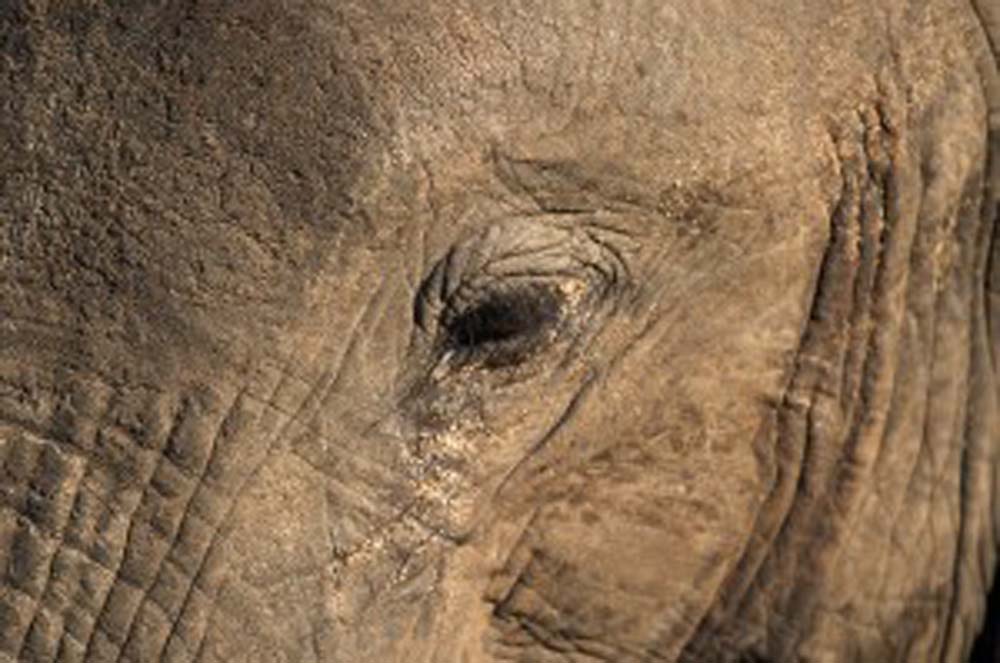 Instead of permanent structure rooms, Tanda Tula has tents covered by large thatched shade-casting roofs to help keep them cool. There was no air conditioning, but even in March the room didn't feel too hot and we spent most of our time out by the pool or in the main area. In the evenings the room cooled down quickly with the aid of a standing fan. It's hard to describe the feeling you get when the camp you're visiting just ticks all the boxes, but that's the feeling we had at Tanda Tula. We met some guests who come to Tanda Tula every single year because they enjoy the area, the atmosphere and the staff so much. I could tell they really enjoyed the dinner we had out in the dry riverbed on our final night. The staff was singing and dancing and the food was fabulous.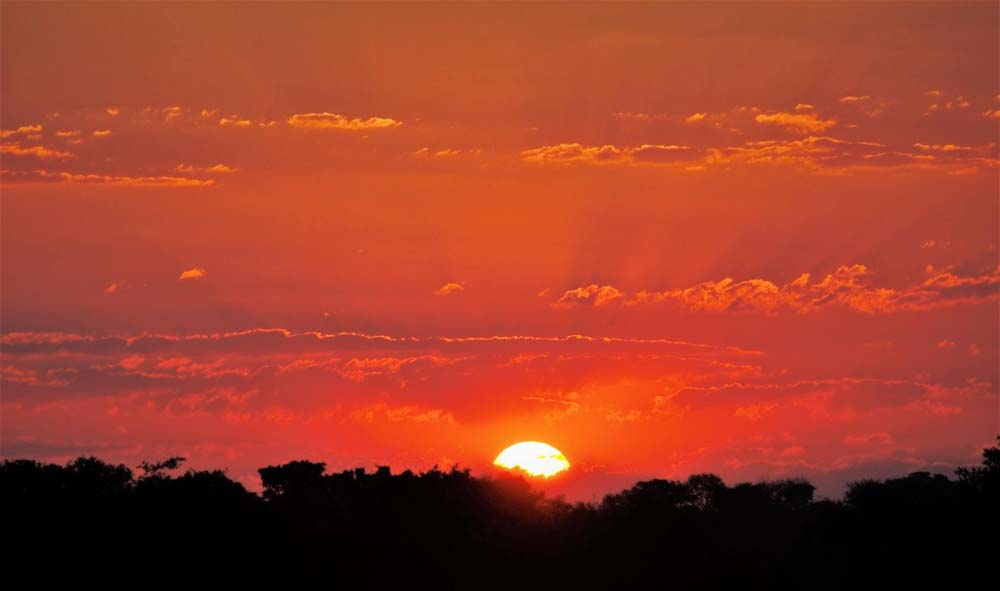 Game viewing was spectacular just as it had been the entire time in Kruger. One morning, we were following two lioness tracks that came through camp when a call came in that the same lioness duo was in the process of taking down a warthog. Many guests say they would like to 'see a kill' but our guide rightly warned us that it would be quite graphic. So, be careful what you wish for, you just might get it! My wife had to look away for most of the action and she noticed a hyena who had quietly shown up to wait beside our vehicle for scraps.
If you are particularly squeamish with regards to blood, you can avoid clicking on the below lioness photographs. They have been cropped to avoid excess blood but can still be off-putting to some.
I feel like Tanda Tula really is a special place. I have since sent quite a few clients to the camp and hope to send as many as possible. If you have any interest in the Timbavati region, I would highly suggest trying to find space at Tanda Tula.