$cat_name = 'category'; $categories = get_the_terms($post->ID, $cat_name); foreach ($categories as $category) { if ($category->parent) { echo $category->name; } } ?>
Sep 18, 2016
South Africa and Botswana Sept-Oct 2016
Share: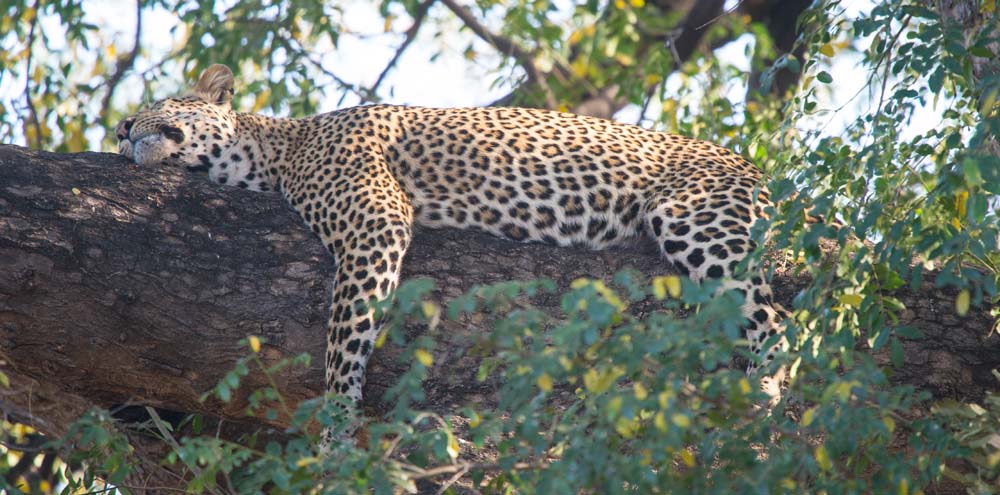 South Africa & Botswana Sept-Oct 2016
PART 1: INTRODUCTION – PRETORIA & CAPE TOWN
Our September 2016 trip to Southern Africa had four parts to it:
A few days in Pretoria to catch up with family followed by a short CapeTown stay for some local sightseeing and to run the CapeTown Marathon. Which was unfinished business from the year before. Just like the previous time we experienced simply outstanding weather in the Cape, and got lucky when the Table Mountain Cable Car re-opened for business after being inoperative for several consecutive days due to high wind conditions.
About a week in Mashatu in the Tuli Block of Botswana, for a 3-night WalkMashatu walking safari with our friend Stuart Quinn and an additional few days on a more conventional safari at nearby Mashatu Tented Camp. This was a return visit in both respects and underscored our already high opinion of the quality of the walking safari as well as the superb game-viewing we experienced.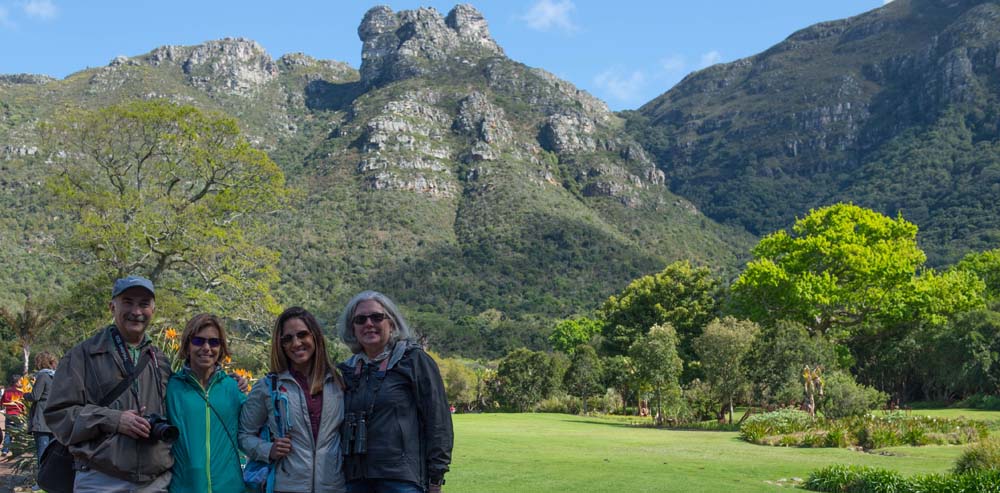 Several days at MalaMala Game Reserve in the southern Sabi Sand Reserve of South Africa, adjacent to Kruger National Park. MalaMala is one of our favorite big game viewing destinations and once again it delivered big-time with some of the best and most intense predator viewing we had ever experienced anywhere in Africa.
An additional week or so checking out a bunch of new (to me) safari properties elsewhere in the Sabi Sand Reserve and inside Kruger Park. It was educational in more ways than one as I had plenty of opportunity to re-acquaint myself with the Park itself and to learn about some less costly options inside the park, in private concessions.
Houston to Pretoria in 22 hours
For the third time this year, I crossed the Atlantic in one of Delta's Boeing 777's – this time in row 48D – an aisle seat towards the back of the plane. All in all a pleasant flight with palatable meals, friendly flight attendants and timely departure and arrival. Can one really ask for much more nowadays, in coach?
Despite getting several hours sleep en route the flight is a killer simply because of the duration which is in excess of 16 hours, non-stop. The average human body simply cannot deal effectively with moving across 7+ time-zones at more than 500 miles per hour, at least not in terms of adjusting its circadian cycle. So not surprisingly, Kathy and I were zombie-like by the time we sat down to dinner at 131 on Herbert Baker, our accommodation for the next couple of nights in Pretoria.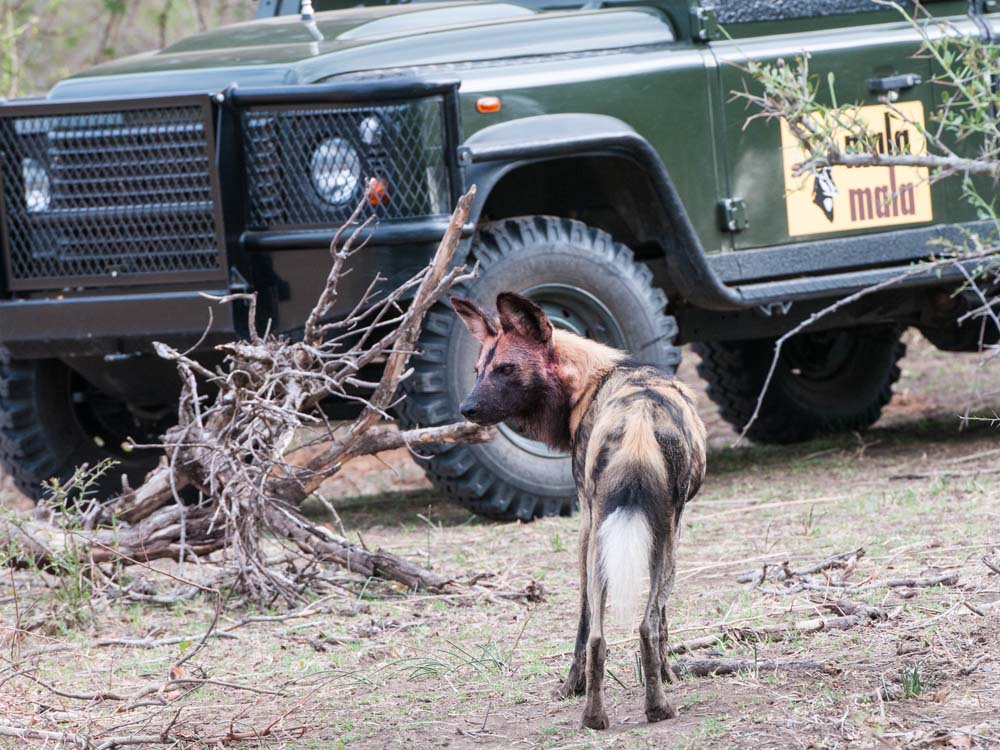 This small boutique hotel is well located on a quiet street which follows the contour line of one of Pretoria's many hills. Tucked away securely behind an imposing security fence, it has pretty nice views over the Groenkloof area. That night, our late dinner was a choice of grilled lamb chops or a salmon cutlet with a champagne sauce. Both were perfectly prepared and nicely presented. We lingered over coffee, dessert and an Amarula nightcap, trying to postpone having to go to bed at what would be 4 p.m. Houston time.
If safety is high on your list of priorities, 131 on Baker is ultra-secure and ideal for a night or two prior to taking the Blue Train or Rovos Rail from Pretoria to Cape Town, or elsewhere. We were led to believe that several heads of state had stayed there at one or another time. It is easy to see why. The next few days were spent catching up with family; in addition to some lovey home cooking ( thanks Mom!) we enjoyed dinner at the Hillside Tavern one night. It was excellent as always – the T-Bone steak being their specialty.
From Pretoria we drove to Johannesburg for an overnight in Rosebank at the Monarch Hotel on Oxford Street. It is a convenient location with the Gautrain station right opposite the street and an easy walk to Rosebank Mall as well as The Zone. A good location for a night or two in Johannesburg.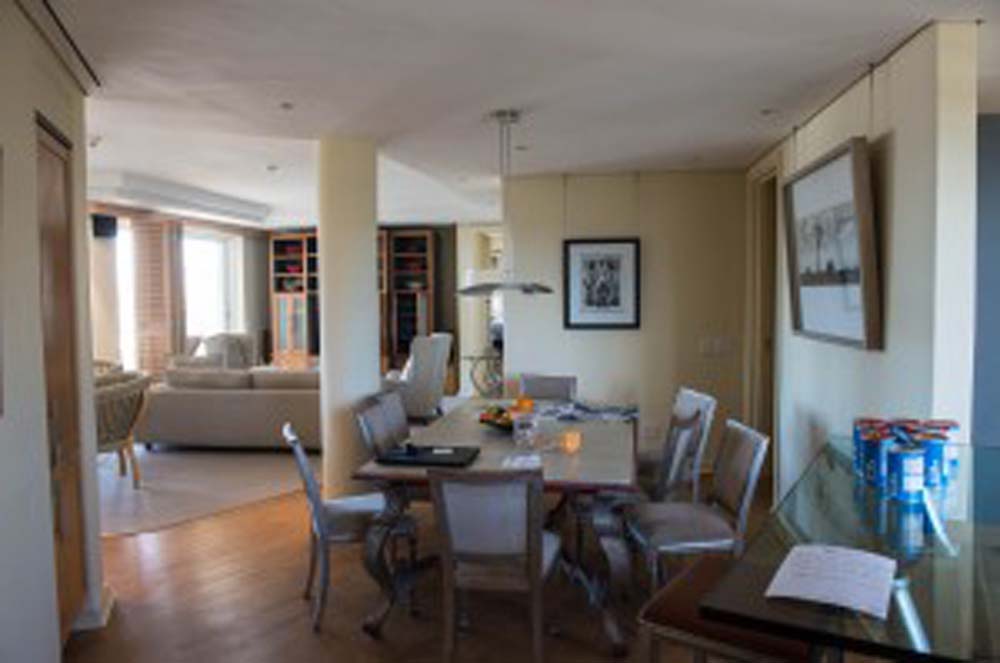 1000 Miles South to Cape Town
Driving to Oliver Tambo International from Rosebank is tricky particularly when you are in a tiny, underpowered car negotiating your way around dozens of large trucks and having to contend with South Africa's aggressive driving environment. The route itself is circuitous if you want to stay on multi-lane freeways: North on the M1 back towards Pretoria, then the N3 east towards Durban, branching off on the R24 to the airport. From there it was – as always – a 2 hour flight covering the 1,000 miles south to CapeTown.
Picking up our rental car from Bidvest was surprisingly quick; barely 20 minutes after landing in Cape Town we were in our serviced apartment on the Victoria and Albert Waterfront. It had four bedrooms – 3 with en-suite bathrooms; one with a safe. Plus a gas range, microwave and washer and dryer. An easy 6-minute walk to the waterfront. Dinner at Baia was excellent as always – the three of us enjoyed abalone, line fish of the day (Dorado) and their superb grilled Langoustines.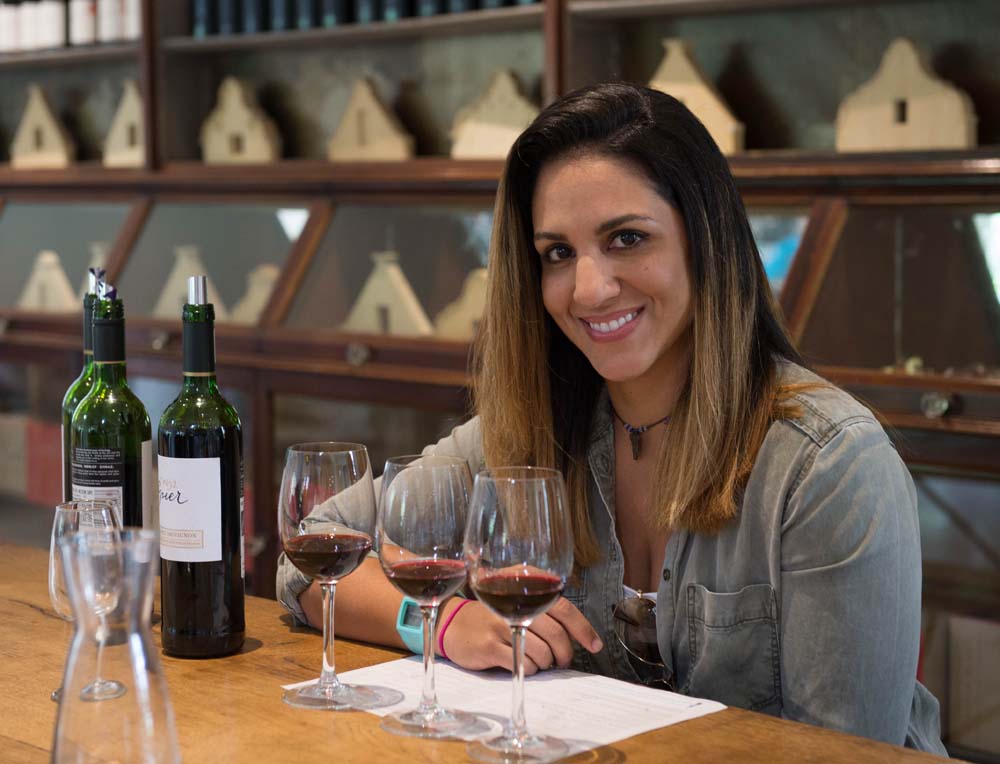 Friday September 16th – Cape Winelands
On what turned out to be a rainy and windy day we drove to the Stellenbosch wine region for a wine tasting at Spier Winery followed by a delicious lunch at Eight- their farm to table restaurant. Our choices included chicken pot pie, penne pasta and chicken and avocado salad. Except for the fact that we had to ask them to temporarily halt some noisy road repairs, the lunch was excellent.
In the afternoon I did a site inspection at One and Only Hotel in Cape Town followed by dinner at Reuben's. We enjoyed line fish, Springbok (venison) and duck and by all accounts everyone liked their food a lot.
Saturday September 17th – Kirstenbosch
This morning we checked in on the Table Mountain cable car but it was not operating due to high wind. So instead we spent the morning at Kirstenbosch National Botanical Garden which was superb as always – there is hardly a better time of the year to visit the place than September. The protea garden, cycad amphitheater with its life-size tin statues of dinosaurs and the Boomslang canopy walkway were among the highlights. There were huge swathes of flowering daisies which make an astonishing display with their color and diversity. Kirstenbosch is a jewel of a place. Always something to see, always clean and a wonderful family-friendly environment.
Do not leave it off your list of things to see in Cape Town! That evening, we returned to Meloncino, a reliably good spot at the V&A Waterfront for Italian fare – for some pre-marathon carbo-loading. A delightful spot with great food.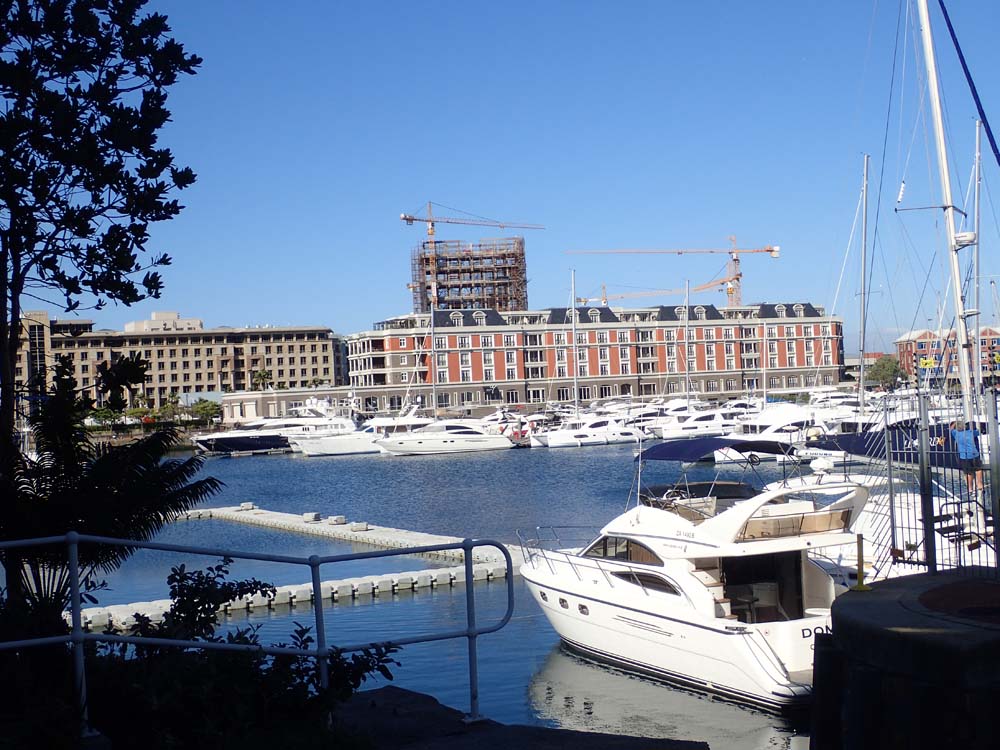 September 18th – Sanlam Cape Town Marathon – 42.2 km/26.2 mi.
I finally successfully ran and completed the Sanlam Cape Town Marathon. At 5 hours+ it was far from my best marathon time ever but it didn't really matter. It was about putting myself on the line in a grueling event which tests one's limits of endurance at the best of times. On this particular day I felt fine early on but things went pear-shaped in a hurry with the sun beating down on us on from a brilliantly blue cloudless sky. As early as 9:50 a.m. the temperature spiked to 80 Fahrenheit and even to 85F later that morning.
Overall I would give the Sanlam Cape Town Marathon a B+ rating. It might have been an A were it not for the congested course. We were on top of each other for practically the entire first half and then some. Surprisingly, only water and Coca-Cola were available on the course. It really would have been preferable to have Gatorade or a similar sports drink on hand.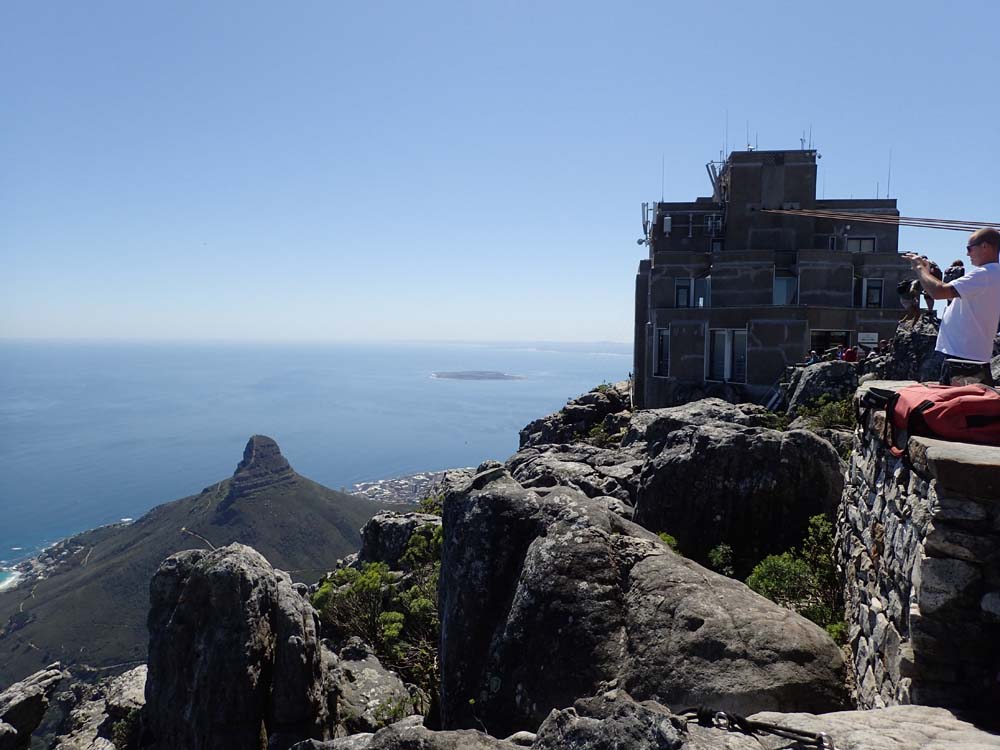 Somewhat diabolically the course design left the hilliest parts of the marathon for late in the race, in the Gardens area. I started cramping badly around the 36 kilometer mark with about 6 km (4 miles) to go. Having stuck with a very efficient and very entertaining 5-hour pace group for practically the entire race, it was disheartening to lose them just a few miles from the finish line. Sometimes you just don't have anything left. A few minutes past 12 noon I finally made my extremely weary way to the end, collected my medal, enjoyed a cold Coke and a coffee. And then proceeded to slowly hobble back to the apartment.
While I had been running around Cape Town, the rest of the party went in a couple of different directions: Arpad and Lisa took the Cable Car up to the summit of Table Mountain, while Kathy and Valerie got an Uber driver to take them all the way to Boulders Beach to see the endemic African Penguins.
A couple of hours later we re-assembled, somehow managed to get all our luggage into the vehicle (it was a minibus) and then we were on our way to Cape Town airport. Just like a few days previously, it was almost exactly a 2-hour flight to Johannesburg with 300+ passengers in an Airbus A300-600 with SAA. Overnight was at the CityLodge ORTI, convenient if nothing else, and the next day we would be off to Botswana.

PART 2: WALKMASHATU FOOT SAFARI WITH STUART QUINN
Monday September 19th – Tuli Block, Botswana
It was a short 45-minute flight on an SA Airlink Embraer from Johannesburg to Pholokwane and from there just over two hours by road along a mostly good asphalt road to the Botswana border. After border formalities between Botswana and South Africa we were met by Stuart Quinn of WalkMashatu. Stuart and his partner Julie would be our hosts for the next 3 days.
This was our second Mashatu walking safari, having participated in one of the first outings a few years ago. At the time we enjoyed the experience immensely and we subsequently recommended it to many of our clients, all of whom had an equally satisfying experience exploring this remote and intriguing area of Botswana – the Tuli Block – on foot.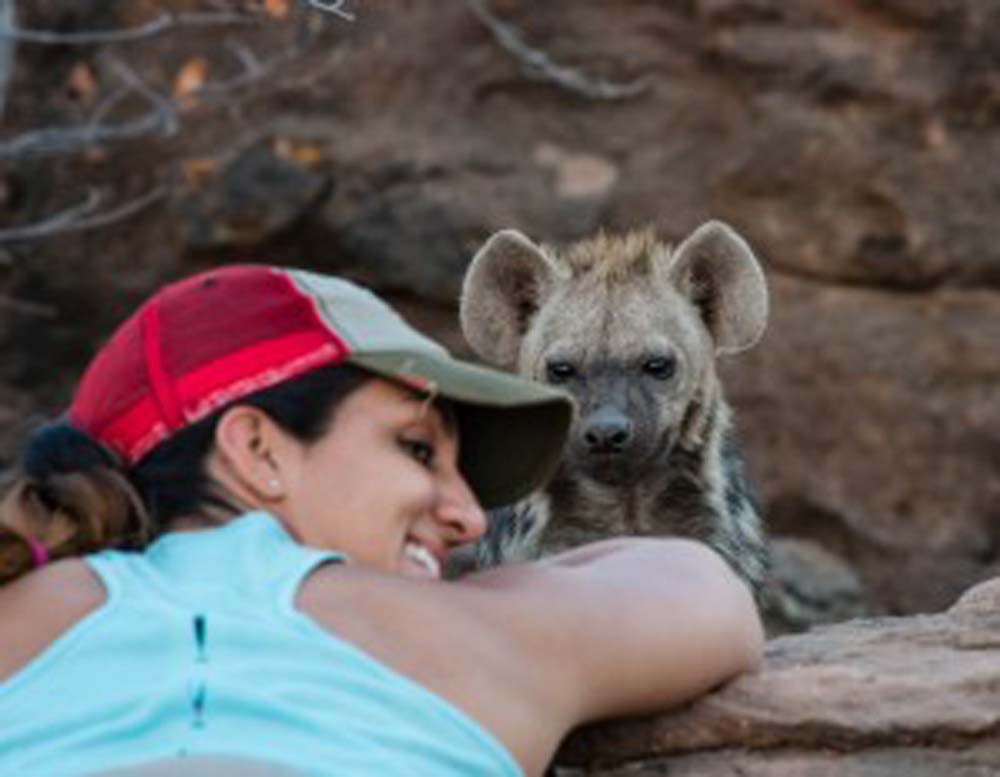 As one part of a multi-faceted trip which also includes 'regular' vehicle-based game-viewing and perhaps some water experiences such as boating or canoeing and observing wildlife from a blind or hide, a foot safari is for many the purest form of experiencing an area. Free of the noise and intrusive impact of a vehicle and free to go just about everywhere, a walking safari is open-ended and unpredictable. It is as close as one can get to the wilderness on many levels as you can feel the ground under your feet, touch the surrounding vegetation and listen for sounds while observing signs and tracks. Being out of the vehicle adds a sense of vulnerability which is exciting and at times challenging. Of course, you are quite safe in the presence of a careful, experienced guide yet the possibility of an unplanned, unforeseen encounter is always hanging in the air.
Importantly, there are no Cape buffalo to be found at Mashatu which makes it all the more desirable as a walking safari environment. These unpredictable animals – particularly the cantankerous old solitary bulls – are by far the most dangerous of the 'Big Five' mammals to be encountered anywhere in Africa. Not having them around in Mashatu is an important safety consideration.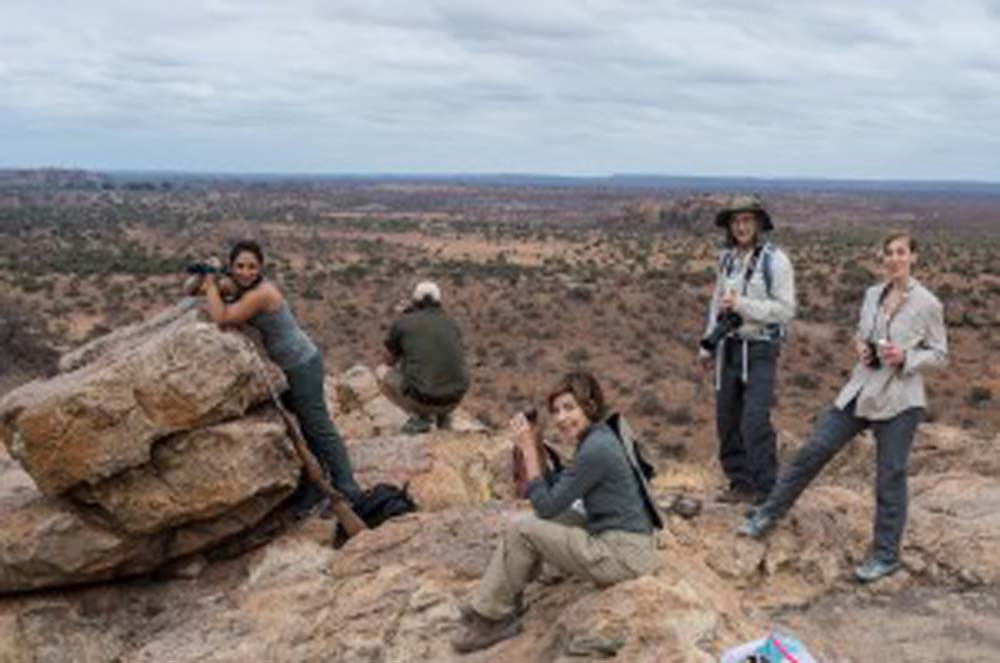 From the border post, it was about a 40-minute drive in an open 4-wheel drive vehicle to our first overnight site, a circular open-air enclosure – the Kgotla. En route we observed giraffe, kudu, impala, and elephants. The six of us together with Stuart and Julie would spend the night under a huge mashatu tree.
Just like the first time a few years ago – 2013 Mashatu Walking Safari Trip Report – it made for a fun and totally novel experience to have a communal sleep out in such a quiet, peaceful spot with nobody else around. Not even the sound of a passing aircraft disturbed the natural rhythm. Not that it was always quiet. Sometimes strident bird calls and other noises were enough to keep one guessing.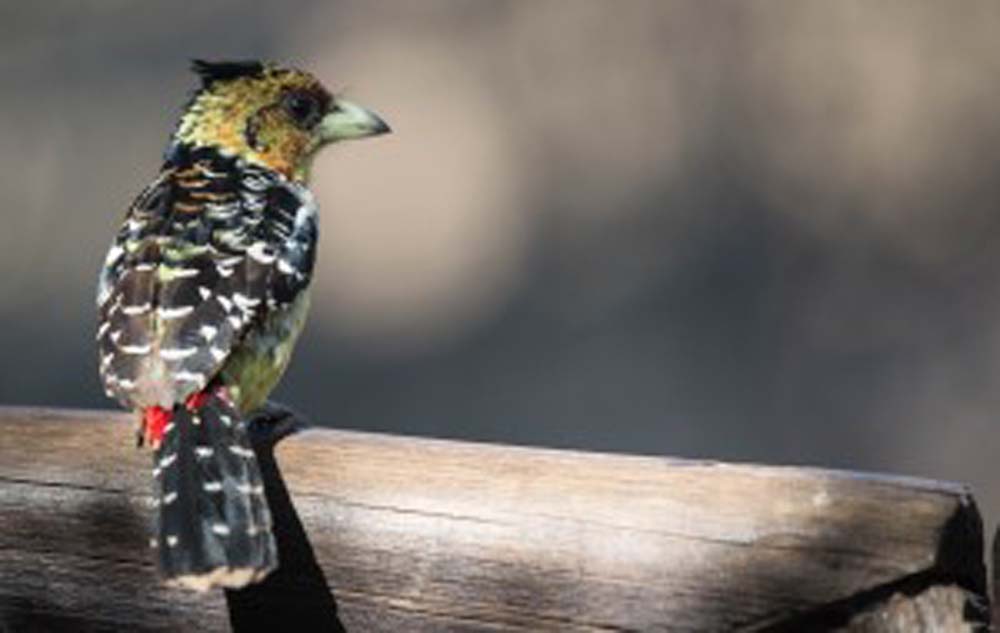 For afternoon tea we enjoyed a local delicacy: 'vetkoek' – a donut-like sandwich – with cheese and tomato. Interesting and delicious. Our afternoon walk of around 90 minutes took us down to the dry Motloutse River where a few elephants were crossing over. We enjoyed several interesting sightings of Impala, kudu, and steenbok amongst others.
By just after 6 p.m. we were back in camp, just in time for a pre-dinner drink. Dinner of beef stew, coleslaw, and beetroot salad was delicious and well deserved.
Around 10 p.m. we were all ready to retire to our small cots, spread out in a circle around an open fire. Under a light breeze with the cool air gently blowing across our faces we fell asleep as peacefully and naturally as is humanly possible.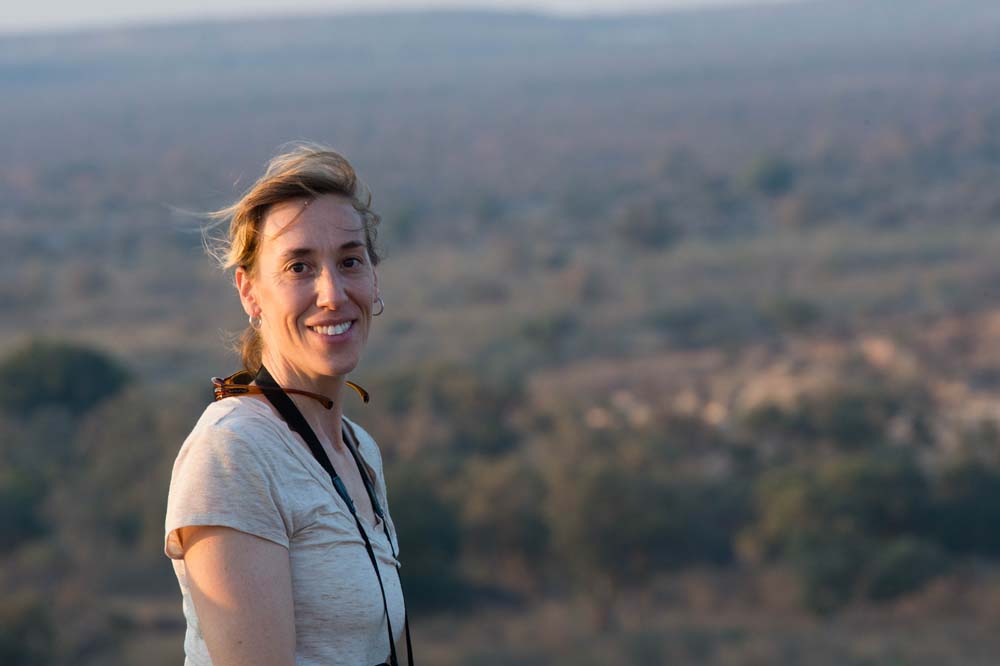 Tuesday September 20 – Mohave Bush Camp
After early morning coffee & tea and rusks (local version of biscotti) with one's choice of muffins, fresh fruit, yogurt and cereal we set off on an hour-plus walk to Mmamagwa Hill, a spectacular viewing point with awesome views over a large chunk of the Tuli Wilderness with Eagle Rock in the far distance. With binoculars, we spotted many elephants walking in the area below and in front of us.
Back in camp around 09:00A we enjoyed a delicious brunch about an hour later. Just around 11:00A that morning we were on our way to Mohave camp for an overnight. Mohave is a tiny bush camp with just three basic bungalows next to each other and a thatched lounge and dining area as well as a small lapa overlooking a waterhole on the Mohave River. This is what safari is all about. Great atmosphere, quiet, remote and wild. True wilderness. Mohave is known for often having lions around – we heard some – as well as elephants.
Afternoon tea this day was special with koeksisters & a seasoned ground beef empanadas. Just what the doctor ordered before we set off for Eagle Rock, a hike of about 90 minutes or so. We encountered a few patches of heavy going sand along the way, but mostly the walking was fairly easy over flat terrain.
At Eagle Rock we observed some rock hyrax and two impressive Black or Verreaux' Eagles which were nesting in the area. I was hoping to see them fly by at more or less eye level, but we had to settle for some views from below. Magnificent birds either way.
The walk up to the top of Eagle Rock didn't take much more than 10 or 15 minutes or so and can be done by almost anybody who is moderately fit and mobile. From up there, we enjoyed great views over the surrounding countryside, the Motloutse River and the distant hills. It was a beautiful sunset. We walked off the hill to where a car was waiting and drove back to Mohave for pre-dinner drinks around the fire.
During dinner that night a large elephant bull came to the water hole at Mohave around 9 p.m. It was a real 'great grey ghost' scenario and everybody loved watching the elephant drinking quietly and then slipping away into the darkness, almost soundlessly.
Stargazing is amazing here with an incredibly clear sky. Hanging over us as vividly as any of us had ever seen them were planets, stars, galaxies and the Milky Way. Dinner – under the stars of course – consisted of butternut squash soup, garlic bread, chicken fried steak and cheesecake for dessert. The food is home-cooked with no pretensions to be cutting-edge or fancy. It is wholesome, tasty and nobody goes hungry. We enjoyed a peaceful night.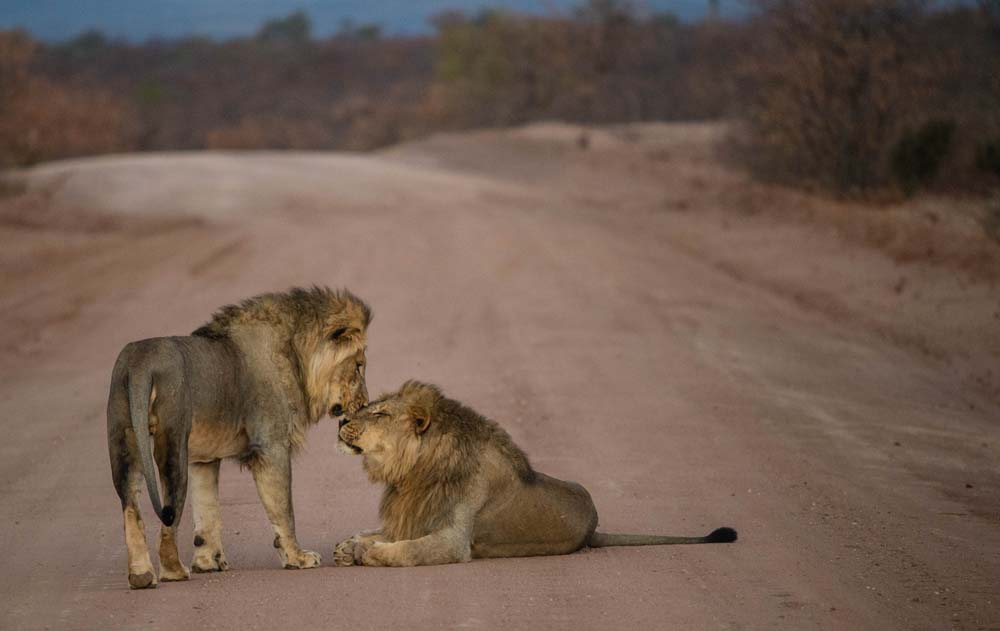 Wednesday September 21 – Walking into Lions
We were up at 6:00A to bird calls, enjoying an early light breakfast of coffee, juice, rusks, muffins, fresh fruit, cereal, and muesli. After taking it easy around camp for a while, we followed Stuart out into the bush in a customary single file.
Our mission this morning was to track and find some lions which we had heard calling the previous night from camp. Stuart picked up their tracks soon enough but as it turned out – unknown to us at the time – we scared them away from where they were sleeping.
Later on, having picked up the tracks again, we could see where the lions had crossed right over our tracks in several spots. Which meant that they were close but also that they were alert to our presence.
This is what makes a walking safari such an interesting and ultimately fascinating experience. You can seek out predators by following their tracks – which is what we did – only to find out that they are better at that game than humans.
Another 45 minutes or so later – around 9:30 a.m. – it became clear that the lions had hot-footed it out of the immediate area. We returned to camp for brunch (pork sausages, scrambled eggs, grilled tomato, baked beans, and toast) mission as yet unaccomplished. Walking into lions will have to wait until the next time at Mashatu.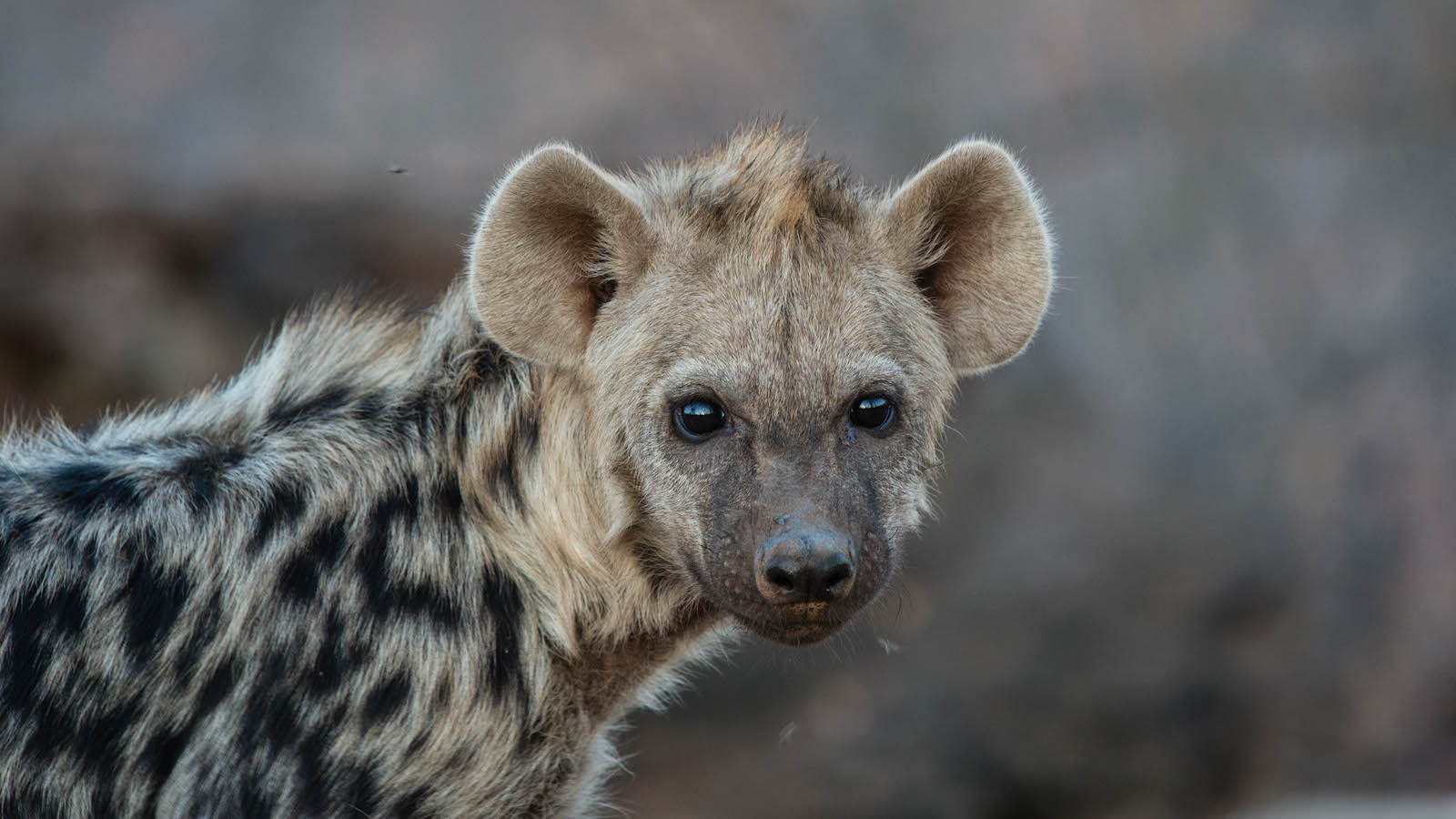 Serolo & The Hyena Den
At around 11 that morning we were en route to our third and last overnight stop on the trail at Serolo tented camp which was located on an elevated ridge above the floodplain, close to the then dry Limpopo River. There was a small waterhole just below the camp, a cozy lounge and dining room area and five en-suite tented units each with two three-quarter size beds, a separate shower and toilet and a powerful fan.
After a short but welcome nap, we enjoyed afternoon tea with some vegetarian quiche and mini brownies. Then we set off on the afternoon activity, a drive along the Limpopo River, at the time reduced to a dry, sandy riverbed. A few kilometers further on we reached a rocky outcrop where a hyena den was located. We walked around the area for some time before locating a single sub-adult hyena. It led us on a bit of a wild goose chase, walking away from the area where the hyena cubs were supposedly located.
Eventually we made our way to the den site among the rocks and sure enough, there were four babies to be seen, a couple of which were really curious about our presence and came right up to us to get a whiff of our smell.
The light was perfect and I managed a few really good captures of the hyena acting out and staring at us.
They were awaiting the return of the adult hyenas who would be bringing them some food. Just then, we heard two lions calling each other. It sounded close and getting closer. Hotfooting it back to our vehicle, we drove out to the nearby main road and less than 500 meters from where we had parked, we saw one and then another lion in the road. We sat and watched, pretty much spellbound as the two spectacular male lions walked towards each other. Through binoculars and from behind our camera lenses we watched as they performed a brief re-introduction ritual consisting of rubbing noses. Then they promptly flopped down for a snooze right in the gravel road. Happy and content we made our way back to Serolo camp for drinks and dinner. Everybody agreed it that it was a very special day.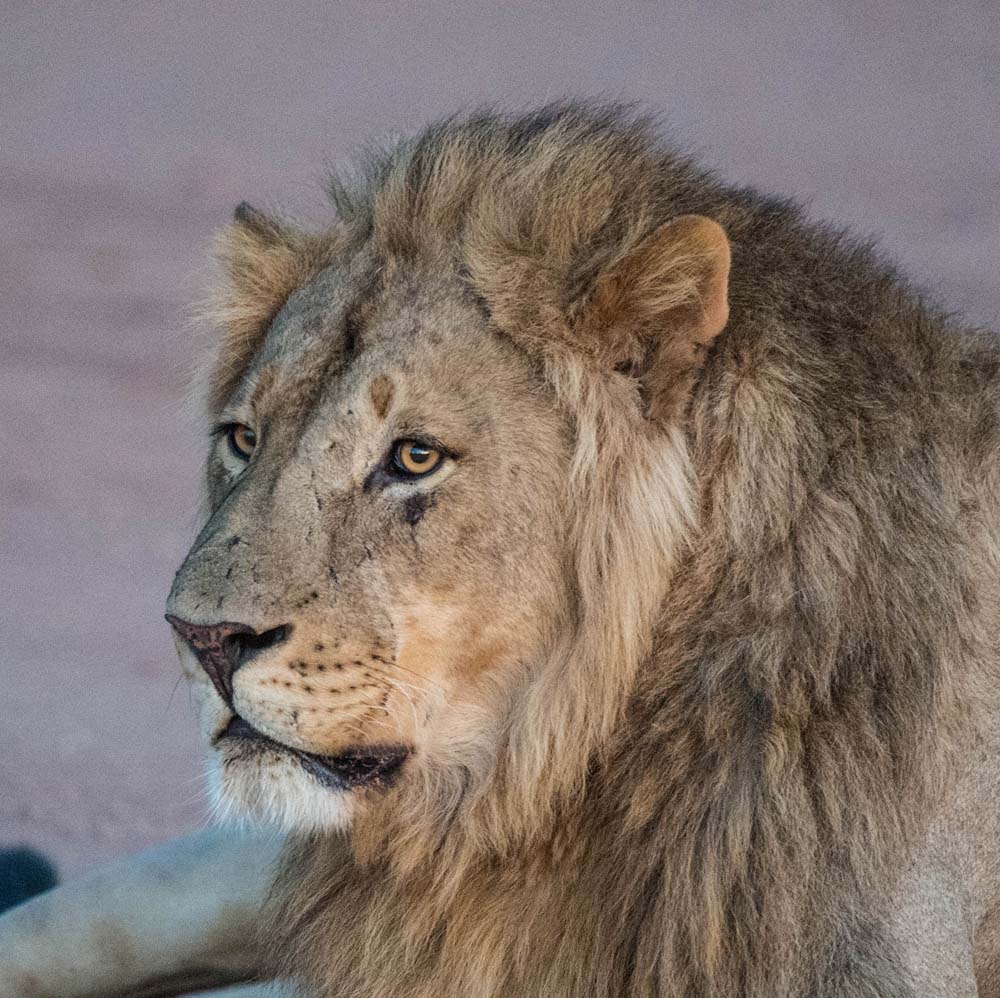 Thursday 22 September – Limpopo Floodplain
We were up early at 6 a.m. for a morning walk of about 3 hours duration.
The first stop was the carcass of a female warthog which had been killed by a leopard at around 1:30 a.m. that morning. Two of our group who had rooms close to where the event took place, recounted the screams of the desperate pig as it was attacked and the commotion which followed as it was dragged away.
Stuart analyzed the tracks at the scene and it soon became clear that several hyenas had robbed the female leopard of her kill, likely almost immediately after the event.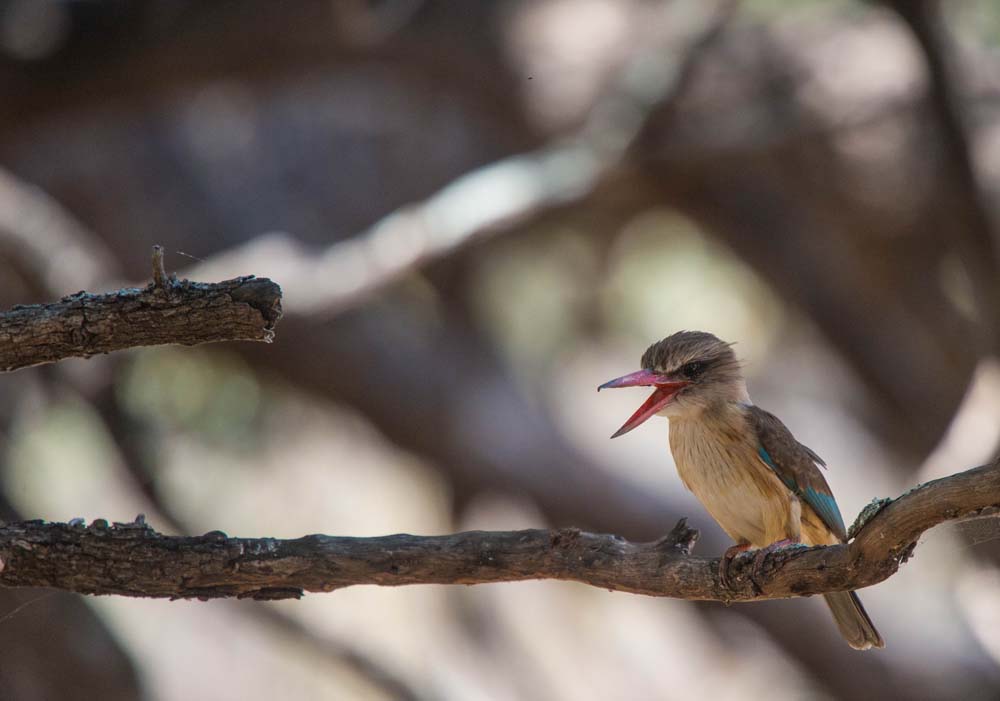 Continuing on, we walked under the tall trees along the Limpopo floodplain until we eventually scrambled down the bank onto the sandy river bed, approaching a large nest site of white-fronted bee-eaters. The light wasn't great but it was nonetheless interesting to see dozens of these colorful birds flying out of the nest holes in the banks of the Limpopo, loop straight up and perch on the shrubs above.
From there we walked along and in the dry Limpopo River bed past several Marabou stork nesting sites, Whitebacked Vultures perched in high trees, and multiple other bird species all around. And it wasn't only birds. We were hardly ever out of sight of impala, waterbuck, kudu, eland, Grey duiker, warthog, baboons, vervet monkeys & other species.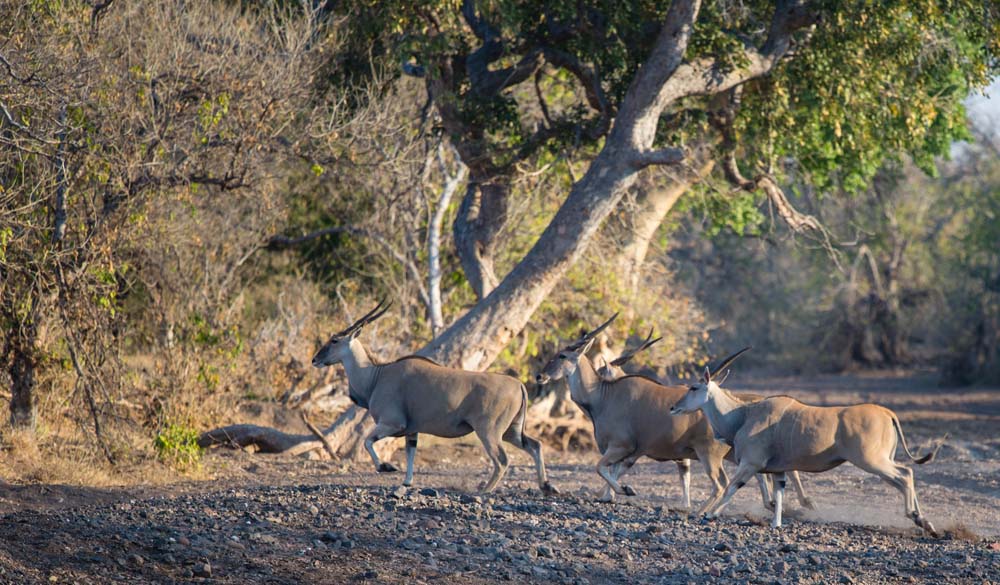 After a morning snack, we walked to back to an elevated rock platform with a wide view of the Limpopo River. Even without visible water, it was a wonderful and attractive place. So different from anything we had seen at Mmamagwa Hills, Eagle Rock or elsewhere on the WalkMashatu trail.
A final brunch at Serolo and we were on our way to the Limpopo Valley Airfield where we said 'see you again' to Stuart and Julie and met up with our Mashatu Tented Camp guide. For the next three days, we would be doing a more traditional vehicle safari. Knowing Mashatu and having already experienced some good game-viewing on foot, we knew we were in for a treat. It would take a lot to surpass the fun and excitement of our walking safari though!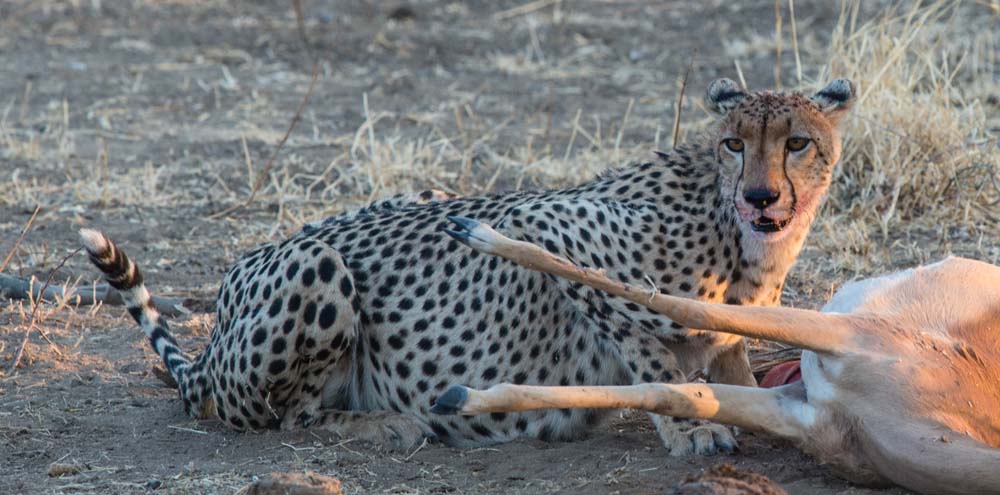 PART 3: MASHATU TENTED CAMP, TULI BLOCK, BOTSWANA
Mashatu Game Reserve and Mashatu Tented Camp in particular delivers a safari experience which is – for most people – well above expectations and which represents likely the best value for money of any safari destination in Southern Africa. At less than half and more like a third of the cost of just about any other northern Botswana property of the same quality, Mashatu Tented Camp is worthy of inclusion on practically any Southern Africa itinerary.
Spend three days there and you will see why: lots of game (elephants, big cats, giraffes, eland & many more), not too many other safari vehicles, highly experienced and capable guides, off-road driving to get close to signature species, night drives, opportunities to walk in a buffalo-free environment, availability of other adventure activities like horse-back safaris and mountain bike safaris, availability of a couple of the best photographic hides/blinds in Southern Africa and fast, convenient connections to and from Johannesburg, to and from the Sabi Sand Reserve and now also to and from northern Botswana. Plus a 'stay 4 nights, pay for 3' offer in the green season through the end of May. What's not to like?
En route from Serolo Camp to the Limpopo Valley Airfield we experienced an 'elephant delay' at a spot where a natural spring spills water out onto the road. With the surrounding area being as dry as it was, the fresh water was simply irresistible – and essential – to the elephants living in the area.
Consequently, there were 50-plus elephants of all sizes and ages around and in the water; their wet, muddy bodies a reflection of the extent to which they were reveling in the moisture amidst the parchment dry surroundings.
About an hour later we were back at Mashatu Tented Camp where we had previously spent a couple of days in 2013. Here is a link to the trip report.
Just like the last time, our tented room was well equipped with two three-quarter size beds, ample storage space, two fans, a safe, proper door, and a separate but attached outdoor shower and toilet.
We barely had time to settle in before high tea was served at 3:30 and it was delicious with quiche, sandwiches and two types of sweet baked goods on offer, in addition to some good filter coffee.
Our game drive was initially a bit slow with sightings of giraffes, eland and zebras helping to keep things moving along. Soon enough though the tenor of the drive changed, from so-so to spectacular with first a solitary female leopard in the grass and then a female cheetah with three young on an impala kill.
We watched them for the better part of 40 minutes, observing first the mother and then the babies feeding, one of the youngsters chasing off a rather overly bold jackal. Shortly after we heard the first sign of imminent trouble in the form of a leopard call.
Our guide Richard thought that the cheetah would be fine and that the mother would quickly lead the youngsters to safety if needs be. We left the cheetahs behind eventually, the young ones so bloated from overeating that they had trouble lying down in one spot for long.
We returned to camp for our own appointment with food. Dinner (fish and lamb stew) plus various side dishes didn't quite live up to the high standards which we've come to expect at Mashatu. Perhaps the chef had the day off. The Okavango bream tasted like kipper; the stew was fine but overly greasy, and the presentation was not exciting at all. Quite tasty and filling – just not at the same high level that we had enjoyed here previously.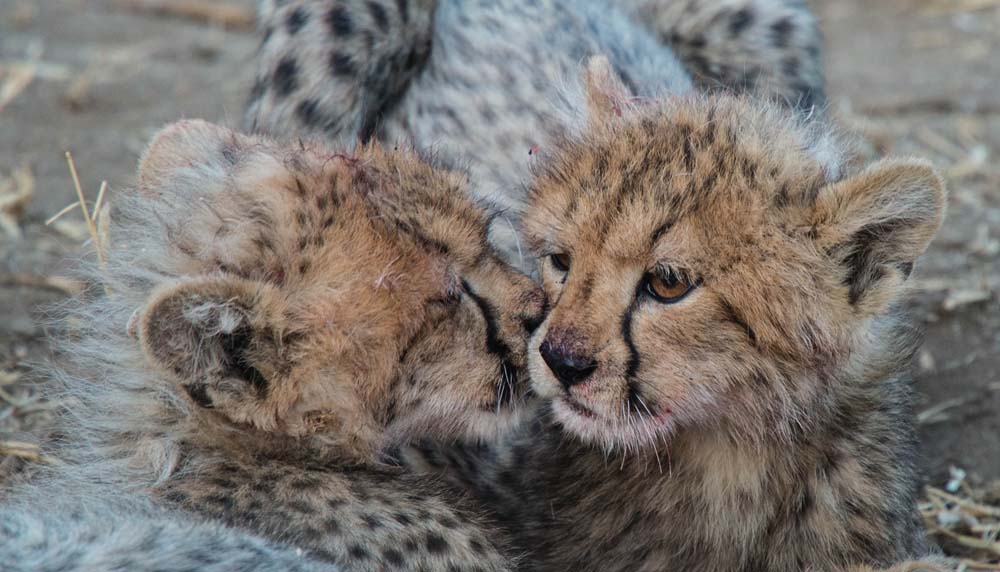 September 23
We were up at 5:30 a.m. this morning for a quick breakfast (coffee, rusks, fruit salad) and out at 6 a.m. sharp. Initially again very quiet but things soon improved when we got word of a young female leopard nearby.
A few minutes later we were on the scene and observed a smallish female leopard lying down in the vegetation, panting heavily from recently having eaten. She had a kill (impala) high up in a nearby tree, which we saw when driving away.
Sometime later, after a few good general plains game sightings, we were advised about the presence of a mature male leopard, quite close to where we had observed the female. And so it was. Stationary below a tree in the shade, we watched and photographed this powerfully-built male leopard for quite a while. He seemed to look straight at us with what might otherwise have been a scary expression except that there was no emotion visible in his eyes at all.
As we were finishing up our male leopard photographs, news came about a large pride of lions with cubs. Off we went. It turned out to be an exceptionally handsome male, two females in their prime and six cubs belonging to each of the two sisters. The cubs being just a couple of months or so apart in age.
We observed them for what must have been a good 40 minutes, watching them run around, play & cozy up to Dad who wasn't very responsive or expressive. The lions were clearly enjoying being at the top of the heap in the animal world.
Before enjoying mid-morning tea and returning to camp, we bumped into yet another female leopard which promptly walked into the nearby dry riverbed. In just two game drives we had seen leopard multiple times, cheetahs on a kill and an impressive lion pride.
A bonus item follow just minutes later when we had a good look at the female leopard seen earlier, this time resting up on a branch a few meters off the ground.
By 10 it was time for brunch and Mashatu pulled out all the stops with an attractive and elaborate spread including salad, chicken pie, sausages, egg roll, beans, chutney, bacon and bread and sliced tomato.
Our afternoon drive – by Mashatu standards – was a little bit quiet but even so we had some good views of elephant, giraffe and eland. After a quick shopping stop at Mashatu Lodge we drove to a hyena den where we observed a few very young hyena babies. They were still almost entirely black. One of them seemed to be rather stressed and ran around the den calling for its mother, next to whom it finally settled down.
On the way back to camp we saw our 5th different leopard, crossing a dry riverbed.
Just like the previous evening, dinner was disappointing. Other than the excellent vegetable soup and the local rustic version of polenta, widely known as pap, the other dishes such as the braised oxtail and pork leg was either on the tough side or overcooked and dry.
Also the presentation of the dinner items is not exciting or visually appealing, with everything shrouded in darkness with no color or textural differences being discernible. The bread was again perfect.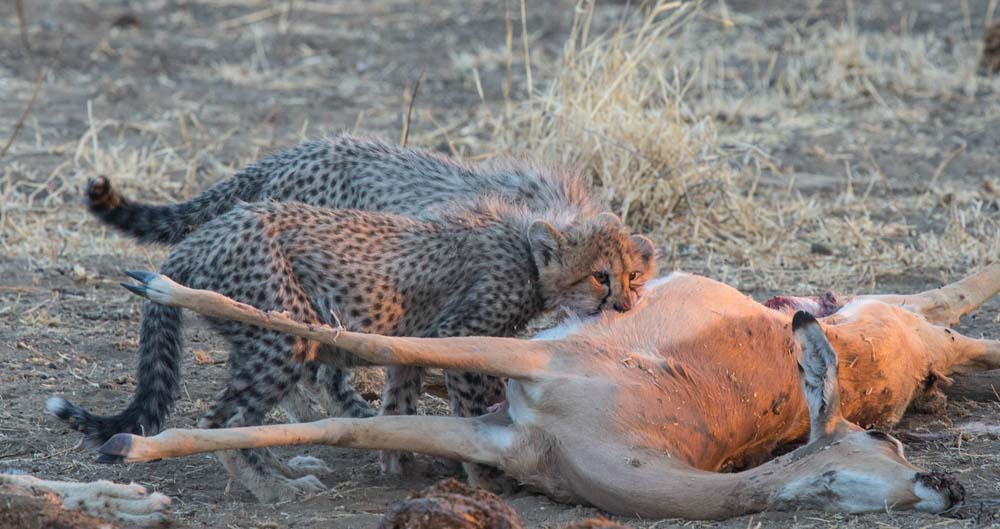 September 24 – Photographic Hide Experience
This morning we each paid $65 extra for a 3-hour Matabole hide session with a professional photographer. This is the sunken container hide which is also known as the 'elephant hide', I believe. Our photo guide Janet struck exactly the right balance between being helpful and knowledgeable and gently imparting hints and technical knowledge without being intrusive or annoying in the least. Everybody gained from the experience and nobody left more confused than before, which sometimes happens with photo advice.
Fortunately for Janet the animals did their part and we were thrilled and entertained by two good-sized elephant herds, different groups of Impala, a solitary steenbok, many guinea fowl and assorted other odds and ends including some warthogs and various bird species including francolin, doves, go-away birds, blue waxbills and several others.
Even a non-photographer would have been impressed with the manner in which the elephants quickly yet remarkably quietly walked up to the pond, surrounded the hide from its far left to far right, and immediately started to drink with intent.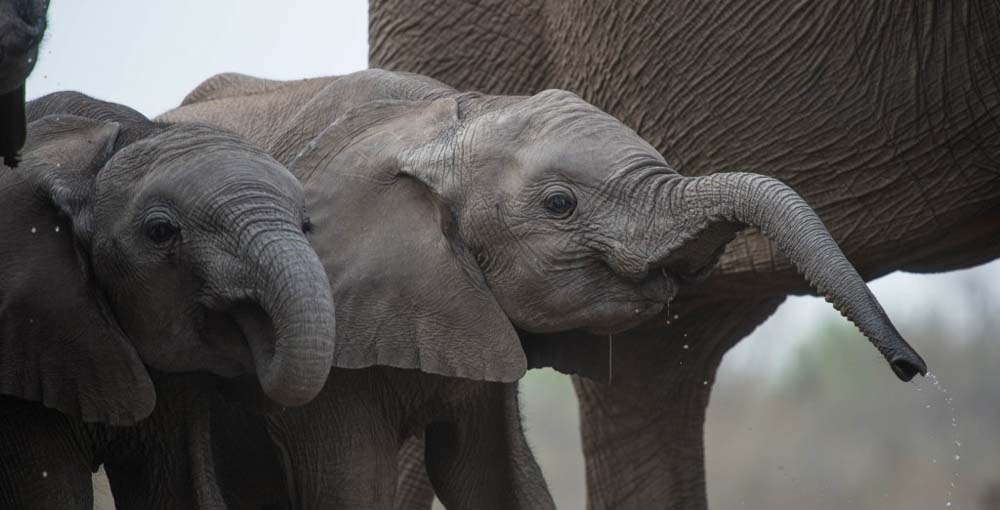 The first herd literally rushed up and spent barely three minutes with us and then rushed off. It was surprising behavior; clearly there was something bothering them. This was my first hide photography experience with a herd of elephants, and to be honest it was all rather overwhelming at first. Picking the first lens, deciding which photo or angle to go with, all quite exciting! By the time the second herd of elephants showed up I was ready and got some good pics, even some close-ups of elephants toes which I have always wanted to do.
Hint: have more than one camera body ready with a short (20 to 70mm or) lens and another with a medium-long telephone of about 70-200. You won't need anything much bigger than that unless you want to get some close-ups of birds perching in the nearby bushes.

The afternoon game drive was equally successful. The highlight was a performance by a young female leopard. She trotted out practically every leopard pose known to man: lying down, sitting, standing, staring and dozing, in the process leaving several extremely happy photographers behind.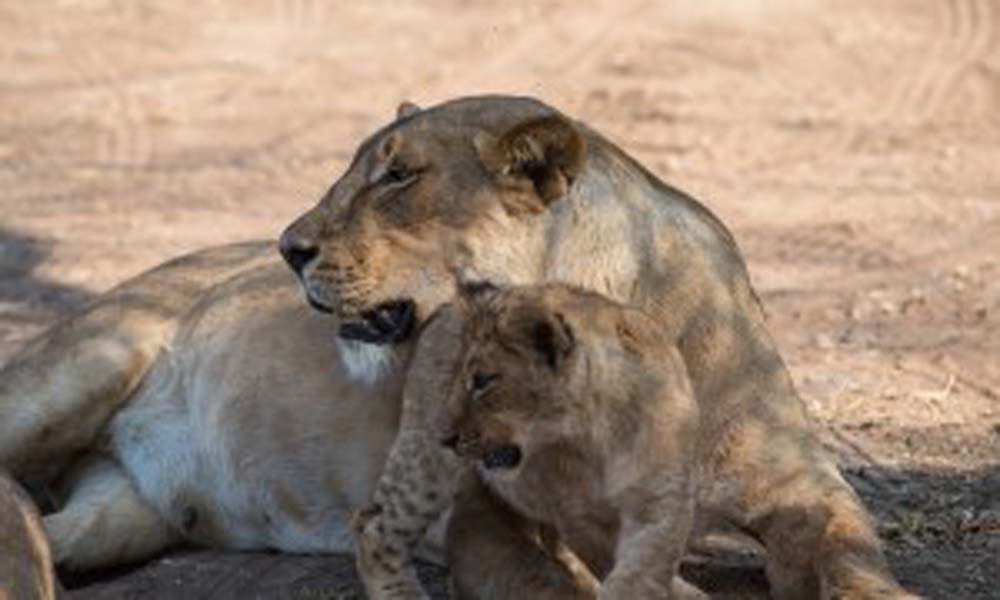 The afternoon drive was concluded with a great sighting of the two female lions and their six cubs. They were totally relaxed in a safe spot overlooking the dry riverbed. The cubs were playing and mock fighting, biting each other's tails and generally creating a bit of havoc, just like youngsters of any species. It was a perfect ending for our last evening drive in Botswana. So far this has been a great trip with the best predator sightings ever.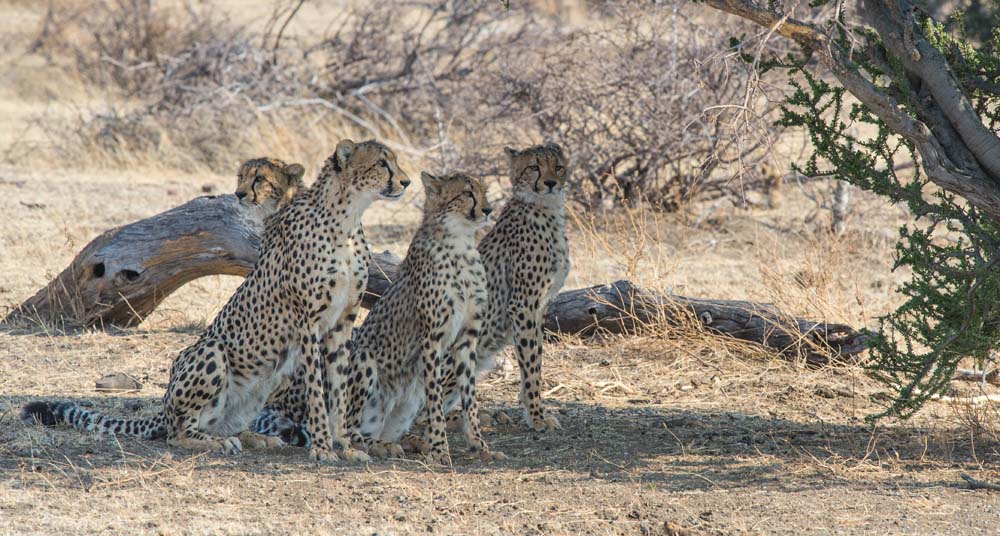 September 25 – More Cheetahs
We resume where we left off last night, on today's morning game drive. A quiet first hour and then in short order a handsome male lion (seen yesterday morning with the rest of his pride), the well behaved female leopard walking across a dry riverbed and then another superb sighting of cheetah. This time around it was a family group of a female cheetah with 4 sub-adult girls of around one year of age. They were just about fully grown, ultra-sleek running machines with just a bit of false mane hair remaining on their upper backs.
We watched them for a considerable length of time as initially they were all resting up in one small area. Then they got active and started walking seemingly in a hunting or attacking mode looking and listening for signs of prey. Other than one half-hearted attempt at running down a steenbok, by one of the cubs, there were no serious attempts at taking down anything. Obligingly the cheetah bunched up several times so that we could photograph them all together, all five of the small teardrop accented faces looking in our direction.
Reluctantly, we let them go as they returned to a prone position in the shade of a Shepherd Tree. One last tasty brunch and then it was time to settle our bills, say farewell and head off to Limpopo Valley Airfield for the flight to Mala Mala in the Sabi Sand Reserve in South Africa.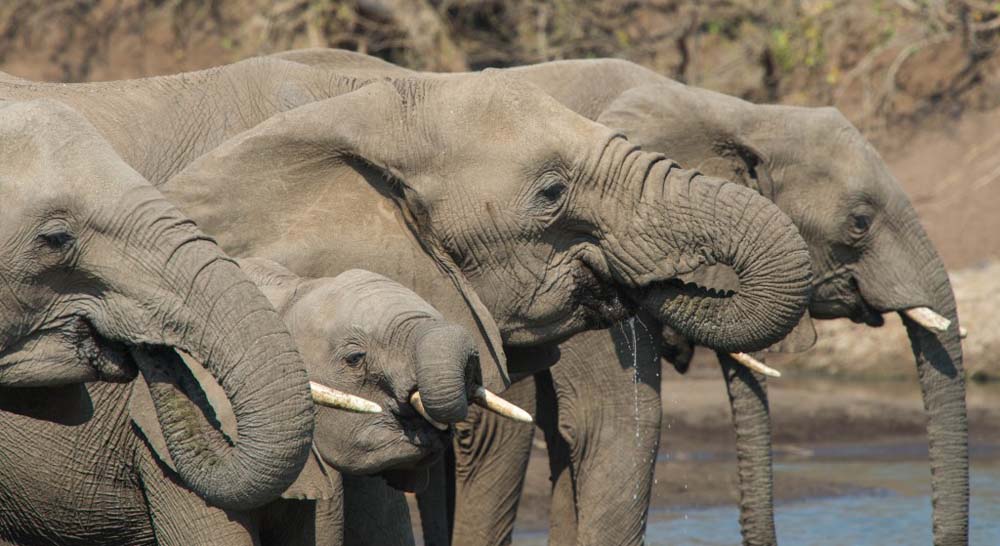 PART 4: MALAMALA GAME RESERVE, SABI SAND RESERVE

We have been sending our clients to MalaMala Game Reserve in the Sabi Sand area adjacent to the Kruger Park, literally for decades. Primarily because of the consistently good game-viewing which ranks right up there with the best in Africa. No question about it. Day after day, month in and month out, all of the so-called 'Big Five' mammals and much else besides, are seen at MalaMala, and close up. Are there better safari camps in Africa for wildlife photography? A few that may rival it, but none that are clearly better in my opinion.
In an area that is known for its high density of wildlife, MalaMala occupies a prime position alongside the Sand River, with miles and miles of the river running through the property. Year round when it hasn't rained for a while and consistently in the dry season, the river acts as a magnet for the animals, many of them moving into the MalaMala area out of Kruger Park. Even more so now than in earlier years because of the closure of several artificially maintained water holes in the Kruger Park.
Add to that a well-earned reputation for excellent guiding, one of the best and best-maintained road networks of any of the Sabi Sand properties, good communications, and you have a winning recipe. With the recent change of ownership, with MalaMala's land and improvements having been sold to the local community and the business operations now being owned and operated by Stephen Saad (no longer the Rattray family) there have been some changes and more to come. So far it has been all good, for example doing away with the antiquated 'bar bill' silliness and including all local drinks in the rate, like practically everybody else at around the same price point.
There are much bigger things in the pipeline such as the re-fashioning of first Sable and then Main Camp, to give them a fresh and slightly more contemporary feel, but retaining the classic Lowveld safari feel that is at the heart of the MalaMala experience. Top management hasn't changed either and that is good too, for the sake of continuity and to maintain and build on the already high standards. With Kirkmans Kamp (formerly part of MalaMala) now back under the same ownership, MalaMala's already massive traversing area has been enlarged even more. Of course this means that Kirkmans vehicles will be – and already are – driving on the southern section of MalaMala (Charleston) but clearly there's plenty of space for everybody. From time to time vehicles will have to be cycled into and out of prime sightings but that happens everywhere and I do believe it will remain the exception rather than the rule at MalaMala.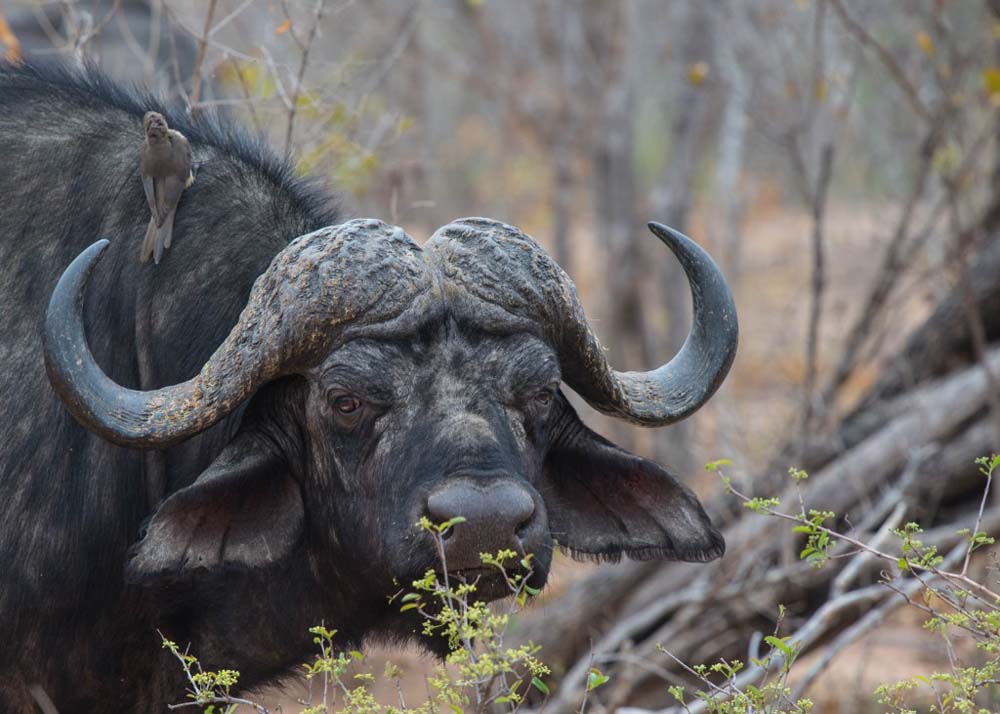 September 25 – Getting there takes longer than we thought it might.
As it turned out our much anticipated direct flight from Mashatu to MalaMala was a non-starter. We had a change of plans as the MalaMala Airstrip was apparently affected by bad weather with low ceiling and poor visibility making a landing attempt ill-advised. So instead of heading from the Limpopo Valley Airfield to Pholokwane for customs and immigration clearance, we flew direct to Kruger Mpumalanga International Airport from where we would be driven to MalaMala. The drive took about 2 hours, slightly longer than anticipated due to a short break for refreshments en route.
After checking in at MalaMala which was quick and efficient, we went on a short game drive with our guide Brendan. We were all happy to see a couple of hippo coming out of the water – the first ones of the trip. And then – surprise – yet another leopard. This time it was the Piccadilly female. She momentarily seemed interested in some prey animals but then changed her mind. Oh well.
We returned to camp for a multi-course dinner with a soup starter, a delicious buffet main course and dessert. There was a large group in MalaMala Main Camp so we enjoyed all our meals at the smaller and more intimate Sable Camp lounge and dining room.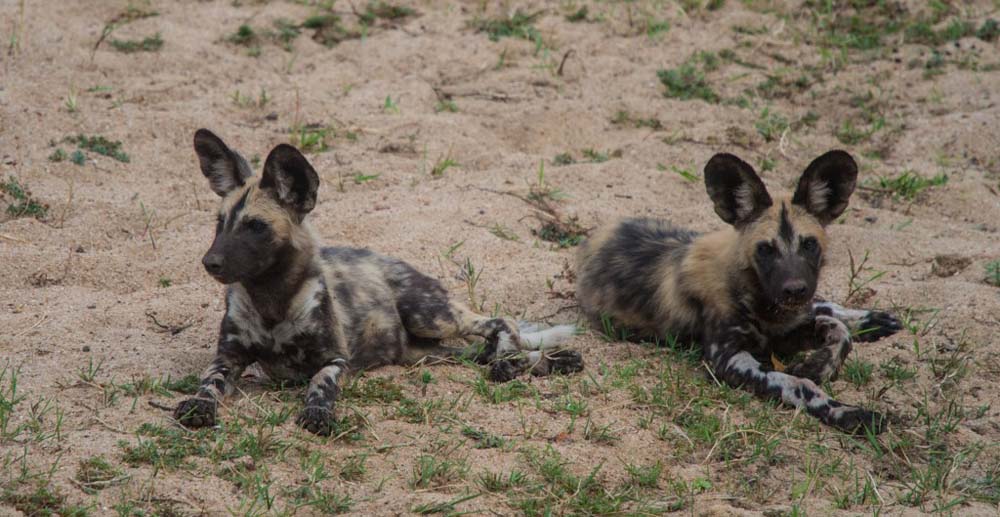 September 26 – African Painted Dogs.
The morning game drive started off slow but got lively in hurry when we were told about the presence of a few African Painted Dogs on the Toulon property (Kirkmans).
For a while we followed a solitary dog as it ran at a fast pace away from the Sand River in a westerly direction but we lost it.
For a while we followed a solitary dog as it ran at a fast pace away from the Sand River in a westerly direction but we lost it.
Eventually we left the dogs there and proceeded to the central part of MalaMala hoping to find Rhino. It was not to be. It appeared that the change of weather- it had turned sharply cooler – may have driven them off road. After what seemed to be the longest time driving around seemingly aimlessly and not finding rhino, we eventually made it back to camp for lunch. Not 200 meters from camp there was a white rhino in the river bed. So it happens. In the afternoon we saw plenty of general game, and then enjoyed another great sighting of the Piccadilly female as the sun was setting.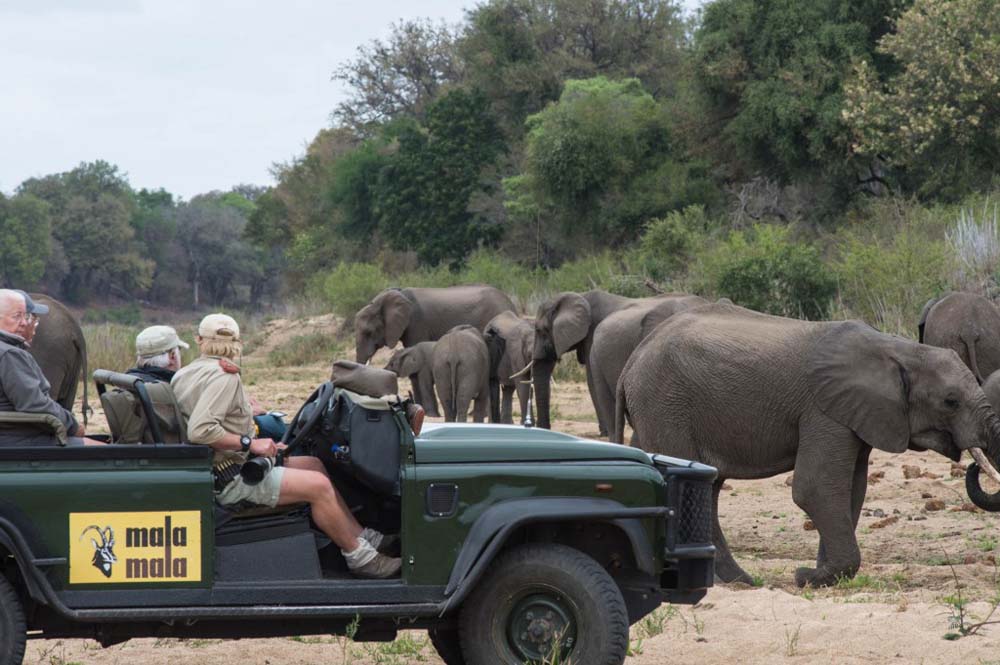 Tuesday 27th September – Cheetah and Pangolin!
We were up at 6 a.m. for a drive which started along the Sand River in search of a female leopard – the Kikilezi female – and her two cubs. We didn't find her but would try again tomorrow morning. What we did see was a drying pool in the riverbed with at least seven different bird species working the diminishing water for fish, frogs and whatever else edible they could find. I managed to get a couple of nice pics of saddlebilled stork and yellowbilled stork.
We then drove to the far northeastern sector of the MalaMala property where more than an inch of rain had fallen the previous week. The terrain is largely flat and open and as close as one can get to open savanna habitat in MalaMala. We found ourselves on the edge of Kruger Park from where grazing animals such as zebra and wildebeest were already moving into the area for its freshly emerging vegetation.
We were thrilled to hear that a pair of male cheetah had been seen in the area. After a brief Rhino detour (two massive White Rhino feeding) we made our way to the two cheetah boys resting in the shade. Superficially identical to the females we had seen earlier, they were bulkier though and clearly stronger. We stayed there with them for a good 20 minutes plus before heading to camp for breakfast.
A solitary hyena led us to a hyena den which the local clan had just recently started using. A second adult hyena female could be seen there, with two babies. One perked up and looked at us briefly before lying down again. There were also two white rhinos in the area and we got a few good pics of them. Our afternoon drive on Tuesday 27th September started on the high note with close-up views of the Eyrefield lion pride consisting of two males, three females and four sub-adults including Kleintjie.
We then bumped into two large white rhino right in the road and literally had to detour around them. This was ironical considering that we had searched high and low for rhino on our second day at Mala Mala.
And then came a surprise announcement by Brendan that a Pangolin – also known as a Scaly Anteater and Ietermagog in Afrikaans – had been sighted and off we went to see it. At MalaMala guests are allowed to disembark from the vehicle at a pangolin sightings.
So, as soon as we arrived at the site, we hopped out of the vehicle and walked up to where the pangolin had tried to hide itself under some tree stumps. Much of its body was showing but its face was totally hidden. None of our group had ever seen one of these animals so we looked at this large elongated and heavily scaled mammal in amazement. It looks more reptilian or amphibian than mammal, which makes it unique. Very rarely seen – even less frequently than Aardvark – Pangolin is a real 'once in a lifetime' sighting for most visitors to Africa. Actually for most visitors it is a 'never in a lifetime' sighting. That rare.
On the way out from the pangolin sighting we struck the jackpot again with a good look at a Serval, a sleek small spotted cat which stared at the vehicle for a second or two and then bounded off into the bush at speed. What a day it was!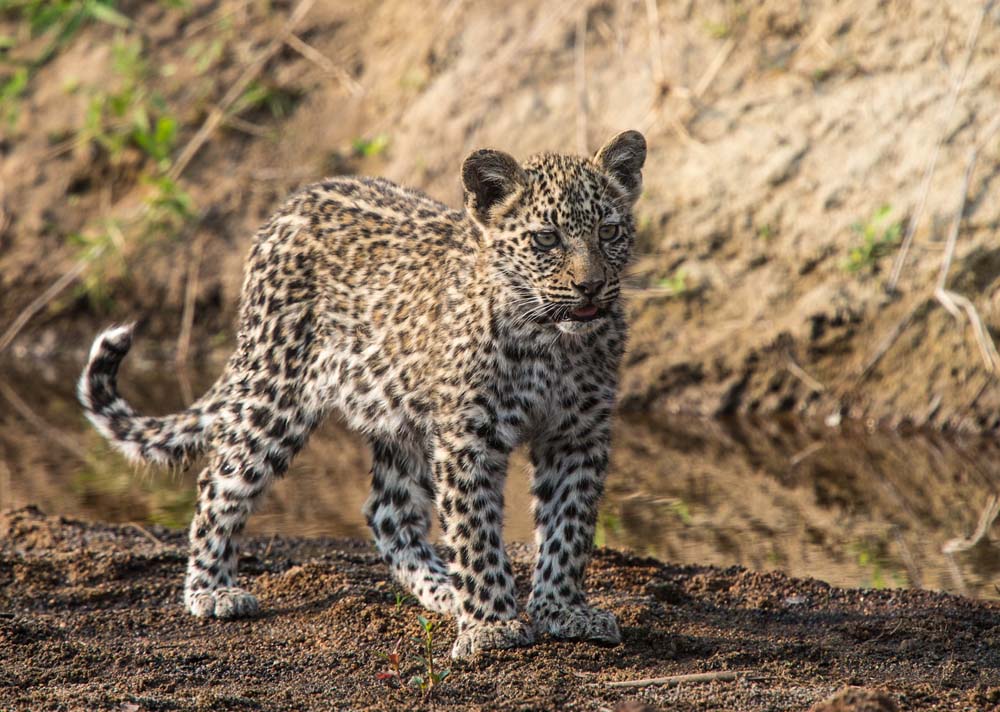 28 September – Off to Kruger National Park
Our last game drive in MalaMala was on the quiet side but nonetheless, we had good views of two young leopard cubs (belonging to the Kikilezi female, the leopard which we had been looking for the previous day) as well as kudu, giraffe and elephant. I said goodbye to my traveling companions and in the afternoon embarked on a three-hour road transfer into Kruger National Park itself. The mission? To check out a few more properties: some inside the Park itself, as well as some in the northern and western parts of the Sabi Sand Reserve. Hold on to your hat!