$cat_name = 'category'; $categories = get_the_terms($post->ID, $cat_name); foreach ($categories as $category) { if ($category->parent) { echo $category->name; } } ?>
Aug 20, 2020
A Visit to Hwange Game Reserve, Zimbabwe
Share: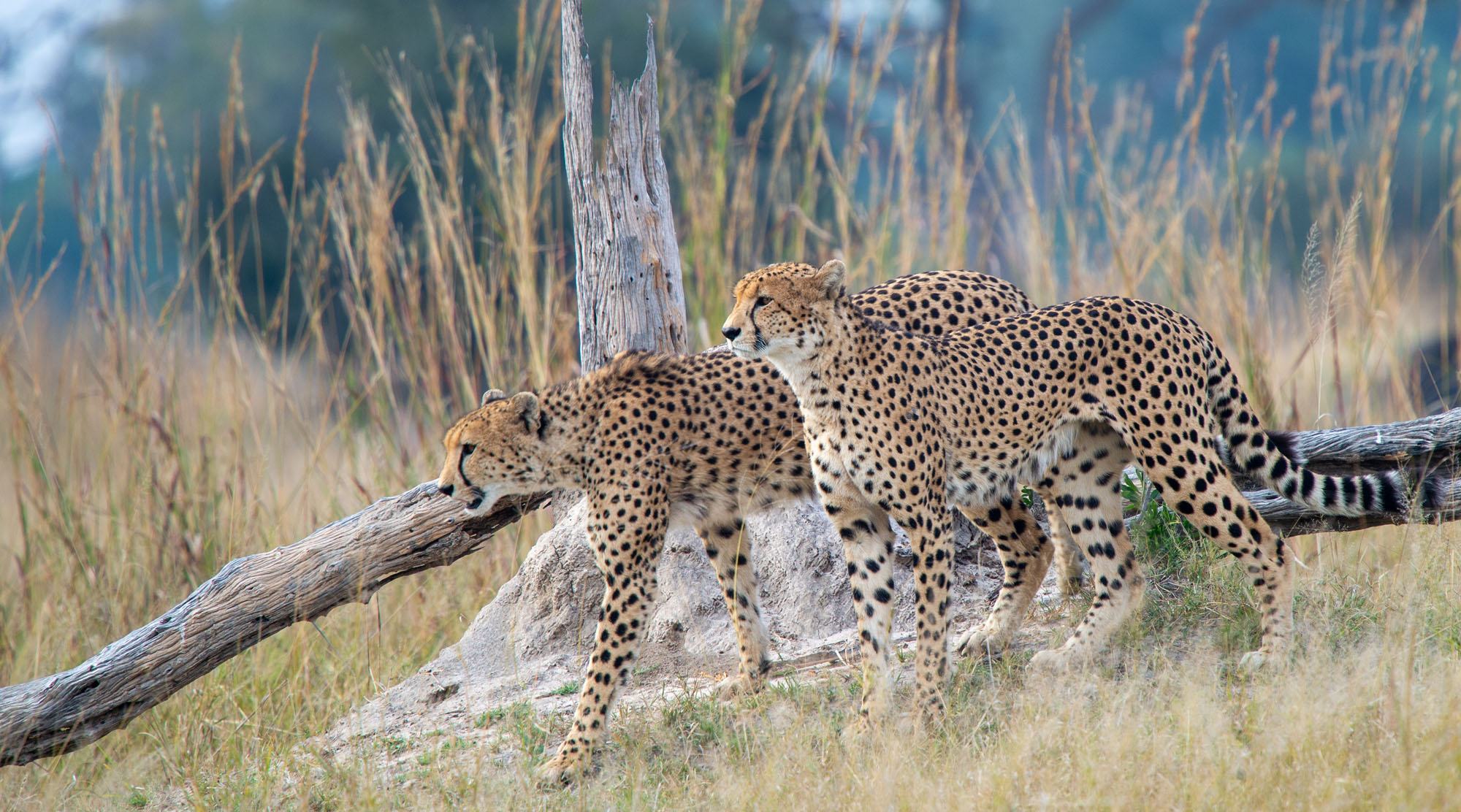 A Visit to Hwange Game Reserve, Zimbabwe
KHULU BUSH CAMP, HWANGE
After spending several days in Victoria Falls, my next destination was Hwange National Park.  On this day I left by road for Hwange, traveling a distance of about 200 km (120 miles), mostly on a good asphalt road. It took about 2.5 hours with a short stop near Hwange town, to complete the drive.  While the route is not spectacular in terms of scenery, there are some nice teak trees along the way, and eventually some good sized baobabs as well.
Hwange is Zimbabwe's largest and best known game reserve, located in the mostly dry and practically river-less north western portion of  Zimbabwe, bordering on Botswana.  The terrain is mostly a mix of teak, mopane, and mixed combretum woodland, becoming more Kalahari-like the further west one goes.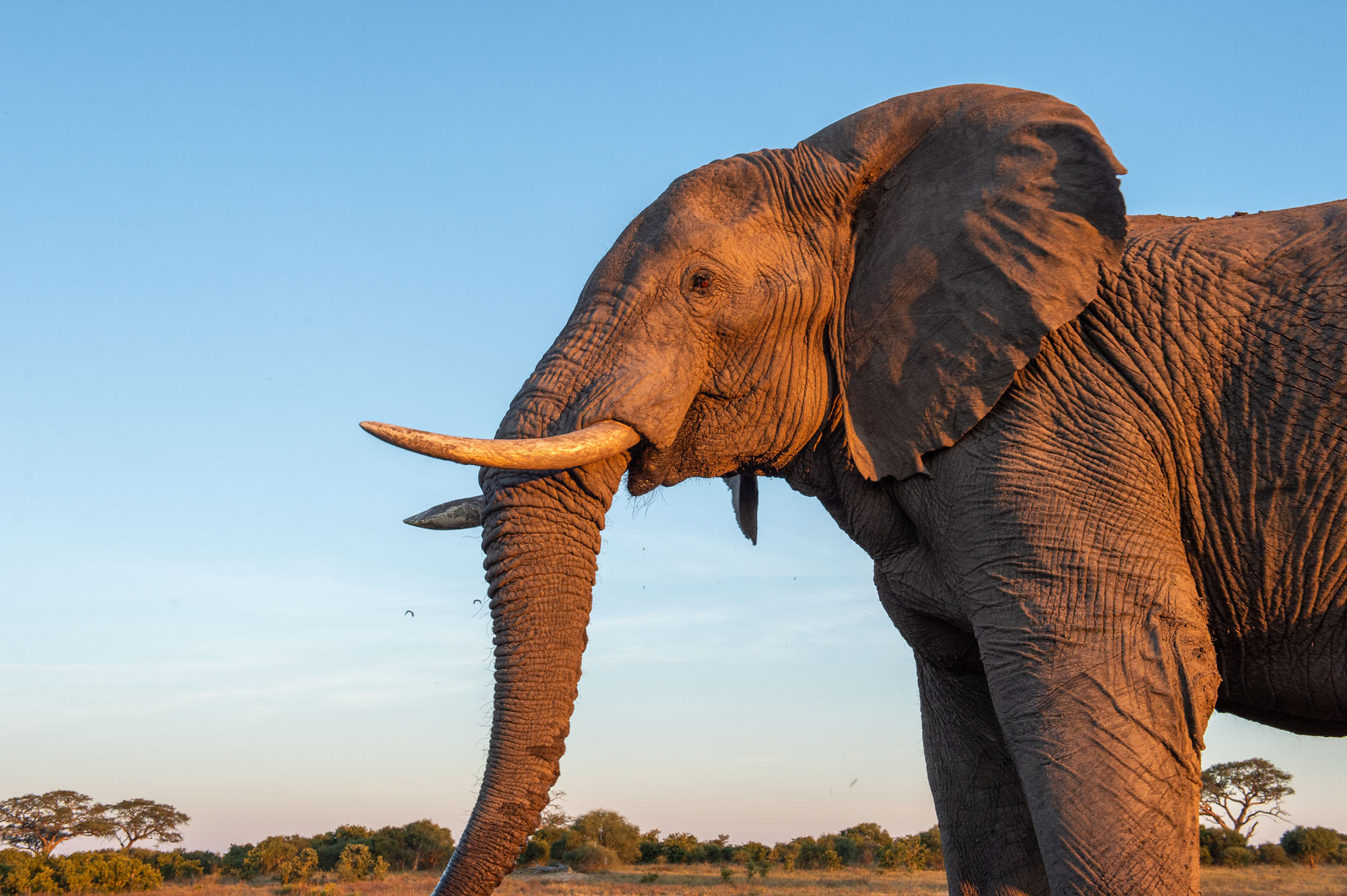 The life blood and also the heartbeat of Hwange is a series of approximately 60 artificially maintained pumped water holes which support and sustain the wildlife through the long dry season which stretches from about May through October/November. All of Hwange's 30,000-plus elephants and most of its other big game species such as buffalo, giraffe, zebra, eland and their predators rely on the pumped pans to keep going in the dry season. This of course makes Hwange a year-round tourist destination.  The availability of water keeps large numbers of animals around at all times; without it Hwange would be a beautiful semi-desert area, largely devoid of big game. Even with the pumps and pans the area is still subject to occasional severe droughts.  
Khulu Bush Camp camp was my first stop in Hwange.   It is a small six roomed, tented property just outside the park on a private reserve about 40 minutes drive from Hwange Main camp on the eastern edge of the park.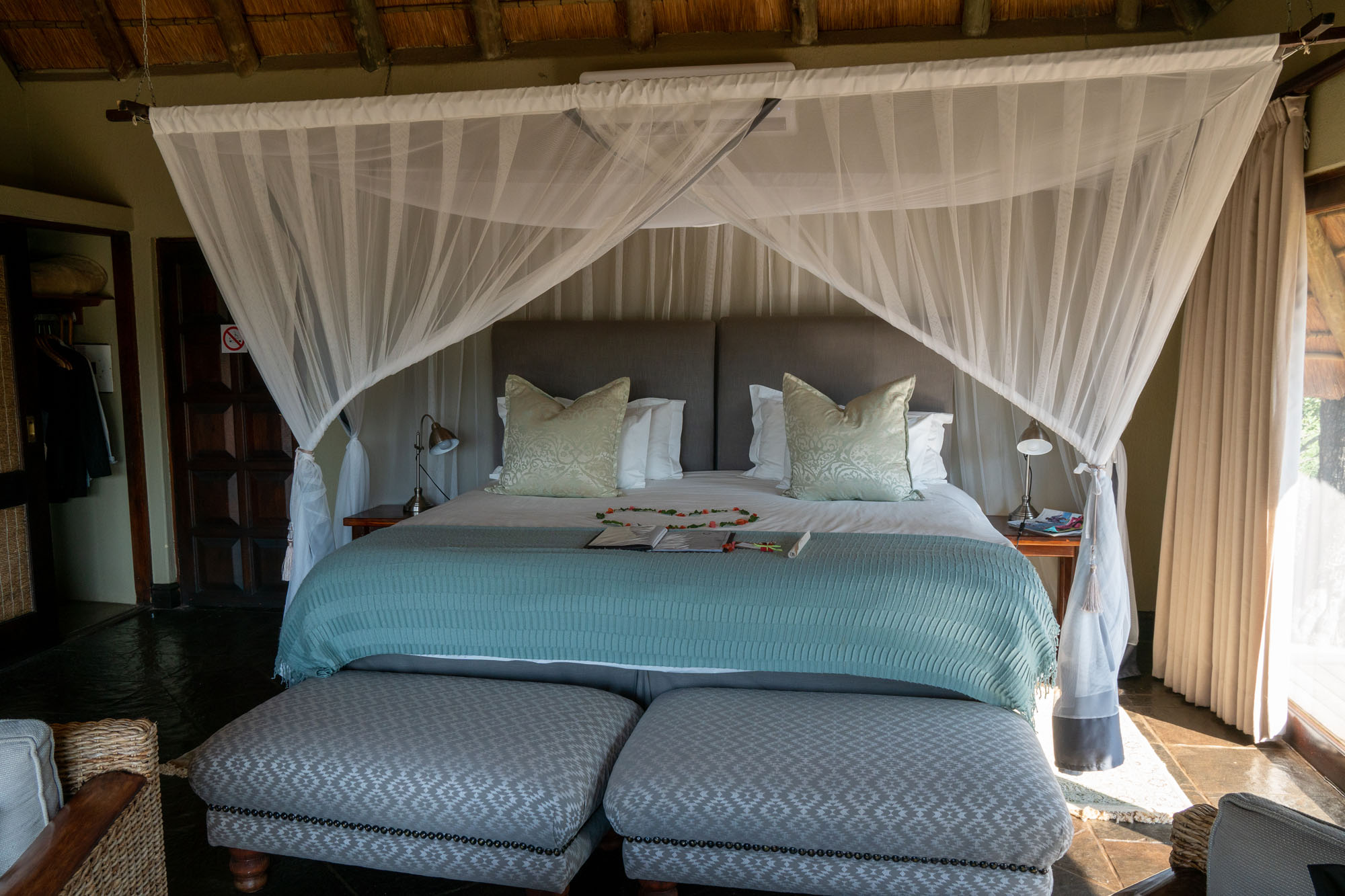 In terms of size, quality of guiding, and level of luxury, this camp hits all the right notes: small and intimate and overlooking a pumped pan which is used by a passing parade of animals including a large herd of about 250 or so elephants.  Some of the elephants provide guests with exceptionally close up looks when they drink from the small camp pool which is built into the deck in front of the lounge/dining room area. It is highly entertaining to watch elephants of all shapes and sizes walking right up to the edge of the pool, and sticking their trunks into the clear water,  relishing the taste of the clean, mineralized borehole water.  Their drinking antics can be safely observed from as little as 3 meters from the animals.
Dinner at Khulu Bush camp was a convivial and interesting evening with one of Southern Africa's top cheetah and lion experts – Paul Funston of New York-based Panthera – talking to us about the plight of various predators but notably lions, in various conservation areas all over Africa and specifically in the KAZA region of south western Angola. We learned about Pantera's efforts to coordinate and tabulate anti poaching activities.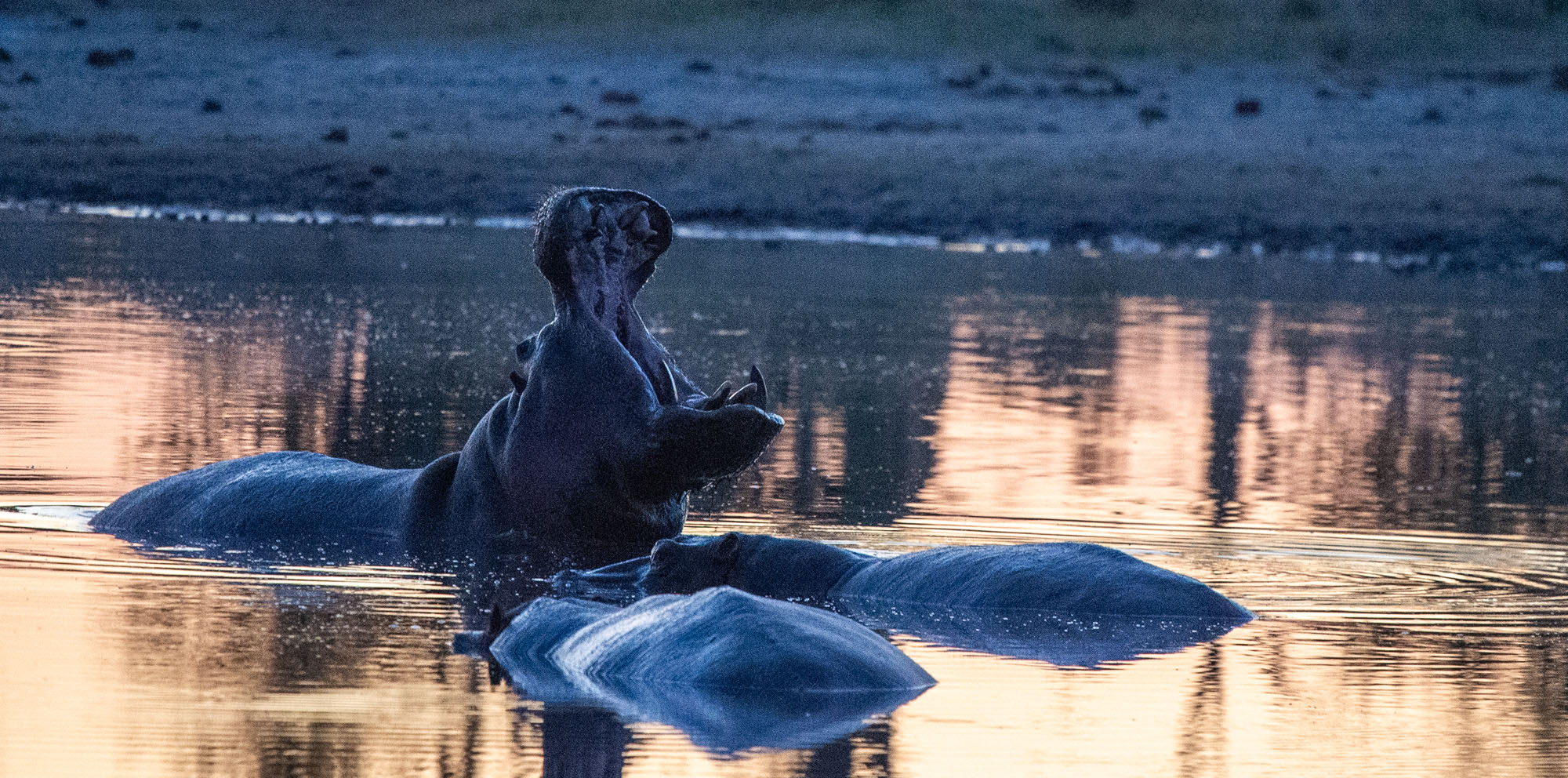 JOZIBANINI BUSH CAMP, HWANGE
By mid morning on this day I was winding my way along some of Hwange's least known sandy trails on what was practically an all day transfer from the eastern edge of the park to Jozibanini camp in the remote south western edge of the park. Jozi is the kind of place which appeals to adventurous travelers who want to experience the African wilderness much like it looked and felt like 30 or 40 years ago. There's practically nobody else around and certainly no other vehicles or camps anywhere close.  Jozibanini provides an exciting and even exhilarating glimpse into the vast area which makes up the bulk of Hwange National Park beyond the relatively small tourist areas.  A massive wilderness area stretching west and north, more Kalahari-like than any other part of the park.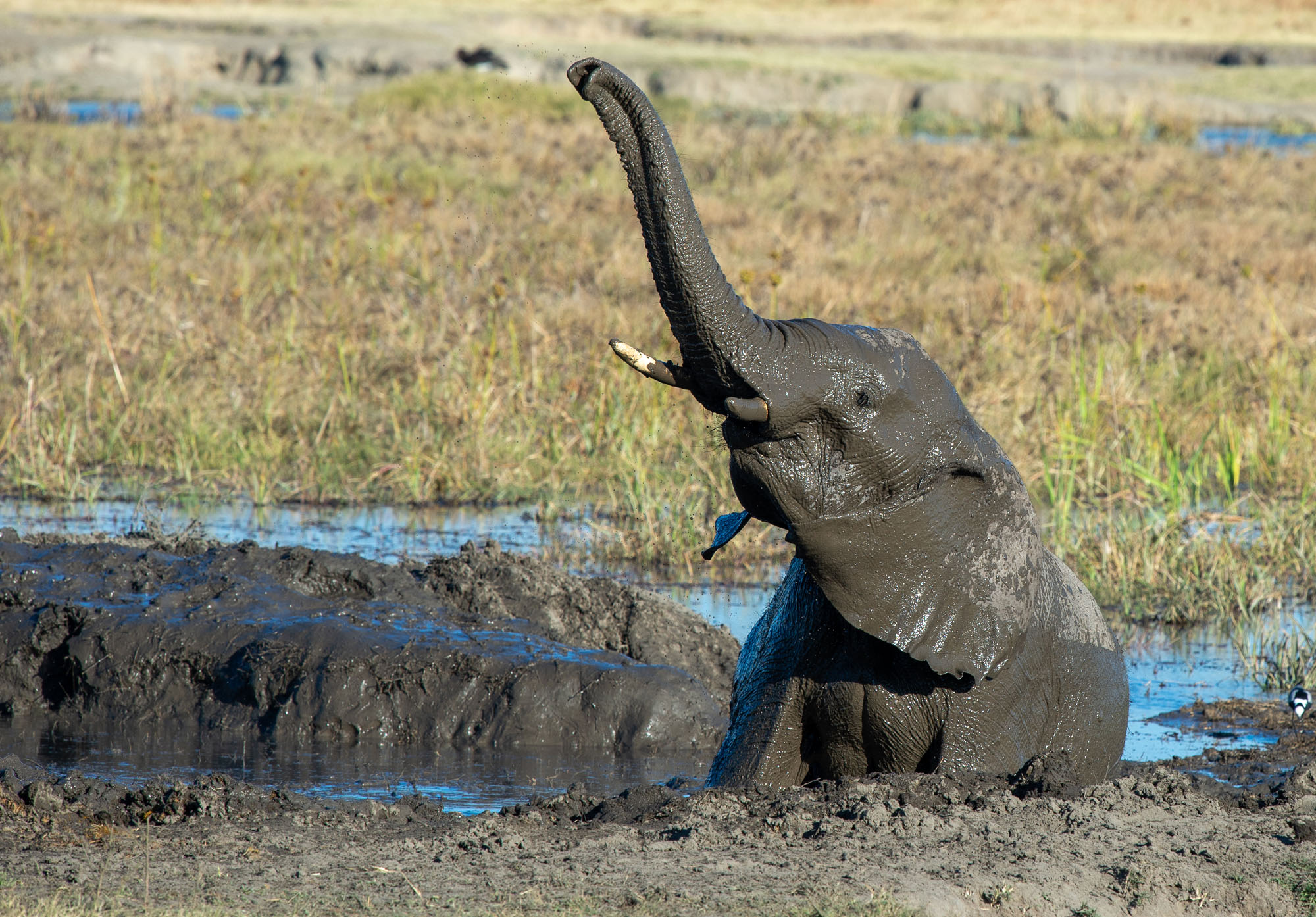 As we drove past a series of pans along the way, the typical massive sandy colored Kalahari dune landscape became apparent, steeper on the windward and with less of a gradient on the leeward side. Magnificent teak forests dominate the region, with extensive mopane forests and scrub on clay-heavy terrain covering the inter dune troughs.
The pretty campsite at Jozibanini overlooks a pan and a fringe of woodland, with a low sunken hide visible a few meters away from the edge of the water.  It is ideal for observing particularly elephants but also other species at extremely close range.  Spending time in the hide (which has its own small bathroom)  is one of the best activities available at the camp. Others include foot safaris, mountain bike safaris and game drives, the latter usually in the form of drives  to nearby waterholes.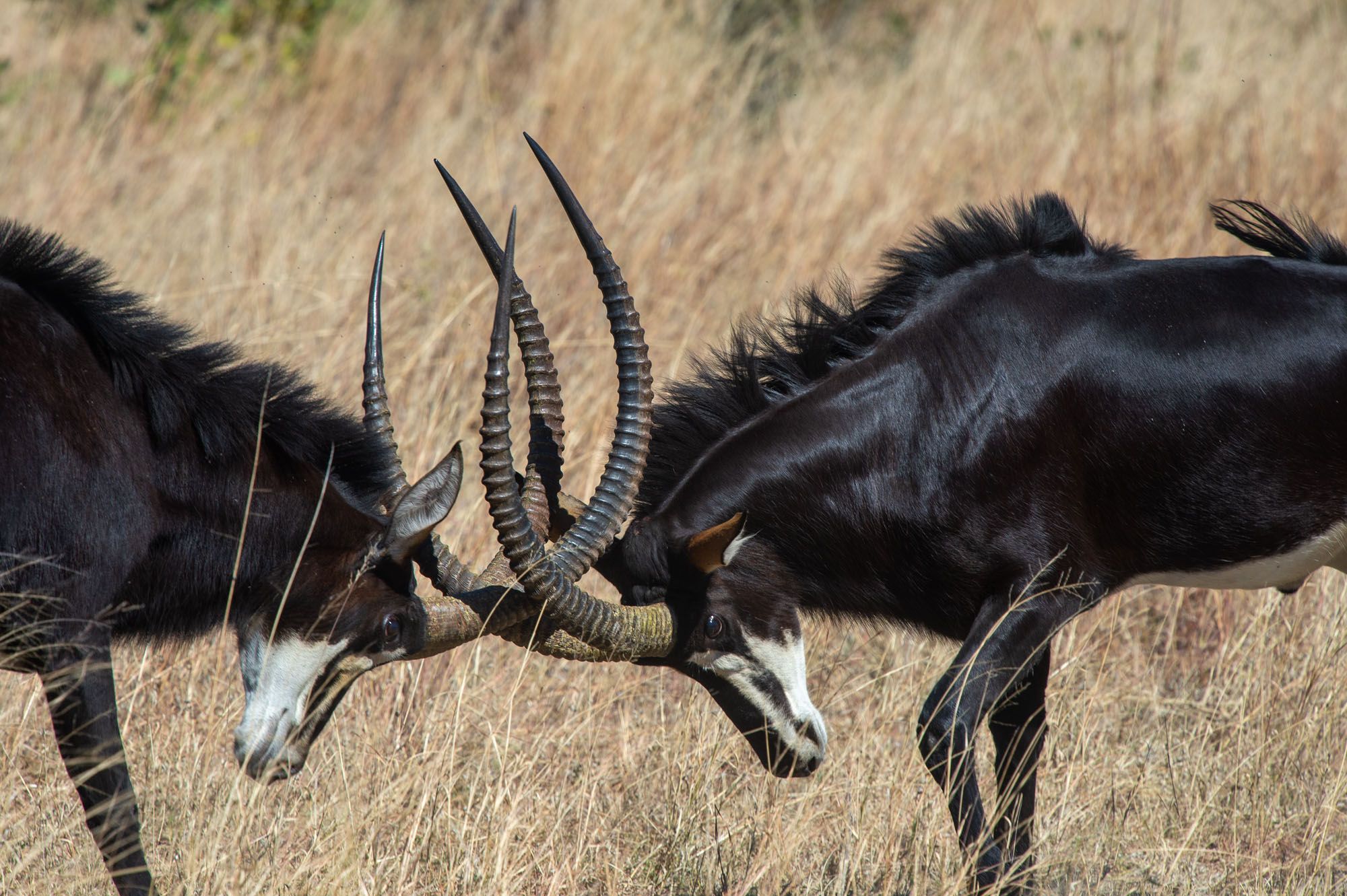 Over a couple of days in the area, we observed a large number of elephants, a good sized herd of 150+ buffalo, some zebras, wildebeest, kudu, and impala.  Remarkably, we had two different sightings of gemsbok (Oryx), rarely seen in Hwange, and no less than three honey badgers on the drive out. Spending two or three nights of Jozibanini is not just about watching elephants drink and cavort right in front of your eyes as you photograph them, but that is definitely one of the highlights here.  
Jozibanini is at the end of the road, literally on the edge of nowhere and driving or flying there means escaping the world of mass tourism altogether.  Not that Hwange is really overly busy in any real sense but here you enter an area where the wilderness in all its raw, natural beauty dominates totally. The teak forests here are among a handful in Zimbabwe that have never been commercially harvested.  And it shows.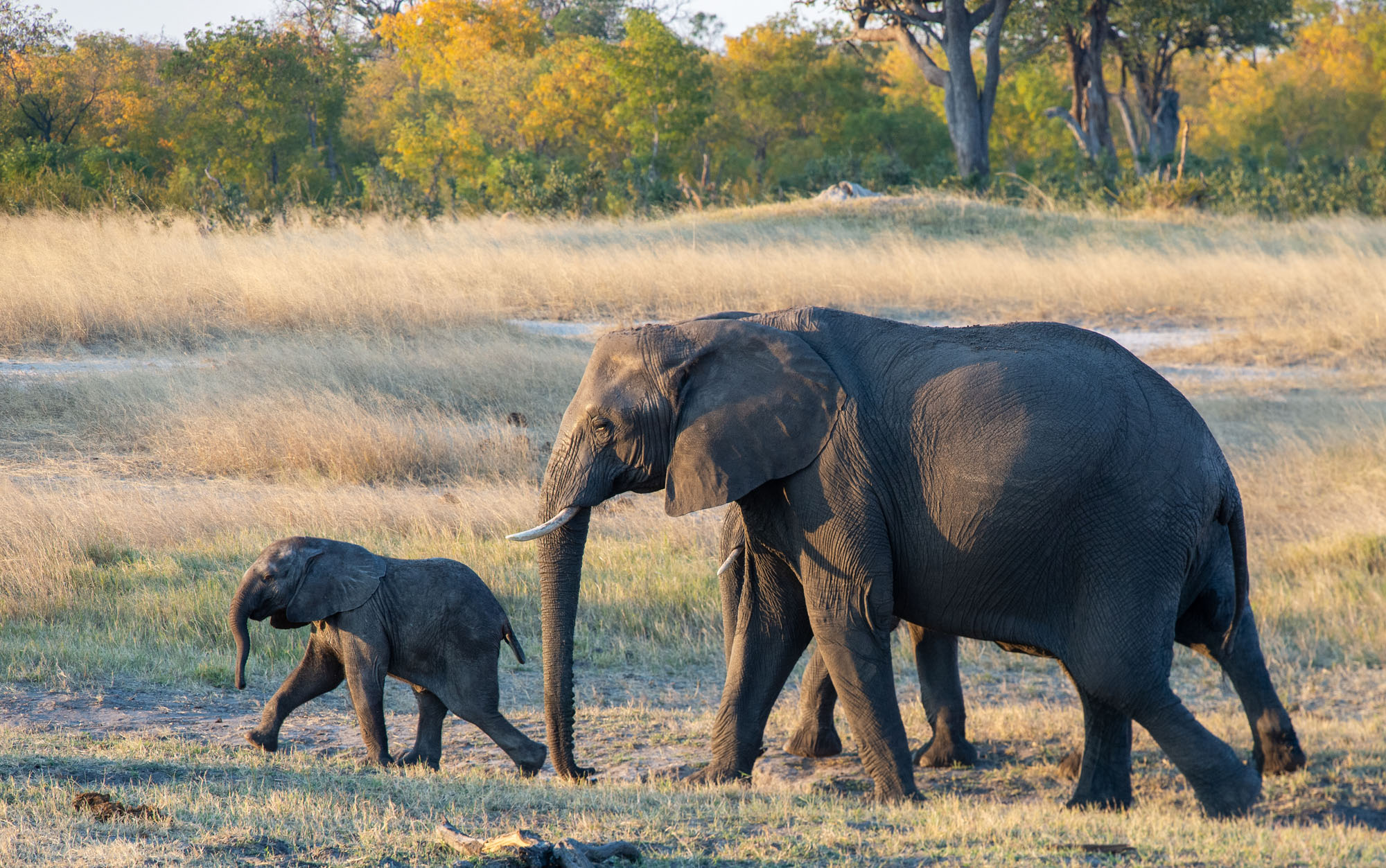 Driving into and through a series of them reopens one's mind to the recuperative and remedial effects of being exposed to a truly wild and natural environment. It is completely devoid of human presence for weeks and sometimes months at a time.
One morning we followed some lion tracks on foot having heard the cats vocalizing earlier, in a westerly direction. Following Imvelo MD Mark Butcher and tracker Ernest through the bush as they meticulously tracked the animals, was again one of the highlights of my stay at Jozi. No we did not find the lions but clearly it was almost beside the point. Knowing that they were around, and actively tracking them in this terrain and setting were really all that mattered. We did  get close to a breeding heard of elephant in a safe and controlled manner – with Butch demonstrating and successfully executing a perfect foot safari experience. The object being to approach and observe the animals without them ever being fully aware of your presence, and thus becoming agitated or alert. The elephants in the remote wilderness are wary, not being habituated to the sounds of vehicles or the sight of humans on foot. Consequently, it is even more exhilarating getting relatively close to them.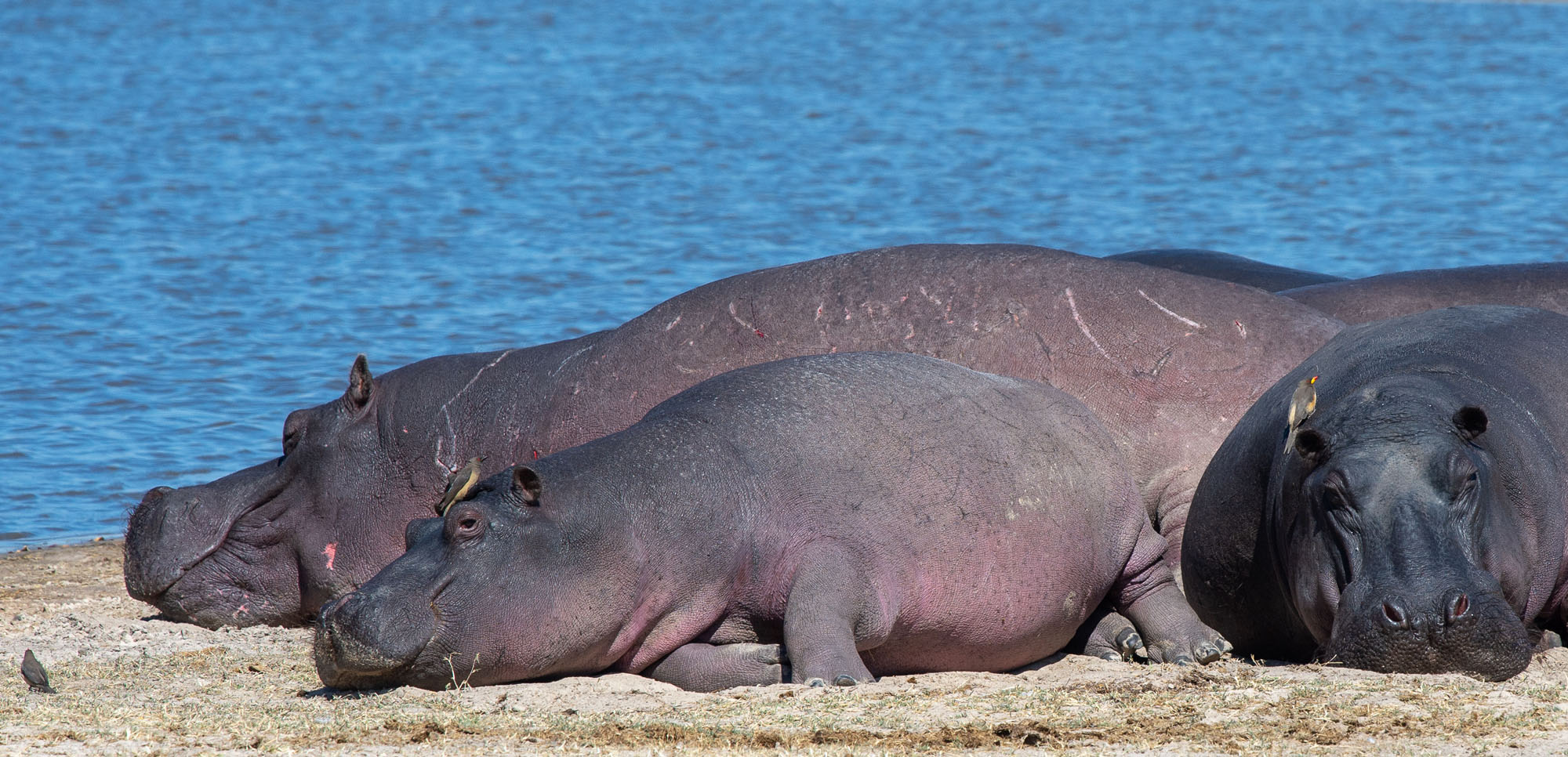 LITTLE MAKALOLO CAMP
From Jozi we drove to the southern region of Hwange where a collection of perhaps 10 or so safari camps and lodges attract a modest but growing number of wildlife enthusiasts and birders to the area. The most popular time to visit being the dry season from June through October when viewing is good and game activity picks up noticeably around the pumped water holes, most of the natural pans being dry by then.
My destination this morning was Little Makalolo Camp, a small six-roomed property located in a large concession covering some of southern Hwange's most coveted and most productive wildlife areas.
The camp itself and the rooms are just right, in my personal scale of things.  Small – just five rooms – with a high degree of personal attention from the super friendly and helpful staff. The quality of the guiding was exemplary and the location is excellent. Halfway between two of the best game viewing areas in Hwange being Ngweshla and Ngamo pan.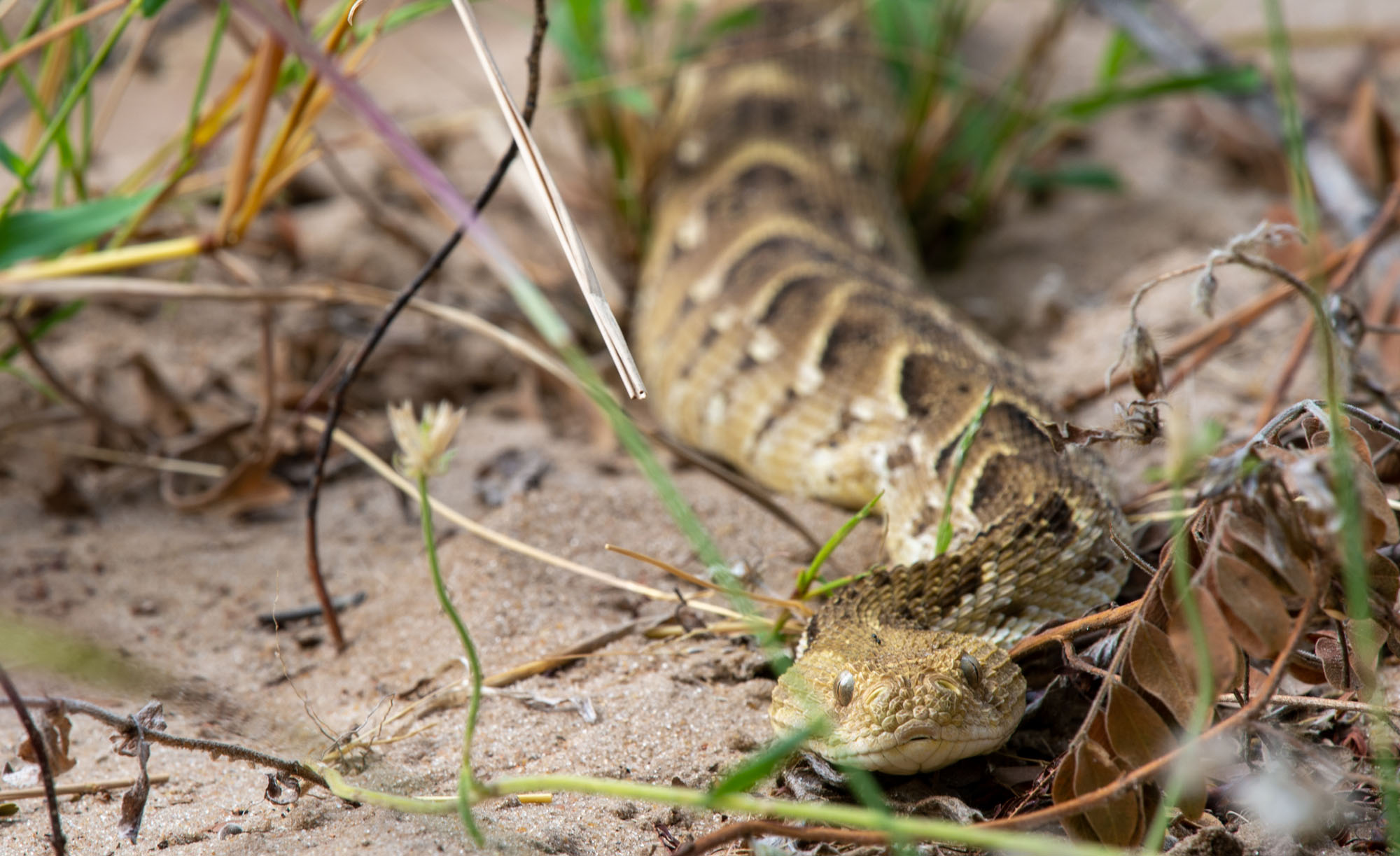 Unlike some of the areas in the northern part of Hwange where the game viewing in the low-demand season becomes challenging due to thick bush, Little Makakolo and its sister camps Davison's and Linkwasha are good year round. The reason being the presence of large open flats or pans resembling parts of East Africa which attract lots of grazers as soon as the rains come in November or December, sometimes later. These species such as wildebeest,  zebra and others keenly seek out the freshly emerging vegetation on the open pans. In the dry season the number of grazers declines but elephants, buffalo and other mammals are attracted in much bigger numbers to the pumped water holes.
Over the course of three game drives at Little Makalolo I enjoyed some of the best game viewing of the entire trip with two of the drives on par with the best of my northern Botswana experiences.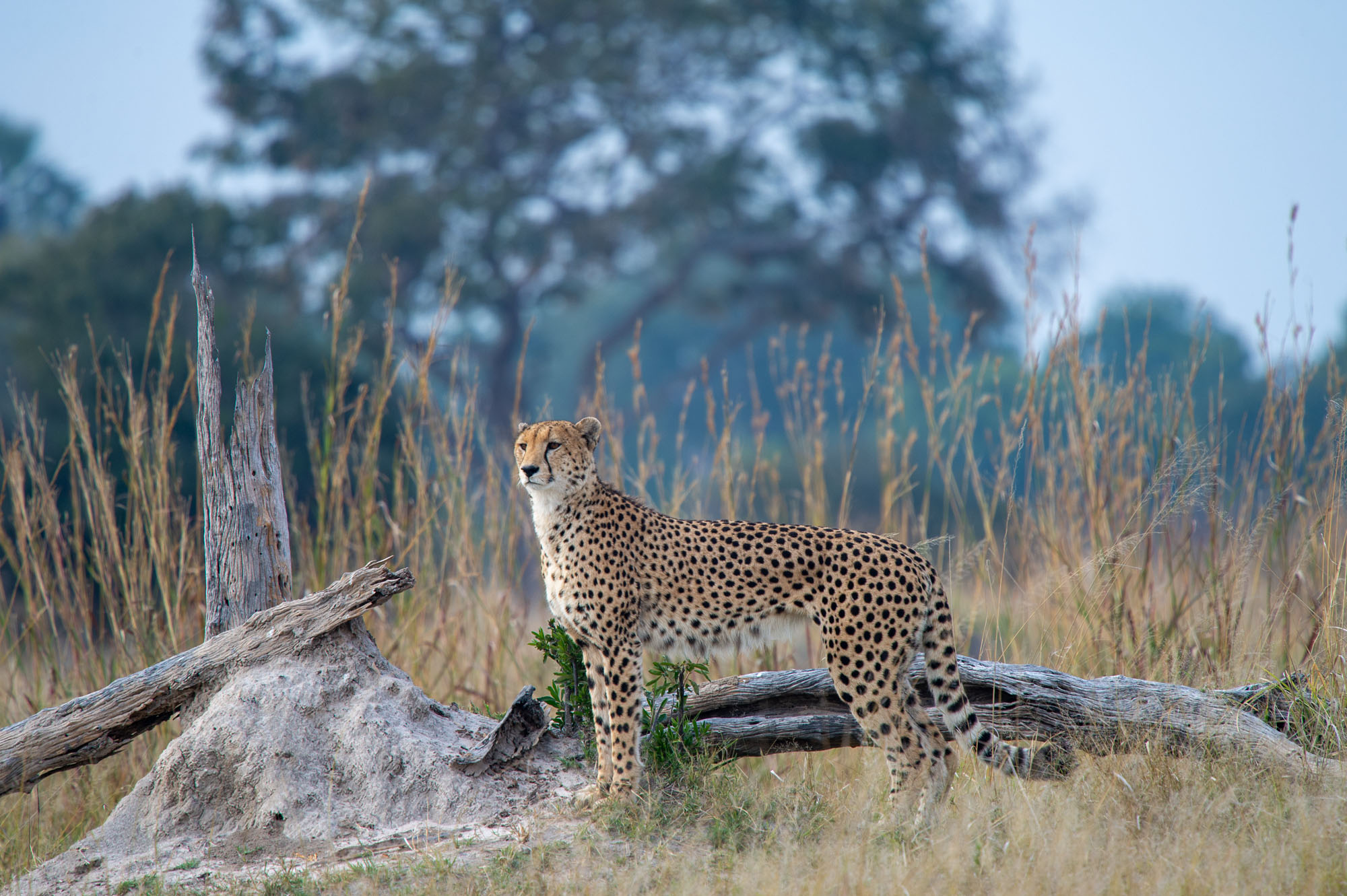 We witnessed two cheetahs attempting to take down a young waterbuck (unsuccessfully) and we were in close proximity to a pride of lions actively hunting for buffalo within sight of the camp.  It is not surprising that at Little Makalolo a guide with a gun in hand, escorts guests back to their tents at night.   We had some of our best views of the trip of elephants walking along the grassy expanse of Ngamo Pan, going to or coming back from water.  In the golden later afternoon light they were beautifully lit – every photographer's dream subject.  Likewise, spending time at the Logpile hide close to Little Mak, was a highlight.  No driving around bumpy roads required.  Just sitting and waiting, with herd after herd of elephant appearing from the treeline and making straight for the water's edge.  Watching them initially just slake their thirst, and then start to relax and become playful, squirting water around, with the young bulls jousting and testing their strength.  There are few things quite as peaceful and relaxing to observe wildlife interaction and behavior in a setting like this.  Africa at its best.  
YOU MIGHT ALSO BE INTERESTED IN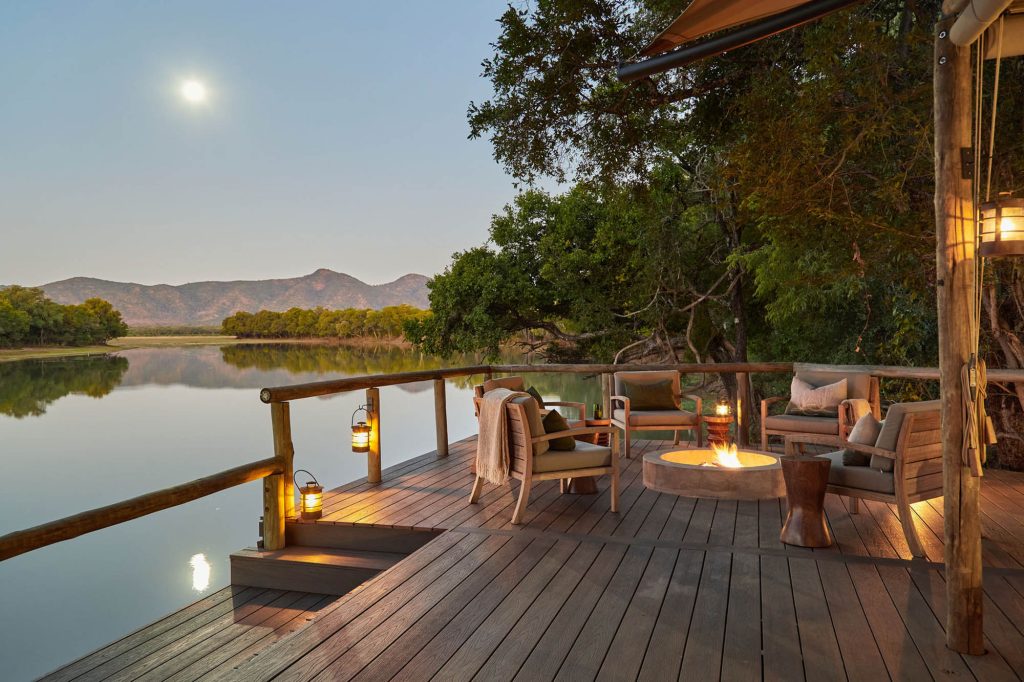 10th Sep 2021
Chindeni and the Bushcamp Company, Zambia
By late July we found ourselves at Chindeni, a small Bushcamp Company property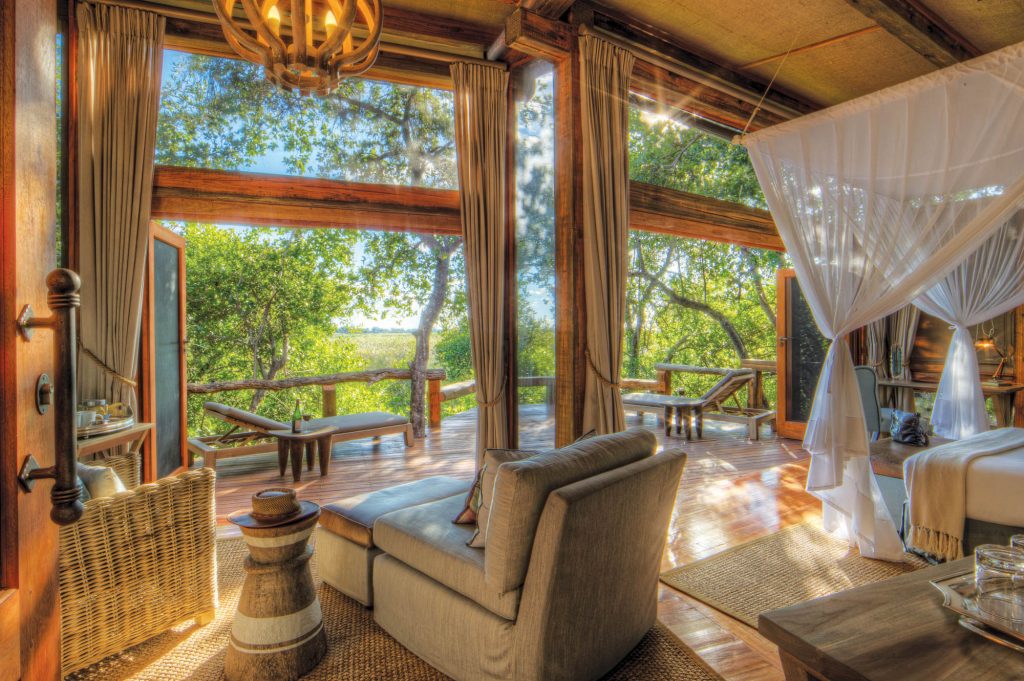 3rd Oct 2022
Camp Okavango, Botswana
Camp Okavango is in the heart of the permanent part of the Delta. In this idyllic setting there are no vehicles, and it is just a short walk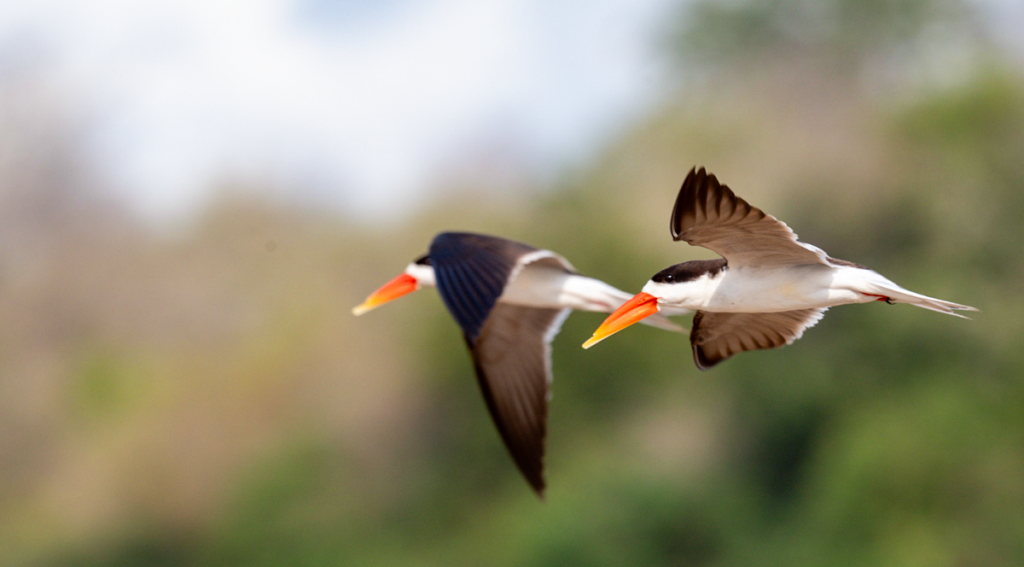 14th Oct 2023
From My Safari Notebook: Wildlife Photography
Birds in flight and wildlife photographers have an uneasy relationship. Things go wrong as often as they go right. Getting focus-lock on a moving subject
SUBSCRIBE TO OUR NEWSLETTER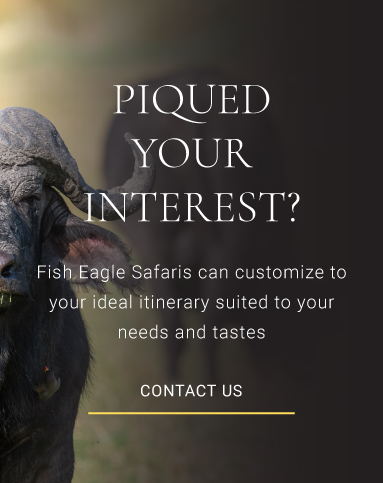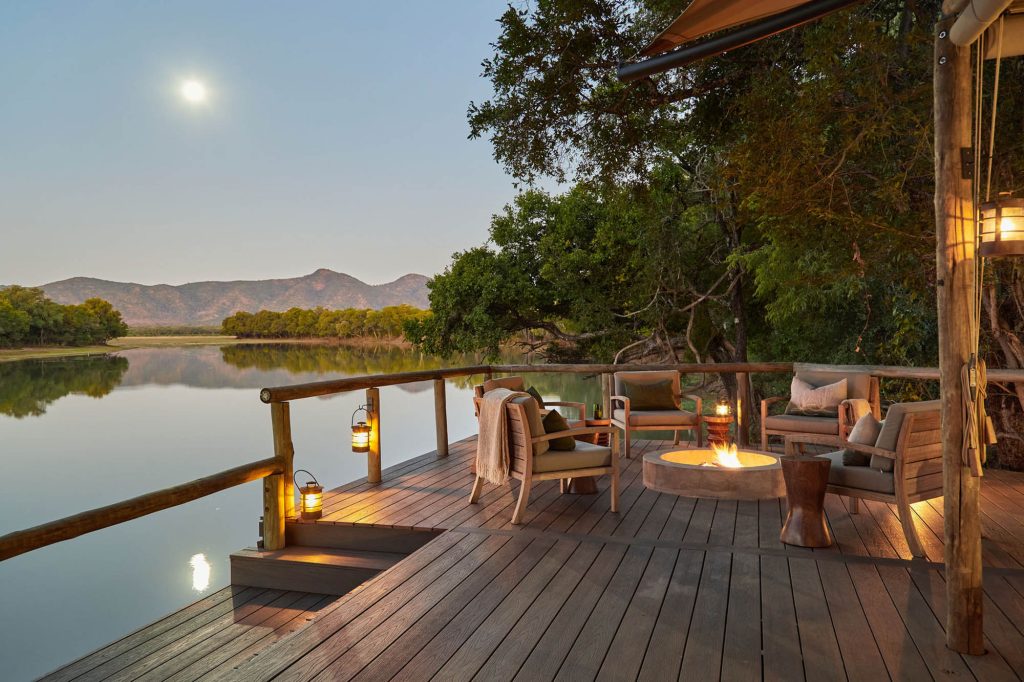 10th Sep 2021
Chindeni and the Bushcamp Company, Zambia
By late July we found ourselves at Chindeni, a small Bushcamp Company property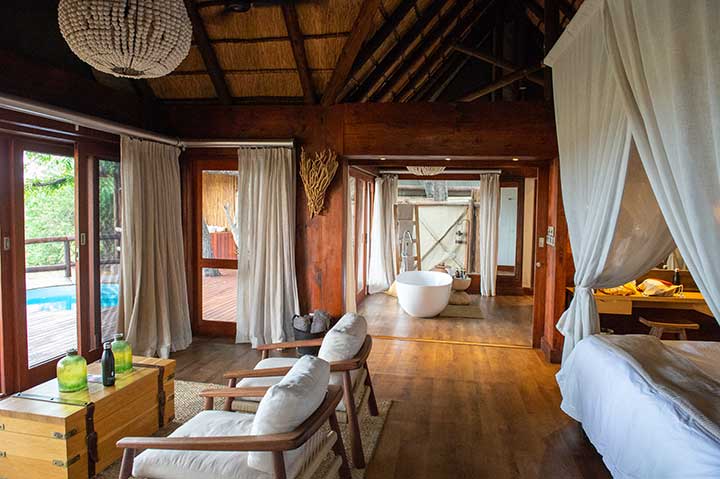 4th Aug 2022
On Safari At Belmond Eagle Island Lodge, Okavango Delta
What is the 'secret sauce' for an unforgettable few days on safari in Botswana? It starts with the animals, of course. The elephants, lions, giraffes, hippos