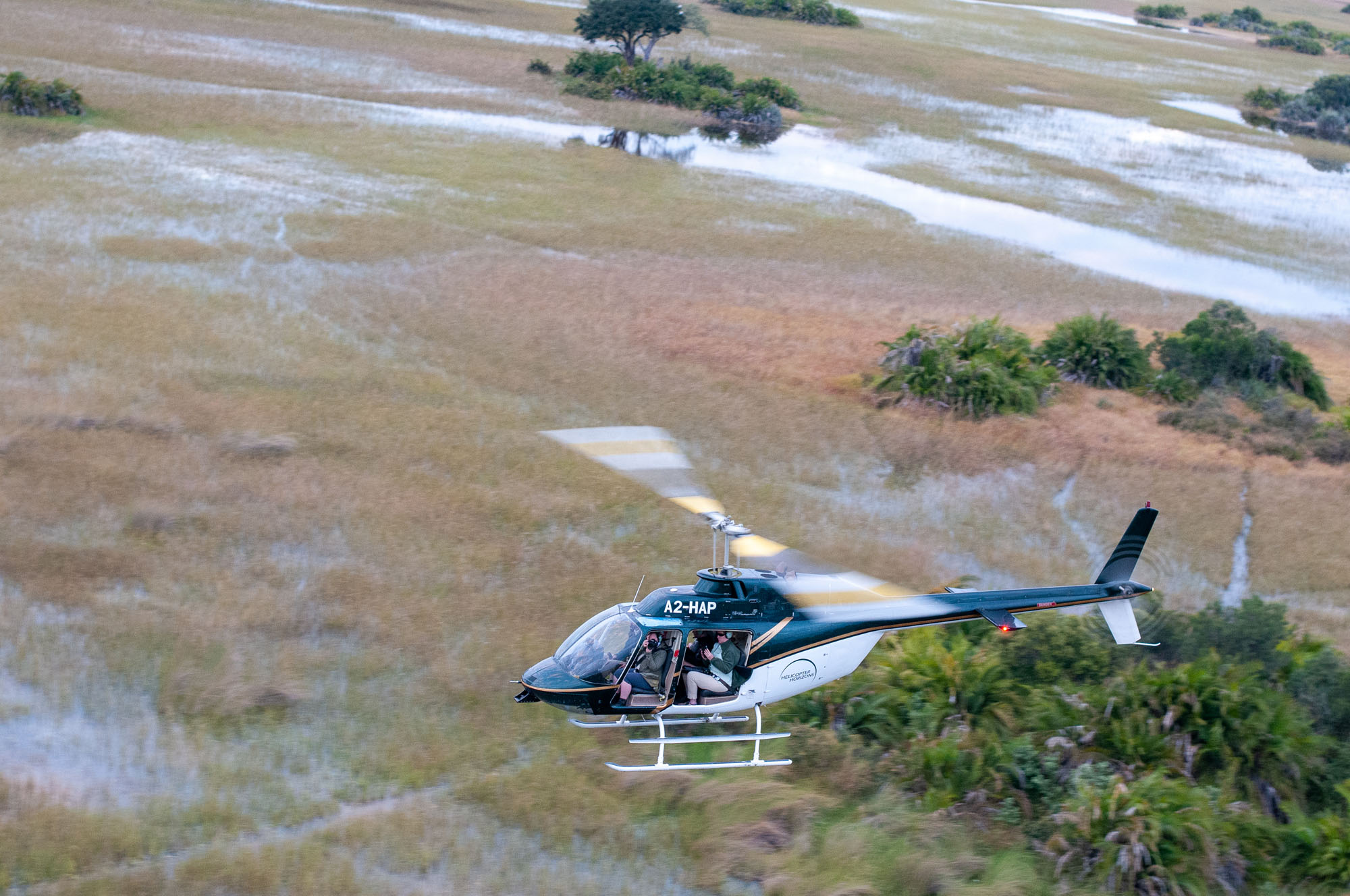 A Visit to Northern Botswana
Abu's elephants, meerkat moving day & brown hyenas at Jack's Camp
LITTLE VUMBURA AND ABU CAMP
On a recent May trip to Northern Botswana, I revisited a couple of spectacular tented camps in the northern part of the Okavango Delta, interacted with the Abu Camp elephant herd - joining them in the water for a mokoro trip - flew by helicopter to Mombo for a rhino darting and tagging experience, finally made it to the enigmatic Jack's Camp in the Kalahari, observed baby meerkats being moved from one den to another, and had my best ever outing with a small San family, at Meno A Kwena Camp.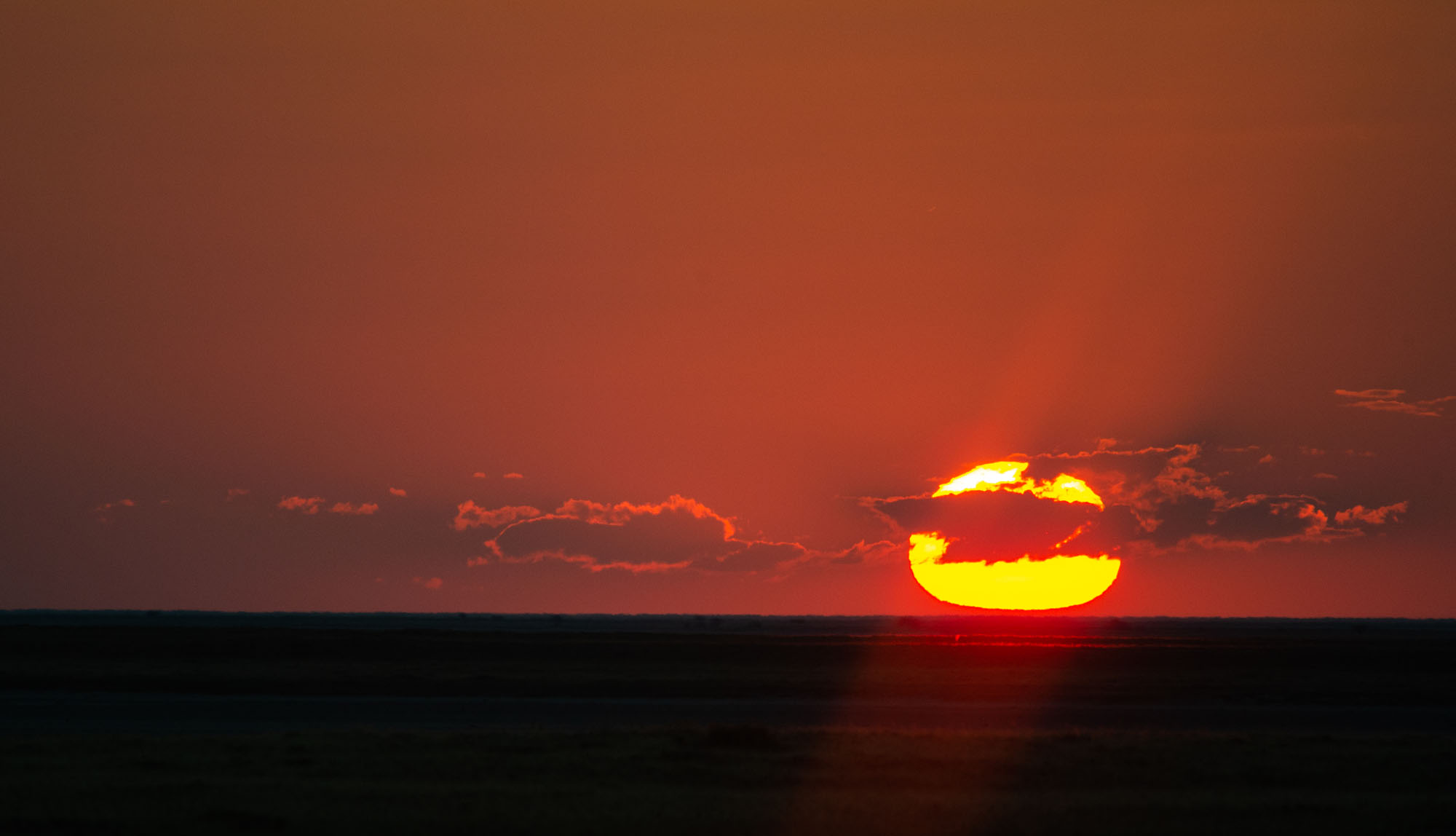 But first, I ran into the 'Maun Madness' phenomenon. This is what happens when three international flights from Johannesburg and Cape Town - operated by SA Airlink and Air Botswana - arrive in Maun at about the same time and the disembarking passengers swamp the tiny immigration and customs facility.  Essentially, it was a mess.  We arrived at 1:30 p.m. and it wasn't until 3:00 p.m. that we were through immigration and ready to fly to our first camp - Abu.  On the way to Abu we made a stop at  Little Vumbura Camp in the northern part of the Okavango Delta, for a site inspection.  It took about twenty minutes or so for the drive to the camp, the final approach being by boat - the only way to get into and out of the property.  Since my previous visit, the rooms had been enlarged, which was a significant improvement. Little Vumbura is one of Wilderness Safaris' most popular 'mixed activity' Okavango Delta camps, and it is easy to see why.  It's beautiful, romantic and epitomizes the singular appeal of luxury tented camping in Northern Botswana.  The sandy walkway which connects the main lounge and the various rooms, retains a sense of immediacy and intimacy, guests remaining more connected to the forest environment than in a camp with a boardwalk.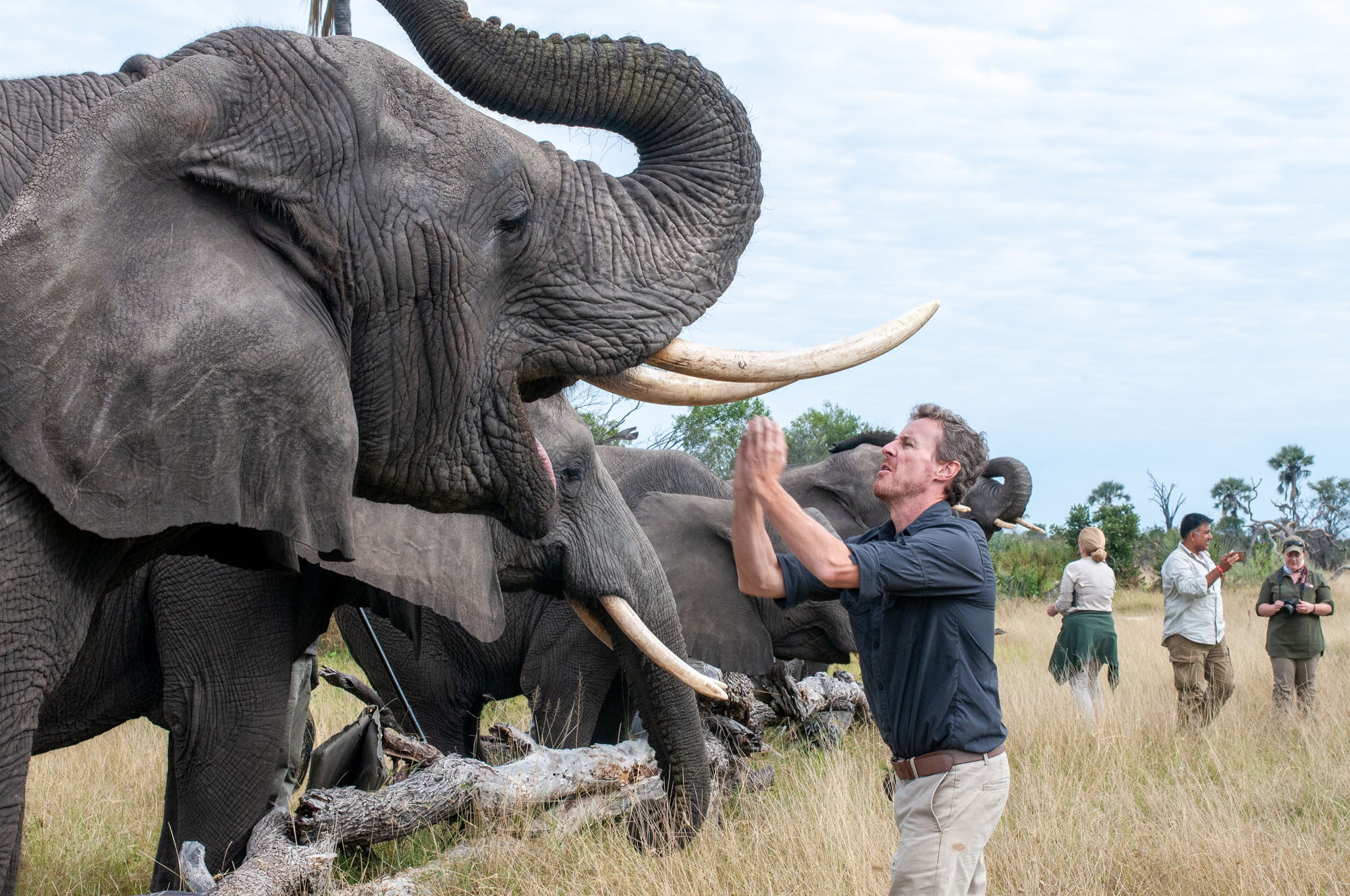 Not too long afterwards, we were enjoying a splendid plated dinner at Abu Camp, which I had visited three years previously. There were no obvious changes:  the rooms were still large,  luxurious and well equipped.  I relished the opportunity to spend some time in the gym - not a common facility in safari camps in N. Botswana.  The following morning we were re-introduced to the Abu elephant herd.  Naledi - which had been a slightly rambunctious youngster when we were at Abu last - had now grown into an assertive juvenile and even the elephant handlers were wary around her.  Our group split into two with some of us going for a walk with the elephants, and the others doing a game drive.   We then switched, walking at quite a pace with the matriarch Kathy following behind.   The activity ended with all of us feeding the elephants their favorite snack food - dry pellets - which they consumed by the handful, and clearly very happy to do so!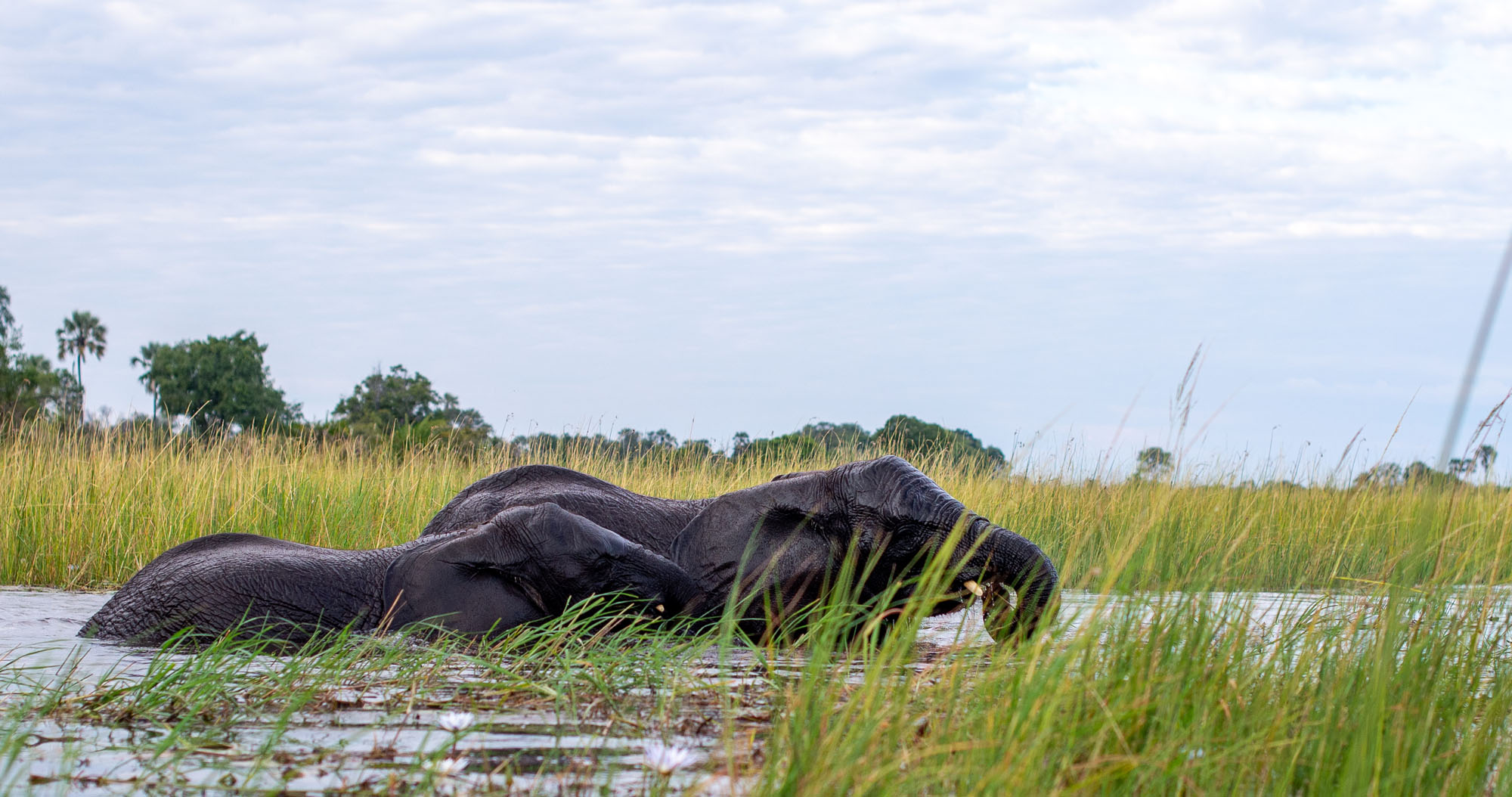 Were back in camp around 11:30 a.m. for lunch and in the afternoon enjoyed a talk by Map Ives from Botswana Rhino Conservation about the challenges facing both White and Black rhino in Southern Africa.  If conservation efforts fail to curtail the current rate at which these animals are being decimated, they could all be extinct in the wild as early as 2024. A rather depressing scenario.  In the afternoon, we enjoyed a typical Okavango Delta activity - boating along a channel in a beautiful, serene environment.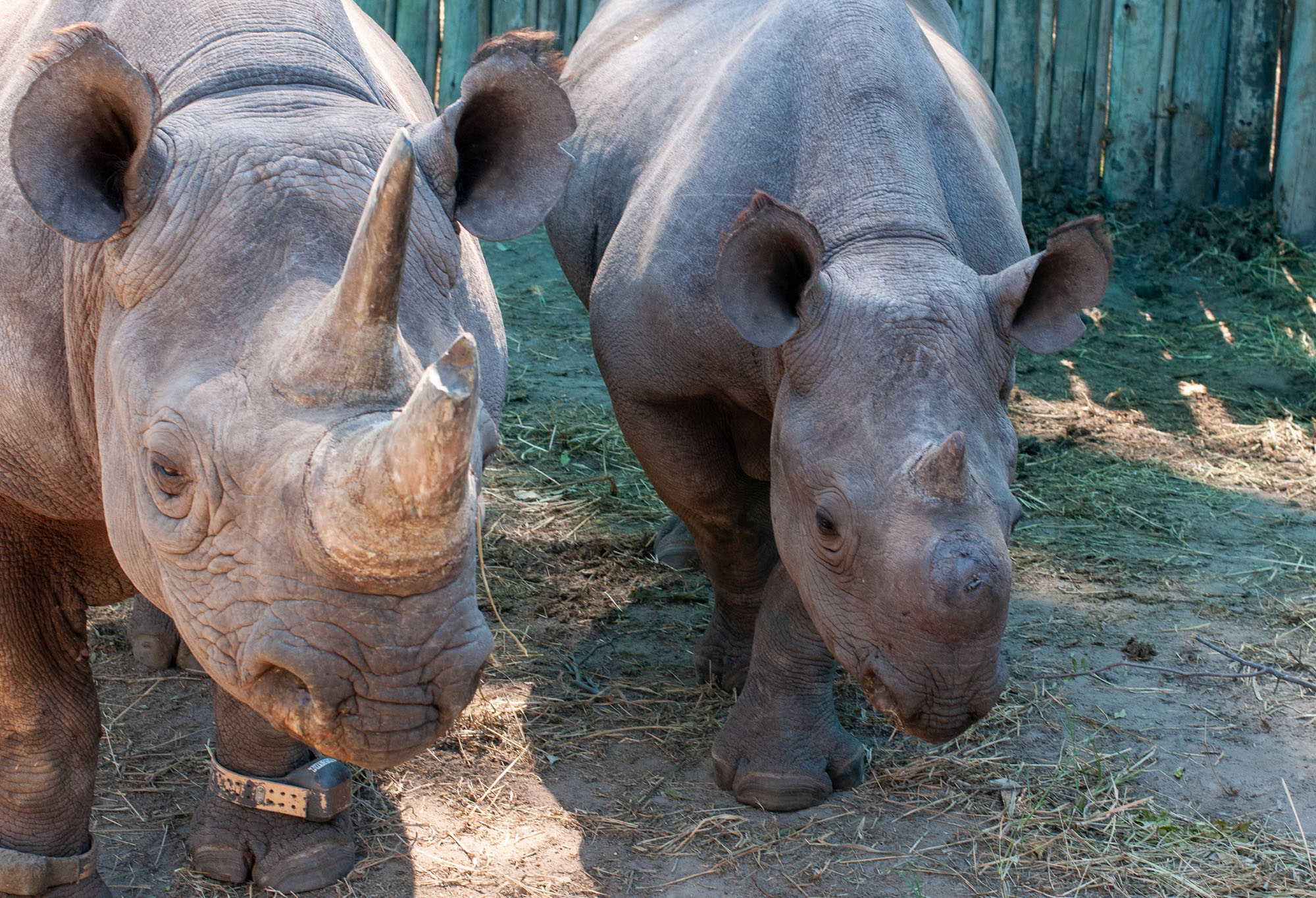 MOMBO CAMP AND RHINO DARTING
This day turned out to be one of my best days ever in Africa. It included two scenic helicopter flights from Abu to Mombo, one in the morning and another one in the afternoon, both totally exhilarating and as exciting as anything I've experienced in my life. In the morning there was more cloud cover resulting in the light not being as good in the afternoon, when the natural color showed up much more effectively.   At Mombo, we observed and participated in a rhino darting experience from start to finish.
In what turned out to be a textbook operation, the team members consisting of Rhino Conservation Botswana and Wilderness Safaris with operational support provided by a local veterinarian and three pilots from Helicopter Horizons fully concluded and completed the operation in just over two hours, with the darted rhino being immobilized for less than 40 minutes. Once the animal was down and stabilized, the veterinarian and her assistants kept it cool and monitored its vital statistics while a security-related procedure was completed.  Less than a minute after being injected with an antidote, the rhino stood up, looked around for a few seconds and then slowly and calmly walked into the bush. Clearly not suffering from any major side effects, it started to browse on some shrubs, almost immediately.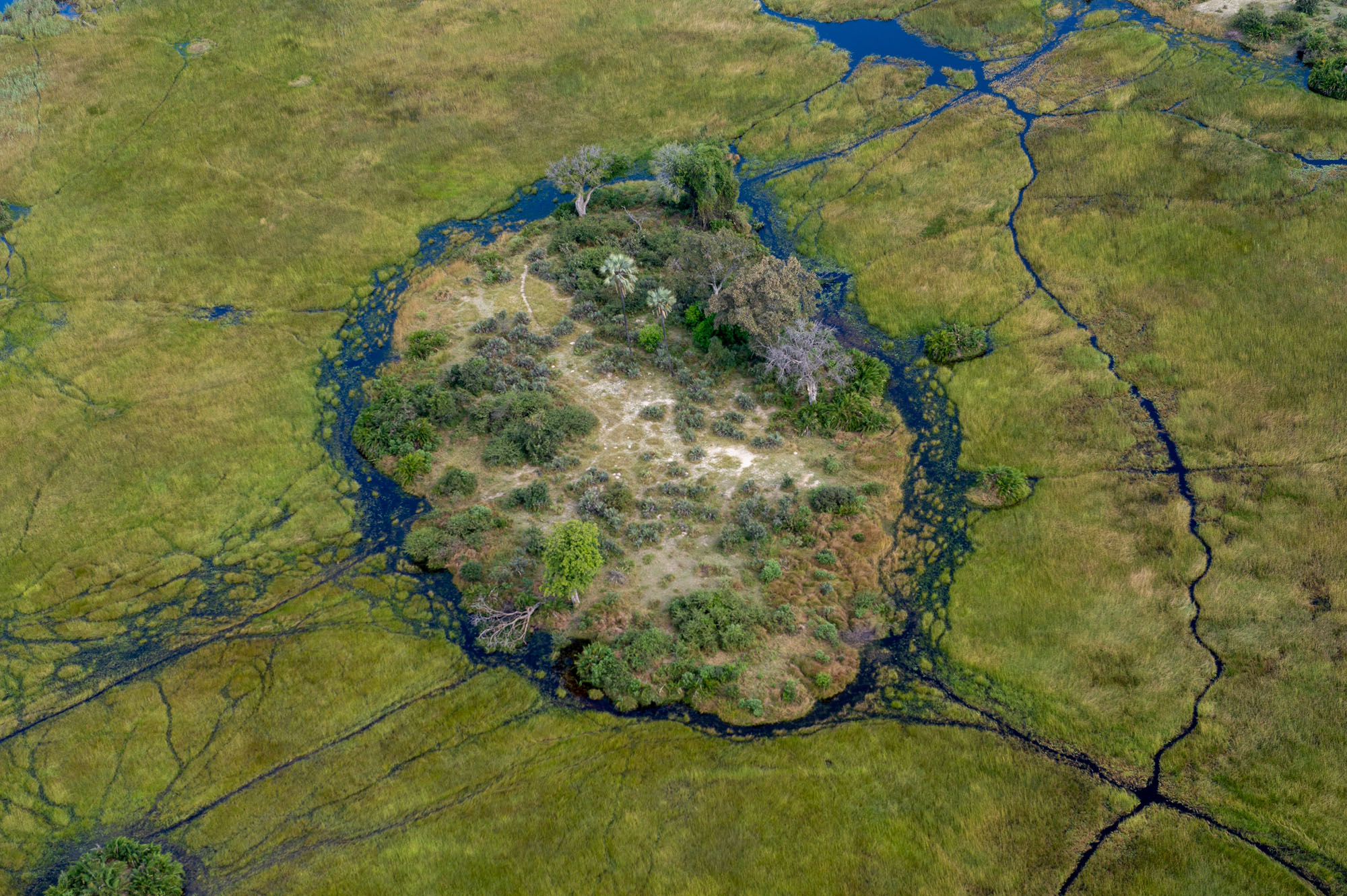 In addition to the expense of translocating rhinos from one country to another which costs about $80,000 per animal,  a single darting and tagging operation costs as much as $15,000. Much of this goes towards helicopter and vehicle expenses, as well as for manpower and related costs.
While organizations such as Botswana Rhino Conservation have good support in the way of manpower and physical assistance they are in dire need of money to pay for professional services, fuel and specialized equipment.  Visitors to Northern Botswana are encouraged to contribute to this vital undertaking, either directly at the BRC site Donate to Rhino Conservation or by supporting one or more of the BRC partners in the area.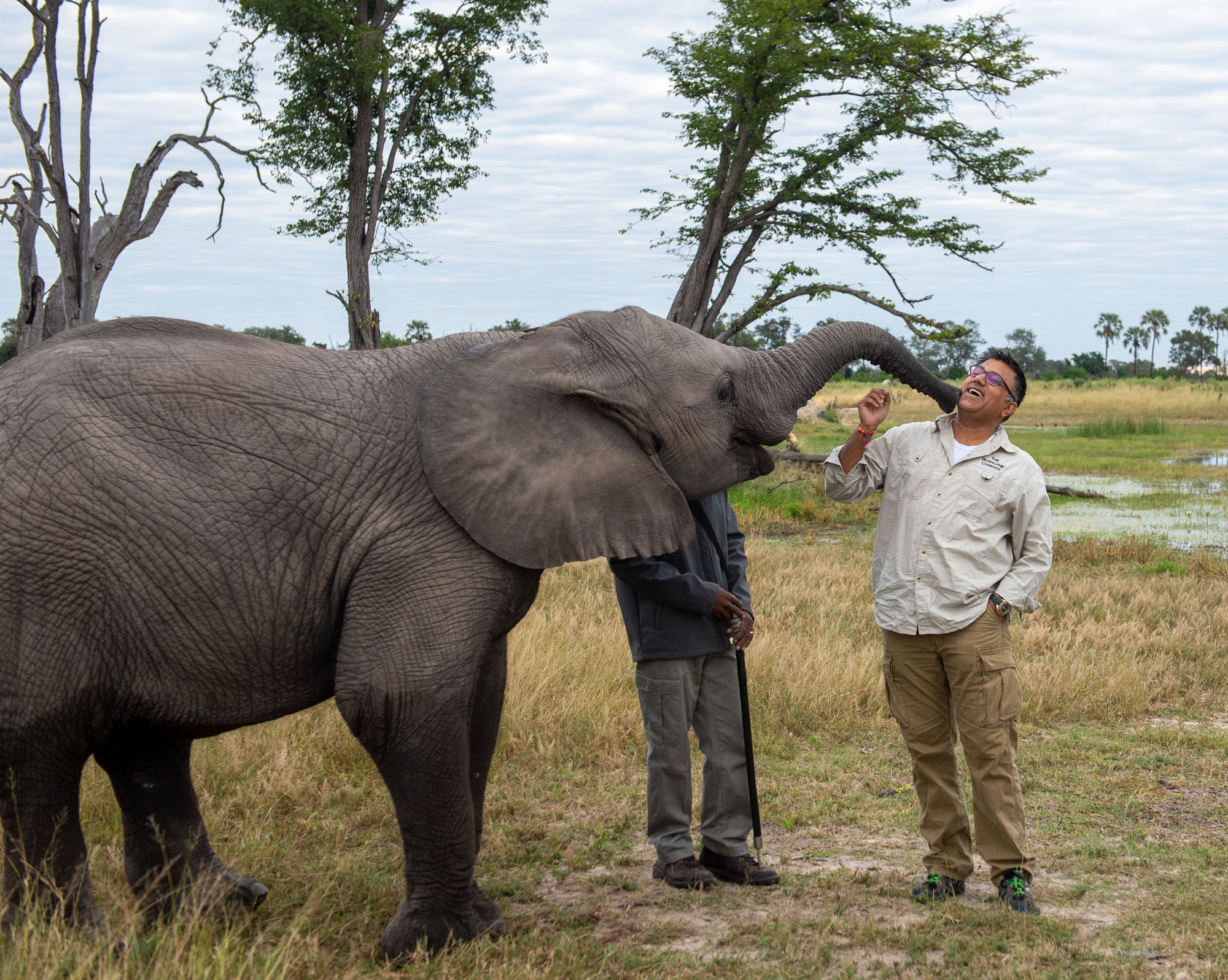 The following morning, I was up early to go on a mokoro outing along with the elephants.  Getting out on the sparkling clean water of the Delta is always a great experience and being able to do so alongside the Abu herd is even better.  In fact, it turned out to be one of my best outings yet at Abu Camp:  very intimate and close-up with the ellies, observing them walking through the water splashing and playing and enjoying the area.  A couple of the younger ones were occasionally just about totally submerged, diving and jostling with each other, while Kathy was lumbering through the water just a few meters away to my right. Later in the morning I flew back to Maun and then connected with Major Blue Air to Jack's Camp in the Makgadikadi Pans.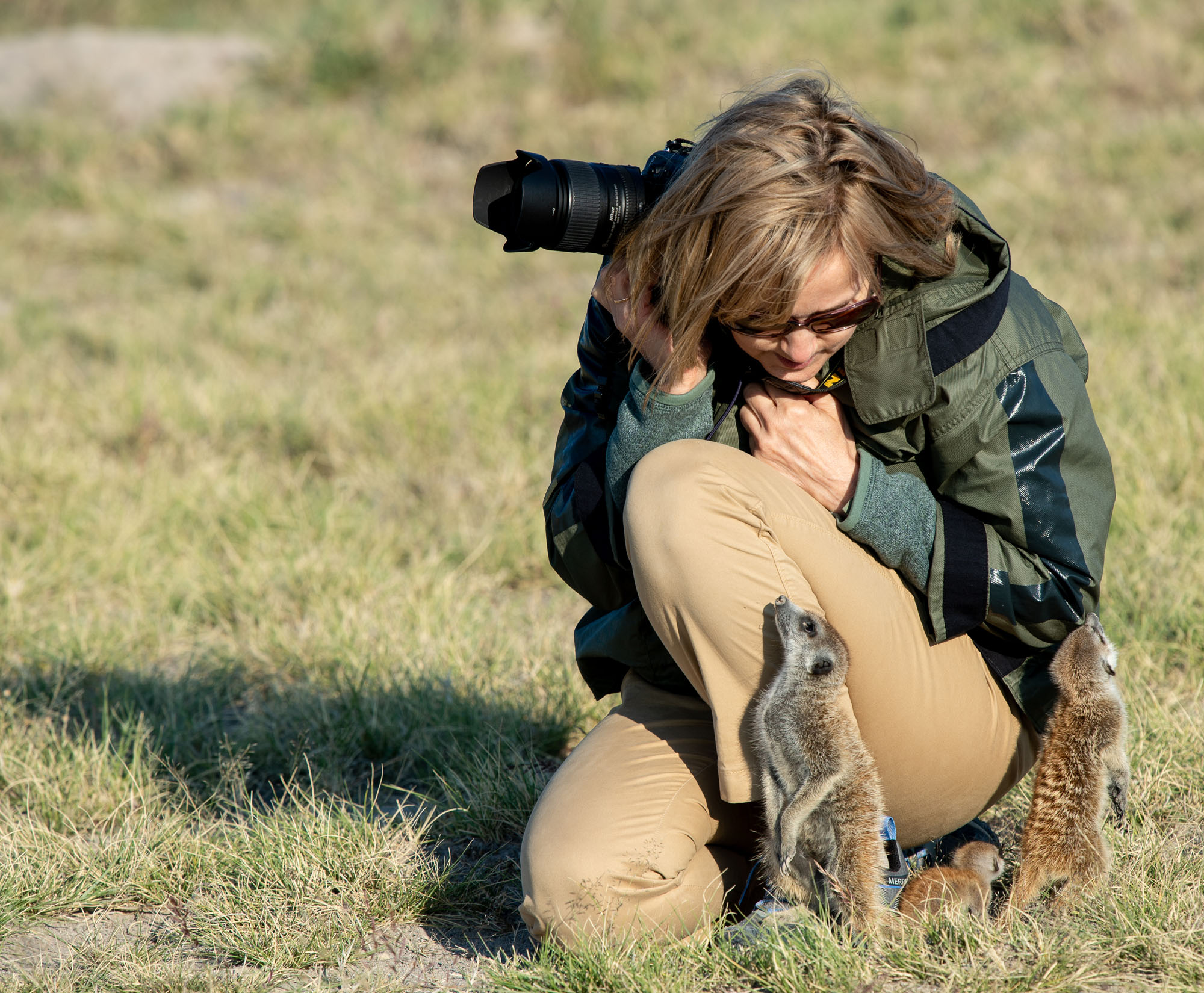 JACK'S CAMP, KALAHARI
Never having made it to Jack's Camp until this trip, I was super amped to finally be there, to contextualize all those romantic photos I had seen over the years, and to substantiate all the fascinating stories and tales I had heard and read about.  It's always a bit risky to actually step into such a highly romanticized place:  how is it ever going to live up to the promises?  Can it be as good as advertised?   I need not have been concerned.  Nothing can prepare you for your first visit to Jack's Camp.  It starts with the location right on the edge of the massive Makgadikgadi Pan,  an archetypal desert outpost setting if there ever was one, complete with palm trees rustling in a warm breeze.   You don't have to suspend your disbelief - much - as you step into the 1940's, entering a romantic, long ago era.  The design, the rooms, the carpets, the Persian tea tent, the artifacts, they all work together to create a wonderful, one of a kind atmosphere.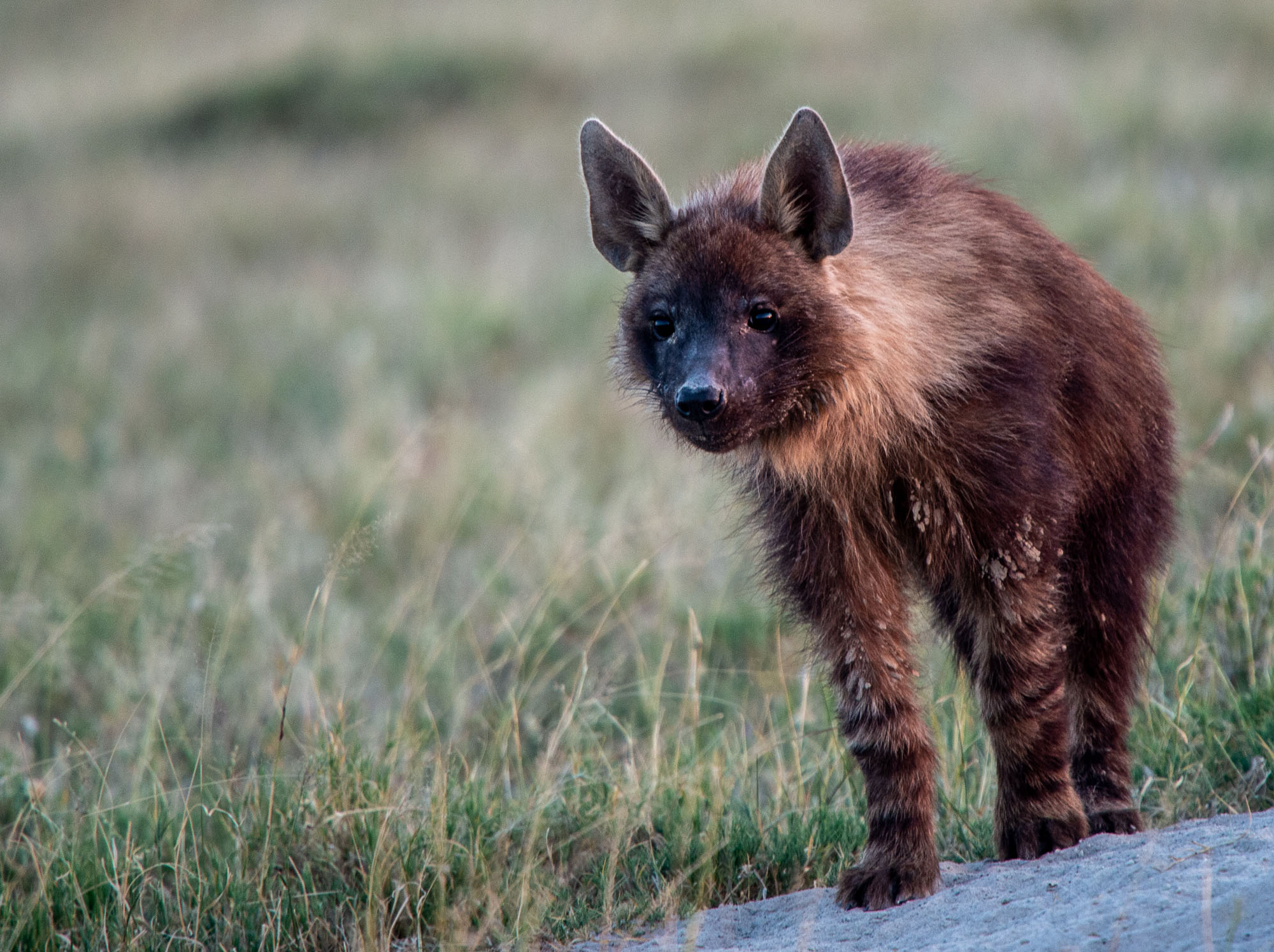 The simple but spacious tents, in my case a twin with two elevated beds, have teak furniture everywhere, with a wonderful Persian rug practically inviting you to take your shoes off and duck beneath the tasselled bed canopy for a well-deserved nap between activities. 
Jack's Camp is all about mounds of pillows, oriental rugs, brass lamps, and low tables inviting you to sit down, cross your legs and enjoy the genteel atmosphere of bygone days.  A Pimms No. 1 cup cocktail with some smoked salmon and delicate cucumber sandwiches?  Of course.
The camp is slated for an extensive rebuild, to re-open some time in 2021, with much larger rooms, wood-burning stoves for the cool evenings and morning, and an overhead bed cooling system for the summer months.  The ensuite bathrooms will have both indoor and outdoor showers and each veranda will have a private plunge pool.  There will be a new, larger mess tent, the natural history museum will be retained, and it will be rounded off with a library, antique pool table and a well-stocked drinks chest. The iconic nomadic Persian tea tent will be made larger, whilst the swimming pool pavilion will be reimagined with the addition of a sun deck. A dedicated spa tent will be added.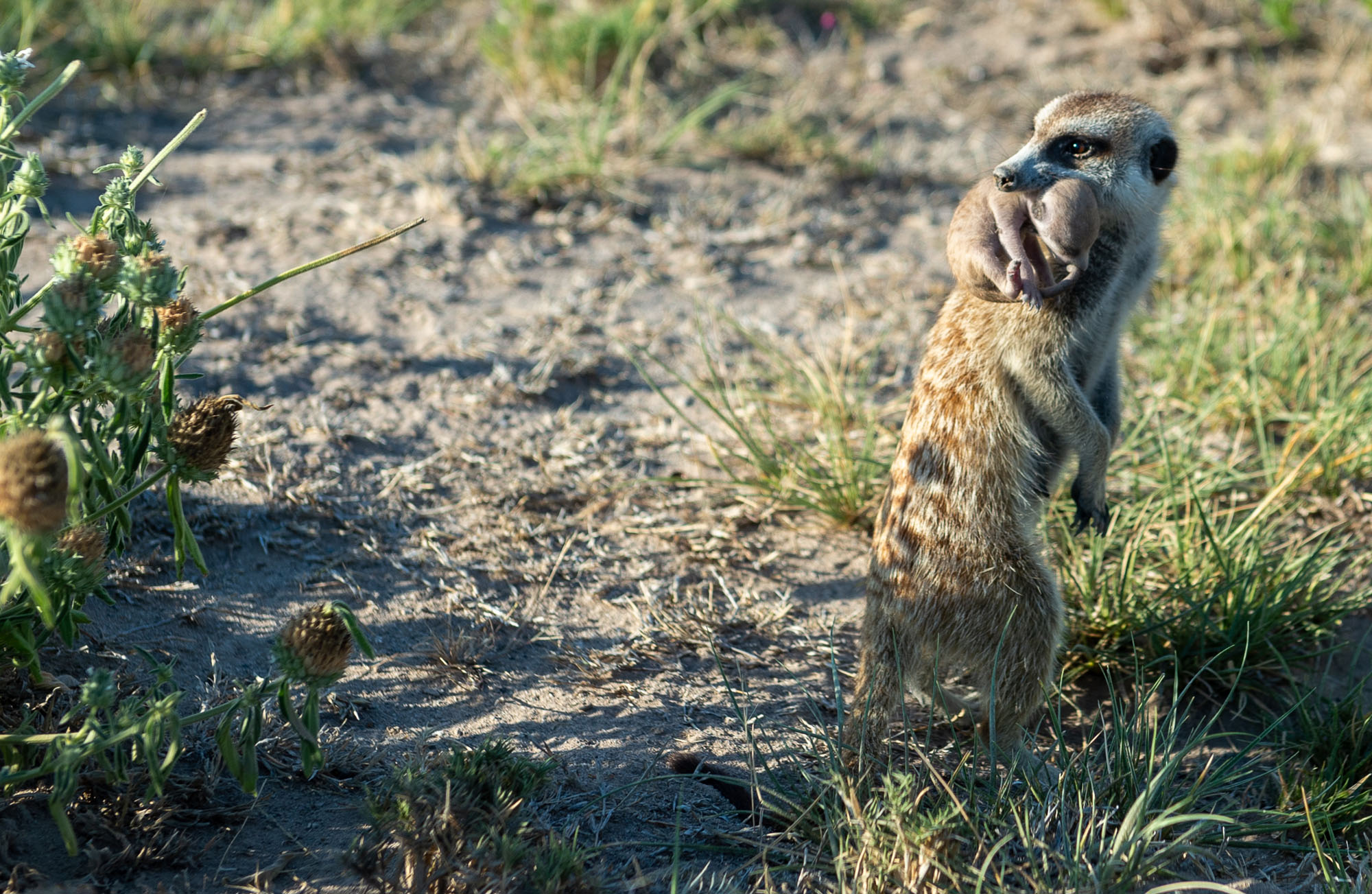 I can't say that I was thrilled by the rather dimly lit tent which I returned to after dinner. Over the years, some visitors to Jack's may have considered the storm lamps to be romantic, others - like me - might have been put off by the detectable smell of paraffin fumes.  Not that it bothered me that much, but I am a stickler for adequate lighting in any safari environment.  Poorly lit tent interiors pretty much guarantee a never-ending struggle with getting dressed and getting ready - almost always done when there isn't sufficient ambient light.  
Dinner at Jack's Camp was excellent.  The standard set menu (unless you had dietary requirements) was a superb curry dish with a tamarind infused sauce. The sides - which included roast potatoes - were just as good, as was the starter of butternut soup and the dessert, a rich lime tart.  I slept exceedingly well in the dry, cool desert night. 
The next morning was supposed to be all about the meerkats.   The planned activity was to spend time at one of Jack's Camp's habituated meerkat colonies.  As it turned out, we spent a bit too much time scouting around for lions which were present in the area, resulting in us getting to the meerkats just as they were leaving the den for the day,  dispersing into open scrub terrain where they spend much of their time, foraging for food. We were fortunate to get a few decent pics of the meerkat minders moving a few of the youngest babies from one chamber to another.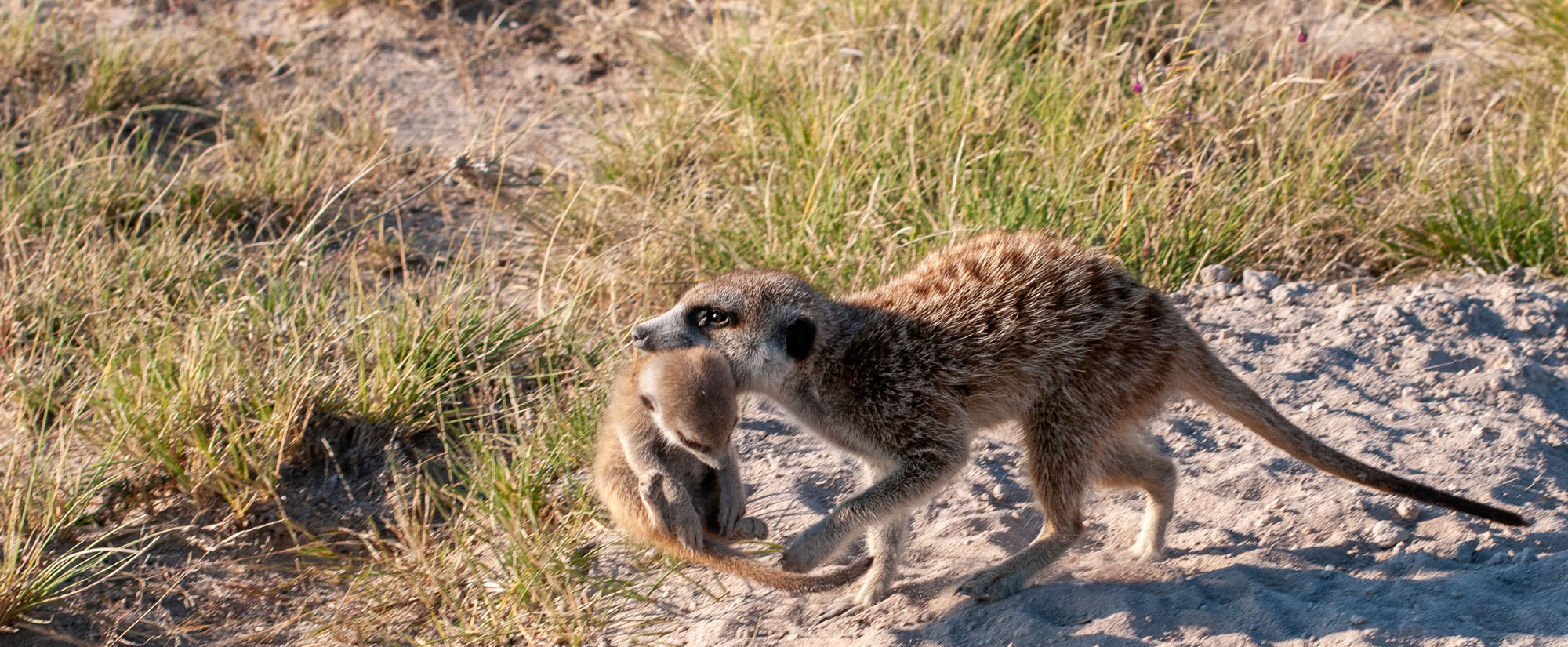 As it turned out, the fruitless morning search for the lions was not an issue as we would have another crack at the meerkats, the following day.  That afternoon, we went out looking for the  lions but came up empty-handed once more.  Even so, it was quite an adventurous outing.  Late that afternoon,  just before sunset, we observed several brown hyenas in decent light and relatively close up.  We spent a good amount of time observing these beautiful, rarely seen creatures, the young ones being quite dog-like in appearance.  Back in camp, yet another tasty dinner was enjoyed by all, this time a rather peppery, nicely tender lamb shank.
The following morning, we were up early for a second visit to the meerkat colony. This time around, there were no 'lion delays' en route, so we were in place to see the meerkats emerging from the den at about 7:25 a.m.  Soon, there were several meerkats out and about in good light, including three babies. One of the youngsters went out with the clan into the veld, while the others remained behind. A future leader in the making, no doubt.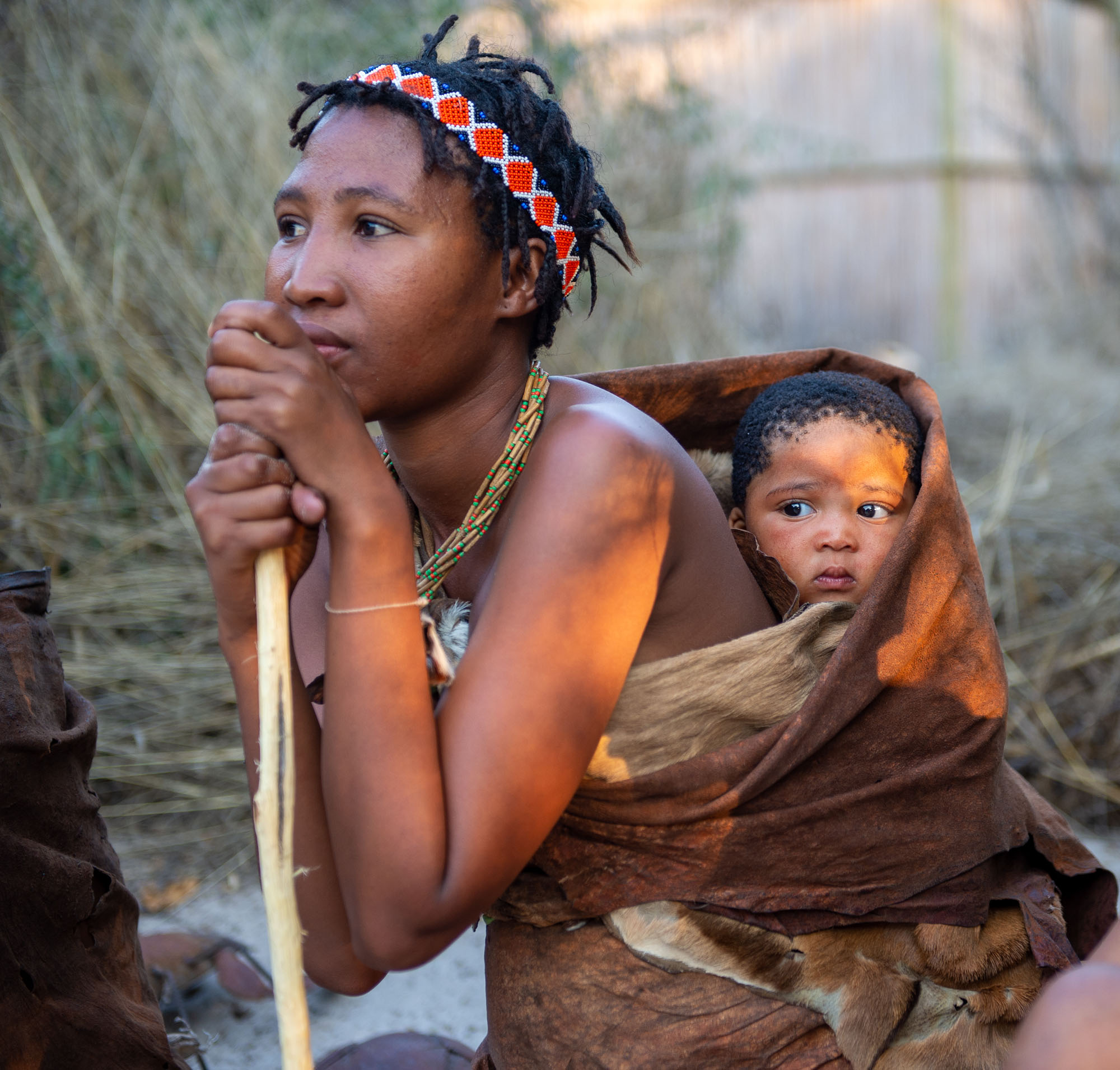 MENO A KWENA, KALAHARI
From Jack's Camp, we drove to the quirky Planet Baobab for a site inspection (great baobab forest!) and from there about two hours to Meno A Kwena camp on the banks of the Boteti River.  The Boteti forms the border of Makgadikgadi National Park.  The camp is built on a high bluff overlooking the river, providing an unusually good view in a country which is mostly just - flat.  
Later that afternoon I joined three other guests on a fascinating nature walk, with a small San family, hailing from a Botswana village on the country's far western border with Namibia. The group led us on a 90 minute outing along a nature trail. The outing was interesting on several levels:  observing and listening to the San family members talking to each other and singing, in their spectacularly difficult-sounding language which is full of clicks, pops and other sound effects. Just the sounds of the five vowels alone, are astonishing.
We enjoyed the friendly and engaging nature of all of the family members, with three of the young men being particularly animated and energetic.  We were very much cognizant of the fact that the lifestyle as embodied by this small group, exists only in a few and ever dwindling pockets in the remote desert areas of southern Africa. Their way of life and their very existence are on the line due to these gentle, harmless people being pushed out of their traditional areas and being marginalized in the process.
We observed - and participated to the degree that we were comfortable with - in an impromptu game, accompanied by much hilarity.  The group leader then showed us how to make a fire from scratch in about two minutes.  Not that we'd ever be able to emulate the feat.  Once the fire got going, it was time to dance!  We observed and marveled at their spontaneous and innocent joy of life, resolving to live in the moment more often.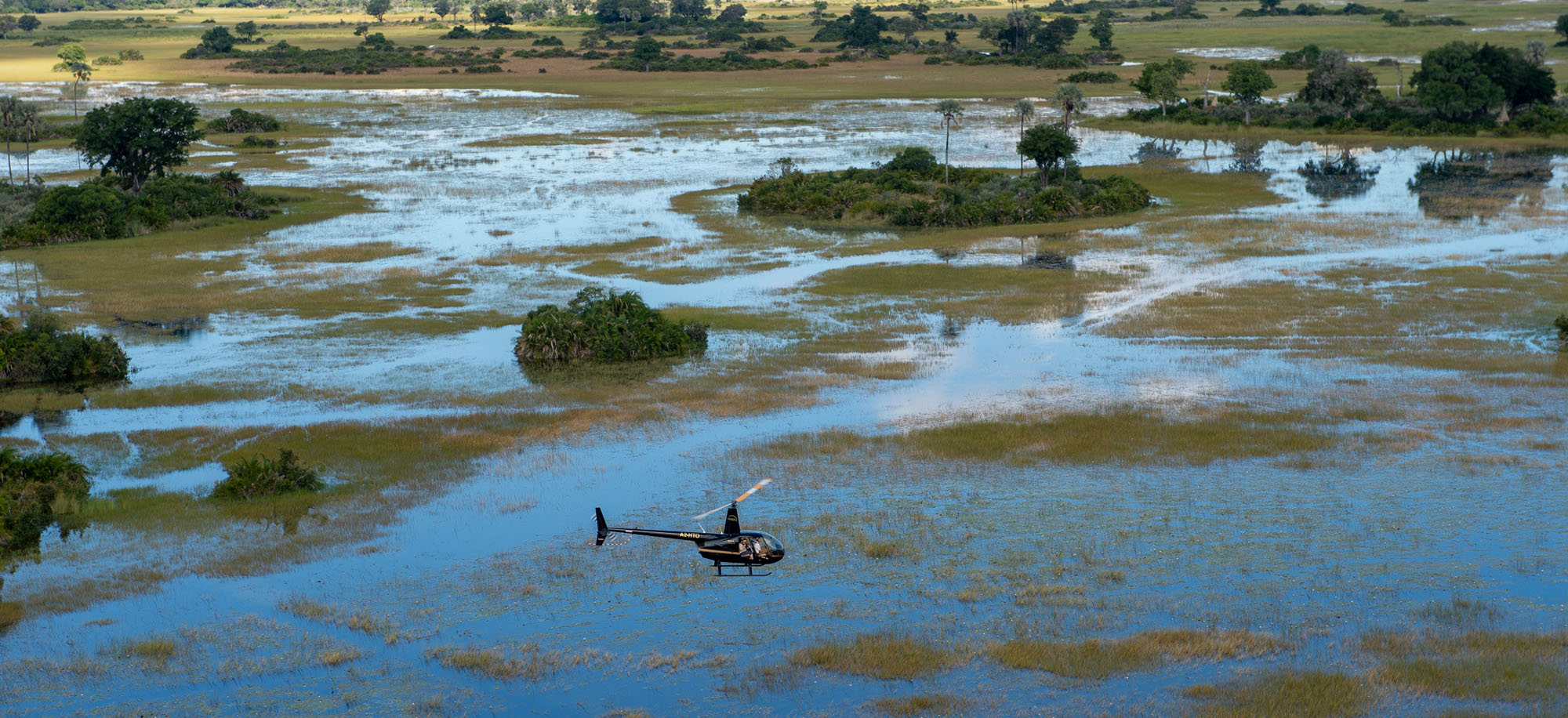 The following morning we were off on a peaceful boat cruise on the Boteti River, marred somewhat by  the presence of a rather ugly and dilapidated fence seemingly running right down the middle of the river. I was told that the fence was in the process of being taken down, to be rebuilt 50 meters  off the banks of the river, in order to put the entire river in the animal protected area. This sounded like a good move and we look forward to a return visit to the area to follow the progress.  
In next Friday's blog:  we find ourselves back in the Okavango Delta, and then travel to the Linyanti area.