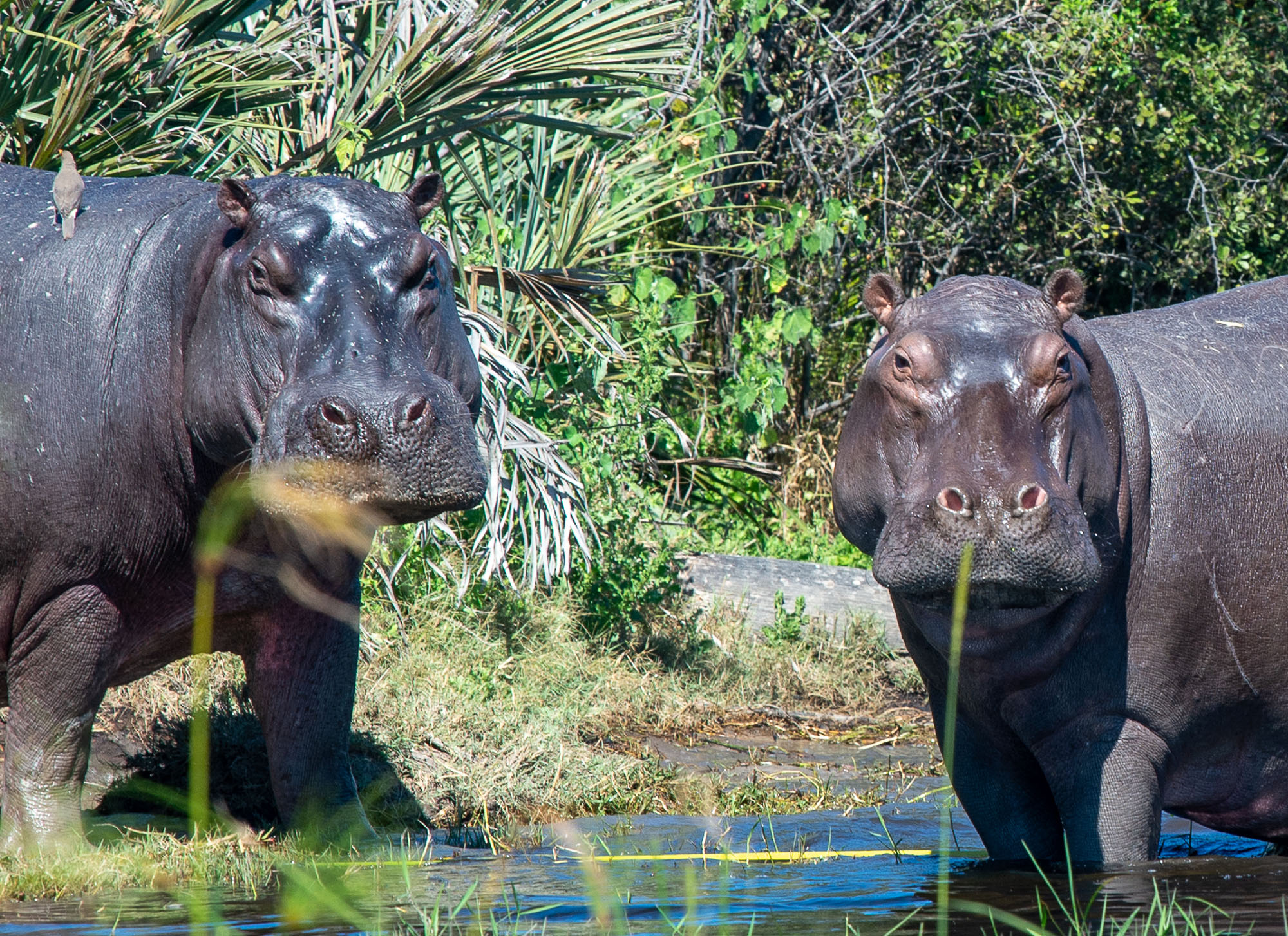 A Visit to Northern Botswana Continued
JAO CAMP, OKAVANGO DELTA
Having taken my farewell of the Kalahari for a while, I was driven back to Maun where I got back on a small plane for the half hour flight or so, to Jao in the western part of the Okavango Delta.   What more is there to be said about Jao other than that it is perfect. Since way back to when we first visited it in 2000, not long after it was opened, Jao has been on our 'Groundhog Day' list - a place where you can wake up every morning for the rest of your life and be happy.
The rooms are gorgeous: massive, romantic, dramatic, the stuff of dreams.  The same adjectives can be applied to the rest of the property:  the main lounge and bar area, the outside seating areas, the library, and extending right out to the gym and spa.   Even the dingiest of camps can look romantic at night, but Jao passes the daylight test with flying colors. Does it still look good in the unflattering glare of the midday sun? Definitely yes. Which puts it in very select company.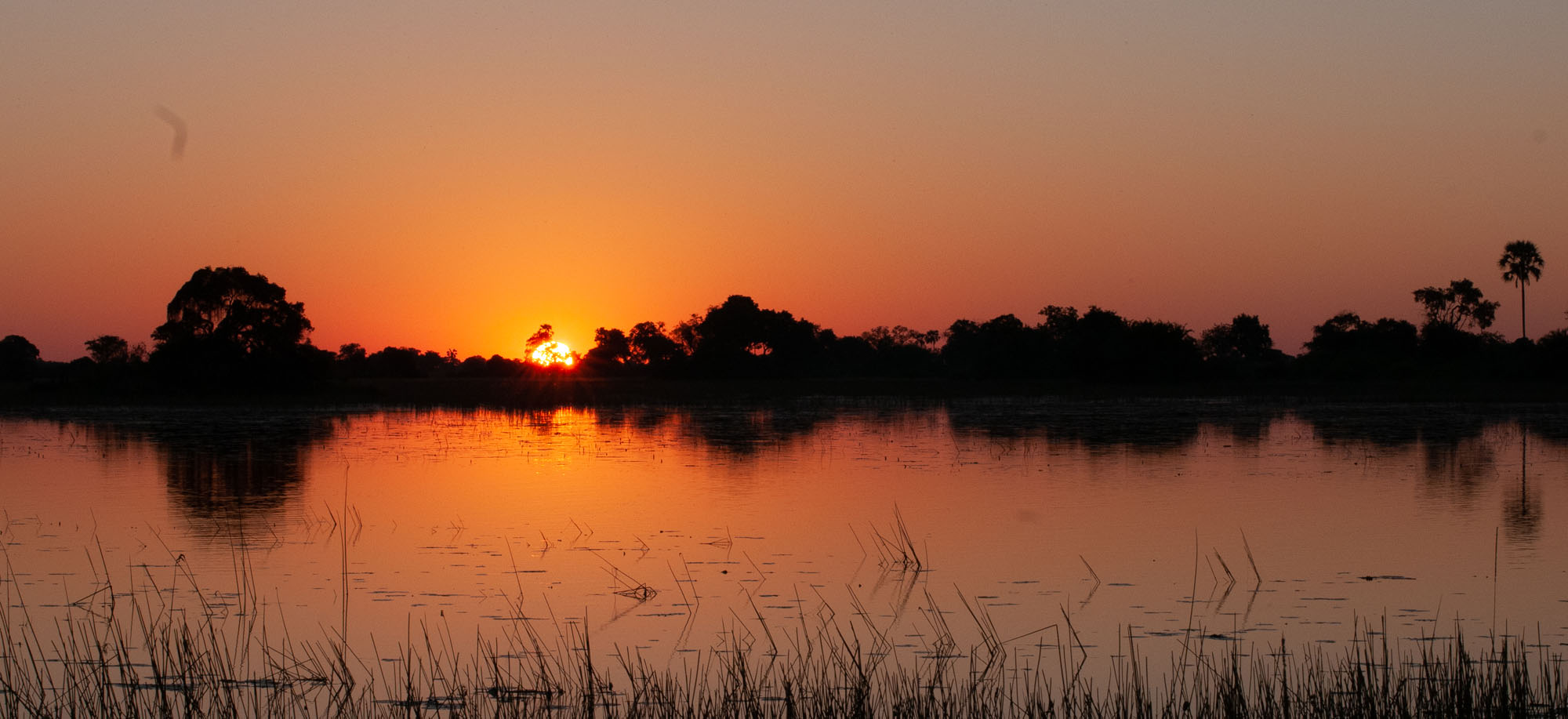 Dinner was predictably excellent on the night I was there.  Even the most jaded of travelers will long remember nightfall at Jao.  The sensational views of the sun setting over the Delta, the soft pink glow lasting for what seems to be hours as the birds go silent, the reed frogs start up to their metallic clinks, and the last few baboon noises dying away as they settle down in the trees.
On an afternoon boating outing I caught (and released) a decent-sized tiger fish, much to my surprise and much to the delight of the guide, who was even happier about it than me.  Even if I hadn't caught a thing, it would have been a great afternoon.  Being in a small aluminum skiff exploring the bywaters and lagoons of the Okavango Delta can easily push you into a Walter Mitty moment.  There you are, expertly piloting the craft along the deceptively serene-looking waterways, taking just the right line to smoothly glide around a tight corner.   Fortunately, the imaginary helmsman doesn't have to concern himself with the myriad of unseen obstacles lurking below the surface.  Shallow sand-banks, hidden tree stumps and sometimes - a misplaced hippopotamus.  Those ones that are supposed to be in deeper water…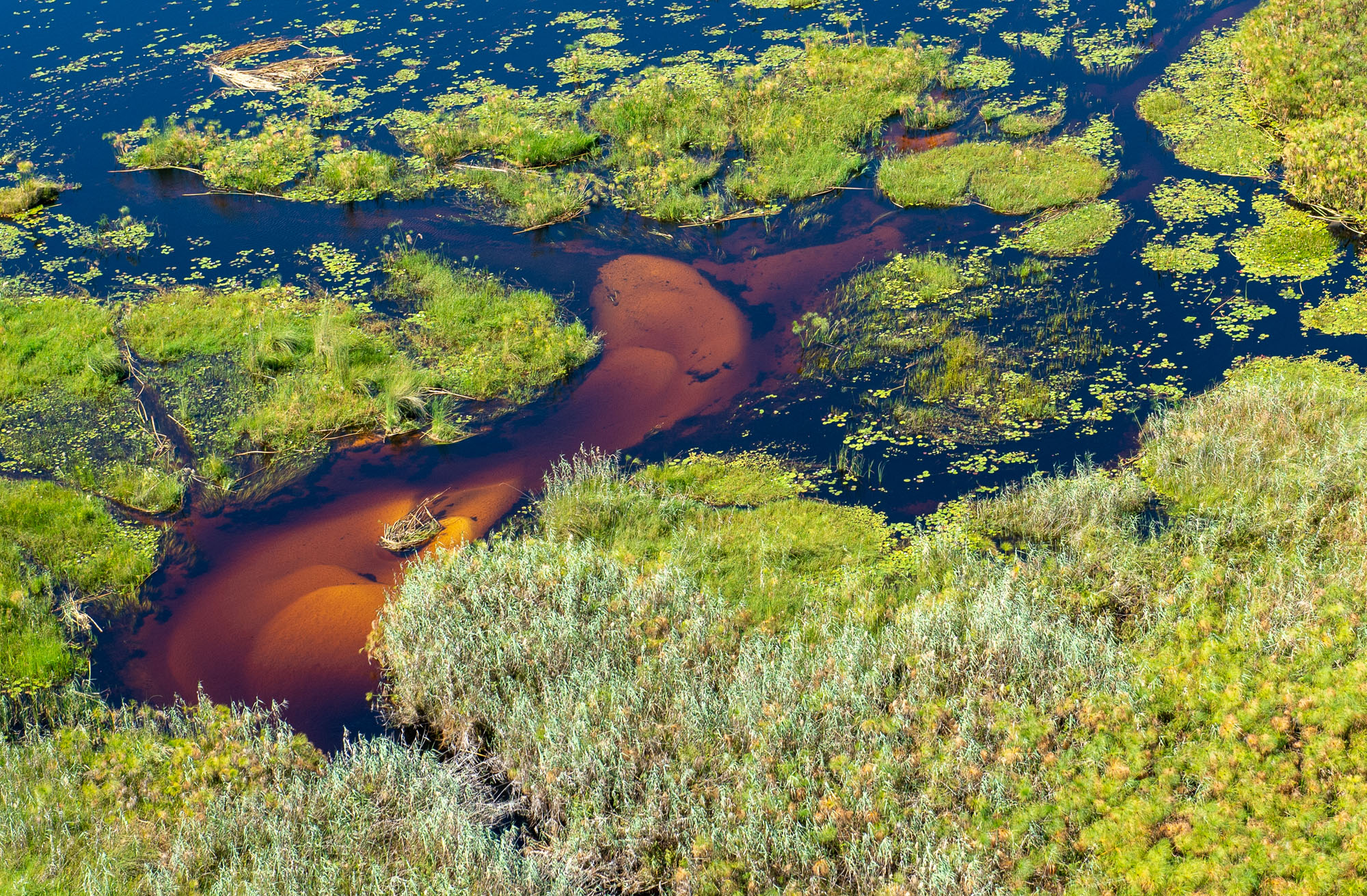 Our morning game drive at Jao  was fairly uneventful except that I got a couple of  nice bird photos including a Plainbacked Pipit and a Malachite Kingfisher in superb morning light.  To be sure, there were lots of elephants around and some general plains game.  Ordinarily, we'd advise guests at Jao to take a day outing to nearby Hunda Island, if they are keen to see predators such as leopards and lions, among others. 
Upon my return to Jao, there was a surprise waiting for me: a 20-minute helicopter flight over the Delta with Helicopter Horizons, courtesy of Wilderness Safaris.  What a treat and what a special experience!  This was fast turning into the 'helicopter trip'.  Great to start working on a new skill, aerial photography.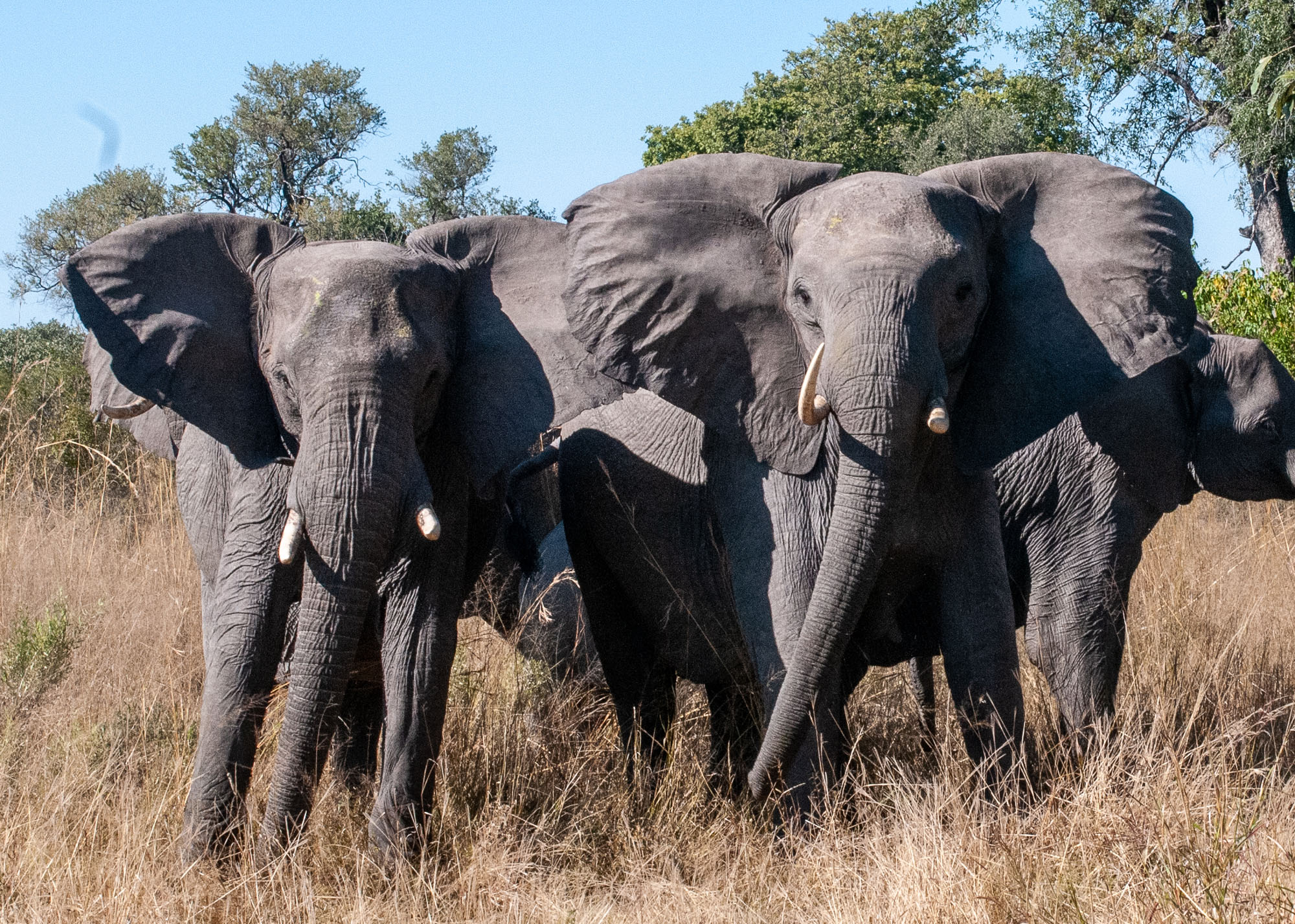 PELO CAMP, OKAVANGO DELTA
En route to Pelo Camp - which would be a new property for me - I did a site inspection at Kwetsani which is now even more impressive than before. Pretty much the ideal - classic - Okavango Delta experience with rooms that are well beyond the standard of a normal, run-of-the-mill classic camp. One thing which will always be the same at Kwetsani is the time tested views over the large floodplain in front of camp, where there's almost always some birds and animals around. Then it was on to Pelo which I liked right away.  Quite small, with only 5 rooms, tucked away on a well-vegetated island right in the heart of the Delta, Pelo is all about experiencing a typical Okavango Delta water camp with boating, mokoro outings and walking on the islands.  Pelo has a particularly nice communal area, intimate and inviting. The afternoon boat trip was rather quiet but the other boat saw a breeding herd of 50-plus elephants.  As always it's a matter of time and place.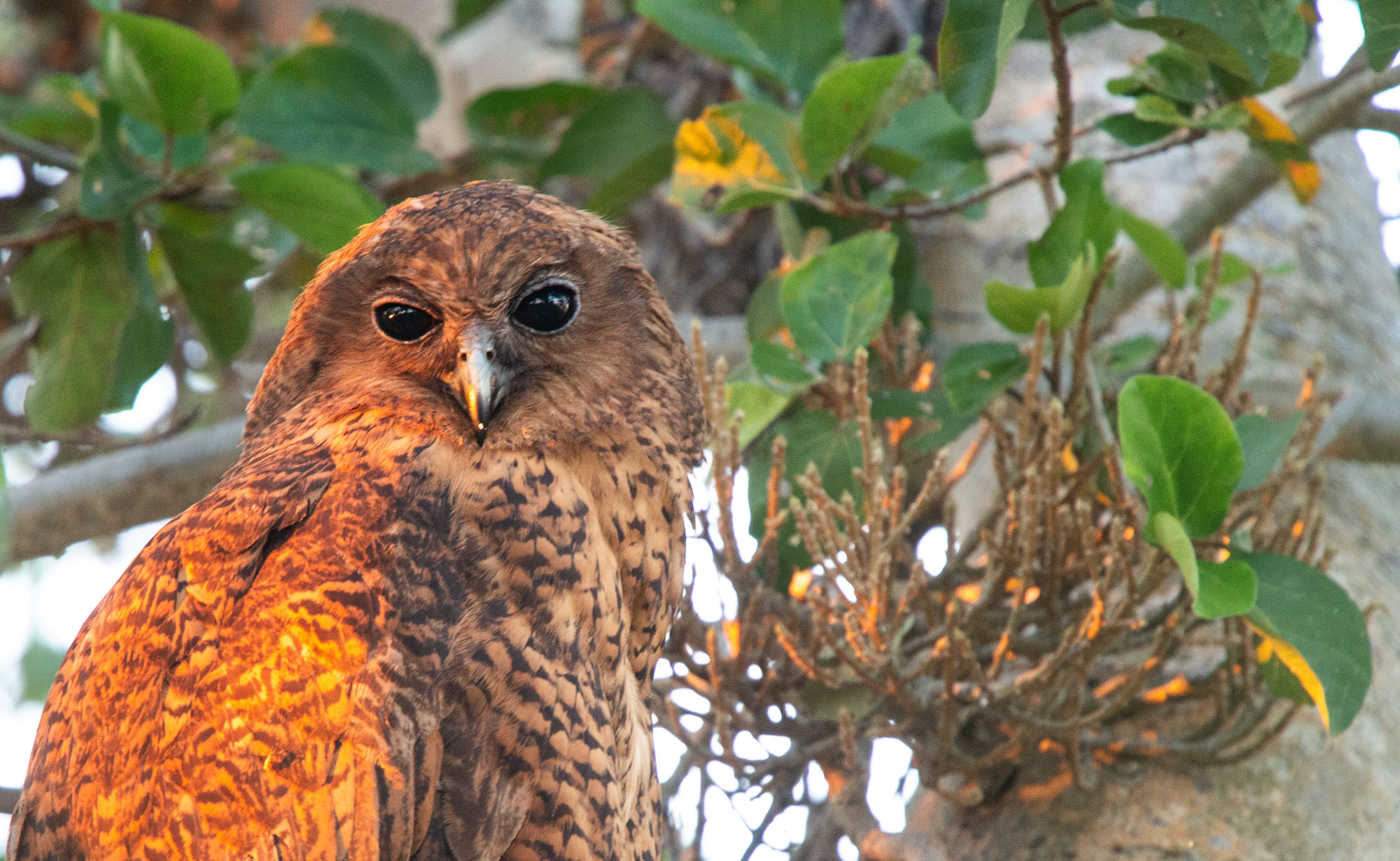 We enjoyed a boma dinner outside with an entertaining singing and dancing performance from the staff.  Great memories!
On my last morning at Pelo, I took my best photos yet of a Pel's Fishing Owl, a rarely seen nocturnal bird.  Prior to my visit, I had been alerted to the fact that there was a female Pel's raising a chick outside tent number four.   Emerging from tent #4 that morning, there it was:  staring me down as it was bringing some food (it looked like a piece of fish) for the baby.  I managed quite a few exposures in good light. Simply an amazing bird!  Later that morning I enjoyed yet another enjoyable and interesting boat ride.  There were lots of colorful birds to be seen, with African Fish Eagles being visible practically every few hundred meters.  We also had great looks at a few decent sized Nile crocodiles.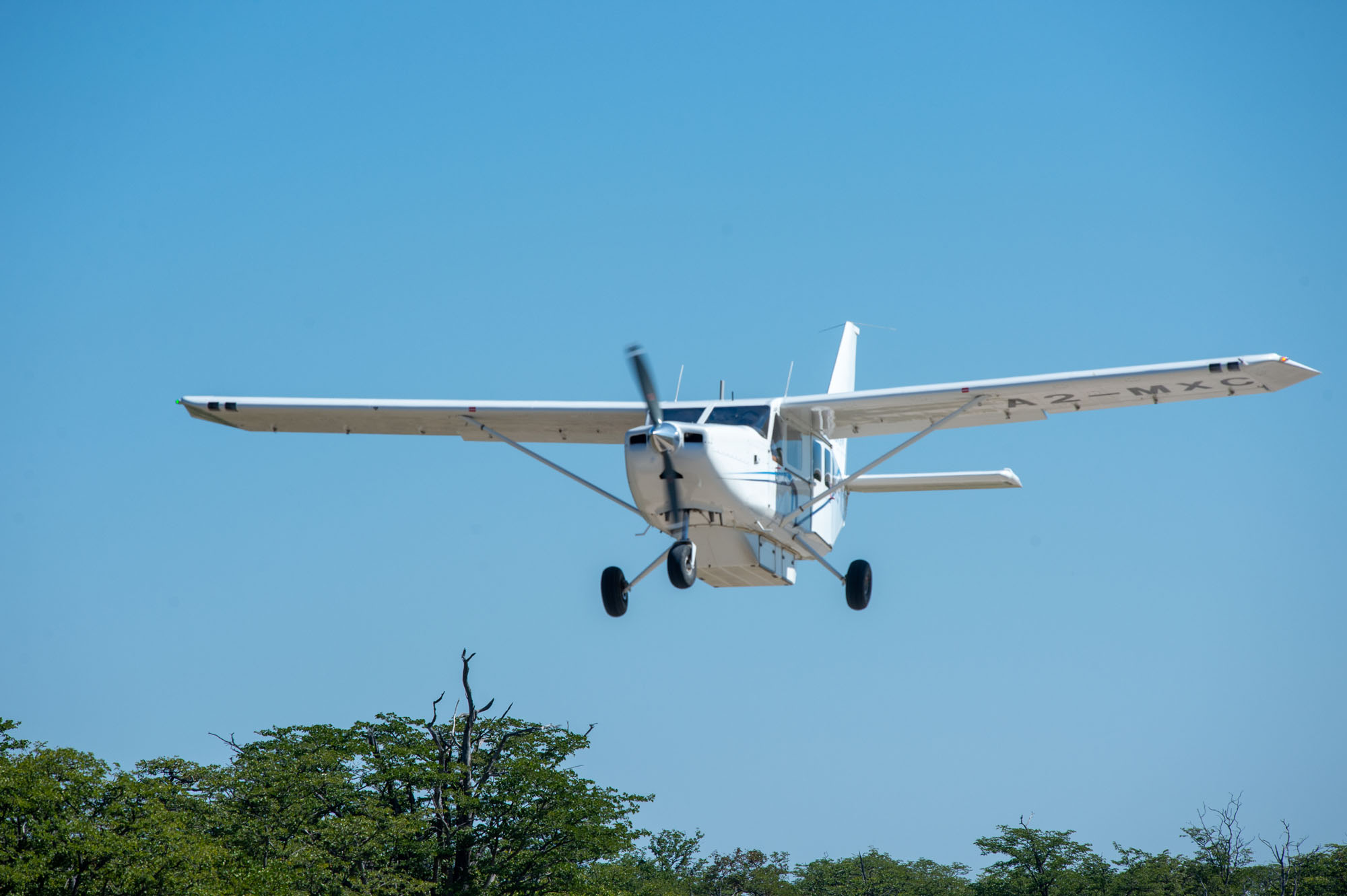 SABLE ALLEY CAMP, KHWAI
After a good breakfast it was back to the airstrip for a flight to the Khwai area, where I would  spend the next two nights at Sable Alley.  The main area is about as good as it gets in Botswana, with a huge open-design deck and dining room, overlooking a pond.  The camp also has a beautiful pool.   The tented rooms - spread out along a boardwalk in a wetland habitat, were well planned and executed.  Spacious, with a large veranda and a usable bench, excellent ventilation, and superior indoor lighting - the best of any camps I've been to lately.  Add to that a comfortable bed and bedding, separate toilet, ample storage space, an effective waterfall shower head as well as scaldingly hot water, and an outdoor shower on a raised wooden deck.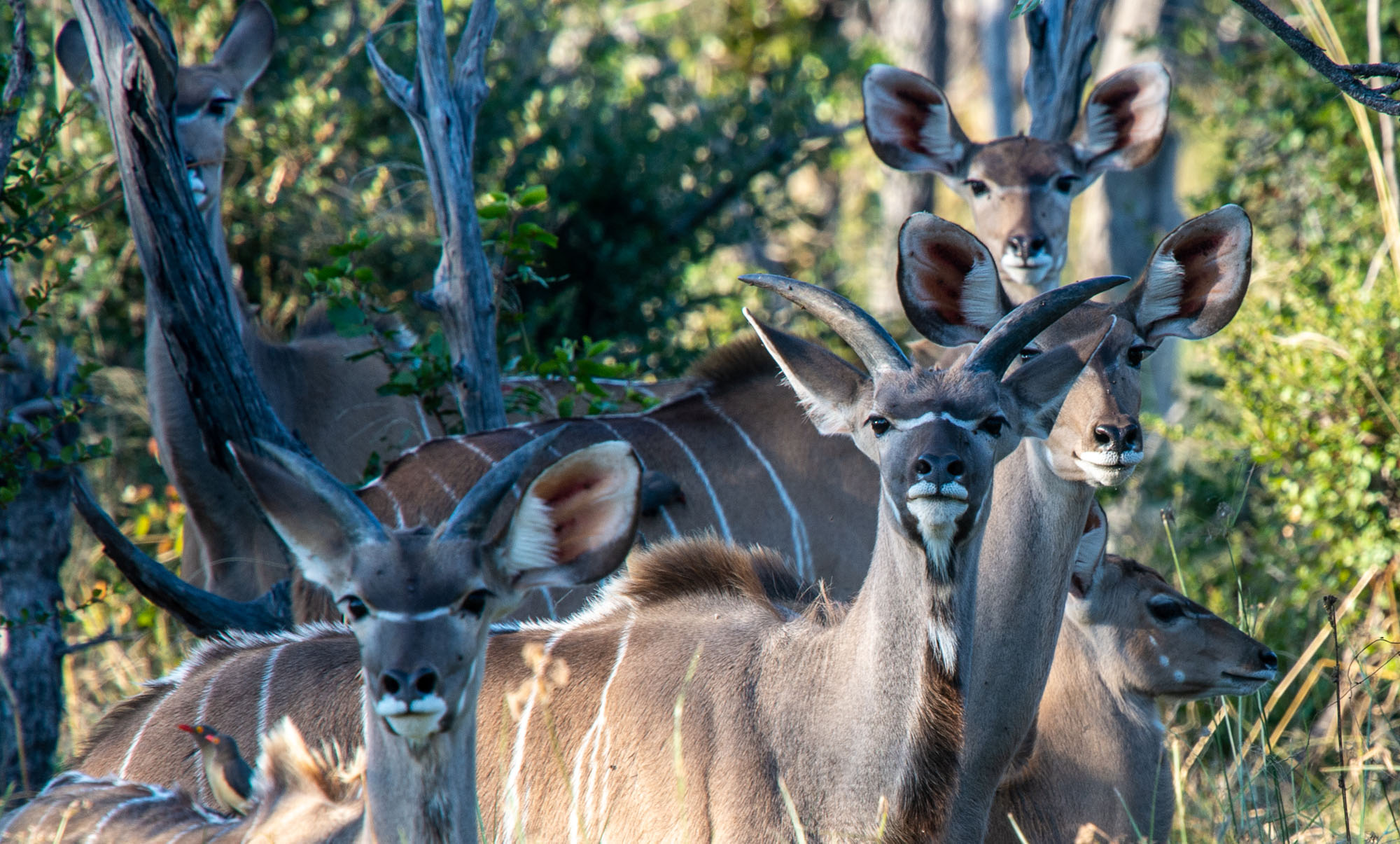 Our afternoon game drive with guide Tony and trainee Teenage turned out to be surprisingly good despite conditions not being ideal. There were several small groups of elephant, some seen quite close up, and we had some good views of kudu and impala. The most notable sighting was a couple of sub adult African Painted Dogs at a suspected denning site. We watched them for a while before they loped into the bush. According to our guide Tony the alpha female had already given birth to a litter of pups; it remained to be seen how many pups there were, and if the pack would raise them in that location.
We returned to camp for a quick shower, drinks and excellent dinner.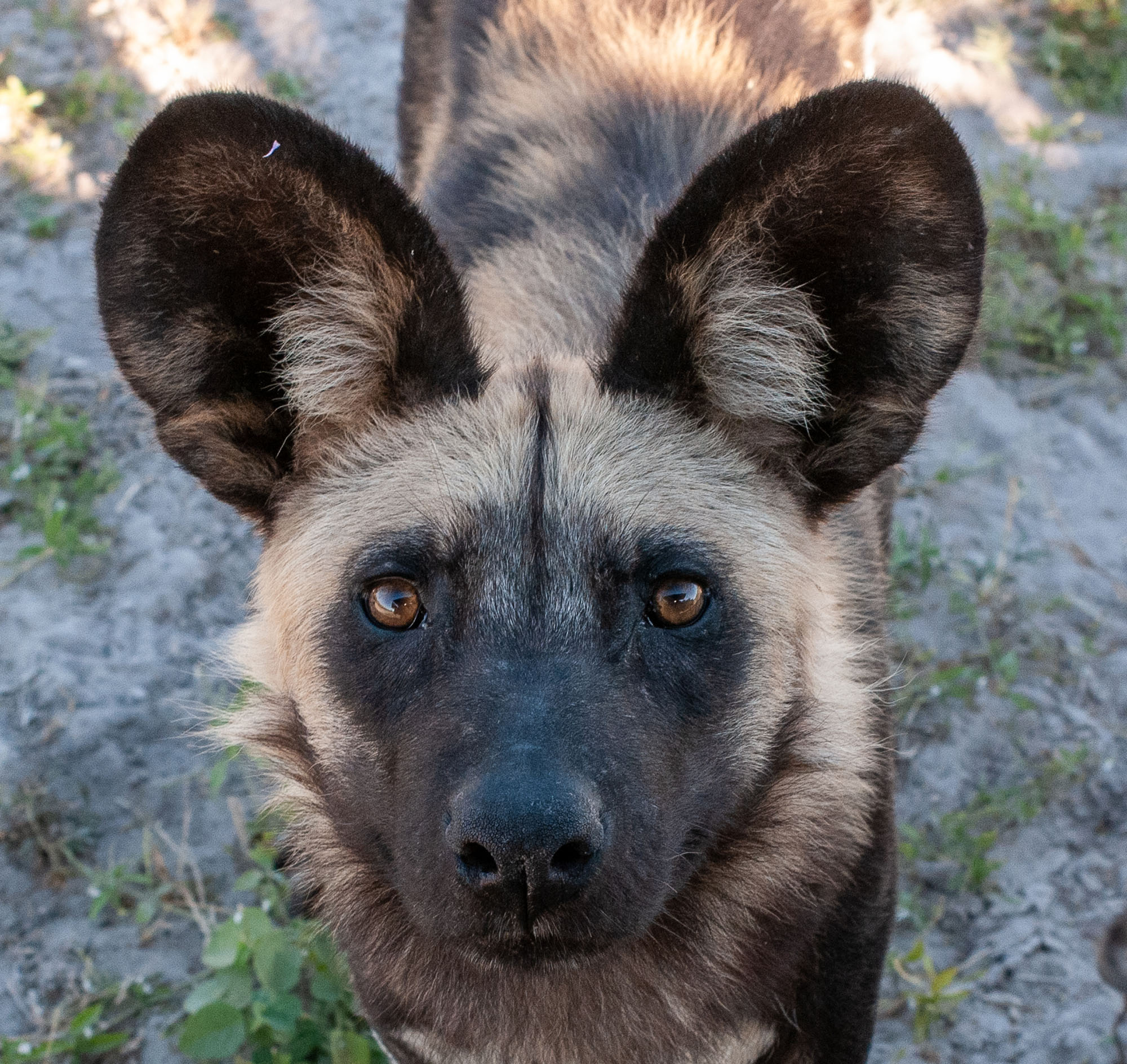 Our Sunday morning game drive was on the quiet side although first time visitors to Africa would've been quite happy to see as many elephants as we did. It was noticeable that the elephants in the concession have a lot of 'attitude' compared with elephants in most other areas. Likely a holdover from the days in which hunting was allowed in the area, resulting in the elephants being a bit wary and giving  vehicles and people a wider berth than one might anticipate. We came across several small groups of up to 10 or so elephants with several young ones including a couple of tiny babies.  Clearly the elephants are doing well.
Later on during the drive we came across zebra, kudu, some giraffe, and plenty of impala. Fantastic birds.  In line with my previous experiences in this area, it is best visited in the dry season from July through October.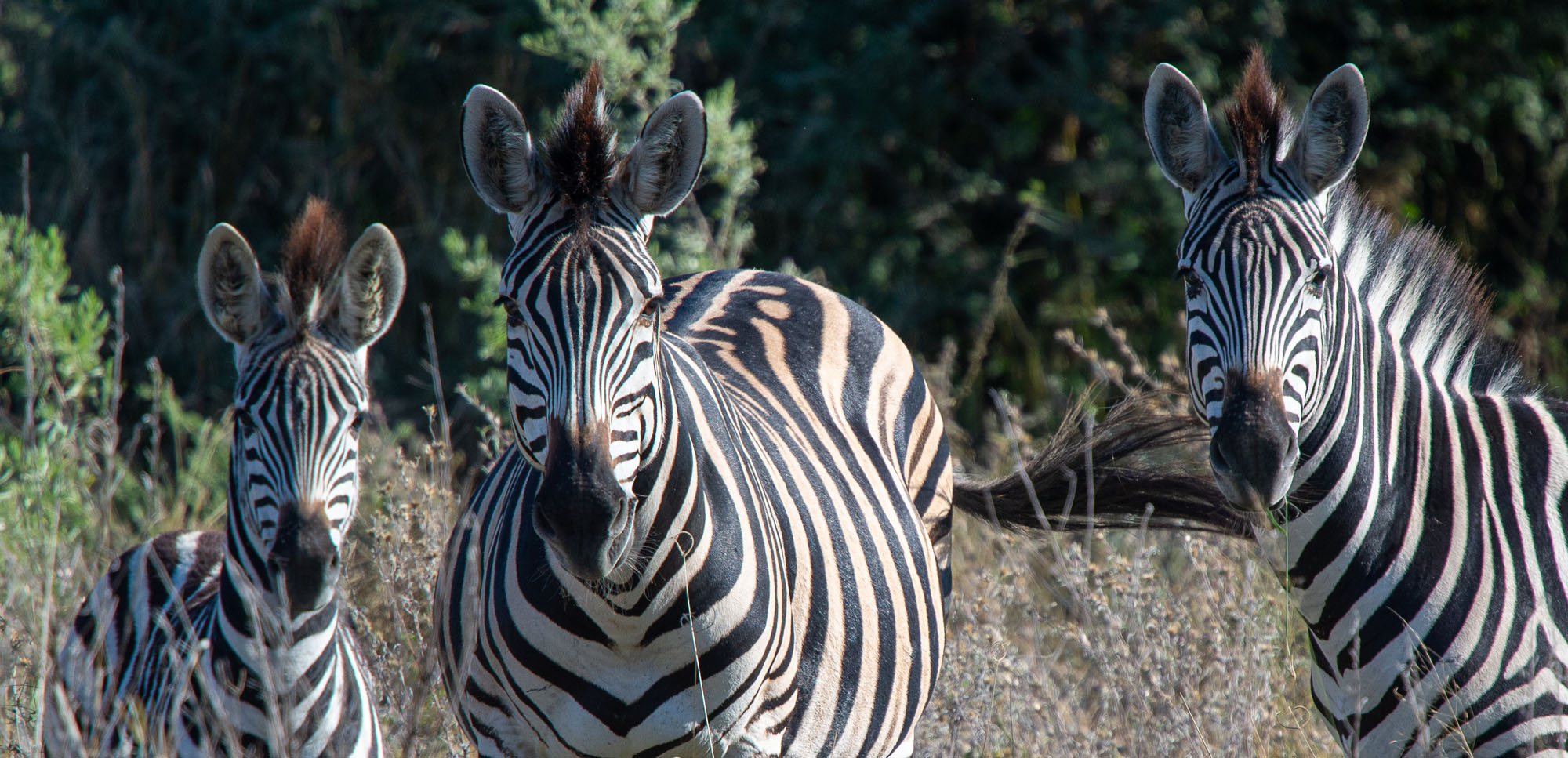 That afternoon I relocated to Hyena Pan, which looked like quite an interesting spot, again likely to be a much better bet in the dry season than when we were there.  Located on the edge of a water hole, the camp is rustic but perfectly comfortable, with a cozy common area and large dining room. Our guide there - Daniel - was one of the best to date on the trip:  energetic and enthusiastic. We drove about 40 minutes in the Khwai village direction, mostly through non-productive mopane forest.  Once we reached the more open area and riverine bush strips of the NG 18 concession, we started to see plenty of game.  Initially a mating pair of lions and then a group of four painted dogs which we followed for a while.  They kept moving so photography was hit and miss; lots of excitement though.  The evening was rounded off with a  good buffet meal with beef stroganoff as the main attraction.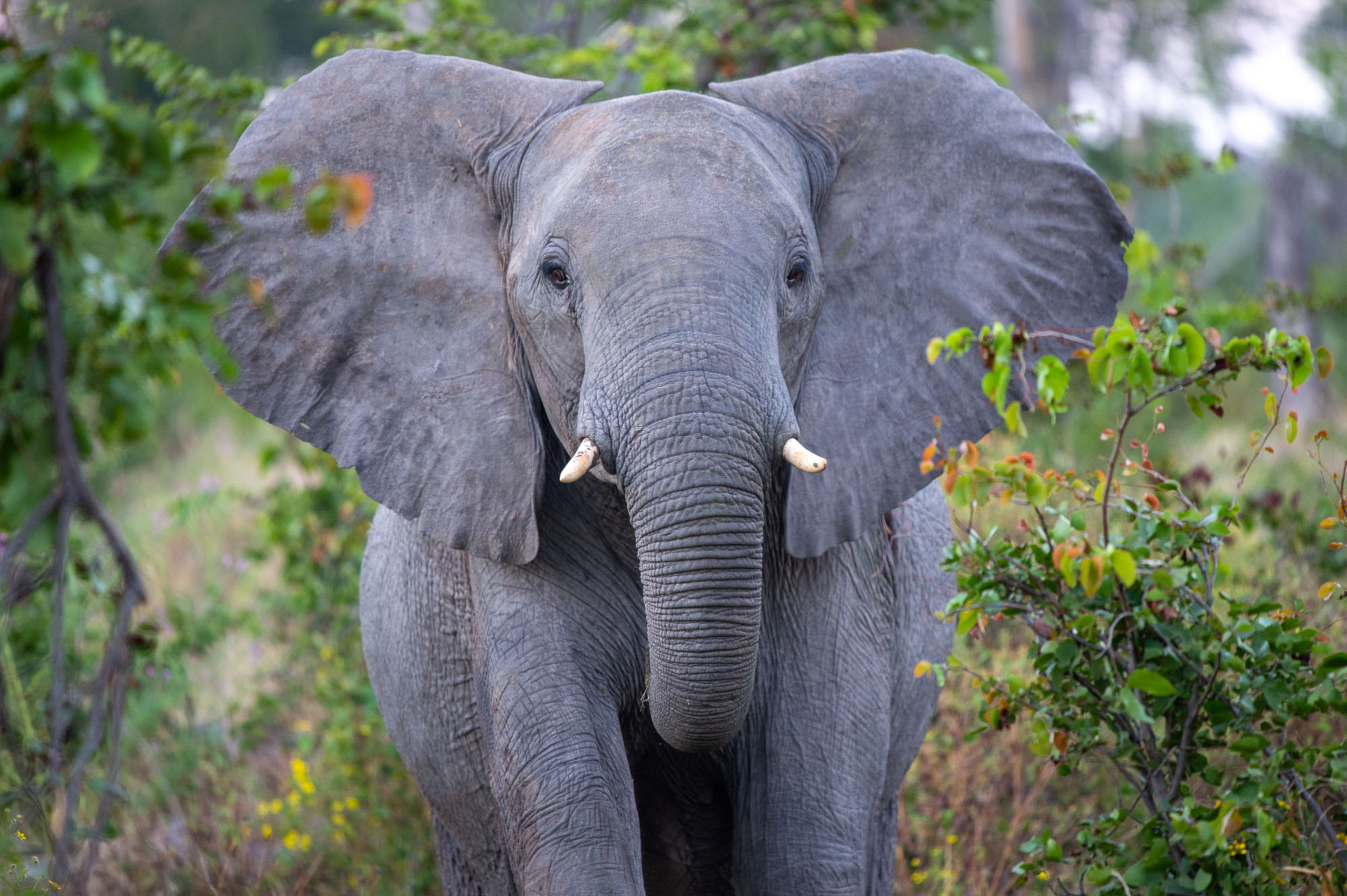 CHITABE CAMP, MOREMI
Late this morning I was on a flight to Chitabe, a Wilderness Safaris classic property in the far south-eastern part of the Okavango Delta. Almost immediately I started seeing giraffes, zebras and  elephants -  clearly there was an abundance of general game all over the area.  Since my visit the main area at Chitabe has been rebuilt.  The rooms were superb:  plenty of space, good lighting, huge mosquito nets, hot water bottles at night, a tea and coffee station, sufficient charging points.
On the afternoon game drive we had yet more views of elephants, zebras, giraffes and a large pride of lions.  We enjoyed sundowners at a small, peaceful lake.  The excellent dinner that evening was served family style.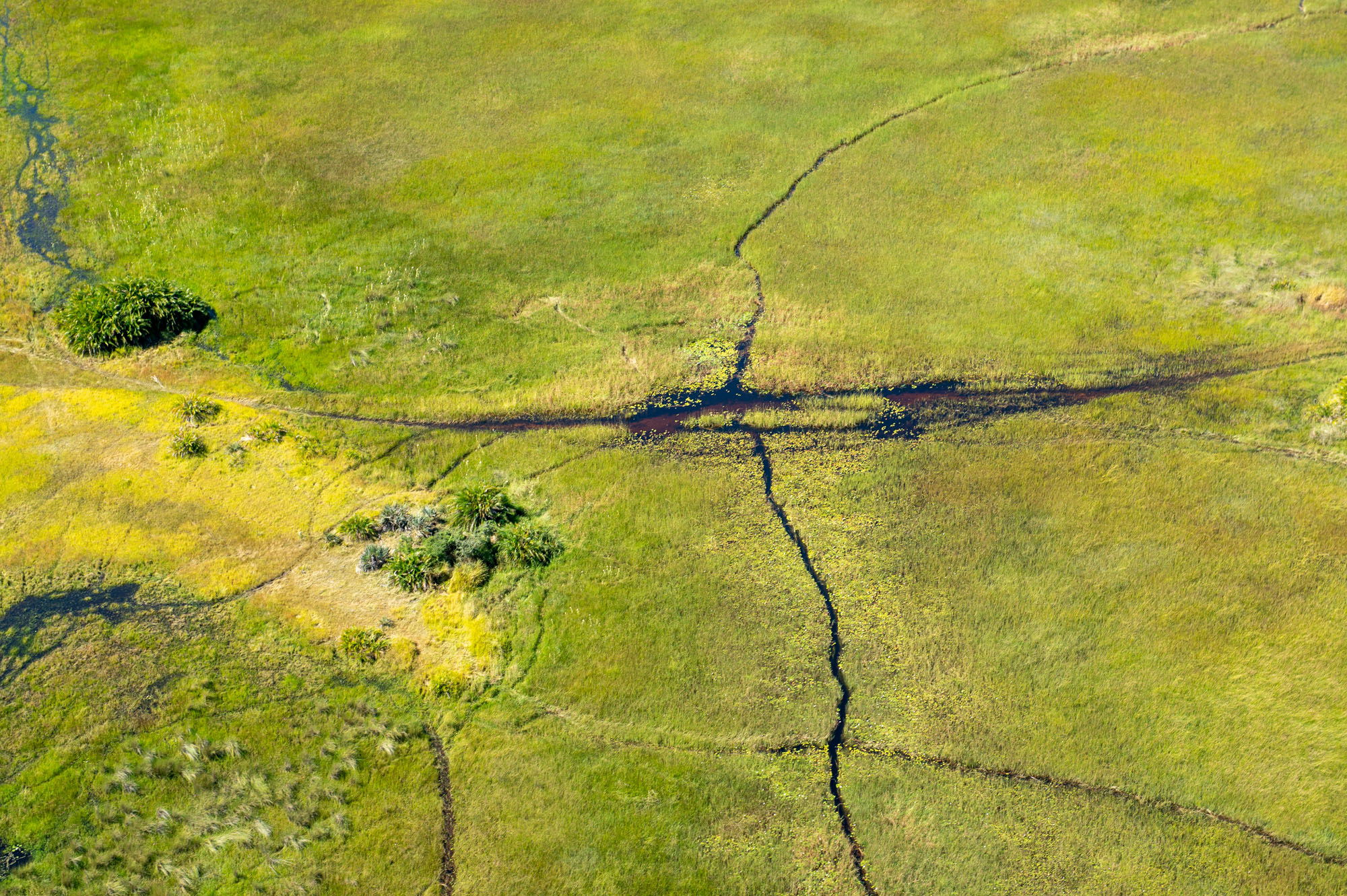 I was up at 05:30 am the next morning for a light breakfast, embarking on the game drive just after six.  The drive presented our best views yet of spotted hyenas at their den, producing a few nice shots in good morning light. Then we got word about a pack of African painted dogs, and found 20 of them resting up and snoozing in the shade of a vehicle on the edge of the Chitabe airstrip. The light and vantage point was not great but I managed a few photographs.
Then it was back to camp where a huge elephant bull was barring the front entrance, at least for a while. Following on a tasty brunch, we enjoyed an impromptu drumming performance by one of the staff members.  By 2:30 pm I was back at the airport,  with multiple elephant,  zebra, kudu, impala and giraffe sightings en route.  Indicative of the wealth of game in the Chitabe area, I had to assist the guide in chasing impala, warthogs and giraffe from the airstrip to make it safe for the incoming aircraft, who would take us on to our next camp.
Chitabe certainly lived up to expectations and indeed exceeded them. The rooms are great and now that the rebuild of the main area has been completed it will likely rival just about any other northern Botswana camp for supremacy in delivering a big game experience.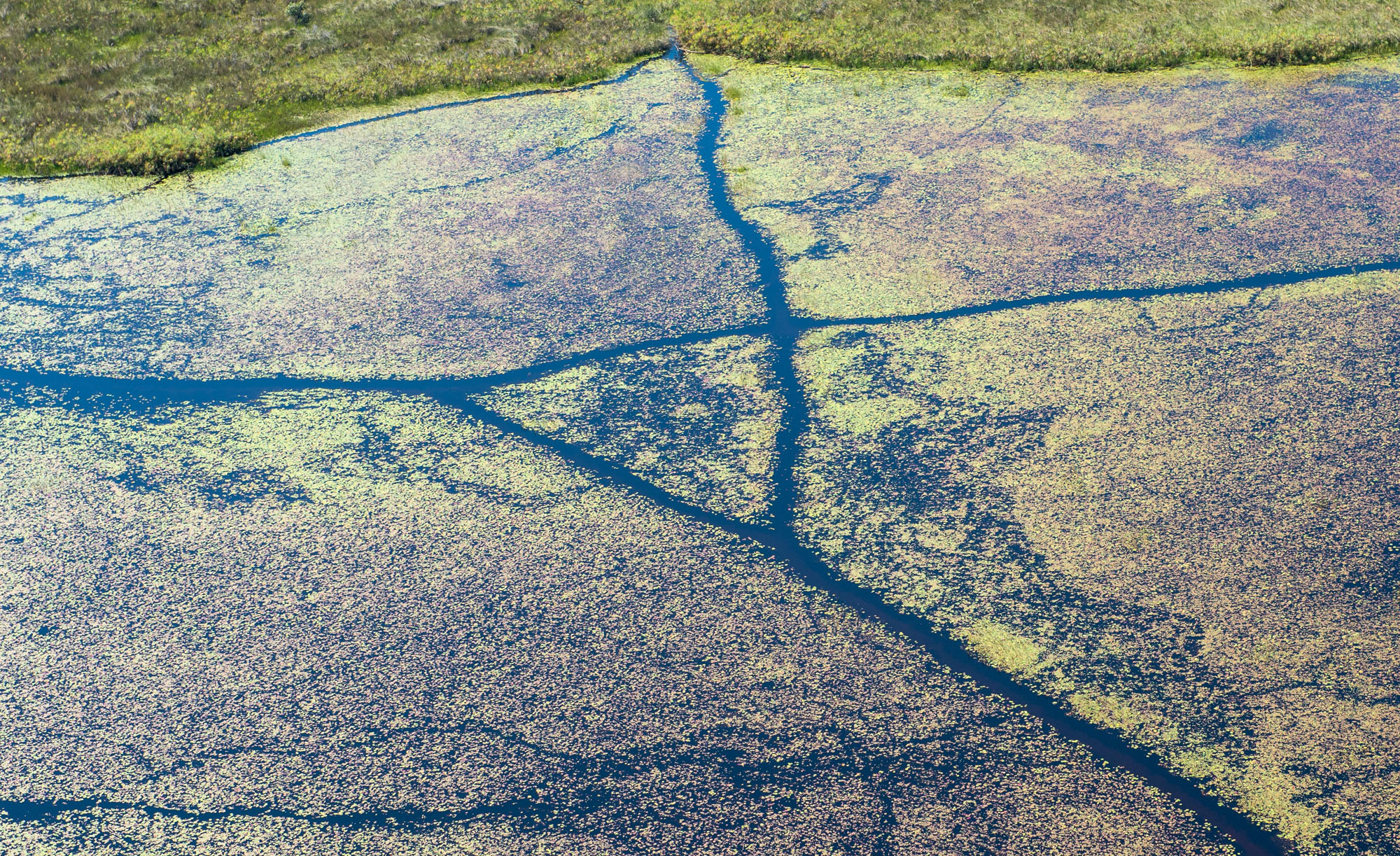 VUMBURA PLAINS, OKAVANGO DELTA
Just after 3:00 pm I was on the way to Vumbura Plains in the northern part of the Okavango Delta. A bit later than planned, due to an unexplained flight delay.  Once in camp - it is a rather lengthy and bumpy drive from the airstrip to the camp - I spent the next hour or so looking around the recently rebuilt main building.  It was quite impressive with clean, elegant lines, open to the environment and awash in natural light, with ample seating options in an expansive dining area.  Even if you spend several days at Vumbura Plains, you would rarely enjoy a meal in the same spot twice.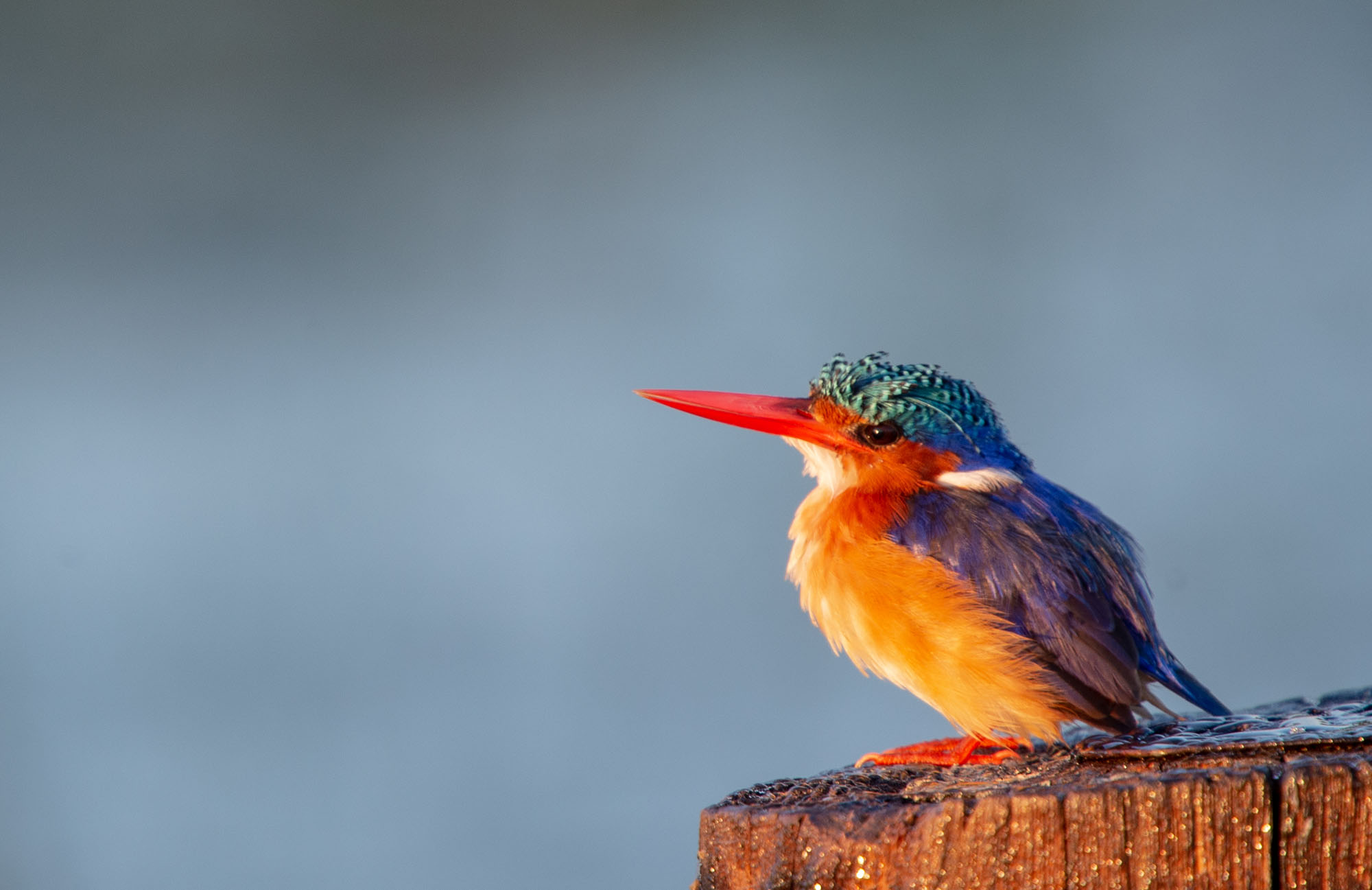 After a quick introduction, we walked down the boardwalk to room number one. There were no apparent changes to the room which I had seen for the first time some years previously. Spacious, lots of natural light, decent interior lighting, an impressive indoor shower with a view as well as outdoor shower. A bathtub was oddly lacking - one would expect to see it in a deluxe property like Vumbura Plains; in fact an outdoor tub would be a nice touch.  After a delightful dinner with the camp manager it was off to bed, early.
After an early breakfast it was time to saddle up for the morning game drive with my guide Ron. Initially it was slow but after about an hour we found four beautiful young male lions, not quite into their prime but not far from it either. Next was a herd of about nine or so sable antelope.  These rarely seen and sparsely distributed antelope are fond of fairly tall grass, often seen in relatively thickly vegetated woodland such as in Hwange National Park in Zimbabwe.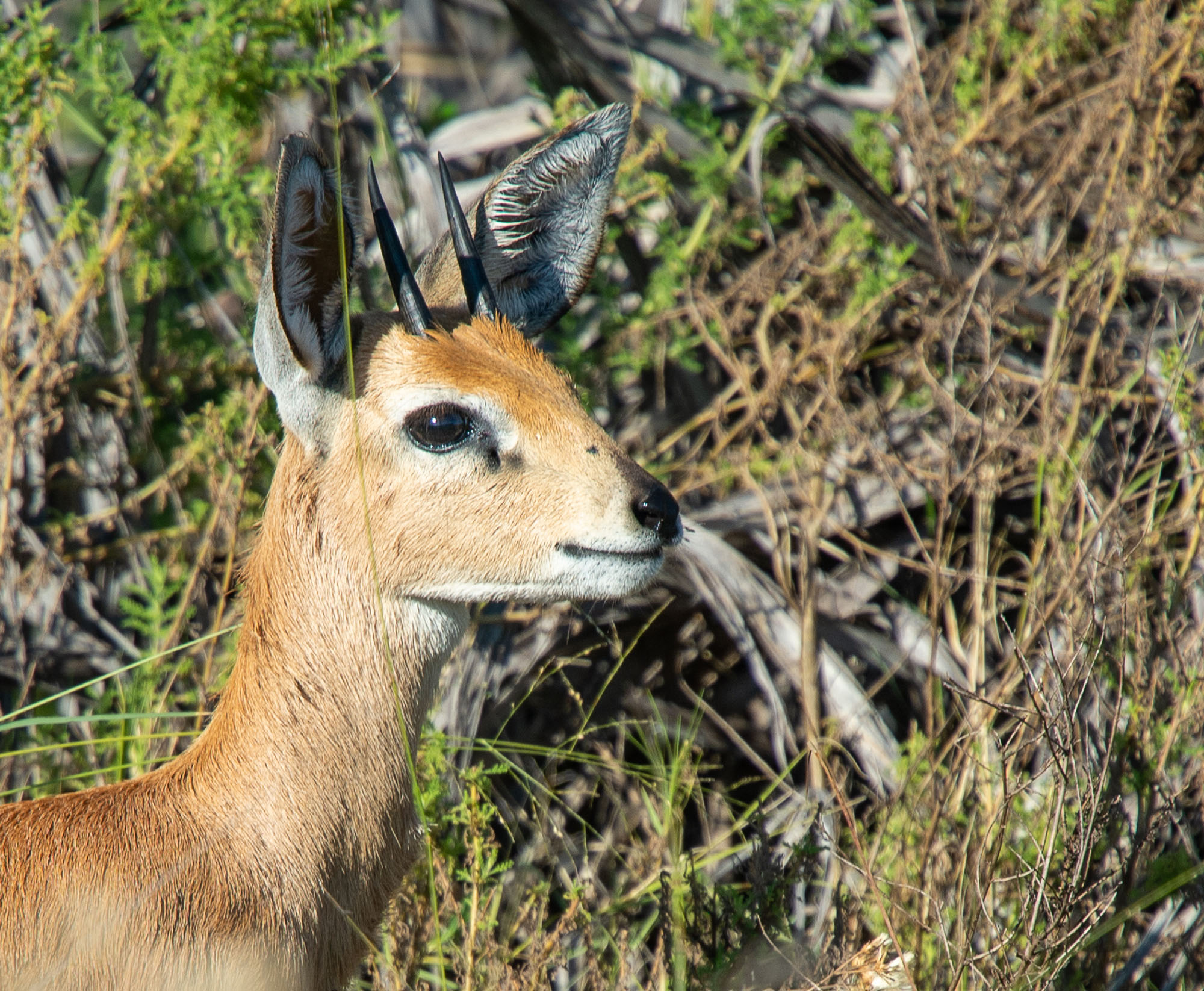 This particular group was as approachable as any Sable I've ever encountered, the two females allowing us to approach them quite closely. The light was still fairly good and I captured a few decent images. The dominant male sable was not at all cooperative. It was as if he knew that he was the one that we 'really' wanted to see, playing hide and seek with us for 30 minutes.  He proceeded to deliberately and seemingly determinedly walk from one thicket to another without as much as stopping even once, to give us a good look.  The sighting was a big plus in my book as Sable antelope was the one species I had specifically mentioned when asked by Ron - at the outset of the game drive - whether there was something particular I wanted to see. Being able to deliver on a very tricky animal such as this one counts a lot.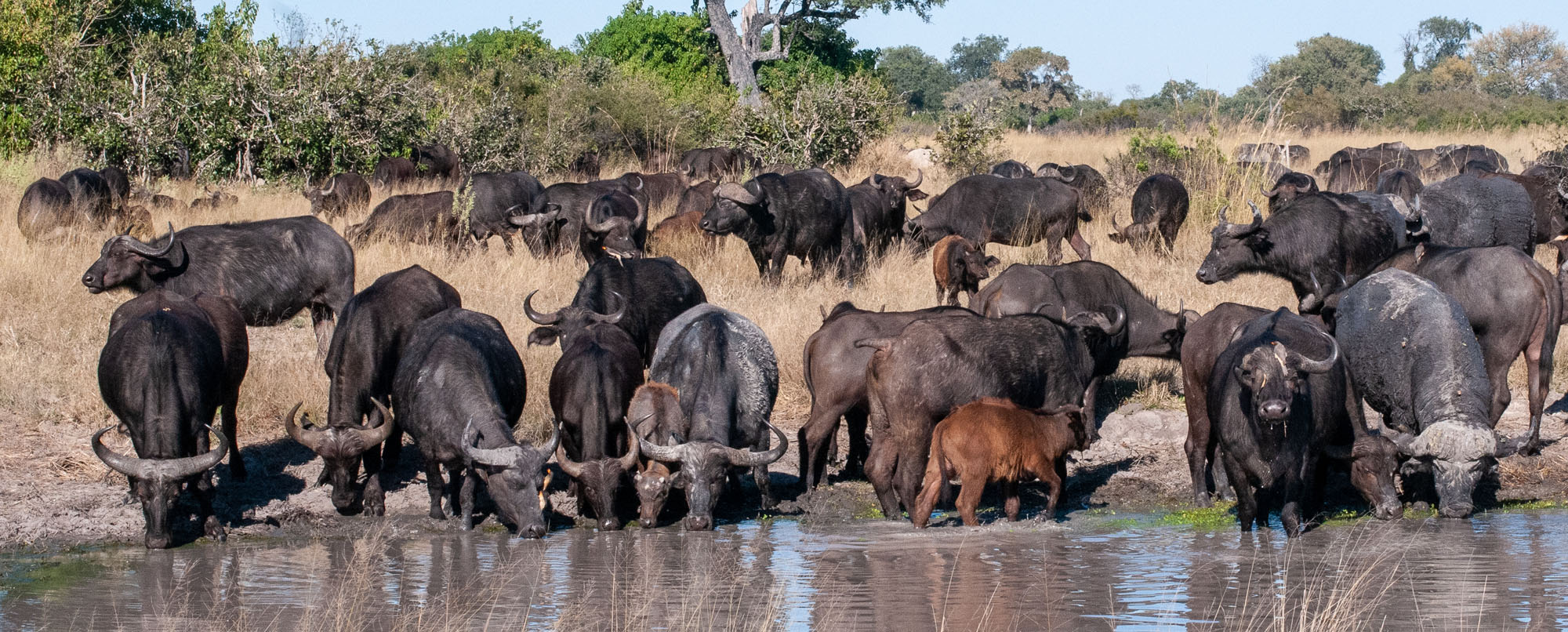 The game drive got even better with sightings of a large herd of buffalo at the waterhole and then an equally large herd of fifty plus elephants stampeding through the woodland. Their irate trumpeting and a dust cloud announcing their whereabouts, from afar. They were apparently entering a new or dangerous area and all of the older females were trumpeting and running around.  Towards the final stage of the stampede, three of the females - including what appeared to be the matriarch female - started to approach the vehicle in somewhat of a threatening pose.  We were ready to decamp at a moment's notice, but in the end it was not necessary.  Plenty of adrenalin though.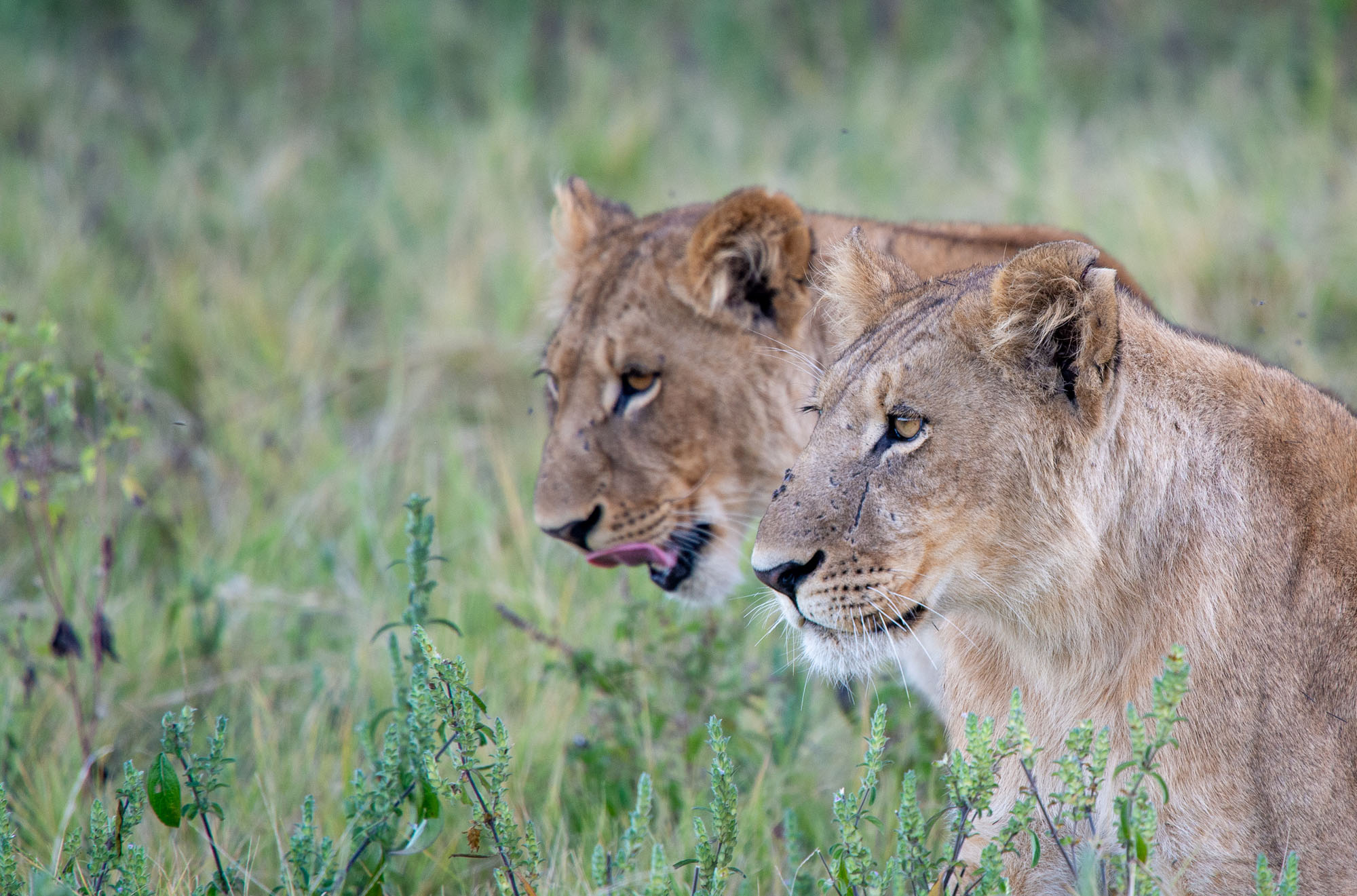 CAPTURE AFRICA, KHWAI REGION
Due to a flying mix up my planned 11:25 a.m. departure from Vumbura did not take place, but it was deftly replaced by a helicopter flight of about 20 minutes or so direct to Khwai River Lodge, where I was picked up by Brian Gibson of Capture Africa. An hour or so later we were at Capture Africa's private campsite on the Khwai River
Capture Africa specializes in high-quality private mobile tented safaris mostly in the Khwai, Moremi and Okavango Delta areas, but they can set up private mobile campsites and provide support services literally anywhere in Botswana.
Adding a few days of "real" camping to a mostly lodge-based itinerary adds an extra layer of authenticity and adventure to a trip; for many people this is as close as they may ever come to the bush.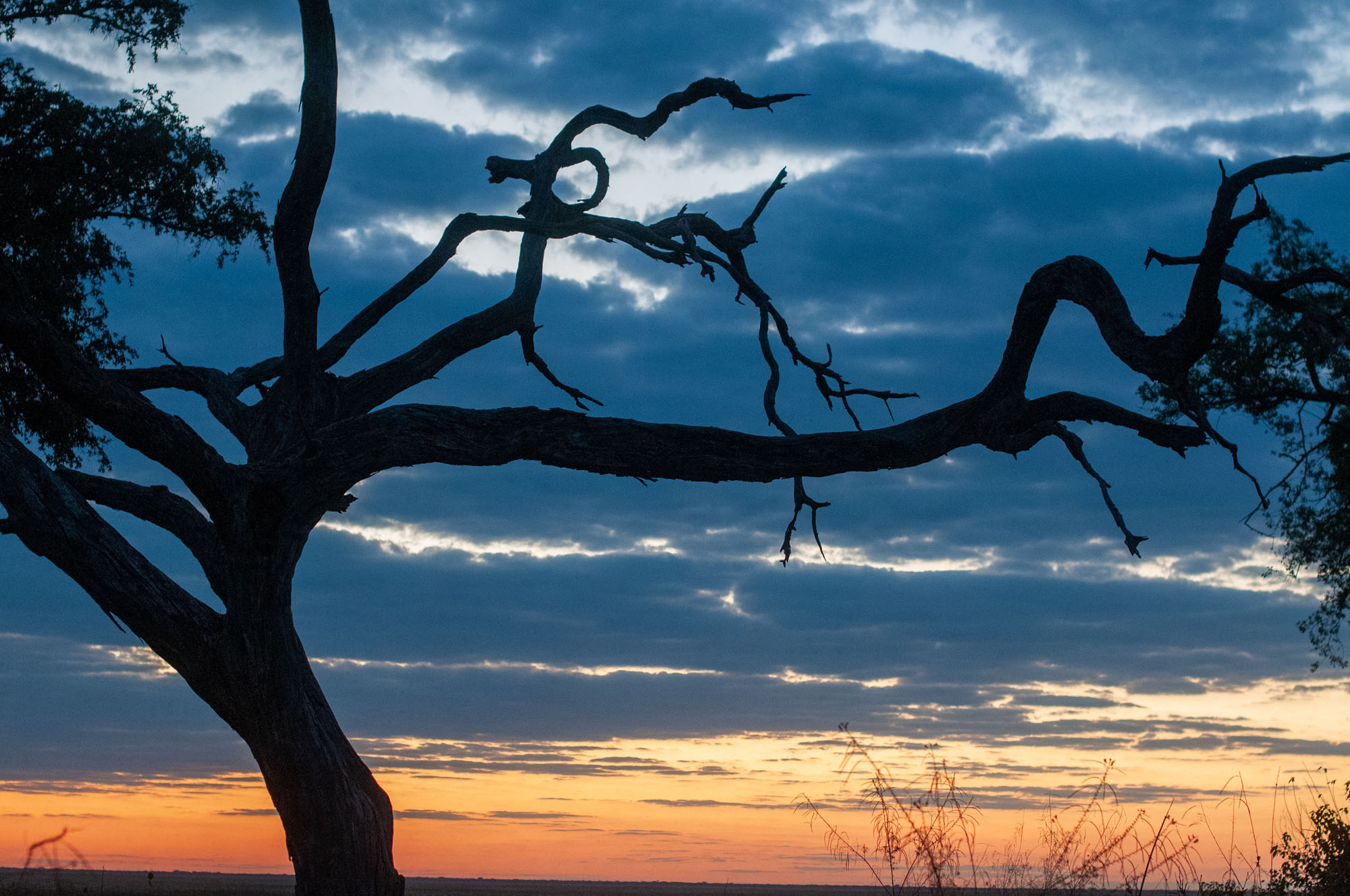 That afternoon, from our exceedingly comfortable camping site we saw an elephant walk along the floodplain, splashing its way through the shallow water and down the river. It was a pleasant change to what I had been doing seemingly nonstop the preceding few days, which was finding the wildlife out on game drives.  Having them come to you is infinitely more rewarding and relaxing.  
Brian Gibson - who heads up Capture Africa - is clearly passionate about the wilderness.  He is a highly experienced guide himself and it was quite a revelation spending a day or so in his company, trying to absorb his pithy advice and in-depth knowledge of the area and its wildlife as well as its people. On a drive with Brian the next day we got lucky with African painted dogs on the move - the thrill of the chase! - and we enjoyed a great lion sighting as well.  The Khwai region is clearly a productive game-viewing environment, however the number of vehicles per sighting was notably higher than most of the other areas we visited on this trip.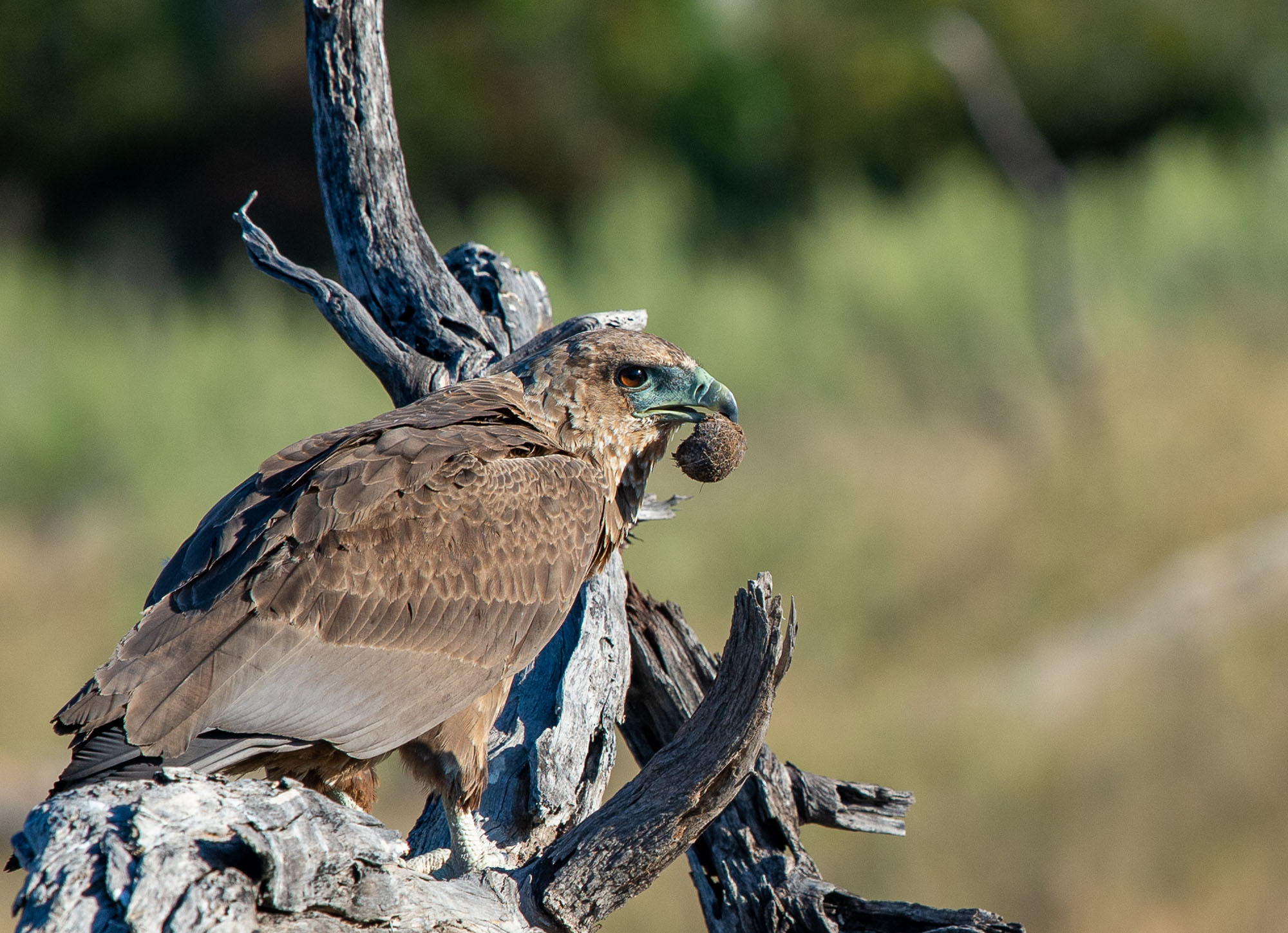 Our party of four people enjoyed a particularly splendid meal at Capture Africa's mobile tented camp that night, spending another hour or so around the campfire afterwards.  It was just us, a  brilliant sky, and what must have been close to 4,500 stars above.   That being the maximum number visible to the human eye, which can only detect stars brighter than magnitude 6 to 6.5.  Just as noticeably, there was practically no man-made ambient light, no noises and no disturbances.  Not that it was totally quiet.   If you knew what you were listening to, there was what sounded like a lost - or lonely - jackal, a few hungry hyenas  and a couple of African scops owls advertising their presence with their chirp-like calls.  The African bush at night.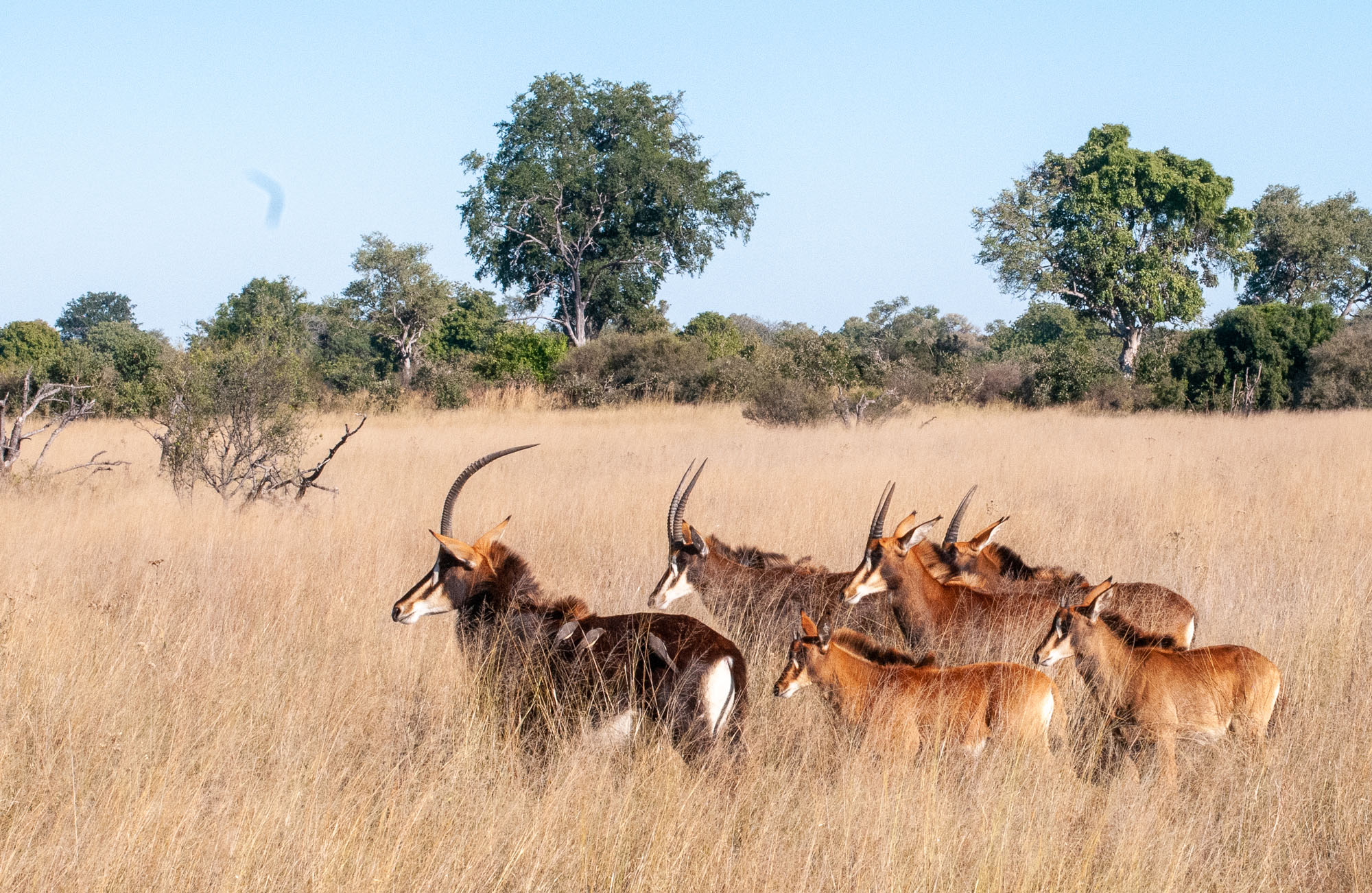 EBONY CAMP, LINYANTI
This morning I flew from Khwai to the Linyanti floodplain for an overnight at Ebony camp, African Bush Camps' family option, adjacent  to the similar but slightly larger Linyanti Bush camp.  Room number 10 at Ebony Camp is the designated family room.
Either camp would be an ideal safari choice for visitors, particularly from about June/July through October and early November, in the dry season. At that time of the year the floodplain attracts good numbers of elephant, buffalo and other big game species including predators.
At the time of our visit in mid-May the surrounding bush was still quite thick which made game viewing challenging. Even so, we saw several small herds of elephants, hippos in the river and a coalition of three male lions. As well as some giraffe, waterbuck, impala and exceptionally good birdlife.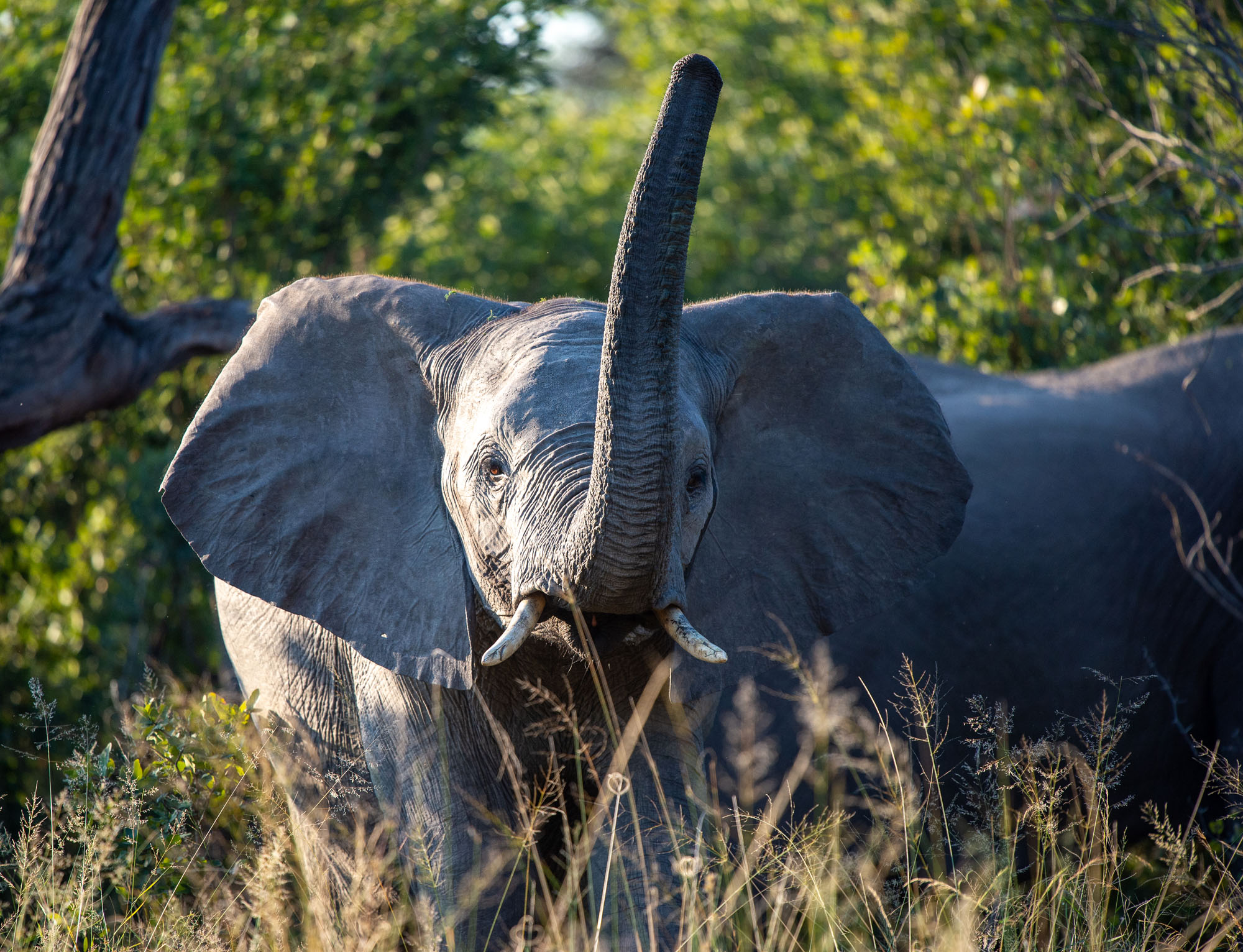 The camp is clearly well-managed and I found the staff to be friendly and approachable. It would be nice to have the tent door zippers replaced with regular doors. Only two of the rooms (honeymoon room and family room) have bathtubs. The other rooms have showers with hot water available at all times.
The grand finale of my Botswana trip was yet another helicopter ride, this time to check out the Linyanti River and its denizens which included several pods of hippopotamus, giraffes drinking, a few crocodiles.  From the air, there was a dearth of any signs of human encroachment.  There are so few places left in the wilderness which are truly remote and this is one of them.
My next stop would be South Africa, for a return visit to the Kruger Park and Sabi Sand reserve.  Details to follow in our blog post to be published next Friday.