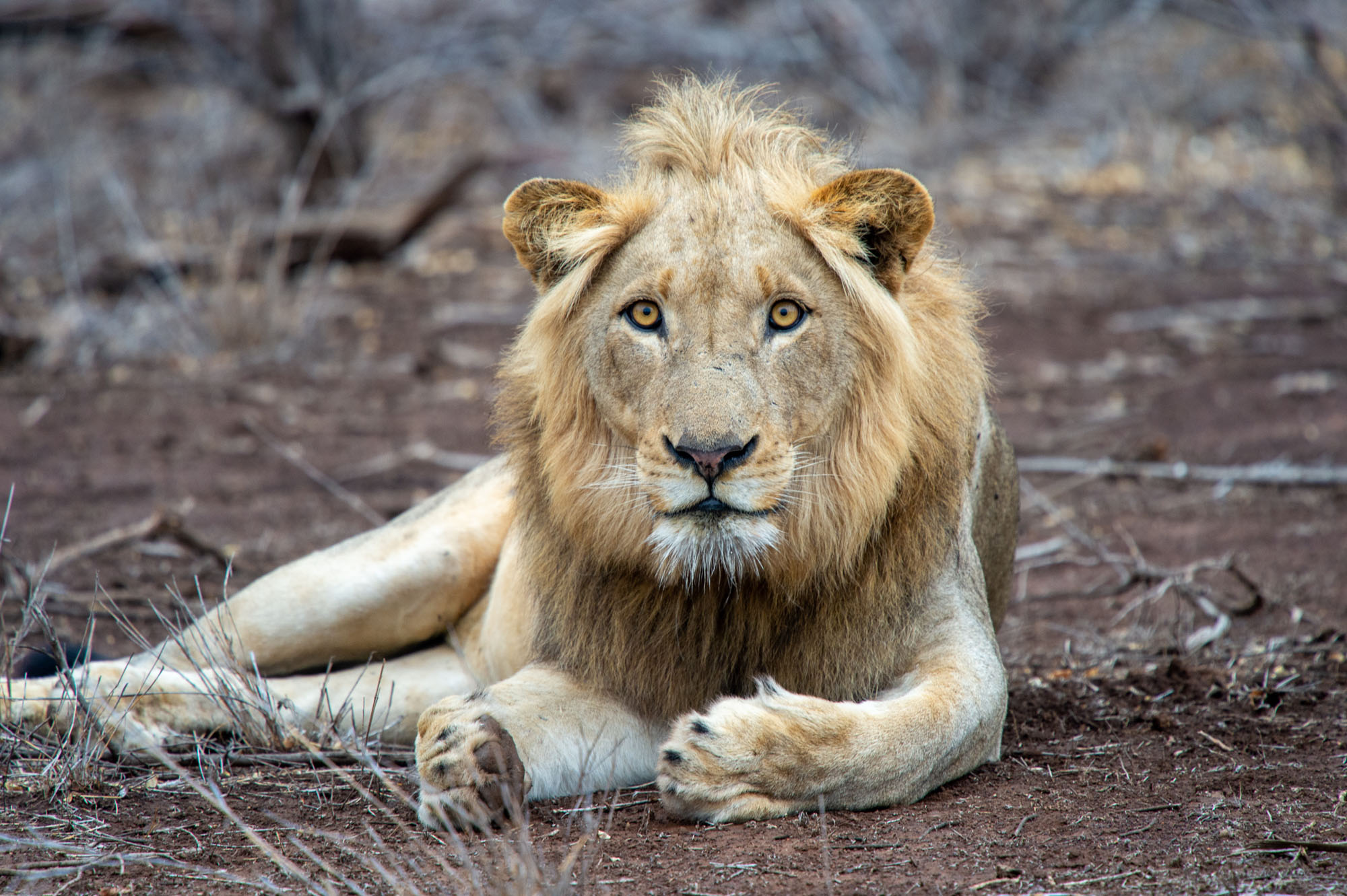 A visit to Kruger National Park & Sabi Sand Reserve, South Africa
Over the course of a week or so in the Kruger Park area I discovered a couple of superb new camps and revisited an old favorite, saw lots of animals - including many big cats and African painted dogs - benefited from expert guiding and was served some of the best food I've ever had on safari.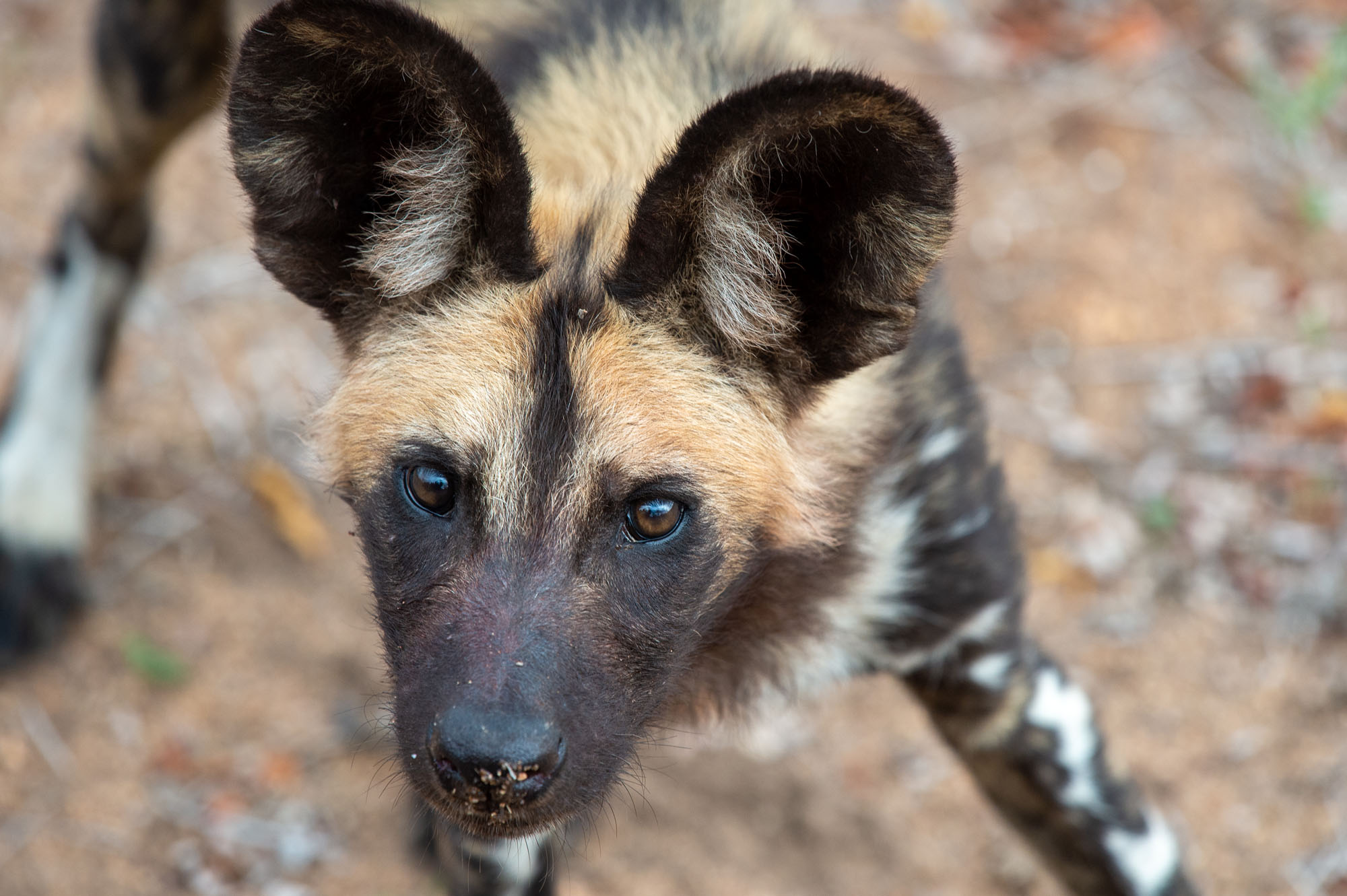 SINGITA LEBOMBO
On a recent September visit to South Africa,  I traveled by road from the southern Sabi Sand area for about three hours to Singita Lebombo, on the eastern edge of the park.  
This was my first visit to Singita Lebombo, and it did not disappoint.  Singita sets an exceedingly high standard for the safari experience, at all of their Southern and East African properties.   As I was to see for myself at Singita Lebombo as well as at Singita Ebony and Singita Boulders - which I were to visit later on - the properties excel at every facet of the guest experience.  You might think that the food at Singita is out of this world - and it is - or that the lodges have simply the best stocked wine cellars, which is also true.  But it doesn't stop there.  The same attention to quality and detail extends throughout the operation, from the selection and training of guides, to the front of house staff, property management, as well as the planning, design and execution of the lodges.  Even more important is how successful the company has been in mobilizing its resources to create programs that benefit the people, wildlife and the areas in which it operates, all to safeguard Africa's most vulnerable species and natural habitats.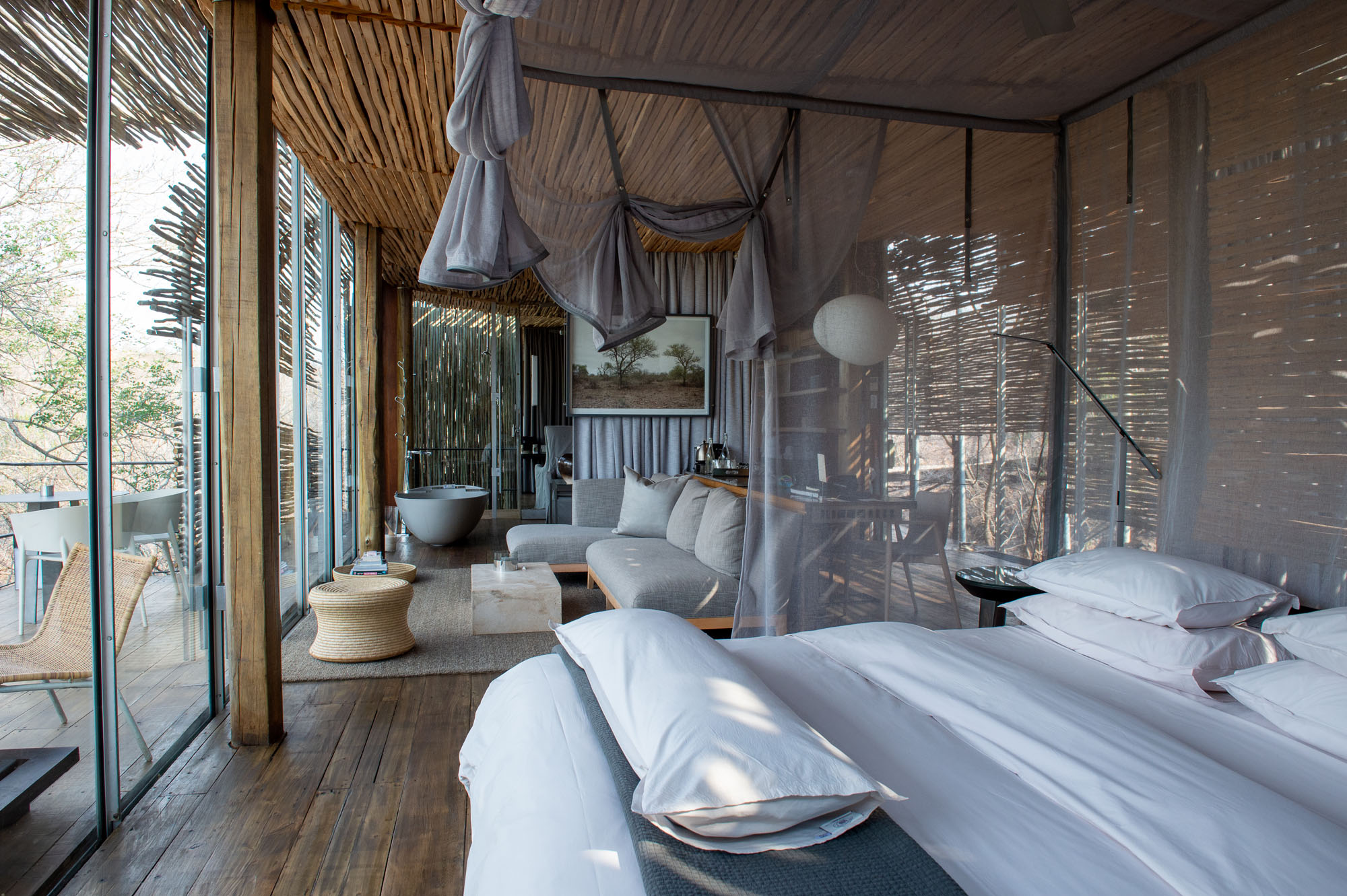 Singita Lebombo is an architecturally striking lodge with clean modern design, lots of glass and plenty of natural light.  The main dining room, bar and lounge have beautiful views over the foothills of the Lebombo mountains and Mozambique in the distance. The expansive kitchen turns out simply fantastic food. It takes confidence to attempt dishes of this quality and then to actually live up to advance billing is an achievement anywhere. All the more so here, in such a remote area. 
The evening's entertainment started with drinks in the Boma, by the fireside. It was a festive affair with a range of splendid South African wines and other beverages on offer.  Guests had the choice of four white and four red wines including a Chardonnay, Chenic Blanc, Rose, Pinotage, Cabernet Sauvignon and Shiraz.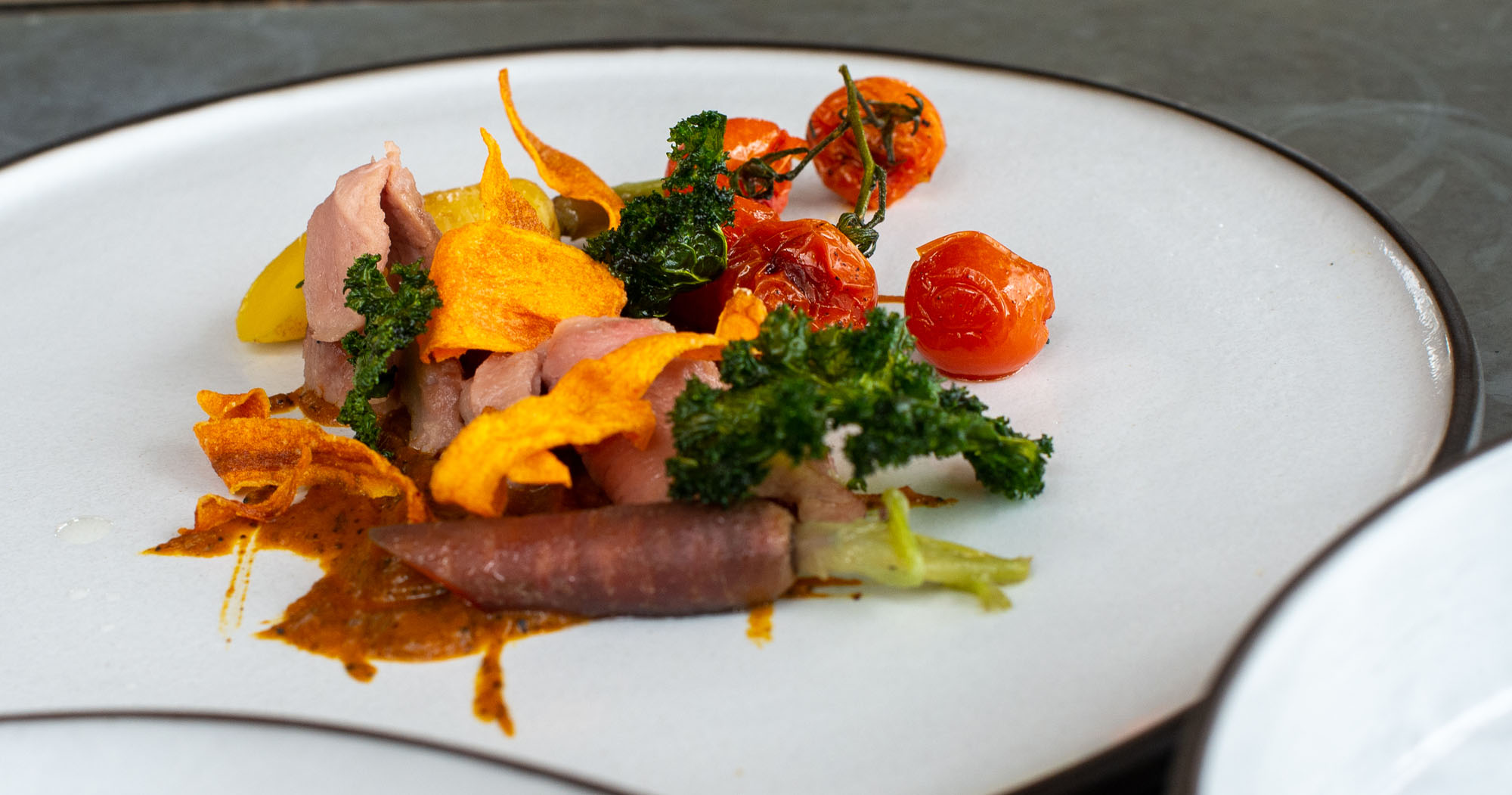 The food was bountiful too.  The main offering was a range of charcoal grilled meats including beef, springbok, eland, lamb and beef ribs, pork ribs, and boerewors, the traditional South African 'farmer's sausage', usually made with ground beef, sometimes a mix of beef and either pork or lamb.  The starters were fantastic including snook pâté and chicken liver pâté, sweet corn fritters, Moroccan quinoa salad, citrus beetroot salad, ostrich sausage with bread pockets, sourdough bread, hummus, and marinated olives.  If all that didn't quite do it for you, you could also opt for fish fillets, grilled chicken, and oxtail stew. Side dishes included lentil bobotie, traditional 'pap' (a version of polenta), cabbage, shish kabobs with peanut sauce, sweet potatoes with a citrus reduction, broccoli and cauliflower, corn on the cob, and fruit skewers with ginger sauce.  For dessert the chefs prepared a couple of South African traditional favorites, namely malva pudding and milk tart, and a peppermint crisp mousse.  In recounting this menu, it occurred to me that I need to go back to this property immediately.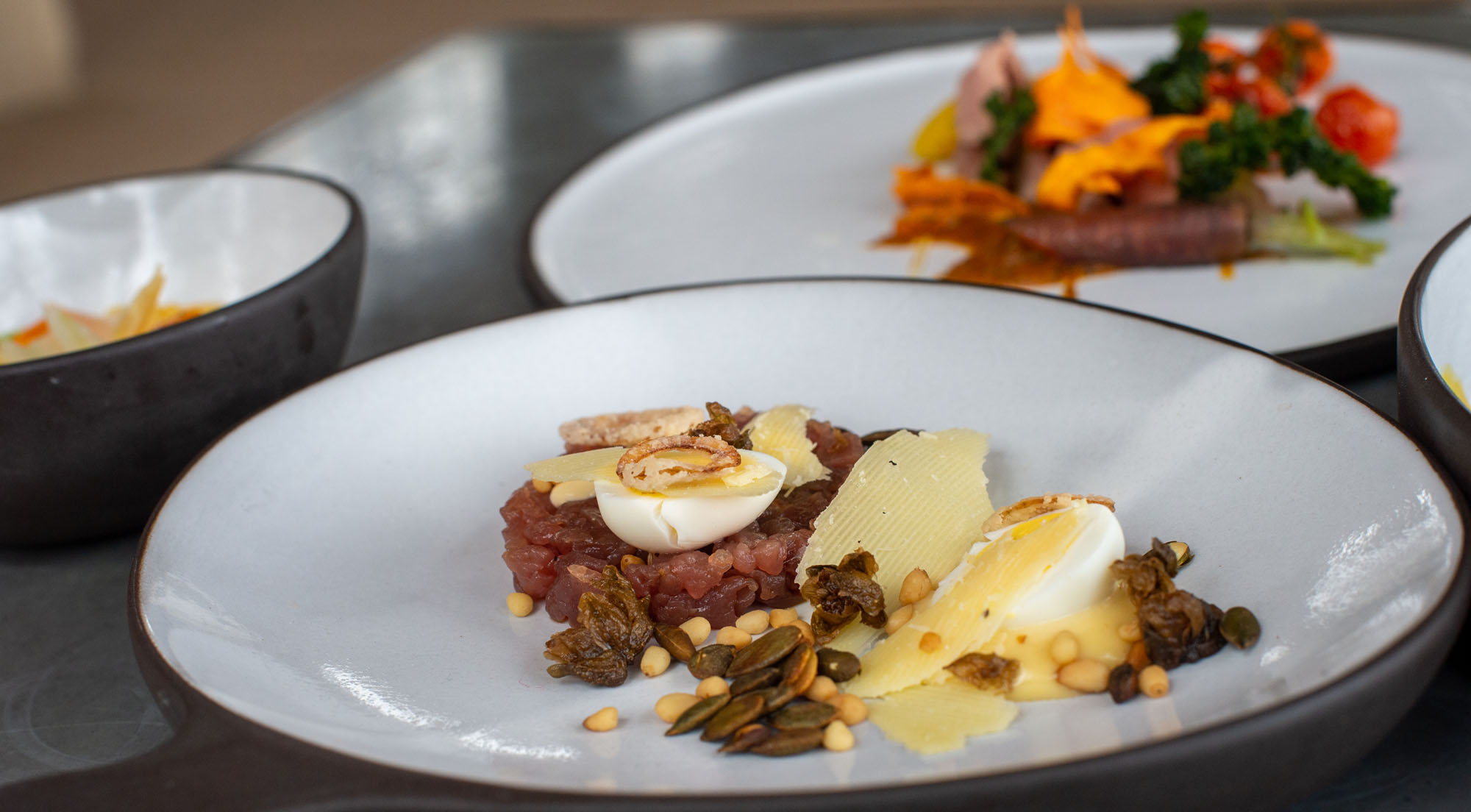 The morning game drive at Singita with our guide Margo started just after 6 am on a cloudy, rather blustery day. Margo succeeded admirably in making it a fun experience for the couple of safari veterans she had on board, as well as for a honeymooning couple from the USA, for whom it was game drive #1.
Although there were not large numbers of general plains game around, we did see a good variety of animals including plenty of giraffes, lots of Impala, some waterbuck, steenbok, several zebras here and there and a few wildebeest.
Of the bigger game species, sightings of note included two different male lions.  One young intruder into the area just under four years old, the other a fully mature black maned individual,  one of the dominant males in the local pride.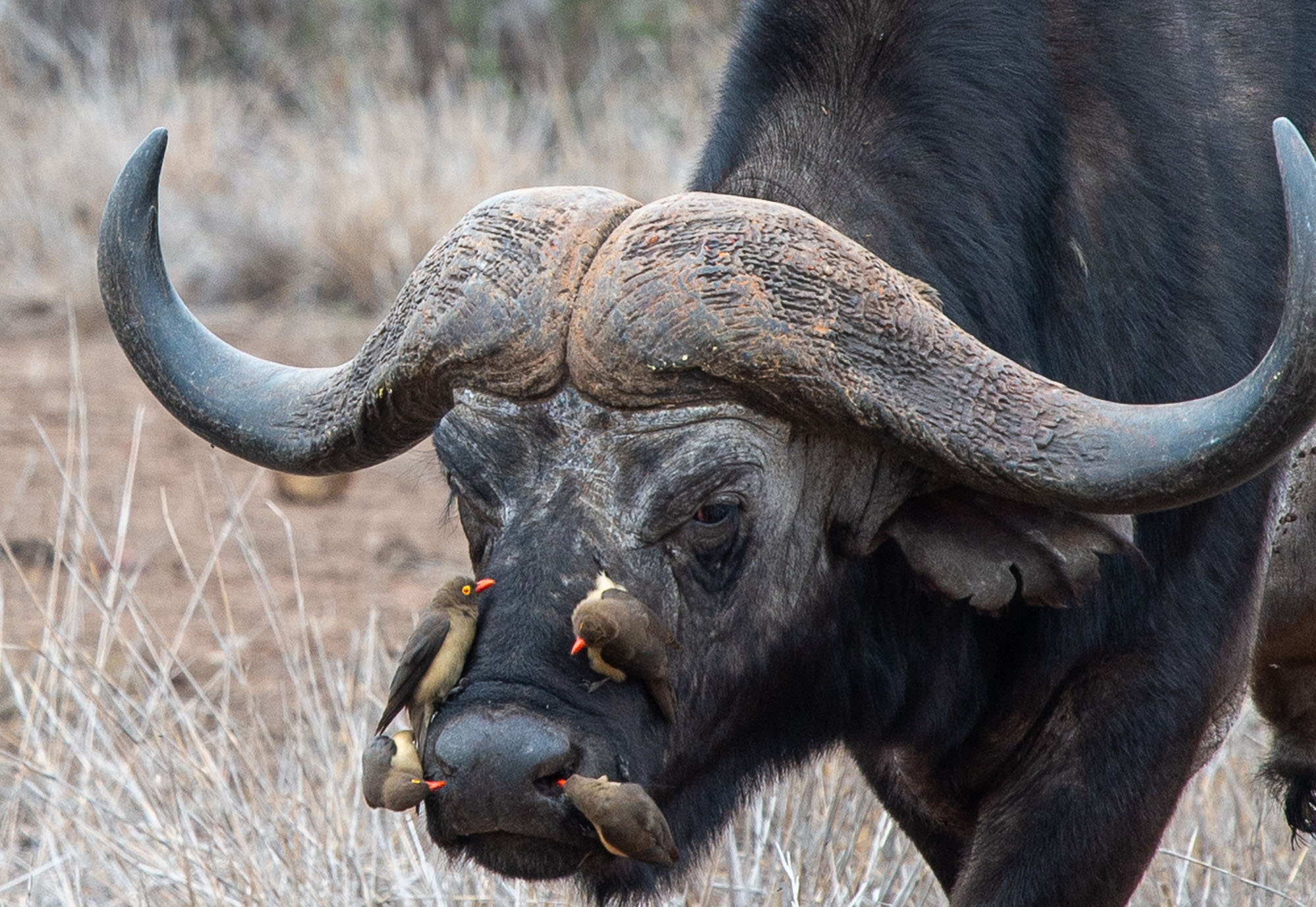 We also had good looks at a solitary old Buffalo whose face was often almost covered with several red billed oxpeckers and a large, handsome white rhino.  Rhinos are apparently not easily seen in this area.
Lunch was started off with a flavorful focaccia bread with olive oil and fresh feta cheese.  The tapas menu included carrot and coconut soup, apple walnut grape salad, beetroot polenta with white wine reduction,  shimeji mushrooms, a butternut risotto, salmon tartare and  carpaccio of kudu.  All interesting, all expertly prepared and delicious.
The afternoon game drive at Singita  was as good as any I had experienced on the trip thus far. Early on we observed a female leopard snoozing close to a recent kill, an unfortunate impala strung up in a tree just a few meters from where the leopard was resting.  The leopard was the most relaxed of any of the Lebombo leopards and she paid not a whit of attention to our vehicle or to the two others which came and went. From there we proceeded to a different area where another leopard had killed an impala, close to the overhang of a cliff, alongside the Nuanetsi river.  There was no sign of the leopard and the carcass seemed to have been abandoned. Later that afternoon we watched a black backed jackal sniffing around the area.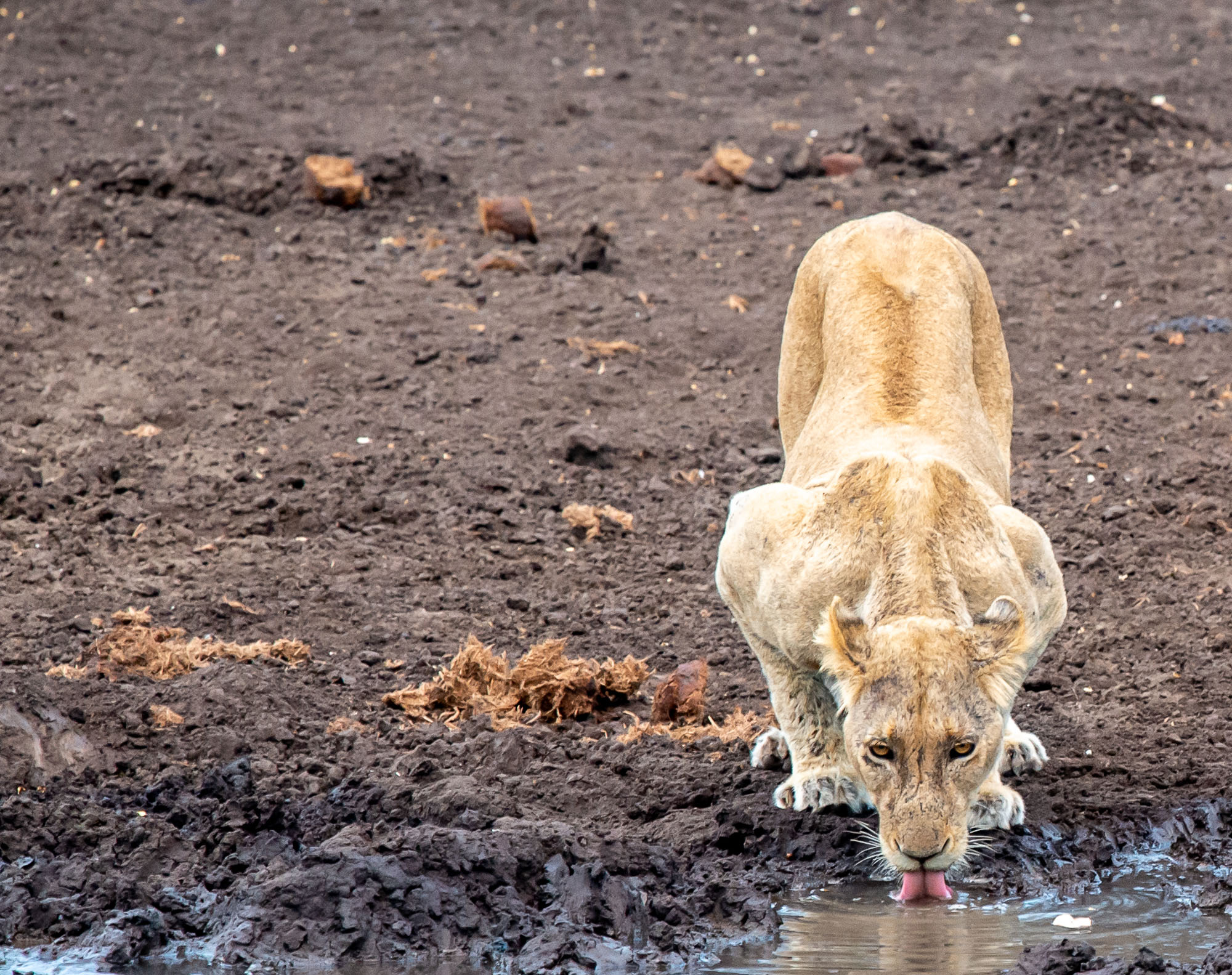 Shortly afterwards, having picked up our tracker Lawrence again - he had to do some remedial work on tracks our vehicle had left in the riverbed - we went on to our second lion sighting at Singita Lebombo. This time around there were two female lions belonging to the Mountain pride, walking away from a pan where they had been drinking. One of them crossed the road in front of us and it was painfully obvious that she had a bad case of mange. No doubt brought on by the stressful conditions of the drought. We were told that the cubs in this pride were currently malnourished due to an injured free-loading male lion who was hogging much of the food supply. One of the lionesses turned around and went back to the water where we had a chance to see her drink. And then almost as an added bonus we enjoyed our second leopard sighting of the day. This time it was a female lying on the road. She got up as we approached and slunk off towards the bushes, in the gathering darkness. Not alarmed or spooked, but somewhat more apprehensive than some of the more habituated individuals we had seen. There was not enough light to focus for photography but it definitely didn't matter - the experience was firmly embedded in our personal memory banks. Dinner was superb again with a starter of seafood and ostrich fillet main course.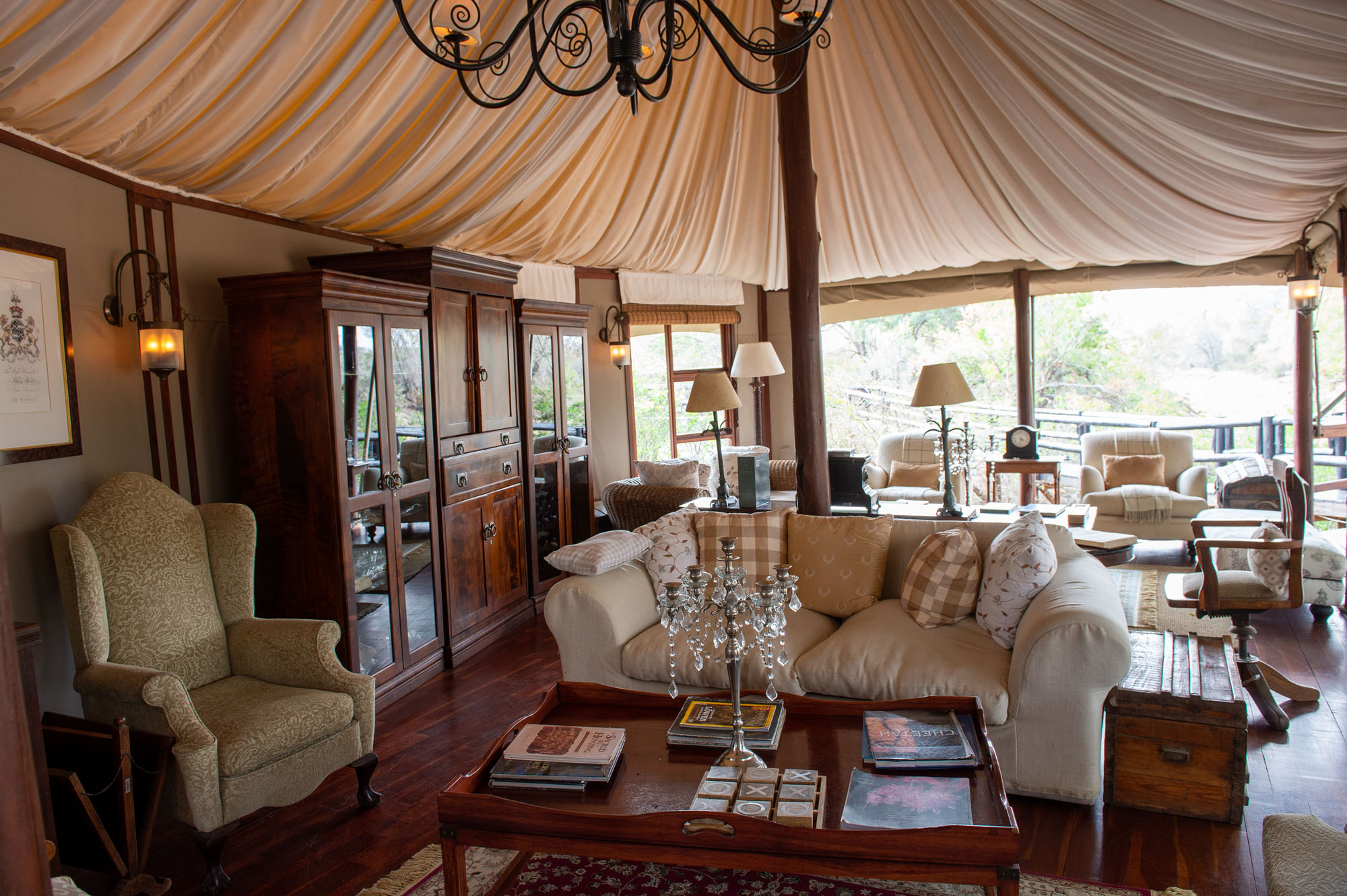 KIRKMAN'S KAMP, SABI SAND RESERVE
In somewhat of a departure from the usual early morning game drive, I did a site inspection at the nearby Singita Sweni Lodge, and the adjacent African village shopping area.  Both impeccable.  Singita Sweni Lodge's seven spacious, open-plan suites are tucked into the banks of the Sweni River. The rich and vibrant interiors add to the dramatic look and feel of the lodge. The suites  feature sweeping views through floor-to-ceiling glass, there are daybeds for sleeping under the stars and private decks that seem to float above the river. 
At 11:00 I departed on a 3 hour drive to Kirkman's Kamp, in the Sabi Sand Reserve.  We first visited Kirkmans when it was still in the MalaMala stable, many years ago.  We liked it then and nothing material has changed.  The game-viewing is still as good as it gets, with all of the 'Big Five' mammals being seen practically every day, week in and week out.   From the first time we saw it, we were drawn to Kirkman's classic safari ambience.  Built in the style of an original 1920's homestead, the property is elevated on a high ridge with spectacular views over the landscape sloping down to the Sand River.
After a delicious al fresco lunch, it was time for the afternoon game drive departing at 3:20.  Having received a very proper briefing, we trundled out of camp, the main objective being to locate a male lion coalition of two.  We did that in short order, initially observing them in a rather sleepy, resting posture and then walking through the bush. Both lions sported beautiful black manes - and one of them had a prominent dislodged right lower incisor dangling from his lip. It didn't seem to faze him at the time; the tooth was expected to fall off by itself soon enough. 
That evening, we enjoyed a boma dinner, a rather elaborate affair capped with a lively singing and dancing performance by staff members. The menu included corn soup or asparagus as a starter; mains of chicken Cordon Bleu or grilled fillet of kudu and the grand finale was either an orange panna cotta or sticky toffee pudding.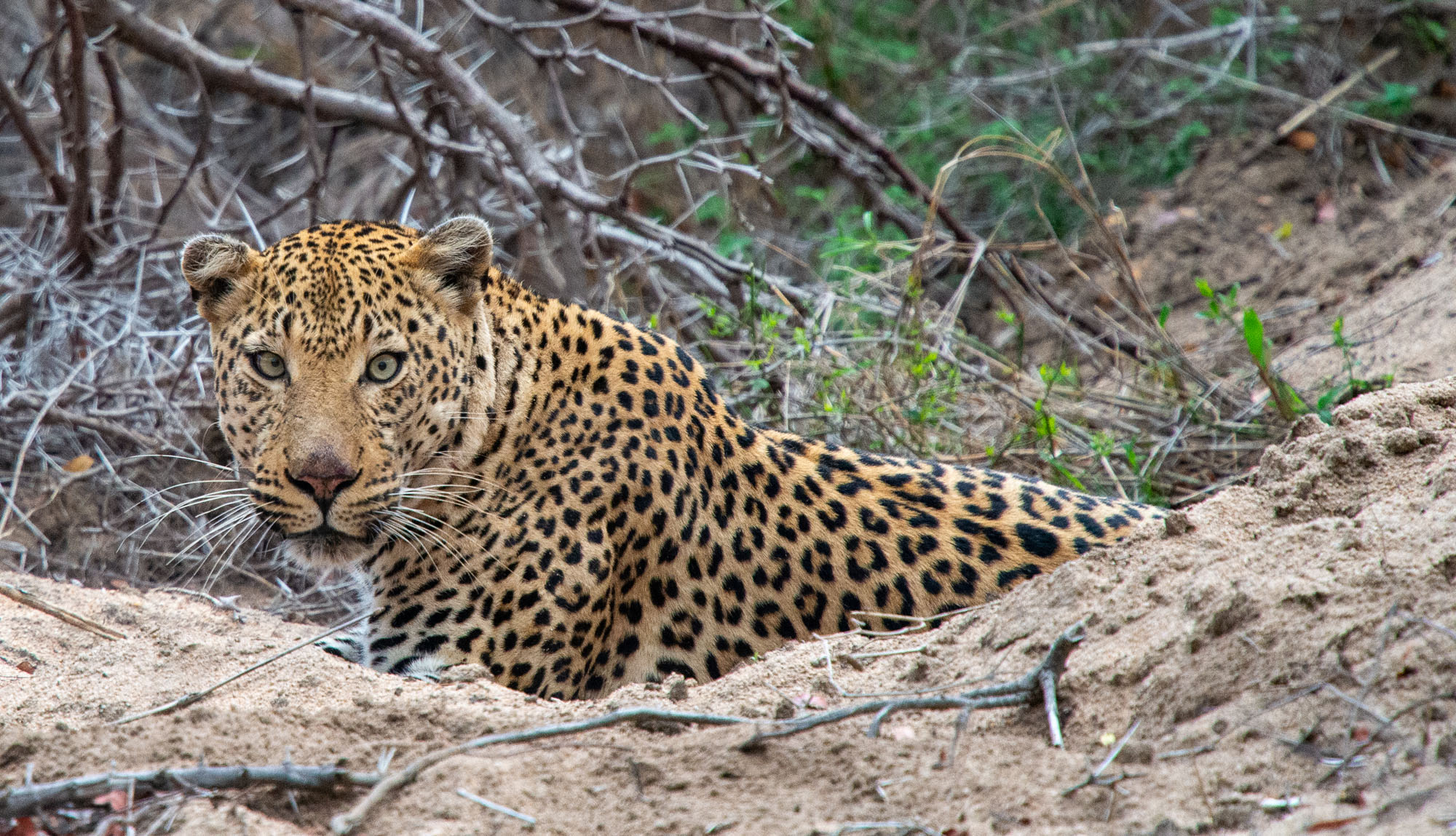 The following morning's activity started with a call to my room, prompting me to remain indoors for the next 20 minutes due to the presence of a leopard in the path in front of room number 10 and 11.  I was in room number 13. Once the coast was clear, I made it to the reception area deck for a cup of coffee and a rusk, and then - naturally - we were off to find the 'camp-exploring' leopard. It didn't take long. About 30 minutes later we were making our way through some pretty thick bush to where the leopard had been seen walking. It eventually got into a tree, where we were able to photograph it fairly well. Not ideal - due to a backlit situation -  which wildlife photographers know is a problem without a real solution. You make the most of it with exposure variation, increasing the exposure by a few increments, trying to correct the exposure on the darker animal, without blowing out the lighter background.  Somewhat unexpectedly the leopard snarled at our vehicle a couple of times -  it was clearly not entirely happy with the situation.
Eventually the animal climbed down the tree and walked to a nearby ridge from where it observed the surroundings from its elevated position.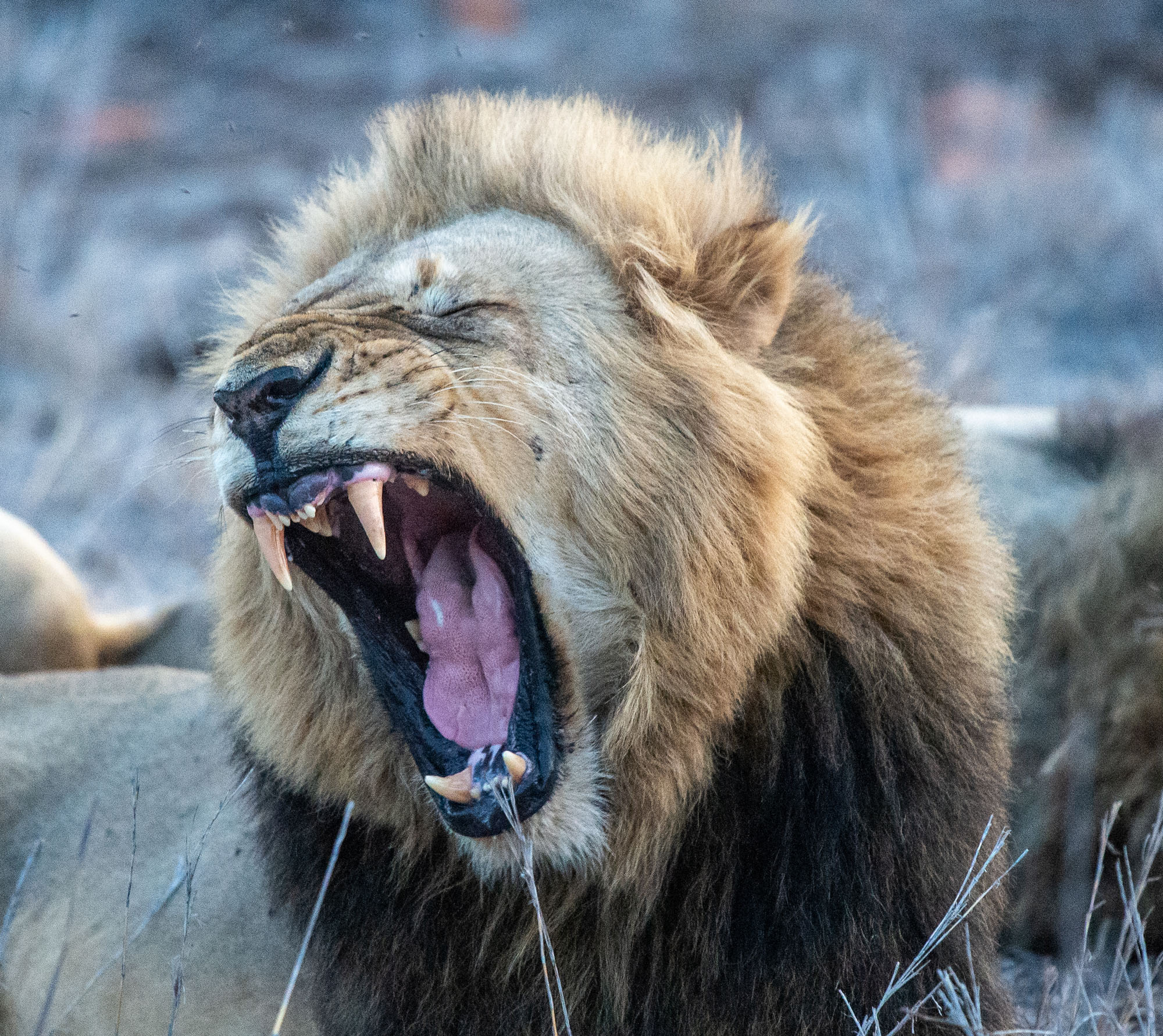 Unbeknownst to us the male lions which we had observed the previous night had made a kill only 300 meters down the ridge from where the leopard was sitting. In fact, we could see the lions from there. We made our way back to the road,  drove around the corner and there they were: both of the boys literally sprawled out in the middle of the bush track.  Just 20 meters or so away, was their thoroughly mauled buffalo victim.  Its massive head had been bent backwards and sideways in an unnatural, clearly violent manner when it met its demise sometime the previous night.
The lions were not actively feeding, just lying there and resting up before going back to the buffalo carcass again.  It would probably last them for a couple of days or more.
We then drove off to the bank of the Sand River where we stopped for a bush break and enjoyed a cup of coffee.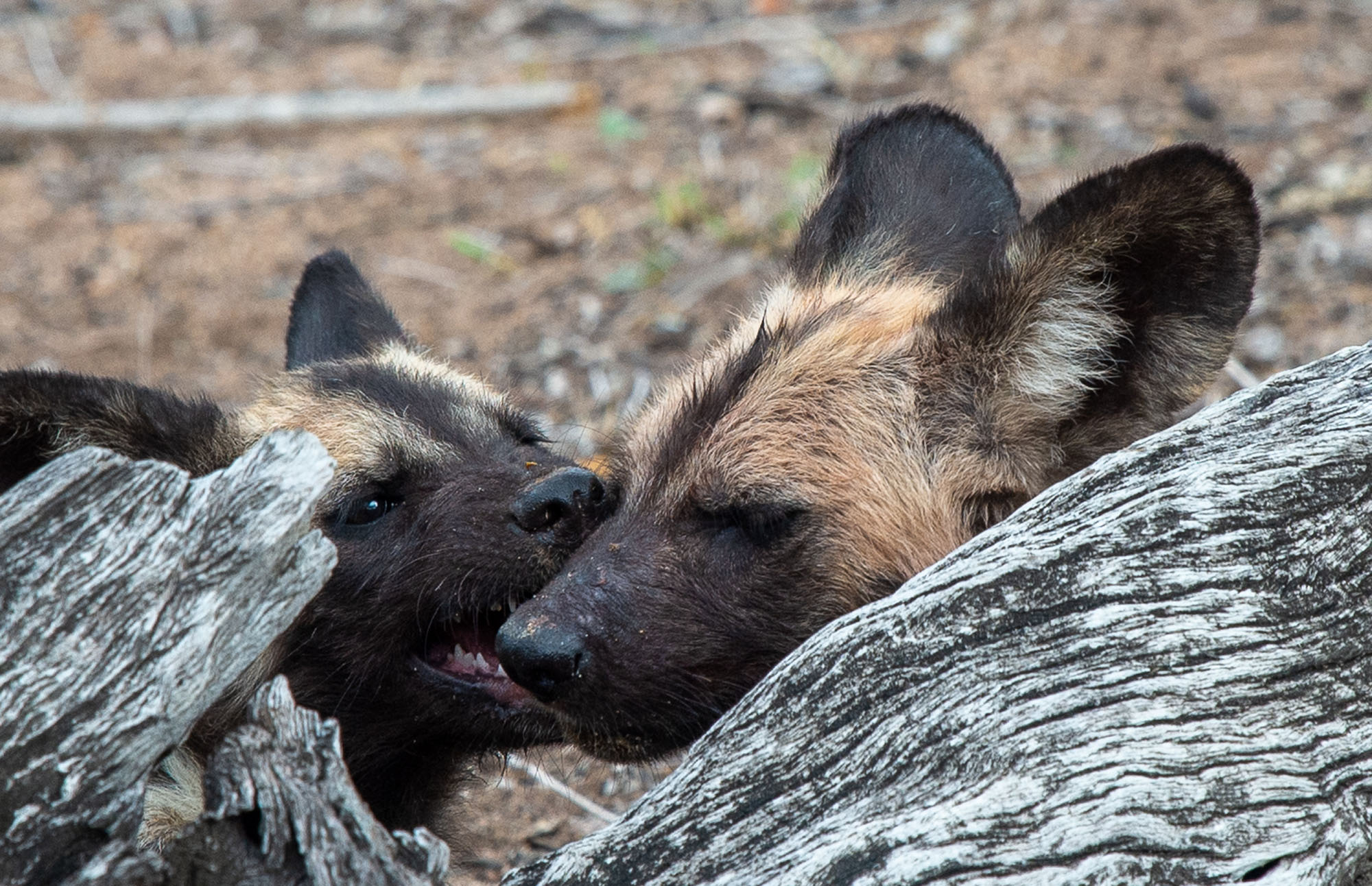 Just as we were finishing up, the radio came alive with news that a group of African painted dogs had been spotted in the Charleston sector of adjacent Malamala game reserve where Kirkman's has traversing rights.  Off we went to go and find them. After 10 minutes or so of steady but not overly fast or aggressive driving, we spotted the first of what would prove to be about 20 dogs in total. 
We followed the painted dogs through the woodland, into the riverbed where they paused for a while, some of them drinking water from a depression, and then we picked them up again as they exited the river on the other side.
All the while the youngsters were sniffing at everything and clearly finding new and exciting things along the way. They stopped to inspect a buffalo skull and horns, ducked behind stumps, poked into bushes and generally followed the lead of the adult painted dogs who were running ahead of the pack, seemingly in hunting mode. By the time the pack started to disperse and move into thicker bush, it was time for us to return to camp for breakfast.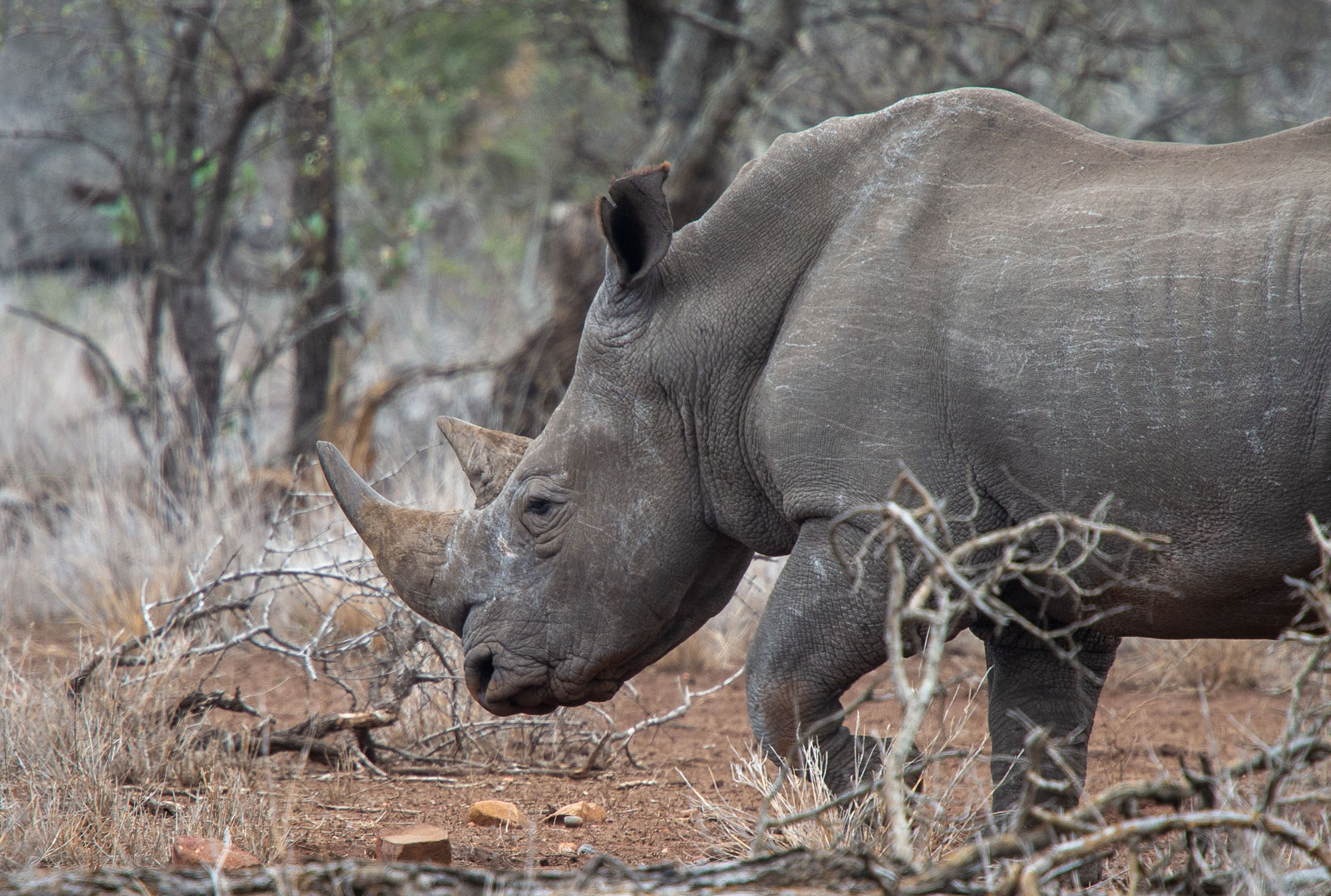 HAMILTON'S CAMP KRUGER PARK
A little later that morning I was on my way to Hamilton's tented camp, a six-roomed property inside the Kruger Park about a two hour drive from Skukuza  airport and about 2.5 hours from Kruger gate.
The camp can also be reached by road from Hoedspruit airport; this would entail a road transfer closer to 3 to 3 1/2 hours.
The drive from Skukuza to Hamilton's was not unpleasant with good numbers of general plains game to be seen including zebra, buffalo and giraffe. I also spotted two white rhinos grazing around a depression where recent rainfall had resulted in a bit of green emerging vegetation. 
I liked what I saw on arrival at Hamilton's:   it had an attractive lounge and dining room area located on the banks of a river, with beautiful tented rooms with air conditioning, a bath and outdoor shower, mosquito nets, ample storage space plus adequate lighting.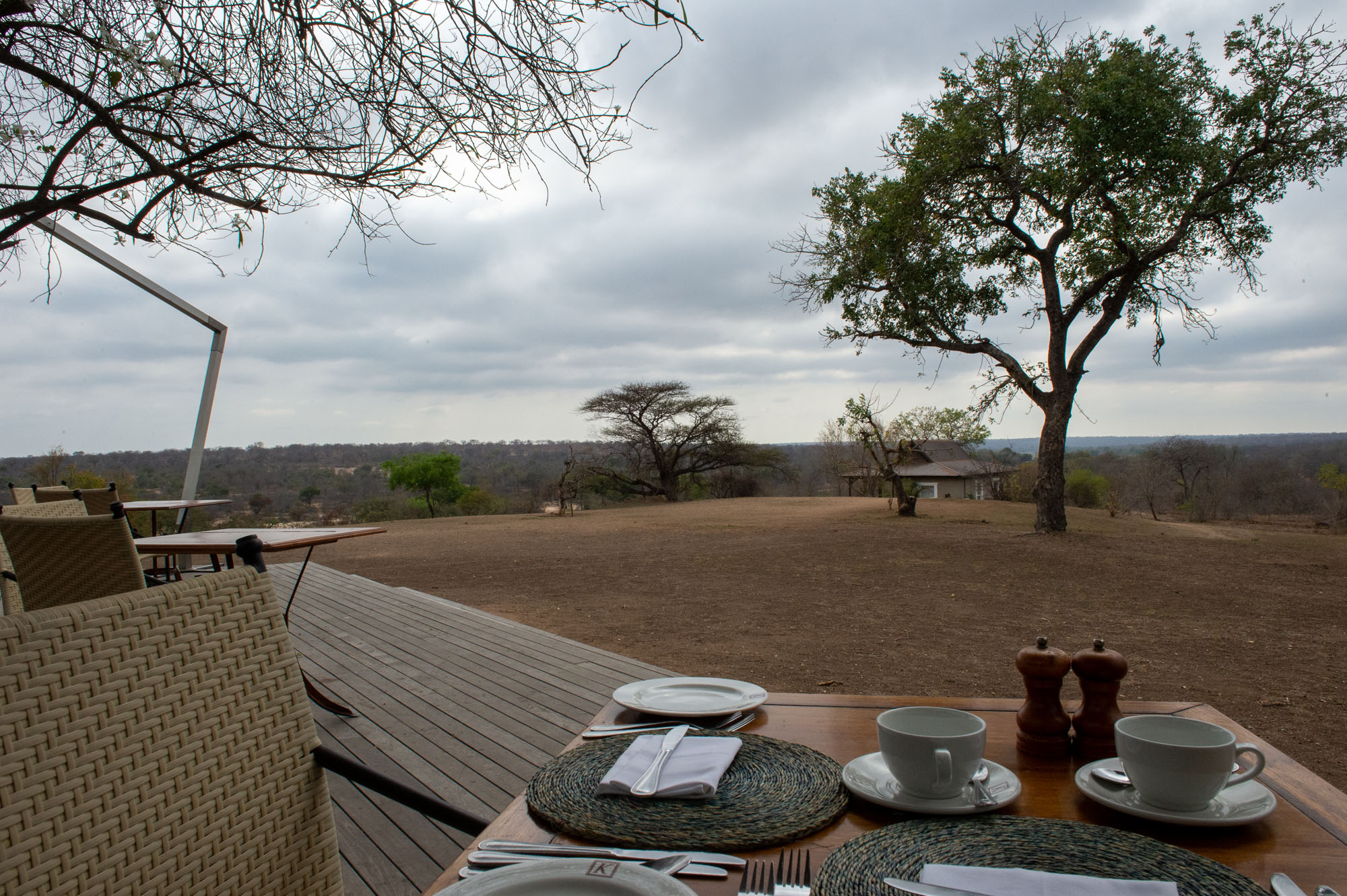 The afternoon game drive started slowly but it soon became apparent that there were lots of animals around. We were almost never not in sight of something: giraffe, kudu, zebra, elephant, buffalo, warthog, impala, there were animals everywhere. The afternoon ended on a high note with an excellent leopard sighing, being a solitary male lying up in the open on a sandy bank along a drainage line. He was apparently very full from just having fed on an impala, so not very active. It suited me just fine for a few photographs.
Our last day in the Kruger Park was not an ideal day to be on safari. It was blustery and downright cold at times with a strong wind whipping around camp, and right through the passengers in the semi open game drive vehicles. And of course the animals were not immune to the impact of the weather. My capable guide Gareth and I gave it a good shot and he did manage to find and show me the young male leopard in the marula tree, which we had briefly spotted earlier.   The leopard was finishing up the last of the impala kill which was by now reduced to mostly skin, ribs and leg bones. After about 10 minutes or so the leopard dropped down from the tree and disappeared into the low bushes.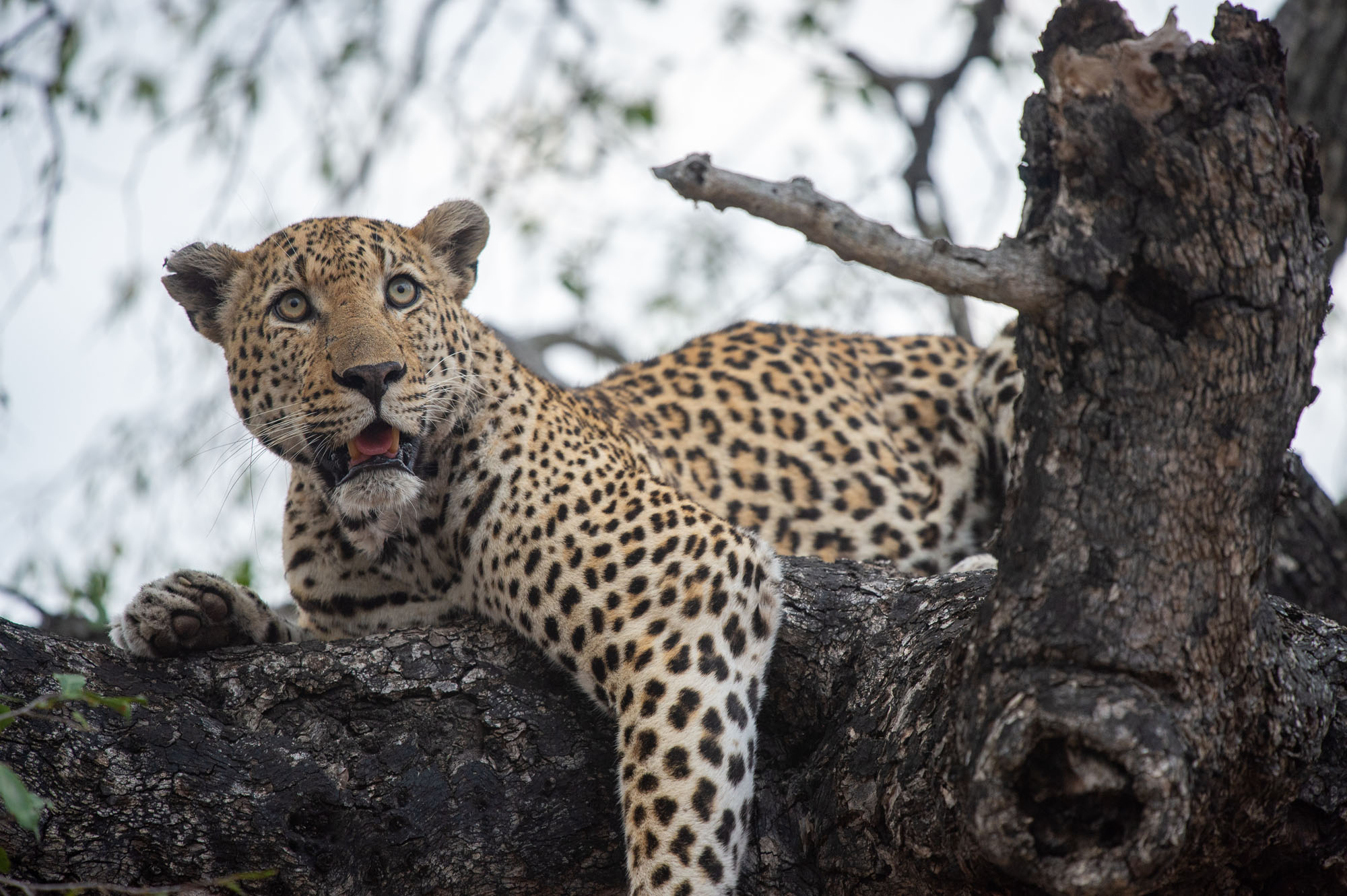 With the wind becoming even stronger and some rain making things decidedly unpleasant, we called it a day and returned to camp.
In next week's blog:  I travel to the northern and then western part of the Sabi Sand reserve in search of more special places and experiences.