$cat_name = 'category'; $categories = get_the_terms($post->ID, $cat_name); foreach ($categories as $category) { if ($category->parent) { echo $category->name; } } ?>
Nov 18, 2011
Southern Africa November 2011
Share: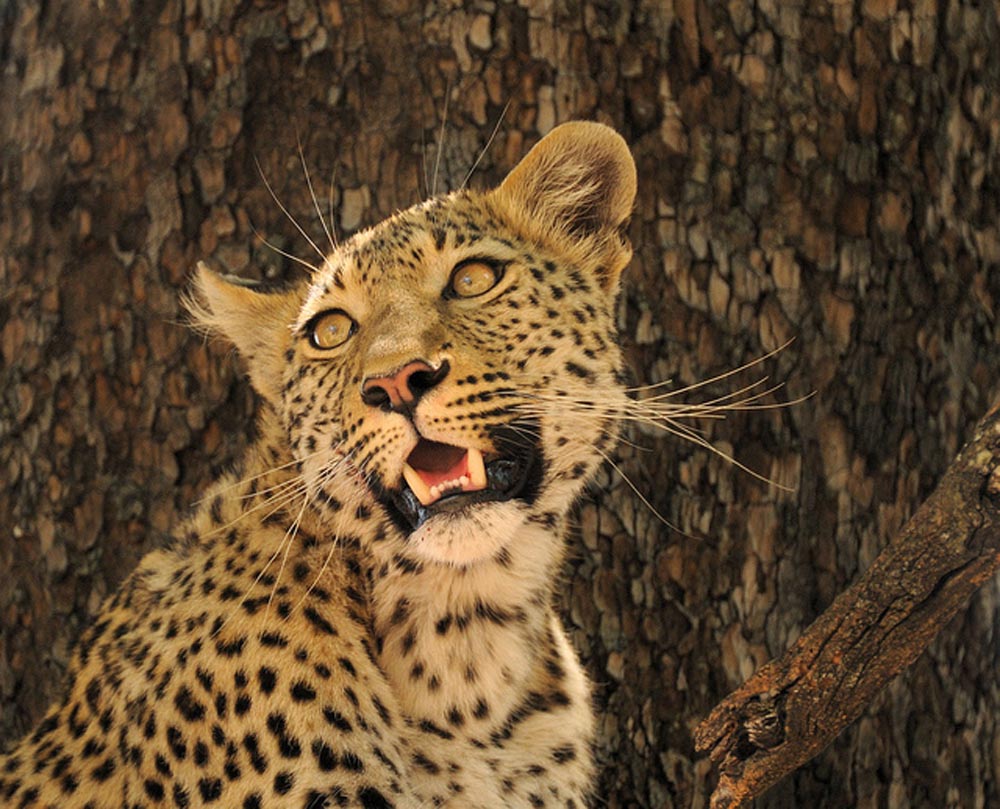 Southern Africa November 2011
PART 1: NORTHERN BOTSWANA
Kathleen and I are just back from our recent Africa trip, which included Cape Town, Grootbos (great white shark diving), Victoria Falls, Northern Botswana and ending with a couple of days at Earth Lodge in the Sabi Sand Reserve in South Africa. We travelled with our good friends the Davidsons from Austin. It was their first trip to Africa.
Northern Botswana
As before, Northern Botswana and particularly the Okavango Delta, made for a fun and very diverse experience: we watched, learned, photographed, listened, cruised, fished and relaxed, often several of these at the same time.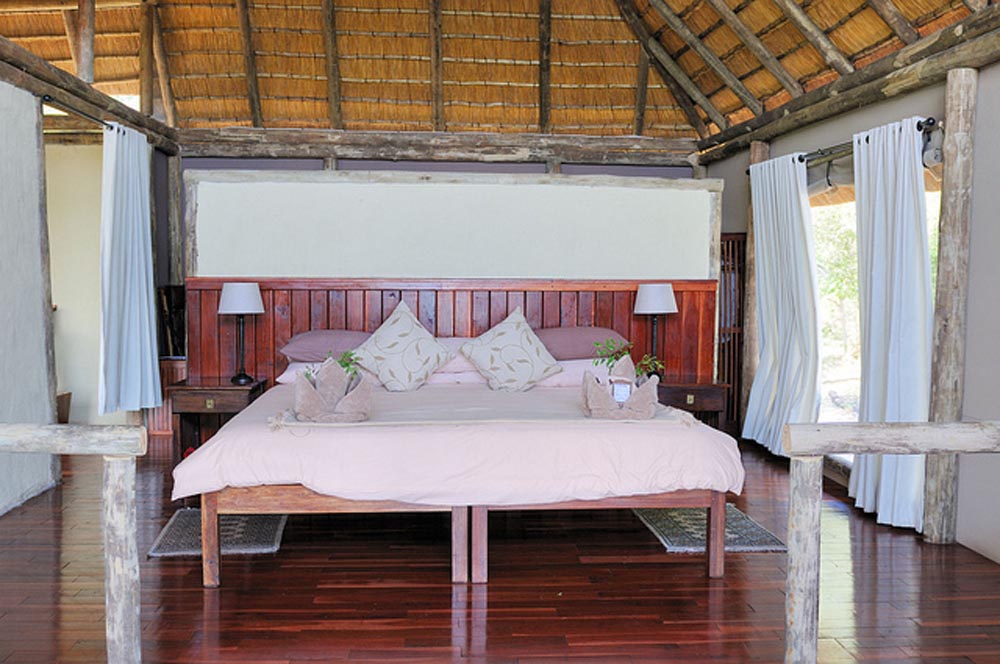 Lagoon Camp
Lagoon Camp lived up to prior billing as 'the' wild dog camp in N. Botswana. We twice bumped into a pack of nearly 30 dogs, watching them feed on an impala and observing their strict but amiable social structure, with the pups eating first, then the alpha dogs and finally the others. Another highlight there was a large herd of buffalo, several small breeding herds of elephant and a couple of sightings of the rarely seen roan antelope. The area was clearly suffering from drought and we often spent an hour or more just driving on very bumpy, very sandy roads with little to no signs of life around. Clearly most of the animals were concentrated around the wetter areas while some – the bulk of the elephants – had already dispersed even though no substantial rain had fallen. We had a very good night time leopard sighting here too, and really enjoyed a cruise on the Kwando River on Lagoon Camp's customized pontoon boat. Tried our hand at fishing but to no avail, it really turned out to be more of an extended cocktail hour cruise than anything else.
The new rooms at Lagoon Camp are huge and quite cool, even during a heat wave which we experienced while there, with temperatures well over 100F. The high ceiling and powerful fan combine with great effect, keeping the bedroom area remarkably comfortable. If I had any criticism about the rooms it has to do with the design; the large area behind the bed – where the bathroom would have been in a regular tent setup – is mostly wasted. It would have been better to bring the bed back another few feet. Also the outdoor (front) porch is essentially useless without some sort of cover; even a large safari umbrella will provide some shade and make it a more inviting area to sit and relax and experience an 'Africa moment'. Also it is rather odd that the toilet looks out directly towards the indoor shower.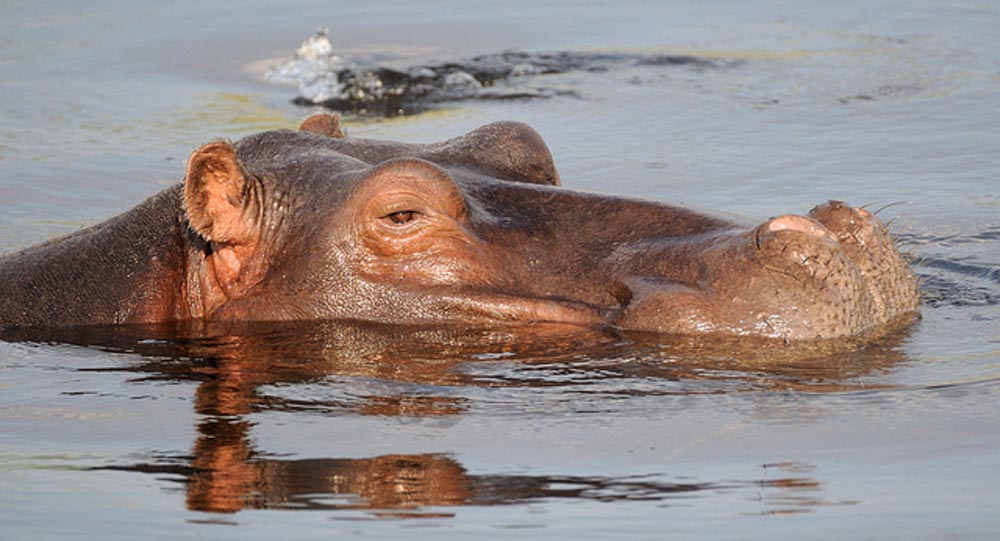 The food at Lagoon Camp was perfectly fine and well-prepared; dinners consisting of meat and two veggies with very good freshly baked bread, salads and plenty of pretty good house wine! Unfortunately the chef mis-interpreted my long brief about vegan food options, somehow figuring that all
I needed was a stir-fry of veggies, every time. Not quite: next time I hope they will have some sadza, beans or other legumes, a few whole grains and even some tofu on the menu.
I hope that Lagoon Camp will phase out the last few Uri game drive vehicles soon. They are very mobile and can get into thickets and bush much more effectively than any of the other vehicles (Landcruisers or Landrovers) but the negatives of cramped seating and just two rows of seats far outweigh the positives. On almost every game drive at Lagoon Camp we had 6 people in our vehicle which means that 2 persons are stuck in the dreaded middle seat. Really not acceptable.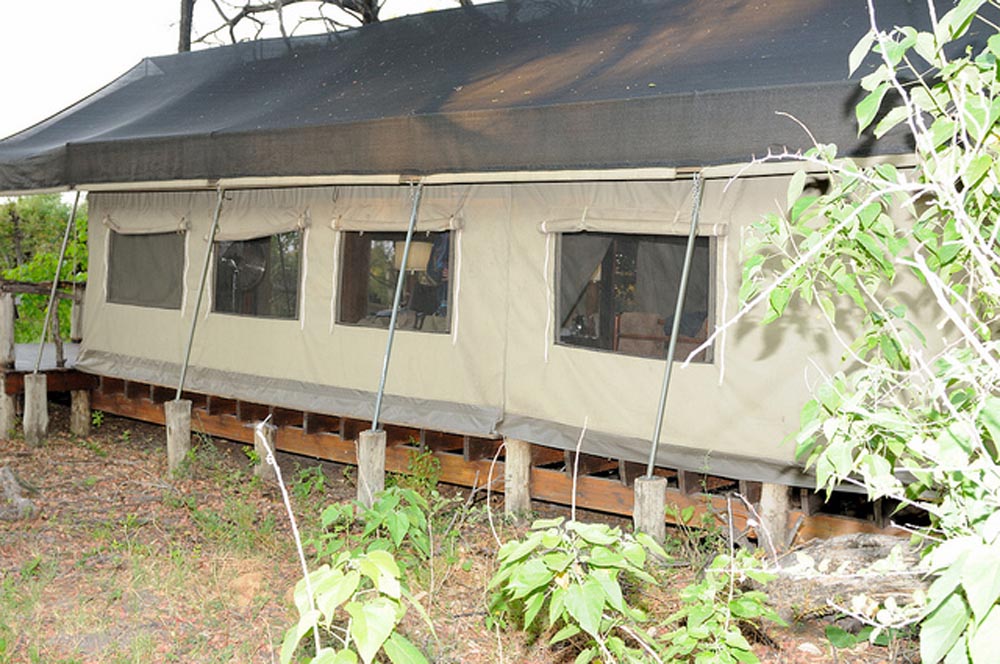 Nxabega & Xudum Camps
We also spent some time at two Okavango Delta camps – Nxabega and Xudum – both operated by AndBeyond – and they were charming in their own way. The accommodation at Nxabega is nothing fancy – fairly basic tents – but the main area and the camp itself are amongst the nicest we have seen in Botswana. So much wildlife in and around camp; great staff, good food, and the best overall guide on the entire trip – Moffat. He is just such a charming person, always smiling and with lots of little jokes and funny comments. Really a pleasure to have him around.
There was also plenty of wildlife in the Nxabega area, particularly in the large areas which had recently been burnt in what clearly was a massive wildfire. The emerging vegetation is starting to attract lots of plains game including zebra, wildebeest, tsessebe, impala (of course) with good numbers of elephant and some buffalo to be seen as well. We also enjoyed a great sighting of a young male leopard that obligingly climbed into a tree. He is apparently known for playing with the cushions in camp, from time to time. Hopefully when they are not being used by guests.
Probably our best outing from Nxabega was a fishing trip into the permanent delta. We traveled about 20 minutes on an aluminum skiff through a winding channel – kept open mostly by hippo – until we reached the edge of the Boro channel. It was a superb spot with a large lagoon to our right, a huge drifting reed island on our left, and a line of papyrus in the distance. We were close to a heronry with several Purple Herons flying in and out – I got lucky capturing one of them in flight. But it was really all about the fishing. We had barely anchored along the reeds when the first beautiful green nembwe grabbed my Mepps spinner. For the next 90 minutes there was barely a dull moment with practically every second or third cast delivering a strike. The most amazing thing was not the beautiful setting or the superb fishing; it was the fact that there was not even one other boat within sight or hearing distance. Just us, the delta, the sky and the crystal clear water all around.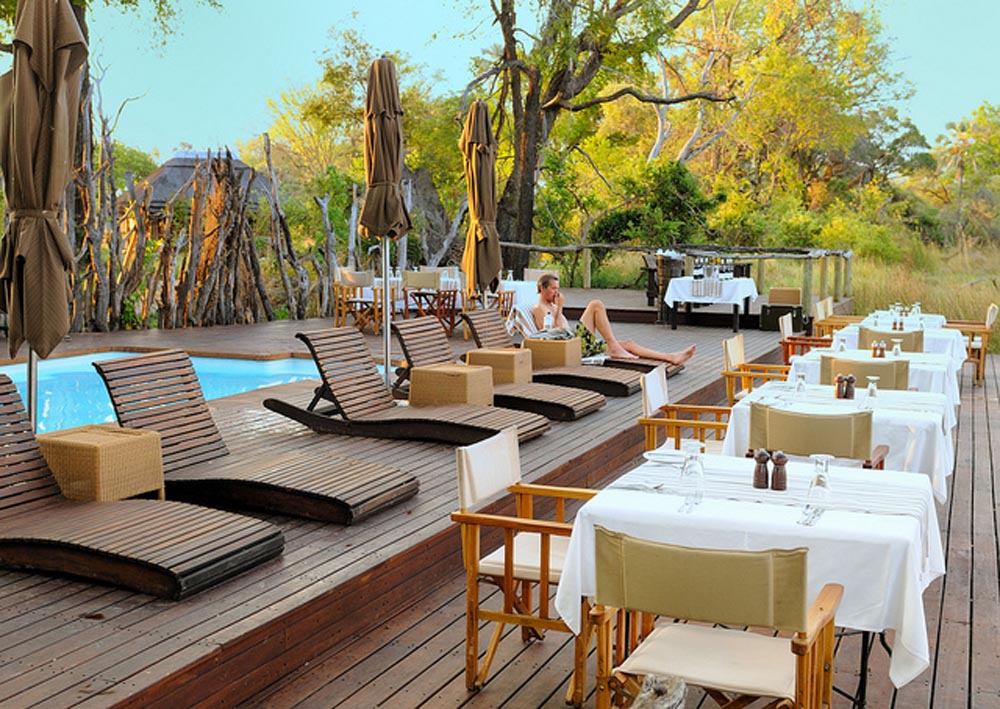 Xudum is a deluxe Okavango Delta Camp with very large split-level rooms: an air-conditioned bedroom, sunken bathroom with tub and indoor as well as outdoor shower, private plunge pool and an elevated deck for some great views over the Delta. On our day of departure a big herd of elephants were strolling right through camp – it would have been great to observe them from the deck. The expansive communal area includes a dining room, lounge/bar and open interactive kitchen, where guests are invited to participate in food preparation and cooking demonstrations. As it happened there was a professional chef present in camp for the duration of our stay, with a result that the food at Xudum was by far the best we enjoyed on the entire trip, and that says a lot, considering that we spent time at Ellerman House and Grootbos which both pride themselves on the quality of their cuisine. The range of vegan items on the item was impressive and the one was more delicious than the other, all the way from soup to veggies to legumes, tofu, lentils and beyond. For once somebody actually took note of my specific preferences, so other than the more elaborate recipes there was plain old 'pap' (a local version of polenta) with appropriate side dishes available both nights.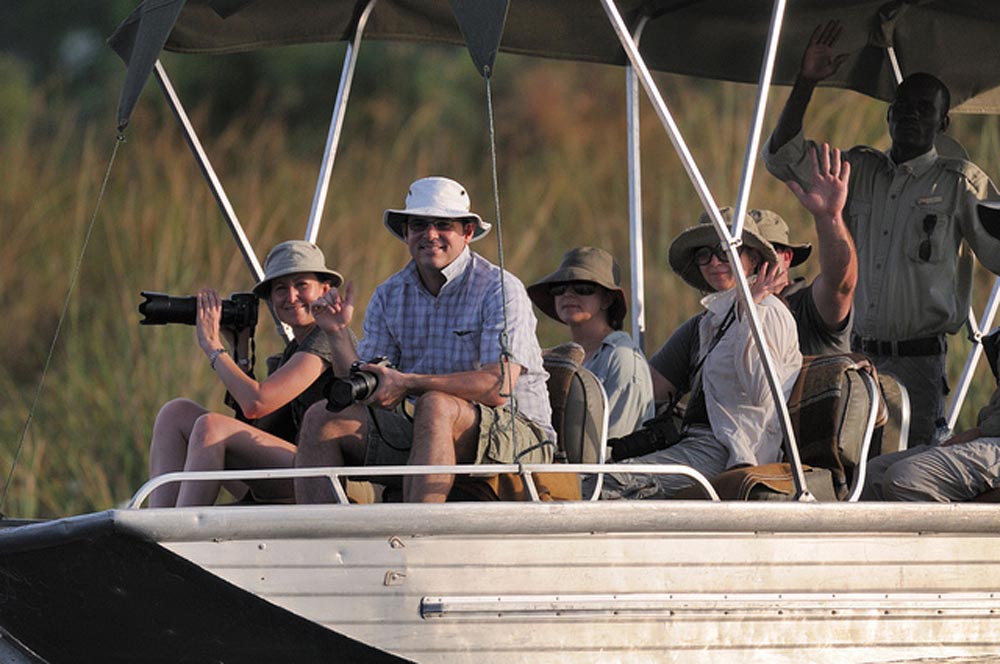 A fishing outing from Xudum was just as exciting as the previous one at Nxabega, with four of us landing a good haul of mostly three-spot tilapia as well as a few catfish and several African pike. Things almost got too exciting when we were charged by a hippo. This solitary individual had apparently just recently been ejected from his pod, and resented the sudden intrusion of our little vessel into his large pond. So without any warning signs, he stewed over it for about 5 minutes and then came straight at us, underwater, kicking up a massive 'bow wave' in the process. Fortunately our guide Isaiah kept his cool, starting the outboard motor without a fuss and steering a safe course to the right of the approaching behemoth.
The game-viewing at Xudum was a bit on the quiet side, although we did have some very good views of a young female leopard on the drive into camp. Xudum would be a good choice as an Okavango Delta water camp, but this is not the place to come to if you are in search of big game only. The beautiful environment and range of activities which include mokoro outings, boating and game drives certainly makes it a worthwhile destination though. The same is true of its sister camp Xaranna which if anything has an even more attractive lounge and dining room area, with large, attractive tented rooms.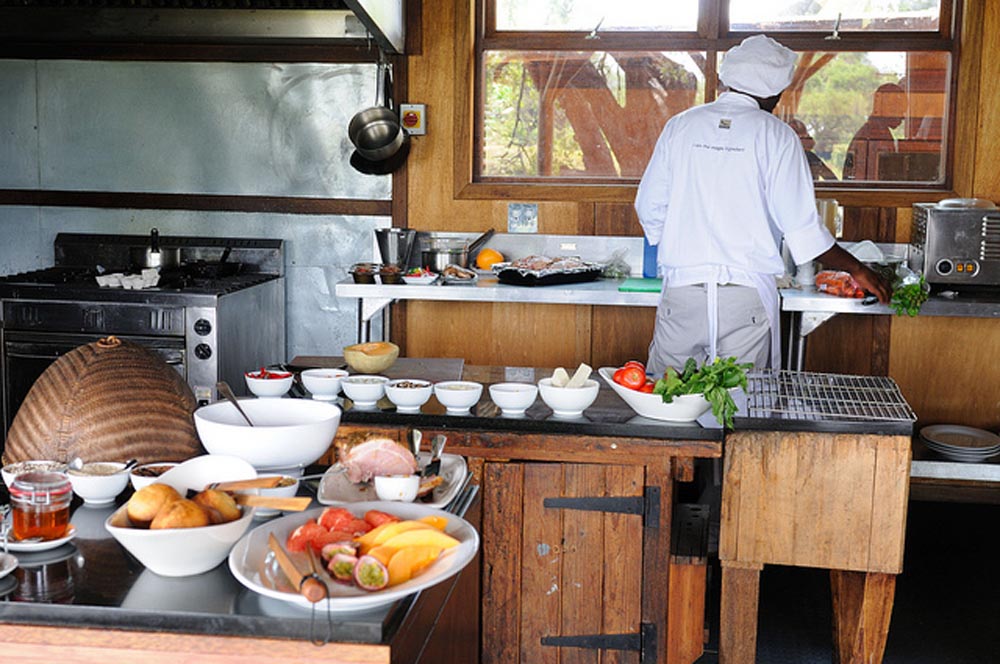 Transfers to Nxabega and Xudum
Prospective visitors should be sure to check on the duration of transfers into both Nxabega and Xudum; when we were there in early November the airstrips at both of the lodges were unserviceable which necessitated very lengthy road transfers (almost 3 hours in the case of Nxabega and about half that much for Xudum) from and back to Pom Pom airstrip. This was unfortunately not mentioned to us prior to traveling, so it came as a rather rude surprise. Both camps made a special effort to break up the long transfer with a picnic stop en route, which did help. Even so we were pretty exhausted after the very long and very bumpy transfer from Nxabega to Xudum which consisted of a long drive to Pom Pom, then another 45 minutes or so to Xaranna, from there about 20 minutes by boat through the Delta (which was fun and easy) followed by another 45 minutes to Xudum Lodge. At certain times of the year much of the transfer to Xudum can be done by boat, but not when the water in the Okavango Delta is low.
As far as I am able to tell the situation with the airstrips at Nxabega and Xudum is unlikely to change for at least the next 12 months or so; it takes forever to obtain permission to build a new airstrip and to get earth-moving equipment into and out of the area is a near impossible task even in the dry season.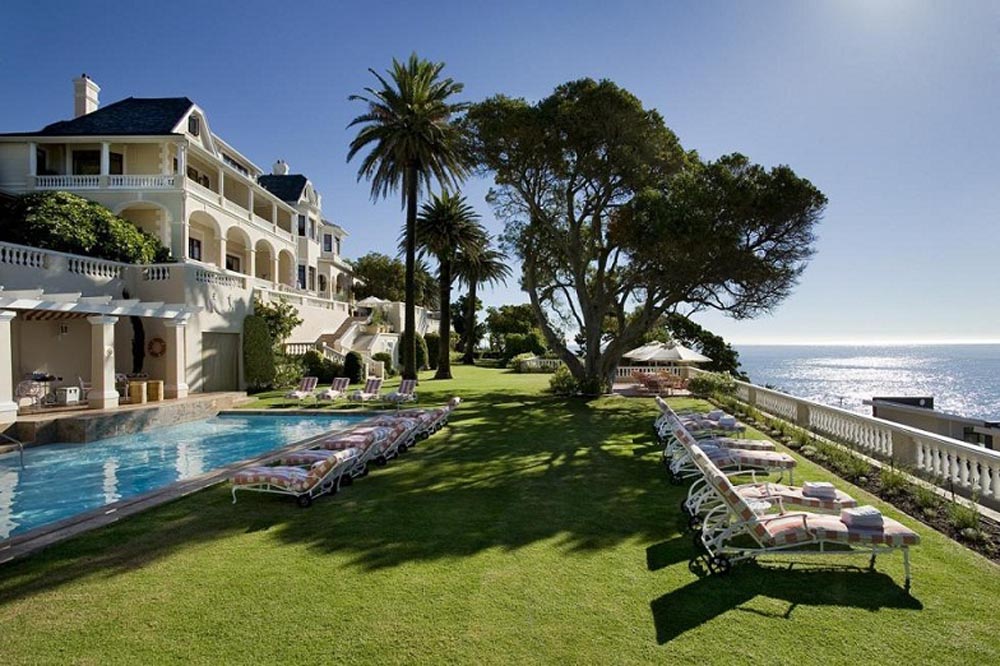 PART 2: THE CAPE
CAPE TOWN
Earlier during the trip we had spent several days in Cape Town and the South-western Cape. I have been visiting Cape Town regularly since the 70's yet there is always some new facet of the city to discover. This time around the most memorable events included a delightful meal at the Opal Lounge on lower Kloof Street, a most worthwhile outing on the Cable Car to the summit of Table Mountain, a convivial and delicious dinner with friends at Baia Restaurant at the Victoria & Alfred Waterfront, and a day outing around the Peninsula with our Tours and Trails guide Thomas.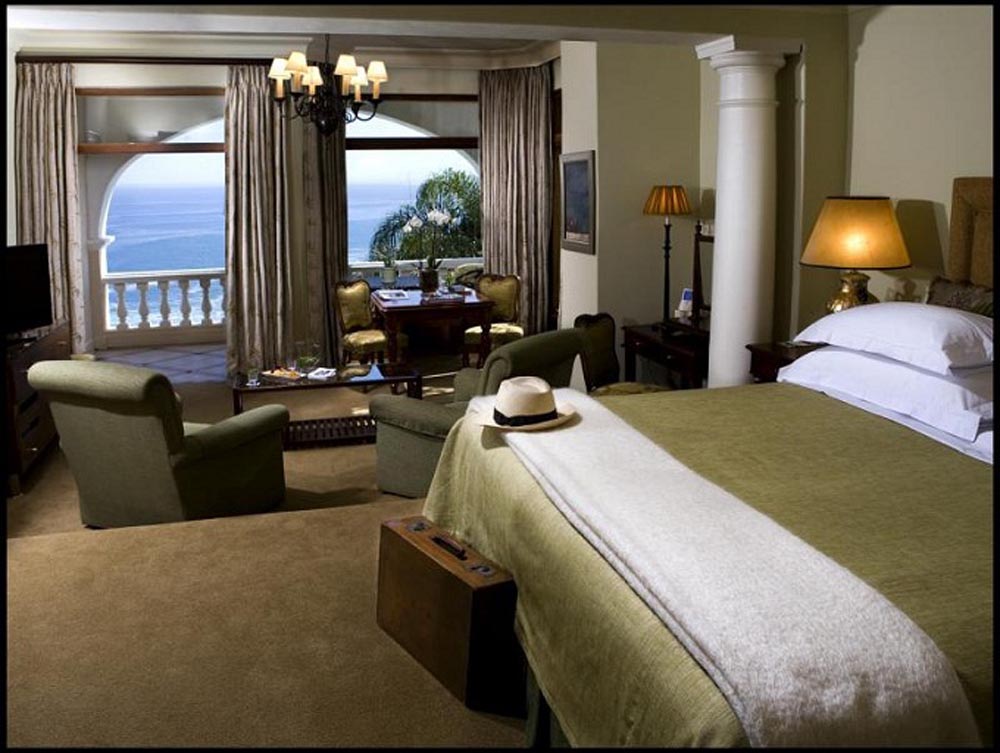 Ellerman House
Our first night in the Cape was spent at Ellerman House, a superb small deluxe hotel overlooking Bantry Bay on the western side of the Cape Peninsula. After two solid days of traveling it was a relief to be shown to such as huge, well-appointed room with one of the best views I have ever enjoyed in 40 years of travel. Kathleen and I wasted no time to enjoy a complimentary welcome drink on the balcony. There is nothing like an uninterrupted view of the ocean, and better yet the actual sound of waves crashing on the shoreline, to erase all thoughts of TSA inspections, airline food, passport checks and worrying about overhead luggage space. Suddenly, our most pressing priority was when to have dinner, and all we had to worry about was not to flood the bathroom. Cape Town has the most awesome water pressure of any city I've been to.
The rest of our short stay at Ellerman House was every bit as enjoyable as we had anticipated. Next time, we will stay longer and not plan anything for a day or two. We barely scratched the surface even though we packed in quite a lot in just a day. Fantastic food, an amazing wine list, complimentary bubbly for our anniversary and Kathleen's birthday, enjoying the garden, the pool with a view, visiting the art gallery and perusing the many original South African works of art which adorn the entrance, hallways, formal dining room, lounge and library.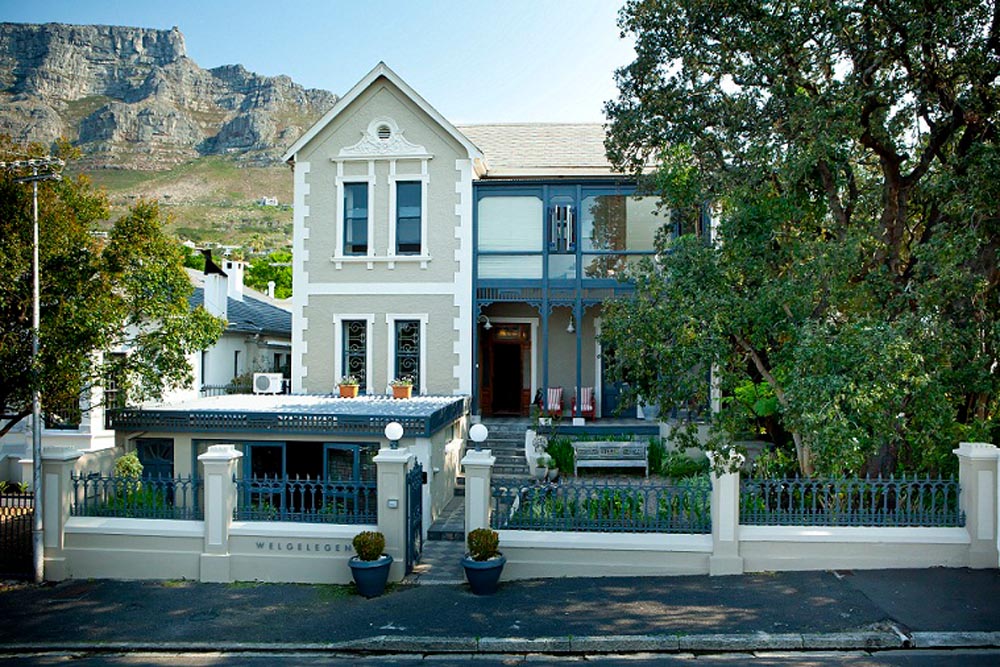 Welgelegen Guest House
The next day we reluctantly bade farewell to Ellerman House and crossed over the mountain to Welgelegen, a somewhat more modest yet no less interesting guest house in the City Bowl area. Welgelegen is a warm and friendly bed & breakfast where manager Janine really went all out to assist us and to make our stay enjoyable. Our room was of a good size and quite comfortable, although it let in too much sunlight through a stained glass window separating the room and the porch. Not conducive to sleeping in! Complimentary port and sherry was a nice touch. Breakfast was excellent too, with a nice assortment of fresh fruit, freshly baked bread, scones, assorted variety meats and cheeses and of course eggs to order with bacon and/or sausage, fresh toast and good French press coffee. Welgelegen's best feature is its proximity to Kloof Street with its many restaurants, shops, a grocery store, and the like. We enjoyed a light lunch at Cafe Paradiso and dinner at the Opal Lounge. I would recommend the latter for anyone visiting Cape Town; it is rated as one of the top 5 restaurants in the city. We had a superb dinner there – I even had some Malva pudding (dessert) which was irresistible.
On the afternoon of our first day in Cape Town, the four of us took an enjoyable stroll down Kloof and Long Street all the way to the Company's Garden, the Houses of Parliament, Tuynhuis (the president's residence when in Cape Town) admiring various statues, buildings and vistas. It was a beautiful, crisp Cape day, rather chilly as Cape Town can be at any time of the year.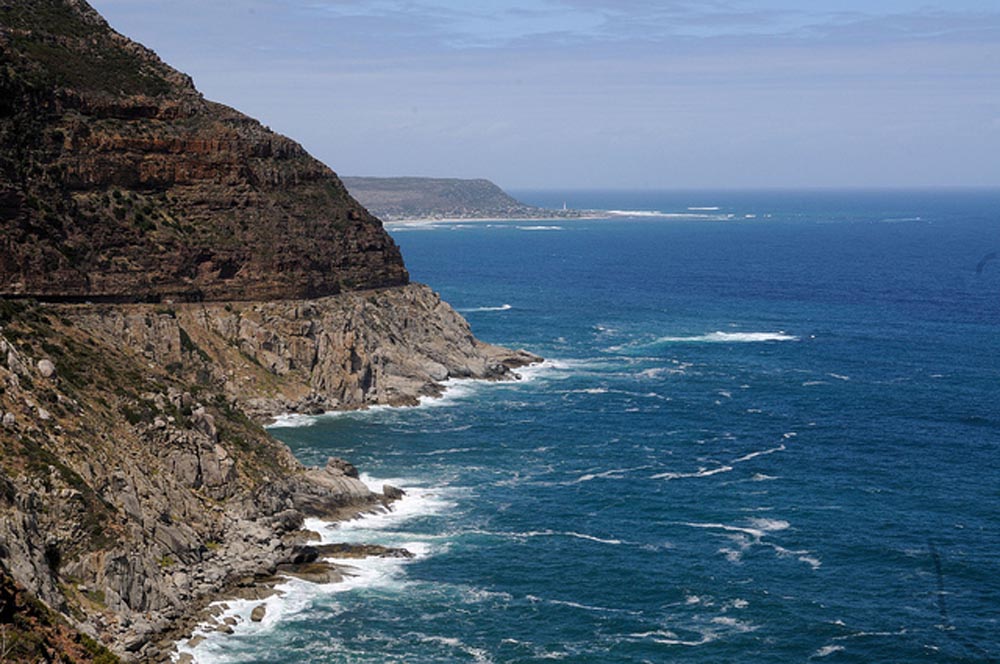 Peninsula Day Tour
On November 5 we were collected for a full day guided tour of the Cape Peninsula with our guide Thomas, a native of the Democratic Republic of Congo. Via Sea Point and Bantry Bay (this time looking up towards Ellerman House) we drove along the coastal route to Hout Bay where we spent half an hour or so admiring the setting. Like several other Cape area attractions, Hout Bay has become very popular with international visitors and it felt decidedly 'touristy.
Even so, we enjoyed the break from the vehicle, watching a couple of habituated seals cavorting in the harbor. From there the road winds up and around the spectacular Chapman's Peak Drive, one of Africa's top scenic drives, reminiscent of portions of Big Sur in California.
Eventually we made our way past the coastal town of Kommetjie to the Cape of Good Hope Nature Reserve. Here, we drove to the marker for the South-western most point of Africa, and then enjoyed a surprisingly good lunch at the restaurant at the base of the funicular which takes visitors to the viewpoint.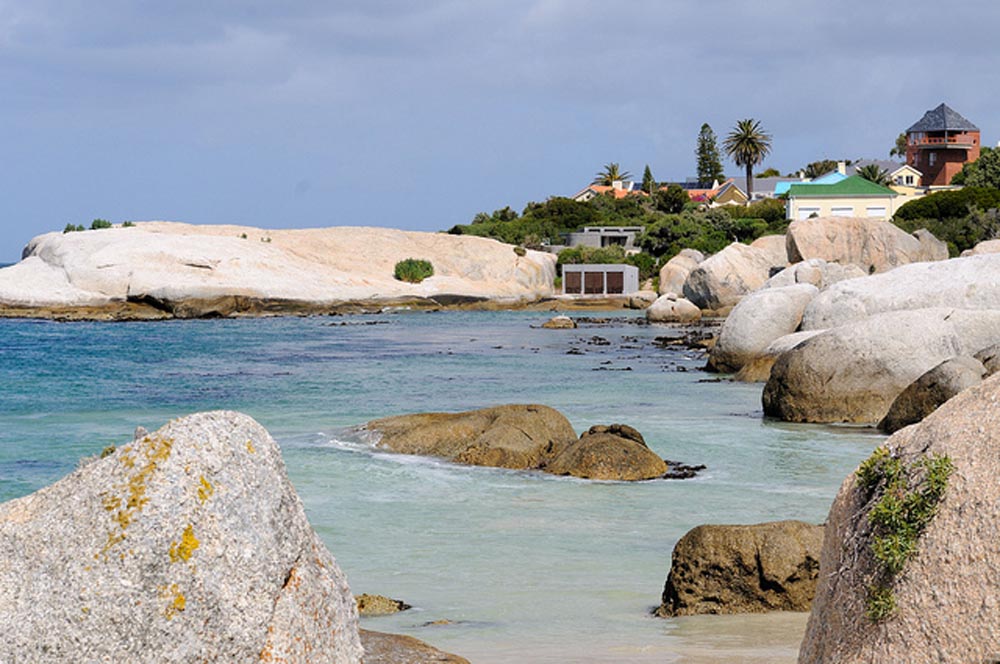 Our next stop was Boulders Beach where we paid an entrance fee and walked along a short boardwalk to the African Penguin viewing site. There were a few dozen penguins to be seen, several of which were in moult. Not too long ago, Boulders Beach was a popular family beach but nowadays it is the exclusive domain of the penguins. Good to see that the National Parks Board have figured out a way to cash in on the birds. Anything to help protect them.
Early the next morning, when it was still partly cloudy at the summit, we took the cable car ride to the top of Table Mountain. This is really something that every visitor to the city should do: great views over the city itself, Robben Island and surrounding areas. We spent about an hour walking around the various paths close to the upper terminus, had a cup of tea and then took the next car down. By then – it was a Saturday morning – there was a huge line of people waiting to buy tickets. So go early or better yet, purchase a ticket in advance.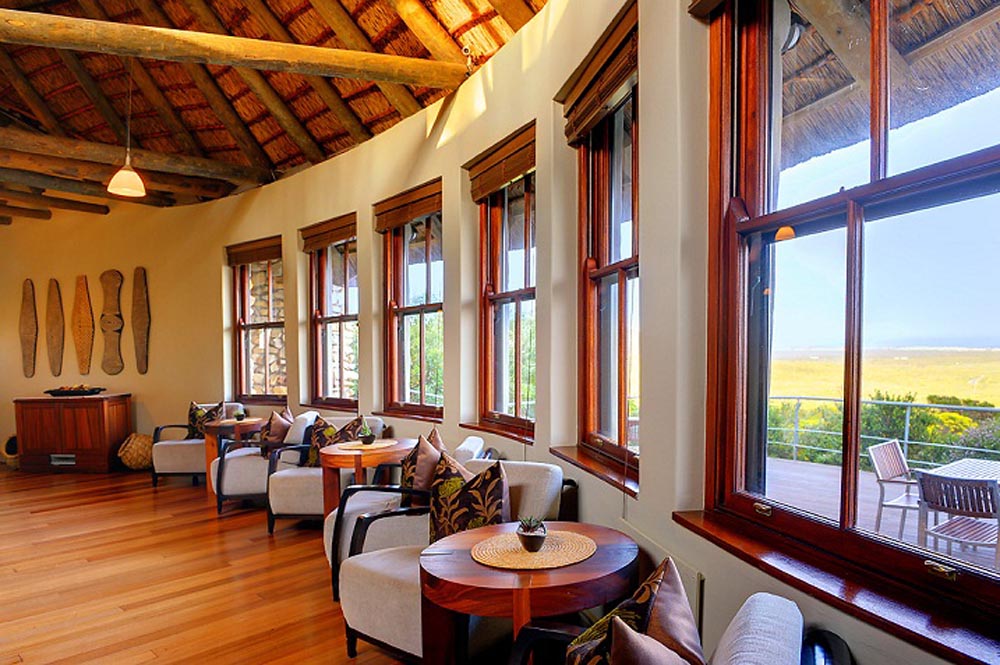 Grootbos Nature Reserve, Southern Cape
By late morning we hit the N2 freeway out of Cape Town and drove to Somerset West where we turned off on the spectacular coastal route via Gordon's Bay, Betty's Bay and Kleinmond to Hermanus. From there it was an easy drive to Grootbos Nature Reserve, which is between the hamlet of Stanford and Gansbaai. Parts of this coastal scenic drive rival California's fame Route 1 from Carmel to Pebble Beach. It is certainly the recommended route from Cape Town to the whale coast.
At Grootbos we soon checked into our large, luxurious bungalows, each with great views over the scenic surroundings and pretty Walker Bay. I was initially disappointed upon finding out that we had been placed in Garden Lodge, having enjoyed a really great stay at Forest Lodge in March 2010. However I am now torn between the two options.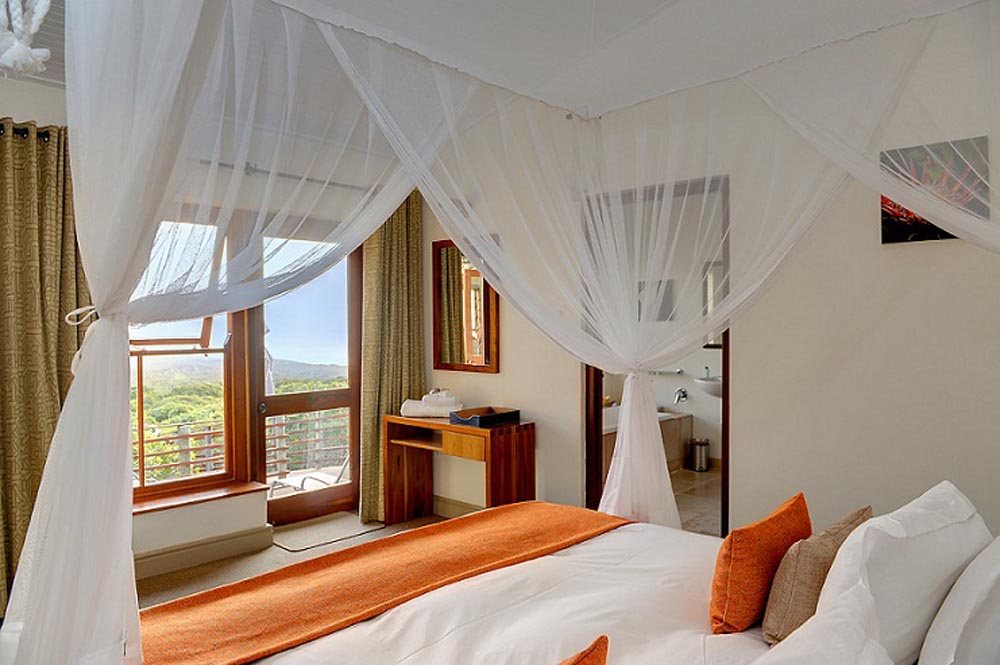 Garden Lodge is very cozy and its family atmosphere, complete with a couple of cute young children gamboling about when we were there, is most appealing. Clearly Forest Lodge would be the best choice for honeymooners or people seeking a somewhat more elegant and private setting. The main lodge at Forest Lodge is an impressive structure with mind-blowing views over Walker Bay. However it lacks the 'Africa' feel of Garden Lodge with its thatch roof and supporting beams.
The rooms at both lodges (Forest and Garden) are similar; as I recall the Forest Lodge rooms are a bit bigger and have more shelf-space in the bathrooms. Dinner at Forest Lodge was superb: Grootbos is very much a 'foodie' destination and it is known for its haute cuisine. So many lodges in Southern Africa are way too ambitious in their cooking which invariably leads to a disappointing meal. That is not the case at Grootbos. I have yet to be served a bad meal there.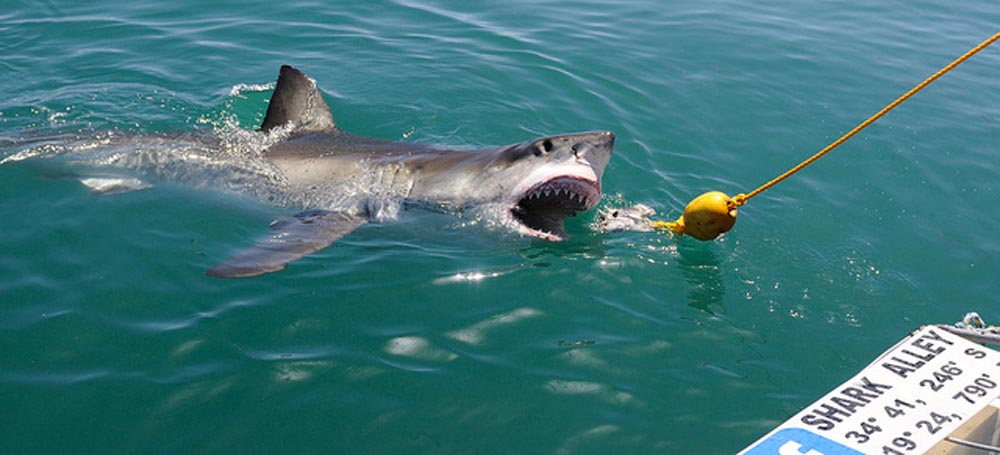 Great White Shark Cage Diving
On the morning of Nov 7 the weather was ideal for our Great White Shark diving trip. There was just a gentle breeze blowing with no white tops visible on Walker Bay when our driver from Grootbos dropped us off at the Marine Dynamics base. After a very thorough briefing and orientation, including a talk from a resident marine biologist, we were off on our shark adventure. First though we had to collect our gear consisting of a waterproof jacket, a life-preserver and most importantly a wetsuit and goggles. Then we trudged down the road towards the harbor and boarded our very new boat which can take up to 40 passengers. Altogether there were about 36 divers and spectators on board, with plenty of space to spread out on the top and regular deck, fore and aft. I found a secure spot for the 20 minute or so rather bumpy trip to Shark Alley where we dropped anchor with Dyer Island in the background.
Within 15 to 20 minutes the first Great White Sharks started to show up, slowly swimming in a circle around the boat. They have an exceptionally good sense of smell and the sardine scented oil which Marine Dynamics use to attract them (so that they don't have to actually 'feed' the sharks by tossing out pieces of fish etc) was clearly having the desired effect. Soon enough, the first group of 6 or 7 divers entered the cage for their private and up close encounter with these amazing animals.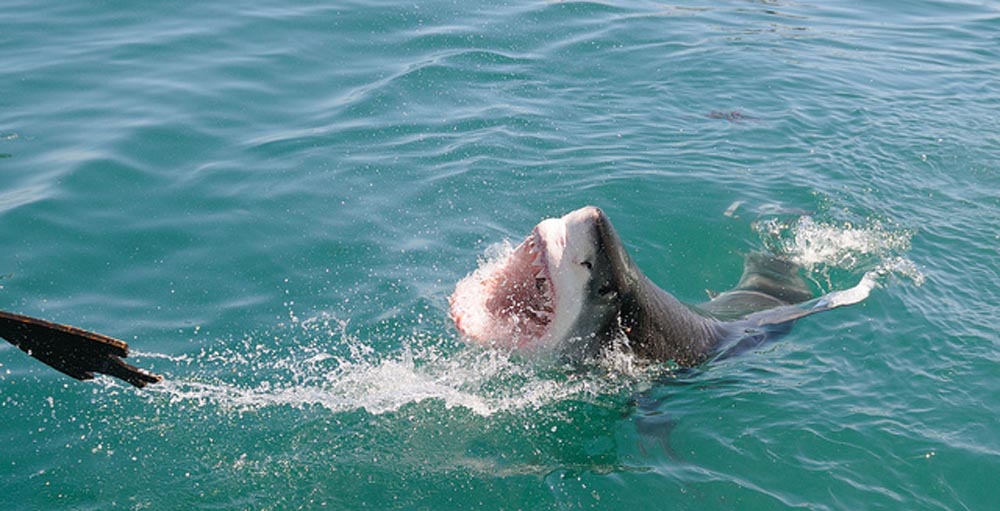 Fully grown Great White Sharks are magnificent creatures and every bit as impressive in real life as in all the documentaries, books and other media where I had previously seen them. Once in the cage myself – the first few minutes were surprisingly chilly until the water seeping into the wet suit warms up – I marveled at the power and grace of the sharks as they repeatedly made runs at a dummy seal and a big hunk of bait being dragged towards the cage. Once or twice they bumped the cage, or came so close that it elicited a series of shrieks from two Swedish girls who occupied the two spots on the far left side of the cage, next to me. With their massive jaws spread open all the way, they certainly presented an awesome sight in the old-fashioned sense of the word. However I never felt apprehensive or exposed to danger. As long as you don't extend any digits or limbs through the edge of the cage itself, it is quite safe – the sharks are intent on catching the fake seal or taking the bait, not the spectators.
Once back in dry clothes, I enjoyed a light snack and a soda and then took some photographs from the upper deck, trying to see if I could identify the sharks as they came around and around the boat. Some of them – such as one with what appeared to be propeller gashes on its side – were easy to ID, others not so much. All in all I think all four of us agree that the shark diving out ing was probably the single most exciting event on our Africa trip. I would do it again but would take my own goggles the next time; the ones I had were pretty leaky so it was a bit of a struggle to dump out the water between every shark sighting.
Later that afternoon our Grootbos guide Billy took us to a home overlooking Walker Bay, from where we observed numerous Southern Right Whales cavorting in the bay, several of them leaping from the water in spectacular fashion, also known as breaching. I did my best but could never capture the perfect shot – the pesky whales were always breaching in a spot where I was not expecting them. Nonetheless it was a great experience and we enjoyed watching the sun set over Walker Bay, with snacks and sparkling wine turning it into a festive occasion.
Victoria & Alfred Waterfront
The next morning we returned to Cape Town via a different scenic route, making a lunch stop in the quaint village of Franschoek. By late afternoon we were back in the Mother City, this time opting for the Cape Grace Hotel. We've spent time at this hotel on various occasions over the years; it is certainly looking very good in its recently refashioned state. We did not have time to dine at the restaurant but enjoyed cocktails in the Bascule Lounge, before dinner at Meloncino, a fun and casual Italian restaurant in the V & A Waterfront. The V & A shopping center was impeccably clean and clearly well-managed, it has an impressive array of shops ranging from small boutiques to high fashion emporia, craft stalls, high end jewelers, a host of restaurants, an aquarium and the Nelson Mandela Gateway to Robben Island. We will try to schedule a return trip to Robben Island by ferry, on our next visit to Cape Town.
Early the next morning Thomas drove us back to Cape Town airport for an SAA flight to Johannesburg, connecting with British Airways all the way to Victoria Falls.
PART 3: VICTORIA FALLS & KRUGER PARK
Victoria Falls
There was nothing smooth about our entry into Zimbabwe on this exceptionally hot day in Vic Falls in early November. Even though Kathleen and I were in the front of the line it took us the better part of 30 minutes to get a single entry visa. Our friends the Davidsons did not make it out of the un-air-conditioned arrivals hall for another 30 minutes at least. Perhaps the computerized system (not sure if they have one) was malfunctioning or someone did not show up for work but the glacial pace at which the visas were written (by hand, involving two persons) was absurd. To make matters worse we had some Brits in the line ahead of us who disagreed with the official about the cost of the visa, which wasted another 15 minutes. It really was painful.
Having collected our luggage, we were off to the Vic Falls Safari Lodge. Much as I was looking forward to the time there and as receptive as I always am to enjoy a place, rather than to complain about it, the hotel ended up being disappointing on several levels.
The accommodation was fine, in fact I really liked our split level room with a very nice separate lounge and 'upstairs' bedroom – both with good views over the water hole some distance in front of the lodge. However, the air-conditioning in our room did not work and it wasn't until 7:00P (we arrived at 2:00P) that the management finally decided to put us in a different room. This one had a huge gap to the outside so the air-conditioner was humming very loudly all night, unable to cope with the deluge of hot air from outside.
Food and Beverage issues at the VFSL
My main beef with the Vic Falls Safaris concerns food and beverages. Despite the fact that I had
sent the hotel management very detailed information about my vegan dietary requirements, there
was not even a token attempt made to accommodate the many ingredients & foods mentioned.
The floridly written meat-heavy menu contained some alarming errors such as 'centred' incorrectly used instead of 'scented'. As in 'centred' with mint or marjoram or whatever, instead of the correct 'scented'. This kind of glaring grammatical error simply does not belong in a menu in what purports to be a 5-star establishment.
More alarming were the prices, which were simply outrageous. All food, water and drinks are massively over-priced. Someone clearly has no idea of the purchasing power of the US Dollar. If the VFSL reduced the cost of all food and beverage by 50% they would still be pricey but at least they would not be guilty of gouging to the degree that they are now. For example, 2 small green salads, a bowl of pea soup , a rum and coke plus two 12-oz bottles of water came to US$51.00! Ridiculous.
When I asked for some sadza (a local version of polenta) I was told – by the barman from whom one can order bar lunches at the Buffalo Bar – that I could only get it from the Boma restaurant. When I explained that I didn't eat meat (the Boma is essentially a meat fest), he was still not responsive until another (female) waiter interceded. I was told that yes they could do something, but 'we would have to find an equivalent item on the menu to charge it'. So bottom line: the VFSL was more worried about how much they could charge for some sadza (cheap maize meal) than in trying to assist a guest.
Other than the price, my food was simply no good either. The pasta dish which I ended up ordering (the closest thing to a vegan item I could find on the menu) was ghastly. It was supposed to have been infused with a pesto sauce but there was not even a trace of that very, very distinctive sauce to be found. The dish was topped with a stringy vegetable or root (it had no taste) which was totally inedible. To make the entire evening even worse, the service was glacial. We are used to slow service in Southern African restaurants but this was simply unacceptably slow, both ordering and receiving food or beverages. The end result of all this was that we ate at a different restaurant – Mama Africa's – the following night.
No way to run a railroad
Our stay at the VFSL ended on a most unfortunate note. Despite repeated inquiries from me – I even walked down to the front desk to ask about it the day prior to our departure – the lodge never informed us of our departure time and the onus was clearly on them. We had pre-paid for a road transfer organized by the VFSL to Kasane, to connect with a flight to a camp in Botswana. So being responsible for getting us to the airport in time, one would assume that the VFSL would make the necessary inquiries regarding the flight departure time well in advance. It was never done. So on the day of departure – I had just come back from a run and was standing in my room sweating – the phone rang and I was told that our driver was there. It was 08:00A and none of us had had breakfast yet. Nor had we packed anything. We could have missed our flight, but fortunately made it with a bit of time to spare. The aggravation and panic could have been prevented though.
What is much worse, and which embarrassed me immensely, is that both my wife and I and my clients the Davidsons were forced to pay again for accommodation and transfers despite the fact that we had prepaid all of this by wire transfer previously. The front desk could ostensibly not find the wire transfer; I sent a copy of the confirmed transfer complete with tracking details a couple of days later, by e-mail. I must say that I have never experienced such incompetence on the part of any hotel management as I witnessed on the day of departure from the VFSL. We were subsequently refunded for the double payment and the VFSL also refunded 50% of the cost of the stay to each of us.
Vic Falls Excursions
We had previously arranged two excursions through the VFSL – a 30-minute helicopter flight of angels and a 2-hr sundowner cruise. I would rate the helicopter flight as a good experience, even though it was a solid 5 minutes short of the advertised 30 minutes. The pilot unfortunately concentrated mostly on the passenger in the seat to his left so that the two of us in the back righthand seats never got any really good views of the Falls. I had to shoot the pics mostly through the other window which was not ideal. Even so the view from up there beats anything from ground level; it is simply impossible to appreciate the geological passage of time from the surface. From the air, it becomes clear how the Zambezi has moved from one rocky stretch to another over the course of perhaps millions of years. There was very little water in the Zambezi and I felt sorry for anyone trying to see the Falls from the Zambia side of the river. There was absolutely not a drop of water on that side.
The two most enjoyable parts of our stay in Vic Falls was a sundowner ('booze') cruise on the Zambezi in the 12-seater Ra-Ikane and a stroll to the Vic Falls Hotel for high tea which was delicious and nicely presented. We should have stayed there instead. The hotel's public areas and grounds are in impeccable condition; clearly the new management is doing something right. Likewise the Ilala Lodge, where we enjoyed a cocktail on the lawn with several colorful birds including a couple of gorgeous sunbirds flitting into and out of the herbaceous border. I can still kick myself for not having my camera along on this outing. The sundowner cruise was well worth the US$75.00 per person; we had some great views of elephants drinking, observed several pods of hippo from a safe distance, and saw a myriad different birds species perched and in flight. The snacks were ok and likewise the drinks, except that the dedicated barman was not overly keen to help us. Also the wine was really no good and not cold enough. Neither was the beer. It didn't really matter though – we had a fine time chugging along the Zambezi – with just a little bit of imagination it could have been the African Queen.
Kruger Park – Sabi Sand Reserve
After a short overnight interlude in Johannesburg at the D'Oreale Grande Hotel (small rooms, nice breakfast, pretty garden); we spent the last two days of our Africa trip at Earth Lodge in the Sabi Sand Reserve, adjacent to the southern part of Kruger Park.
Getting to and back from Sabi Sabi was a breeze with Federal Air. The most pleasant young lady assisted us with weighing and labeling our luggage at the FedAir kiosk at ORTI, on the way out. No stress – just a great big smile and 'have a great time'. If only all flying could be like that! We were promptly whisked away to the FedAir terminal on the other side of the airport – a 10-minute drive – where we hung around the comfortable lounge for 20 minutes or so (complimentary beverages, sandwiches and snacks available) until our 'Flight 1' departure was announced. In just over an hour we were on the ground at Sabi Sabi, meeting our Earth Lodge guide Brett, mostly telling him that we had dipped out on lions in Botswana. Imagine that: a week in Botswana and no lions. Had to make up for that in a hurry.
Except there was a problem: the local pride of lions – all 16 of them – had been hanging around the edge of the Sabi Sabi property and had only been seen a couple of times over the last 5 days. This was not what we wanted to hear. Kathleen and I had seen bunches of lions over the years but our friends the Davidsons had not seen any in the wild, ever. We did not want them to have to return to the USA and to be forced to reply with a big fat 'no' to the inevitable question: 'Did you see lions while you were in Africa?"
So for the next two days it was all lion hunting all the time at Earth Lodge. Cutting to the chase, we did find them, but not until our last night there. It turned out to be quite an amazing sighting though, watching the 8 adult females and 8 youngsters – around 9 months – hunting in the darkness. In what might have been a bit of an ethical lapse, our spotter lit up a hare with a spotlight, and the lionesses made short thrift of it, displaying amazing agility twisting and contorting themselves in pursuit of the hapless hare, which soon ended up being carted off, screeching pathetically as it dangled from the lion's jaws. We had witnessed a kill, but not quite the kill we had in mind.
On the morning of our departure, Brett found the lions again but of our party of 4, only Kathleen was on the vehicle. Gwen and I were both down with a stomach ailment; mine a rather nasty case of food poisoning which did not let up until the following day, despite several doses of Xifaxan. Hint: get your health professional to prescribe some Xifaxan for you on your next Africa or any third world trip. Much better to be protected than not. So as a result of not being on this outing, I do not have even a single lion photograph from this trip, a first ever!
But no matter, we saw much else besides lions at night, at Sabi Sabi. For one thing, we saw tons of white rhino, so many that we almost quit stopping for them. I had my best ever sighting of two white rhino wallowing just meters from us, in a small mudhole which barely accommodated one and a half rhinos. So it was quite comical and entertaining to see both of them utilizing it together!
Other than that, Sabi Sabi delivered a couple of great leopard sightings, some hyena, good close ups of buffalo, quite a few elephants including some tiny babies, a few giraffe, some zebra, and all the other usual suspects. Once again, the Sabi Sand Reserve lived up to its reputation as a reliable Big Five game-viewing area. Even so, three nights there would have been better than just two!
Earth Lodge
I have not yet said anything about Earth Lodge, probably because I have been savoring the best for last. The entire experience at Earth Lodge, from the moment we met our guide until the afternoon of our departure, was delightful. I had previously seen some photographs of the lodge which left me a little dubious and in truth, it does not look like much on arrival, with a large downward sloping tunnel leading one to the front entrance. But go ahead and enter and you literally step into a world of elegance, enjoyment and immaculate service. To say that the design of Earth Lodge is special or intriguing would be doing a disservice to each of those words. It simply has to be seen to be appreciated. Honestly I could have spent a couple of days just lounging around the lodge itself; both in the room and in the various nooks and crannies (nothing small about them either) in the lodge itself. The foyer, the library, the dining room, the bar area, the new 'day bar' dipping pool, each and every area is inviting and practically mandates investigation and experimentation. The 'dipping bar' is one of a kind – a place to sit at a table and sip cocktails in the middle of cool, ankle deep water. Which is exactly what we did, popping yet another bottle of sparkling wine in what turned out to be a 3-week long birthday and anniversary party.
Most remarkable is the combined effect of the massive open spaces, the dominant earth-colored walls and the striking tables, benches and objets d'art fashioned from gigantic pieces of driftwood. Stunning ? Definitely. I found that each day I experienced a new facet of the place – and I really cannot imagine getting tired of it in a hurry either. Earth Lodge does not have the greatest view in the world and for good reason. The lodge itself is the main attraction. Our dining experiences were first-class in every way, from the extensive menu selections, the food presentation, taste and service. Impeccable. A highlight was dinner in the private underground wine cellar. What a terrific spot, seated at the single most impressive table I have ever seen – it must weigh several tons!
I have the same high praise for our room at Earth Lodge; really more a suite than just a room. Kathleen and I tried out every part of it: the huge king size bed, of course, also the sitting area, the desk, outside patio with lounge chairs and the private plunge pool. Everything and every part of the room is functional – there is no wasted space. Need two more reasons why we liked the room? How about a massive tub and an outside shower. Earth Lodge is surely a 3-night minimum stay place, even 4, to allow oneself the luxury of sleeping in at least one morning, or taking an entire day off, to just appreciate the room and the lodge.
Yes I know not everybody will like it and the die-hard safari aficionados will carp about it being over the top, too much this and too much that. Most of them will say that without having spent 10 minutes there. If safari to you means a modest Meru-type tent with en-suite bathroom and sandy trail back to the lodge, that's great too. But I wouldn't advise knocking properties like of Earth Lodge without having tried them.
Sabi Sabi has several other lodge options (none tented) including Bush Lodge; Little Bush Lodge (I think that was my favorite) and Selati Lodge. Each with its own charm and special features. Having just briefly walked through these lodges I will reserve judgment & comment for some other time, once I've actually spent some time there.
Conclusion
The trip underscored several impressions built up over more than 20 years in the safari business – many of you will be familiar with these already:
* Two nights are rarely enough to do justice to any area or property.
* Transfers between camps are invariably a bit more complicated and time-consuming than one anticipates.
* Few places rival Northern Botswana's Okavango Delta for its rare combination of wildlife, scenic beauty and delightful tented safari camps.
* For 'Big Five' game-viewing (elephant, rhino, lion, leopard, buffalo) the Sabi Sand Reserve adjacent to Kruger Park is the best choice.
* Victoria Falls – now that Zimbabwe is on a US$ monetary system – is totally overpriced. At the Vic Falls Safari Lodge we paid more than US$50 for 2 small salads, a bowl of pea soup and a rum and coke. My advice would be to rather spend an extra day on safari and omit Vic Falls altogether.
* October and November – essentially the last two months of the dry season in the interior – can be very harsh in Botswana, hot and dry with animals really struggling for survival. Better to travel in August or September (or even earlier in the dry season) or rather consider the 'Green Season' when everything is green, there are lots of baby animals around and the wildlife is thriving.
* The Southwestern Cape including Cape Town, the Cape Peninsula, the winelands and the southern Cape, is well worth including on nearly any itinerary. Popular sights such as the summit of Table Mountain and the Cape of Good Hope Nature Reserve, the African Penguin sanctuary at Boulders, Hout Bay Harbor and others are much more heavily visited than in years past, but for good reason. They live up to expectations.