$cat_name = 'category'; $categories = get_the_terms($post->ID, $cat_name); foreach ($categories as $category) { if ($category->parent) { echo $category->name; } } ?>
Mar 26, 2021
Serengeti Safari Camp, Ndutu
Share: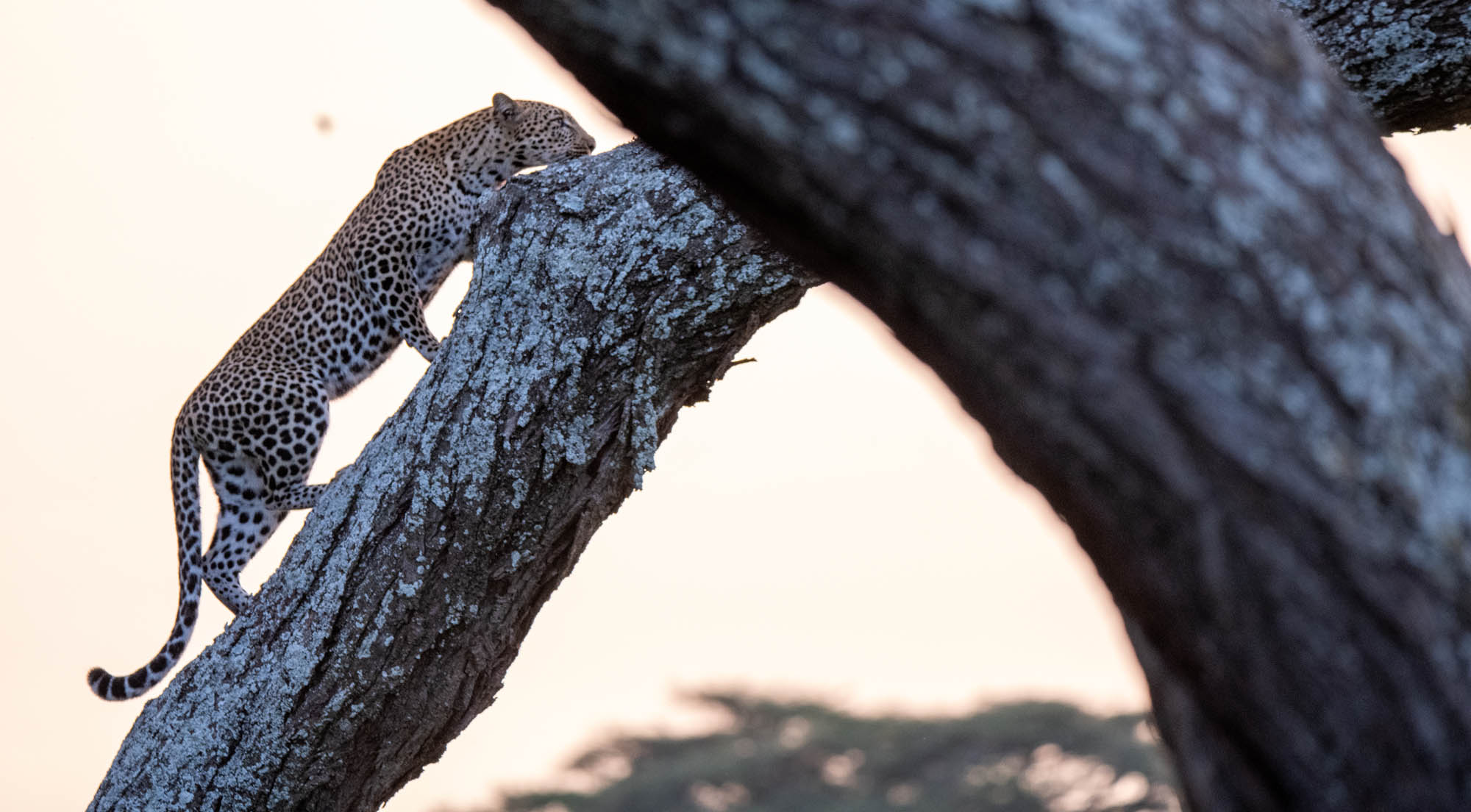 Serengeti Safari Camp, Ndutu
Tanzania's Serengeti National Park is one of Africa's greatest wildlife sanctuaries. Massive in size – dwarfing Kenya's Masai Mara which is part of the same ecosystem – it is high on the bucket list of many travelers. And for good reason. There's nothing else like it. Its vast undulating grassy plains, interspersed with rocky outcrops, patches of woodland and forest and riverine thickets, are well-watered and support literally millions of large mammals of as many as 70 species.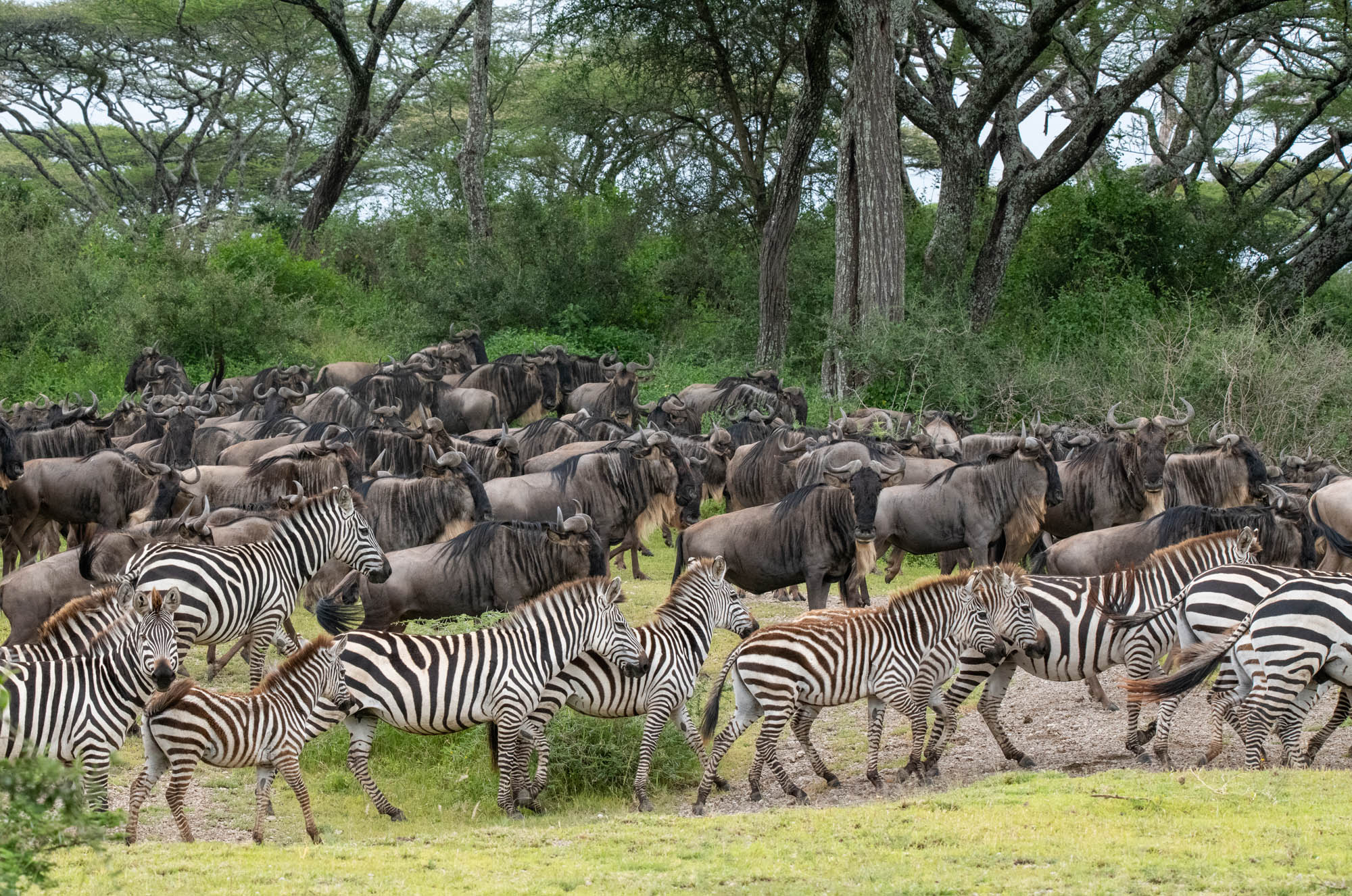 It also harbors more than 500 species of birds, from heavy flightless ostriches to tiny fire-finches, a wealth of birds of prey and some of Africa's most colorful birds such as bee-eaters, rollers, shrikes and sunbirds. Its annual wildebeest migration – when in excess of 1.5 million wildebeest move from the southern shortgrass plains of the Serengeti to the northernmost borders of the park along the Mara and Sand Rivers, as well as to the west into the Grumeti Reserve – is one of the world's most celebrated natural phenomena.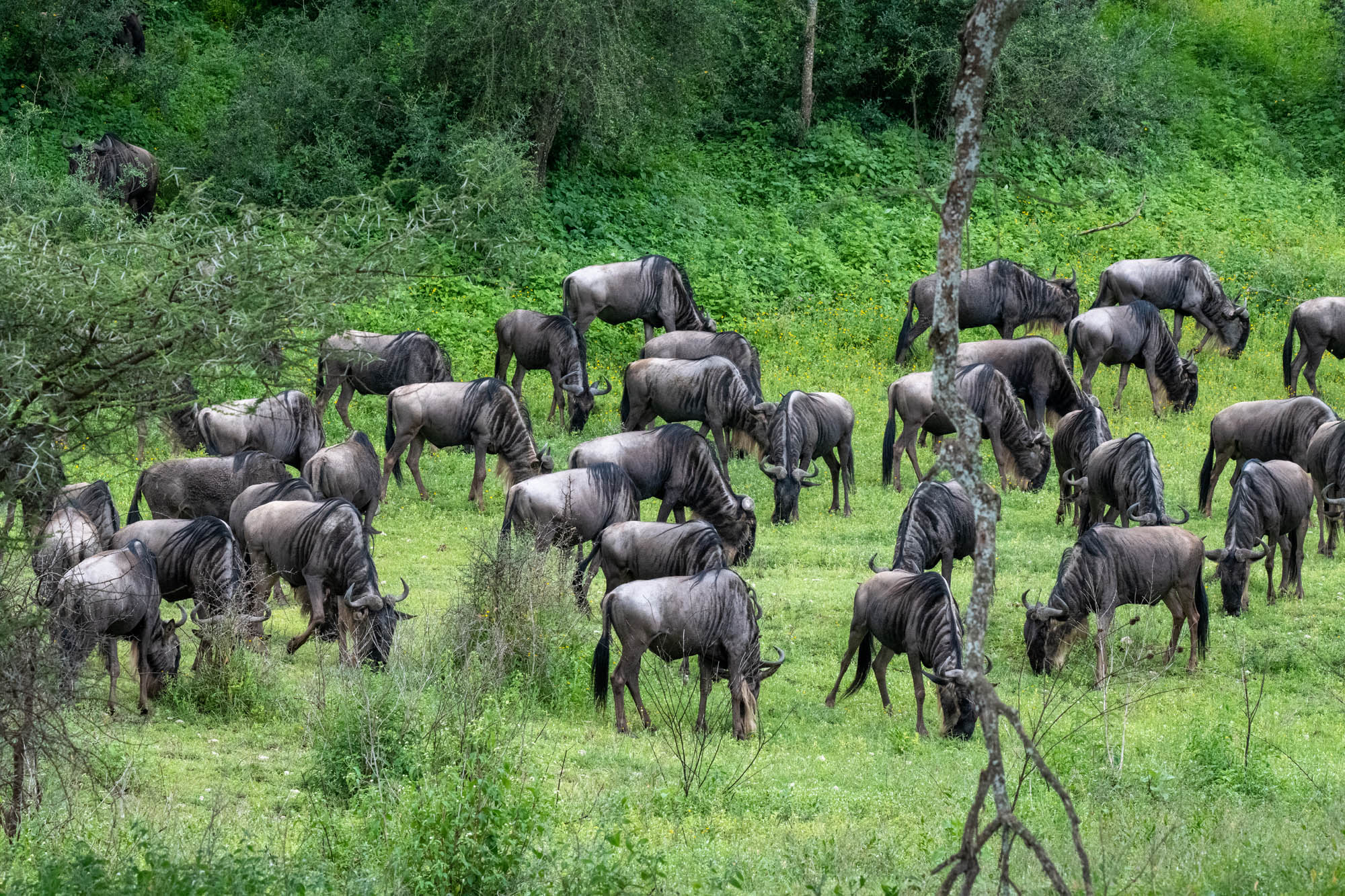 It has only been a couple of years since my last visit to the southern Serengeti, but it couldn't have been more different than the previous time. As the flight from Mwiba dipped lower and turned on short finals to line up with the runway at Ndutu airstrip, I knew right away that we had found the wildebeest migration.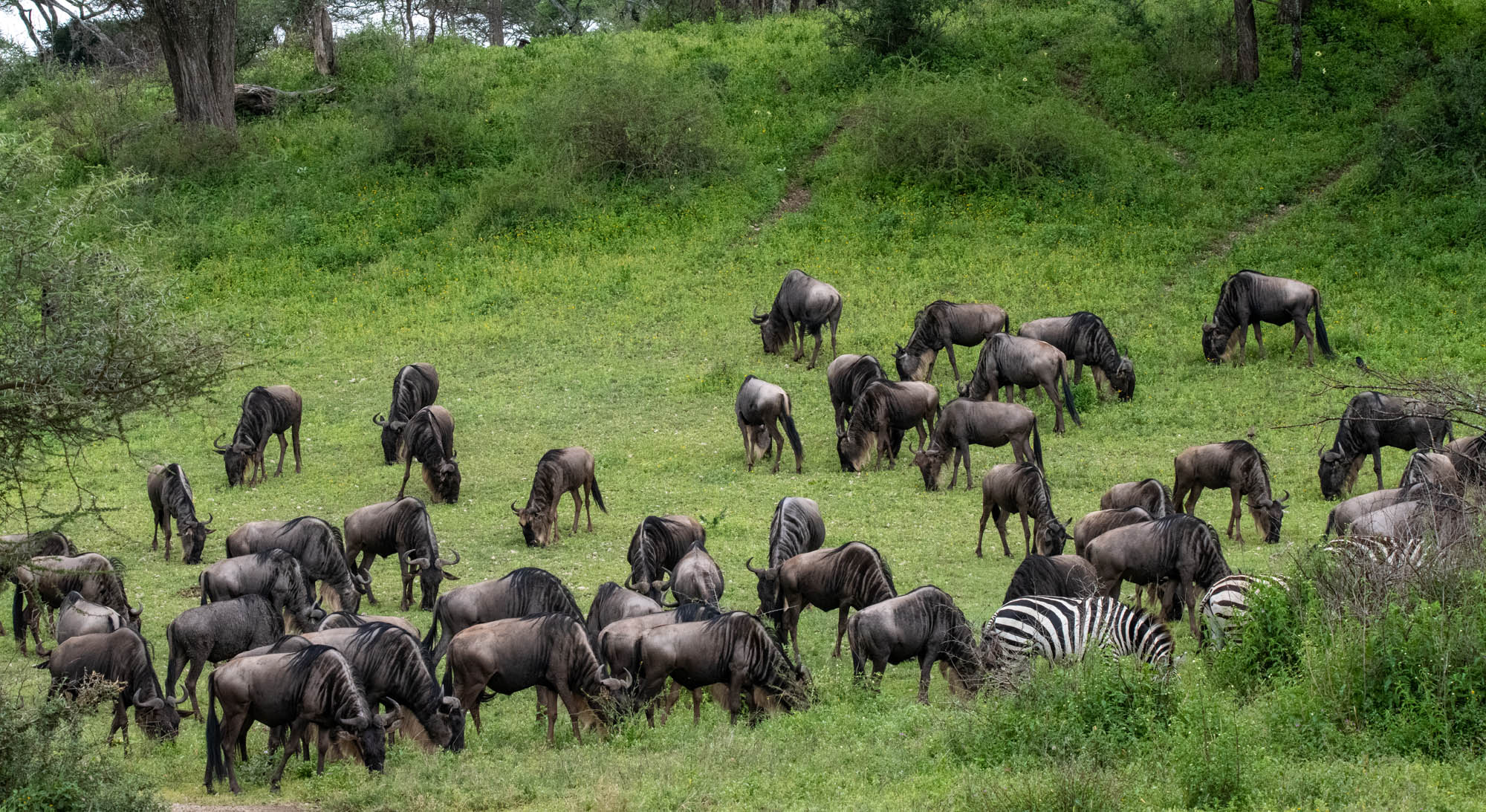 There were clusters of wildebeest visible all over the woodland, with herds of up to several hundred, with almost as many zebras mixed in with them, occupying every open area and grassy spot. Sporadically, they would erupt into bursts of seemingly reverberating calls, as first one and then another and eventually many started to make their loud grunting contact calls.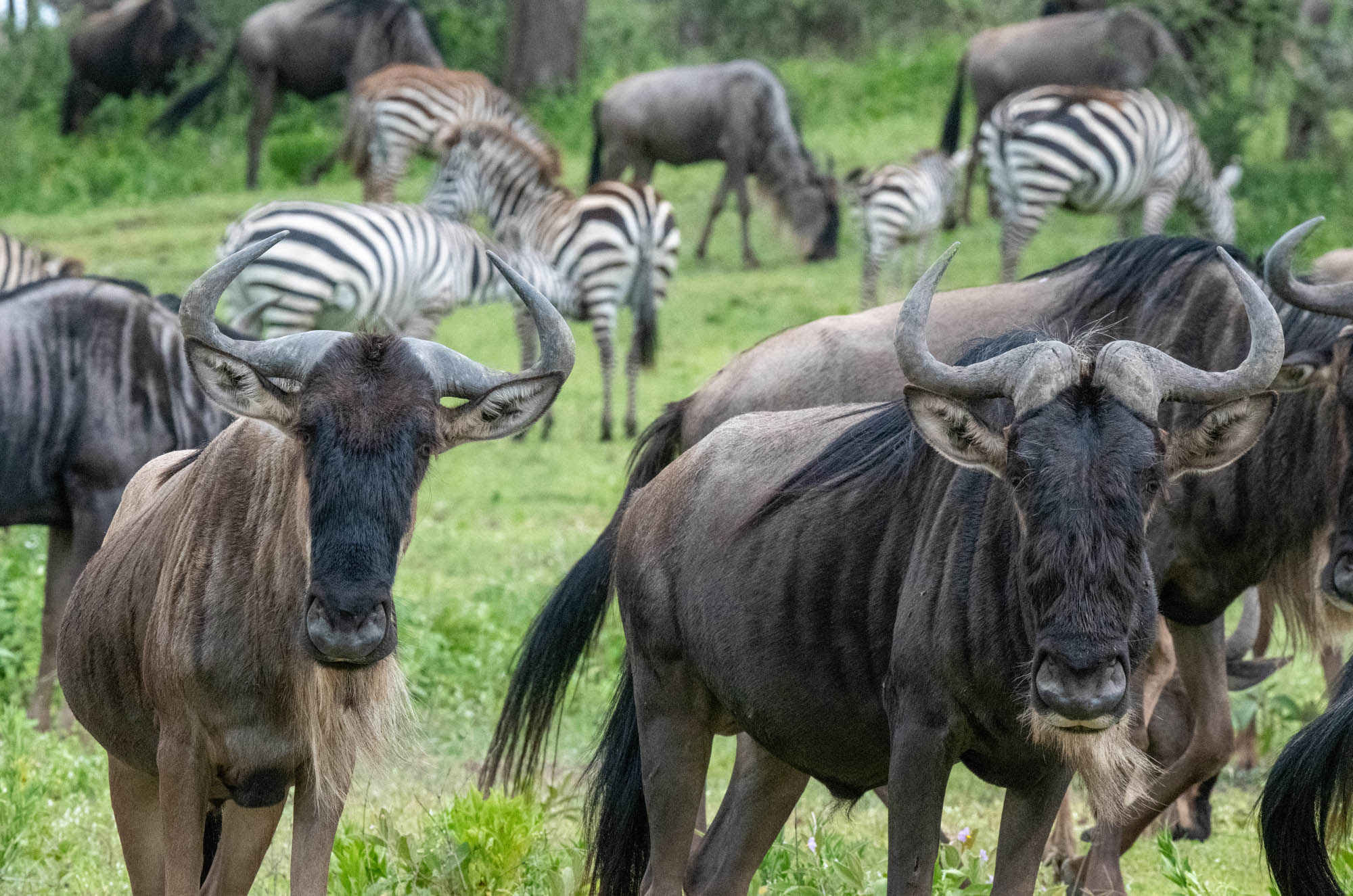 After I had been picked up by my guide Amos Noah from Nomad Tanzania, we went back into the woodland to closely observe the masses of wildebeest and zebra steadily making their way through the area. They were clearly alert to our presence, staring at us momentarily before relaxing and slowly opening up a gap between themselves and the vehicle.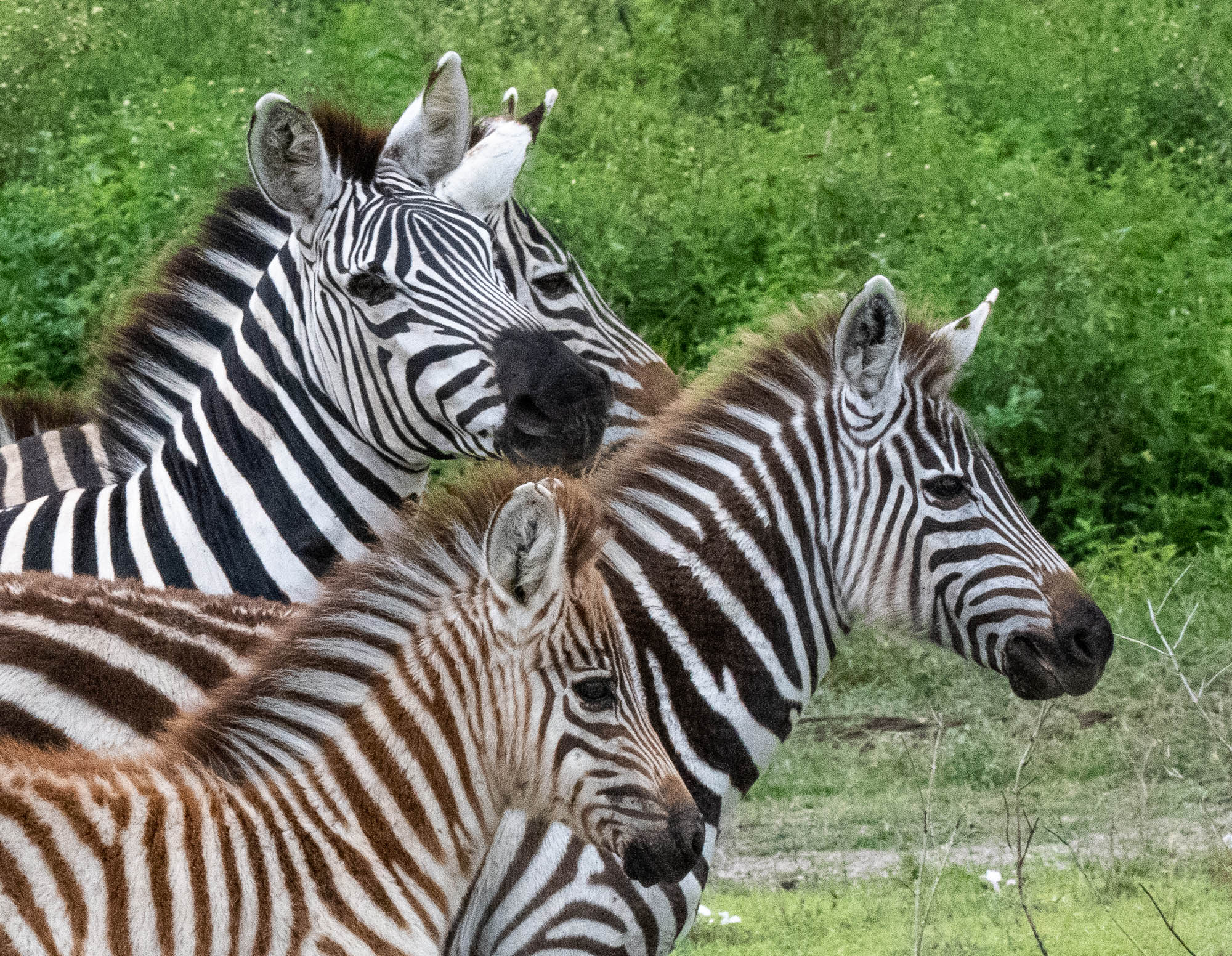 At times, some of them got spooked and would take off in a random direction, sometimes causing a few others to bolt as well.
In certain spots there were almost as many zebras as wildebeest, the animals being packed together tightly. It was not an easy scene to photograph. Frankly, a photograph simply does not transmit the scope and drama of the event. I did later capture some of the motion on video, but even that is a pale imitation of being there, right then.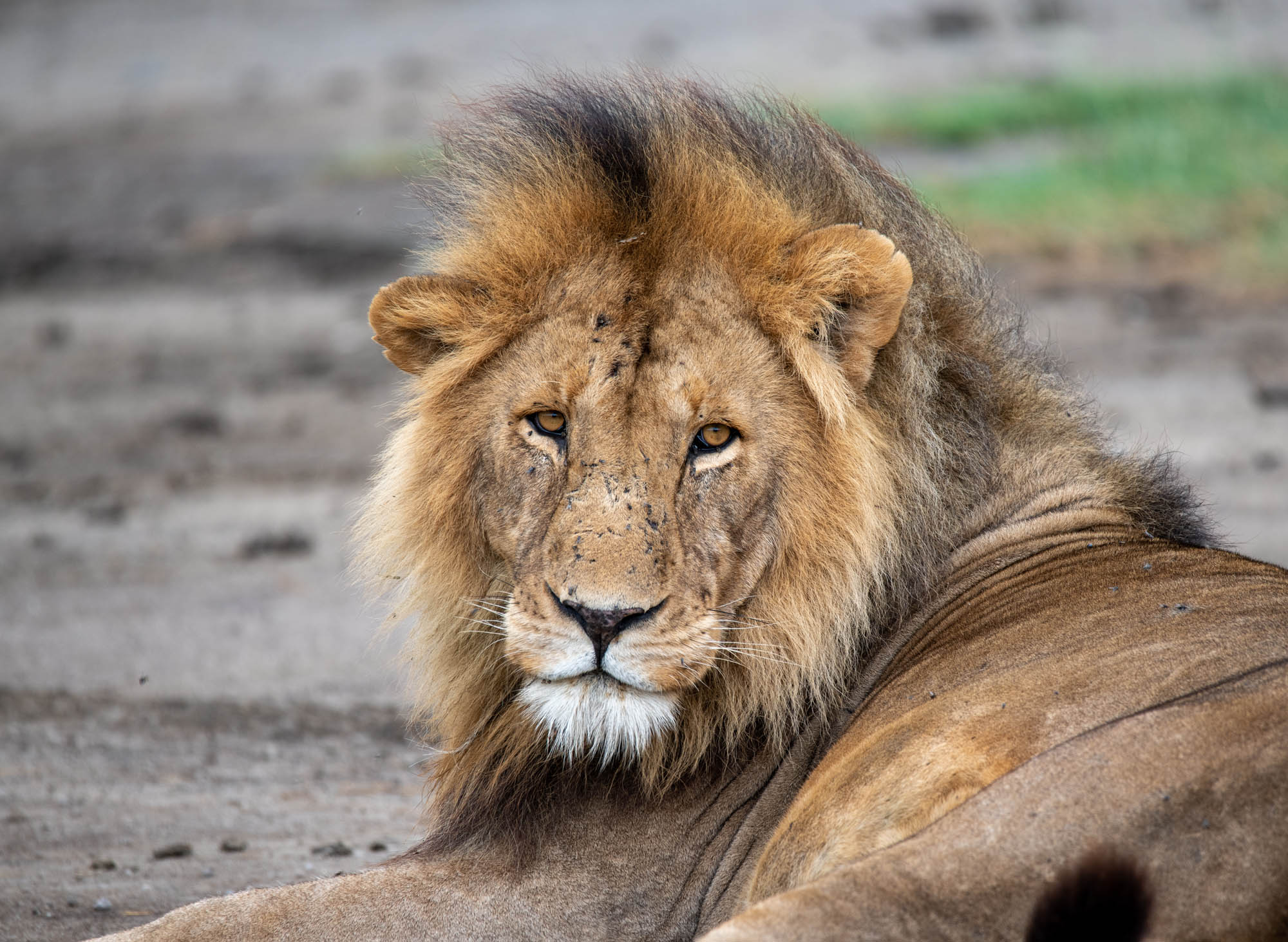 At nearby Lake Ndutu we came upon a pride of lions. Three of them – including one handsome male – was doing what most lions do during the day: find a comfortable spot and sleep. The other five had taken their sleep behavior to the next level. We found them high up in a huge acacia tortilis tree, stretched out on thick horizontal branches, seemingly quite comfortable with their legs and tails hanging down.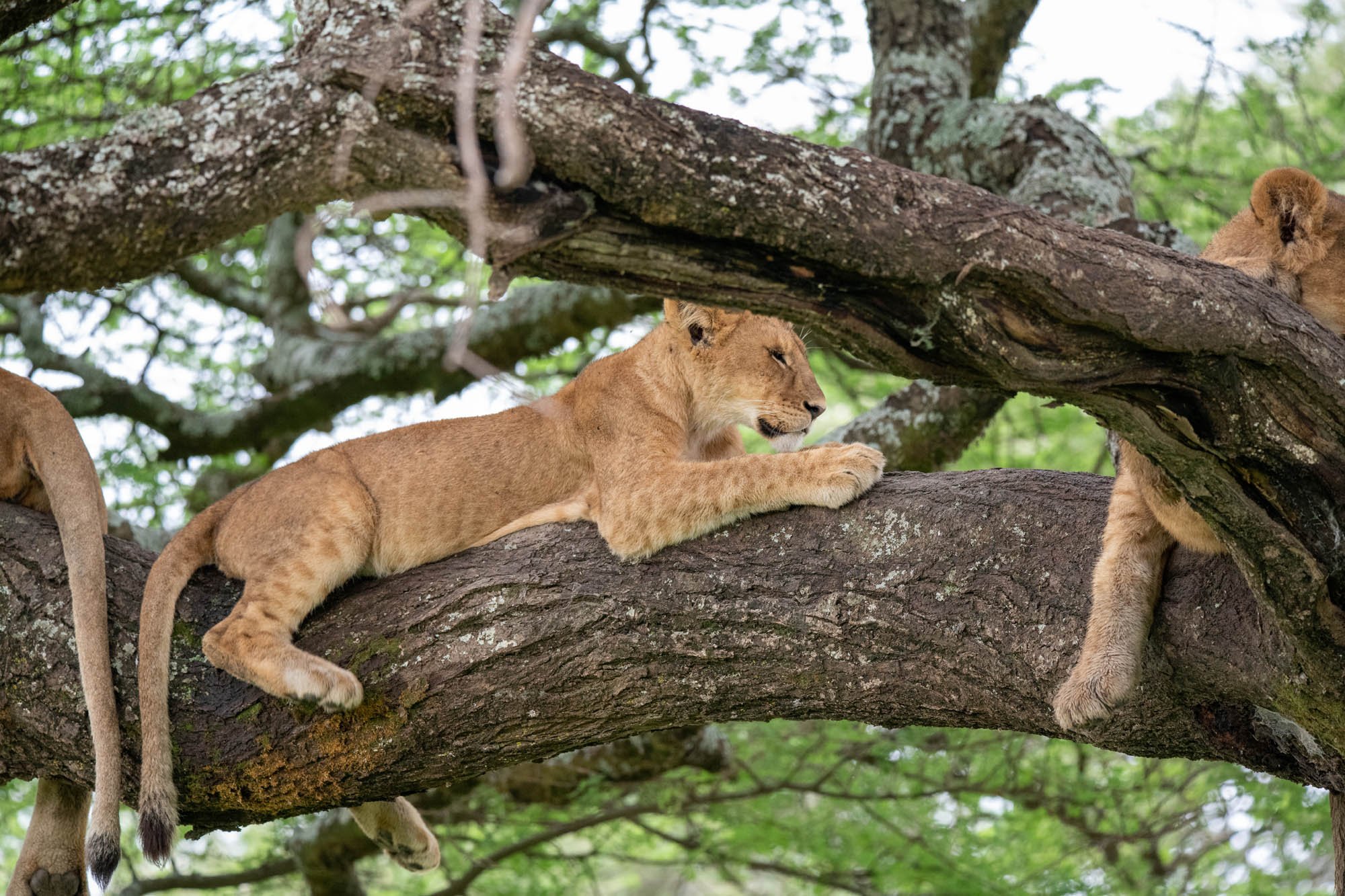 Their heads were down and turned either to the left or right, changing position every now and then. In 30 years of being in the safari business, I had not seen this – ever. Despite trying several times, I had never seen the tree-climbing lions of Lake Manyara National Park, or the ones known to do this in the Ishasha region of Queen Elizabeth National Park in Uganda. Or anywhere else.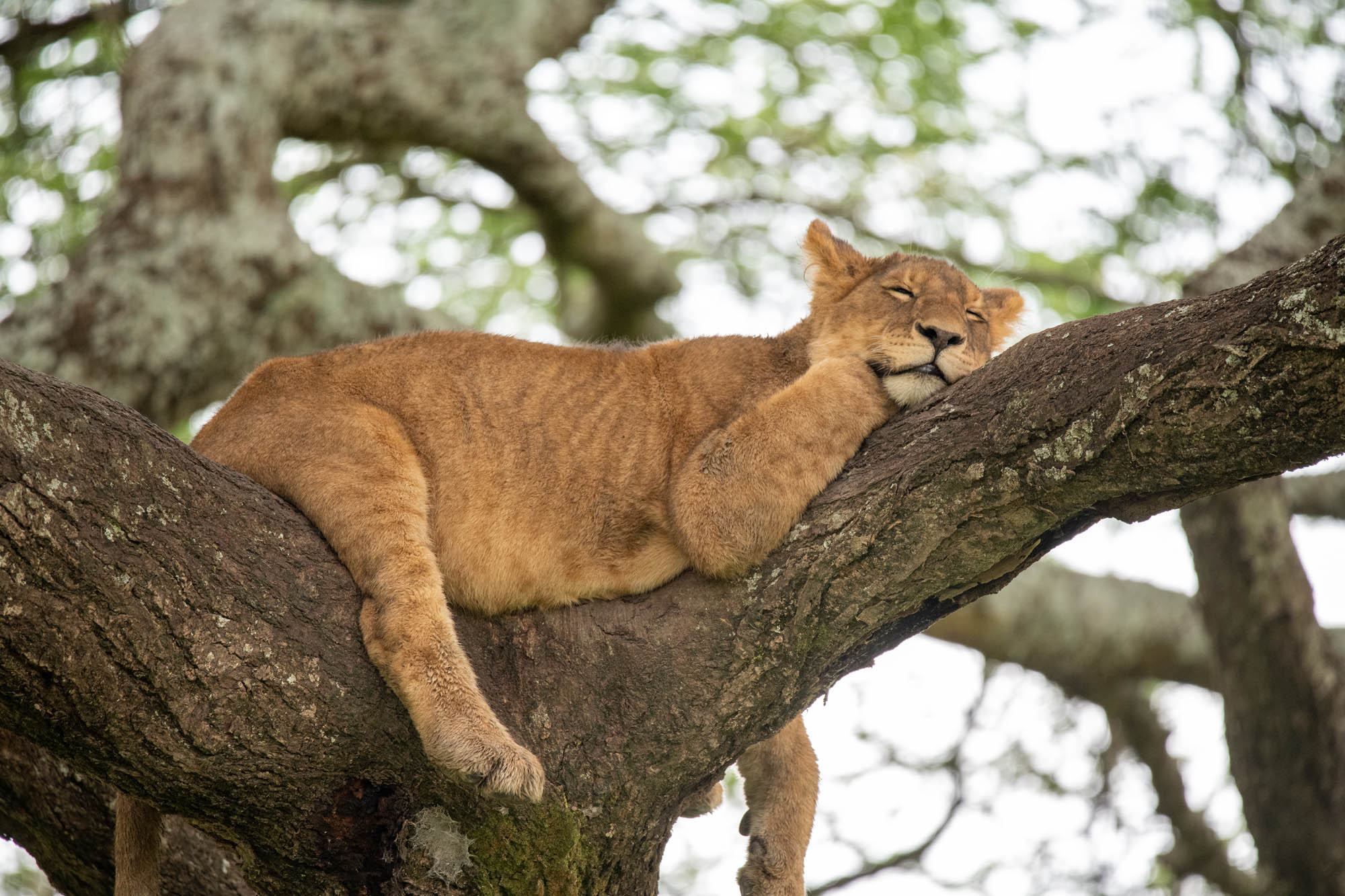 So it was a really special sighting, particularly with just one or two other vehicles around. Ordinarily – in a non-Covid year – a sighting like this would be surrounded by a dozen or more vehicles. Once we had observed and photographed the dozing lions – who barely acknowledged our presence – we headed back into the woodland for even more 'migration' photos and views.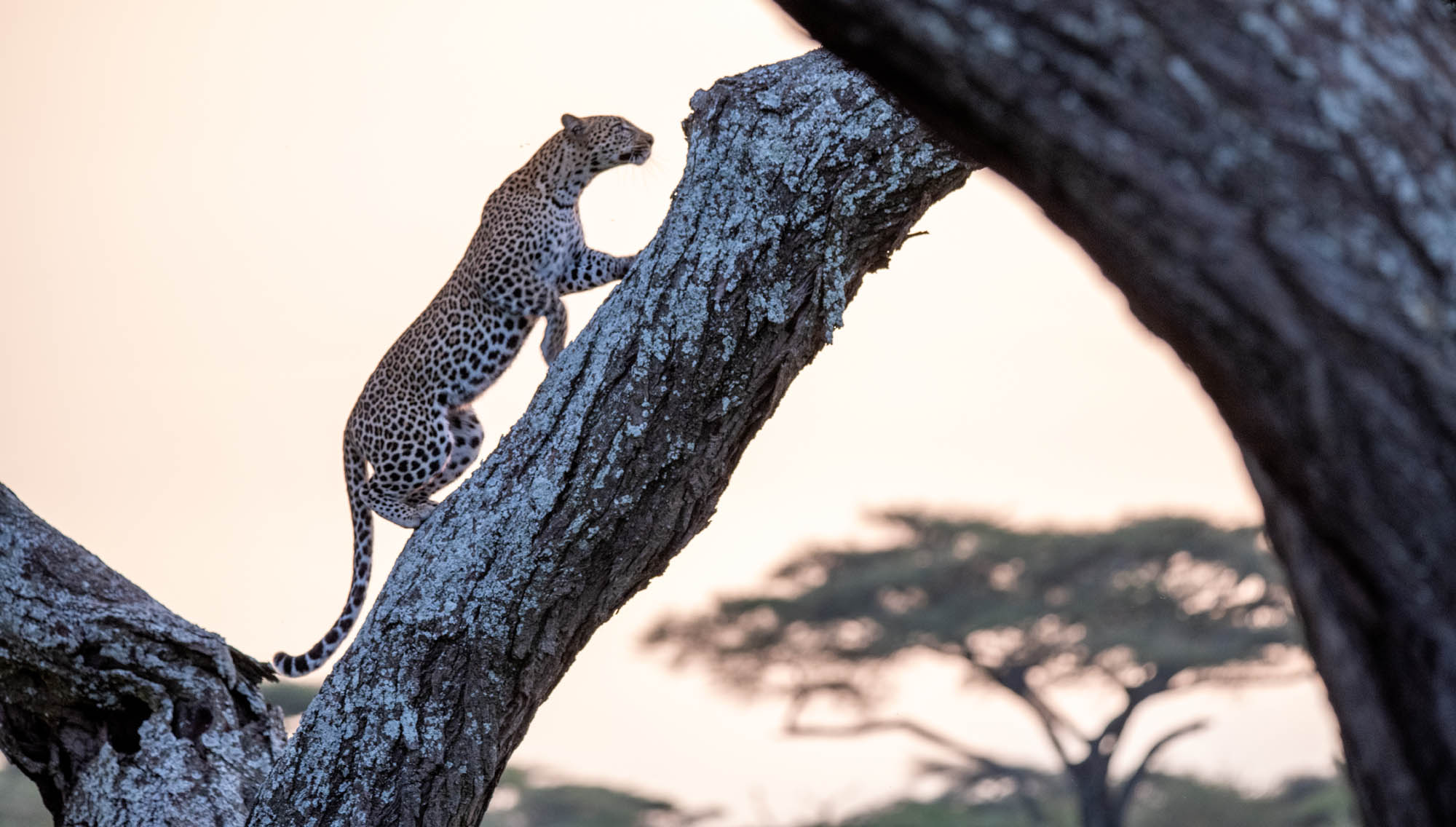 Next up was a big male leopard on a horizontal branch in a different tree, a couple of miles or so from the lake. It had dragged a carcass of an impala up to the same branch. Parking next to a vehicle with several professional photographers (we figured it out by the size of the lenses), we observed the leopard for quite a while. Eventually we drove in another direction where we found what turned out to be several dozen giraffes – there's almost always more of them than you think – and a large herd of elephants.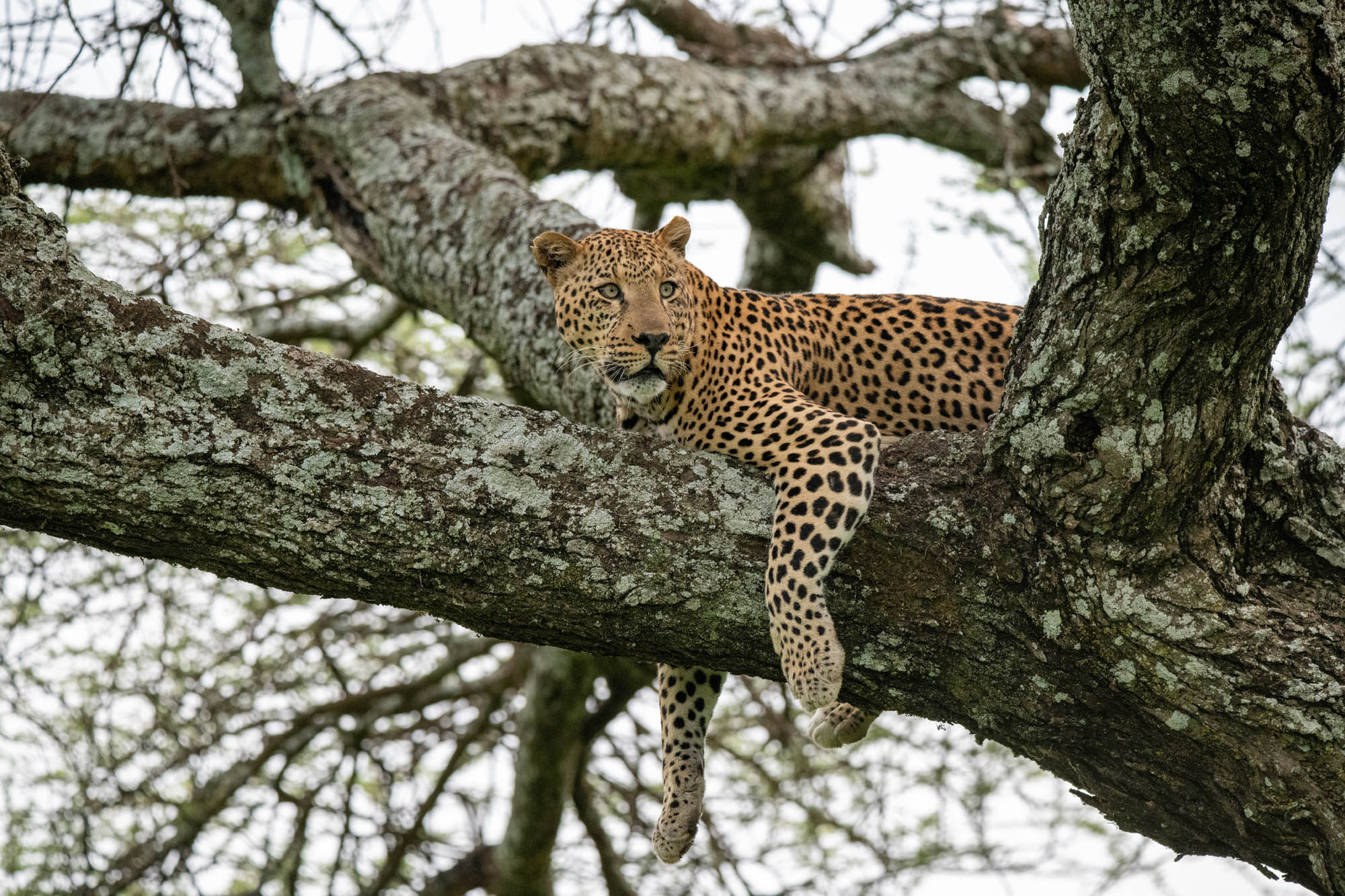 An hour or so later, we returned to the male leopard – which had relocated to a different branch in the tree – and caught a glimpse of a shy female leopard nearby. We saw her again on our way back to camp. Briefly stopping, we saw her first descend a tree and then climb right back up. Light conditions (backlit) were unfortunately rather poor that late in the afternoon, so I ended up with a couple of 'silhouette only' pics. Can't win them all.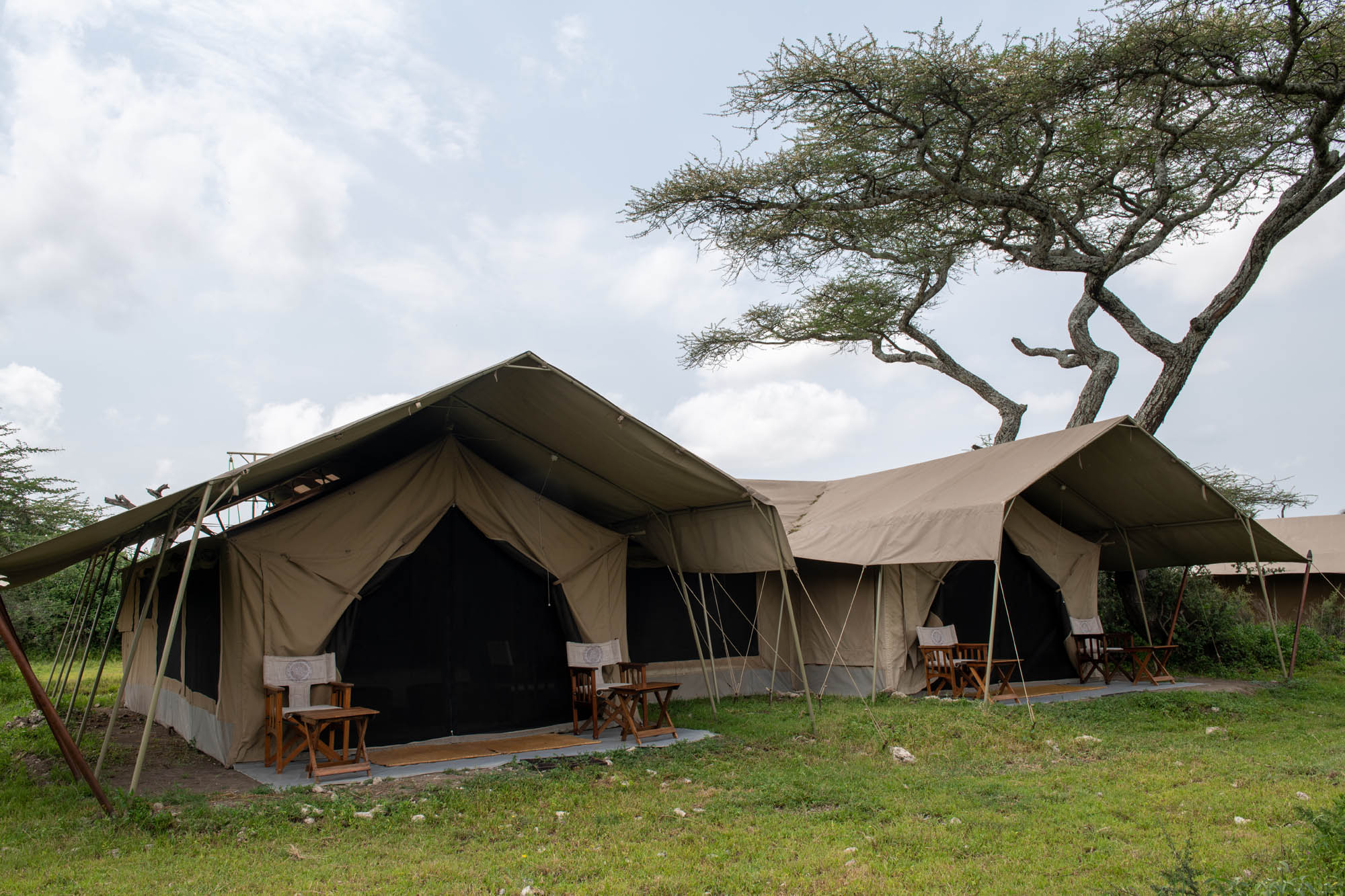 Soon thereafter, we arrived at Nomad Tanzania's Serengeti Safari Camp #2. This small mobile tented camp has 7 tents, including a family tent consisting of 2 adjoining tents. There's also a compact yet attractive mess tent and lounge tent with a small library, a device re-charging station and a small bar.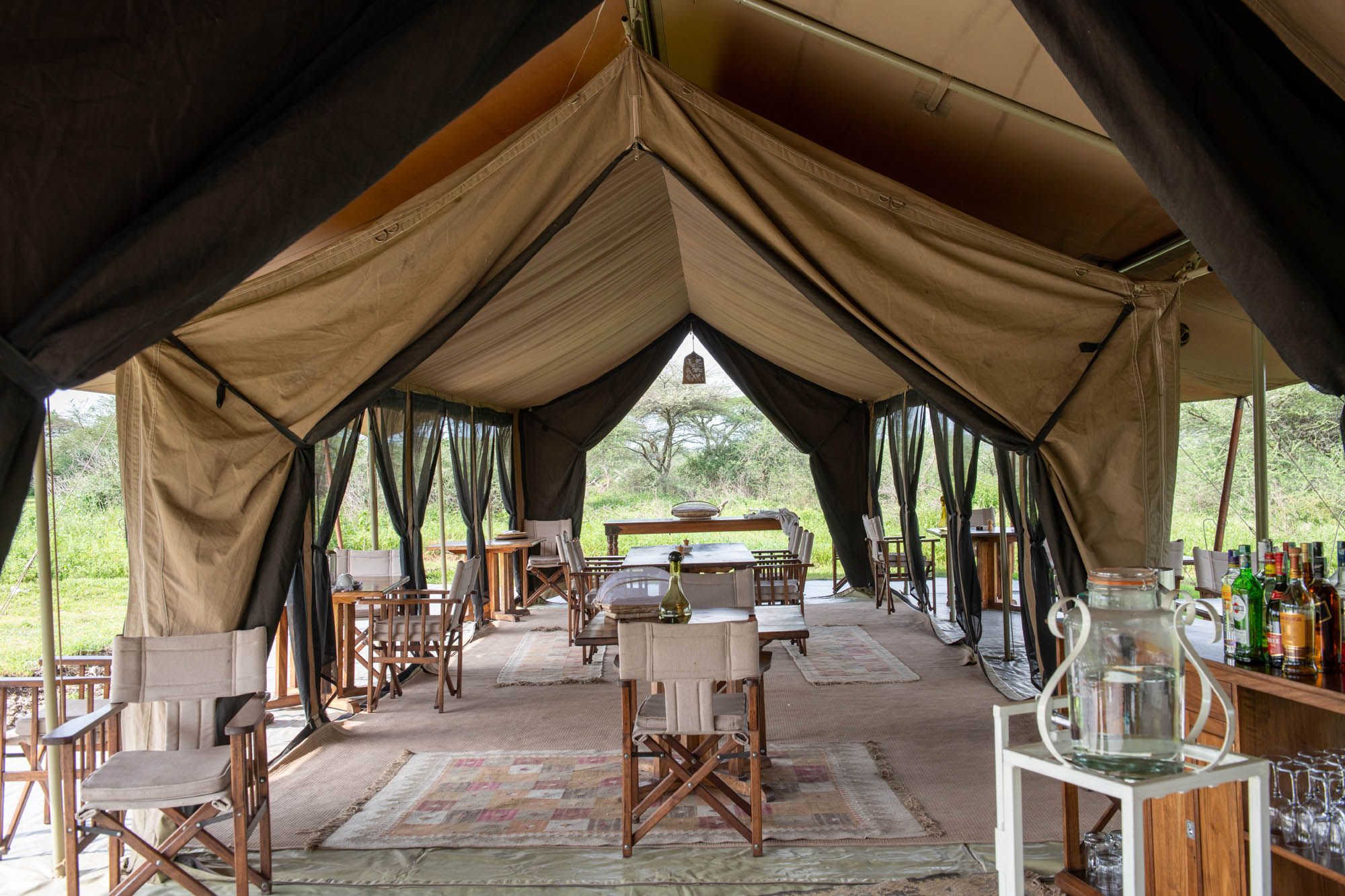 The tented rooms are quite simple yet perfectly adequate and they retain the essence of mobile tented camping, without turning into yet another 'luxury' camp. So essentially a case of 'just enough' and 'not too much'… The interior lighting isn't great but at least you don't have to mess with lamps or lanterns or candles. The flush toilet takes a bit of getting used to but it beats a 'long drop'. Some people blanch when they hear 'bucket shower' but in a setting like this one, it lends an authentic touch and it is of course much more environmentally friendly than an assemblage of pipes and wells. All I had to do was indicate when I wanted to take a shower and at the agreed time, an attendant hooked up a large container with hot water, just outside the tent. This time around I lingered a bit too long and ran out of water before I was quite ready. Not an issue. Another bucket was produced in short order.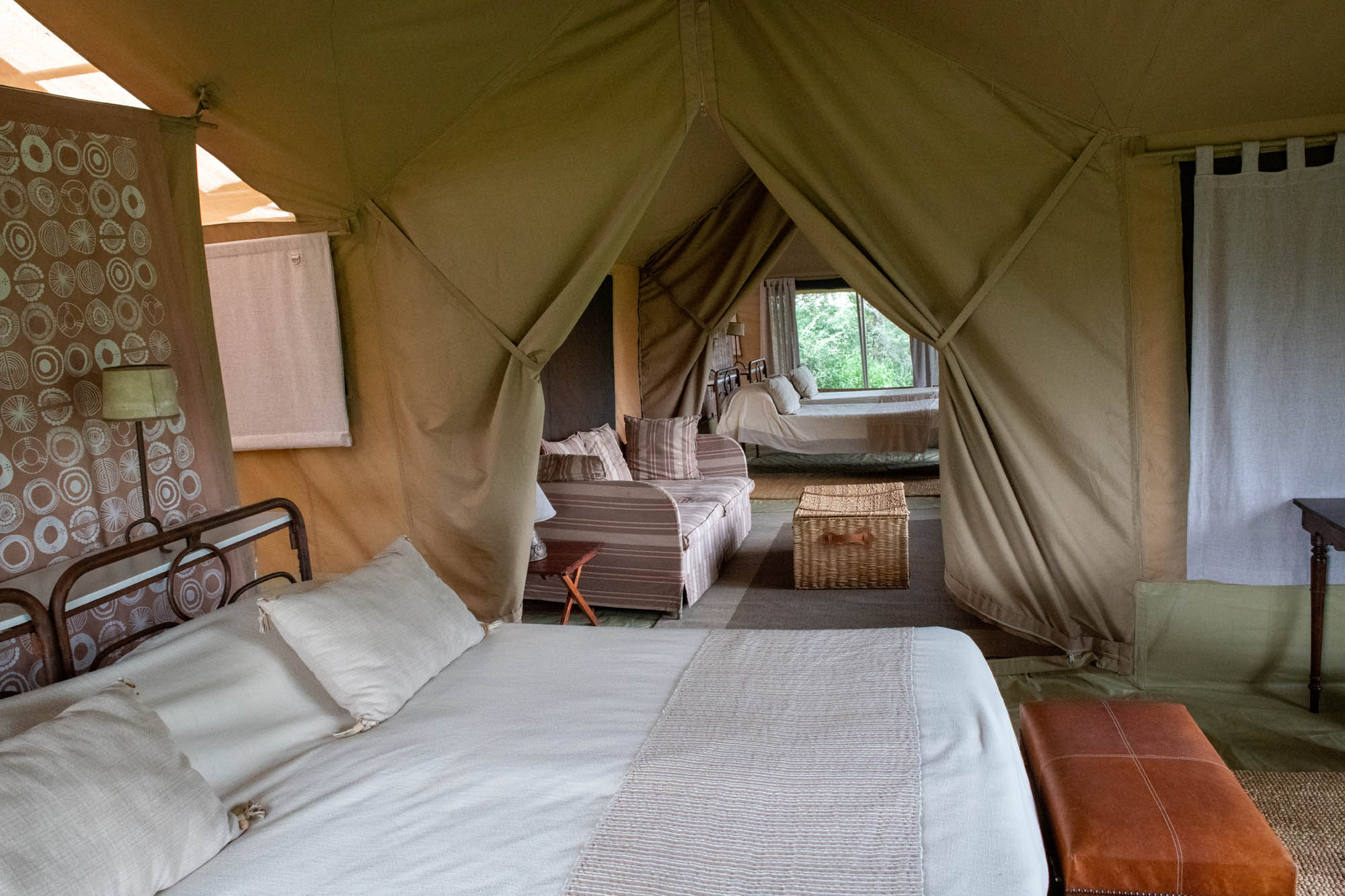 The food offerings at Serengeti Safari Camp were fresh and tasty and while there were not a huge amount of choices or options, it is definitely in the 'solid' category.
What Nomad Tanzania admirably succeeds in doing, is retaining the essence of camping in the sense of staying connected with the wilderness. You're right in the middle of where it all happens. I am personally never happier going to bed at night with the sounds of wildebeest contact calls and braying zebras filling the air. We even heard – and a couple of staff members spotted it – a leopard right from the dinner table.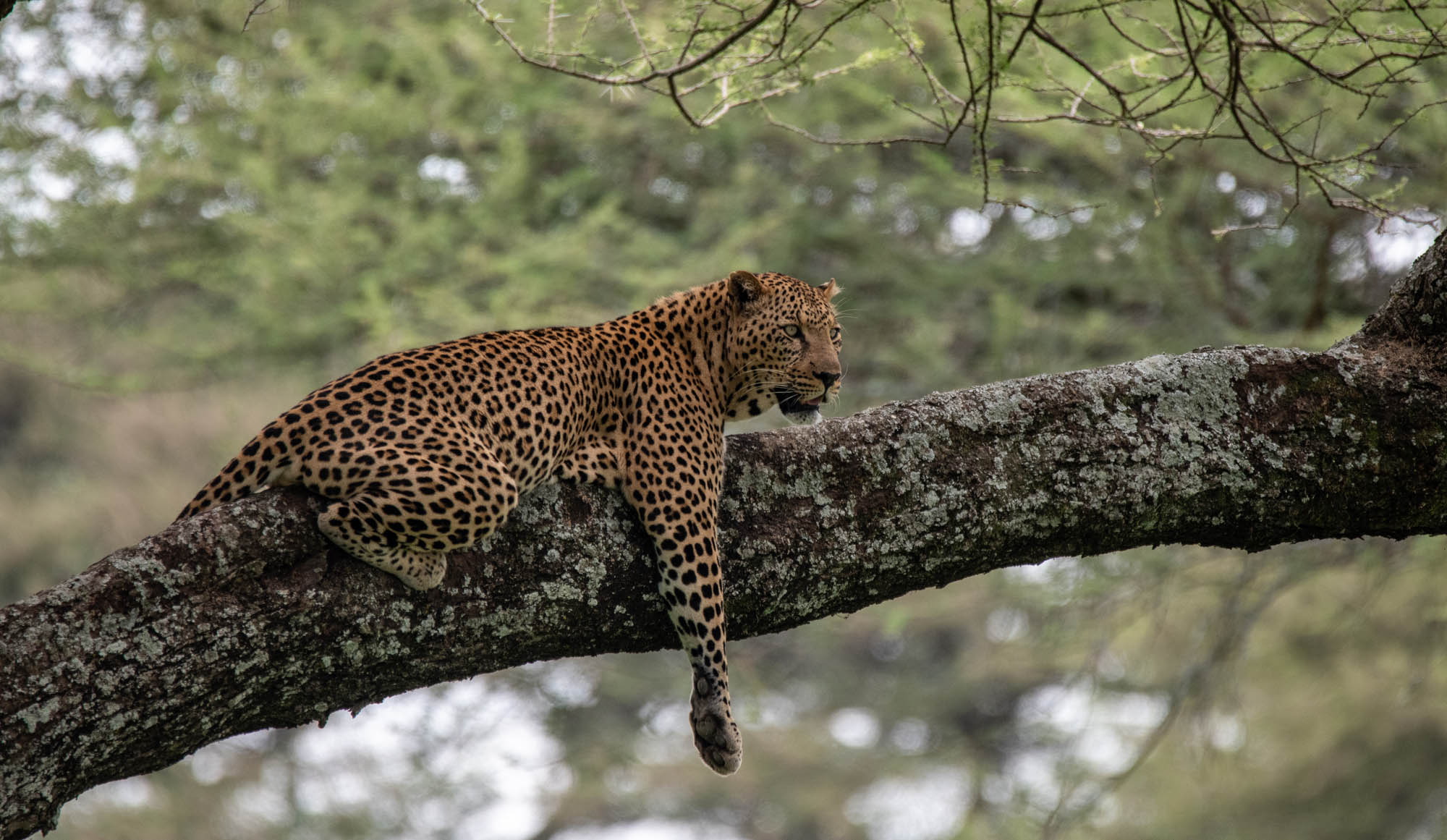 The Serengeti Safari Camp staff were friendly and helpful, without exception. The guiding – by Amos Noah – was excellent. He knew where the tree-climbing lions were, found several leopards, got me into position for some flamingo shots, and was an agreeable and fun person to be with.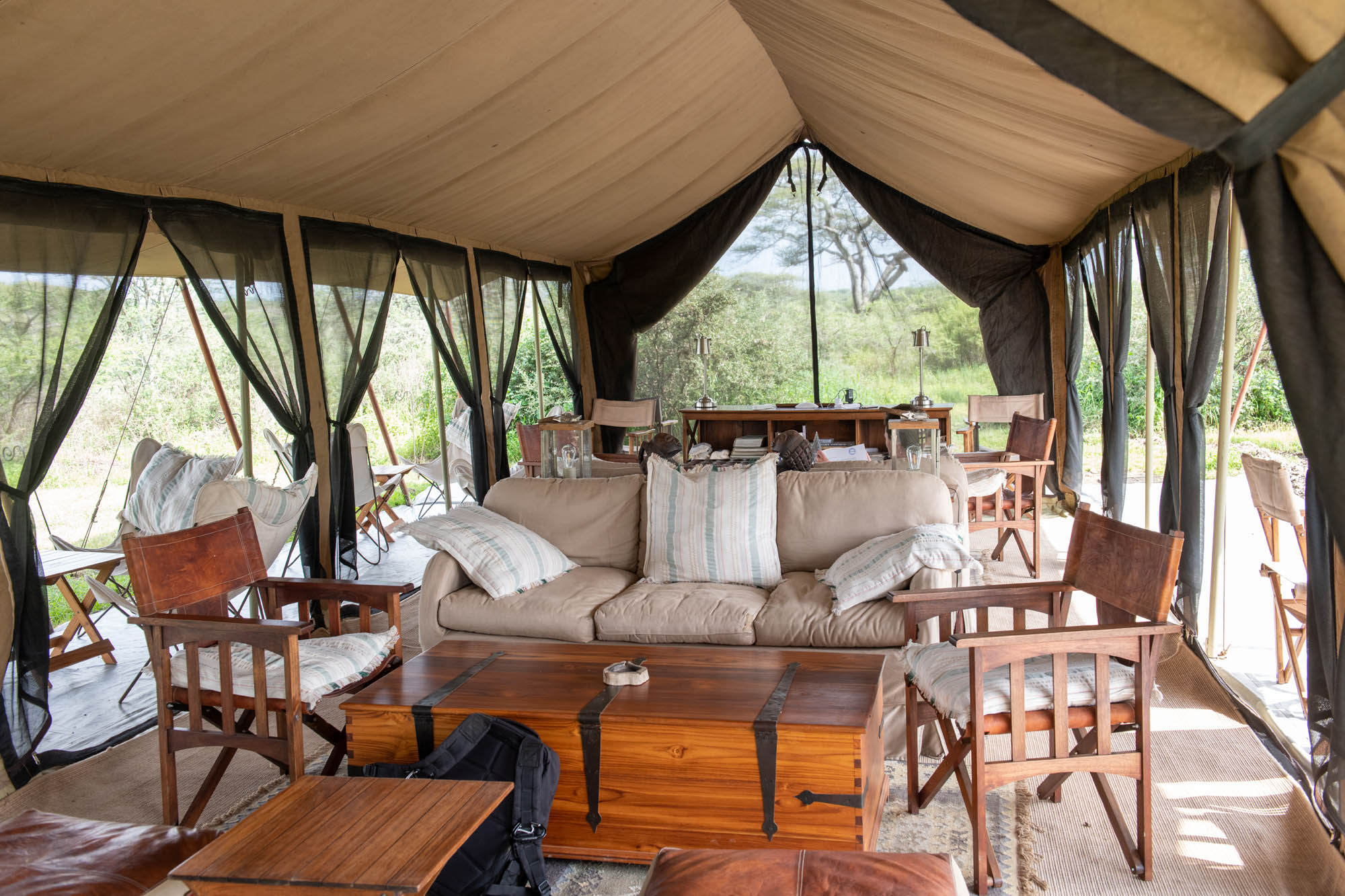 After dinner – in the company of two other guests from England – I retired early and spent a peaceful night in my tent at Serengeti Safari Camp #2. My only regret? The brevity of the visit. Up early the next morning, I enjoyed a hot breakfast before hitting the road once again, back to Ndutu Airstrip, off to a different spot in the southern Serengeti.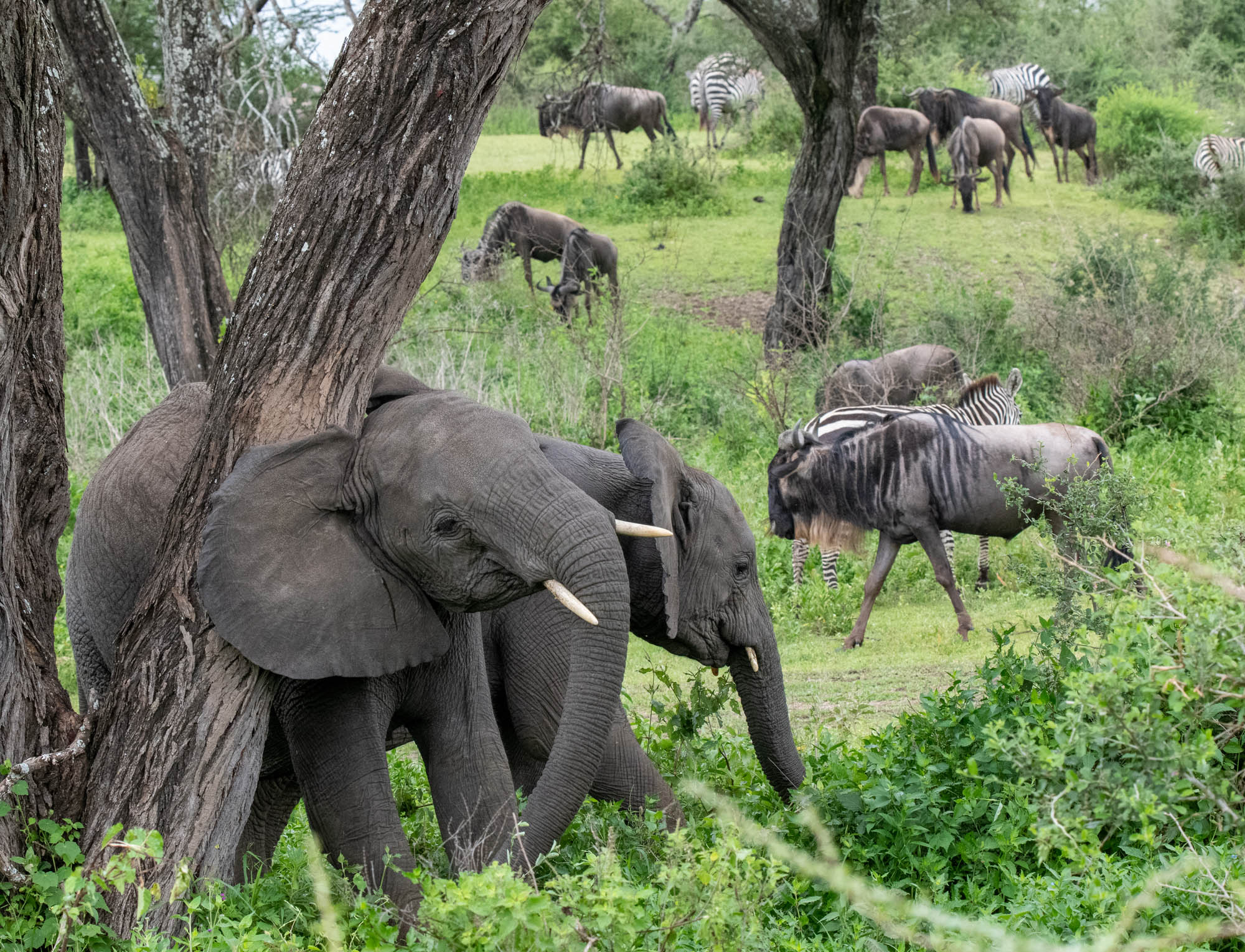 In next week's blog: I move a bit further south and west to Sanctuary's Kusini camp, a luxury tented property where I was the beneficiary of exceptionally good guiding and several obliging leopards.
YOU MIGHT ALSO BE INTERESTED IN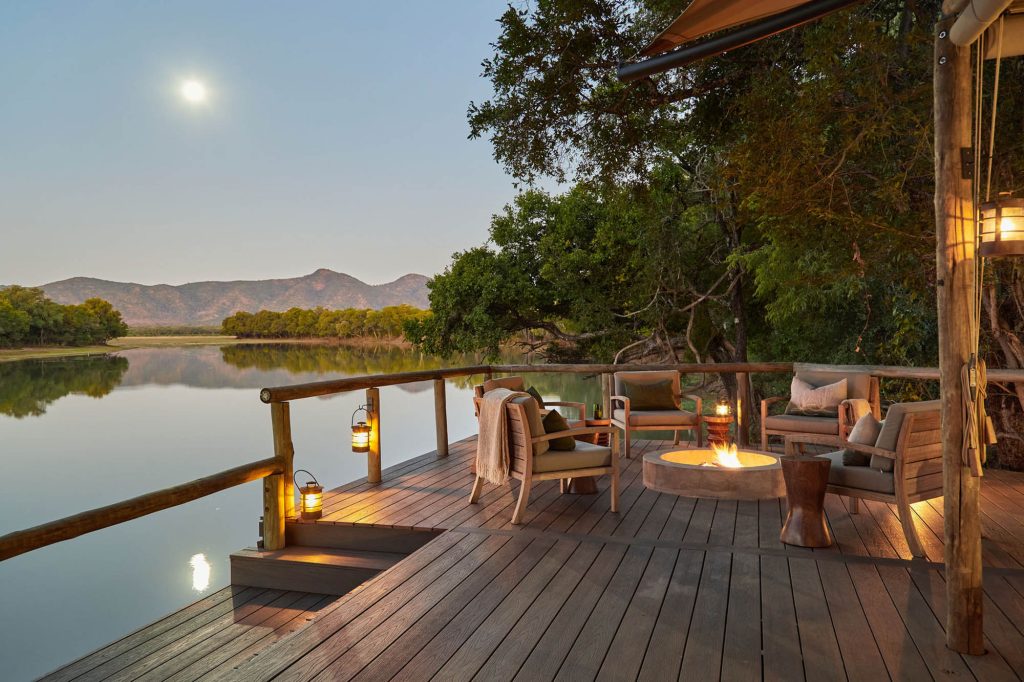 10th Sep 2021
Chindeni and the Bushcamp Company, Zambia
By late July we found ourselves at Chindeni, a small Bushcamp Company property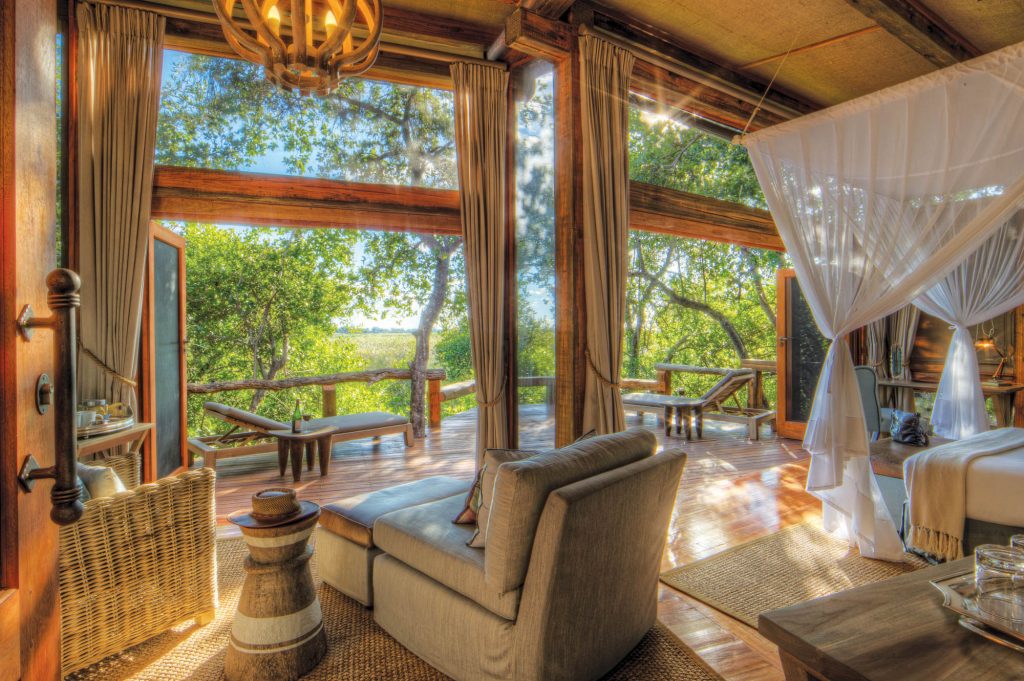 3rd Oct 2022
Camp Okavango, Botswana
Camp Okavango is in the heart of the permanent part of the Delta. In this idyllic setting there are no vehicles, and it is just a short walk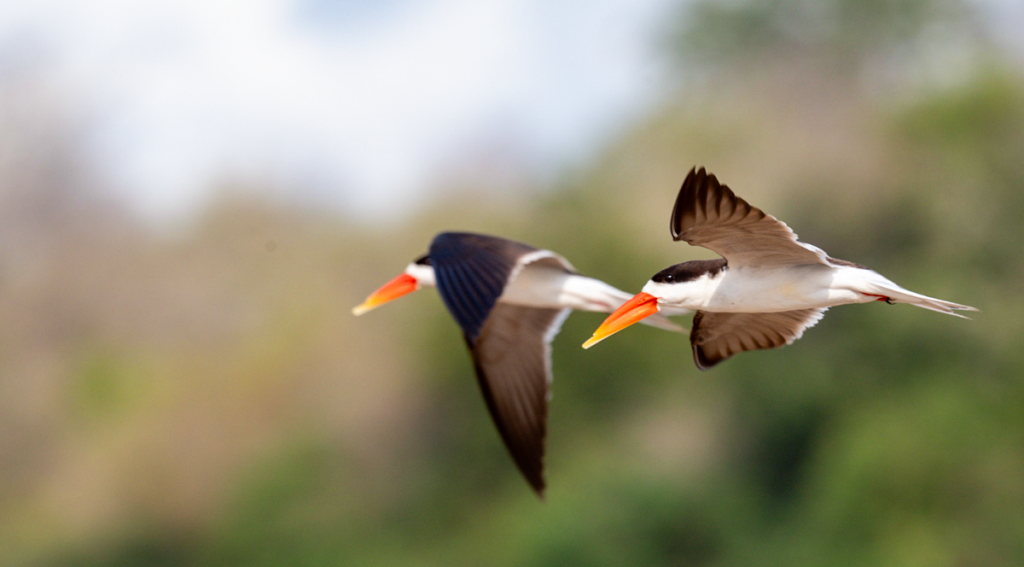 14th Oct 2023
From My Safari Notebook: Wildlife Photography
Birds in flight and wildlife photographers have an uneasy relationship. Things go wrong as often as they go right. Getting focus-lock on a moving subject
SUBSCRIBE TO OUR NEWSLETTER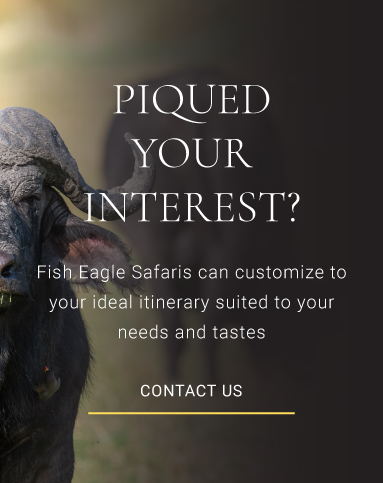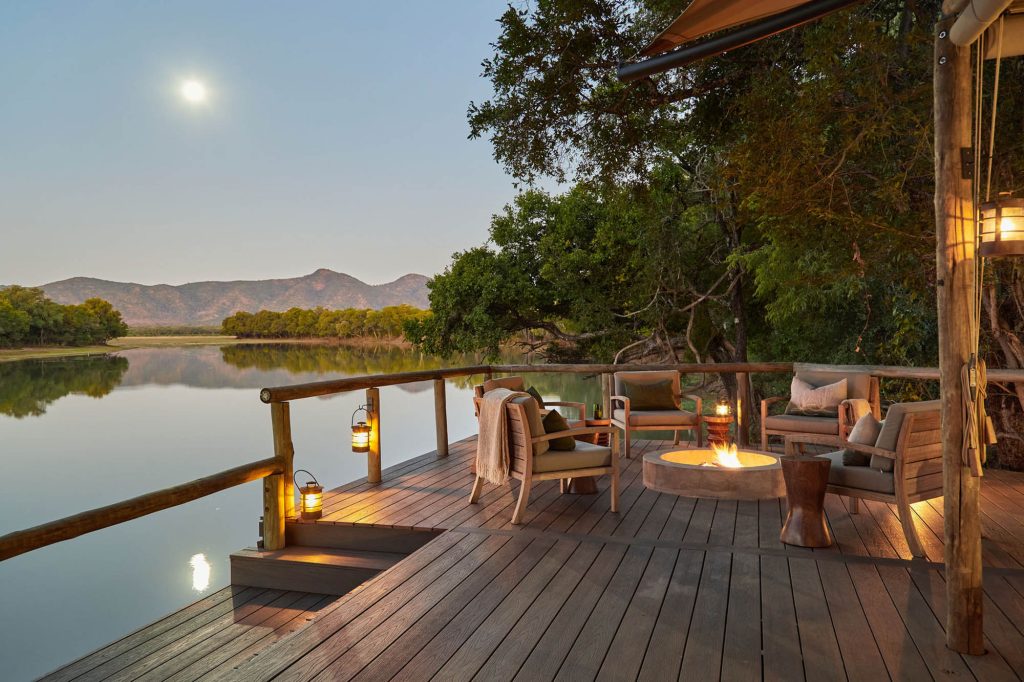 10th Sep 2021
Chindeni and the Bushcamp Company, Zambia
By late July we found ourselves at Chindeni, a small Bushcamp Company property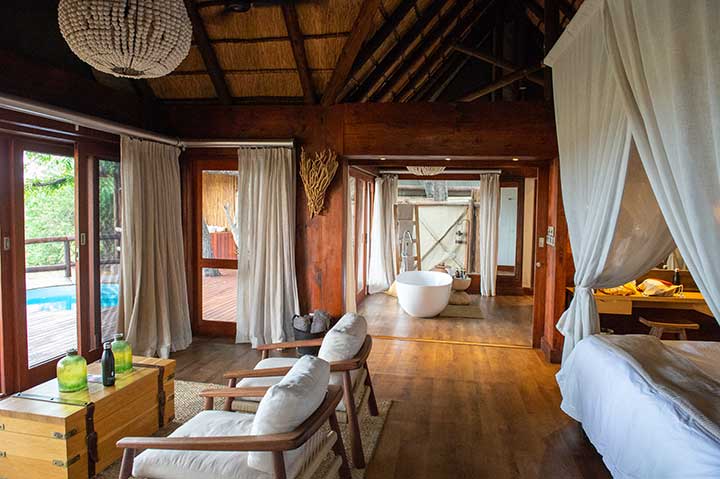 4th Aug 2022
On Safari At Belmond Eagle Island Lodge, Okavango Delta
What is the 'secret sauce' for an unforgettable few days on safari in Botswana? It starts with the animals, of course. The elephants, lions, giraffes, hippos