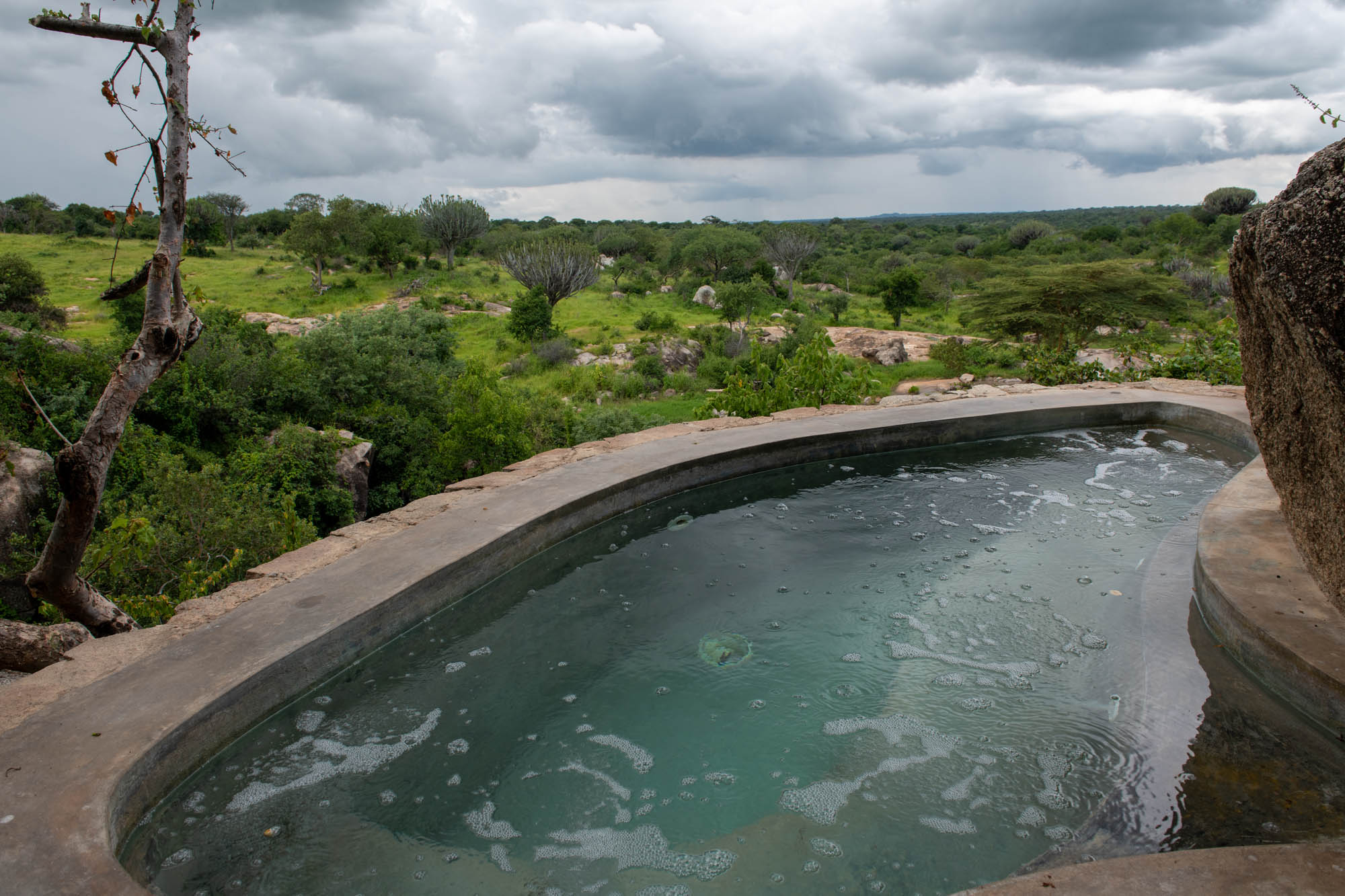 Mwiba Lodge, Southern Serengeti, Tanzania
On my first night at the divine Mwiba Lodge in Tanzania's Southern Serengeti, I was thoroughly jetlagged.  And craved sleep more than anything else.  Ten minutes after retiring to my room #6, all thoughts of an early night had been banished.  There was a large soaking tub - with a generous supply of scalding hot water.  And a cozy lounge area which simply screamed:  use me!  And so began my infatuation - which I hope will blossom into a long term relationship - with this  drop dead gorgeous safari camp.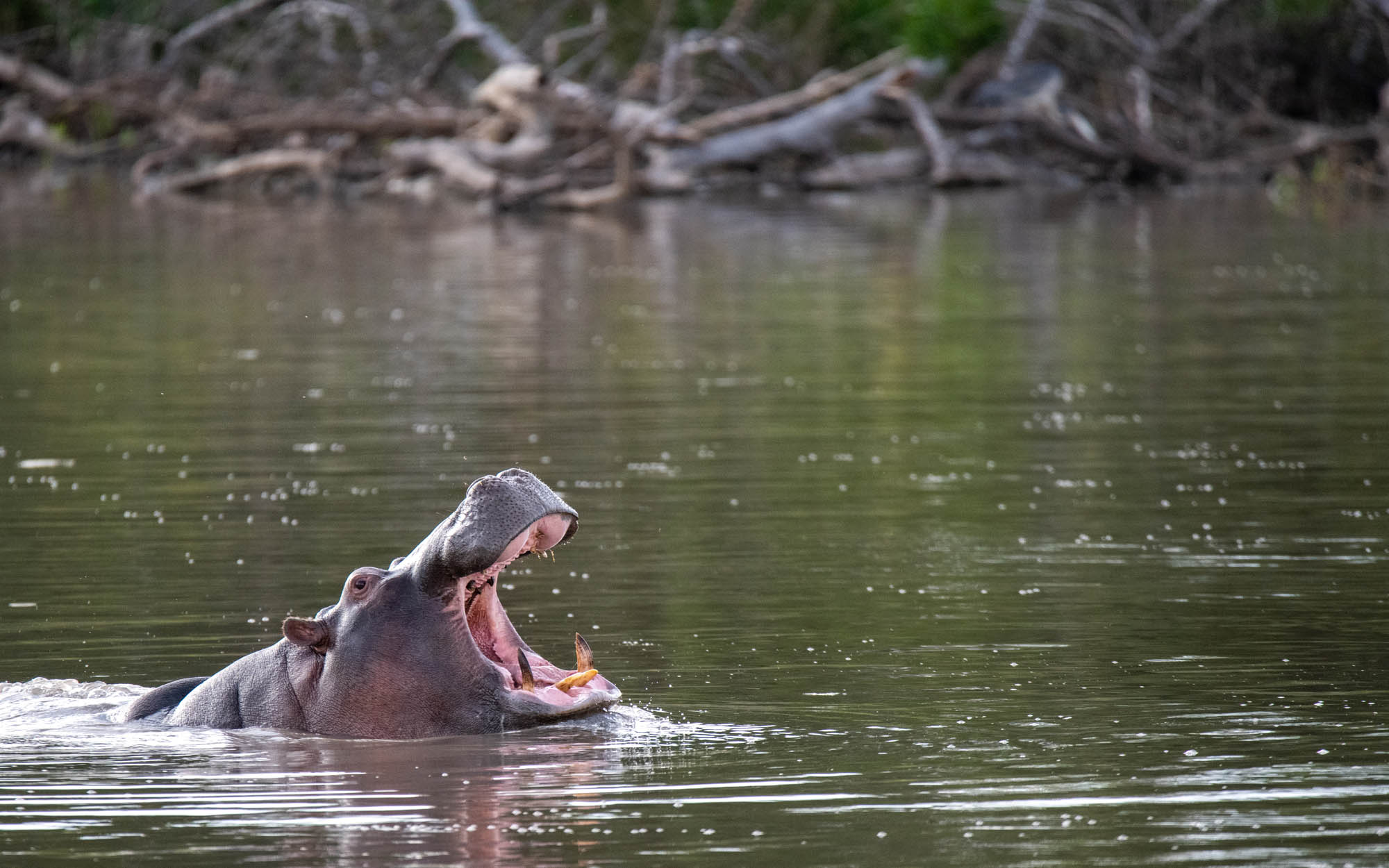 It's easy to fall in love with Legendary Safaris' Mwiba Lodge.  The place is impeccable from top to bottom.  Location, people, experiences.  A total of 10 rooms are perched on a rocky, boulder-strewn outcrop overlooking the Arugusinyai River.  When flowing - as it was at the time of my visit -  the water cascading over the rocks creates a soothing natural soundtrack to the place.  Occasionally interrupted with a variety of bird calls such as the loud and rather harsh Bare-faced Go-away bird to the much more mellifluous tones of a White-browed Robin-chat, a dawn chorus stalwart.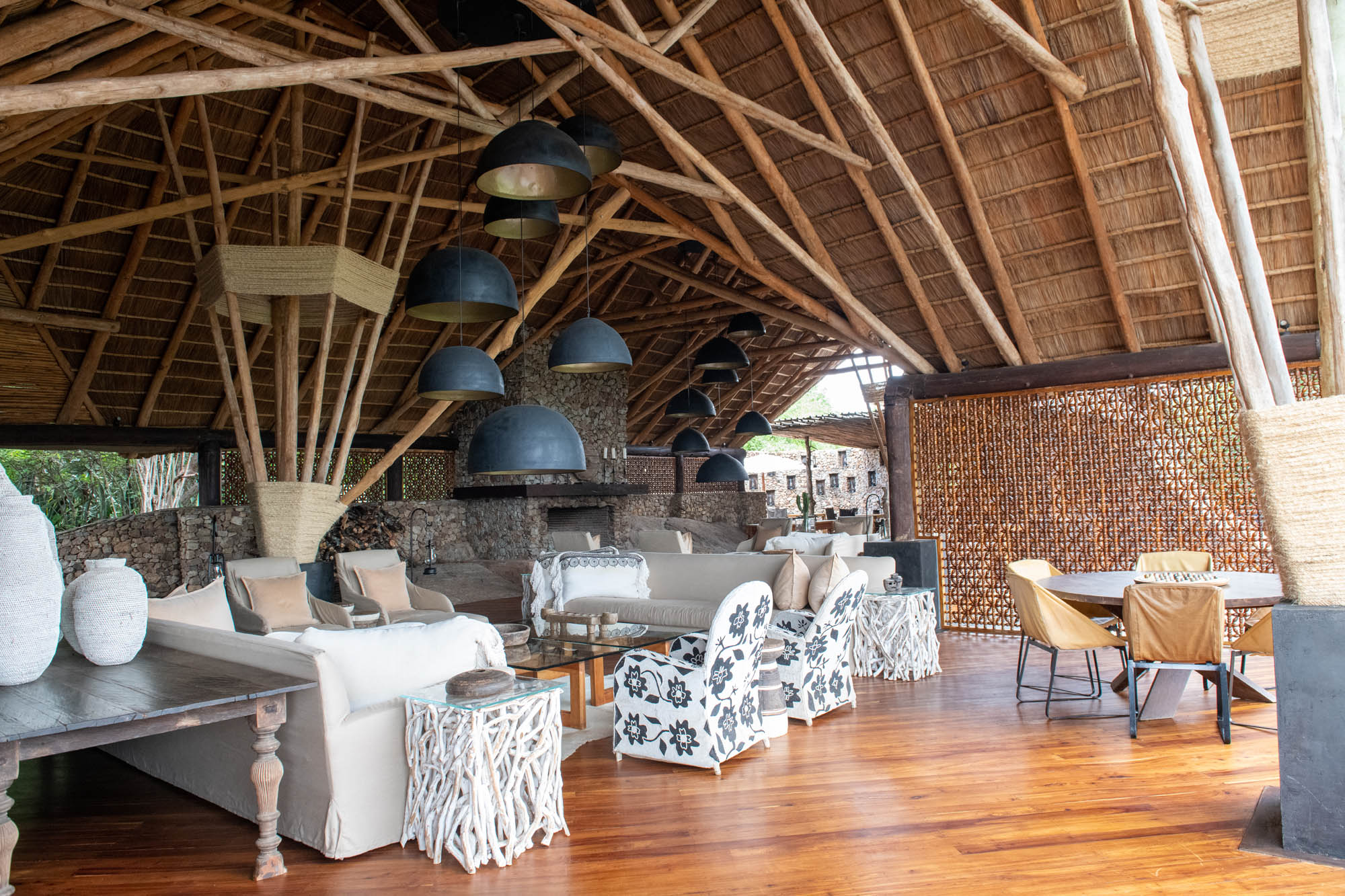 The main dining room and lounge area is an artful blend of natural material and fabrics (wood, thatch, rope, giant woven pots and linens), the actual rockface and handcrafted rock walls.   The whole of it creates a unique, intriguing setting which looks great, and works well.  Which is not always the case with safari properties where form sometimes obliterates function.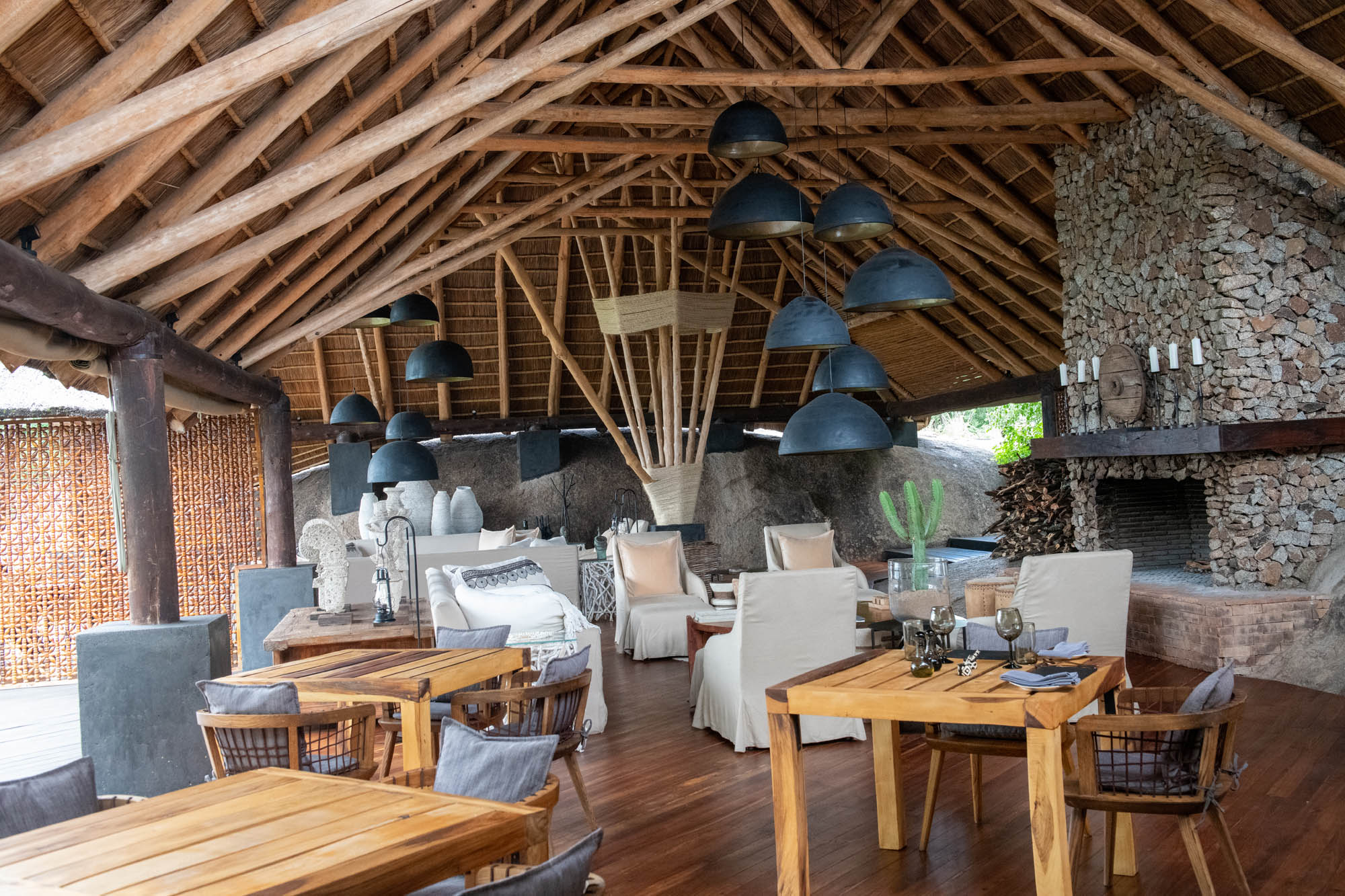 Not so at Mwiba.  The open design makes for effective airflow, a giant fireplace delivers heat when needed, and the bar area with its hardwood counter and recessed lamps create an environment where you positively want to sit down and relax for a while.  Even if your beverage of choice is a 'mocktail' and not the real thing.  True to Mwiba form, the pineapple juice used in my virgin pina colada was freshly squeezed on the spot.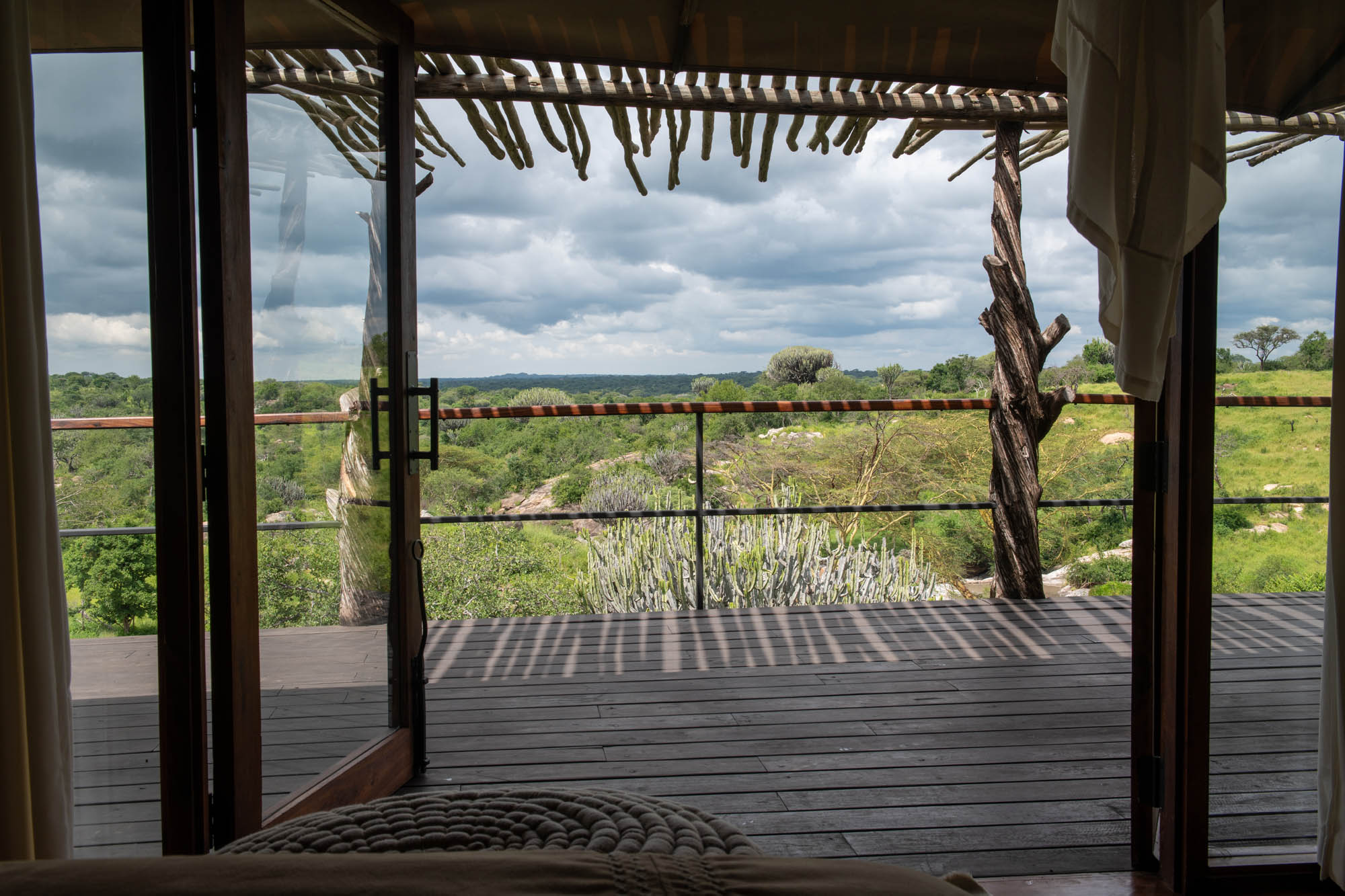 There is more.  This beautiful property also has some of the best trained staff I've ever encountered.  I was most impressed with the impeccable standard of hospitality - as good as any I've ever experienced in Africa.  Both my primary staff contacts were management material:  my guide Isaac as well as my personal waiter Bupolo.  They could not have been more professional or caring.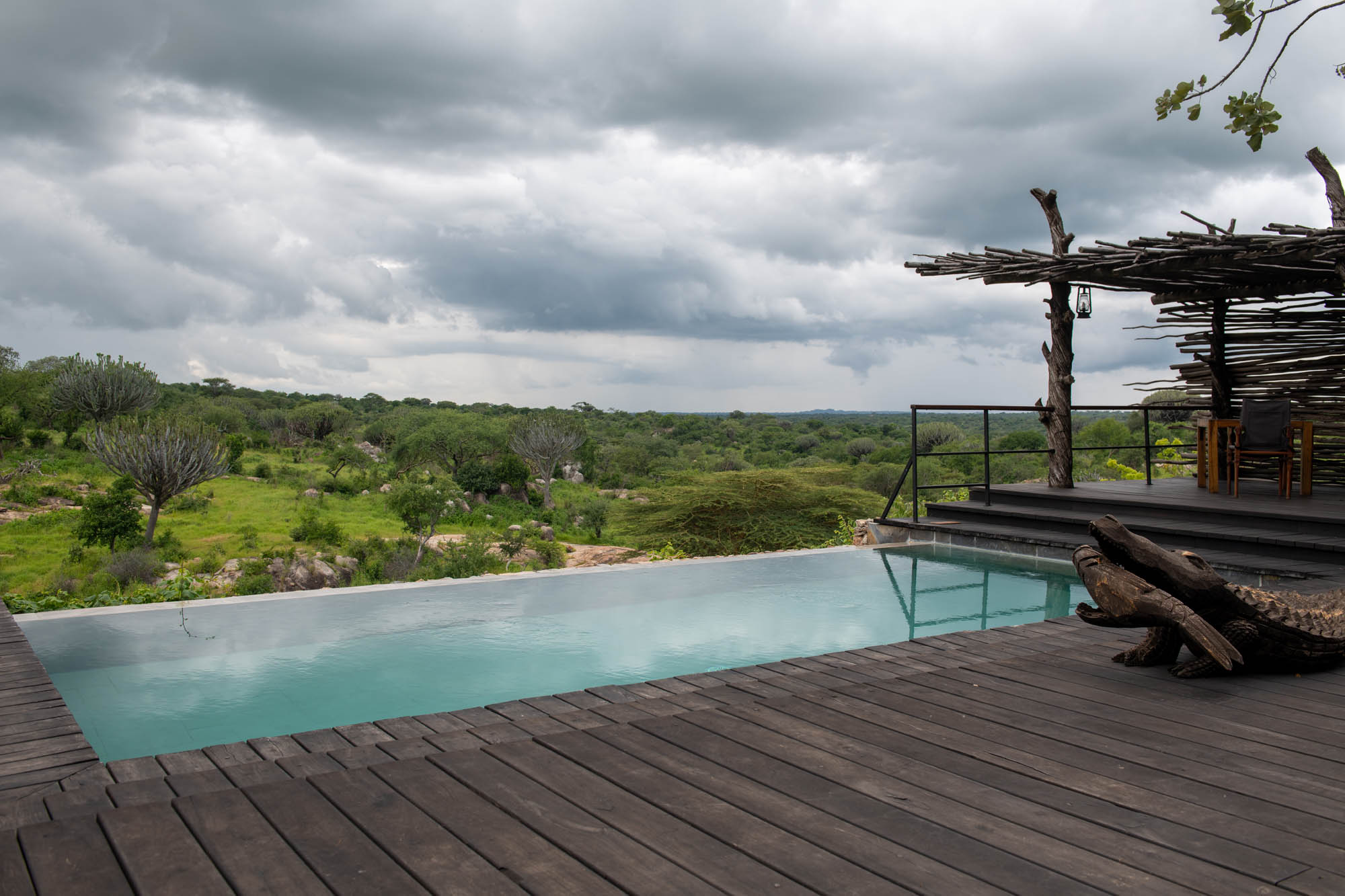 It is easy to see why Mwiba is considered to be the undisputed top lodge in the greater southern Serengeti region of Tanzania.  Walk into this extraordinary property and there is a pleasant surprise around every corner: a different view, design element or visual focal point. The Zanzibari entrance door, the finely crafted stone walls, the beautiful natural wood bar counter, collectors item furniture pieces, the massive thatched roof and the stunning interiors - all artfully combining into a splendid whole.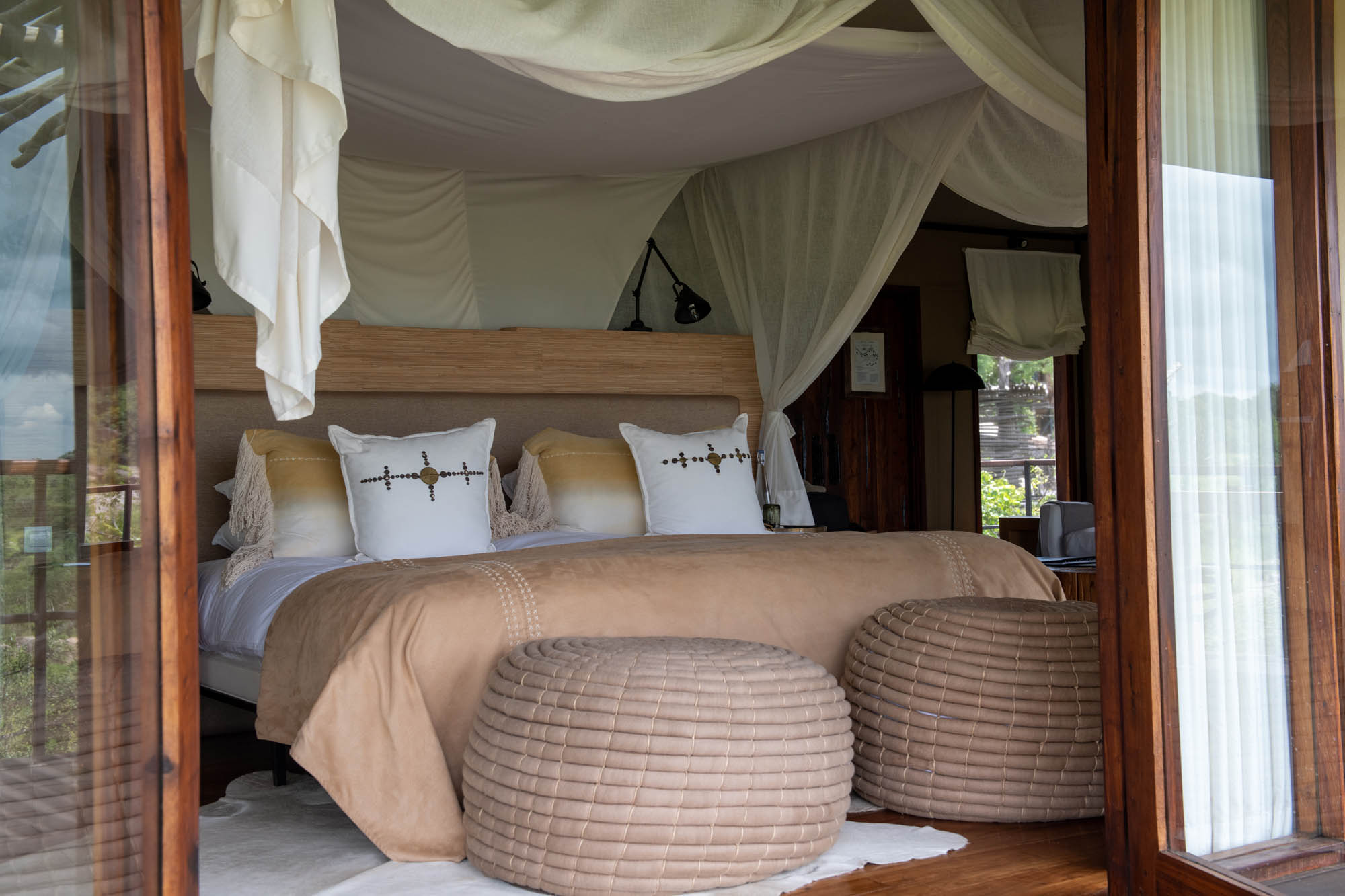 Sitting on top of a hill overlooking the Serengeti woodland, Mwiba has wide boardwalks leading to ultra-private rooms, all with beautiful views.  My room #6 was perched right on the edge of a large rock slab, with amazing views over the  Arugusinyai river and beyond.  It smacked of thoughtful design with ample packing/hanging space, a large soaking tub, a separate toilet, an outdoor shower, his and hers washbasins, a closet which lit up when opened and enough space to really spread out and get comfortable.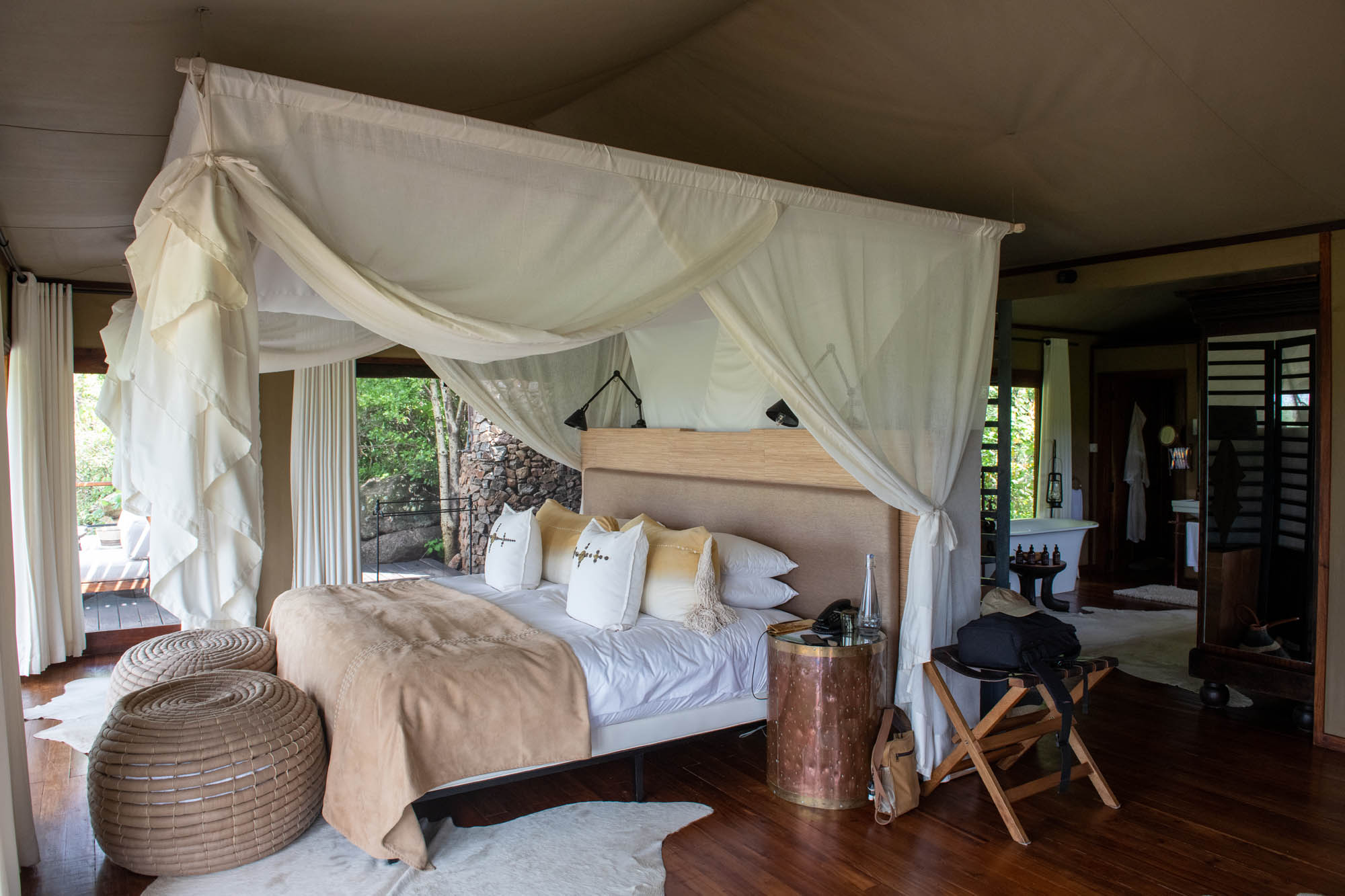 Food at Mwiba
The food at Mwiba was a high point of my stay.  In fact everything I tried was consistently excellent, creative and presented with flair. Chef Jonathan came out to talk to me over lunch on my first day there, mentioning that he was planning to prepare some traditional African dishes for the following evening.  I was not quite expecting it to be the banquet which it turned out to be!
Starting with ugali - essentially the local version of polenta - the spread included chapati bread, kachumbari salad, chicken and beef mishkaki (kebabs), chachandu - a particularly good chili sauce - and coconut beans which I absolutely will have to try to recreate here in Texas.  And one or two other items which I forgot to write down.  On another day we had a starter of pear and blue cheese with arugula, Beef Wellington, and lemon tarts for dessert.  All delicious.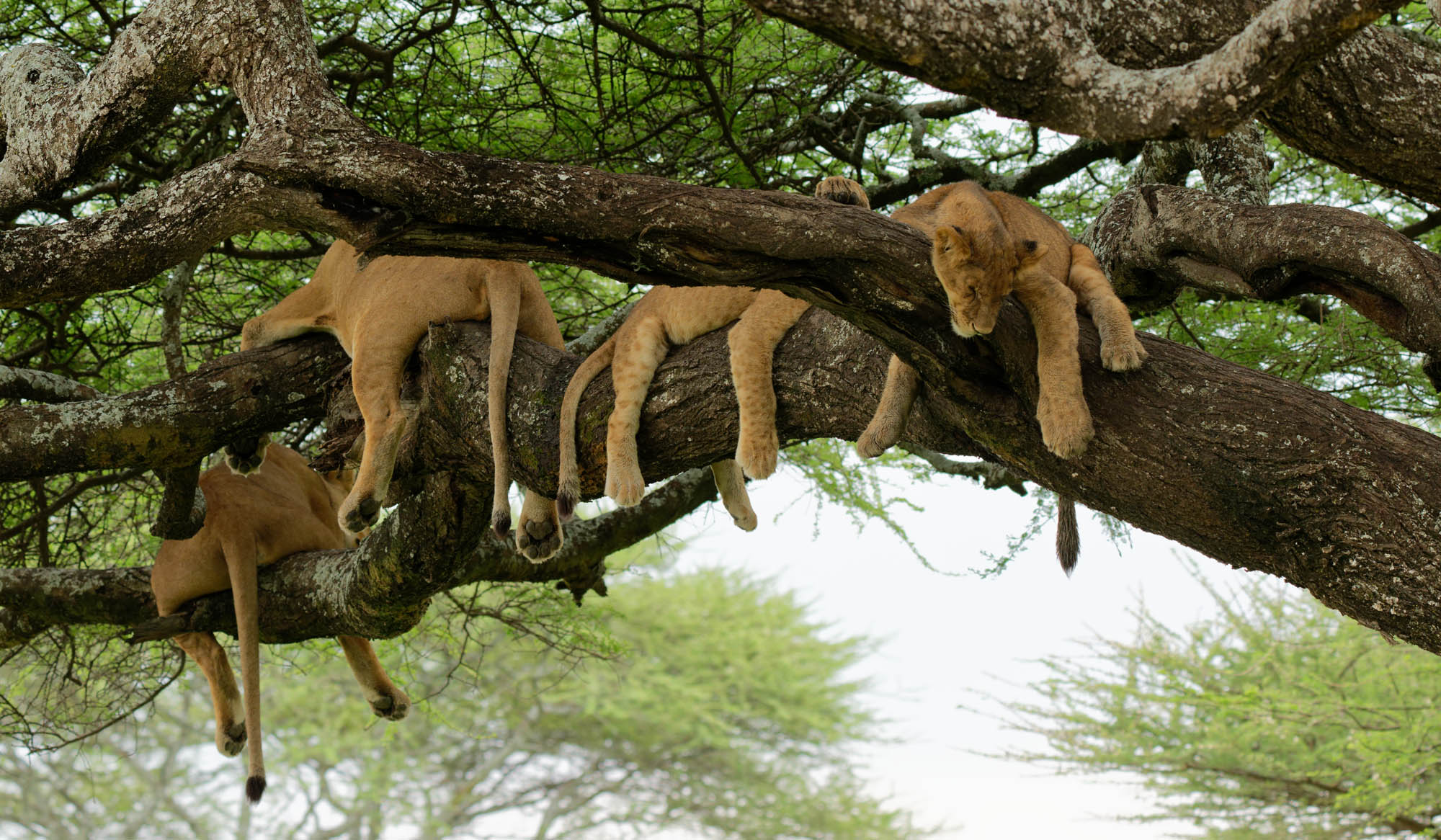 Activities in and around Mwiba
In addition to game drives, there's plenty to do at Mwiba.  If you're into cultural activities, Mwiba is known for its authentic Hadzabe experience.   Spend a morning in their world and be amazed at their stealth and agility, at the degree to which they are in tune with their environment,  and how they manage to survive largely untouched by Western civilization.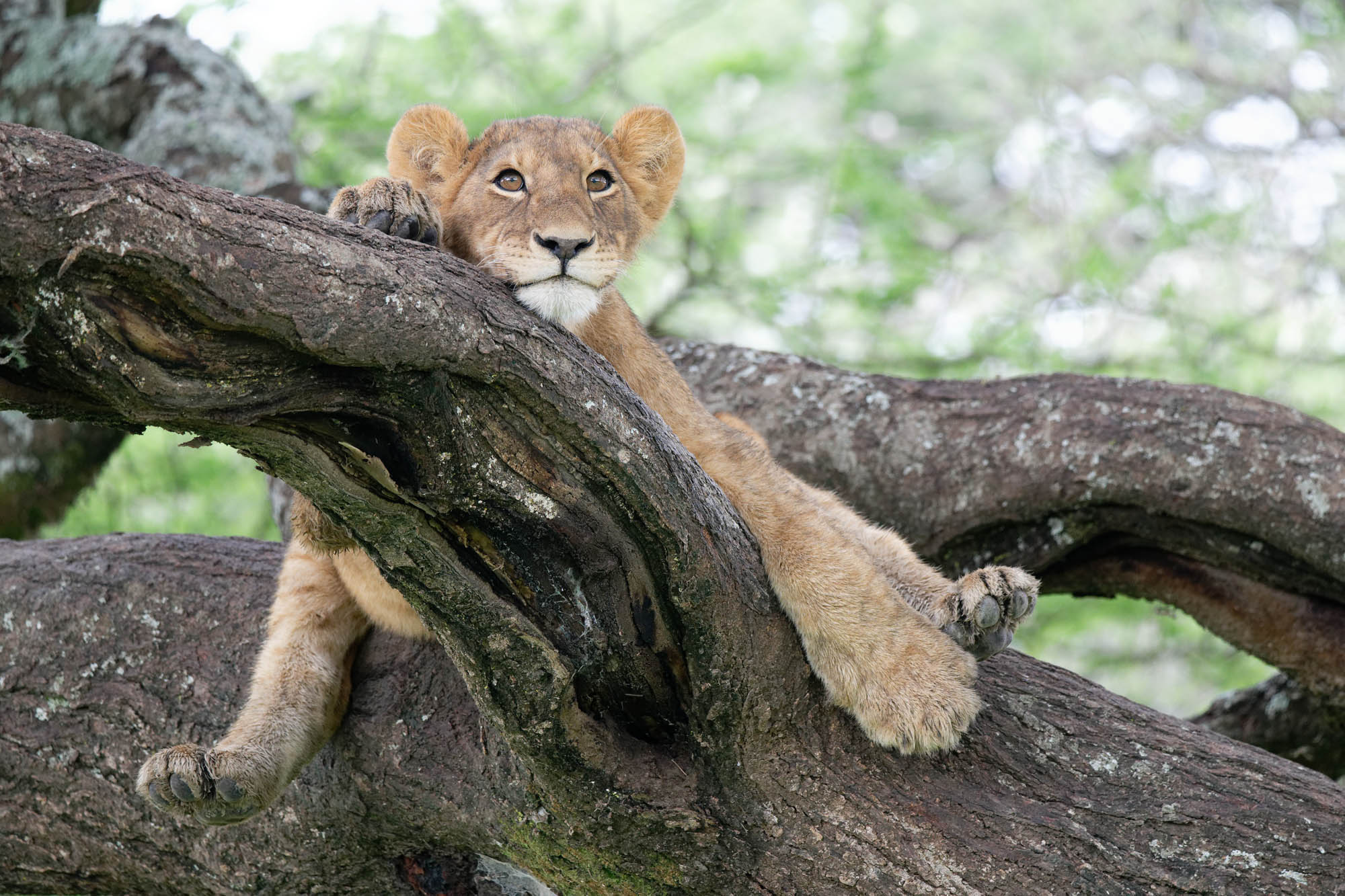 Mwiba also offers some  good walking opportunities, enabling close-up sightings and experiences on foot, without distraction or interruption.  On an overnight fly-camp outing, you can experience the freedom of being totally off the grid in the wilderness, exploring your wild side on a truly personalized experience of Africa. White sheets, a quirky warm-water bucket shower and an eco-loo complete the experience. Wi-Fi?  No.   Silence and space?  Yes.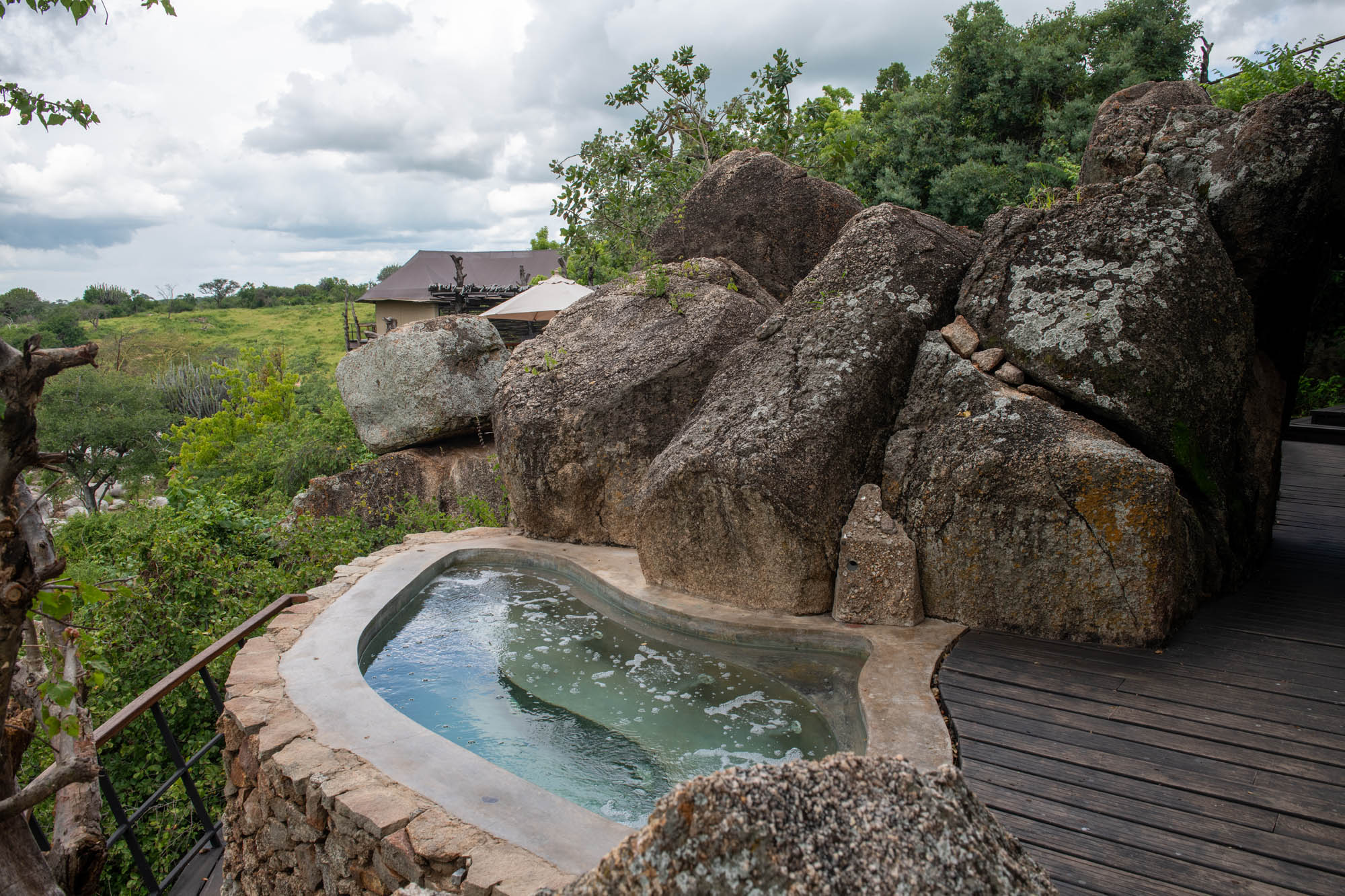 Right inside camp there's a rejuvenating spa and gym and a cool wine cellar - not a bad spot for a private dinner. An expansive pool is set on a rocky outcrop overlooking a natural spring below.  In the dry season you may see some resident wildlife come to slake their thirst.  Walk in-between two massive rocks and around a corner and there is an inviting jacuzzi, seemingly carved out of the rockface, with beautiful views over the distant countryside.  Helicopter sight-seeing flights are available for side trips to Lake Eyasi or Lake Natron or beyond.
We would recommend spending at least 3 nights at Mwiba as there's just too much to see and do, plus the lodge is perfect for re-connecting you with your inner explorer.  The one who wants to spend a bit of time around camp and not be in a vehicle 24-7...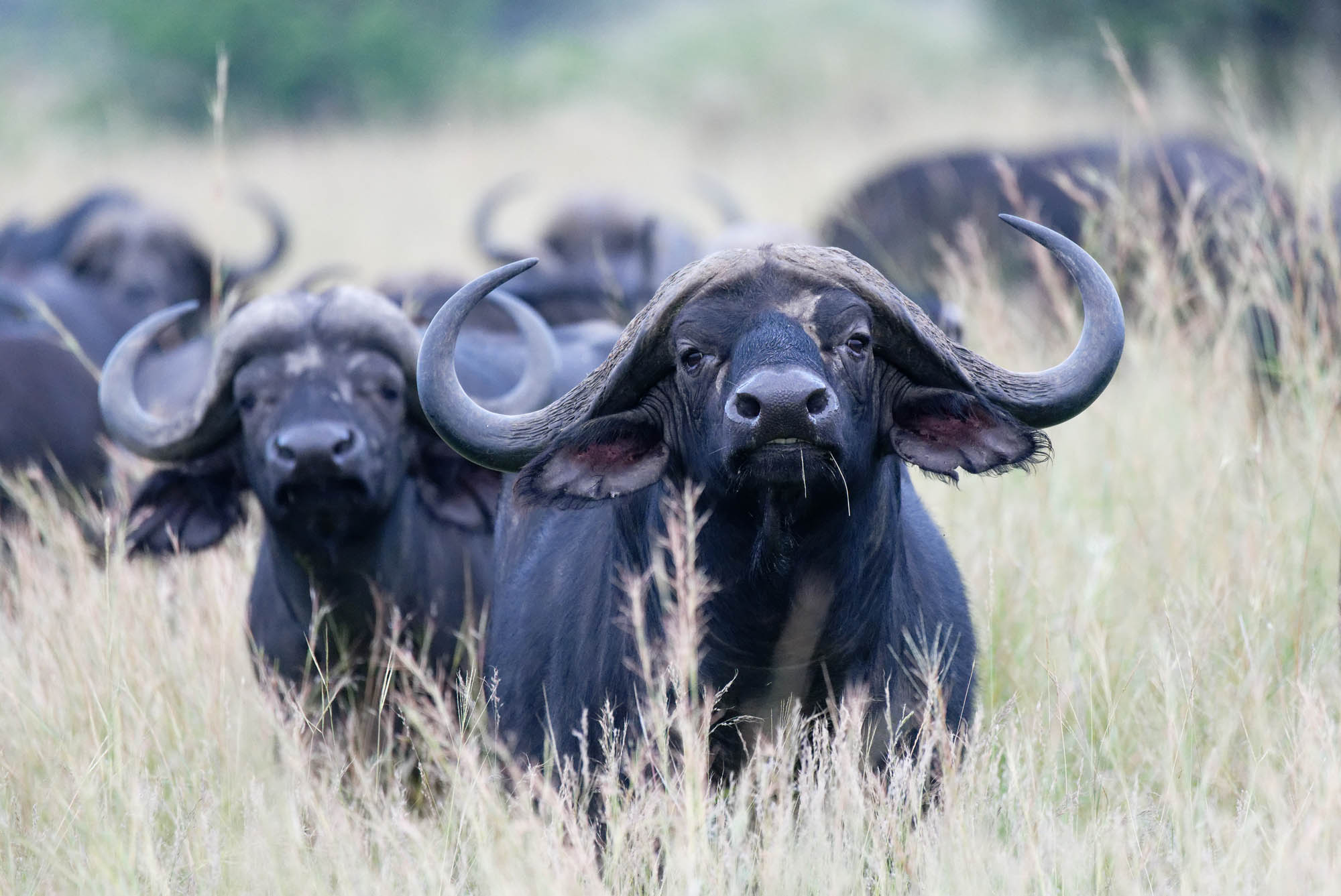 Game-viewing at Mwiba
If you do decide to tie the knot with Mwiba, just remember that it is through thick and thin, in sickness and health.  So if the wildebeest migration isn't there in January, February or March, it's nobody's fault.  With the migration you can be in the right place at the right time and still miss it.  Which happened on my visit.  Even though conditions were ideal, with lots of rain and plenty of grass, the wildebeest herds were further north in the Ndutu area, where I would catch up with them a couple of days later.  They had been around Mwiba just days earlier and would likely be back the following week.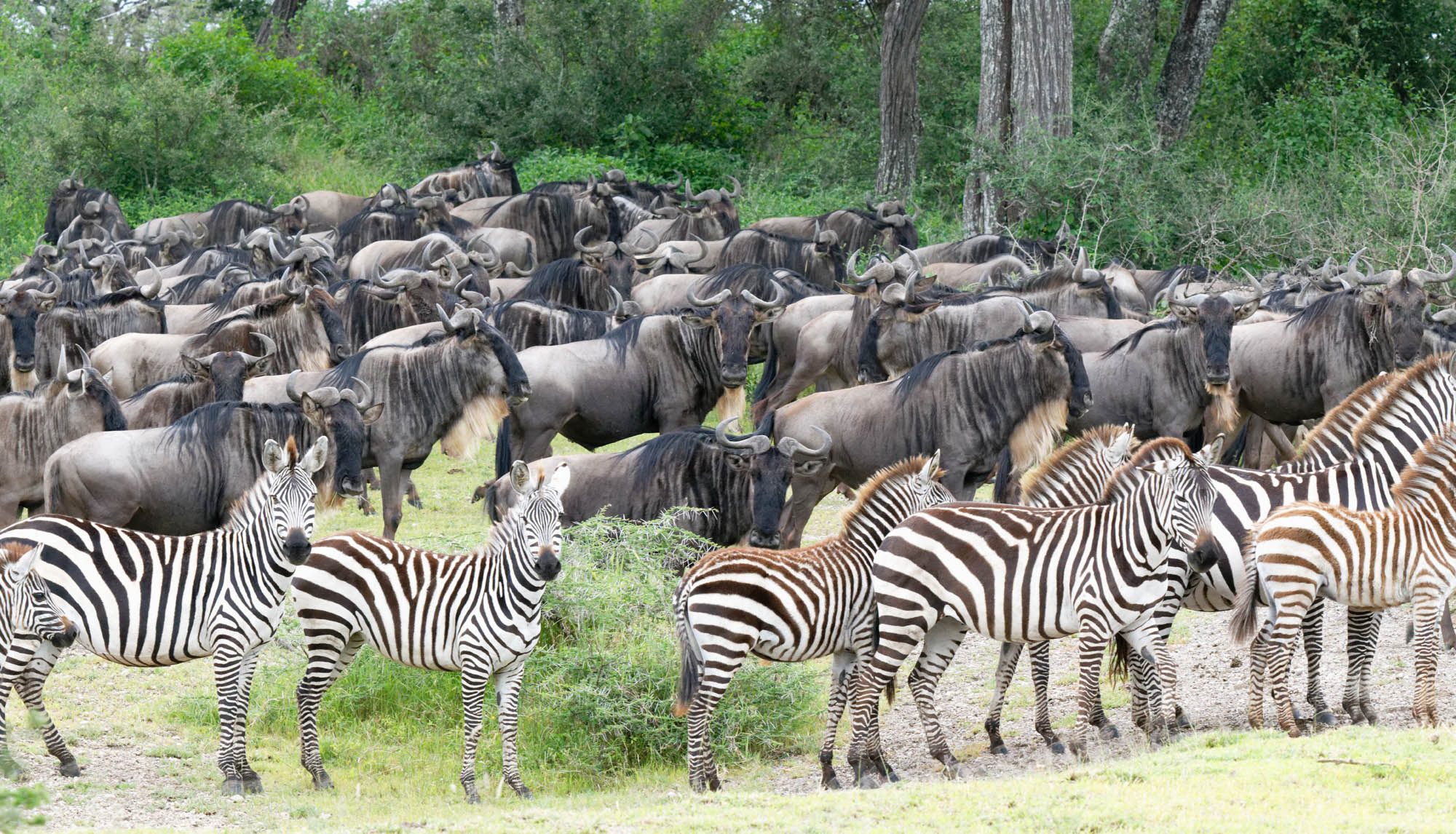 On our game drives in the area around the camp and further afield, we encountered good numbers of plains game, particularly zebras and giraffes.  Out on the plains we bumped into a group of 4 lions (2 females and their juvenile cubs); the two dominant males heading up the pride couldn't have been far away.  The young cubs were seemingly fascinated by the vehicle, coming close to inspect it.  There were some elephants around as well, and the habitat in the Maswa Reserve - ideally visited on a full day outing from Mwiba - is ideal for cheetahs.  It appears to me that with as much water as there is right around Mwiba, it would also be a good dry season destination as many of the big game species like buffaloes are likely to move closer to remaining water sources then.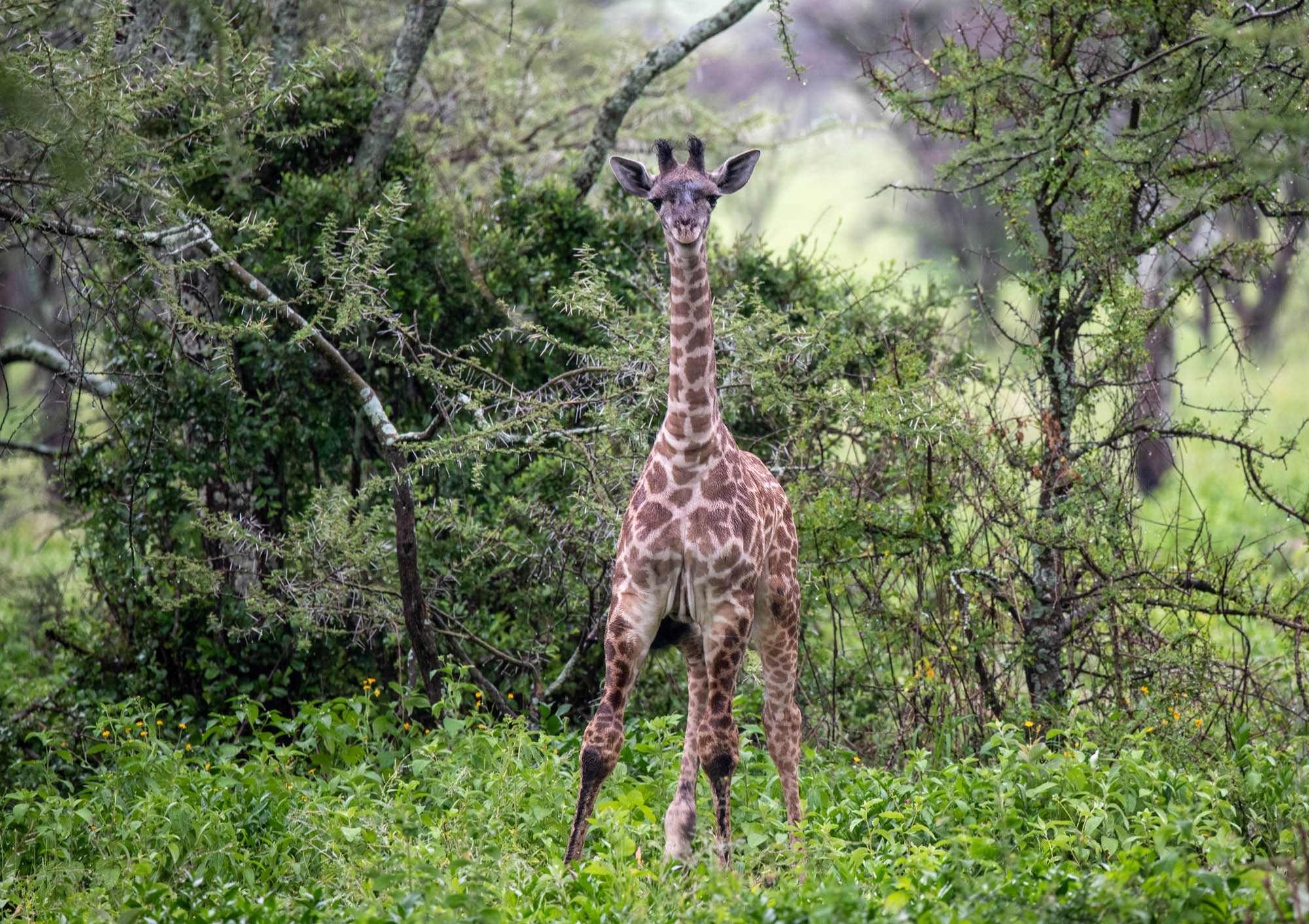 I would not recommend Mwiba as the only game-viewing stop on a Tanzania trip, though. It would be best to combine it with at least one more camp in the Serengeti, Tarangire or elsewhere.  Mwiba would be perfect as perhaps the first or last stop on an East African trip.  A great introduction to the area and similarly, the perfect spot to wind down a trip, enjoying the setting and the lodge itself, and of course the people.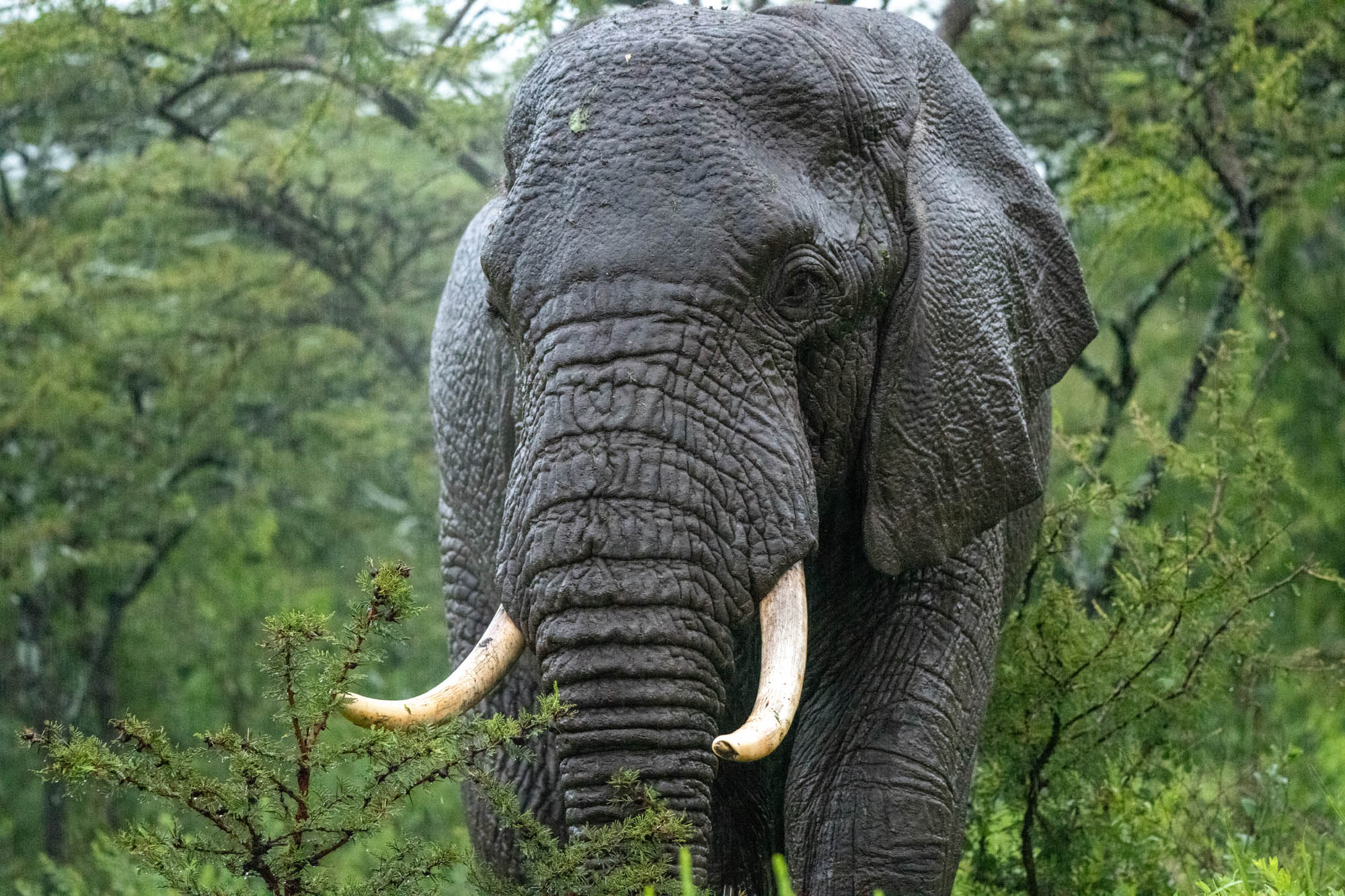 Tsetse flies and what do to about them
There's something else which may challenge your relationship with Mwiba:  the presence of tsetse flies.  On a warm day in the rainy season, in the thickets and bush in the general area around the camp and down to the hippo pool, you will most likely experience at least a few bites from these pesky insects which are seemingly impervious to bug repellant of any kind.  In cooler, drier weather they are not nearly as much of a nuisance.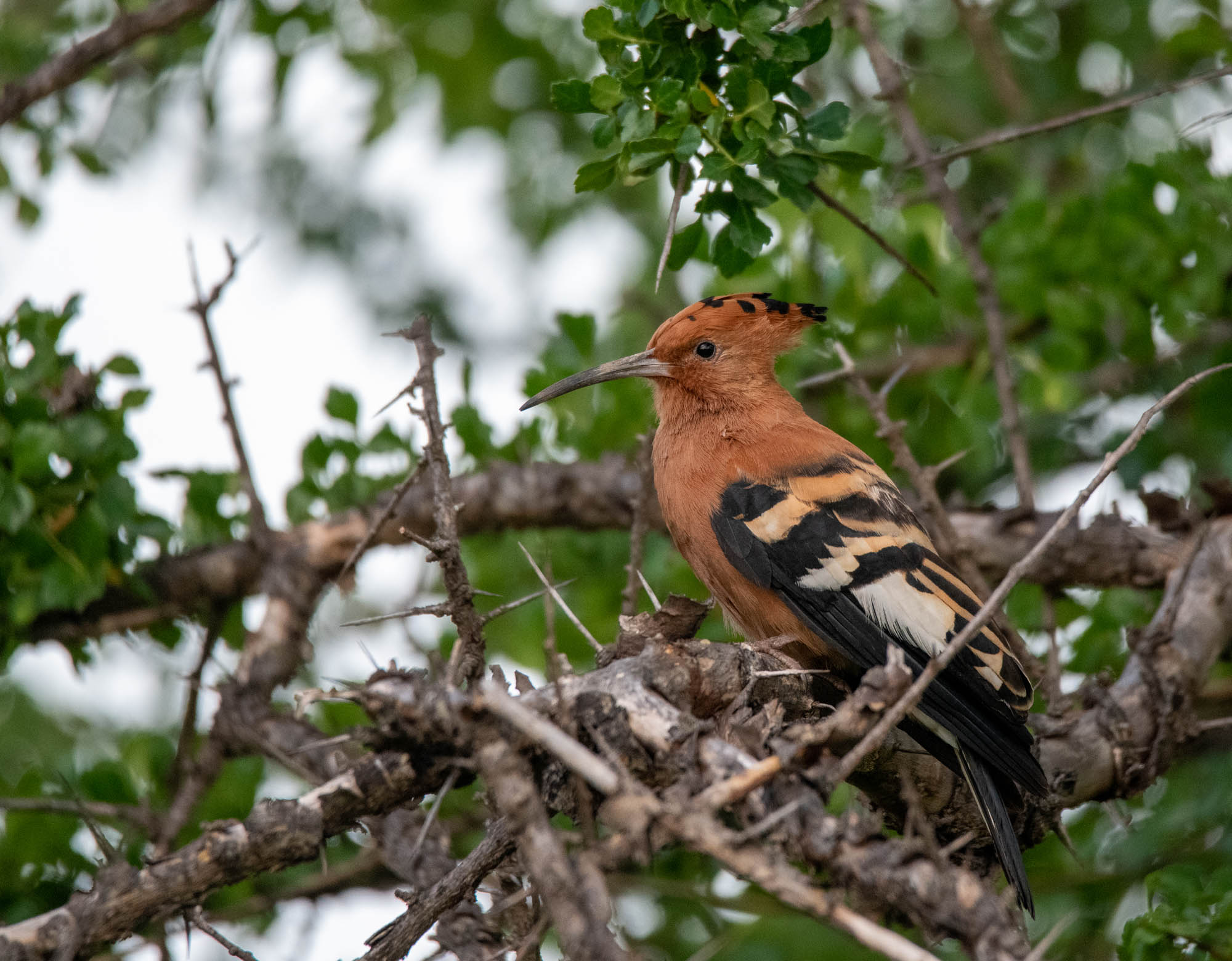 After years of 'running scared' in the presence of tsetse flies, I've finally come to the realization that protection is the name of the game.  You simply have to cover up.  Start with a long-sleeved light-colored (white is fine) 'fishing' shirt.  Apparently the extremely finely woven fabric - thin as it may be - presents a significant barrier to the tsetse flies.  I did not get a single bite on my upper body or arms, alternating a Columbia Sportswear and practically identical Patagonia brand long sleeve shirt.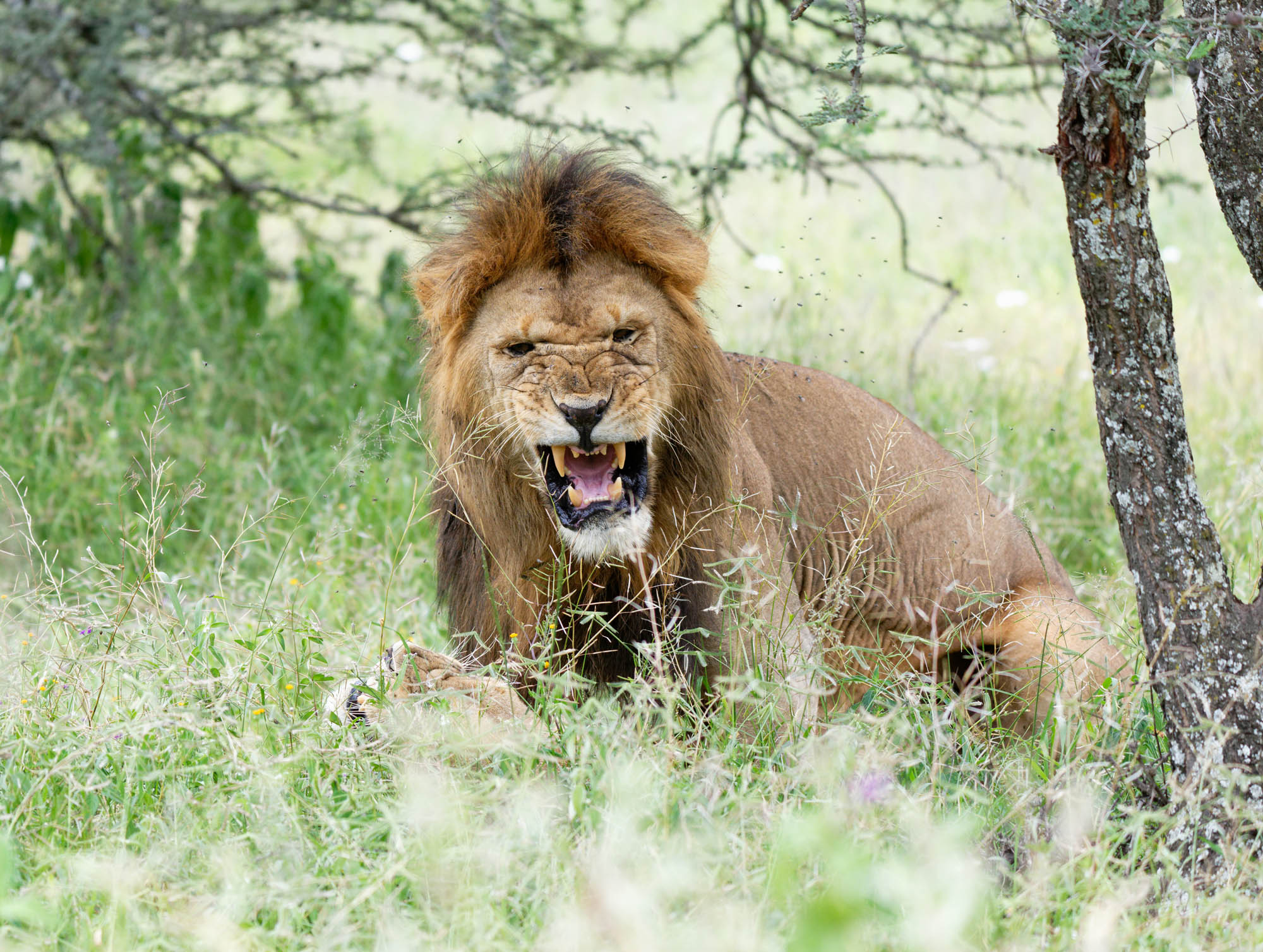 In addition, wear a solid long brimmed hat like a Tilley or similar with a neck flap and cover your hands - a favored target of tsetse flies - with light leather gloves.  Wear sturdy long pants (denim would work) and protect your ankles with full length gaiters. Tsetse flies almost always bite through socks and ankles are a favored target. So cover them tightly with gaiters and your battle is half won even before you leave the lodge. One more suggestion:  have a light-colored kikoi blanket ready to drape over your head and shoulders if you find yourself in a tight spot.  And don't relax too soon when you pull into camp:  the tsetses are known to take a ride in the vehicle so give them a minute or so to disperse, before you take your hat off.  It is best to avoid black and dark blue clothing when you are in a tsetse fly area; they seem to be attracted to these colors.
In next week's blog:  I take a very short flight to Ndutu, the epicenter of the short-grass plains of the Serengeti, in search of the wildebeest migration.