$cat_name = 'category'; $categories = get_the_terms($post->ID, $cat_name); foreach ($categories as $category) { if ($category->parent) { echo $category->name; } } ?>
Jul 17, 2023
A Return Trip to Mashatu, Botswana
Share:
In what was a first for both Kathy and myself, we crossed the international border from South Africa into Botswana in a cable car suspended about 30 feet over the Limpopo river, in late June. Not a big revolving cable car like at Table Mountain. A small two or maybe three person cage where you stand up all the way, your luggage at your feet. Our initial apprehension quickly melted away as we gently swung and creaked our way across the greenish Limpopo river, scanning the water for signs of life. It was only mildly disconcerting to see a medium-sized crocodile down below; we were by then well on our way to the docking station on the Botswana side.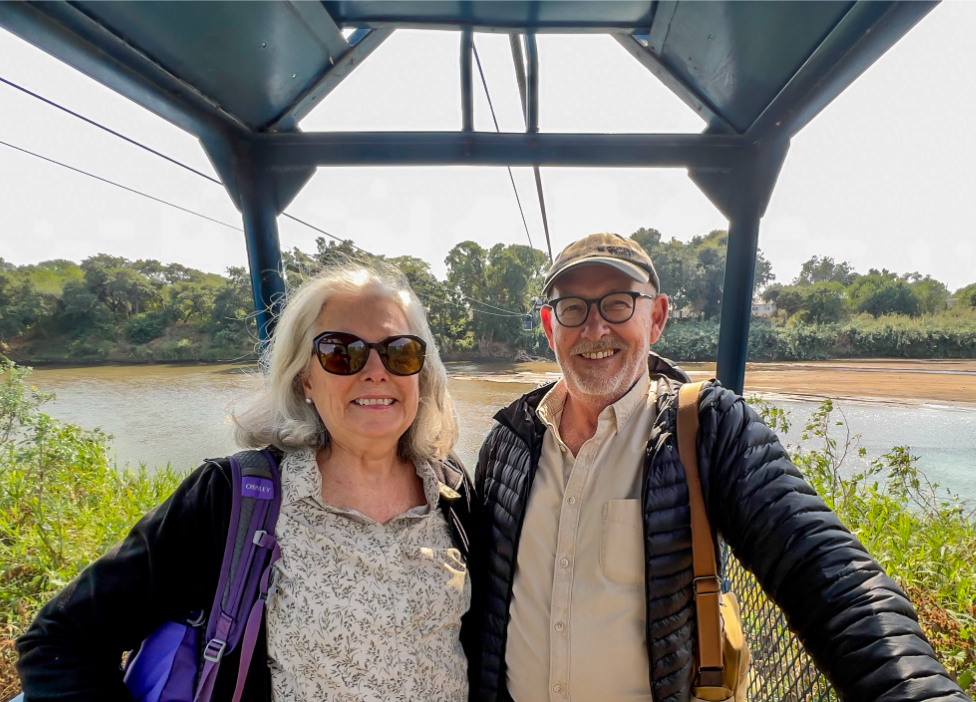 Why the cable car? Border crossings at the Pont Drift border post between South Africa and Botswana are usually quite mundane, driving across the mostly dry river in a 4-wheel drive vehicle along a gravel track. Just about always, the road crossing can be done during the entire dry season from May through November. Just not this year. Due to abundant rainfall upstream, the Limpopo was flowing  strongly by late June/early July, which is why we ended up entering and exiting Botswana in such a novel and rather adventurous way. Would we do it again? Absolutely. In fact we might even opt for it over the more traditional vehicle crossing.  
Driving in the direction of Tuli Safari Lodge after having completed the perfunctory border formalities, our first mammal sighting was – appropriately – a herd of elephants. Tuli has about 1,500 or so resident elephants, the most of any private reserve in Southern Africa. No prizes for guessing what mammal we saw next. Impala, of course. This ubiquitous antelope is by far the most abundant of the nine species of antelope present in the area.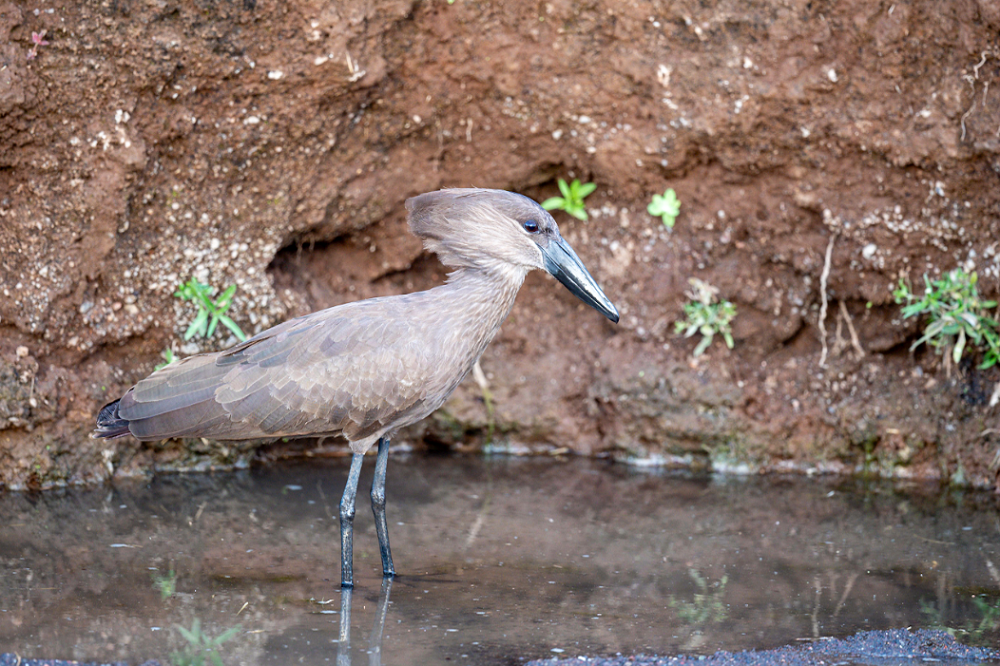 Over the next three days we added an additional 22 species of mammals, including blue wildebeest, bushbuck, eland, steenbok, bat eared fox, black backed jackal, chacma baboon, Burchell's zebra, African wildcat, plains giraffe, spotted hyena, tree squirrel, warthog, small spotted genet, banded mongoose, rock dassie, leopard, lion, grey duiker, klipspringer, kudu and vervet monkey. As on previous visits, we enjoyed the wide variety of birds, several of which could be seen at the various water holes scattered throughout the reserve. A few of our favorites? The cheeky grey go away bird, Verreaux's eagle owl, the striking harrier hawk and of course the many kori bustards.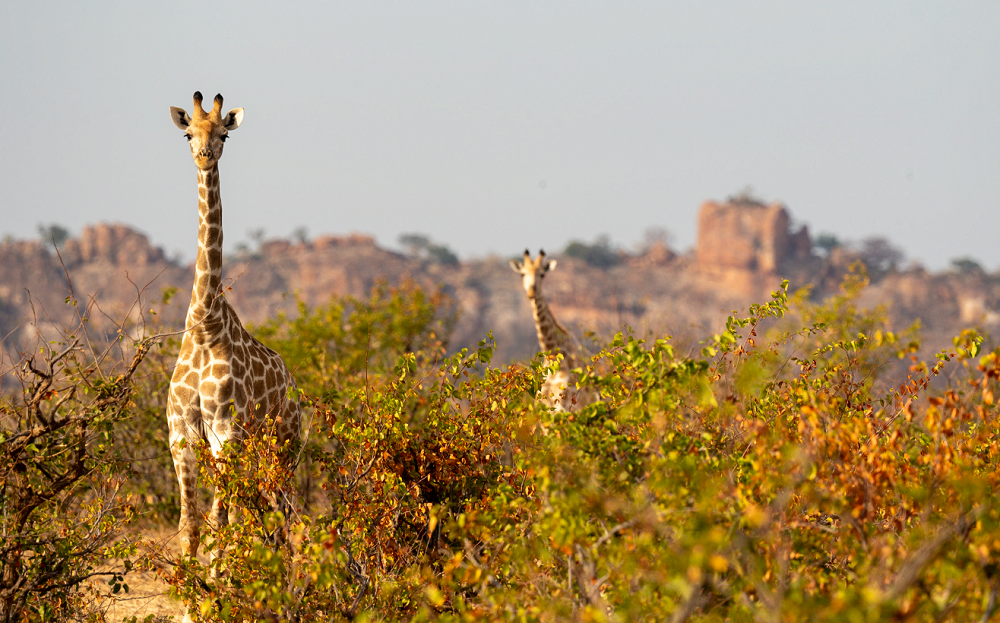 LOOKING FOR LEOPARDS, FINDING GIRAFFES
Late in the afternoon on day one we were driving along a dry riverbed in search of leopards which – we were told – like to skulk along the edges of natural drainage lines. On this day we didn't find leopards. What we did find were giraffes. At first just one. Then several. Followed by a bunch more. We ended up seeing close to 50 giraffes in less than 30 minutes. Tower after tower, around every bend in the dry stream bed, there they were. Males, females, youngsters, bold, shy and somewhere in-between. All giving us the giraffe treatment: initially retreating quietly and then turning around and fixating on us with an intense stare. I did say quietly. Over several decades of seeing giraffes in the wild, I have yet to hear as much as a peep out of one of them.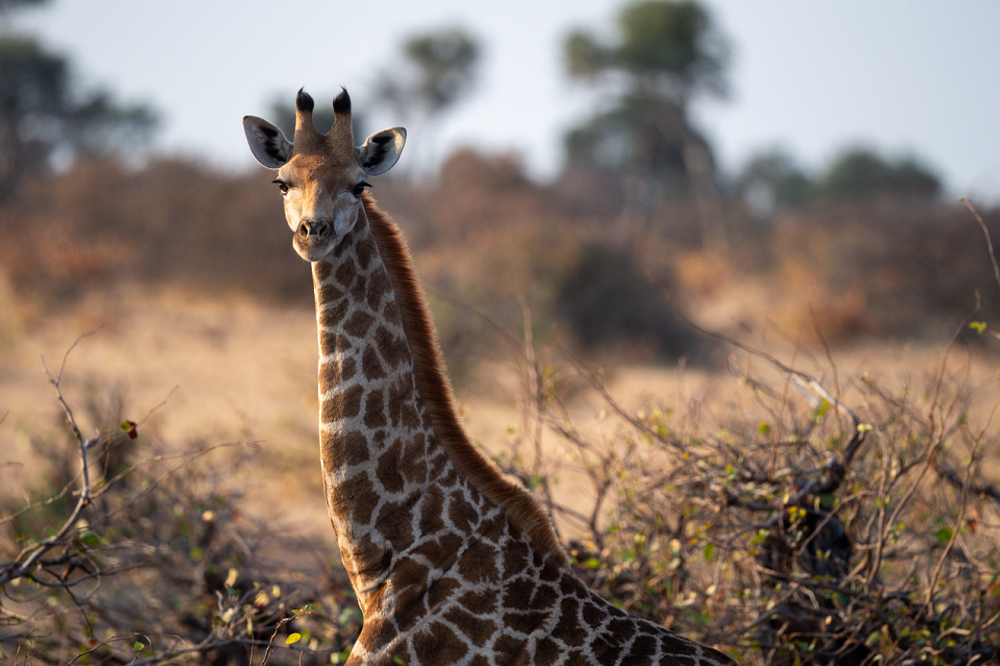 Back in 1984, 22 giraffes were reintroduced in the Tuli block. There are currently well over 700 of them in the reserve. Judging by all the babies and youngsters we saw staring quietly at us, the actual number may already have crept into four digits. This is an amazing statistic, considering that prior to 1984 giraffes had been locally extinct in the Tuli block for more than a hundred years after having been hunted out.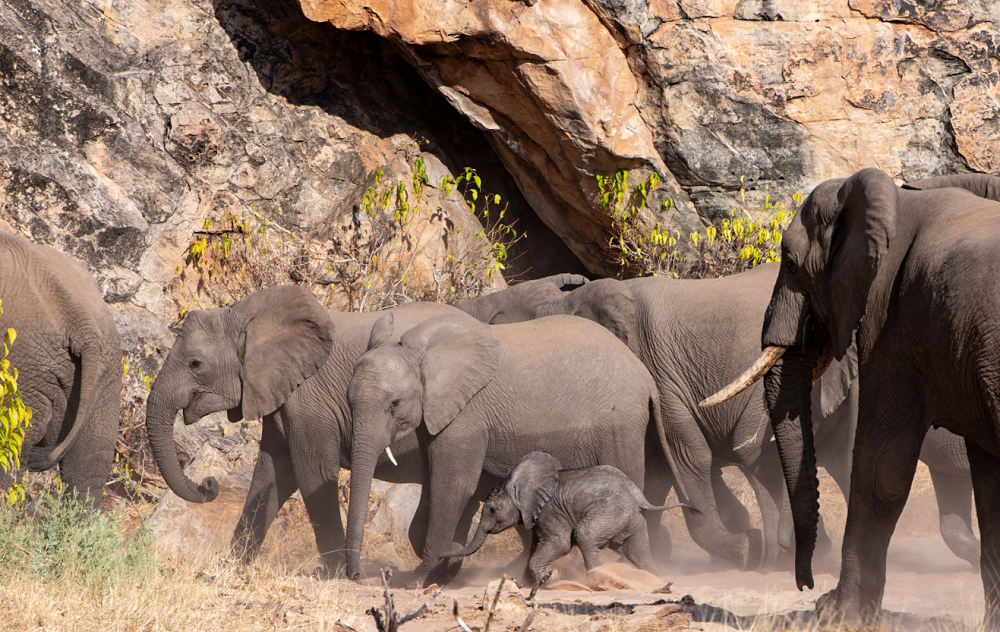 LOOKING FOR LIONS, FINDING ELEPHANTS
On a morning drive the following day we were looking for lions and found elephants. Lots and lots of elephants which in their inimitable way are much more entertaining than lions, particularly during daylight hours, when – as we know only too well – lions tend to be somnambulant. On this day, a herd of about 50 elephants had walked into the amphitheater, a small sandy enclave pretty much surrounded by cliffs and low hills. The elephants were feeding on the stems of wild sage plants. Apparently the stems and roots collect a substantial amount of moisture during the dry season.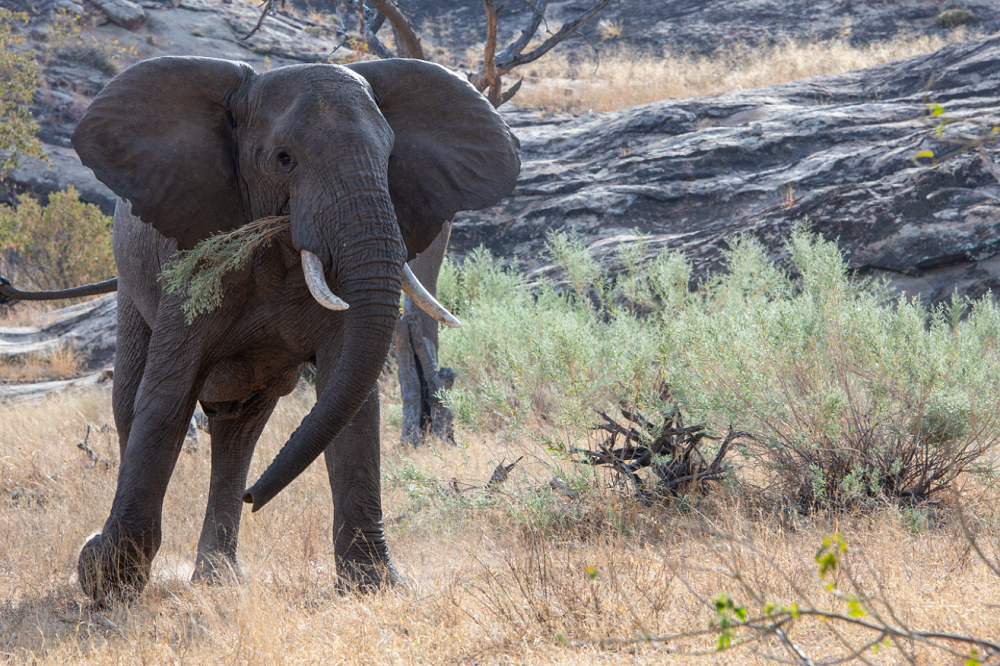 Our guide Paul pulled the open Toyota Landcruiser into the shade of a giant Mashatu tree, close to the edge of the open area with a steep rock cliff just meters to our right. The plan was to alight from the vehicle for morning tea. The proximity of the elephants gave pause to Paul's plans. Just as well. Within minutes, our presence and the potential threat which it posed, had permeated throughout the herd. Communicating in a manner imperceptible to us, the herd tightened up, closed ranks and bunched together tightly as they rushed out of the enclave, all to protect their babies. It was an insightful event, clearly demonstrating elephants' uncanny ability to communicate using low-frequency sounds, below the range of human hearing.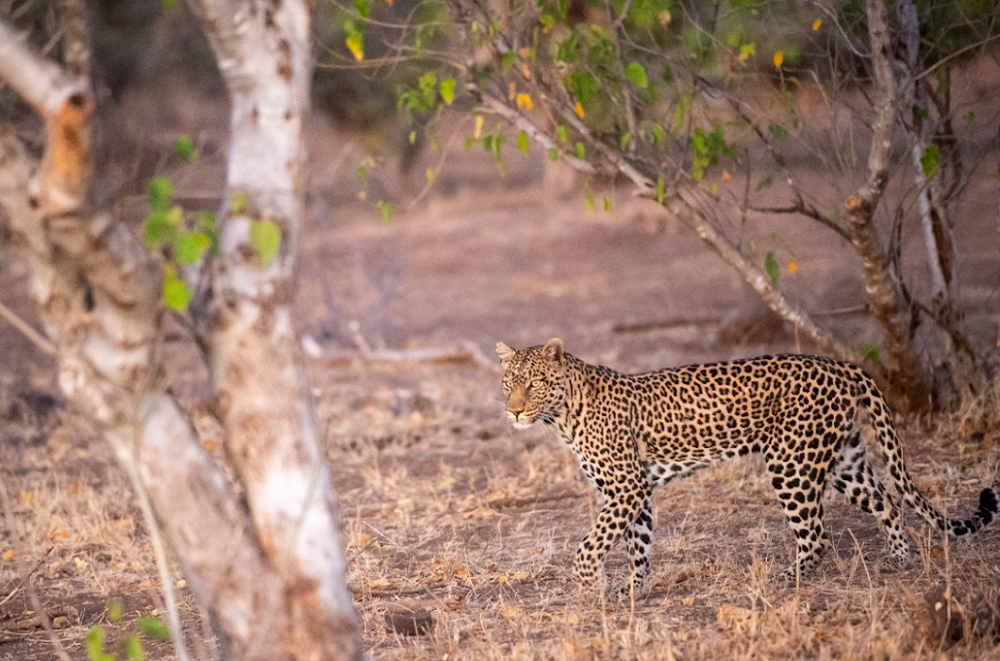 FINDING LEOPARDS – MORE THAN ONCE
Mashatu is known as a big cat destination and it cemented its reputation on this trip. On our second afternoon we had our first leopard sighting, which was repeated under very similar circumstances the next day, and then again on our last morning outing. All three sightings were of female leopards walking through a fairly dense forest, seemingly oblivious to our presence. They would turn this way and that, checking for scent, scent marking as they went, totally relaxed and confident. Other than visually, their progress through the forest could be tracked by the chorus of alarm calls kicked up by tree squirrels and birds. If ever there was a collective 'watch out!', this was it.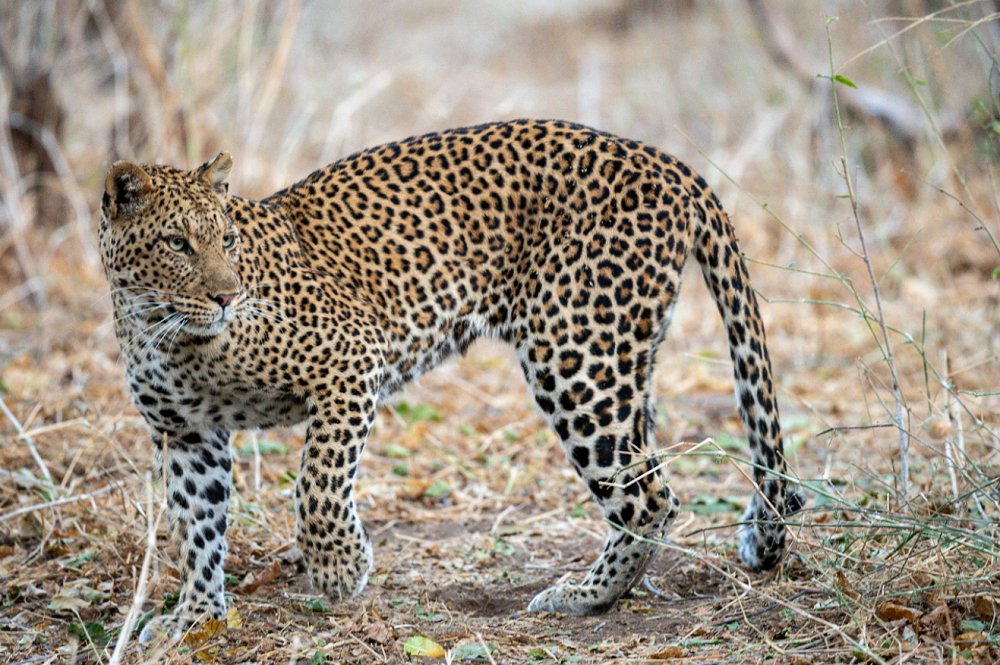 Twice, we stayed with and watched the leopards until they disappeared into thickets, happy to have spent some time in their company. Yet another leopard sighting was of a powerful male patrolling a hillside, scaring off a couple of klipspringers which came bounding past us. Clearly Mashatu is a reliably good destination for photographers and other keen big cat aficionados. Cheetahs are also frequently seen at Mashatu but they do tend to move into and out of areas depending on how threatened they feel due to the presence of lions, leopards and hyenas. This time around, we did not see them because the cheetah group which had been seen until just a few days prior to our arrival had walked into a neighboring area.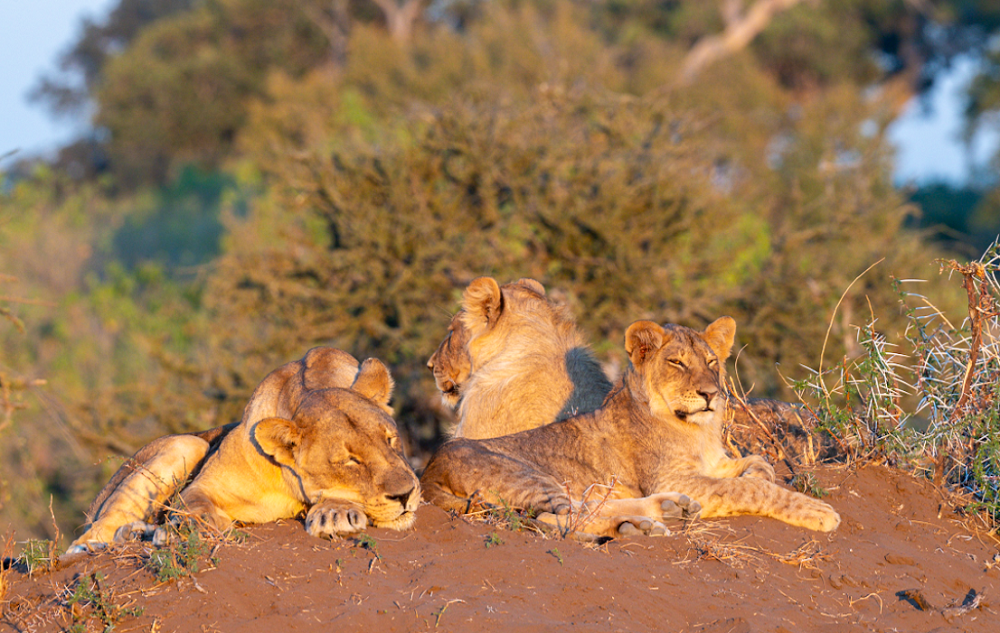 LOOKING FOR AND FINDING LIONS
As I've remarked more than once before in this newsletter, nobody wants to return home from Africa only to say 'no' to the inevitable question: did you see any lions? If Mashatu is part of your Africa itinerary, chances of this most unwanted scenario becoming a reality are in the slim to none category. There are two sizable prides which spend most of their time in the reserve: the Motloutse pride in the west and the Majale pride in the east. Spend five or six nights in Mashatu and chances are good that you'll bump into one or the other, sooner or later. 
We came upon nine members of the Majale pride one morning while they were still relatively alert and active. There was a little bit of sibling rivalry, a lot of sisterly affection and an abundance of star power which is of course what lions take with them wherever they go. They are the true kings of their domain. Unless lions are in hunting mode, or interlopers in another territory, they make no attempt to be secretive or elusive or any of those adjectives heaped on practically all other big cats.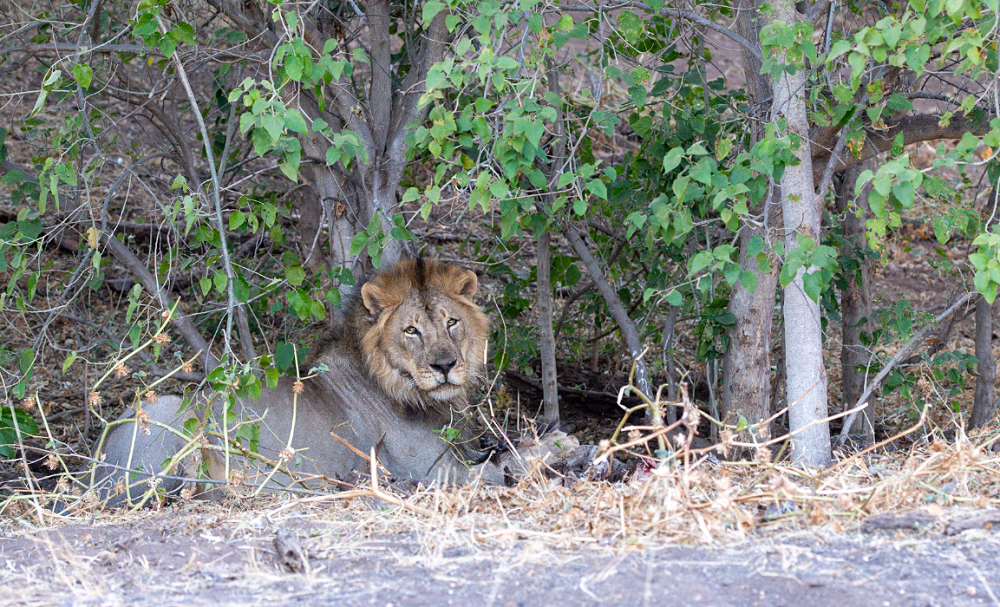 On the day we observed the pride for perhaps 20 minutes or so, took lots of photos, and realized once again how fortunate we were to be in their presence in a true wilderness environment. We were to see various members of the pride again over the next couple of days, including one of the males feeding on a zebra.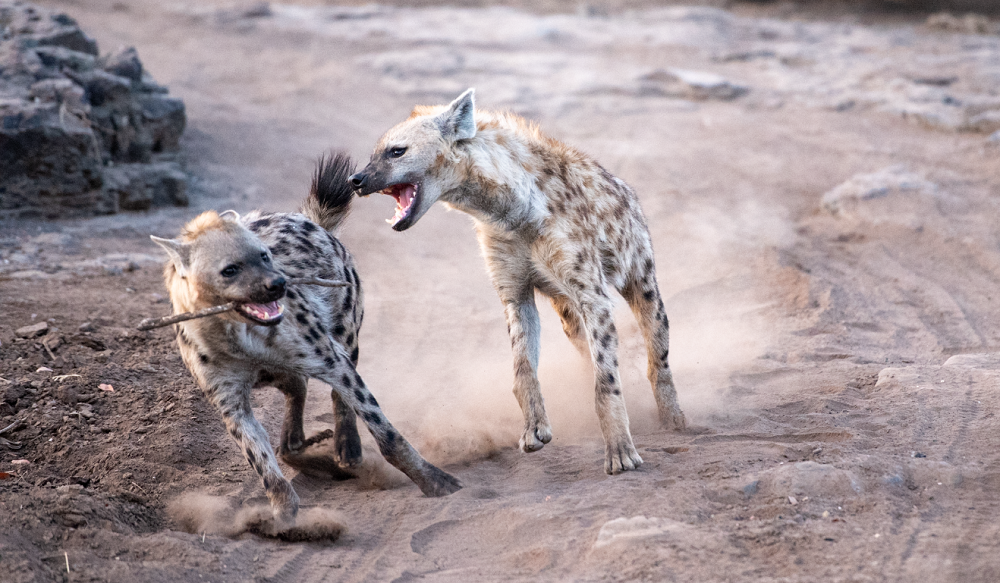 HYENAS, CROCODILES AND MORE
Over the space of a short 4-night stay, Mashatu delivered several other superb sightings, including these: 
Two juvenile hyenas playing and mock fighting right around our vehicle. For a good 10 to 15 minutes, the two sub-adult hyenas played with sticks and twigs, one running with it and the other following in hot pursuit, kicking up plumes of dust. It was playful and entertaining – two youngsters simply having fun.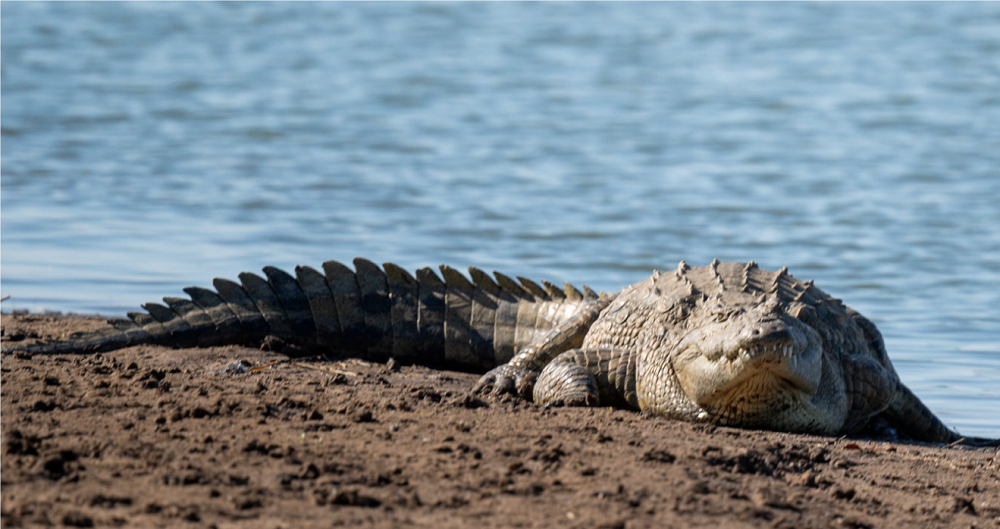 Observing several monstrously big Nile crocodiles on the edge of the Limpopo river, close to its  confluence with the Shashe. Walking down to the edge we surprised three of them, who then moved with alacrity, plunging into the Limpopo as fast as their short legs could take them. 
Several more giraffe sightings of sizable towers numbering in excess of 13 animals of various ages. It was obvious that the Mashatu giraffes were doing remarkably well. All one has to do is count the babies.
A clan of black-backed jackals and several white-backed vultures interacting in the aftermath of a lion kill. A male lion belonging to the Majale pride had walked away from a zebra kill, leaving some skin and bones behind. A clan of black-backed jackals were quick to move in, having been lurking on the periphery of the kill. They were soon joined by a bunch of white-backed vultures and it didn't take long for the two species to start competing for the leftovers.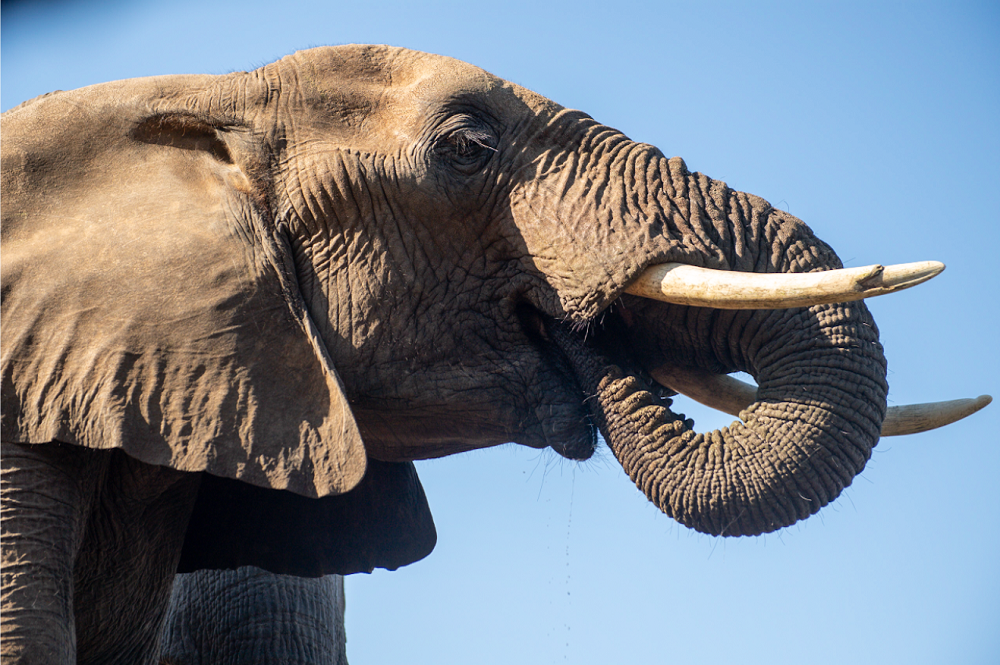 YOU MIGHT ALSO BE INTERESTED IN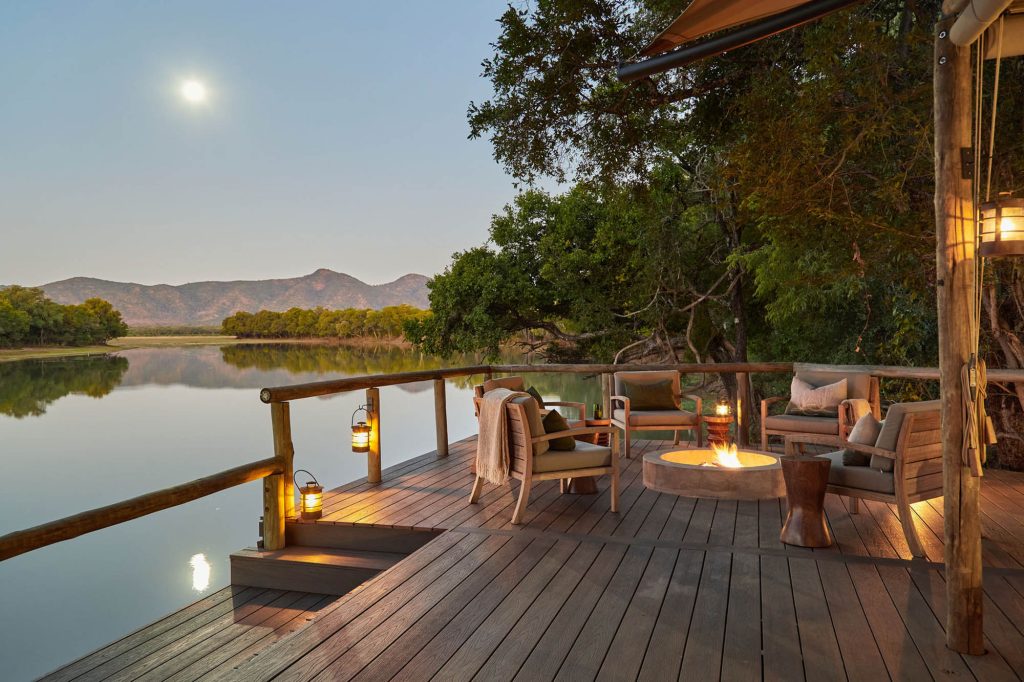 10th Sep 2021
Chindeni and the Bushcamp Company, Zambia
By late July we found ourselves at Chindeni, a small Bushcamp Company property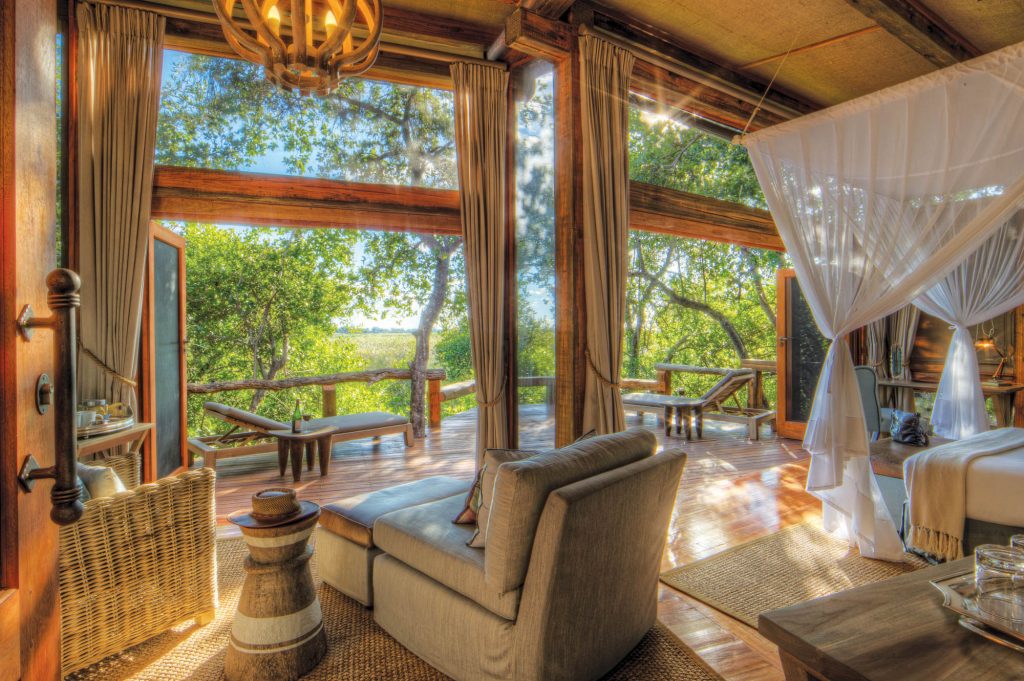 3rd Oct 2022
Camp Okavango, Botswana
Camp Okavango is in the heart of the permanent part of the Delta. In this idyllic setting there are no vehicles, and it is just a short walk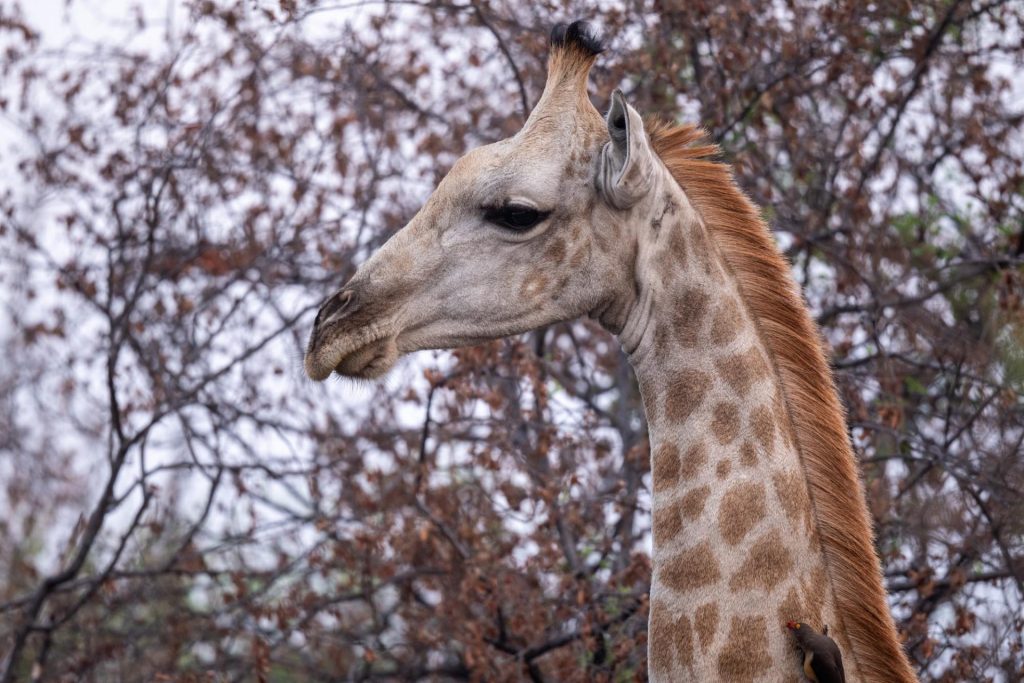 26th Mar 2023
Photography on safari
Fish Eagle Safaris was an early adopter of digital photography. Company founder Bert somewhat fondly recalls using a first generation Sony Mavica
SUBSCRIBE TO OUR NEWSLETTER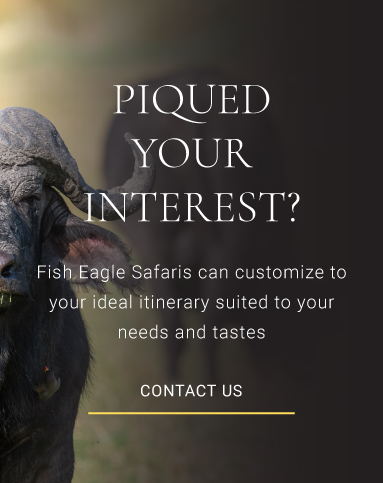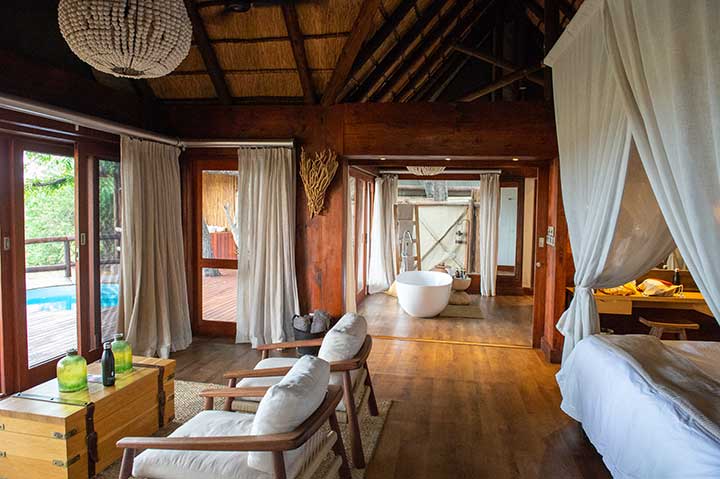 4th Aug 2022
On Safari At Belmond Eagle Island Lodge, Okavango Delta
What is the 'secret sauce' for an unforgettable few days on safari in Botswana? It starts with the animals, of course. The elephants, lions, giraffes, hippos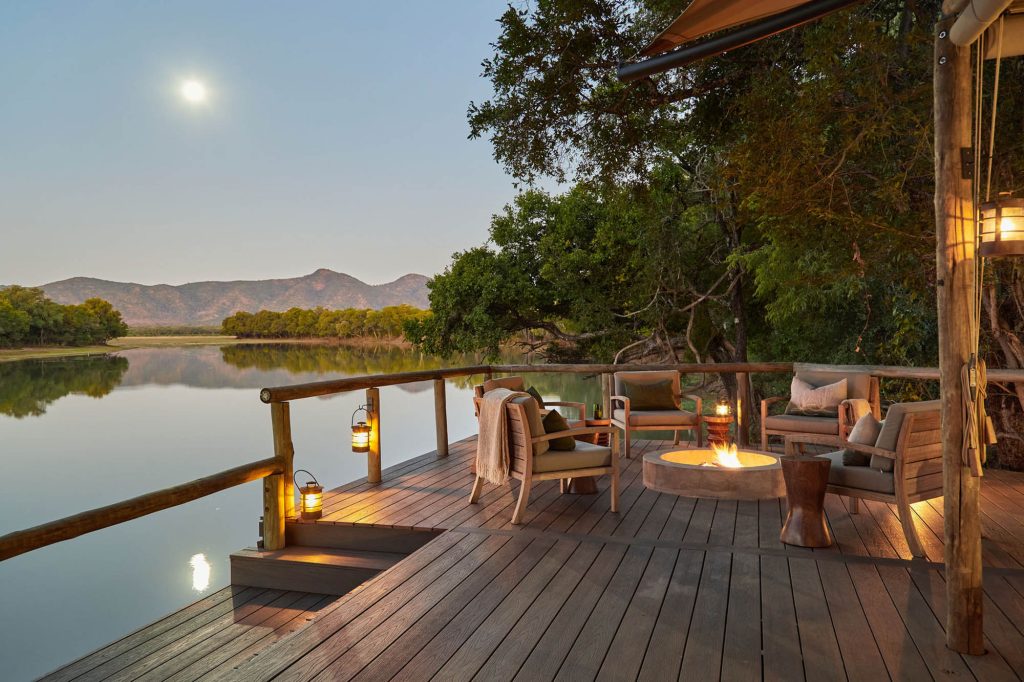 10th Sep 2021
Chindeni and the Bushcamp Company, Zambia
By late July we found ourselves at Chindeni, a small Bushcamp Company property