$cat_name = 'category'; $categories = get_the_terms($post->ID, $cat_name); foreach ($categories as $category) { if ($category->parent) { echo $category->name; } } ?>
Jul 10, 2023
Mashatu: The Camps
Share:
The Mashatu Game Reserve in the Tuli Block of south-eastern Botswana remains high on our list of safari recommendations as an enjoyable, animal and bird-rich destination where off-road driving and night safaris are possible. Mashatu has a choice of properties ranging from classic tented rooms to deluxe air-conditioned villas, as well as an unrivaled range of 'out of the vehicle' activities including photo hide sessions, foot safaris, mountain bike safaris and horse-back safaris. There is also the exciting WalkMashatu foot safari option, which can be customized to include any variety of lodge walks, lodge to lodge walks and fly-camping. 
Since our last visit to Mashatu a few years ago, there's been some significant changes, not the least of which is the addition of several new camps, most notably Mashatu Euphorbia Villas, the reserve's new flagship property. Another notable addition is Tuli Safari Lodge Mashatu, a beautiful 9-roomed – mostly tented – property in the southern part of the reserve. There's also a new luxury homestead – Kolokolo – which is an 'exclusive use' property in the far eastern part of the reserve. I'll provide a bit more detail on each of the properties here.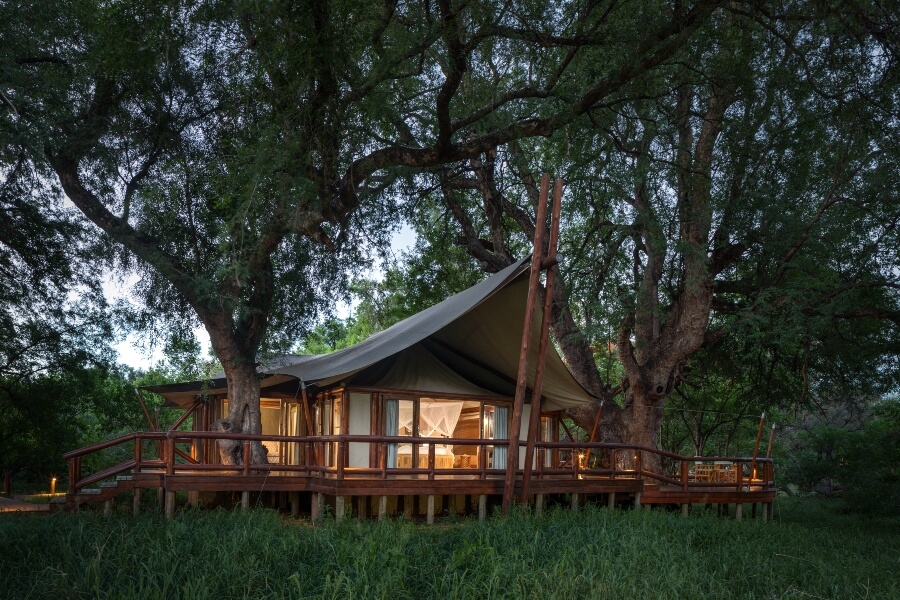 TULI SAFARI LODGE
Tuli Safari Lodge simply has the best location and camp site of any of the Mashatu camps, with the rooms and main lodge buildings spread out among some massive trees in a stunningly beautiful spot. Literally tucked in between the riverine forest along the Limpopo and rocky outcrops, behind one of which you will find the camp's sparkling pool.  It doesn't take an extended visit to realize that Tuli Safari Lodge has a competent, tightly knit staff complement and the best food! I can see it fitting into many future trips being child-friendly and offering dedicated night drives. Plus one can walk right out of the camp to a nearby hide overlooking a pond, which is ideal for photographers and birders. The camp is also within an easy walk to the banks of the Limpopo River, providing yet another option for exploration. The hybrid tented rooms at Tuli Safari Lodge check all the classic safari boxes: beautiful to look at and exceedingly comfortable and stylish with tons of space, a great big bath with plenty of hot water as well as a huge walk-in shower, two vanities, more than adequate lighting, lots of storage space.  What's not to like?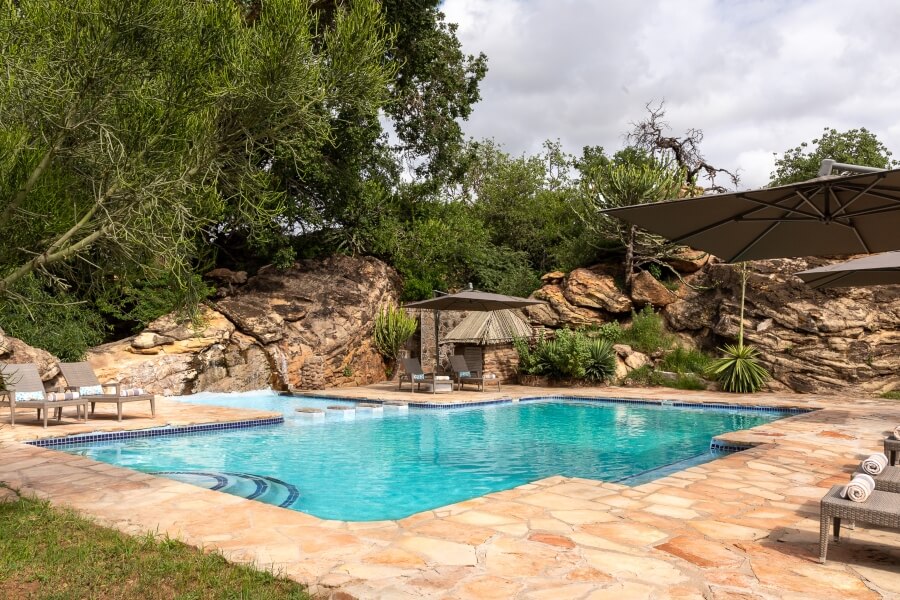 On the day of our arrival we enjoyed an excellent brunch at Tuli. Served al fresco, guests could choose between a lemon & fresh herb chicken burger with french fries, penne pasta with olives, cherry tomatoes and spinach, or spiced pumpkin fritters with Brie cheese, crispy bacon and orange cardamom syrup. If none of that sounded enticing, you could settle for a full English breakfast. And don't forget about the dessert: your choice of a fruit platter or a scoop or two of Tuli's house made ice cream.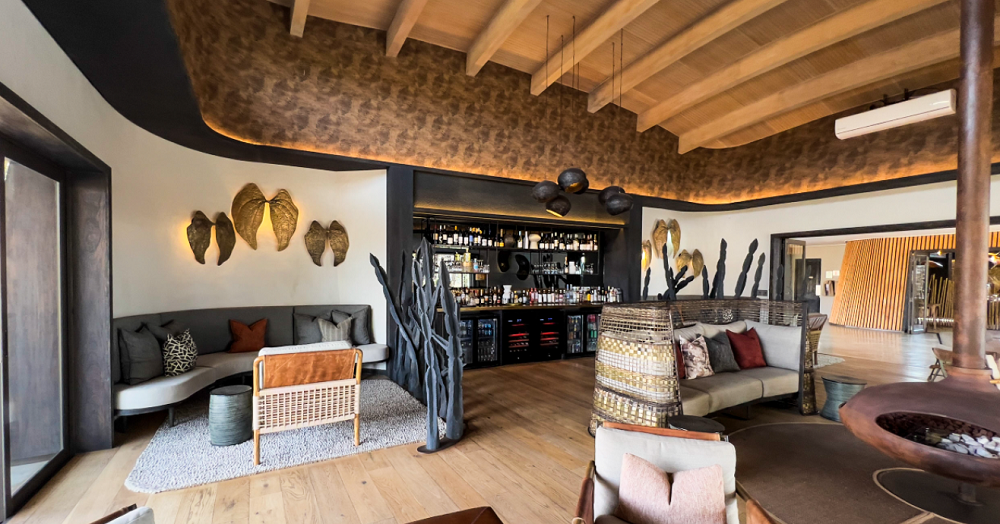 MASHATU EUPHORBIA VILLAS
In its completed state, Mashatu Euphorbia Villas bears about as much resemblance to the initial artist's renderings as the modern world does to the Big Bang. It's truly a work of art and I am sure that many guests will look back upon a visit there as being  a magical experience. I certainly do. It all starts with a winding drive up a steep hill into the most atmospheric euphorbia forest you've ever seen in your life. These stark, foreboding cactus plants – sometimes referred to as candelabra trees – loom alongside the drive into camp, a harbinger of what is to come. Crest the hill and suddenly you're looking at about as dramatic an entrance as there is to any safari camp in Africa. The experience builds from there. The most stunning lounge and dining area – not to mention the outdoor space, the boma and the nest seating area, perched on the edge of a 30-meter high cliff. The view? You just have to see it in person.  
Much of what Euphorbia is about is bringing the outdoors inside, with accents and design features incorporating acacia leaves, euphorbia branches, tree sticks, mopane leaves and seeds, all in a tasteful and playful manner. The rooms are spacious and thoughtfully designed, with an ideal indoor-outdoor balance, and the most comfortable bed (and cushions) we've experienced in a very, very long time. I can't think of enough superlatives to describe our all too brief stay. The couple of meals we had were impeccable.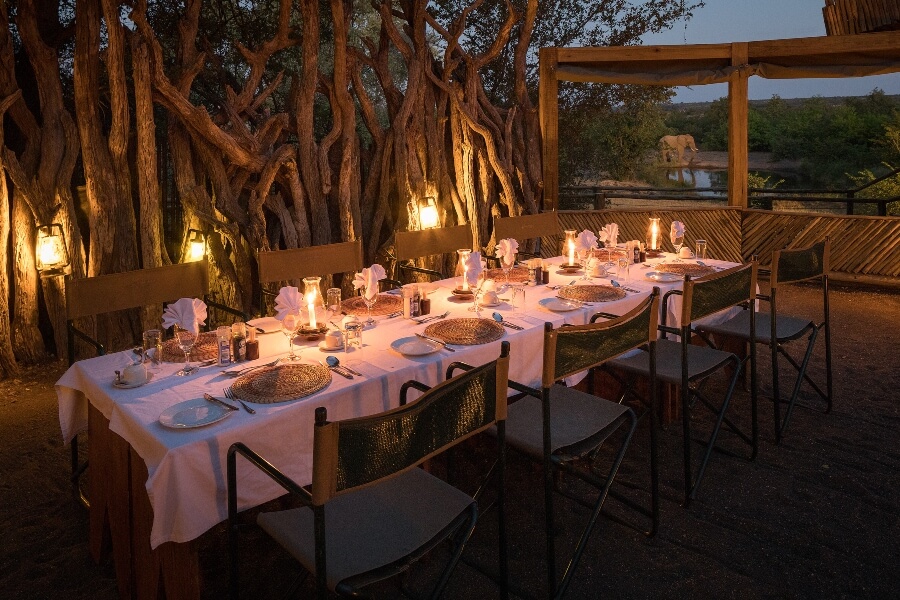 MASHATU LODGE
At Mashatu Lodge the main lodge add-ons and repurposing works admirably well, now with an excellent boma for evening dinners around a substantial central fireplace. The lodge has lots of open seating spots for the warmer months, a cozy breakfast room for the chilly winter mornings and it was great to see the Discovery Room in a prominent spot which it absolutely deserves. Serendipitously, we got to spend a few minutes there with Mashatu professional guide Tjandapiwa Lesifi. Better known as TJ, she answered several questions we had and we considered ourselves fortunate to meet her.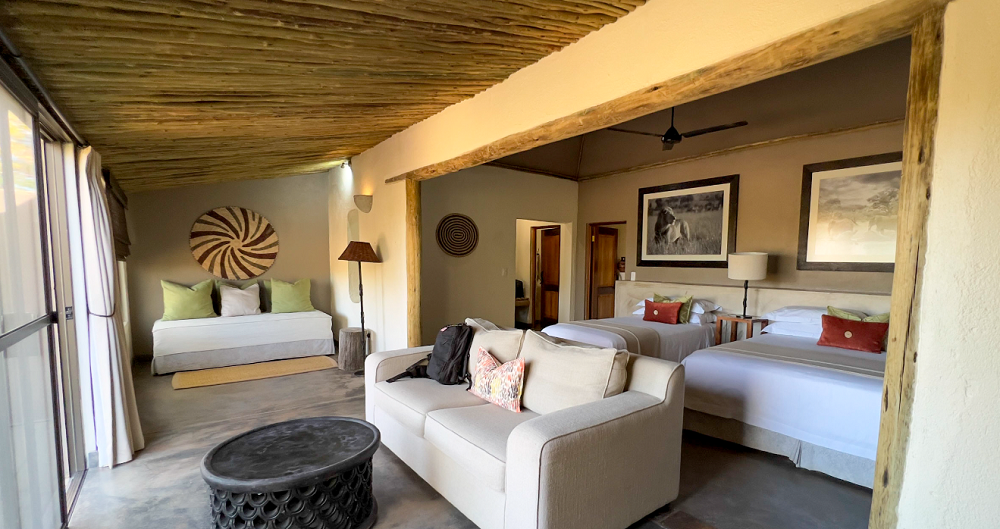 The rooms at Mashatu Lodge are perfectly fine (good air-conditioning/heating!) and spacious but they do have their limitations in terms of design and overall aesthetic impact. There's just so much one can do with rooms which were clearly designed several decades ago. At the price point they offer fantastic value and there's nothing intrinsically deficient; it's simply a matter of not being 'special' in the way that the other camps' rooms are. The food at Mashatu Lodge was perhaps a bit more uneven than elsewhere: on one day dinner (served in the boma) was excellent, the next day not so much. Even so, the brunch served on the lawn on the day of our departure was stellar – and so many choices!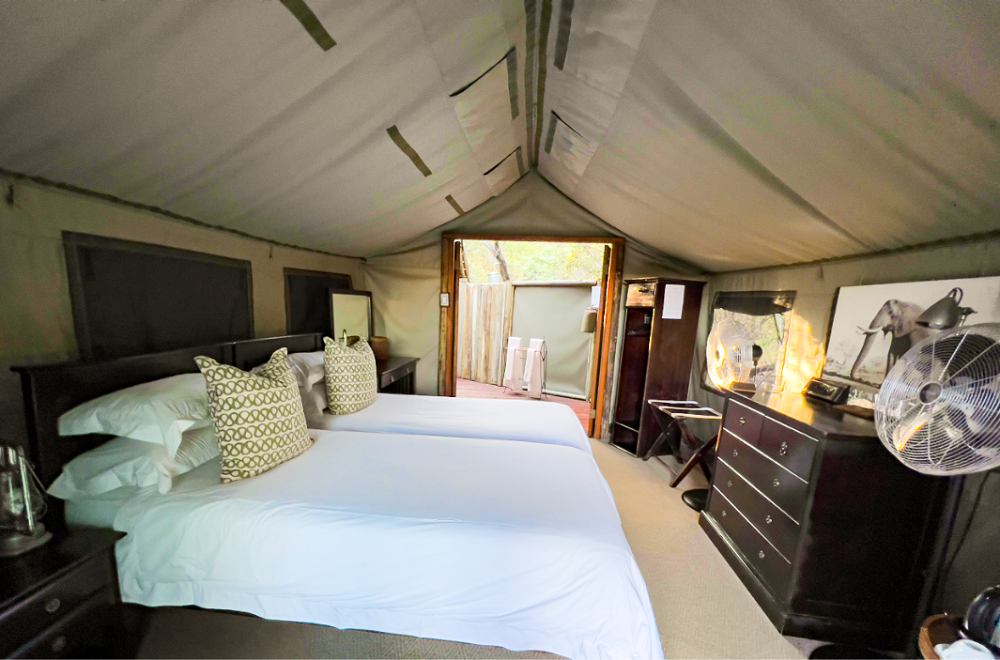 MASHATU TENT CAMP
On this trip, we did not overnight at Mashatu Tent Camp but did a thorough site inspection; we've stayed there twice before. From what I could see, nothing much has changed and that is great. It is still a small, intimate tented camp with a peaceful, 'close to nature' feel, where keen photographers and birders can walk – sight unseen – into a covered hide and spend as much time as they wish, observing the comings and goings at the waterhole. The camp has a particularly nice pool for the summer months. The rooms are quite small by comparison with the others, but they have doors (so no struggling with zippers) and there's an open space behind the actual room, leading to the outside but safely enclosed bathroom & toilet.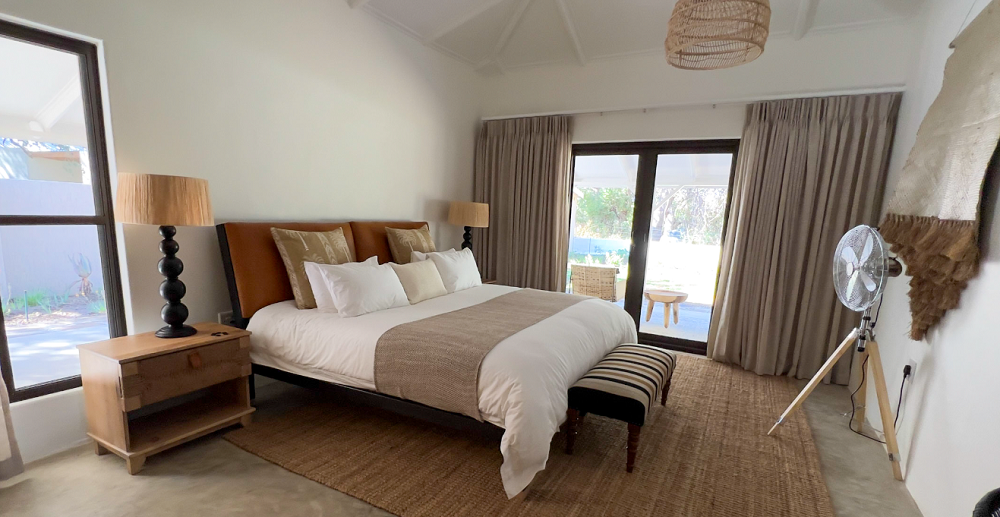 SHA-LIMPO AND KOLOKOLO
We made the trip all the way out to Sha-Limpo and Kolokolo, two new additions to the Mashatu portfolio, close to the confluence of the Shashe and the Limpopo, on the far eastern edge of the Tuli Block. Kathy and I really liked what we saw and experienced at the Kolokolo homestead, an 'exclusive use' property with 4 rooms, each with its own en suite bathroom. The beautifully renovated one-story property has an ideal location on high ground overlooking the Limpopo floodplain. A prominent feature is some impressive leadwood trees, with two giant specimens seemingly tucked in right along the western side of the house. Kolokolo has space in abundance, inside and out, with an added bonus of pleasing 'white noise' from a nearby weir in the Limpopo River. Which of course won't be audible when the river isn't flowing but it was when we were there… Kolokolo would be an ideal choice for a party ranging from around 6 to 8 persons and one could combine it with a stay at Tuli Safari Lodge or Euphorbia.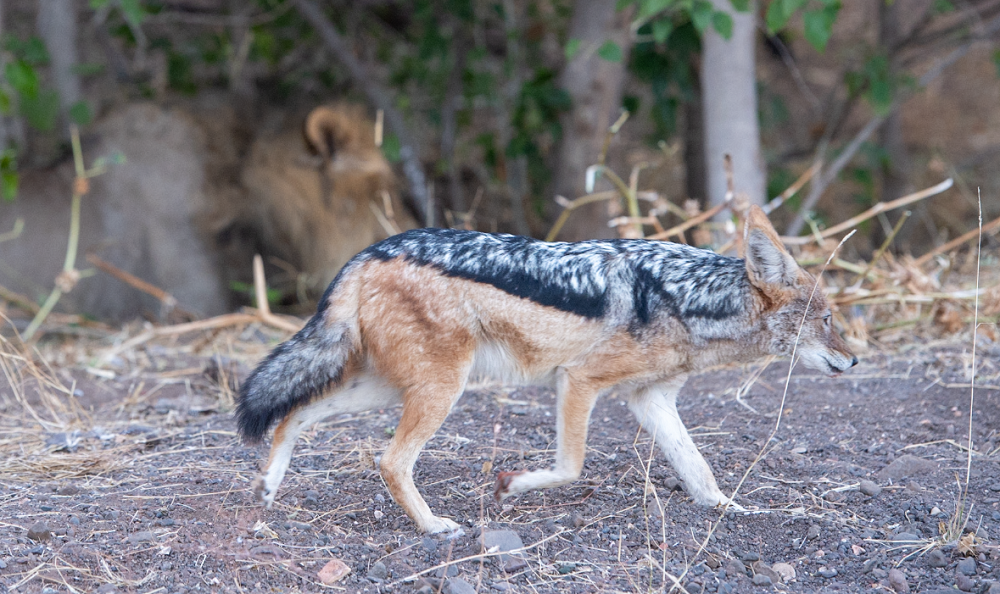 The bottom line about Mashatu: reliably excellent game-viewing, professional and experienced guiding and a range of accommodation to suit every taste and budget. Relatively easy to reach from South Africa, even if and when the journey ends with a cable car ride across the Limpopo. Call us at 1-800-513-5222 or email me at bert@fisheaglesafaris.com to talk about making your first or return trip to Mashatu.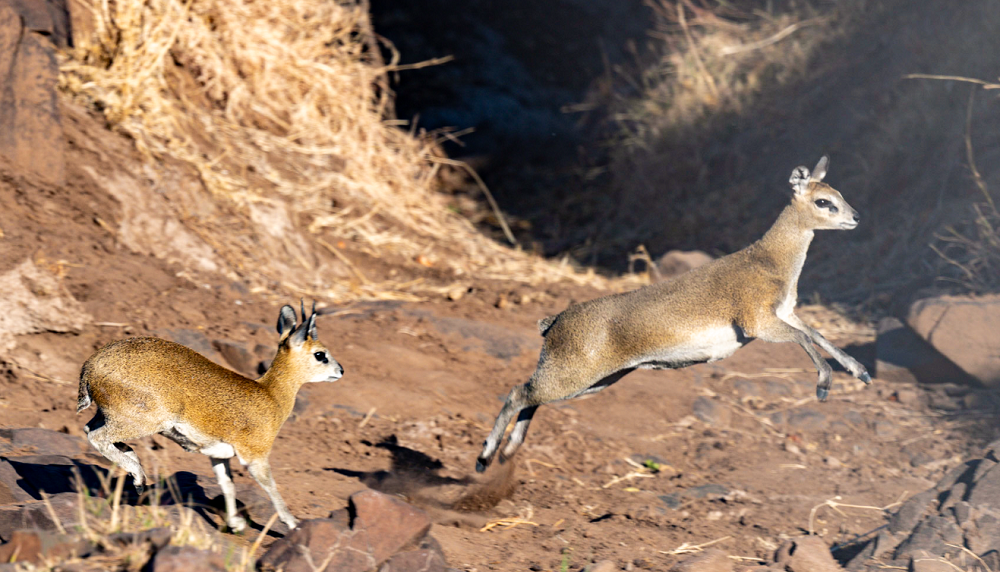 YOU MIGHT ALSO BE INTERESTED IN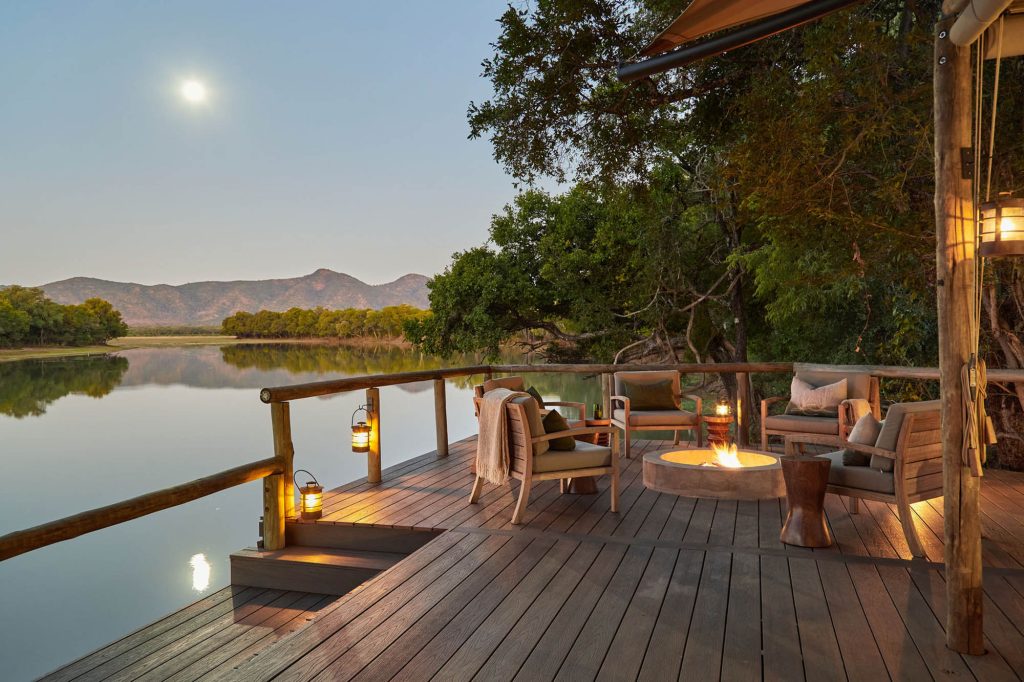 10th Sep 2021
Chindeni and the Bushcamp Company, Zambia
By late July we found ourselves at Chindeni, a small Bushcamp Company property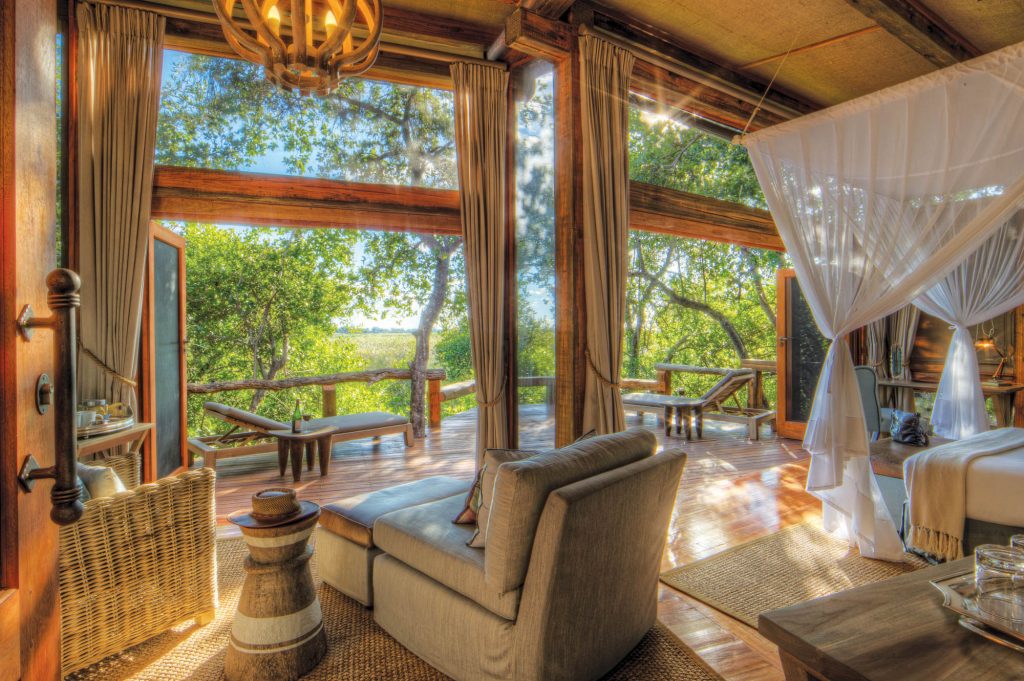 3rd Oct 2022
Camp Okavango, Botswana
Camp Okavango is in the heart of the permanent part of the Delta. In this idyllic setting there are no vehicles, and it is just a short walk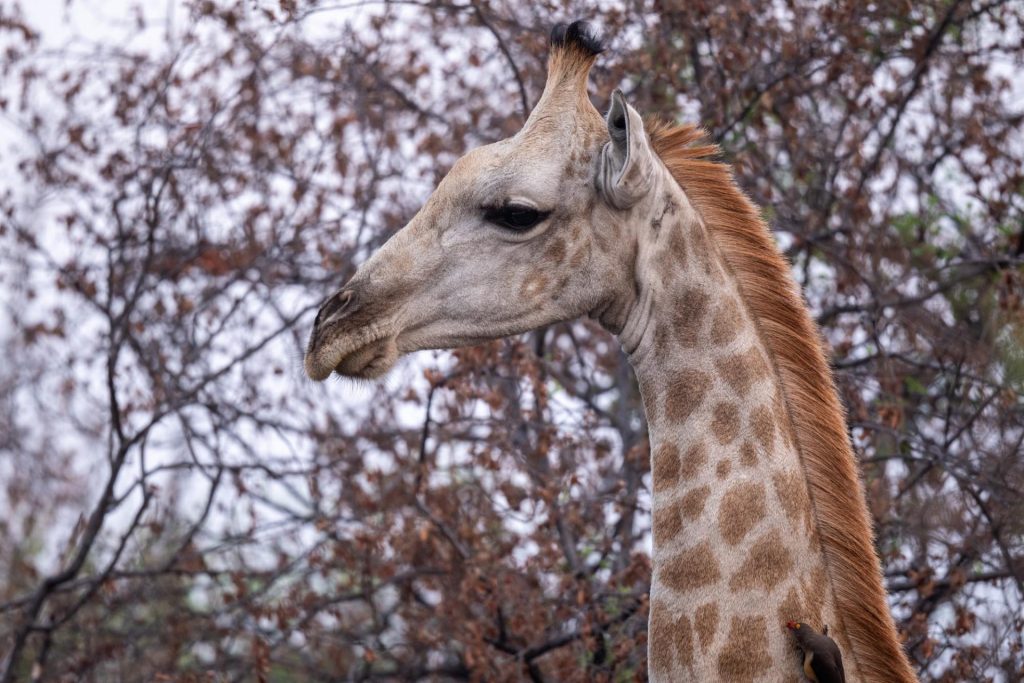 26th Mar 2023
Photography on safari
Fish Eagle Safaris was an early adopter of digital photography. Company founder Bert somewhat fondly recalls using a first generation Sony Mavica
SUBSCRIBE TO OUR NEWSLETTER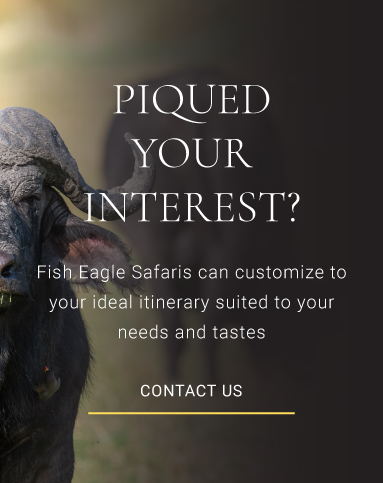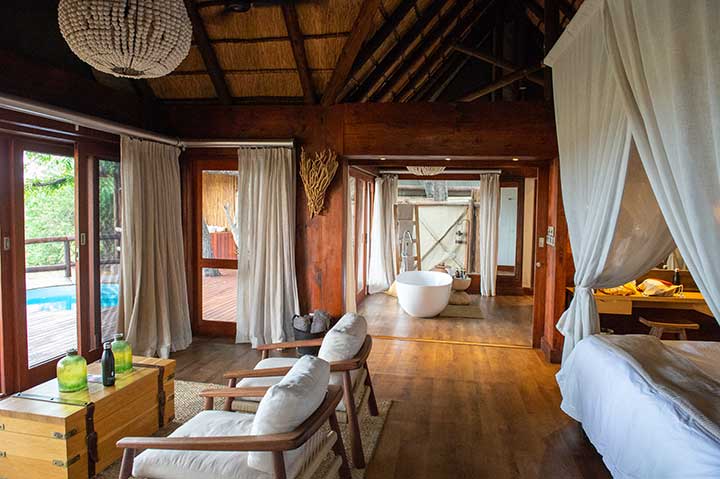 4th Aug 2022
On Safari At Belmond Eagle Island Lodge, Okavango Delta
What is the 'secret sauce' for an unforgettable few days on safari in Botswana? It starts with the animals, of course. The elephants, lions, giraffes, hippos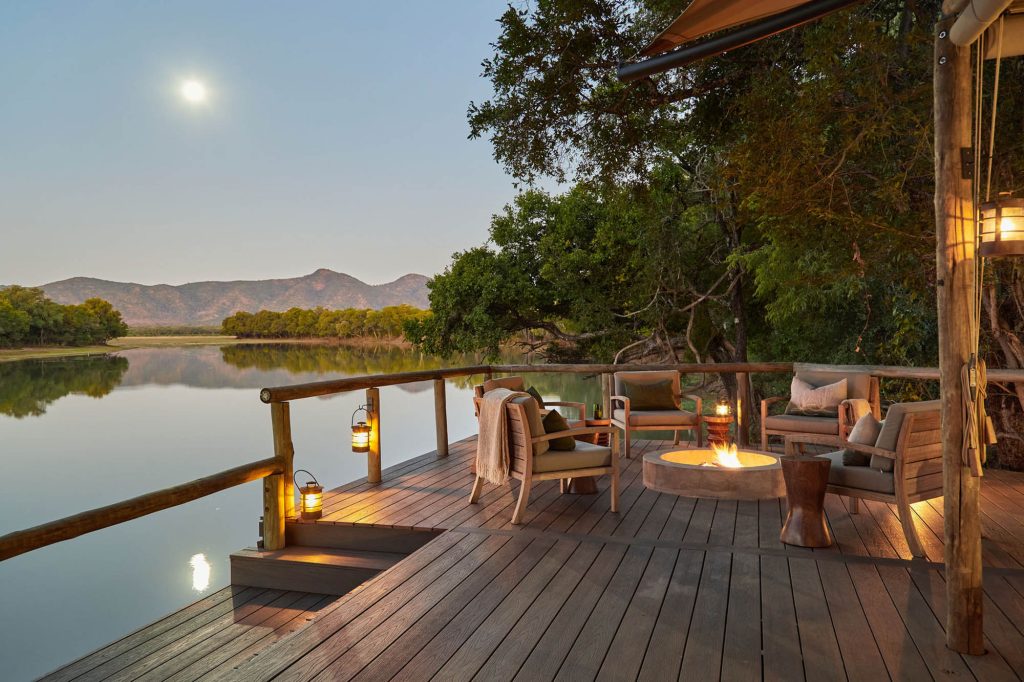 10th Sep 2021
Chindeni and the Bushcamp Company, Zambia
By late July we found ourselves at Chindeni, a small Bushcamp Company property