$cat_name = 'category'; $categories = get_the_terms($post->ID, $cat_name); foreach ($categories as $category) { if ($category->parent) { echo $category->name; } } ?>
Jan 08, 2021
Hiking Table Mountain, Cape Town
Share: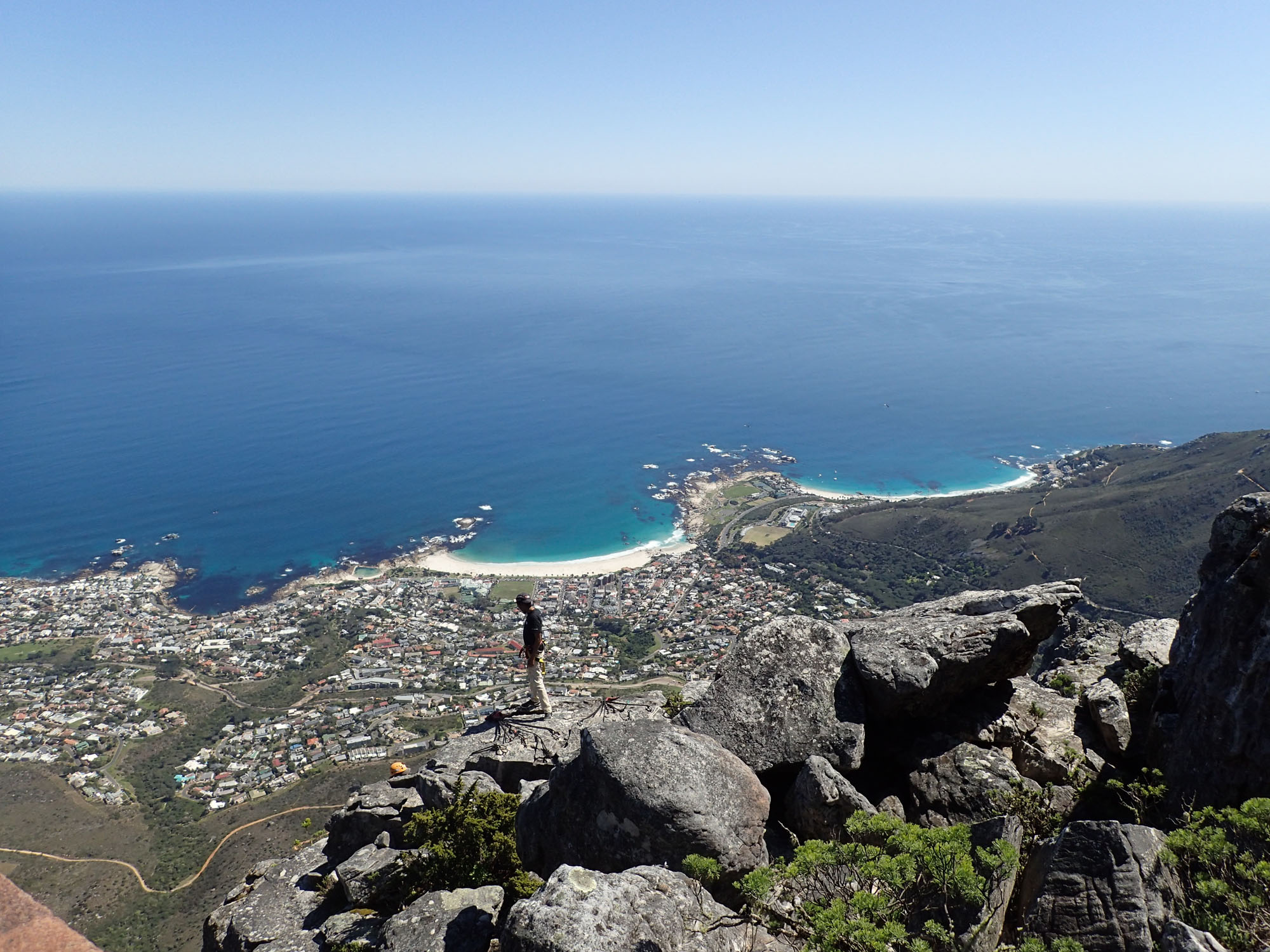 Hiking Table Mountain, Cape Town
Starting as a child with my family and later with my wife and our two young boys, I spent many a summer holiday in Cape Town. For us up-country visitors, a cable car ride to the summit of Table Mountain was something we did on every visit to Cape Town, an annual pilgrimage of sorts. It was never a question of if, just when. We'd try to pick a good day with not too much wind or cloud cover, park close to the base station and fall in line for tickets.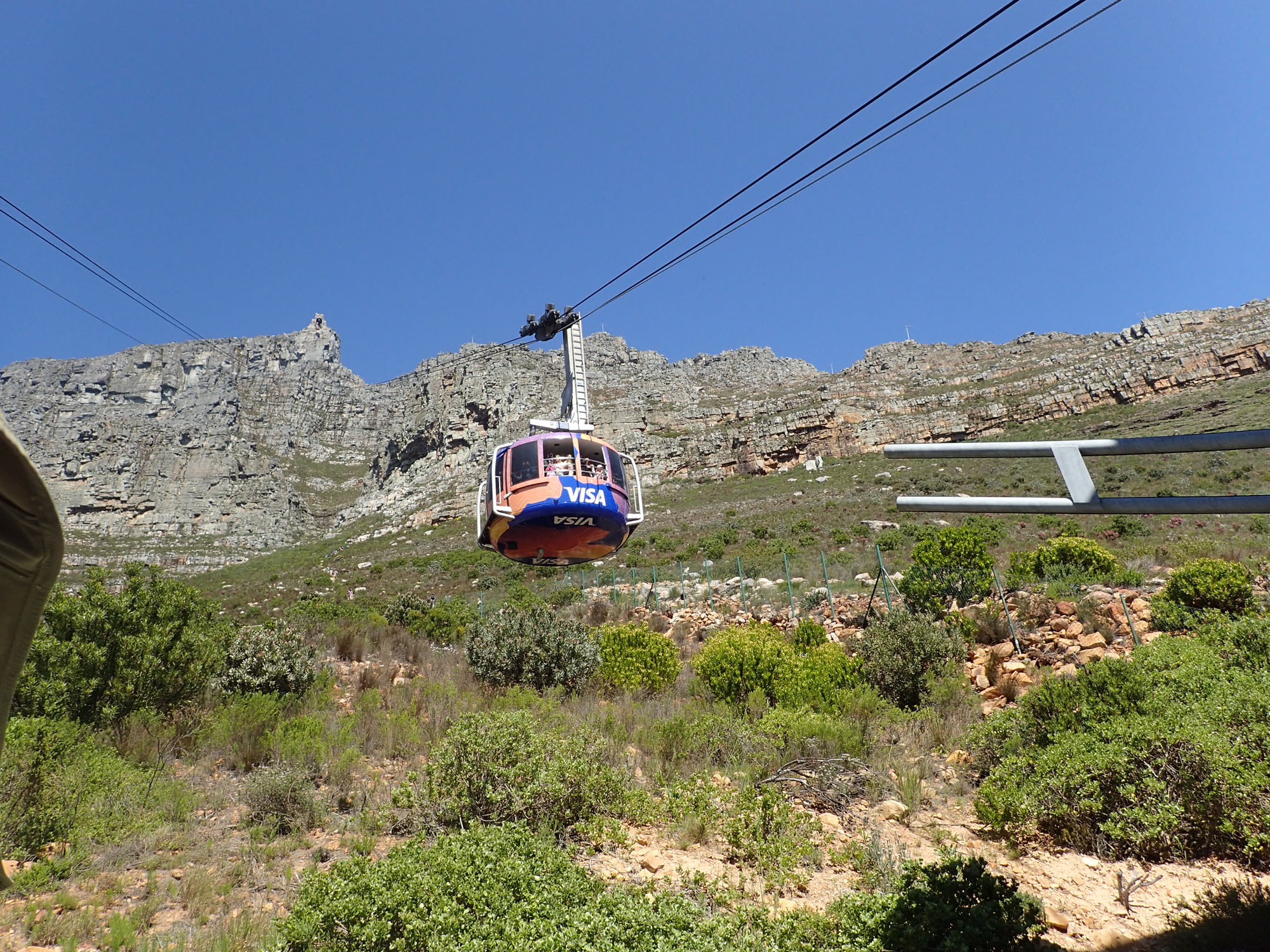 Somehow, despite all those trips up and down, it never occurred to us to hike up the mountain. Sure, we'd walk around once we reached the top, explore a few of the trails and peer down some scary looking cliffs, or stare out at Robben Island in the distance. In hindsight, I do recall looking down from the cable car a few times and seeing hikers making their way up one of the trails. Specifically the one which I now know to be India Venster. I do remember being somewhat bemused by seeing people climbing Table Mountain. The cable car was convenient, safe and fast. Why walk when you can ride…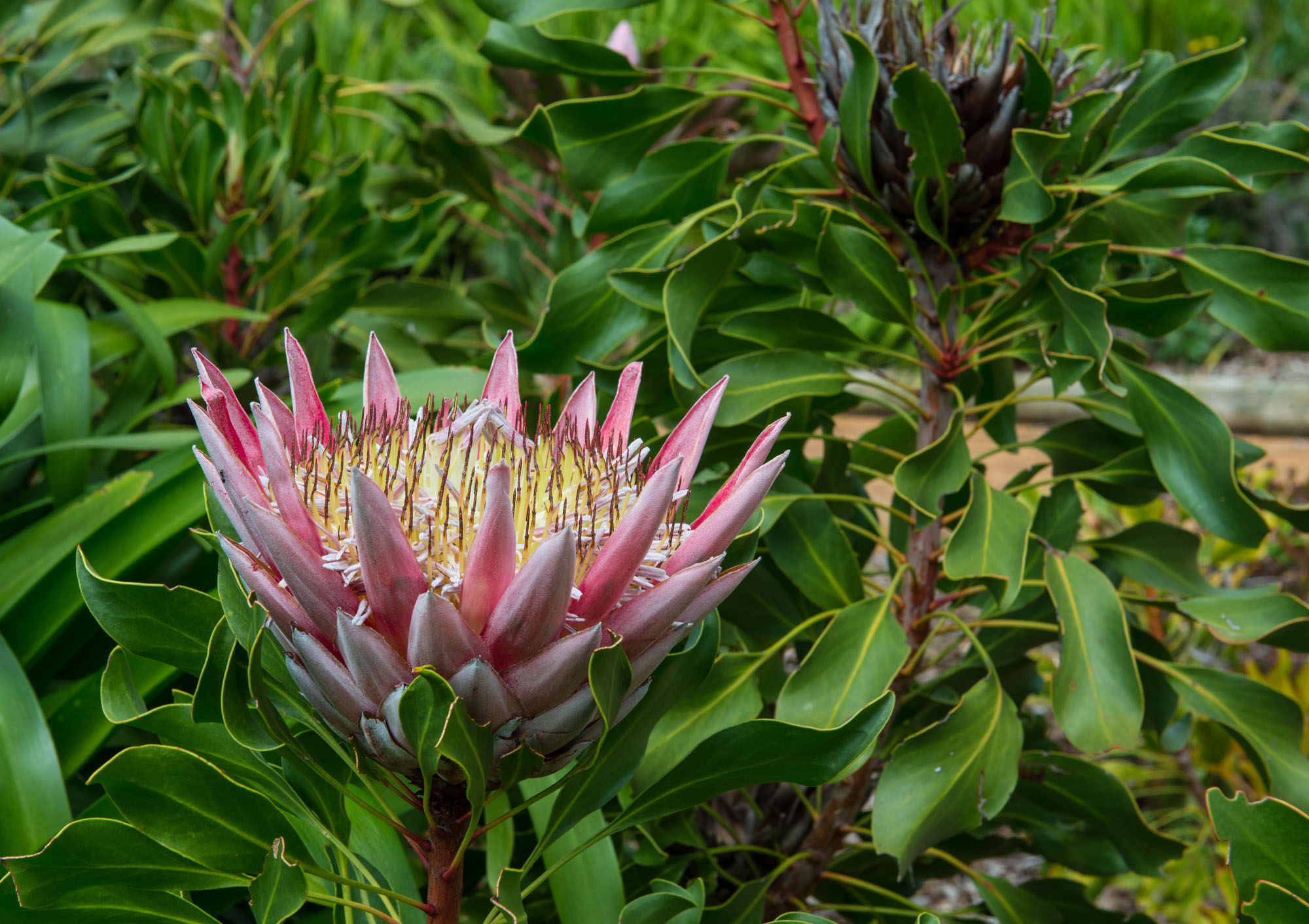 Fast forward four decades, and I'm the one on the trail, slowly making my way, one step at a time, to the top. Of course, the only thing hiking the mountain and taking the cable car have in common is that they both get you to the summit, or the base. Nothing else. Hiking up the mountain takes a little longer, but not so much – lately. The combined waiting time for tickets (one line) and the actual ride (another line) often exceeds two to three hours. More than enough time for a reasonably fit person to hike up Platteklip Gorge which is the fastest route up the mountain.
Hiking the mountain has many other rewards, beyond just making it to the top. Number one being the views. Weather permitting, all of the hikes have amazing views – some more so than others. I have yet to hike India Venster but I am told that its views of the city bowl, Lion's Head, Signal Hill, and the ocean in the background, are among the best of any of the routes.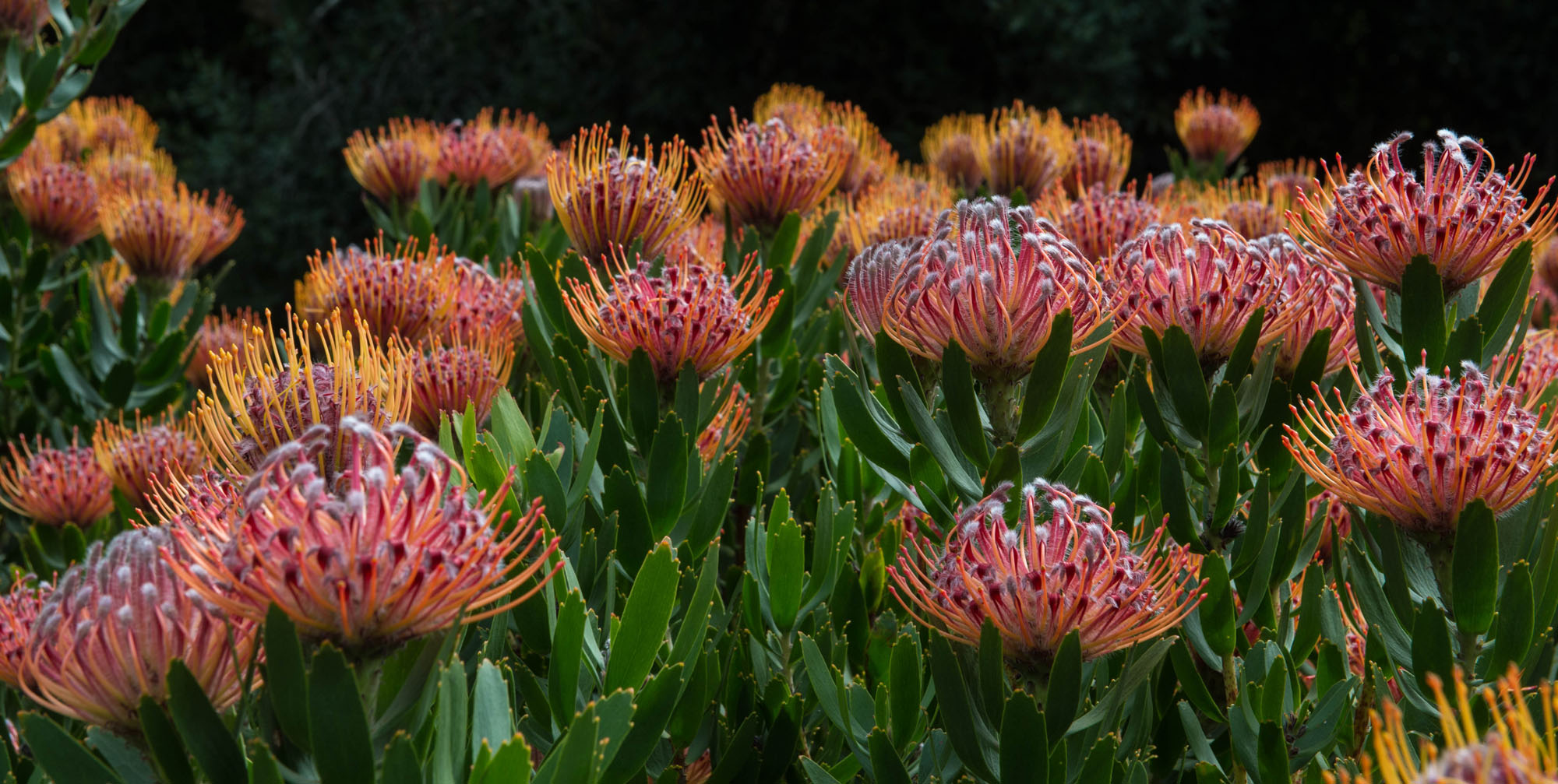 That should be reason enough. But there's more. It is only when you're out there on foot that you discover the full extent of the biodiversity of the mountain. On some of the routes like Skeleton Gorge you'll be walking within a typical afro-montane forest, seemingly in a different world, yet just a stone's throw from the heart of the city. Pretty much anywhere on the mountain you'll discover plants or flowers you've never seen before.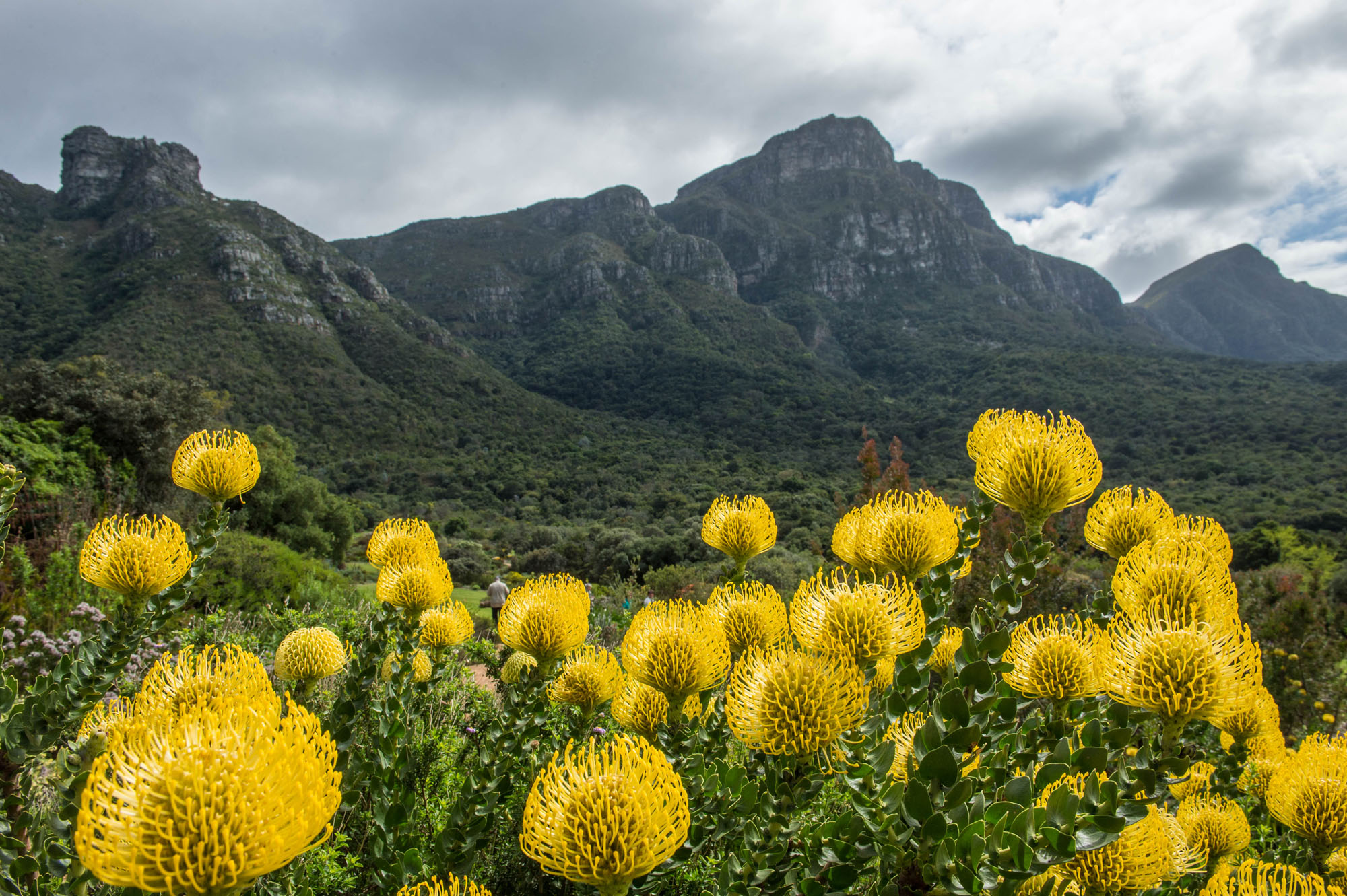 Chances are that they will be endemic to the area, simply because more than 1,500 of the 2,200 or so plants found in the greater Table Mountain complex do not occur anywhere else in the world. On my first Table Mountain hike the most notable plant I became acquainted with was the blister bush, or mountain celery. Stay clear! If you brush up against its leaves (particularly bruised ones) and then get exposed to sunlight, you will likely develop some painful blisters in a day or two. Our guide Lauren Medcalf has a particular interest in botany and she was keen to point out some fascinating fynbos species ranging from delicate daisies and ericas to lilies, proteas in abundance and many more.
One more benefit of hiking the mountain: bragging rights. Climb Table Mountain and you've conquered one of the world's seven official new wonders of nature, the only one to be located in an urban area.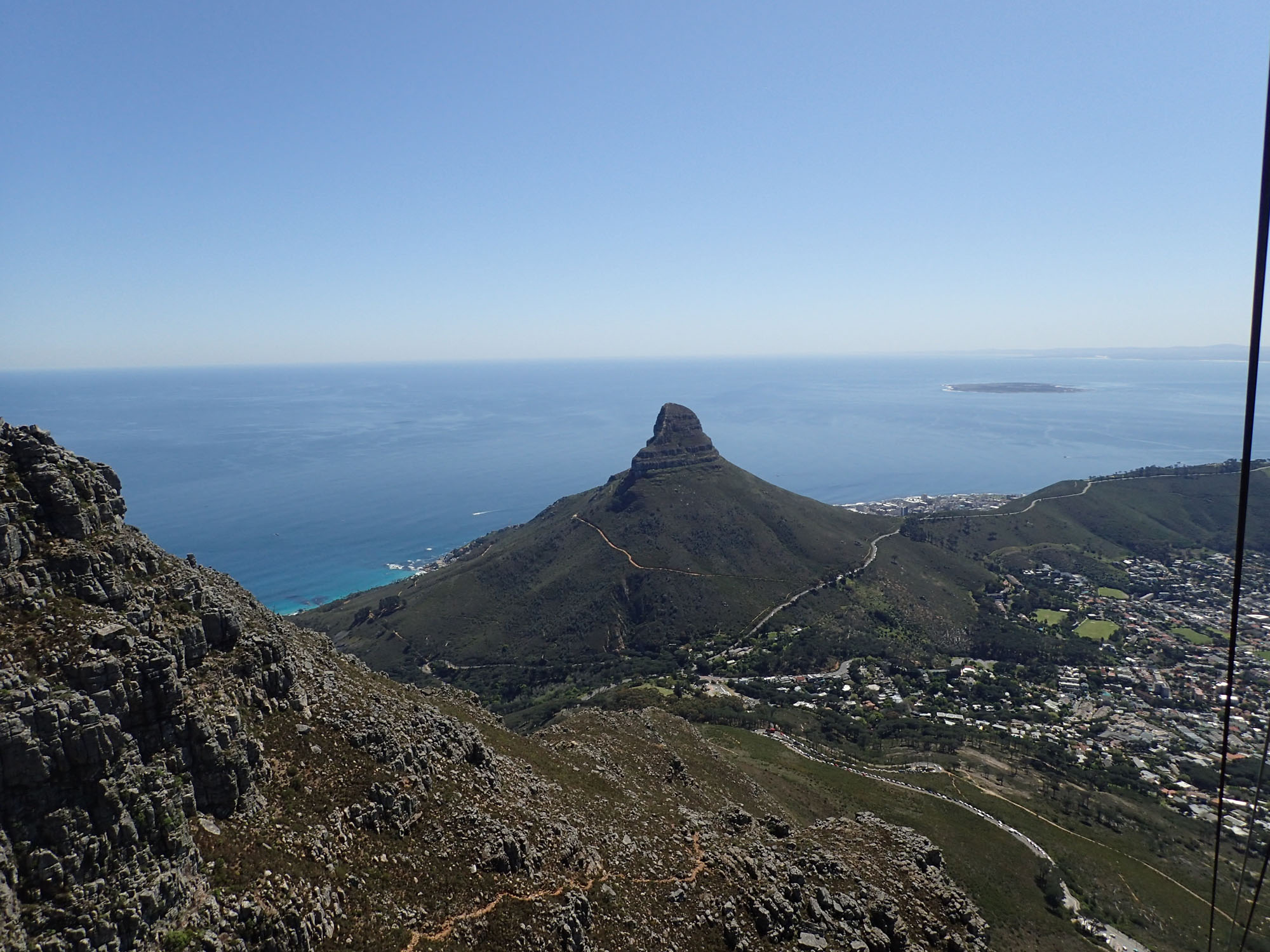 Do not underestimate the mountain though. It is notorious for rapid, unexpected and sometimes dramatic changes in weather. So go prepared with some warm clothing and extra water, and go with a qualified, experienced mountain guide. None of the routes up to the summit are easy and they require a decent level of fitness. With some preparation and the right frame of mind most people should be able to hike Platteklip Gorge; it is pretty much the equivalent of an hour and a half or so of climbing steps; some a little bit irregular but nothing much more than that. I found Skeleton Gorge to be more strenuous, due to the considerable distance and elevation gain.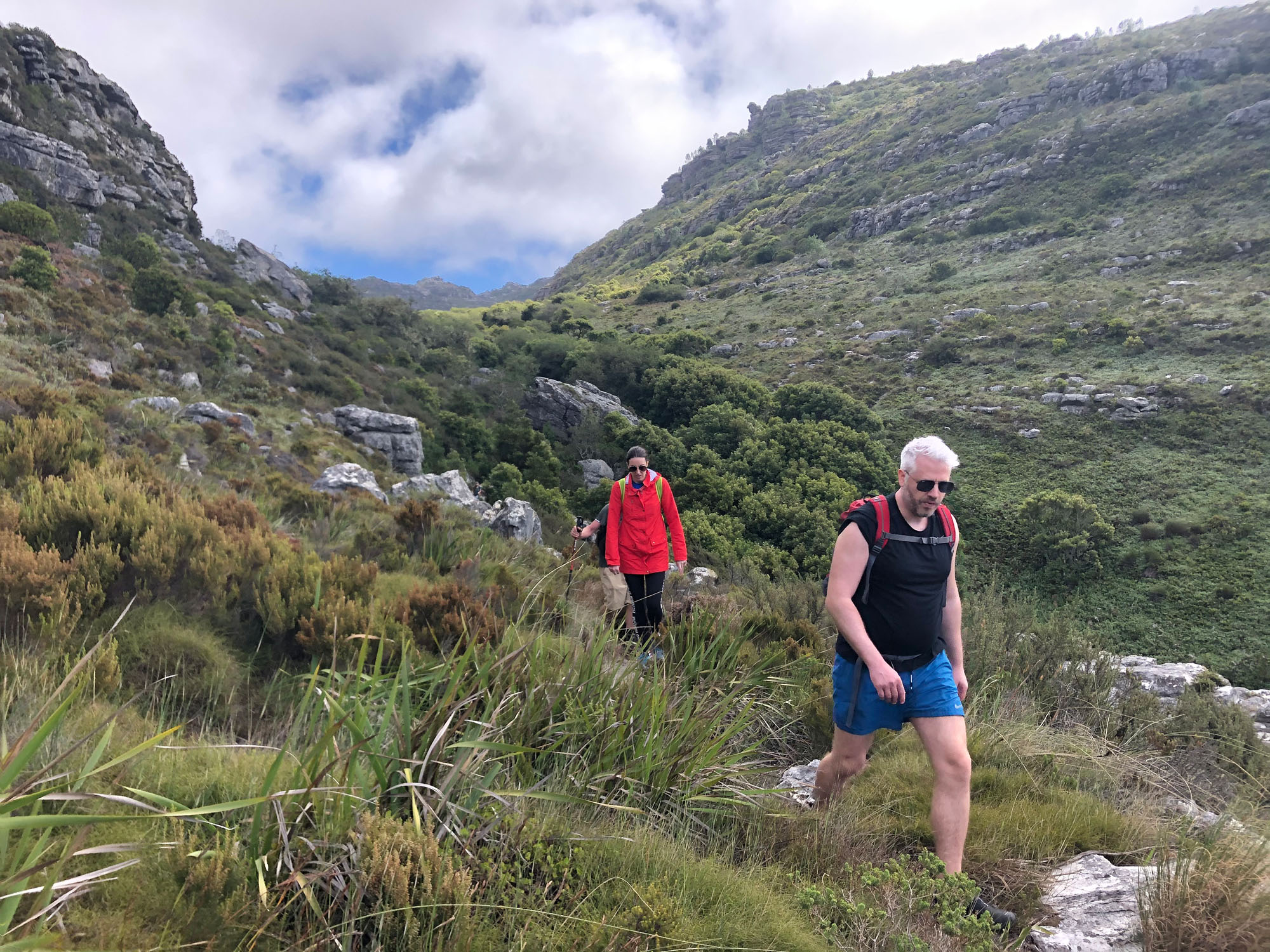 My most recent hike (in Dec. 2020) was in fact the Platteklip Gorge route, guided by Lauren Medcalf of Mother City Hikers. During the summer months much of the hike is in direct sunlight so it is advisable to get an early start to avoid the heat of the day. We were fortunate to be able to climb on a foggy, misty day, which turned what might otherwise have been a bit of a slog into a mystical, magical experience.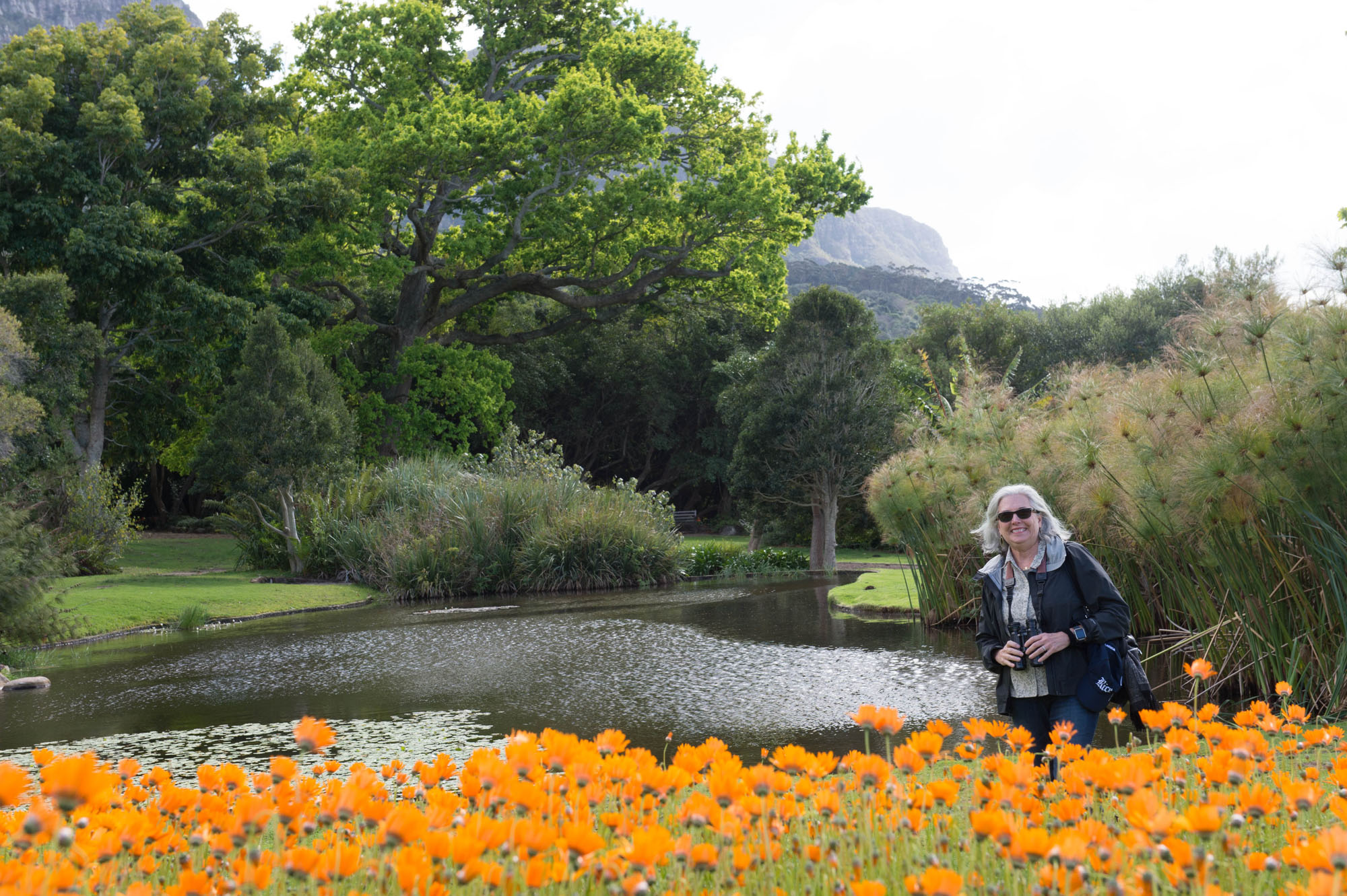 From the parking lot, we walked up on the western side of the trail, ascending briefly to a scenic cliff overlook (we had to imagine the view, due to the fog…) and then traversed some flat terrain until we got to the 'official' start of the trail.
Platteklip Gorge is the most popular hike on the front side of Table Mountain, and it can be done by most people who are reasonably fit and mobile. No special skills or climbing ability needed. It takes a while to find your rhythm but soon enough, you'll feel your pulse rate increase, you'll start to perspire and before you know it, you're halfway there.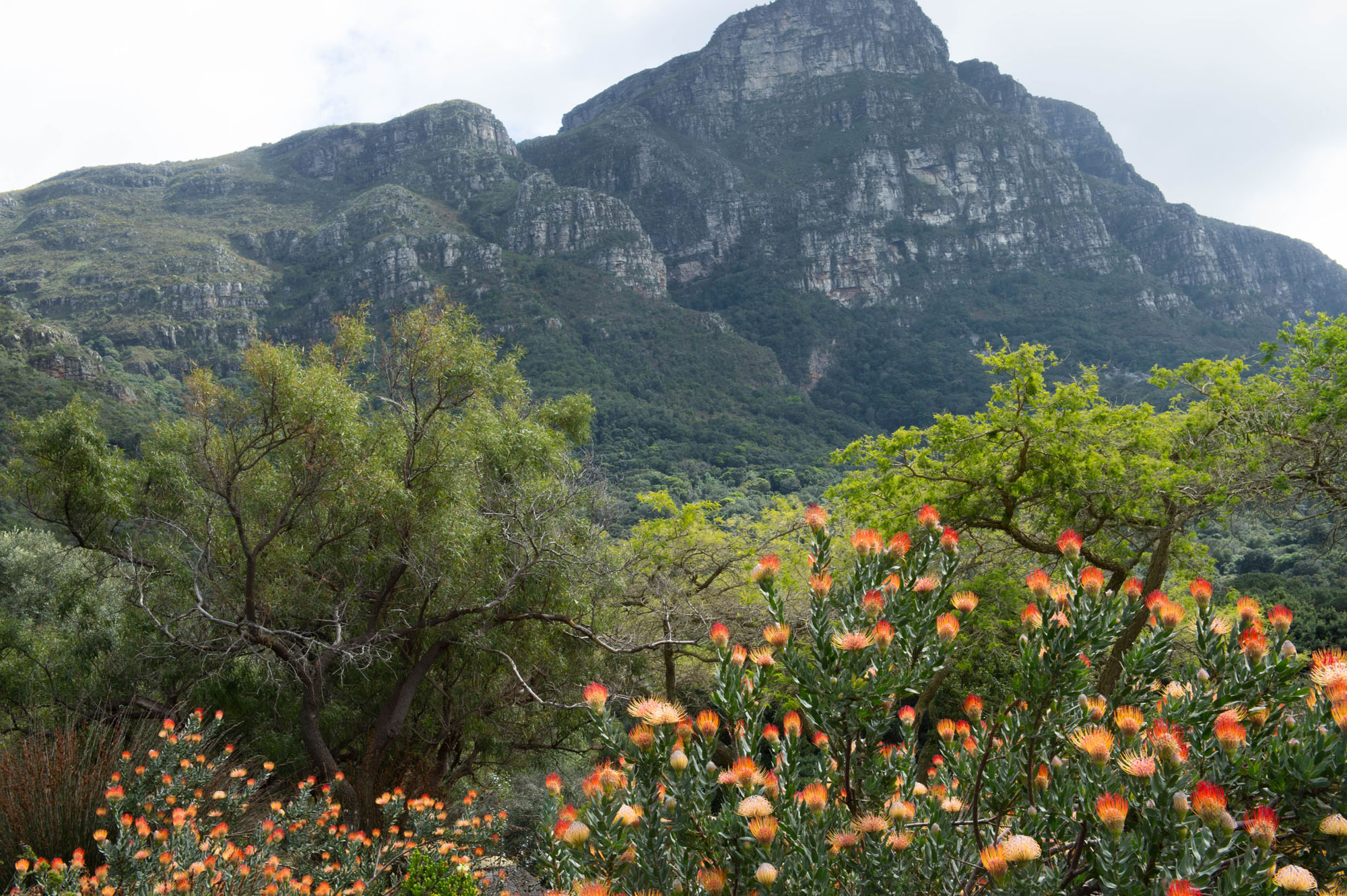 The hike follows a well laid out switchback path with mostly rock steps and it winds its way ever upwards, increasing in elevation by about 1,000 feet or so. The gorge narrows towards the top, where there are some prominent rocks for a photograph or two. At the summit, you're barely 15 minutes from the cable car terminus building.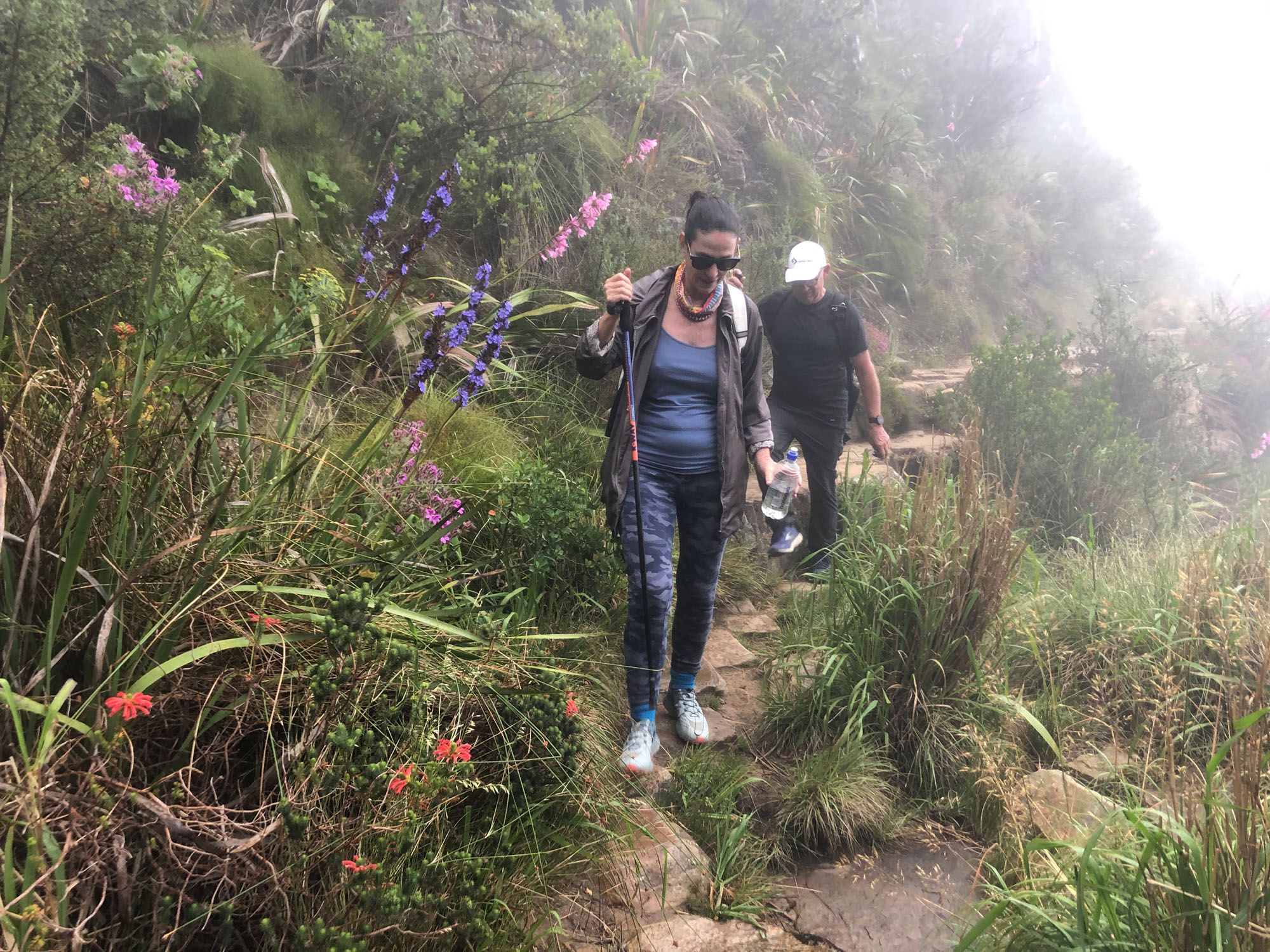 Other than a few runners and other hikers passing us, there were very few people on the summit of Table Mountain that day. This was partially due to the foggy conditions, but mostly because of the Covid situation. We took a quick ride down on the cable car; for the first time ever in my experience we were given the choice to have the car rotate or not. Must be as a result of the three of us being the only passengers in the car which ordinarily takes as many as 60 persons.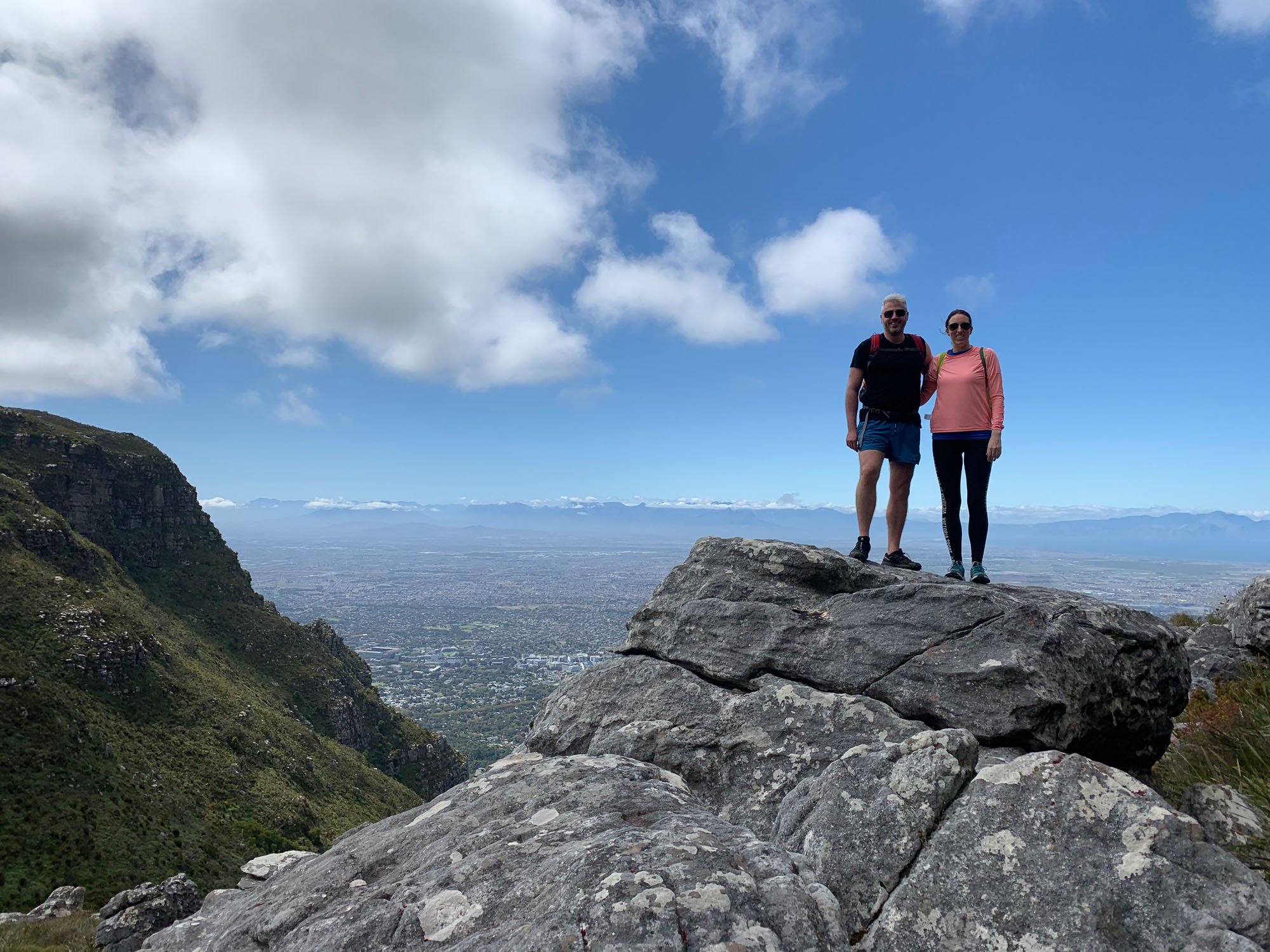 Lauren was also the guide on my previous Table Mountain hike (in March 2020) when we made the climb up Skeleton Gorge and down Nursery Ravine. That time, we started the hike in the beautiful Kirstenbosch National Botanical Gardens, having paid the regular entry fee. From there the climb goes up the back of Table Mountain. The first half is shaded and much of it is inside a forested ravine, with shrub and moss-covered slopes, shrouded mostly in shadows. Along the way, there are a few moderately challenging rock scrambles and a couple of conveniently placed ladders to negotiate. Take it easy and it's all doable.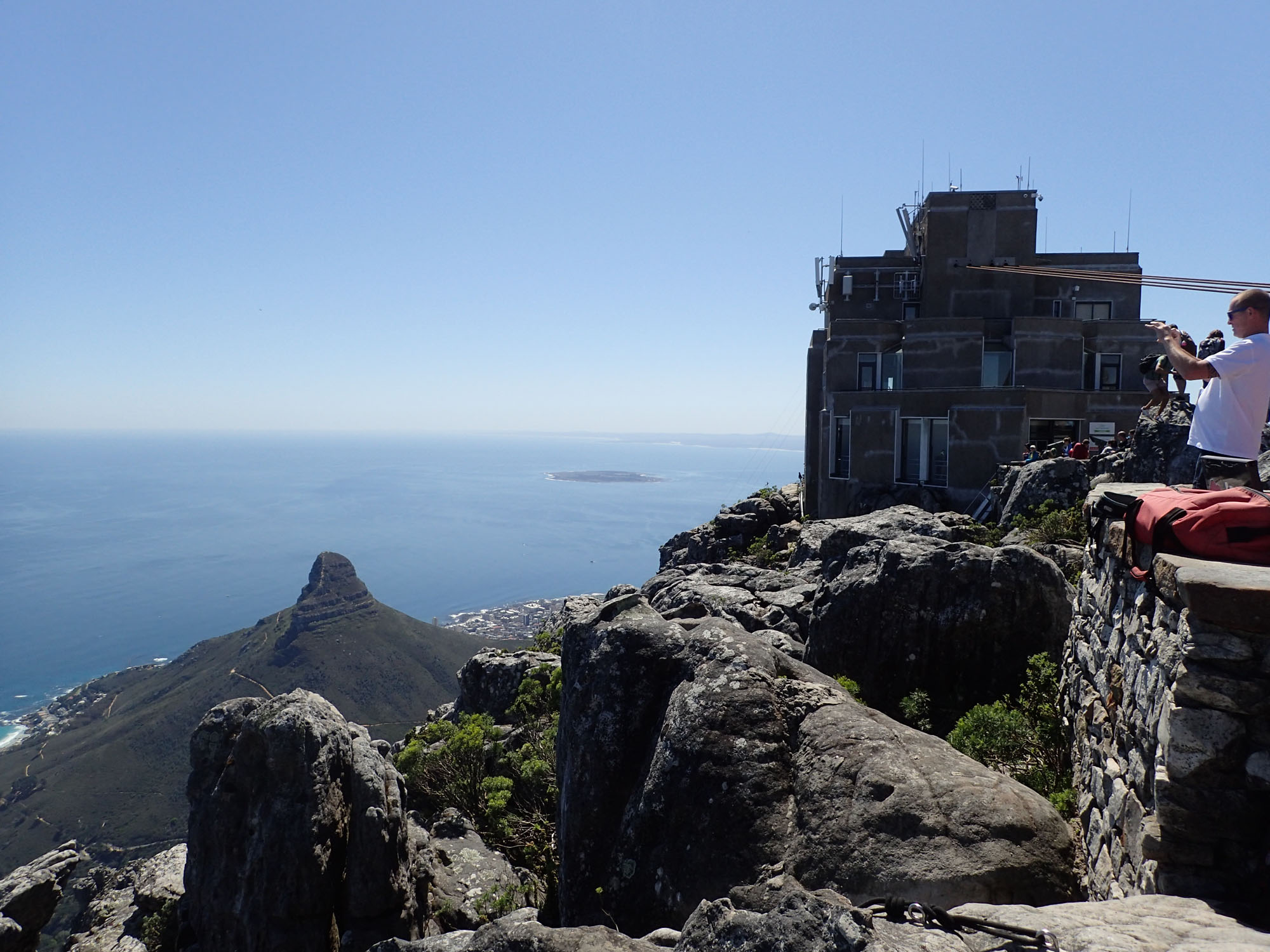 As we got closer to the top, we started to experience some spectacular views over the city and Table Bay – and then we were there. At the top of the mountain, standing on a rock, experiencing the joy and sense of achievement that come with completing a strenuous hike. All in all, it was a tough climb, made less so by stopping a couple of times for some snacks and drinks. Eventually, we enjoyed a light lunch break on the sandy "beach" at the (then empty) Hely-Hutchinson water reservoir. It's one of five reservoirs on the mountain which supplies the city of Cape Town with fresh drinking water.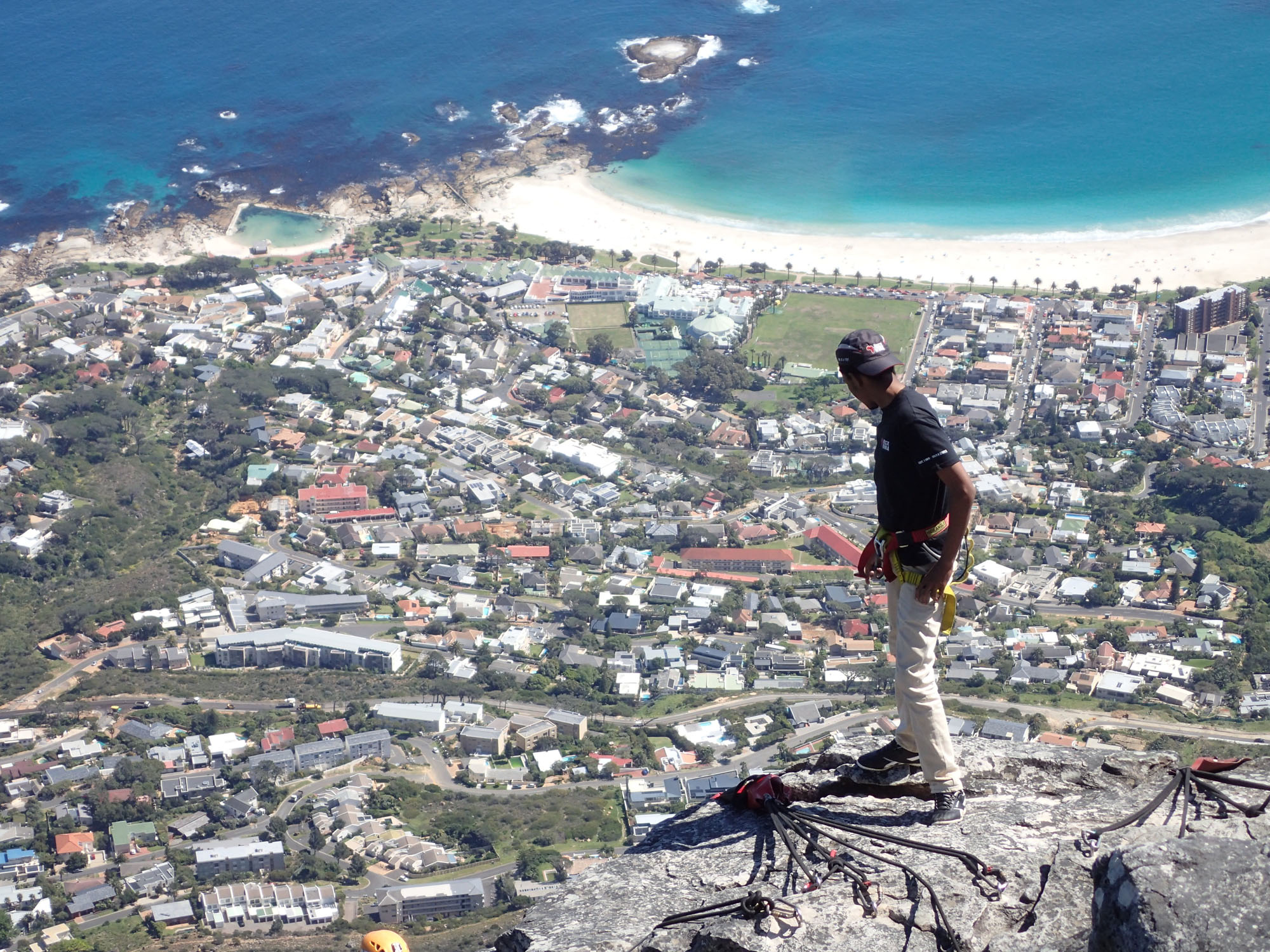 I consider myself fortunate to have been introduced to Lauren Medcalf by a mutual acquaintance, Terry MacBean of Wilro Cape. Lauren is the owner and founder of Mother City Hikers, the company which we and several of our Safari Pros colleagues recommend for our guests who want to climb the mountain, or just do some hiking in Cape Town. Lauren has all the attributes of a great mountain hiking guide: passion, competence, experience and the people skills to make the outing fun and exciting for hikers of any skill level. She is knowledgeable, well-prepared, authoritative when needed, yet friendly and caring at the same time.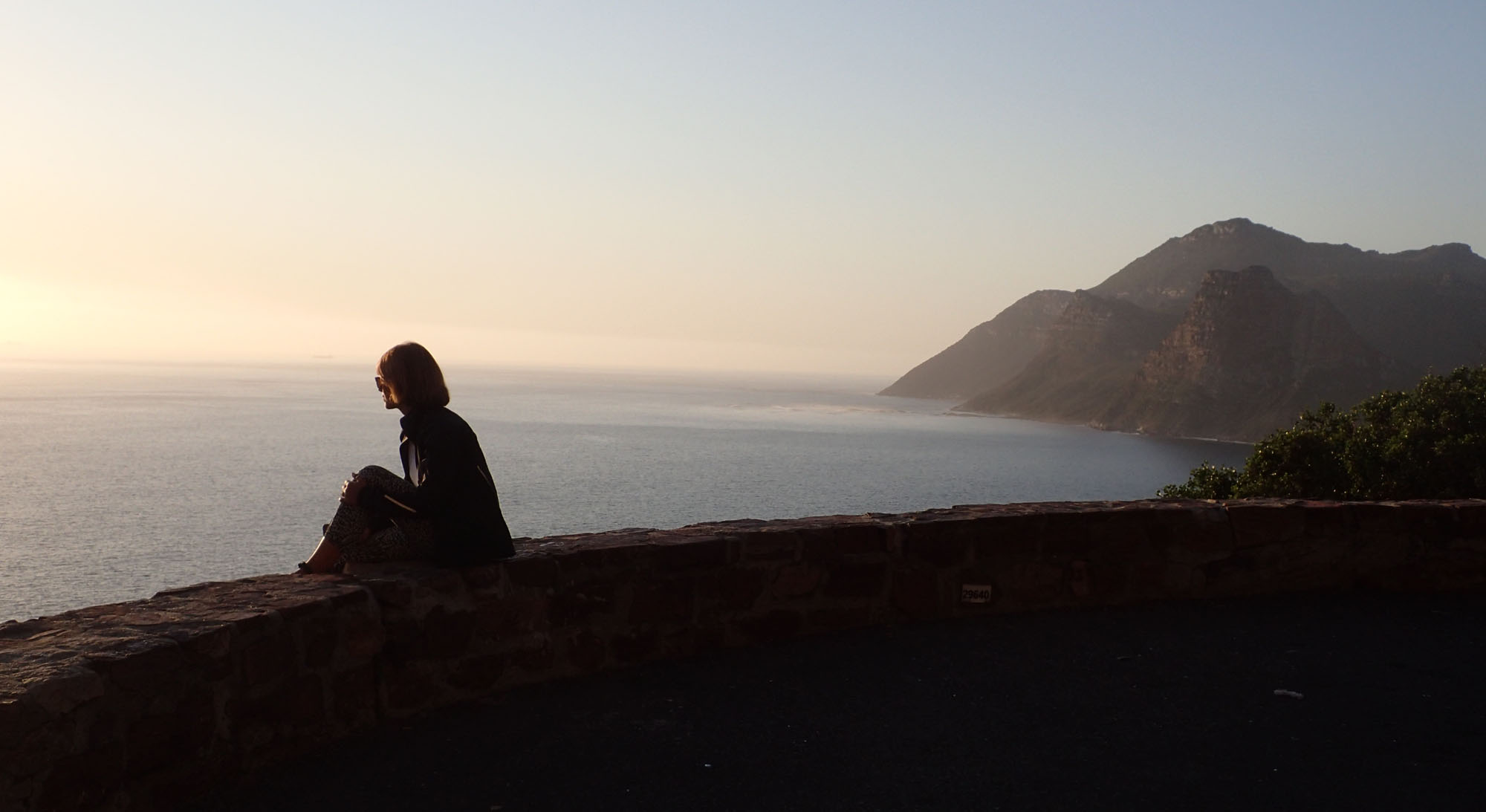 Here are some extracts from an interview with Lauren from December 2020:
How and when did Mother City Hikers come about? What was the impetus/inspiration that led to it? What was it that got you personally interested in hiking and exploring nature in the first place?
Mother City Hikers started almost 11 years ago! I was often out on Table Mountain (TM) exploring and enjoying my days as when I first arrived from the USA I worked in a restaurant in the evening so I had my days free. I had a wonderful hiking buddy who knew so many of the trails, and he loved all the different fynbos species. His name was Brian Georgeson – a ship's captain. He passed away a year ago at the age of 75 but we hiked together for the last 10 years of his life. Brian took me on many of the lesser known routes and we would often see people on any/all of the trails who needed some guidance, assistance, food/water/sunscreen, etc. We would help them in whatever way we could and be on our way. I really felt the need to get people off the most common routes with loads of others and get them on the lesser known and more peaceful paths. I wanted to take the guesswork out of it all for others. There is so much you need to know in order to 'do' TM right. I wanted to be the one with the knowledge and have the others relax and enjoy it all.
What was it that got you personally interested in hiking and exploring nature in the first place?
I grew up in the flatlands of America so there wasn't much hiking. But I can remember hiking a few times with my family and my Grandfather. Those memories of exploring and enjoying nature have stayed with me for life. I met my South African husband in Colorado where we lived in the mountains of Aspen. Living there for 4 years before coming to South Africa really cemented my love for nature and wilderness areas.
What would you suggest for a first time hiker of average ability, maybe on a one time ever visit to Cape Town?
This is a tricky one as it depends on what they are looking for. There are so many routes to choose from. I would say that most people want to get to the 'top' or 'flat' part of TM so that lessens the amount of routes to choose from if you are going near the Cableway area. There are no 'easy' ways to get to the top so the person really has to want to hike up. If they are up for a less strenuous hike just to get out into nature and learn about the mountain more I would highly recommend our walk on the Pipe Track which goes about 1/3 of the way to the top on the 12 Apostles side of TM. This is a +/-3 hour, out and back route that really shows the beauty of our mountain and there are hardly any others out there!
Or for someone looking for a more challenging hike?
India Venster is a really excellent and varied hike with some good challenge to it. Although it is short-distance wise, it's our most technical hike we guide our clients on. If that kind of adventure isn't your thing and you're looking for a challenge I would suggest hiking Tranquility Cracks. This is a super scenic and quiet route hiking up and down the 12 Apostles side of TM.
What is your most commonly requested hike and why do you think it is popular?
Lions Head! It is so nice but oh so busy with many, many hikers on it. The reasons people choose it is because someone they know that has been here has told them about it. Also it was included in 'top 20 short hikes in the world' by National Geographic in 2014 and 2015 so has gained a lot of notoriety through that.
Any hiking options that are not too strenuous and would be enjoyed by people with limited physical ability?
See Pipe Track blurb above. OR the Maclears Beacon walk which goes from the upper Cableway Station (you take cableway up and down mountain and hike at the top) all the way over the the actual highest point on TM (5km/3 mile round trip)
Do you have any personal favorite spots in and around Table Mountain or elsewhere on the Peninsula?
I absolutely adore a hike up Woody Ravine and down Kasteelspoort on the 12 Apostles side of TM. The views and hike are just gorgeous. A special trip every now and again into Orange Kloof which is a restricted area (need a permit which is not super easy to get-needs to be done in advance as there are only 12 permits per day). I LOVE hiking in Cape Point Nature Reserve as the hiking is gentle and there are some beautiful rock pools and tidal pools to swim in after the hikes too. The opportunity to see more wildlife here is greater than anywhere else on the Cape Peninsula too. The other spot I love to hike is in Jonkershoek in Stellenbosch which has something for all ability levels and also waterfalls and rock pools to enjoy.
What about families with children?
I recommend the Pipe Track for families, Silvermine Nature Reserve (which is just past Constantia/half way over to Noordhoek), and Newlands Forest. I think allowing kids to be kids and allowing them to have fun along the way is key. It depends on their age and ability level but there really is something for everyone here.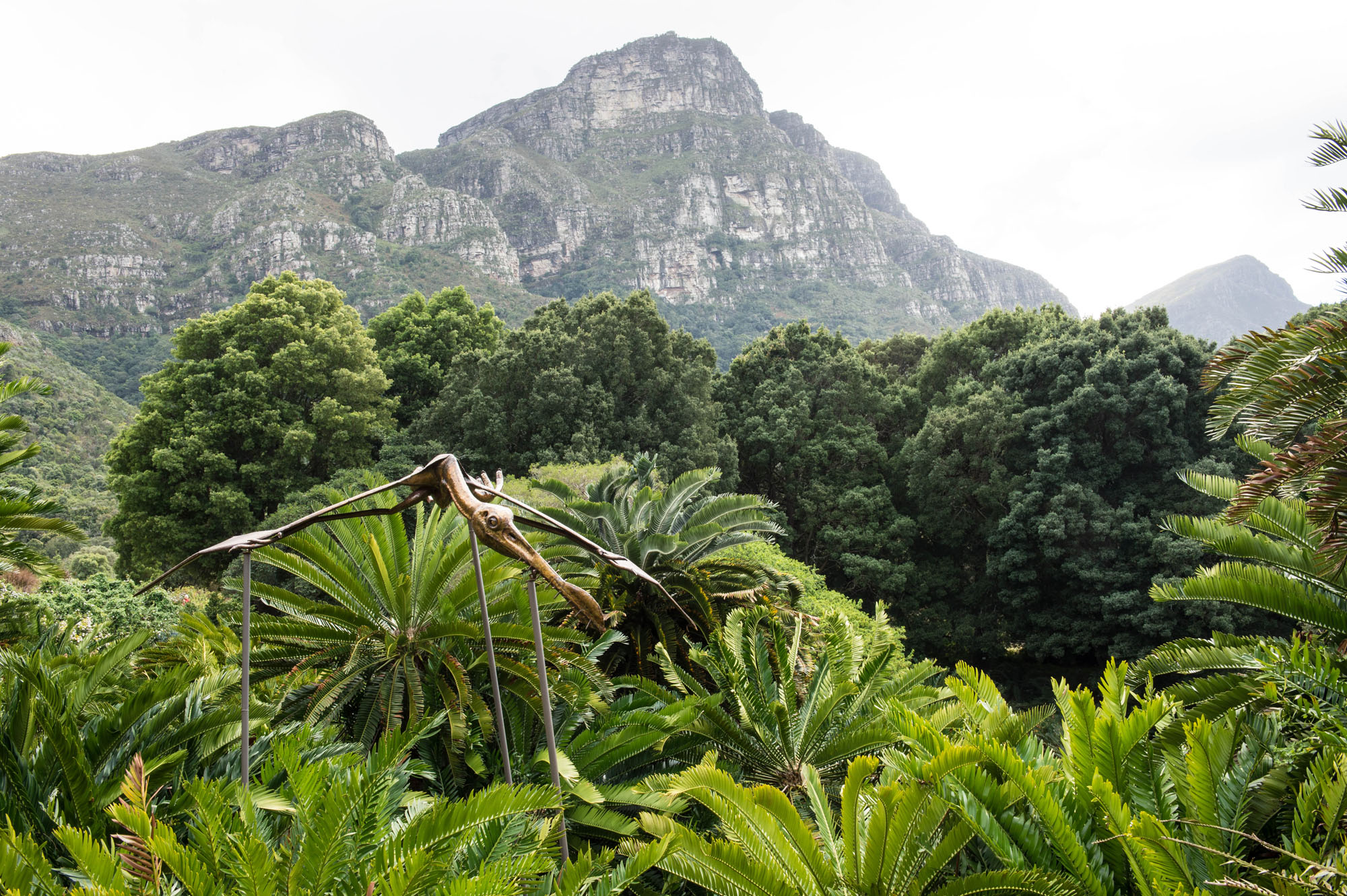 In our blog next week, we will take a look at the remarkable bio-diversity and landscapes of Tsavo, including the tuskers of southern Tsavo East and a couple of outstanding natural features of Tsavo West, the Shetani Lava Flow and Mzima Springs.
YOU MIGHT ALSO BE INTERESTED IN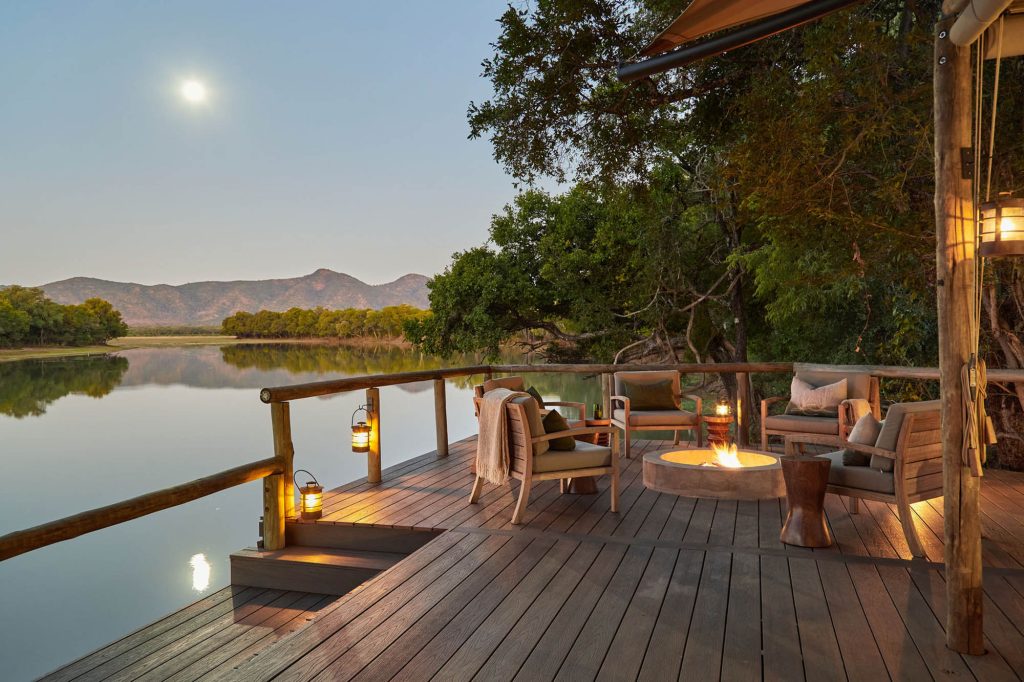 10th Sep 2021
Chindeni and the Bushcamp Company, Zambia
By late July we found ourselves at Chindeni, a small Bushcamp Company property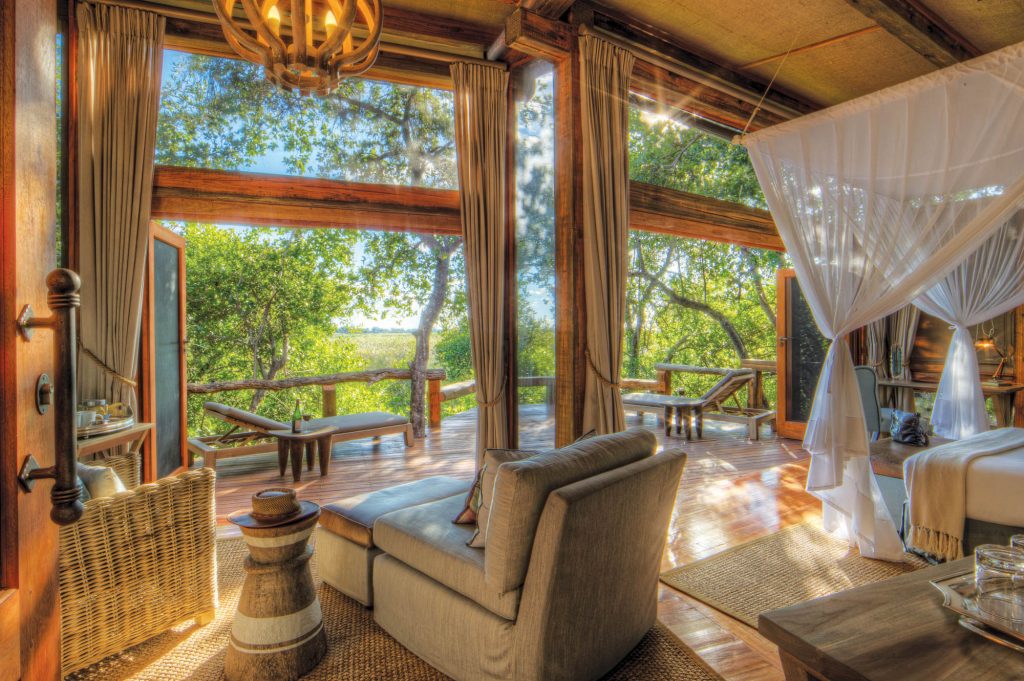 3rd Oct 2022
Camp Okavango, Botswana
Camp Okavango is in the heart of the permanent part of the Delta. In this idyllic setting there are no vehicles, and it is just a short walk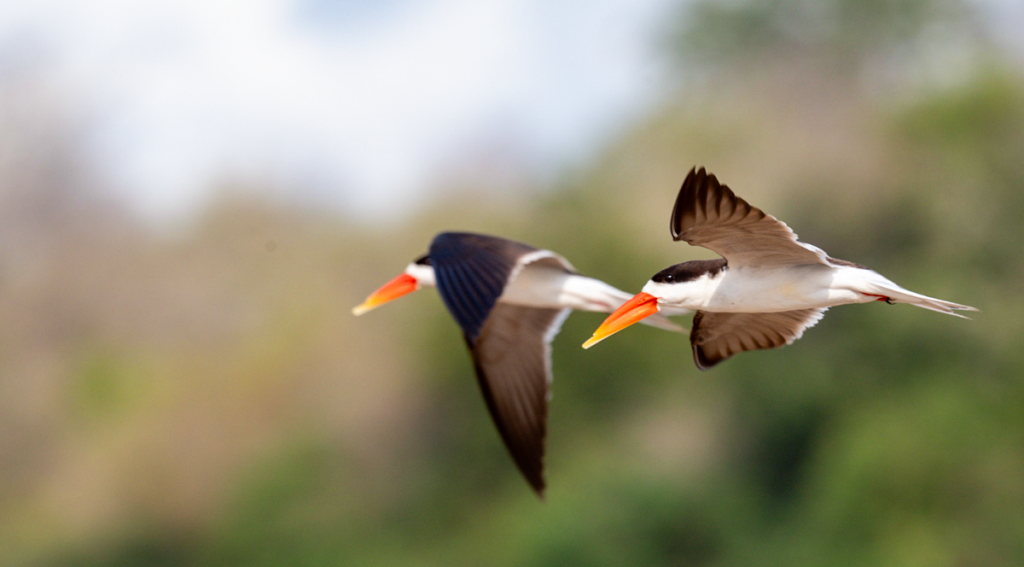 14th Oct 2023
From My Safari Notebook: Wildlife Photography
Birds in flight and wildlife photographers have an uneasy relationship. Things go wrong as often as they go right. Getting focus-lock on a moving subject
SUBSCRIBE TO OUR NEWSLETTER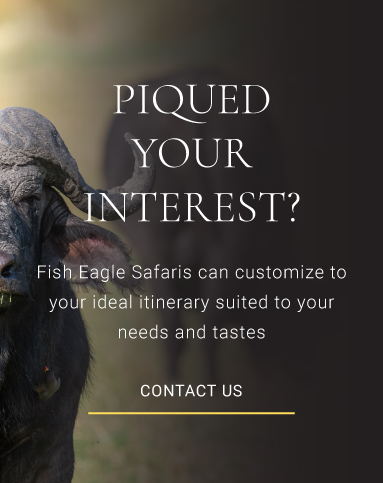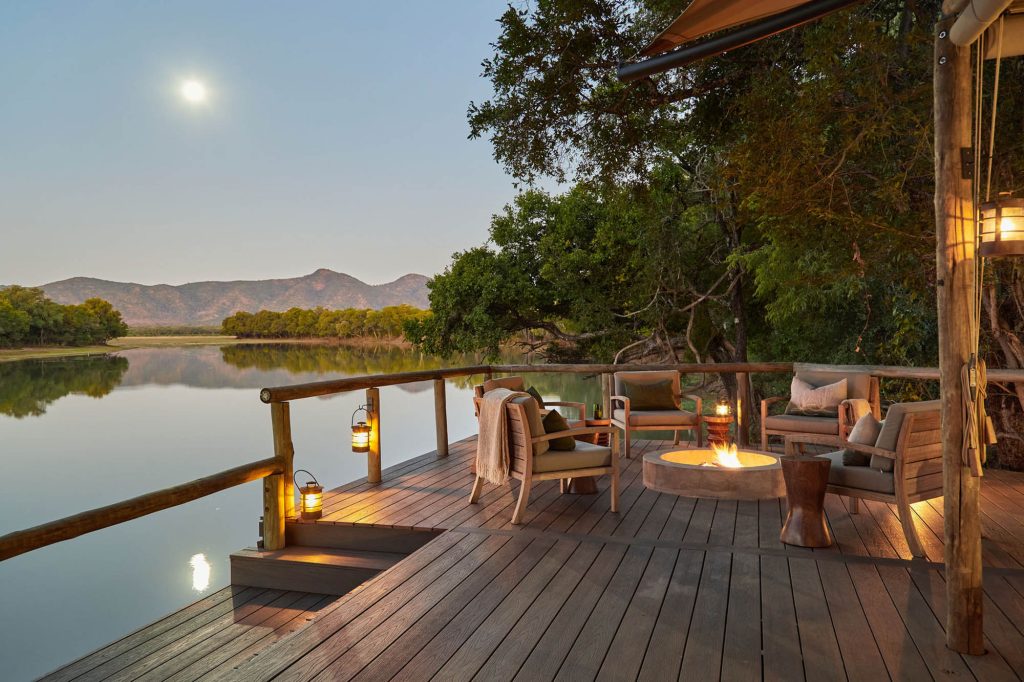 10th Sep 2021
Chindeni and the Bushcamp Company, Zambia
By late July we found ourselves at Chindeni, a small Bushcamp Company property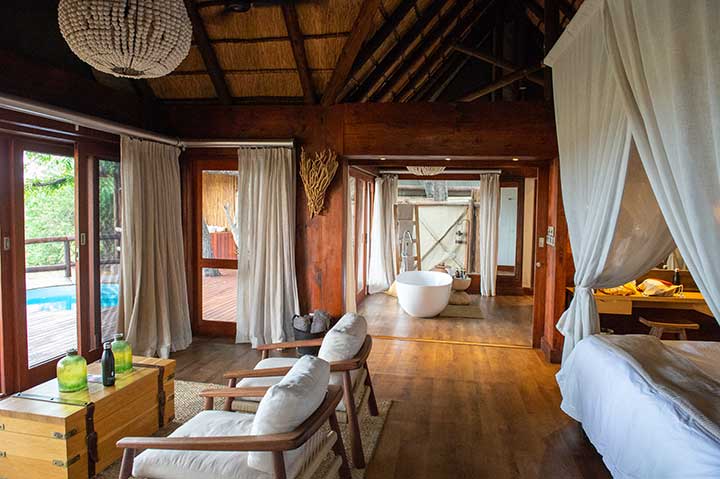 4th Aug 2022
On Safari At Belmond Eagle Island Lodge, Okavango Delta
What is the 'secret sauce' for an unforgettable few days on safari in Botswana? It starts with the animals, of course. The elephants, lions, giraffes, hippos