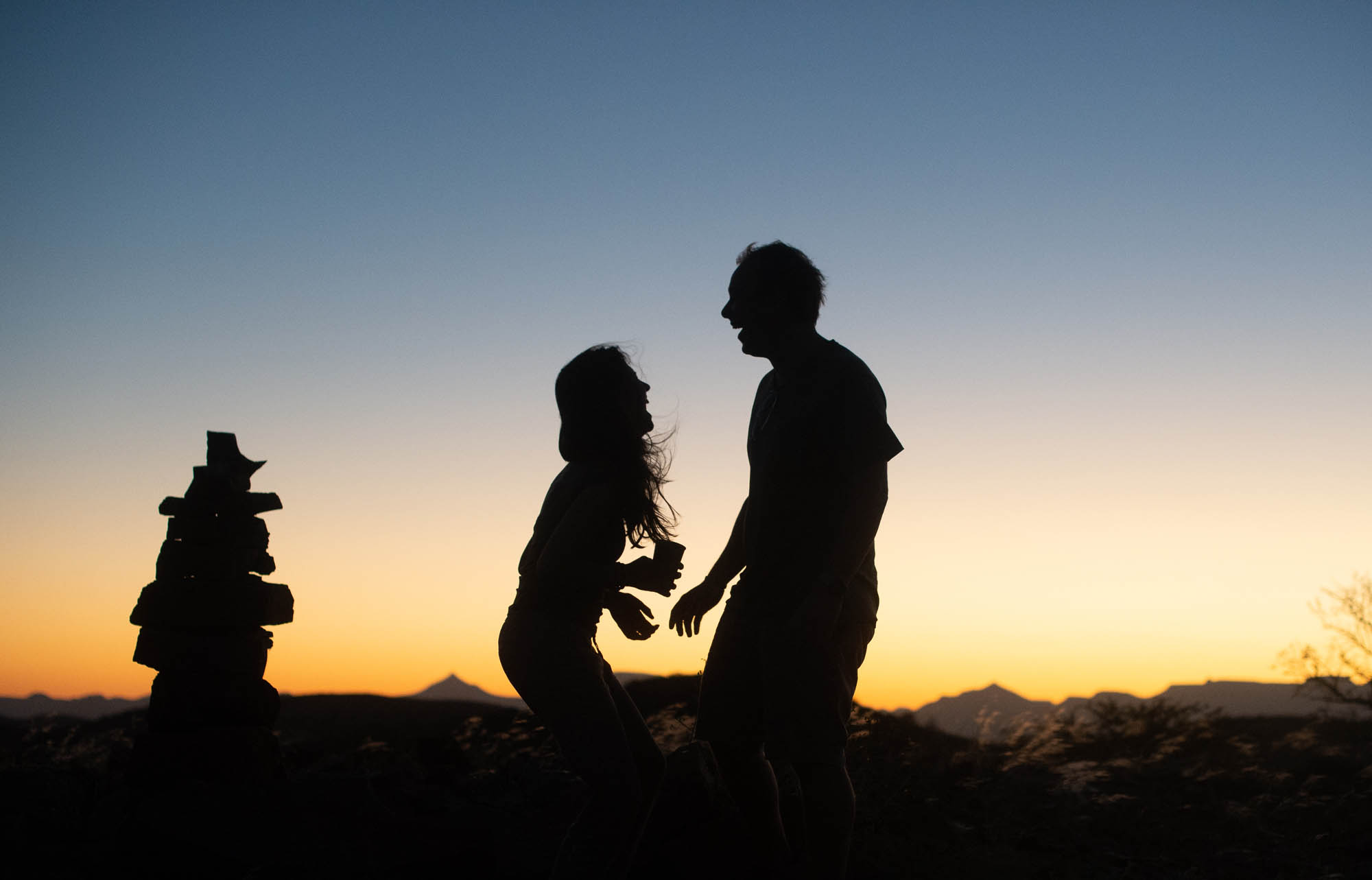 A Visit to Namibia
I experienced a serious case of deja vu late May last year, when we were driven from Onguma Lodge in the eastern part of Namibia's Etosha National Park, all the way to Ongava Game Reserve in the west. It was my fifth time doing this drive and the experience was very much the same as before. A long day behind the wheel – except that I wasn't driving this time. It was dusty. Sometimes extremely dusty to the point where a passing vehicle could disappear into a powdery cocoon of desert dust. The drive was also a bit tedious at times but always there was the unspoken possibility of coming across something interesting, along the way.

And so it was: in addition to regular sightings of plains animals such as springbok and gemsbok, we had a good sighting of a male lion at Klein Namutoni water hole, and a simply extraordinary experience when we observed a leopard stalking and killing a jackal, at the Rietfontein water hole. This was a 'once in a lifetime' experience witnessing the entire hunt sequence from first observation to stalking, to the final ambush and then the take-down. Just a bit out of range of my lens, but we had great views in the binoculars. Which prompts a reminder: don't let anyone tell you that nothing ever happens game-wise during the 'dead' hours of the day between the morning and afternoon game drives. This proves the point – the leopard kill occurred around 2 pm in the afternoon.
We stopped for lunch at the Halali Rest Camp, and it was like stepping back into the past. Halali hasn't changed a bit: even the lunch menu appears to be the same as in the 1990's with a choice of toasted sandwiches, hamburgers (don't be tempted), hot dogs, a steak platter or a lunch buffet.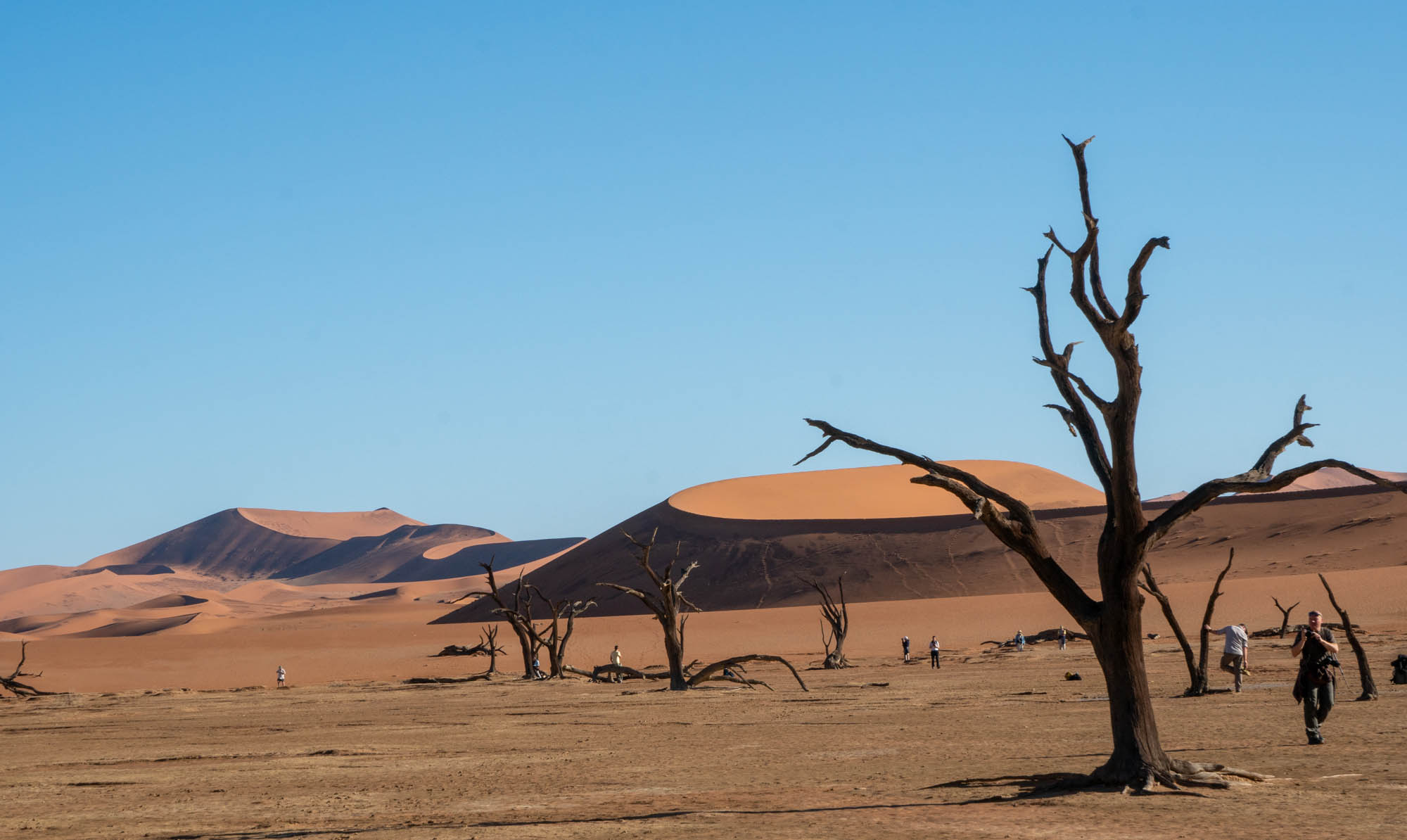 ONGAVA LODGE
Revisiting Ongava Lodge was like reconnecting with an old friend of many years whom you may only see sporadically, but the friendship remains strong. Most of what we experienced over the two days at Ongava Lodge was reassuringly the same as when we were there last, about 8 years ago. Excellent game-viewing, competent guiding, friendly management and staff and quality accommodation, food and beverages.
Ongava's 13 spacious bungalows with thatched roofs are comfortable and air-conditioned; each with an indoor and outdoor shower, outside patio, safe, separate toilet, mosquito netting and tea and coffee station. The rooms as well as the common areas have WiFi.
Rooms 1 to 12 are strung out along a winding path, #1 and #2 being the best for views over the water hole and #7, #8 and #9 being a bit of a hike from the main building. Rooms #11 and #12 are adjacent and can be booked as an interleading family unit. Rooms #13 and #14 are on the other (western) side of camp, also overlooking the water hole.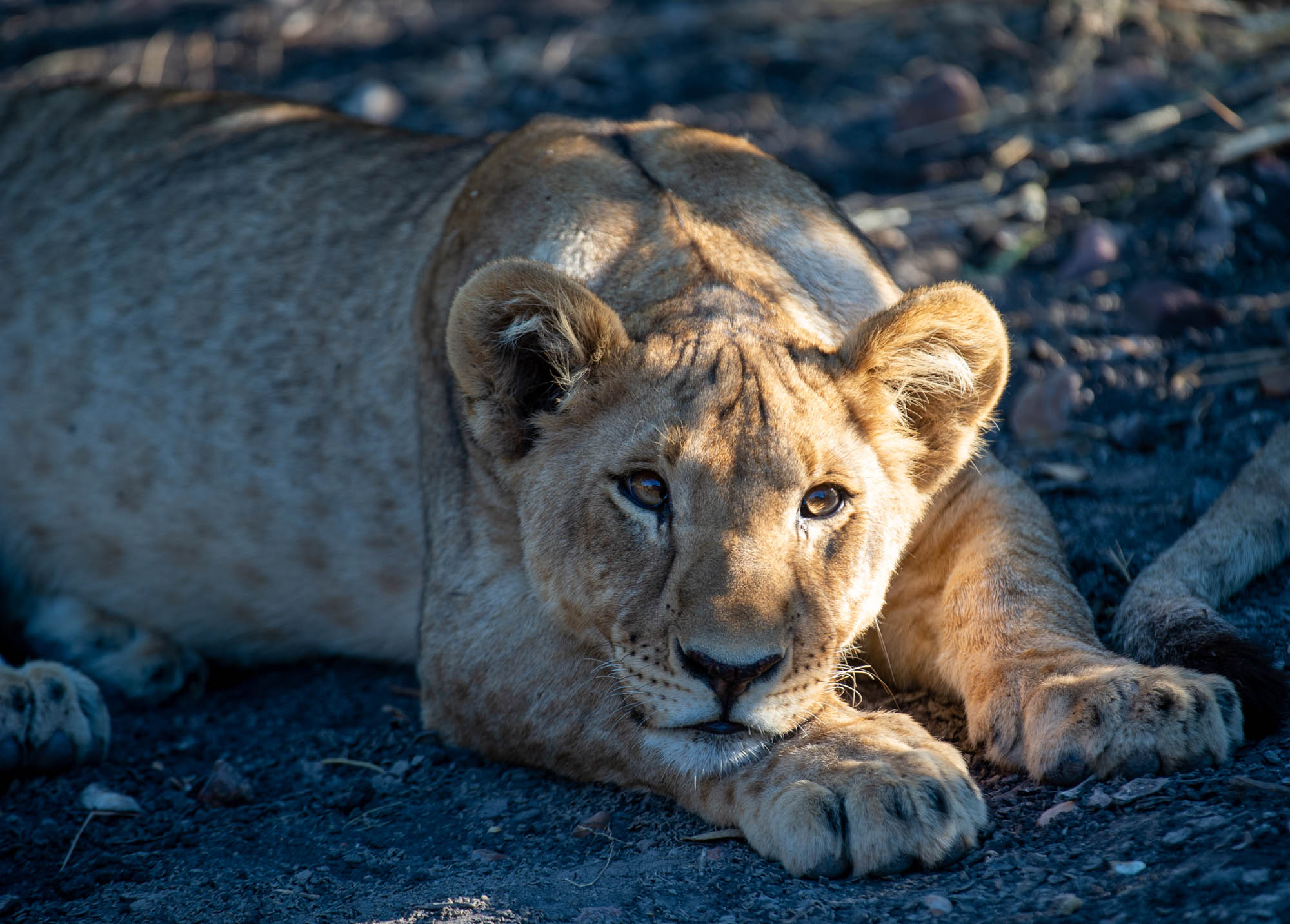 The main lodge area and dining room is spacious and open-sided, with al fresco dining possible year round. There is a bar, a coffee station with espresso machine, several discrete lounge areas, and a separate and well-stocked curio shop.
The water hole in front of camp can be quite lively during the heat of the day when impala, zebra, waterbuck and many birds come to drink. It really comes into its own after nightfall. Over the course of a short 2-night stay we saw several white and black rhinos there, as well as a pride of seven lions. One evening we were in the hide with as many as seven black rhinos just meters away, staring right at us as they picked up the loud noise of the Nikon D4 shutter release. It was a singular experience to see that many of these rare, endangered animals in one spot.
The black rhino took their time to approach the water and started drinking in ones and twos, heads down, their heavy bodies reflected in the surface of the pond.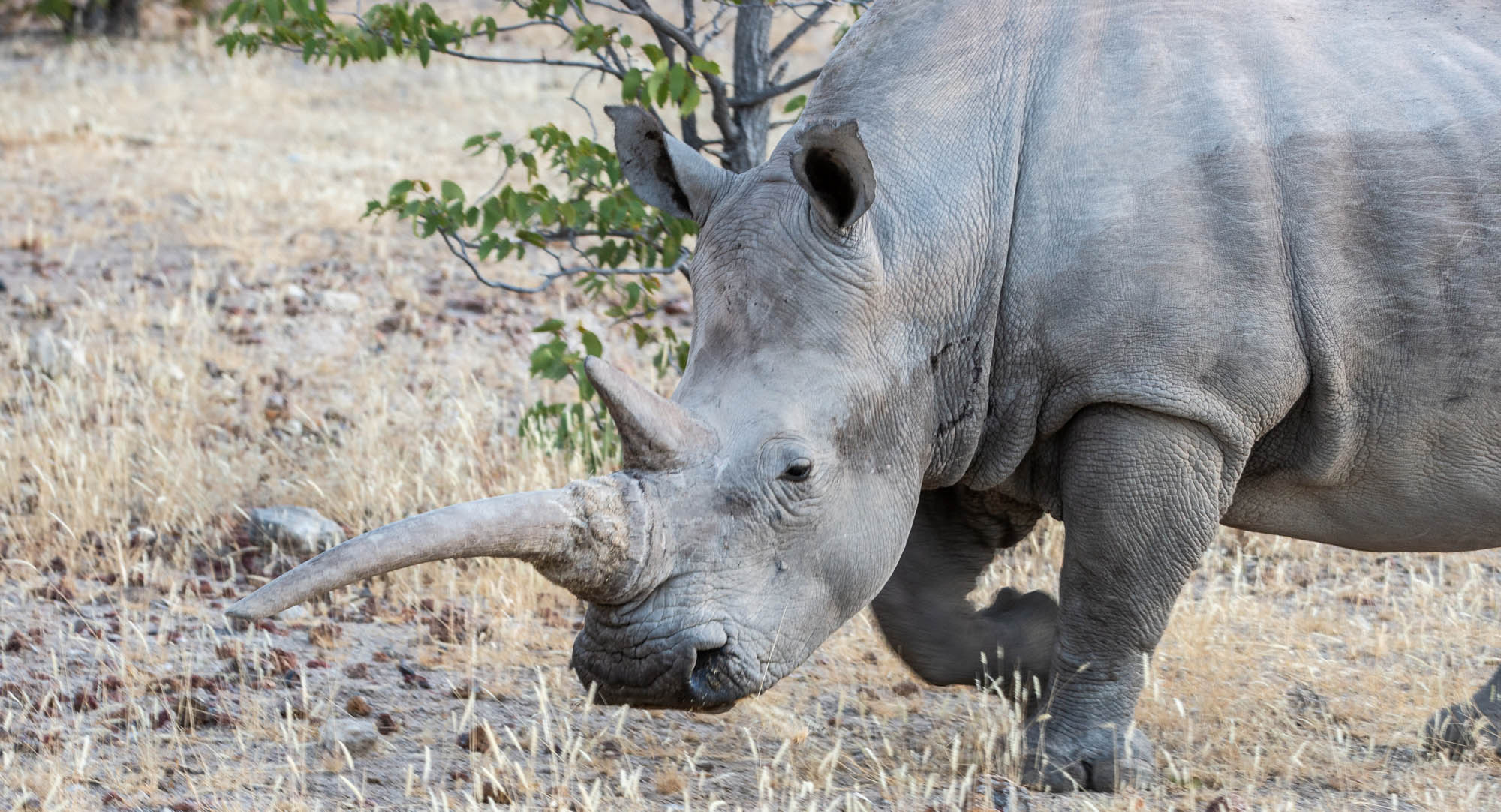 The event would have been remarkable 'as is', but it was made even more fascinating by the interaction between some of the rhinos. When meeting at water holes these usually highly territorial animals more or less suspend their enmity, but clearly they barely tolerate each other's presence. So as we were watching – spellbound – from the hide, certain individuals would stare each other down, sometimes in a directly confrontational manner, making a loud bellowing noise which I took to be a warning indicator. 'Get any closer and you'll be sorry…' One large rhino – a male – was particularly aggressive. The kicker was that all throughout this nearly hour-long event a lion pride nearby was roaring loudly, proclaiming their territorial dominance.
Surprisingly this hardly affected the rhinos' behavior. They carried on drinking and chewing on salt blocks, seemingly unfazed, despite the fact that one of the black rhinos had a fairly young baby with her. Only once, when the lions were roaring very close by, did I observe the black rhino female with the youngster, take up a defensive stand and turn towards the source of the noise.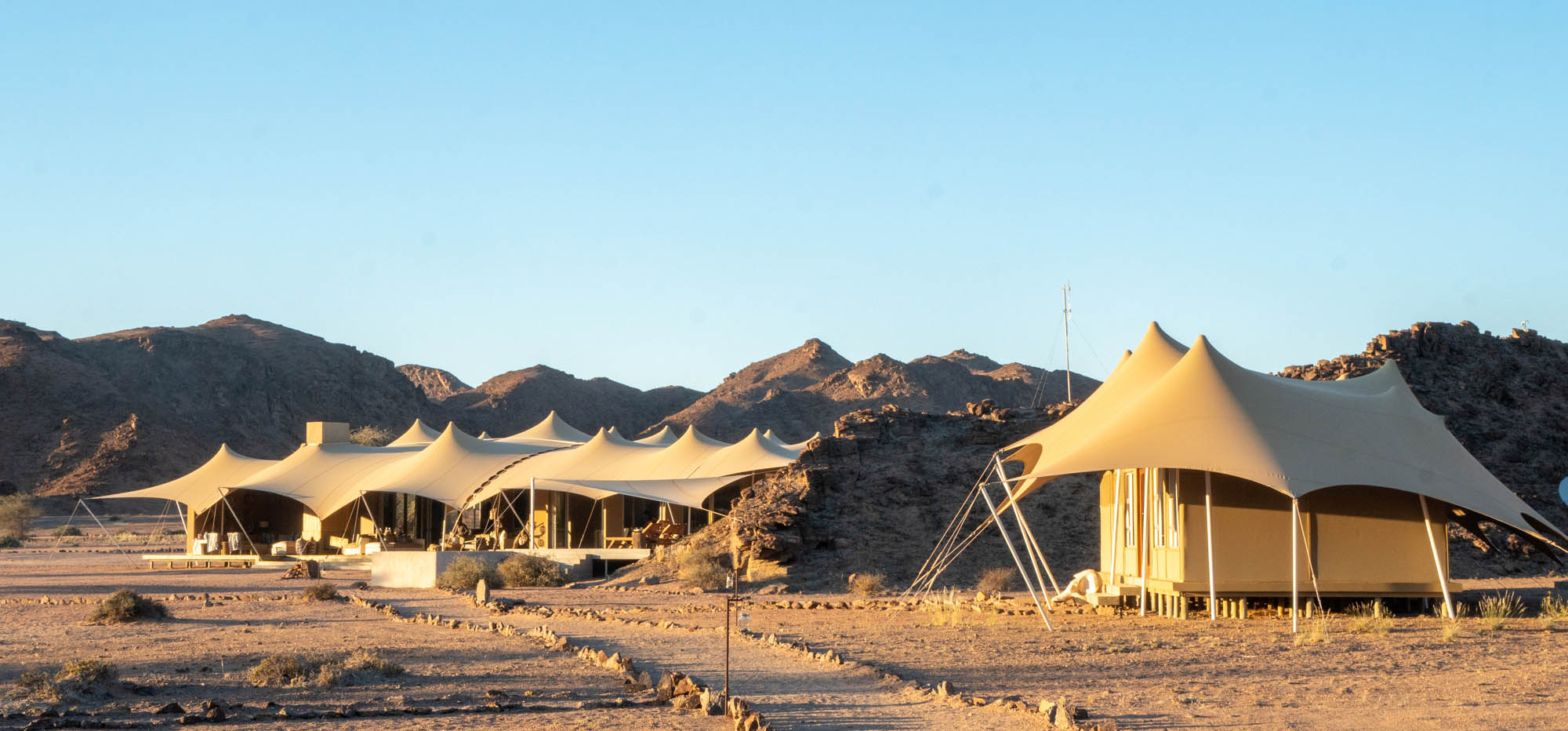 ONGAVA TENTED CAMP AND LITTLE ONGAVA
We inspected both Ongava Tented Camp and Little Ongava and while completely different in what they offer and the level of luxury and size, we will continue to include them in Namibia itineraries in future. Ongava Tented Camp is 'just right': not too big, not too small, not too luxurious or too rustic. Clearly well managed and in good shape, it is ideal for people wanting an intimate, 'close to nature' tented experience, without sacrificing too much in the way of creature comforts. The nine tented rooms (1 family room) are spacious and thoughtfully designed, not too close to each other, and connected by a sandy path. No boardwalk here…
The camp water hole is right in front of the main lounge and dining area and this proximity makes it one of the most popular features of the property. A cozy bar, fireplace and small pool add to the appeal of Ongava Tented Camp. Want to stay here in the dry season from about May through September/October? Be sure to book a year in advance, as it sells out every season.
Little Ongava is Ongava's deluxe property and with just three beautifully designed and decorated rooms, each with its own private sala and rim flow pool, it has everything the most demanding traveler may want or need. Except maybe a small gym…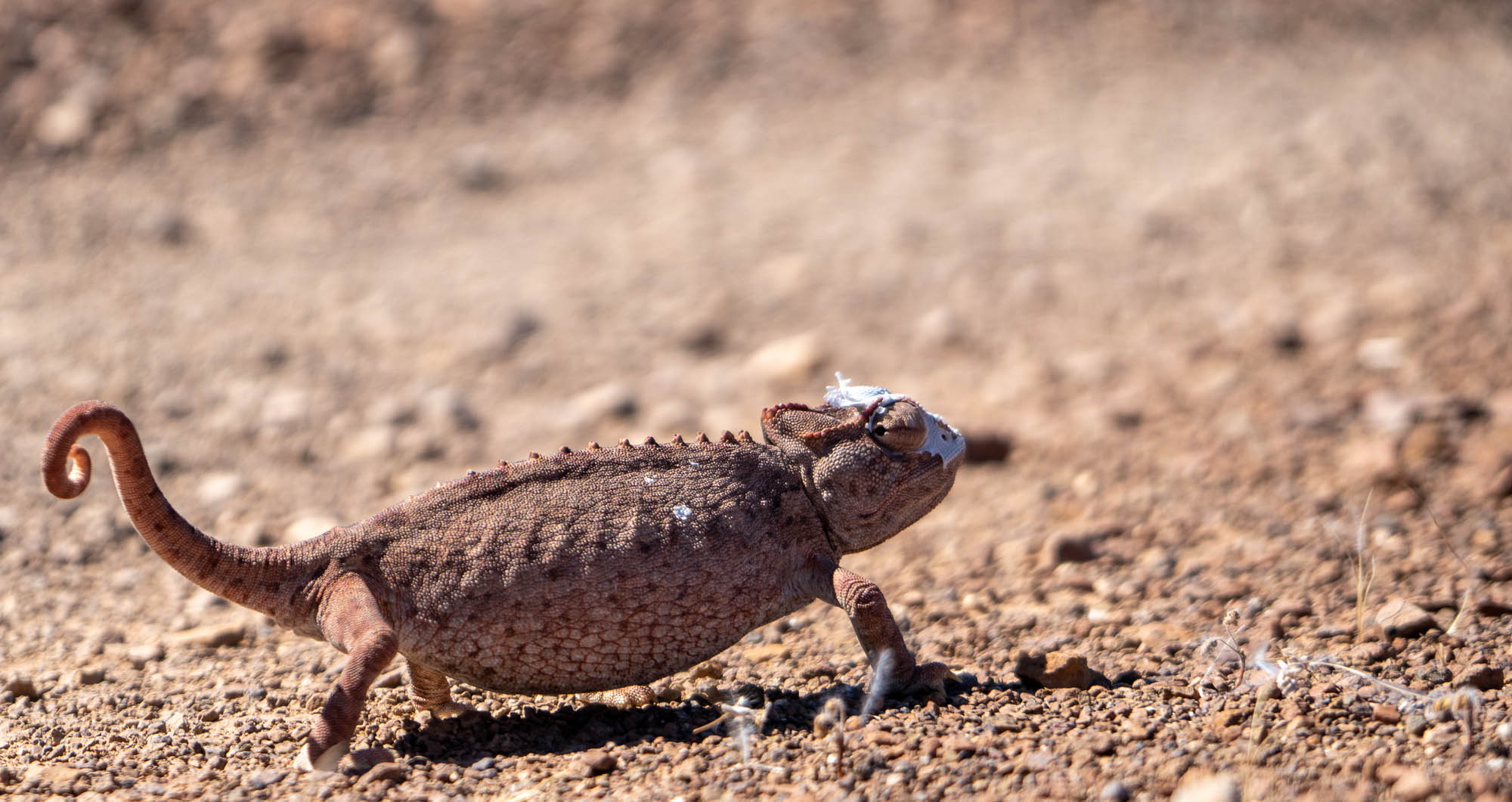 With a large lounge and ample space, a couple seeking a high degree of privacy would be quite happy here. The camp has only one vehicle for regular game drives so would-be visitors may want to book a private vehicle here, if they have specific activities in mind. Generally the camp outing is a morning (first day) outing to Etosha National Park, and an afternoon game drive on the Ongava Reserve. Guests can also walk down to the Ongava Lodge hide. You might see those black rhinos, so better do it…
A morning outing to Etosha, which took about 4 hours out and back, was fun and exciting with a wealth of sightings including several lions, a few elephants, and scores of impala, zebra, kudu, oryx and springbok. The water hole at Okaukuejo Camp was particularly lively with as many as 6 different species in and around the water at the same time.
By the time we reached Etosha it was well after the 'golden hour' so photographic conditions were not nearly at their best. A note of caution: Etosha's roads are dusty! You will be in an open vehicle so you will be driving through some significant dust clouds kicked up by other vehicles. Do take the necessary precautions to protect yourself and your sensitive electronic gear.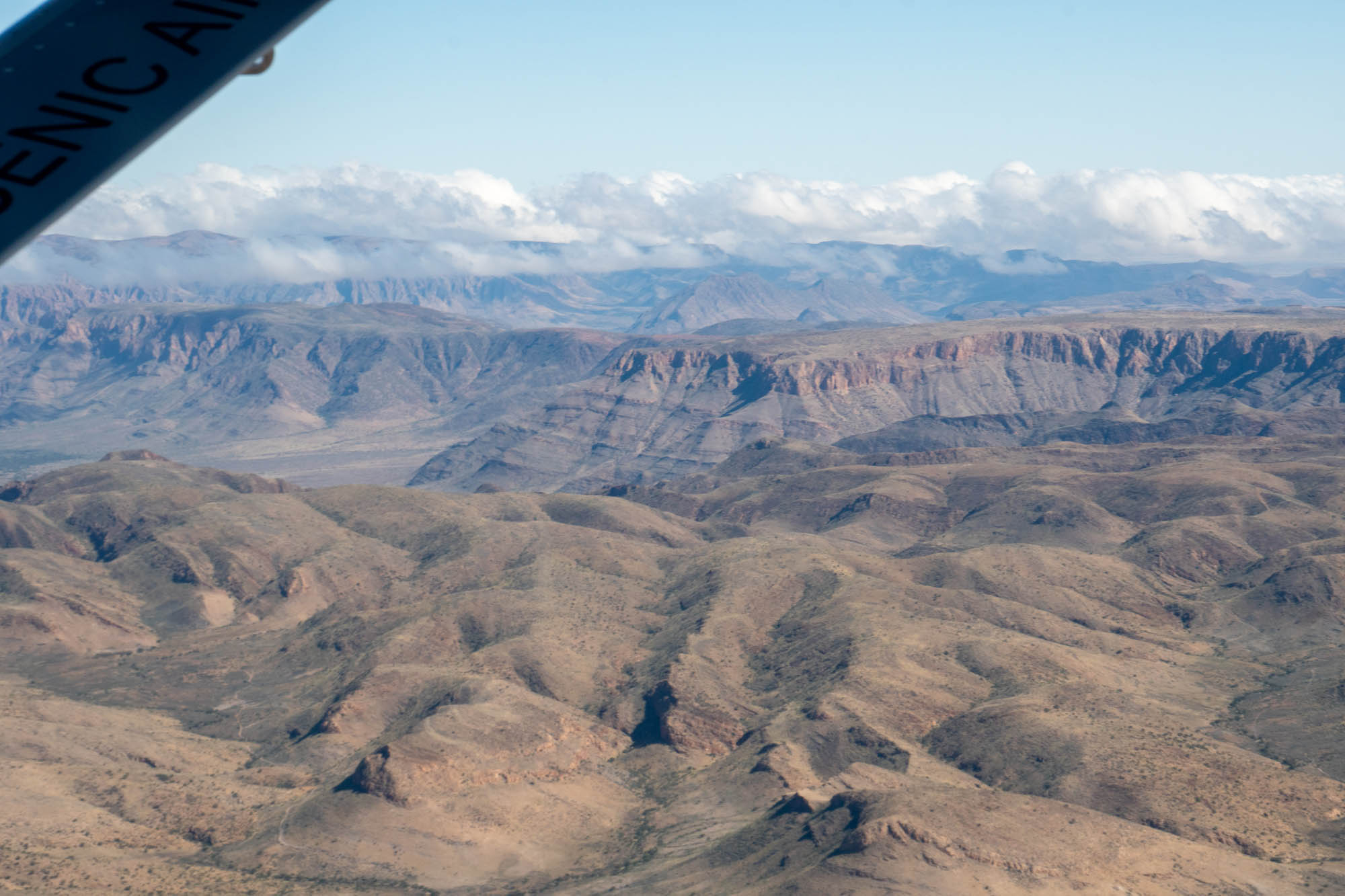 THE ERONGO MOUNTAINS
Kathy and I specifically made time on this trip for a return visit to the Erongo Mountains, which we had not visited in many years. Our memories from our first trip were still vivid though: the appeal of its stark beauty was quickly revived as we drove in from Windhoek, a trip which took about 3 hours or so.
The Erongos is where you take a step back to when a series of cataclysmic events unfolded, about 130 million years ago, resulting in the formation of modern-day Namibia. Standing in what was once a gigantic volcano, the titanic force of ancient geological events is on display all around you. Massive rocky outcrops, jagged peaks, unbelievably huge boulders weathered into weird and fantastical shapes, they are all to be seen there.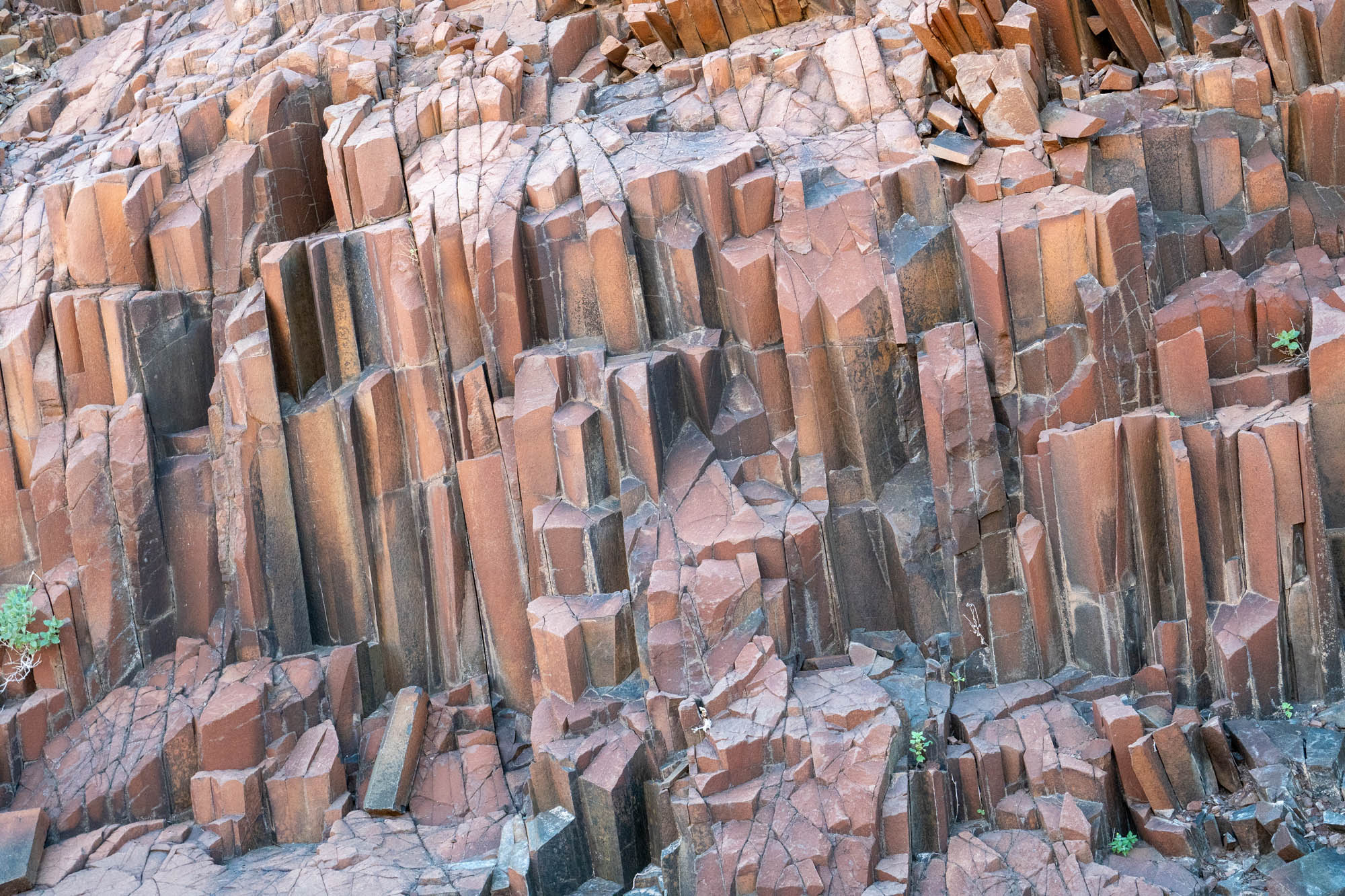 In addition, the Erongos are famous for its San rock paintings dating back around 2,000 years or so, and the area offers a game-viewing aspect as well, with species such as giraffe and Hartmann's Mountain zebra to be seen.
For birdwatchers the Erongo Mountains are special because of the presence of several Namibia endemics such as the Rockrunner, White-tailed Shrike, Monteiro's Hornbill, Hartlaub's Francolin and Damara Red-billed Hornbill.
For most people – other than rock art aficionados and birders as well as avid hikers and rock hounds, the Erongos would probably not feature high on a list of 'must visit' spots in Namibia.
Even so, as a stop-over in-between Swakopmund and Etosha (or vice versa), or between Windhoek and Etosha, it is certainly worth considering for a couple of nights.
We stayed at two lodges in the area.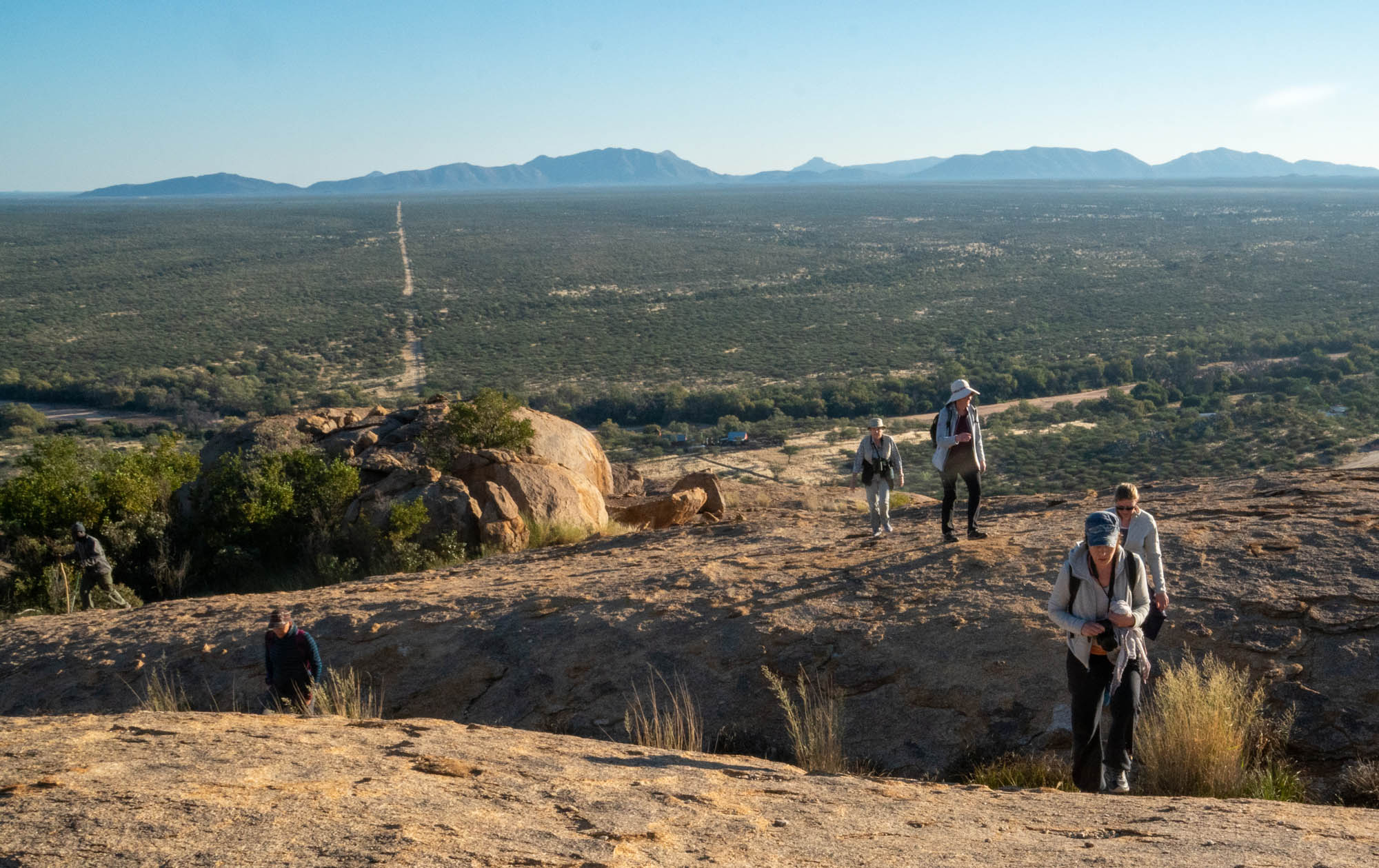 ERONGO WILDERNESS LODGE
Erongo Wilderness Lodge is all about location: wedged in-between a few massive rocky outcrops, the views in one direction are equaled or surpassed by the views in another. Particularly at sunrise and sunset the effect is magnified and no matter which way you turn, the views are simply magnificent.
Our two hour hike out of Erongo Wilderness Lodge the following morning was a fantastic experience, unlike anything we'd done before in similar habitat. Walking and occasionally scrambling up a rocky trail, it took us a good 90 minutes (with lots of stops for educational information) before we reached the summit of one of the two highest rocky ridges surrounding the camp.
As the rising sun lit up the rock faces and cliffs around us, we made our way up and around a few rocky obstacles, one or twice walking up a steep, sheer expanse of rock, with patches of loose gravel making it interesting.
Getting to the summit was worth it, with superb views in every direction. Our capable and chatty guide Gelatius gave us a bit of perspective, talked about the composition of the rock, and helped us to find and observe a Rockrunner, one of the special birds of the area.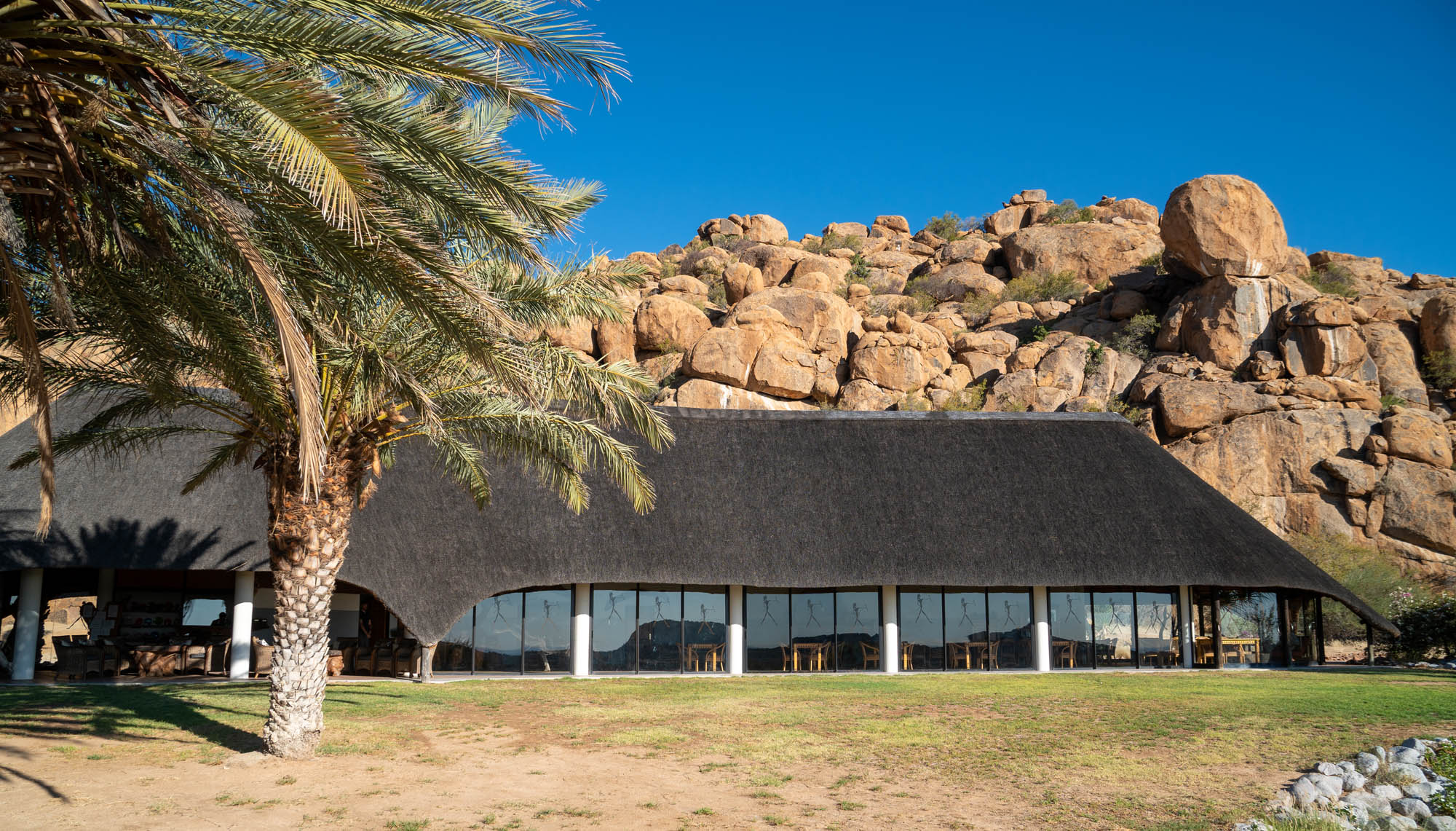 Note of caution: this activity is definitely in the 'strenuous' category. One would expect the 2 to 5 hour hikes along other routes (which we did not have time for) to be more of the same. So anyone with mobility issues, knee or hip problems etc. would be well advised not to attempt this activity. In fact, Erongo Wilderness Camp is not a great choice for anyone with significant mobility issues, as it is not suitable for wheelchairs, with 50 steps (not too steep) from the reception/parking area to the dining room.
In terms of accommodation and facilities, Erongo Wilderness Lodge is on the rustic end of the scale, but in a fun, adventurous sense. The tents are tucked into rocky hillsides, each with an amazing view over the surrounding rock faces.
Lighting, bedding, shower and other necessary requirements of a good safari camp were all adequate, if on the basic side. The bed lacked a bedside table, and the bathroom was cramped. The shower head could also be better. Our room did have a mosquito net which was a bonus.
The dining room – atop a hill – had good views and there were several interesting birds around, including Rosyfaced Lovebirds and Rock Pigeons. The food and beverage choices at Erongo Wilderness Lodge were great and we enjoyed a delicious dinner with a butternut soup and tasty game fillet. Breakfast was excellent too with savory or sweet crepes.
The next morning we were driven about 37 kilometers (23 miles) to Ai-Aiba, our stop for the next night.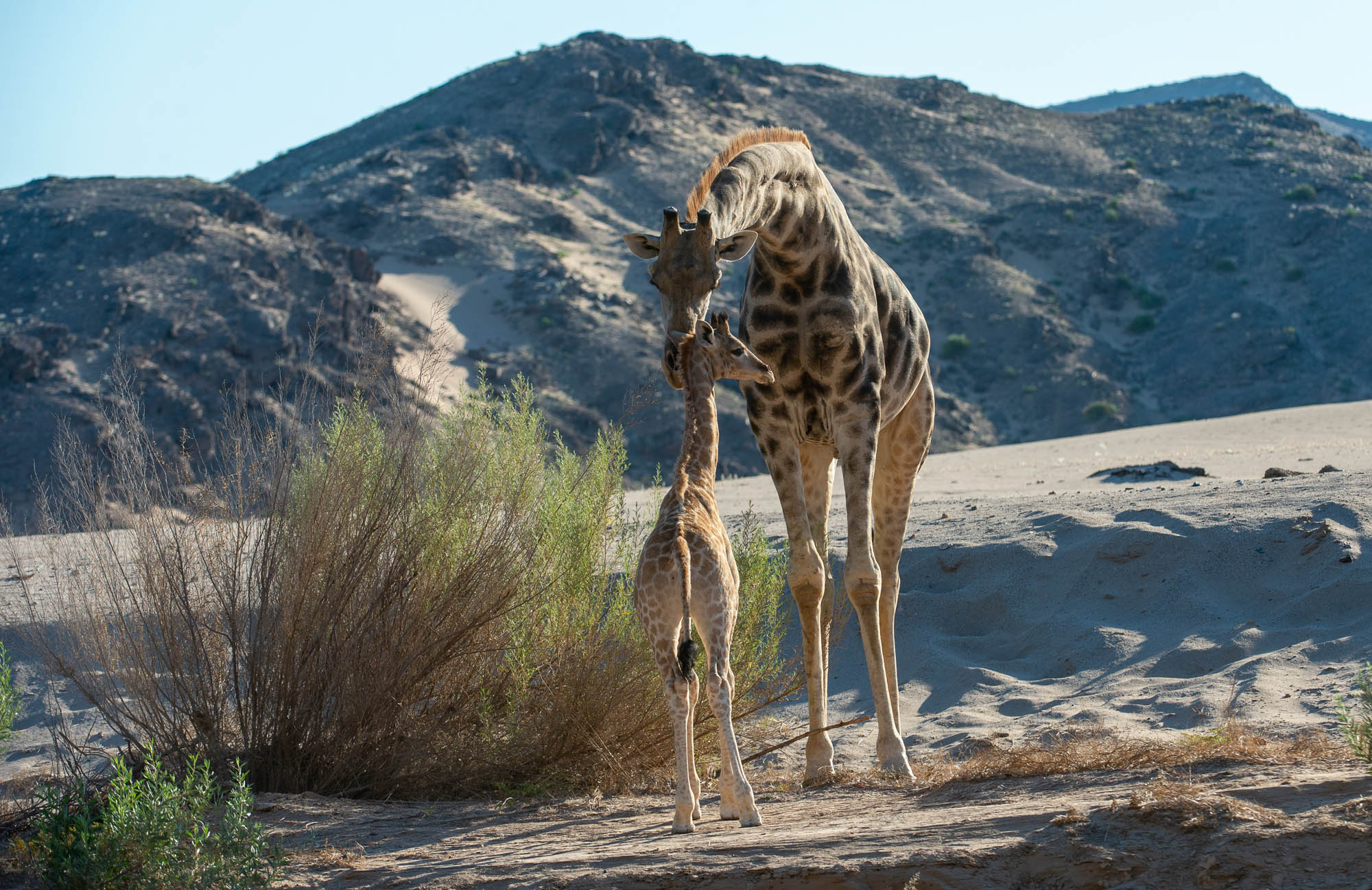 AI-AIBA, THE ROCK PAINTING LODGE
Ai-Aiba, known at the rock painting lodge, has several good things going for it, starting with the spacious and imposing lounge and dining room area. Our two activities at the lodge were among the most enjoyable of the trip. The afternoon activity on the day of arrival (not included in the rate) was a 2.5 hour nature drive with a great guide: Frans. It was a mixture of game-viewing (zebra, giraffe and Damara dik-dik), some rock art (3 sites) and plenty of opportunities to simply appreciate the peace and quiet of the area, as the sun sank below the Erongo mountains to the west. The San rock art paintings were fascinating and puzzling. Estimated to be older than 2,000 years, they were painted by an unknown group of people who were likely passing through the area. Two figures of half-human and half-animal creatures were unusual; most were of familiar objects such as animals – even an extinct one – the quagga.
The following morning we took a 40-minute self-guided walk in the rocky ridge right behind the camp. It's a relatively easy walk, except for the first few minutes which require a bit of a scramble up and around a few rocks. From there on it is plain sailing with more great views, a few San rock paintings and a few special birds (Whitetailed Shrike among others) along the way. Looping around the western side of the camp, a sandy trail takes you back to the lodge.
There were a couple of issues at Ai-Aiba which we mentioned to the camp management as these are easily fixable. The rather unimaginative rooms need some sprucing up (a new color scheme would make a big difference), as will the installation of mosquito nets and making the air conditioning units individually operable.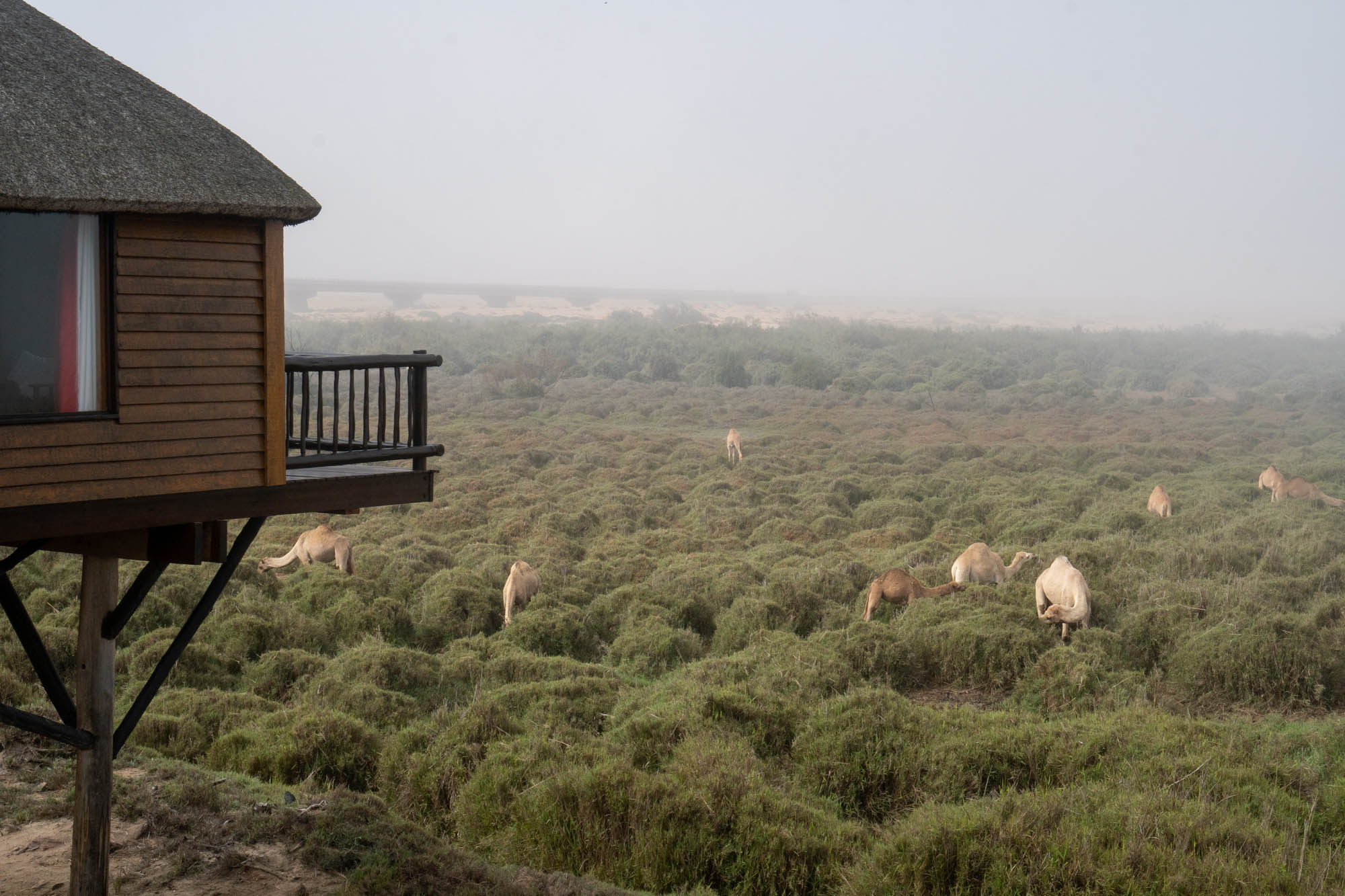 SWAKOPMUND
In Swakopmund we stayed at two hotels, namely Villa Margherita and The Stiltz, and we checked out the Hansa Hotel and Strand Hotel.
Not having been in Swakopmund in many years, we thoroughly enjoyed our rather brief 2-night stay in this quaint, dry coastal town, replete with German influence dating back to the time when 'Deutsch-SudwestAfrika' was a German colony, between 1884 and 1915.
In no particular order, we had superb meals (try the kob 'catch of the day') at Kuckis Pub and The Tug (pronounced 'Tuck'' here). We thought the aquarium was worth a brief visit of maybe 20 minutes or so (it only costs about a dollar), and by contrast we could have spent a lot more time than the 40 minutes we had for the Swakopmund Museum. Its fascinating range of exhibits, topics and artifacts merits at least a couple of hours or so.
Swakopmund is very walkable, particularly along the beach/waterfront and we walked all the way from one of the places we stayed at (The Stiltz) on the southern end of the town, to the Strand Hotel, a more recent addition to the accommodation choices in Swakopmund. The Stiltz is an unusual guest house/hotel with 8 wooden bungalows elevated on a boardwalk, overlooking a wetland with palms and coastal dune bush. It was rather incongruous to see a whole bunch of camels out there, one afternoon.
Our first night was spent at the colorful and whimsical Villa Margherita, which has an uptown location, a few blocks (but again eminently walkable) from the center of town. Our stay there in a cozy king room was comfortable, if somewhat chilly. Oddly, there was no central heating but an electrical blanket and a good duvet kept us warm enough. All of the rooms at Villa Margherita are individually decorated, colorful and definitely stylish. Only one or two have bathtubs, some may be a bit noisier (on the street) than others. The hotel caters well for small groups and families. Our only meal at Villa Margherita was breakfast and it was excellent.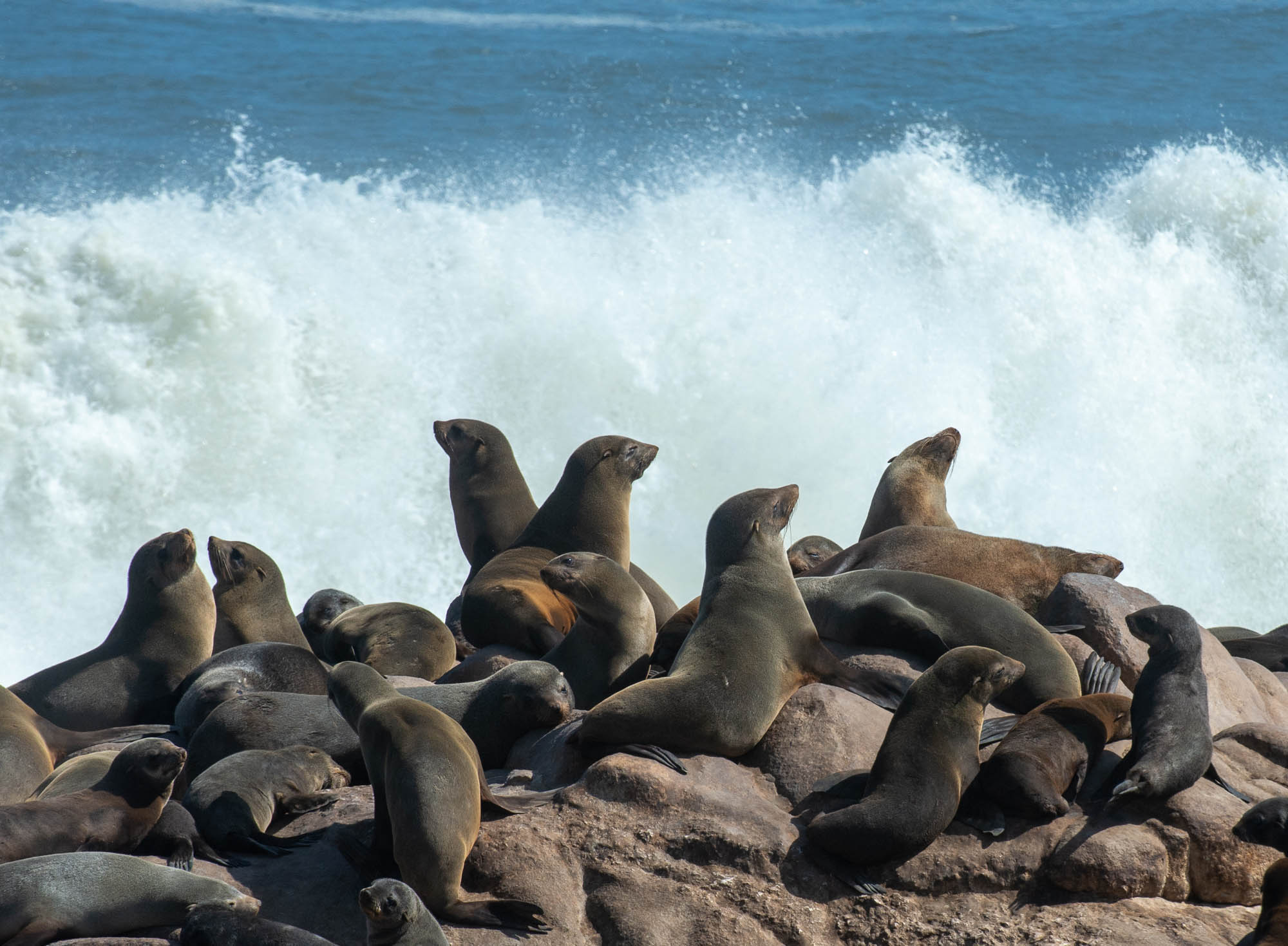 HOANIB SKELETON COAST CAMP
Having visited Wilderness Safaris' original Skeleton Coast Camp inside the Skeleton Coast National Park several years ago, we had been anticipating a visit to their 'new' Hoanib Skeleton Coast Camp, for some time. Hoanib Skeleton Coast Camp is already in its 5th year of operation, and remains as popular as the day it opened.
Just like at its predecessor, our stay at Hoanib Skeleton Coast Camp was an otherworldly experience. Visitors enter an environment which appears to be anathema to any and all life forms, yet it turns out to be bursting with organisms big and small, from enigmatic desert adapted elephants to sassy Tenebrionid beetles. In fact, the game-viewing far outstripped our expectations. There were elephants, giraffes, oryxes, brown hyenas, jackals, springboks – and lions. And many more birds than one could ever imagine. It all starts with the coastal fog which cloaks the area at night, leaving behind life-giving condensation, eagerly utilized by beetles and many other organisms eking out a living in this harshest of environments.
The diversity is astonishing. Driving along the well-vegetated Hoanib riverbed, you're constantly in and out of groves of massive Acacia Albida trees. Yet just beyond the edge of the river lies a moonscape of rocks, wide expanses of sand in motion, and often achingly beautiful gravelly plains interspersed with ribbons of finely patterned sand dunes and bordered by rocky outcrops.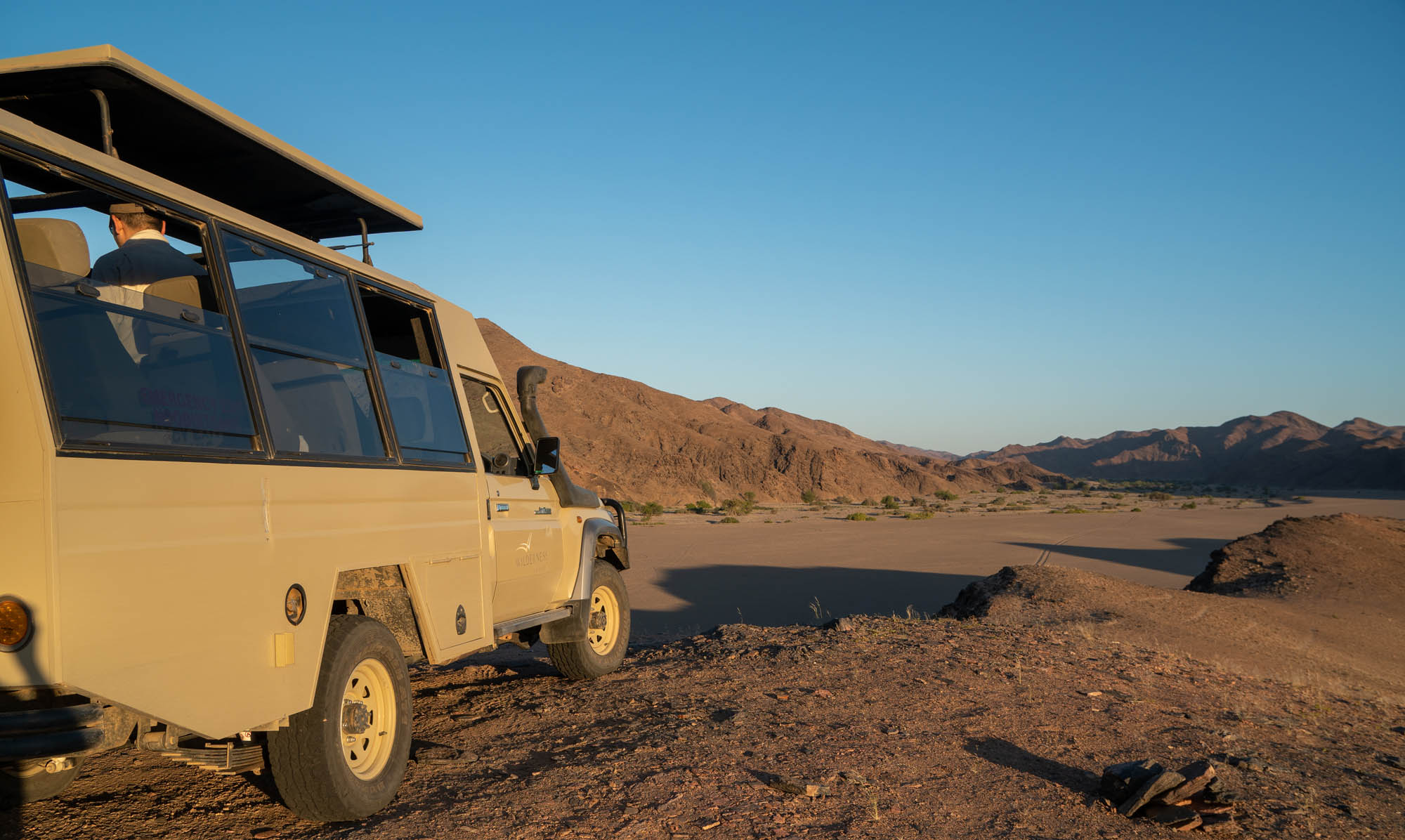 The overriding impression is one of awe and apprehension. Clearly this is not a place to get lost or stranded, or explore on your own unless you are part of a convoy of 4-wheel drive vehicles. Maybe then…
Hoanib Skeleton Coast Camp itself is a small oasis of luxury in this unforgiving, yet astonishing landscape. The main lodge and dining room decor is minimalist but striking and fits in perfectly with the stark desert environment. It is a nicely dove-tailed, sand-colored tented structure with large glass windows and doors. With plenty of natural light and lots of space, tucked in behind the eastern side of a ridge, the camp is apparently well-protected from prevailing desert winds. We enjoyed our spacious and well-equipped tented room (on the left side of the lodge looking out towards the pool). This side of the camp is preferable I think over the 'right hand' side, where guests can hear vehicles coming into and leaving the camp.
As for activities, a stay of three nights minimum is highly recommended in order to fit in the wide range of outings on offer. By all means do a nature walk in the area in front of camp and down to the sizable Hoanib Riverbed. It was not flowing at the time we were there, but clearly a significant volume of water had rushed downstream not many weeks previously, as was evident from the abundant vegetation and the telltale signs of water erosion and massive patches of drying, cracking alluvial clay. It is a beautiful spot to be, particularly towards the end of the day when the feeling of desolation and utter remoteness is amplified.
Game drives in the area around the camp were super productive, with a simply unending stream of photo opportunities presenting themselves. This is truly a photographer's dream with so much contrast, texture, life and pattern on display – and of course the most gorgeous light, early and late.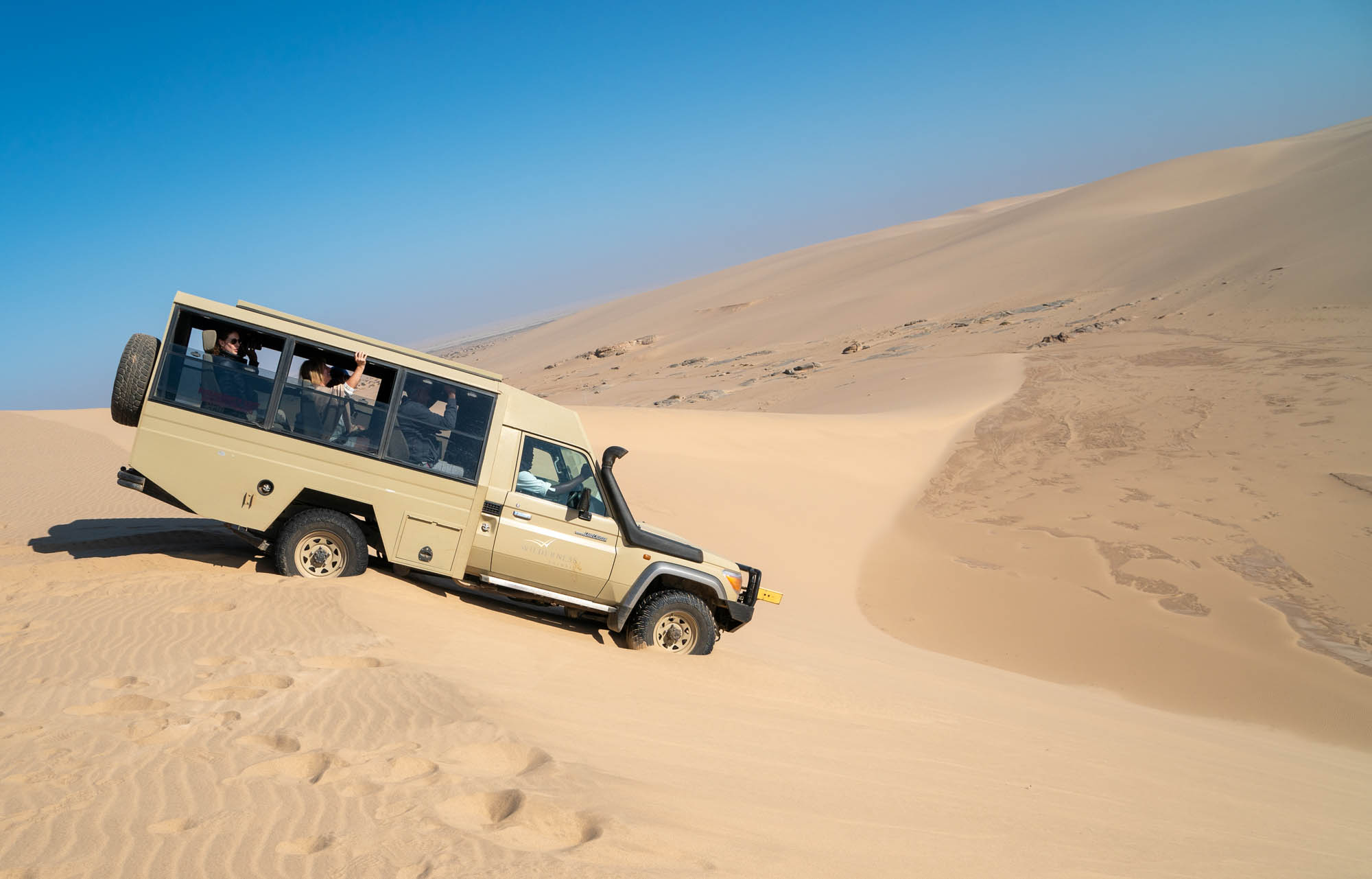 FULL DAY OUTING TO SKELETON COAST NATIONAL PARK
Our day outing into the Skeleton Coast National Park was fascinating and loaded with highlights. It started with lions in the morning, beautiful gemsbok against the dunes and then elephants in the most perfect morning light one can imagine. All pretty much before the sun was even completely up. From there it was a case of strapping yourself in tightly, as there were long stretches of exceedingly bumpy – downright rough – tracks to be negotiated before we made it to the coast. On the way there was an interesting stop at a couple of massive dunes for a fun slide-ride down a dune, in the vehicle. And an opportunity to fake some super high jumps, with a stunning dune-field in the background.
The coastline itself is no less rugged than the interior of the park. The scene of many tragic and costly shipwrecks over the years, it is dangerous on many levels, with no water, unreachably far from inhabited areas and accessible only by aircraft in a few spots, and by experienced 4-wheel drive operators. We got up close to one of the many wrecks littering the area and the sense of doom is pervasive. One can almost feel the despair of the sailors and the captain and it is not hard to imagine the ordeal they must have endured until they were rescued. Or not.
Soon enough, there was relief in the way of a splendid picnic lunch which was served right on the beach. The four of us – we were traveling with a lovely German couple – faced the ocean as we excitedly relived the day's adventures, while tucking into the delicious fare which had been brought along.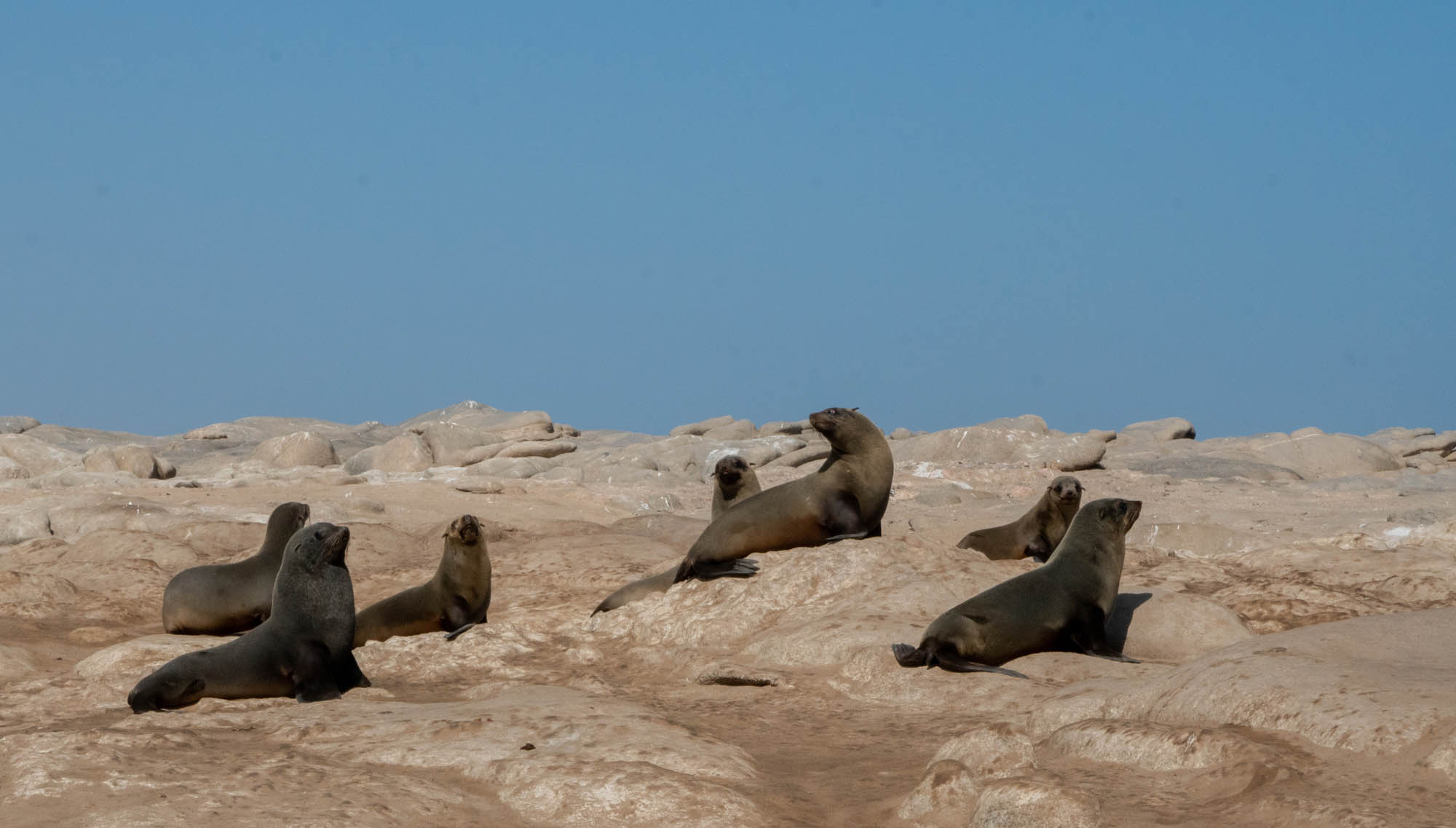 Later on, we observed the antics of a large colony of Cape Fur Seals, spread out on the rocks right in the face of a never-ending series of breakers furiously crashing just below them. Scavengers like the Brown Hyena and Black-backed Jackals are often seen lurking on the perimeter of the seal colony, opportunistically dashing in to dispatch a misplaced young animal or a sickly individual. Life is harsh here, and the margin between survival and premature demise is clearly razor-thin. It was with a sense of quiet relief that we took our leave of this wildest of wild places, got back into the vehicles and were then driven to the nearby airstrip from where we flew back to Skeleton Coast Camp. The outing to the coastline and the flight back is a 'value add' bonus for guests staying three nights or more. Occasionally it has to be cancelled in the event of excessive coastal dune fog or other adverse weather conditions.
Hoanib Skeleton Coast Camp is certainly special and the experience there is quite unlike what one would expect to experience at almost any other Wilderness camp, with the possible exception of Serra Cafema. The surroundings, the dunes, the coast itself, and the surprisingly abundant wildlife all combine to make it an unforgettable place and experience. It's a popular ticket, so book your spot well in advance!
YOU MIGHT ALSO BE INTERESTED IN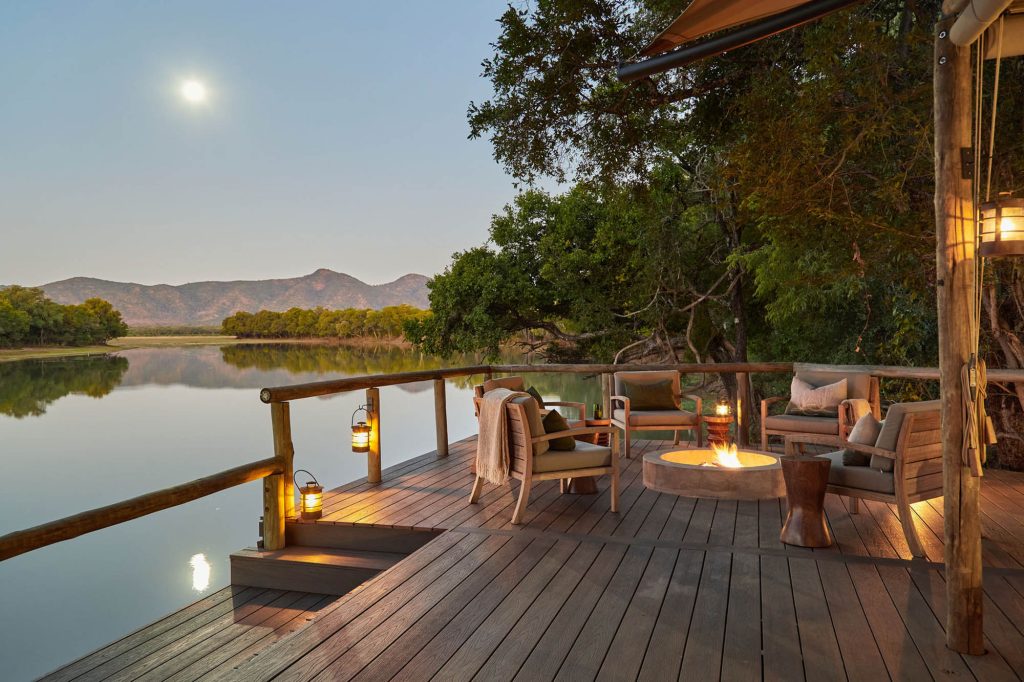 10th Sep 2021
Chindeni and the Bushcamp Company, Zambia
By late July we found ourselves at Chindeni, a small Bushcamp Company property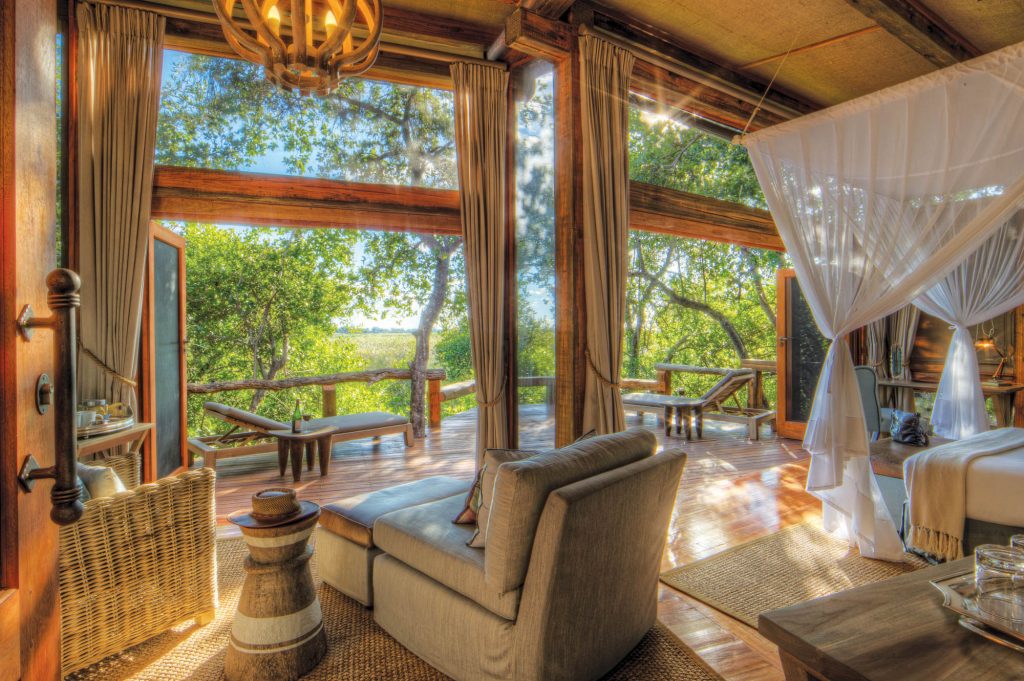 3rd Oct 2022
Camp Okavango, Botswana
Camp Okavango is in the heart of the permanent part of the Delta. In this idyllic setting there are no vehicles, and it is just a short walk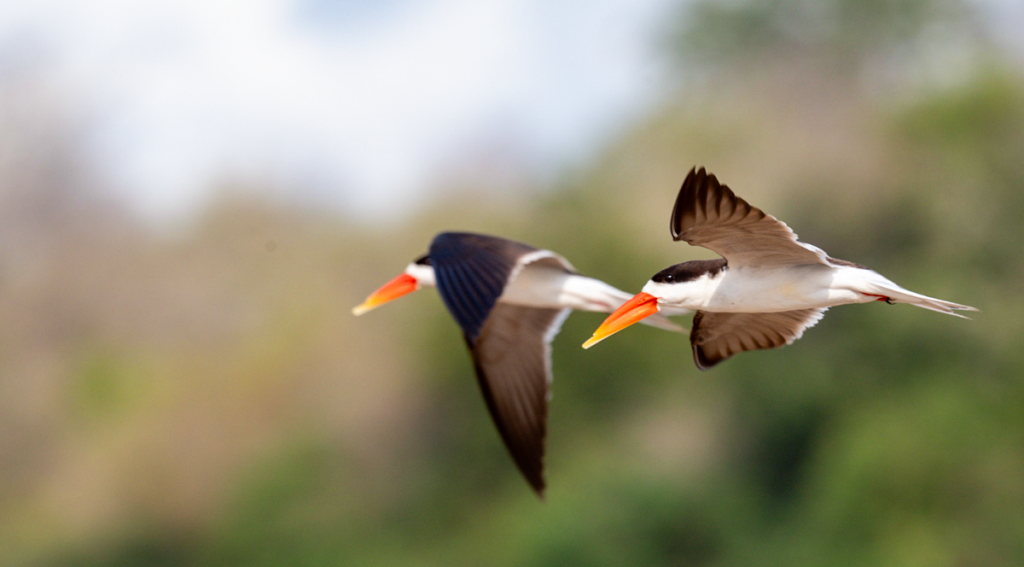 14th Oct 2023
From My Safari Notebook: Wildlife Photography
Birds in flight and wildlife photographers have an uneasy relationship. Things go wrong as often as they go right. Getting focus-lock on a moving subject
SUBSCRIBE TO OUR NEWSLETTER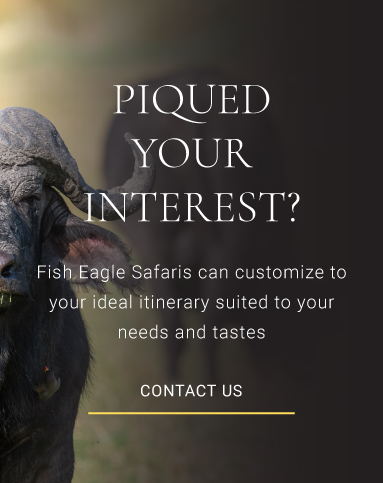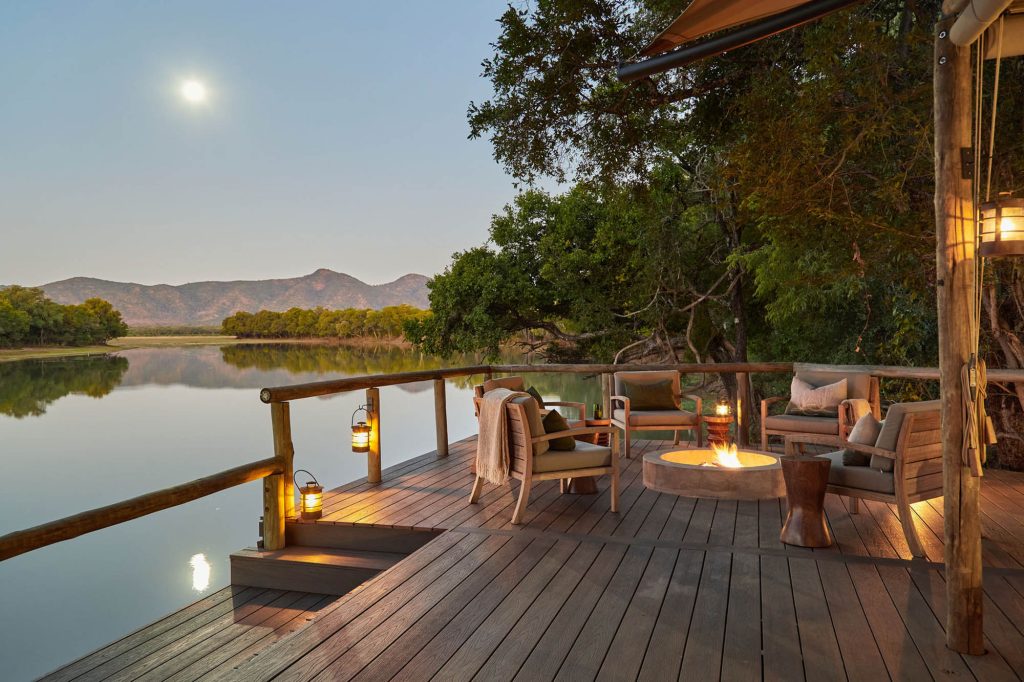 10th Sep 2021
Chindeni and the Bushcamp Company, Zambia
By late July we found ourselves at Chindeni, a small Bushcamp Company property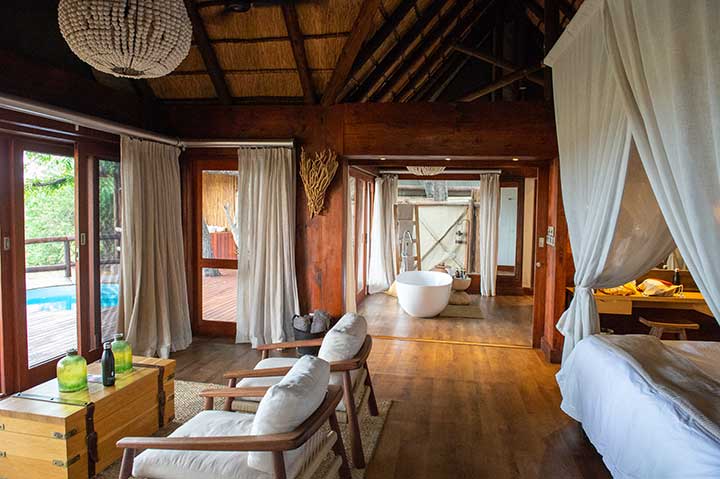 4th Aug 2022
On Safari At Belmond Eagle Island Lodge, Okavango Delta
What is the 'secret sauce' for an unforgettable few days on safari in Botswana? It starts with the animals, of course. The elephants, lions, giraffes, hippos