Ruaha National Park
Almost everywhere in Africa baobab trees are somewhat of a rarity, an object of special attention. Sometimes referred to as 'upside down trees' because of their rootlike branches reaching into the sky, they are the weird uncles of the world of trees. Fifteen fashion cycles behind everyone else but blissfully unaware of it. 
Where they do occur, baobabs are usually counted in ones, twos and threes. Just not in Ruaha National Park in central Tanzania. Here, baobabs are present in tens, hundreds and thousands, with many of them as old as 500 to 1,000 years. In Ruaha, sandy dirt tracks wind past veritable forests of these bizarre behemoths. It doesn't take a keen observer long to figure out that no two baobab trees are alike. From just thick to grotesquely distended, each elephant-grey trunk and set of spindly branches is unique. Tall, short, squat, triangular, twisted, knobby, full of holes, old, ancient and somewhere in between. The baobabs of Ruaha are faces in a crowd, fingerprints in a police ledger. With stories to tell for those willing to pause and listen and dig a little bit deeper.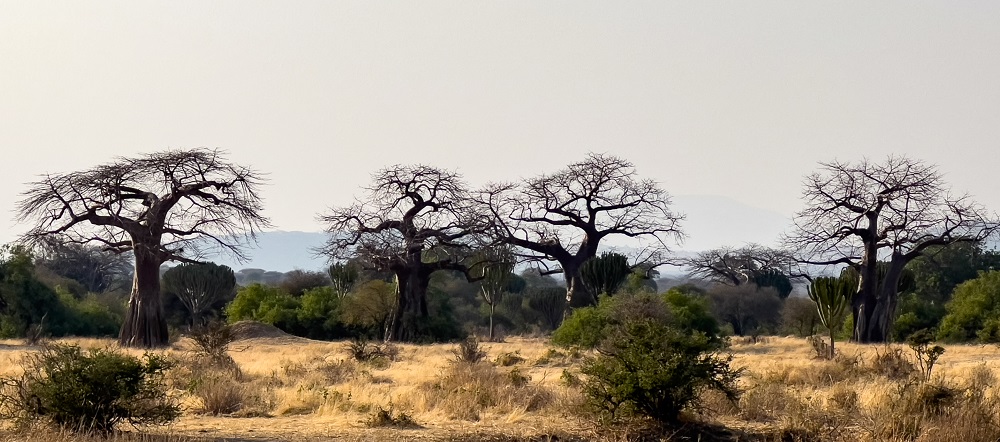 In Ruaha the baobabs are as different as stamps in a collection, yet they all tell a similar tale. Of being favored by one other ubiquitous inhabitant of these beautiful wooded slopes and valleys: Loxodonta africana, the African elephant. Their numbers fluctuate but Ruaha is home to around 12,000 of these massive, voracious feeding machines. When they're not eating grass, or leaves or twigs – mostly when those are in short supply during the long dry season – they turn to bark. Often the thick, fibrous, water-retaining bark and wood of the baobabs. Elephants instinctively know that baobab trees store considerable quantities of water – so all the more reason to utilize them when water is scarce. Of all of the hundreds of baobabs we saw in Ruaha not a single one was unmarked by elephants and some were heavily ring-barked to the point where their survival was at risk.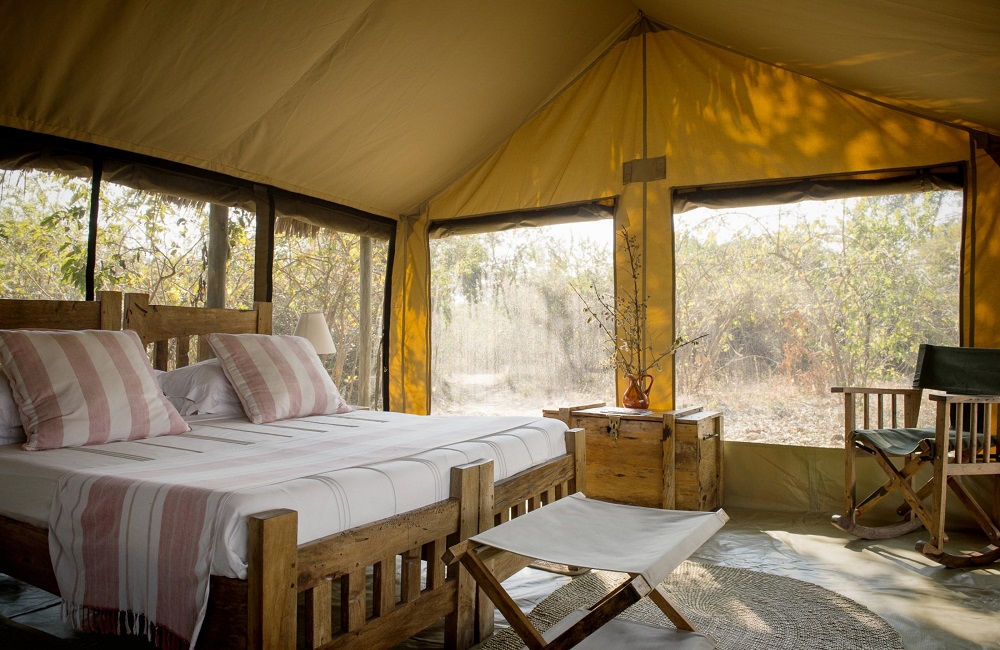 Kigelia Ruaha Camp
Our three days in Ruaha were spent at Nomad's Kigelia Ruaha tented camp. It is minimalist by design, but not short on charm. A modestly sized raffia-covered lounge area with a mess tent around the corner make up the central area. At night, with judicious use of some hanging lights and a cozy open fire-place – often referred to as the 'bush TV,'  the area was transformed into a romantic 'dinner under the stars' setting.  
Six classic tented rooms are spread out along the edge of a heavily sanded seasonal stream, bone dry at the time of our visit. Even so, elephants habitually dig into the sand for subterranean water. They can often be heard at night feeding on the tamarind trees in and around the camp. There is a family tent as well – essentially two identical tents next to each other with a covered inter-leading passage. The rooms have a small en-suite bathroom with two basins with room temperature water on tap and a flush toilet. There is an enclosed outdoor shower area – reached by way of a zippered door – where hot showers can be enjoyed on demand. The traditional bucket shower arrangement has enough water for even two people to take a shower.   
Why select Kigelia and Nomad Tanzania safaris in particular? One good reason. Every party traveling with Nomad automatically gets allocated a private vehicle and guide. As safari aficionados know only too well, having your own private guide and vehicle on safari is a huge advantage. Like flying private versus commercial. No comparison.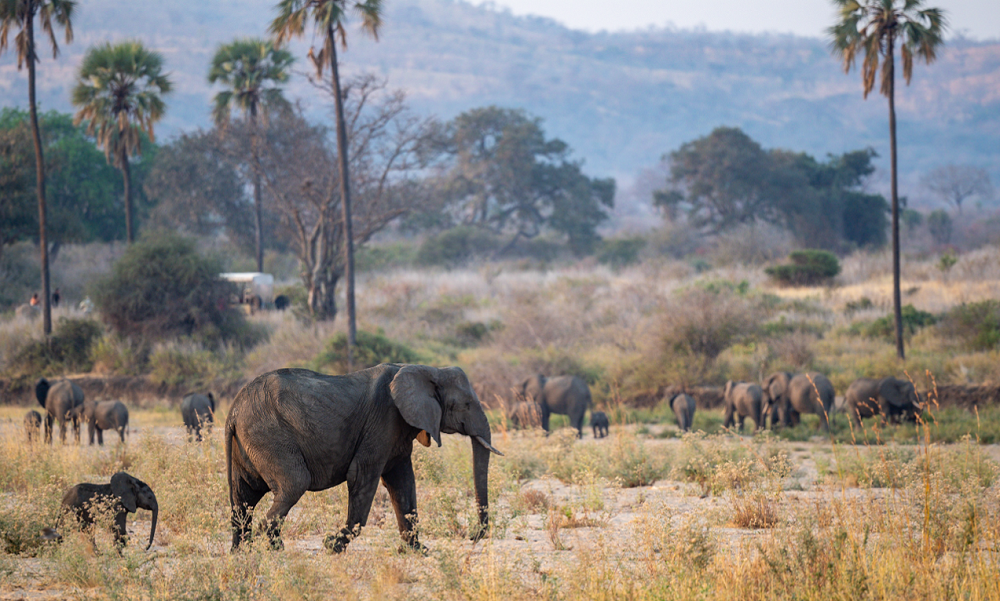 Activities at Ruaha beyond game drives include walking safaris (book in advance), night drives and balloon safaris. On our final day, the participants on a balloon safari saw both a male lion and an unfortunate leopard which had been killed by the lion that very morning. Night drives have lots of potential for sightings of rarely seen animals like honey badgers and nocturnal birds like owls. The potential is not always realized but if you don't play, you can't win.
Among other camp options in Ruaha are two luxury properties, namely Asilia's Jabali Ridge and Ikuka. Mwagusi (close to Kigelia) is a classic camp which has been owner-operated by long-time guide and area expert Chris Fox since 1987. Depending on your interests you may consider a seasonal tented camp like Flycatcher (dry season only) or perhaps Kichaka Expeditions which focuses exclusively on walking safaris. We had previously met the owner, Andrew Molinari (better known as Moli) when he was guiding at Jongomero camp in Ruaha. Moli is a near legendary walking guide and being out in the Ruaha wilderness with him on foot is a truly adventurous wilderness experience.  

Wildlife in Ruaha
Over the course of three nights at Kigelia we did see a fair number of elephants, a large pride of lions, some buffaloes and plenty of giraffes. Other wildlife of interest included small groups of zebras, greater and lesser kudu, warthogs, a smattering of hippos and crocodiles, bushbuck around the camp, hundreds of impalas, Grant's gazelles, a few groups of eland, jackals and a solitary oribi. Some of the other guests saw leopards, a 400-plus herd of buffalo, hyenas and bat-eared foxes. Overall the bird life was excellent and we identified around 60 species without really trying very hard. 
From the perspective of a serious amateur photographer, there were fewer really outstanding photo opportunities than I had anticipated. To be sure, luck played a role as most of the other guests came back from game drives with much better stories than we did. Maybe Kathy and I had used up our luck in northern Kenya with two cheetah kills in one day.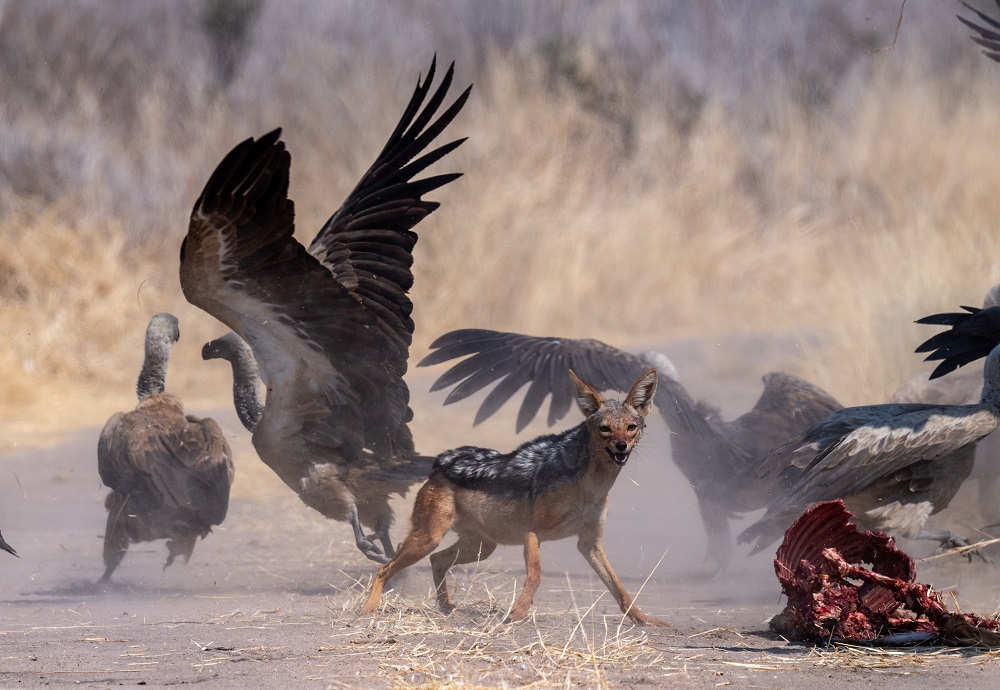 However, our two previous visits to Ruaha were not dissimilar from a purely game viewing perspective. Which leads me to the conclusion that the area's wildlife density may be somewhat overstated in most websites and blog posts. Particularly relating to the number of lions. Ruaha is widely credited as having ten percent of all of Africa's lions, currently estimated to be around 24,000 or so. I don't think so. A scientific survey conducted by Kimaro et al in 2019 estimated the lion population of Ruaha to be around 200 to 280 for the dry and wet season, respectively. Lion density in Ruaha is about half that of the Serengeti and one fifth of the Masai Mara.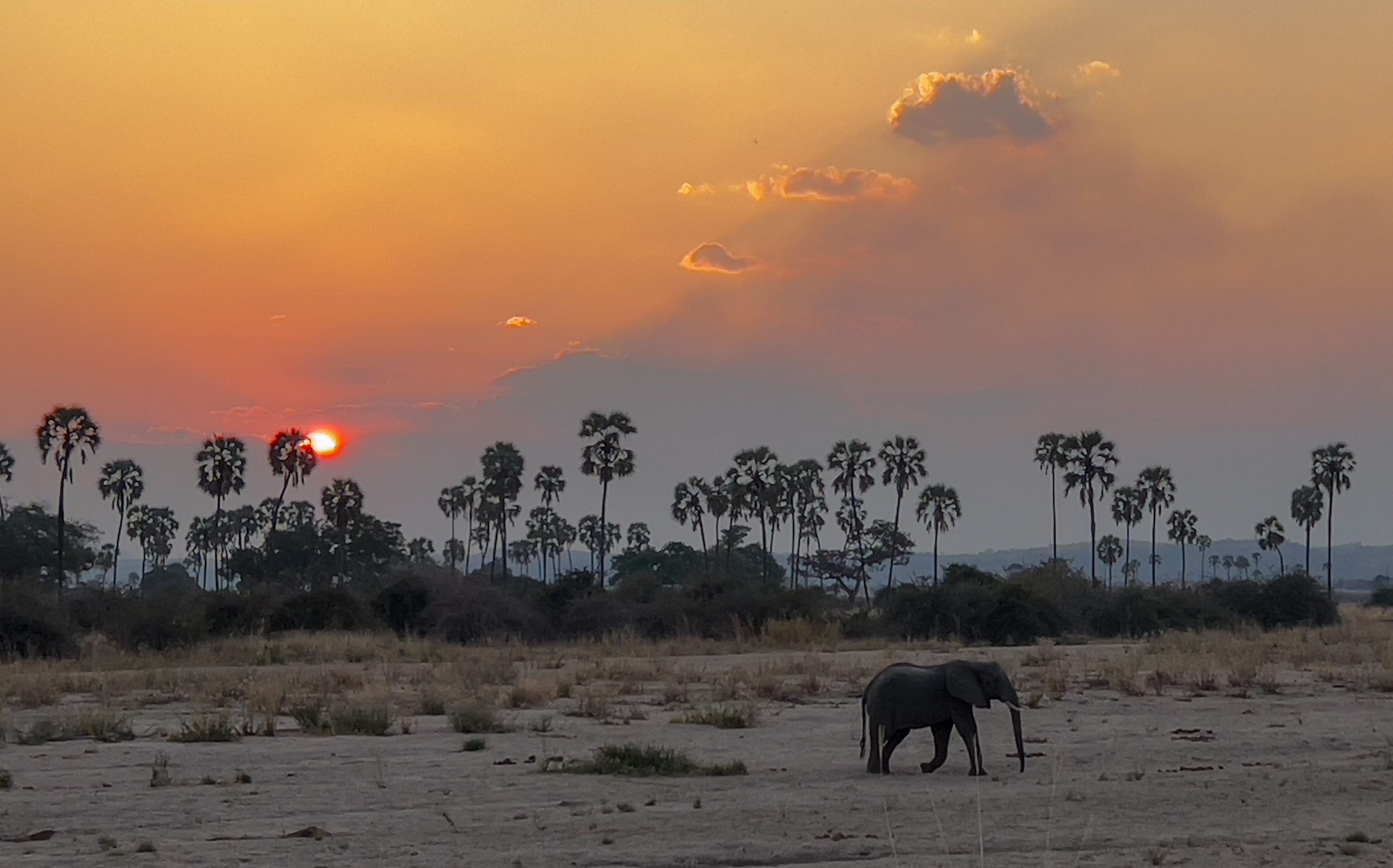 Why Ruaha
What do I suggest? By all means visit Ruaha because it is spectacular and simply dripping with atmosphere of the Africa of old. I've already referred to the baobabs and I can't overstate just how amazing they are. Driving around the Msembe area of Ruaha in the late afternoon just before and particularly after sunset is truly unforgettable. It's like being in a nature documentary with the gorgeous opening footage on a loop. 
If you want to have your cake and eat it, combine Ruaha and Nyerere national parks with some time spent in the Serengeti. Preferably In that order. You'll enjoy the 'old Africa' experience in the south, marveling at the setting and maybe trying a couple of different activities. And then go on to the high octane, wall-to-wall 'big five' experience of Ngorongoro Crater and the Serengeti. 
Nyerere National Park
Our single best boat safari – in a very long time – was a hybrid affair: I mostly wanted to get photos of some African skimmers in flight. The previous day, I had seen quite a few of these elegant, tern-like birds congregating on a sandbank in front of Sand Rivers Lodge. Kathy wanted to take another shot at fishing in the Rufiji river. As it turned out we both got what we wanted and then some. But first a few words about Sand Rivers Lodge. 
When we first visited Sand Rivers Selous (as it was called then) in 2008, it was love at first sight. We couldn't get enough of our room with its totally open to the front design and its location within hearing distance of the burbling water of the mysterious Rufiji, a vastly underrated African river.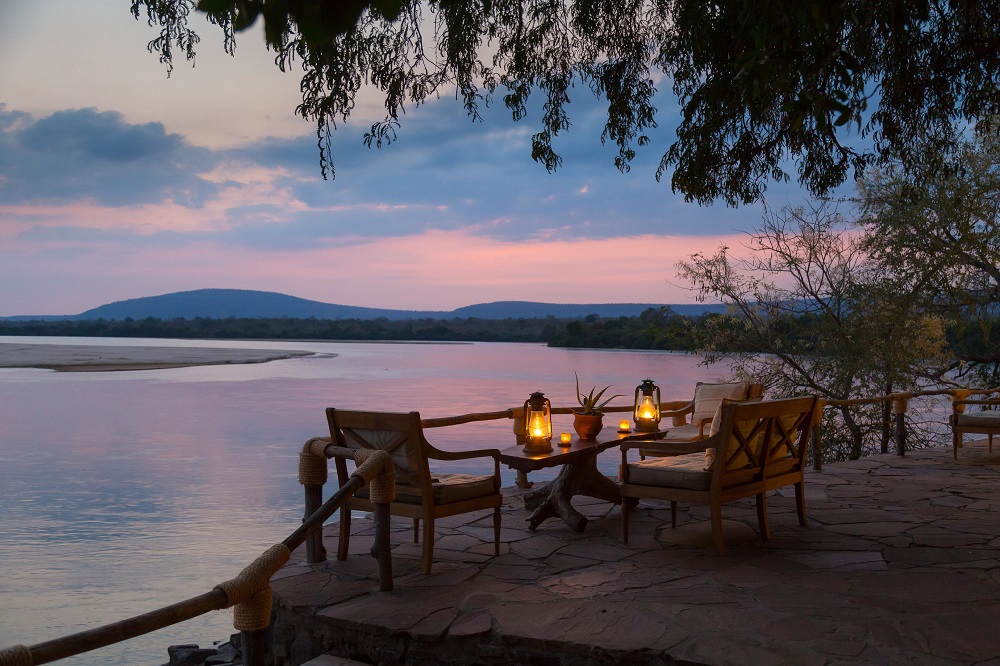 A second visit in 2014  served as somewhat of a reality check. In the intervening years the elephants in the northern part of the (then) Selous Game Reserve had been heavily poached, and we could tell the difference. Our guide had to work really hard to find elephants. To be sure, we were there just after the rains so overly thick vegetation exacerbated the situation.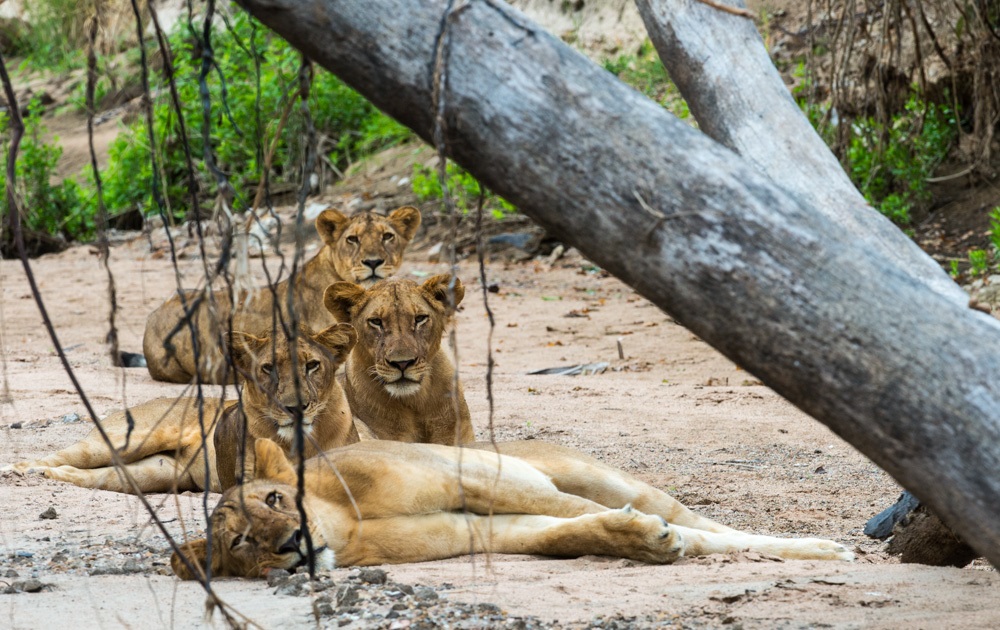 Wildlife in Nyerere National Park
Fast forward another nine years or so and it appears that elephant numbers in the northern Nyerere National Park have stabilized, albeit at reduced overall numbers. We saw several small herds and lone elephants on an extended morning game drive and in the afternoons they can be reliably found in a marshy area not far from Sand Rivers Lodge. 
Our extended morning game drive in the area delivered several other sightings including, of course, impalas in the dozens and hundreds, a good sized herd of eland, a smattering of both plains zebras and wildebeest, lots of giraffes, and a large pride of lions numbering no less than 17 total. 
The lions had taken down an adult buffalo and unfortunately the kill attracted just a little too much attention. Once word got out, a bunch of other vehicles showed up and by midday there were almost 20 cars around the kill. Several of the vehicles were 'day-trippers' from Zanzibar (they fly from Zanzibar to a Nyerere airstrip and then drive in the park). We were a bit taken aback to observe this many vehicles at a sighting in Nyerere National Park. Guests staying at Sand Rivers are able to avoid a situation like this by getting to a sighting either earlier or later. Or simply by finding their own lions closer to camp as we did the following day.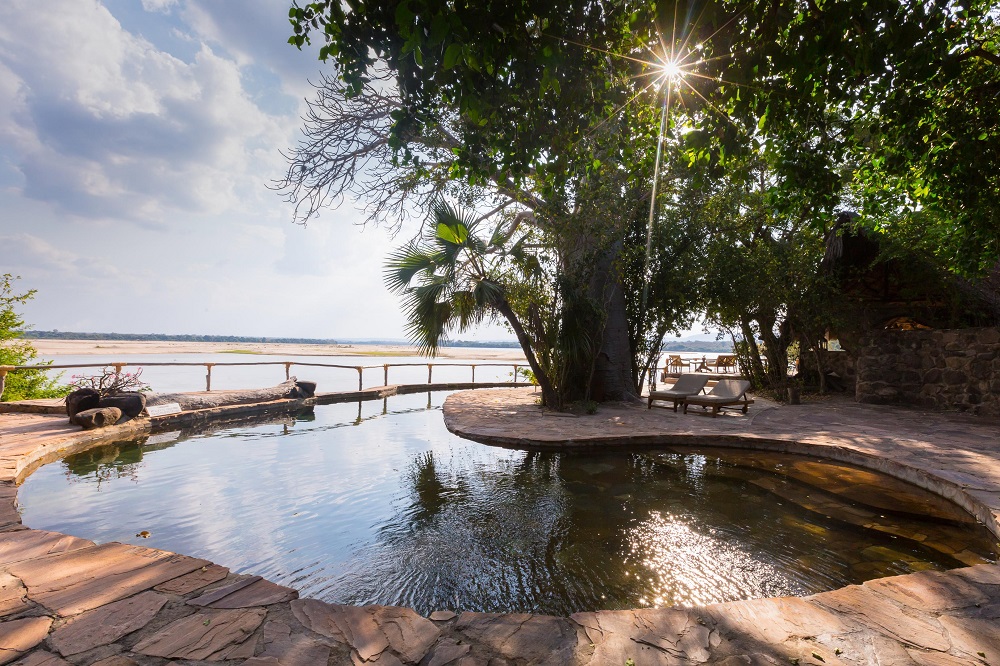 Sand Rivers Lodge – an enduring favorite
Which brings me back to some of the changes at Sand Rivers. The layout of the main lodge – which overlooks a particularly photogenic stretch of the Rufiji river – had been changed – for the better. The lounge and dining areas had been switched and the lodge now has a more open, breezy feel to it. To be sure, if I hadn't been told about the changes, I probably wouldn't have noticed. 
Sand Rivers is still a 'one of a kind' property with a setting that is rivaled by just a handful of other safari properties in Africa. The grandeur, the tranquility, the closeness of the Rufiji – it's hard not to like this place. The omnipresent hippos are constantly communicating with each other, their far-carrying honking calls reminding visitors about their good fortune to be in the African wilderness. More than once I was drawn to the edge of the Rufiji, watching its waters rush by on an endless, mesmerizing loop. At Sand Rivers, overlooking the Rufiji, there is not a bad seat in the house, whether at the bar, in the lounge, the dining room or in the open seating area by the pool. I'm sure I'm not the only one who likes to linger there before and after mealtimes.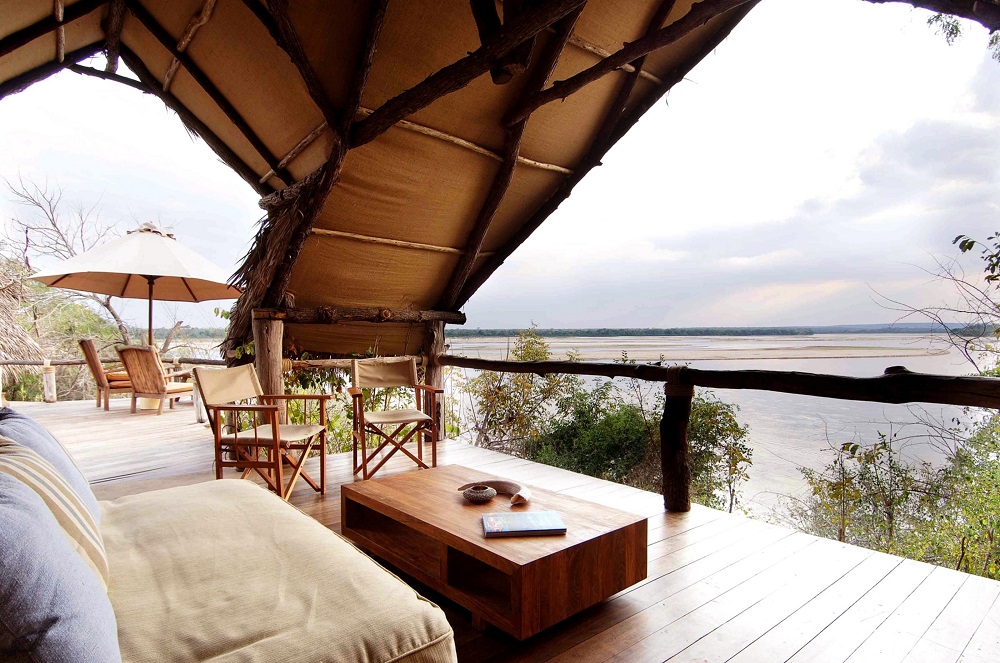 Our suite #2 – with a beautiful long view over the Rufiji – is a spot where African safari dreams become reality. Open to the front and partially on the sides, the large multi-level suite has an adjacent covered lounge with a good-sized plunge pool. Inside the room itself there's an oversized king bed enveloped in a huge rectangular mosquito net. While it has an inside and outside shower, there's no tub. 
Another – more significant- change in the area was the recent (and ongoing) construction of a large hydroelectric dam at Stiegler's Gorge, a few miles upstream from Sand Rivers. While the full ecological impact of the damming of the Rufiji river will likely take decades to play out, the immediate benefit to power-starved Tanzania is clear. Once completed, the project will more than double Tanzania's power generation capacity.  
I was relieved to see that the project has had no visual or other direct impact on Sand Rivers. The Rufiji is perhaps a bit lower than it might otherwise have been, but life in and along the river seems to be thriving. There's hippos and crocodiles everywhere and a lot more, as we were to see on our boat safari.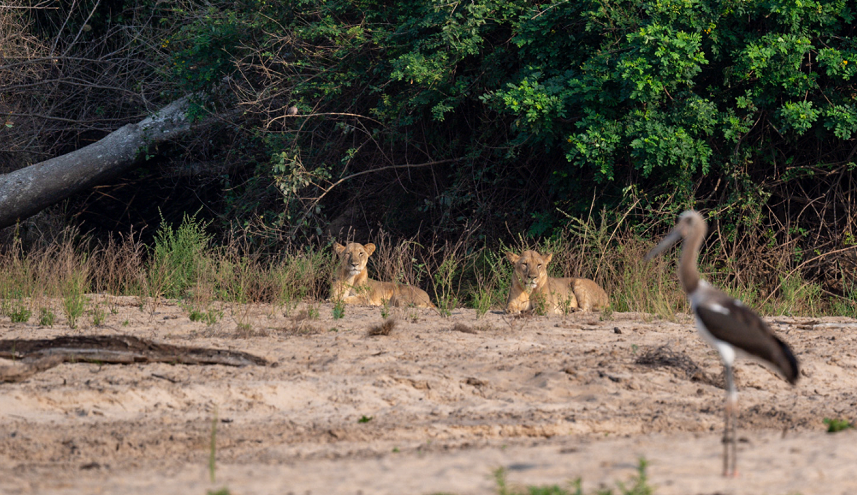 Skimmers and golden catfish
Chugging upriver from the lodge, our excellent guide Deo nudged the aluminum skiff closer to a few African skimmers perched on a sandy spit. The elegant, striking birds with oddly elongated lower beaks, were flying back and forth along a small side-channel. I was concentrating on getting a good focus lock on them when I heard Deo say, 'There's lions!' Sure enough, two female lions could be seen lying down right on the edge of the tree line, looking in the direction of a large tower of giraffes which had congregated a little further upstream along the water's edge. 
We stuck around for a while but the lions demonstrated no intent to step things up a level. Leaving them behind, we moved further upstream past a trio of old buffalo males to a spot which we promptly named Skimmer Point. There must have been 50-plus of the birds clustered together, their shrill calls ringing out above the grunting of the hippos. I finally succeeded in getting some decent exposures of skimmers in flight. Mission accomplished!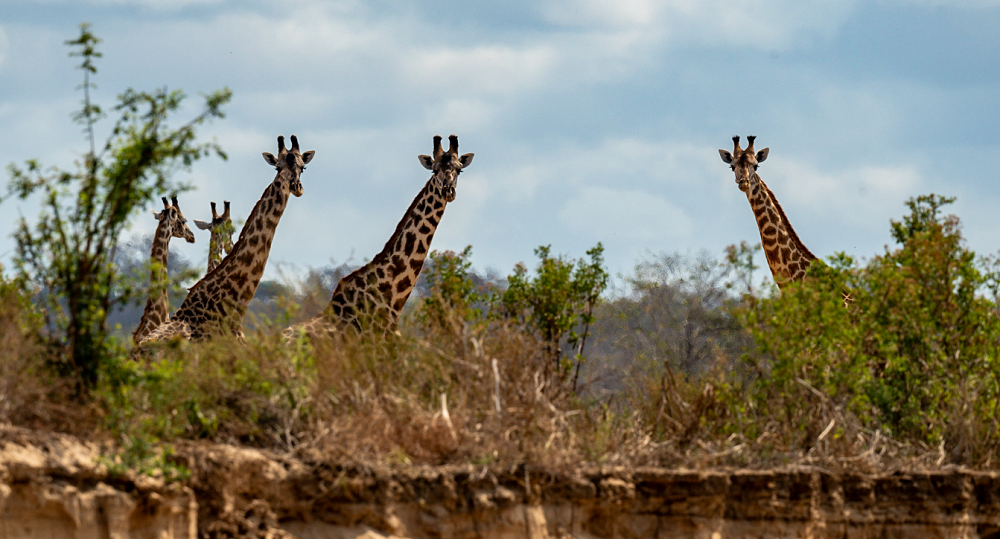 Except that the fishing part of the deal was still to be concluded. Moving upstream again, Deo tied up the boat on the southern bank of the river. Fishing from the boat, Kathy didn't waste much time before she had two sizable golden catfish on the line, in quick succession. The second one was probably close to 20 lbs! Well done Kathy!
Over lunch a little bit later- just prior to being dropped off at the local airstrip for the flight to Dar Es Salaam – we watched as the journey of giraffes took off in a panic, bolting further upstream and kicking up a cloud of dust in the process. It appeared that the lions had decided to go after at least one of them. Quite the finish to a morning and to our fun and entertaining stay at Sand Rivers Nyerere. 
Having just recently returned from southern Tanzania, Bert and Kathy have lots of current information and advice about the area and about how it can best be combined with other parts of Tanzania. Call them at 800-513-5222 or mail Bert directly at bert@fisheaglesafaris.com
YOU MIGHT ALSO BE INTERESTED IN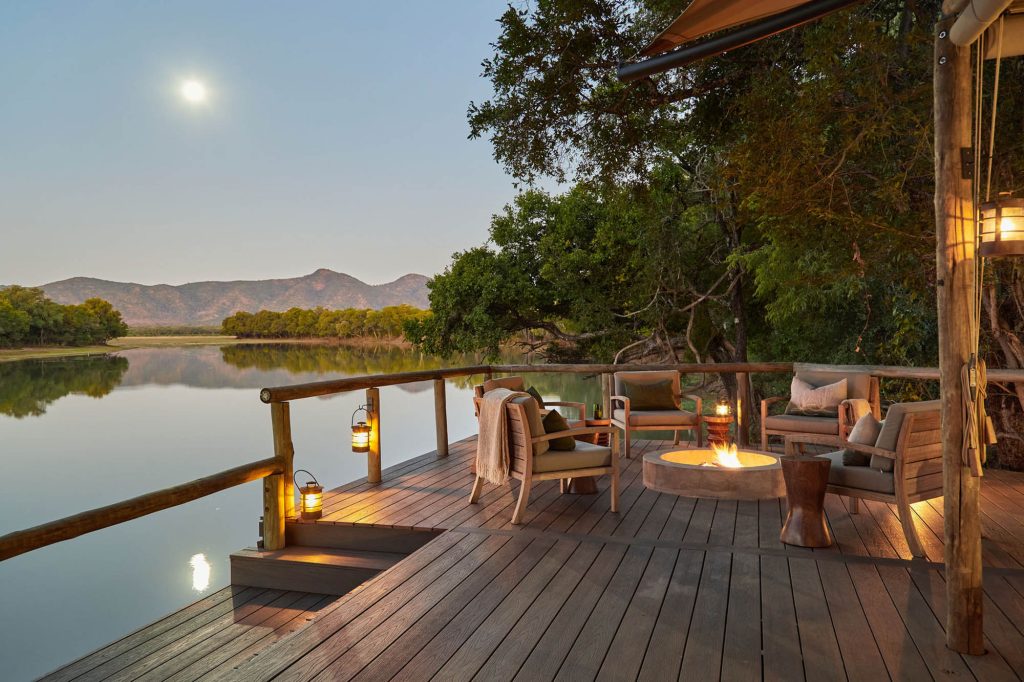 10th Sep 2021
Chindeni and the Bushcamp Company, Zambia
By late July we found ourselves at Chindeni, a small Bushcamp Company property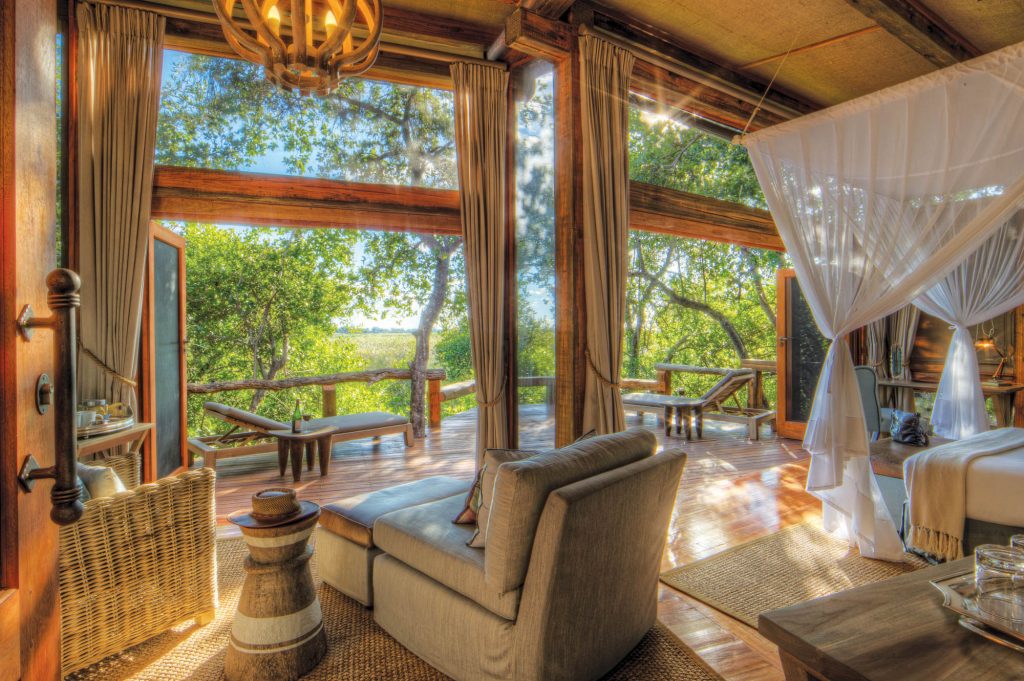 3rd Oct 2022
Camp Okavango, Botswana
Camp Okavango is in the heart of the permanent part of the Delta. In this idyllic setting there are no vehicles, and it is just a short walk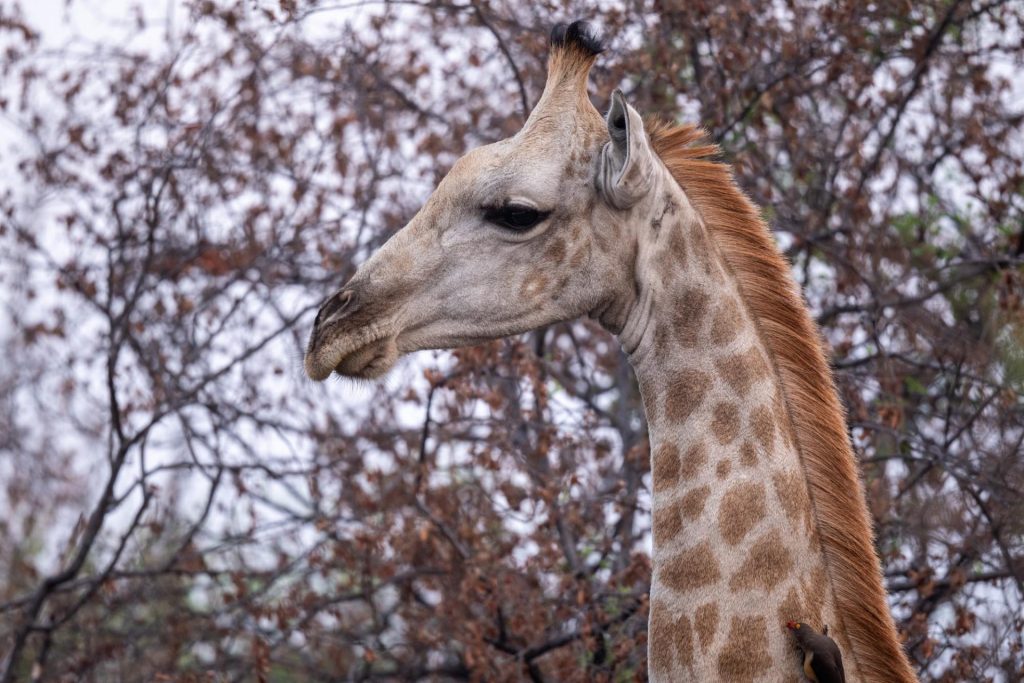 26th Mar 2023
Photography on safari
Fish Eagle Safaris was an early adopter of digital photography. Company founder Bert somewhat fondly recalls using a first generation Sony Mavica
SUBSCRIBE TO OUR NEWSLETTER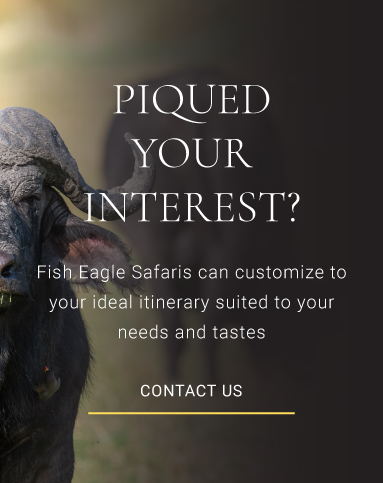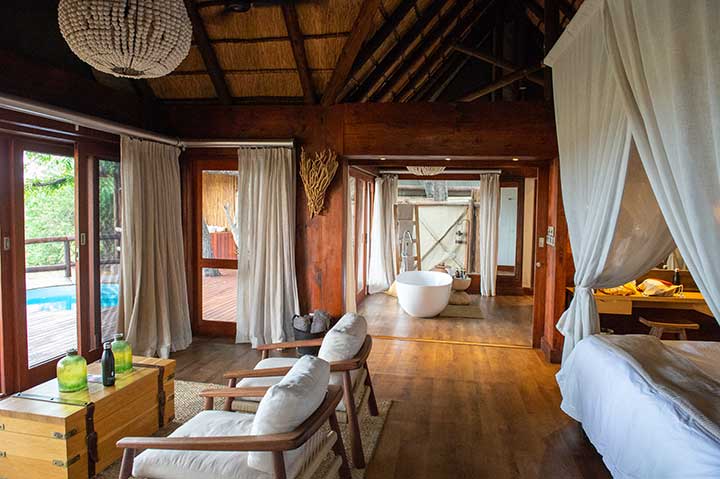 4th Aug 2022
On Safari At Belmond Eagle Island Lodge, Okavango Delta
What is the 'secret sauce' for an unforgettable few days on safari in Botswana? It starts with the animals, of course. The elephants, lions, giraffes, hippos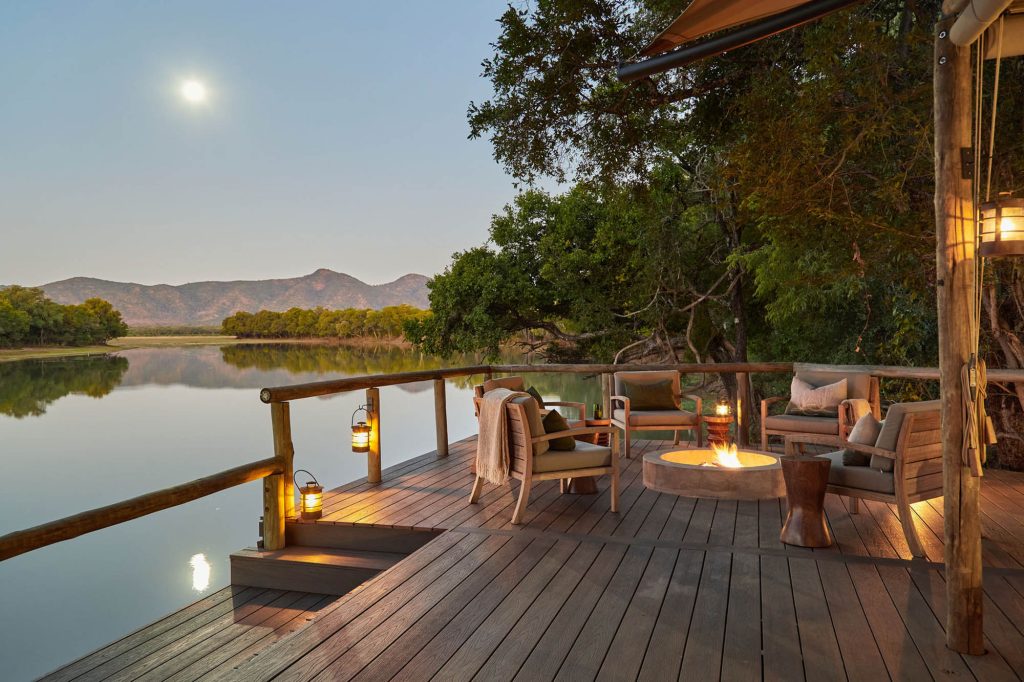 10th Sep 2021
Chindeni and the Bushcamp Company, Zambia
By late July we found ourselves at Chindeni, a small Bushcamp Company property