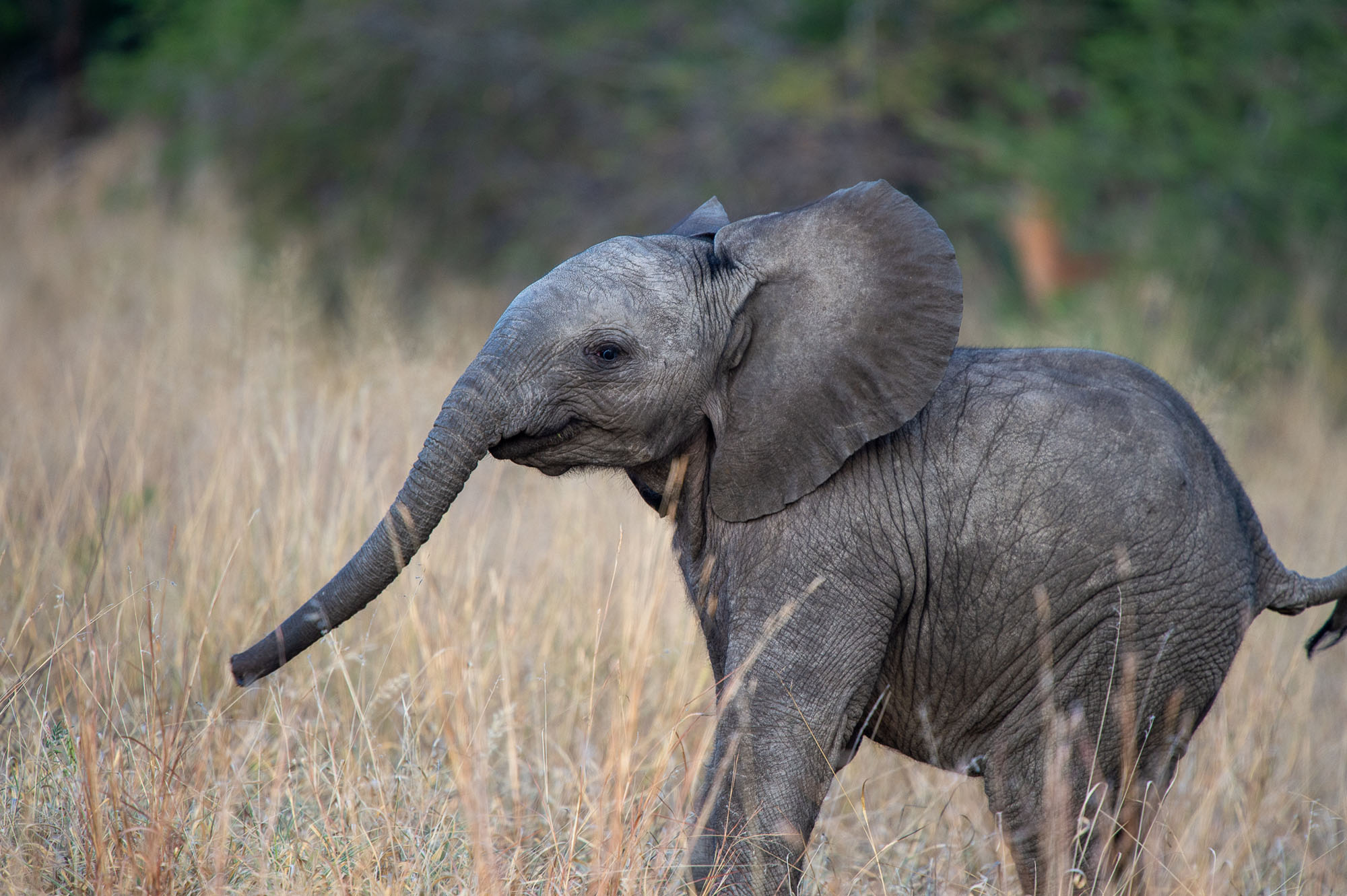 Elephants: Everybody's Favorite
As a native of South Africa and someone who was fortunate enough to start going on safari as a child, I probably saw my first elephant in the wild before I was even 5 years old. As kids in the back of the VW Bus driving in the Kruger Park in South Africa, my sister and my brothers and I would literally shriek with delight when we came across a herd of elephants. We would stare at their giant tusks in awe, comment on their amazing ears, marvel at their versatile trunks, laugh at their antics, coo over the little ones, and just generally be delighted to be in their company.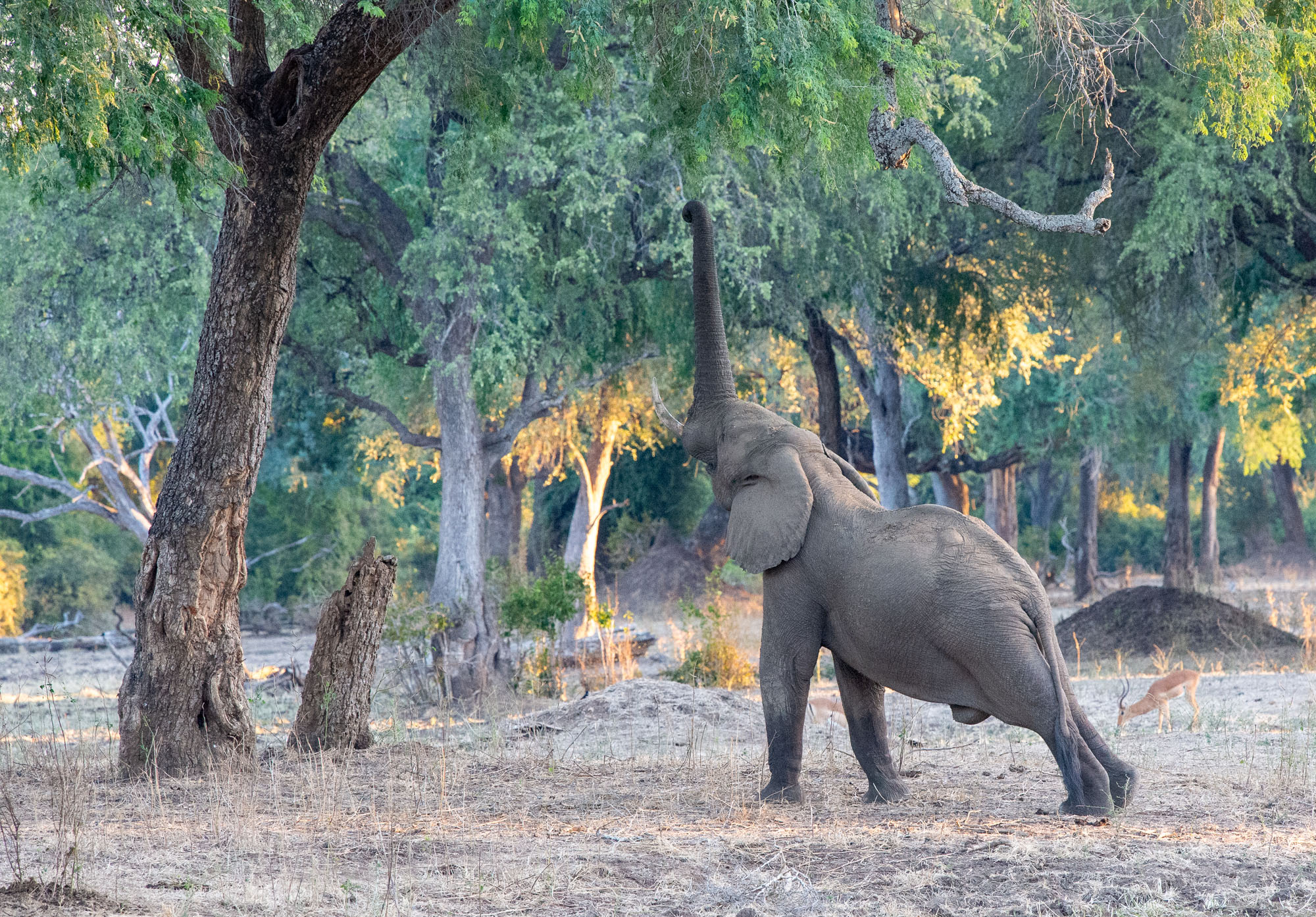 Having seen literally thousands of them since then all over Africa, one thing remains the same. Every elephant sighting remains special. It is never 'just another elephant', or' more elephants', no matter how abundant they may be where I find myself. Elephants are fascinating creatures on so many levels and they have an almost visceral impact when you see them in the wild, especially close up.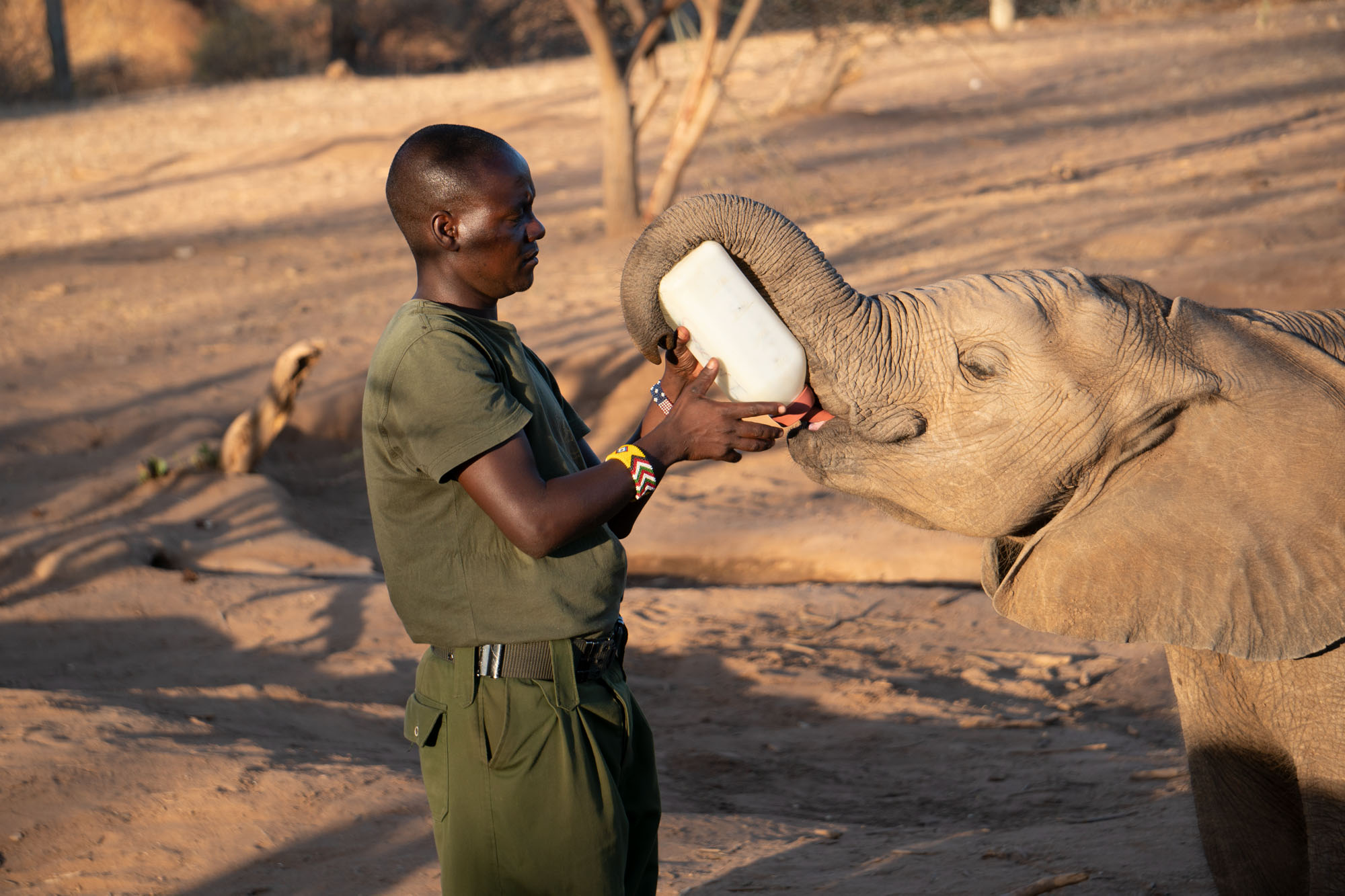 Of course, there's the sheer size of them, their massive bodies making an unequivocal statement as to who is the real king of the African wilderness. Hint: it is not the lion. I've seen enraged, trumpeting – sometimes even shrieking – elephants scare off lions many a time. Given a certain set of circumstances elephants are afraid of nothing and very little will stop them.
Mostly though elephants are adorable, much loved creatures who are always busy doing something. Mostly eating. The leaves on trees, shrubs, grass, bark, fruit, seed pods – pretty much any edible plant material. Another favorite elephant pastime: drinking. It is endlessly entertaining to watch elephants drink. They cannot go without water for extended periods of time and are almost always to be found within striking distance of a known (to them) source of water. Which means that on safari in Africa, one of the best places to find them – particularly in the dry season – is at a water hole, along a river, in a dam, a swamp or marsh.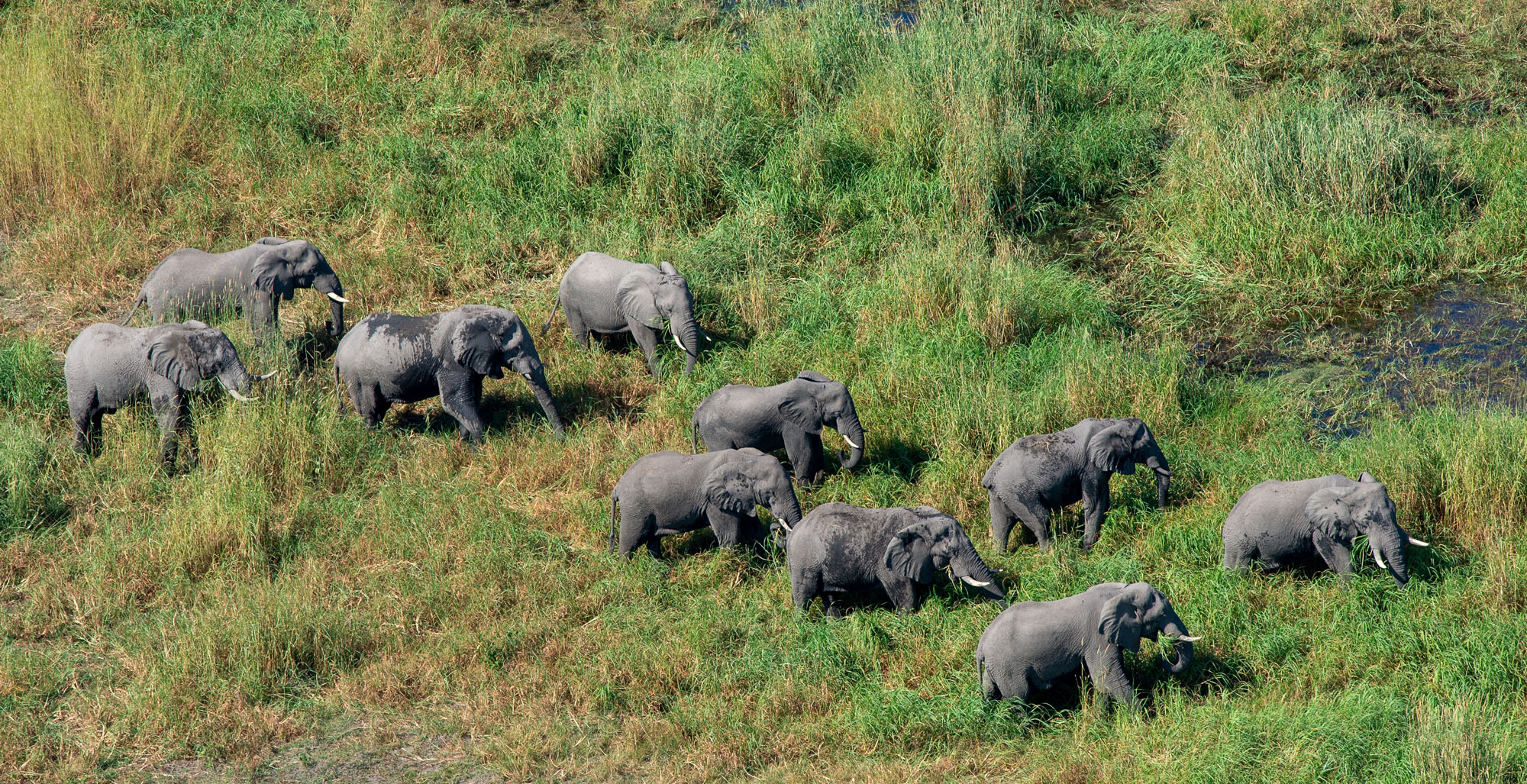 Over the years, we have experienced many particularly interesting or satisfying elephant viewings, and every now and then have gotten lucky with a photograph. Here are a few of them with some of our notes and recollections.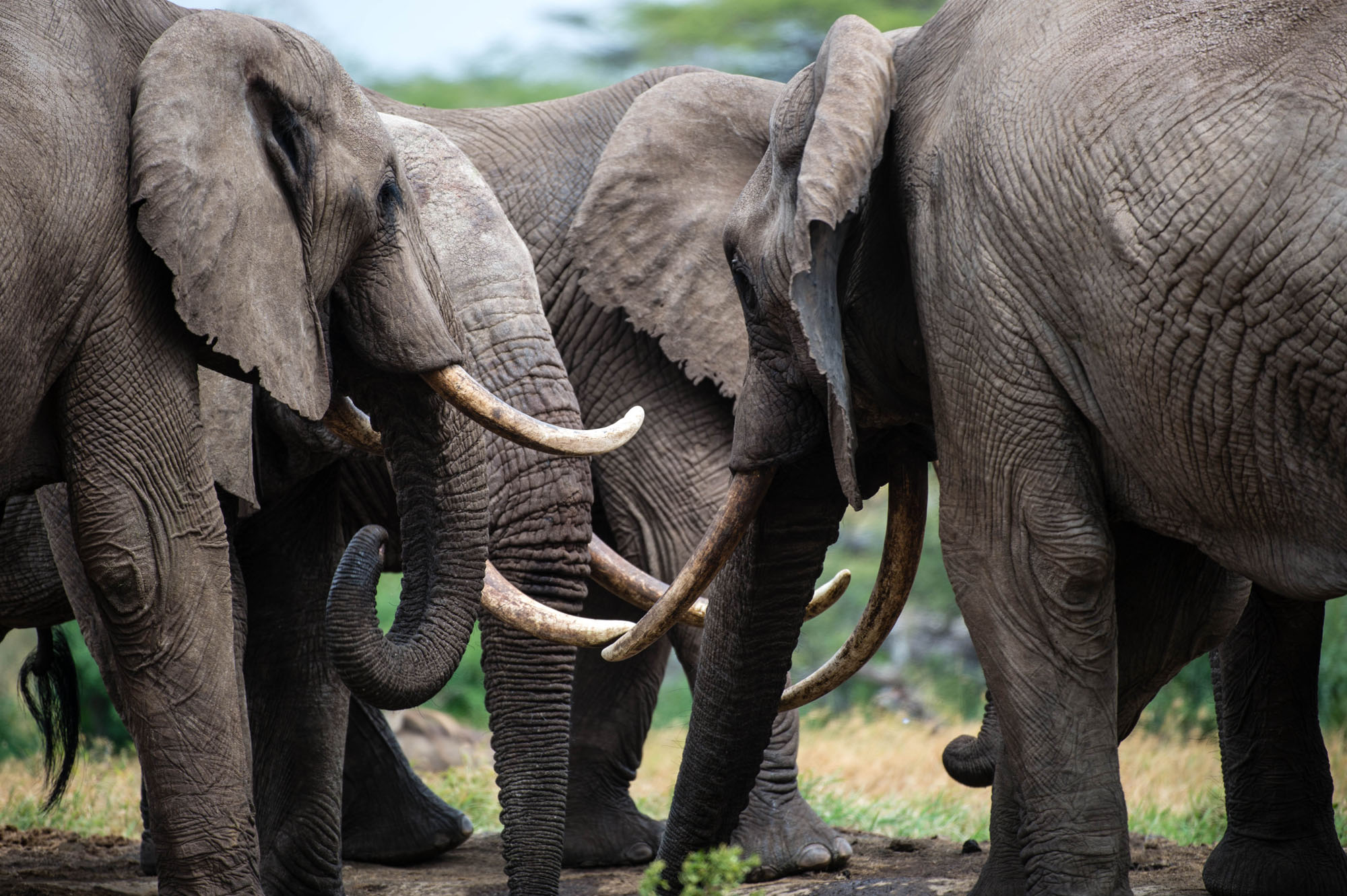 Chyulu Hills, Kenya
One of my personal favorite elephant photographs is this one, taken of several elephant bulls at a small water hole right below Ol Donyo Lodge in Kenya's Chyulu Hills. What made it special to me at the time – and what I tried to capture – was the seemingly invisible turf battle going on. These big bulls were in fact barely tolerating each other's presence. Their 'togetherness' was simply the result of none of them being substantially bigger or more powerful than the others. Reluctantly, by the looks of it, they granted each other just enough room to get some water, and then move on. Nobody dominated, and everybody benefited.

Amboseli Swamps, Kenya
Amboseli is one of the best places in Africa to see elephants. Amboseli is a small national park which is famous for its elephants and its perfect view (cloud cover permitting) of Mt. Kilimanjaro. The Amboseli elephants are special because of the size of their tusks, their approachability, and their daily pattern of walking out of the woodlands to the swamps and then back. It is an arid area so they almost always kick up some dust which makes for atmospheric photos and awesome views. It happened to take me three visits to Amboseli to get some really good photographs of elephants with Kili in the background, but it's mostly a matter of luck. Good or bad. On my third (successful) visit there were several first-time visitors in the vehicle with me… You just never know. This photo of a herd of elephants walking toward the swamps early in the morning, was made special by a relatively small but critical element: the one big elephant looking back. Just that. Without it, it's a nicely lit and atmospheric shot of elephant walking, kicking up some dust. With the one elephant looking in the other direction? You can judge for yourself.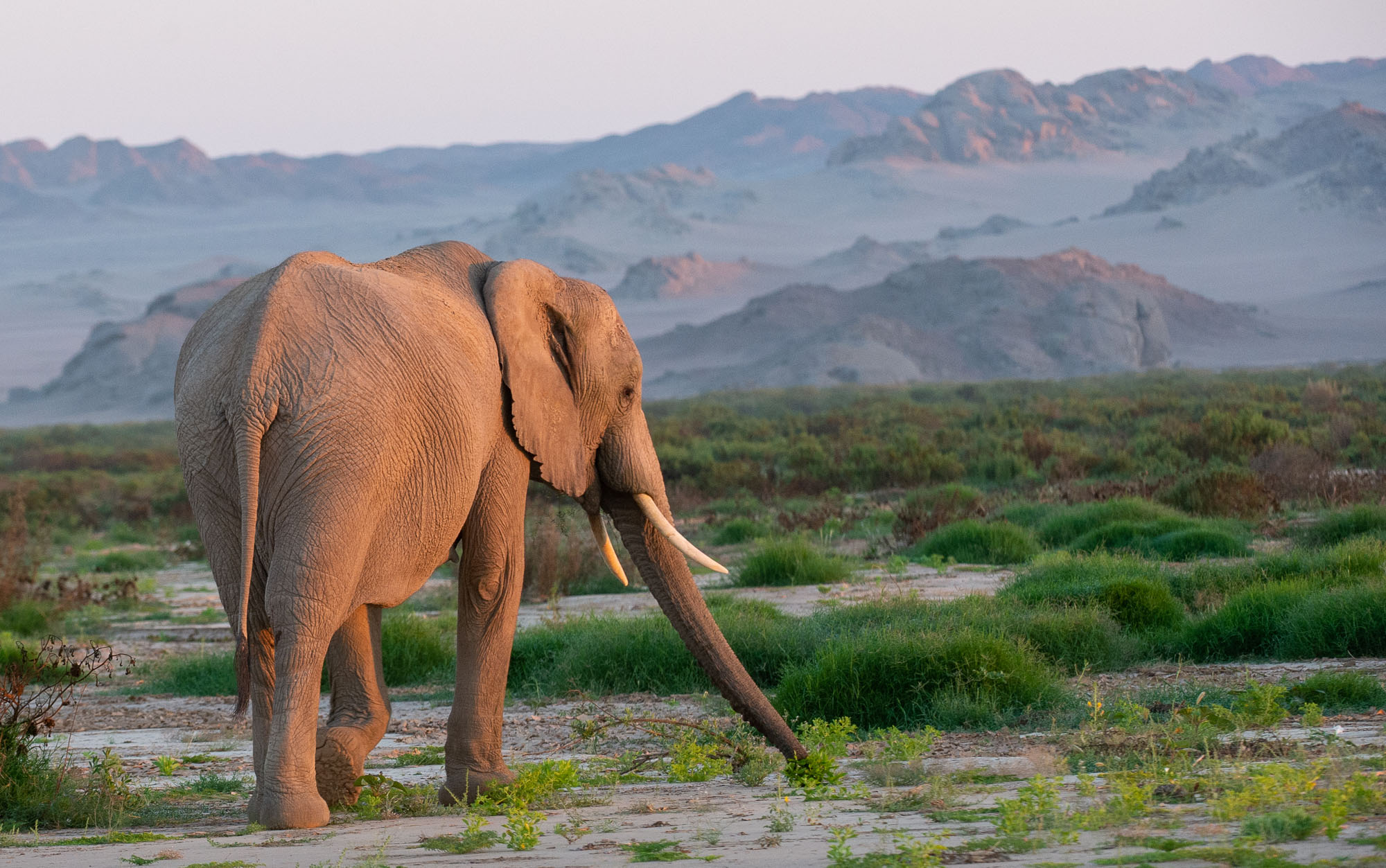 Hoanib Skeleton Coast Camp, Namibia
Photography is all about light. Many professional wildlife photographers rarely attempt capturing anything beyond the morning and afternoon 'golden hour' window, when near horizontal light beams cast a flattering glow on practically everything it illuminates. Including elephants. Digital photography – which allows considerable manipulation of exposure levels in post-processing – has opened up a somewhat bigger photography window. Even so, few serious photographers expect a good outcome for photos taken in bright light in the middle of the day. The exaggerated shadows and washed out colors associated with harsh midday light, make it a poor choice. This photo of a desert-adapted elephant taken on a game drive from Wilderness Safaris' Hoanib Skeleton Coast camp, is a good example. The soft morning light adds depth and drama and makes the photo 'pop'. Take this same shot at noon and all the warmth is gone. It may in fact work better as a black and white image, then.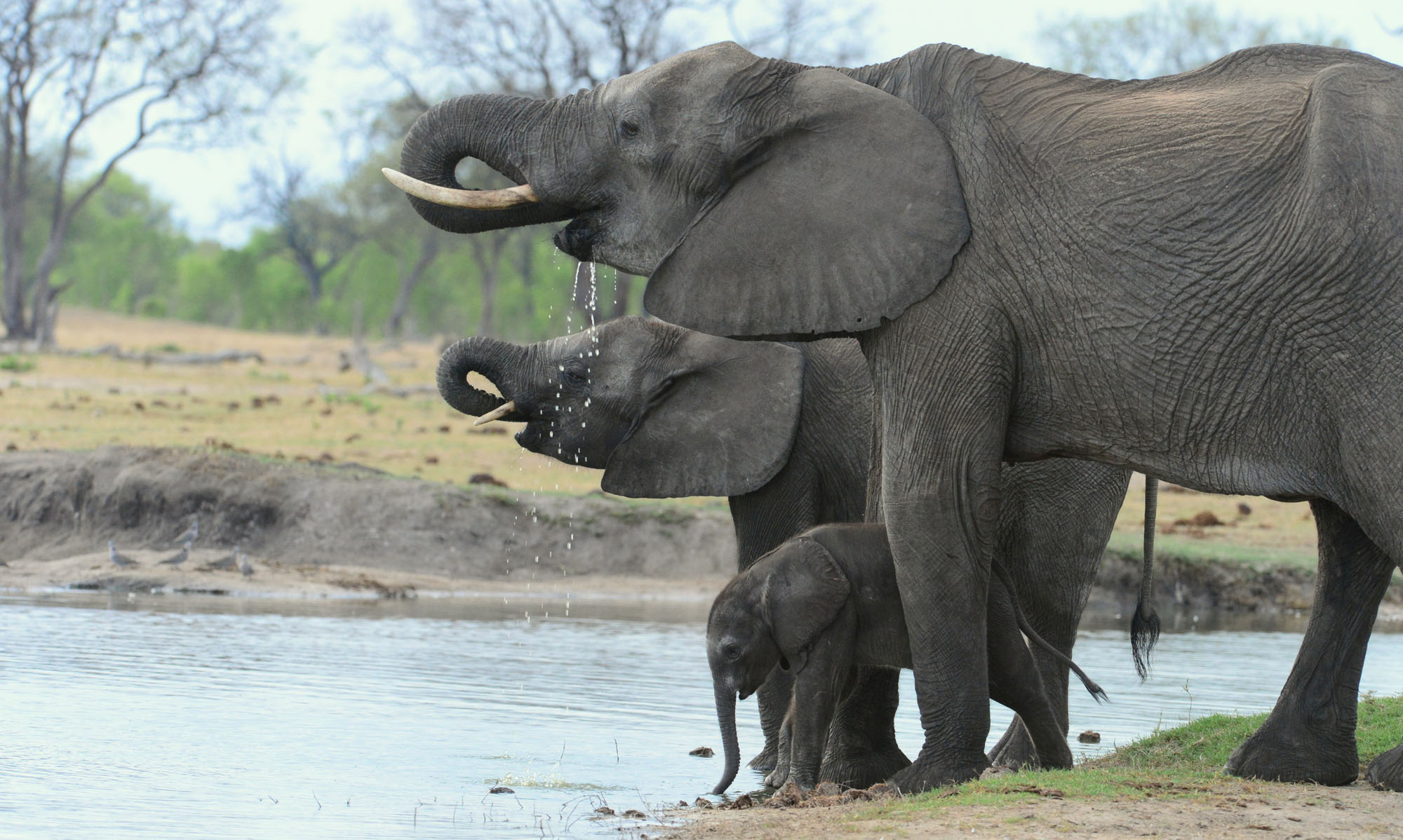 Hwange National Park, Zimbabwe
Hwange's 30,000-plus elephants are wonderful photographic subjects, particularly in the dry season when hundreds and sometimes thousands of them congregate around the many artificially pumped water holes scattered throughout the park. I will never tire of watching a herd of elephants approach a water hole, particularly after a long and dusty, thirsty walk out of the woodland. As they emerge from the trees, they start to walk faster and faster still. The young ones run ahead, excitedly, to get to the water first. Then, almost solemnly, and with serious intent, they all start to drink, practically simultaneously. They fill their trunks with one deliberate deep draft of water after another, squirting several gallons of water forcefully into their mouths. Again and again. Not until their thirst is quenched, do the elephants start to relax, look around at the other herd members, and begin to interact. Elephants lined up at a water source make fantastic photo subjects, as did these three at the Little Makalolo water hole in Hwange. As is the case with giraffe necks and heads, there are often patterns or symmetry – or for that matter asymmetry – to be observed and captured. Look for it and incorporate it into your shots to tell a story and add drama.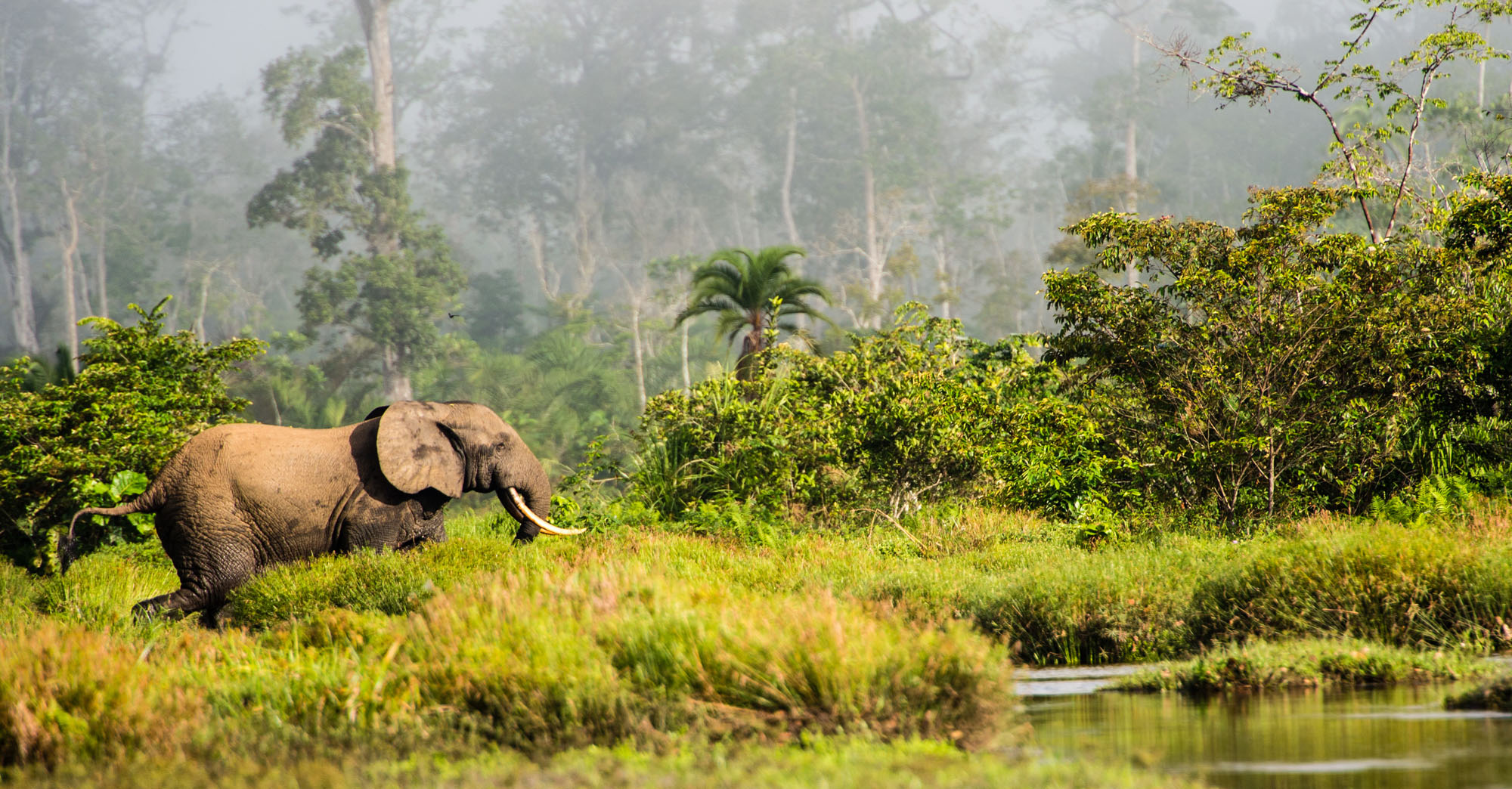 Odzala Kokoua National Park, Republic of Congo
By the time I made it to Odzala-Kokoua National Park in the Republic of Congo, I had seen and photographed many an African elephant in dozens of places in Southern and East Africa. I had never seen or photographed a Forest elephant though. As it happened, we had fantastic luck with seeing and photographing Western Lowland Gorillas at Odzala. But not much luck with Forest elephants. A few glimpses and some far-off sightings, but nothing worth capturing with the big camera. Until we went on a walk down a small tributary of the Congo River. As we were approaching a clearing, a solitary Forest elephant emerged abruptly from the thick bush to our left. As startled as we were, it gave us a side-long glance and hurried across the opening, splashing through the water and disappearing into the thick bush on the other side, moments later. It's for 'can't miss' moments like these that wildlife photographers have to be ready for anything, with a camera set to freeze motion. Not ending up with a blurry photo is the overarching objective. With wildlife, there is often very little advance warning before things happen. And sometimes just moments to capture an instant in time which you may never experience again. I'm unlikely to ever again see a Forest elephant dash across a clearing in the Congo, but this image will forever be proof that it actually happened.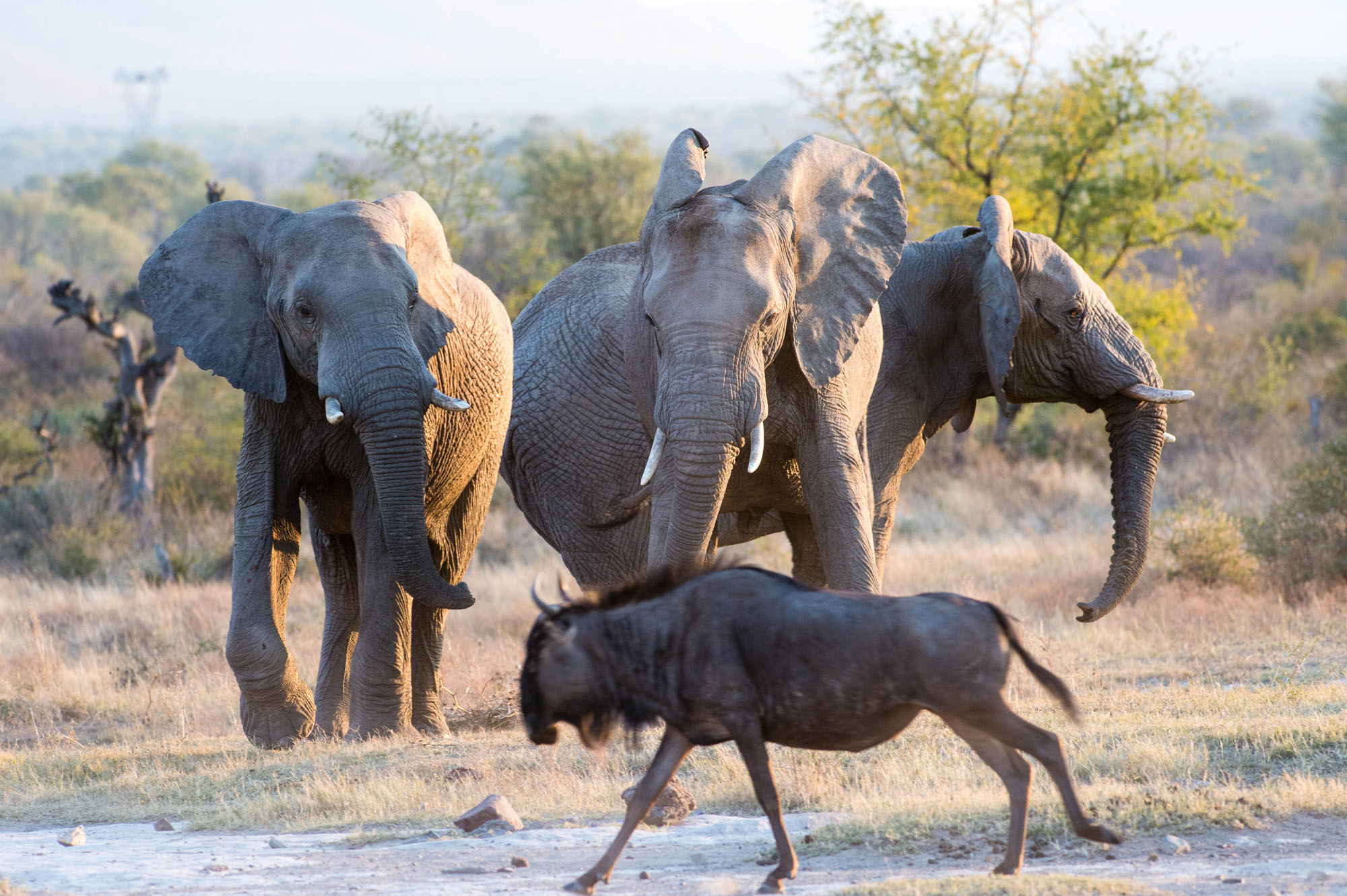 Madikwe Game Reserve, South Africa
It is easy to believe that elephants are afraid of nothing and indeed they are – most of the time. Under certain circumstances though, they can easily be spooked, with sometimes unpredictable results. These photographs, taken in South Africa's Madikwe Game Reserve, illustrate such an event. These three young elephants were slowly walking towards a water hole when a solitary running wildebeest set them off.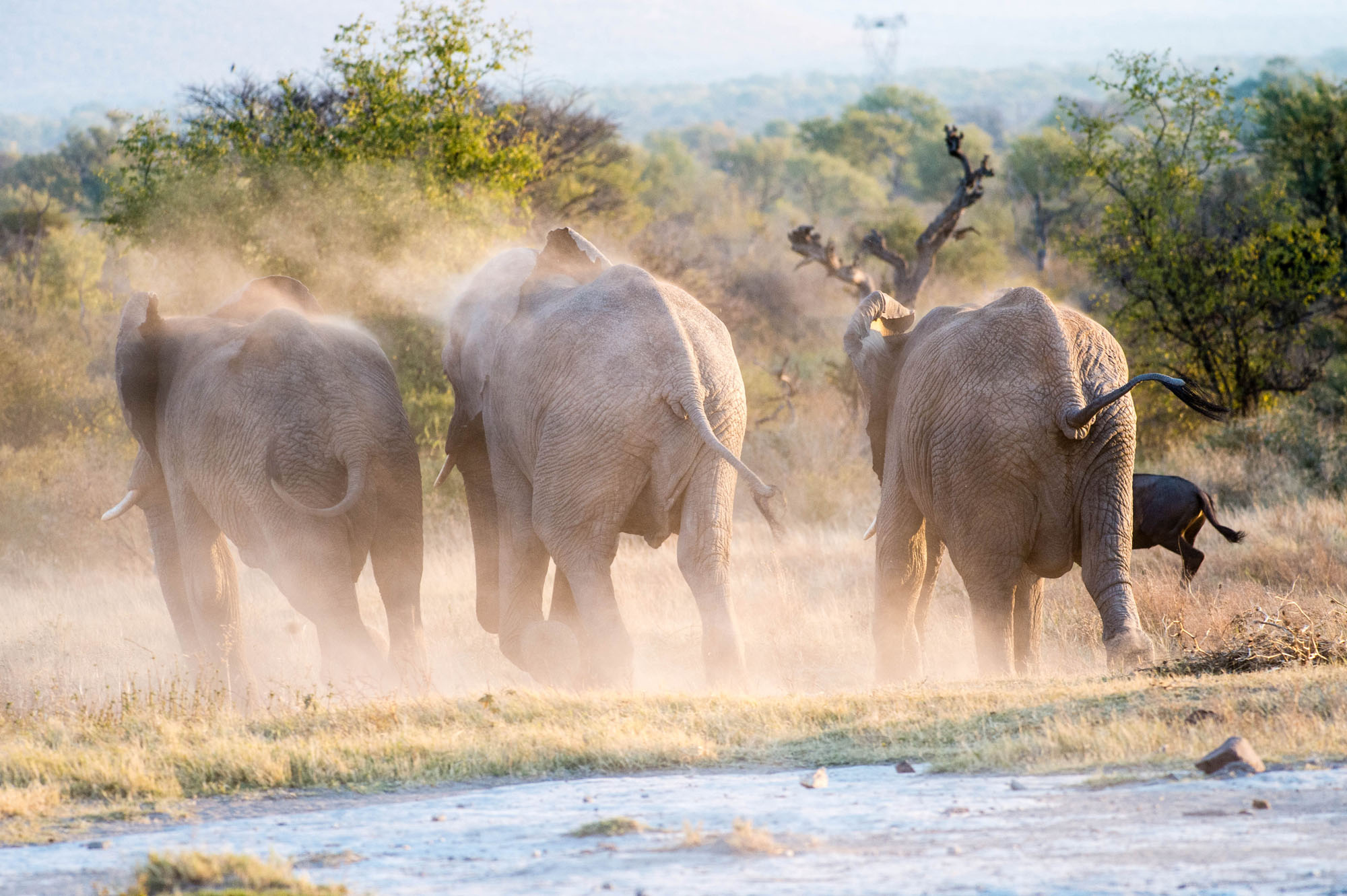 They wheeled on the spot and rushed off in the direction they came from, kicking up a cloud of dust. I've seen similar behavior elsewhere such as when a herd of elephants (in the Okavango Delta) started stampeding for no apparent reason. Ordinarily, this is not an issue to a casual observer, when you are in a vehicle. When you are on foot though, it can be most worrisome; you'd want to get away from the elephants as fast as possible and seek shelter.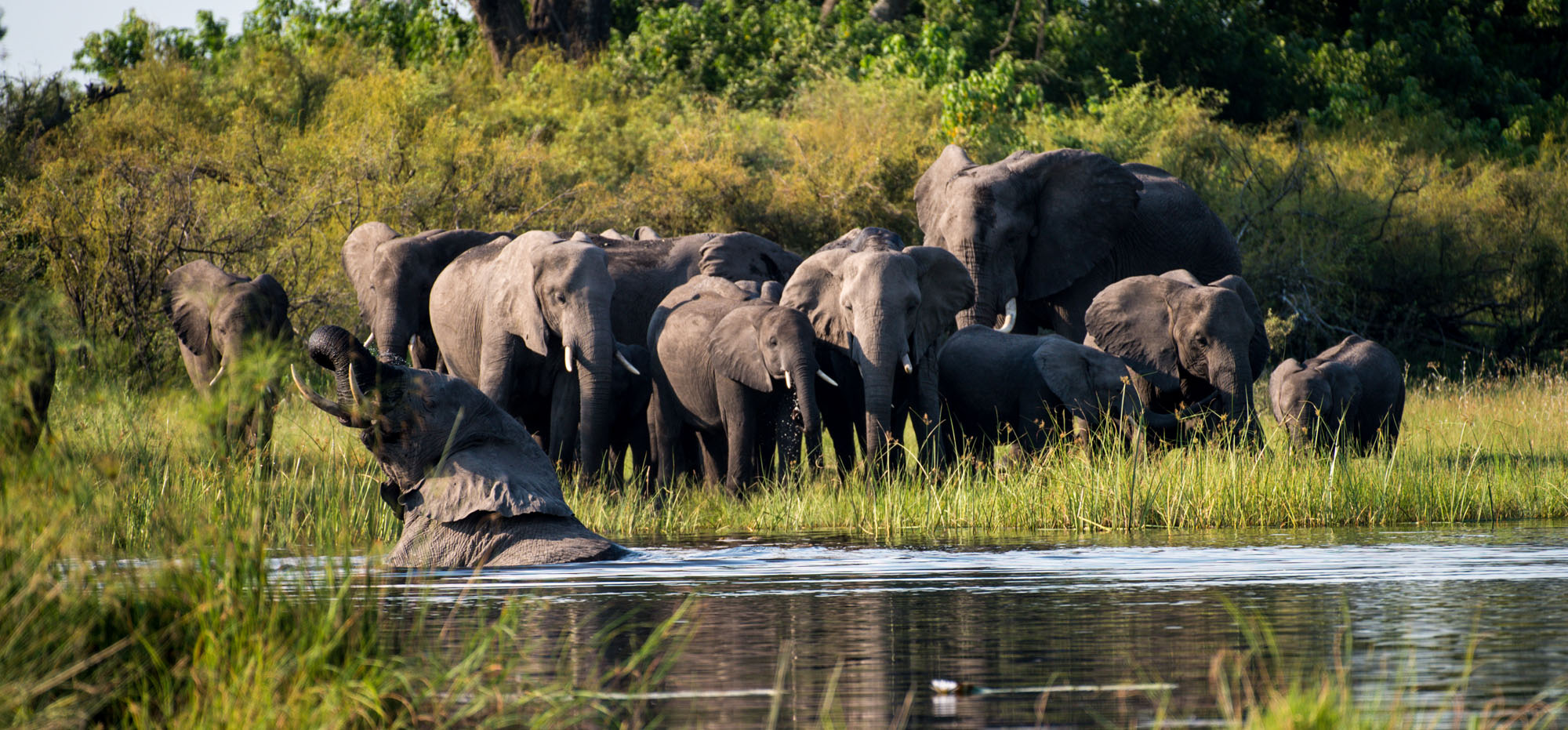 Chobe-Linyanti, Botswana
Elephants love water and habitually enter rivers, lakes and ponds to cool off, play and seemingly just enjoy being submerged.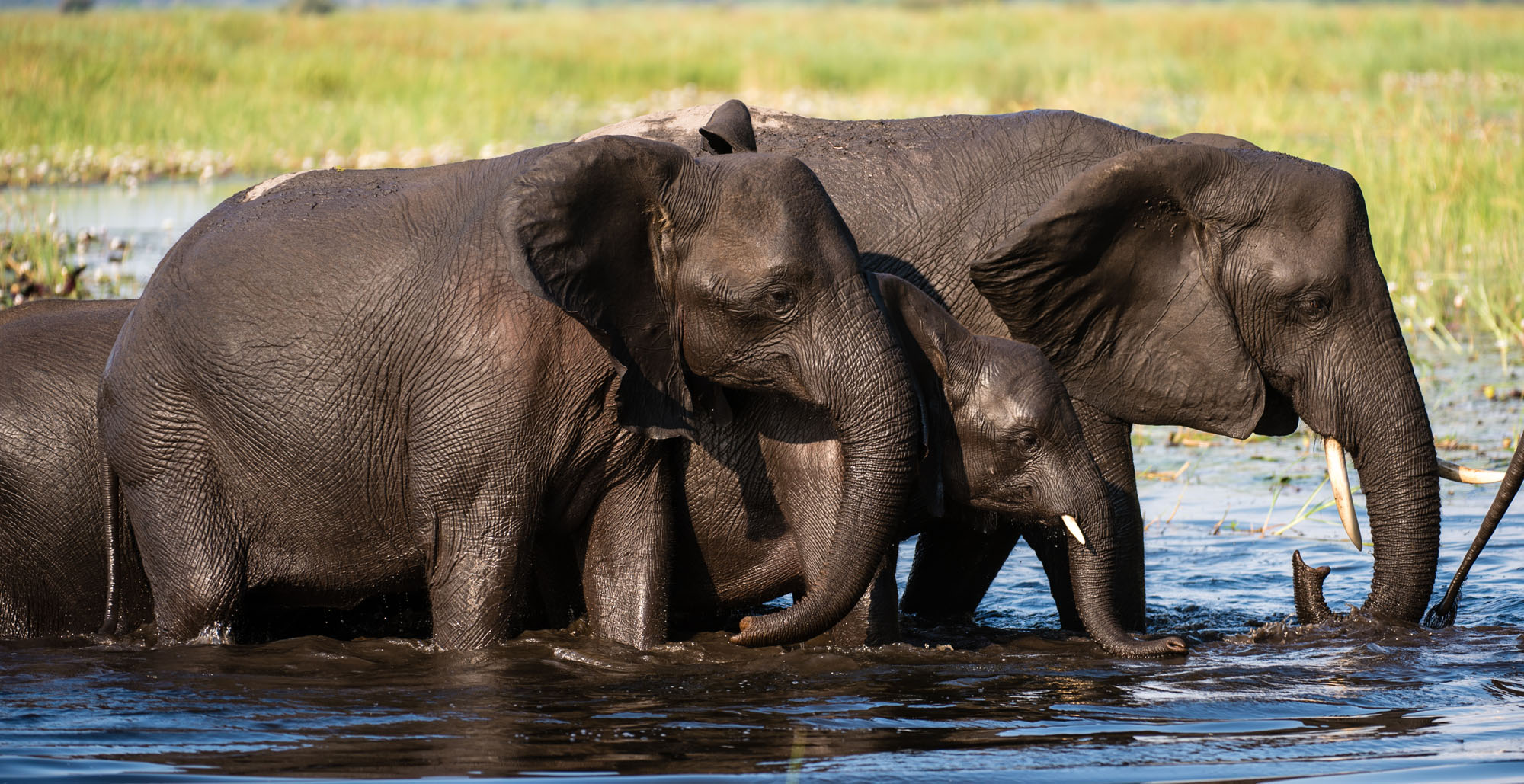 They are natural-born swimmers and can stay afloat for hours if need be. We've seen them swimming – with youngsters in the herd – clear across the Zambezi River.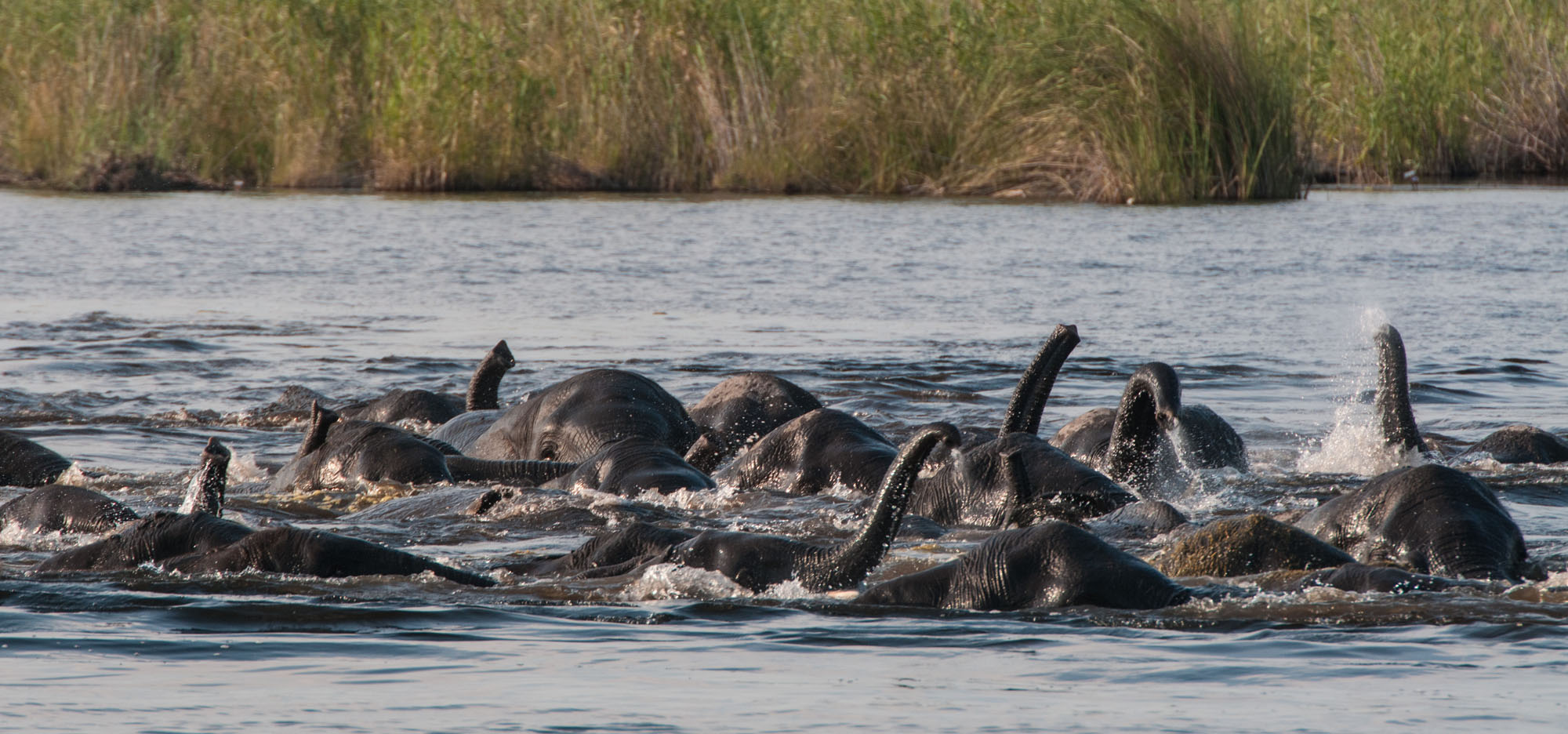 This sequence of photographs shows elephants close to the Linyanti River in northern Botswana, walking in the river and also 'snorkelling' as they make their way through deeper water.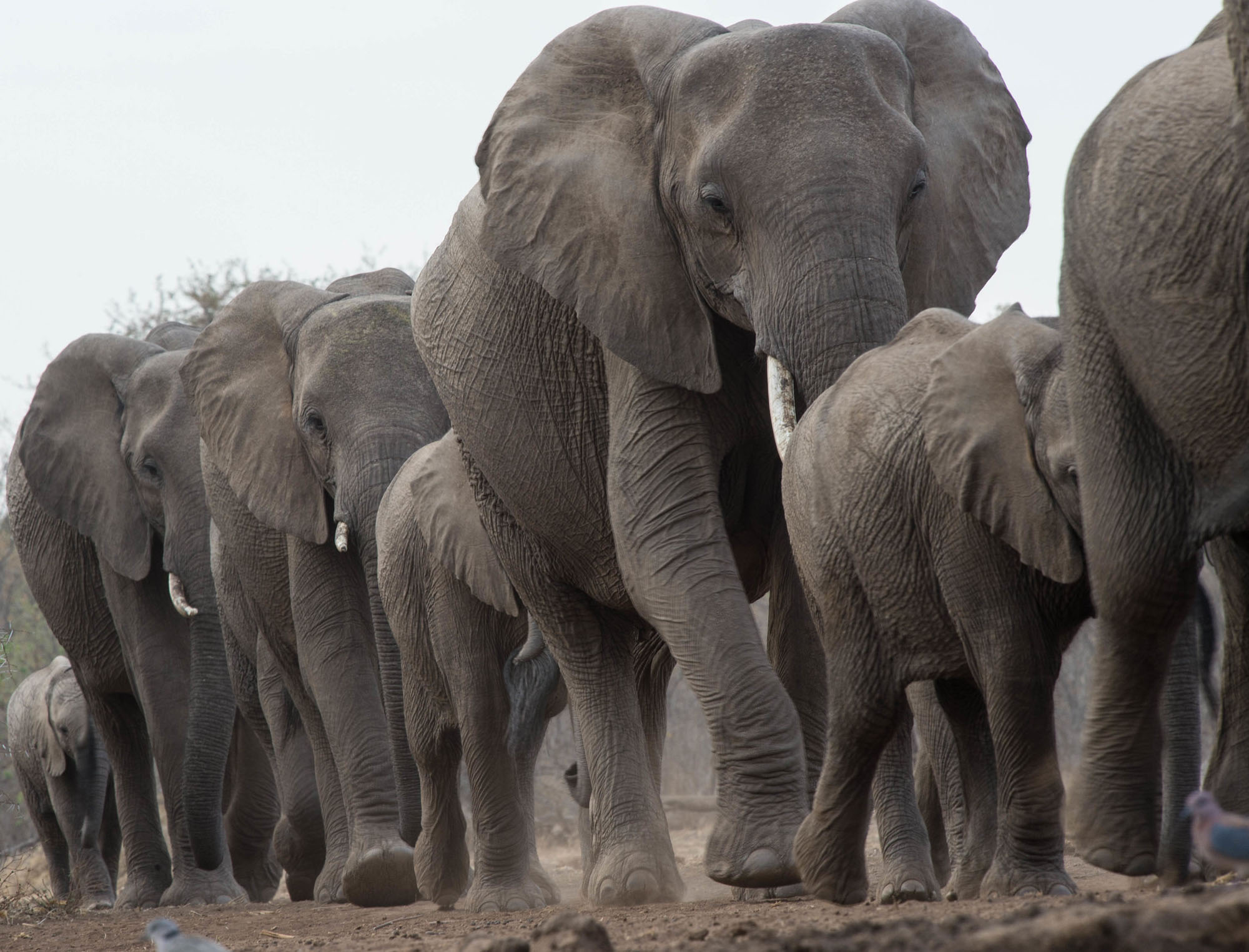 Mashatu, Botswana
Mashatu Game Reserve in southeastern Botswana is one of our favorite big cat destinations, but it also has great elephants. The Mashatu ellies are among the most approachable of any and will literally walk right by the game drive vehicles, just a few meters beyond touching distance. Which is awesome to experience – every time. Mashatu also has a specially constructed sunken elephant hide where photographers can get the most amazing shots of elephants coming to drink. This photo was taken of a herd of elephants approaching the sunken hide at Mashatu. They were moving towards the water in an almost businesslike fashion at a good clip, intent on getting there quickly and efficiently. We did manage to capture some great shots on the day and Mashatu's resident professional photographer helped us improve our photo skills, regardless of our level of expertise. For any dry-season visit to Mashatu, a morning or afternoon spent in the hide is a most worthwhile addition to one's program there.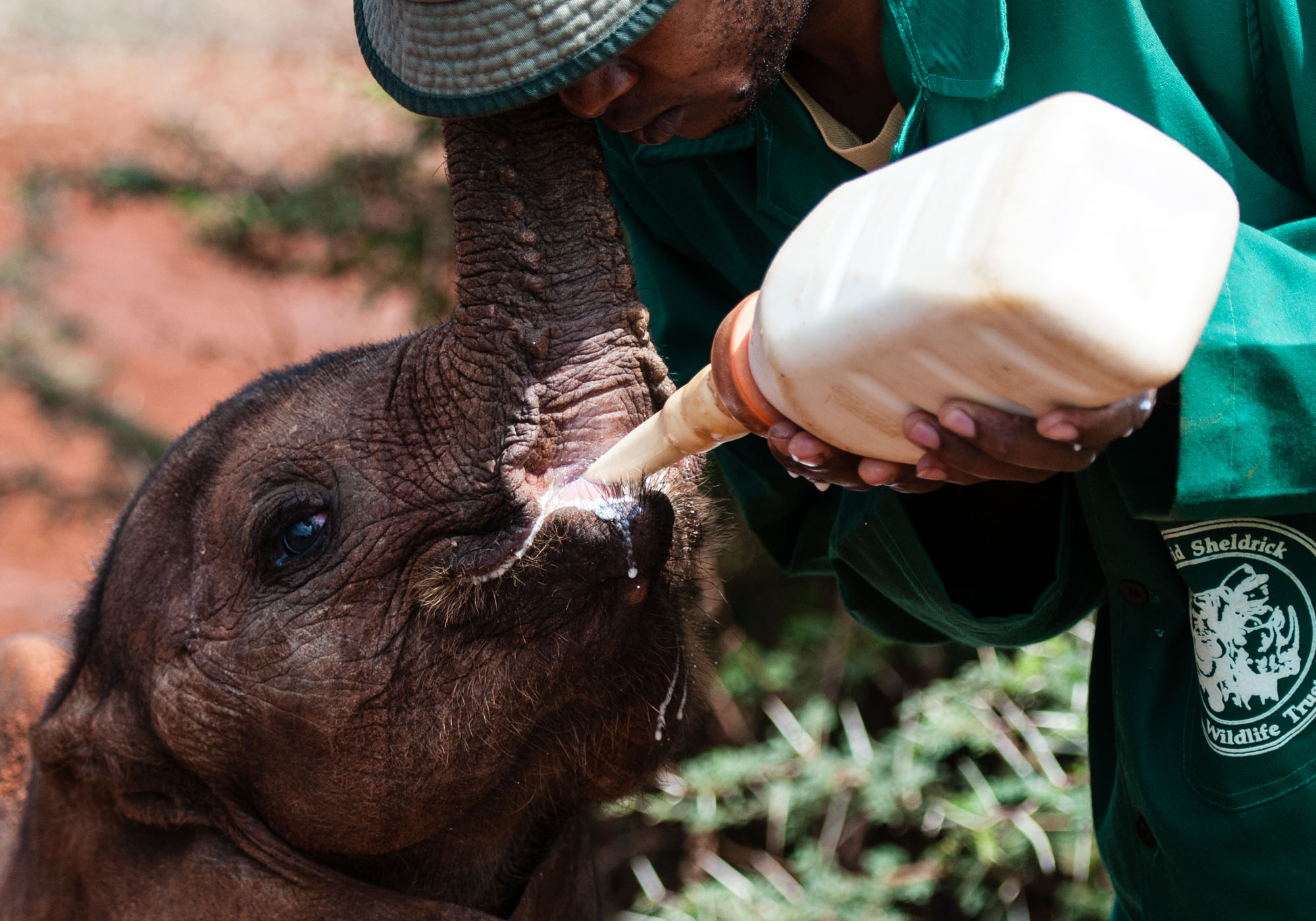 Sheldrick Elephant Sanctuary, Nairobi
Since 1977, the David Sheldrick Elephant Orphanage in Nairobi has cared for and fostered hundreds of elephant calves from all over Kenya. Every morning at 11:00 a.m. there is a public feeding, where visitors can observe the elephants being fed, and learn a bit more about the challenges facing elephants all over Africa. Assistants help to dispense a special milk formula for the babies, and there's some leaves and shrubs for the older ones. And sometimes a mud-bath on a warm day. The young elephants are housed in a safe stable environment until they are able to survive in the wilderness, when they are moved to Tsavo National Park for possible reintroduction with wild herds of elephants. This photograph of a tiny baby elephant happily drinking its milk formula encapsulates to me, just how vulnerable they are and how dependent they are on us – humans – for assistance. We cannot change the past but we can help to undo some of the negative fallout of poaching and human-animal conflict. Visitors or interested persons who adopt a baby elephant have the option of scheduling a more private afternoon visit, for foster parents only.
Next week's blog post will focus on the most elusive of the 'Big Five' African mammals – the leopard. Much more common than one might think, but rarely seen due to their mostly nocturnal existence. We will look at a handful of places where leopards can be seen and photographed relatively easily and consistently.
YOU MIGHT ALSO BE INTERESTED IN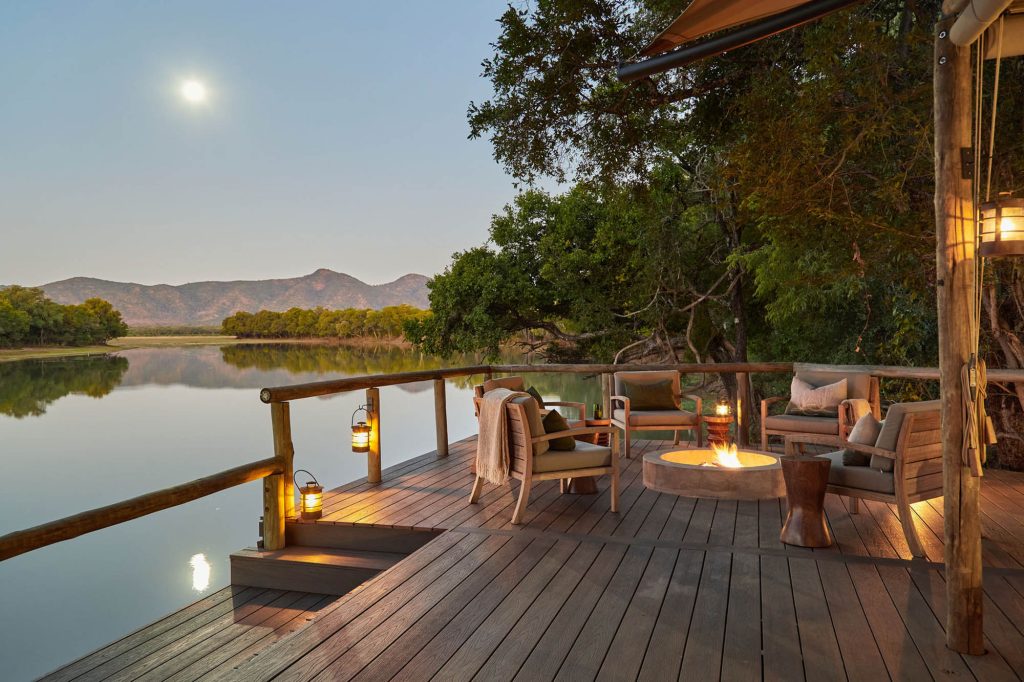 10th Sep 2021
Chindeni and the Bushcamp Company, Zambia
By late July we found ourselves at Chindeni, a small Bushcamp Company property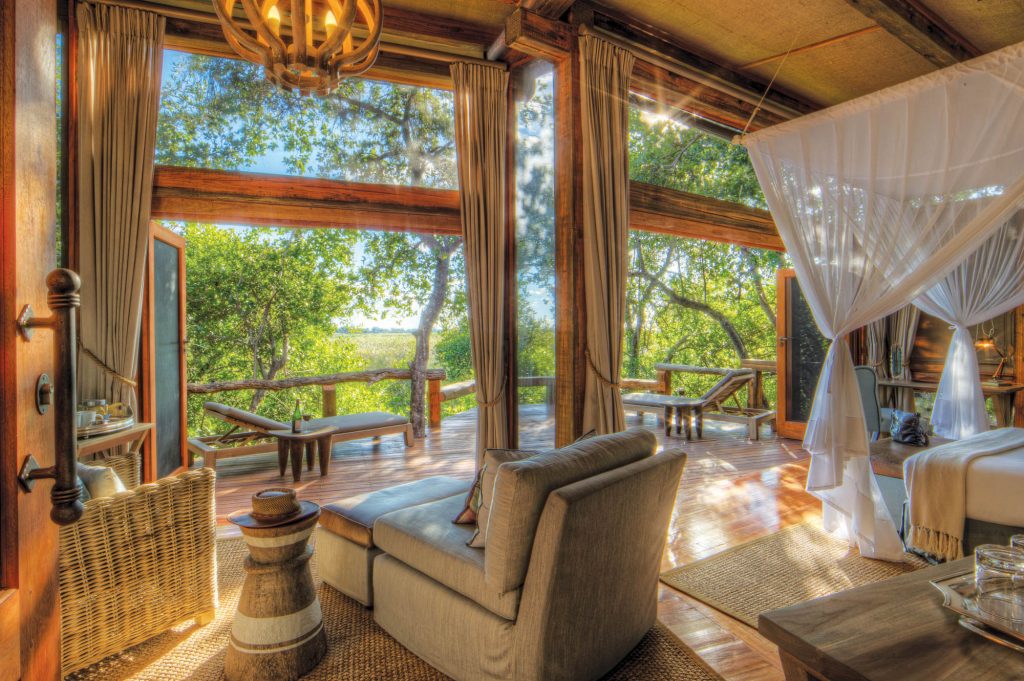 3rd Oct 2022
Camp Okavango, Botswana
Camp Okavango is in the heart of the permanent part of the Delta. In this idyllic setting there are no vehicles, and it is just a short walk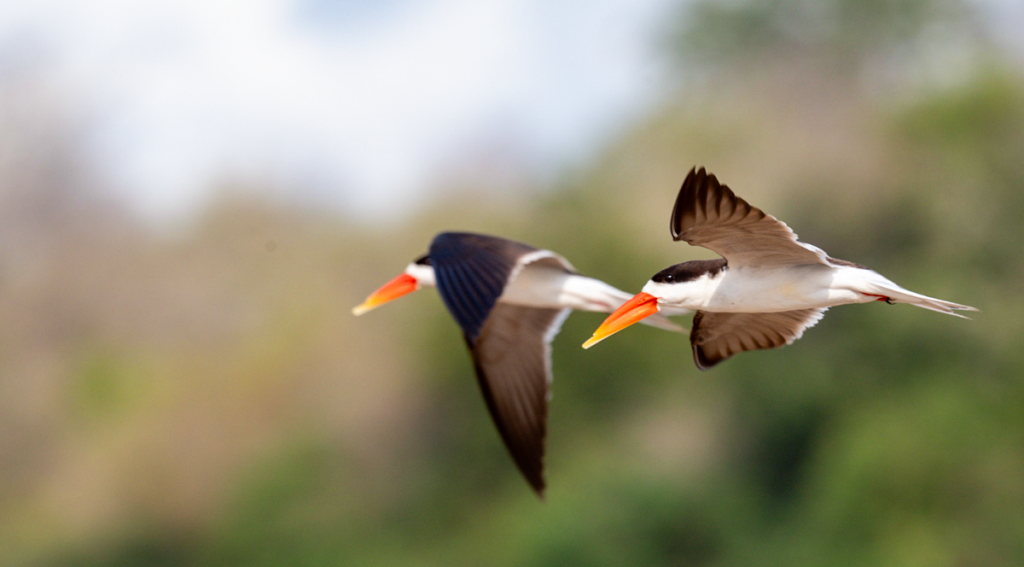 14th Oct 2023
From My Safari Notebook: Wildlife Photography
Birds in flight and wildlife photographers have an uneasy relationship. Things go wrong as often as they go right. Getting focus-lock on a moving subject
SUBSCRIBE TO OUR NEWSLETTER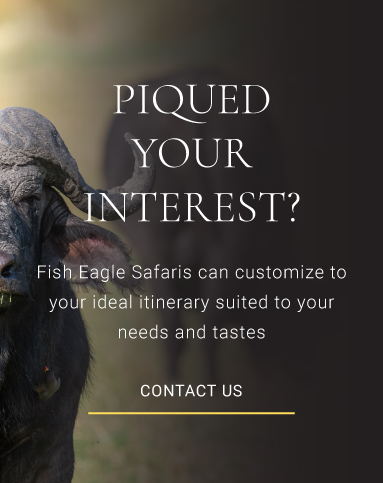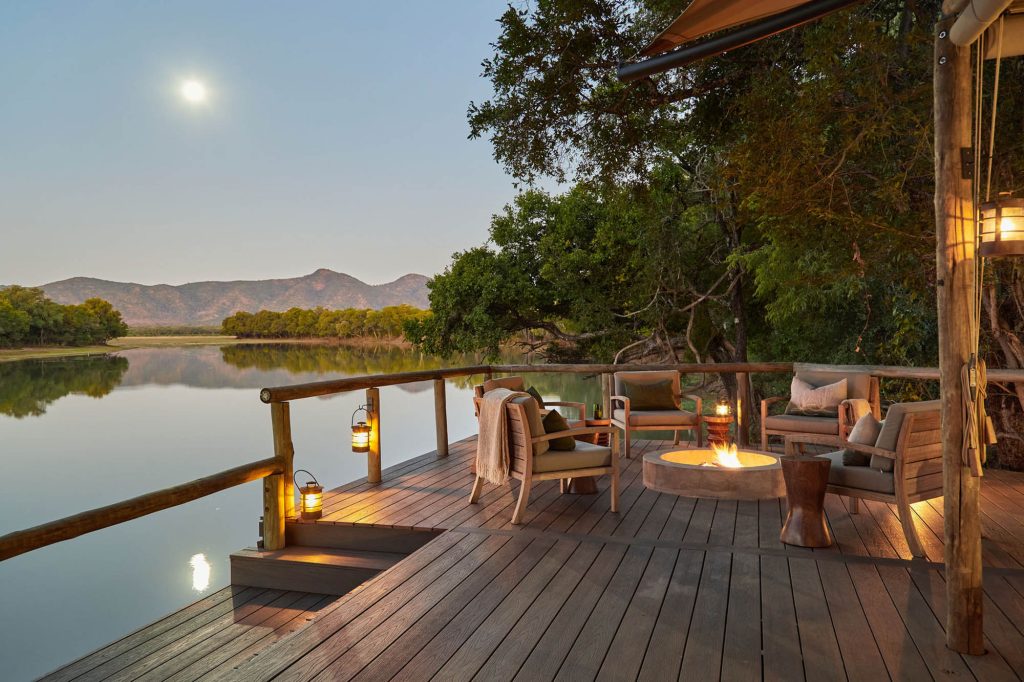 10th Sep 2021
Chindeni and the Bushcamp Company, Zambia
By late July we found ourselves at Chindeni, a small Bushcamp Company property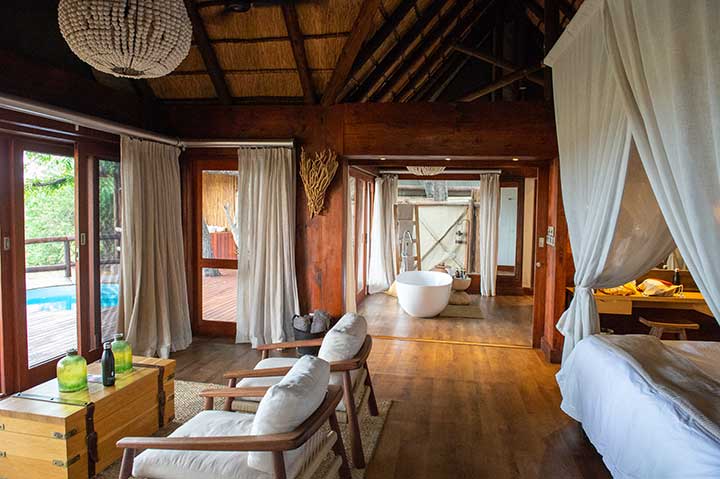 4th Aug 2022
On Safari At Belmond Eagle Island Lodge, Okavango Delta
What is the 'secret sauce' for an unforgettable few days on safari in Botswana? It starts with the animals, of course. The elephants, lions, giraffes, hippos