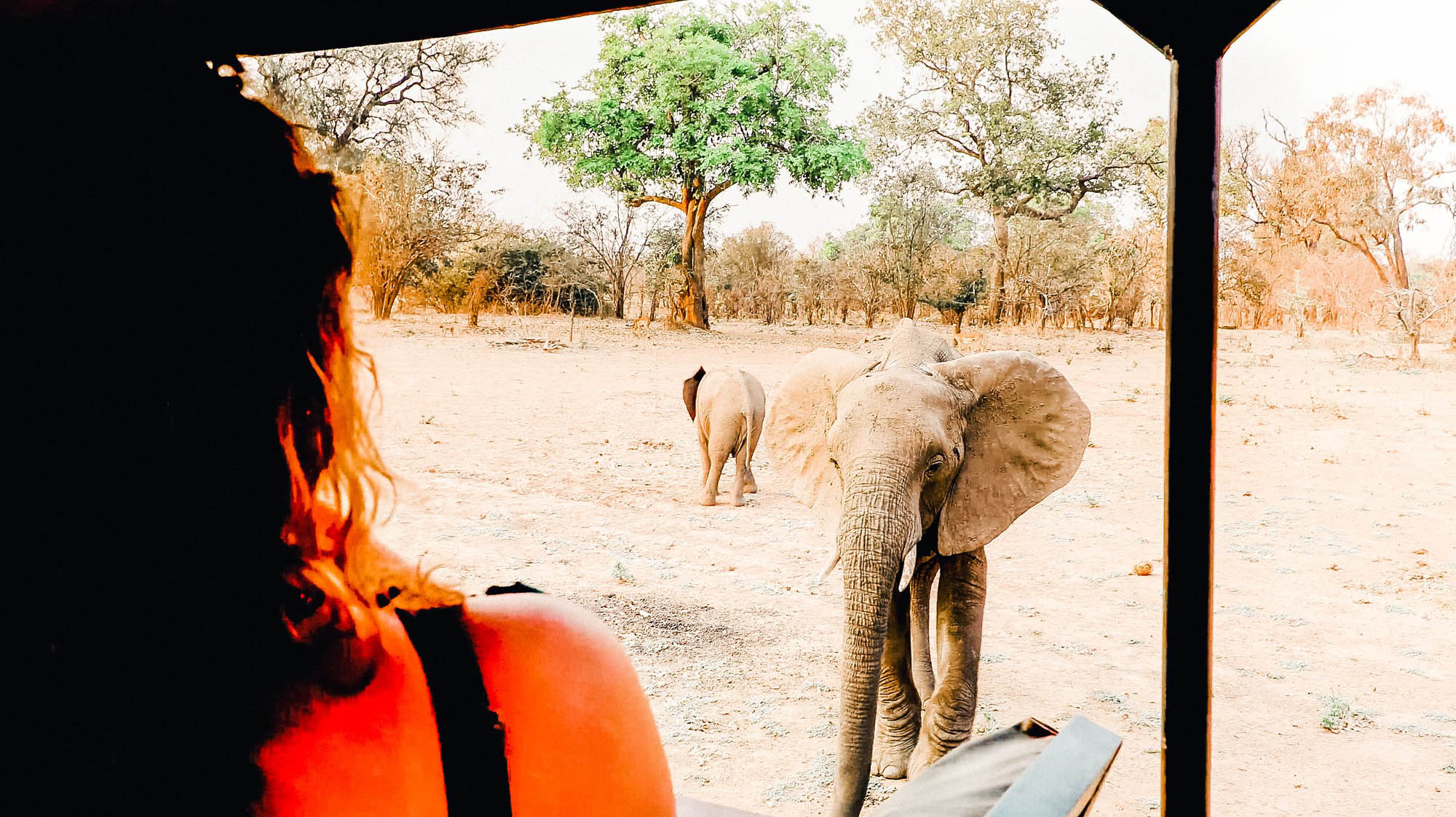 Photos courtesy of Green Safaris
A Silent Safari in Zambia at Shawa Luangwa
Driving into a large herd of buffalo on an electric vehicle is a startling experience. For the buffaloes just as much as for the occupants of the vehicle. After years of experiencing noisy diesel-powered vehicles bearing down on them, and taking evasive action to stay a safe distance away from them, the buffaloes seemed baffled by the approach of the practically noise-free electric vehicle. At least that was my impression last July, when I had the opportunity – together with a couple of Safari Pros on an educational visit – to experience several game drives in Green Safaris' battery-operated Toyota Land Cruisers.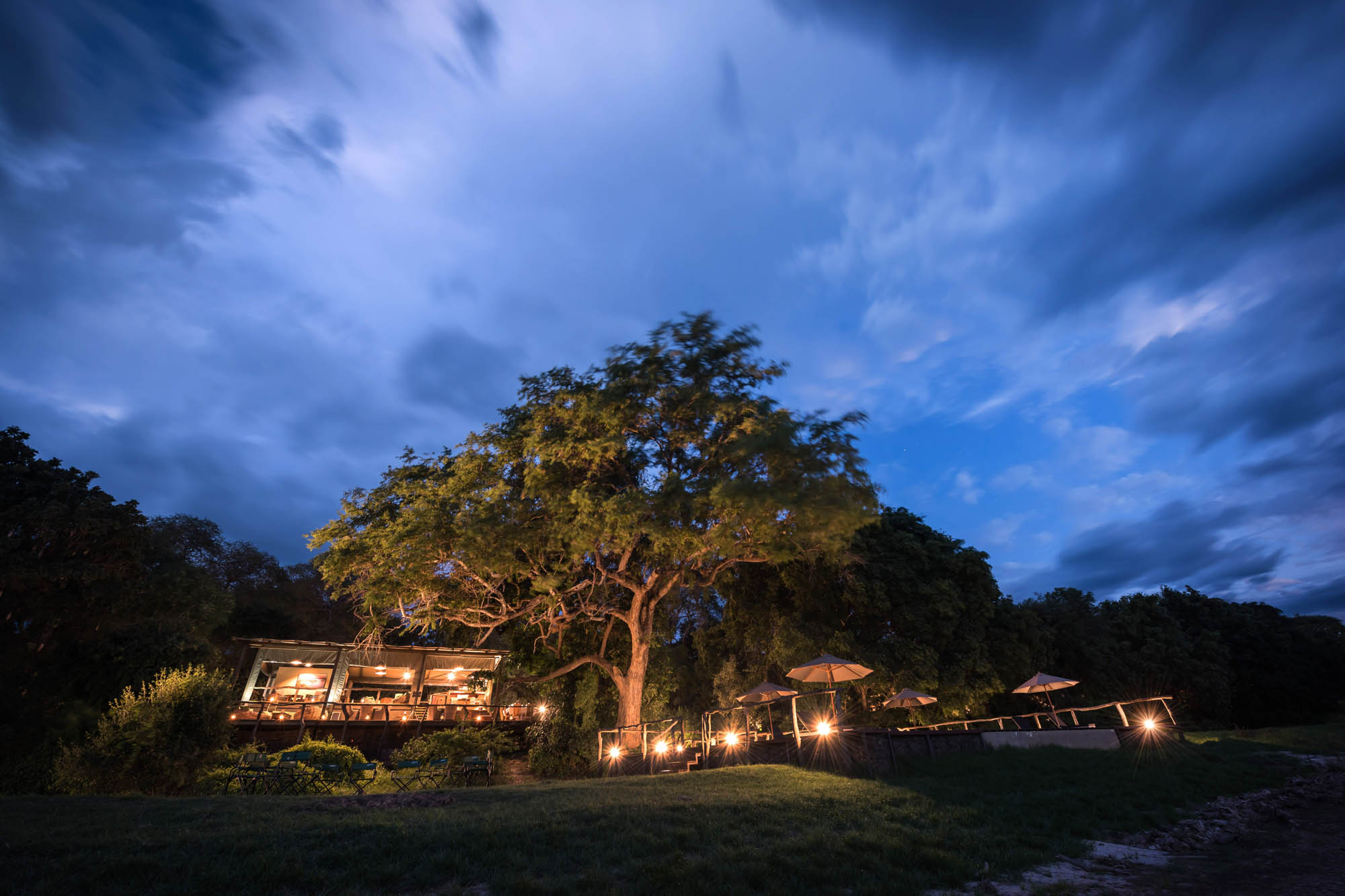 Photos courtesy of Green Safaris
Our guide – the legendary Jacob Shawa – was extra careful not to spook the herd and it worked. Moving up a few meters and then stopping. And repeat. The buffaloes were not completely fooled. A few of them would momentarily wheel and peel off from the herd, only to realize that there was no danger and quickly slow down to a walk. The reaction of the young buffaloes was priceless: giving us some fierce, sustained stares but clearly not overly intimidated by the appearance and presence of this large object moving slowly, quietly past them.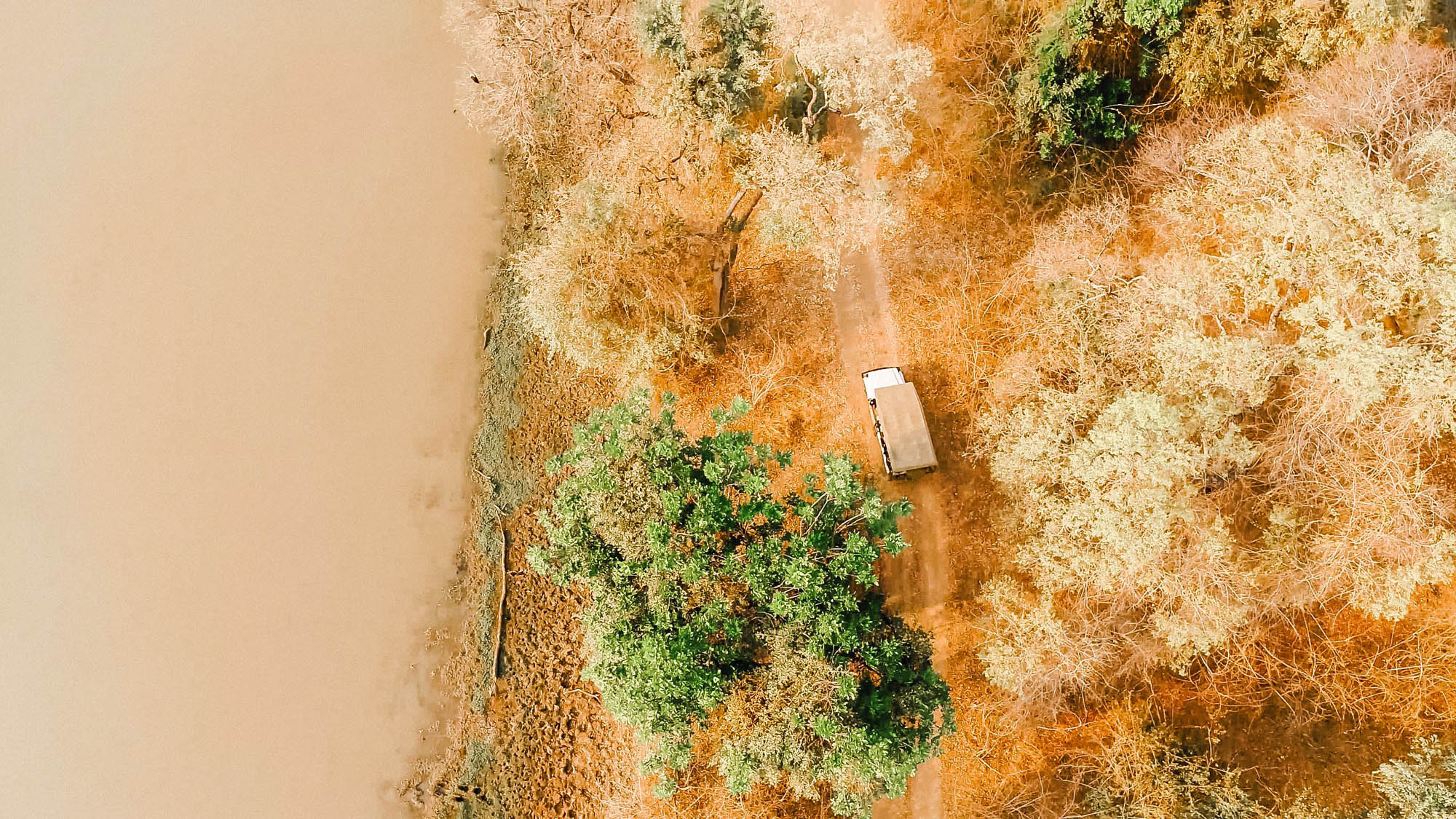 Photos courtesy of Green Safaris
Why electrical safari vehicles?
Using Africa's abundant solar energy to power vehicles offers a clean and sustainable alternative to burning fossil fuels. Over the last several years, great strides have been made with carbon-free electricity management in the African safari industry. A fast growing number of safari properties are run entirely by solar generated power. The one exception to this development to date, has been the safari vehicles which are mostly still fueled with diesel. Change is coming though and will largely be driven by improved battery technology.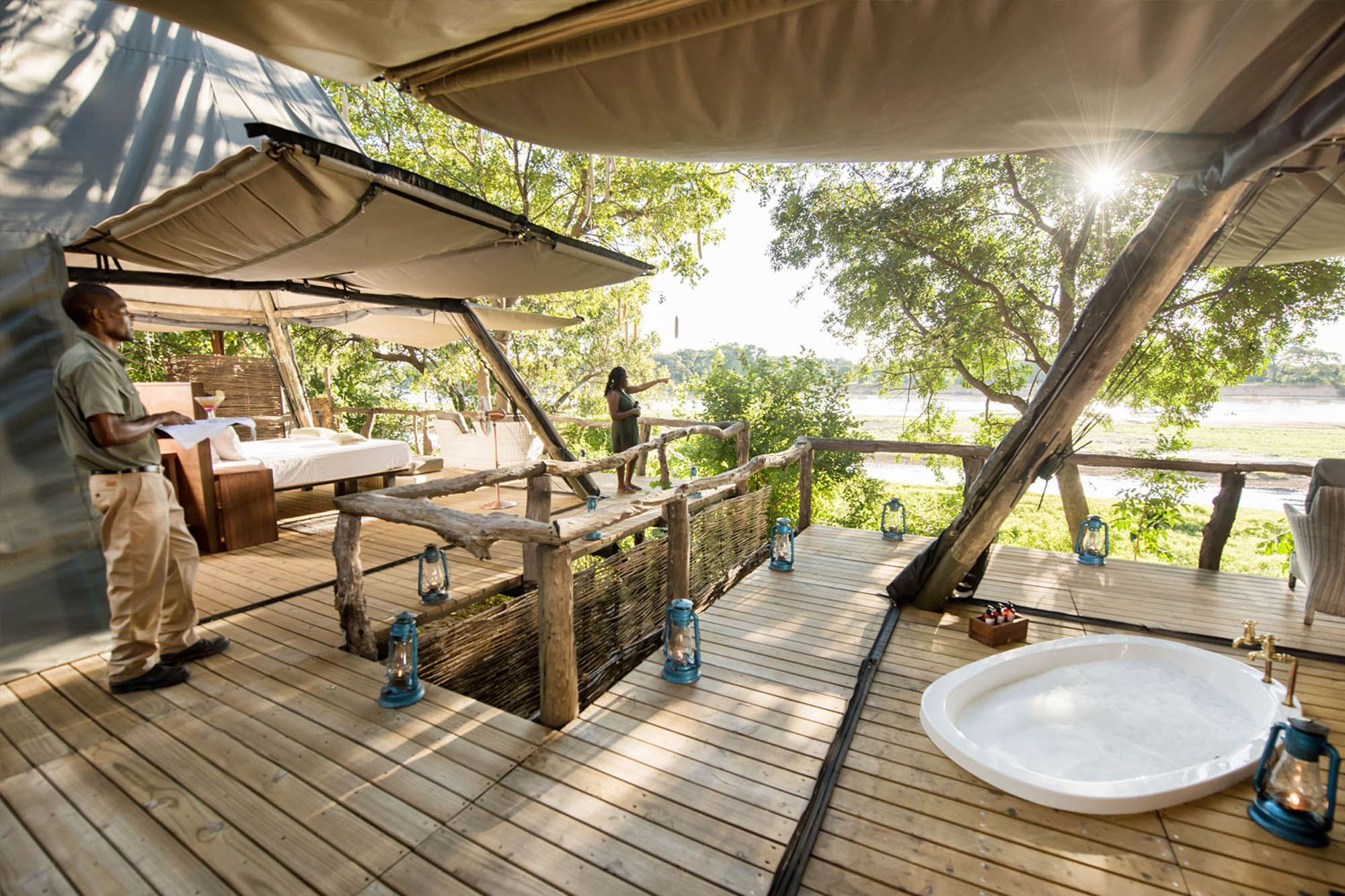 Photos courtesy of Green Safaris
Electric vehicle batteries are rapidly becoming safer, cheaper, and faster charging, with higher energy density. Lithium-ion batteries are the current standard for electric vehicles, yet they have a relatively short life cycle and have a history of overheating. Lithium-silicon and solid-state batteries are emerging electric vehicle battery technologies that will improve performance, hold more energy, and last longer at a lower cost.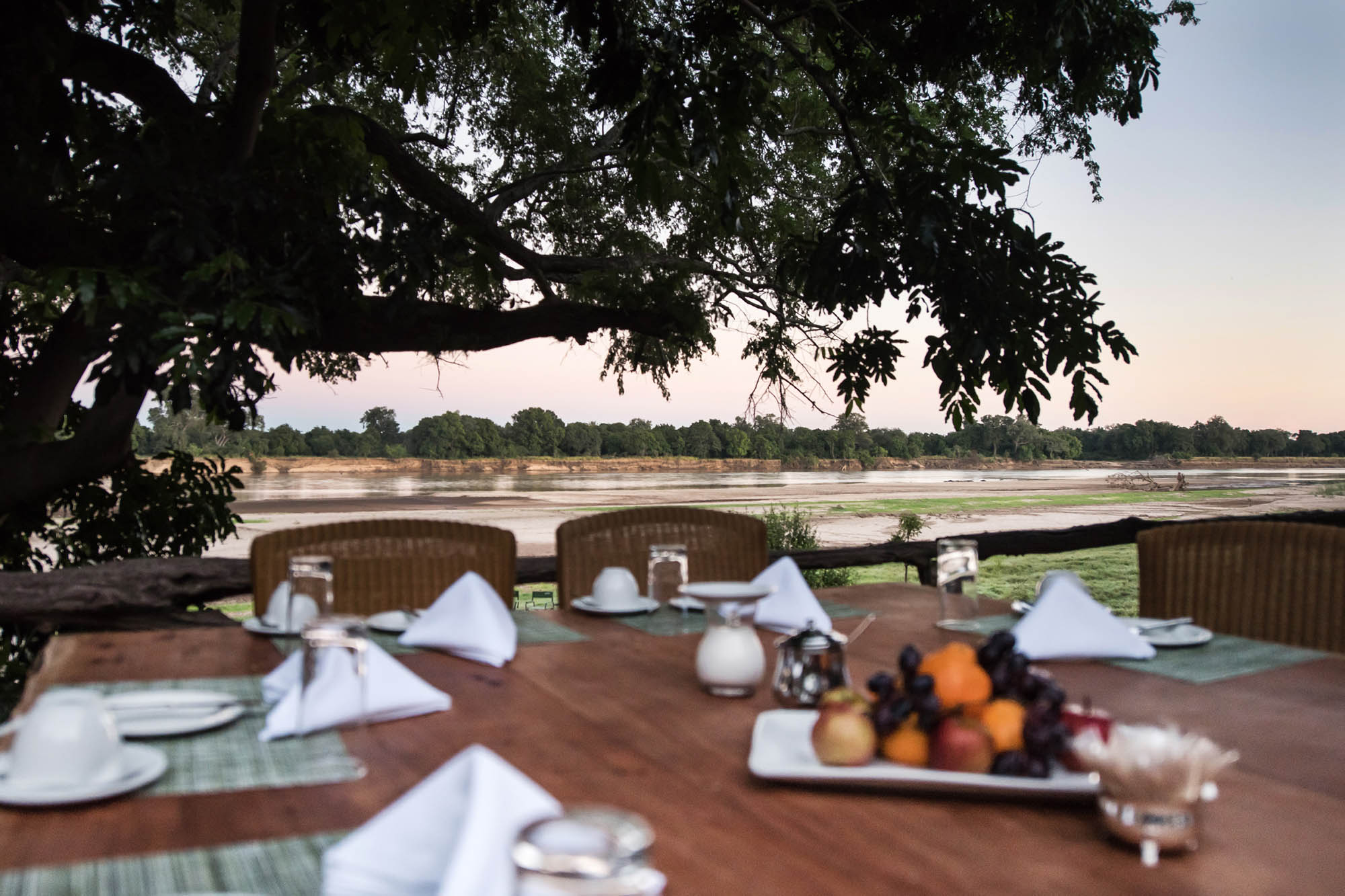 Photos courtesy of Green Safaris
The advantages of electrical game drive vehicles over their noisy internal combustion engine counterparts are legion. Being driven around in one is a silent and seamless experience with zero carbon emissions. The vehicles have plenty of torque and power to go anywhere that the traditional vehicles can, as we've seen and experienced ourselves. Worried about getting stuck in the bush? It's probably more likely to happen with a conventional vehicle than an EV. The vehicles are recharged from solar panels and on a full charge the battery lasts up to 6 hours, good for 100 to 125 miles, depending on the terrain. Game drives rarely exceed 25 to 30 miles, so there's plenty of reserve 'gas' in the tank.
Photos courtesy of Green Safaris
Beyond the obvious environmental benefits, electric vehicles enhance the guest experience in several ways. It starts with silence. The absence of extraneous noise and the incessant drone of large cities is what makes Africa's wilderness areas so special. Yet the moment a driver-guide starts up the massive V-8 motor which powers many of the Land Cruisers and Land Rovers in current use, the silence is shattered. The noise is incessant for the duration of the drive, and relief comes only when the vehicle is stationary and switched off.
Photos courtesy of Green Safaris
Not being able to hear the driver-guide from anywhere beyond the first row in a conventional safari vehicle is a constant source of dissatisfaction on outings. What was that again? Huh? What did he just say? Not so with an EV. Guides communicate easily with guests without having to shout over the sound of the engine.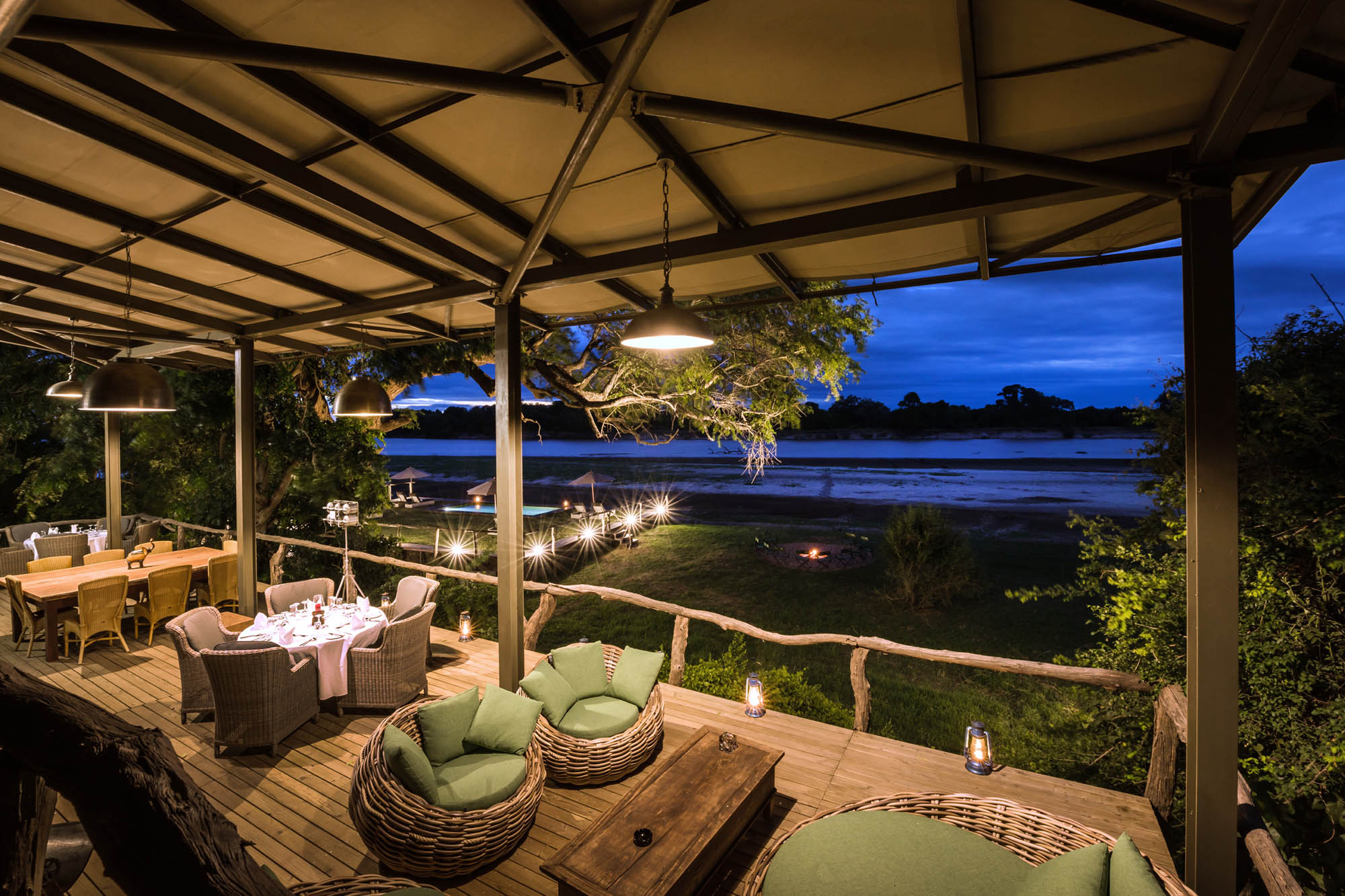 Photos courtesy of Green Safaris
Just as importantly, the guides can hear bird or small mammal alarm calls, often the most reliable clue to the presence of predators. An electric vehicle is ideal for approaching sensitive or 'jumpy' animals such as leopards, or cats with babies for whom the sound of the engine can spark a negative reaction. The smooth drive of an electric vehicle also provides a better platform for taking photos and videos without the incessant vibration and ambient engine noise.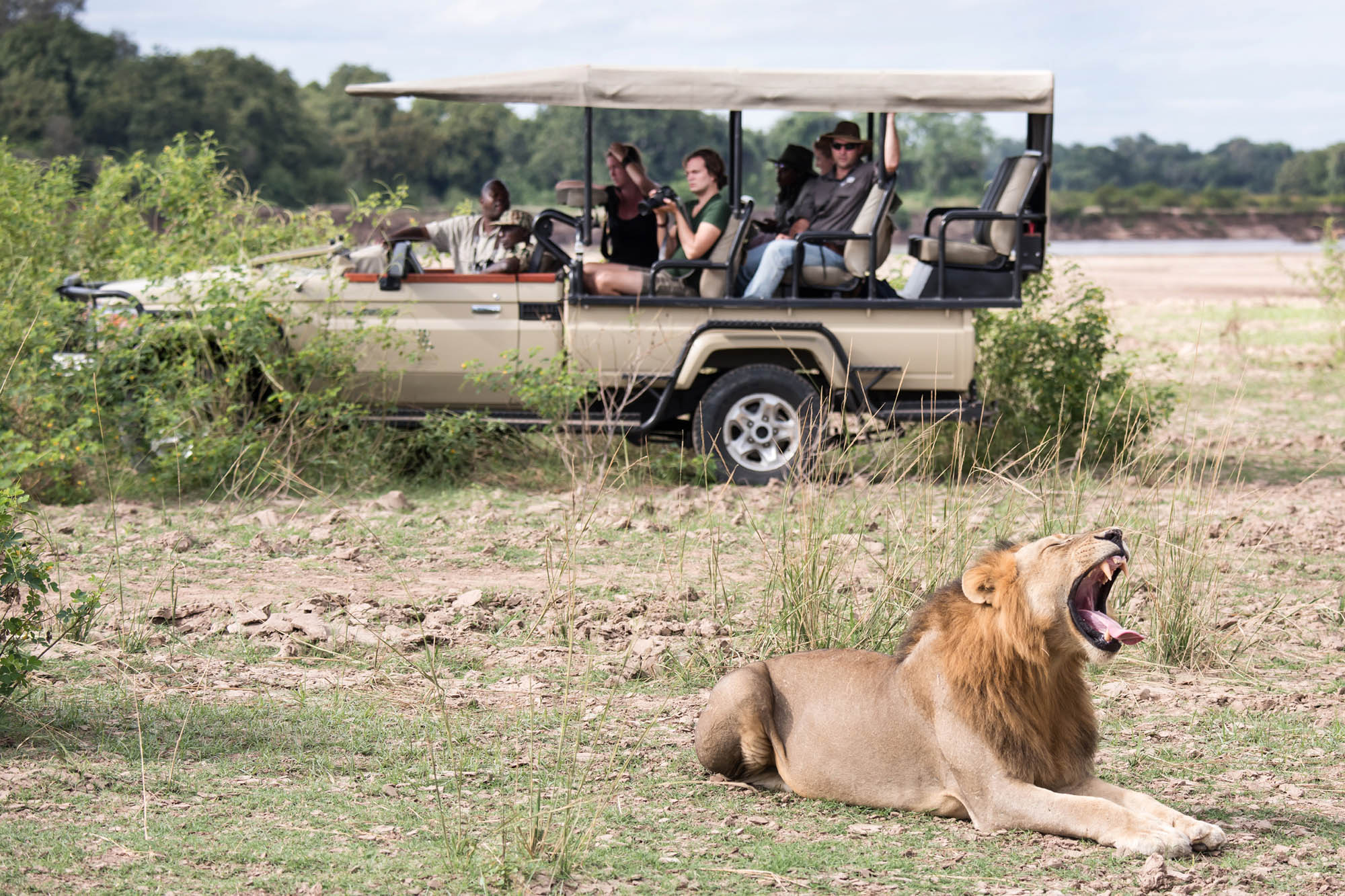 Photos courtesy of Green Safaris
Repositioning a vehicle around a sighting – often a necessary maneuver when an animal changes position – always creates a disturbance in a regular safari vehicle. There's the startup noise – which often startles the animals – the rumbling around, and of course the inevitable spewing of yet more diesel fumes in the air. With the electric car, there is a soft hum for a few seconds and then – click – you suddenly start to move forward. No noise, no fumes, no aggravation. It actually takes a while getting used to, because there is no cue (ignition sequence) that you are about to move. Hold on to your hat! All movement is just more pleasant without the unnatural sound of an engine in a natural environment.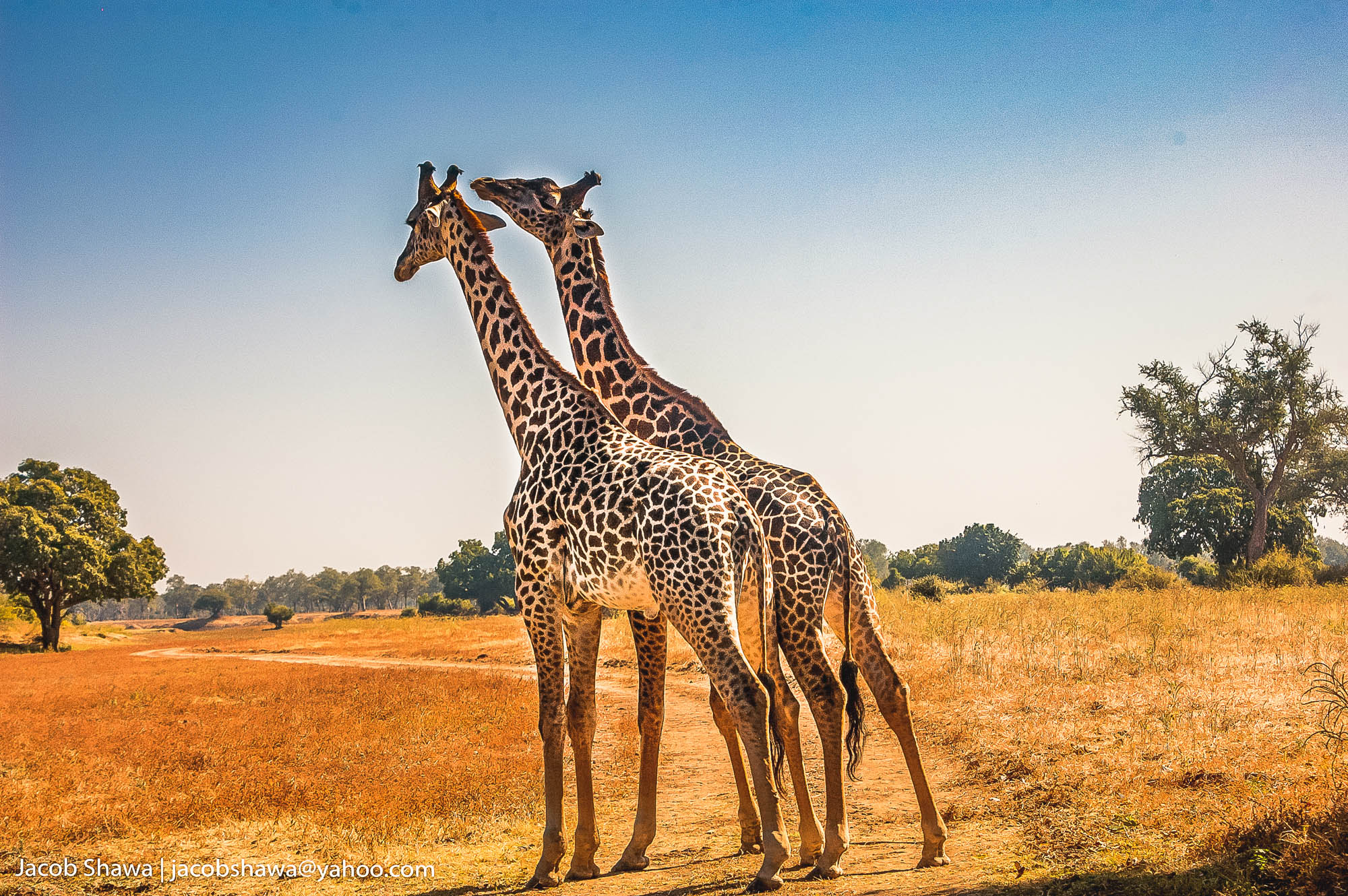 Photos courtesy of Green Safaris
Also, it is just flat out cool to be on a battery operated safari vehicle. It was quite noticeable that nearly every time Jacob pulled the Green Safaris electric vehicle alongside traditional diesel ones, it became the object of attention – and maybe just a tad of envy. Other tourists, photographers and even the driver-guides themselves were staring more than just a little, peering in the direction of the vehicle to confirm their first impression. Did that vehicle just move without making a sound? You betcha!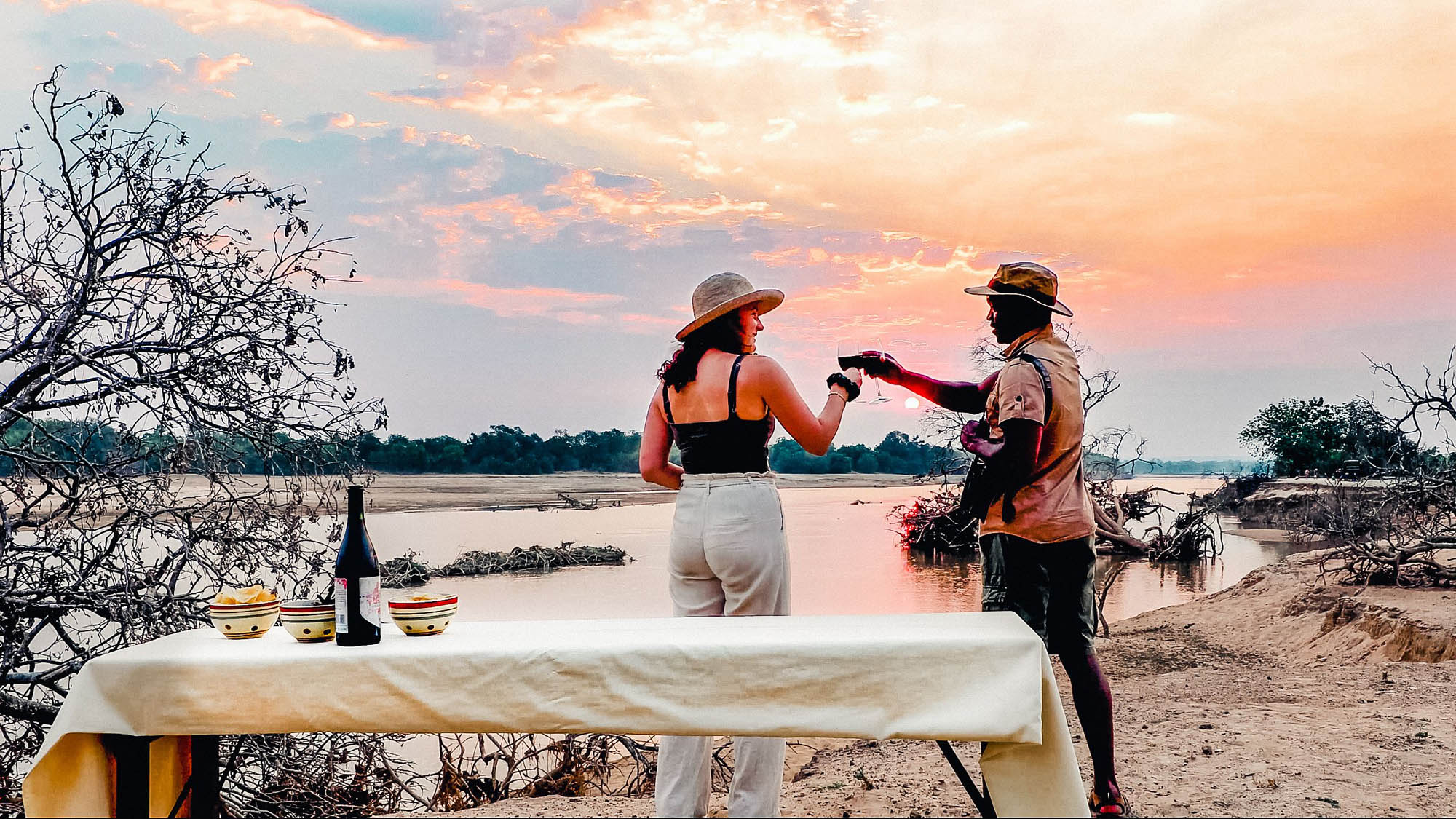 Photos courtesy of Green Safaris
Electric game drive vehicles and boats elsewhere in Africa
Electric safari vehicles have been showing up at a handful of camps across Africa, starting with Desert and Delta Safaris' Chobe Game Lodge which scored a first in Africa when they launched an electric game drive vehicle and boat on November 7, 2014. Currently, Chobe Game Lodge operates four electric vehicles and four boats, three of which are fully solar powered. Since the start of the project they estimate saving over 38,000 kilograms of CO2 emissions and almost 15,000 liters of diesel.
Electric vehicles are also in use in Kenya in the Lewa Wildlife Conservancy at Lewa Wilderness Lodge, at Campi Ya Kanzi in the Chyulu Hills and at Emboo River Camp, the only Mara safari camp that has gone all-electric with its fleet.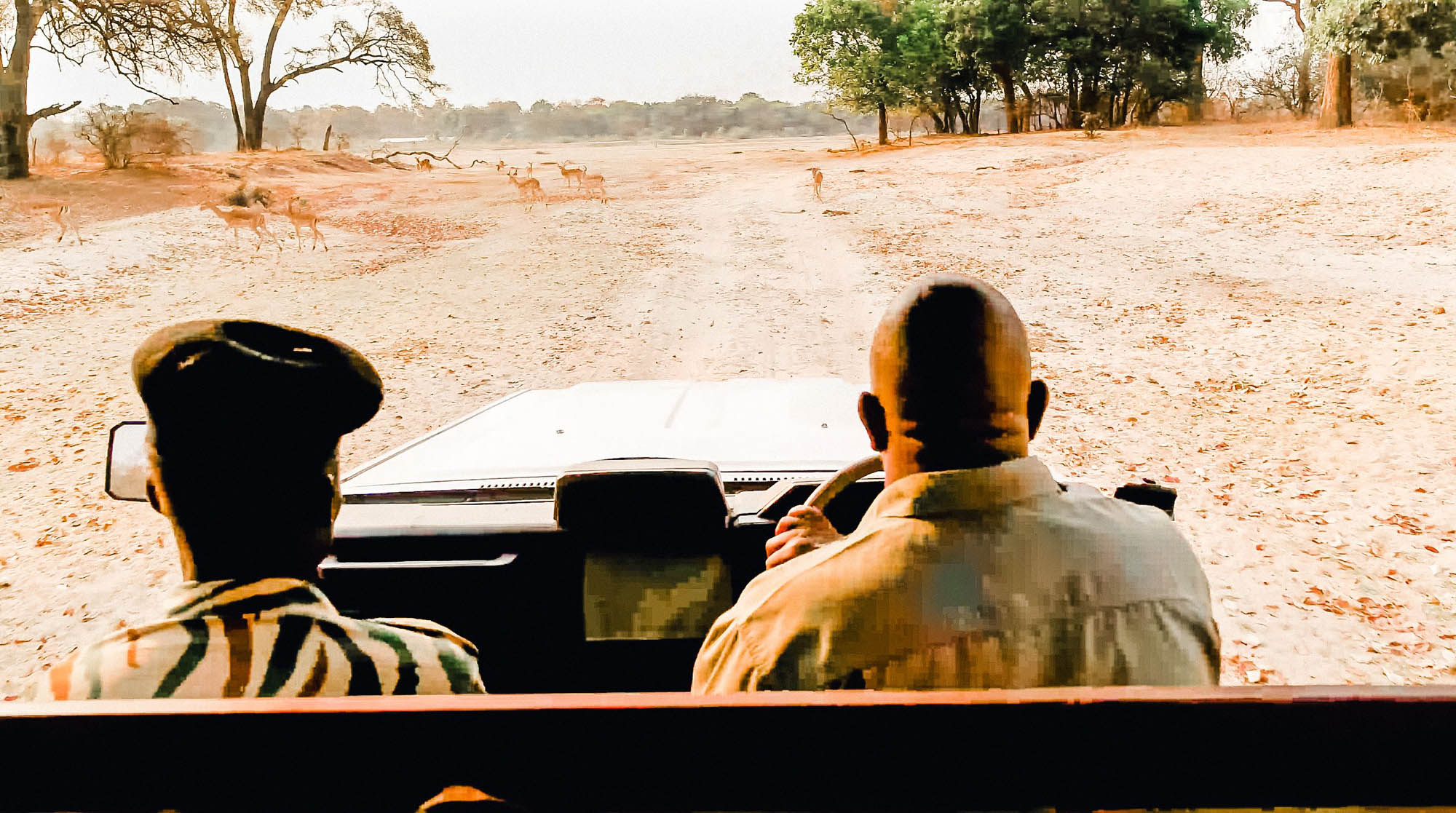 Photos courtesy of Green Safaris
In South Africa, Makanyi Lodge in Timbavati Private Nature Reserve in South Africa has a converted Land Cruiser in operation while Cheetah Plains Lodge in the Sabi Sands Reserve operates several luxury-fitted electric game drive vehicles. We were fortunate to undertake several drives in the northern Sabi Sand on Cheetah Plains' smooth, quiet-driving vehicles in March 2020. Here is a link to our blog post recounting the experience.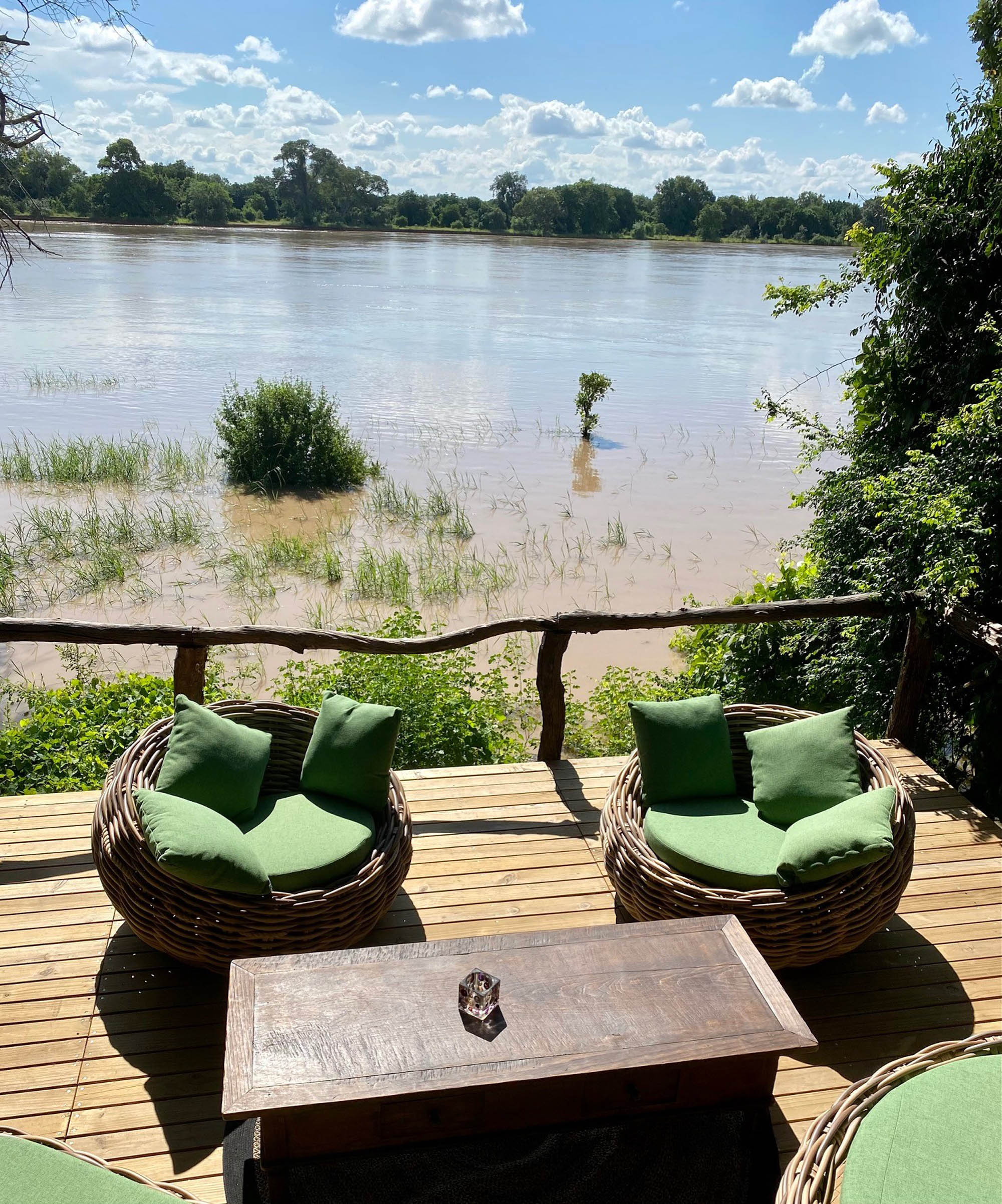 Photos courtesy of Green Safaris
Shawa Luangwa Camp
We had arrived at the new Shawu Luangwa Camp the previous afternoon, after a short pontoon ride across the Luangwa River. There is a lot to like about this 5-roomed camp.
It has an excellent location right on the edge of the Luangwa River, with a large floodplain stretching out in front of the camp, to the left and right.

The camp is constructed in a heavily wooded site, filled with birds and birdsong and small animals.

Shawa Luangwa has a fleet of battery-operated vehicles making 'silent safaris' a reality – and what a pleasure it was to silently glide through the bush with practically zero noise and no pollution.

We experienced superb guiding by no less than Jacob Shawa, the head professional guide and inspiration behind the naming of the camp.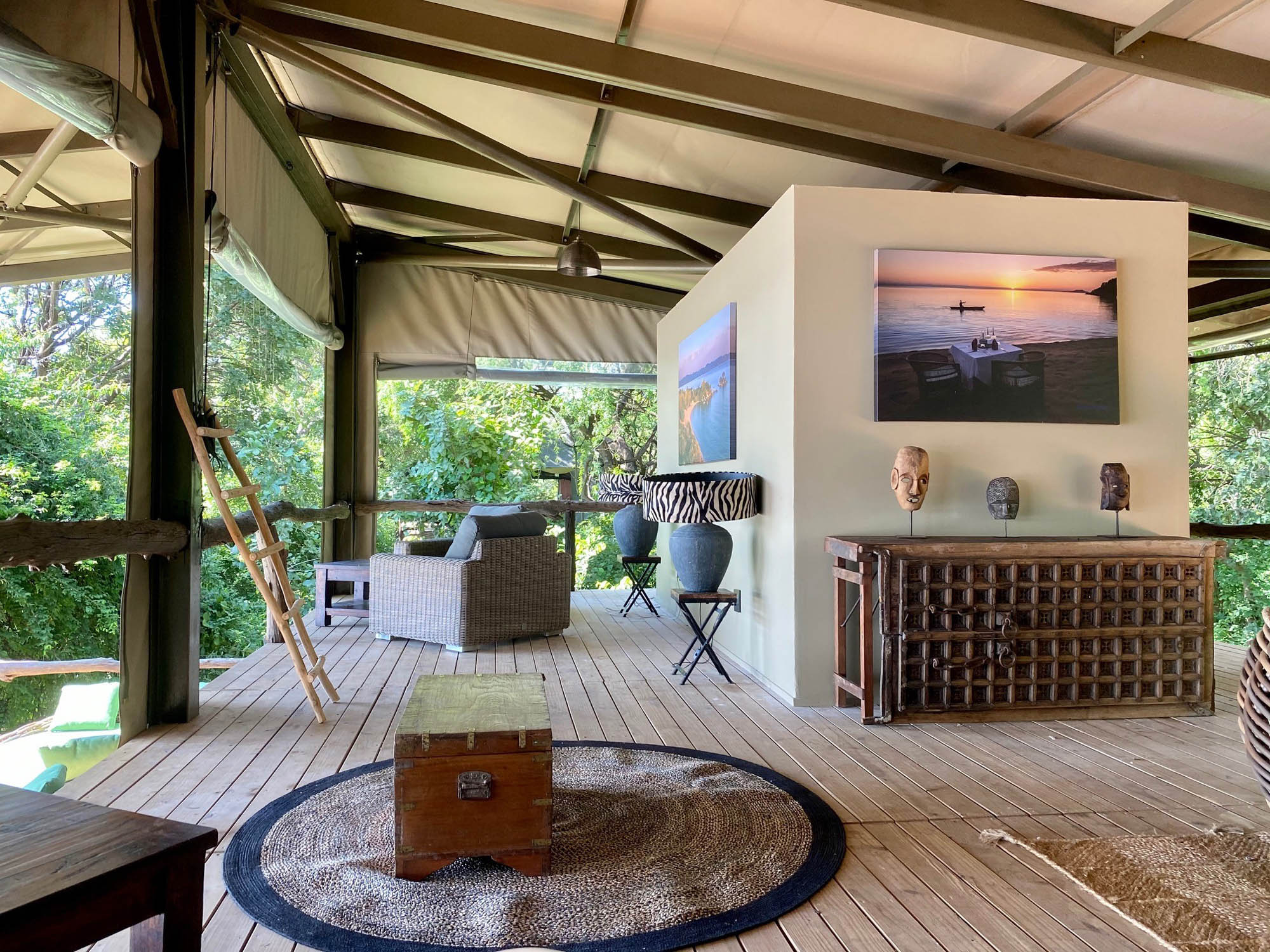 Photos courtesy of Green Safaris
I was impressed with the innovative design of the main lodge and dining room which is a compact, split-level structure, not the usual sprawling edifice. The elevated deck provided an ideal al fresco dining spot overlooking the pool and the river in the far background.
There's also what appears to be a particularly inviting fireplace with chairs – which we unfortunately didn't have the opportunity to use. I was told that the fireplace came with a view of hippos at night and it is easy to see why, with so much grassy floodplain right in front of camp, and so many hippos…. All in all, the food at Shawa Luangwa was tasty, a highlight being the great spareribs for lunch. To be sure, I wasn't wowed by the bare-bones cheese platter served with dinner, but it was no big deal. The breakfast was excellent.
Photos courtesy of Green Safaris
The rooms have a couple of design features which some visitors will like a lot, and others won't. I think everybody will like the open design, with great looks towards the floodplain and the river, and the feeling of being right inside a forest. The rooms probably could have used a bit more space. The sunken bath right inside the room will be popular with bath aficionados but clearly that's not everybody. The smallish toilet room – barely bigger than a closet – feels a bit like an afterthought. At least it is separate and has a door.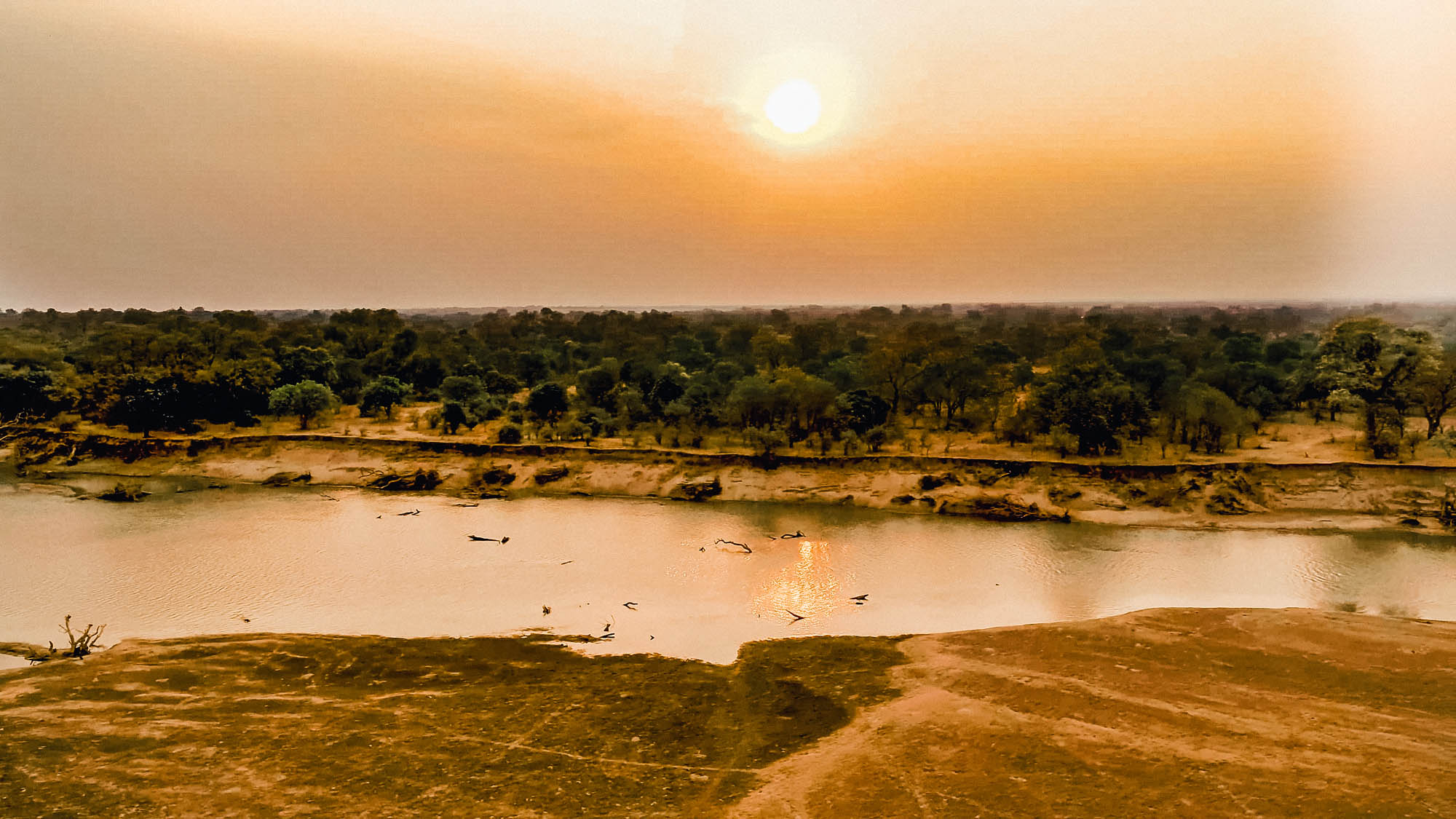 Photos courtesy of Green Safaris
Head professional guide Jacob Shawa
Despite a couple of minor glitches with service, including an overly lengthy process to charge park fees upon our departure, my stay at Shawa Luangwa was most enjoyable. Head Guide Jacob Shawa provided me with some excellent photographic hints and suggestions and he would be an asset on safari for anyone serious about getting some great photos.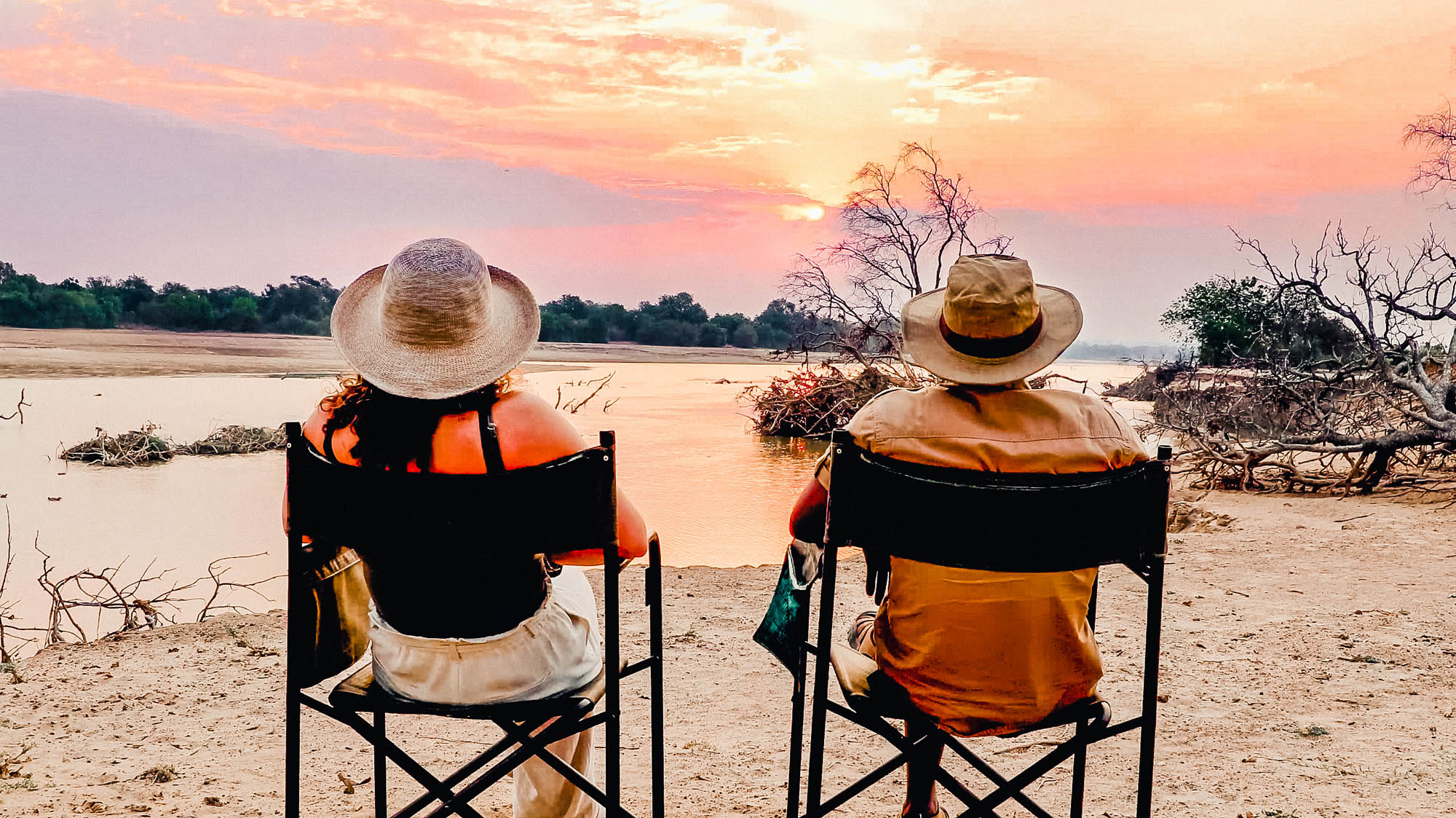 Photos courtesy of Green Safaris
Voted one of Wanderlust's top 8 professional guides and one of the most interesting and passionate guides you will ever meet, Jacob is at the heart of Shawa Luangwa's story. Like the other members of the Green Safaris team, Jacob fell in love with the Zambian wilderness many years ago and has been deeply connected to it ever since. Jacob hand-picked the spot where Shawa Luangwa sits – an untouched area overlooking the Luangwa River – and he inspired the name of the camp.
On the morning of our departure, we enjoyed a superb game drive inside the South Luangwa National Park, just across from Shawa Luangwa. Our first sighting was a huge herd of buffaloes of around 500 drinking at a pool. They were very curious about the approach of the silent vehicle and allowed us to come closer and with less disturbance than would have been the case with a regular vehicle.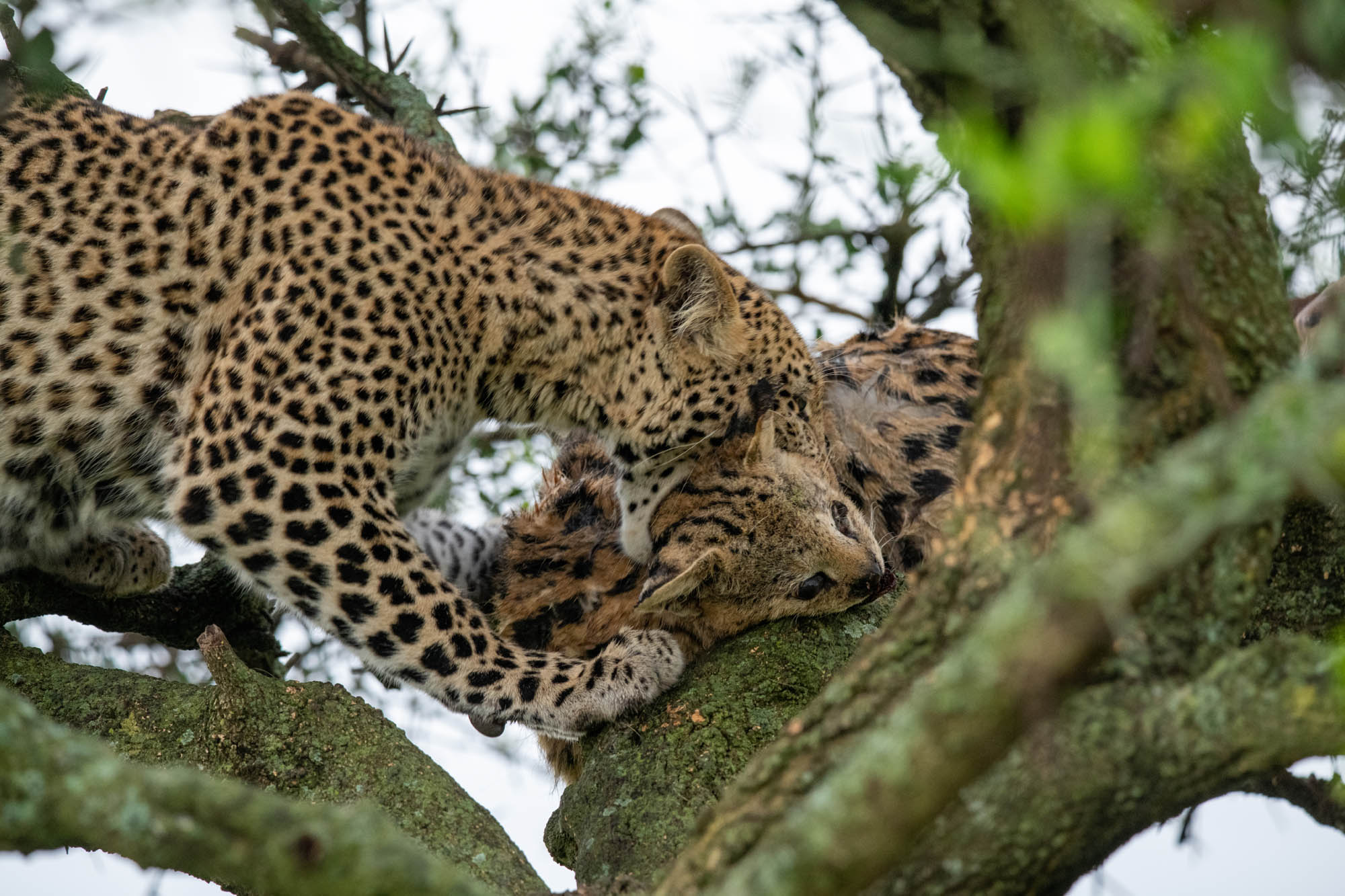 Photos courtesy of Green Safaris
We also had some interesting views of a leopard which had made a kill and dragged it into a tree. The South Luangwa has one of the highest densities of leopards in Africa and sightings of this elusive big cat are frequent. This part of the South Luangwa opposite Shawa Luangwa is known for large herds of elephant and buffalo, and several of the 14 antelope species to be found in the park. Predictably, there were lots of hippo along the river bank, together with bushbuck, kudu and puku. And bunches of a local endemic, the handsome Thornicroft's Giraffe.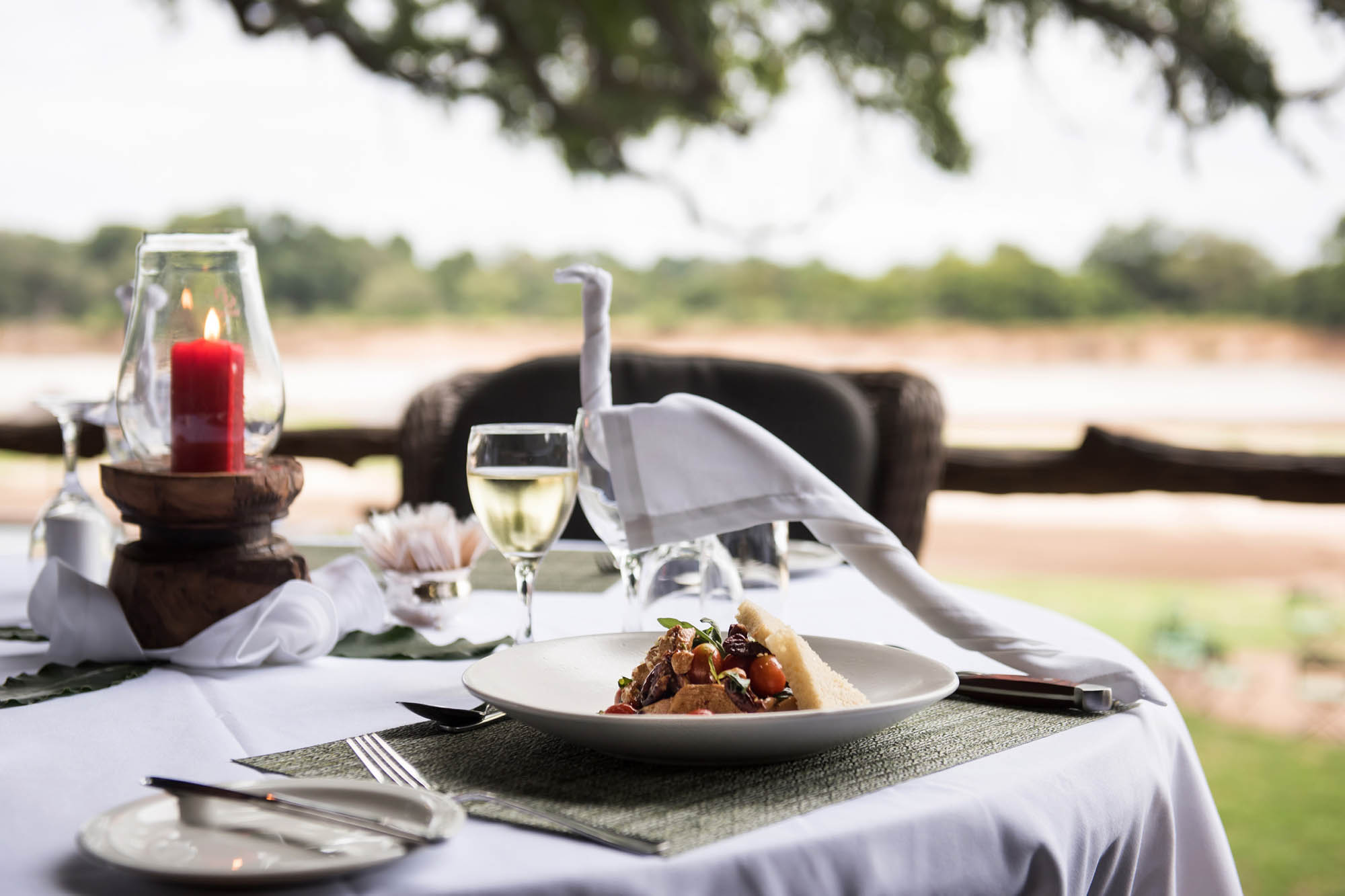 Photos courtesy of Green Safaris
Puku Ridge Camp
A bit later that morning, Jacob drove us south to Puku Ridge, where we did a site inspection and enjoyed an excellent tapas lunch.
Puku Ridge is a beautiful property with an impressive main lounge and dining room complex, and a fine fire-pit area with great views of the Luangwa River floodplain. There is a well-appointed eye-level hide (blind), which is easily accessible from the main area.
The rooms at Puku Ridge are among the best in Zambia, luxurious and stylishly appointed with effective climate control, which makes this camp a good option for the warmer months of the year. There is a rooftop sleepout option in all the rooms.
YOU MIGHT ALSO BE INTERESTED IN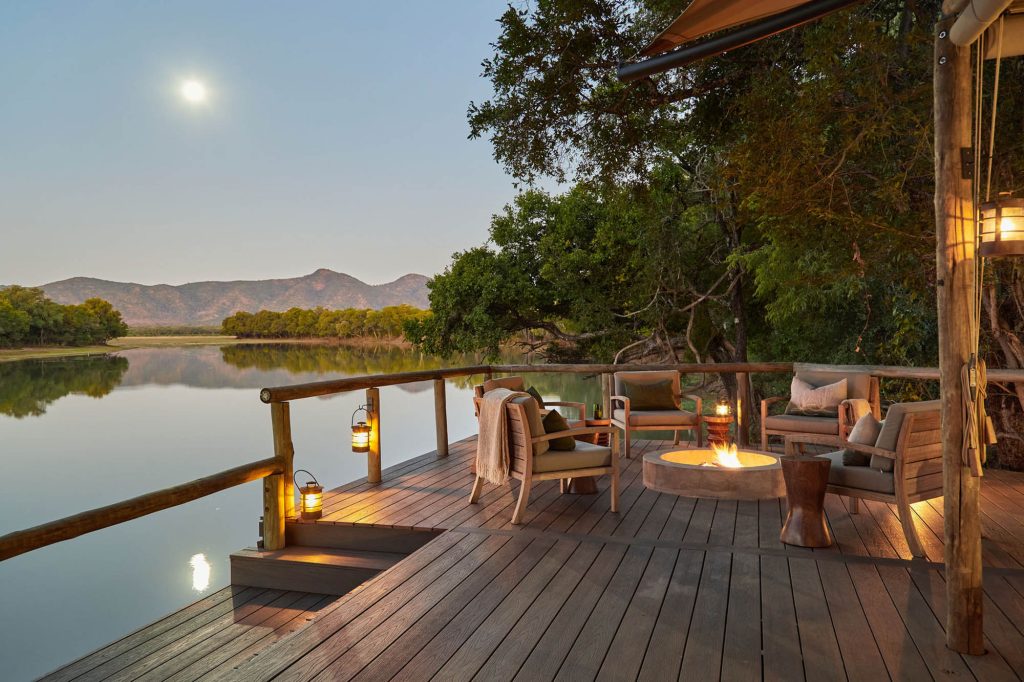 10th Sep 2021
Chindeni and the Bushcamp Company, Zambia
By late July we found ourselves at Chindeni, a small Bushcamp Company property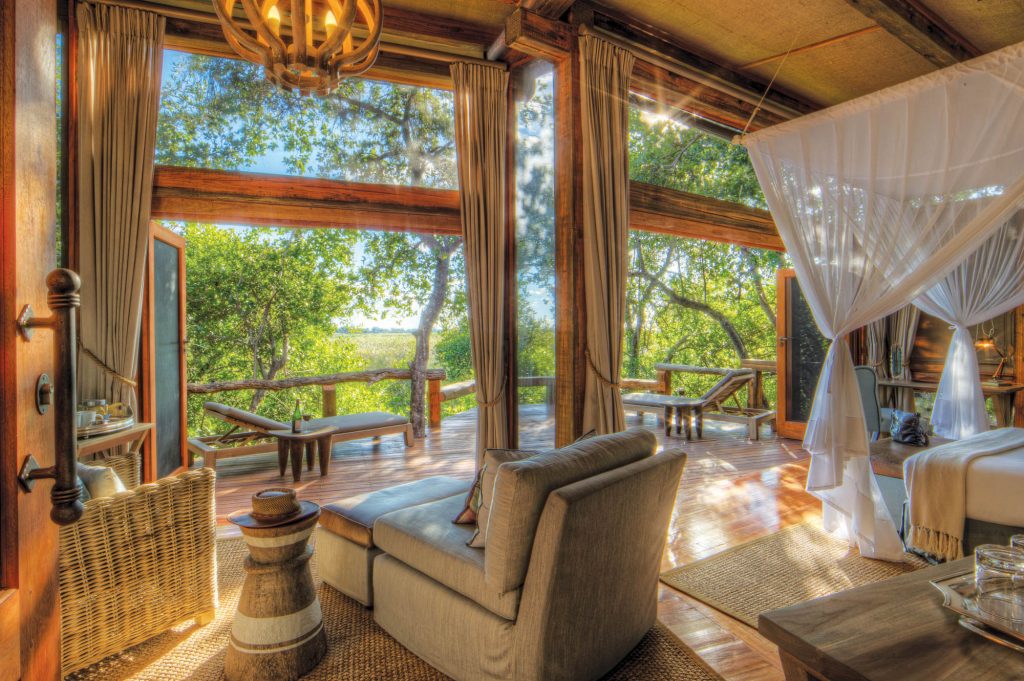 3rd Oct 2022
Camp Okavango, Botswana
Camp Okavango is in the heart of the permanent part of the Delta. In this idyllic setting there are no vehicles, and it is just a short walk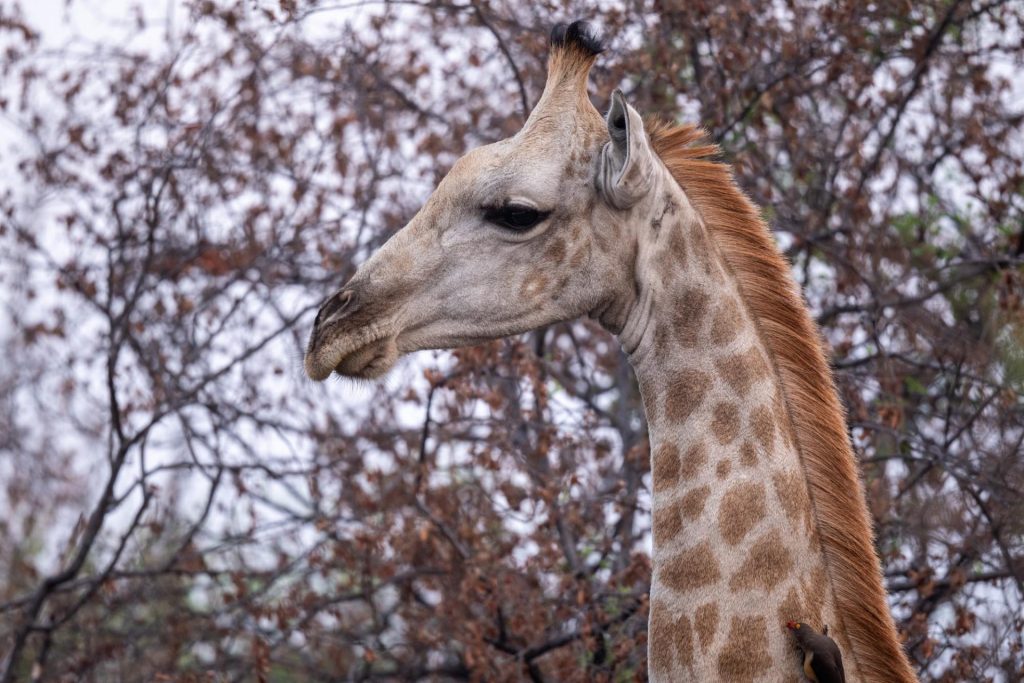 26th Mar 2023
Photography on safari
Fish Eagle Safaris was an early adopter of digital photography. Company founder Bert somewhat fondly recalls using a first generation Sony Mavica
SUBSCRIBE TO OUR NEWSLETTER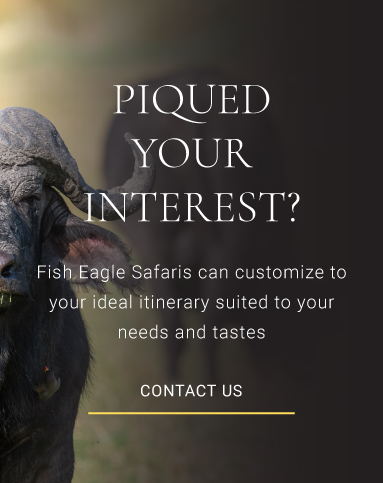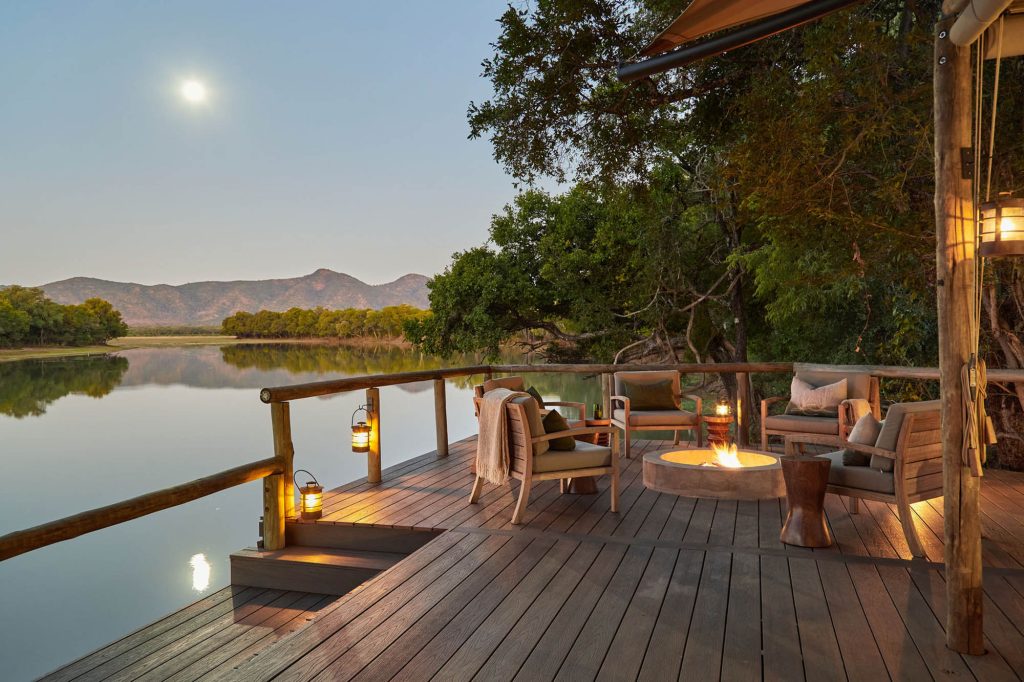 10th Sep 2021
Chindeni and the Bushcamp Company, Zambia
By late July we found ourselves at Chindeni, a small Bushcamp Company property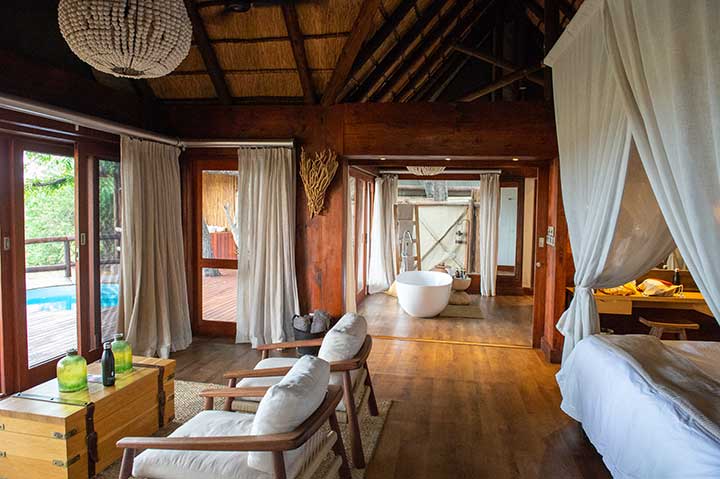 4th Aug 2022
On Safari At Belmond Eagle Island Lodge, Okavango Delta
What is the 'secret sauce' for an unforgettable few days on safari in Botswana? It starts with the animals, of course. The elephants, lions, giraffes, hippos