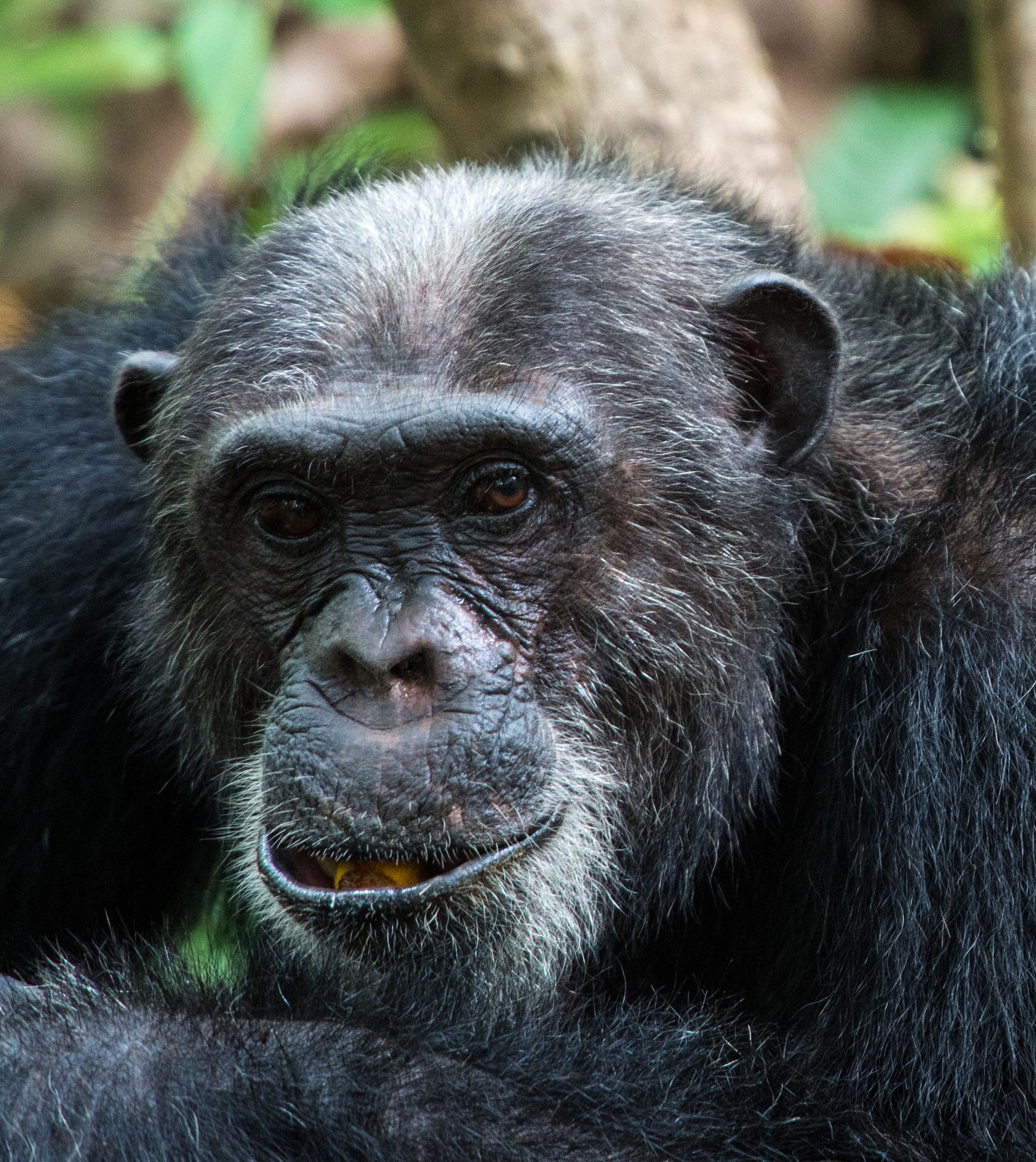 Chimpanzee trekking in Africa
As a child growing up in South Africa I had no concept of chimpanzees as wild animals. Even well into my teens – by which time I had seen and admired many large mammals in the Kruger National Park – chimpanzees were at best caricatures of real, wild animals. They were movie stars or advertising props, or used to entertain gullible people at circuses or carnivals.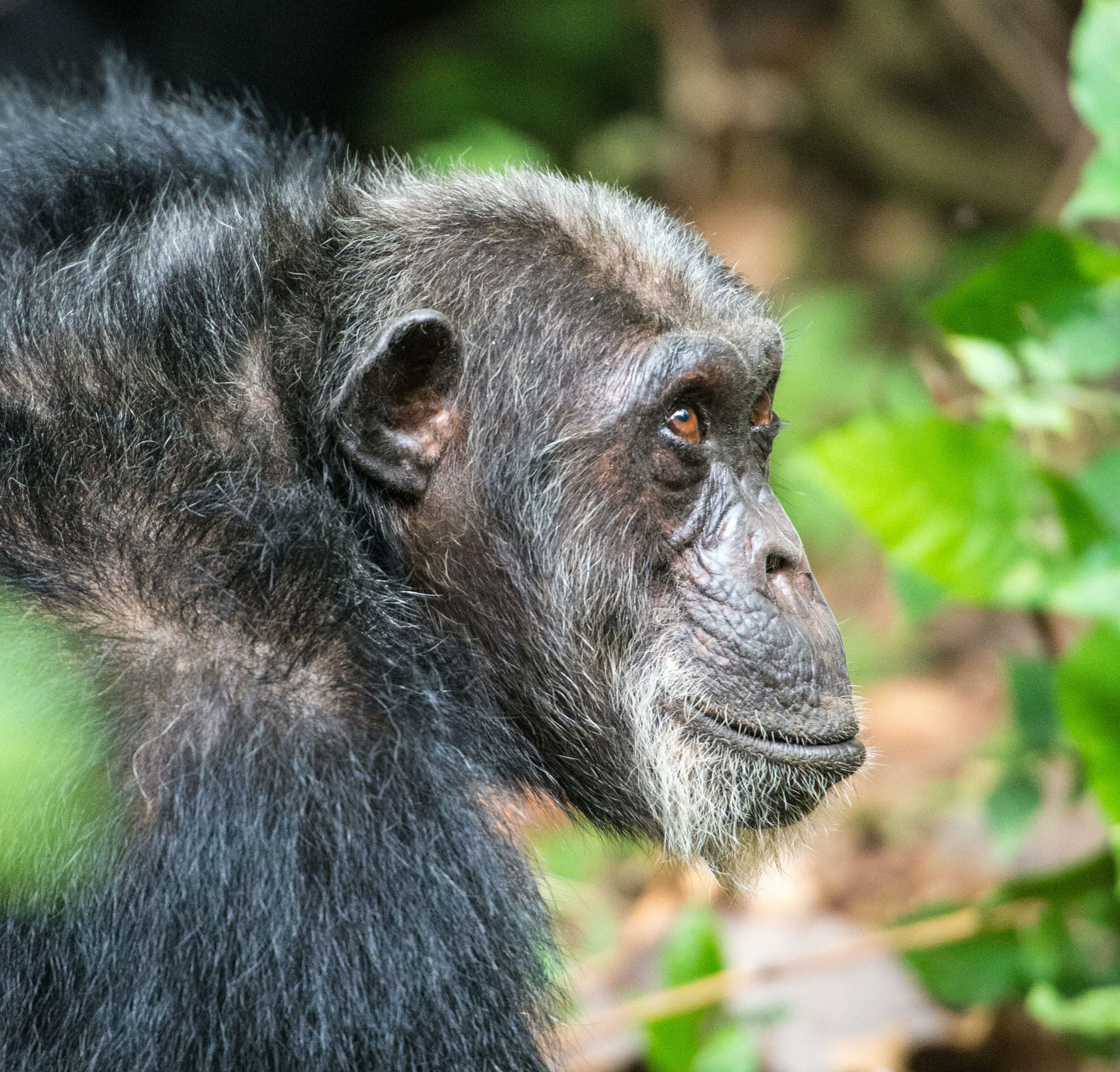 It was not until many years later that I came to know that chimpanzees used in the entertainment industry are invariably babies or youngsters. Around age eight they become practically impossible to control and can no longer be relied upon to perform their unnatural learned tricks such as walking upright or riding a little tricycle. At that point their future becomes even more grim than their past.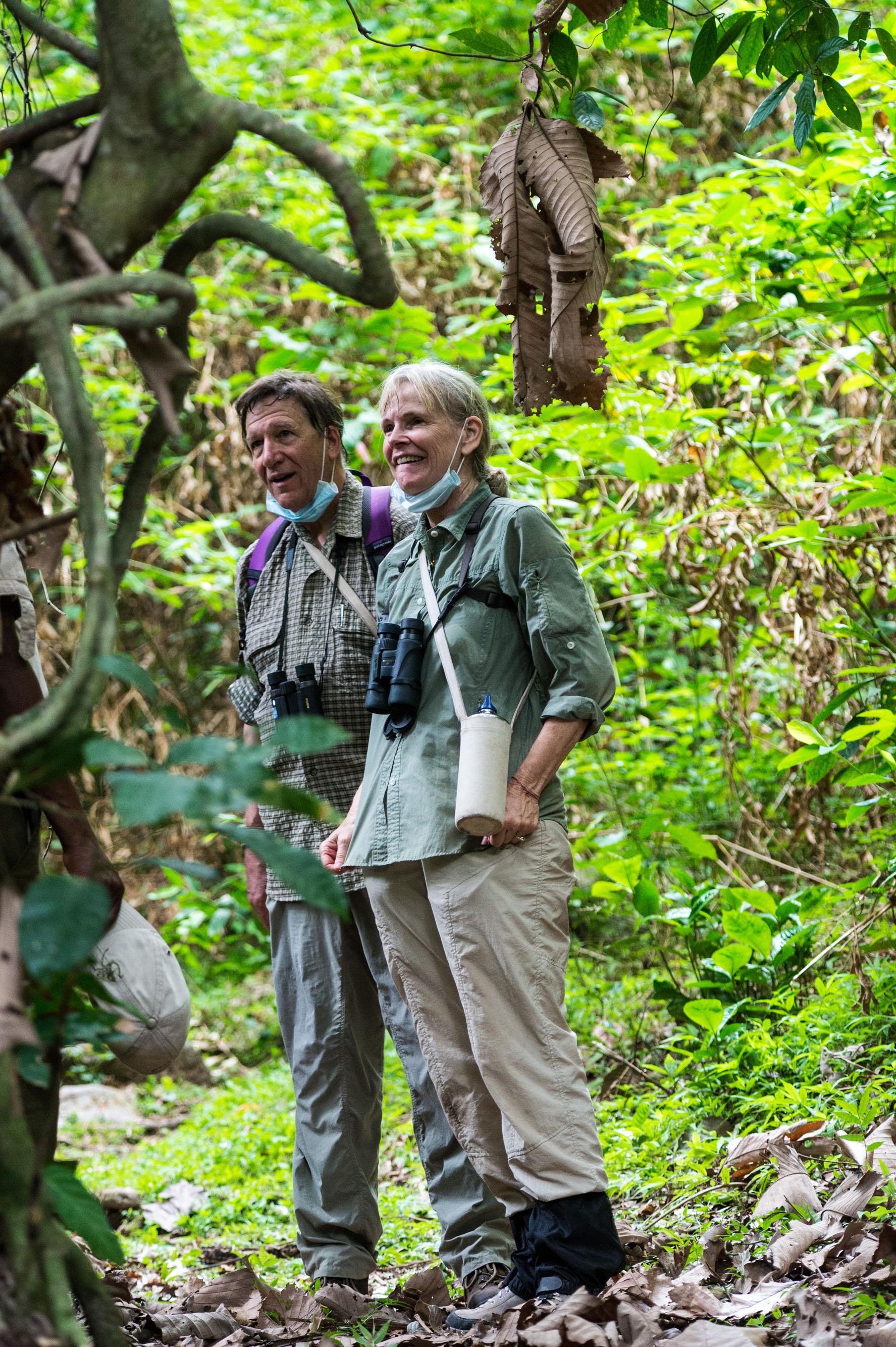 So when I saw my first wild chimpanzees in Uganda many years later, it was a jaw-dropping experience. I could hardly believe it. Chimpanzees were real. Here, right in front of me, were several of them practically tumbling down a high tree, crashing through the vegetation and unleashing the weirdest spectrum of noise and sound. The most telling moment was when one chimpanzee hopped onto an horizontal branch and looked straight at me. Or maybe at the person next to me. I felt an instant sense of connection, like locking eyes with another human being. It felt strange and somewhat unsettling, but perhaps not surprising, given the close relationship between chimpanzees and humans. Humans share about 99% of our DNA with chimpanzees, making them our closest living relatives.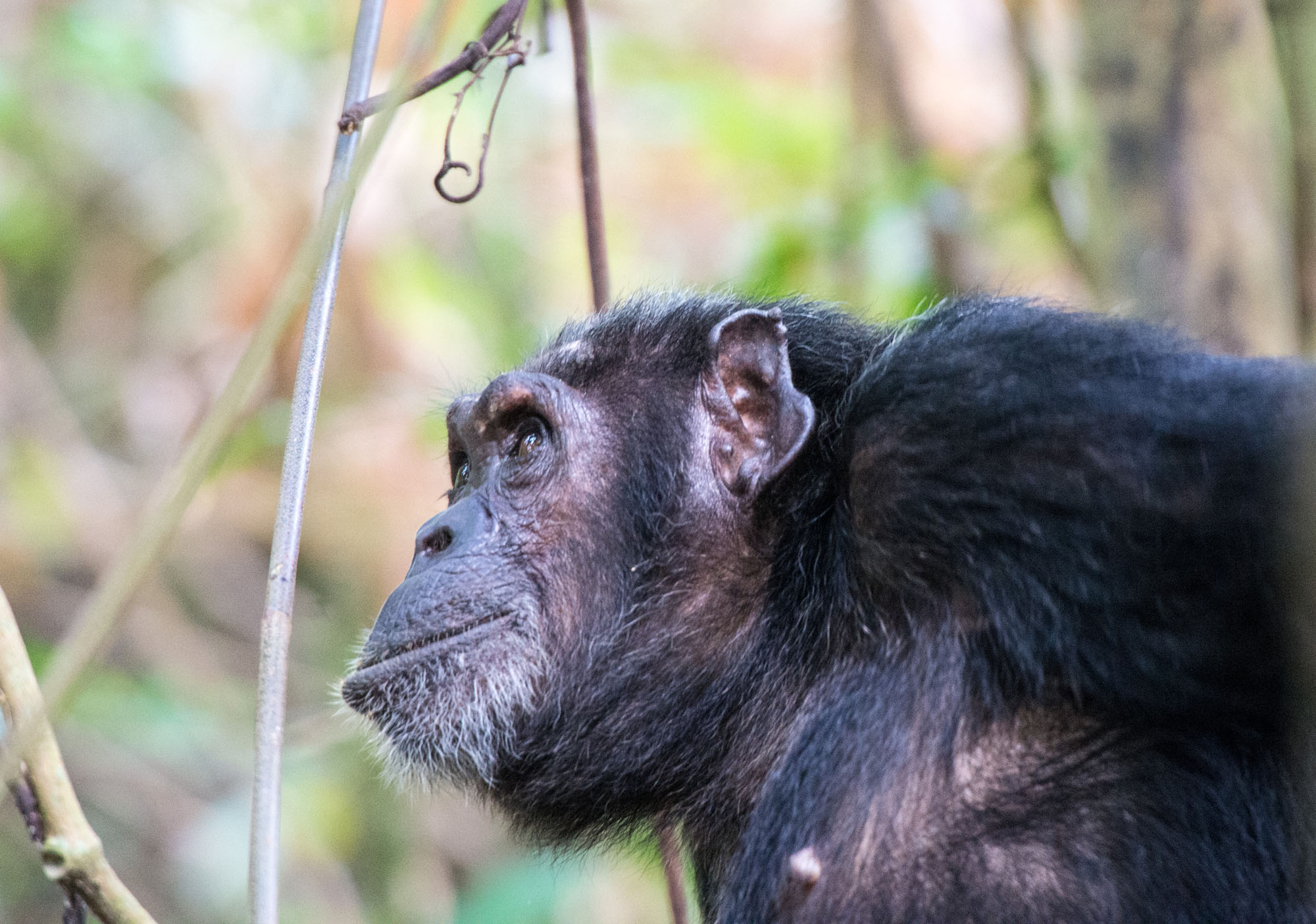 Over the years, we've done several chimpanzee treks in Uganda (in three different areas), as well as in the Nyungwe Forest area in Rwanda, and most successfully of all, out of Greystoke Mahale in the Mahale Mountains National Park in western Tanzania.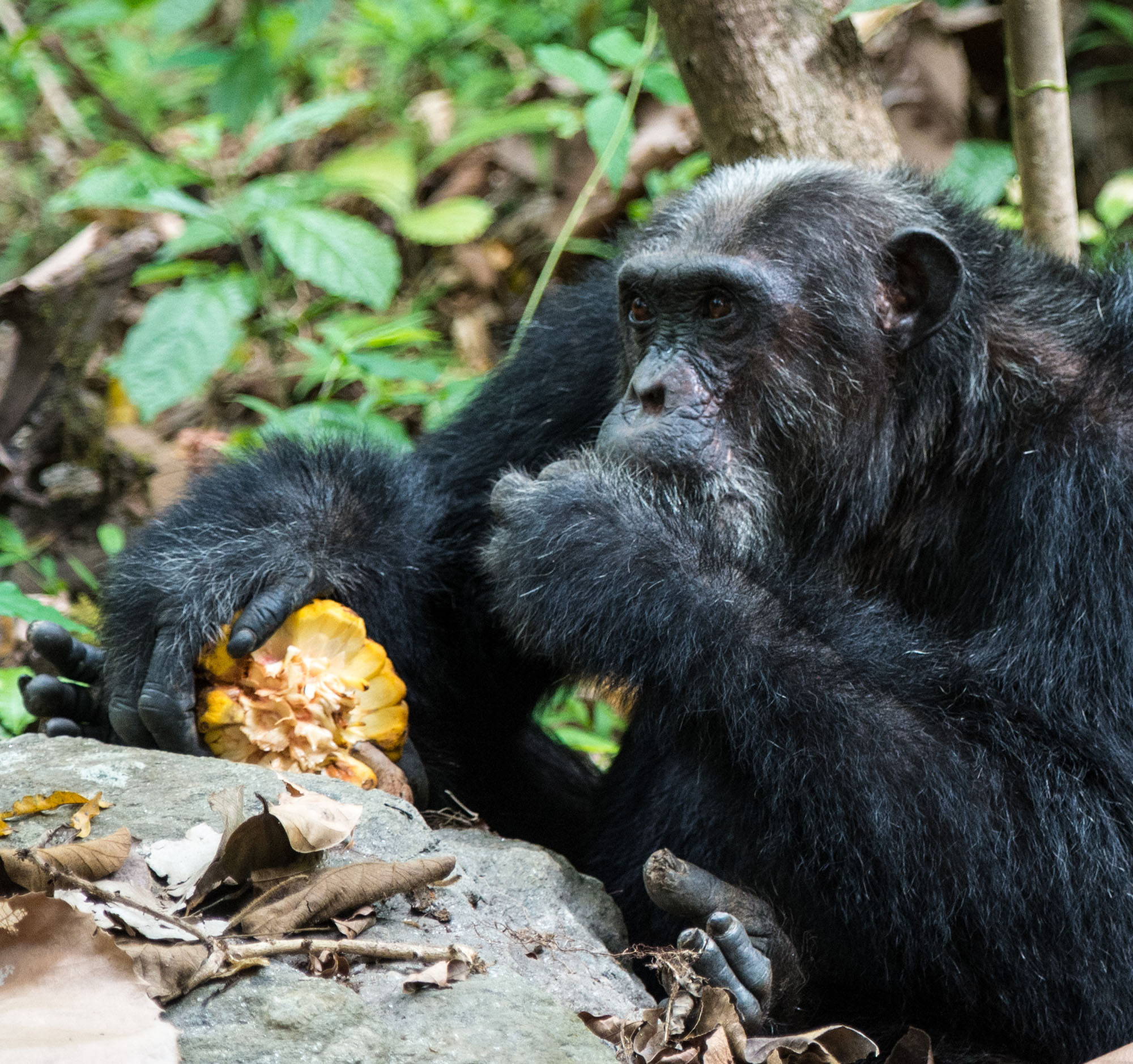 Budongo Forest Reserve, Uganda
My very first chimpanzee trek was in Uganda's Budongo Forest Reserve. Budongo Forest Reserve is a beautiful rainforest location with incredible biodiversity, including nine different species of primates, 360 species of birds, over 290 different types of butterflies and some of the oldest trees in Uganda. In retrospect, the chimp trek at Budongo seemed a lot less of an 'effort' than elsewhere. Perhaps we were just lucky on the day. After a walk of less than 2 miles over fairly even terrain, along a rudimentary trail, we came upon a small group of chimpanzees. Hearing them before seeing them, as is almost always the case. They were initially up in the trees, but not for long.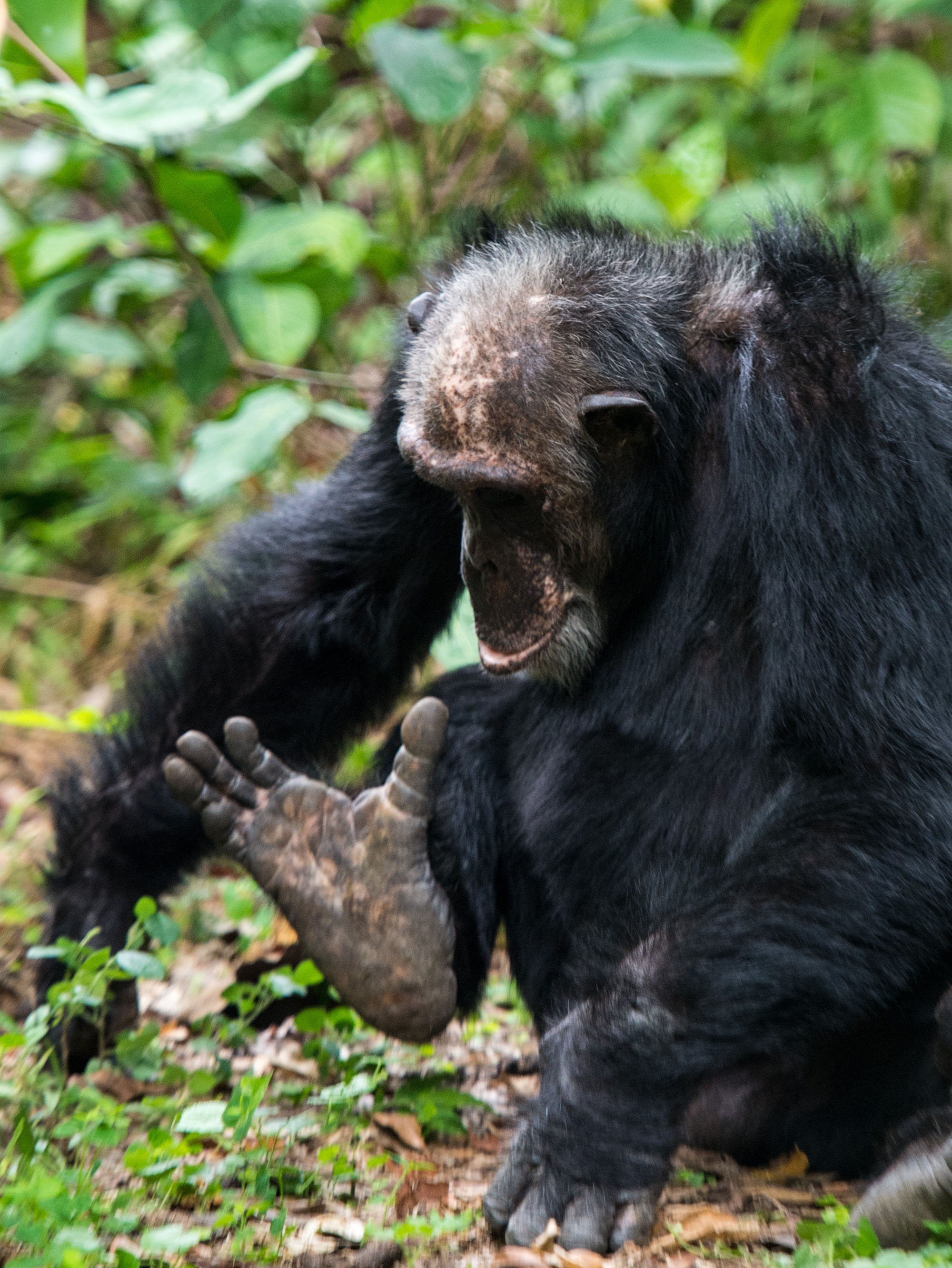 Soon enough, our small party of travelers were fortunate to see one individual seemingly posing for the cameras, on a horizontal branch in a small clearing. I did not have the right lens otherwise I might have had some really good chimp pics! My short zoom lens was just not enough; a 70-200 or 100-400 zoom would both have been better choices. At one stage several of the chimps literally 'fell' from the trees, grasping one or two seemingly flimsy twigs as they came crashing down. You don't see that kind of stuff in the movies! It was simply awesome!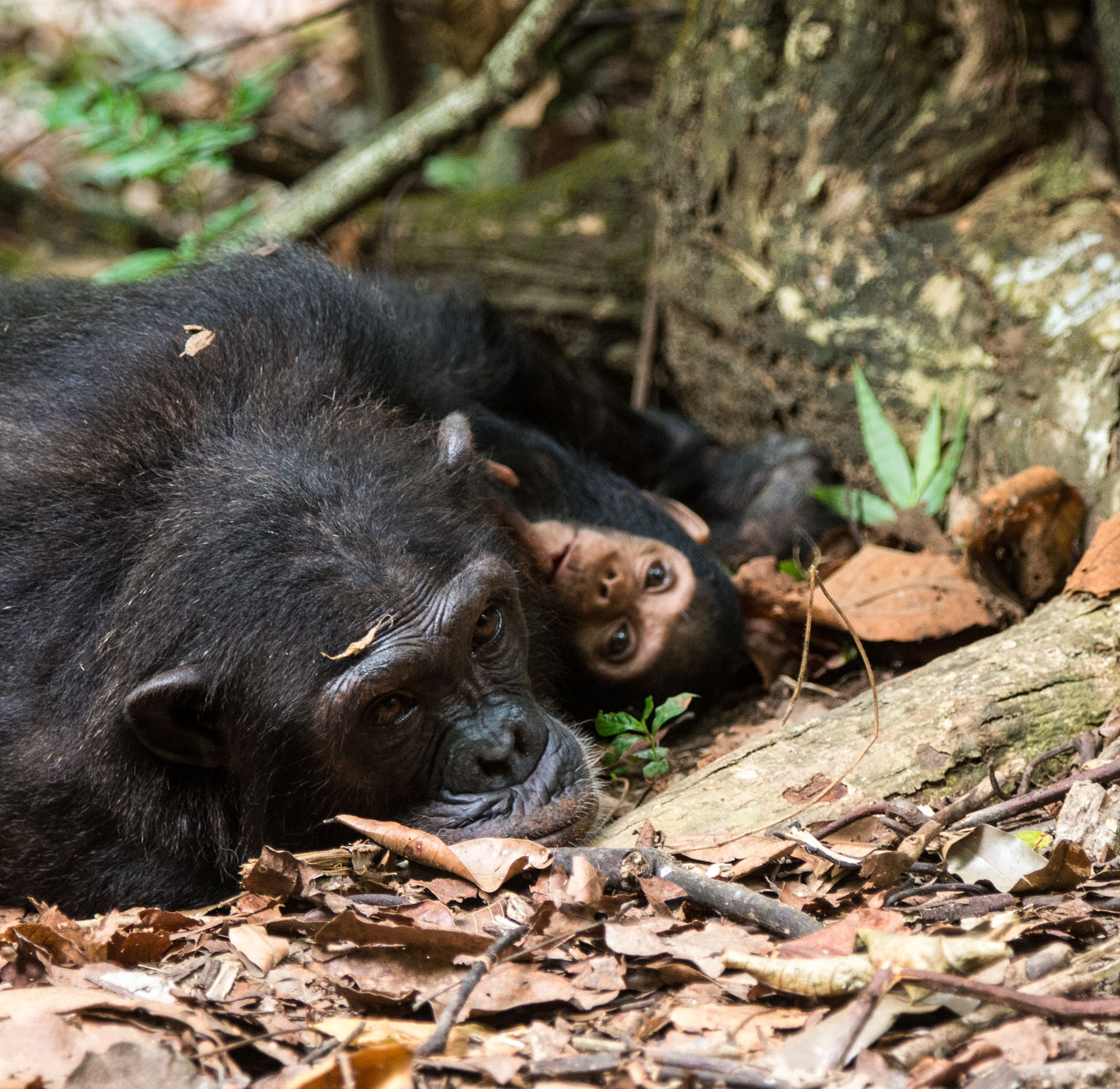 Budongo Forest can be included on any Murchison Falls itinerary, probably best at the end of the segment, before returning to Entebbe/Kampala. The night prior to the chimp trek at Budongo we slept at Budongo Eco Lodge, a very pleasant 'no frills' lodge right on the edge of the forest. The big advantage of staying here is that you can walk literally right out of the lodge, to the start of a chimpanzee trek or birdwatching outing. No additional driving involved.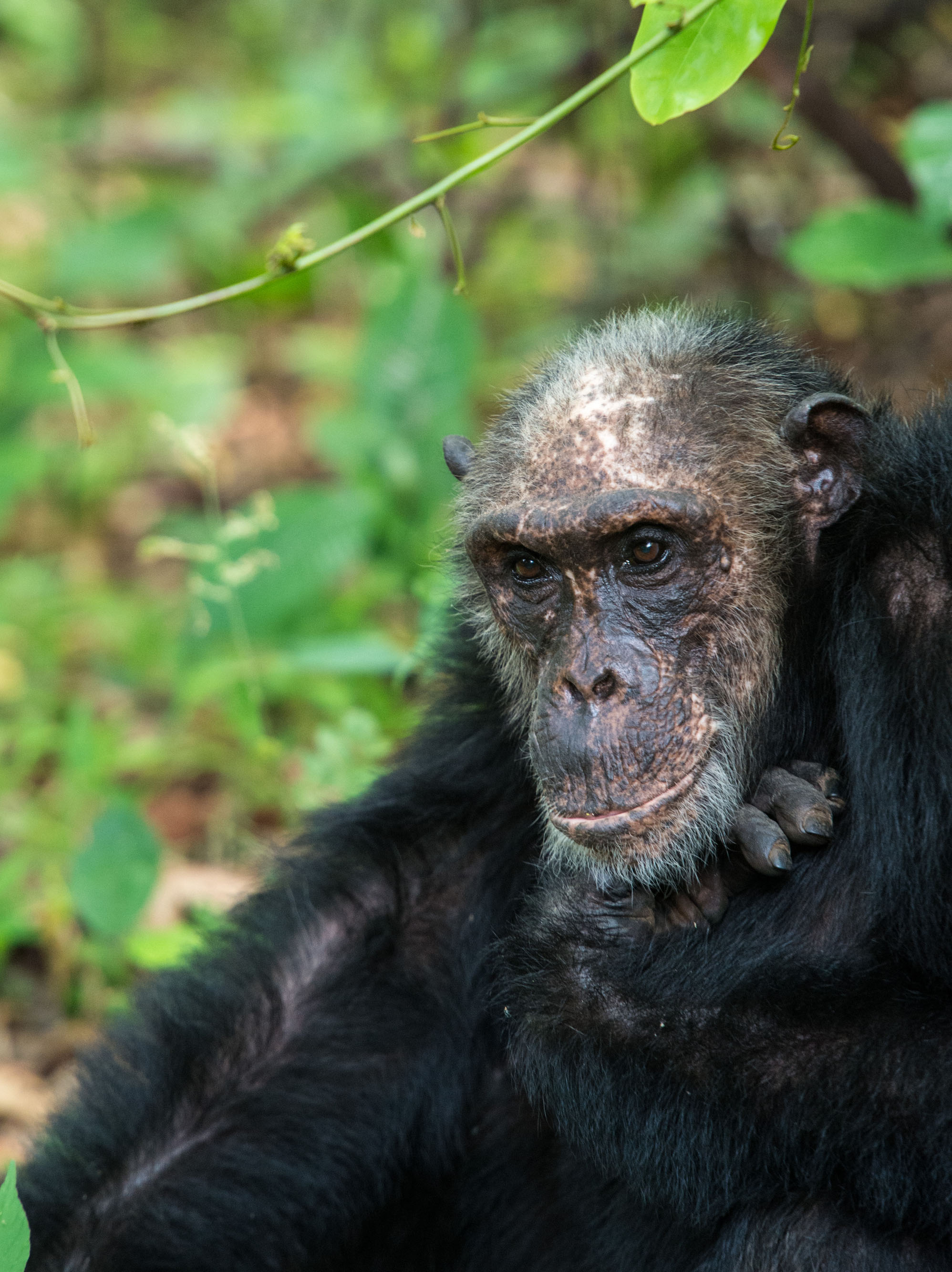 Kibale Forest, Uganda
A day or so later, on the same Uganda trip, we trekked for chimps at Kibale Forest. While the 'success rate' for seeing chimps at Kibali is quite high – more than 90% – chimpanzees are mostly arboreal and often fast-moving. Which means that sometimes you will only catch a few glimpses of them as they scurry from branch to branch, well hidden in thick vegetation, high in a tree. Which is mostly what happened to us on this day. It turned out to be a frustrating and ultimately rather disappointing outing. There was a lot of hiking involved. We trudged around this admittedly beautiful forest for nearly three hours without actually getting any really good looks at the chimps. There were a few of them scampering around the tree-tops but with no unobstructed views or any chance at photography, we all felt a bit glum at the end of the proceedings.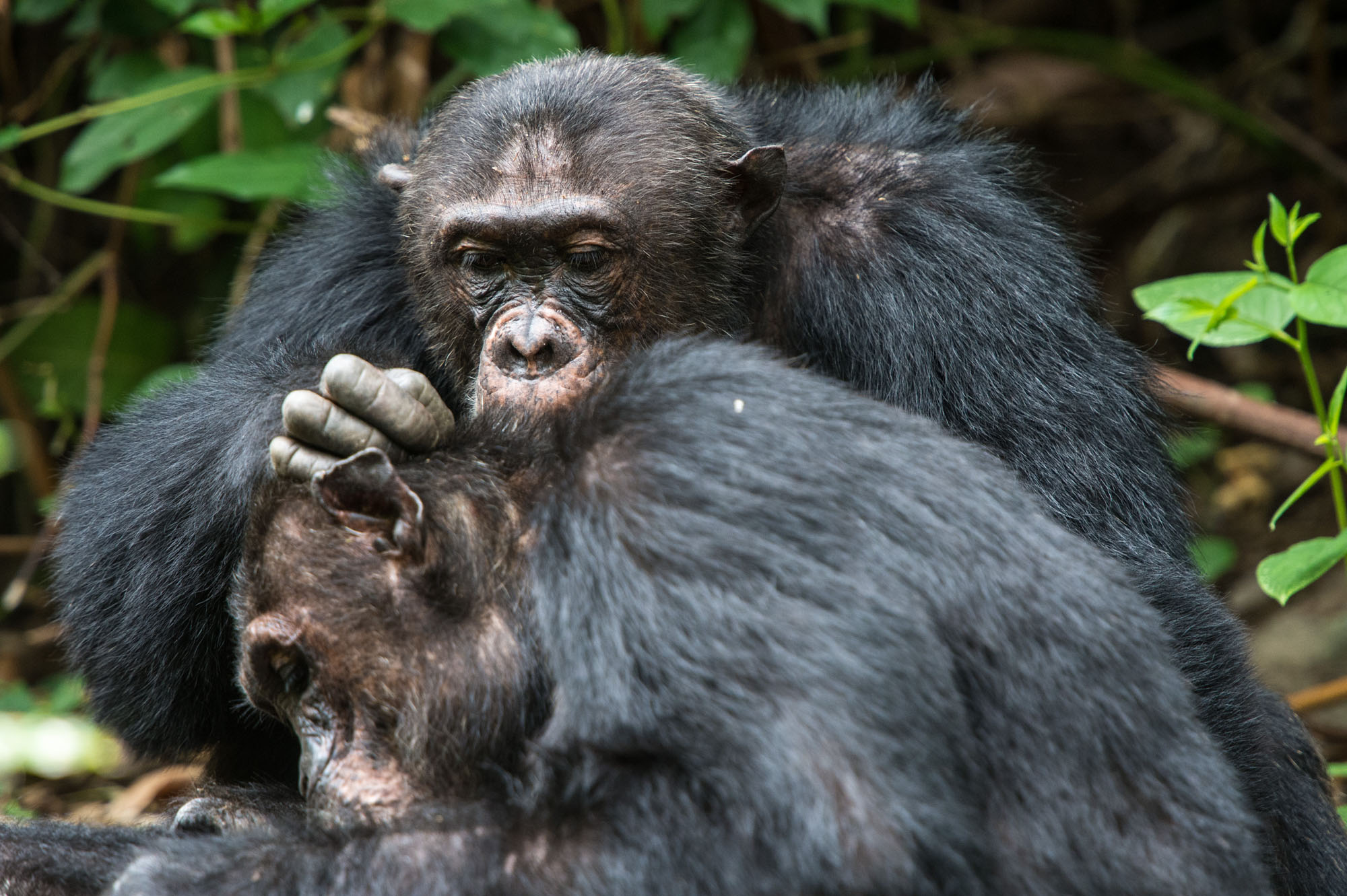 On the way back to the lodge – in the vehicles – we spotted some chimps in the trees and got some decent looks at several of them descending to the forest floor. We tried to get some better looks by following them into the undergrowth but it was not to be…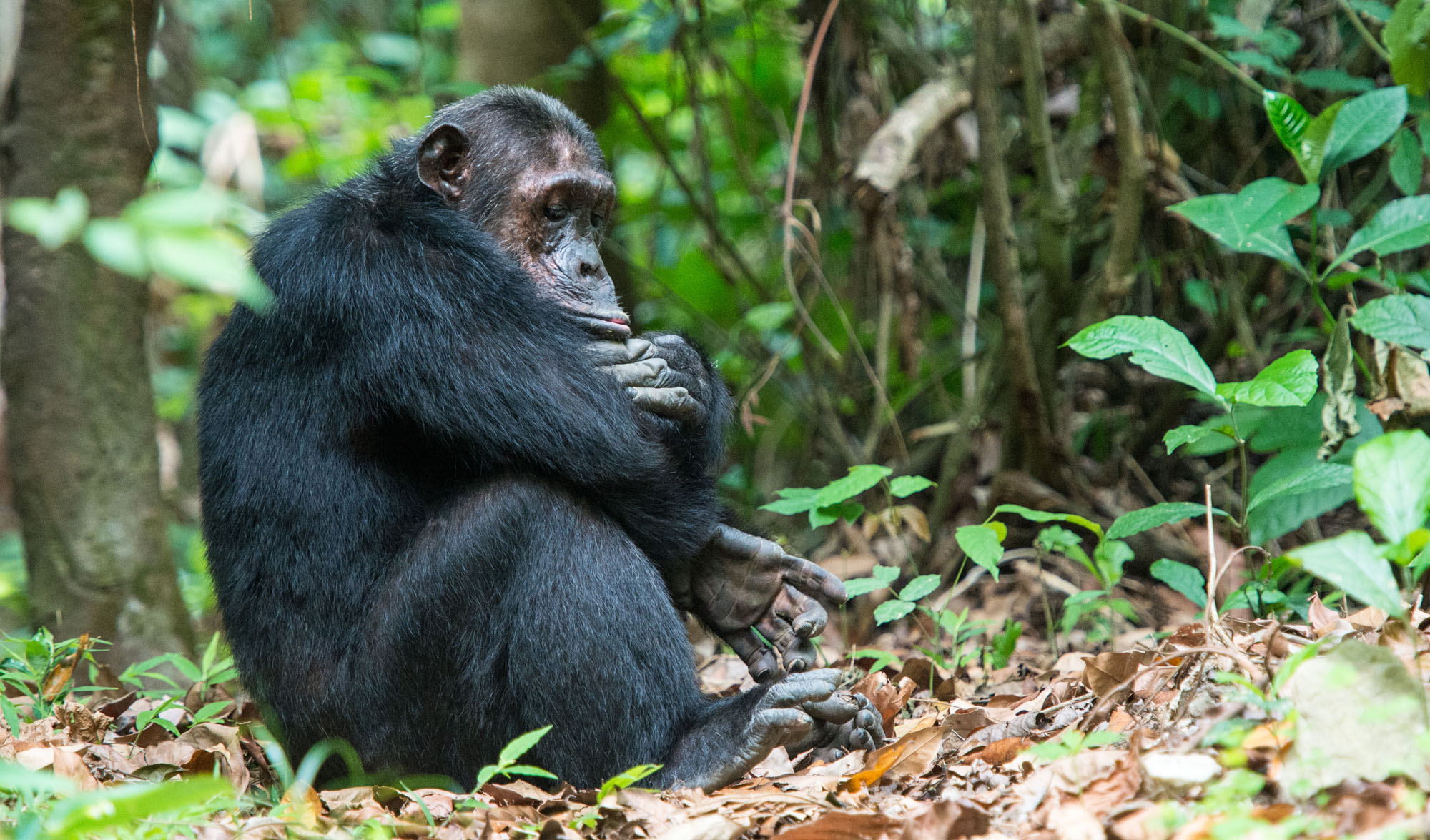 On a later visit to Kibale two members of the Fish Eagle Safaris team had only slightly better luck with the chimps. The temperature was mild and we were fortunate to have some cloud cover. Upon entering the park, we met some of the guides for a pre-hike briefing. We learned a couple of useful tips, for example, that there are ants in the forest and it is highly recommended that you roll your socks over your pants to prevent the ants from biting your ankles while you're looking up at the chimps. On the day, there were two groups of 6 trekkers, each having one guide and any number of porters to carry your gear. Getting a porter is highly recommended since you need to carry your own water. The forest itself was very thick but the paths were well defined and the terrain was quite flat and easy.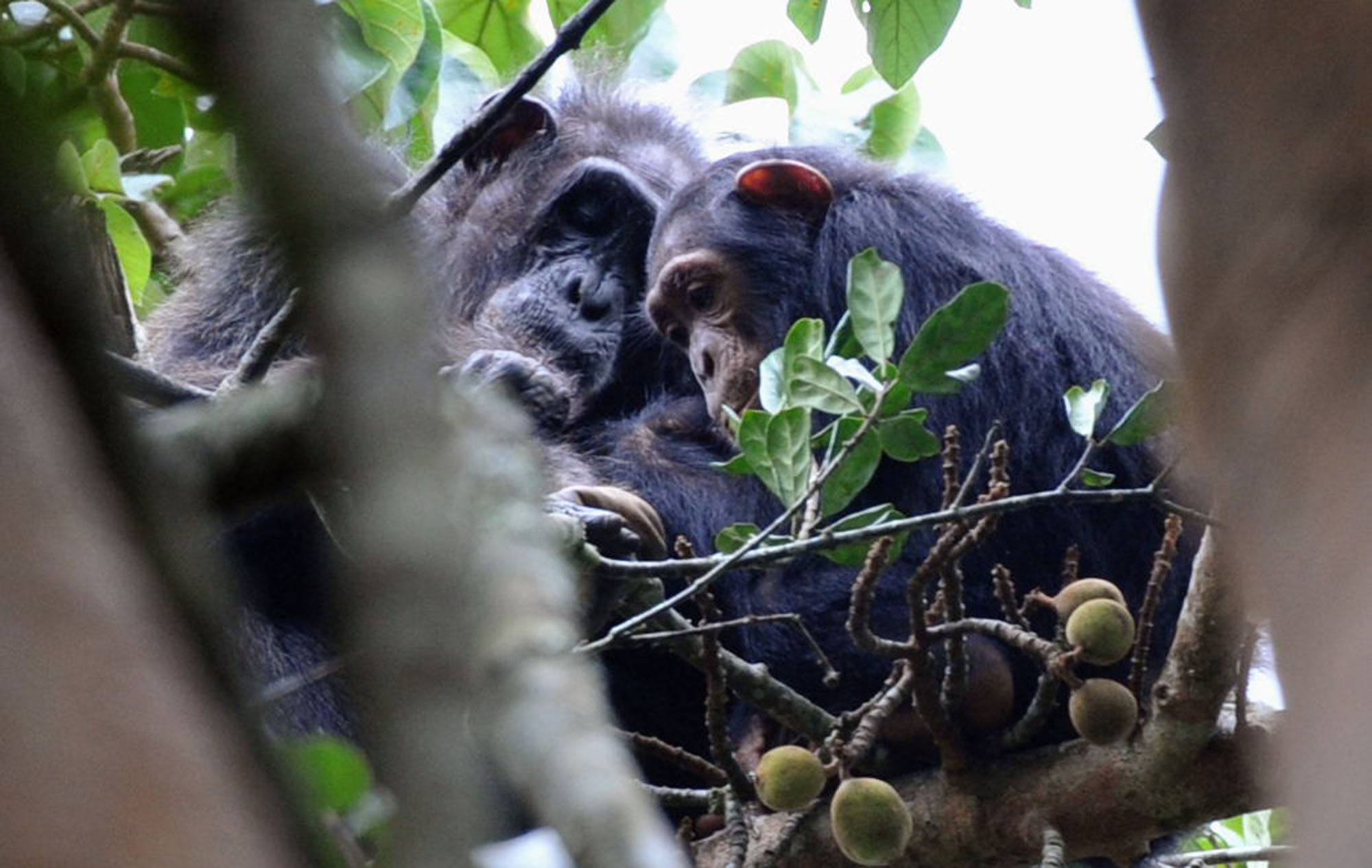 Almost immediately the guide spotted a female chimpanzee with a baby, high up in a tree. They were feeding on a fig tree but apparently the fruit was not quite ripe yet. The chimps were difficult to see at that height due to the dense foliage, and after a few minutes we moved on. The guide knew the location of other fig trees so we traveled to the edge of the forest to see if we couldn't find a larger troupe. No luck there. Fortunately, word came by radio that the other group had spotted some chimps a short distance away. Off we went. Since the sun had not really come out during the day the chimps were still in the trees where it was cool. This made for poor visibility but with some patience we managed to get some useful photos. Overall the Kibale experience was good – the success rate for spotting chimps is quite high. Visitors are only allowed one hour with the chimps and it goes by fast.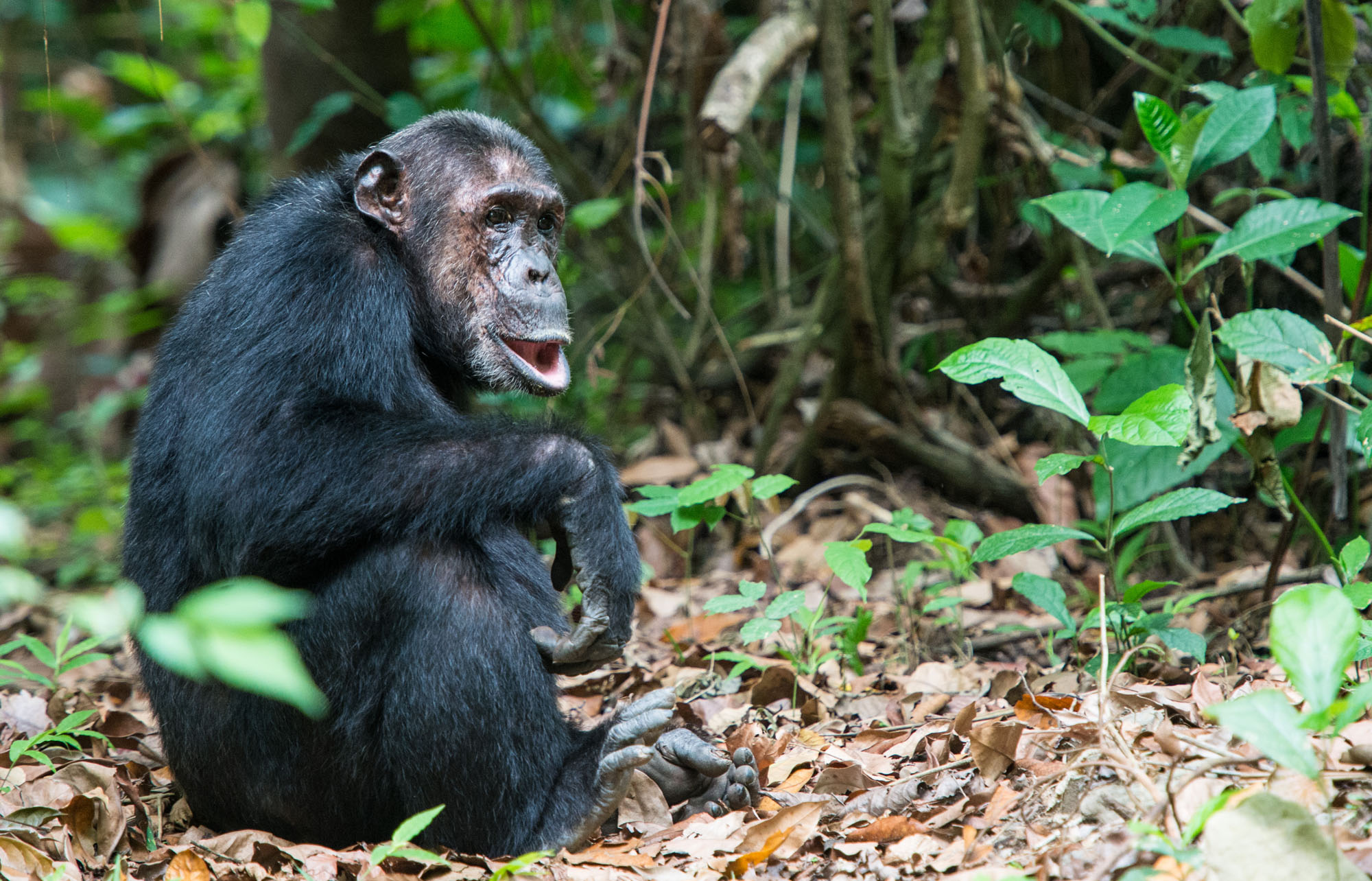 Kyambura Gorge, Uganda
Our third chimp trekking outing in Uganda was at Kyambura Gorge. At Kyambura the maximum group size is up to 8 and the guides are armed. There are fewer chimps in the gorge than at Kibale, but it is a much smaller area. The success rate is solid – if not not quite as good as at Kibale.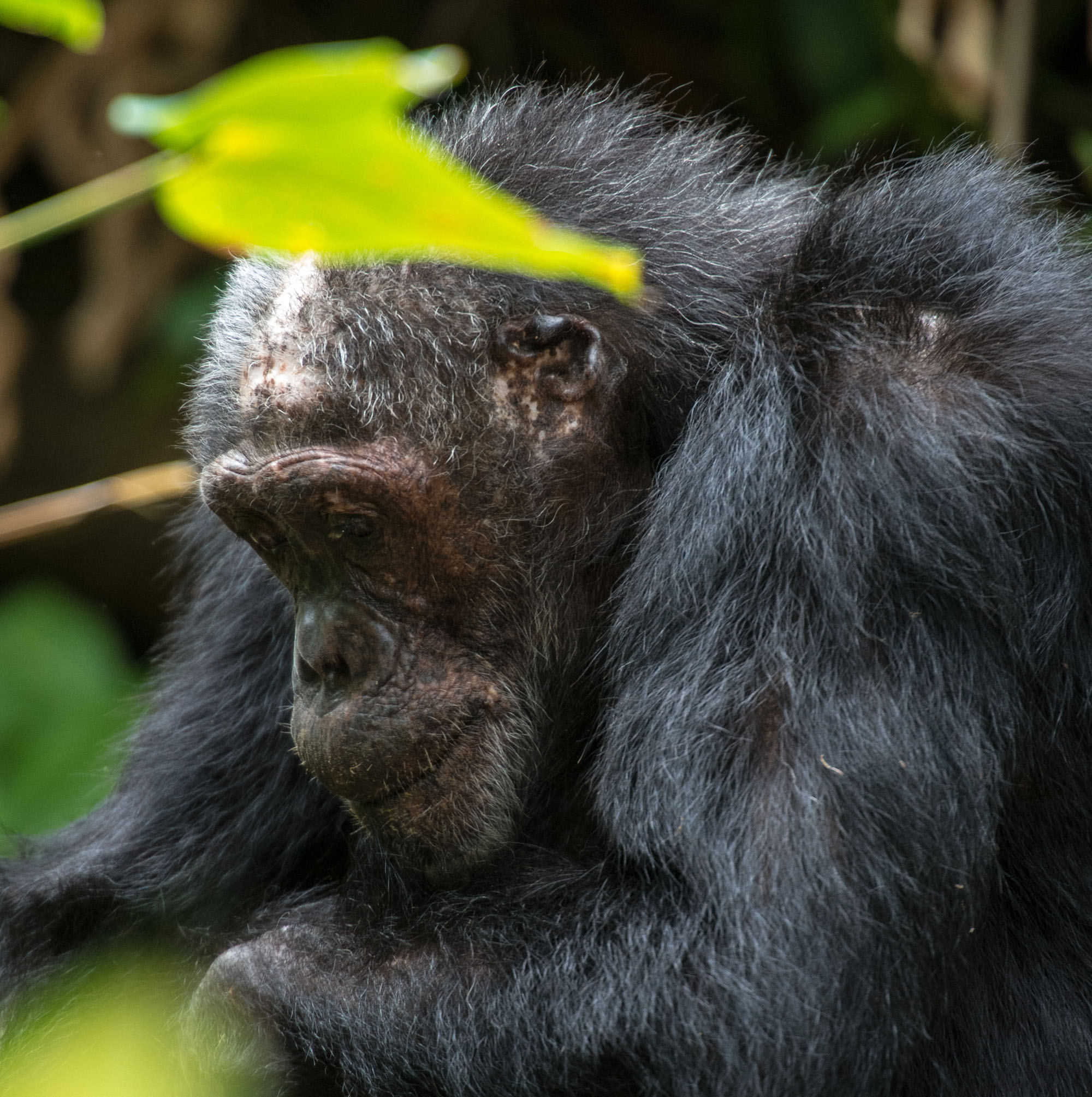 After another briefing from the guides we set off into the gorge. The decline is extremely sharp and you really need some good solid hiking boots. There is a river in the middle of the gorge with paths running along both shores and a bridge connecting them. Luckily for us when we got to the bottom we immediately heard the chimps and our guide lead us straight to them. We spotted a large 35 year old male on the ground and proceeded to follow him as best we could. He would walk for a while and stop and glance at us and then continue his walk. He wasn't distressed at all by our presence. Eventually he stopped and our entire group caught up so we were all able to take photos. Strangely, though, the chimp doubled back and actually wound up walking past us at close range (about a foot) which worried our guide. Thankfully he just passed right on by. It was an incredible sighting.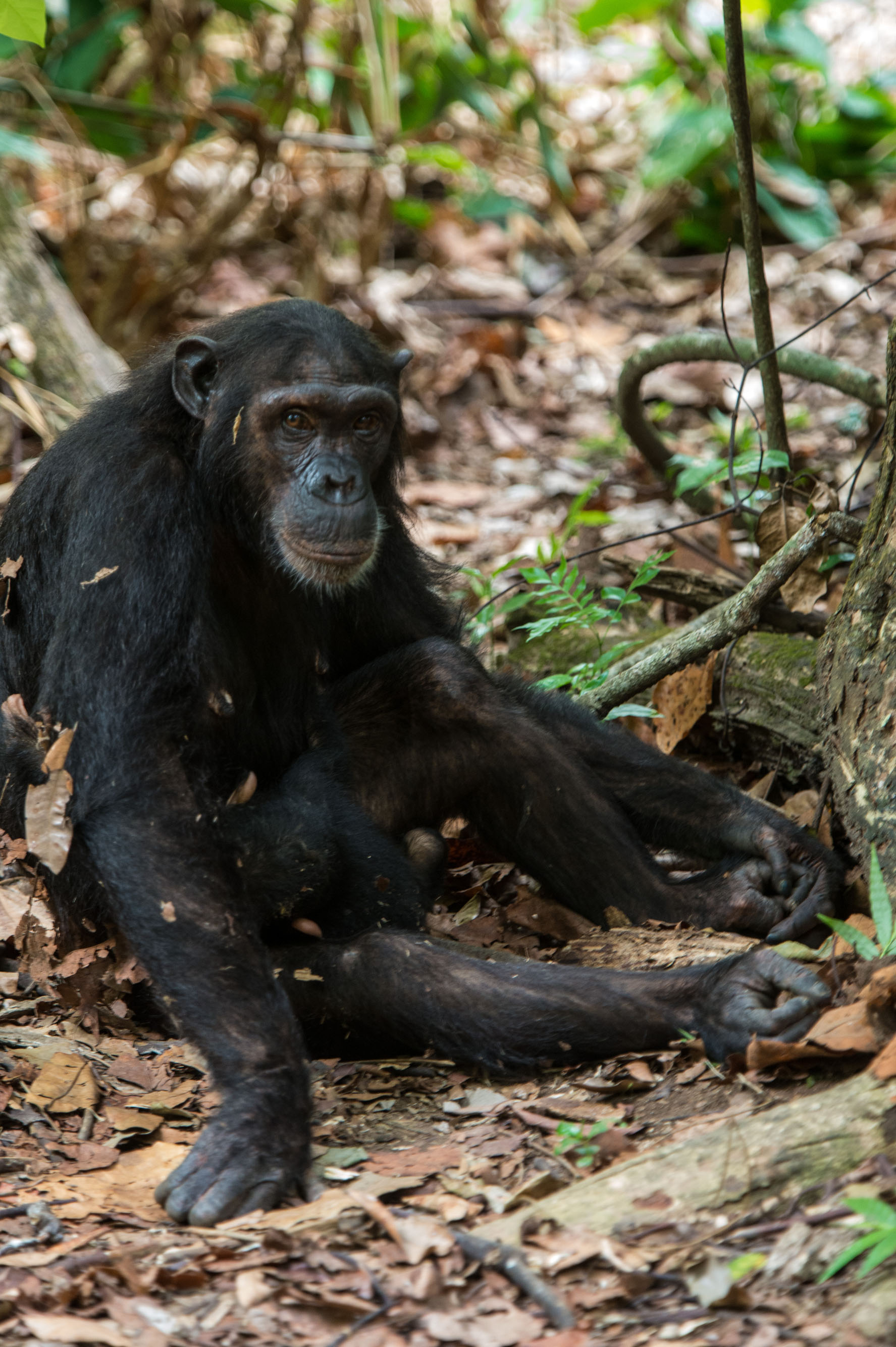 Mahale Mountains, Tanzania
Greystoke Mahale is tucked into a narrow sandy strip along the edge of Lake Tanganyika, below the densely forested Mahale Mountains with the mountains of the Democratic Republic of Congo visible about 30 miles across the lake. The mountain and the lake. Most people would be hard pressed to pick a favorite or decide which of the two is the most dominant feature. They are both equally impressive and both essential to the Greystoke experience.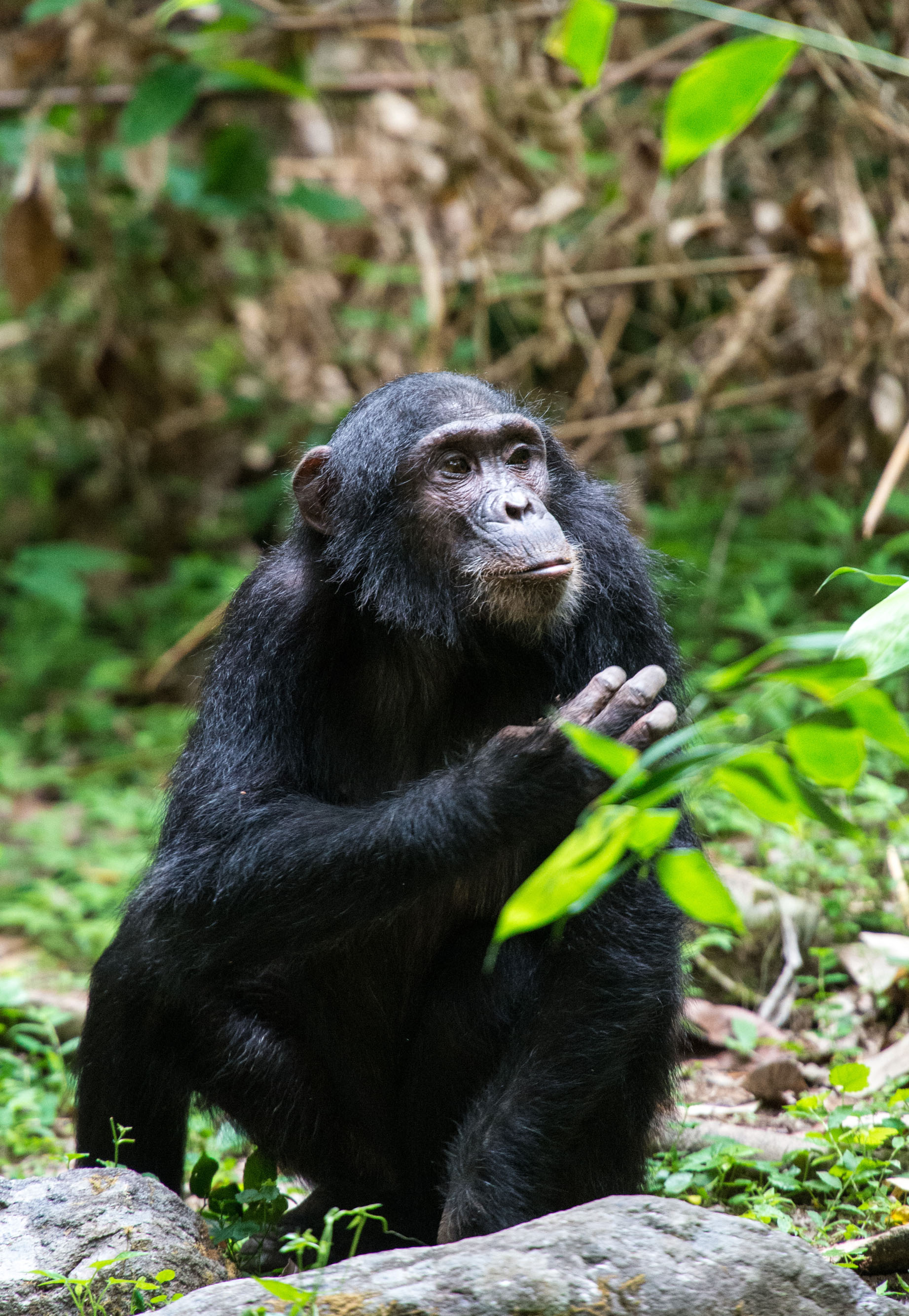 Mahale is best known as a sanctuary and research area for a group of about 60 habituated chimpanzees, plus several hundred more wild ones which inhabit the national park. Having trekked for chimpanzees previously in three different areas of Uganda I can say that the Mahale experience was by far the best I have experienced. The chimps are very well habituated and hence very tolerant of humans being close to them. The leafy ever-green forest habitat is superb and makes for a perfect backdrop. If you've never seen chimps before and want to do so, or if they are your favorite animals, a visit to the Mahale Mountains National Park should definitely be on your short list.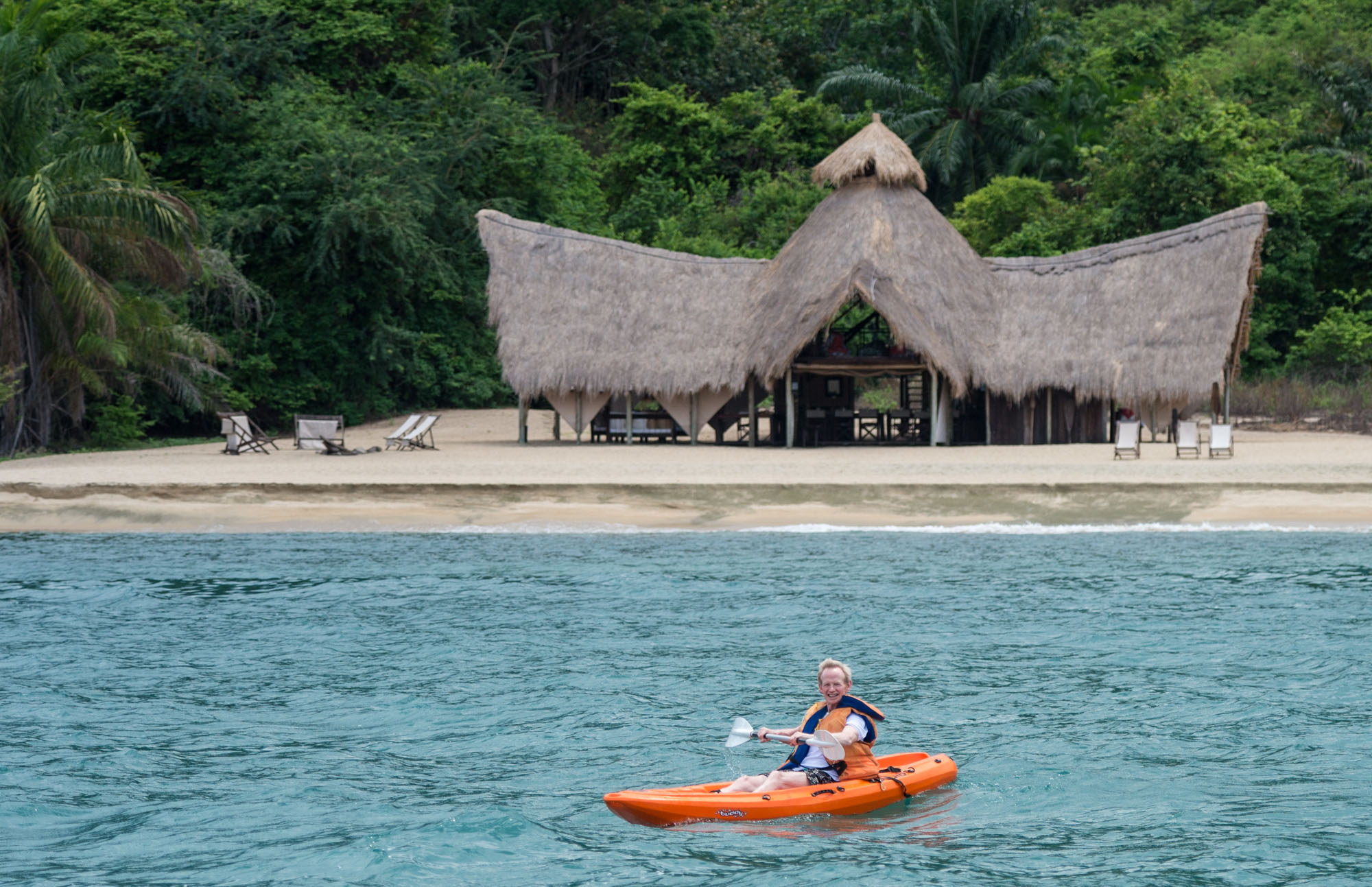 Even if there were no chimpanzees here it would be a more than worthwhile destination. Amazing views, the super deep-water swimming opportunities, fishing, kayaking, birding, hiking – the area has it all and more. We spent quite a bit of time boating (on a motorized dhow) but it is also possible to just relax and take it easy. The beach at Greystoke rivals many a coastal resort area, with the prettiest lake imaginable spilling out onto a white sandy beach.
On our first afternoon we spent 30 minutes or so suspended in what is estimated to be 17% of all of the freshwater in the entire world. Lake Tanganyika is one of the world's cleanest lakes due to the absence of industry, and that is not likely to change soon.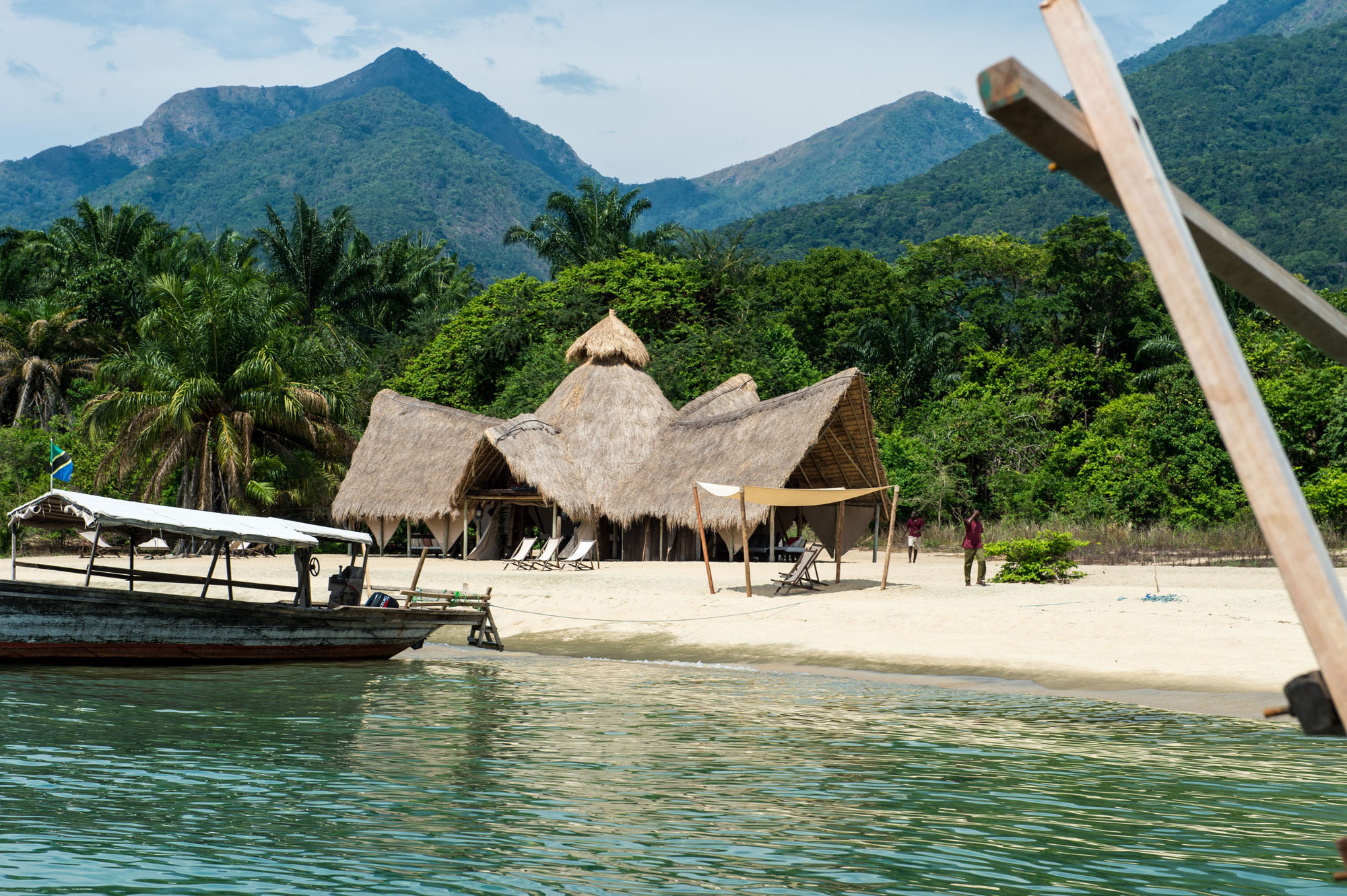 The following day we woke up to what promised to be another warm and rather muggy morning on the shore of Lake Tanganyika. And so it was. At breakfast at 08:00A we were informed that the chimpanzees – our focus for the day – had been sighted and that they were about one hour's 'gentle walk' away. So off we went single file into the forest up and down but mostly just up and often rather steeply so. We went through a couple of dry rocky streams with a little water here and there, sometimes scrambling up a slope, other times crouching beneath some low branches.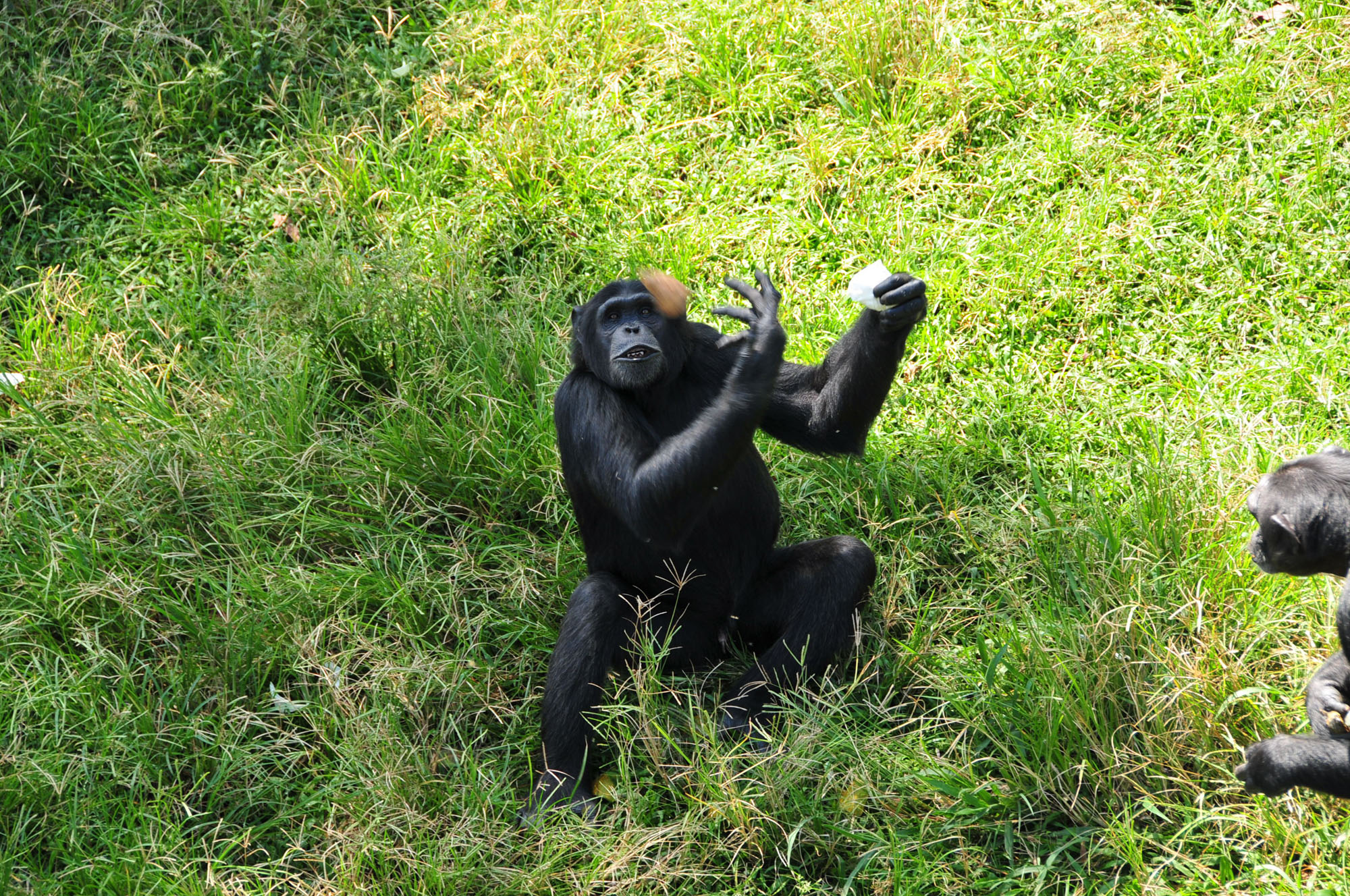 We stopped a couple of times for water (you carry your own water bottle & the guides provide re-fills) and to take a breath of air. Without exception, we were sweating heavily and feeling the strain of two days' worth of solid exercise.
As we approached their position, we could hear the chimps long before we saw them. They were being very loud, making a range of sounds including some exuberant whoops and screams. And then, without much introduction, there they were. First one chimp high in a tree, then another one sliding down a tree stump and soon enough there were seven or eight of them visible in every direction. By then we had donned surgical masks to prevent the transmission of colds and other human ailments to the chimps.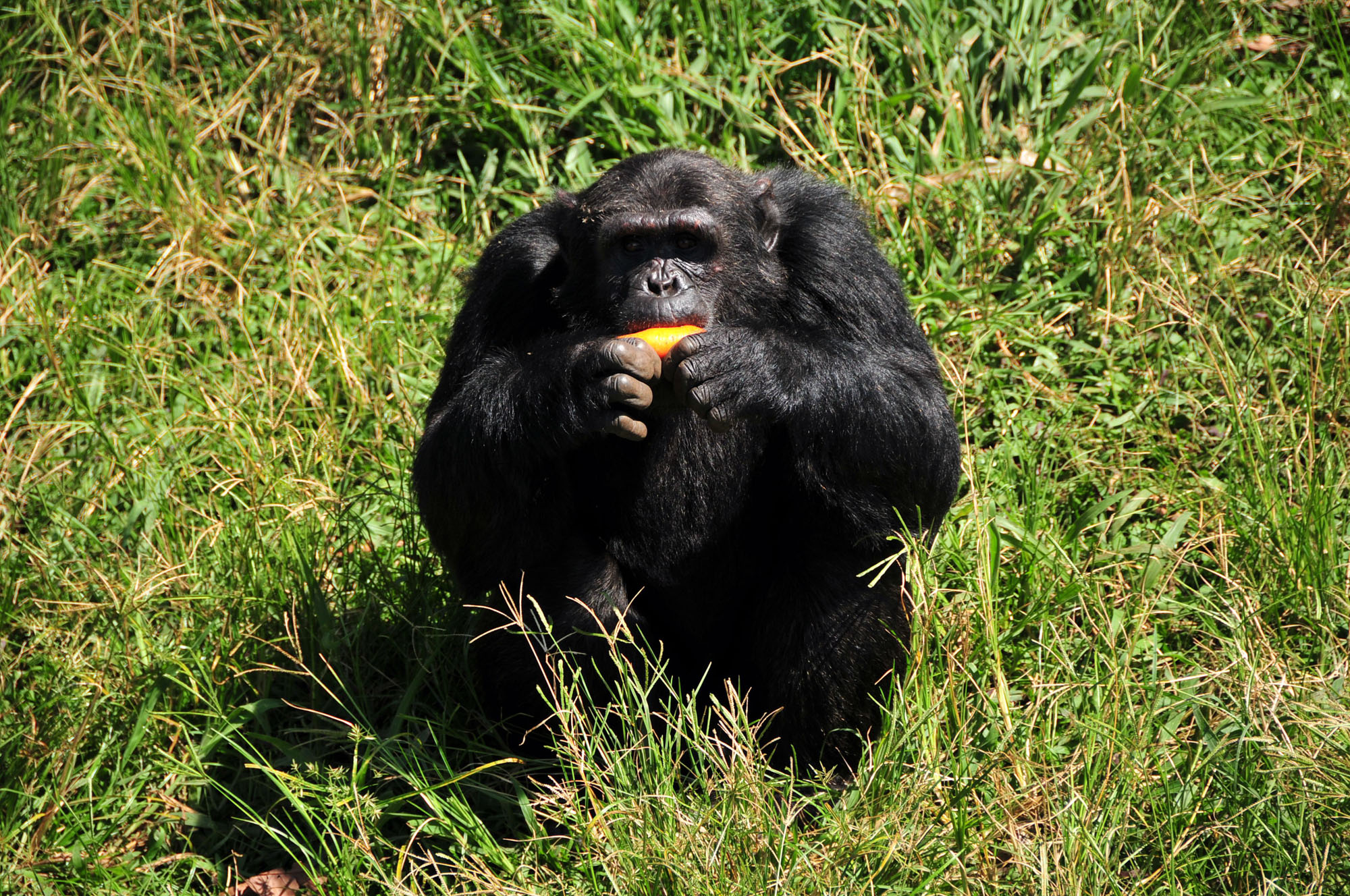 Over the next hour or so we moved positions several times as the chimps either descended from or ascended into the trees. We observed quite a bit of interaction between individuals: young and old, they all apparently know their place and respect authority.
We could see the chimps very well but photographic conditions were not great. Low light inside the forest gallery, and severe backlighting issues against the bright sky. Several of the younger chimps did their best to show off their acrobatic skills but in the poor light and with limited visibility (too many leaves and twigs!) it was just about impossible to capture the action. I did manage a few decent portraits and some limited interaction, mostly feeding and grooming.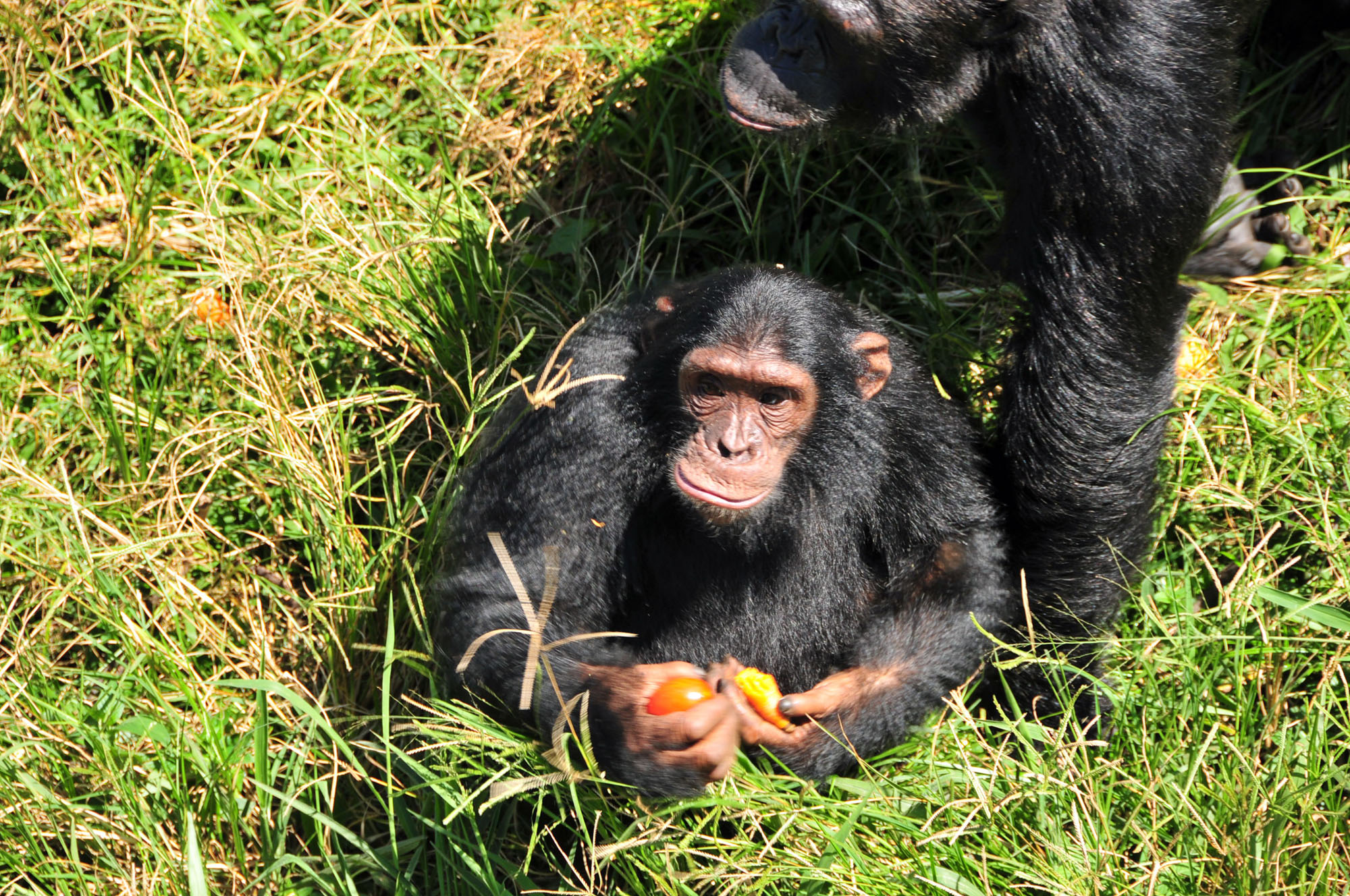 Every now and then we'd follow one or two of the chimps along one of the many footpaths in the forest. Our guide Robert knew all the chimps by name, sex, age and rank, and gave us ample warning when a 'naughty' individual was close by. We observed individuals of all ages ranging from about 6 months to well over 50 years. They were mostly quiet and not very demonstrative.
When our allotted 1-hour viewing time was over, we lowered the cameras, took a last look at the chimps who were moving into thicker bush and re-grouped a short distance away to have a drink of water. It was a happy group of campers who trudged back to the lodge. We were all very tired, perhaps even a bit dehydrated because of the heavy exertion in the hot humid conditions… Nobody cared – we had seen the chimps!
By the time we got back to the lodge just over 3 hours had elapsed since we first set out earlier that morning. It felt great to enjoy a cup of tea before we took the sandy path back to our respective rooms for a much-needed shower.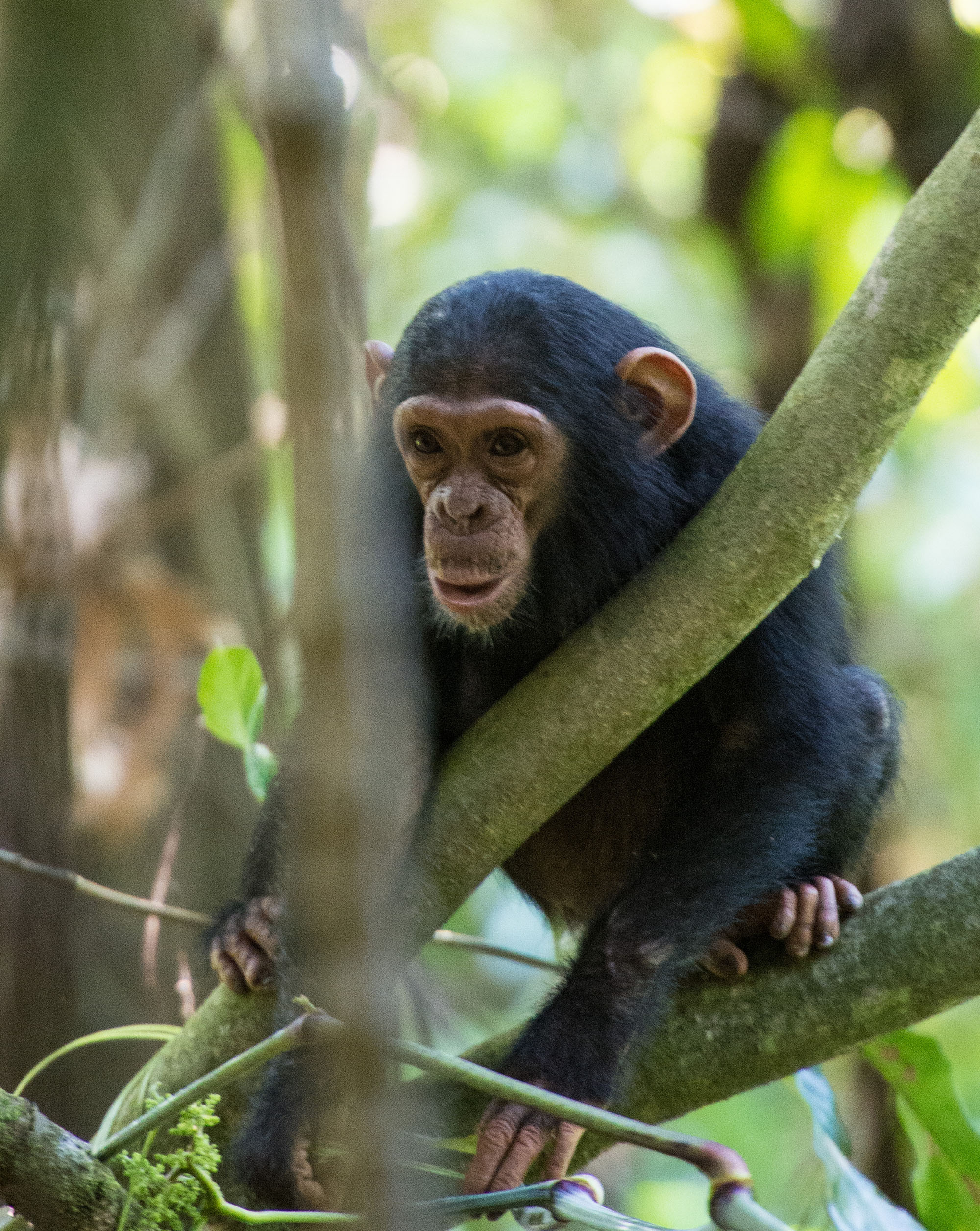 Mahale Mountains NP, Tanzania – Trek #2
The following morning's chimp trek was every bit as much fun and exciting as the previous day. Starting from the Japanese research station, the going was a bit easier than the previous day. Even so, by the time we got onto the chimps, a good 45 minutes had elapsed and it was deja vu all over again. We were hot and sweaty in the humid conditions. Being overcast, the temperature was several degrees lower than the previous day, which helped somewhat.
The following morning's chimp trek was every bit as much fun and exciting as the previous day. Starting from the Japanese research station, the going was a bit easier than the previous day. Even so, by the time we got onto the chimps, a good 45 minutes had elapsed and it was deja vu all over again. We were hot and sweaty in the humid conditions. Being overcast, the temperature was several degrees lower than the previous day, which helped somewhat.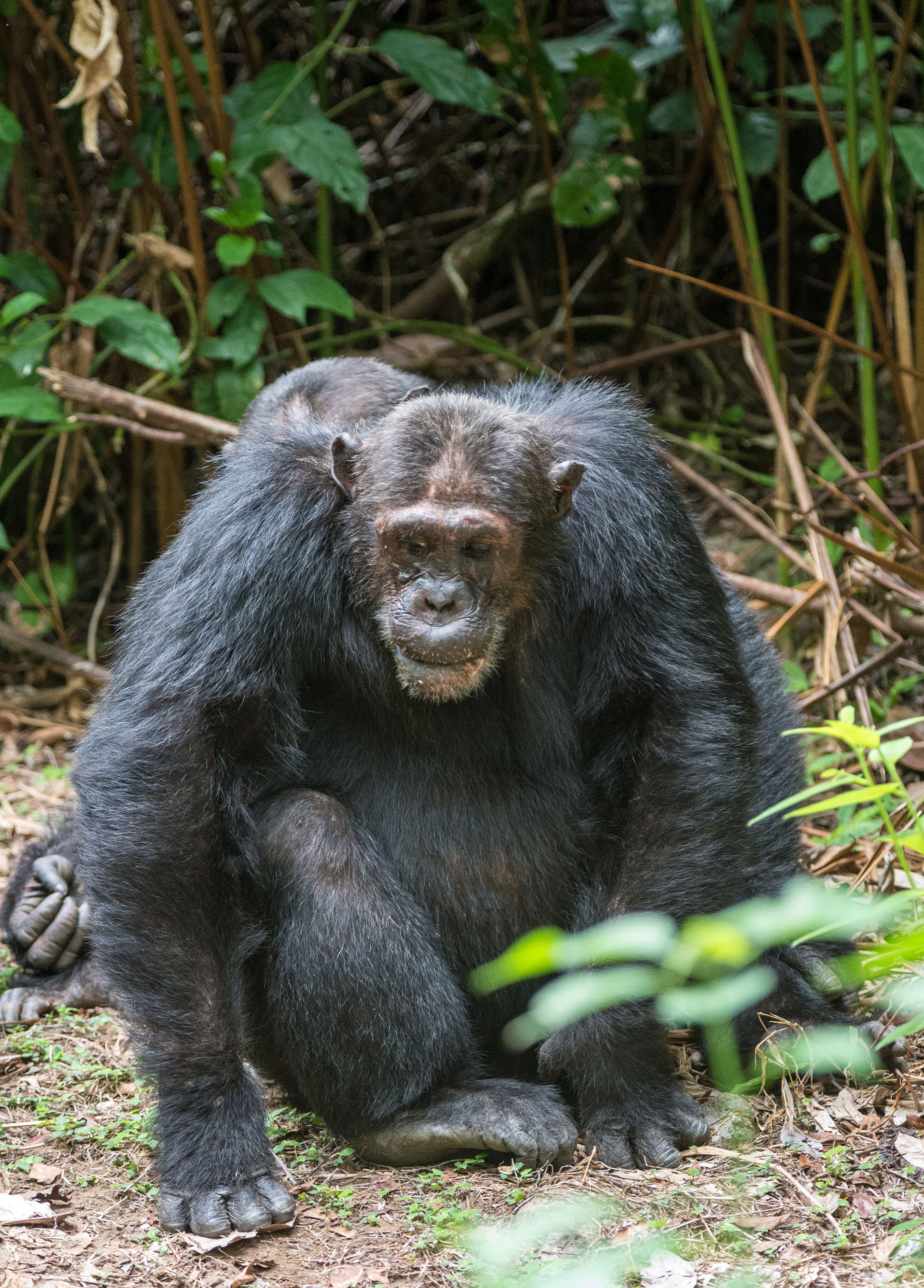 It turns out that despite their seemingly idyllic situation, the chimps were far from living in a cocoon of innocence. They are tangled up in political and sexual spats and fights on a never-ending basis, and the maneuvering and plotting can be Machiavellian. Imagine pretending to be removing ectoparasites from a rival, but not doing so in fact. Thus setting up the unwitting beneficiary/victim for a long-lasting negative outcome and potentially debilitating illness.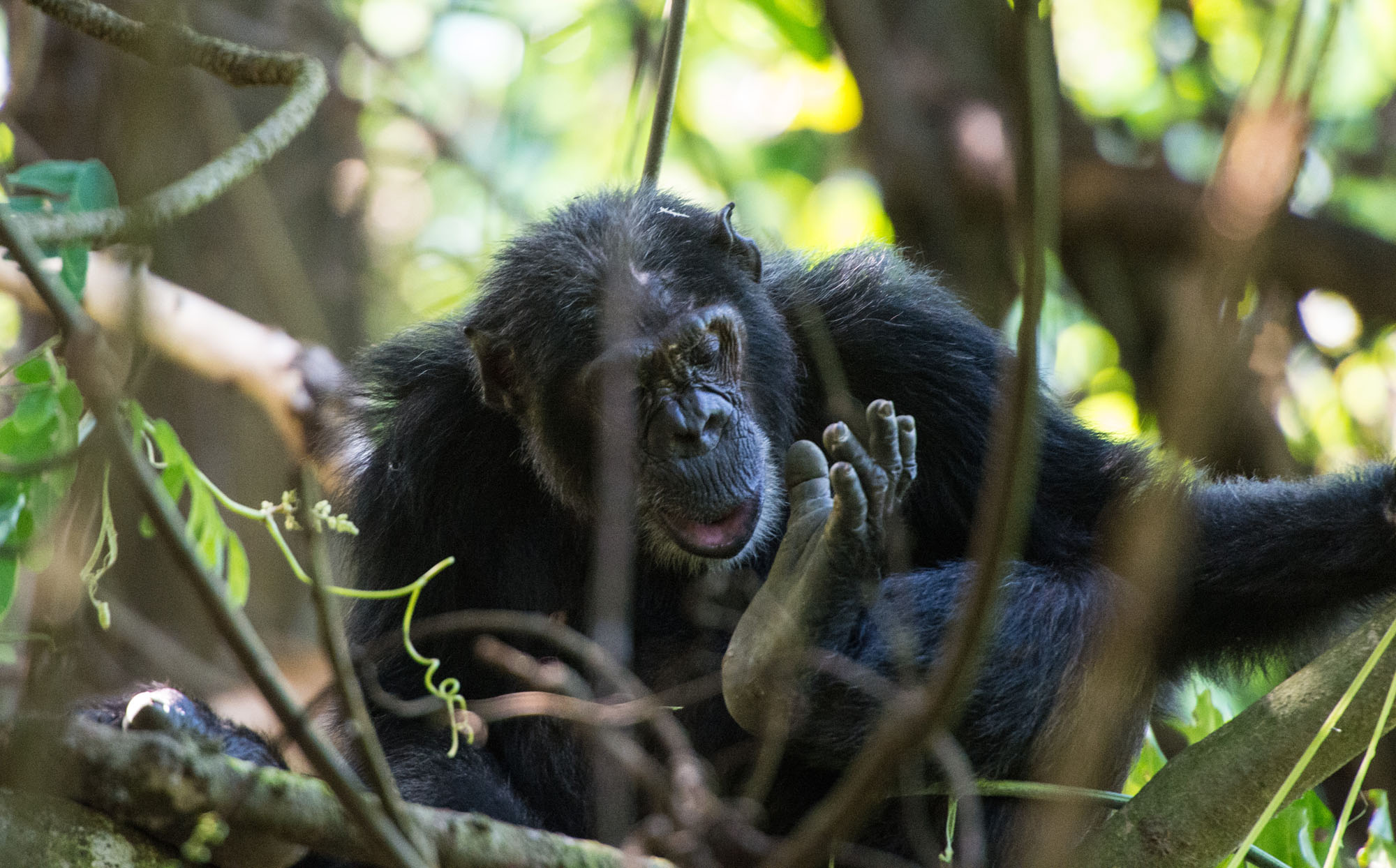 For a while there, we became very much part of the troop of chimps, sitting around not far from them, and feeling their glances on us as they casually ambled by. We took great care not to get in the way of some of the 'naughty boys' such as Christmas, who is known to charge and scare an unsuspecting tourist every now and then.
An hour or so later we were all quite ready to take off our facemasks and to return to camp for some tea. Just like the previous day, the total duration of the excursion was just over 3 hours.
Here are a few pointers which might be useful for future Mahale chimp trekkers: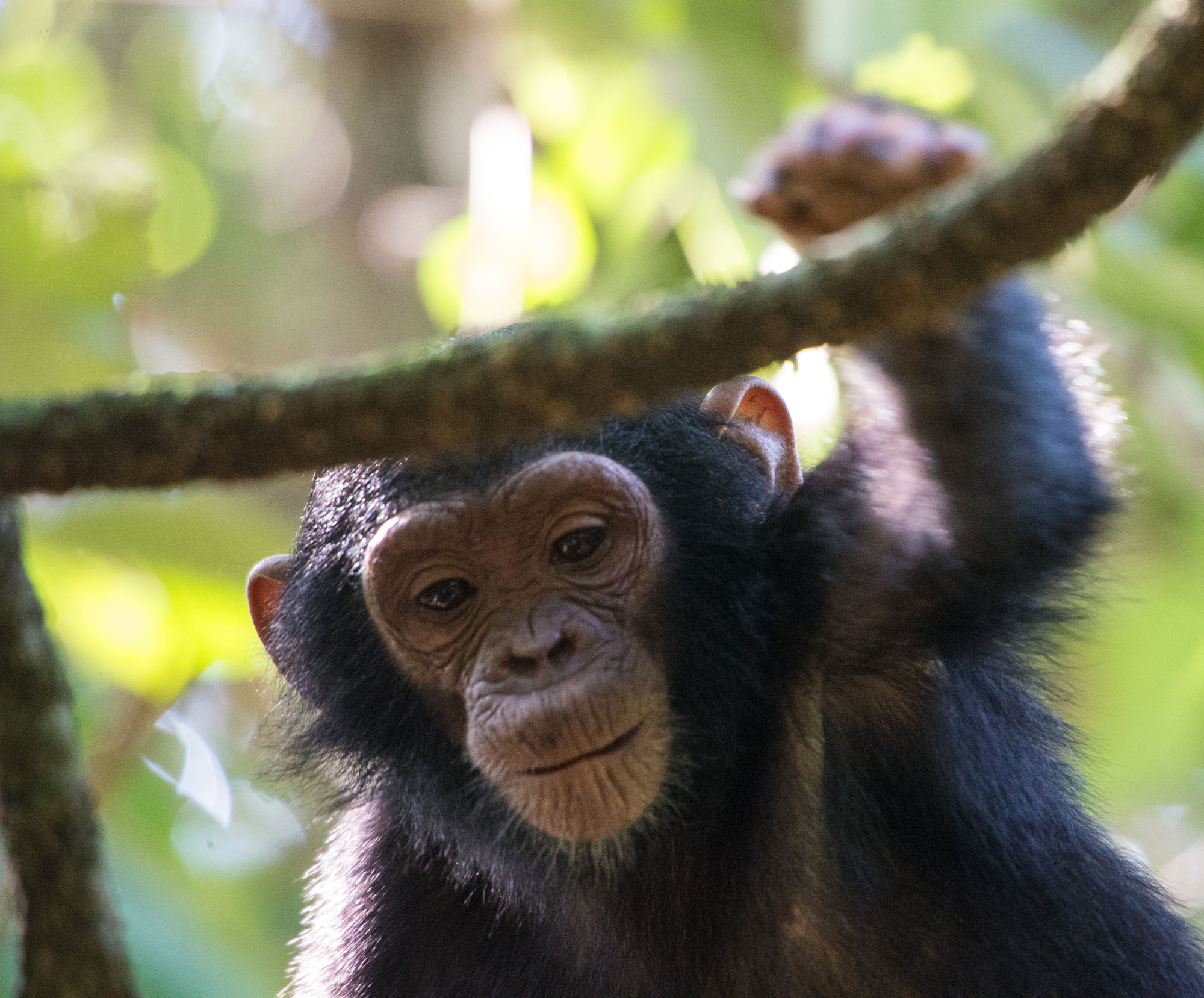 Bert's Mahale Mountains Chimp Trekking Hints
* It is definitely a good thing to be fit and relatively agile as there is some scrambling (up and down) and rock-stepping to be done.
* In the warmer months dress appropriately (long trousers to protect legs and lightweight long or short-sleeved shirts with good ventilation/absorption). There were no tsetse flies or other biting flies present within the forest interior.
* Good boots with grippy soles are 100% necessary. You could be in for a tough time with the wrong shoes. No flip-flops!
* Light is an issue in the forest interior so to get decent pics of the chimps, bring a fast (f2.8) lens in the 70-200 mm range, and preferably a camera that can produce acceptable images at a high ISO setting. Long telephoto lenses are not essential – you will get closer to the chimps than you might anticipate.
* Drink plenty of water before the start of the trek and also during. Dehydration is a major concern during the warmer months and it can sneak up on you with very little warning.
* Definitely go on more than just one chimp trek as they are all quite different & the chimp behaviour and interaction vary greatly day to day. If you've seen one you certainly haven't seen them all.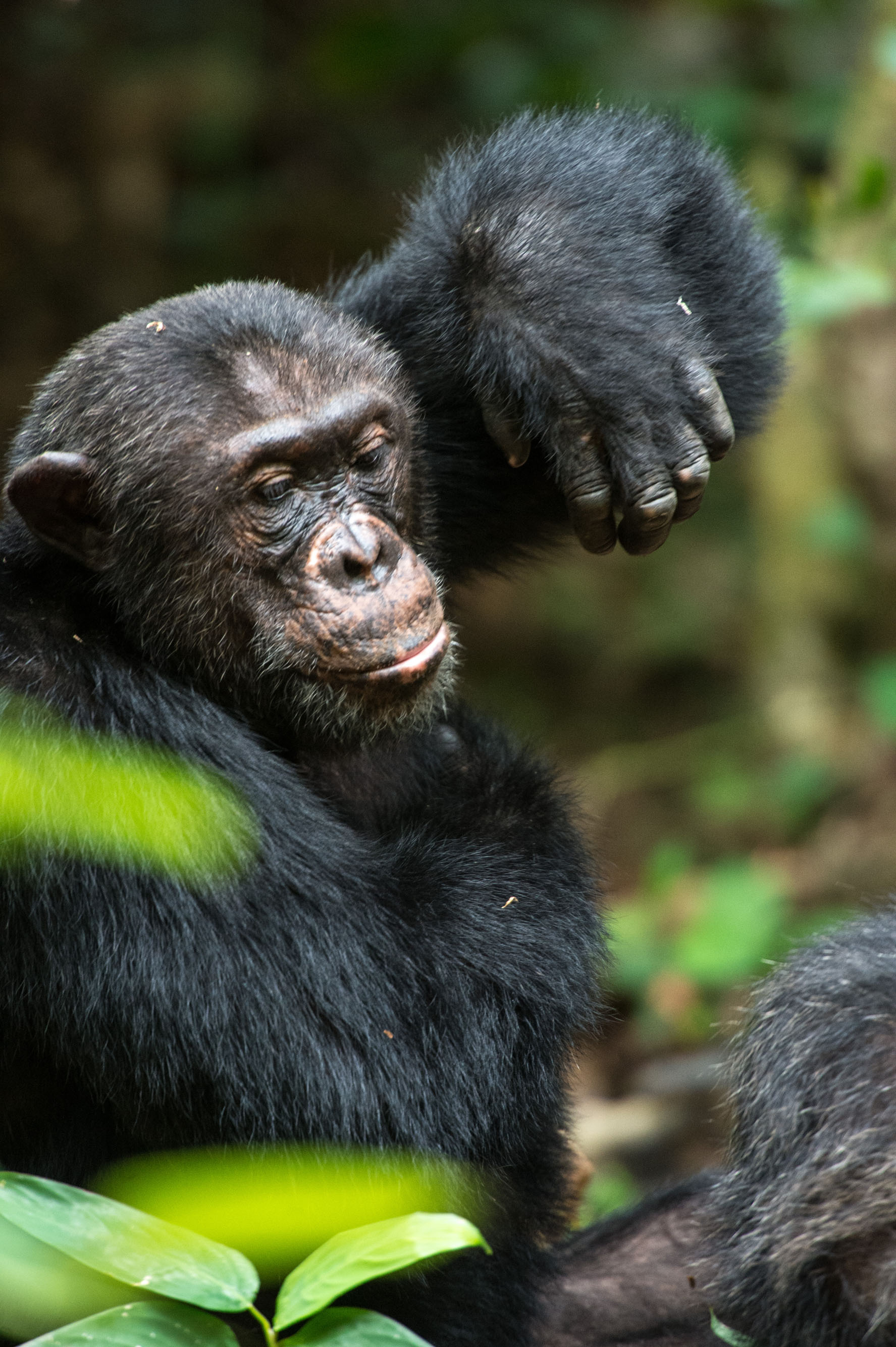 In our blog post next Friday we will be taking a closer look at the big cats of Mashatu Game Reserve in south-eastern Botswana. This little-known area is nowadays one of the most reliable big cat destinations in Southern Africa with lions, leopards and cheetahs seen by most visitors who spend three or four nights in the area.
YOU MIGHT ALSO BE INTERESTED IN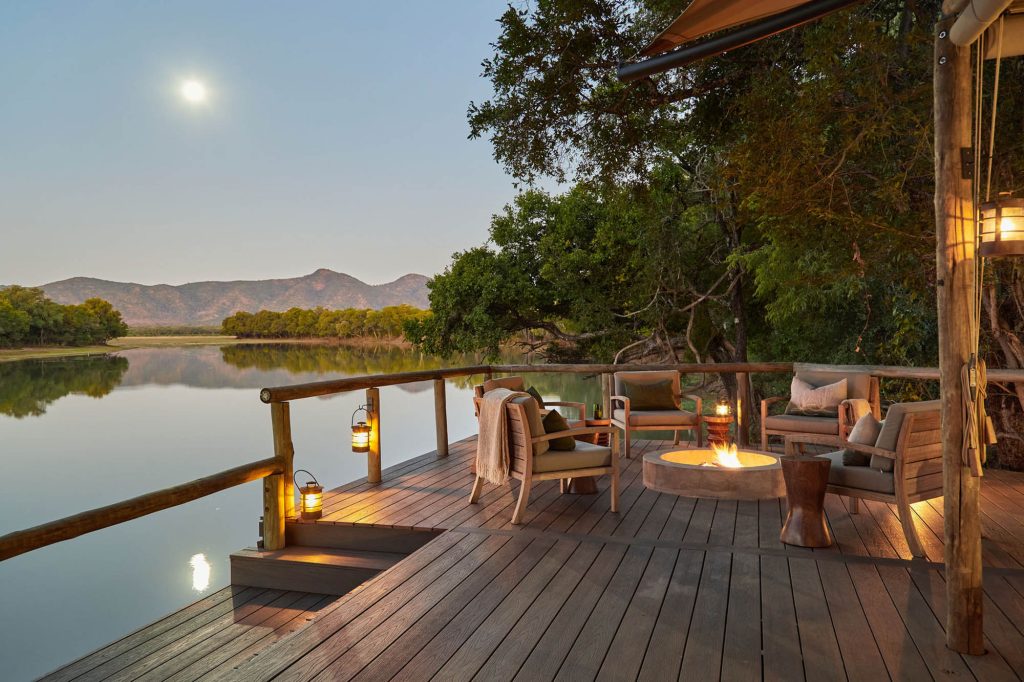 10th Sep 2021
Chindeni and the Bushcamp Company, Zambia
By late July we found ourselves at Chindeni, a small Bushcamp Company property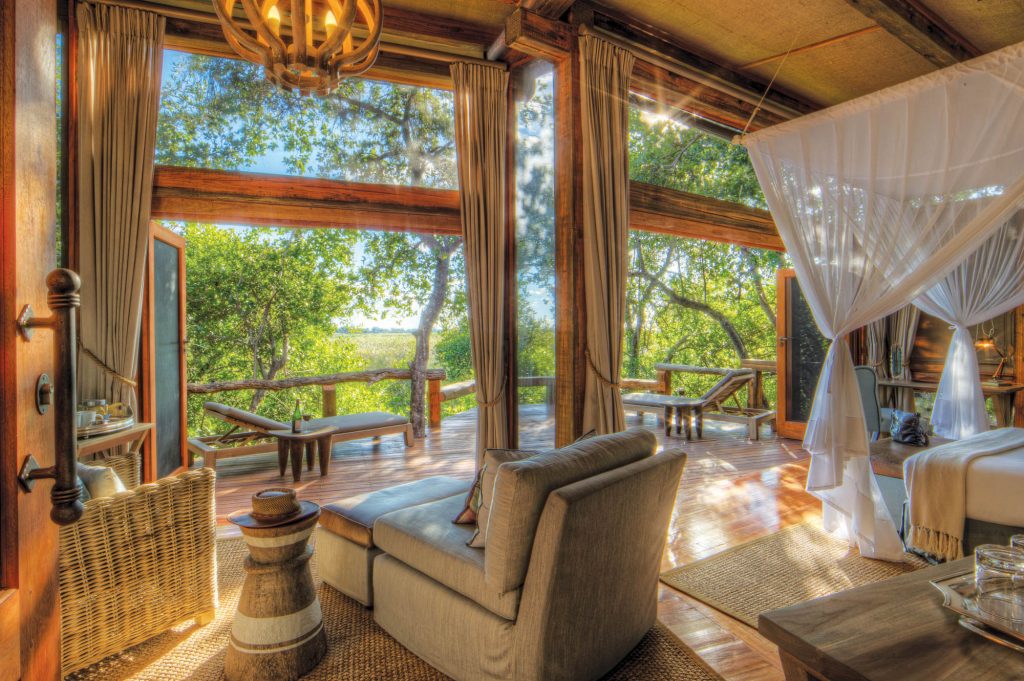 3rd Oct 2022
Camp Okavango, Botswana
Camp Okavango is in the heart of the permanent part of the Delta. In this idyllic setting there are no vehicles, and it is just a short walk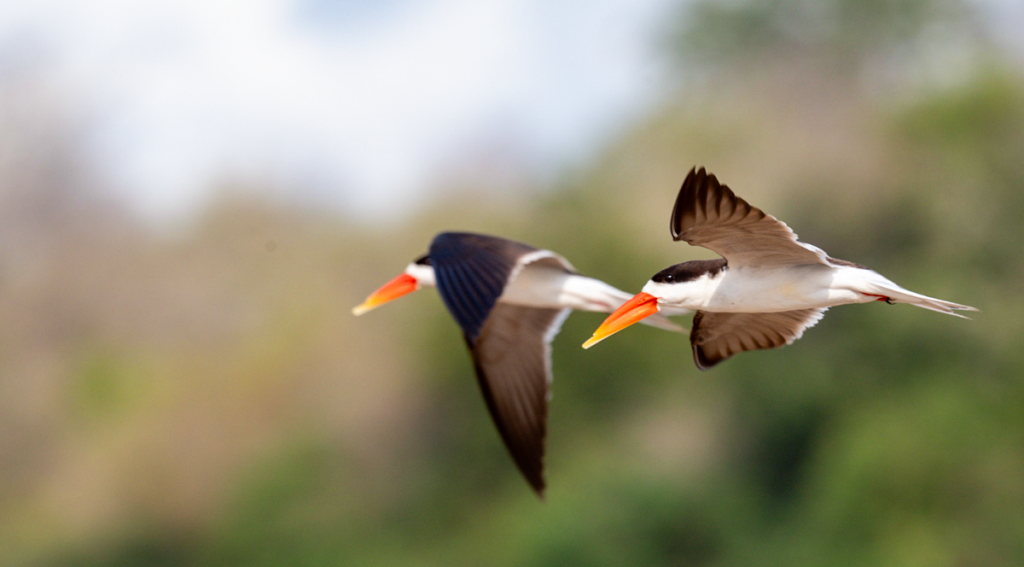 14th Oct 2023
From My Safari Notebook: Wildlife Photography
Birds in flight and wildlife photographers have an uneasy relationship. Things go wrong as often as they go right. Getting focus-lock on a moving subject
SUBSCRIBE TO OUR NEWSLETTER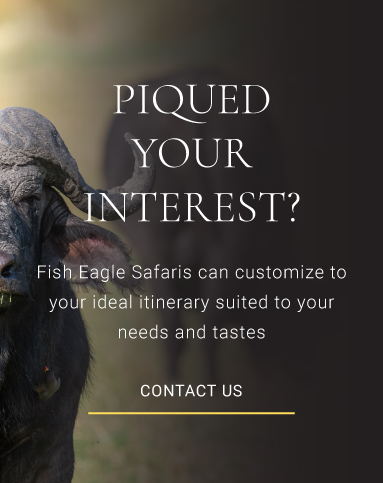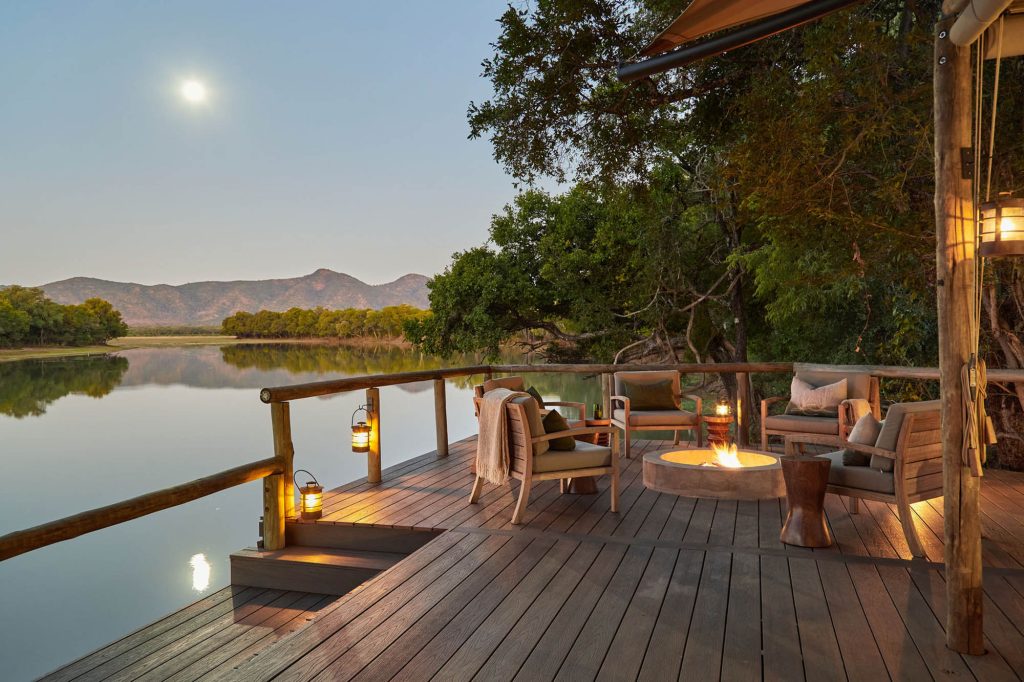 10th Sep 2021
Chindeni and the Bushcamp Company, Zambia
By late July we found ourselves at Chindeni, a small Bushcamp Company property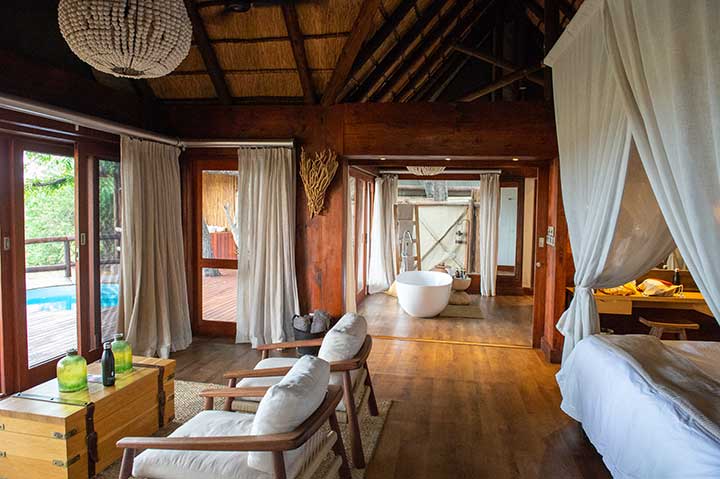 4th Aug 2022
On Safari At Belmond Eagle Island Lodge, Okavango Delta
What is the 'secret sauce' for an unforgettable few days on safari in Botswana? It starts with the animals, of course. The elephants, lions, giraffes, hippos