$cat_name = 'category'; $categories = get_the_terms($post->ID, $cat_name); foreach ($categories as $category) { if ($category->parent) { echo $category->name; } } ?>
May 17, 1998
Botswana Trip Report May 1998
Share: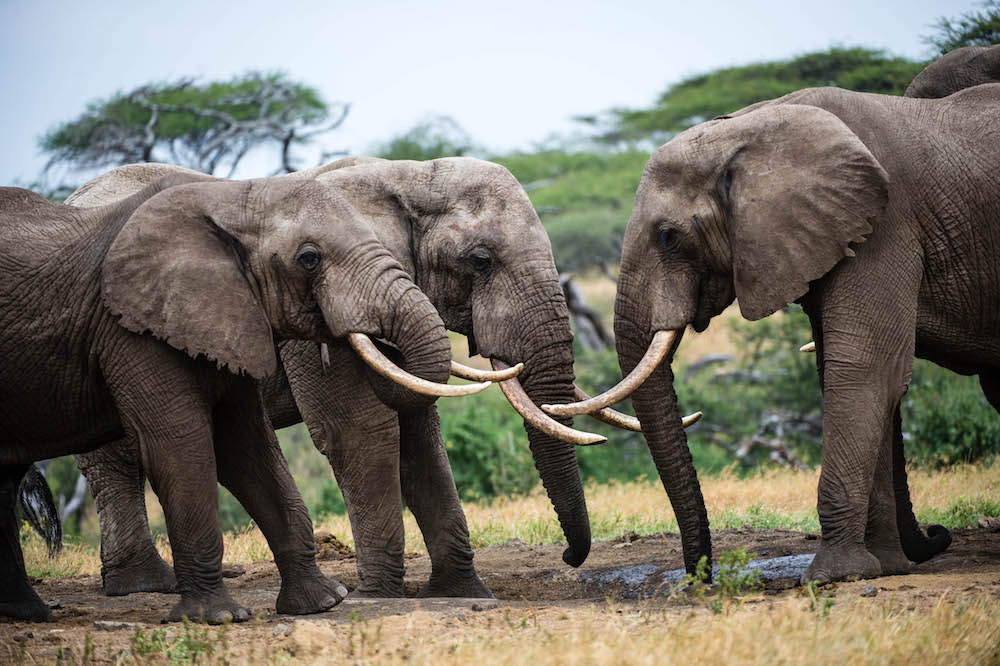 Botswana Trip Report May 1998
BOTSWANA TRIP REPORT – PART 1
If I had any lingering doubt as to which country to recommend as the best game-viewing destination in Africa, no more. I just returned from what can only be described as a mind-blowing educational trip with Wilderness Safaris in Botswana, experiencing both in quantity and in quality an astounding array of wildlife sightings.
In just 10 days there in late May & June, my wife and I saw close on 50 lions – twice seen hunting – once for buffalo and the other time for kudu. We observed leopard on three different occasions including one with the remains of an impala in a tree and another one with a youngster frolicking alongside. African wild dogs were likewise seen three times, once just seconds after they had taken down an impala; and cheetah twice, the latter sighting of a female knocking down and 'delivering' an impala to her five youngsters. She patiently waited in the shade until they had their fill, before she moved in and fed herself, keeping a wary lookout as the vultures started moving in. There were many other fantastic sightings including scores of elephants, magnificent sable antelope, a martial eagle on a fresh impala kill, a 'Giraffic Park' scene at one of the camps with as many as 23 giraffe in one area, all staring at two cheetahs walking by; some superb night drives (including my first ever sighting of aardwolf ), etc. etc.
However I hasten to add that the Wilderness people made an even stronger impression. They were simply wonderful. Without exception, every single Wilderness Safaris employee we met at the various camps in Botswana – as well as at Matusadona Water Lodge in Zimbabwe – was terrific. They made us feel welcome right away, they were friendly, enthusiastic and knowledgeable to boot. Very professional all round.
I have always been very relaxed about sending clients halfway around the world on a Wilderness Safaris trip and my experience this year justifies every bit of confidence I have in them. Our first stop was Victoria Falls where we spent the night at the Victoria Falls Hotel. Don't believe a word of the reports you may have seen that the venerable old Vic Falls Hotel has seen better days. Not so. Our room – in the recently added west wing – was large and comfortable with powerful air- conditioning, a massive ball and claw style bath, cable television and a well-stocked minibar. Even if you're not staying at the hotel, by all means make an effort to enjoy high tea on the terrace (served between 3 and 5 pm). You can skip lunch that day. For about $15 (for two) you get plenty of dainty cucumber and smoked salmon sandwiches (sans crust naturally), several chunky scones with strawberries and freshly whipped cream and a selection of petit fours to top it all off. High tea at the Victoria Falls Hotel comes with as much Earl Grey tea as you care to have, attentive service and one of the best views in Africa: a long, lingering shot down the Batoka Gorge with the railway bridge over the Zambezi River at the end.
We enjoyed the table d'hote dinner at the Livingstone Room (the hotel will provide the required coat and tie for the gentlemen). Salmon tartare salad, mushroom soup, Kariba bream, Zimbabwe beef stuffed with chicken & spinach and a forgettable dessert for about $18 per person. Impeccable service and impressive setting, but rather quiet on Mondays when the live band has the night off.
On May 26 a friendly Botswana customs official stamped our passports at the Kazungula Road border post and in short order we were en route from Kasane's neat little airport to Kings Pool Camp. Our 50-minute flight in one of Sefofane Air's well-maintained Cessna Stationairs would take us alongside the flooded Chobe River for a while and then across into the Linyanti area.
Our first camp was Kings Pool where we were fortunate enough to be put up in tent # 1, the elegant honeymoon suite, a large and well-appointed tent under thatch, complete with tiled bathroom. As was the case at every Wilderness Safaris camp we visited, we received a comprehensive briefing about camp routine, activities and safety procedures. In our tent there was a guest information brochure with detailed information about aspects of the area and its wildlife, a disclaimer of liability, a general warning about the presence of wildlife in and around the camp, game drive etiquette, gratuities, bar and curios, emergencies, electricity, laundry, etc. There was also a complimentary bottle of South African wine and a bird & mammal checklist.
Kings Pool is noted for its very large elephant population, several of which we couldn't help noticing or hearing, as they were feeding right outside and around our tent. In fact, our walk back to the main lounge for lunch took much longer than anticipated, as we had to wait for a couple of elephants to move away. Even so, the walk was pretty adventurous, as we tip-toed past one or two elephants and ducked behind some foliage or sneaked under the balustrades to stay as far away from them as possible.
From past clients I had heard many stories about how Kings Pool's noisy and naturally cantankerous hippopotamus population had kept them sleepless at night. As if to remind us of their presence, two hippo put on quite a noisy display mating in what appeared to be fairly deep water. All during dinner later that evening we could hear them and the rest of their clan bellowing at each other. However, we slept right through the 4 am 'hippo wake-up call' which I had heard so much about. Another notable inhabitant of Kings Pool is crocodile, with a 3 to 4 meter (10 to 12 feet) specimen being visible upon our arrival. Guests need not be reminded that the only safe bathing at Kings Pool is in the plunge pool.
Our afternoon game drive with concession manager Angus as our guide started on a high note. Not long into the drive, we came across a wild dog pack of nine, resting up and lolling about in a loose group, a couple of the younger ones coming right up to take a look at our vehicle. Over the following few minutes their demeanor changed from relaxed and inquisitive to alert and focused as they started hunting. We followed the main group as they rambled through the bush, slowly increasing their speed to a steady trot. Soon, they were moving rapidly through fairly dense woodland, changing direction once or twice, but heading in the general direction of the floodplain. Two hyenas could also be seen, following the dogs, in the hope of a 'free meal', no doubt. By this time, there were two vehicles in radio contact 'working' the hunt, one trying to maintain visual contact with the dogs, and the other one anticipating the direction and speed of the chase. As it happened, we were in the lead towards the end. As we emerged from the tree-line and descended onto the edge of floodplain, in a cloud of dust, we came upon the wild dogs just seconds after they had brought down an impala ram. It was a scene of primeval intensity as they devoured their prey, the sound of their teeth tearing the skin and ripping at the sinews all that could be heard other than our muttered exclamations of amazement and awe. Within the space of just five minutes or so the impala was reduced to little more than backbone, skull and horns. We sat there for the longest time just taking it all in, waiting for the last light of dusk to fade away before we slowly made our way back to camp, for dinner.
BOTSWANA TRIP REPORT – PART 2
Wednesday 27 May, 1998. More wild dogs on our morning game drive today! Kings Pool was really hopping. It was the same pack we had seen the previous day, but they were several miles from the floodplain in an area of broken veld. The pregnant alpha female, which had not been seen for quite a while, was thought to have secluded herself in a new den in the area. So it was with great anticipation that we followed the dogs, holding our collective breath each time one of them would enter an aardvark or warthog hole. Several times there were false alarms, someone exclaiming that the den had been found, only to have the dogs emerge a minute or so later and amble off. On one occasion Angus checked a hole which had been 'inspected' by two of the dogs and was not surprised to find a warthog huddled there.
As there had been no local rain in the area for several months, the waterhole in front of the camp was seeing more and more activity every day, especially in the afternoon, according to the camp manager. While we were there, several elephants could be observed drinking in association with zebra, impala and a troop of baboons.
Then we were off again to Dumatau Camp, Angus skillfully negotiating the open Landrover along a particularly sandy track. At all the Botswana camps open vehicles, with customized raised seats, are used on game drives. This ensures excellent visibility even if there is a full house of six guests on board. For a while, driving through fairly dense mopane woodland, we focused our attention on the birds, twice spotting the very localized and very distinctive Arnot's Chat. The birds were quickly forgotten when we encountered a small herd of elephant, which appeared to be very nervous and stressed, probably because they had several youngsters in the group. The matriarch could be seen whisking a couple of little ones to safety, while several more elephants turned their attention to us. With their massive heads lifted high, trunks raised and ears spread wide in a threatening display, they gave us the royal send-off.
Dumatau Camp was one of our favorites. It has a great setting, built under cool and shady mangosteen trees overlooking an enormous lagoon. Our accommodation was a superb tented room with a thatched roof and a 'regular' hinged door, as opposed to the zipper doors, which we found mildly annyoing. As at all the other camps, the tent had hot and cold running water, a flush toilet and an indoor shower. Dumatau goes one better, though, as the room also had an additional outdoor shower, which received the thumbs-up from Kathleen.
Our afternoon game drive along the tree-line provided some excellent close up views of lions which were lying up at the base of an anthill. It was the Selinda Pride, consisting of three young males, three females and three young cubs. We marvelled at the close-up views, scrutinizing scars both old and new on the bluish-golden skin and trying to fathom the intent of the flat glare in the several sets of yellow eyes fixed on us.
From there we drove down to the Zibadianja Lagoon, where there were literally masses of elephants drinking at the waterside, one group changing places with another in what seemed like a carefully choreographed parade. More and more elephants would emerge from the trees, speeding up as they caught sight of the water. There was dust and water flying everywhere and with the sun setting in the background, it became a tableau of silhouettes against hazy, golden light. Very 'Africa'.
We stopped for a while at a hide overlooking the source of the Savuti Channel, identifying a variety of wading birds and watching a pod of hippopotamus, to use the currently popular collective term. As Angus had predicted, one of the hippos performed a manoeuver which none of us had ever seen before: it rolled around completely from a standing position, flashing its short, stocky legs and pale pinkish belly. It was now late afternoon and the hippos were starting to stir, calling at each other in anticipation or preparation of emerging from the water for their nightly foraging. In this area the local lions had become quite adept at taking hippo as prey, and on occasion lions are observed 'surfing', clinging to the back of a desperate hippopotamus trying to make it back to the safety of his water home.
We were already sold on Dumatau, but there was more to come. During pre-dinner drinks around the ground-level fireplace in front of the dining room, the mellow atmosphere was rudely shattered when a kudu burst out of the bush into a clearing on our right. Wide-eyed and frantic, it stared at us for a split- second and then scrambled around the fireplace, closely pursued by a female lion. It happened so quickly that we were frozen to the spot, looking at each other in disbelief. The kudu got away, but the incident was much discussed over dinner. The main course this evening was beef fillet with pepper sauce, served with potato au gratin and zucchini. As is the custom at all the camps, dinner was announced by one of the chef's assistants, and we were pleasantly surprised by a spontaneous exhibition of dancing and singing by a very talented group of kitchen staff.
At around 10 pm most of the guests were again assembled around the open fire. Tim and Robin were the first ones to say good night, preparing to return to tent # 3. They declined an offer from one of the guides to accompany them to their tent. "We'll be fine, it's not far," said Robin as they took their flashlight and started up the path. "That's what the last nice couple said," the guide joked. Because of the earlier activity in camp, a guide went ahead to check the path anyway. There was a pride of nine lions not 10 meters away, busy crossing the path, the males so big they had to duck under the balustrades. Watching the lions move away we all made mental notes never to decline an escorted walk back to one's tent at night. When we later heard that Dumatau means 'roar of the lion', we were not surprised.
The next morning we enjoyed a boat ride and a guided walk at Dumatau. It was a pleasant change to be out walking but as outings go, it was rather quiet. There were more hippo in the lagoon and we were glad when Angus gave them a wide berth. En route to the airport later that morning, we made a detour to check on the Selinda Pride again. This time, we had a brief look at two small cubs with them. The lions had killed a zebra the previous night.
Linyanti Tented Camp, another small 8-bedded tented camp in the concession, is nearing completion and will be ready in July. The builders have been seeing superb game around the camp, which is being constructed in an area which is well frequented area by elephant, lion and the like. Linyanti Tented Camp will also be used for the Jacana Safaris and like Savuti Camp, it will be ideal for small groups.
The next morning we flew to Chitabe Camp, which is situated on a beautiful island in the Okavango Delta, in a stand of ancient ebony, leadwood and sausage trees. Chitabe has an impressive layout, the entire 16-bedded camp being built on a raised teak deck, with linking walkways. This is especially appealing to first time visitors to Botswana and would be a good choice for anyone concerned about the type of 'camp action' we experienced in Dumatau. Our afternoon game drive was rather quiet until we came upon a pack of 14 wild dogs, which had not been seen in the previous couple of weeks. The alpha female was visibly pregnant. We observed them for as long as we could, alerting the other two vehicles in the area, but the dogs moved off before anyone else saw them. It was now dark and using a powerful spotlight, our guide found Honeybadger, Civet, Bushbaby and Largespotted Genet, in addition to elephant and giraffe.
We slept in at Chitabe the next morning, before visiting the nearby 8-bedded Chitabe Trails Camp, which is ideal for groups preferring an even smaller camp. It is identical to Chitabe in terms of style and decor, but is on the ground. We thought it was cute: compact and intimate, with leopards frequently seen around camp. A new plunge pool is being installed at Chitabe Trails and it will be ready by spring.
Then it was on to Jedibe Island Camp in the heart of the Okavango Delta. Our landing at the Jedibe airstrip, close to the village of Jao, was the only one during our entire trip that was not strictly routine, as the pilot had to go around in order to avoid a child chasing a dog across the runway. Sefofane Air, the company who flew us around Northern Botswana, was most impressive: timely and safety-conscious with pilots whose professional demeanor belied their youthful appearance. Sefofane's Cessna Stationairs all looked and felt like they were well maintained.
At the airstrip we were picked up by motor boat for the 8-minute ride to this lovely water camp. The annual flood was cresting and water levels were very high, the jetty from the boats to the camp being almost under water. All the floodplains around the back of the camp had filled up making some new and interesting routes for the mokoro rides. Game in this area had been picking up and leopard, wild dogs and elephants were being seen. Even so, Jedibe is a camp which one visits for the water and everything associated with it. One only needs to stand in the lounge, looking out towards the jetty, to appreciate this. To the left, suspended over the bar, is an old mokoro. To the right is a huge new fishtank with indigenous fish such as Johnston's Topminnow, Striped Robber, Southern Mouthbrooder, and Dashtail Barb. The Delta supports a great diversity of freshwater fishes, some 60 species having been recorded.
Our afternoon mokoro ride was on the quiet side, with rather too many mosquitoes. The birdlife in the area is fantastic, however, and we ticked off several interesting species such as Malachite and Giant Kingfisher, African and Lesser Jacana, Brown Firefinch and Copperytailed Coucal. We also visited the nearby village of Jao, where there were some interesting huts, lots of kids with dusty faces, friendly dogs, and rather expensive woven baskets. Kathleen added a new mammal to her life-list on the way back to camp – Spottednecked Otter.
On the morning of May 30, we were up early, experiencing the best dawn chorus of the trip. Heuglin's Robin, Swamp Boubou, Hartlaub's Babbler and several other bird species tried to outdo each other in welcoming the new day. By 0730, fortified with some coffee, we were enjoying a boat ride with Mark and George to Lizard Island. The scenery could not have been more beautiful. In the soft morning light all we could see were tree-fringed islands, beds of papyrus, and lagoons dotted with waterlilies. The Delta is always picture- pretty, and all the more so in winter when the color mosaic of brown, green, blue and gold is at its most impressive. There is much to be said for the 'big game' camps, but a couple of days at Jedibe can do the soul a lot of good. Relaxing in this watery wilderness is a very soothing experience. In a camp where hammocks are part of the furniture, tranquility is just a fishing trip away. (To be continued).
BOTSWANA TRIP REPORT – PART 3
So what does one do on a Botswana safari other than game drives, walks, mokoro outings, birding, boating trips and the like? Eat of course! Brunch at Jedibe this morning was typical of the wholesome, delicious food we enjoyed at all the camps: eggs to order (I prefer mine scrambled but you can have yours pretty much any way other than cholesterol-free), bacon, toast, freshly baked herb bread, vegetable quiche, vegetable breyani, yellow rice, fresh fruit, yoghurt and more. Brunch items at some of the other camps included potato salad, a squash-based ratatouille, fruit salad, muffins and even bobotie, a spicy baked ground lamb dish of Malay origin.
Our afternoon flight to Vumbura Camp was just a short hop by air, but by now we had practically reached the end of the line. The Okavango Delta is remote, and in a camp such as Vumbura the sense of being away from it all, really hits home. This is about as far as you can go, and it shows: few roads, no other vehicles, no permanent structures of any kind. The Vumbura area, which is close to the Okavango's outermost dry sandveld, consists of open floodplain with ribbons of riverine vegetation, patched with woodland-covered islands. From the air, we could see that there were quite a few elephant around, and our afternoon game drive with Quinton took us very close to a beautiful herd of Sable antelope. As antelopes go, Sable is probably the handsomest of them all, with Gemsbok (Oryx) a close second, I would think. There was one male in the herd which had a simply magnificent pair of horns, swept back almost to the point of absurdity. A bit later in the afternoon, just as the sun was setting, we came across a good-sized herd of buffalo, partially obscured in their own dust-cloud. Surely there could not have been a better setting for sundowners: just us and the buffalo, dust and silence until a few pesky elephants crashed the party and moved across our line of sight, passing right in front of the setting sun. There was also a report of a sighting of two cheetah, but we weren't close enough to pursue them.
Vumbura Camp has lots of character, with a cosy dining room and pub area under thatch in a stand of large trees. We were shown to our well appointed tent, which had the best set-up of any of the camps, with the beds facing towards the entrance of the tent, complete with his and her basins, a large mirror, discreetly placed toilet and shower en suite.
Something which we had first noticed in Jedibe, and was to experience at all the other camps in the floodplains, was the sense of excitement which grips the Okavango Delta every year in early winter. It is a refrain which can be heard at every camp: 'The flood is coming, the flood is coming!' No conversation was complete without at least one reference to the water: "Wow, it's really pumping now"; or "By tomorrow/next week/next month we won't be able to use that road", or "There will be water in front of camp right up to here " and so on. We were treated to stories of floods anticipated, floods remembered, embellished and forgotten. Great floods, average floods, late, early or just in time. All very entertaining and stimulating. If you're just thinking about your first trip to the Okavango Delta, by all means plan it to coincide with the annual flood. One guest at Vumbura got so into the whole thing that he was seen with video-camera in hand, recording a close-up view of the slow trickle of clean water pushing into the dusty grassy plain in front of camp. Not exactly spell-binding footage, if you ask me . . .
This morning I had to be persuaded to go fishing. Given the choice, I would rather have gone after some more buffalo on a game drive… As it turned out, the one time that I was reluctant to do something turned into one of the most vivid memories of all. On the drive out to the boat launch area we enjoyed good sightings of Honey Badger, numerous Red Lechwe, some Tsessebe and also Wildebeest. Making ourselves comfortable in an aluminum skiff with a shallow draft outboard motor, we chugged and churned through some narrow channels and reed-lined backwaters, feeling very much the explorer as we ducked under overhanging reeds and brushed off spiderwebs. Soon enough, we found ourselves in a small, picturesque lagoon where we tied up the boat and started fishing. The first strike came within seconds of an artificial lure hitting the surface of the cool, crystal clear water, and it was non-stop action from then on. Over the next hour or so the four of us caught and released what must have been 40 or more African Pike and a few Nembwe. Not many were keeper-size but they were not shy to go after our spinners. Great fun.
By early afternoon we were 500 feet up in the air, looking down upon the amazing sight of the flood pushing its silvery fingers further and further into the Delta. We were on our way to Duba Plains, a scant 7 minutes or so by air from Vumbura, but an arduous trip by vehicle, I am told. Duba Plains Camp, which was closed at the end of 1997 and completely rebuilt, is now one of the most stunning camps in the entire Okavango Delta. This small camp, which sleeps only ten guests, has tons of charm and offers guests the complete Okavango Delta experience, with day and night game-drives, walking and mokoro outings. We loved the design of the dining area and bar, which was truly integrated into the natural environment, with existing tree stumps being used very creatively. We were accompanied to our tent by a semi-tame African wild cat, who took an instant liking to Kathleen. We didn't mind, in fact we were thrilled to have an opportunity to get such a closeup look at a rarely seen small cat. The resident tree squirrels did mind. They were practically falling out of the trees, chattering and screeching in an attempt to alert each other to the danger posed by the cat, semi-tame or not. If I didn't know any better, I would have sworn I saw them pointing.
Our afternoon drive started on a promising note when we spotted what would turn out to be our only Wattled Cranes of the trip. Striking and unmistakeable as ever, they strutted around the edge of the incoming water, keeping a wary eye on us. Wattled Crane are extemely sensitive to any disturbance while nesting, which has resulted in these birds practically disappearing from much of their former range in Southern Africa, the Okavango Delta being a notable exception. I had told our guide, Graham, that I wanted to take some photographs of buffalo, so he drove in the direction of a herd of more than a thousand buffalo which had been seen and photographed from the air the previous day. Somehow – the terrain is very flat – we missed the herd of buffalo, finding instead a thousand mosquitoes and for a while there, things looked a bit grim. The sighting of a Denham's Bustard, a bird rarely seen in these parts, brightened the mood somewhat. Almost immediately after our stop for sundowners, the tenor of the drive changed completely and within a couple of hours it had turned into one of the best night-drives we had ever experienced. One after the other we started seeing some of the most elusive nocturnal animals, including Bateared Fox, Side-striped Jackal, Aardwolf, Civet, Porcupine, and African wild cat. We could not believe our luck, and it more than made up for the disappointment with the buffalo. At one stage a couple of very vocal Hyenas ambled past us and Graham did not hesitate for a second, swinging the Land Rover around and bouncing off after the fast disappearing animals. When we finally caught up with them, they had disappeared into a thicket, and all we could do was to sit and wait on its edge, trying to imagine what was happening in there. The unearthly whoops, growls, giggles and yells emanating from the bush were fodder for the imagination. The loud alarm snorts and distress calls of a buffalo completed the picture. A solitary buffalo must have been fighting off several hungry hyenas and we expected the bloodied animal to come crashing out of the undergrowth at any moment. Unfortunately, the encounter would remain an imaginary one for us as we had to leave the animals in the bush. Pangs of hunger affect not only hyenas – we had our own dinner appointment!
Fittingly, the day was capped with a surprise bush dinner, the first one we had ever experienced. In a clearing in the bush camp manager Britt and her team, ably assisted by Diana, had set an elegant table under the stars, lanterns adoring the scene. There was a chill in the air but a hearty beef stew and a shovel-full of glowing coals under the seats of our canvas chairs warmed us up nicely. It was a superb conclusion to a perfect day in Botswana.
Monday June 1
Our morning drive was a classic and probably the best single game drive any of us had ever experienced. Right off the bat we found the herd of several hundred buffalo which which had eluded us the previous afternoon. In a cloud of dust we saw them, bunched up in defensive posture. Around a corner we came across a lioness, then more lions, a total of three adult females, two young juveniles and two youngsters. A few older buffalo bulls broke off from the herd, wheeled around and approached the lions, challenging them with heads raised high, shiny noses reecting the light. The lions retreated, clearly extremely wary of the massive horns. In turn, the greater part of the buffalo herd also decamped, thrashing noisily through the water. As we came closer, a lioness clambered onto a stump and looked back at us, making for one of the best photo opportunities of the entire trip. A couple of the younger lions then started 'playing with their food', to use Graham's expression. They were making repeated mock charges, running after the retreating buffalo, only to scamper away as the buffalo swung around and came after them with tails arched, tossing their heads as if to draw attention to the threat posed by their horns. Just when we thought it was all over, two old buffalo bulls approached from the other direction, and the lions immediately turned their attention toward the isolated animals, which presented an easier target than the tightly bunched herd. The lions started stalking their quarry and we were anticipating a full-blown ambush when one of the younger lions showed itself prematurely. The cantering buffalo broke into a full speed run, showing their awesome strength by literally blasting through some shallow water, and charging off into the distance. The lions quickly broke off their half- hearted pursuit. The show was over, at least for the day.
BOTSWANA TRIP REPORT – PART 4
Monday June 1, 1998
Our last two nights in Botswana were to be spent at Mombo, Wilderness Safaris' flagship camp on the northern tip of Chief's Island, in the Moremi Wildlife Reserve. We had heard so much about Mombo, and had looked forward to the visit for so long that disappointment was a distinct possibility. Would Mombo live up to its reputation? Were our expectations too high? Would we find cheetah and dared we hope for a sighting of that most elusive of African cats, a leopard? We'd been in Botswana for a week now and had still not seen a spotted cat… All these thoughts and more were tumbling through our minds as our Sefofane pilot, Neville, adjusted the trim and banked the Cessna gently on the final approach to the Mombo airstrip, a little after 2pm.
We need not have worried. Our duffel bags were still being retrieved from the small luggage pod under the aircraft when Garth, who had come to pick us up, mentioned that a Martial Eagle had just taken down a young impala, not far from camp. We were nodding our heads the moment he suggested an unscheduled midday game drive to go and take a look. The sight which greeted us was vintage Mombo: a magnificent adult Martial Eagle was perched on its freshly killed prey, wings spread open to obscure its meal from inquisitive airborne eyes. The Martial, which is Africa's largest eagle, is a powerful-looking, long-legged bird with a markedly broad, flat head, and penetrating yellow eyes. Alternately glaring at us and at the steadily growing number of vultures which were settling in the open field a respectful distance away, the bird started tearing chunks out of the impala, the fresh blood turning its black bill a vicious red. It was truly a once-in-a-lifetime sighting for all of us and I was not the only one shooting roll after roll of film, trying to capture the essence of this most rare event. Even the experienced Mombo guides had never seen anything like this before.
Around 4 that afternoon we revisited the scene. The eagle was nowhere to be seen. As our guide – Hayden – had predicted, the vultures had by now appropriated the impala and were scuffling over the remains. It was a good opportunity to brush up on vulture identification as there were four species cheek by jowl: a few massive Lappetfaced, some Whiteheaded, a solitary Hooded on the edge of the action, and a mass of Whitebacked vultures, all fighting and pushing like a bunch of soccer hooligans run amok.
From there we went off in search of cheetah. Hayden was on a roll and we found our quarry not far away, lying down in the shadow of a tree. There were two of them – the famous 'Steroid Boys', brother cheetahs who were improving their odds for survival by living and hunting in a coalition. The brothers were notorious for their size – hence the nick-name – and for taking down lionsized prey such as adult zebra. They were literally lolling around, affectionately cleaning each other, before eventually ambling off. Within minutes, the two cheetahs were seemingly surrounded by giraffe, and at one stage we counted no less than 23 of the long-necked beasts, all staring intently at the cheetahs. Nonplussed, the cheetahs walked between them and settled on an anthill. After watching them for a while, we drove off to a nearby sighting of a hyena with two young, both suckling. Re-entering the scene from stage left, so to speak, the cheetahs then walked straight towards the bush behind which the hyenas were lying. From our vantage point we could see both sets of animals, who were unaware of each other's presence. We were holding our breaths, anticipating a confrontation, but as soon as they spotted the hyenas, the cheetahs halted in their tracks, changed course, and disappeared into the bush. Steroid Boys or not, they weren't at all keen to take on a hyena.
By radio, Hayden was then informed of a sighting of a leopard towards which we drove. In the fast disappearing light we had a brief look at our first leopard of the trip; a large male with a pronounced limp, no less magnificent an animal for it. Despite his physical imperfection 'Limpy', who had apparently come off second best in an altercation with a lion as a youngster, was the dominant male in the territory. Mentally, we marked off the leopard sighting with 'better view desired' in brackets. We had no reason for complaints though: the end of our first half day at Mombo and we had nailed both leopard and cheetah. It simply doesn't get any better than this, we thought.
Then it was back to camp. In comparison with Wilderness Safaris' fabulous new camps elsewhere in Northern Botswana, the lay-out and design of Mombo, and the tents themselves are not quite up to par. The reason for this is that Mombo is an old style tented camp which cannot be changed in any way until Wilderness Safaris enter into a new lease period in 1999. Moremi park regulations do not allow them to make any changes until then. So, for the time being, visitors to Mombo will have to 'endure' the old-fashioned type tents, the fact that some tents are in line and relatively close to each other, and the inconvenience of unzipping the main tent to get to the bathrooms, which abut directly onto the tents. As long as you don't expect the same superb accommodations offered at the newer camps, you won't be disappointed. Mombo is a wonderful area with a comfortable rustic tented camp which offers good game-viewing year round.
Dinner on this day was particularly festive, with everyone in a good mood after such an eventful day. As is the practice at all the camps, the 'menu announcer' decided whether ladies or gents would have first shot at the buffet table. The men struck out again – I was now batting about .300 after six nights, the score being ladies 4, men 2. Anyway, the food was worth waiting for – roast fillet of beef, squash, broccoli with cheese sauce, potato au gratin, a lovely mixed salad and a superb lemon meringue pie. For those that care to, white and red complimentary table wine is served with the meal.
Tuesday June 2
Our morning game drive with Hayden was another winner. Winding our way through some spectacular scenery, in an area where the new water was slowly spreading over the dry floodplains, we bumped into two stunning male lions walking in a westerly direction on the floodplain. Like the two cheetahs which we had seen the previous day, they were also brothers and likewise the dominant males in a huge territory. About 10 years old , the two full-maned lions were just a year or so past their prime. Hayden referred to them as "Goss' Boys" after Richard Goss, a well-known film maker. At one stage the two of them took a brief respite and then jumped over a stream, in order to avoid the incoming floodwaters. Even though we had advance warning, we still managed to fluff the photograph…
A little further on Hayden noticed a drag mark across the road, and we swung off to the left, following it in one direction around some low bushes and stumps in a lightly wooded area. The drag trail ended at the spot where the kill had obviously been made some time the previous night, as the contents of the stomach of an impala (or perhaps some other antelope) were right there on the ground. In case you were wondering, this consisted of a lump of moist, green, partially digested foliage.
We promptly turned around and followed the trail to the other end, back across the road, into more dense woodland with many fairly big trees. Again the drag marks ended, this time near a sausage tree. An observant guest spotted the remains of the impala in the tree, tucked into a main fork branch slanted at about 45-degrees. Almost immediately afterwards, Hayden spotted the leopard: it was our friend Limpy, partially hidden inside a bush, busy devouring a choice part of the impala. We watched him for a while and then heard via radio about a cheetah kill nearby. Off we went, winding our way along a narrow track, occasionally having to duck to avoid overhanging – thorny – branches.
On arriving at the scene, we witnessed an amazing sight of five young cheetah – about 4 months old – trying to overpower and bring down an adult impala. They were pulling it in all different directions, trying to take a chunk out of it at the same time. The adult female cheetah then grabbed the hapless animal by the throat and put it out of its misery. The young ones started feeding ferociously, the mother retreating to a shady spot under a nearby tree. For the next 40 minutes to an hour, we watched the young cheetah gorging themselves on fresh impala. Occasionally they would lift their heads, survey their surroundings, or they would get up and change places. Every now and then one would look straight at us for a moment or two, its bloody muzzle reflecting the morning light.
When some Whitebacked vultures, which had been sitting in a tree a short distance off, starting flopping down onto the ground and moving in, the adult female also started eating. One by one the young cheetahs, their rounded bellies indicative of their satiety, left the carcass and flopped down into the shade. We took our fill of photographs, saved the memories in the 'just another glorious day at Mombo' folder of our brains, and called it a morning.
Brunch was a little bit late, not that it mattered. After the kind of morning we had, food was the last thing on our mind. A walk-by at the buffet table soon changed that: bobotie, aubergine with tomatoes, chicken crepes with cheese sauce, omelettes to order (any combination of ham, cheese, tomato & mushroom), fresh fruit, toast, coffee… We tucked in.
For once, Kathleen and I had an opportunity for an early afternoon siesta, which we sorely needed by now. The one-day-here, next-day-there pace was starting to show, and combined with the very early mornings, we were starting to drag a little bit. If I had my druthers, I would spend three nights at any one camp, rather than just two. Slowing down the pace improves the entire experience: less stress, fewer flights, more opportunities to explore a particular area a bit better, and enough time to participate in all the activities offered at the camp. We had a ways to go on this day yet. At 3:30 it was time for tea or coffee, with cake, quiche and salad on the side. As if we needed another meal…
Barely into our afternoon game drive we had some nice close-up views of a female lion who had killed a young buffalo and had dragged it into a nearby bush. We were so close that we could see the flies she was trying to swat away from her muzzle, grimacing and squinting in the process.
From there, Hayden headed towards the floodplain, intending to take us back to the scene of the cheetah kill. En route, we stopped to enjoy a lovely view of the incoming flood. I made one of my favorite images right there. It was a typical Okavango Delta scene: two colorful Saddlebilled storks close by, a large group of lechwe splashing around in mid-distance, and a lush green fringe of palms and other vegetation in the background.
Serenity is not exactly part of the Mombo experience. None of us were surprised when the radio crackled with news of yet another leopard sighting, this time a female with two young, a daughter of about 18 months, and a small cub of about 4 months. When we reached them, they were close together in a relatively densely wooded area, the playful cub skulking around and peering at us from behind a tree stump. Nervous impala were snorting their disapproval from all directions, and when yet another leopard, a male, appeared on the scene, the tension was palpable. The sub-adult female – which was possibly in estrus – quickly disappeared, following the male into very thick brush.
For the next half hour or so, we followed the mother and baby leopard as they softly padded their way through the bush. The cub would occasionally jump over obstacles – real and imagined, or dash up a tree only to come tumbling down clumsily. Once, the cub used its mother as a makeshift springboard, darting up from behind, bouncing once and plowing into the underbrush rather unsteadily. By this time, we were stationary, the engine had been switched off and we were enjoying our sundowners in silence, just enjoying the moment. The cameras had been put away, and it was too dark to use binoculars. Perhaps this absence of movement or activity in the vehicle helped to relax the cub even more, as it now approached very close to the Landrover, staring at us intently, its cute little face a mix of curiosity and audacity. A prince of stealth in the making, to be sure.
BOTSWANA TRIP REPORT – PART 5
At 0945 on a Wednesday morning in June 1998, our Sefofane pilot Neville glanced back at us over his right shoulder, adjusted the throttle of the little Cessna 206 to the maximum setting, released the brake and off we went in dust-blower fashion, bouncing along for a very long minute or so, before the laws of aerodynamics mercifully kicked in and we were airborne. As if someone had flipped the tension switch, we immediately relaxed, peering down at the wonderful mosaic of water, islands, clumps of palm trees, patches of riverine bush and open plains which makes the Mombo area such an animal paradise. We would never forget our stay there.
Our day would be rather typical of a 'travel day' in northern Botswana and Zimbabwe. A half hour by air to Kasane Airport, one and a half hours by road to Victoria Falls, crossing the Zimbabwe border in the process, followed by an uneventful commercial flight on Air Zimbabwe to Kariba, via Hwange. We touched down at Kariba by 330PM, repacked our stuff into a smaller bag and boarded yet another small plane for a 30-minute scenic flight to the Tashinga airstrip at Matusadona. From there it was a short 7-minute drive by open Land Rover to the edge of the water, followed by a 15- minute boat ride to Matusadona Water Lodge.
Kathleen had her doubts about this camp, but she started changing her mind, practically as soon as we got there. First impressions were good: the camp had been recently updated and the blue and white decor was quite striking. For once, the camp briefing – presented by Tracy in a crisp and forthright manner – did not include references to animals strolling through camp! She did mention crocodiles, but this being mid-winter, we did not need much incentive to stay out of the water. The 'mother ship', which houses the central bar, lounge and dining room, was a real hit with us (and the other guests in camp at the time) and we spent several hours there simply relaxing and chatting away. Guests commute between this unit and their rooms either by canoe or the camp motorboat. We tried both: a canoe when we arrived and the pontoon boat to get back to the mother ship, a couple of hours later, for dinner. By that time our ears had picked up the unmistakable throaty, resonant grunts of hippo. Sound travels incredibly well over water, and the hippo might have been miles away, but we weren't about to take any chances.
Matusadona Water Lodge and its practically identical sister lodge Water Wilderness both have accommodation for a maximum of 8 guests in four tastefully decorated twin-bedded chalets, each with en-suite toilet and shower. Our room had a very comfortable double bed. Each of the floating rooms has its own cool verandah complete with table and chairs. We briefly tried our luck for some of Kariba's legendary bream, but for one reason or another they flatly ignored our proffered bait, some local earthworms. It was probably just as well that we did not catch a fish, as it might have distracted our attention from one of the most glorious sunsets which we had ever seen. The sun appeared to be drowning right in Lake Kariba, filling the air with an almost pure pink glow and creating the perfect backdrop for the skeletal remains of long dead leadwood trees. Of the thousands of trees which had perished here in the late 1950's, when the water started to rise upon completion of the dam wall, the stumps of the leadwoods are all that remain.
With the good rains inland earlier in 1998, Lake Kariba had risen by over four meters and many of the grassy plains which used to line the shores of the lake were under water. The level of the water was not that much below full capacity, and we were told that the sluice gates may have to be opened if they had another good rainy season.
Matusadona Water Lodge has to be amongst the most underrated camps in Zimbabwe. With the new floating chalets, the new decor and its wonderfully secluded site within Matusadona, there are few other camps to rival it. Wilderness Safaris have a superb couple running the camp, Clive and Tracy Meakin. Clive is a full pro guide who did his training at Chikwenya. Tracy complements Clive and they run a great operation. The food was delicious and the range of activities on offer make the place an exciting and interesting one to visit.
The real highlight here is the game viewing – and the night sounds! One does not have to travel anywhere to get to the best game viewing area in Matusadona. You're already there! On a boat trip, we had some of our best views ever of elephant, marveling at the sight of elephants feeding 'under water'… Two or three of them were practically completely submerged, rooting around for a type of water plant that obviously appeals to them. On emerging from the water, the 'clean' wet elephants appeared to be almost pitch black, their tusks almost blindingly white.
Colin Bell, who visited Matusadona Water Lodge a few weeks earlier, also enjoyed great gameviewing: We had buffalo, lion and elephant around camp! We did not want to sleep at night with the night sounds echoing around the bay where the camp is moored. Then the lions started up in stereo and we could not sleep. It was one of the loudest lion nights I have ever experienced. Their calls from all sides came barreling across the waters. Next morning we found their tracks right along the shoreline.
All too soon we had to bid Zimbabwe goodbye, going on to South Africa for our last stay at a game reserve, the famed MalaMala Main Camp adjacent to Kruger Park. Much has been written and said about MalaMala and we wondered whether it would live up to our expectations, especially following hot on the heels of such as wonderful trip to Botswana and Zimbabwe.
There was no reason to worry. From the moment we were met at reception, it was evident that MalaMala was a thoroughly professional, exceedingly well-run operation. Everything was done smoothly and seamlessly, just as one would expect at a deluxe hotel. Our room itself – Suite #6 – was almost too luxurious for us, but it is the kind of luxury we can get used to in a hurry, with air-conditioning, his and hers bathrooms (one with a bath, the other with a shower), heated towel rails, a telephone, a separate lounge, and a fully-stocked mini-bar. We arrived right at lunch-time, which was served alfresco on the verandah. The food was superb: elegantly presented both at lunch and at the very enjoyable outdoor Boma dinner, which MalaMala does better than anybody else.
The game-viewing and the guiding at MalaMala can only be described as world-class. Our guide Leon and tracker John made a superb, if unlikely team. Leon, who has a degree in zoology, was the perfect host, urbane and gracious, always checking on our well-being. John, the Shangaan tracker, whose father had also been a tracker, didn't miss a thing. With his amazing eyesight he saw things which we could only make out with binoculars. On our very first game drive that afternoon, we found ourselves – in an open game-viewing vehicle – right in the midst of a massive herd of buffalo, all very relaxed and allowing us to observe and photograph the finest of details. Soon after, we came across a pride of 6 lions, again having the opportunity to observe them closely. Initially, they were just resting up but our eyes soon locked onto a powerful big maned male as he walked right by the vehicle, acknowledging our presence with just a flicker of a disdainful glance. The next day, we had two different leopard sightings, first following two female leopards on the hunt, and then running into another young male drinking at the river, close to camp. Add to that some very relaxed elephant herds and a solitary white rhino, and voila, the 'Big Five'. We duly received our certificates, putting us into some pretty select company. There are people who make light of Mala- Mala's 'Big Five' focus, but let's face it, people do not come to Africa just to see termite mounds or dung beetles. On the way out back to Skukuza Airport – but still on the MalaMala property – we had an excellent sighting of a cheetah, sitting right by the side of the road. If we didn't have a plane to catch we might have spent more time there…
MalaMala is without equal in terms of 'delivering' a consistent, quality experience all-round, from its game-viewing, which benefits from its extensive river footage, drawing large numbers of mammals onto the property, to its superior hospitality and food, resulting in numerous awards over the years. The reason for MalaMala's success? The personal touch, as embodied by Michael and Norma Rattray and their great staff. The first person we saw as we drove onto the property was Mr. Rattray himself, inspecting one of the roads. Later that evening, he came over to our table and inquired about our well-being. And it was obvious that Mrs. Rattray was treated with great respect by all the staff members. We look forward to a return visit to the property to have a look at the new Harry's Camp.
The last couple of days of our trip was spent in Cape Town.
Bert du Plessis
Houston