$cat_name = 'category'; $categories = get_the_terms($post->ID, $cat_name); foreach ($categories as $category) { if ($category->parent) { echo $category->name; } } ?>
Feb 11, 2010
Uganda Trip Report February 2010
Share: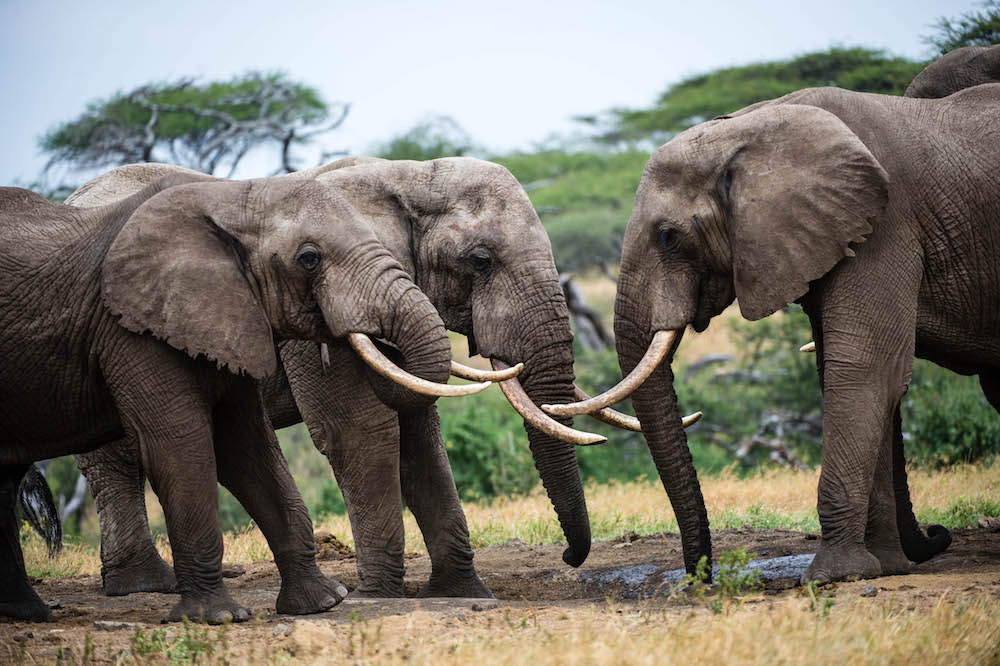 Uganda Trip Report February 2010
PART 1: BEGINS
February 4th 2010
Finally, we have arrived at Entebbe Airport in Uganda. First time traveling with Emirates so we had a pit stop with an overnight in Dubai. Getting some rest in a real bed between these long flights was very relaxing seeing as Lyndon is a horrible plane sleeper. The service was rumored to be excellent and I'm glad to say they did not disappoint. If we could schedule it again we would plan on spending a full day in Dubai, tour the city and try to rub off some jet lag before diving into the Safari. Back in Entebbe the customs moved relatively quickly, just remember your new (2000 or younger) $50.00 bill for the Visa. Anything older than that and you get turned down or a horrible exchange rate. Not just at the airport either, everywhere, make sure to bring new bills, it is almost impossible to use old ones in Uganda.
We were met by our guide Ham immediately after clearing customs and we set off to the Boma Guest House. The drive from the airport in Entebbe to our destination in the suburbs of the capitol Kampala was about half an hour. February falls under the "dry" season in Uganda but that doesn't rule anything out. It is more of a relative term. The first day had some showers and it was overcast or even raining throughout the trip. Nothing too heavy, indeed it actually made the temperature quite bearable. We had hoped to meet our travel companions that night for introductions but they all arrived at separate times and we could not meet until the following morning. Dinner was excellent.
February 5th
Sleeping on the first night is always tricky because no matter how tired you are and how quickly you fall asleep you invariably wake up at around 3:00 AM and feel wide awake. This trip was no different for us so by the time breakfast rolled around we were ready to begin the day. We met our travel companions Nicole and Sherine over some nice eggs bacon and tea. Today we were off to visit the Ziwa Rhino Sanctuary, whose aim it is to reintroduce rhinos to protected areas in Uganda. They currently have 9 including several babies and are expecting to add some more from South Africa soon. The drive from Kampala was about 4 hours but seemed longer due to some never ending speed bumps.
Currently the Sanctuary is fully enclosed and the rhinos are actually monitored and guarded by armed park rangers 24/7. This makes locating them a cinch and partially habituates them to humans. Because of this we were able to get fairly close and get some fine photographs. This was a real joy because in our earlier safaris to southern Africa we had not had the pleasure of spotting any rhino. In all we had enough time to see 5 different rhino in two separate locations. A mother with a baby in one spot and a different mother with her baby along with a male in the other spot. When we got back to the visitor's center we had some nice lunch, pork and spaghetti and meatballs. We then set off back to the Boma for a relaxing evening.
PART 2: SEE MORE OF OUR UGANDA PHOTOS WITH THIS SLIDESHOW
This morning we set off for Ndali Lodge with a pit stop at the town of Fort Portal. Here we stopped at a buffet for lunch and had the opportunity to try some of the local foods, the most interesting being matoke. It consists of a green plantain that looks like an unripened banana steamed over charcoal for a few hours. Always served with some type of sauce, otherwise it is fairly dry and not very flavorful. The remainder of the drive was a slow, steady climb in elevation and we didn't arrive at the Lodge until evening. Before sunset we got to meet the owner, Aubrey, as well as some of the staff and a couple of nice dogs. Jason spotted quite a few nice birds just outside of our room.
PART 3: UGANDA TRIP REPORT
February 7th
From Ndali we headed to Chibale Forest National Park for our first chimp trekking experience, about an hour's drive. The temperature was mild and we were fortunate to have some nice cloud coverage. Once we arrived inside the park we got to meet some of the guides and received a preparatory talk about what to expect. For example, there are ants in the forest and it is highly recommended that you roll you socks over your pants so they don't sneak in and bite you while you stand and look over the chimps. There were two groups of 6, each having one guide and any number of porters to carry your gear (highly recommended since you need to bring your own water). The forest itself was very thick but the paths were well defined and the terrain was quite flat and easy. Almost immediately our guide spotted a mother with a baby far up high. They had been feeding on the fig tree we were under but the fruit was not quite ripe. They were difficult to spot at that height due to the dense foliage and after a few minutes we decided to move on. The guide knew the location of other fig trees so we traveled to the edge of the forest to see if we couldn't find a larger troupe. No luck there but we had been radioed by the other group that they had spotted some chimps a short distance away. Since the sun had not really come out during the day the chimps were inclined to stay in the trees where it was cool. This made it difficult to get great views but with some patience Jason managed to get some great photos regardless. Overall Chibale was very nice and the success rate for spotting chimps is quite high. You are only allowed one hour with the chimps and it goes by fast. In order to habituate them park rangers had to spend approximately 10 years following them through the forest.
Unfortunately for us we did not have time to rest and wash up after this and had to start the drive to Ishasha following the trek. In a normal itinerary this would not be the case but we needed to see as much as we could in as short a time as possible. The drive took a solid 5 hours. There were great amounts of butterflies on one stretch of road.
We arrived at Ishasha in Queen Elizabeth National Park and instead of heading straight to camp we decided to go on a quick game drive before sunset. We popped open the roof of the Land Rover and headed back out. In about an hour we got to see some large herds of Topi and Cob.
PART 4: UGANDA TRIP REPORT
February 8th
This morning we took off early for another chimp trekking expedition. This time we went to Chambura Gorge. Normally you would not stay at Ishasha for this as it is too far from the gorge but we had no other choice if we wanted to work in another trek. Staying at Mweya would be much easier and save time in the drive from Ndali and to the gorge. At Chambura the maximum group can be up to 8 and the guides are armed. There are fewer chimps in the gorge than in Chibale but the area is not nearly as great. The success rate is solid but not quite as good. After another briefing from the guides we set off into the gorge. The decline is extremely sharp and you really need some good solid hiking boots. There is a river in the middle of the gorge with paths running along both shores and a bridge connecting them. Luckily for us when we got to the bottom we immediately heard the chimps and our guide lead us straight to them. We spotted a large 35 year old male on the ground and proceeded to follow him as best we could. He would walk for a while and stop and glance and us and then continue his walk. He wasn't distressed at all at our presence. Eventually he stopped and our entire group caught up so we were all able to take a nice amount of photos. Strangely, though, he doubled back and actually wound up walking past us at close range (about a foot) which worried our guide. Thankfully he just passed right on by, overall an incredible sighting. We started following him again but unfortunately for us we had an elderly couple in our group that couldn't keep up. With a single guide we couldn't split up so we had to go back to the entrance and climb out of the gorge to drop them off. Afterwards we went back down but the chimps had moved on.
We left the Gorge and set off for a site inspection of Mweya Lodge, on the Kazinga Channel. Once there we were invited to take a boat cruise on the Channel. There is actually a larger boat that caters to a large number of people (Mweya is a large hotel lodge) but the private cruise is a much better option. The cruise was fantastic and is highly recommended. From there we drove back to Ishasha. After freshening up we had a nice dinner with the owners and got some much needed sleep.
PART 5: UGANDA TRIP REPORT
February 9th
This morning we decided against the early game drive necessary to spot hyena, opting instead for a late morning breakfast followed by a normal game drive. Again we got to see plenty of antelope and a nice variety of bird life but the highlight was a couple of female lions in a fig tree. The famous tree climbing lions of Ishasha.
After our successful game drive we left Ishasha and headed to Bwindi for the highlight of the trip, the gorilla trekking. It was about a 3 hour drive and the scenery became very nice towards the end when we really got into the mountains. Quite a few tea plantations around this area. Buhoma Lodge was a great place to stay, very nice accommodation and food. The temperature up here is much milder with the elevation but I'm not sure I would call it cold. We were very excited about seeing the gorillas the following day and got a great night of rest to prepare.
PART 6: UGANDA TRIP REPORT
February 10th
Woke up at 6:30 this morning with breakfast at 7:00. Went ahead and had a nice big breakfast to have plenty of energy for trekking. No telling when lunch is coming. Make sure you have the proper boots as well as some long sleeve shirts, a hat, even gloves to make the trip though the forest a bit more pleasant. We took off with our gear, 2 liters of water and a pack lunch at 7:45 and met our guides at the briefing site. 3 groups leave daily each with a guide and two soldier escorts. They also provide walking sticks should you need one. Again, porters are highly recommended. Not only do they carry any gear you may have, they give you a hand whenever you need one and literally help pull you up and down the mountain. It is almost inevitable that you will fall and get muddy so don't worry too much when it happens. The footing can get slippery and steep in a hurry. The forest, known as the Bwindi Impenetrable Forest National Park, lives up to its name. Much thicker than the areas we did the chimp trekking in and much more elevation change. Temperature was mild luckily and the density of the forest provides almost constant shade. Very early in the morning, before we are awake, guides are sent into the forest to locate the area where the gorilla families nested the night before. From there they radio the location and begin to track them. This system allows the paying client the best possible chance at catching up with the gorillas in the least amount of time. It will still take quite a few hours though, our trek lasted 2 which is probably on the lower side of the average so we got fairly lucky. Once spotted, we are allowed 1 hour to view the gorillas, exactly the same as the chimps. The first glimpse of one was up in a tree and you could really see the tree shaking. Before we knew it a mother and her child were walking by on the ground. We followed another one who led us to the whole family, which was leisurely moving through the forest snacking on leaves and napping intermediately. The whole experience is almost indescribable and was easily the top safari experience of my life. Jason actually got a "playful" tap on the leg by one rambunctious young male. Seeing the little ones beat their chests in imitation of their older family members was spectacular. They are all very calm and your presence normal to them because they are located and visited every single day without exception. This was the highlight of the trip without doubt and a fantastic life experience.
Hiking back to the briefing site took about an hour and a half. Images of the gorillas keep your mind occupied making it more easily bearable. Once we got back we sat down and tore into our pack lunches while our guide Florence (the first female ranger in Bwindi) gave us our final debriefing as well as certificates with our names and the date. After a nice siesta back in camp we visited the local orphanage where they put on a great performance for us and a couple other guests.
PART 7: UGANDA TRIP REPORT
February 11th
This morning we set out early for our final night on safari at Mihingo Lodge in Lake Mburo National Park. It is nicely positioned between Bwindi and Entebbe and most similar Uganda safaris spend at least a night here on the way back to the airport. It was quite a long drive but we had become accustomed to it by now. Before arriving at Mihingo, we set off on another cruise in Lake Mburo. While not having as much wildlife as the Kazinga Channel, we definitely managed some great photos here. Mihingo is beautifully situated on top of an enormous rocky outcrop. Lake Mburo NP is the only park in Uganda where you can spot zebra. The lodge offers horseback safaris which we did not have time to do. It would be an option if you were to spend an extra night there. They have also started doing night drives. We did, however, get to spend a nice amount of time in their wonderful pool. The main deck of Mihingo overlooks a watering hole which is often visited by antelope. Perhaps if you are lucky you can spot some eland. In the evenings they gather all the guests to view a bush baby feeding. This is incredible because they are quite difficult to spot. During the night you can hear the dassie (rock hyrax) calling each other. They are quite noisy.
PART 8: UGANDA TRIP REPORT
February 12th
Early this morning we set off for Entebbe with one last destination in mind. We were headed to Ngamba Island chimpanzee refuge. This trip can be planned as an overnight or a day trip and comes highly recommended. Ngamba Island is an island not far from the shore by Entebbe in Lake Victoria. Our boat ride lasted about an hour with times varying with the amount of wind on that particular day. The island itself is 99% forest with a visitor's center, staff lodging, a vet station, and a few nice tents for guests. It is the home of various orphaned chimps from all over the world that are integrated into one big family slowly but surely. There are 4 daily feedings where visitors can watch from behind a tall electric fence. The final feeding of the day comes in the evening and it is at this time when they herd as many of the chimps as they can (ideally all of them) into a large enclosed pen. If you plan on spending a night here you can chose from a multitude of activities that get you up close and personal with some of the chimps.
A carrot landed on the wrong side of the electric fence. But don't worry; chimps are quite adept at using tools to obtain their meals. While this chimp initially chose a stick that was too short, a longer stick was nearby.
February 13th
This morning we prepared for our scheduled activity with the chimps. In order to come in such close proximity you must undergo a multitude of vaccinations. We were supposed to take a forest walk with some of the chimps but not all of the adults had come in from the forest the night before. This meant that it wasn't safe to head into the forest. Instead we participated in the infant integration activity. During this activity the two newest chimps are slowly introduced to the rest of the family. A large group of young females were brought into a separate enclosure along with the infant chimps and ourselves. A few of the staff of caregivers at the island came with us. They gave us peanuts to give to the chimps. They would actually come up to you and start searching your pockets for the goods! At one point, I suppose after they became more comfortable with us, they started climbing on our backs. Needless to say we had a blast.
After our activity we had to pack up and catch the boat to the mainland. Once we got back to Entebbe we made our way back to the Boma Guest House for our last night in Uganda. What a fantastic trip.