$cat_name = 'category'; $categories = get_the_terms($post->ID, $cat_name); foreach ($categories as $category) { if ($category->parent) { echo $category->name; } } ?>
Feb 26, 2021
Tswalu Kalahari Reserve Part 1
Share: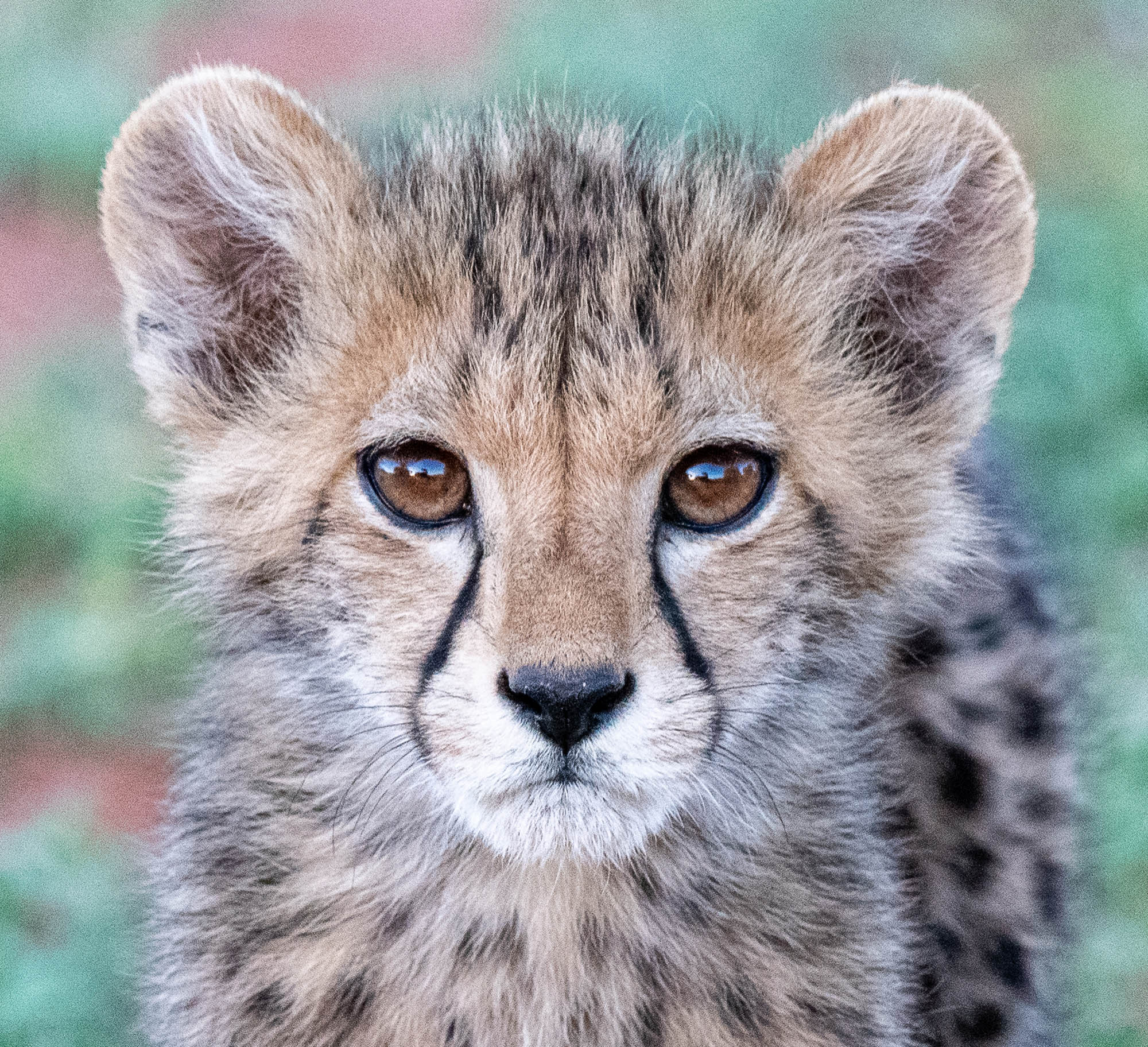 Tswalu Kalahari Reserve Part 1
An African photographic safari is likely one of the most intriguing, multi-layered vacation experiences imaginable. It starts with the place. Often remote, sometimes romantic, occasionally jaw-droppingly awesome.
Then there's the people. They're invariably passionate about wildlife conservation, about the community within which they operate and about providing their guests with an experience which they may cherish for the rest of their lives. They're fun to be around, never boring and their skills are remarkable.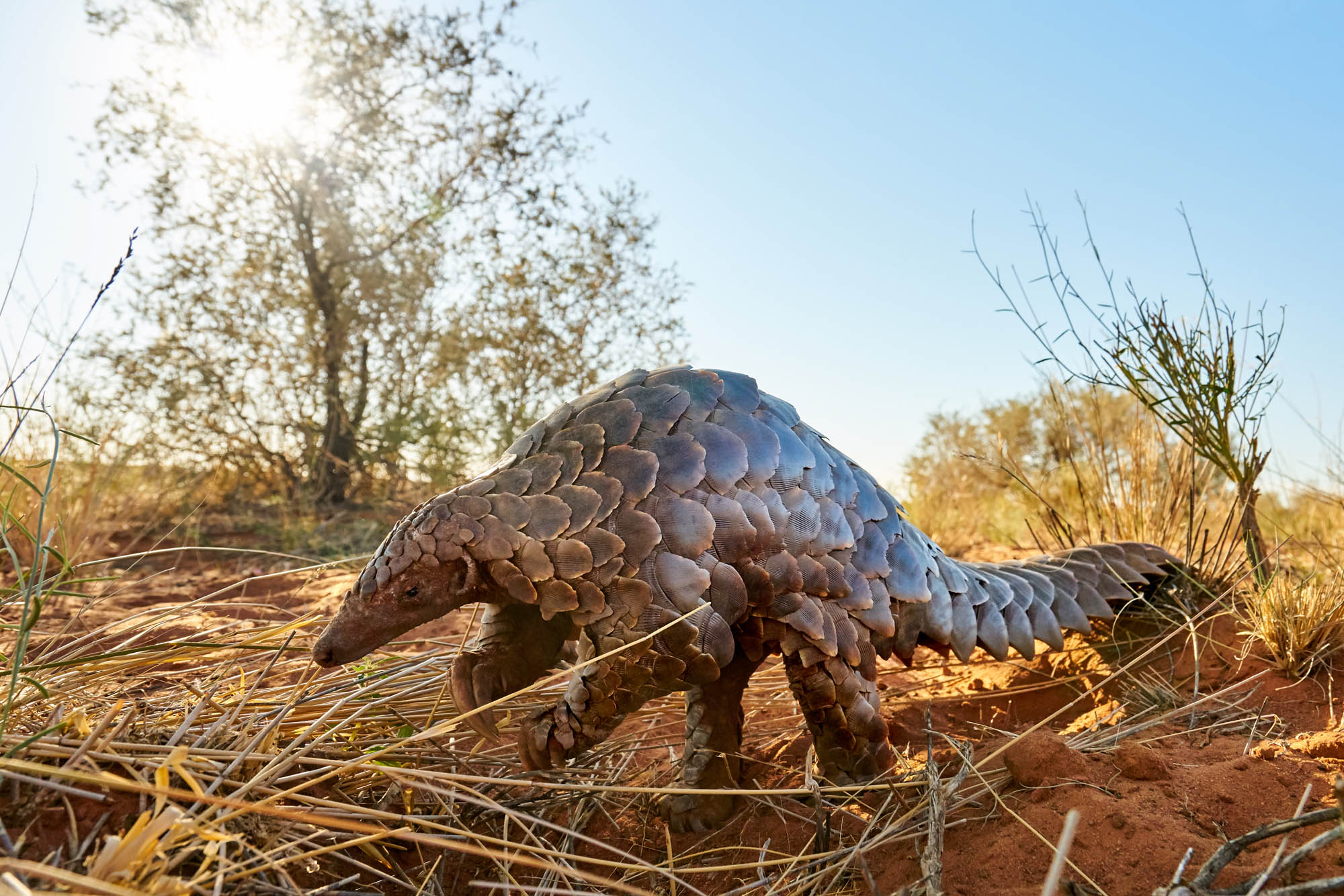 The top guides are accomplished all round naturalists, effective communicators, conversationalists and diplomats. Some are expert bird-watchers, or professional photographers. Qualified walking guides can bring down a charging elephant with one shot. They avoid getting guests into a situation which may require such drastic action of course…
The mammals, birds and other creatures which are to be found around the camps and beyond, often steal the show. Finding and seeing them and learning more about their behavior and relationships are after all why most of us go on safari.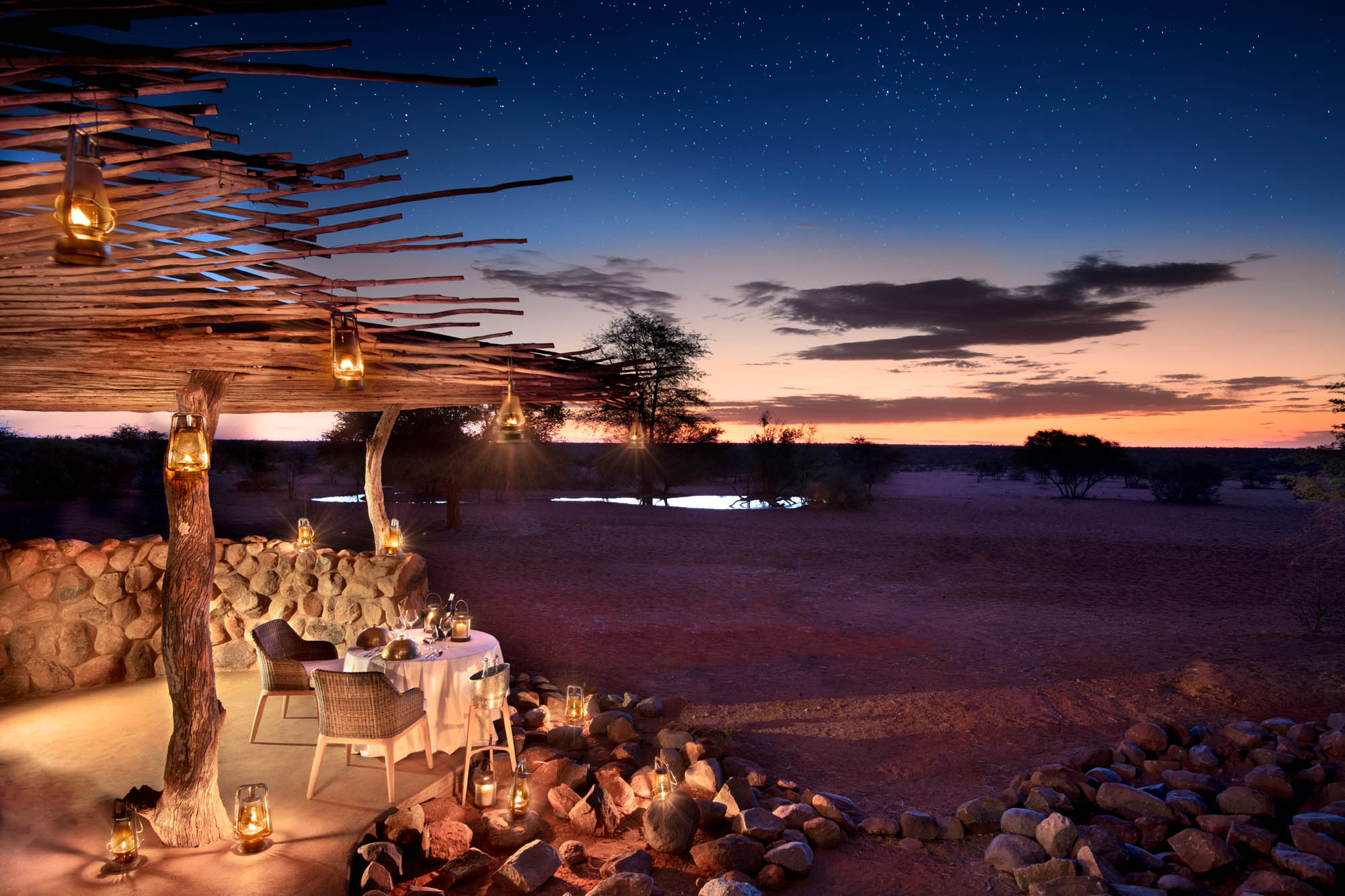 When you visit a top African safari property like Tswalu Kalahari Reserve in South Africa's northern Cape province, it becomes easy to see how place, people, guiding and wildlife conservation can converge to create a unique and deeply satisfying experience.
Tswalu has a certain style and visitors are introduced to it even before they arrive in camp. The last leg of the journey there – from either Cape Town or Johannesburg – is usually as a passenger in Tswalu's stylish, high performance Pilatus PC-12. This sleek, pressurized turboprop gets you to Tswalu at a brisk 325 miles per hour, at a cruising altitude of 30,000 feet.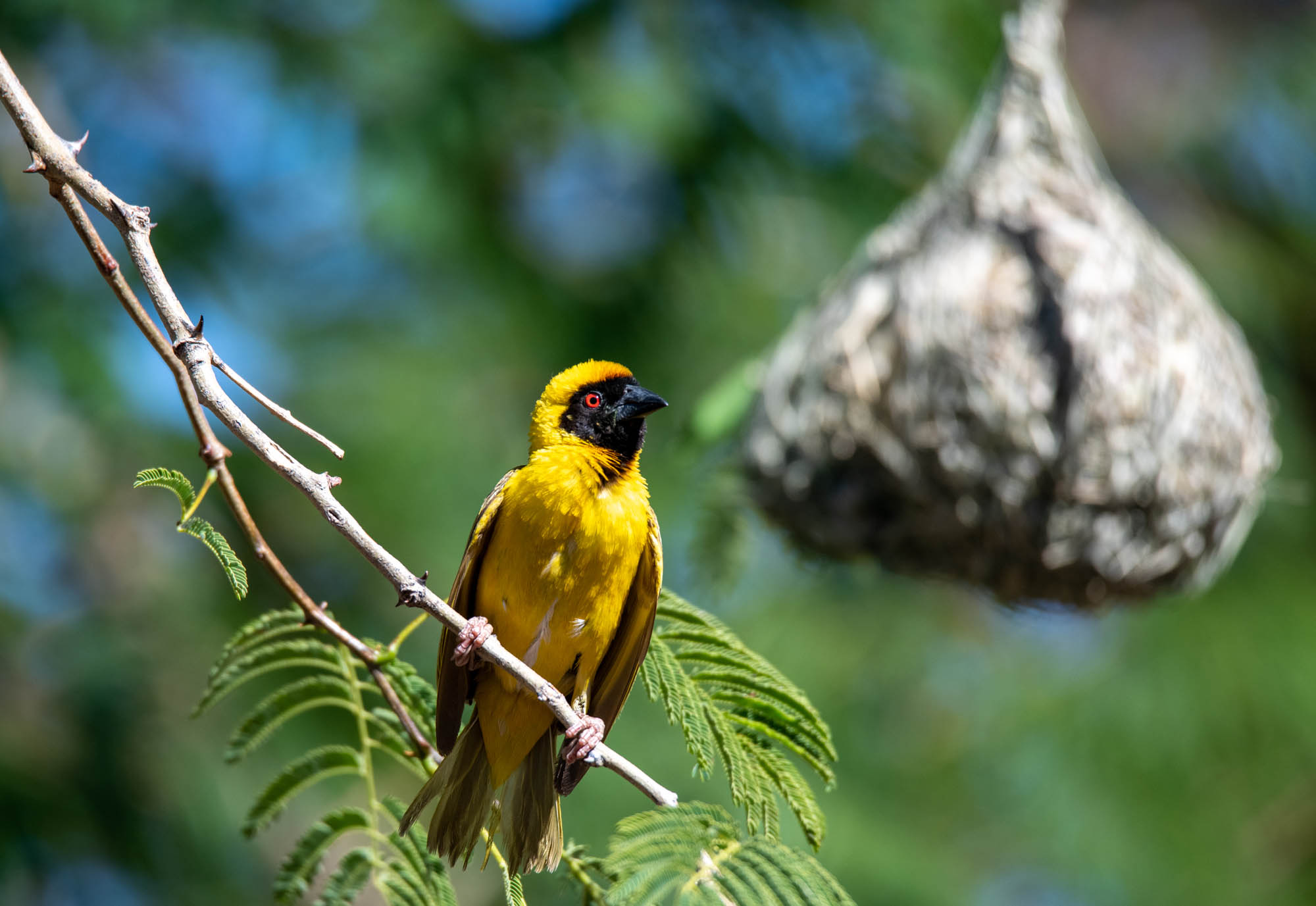 Descending into the hill and dune-studded woodland Kalahari, its singular visual appeal becomes obvious even before the Pilatus touches down with a brief squeal as the rubber tires meet the asphalt runway. The impact of the red sand dunes, deep blue skies and golden grass is unavoidable: there's nowhere else like it. Add the unmistakable look of the Korannaberg Mountains visible in the background and you know immediately where you are.
Arrival formalities are deftly dealt with at the reception center which has been more or less taken over by a giant Sociable Weaver colony. These cheeky-looking birds are all over the place, checking out new arrivals.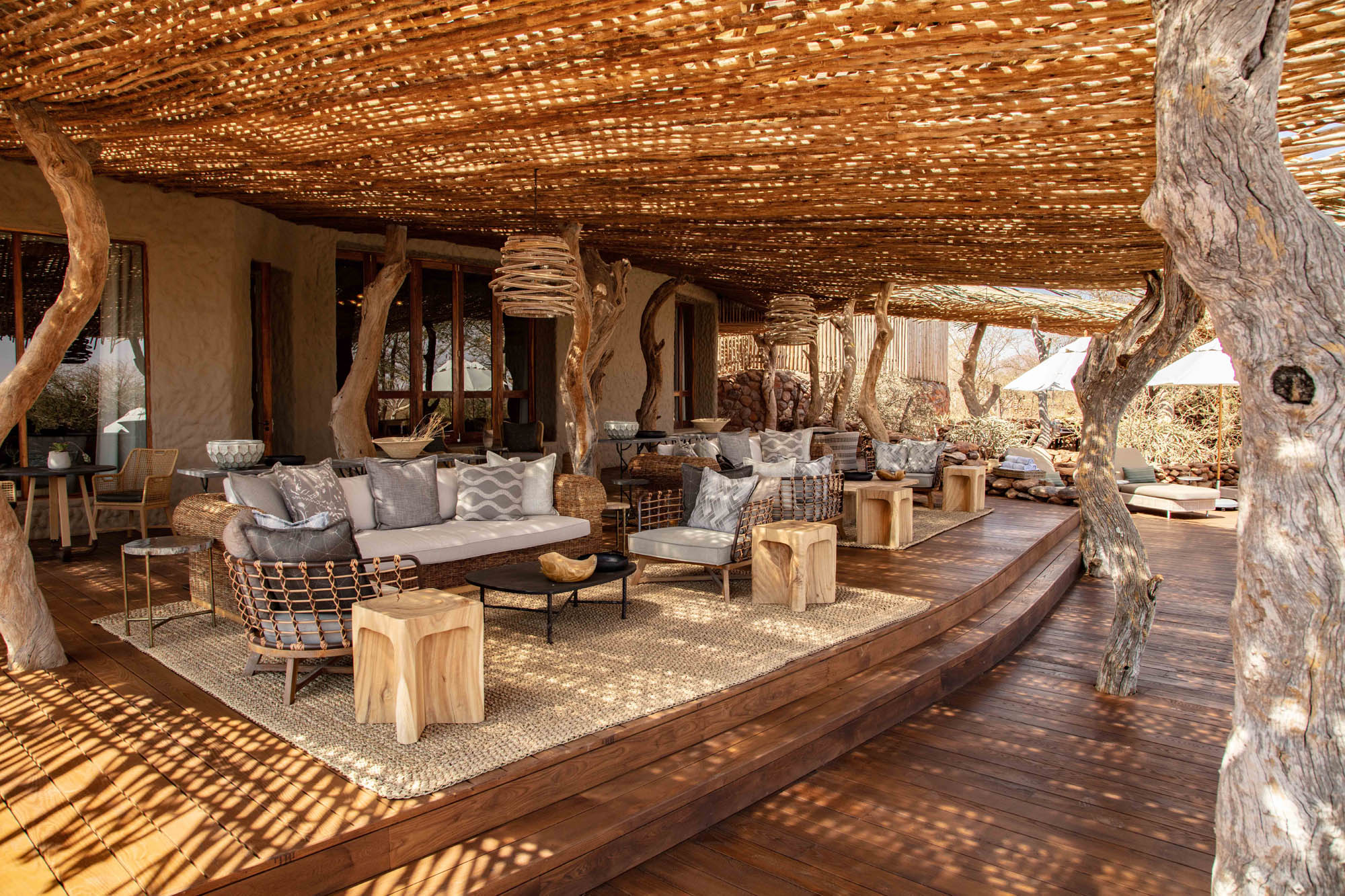 The Place
We found the new iteration of Tswalu to be much to our liking. The interiors were lighter with the textured walls painted in shades of grey and neutral, sand colors. The traditional thatched roofs had been retained. Overall the effect was pleasing, cool, and classic. There was nothing jarring or out of place.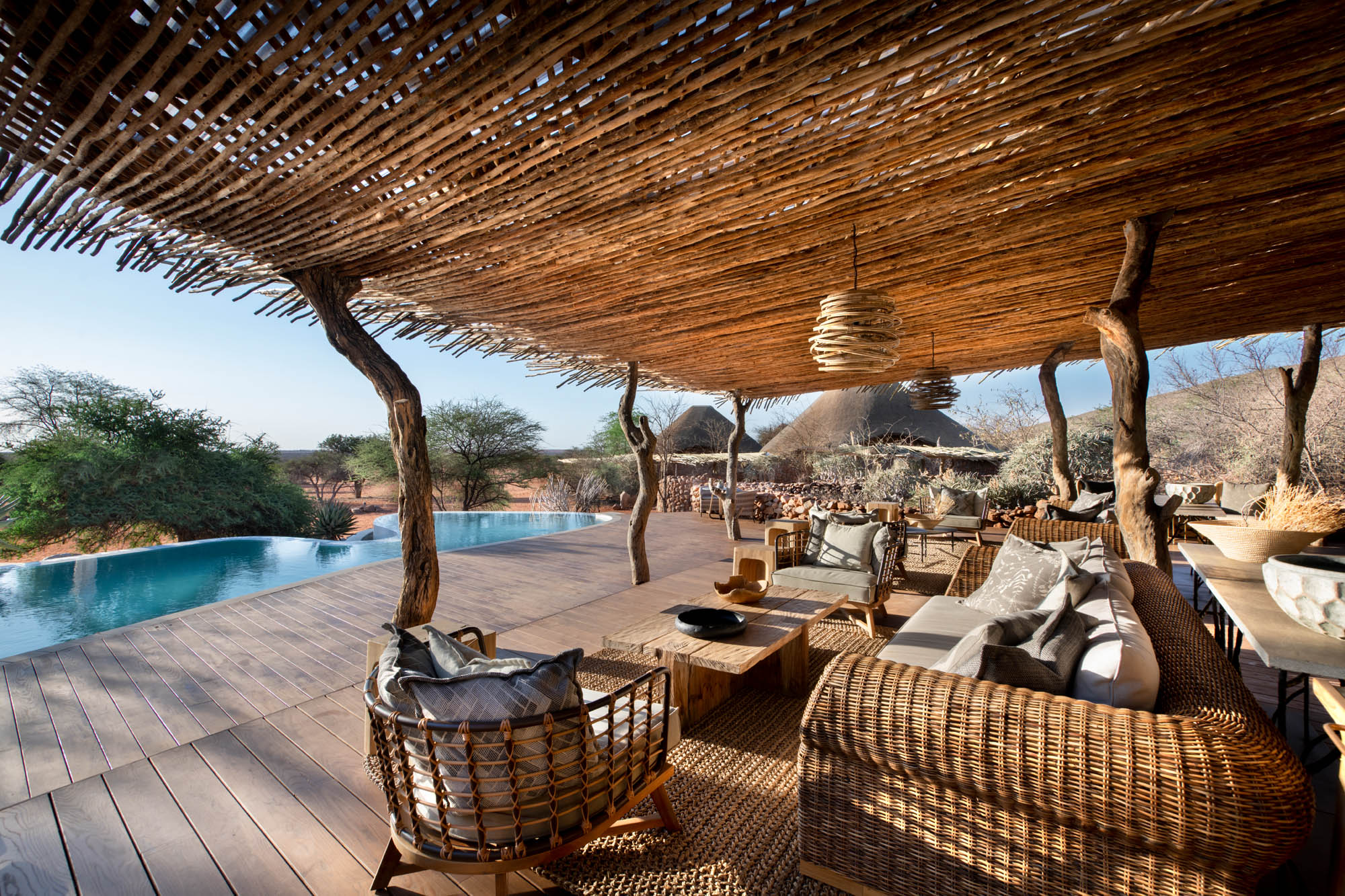 We also approve of the enlarged outside patio area where a large natural wood deck overlooks two pools and a water hole. Extending the overhead cover (natural wood poles) now provides shade on practically the entire veranda, where we enjoyed several of our meals. Kathy made use of the larger infinity pool and a smaller pool below while I was trying to capture some images of male masked weavers, constructing nests in an acacia tree close to the pool.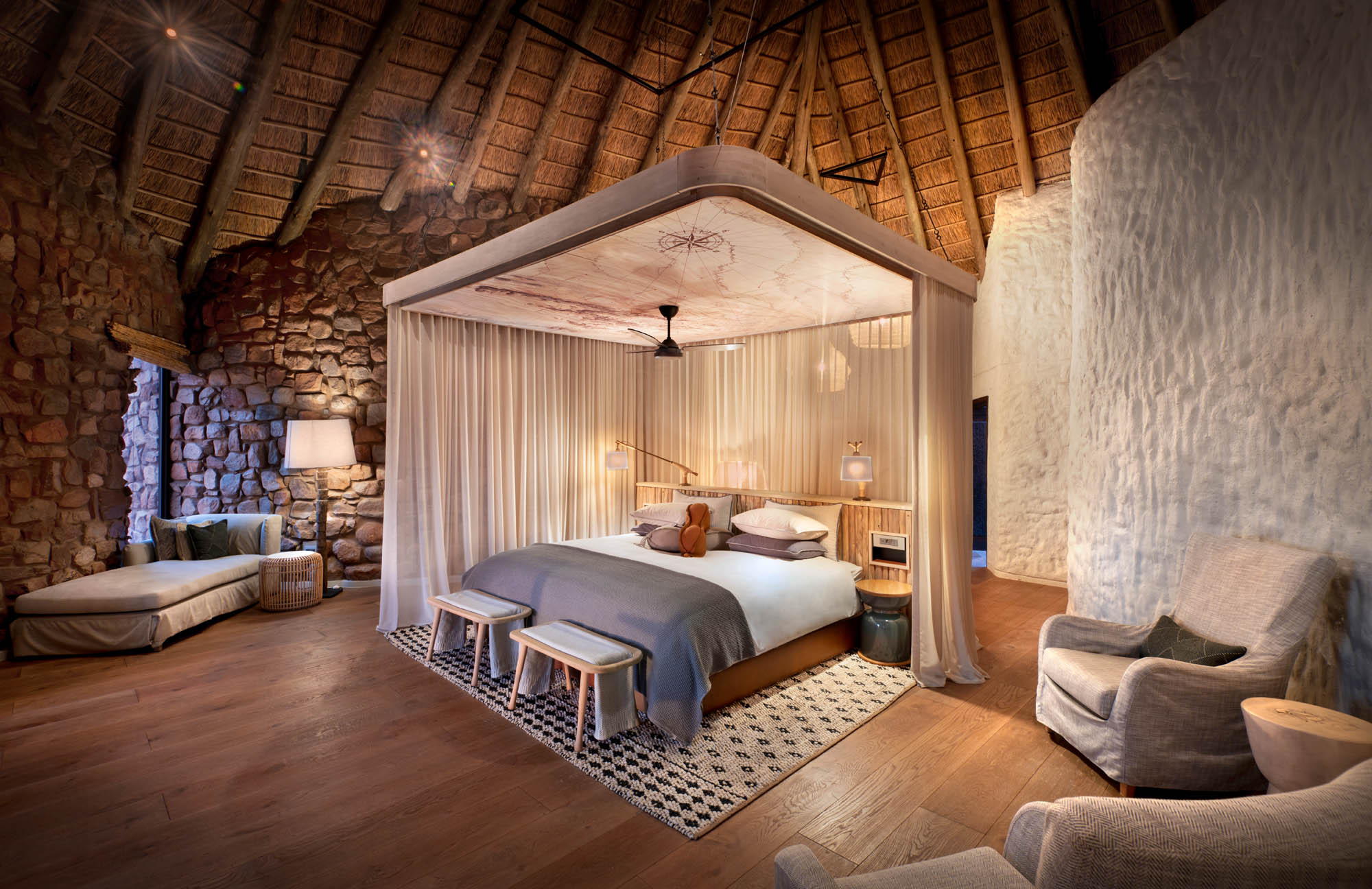 The rooms were just as spacious as we remembered them from our first visit. And they were still 100% effectively air-conditioned, with good lighting, an inviting outdoor relaxation area, and a clear view over the water hole, from our room. And stocked with a tasty range of snacks including dried fruit and traditional dried beef sausage.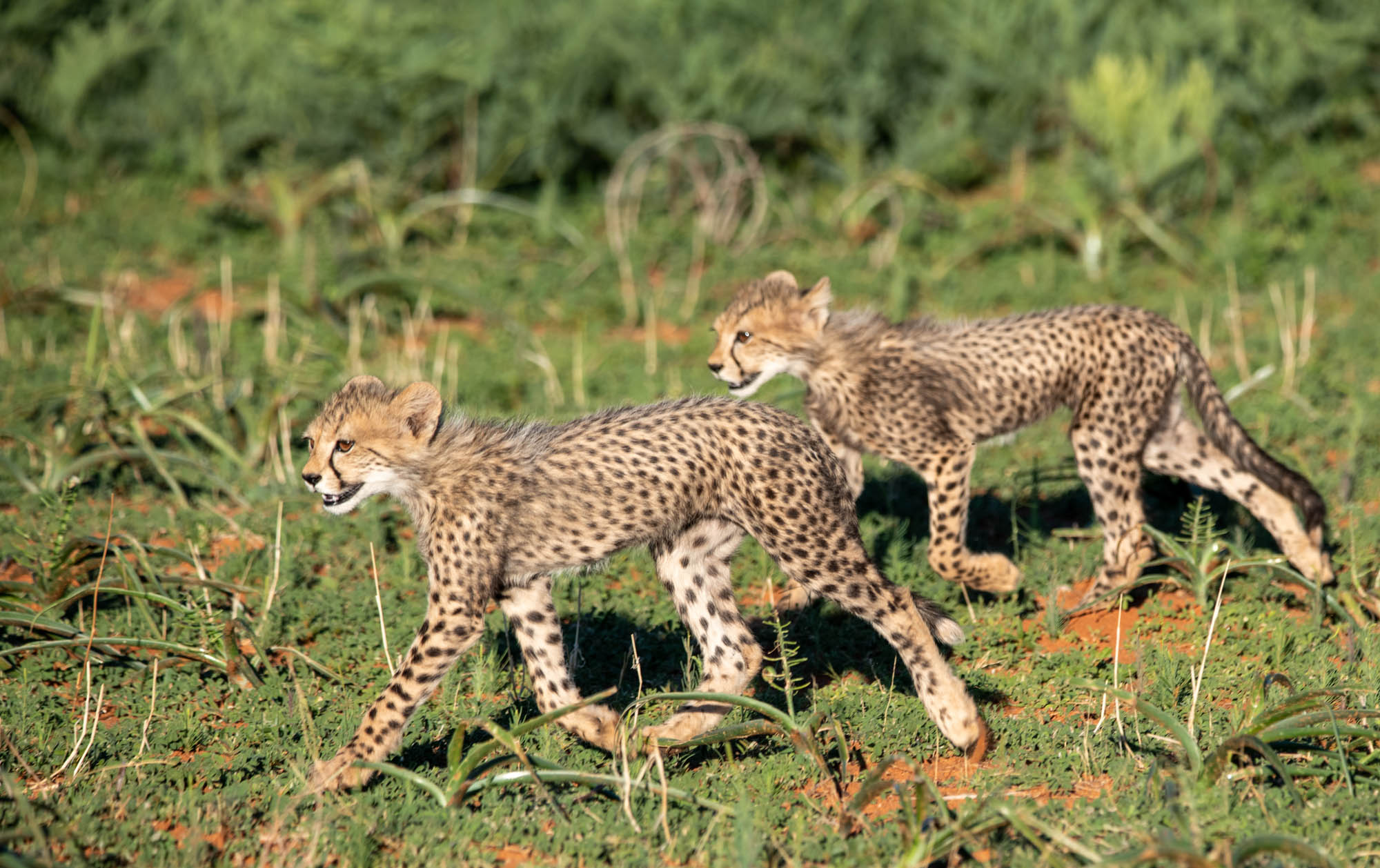 The People
By the time we went out on our first game drive, we had already met Barry Peiser who would be our private guide for the next three days. Barry – a prolific photographer – clearly enjoys offering advice and tips on wildlife and landscape photography. His favorite time of year at Tswalu is winter, as this allows him to spend the whole day out on the reserve with guests. The cooler conditions mean that animals don't rest from the heat as much as they do in summer, and there's more opportunity for photography.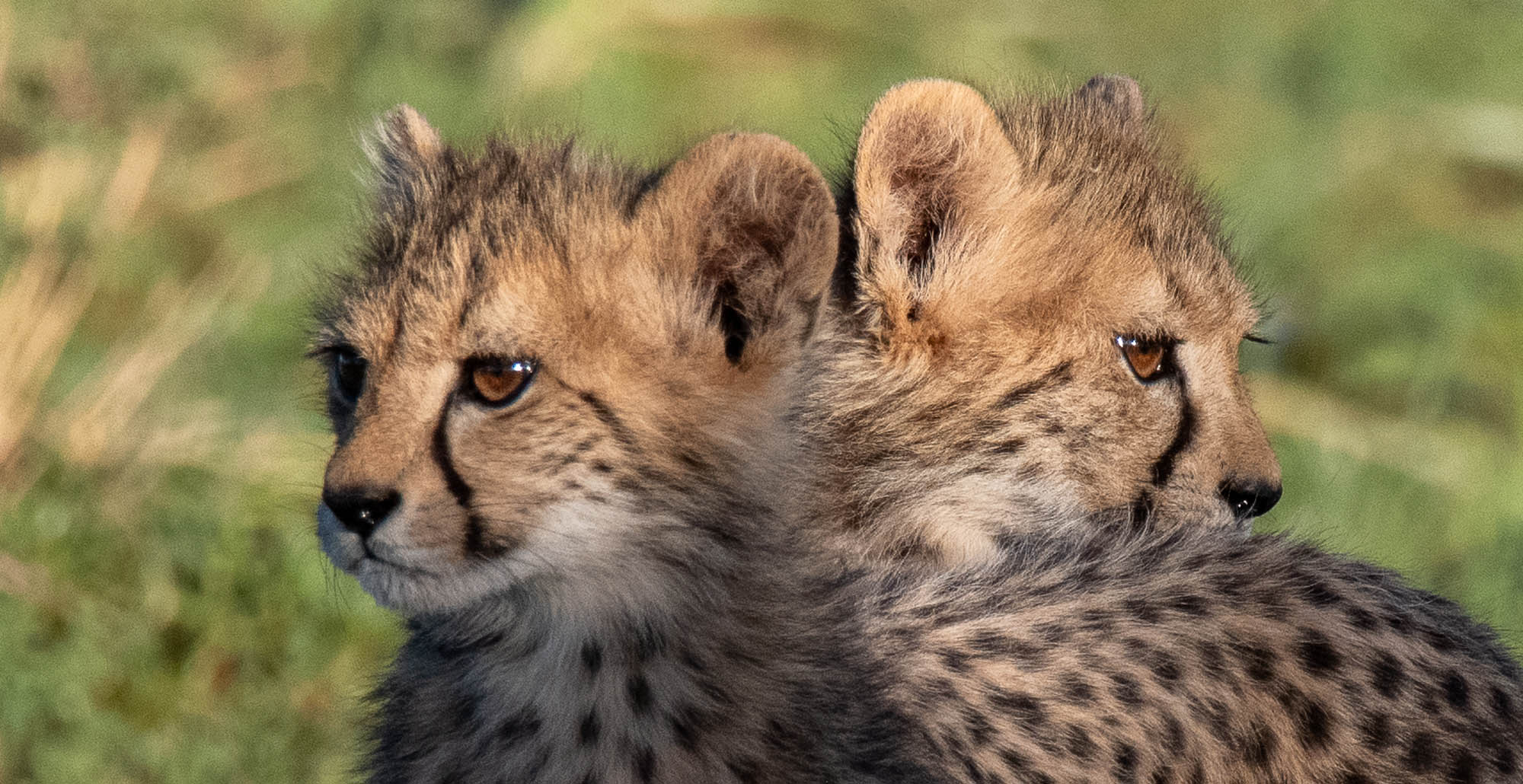 Between Barry and our expert tracker William Gaotswenwe, we had the ideal team to venture out in search of cheetah, lion, aardvark, sable antelope, pangolin, honey badger and caracal. William is renowned for never missing a clue or a sign left in the wild by an animal. Quiet and focused, when William signals with a raised hand from the tracker seat for the guide to stop the vehicle, nobody argues. Just a cursory glance at fresh tracks left in the red Kalahari sand, and he knows exactly where to go, or which direction to take.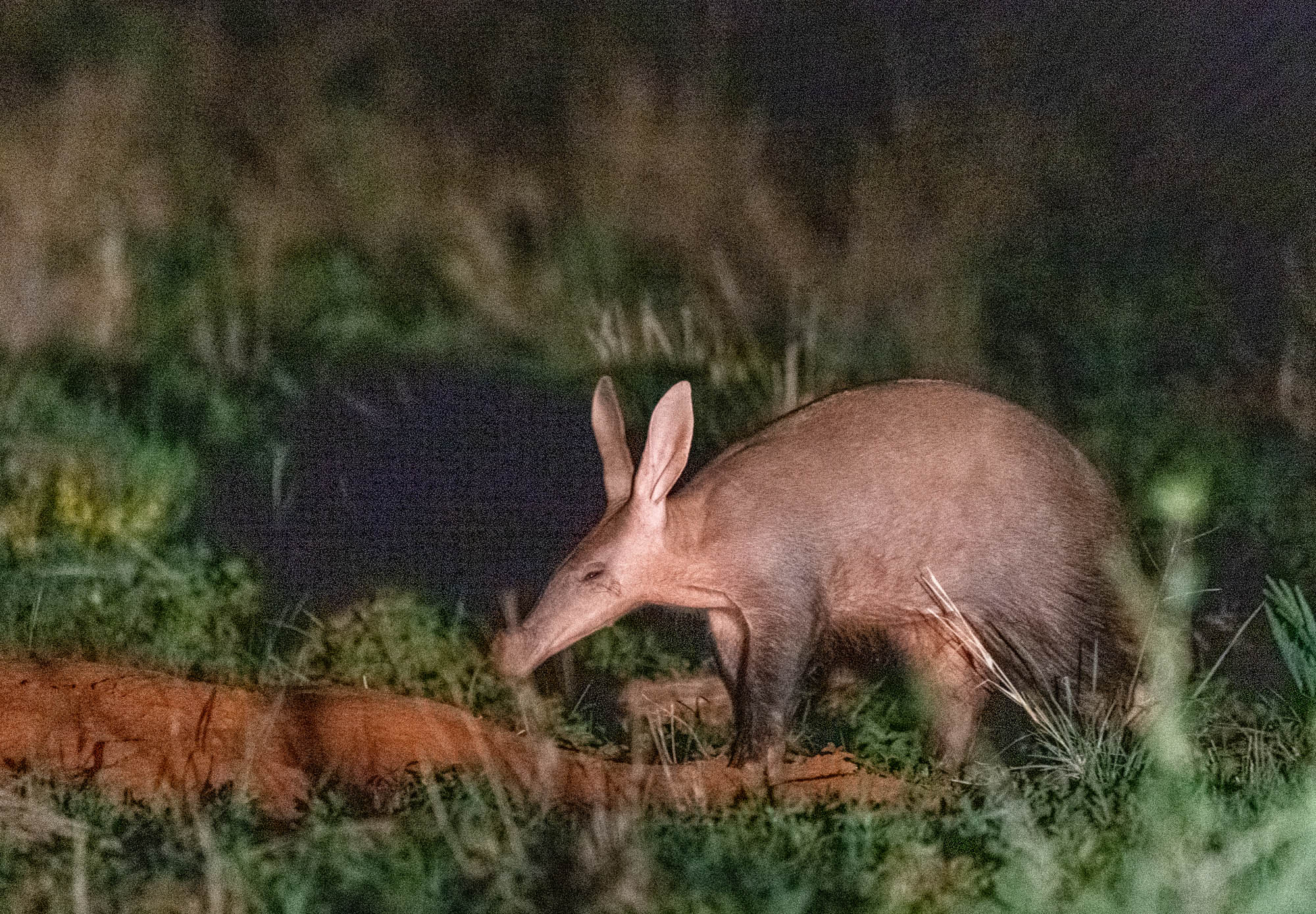 A Kalahari night drive
Over the next few days we always seemed to be in just the right position and I was able to capture some of my best ever images of the Kalahari wildlife. Things started off with a bang on our very first night drive when we had a great sighting of an aardvark out in the open, just walking around, checking out potential feeding sites. I made a rookie mistake by using a shutter speed which was just slightly too low to stop the motion and get a good, sharp image. I will blame it on working with relatively new equipment (second trip with the Nikon D-850), but really should have nailed it. Rule #1 in wildlife photography is to get a sharp image; anything blurry is pretty much useless, unless of course it is an intended effect. So when you are in an ultra low-light situation, don't worry about graininess or noise, that can be fixed (to a degree) in post-processing. Your overriding aim should always be to get a sharp image.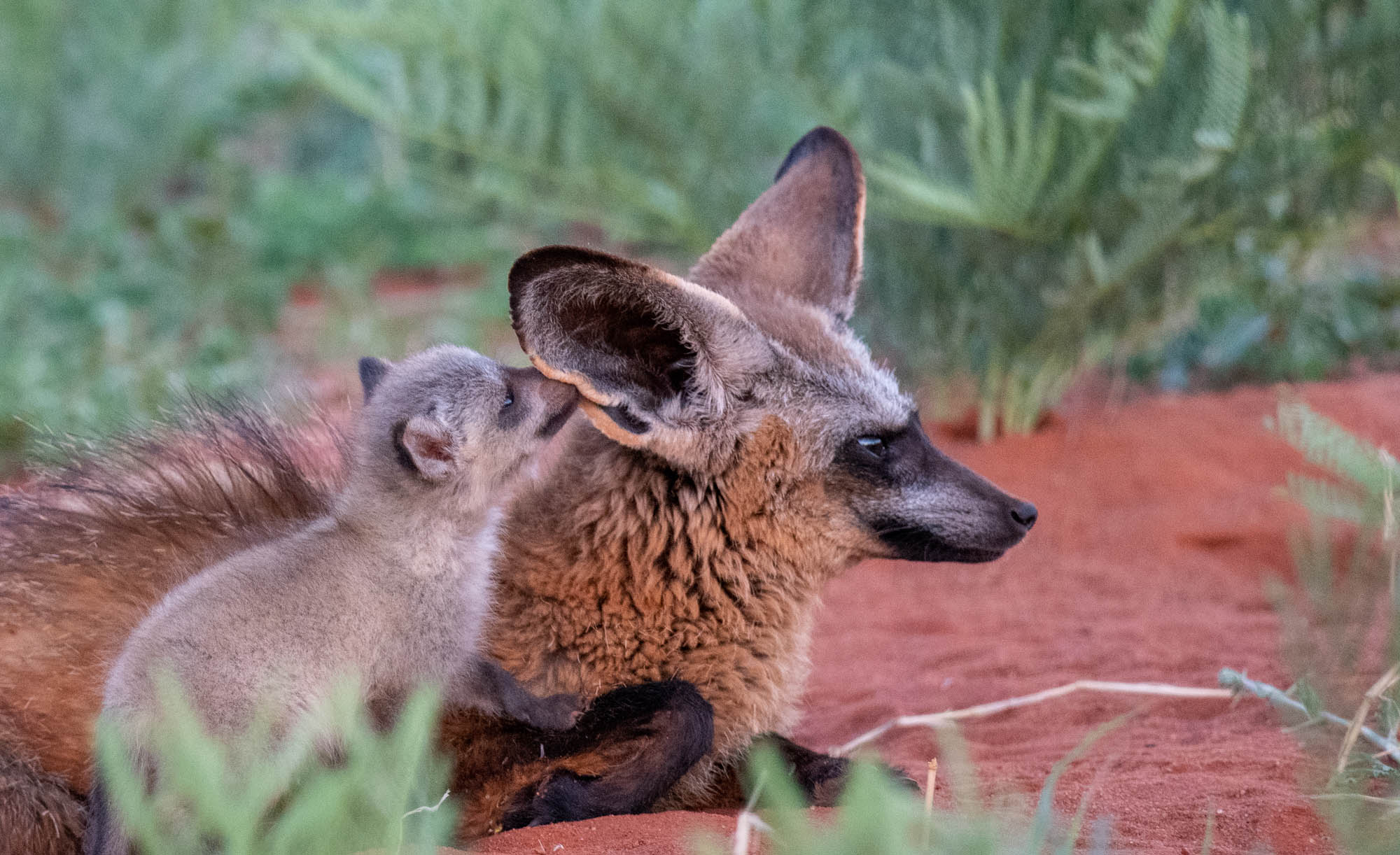 During the course of the night, we saw several other Kalahari specials including bat-eared foxes, springhares, scrub hares, an African wild cat, several large spotted genet, many dwarf field mice, and various gecko species.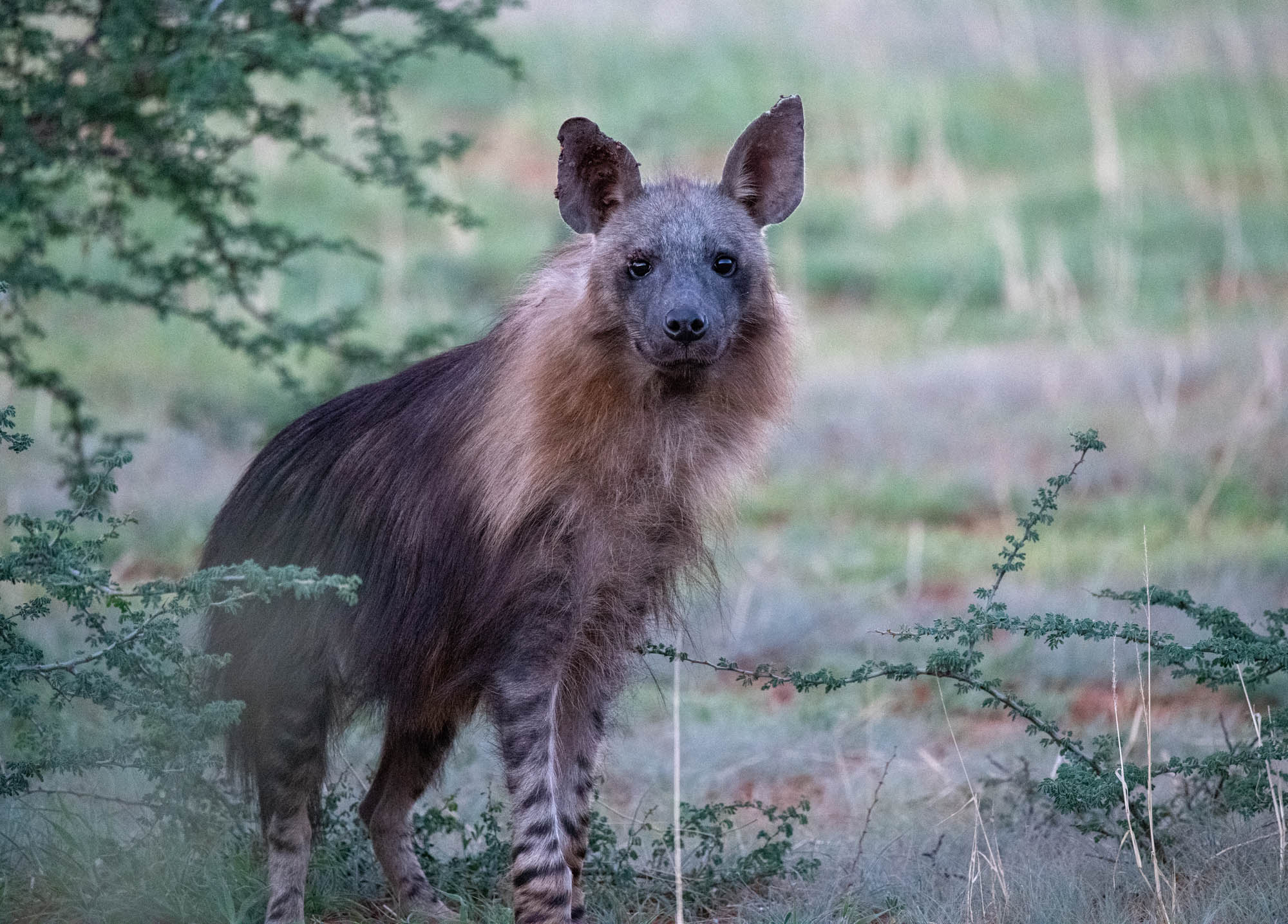 Lion Pride Squabbles
The following day we were out early for a game drive, the specific mission being to find the southern lion pride Which we duly did, but only after we had enjoyed some great views of a brown hyena. Somewhat uncharacteristically, it stopped and looked straight into the camera for a few seconds, before loping off. I think if I had missed that shot (considering what had happened the previous night with the aardvark), I would have been ready to sell my camera. The brown hyenas are unusual, rarely seen animals. They are mostly nocturnal, becoming crepuscular (being out around sunrise and sunset) when it is cold.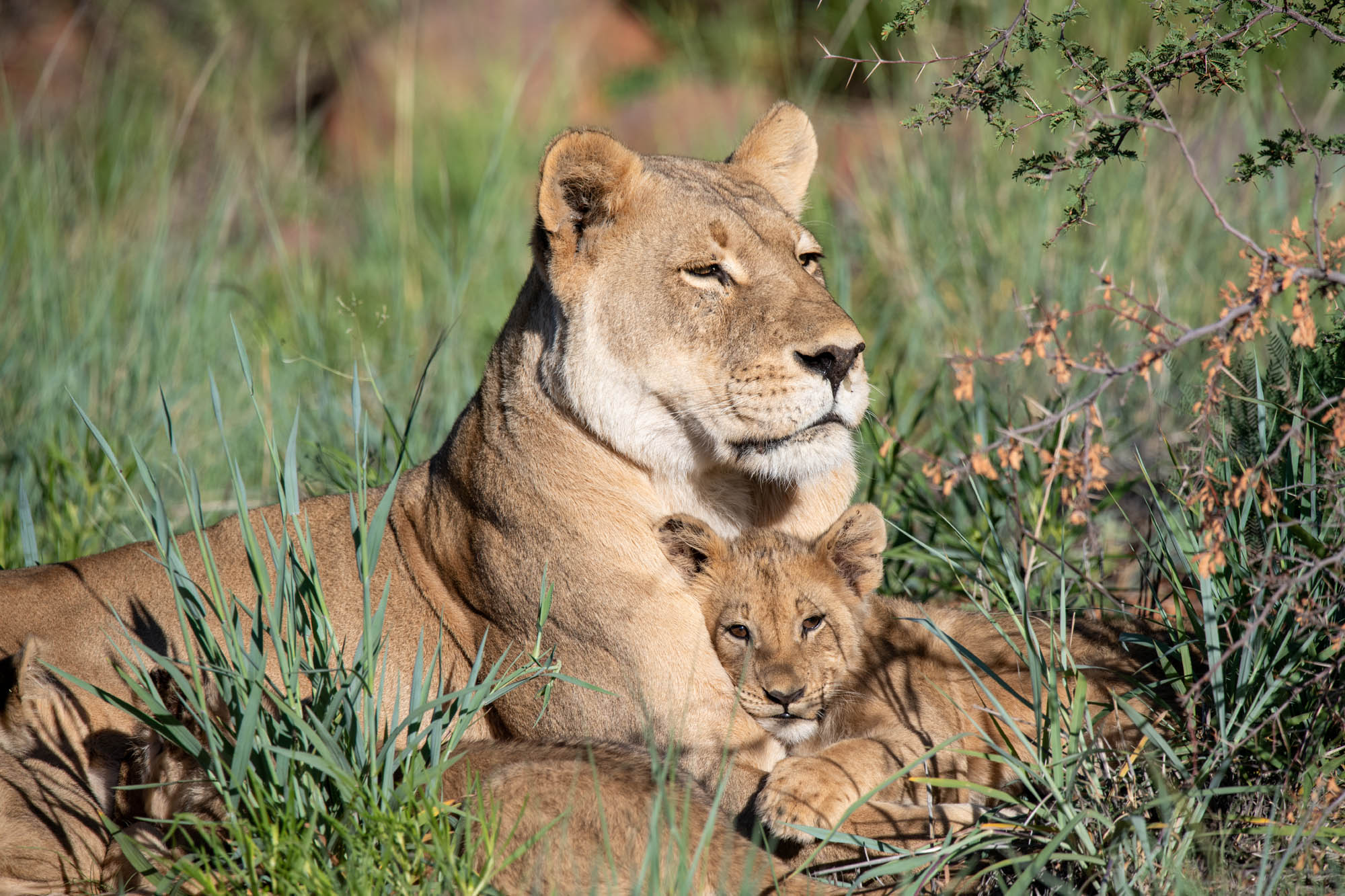 We crossed the public road into the southern sector of Tswalu, where the search for the lions would begin in earnest. With master tracker William and guide Barry reading the tea leaves – tracks left by the lions along the road – we soon found them walking towards a rocky ridge.
There were three adult females with 6 cubs, followed at a distance by two young males just reaching maturity. Not known to us – at least not initially – was that we had stepped into a family squabble. The older female lion – who by now had given birth to a new set of cubs – was trying to emancipate the two young males, the older brothers. They would have none of it. At least not yet.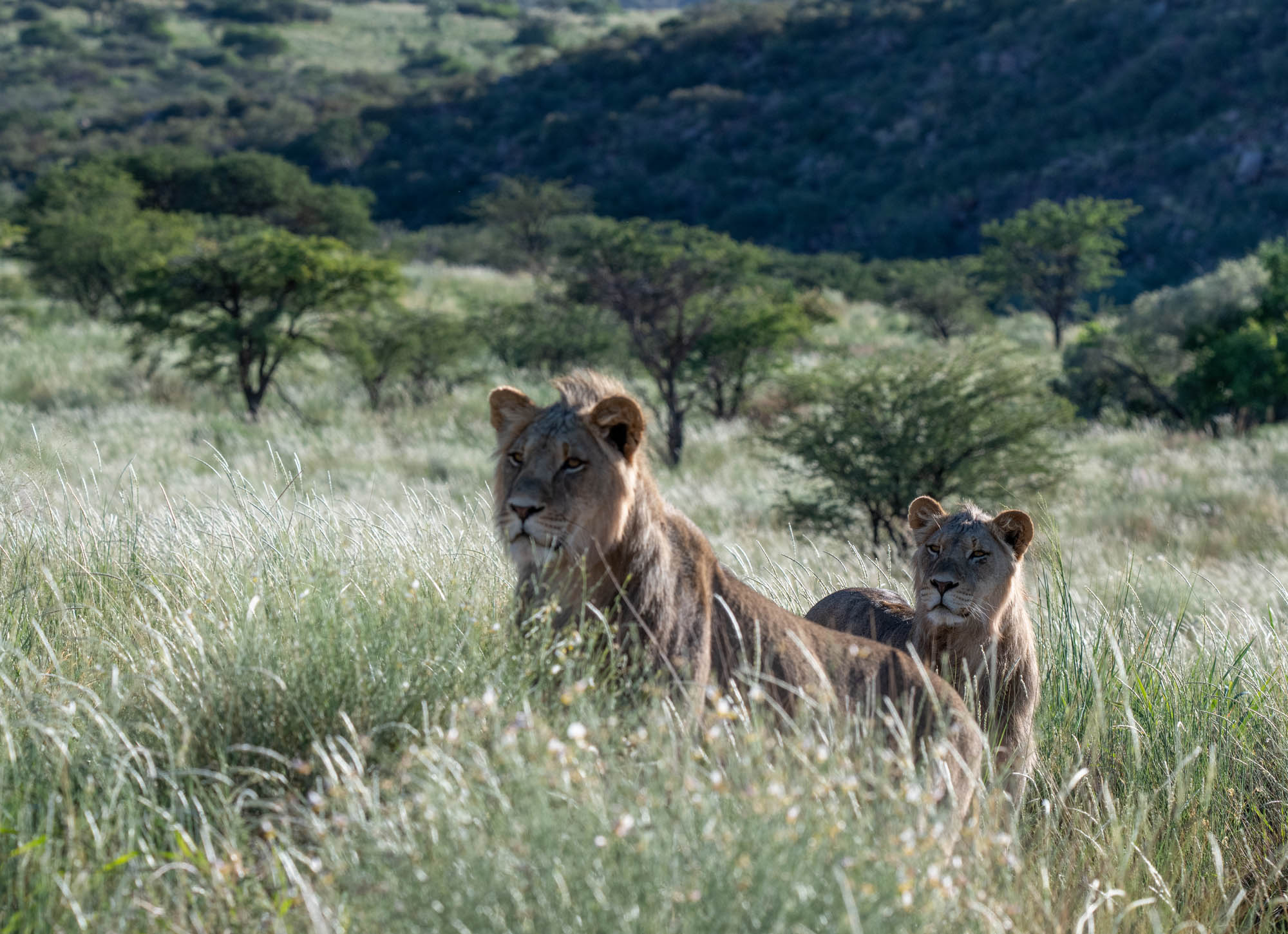 The two young males had become the innocent 'victims' of instinct, which rules lion behavior. Due to their size and power they had become a threat to their mother's new set of young cubs. Instinctively, she had become extremely wary of letting them approach closely. At one stage when they got too close she rushed up to them snarling and with claws flying, forcibly letting them know that they were no longer welcome to the pride. It was time for them to go out on their own and find their own way in the world.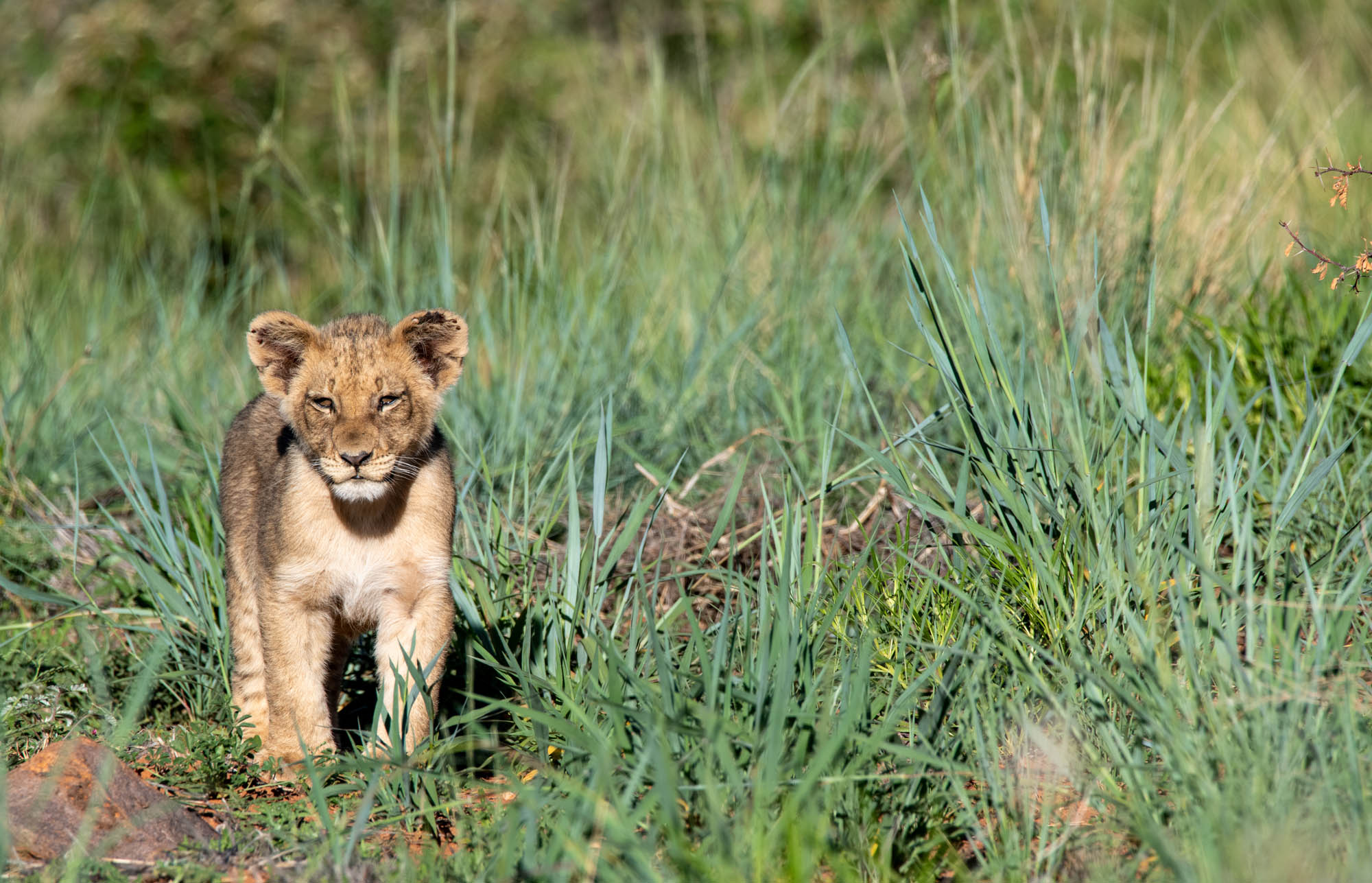 This is not an easy task and in fact the life of a young emerging male lion is fraught with perils including starvation, attack by territorial males and other predators. They are at their most vulnerable at this stage of their lives, having the ability but not yet the truly developed skills to hunt successfully.
Eventually the two young males settled down a respectable distance away from their mother who then resumed feeding her three babies. We mentally wished them the best of luck as we returned to camp.
In our blog post next Friday we remain at Tswalu to take a closer look at some more special desert animals including Bat-eared Foxes and Suricates (meerkats), and we travel to a distant part of the reserve in search of Black Rhino.
YOU MIGHT ALSO BE INTERESTED IN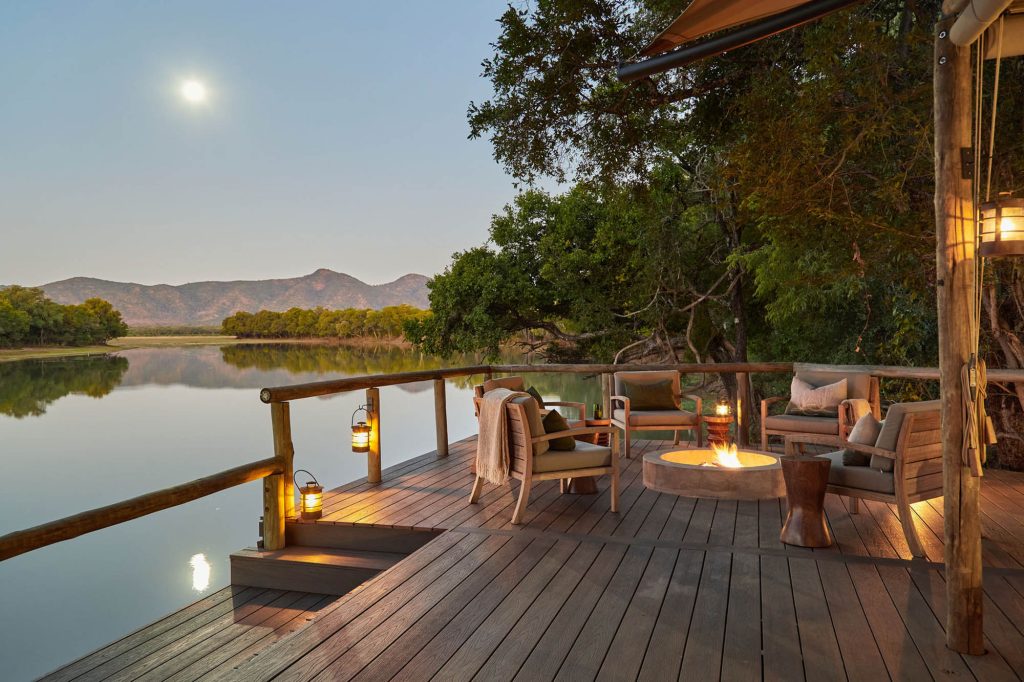 10th Sep 2021
Chindeni and the Bushcamp Company, Zambia
By late July we found ourselves at Chindeni, a small Bushcamp Company property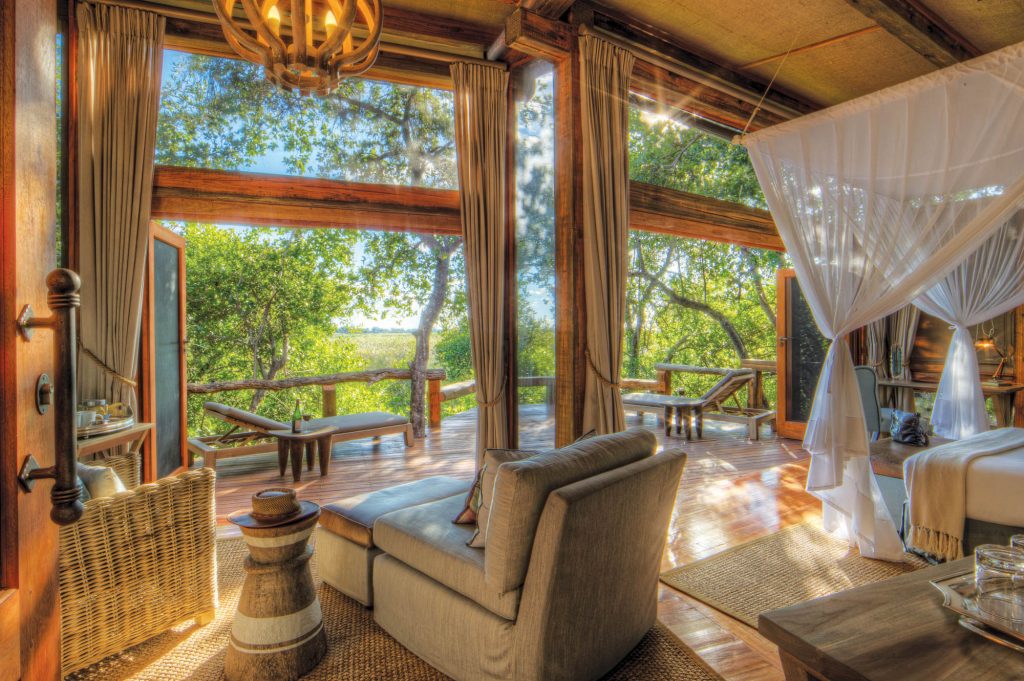 3rd Oct 2022
Camp Okavango, Botswana
Camp Okavango is in the heart of the permanent part of the Delta. In this idyllic setting there are no vehicles, and it is just a short walk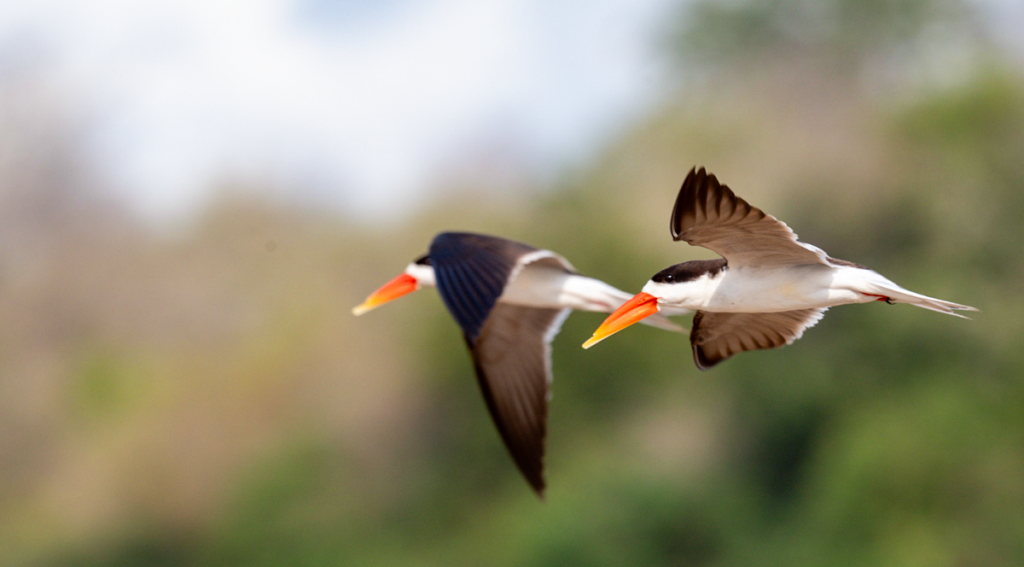 14th Oct 2023
From My Safari Notebook: Wildlife Photography
Birds in flight and wildlife photographers have an uneasy relationship. Things go wrong as often as they go right. Getting focus-lock on a moving subject
SUBSCRIBE TO OUR NEWSLETTER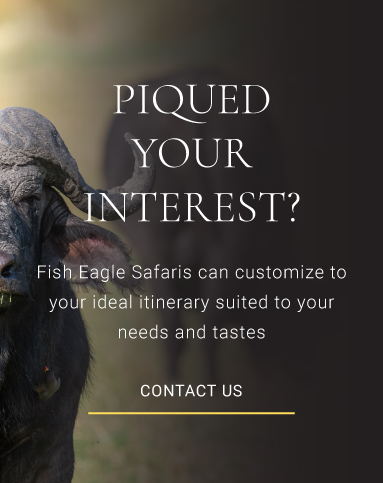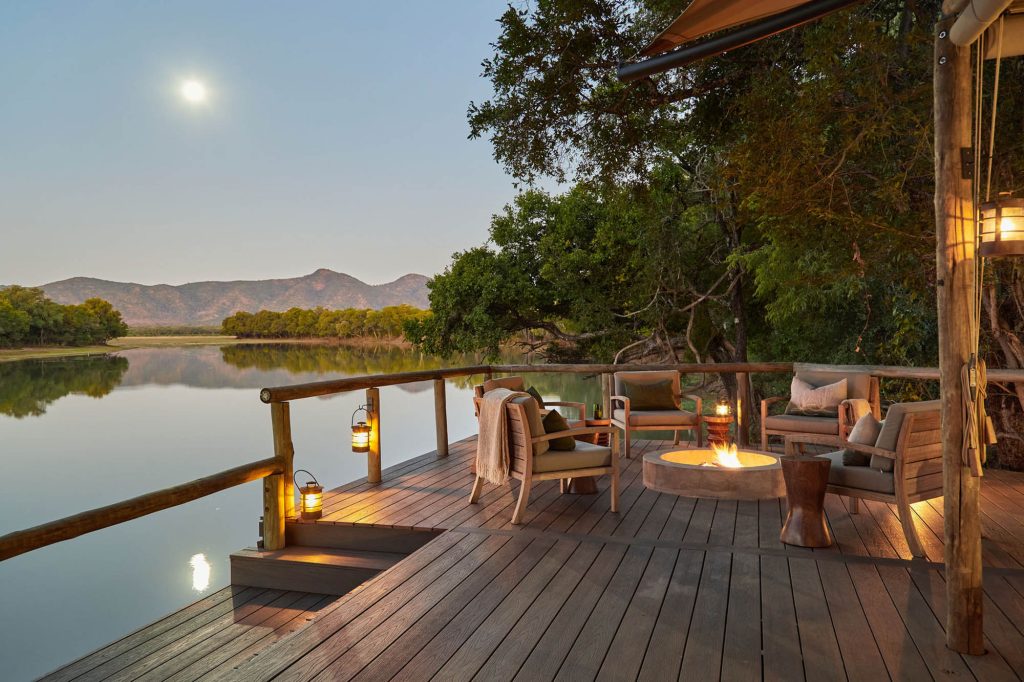 10th Sep 2021
Chindeni and the Bushcamp Company, Zambia
By late July we found ourselves at Chindeni, a small Bushcamp Company property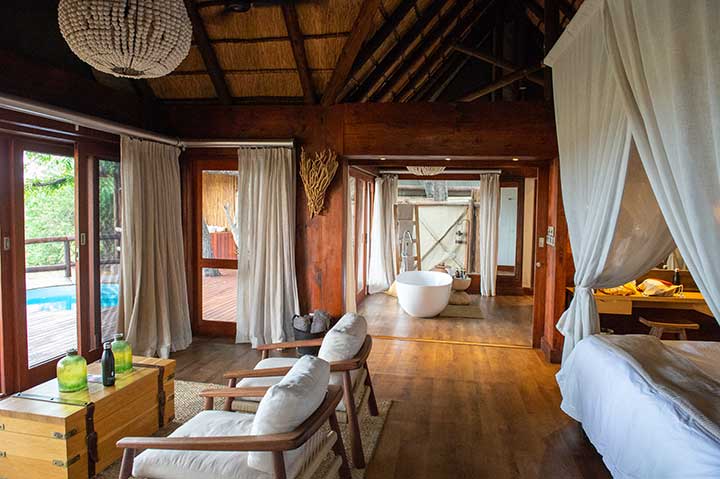 4th Aug 2022
On Safari At Belmond Eagle Island Lodge, Okavango Delta
What is the 'secret sauce' for an unforgettable few days on safari in Botswana? It starts with the animals, of course. The elephants, lions, giraffes, hippos