$cat_name = 'category'; $categories = get_the_terms($post->ID, $cat_name); foreach ($categories as $category) { if ($category->parent) { echo $category->name; } } ?>
Oct 18, 2015
South Africa & Madagascar Sept-Oct 2015
Share: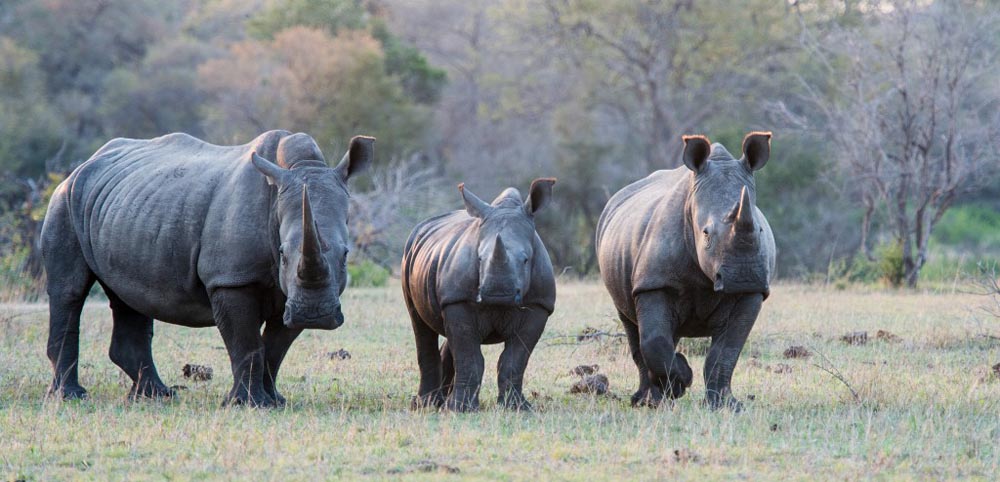 South Africa and Madagascar Sept-Oct 2015
PART 1: PRETORIA AND CAPE TOWN
Is there an anti-dote for jet lag? Not really. The best you can do is to stay up when it is light, and try to sleep when it is dark outside. Your body's natural circadian rhythms will adjust on its own. It takes several days to overcome skipping across seven or eight time zones, which is why the first day or two of an Africa trip can be rough. My best advice? Rest up for a couple of days before you go on safari. In cities like Cape Town, Johannesburg or Nairobi you can find many interesting things to explore while you recuperate.
So it was that I found myself on a mid-September day enjoying breakfast on the patio in the cool, dry air of a spring day in Pretoria, having been wide awake since 2 am. It was about as perfect an African morning as you can imagine, with the softest of breezes carrying a hint of smoke, Jacaranda flowers and freshly mowed grass. Add a clear blue sky and you have a typical spring morning in the highveld. For a Houstonian, this is simply gorgeous weather, Southern California-like. Minimums around 50F, afternoon highs of about 80F.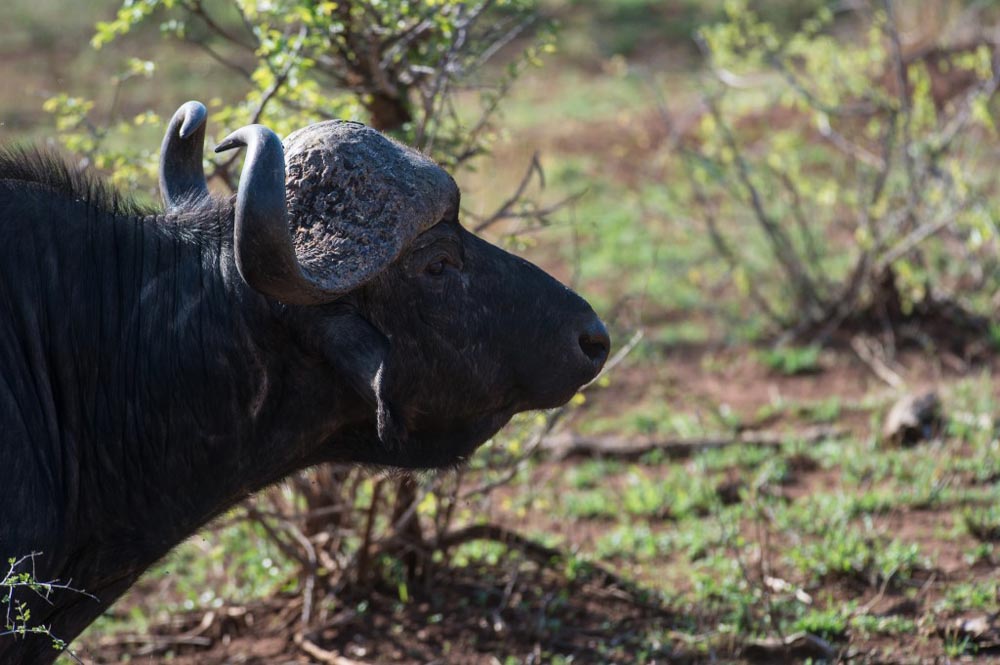 My accommodation for the three nights in Pretoria would be Castello di Monte – an elegant and quite imposing Italianate villa in Waterkloof Ridge, an eastern Pretoria suburb. The property is roomy and quiet in a beautiful garden setting, with some pretty views from the balcony, towards the north. Don't feel like venturing out into Pretoria much in search of sustenance? Don't worry. Castello di Monti's more than capable kitchen can whip up something delectable for breakfast, lunch & dinner.
A table d'hote 3-course dinner at about $20.00 per person on the night I arrived, included a choice of two entrees, a beef or fish main course and a couple of desserts. It was all good and deftly served in the softly lit main dining hall with piped classical music blending with the muted conversations of a few fellow guests. Over the course of three days there I heard mostly American and English accents, with some Afrikaans as well. Castello di Monti would be the perfect choice for a night or two at the start of a Southern Africa trip, or as a stop-over before or after a Blue Train or Rovos Rail trip.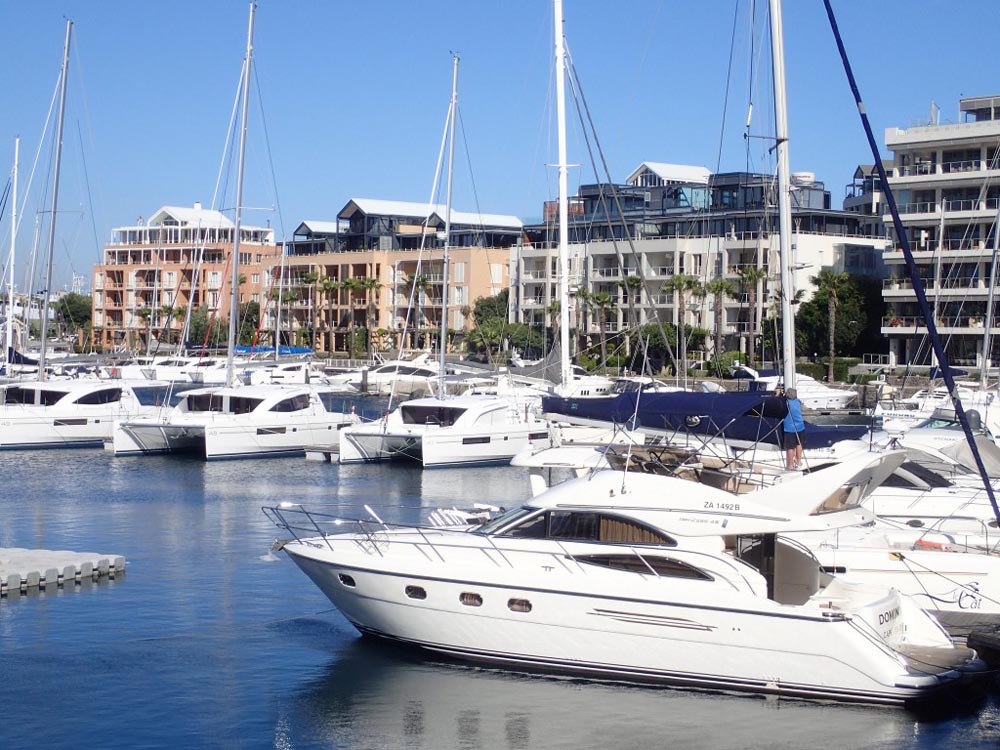 An apartment in Cape Town
On Sept 18 our group assembled in Johannesburg Airport for the SAA flight to Cape Town. As always, it took almost exactly two hours to cover the 1,000 miles between the two cities. Once we had collected our luggage in Cape Town Airport (it took too long!) it was a quick 20-minute drive to the V & A Waterfront where we were going to spend the next five nights.
Our serviced apartment at 106 Juliette turned out to be ideal for us, with 3 en-suite bedrooms, one with a safe. The apartment had a well-equipped kitchen, a spacious lounge with HDTV, properly functioning high-speed internet and a pleasant enough view over the V & A Marina, with the One & Only Hotel visible in the background. It was quiet and peaceful and we felt totally safe due to the high level of security; two of us had to be photographed for temporary access cards. Other than the door to our apartment being left wide open one morning, security was indeed tight and you couldn't move around without an access card.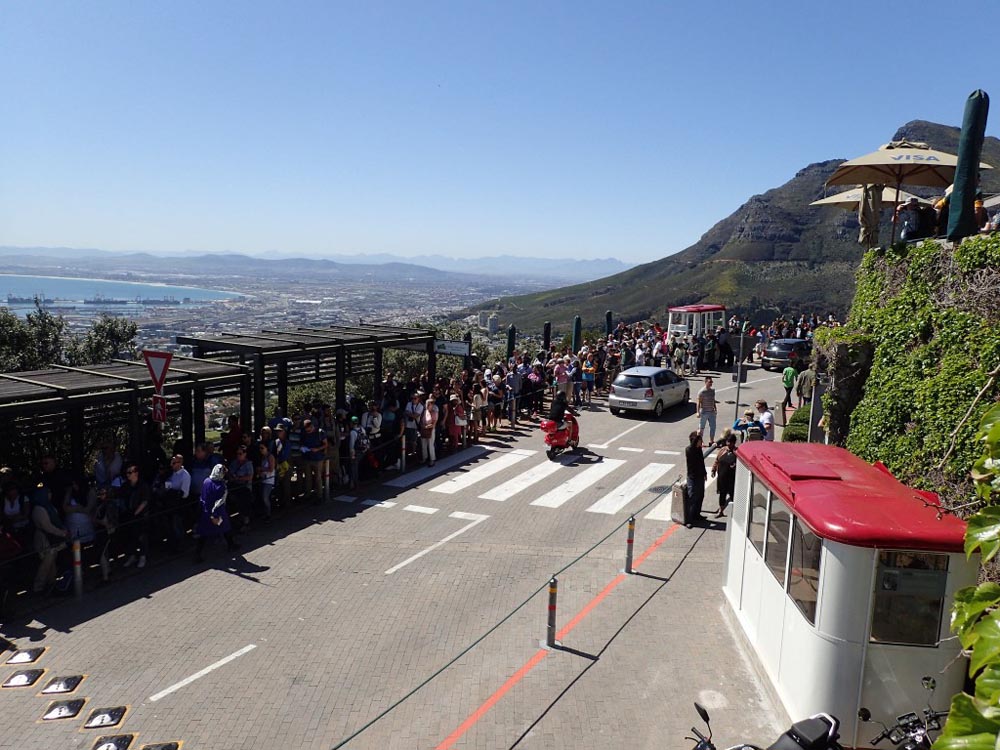 Table Mountain Cable Car trip
Our first day in the Cape was a clear, crisp morning with not a cloud to be seen and practically windless. Which means just one thing: Table Mountain. A quick Uber-ride later, we were in line to buy tickets for the 4-minute one-way revolving cable car ride to the top of the mountain. Apparently the ride had been shut down for the previous two days and there was clearly a backlog. Dozens of buses were dropping off multiple dozens and even hundreds of visitors, all with the same goal. Get up the mountain. There were two lines: one for people who had pre-booked online and others who had not. On this specific day it didn't really matter which line you were in – it took the better part of 2 hours to get to the front of the line. If you do want to beat the crowds go on a week day (not Saturday or Sunday) and be there early.
No matter how many times you've seen it, the view of Cape Town, Table Bay and the surrounding areas from the top of Table Mountain is as fresh as a newly baked cookie. I have been looking down over it off and on for 50 years, first having traveled to the mother city as a youngster. The view hasn't changed much. The city itself has grown somewhat but the view of the bay, the coastline, and distant Robben Island is just as pretty as ever.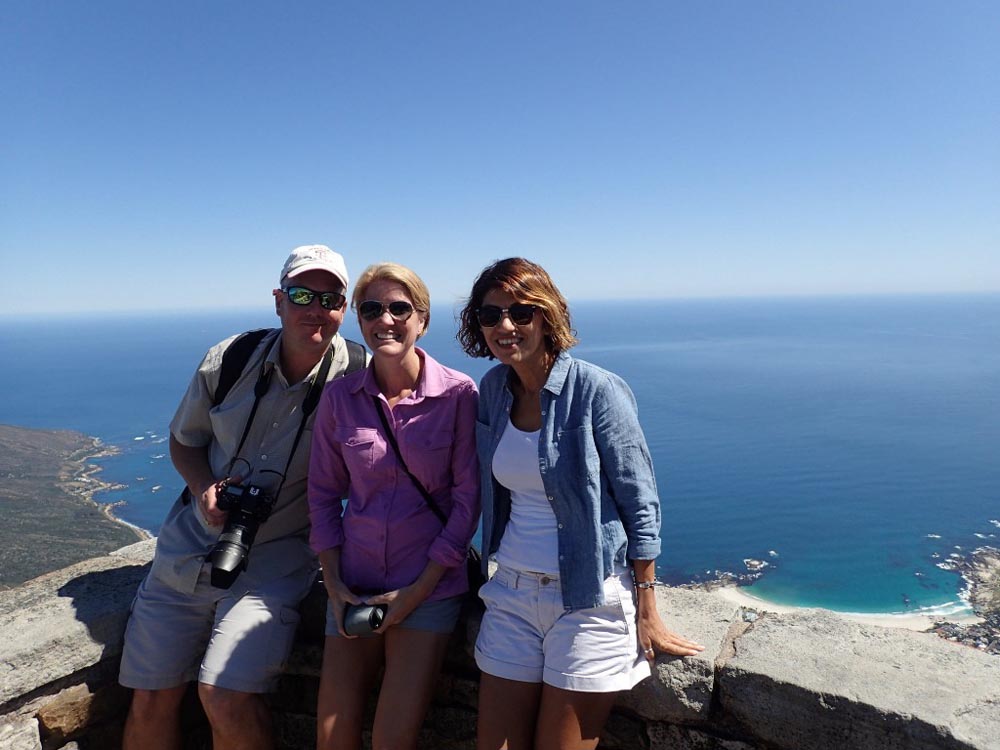 It is now easier to get up there than before. The older versions of the cable car were much more likely to be forced to a halt by high wind and would sometimes remain inoperable for several days. The current roomier gondola can take as many as 60 persons at a time and the interior rotates, for great views in every direction.
Noticeably, photography has become much more ubiquitous over the years, since the advent of cheap point and shoot cameras and of course, smart phones and other digital photo devices. Everybody's a photographer now and over the space of a few hours on the top of the mountain, I witnessed dozens of landscapes, portraits, selfies, selfies-with-a-stick and even some action pics ('jump'!) being taken. Some of these no doubt better than others. Between the four of us we made some pretty decent captures too!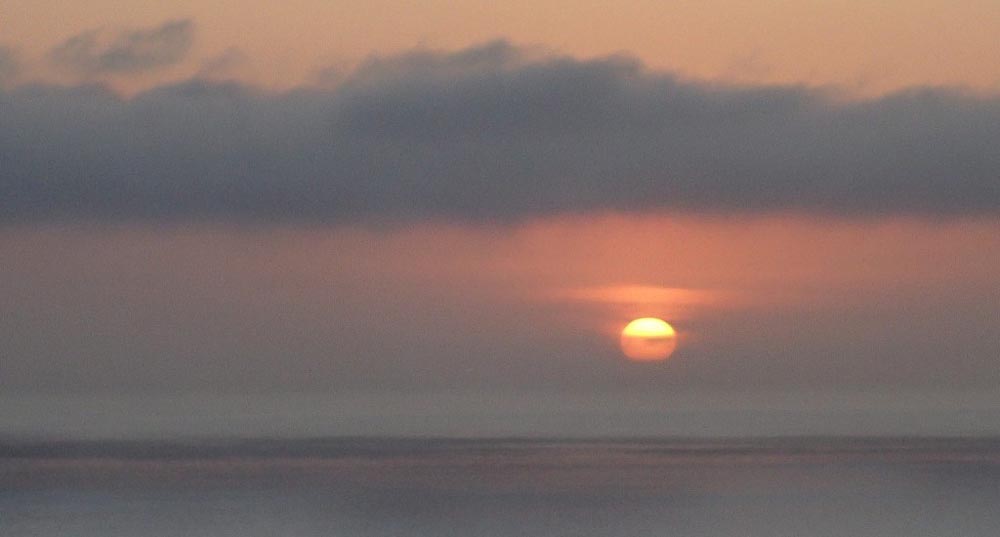 Sanlam Cape Town Marathon
The next morning two of our group tackled the 26.2 mile (44 km) Sanlam Cape Town Marathon, spending 4 hours or so traversing the streets of Cape Town and parts of the Cape Peninsula in the company of several thousand other runners. As marathon weather goes, it was not ideal with the starting temperature around 60F, topping out at around 72F later in the morning. The race was well organized with packet pickup at 'The Lookout' which is walking distance from the V & A Waterfront.
If you're not quite up to the full marathon distance, there is also a 10km Peace Run, on an out and back course along the Green Point and Sea Point promenade, a wide, flat brick walkway which is almost never without some runners, walkers, bicyclists, kids and dogs enjoying the gorgeous setting.
The four of us enjoyed a post-marathon cold beer and burger – or fish & chips – at Mitchell's Tavern, a popular venue judging by the number of patrons we saw there throughout the day and night.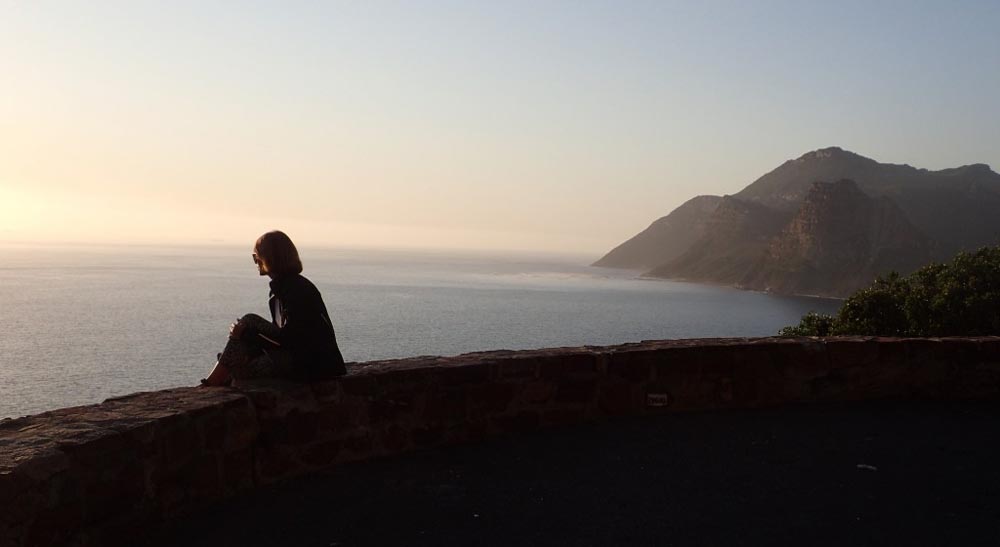 Chapman's Peak Drive
By mid-afternoon our rental car was dropped off and we went on a sight-seeing excursion along the Atlantic Beach drive, through cosmopolitan Sea Point, Green Point, Bantry Bay, Clifton, Camps Bay and via Hout Bay up into the hills and on to Chapman's Peak Drive.
It has been several years since I last drove this route and some significant changes had been made. For one thing, Chapman's Peak Drive is now a tollway with tariff of ZAR40.00 per person per entry (less than $3.00). In a couple of places the road now runs under an artificial overhang, protecting the cars and their inhabitants from falling rocks, a real hazard here.
These structures do not detract from the experience. Driving over Chapman's Peak is still an exhilarating, even heart-stopping experience with a cliff-face sometimes mere feet from the vehicle on one side and an abyss on the other. The narrow winding road exposes new and different views to both passenger and driver constantly with glimpses of cliff-sides, distant coastlines, shimmering water and sky combining to create an unbeatable natural kaleidoscope.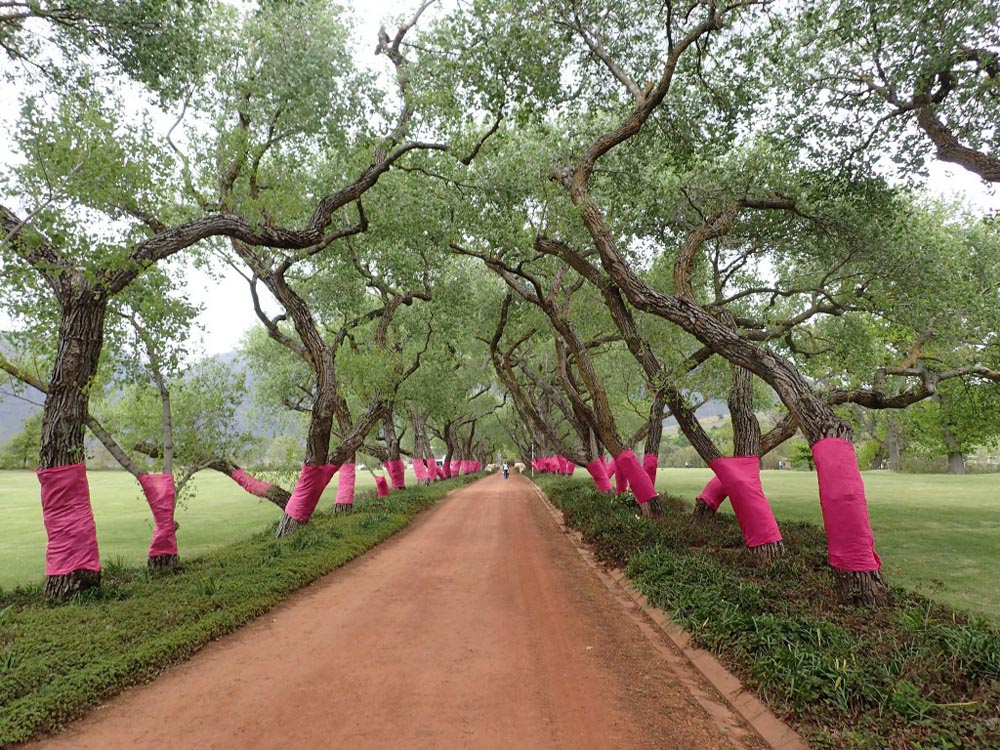 We were fortunate to find ourselves at a viewpoint close to the crest of the pass just as the sun set over the Atlantic Ocean. A long orange line stretched out over the water for a few minutes before the sun disappeared into the water. For a couple of minutes the dozen or so onlookers stood around and enjoyed the rosy afterglow. Then the darkness set in rapidly. Quietly we all got back in the car and drive back to Cape Town. A sunset like that puts everyone in a contemplative mood.
Dinner this evening was at Meloncino which has become a favorite of ours over the last few years. It is a reliable Italian restaurant in the Victoria Wharf section of the V & A Waterfront. Many of the tables have nice views over the city & Table Mountain but more importantly, the food is good! This time around we tried some lamb chops, steak and a pasta dish and we rated it as one of the best meals of the entire trip.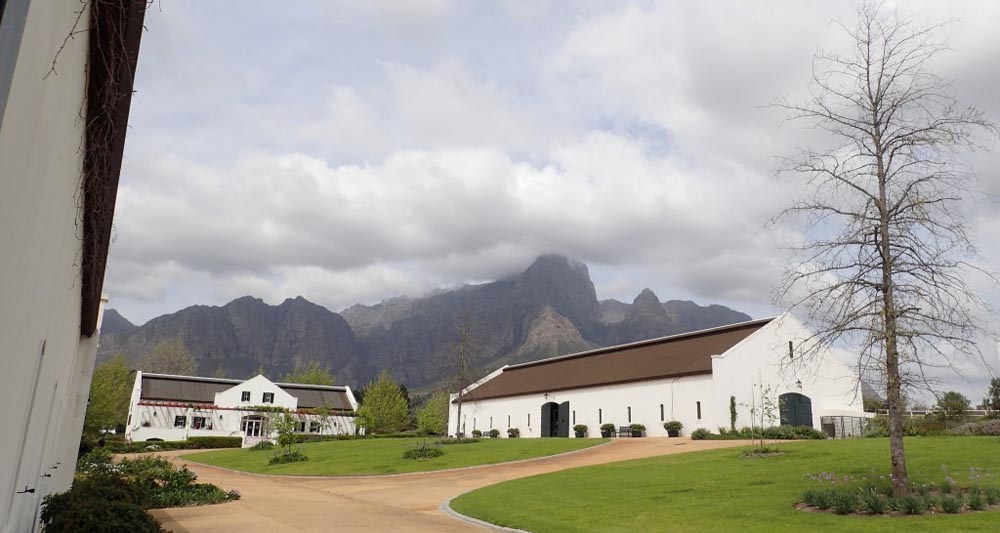 No Sharks Today – Wine Country instead
This day was supposed to have been devoted to a Great White Shark cage-diving outing out of Simon's Town with ASEC but it was cancelled due to a prematurely early end to the season. We will be trying again in 2016.
Instead we opted to drive out to the Cape wine lands, first along the N1 to Paarl and then the R45 to Franschoek. Franschoek is unquestionably the prettiest of the wine lands towns, surrounded as it is by the craggy peaks of the Cape Fold Mountains, one of the oldest geological structures in Southern Africa.
The town itself is still quaint even though it has become a popular tourist stop. En route into town we made a quick detour to La Residence, a superb boutique hotel, famous for hosting celebrities like Elton John. We peeked into his favorite suite – the Maharani – which like all the other La Residence rooms was exquisitely furnished in Liz Biden's signature style, with individual handpicked antique pieces, vivid colors and lots of imagination and verve.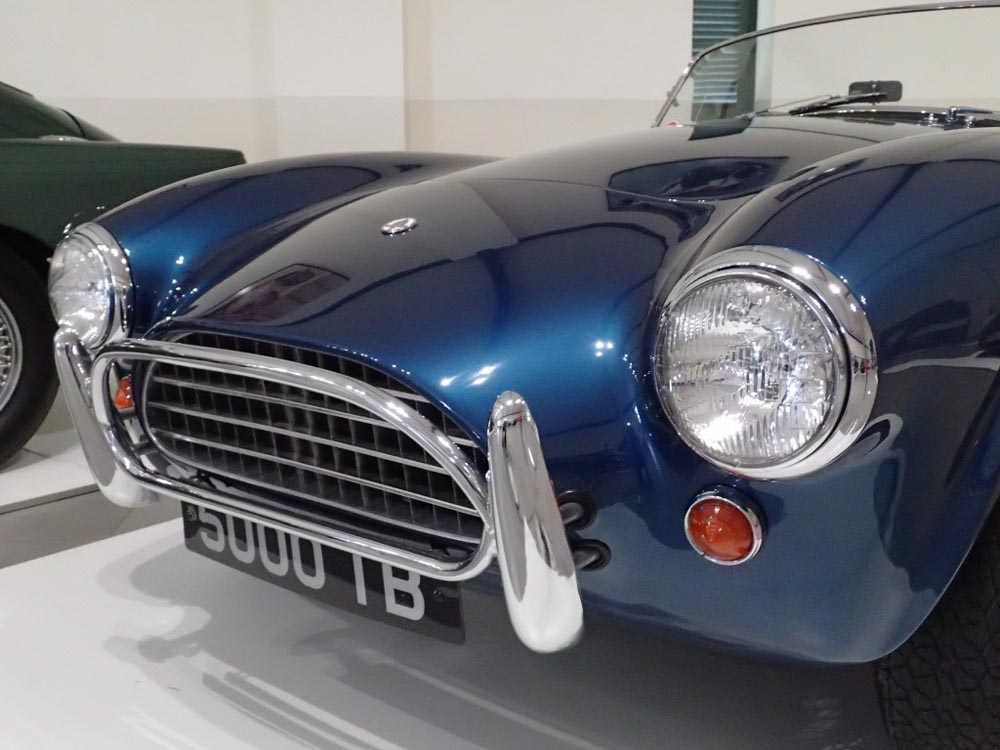 At L'Ormarins Estate – now part of the Rupert empire – we walked through the superb Franschoek Car Museum where about 80 cars (from a collection of nearly 300) are exhibited in four purpose-built halls. From Model T Fords to Nelson Mandela's BMW, a McLaren F1, Ferrari 250 GT SWB and an exquisite 1929 Mercedes Benz S-Type. My personal favorite? A shiny Shelby Cobra looking fast and aggressive even in such a demure setting.
The L'Ormarins red wines are of a consistently high quality and their Optima, Cabernet Franc and Syrah were impressive as before. Likewise the white wines which included a Chardonnay and Chenin Blanc. Uncharacteristically the tasting experience seemed disorganized and disjointed. There were no crackers or bread or cheese available to cleanse the palate between varietals and it took nearly 20 minutes to get an order of 3 different teas, apparently due to an issue with the labels. For a winery of this quality and reputation the Rupert organization really should get this right. We enjoyed the intimate setting and the wine expert was quite knowledgeable and enthusiastic but the execution and 'choreography' were a major fail.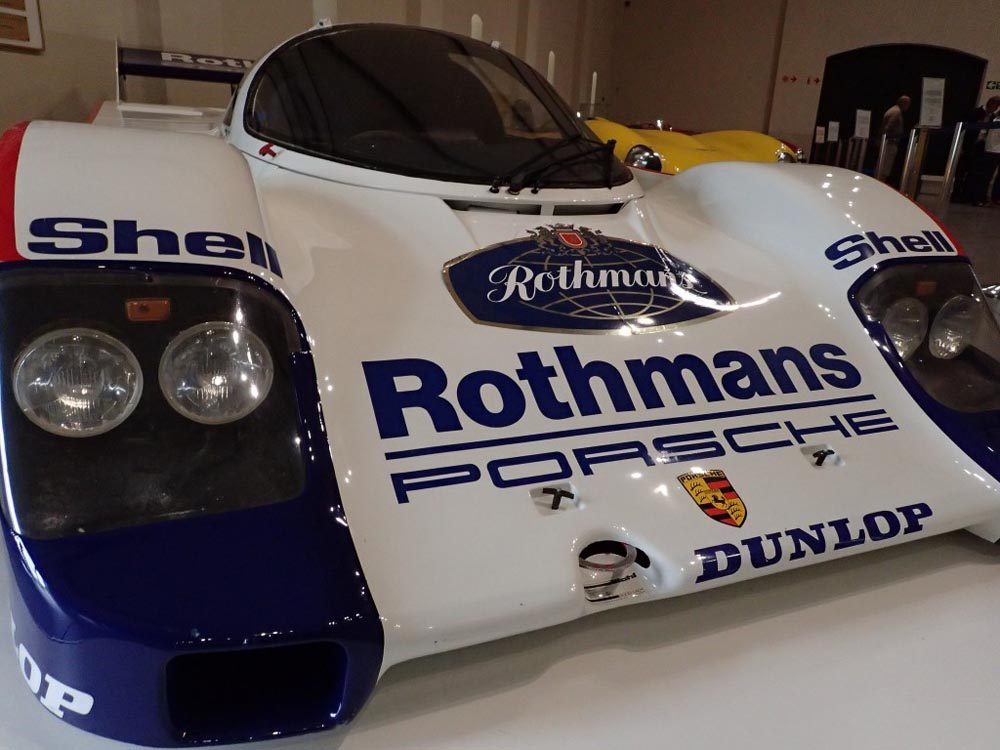 Wine-tasting at The One & Only
By late afternoon we were back in Cape Town and seated around a table at the luxurious One & Only Hotel, a stone's throw from the heart of the Waterfront. In front of each of us was an array of delicately stemmed wine glasses and a platter with several different types of cheese. We were there to enjoy the One & Only's Signature winetasting which we proceeded to do under the guidance of one of the hotel's knowledgeable sommeliers. Starting with an elegant South African sparkling wine from the Graham Beck stable, we steadily tasted our way through a chenin blanc, a viognier, a chardonnay and a lovely Cabernet Sauvignon. Interspersed with much playful conversation and laughter and a sliver of blue cheese or brie every now and then. The next hour or so slipped by very quickly.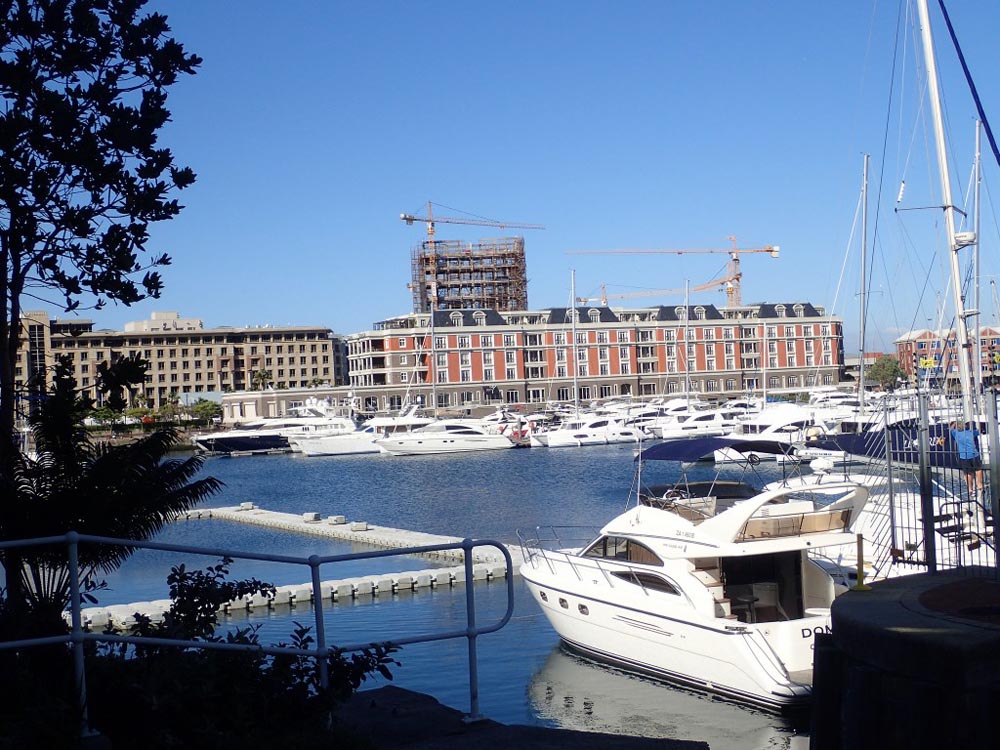 Sea Point Promenade and Kirstenbosch National Botanical Gardens
This morning we retraced the route of the 10K Peace Run, spending about an hour running along the Sea Point Promenade, the noisy waves of the Atlantic Ocean crashing into the seawall right by us.
The occasional cyclist and walker passed us by, and there were several hang gliders landing in short intervals at the small park adjacent to the promenade. Once or twice a deliberate detour over the surf and across the waves elicited squeals from the hang glider passengers who no doubt did not relish the prospect of landing in the chilly waters of the Atlantic Ocean.
We stopped to check the temperature of the water, looked at a couple of art installations and peered through a 'gun-sight' at the Rhinosaur sculpture, a chilling work of art which symbolizes the imminent demise of Southern African's rhino population as a viable species in the wild. Depressing thought.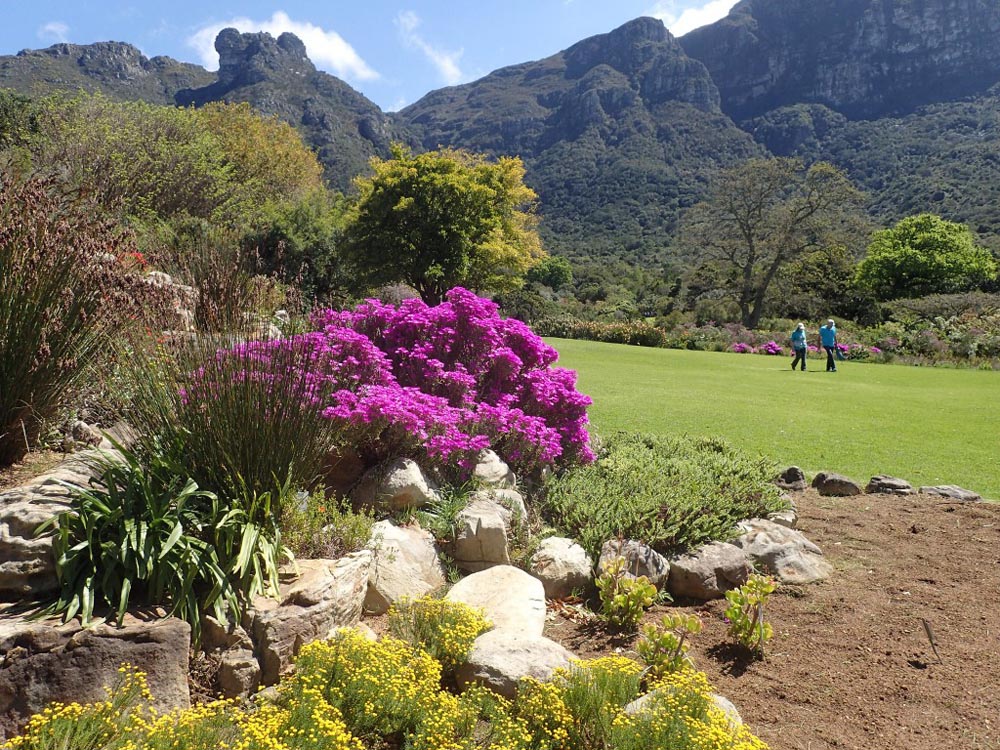 Back in the apartment and a light breakfast later, we piled back into the car for a trip to Kirstenbosch National Botanical Gardens. Of all of Cape Town's many attractions, this one is my favorite. It attracts more visitors than any other sight in the Mother City. Even so, there are no long lines here; at worst it takes a few minutes to buy a ticket. No 2 to 4 hour wait here like at Table Mountain Cable Car!
We arrived at Kirstenbosch in late September which is arguably the very best time of the year to be there; less than a month after the end of the rainy season with the full spring bloom effect visible everywhere. I had not seen Kirstenbosch in such splendid shape in many years. There were blazingly colorful displays of red, yellow, purple and orange to be seen all over the place. The Namaqualand daisies, vygies, pincushions, arum lilies, watsonias and many other species were in full bloom.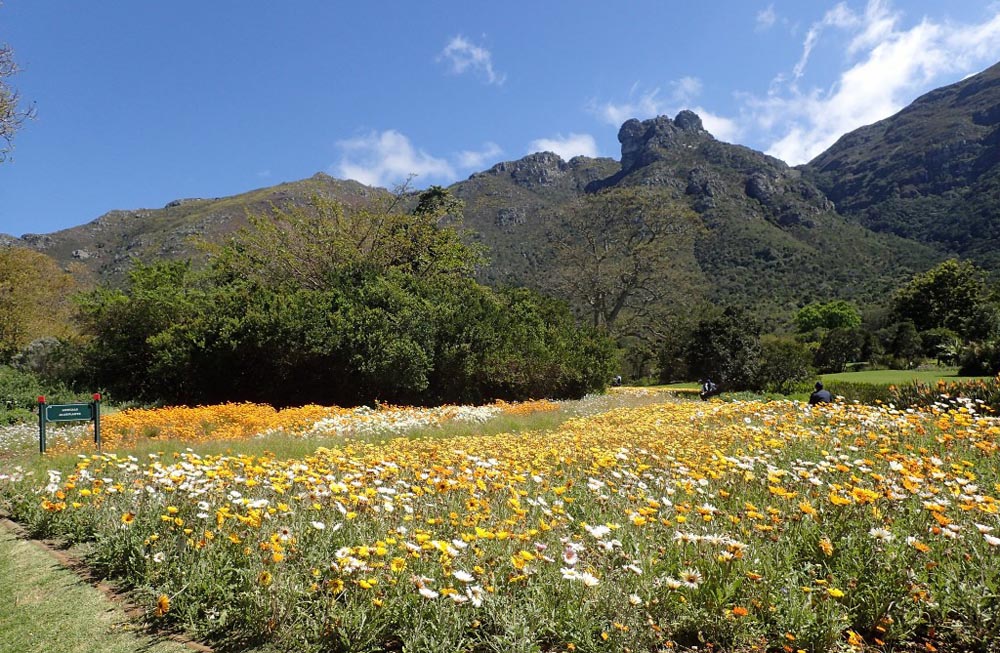 We wandered around for several hours, enjoying each beautiful visa, every now and then looking up at the mountain slopes dominating the scene. Finding a Protea Cynaoroides (King Protea) in bloom was a highlight, as was a walk across the Boomslang canopy walkway.
We finished off our Kirstenbosch experience with an enjoyable lunch at Moyo Restaurant; everyone tried the quasi-traditional fare with innovative expressions of old favorites such as as bobotie, samoosas, pap and boerewors rolls.
Our Cape Town stay came to an end with a dinner at the always reliable Baia restaurant at the V & A Waterfront. I enjoyed reconnecting with some old friends and we all enjoyed Baia's expertly grilled Kabeljou and langoustines, among others.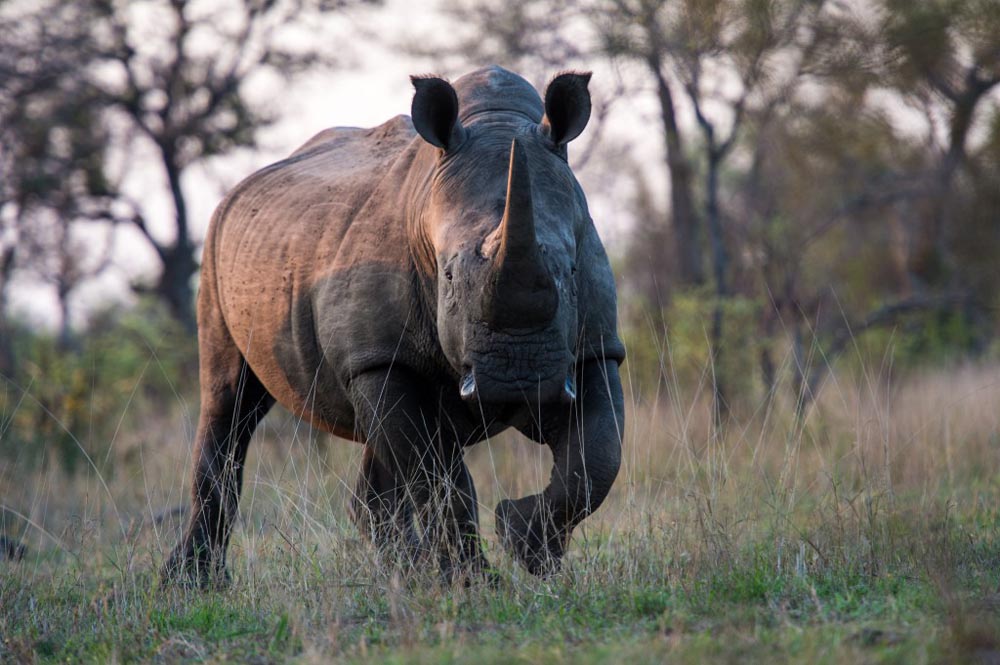 PART 2: KRUGER PARK WALKING SAFARI & TIMBAVATI RESERVE
Over the next week or so, our group enjoyed all the facets of the Kruger Park experience: staying in a tented lodge inside the park with twice daily game drives both during the day and evening, getting out into the bush on an authentic walking safari and relaxing at a luxury safari lodge in the Timbavati Reserve to end up the trip.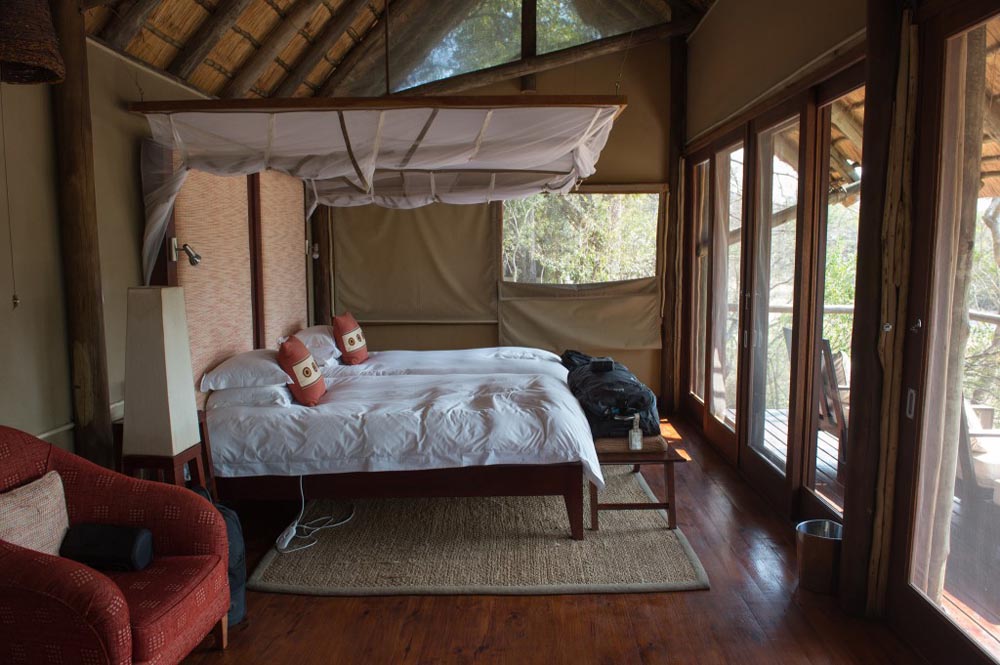 Rhino Post Camp, Kruger Park
On the morning of September 23 we dropped off our Bidvest rental car and made our way to the check-in point for the SA Airlink flight direct from Cape Town to Skukuza. I had been apprehensive about the weight of my carry-on luggage but no one ever asked about the weight of my small backpack and camera lens bag. One of the members of our traveling party had to pay about $10.00 excess luggage charge for exceeding the weight limit of 20kg per item on the checked bags.
About 2 hours later we arrived at Skukuza's neat, compact airport. The main building consists of a lodge-like thatched building; it makes a good first impression. Unfortunately it took about 30 minutes or so to get our luggage and to complete a few formalities before we could set off to our first safari camp: Rhino Post.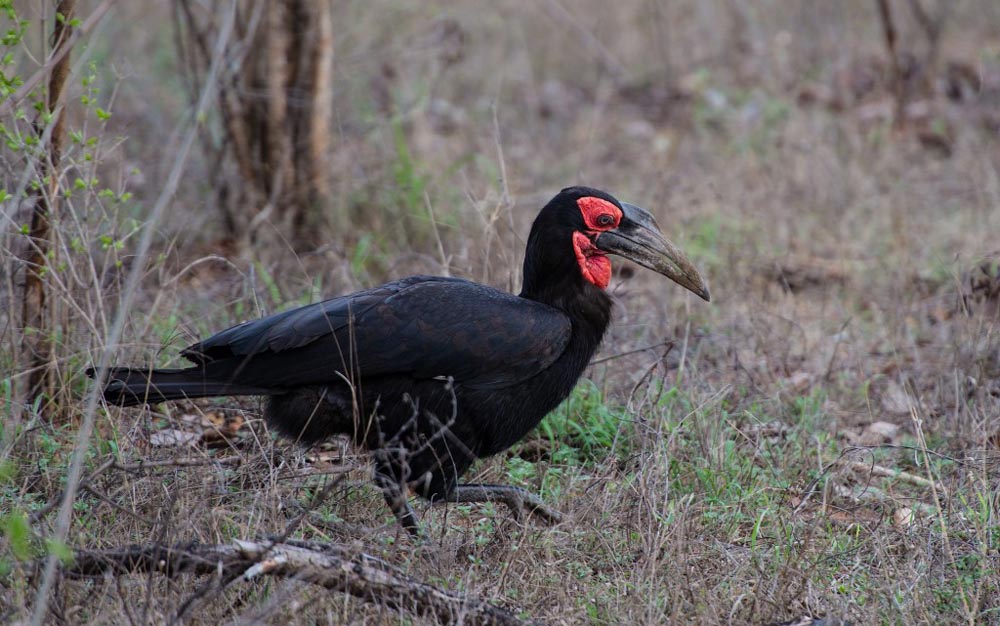 Rhino Post is a casual, friendly lodge with 8 rooms, strung out along a mostly dry riverbed in the southern part of Kruger Park, adjacent to the Sabi Sand Reserve.
Over the course of two days at Rhino Post I experienced much of what I had enjoyed here a few years ago [insert link to trip report]: a convivial, relaxed atmosphere, a high degree of personalized service and wonderful meals.
The rooms are spread out to the left (#6,7, & 8) and right (#1, 2, 3, 4 & 5) of the separate dining room and bar/lounge structures. Each room has good lighting, one or two beds with a mosquito net, a bath and 'outdoor' shower, lots of hot and cold water on demand and a separate toilet. They are equipped with plug points for charging batteries, a small safe and the front door has a lock and key. There is a phone which can be used to call anywhere. The calling procedure is tricky as it is not easy to detect a dial tone. There is no air-conditioning or WIFI in the room. Each room also has a small verandah separated from the room itself by a sliding glass partition which can be left open and with a screen to keep out unwelcome visitors such as baboons.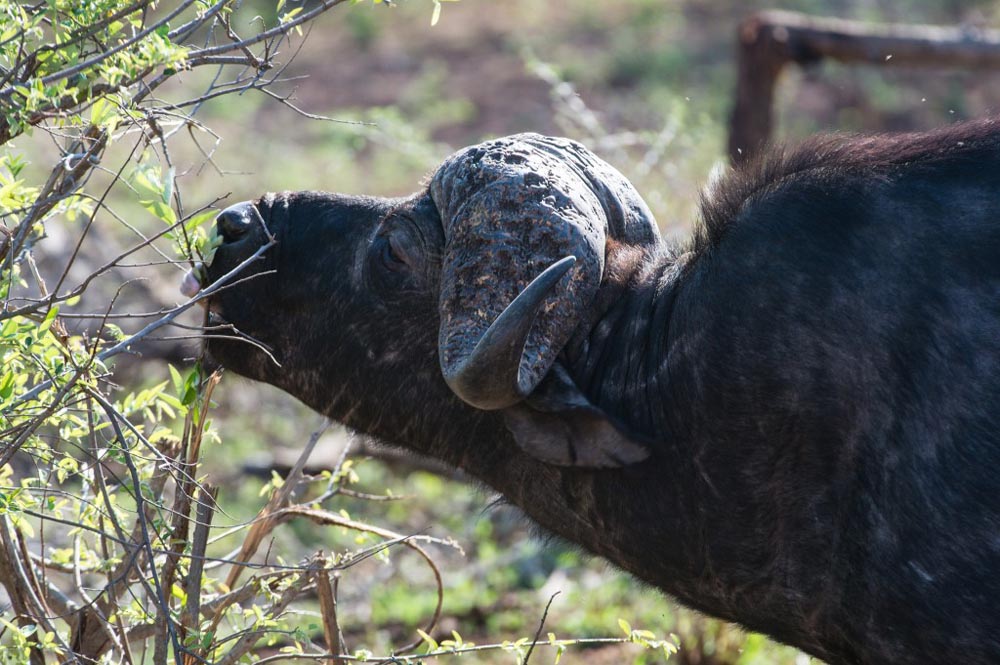 It is not unusual to see wildlife in and around the camp. On the second night there the phone in my room rang. Its chirp-like ring tone is not totally out of place in the bush setting. 'There is a leopard at the waterhole' a young lady announced. Not the kind of message you get on your phone frequently… Even though I was in mid-shower I made my way to the water hole as quickly as I could to observe the leopard slaking its thirst from a small artificially maintained water source right in front of the bar, on the other side of the dry riverbed.
The previous night we had observed the same leopard drinking and causing quite a commotion among a troop of baboons whose alarm call rang loudly through camp.
Other Rhino Post camp followers include some Spotted Hyenas who are drawn to the kitchen, a very confiding young bushbuck female and a group of 8 old buffalo bulls.
We had first seen the buffalo on our arrival when they were milling about the water hole, seemingly not in any hurry to finish up what they had been doing previously. Which seemed to be standing around and thinking about drinking more water.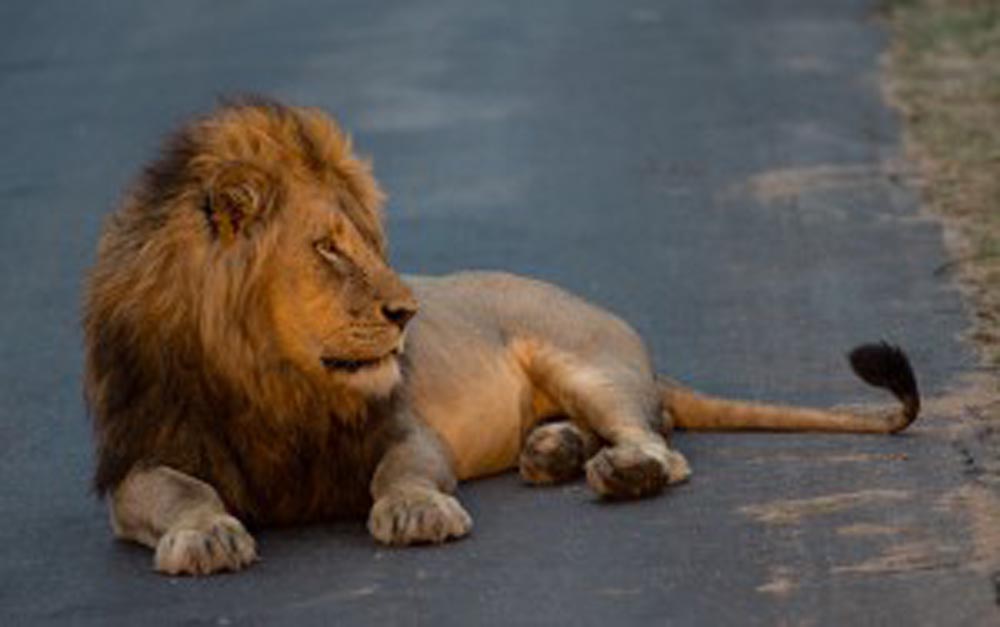 The game drives out of Rhino Post camp were mixed in terms of number and quality of sightings. On our first afternoon outing with guide Marius (competent and friendly) we had a superb lion sighting when two beautiful adult males lion in their prime walked right by our vehicle in the early evening light. They were practically close enough to touch and we could hear their big padded paws lightly thump the tarmac. It was spellbinding and all of us – first time visitors and veterans of the bush alike – realized that this was a special treat not likely to be experienced again soon or ever.
The next morning we had a similar experience but this time with a female leopard. We were on our way to the main road – and still inside the Rhino Post concession – when Marius noted the leopard peering out from behind a large anthill.
For the next 40 minutes or so we watched as the leopard moved closer to our vehicle and eventually walked right in front of us, providing us with some great views in near perfect light. For what seemed like a very long time the leopard had some impala in its sights, seemingly intent on stalking and hunting one of them. In the end that did not happen but we had ample opportunity to watch the scene unfold. The sighting ended being one of the best of all on our safari.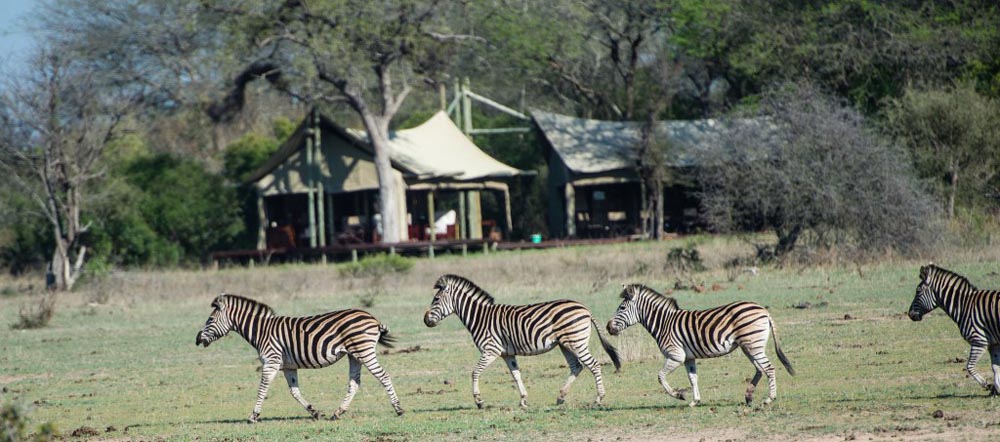 The remainder of the game drives out of Rhino Post delivered some nice views of general plains game including giraffe, kudu, a couple of wildebeest, lots of impala and a smattering of other smaller species such as steenbok, grey duiker, warthog, some mongooses and squirrels. Plus plenty of colorful birds, of course.
On an afternoon drive on the famous road between Skukuza and Lower Sabie Camp, we had another lion sighting, this time a single female lying mostly obscured in the Sabi Riverbed.
The quality and presentation of the food at Rhino Post were impeccable and could hardly be improved. We were individually consulted on our choices for dinner, with two options of starters, main courses and desserts. There were no bad choices with presentation and taste being spot on for every item: a perfectly grilled fillet of salmon one evening or some expertly cooked fillet of gemsbok. Vegetables and other sides were done just so, and every breakfast was stellar with an array of cereals, bread, cheese, fresh fruit, cold meats and eggs to order.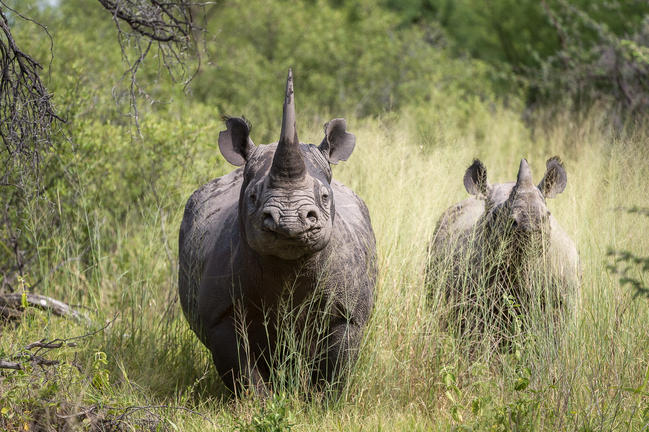 Rhino Walking Safari – Plains Camp
By midday on Sept 25, we were en route to Isibindi's Plains Camp for a 3-night Rhino Walking Safari. A stay at Plains Camp can be booked either by itself or ideally in combination with a stay at Rhino Post.
Plains Camp is located along the Motlumi River, about 3 miles from Rhino Post, on the edge of a large open plain with an artificially maintained water hole a distance away and across from the camp. There are only four tents, tucked away into a thicket and barely visible to each other, with a small but well-located and attractive dining room and lounge a short walk away. The small pool was popular with all of us.
Over the course of the 3 nights there, we observed a variety of wildlife in and around the open area and down to the water hole: several herds of elephant, particularly in the afternoons, zebra pretty much all the time, baboons and a few giraffe.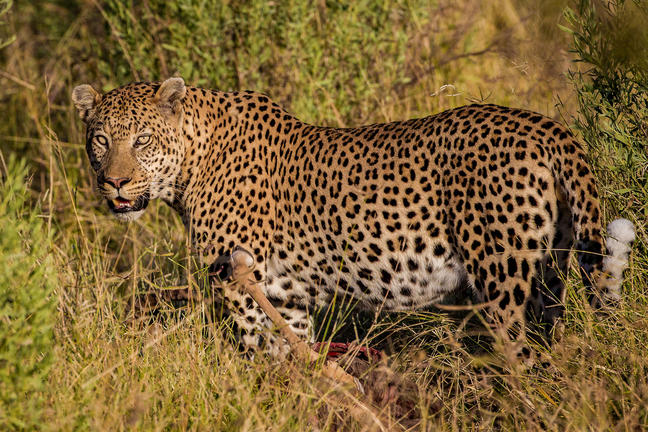 All of this is a bonus because the main activity at Plains Camp is walking. Which we did to the order of 5 walks in total over the course 4 days (3 nights).
Our guide Bernard Mhlanga typified the word ebullient and he was in every way full of spirit, bursting with enthusiasm and energy and actively looking for something exciting all the time.
If anything a few of our outings went on an hour or so longer than we had anticipated or might have preferred, but better to err on the side of too much than too little.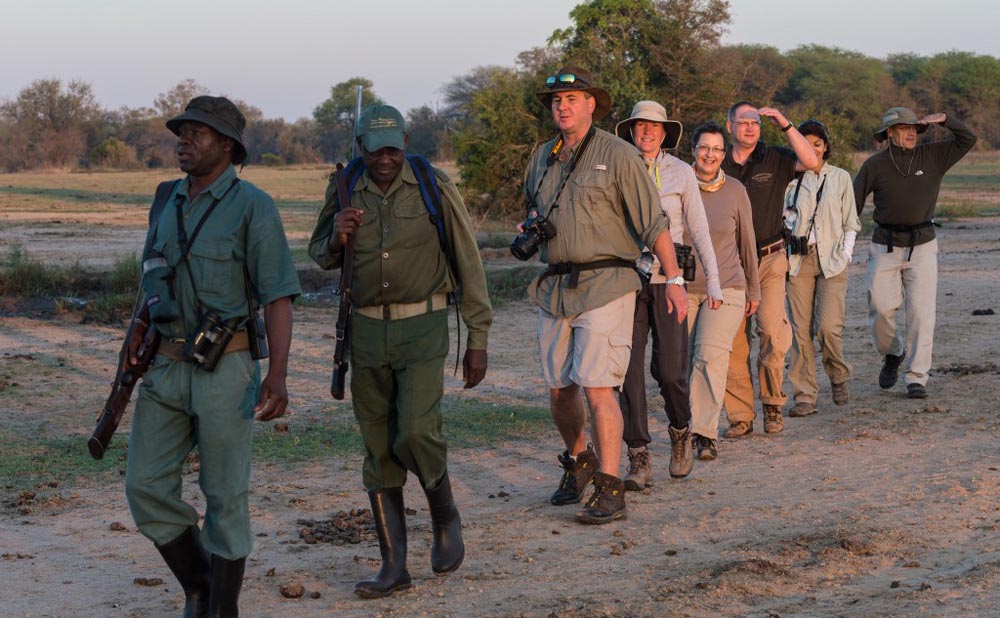 One of the highlights of the Kruger Park experience was a sleep-out at a remote platform structure, about a 3-hour walk away from Plains Camp. We spent the night relatively comfortably in sleeping bags on mattresses in 4 separate small rooms, elevated well above the surrounding bush. Dinner was a traditional South African 'braai' or barbecue, with various types of meat (lamb chops & beef) and a beef & pork sausage (boerewors) grilled right in front of us over the coals. Together with some salads and other side dishes as well as 'pap' – the local version of polenta – it made for a nice change and an interesting experience. It doesn't get a whole lot more authentic than this!
Bernard and his tracker and walking assistant Albino were competent, friendly and professional at all times and I think the group as a whole felt quite safe and mostly relaxed out on the various walks.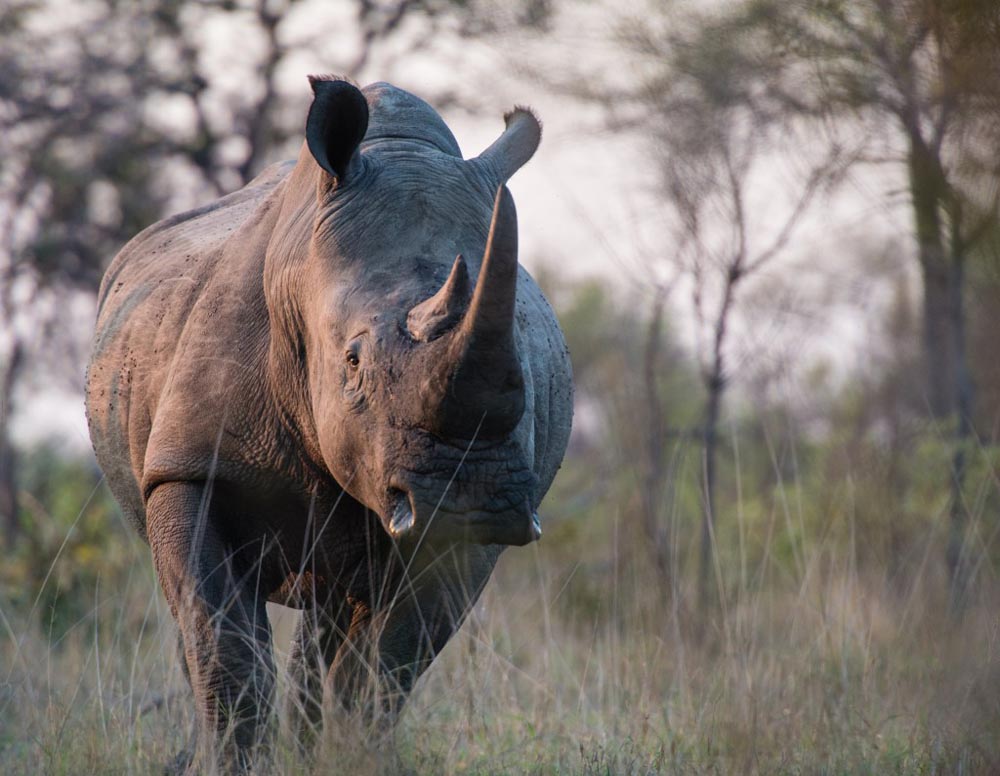 The Rhino Experience
We had hoped to see various kind of big game on foot but it didn't work out that way. What we did see was plenty of white rhino. There were many of them around, sometimes solitary ones but mostly small groups of two to four or so.
Several times we got to within 20 meters or less of these behemoths, and not having been as close to rhino on foot for many years, the experience rekindled my fascination with these gentle, practically defenseless survivors from what seem to be prehistoric times.
It was nothing short of exhilarating to get so close to the white rhinos while they were watching us and trying to detect our position and intent. Despite being very close, the situation was well controlled and Bernard was ready at a moment's notice to intercede should one of the rhinos decide to charge.
I managed to take some of my best ever rhino photographs, and did not have to use a long telephoto lens. A 70-200mm zoom lens with a 1.7 converter did the trick.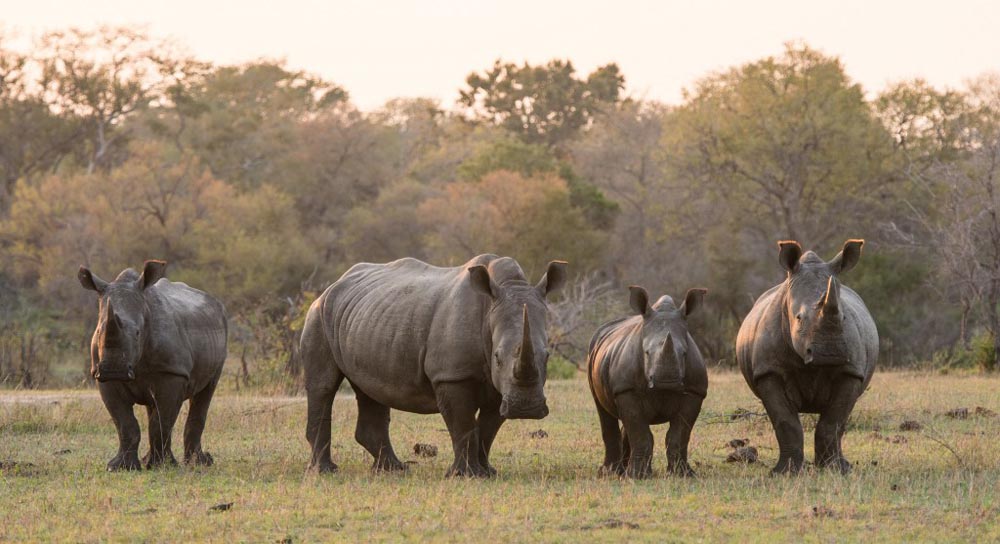 Being able to get so close to the rhino on foot of course illustrates their immense vulnerability to attack by poachers. They are a total paradox. In their natural environment they reign supreme and have practically no enemies or predators. In today's world where they are the target of ruthless poachers armed with high-powered rifles, they are almost totally defenseless and on an accelerated path towards extinction as a viable species in the wild, in our lifetime.
So standing there and looking at those magnificent beasts fills one with a sense of wonder and nostalgia for the way things used to be, full well realizing that it can never be the same again. Without effective and costly protective measures and without the buffer of visitors, vehicles, camps, guides, scouts and other personnel moving through and around the area constantly, these animals are doomed.
So what can you do? Definitely go there and see them. Spend a few days at Plains Camp, walk into rhino and you'll be accomplishing several things at once. Primarily of course you will experience an authentic wildlife experience rivaled by very few, anywhere in Africa. Staring down a white rhino which weighs around 5,000 pounds (2.5 tons) or more, is a thrilling experience when there is just a bush or some low shrubs between you and it. More than that you will be contributing to the well-being and future of not only the rhinos of the Kruger Park but to its other big game species as well, including elephants and the big cats.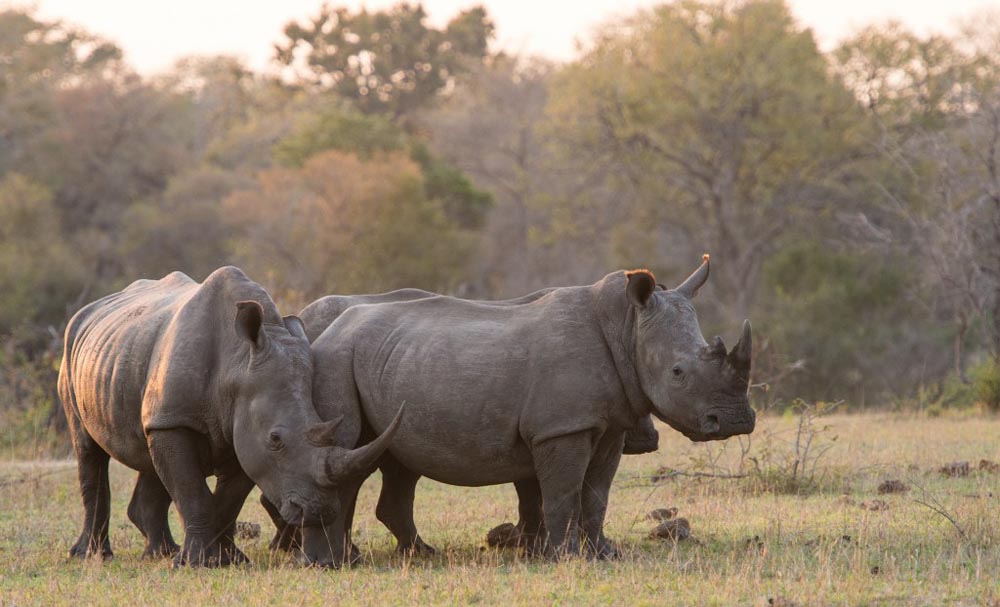 Simbavati Hilltop Camp
Our last few days on safari were spent in style at Simbavati Hilltop Camp, a luxury tented camp built on a small koppie (hillock), with very pleasant views over the Lowveld bush.
The pavilion-style luxury tents were massive, with a total of 8 air-conditioned 'tents' spread out in village style, and combined by wooden walkways. Each suite consists of two individual tents – one for the main bedroom with a separate bathroom linked by an open area with an outdoor 'shower for two'. The separate bathroom has an indoor shower and tub. The units are placed in such a manner that privacy is guaranteed.
To be sure, there are lots of steps at various points along the walkways, so this property may not be suitable for persons with limited mobility.
Simbavati Hilltop has an exceptionally nice pool and we spent several hours there, enjoying the cool refreshing water and the relaxing ambience. Meals and refreshments were as good as anything we've experienced on safari before: fresh, expertly prepared and presented and always plenty of choices and options. Special dietary needs such as gluten-free or vegetarian catered for as well.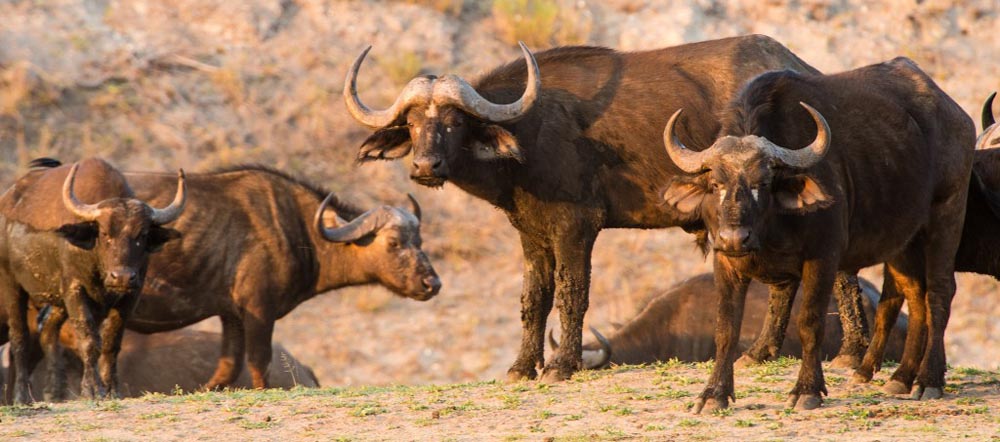 While we enjoyed some good game sightings at Simbavati Hilltop over the course of the 2 full days there on balance the game-viewing could have been better and we were certainly expecting more, as it was in the middle of the prime game-viewing time of the year. Unfortunately the area was right in the middle of a severe drought which clearly affected the amount of plains game. For example we saw very few giraffes, which are ordinarily quite common in the area. I had twice visited the Timbavati Reserve before and enjoyed much better game-viewing with multiple leopard sightings, African Painted Dogs, even white lions.
Even so we enjoyed many excellent sightings including the following: An active hyena den with youngsters of various ages; several good-sized herds of buffalo moving around the area;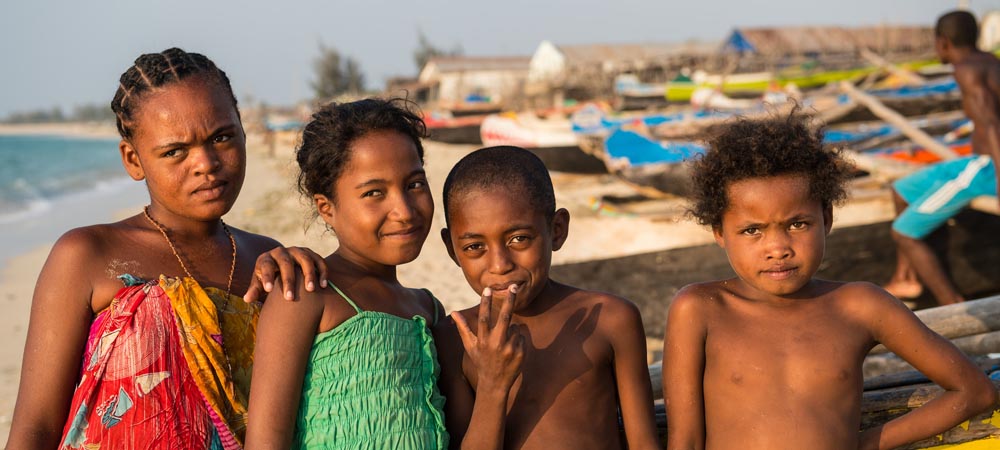 PART 3: MADAGASCAR
I first visited Madagascar 15 years ago. Despite the fog of time, my memories of that first trip to the Red Island remain strong and vibrant. Seeing my first lemur – a Ringtail at Berenty. First hearing the haunting call of an Indri at Andasibe. My first tentative steps into a real spiny forest. It might as well have happened last week. Madagascar is so different, so unique and so impactful a place to visit, that the memories are etched very vividly.
Madagascar is also one of those places which improve with the passage of time. As the months and years slip by, one's recollections of a trip there change for the better. Gone are the memories of the bad roads, long distances, stuff that doesn't work. And in sharper relief are the impressions of lemurs, endemic birds, reptiles, truly magical forests and of course the amazing people.
My over-arching impression after a longer second visit in September last year? Madagascar hasn't really changed much and it is still a truly strange and wonderful yet mildly maddening country; definitely not for everybody.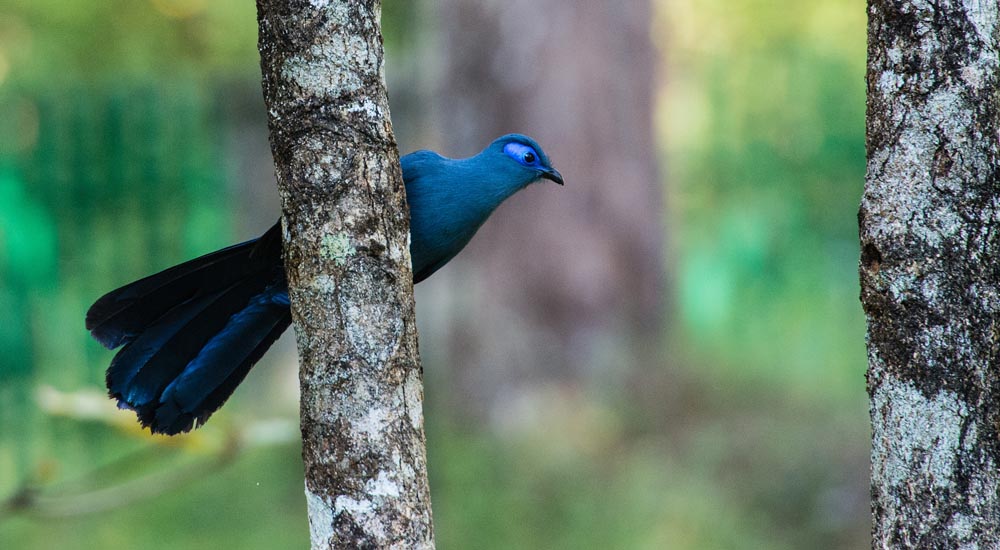 Strange? Absolutely. Madagascar is often associated with Africa, having split off the African mainland some 165 million years ago, yet it is very unlike Africa in almost every way. It is not for nothing that Madagascar is often referred to as the Eighth Continent. Strange trees, strange plants, even stranger animals, and almost everything you see found only in Madagascar. So different on so many levels.
Even though Madagascar is associated with Africa, it is nothing like Africa. It feels much more like somewhere in Asia – maybe Cambodia – judging by the facial features of the people, the clumps of banana trees and the many rice paddies which are tucked away into the valleys and hillsides. Madagascar's French colonialist past is all too clear in the shape of many of the buildings, the French words and phrases you will hear spoken and the aging Citroens and Renaults trundling around Tana and the other cities. Now fast being replaced by Chinese cars. A sign of the times. Another not so great relic of Madagascar's French colonial history? The dense layers of bureaucracy which most visitors thankfully only encounter upon entering and leaving.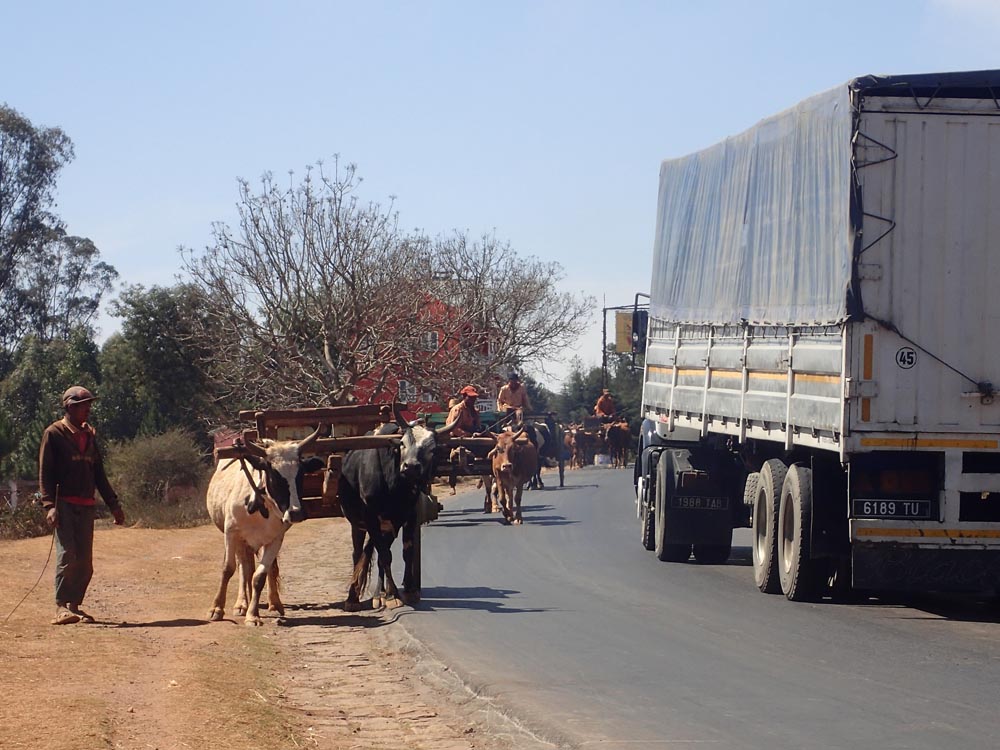 Wonderful? Undoubtedly. If you've ever wondered what it must have felt like to be Darwin, walking around the Galapagos completing the Natural Selection puzzle, Madagascar will appeal to you. Spend a few days there and you cannot fail but see Darwin's theory of evolution come alive in front of your very eyes. Look at a white-headed vanga and then – maybe just minutes later – observe a sickle-billed vanga fly by. Practically the identical bird except for the marked difference in bill adaptation. The one with a stout conical bill, the other one similar in general appearance and shape but with a massive decurved bill. Clearly adapted to probe crevices and holes for spiders and crickets and other insects. Evolution in its purest form. It is estimated that the sickle-billed vanga split from the white-headed vanga somewhat more than a million years ago.
The same is true of Madagascar's multitude of lemur species. They are simply stunning. It took me all of 15 seconds to fall in love with the first species of lemur I ever saw which was the Ring-tailed Lemur, at Berenty, on my first visit. Subsequently I have seen many other species, some quite rare and difficult to find but even the most common of these animals are exceptional. They are mostly arboreal so be sure to take a pair of quality binoculars with good light-gathering properties as you will often be observing animals in the gloom of a forest interior. The pay-off? Great views of unique, fascinating creatures and simply amazing birds.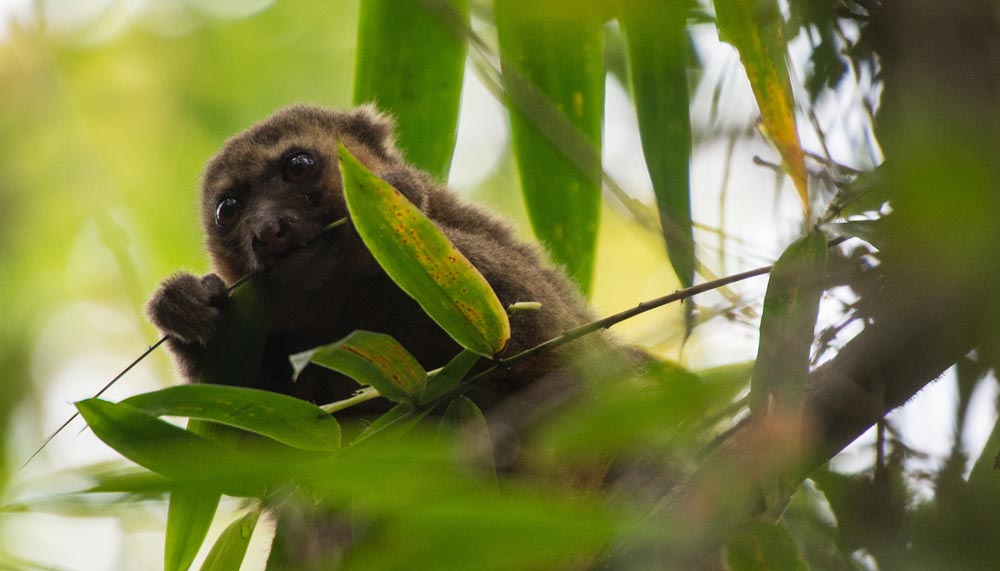 Maddening? Unfortunately yes. Madagascar can be a frustrating place to visit because of the lack of infrastructure. On almost every level, it is the antithesis of our rushed, over-scheduled and convenience-seeking existence. In Madagascar there seems to be not much in the way of a sense of urgency. Things happen when they happen which is not always according to schedule. In cities and towns the roads are often congested, the traffic sometimes chaotic. In some areas the accommodation options leave much to be desired and things we take for granted like hot water and decent lighting are not reliable. The language barrier doesn't make it any easier – it definitely helps to have some French. Be patient, smile and re-orient yourself to not be as hyper-critical as you would be in a more developed, more sophisticated environment. You will be amply rewarded.
There are encouraging signs, though. For one thing, there is more understanding of the plight of the country's endemic animals and over the last 20 years, the number of national parks and the size of areas under conservation have grown significantly. So there is definitely hope for the future! Put Madagascar on your list of places to visit soon and you can be a part of a brighter future for this much-maligned and very much side-lined country. Madagascar needs responsible eco-tourism probably more than any other country in the world.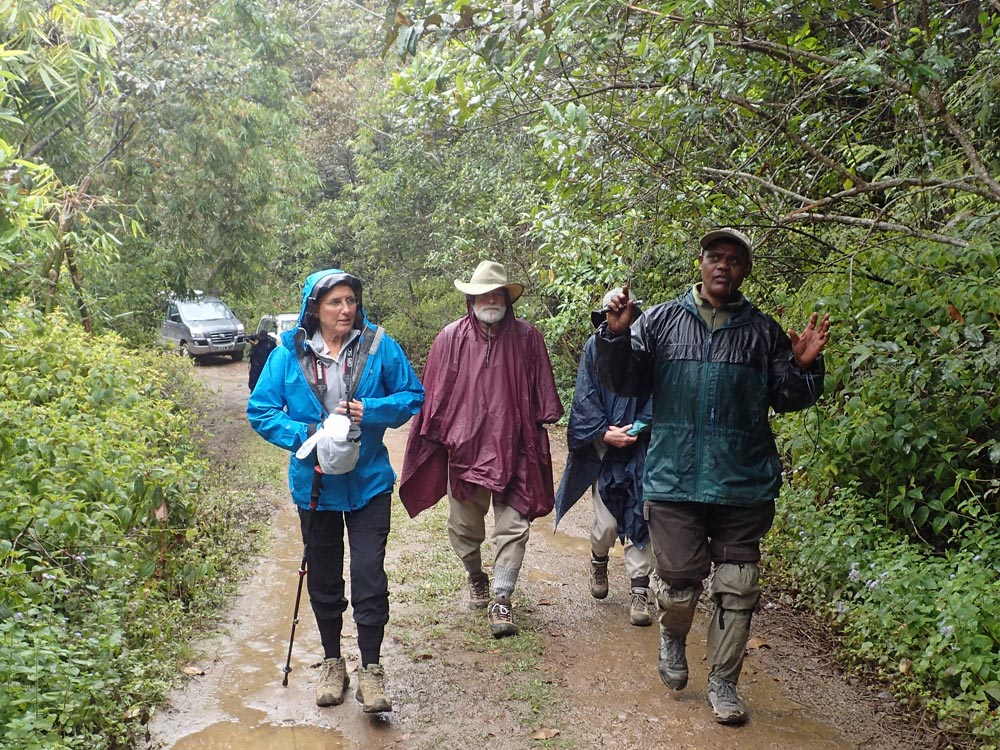 WALKING
There are no mega-fauna such as in Africa so naturalistic pursuits in Madagascar are safely – and best – done on foot. Take your best walking shoes – or better yet a decent pair of boots – a walking stick and get ready for the most fascinating trip you may ever take. No chance of being charged by a buffalo so you can totally relax on foot and take it all in. I would rate many of the trails inside the national parks such as Mantadia and Ranomafana as moderately strenuous. You don't have to be super-fit to enjoy Madagascar. Even so, it would not be a good destination choice for someone with mobility issues or a person who is not capable of walking up and down steps or willing to undertake an occasional scramble along an uneven trail.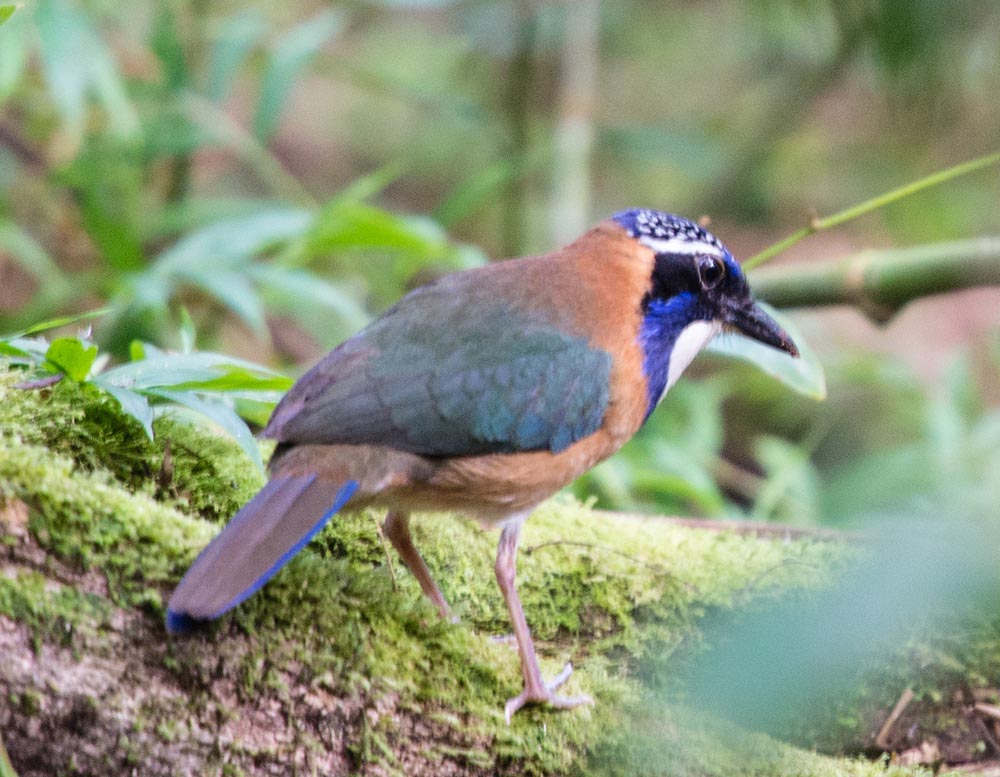 Best Time to Visit Madagascar
When to go? Any time from about April through December would be good; the two best months are likely September and October; the latter particularly for birders as many birds are getting into breeding plumage then. Birds are more likely to perform territorial and courtship displays and are more vocal then. Hence easier to identify than in the winter months. In the late fall & summer months from about October onward you will be dealing with some heat and humidity in lower-lying areas, and mosquitoes where there is water around. From January through the end of March is cyclone (aka hurricane) season so don't plan a trip then.
Initially, the big discrepancy in the value of the local currency versus the US Dollar or Euro leads to under-tipping. It is not considered OK to leave a 10% tip for a bar bill or any other minor expense. Better to tip the equivalent in Ariary what you ordinarily would tip in US Dollars. So for a couple of beers leave A3,000 (about US$1) as a tip, not 10% or even 20% of the bill which would be the equivalent of about 10 or 20 cents.
Food and beverages are cheap in Madagascar – we rarely paid more than US$7.00 for a dinner entree; a local beer is less than a dollar, about the same price as a liter of water.
Just like 15 years ago, Antananarivo had that typical dusty, spare look of poverty. Just about every building is seemingly in need of a good coat of paint. And as before, the street traffic was nothing short of chaotic – even on a Saturday morning. The narrow 2-lane asphalt road from Ivato into downtown Tana also happens to be the main route, National Route #1.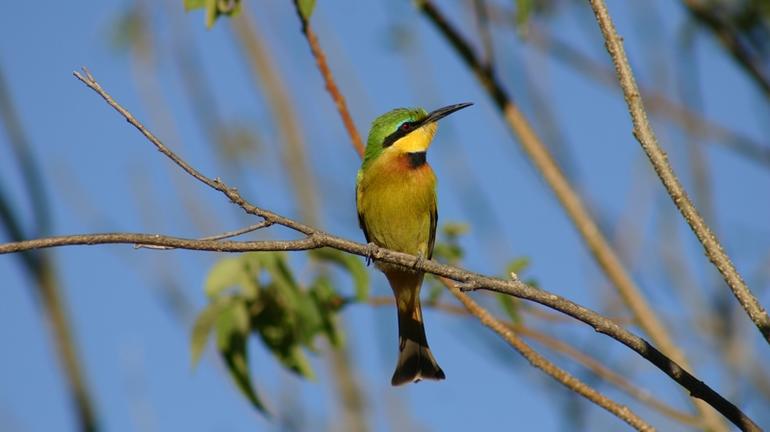 Three things you should know before you go
Poverty. Traffic. Tipping. If you are going to be traveling to Madagascar, better get ready to deal with them.
Poverty is impossible to ignore or avoid. It is visible in the eyes of the street children of Tana, in the shacks you see along the Great South Road, in the threadbare clothing of the kids at Anakao. Madagascar is likely the world's poorest country if you exclude the ones involved in the on-going conflict. What to do about it? Go and visit the place. Tourism is one of the few bright prospects in Madagascar's otherwise bleak economic future. Your presence there creates jobs, feeds and educates children and helps safeguard the country's dwindling natural areas and wildlife. Yes, the thought of other people suffering is unpleasant but don't let it dissuade you from visiting the country. Many of the kids are not dressed like their counterparts elsewhere in the world but they do not lack for joie de vivre and they will benefit a lot more by having tourists visit their country than not.
Traffic can be maddening and persistent, and always unpredictable. Just like in Nairobi or Dar-Es-Salaam you might run into a traffic jam at any time of the day or night. There are few rules of the road & traffic lights and stop signs are scarce and routinely ignored. I would certainly never attempt to self-drive in Madagascar under any circumstances. On the positive side heavy traffic inhibits speeding so while road trips can be frustrating, the pace is fairly sedate. As anywhere, we recommend spending more time in fewer areas so you won't find yourself on the road every day.
Tipping? Confusing and anxiety-inducing. Not because the amounts required for tips are excessive. They are anything but. The issue with tipping is knowing who to tip and having the correct small-denomination bills to use as tips. So be sure to get some smaller bills when you exchange money at the airport on arrival. Who to tip? Your tour guide of course: about US$10 per traveler per day; about US$5 per traveler per day for the driver. Also tip at restaurants (10% of the bill is fine, but leave a bit more on a small check), porters (the equivalent of a dollar is ok), and housekeepers. It is not necessary to tip taxi drivers.
It is mandatory to make use of the services of local guides in the national parks. Their services can be pre-booked (which will be the case on a trip organized by us) or they can be hired on the spot. The fees vary depending on the circuits chosen in each park. If the guide stays with you the entire day – which we would recommend – you can work on his/her fee being about US$50.00 per day. This amount to be split by the number of participants in your group.
Here are some impressions and notes about highlights from my most recent Madagascar trip. The photographs are but a pale reflection of the vivid reality that is Madagascar, but they are better than words. So for this trip report we will try to keep the words to a minimum.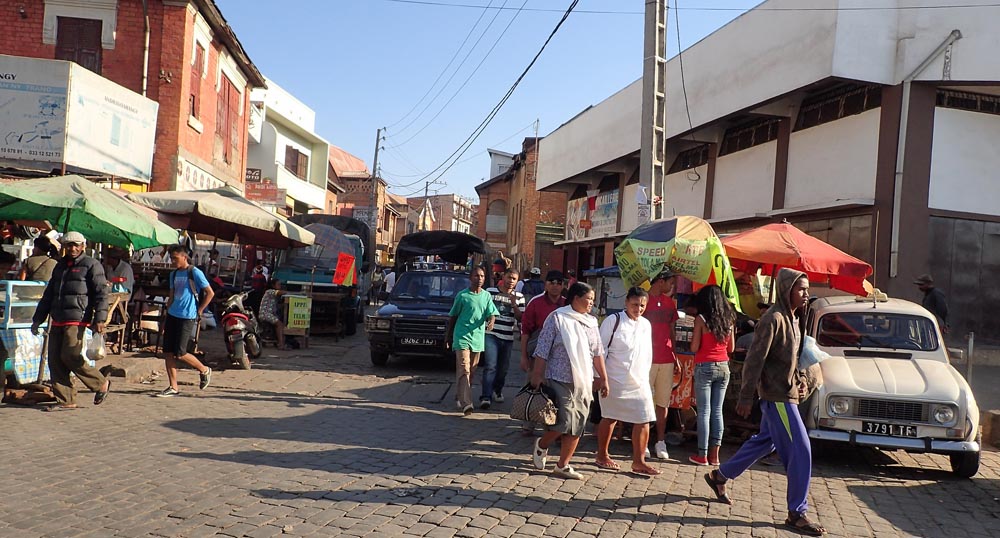 Antananari
Driving from Antananarivo Airport (TNR) into downtown Tana sets the scene perfectly for what is to follow. Sitting in the front seat of the minibus next to the driver, I was again – like the first time – mesmerized by the kaleidoscope of color, movement, activity and structures which slide by the window on practically any drive in a town or city environment in Madagascar. The people all seem to be going somewhere mostly on foot but also by bike, motorbike, mini-bus or small private car. With an occasional large vehicle incongruously pushed into a narrow alley. There are endless small shops and stalls alongside almost every road, selling practically anything one can think of from furniture to livestock, motorcycle parts to freshly prepared, local delicacies. I wanted to try some but was dissuaded by our expert birding guide Bruno Raveloson, who thought that my western stomach would not be able to handle some road food. Next time.
It took a good 40 minutes or so to get to our hotel, the Hotel Chalet des Roses in the Haute Ville area – Antsahavola quarter. The location is good, being close to various embassies including the US Embassy, and a short walk to the main Tana market, Independence Avenue and various nightlife attractions. None of which we patronized on our most recent visit.
The Hotel Chalet des Roses is a quaint small hotel (44 rooms), tucked away on a quiet road. The rooms were basic but functional, it was quiet enough, the WIFI worked (don't expect blazing fast broadband), and the staff was friendly and helpful. Some of them struggled with English. As I said earlier, a bit of French goes a long way in Madagascar. The meals in the attached Italian restaurant were good and cheap (by US standards). The (not included) continental breakfast was strange (more cake!) and the order form with lots of options and boxes to be ticked, was confusing. You'll get it right the second time around. All in all for what you pay the hotel is perfectly adequate for a night or two in Tana.
I did go for a short run on the day of arrival and somehow found my way to a small park overlooking the city, the Jardin Antaninarenina. It was quite lively with families and young people enjoying the views and some refreshments. A less welcome aspect of running in Tana was being followed around by random strangers (just for fun!) and street urchins. A couple of them did eventually pose for a photograph, though.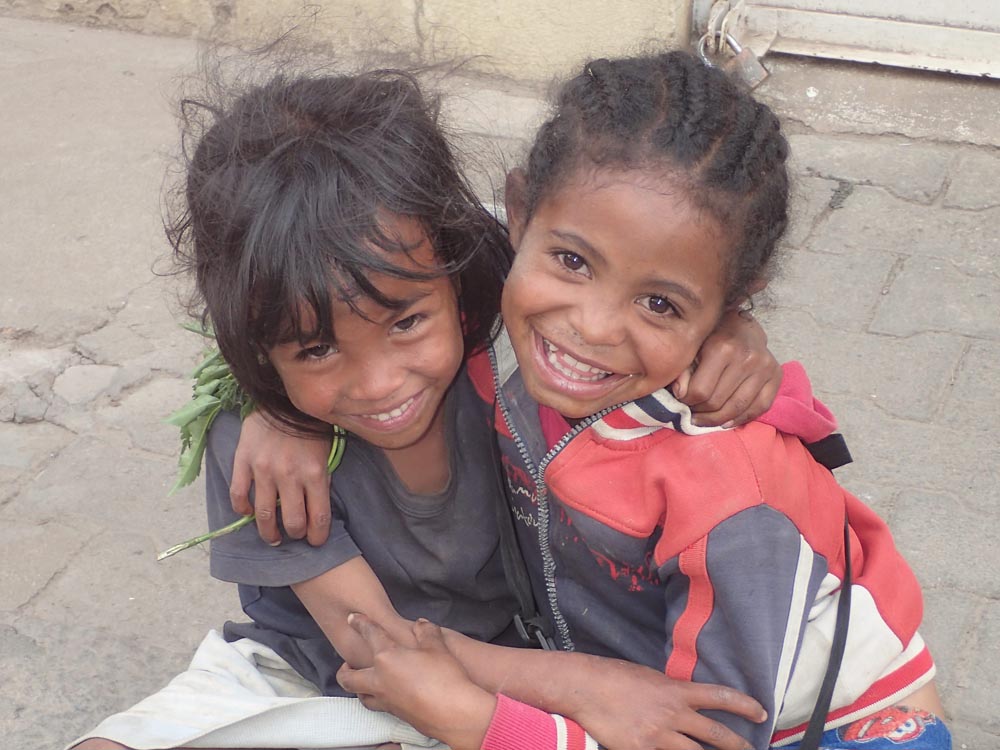 ANDASIBE-MANTADIA
The drive from Tana to Andasibe seemed shorter and less daunting the second time around. Our Boogie Pilgrim driver was competent and careful and I never once felt uncomfortable about speeding or inattentiveness or anything else. Always cautious and defensive. We made a couple of stops en route, the most interesting one being at an old, rather dilapidated but still fully functional iron bridge over the Mangoro River. It was everything you'd expect from a bridge in Madagascar. Rusting away quietly, narrow with no space for pedestrians, and a narrow-gauge railroad track right next to the auto roadway. We were fortunate to see an old and rather antiquated train set roll by, while we were scouting around for Madagascar Pratincoles. Which we did not find. We did have some good interaction with some of the local inhabitants resting up under the trees nearby.
The Andasibe-Mantadia forest complex is likely Madagascar's most popular forest destination, for several reasons. It is relatively easily reached from Tana on a good road; there are several accommodation options to fit every budget, good restaurants and some wonderful forests with well-maintained trails to explore. But mostly it is about the lemurs. The most impressive of all of them – the Indri Indri – can be seen here quite easily. They are noisy – the call of the Indri is near unforgettable – and conspicuous due to their size and black and white coloration. But never easy to photograph due to the pesky back-lit conditions. Better to put the camera away, pick up the binoculars and observe the stunning athleticism of these powerful animals as they jump gracefully from one branch to the next or from one tree to another.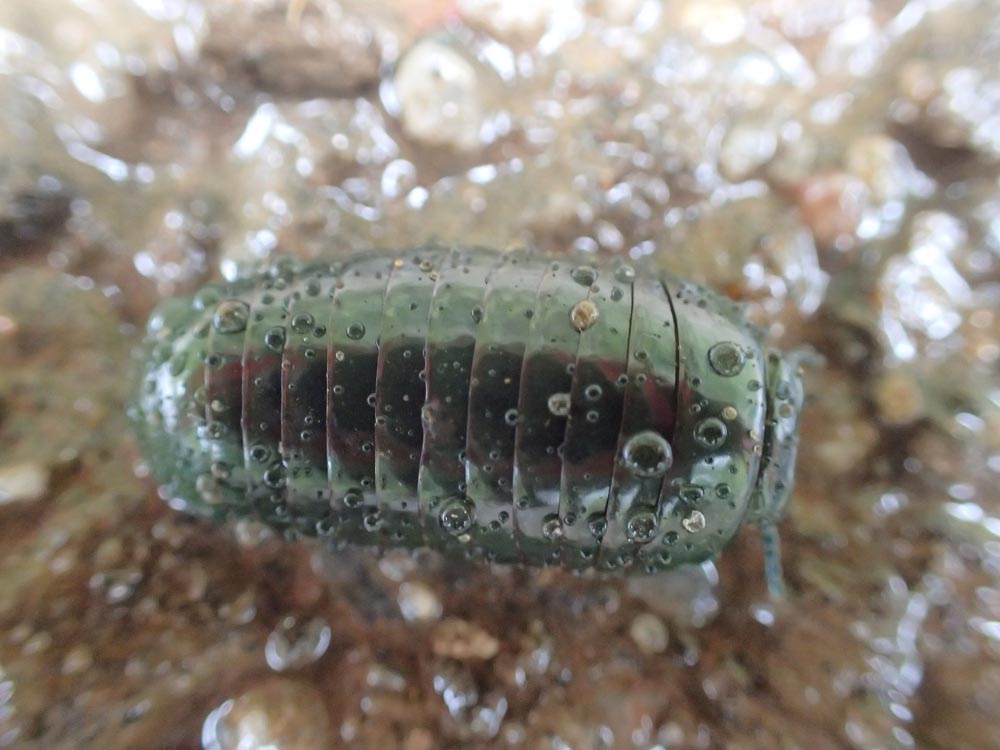 There is of course a lot more to Andasibe-Mantadia than the Indri. There are several other lemur species including the stunning Sifaka. Also tenrecs (a type of hedgehog), chameleons including Parsons, the biggest of its kind in Madagascar, some simply stunning birds, beautiful scenery, orchids and water-lilies, fascinating insects, reptiles. I could go on. Definitely plan on spending three nights here to do the area even a modicum of justice. The walks – particularly in nearby Mantadia Forest – are time-consuming and if you are looking for some of the rare bird species rushing around is not going to do it. Also it takes an hour or so to get from Andasibe to the trailhead at Mantadia; it is about 10km along a pretty dreadful road. I think I picked up 5,000 steps on my Fitbit. Driving.
For keen bird-watchers there are many highly sought-after birds to be found and seen at Andasibe-Mantadia including the blue coua, Madagascar wood rail, various vangas, the velvet asity, sunbirds, the quite superb pitta-like ground roller, short-legged ground roller and many others. We did not miss many of the local specials due to the skills of our Boogie Pilgrim birding guide, with the assistance of an excellent local guide.
Our accommodation for the three nights there, the hotel Feon'ny Ala is quite basic but what it lacks in charm it makes up for in location. Right where you want to be, close to the Andasibe park entrance. The restaurant was good and popular and the local beer like the Three Horse brand tasty and inexpensive.
In summary Andasibe-Mantadia simply cannot be omitted from a first Madagascar trip – and it is well worth a return visit after an absence of several years. The primary forest of Mantadia is gorgeous to behold and the thought that so little of this habitat remains in Madagascar is depressing. One morning, in search of a couple of endemic water birds, we came upon a small, pristine lake tucked into a quiet glade, right at the edge of the forest. Not a major landmark or well-known sight, yet so striking that we all stopped talking. We simply stood there and looked at the beautiful reflection of the trees and sky in the crystal clear water, with some ducks dabbling in the background, realizing that we were sharing a special moment in an extraordinary place.
Ranomafan National Park
From Andasibe, we drove back in the direction of Tana and then headed south along the N-7 route which was in much better shape than most of the roads I had encountered years ago on my first visit to Madagascar. About 6 hours later – with some stops along the way – we checked into the pleasant Chambre de Voyageur in Antsirabe.
In a safe setting, which felt like an oasis from the busy main road a couple of blocks away, the first thing one sees is the lush garden which surrounds a large natural water feature. The rooms were on the smallish side but comfortable enough; there was hot water and the set menu dinner was excellent. A big bonus: friendly management. I went for a run the following morning along the main route, watching the TukTuks lining up at hotels and other spots, with local resident and kids waiting for buses to take them to work and school.
After a light breakfast we resumed driving south, making a short stop at a horn manufacturing factory along the way. Then it was on to Ambositra where we observed wood carvers in action. After a pleasant lunch at the Artisan Hotel we completed the rest of the 6-hour drive along the N7 to Ranomanafa National Park.
There were some rough spots along the road here but as we turned east from the N7 towards Ranomafana the quality of the road surface improved. Which is just as well because the road becomes quite hilly and winding from the turn-off, all the way to Ranomafana.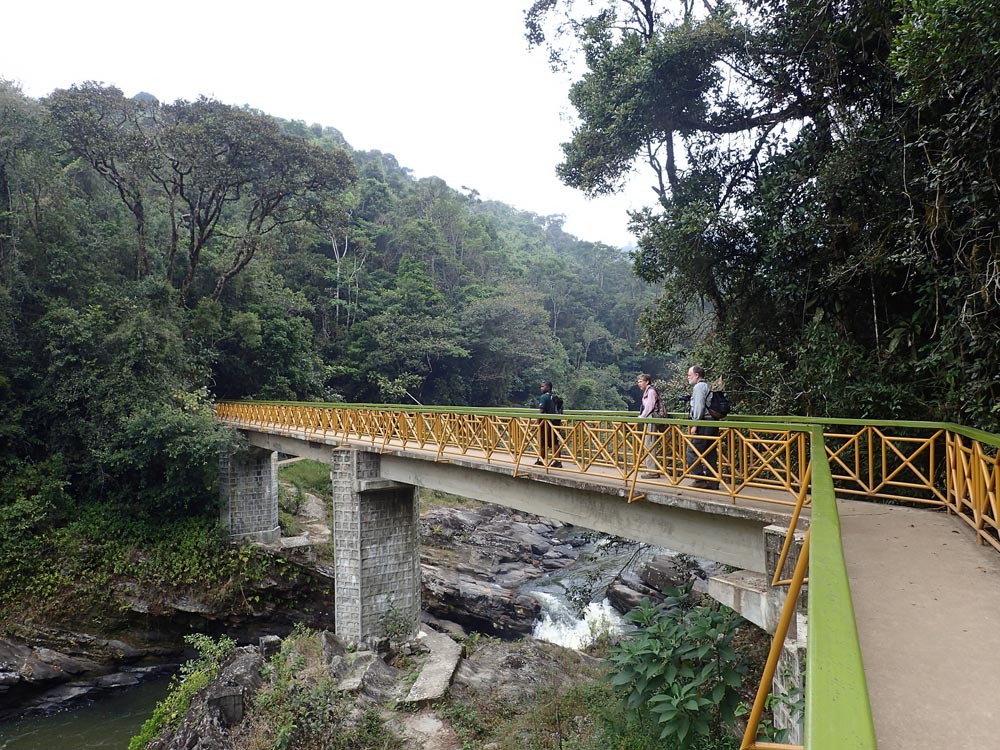 For the next several miles we drove up and down one hill after another and negotiated a series of sharp bends, with all of us except the driver admiring the nice scenery dropping down to a river below us, to the right. We drove through the town of Ranomafana to the hotel where we would spend the next 3 nights.
The Hotel Manja & restaurant were disappointing, to put it mildly. It really had no character; the rooms were large but sterile, the bathroom inadequate and there was nowhere to put one's clothes. The restaurant food was mediocre at best, either over-cooked (shrimp) or under-cooked (tough chicken). Fortunately there are better accommodation options in Ranomafana such as the Setam Lodge where we enjoyed a nice lunch one day.
What Ranomafana does not have in the way of great hotels, it makes up for by the spade-full in atmosphere, setting and bio-diversity. The primary protected forest area is gorgeous, green and lush but also quite challenging with major changes in elevation. So be prepared for some long hikes along fairly steep uphills and downhills, fortunately with well-maintained stone steps pretty much everywhere. If you go stomping around in the forest interior you may pick up a few leeches. They are icky but harmless and easily removed. None of our party of 4 visitors – who stayed mainly on the trails – got any on us.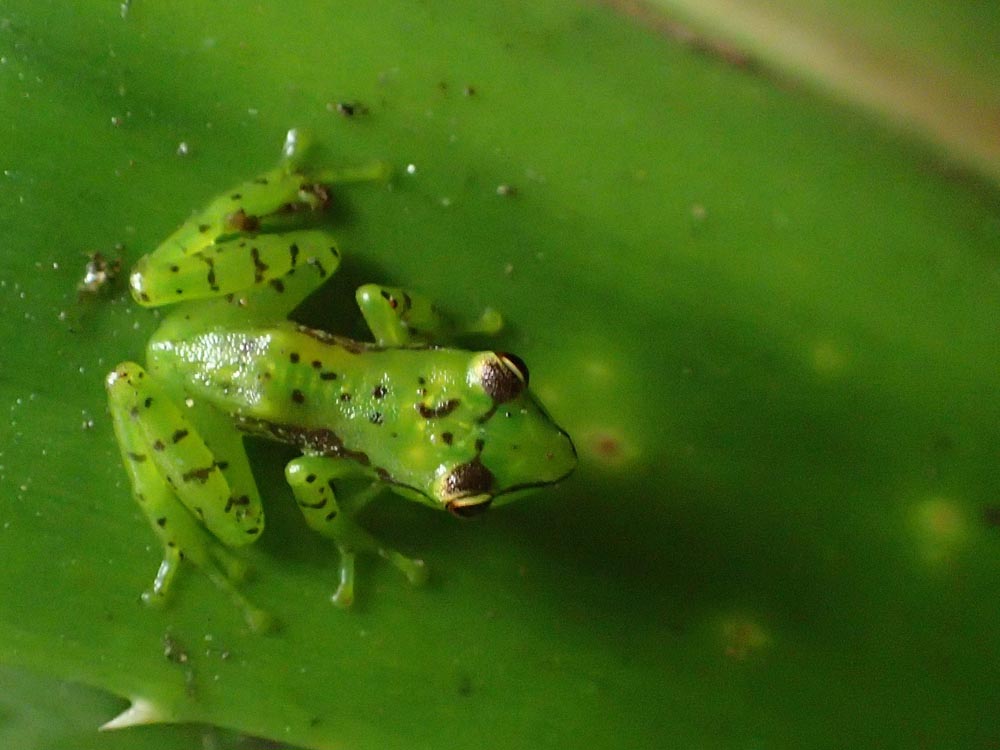 Together with Bruno, our local guide Jean Chris and his assistant worked quite hard and over the course of 2 days at Ranomafana we did see some fantastic birds, several new (for the trip) lemur species and a few fascinating insects and reptiles such as a Giraffe-necked weevil, more chameleons including exceedingly tiny ones and a couple of cryptic-colored geckos.
If you are intent on exploring all aspects of its natural history Ranomafana is a most rewarding place; for people simply rushing from one lemur sighting to another it may be disappointing as the lemurs are spread out and often high in the trees. In the high season there are many other visitors around, particularly on the shorter trails. So get a good guide, take your time and walk well beyond the 2 or 3-hour circuit to make the most of it.
We did just that and were amply rewarded with some of the best lemurs of the trip. Ranomafana is well-known for its bamboo lemurs including the Great Bamboo lemur and the recently discovered Golden Bamboo lemur. Red-bellied lemurs and Milne-Edwards Sifaka can also be seen.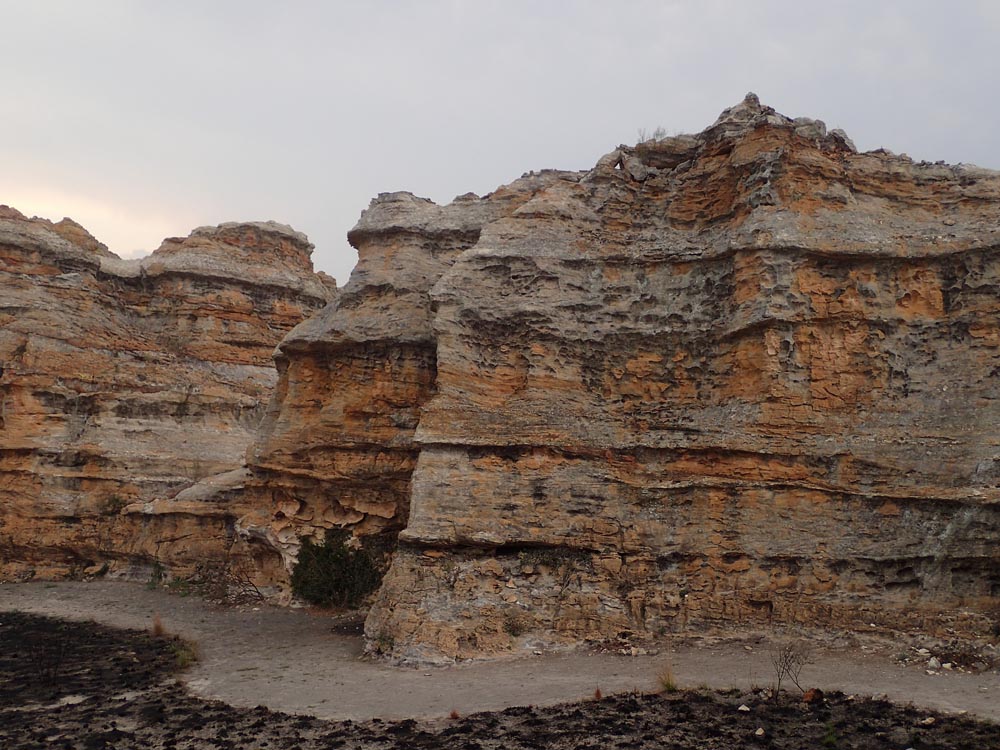 Isalo National Park
From Ranomafana to Ranohira – the gateway to Isalo National Park – entailed another long but gentle drive, back along the winding great south road, NR7. We passed the city of Fianarantsoa, stopped in Ambalavao and eventually made our way to the Anjah reserve, a community-based project where a large and seemingly thriving colony of ring-tailed lemurs can be observed. These striking red-eyed lemurs with their long and boldly ringed tails are unmistakeable and without a doubt the best known of the lemur family.
After a light lunch we pushed on and made it to our overnight destination, the quite lovely and surprisingly good (for Madagascar) Relais de la Reine.
This luxury hotel and its sister property the Jardin du Roy are spectacularly located among bold sandstone outcrops which form the foothills of the Massif Central (mountain range). Spending one night here was an itinerary planning error: it left absolutely no time to visit Isalo National Park, which is why people travel to this area. We had to be content with exploring the Colorado-like terrain around the two hotels, taking a couple of gentle hikes in the area in search of Benson's Rock Thrush, among others. Not being able to spend any time inside Isalo National Park was clearly a mistake, one that will not be made on any other trips we book in this area. Even so we needed somewhere to stay en route to the coast and there is no better spot than the Relais de la Reine. A convivial bar (try some of the local gin), excellent food and quite comfortable (no air-conditioning) stone cabins made for a welcome change from the sub-standard accommodation at Ranomafana.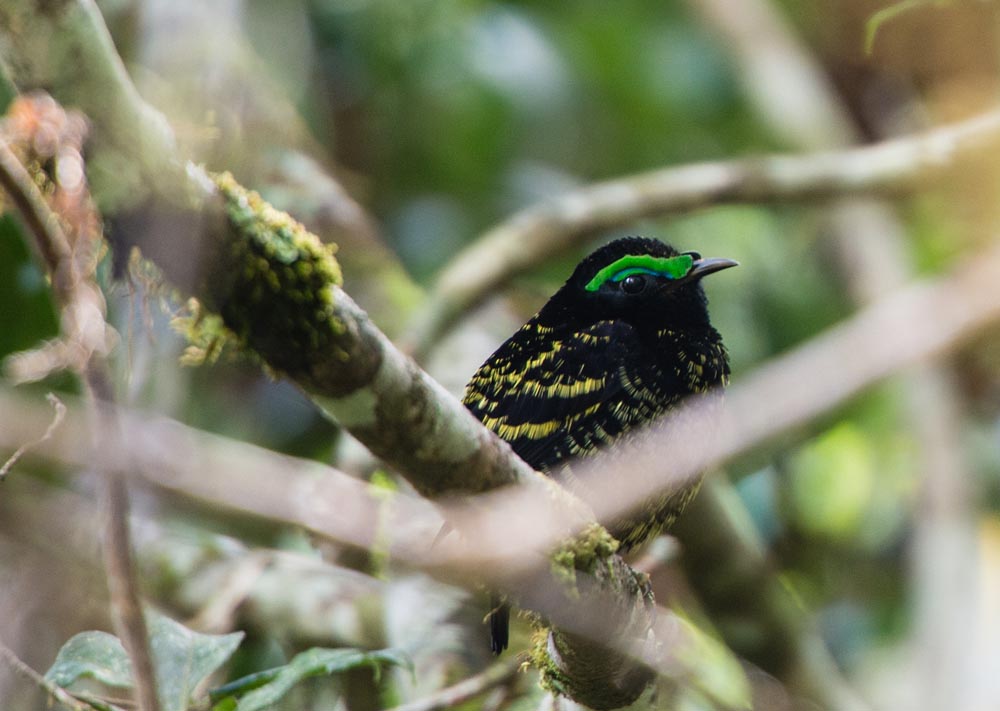 Zombitze Forest & Tulear
Well rested, we continued the journey southward along the NR7, spending a couple of hours or so looking for more special birds and lemurs at Zombitze National Park, a small dry forest reserve right along the main road. This pocket park is spectacular yet its diminutive size is a stark reminder of what has already been irretrievably lost. One can only imagine what the area once looked like, many decades ago. A great, spectacular forest must have covered the entire area. Then came people. Who immediately commenced with deforestation for building materials and charcoal. Plus they brought with them zebu cattle who are prime habitat destroyers. Catastrophic habitat loss ensued. Sad as it is to contemplate the relentless destructive force of unchecked human intrusion, exacerbated by lax local regulations and no coherent conservation strategy, at least it is not all totally gone. It is still possible to enter into the interior of this beautiful forest with baobabs, rosewood, aloes, strangler fig and many other fascinating plants, and to imagine for just a minute or so that nothing has changed. But not for long. Observe a pre-historic looking Giant Coua clambering through the vegetation and reflect upon the fact that it and its habitat, the result of millions of years of evolution, are in real and imminent danger of being wiped out in a matter of decades.
We only spent a few hours at Zombitze but it was a worthwhile and delightful spot. Among the special bird species of the forest were several striking couas, notably the Crested and the previously mentioned Giant Coua.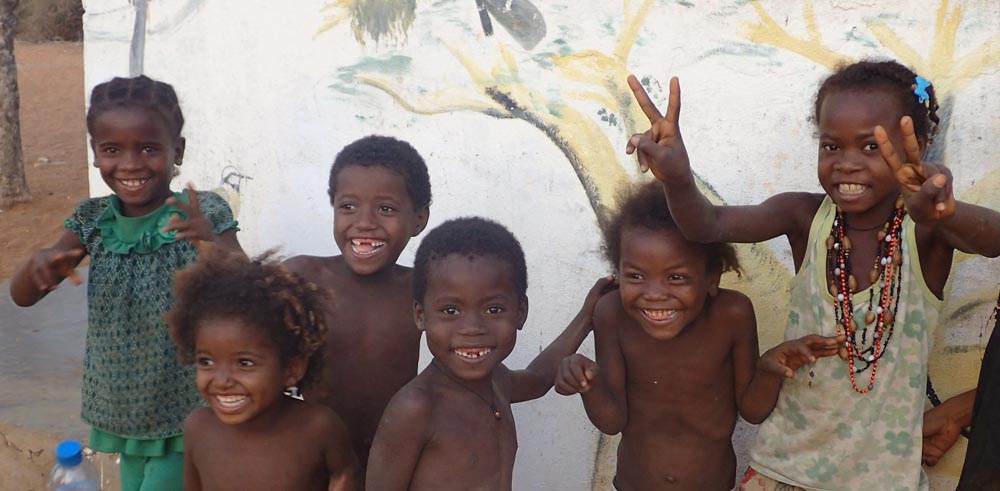 Ifaty
From Zombitze it wasn't far to Tulear, where we enjoyed a pretty good lunch at Chez Alain, a French restaurant specializing in zebu steak. It was delicious and the garden setting was quite pleasant. Just too many flies!
In the afternoon we drove along the coast – back on a dirt road – making several stops for shorebirds en route to Ifaty Beach where we would spend the next two nights at Ikotel. Unfortunately this turned out be another sub-standard hotel with bare-bones rooms and a completely uninspiring lounge-restaurant with very limited menu choices. By this stage of the trip one of the participants clearly had had enough of Madagascar. Her exasperated sighs – when confronted with another 'strange' food item, or contemplating another uncomfortable night behind a dodgy mosquito net – were a source of concern. As I said in the introduction: Madagascar is not for everyone. Come with a wide open mind, a taste for the strange and unusual (both food and experience) and above all a good measure of forbearance, patience and the ability and willingness to shrug off minor inconveniences. You will love it. Expect everything to be just like in the USA? I don't even have to say it. Just don't go. Of course that applies only to this type of relatively low-cost overland tour. Fortunately Madagascar has several deluxe properties in all the main tourism centers so it is possible to put together an itinerary which will suit even the most fastidious and demanding visitor.
With an enthusiastic crew of local guides on hand we entered the small Reniala Reserve early the next morning. This is what Madagascar is all about. This simply bizarre spiny forest is definitely unlike anything you have seen before. Stunted baobabs, sinister looking didiereas and various other weirdly formed, knobby, spiny plants and trees simply saturate the flat sandy terrain. You literally have to duck and dive your way around some positively dangerous-looking specimens. In all there are about 2,000 plant species here, many of them endemic.
Reniala Reserve is a paradise for bird-watchers and ably assisted by the local guides who ran ahead to find the local specials, we were soon marveling over some very rare endemic species, such as the long-tailed ground roller, the sub-desert mesite, the red-capped coua and the blue vanga. There are about 65 bird species in total within the reserve. I have been interested in birds for more than 30 years and have birded widely in Africa and the USA. My first glimpse of the long-tailed ground roller will remain as one of my most memorable sightings ever. In this strange, weird setting this ethereal ground-dwelling bird with a diagnostic sky blue patch on its wing looks like a dainty version of North America's desert-dwelling Roadrunner. Superb, fantastic. It is easy to run out of superlatives when talking about any of Madagascar's four ground-rollers but this one takes the cake.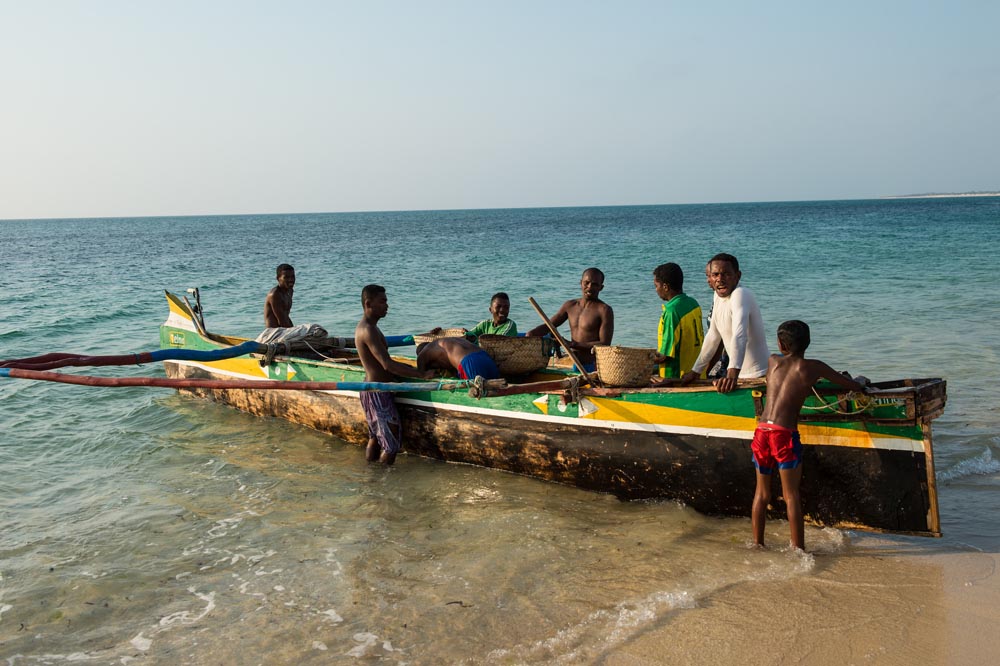 Anakao
Our last few days in Madagascar were spent at Prince Anakao Resort, which in many ways typified and encapsulated the entire Madagascar experience. Different, striking, even exhilarating in measure but often with minor blemishes and unexpected 'left field' moments. Unquestionably memorable.
Anakao is a fishing village stretching along a pretty white sand beach about 40 kilometers south of Tulear. The relative isolation of the village and the fact that it is sparsely visited has helped to preserve the traditional lifestyle of its estimated 3,000 Vezo inhabitants.
Getting there was worth the price of admission. Late one morning, having been transferred from Ifaty to Tulear by road, we spent perhaps 40 minutes or so cooling our heels in a waiting room belonging to the boat operator who would take us to Anakao Island.
From there, we were bundled into a different vehicle which set off a breakneck speed – for no apparent reason – to a restaurant which we assumed was close to the point of embarkation. Not having an exact time-frame we ordered some coffee and the ubiquitous French breakfast cake and chatted to the German-born owner-manager who was quite a character.

Somewhat later we were told to walk down to the edge of the bay, where an 'only in Madagascar' scenario unfolded. Our large and powerful motor boat could be seen anchored in the shallow waters of the bay, about 300 meters or so from the wooden jetty. How to get from the edge of the water into the boat? By oxcart of course. Indeed. Much to our astonishment first one and then another oxcart approached the jetty, rippling their way through the calm waves of Tulear harbor. We were unceremoniously bundled into the back of the carts, looking at each other in disbelief as we tightly gripped the edges. A crack of the whip and we're off, our nervous laughter mixing with the sounds of the oxen splashing their way through the surf amid exhortations from the wranglers who somehow managed to keep them going in the right direction.
The almost hour-long speed boat ride which followed was almost anti-climactic. It was not without interest, though. First, we stopped at another jetty where more passengers boarded the boat. This time in a conventional manner. Then we were handed life jackets which everyone donned. A minute or so later the skipper opened the throttle and soon enough we were powering our way along and over the swells, next stop Anakao. The disembarkation there involved removing one's shoes, rolling up trousers and splashing through the shallow water onto the beach. All in a day's fun.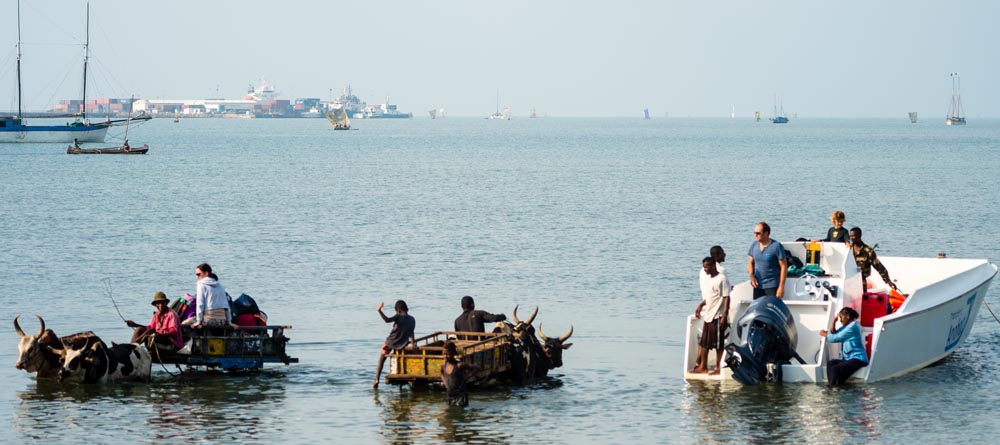 Prince Anakao Resort is one of a few hotels strung out along the coastline of Anakao beyond both ends of the village. Consisting mostly of simple beach huts, the Anakao hotels provide a low-key beach experience for visiting tourists. In the early morning hours, many pirogues can be seen sailing into the open ocean for fishing trips, returning with their catch during the afternoon in ones and two or sometimes small clusters.
Living up to its Malagasy heritage, the Prince Anakao excelled beautifully in some ways and fell totally flat in others. The cooking was nothing short of sublime. The owner-chef turned out some ridiculously fantastic seafood dishes, no doubt making use of fresh locally caught fare. The desserts were no slouch either. Alas, the property never could get hot water going in my room over the space of two days. Even moving to a different room didn't fix the problem. We also had major issues with WIFI availability which was sporadic at best with electricity issues seemingly pervasive. Did it matter in the long run? Not at all. This is Madagascar…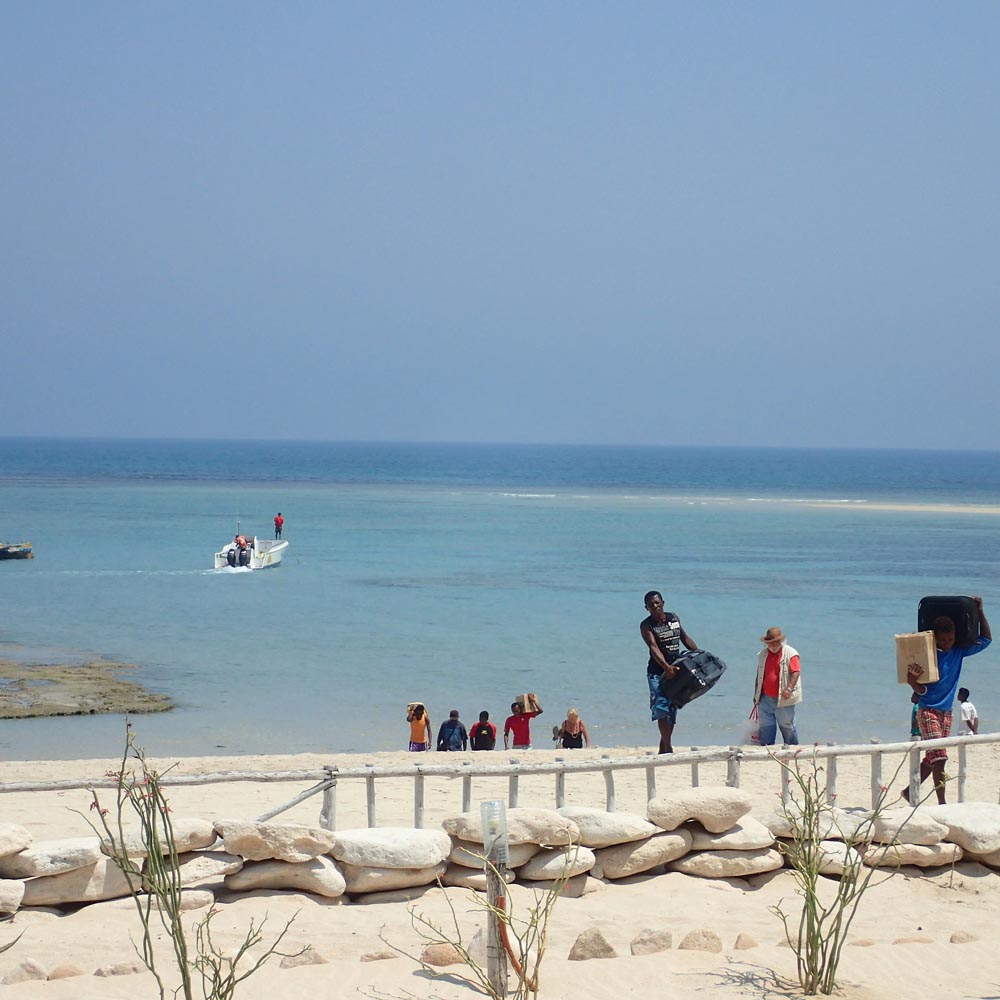 Over the course of two wonderful days at Anakoa we enjoyed the food and wine, walked or ran along the beach and some of us went scuba diving. Apparently quite successfully so. All of us also piled into a boat one morning for a visit to nearby Nosy Ve Island, specifically to see the breeding colony of red-tailed tropic birds. These elegant tern-like birds could be seen perched and flying at close range; we stood on one high spot for a good 15 minutes or so as one after another came flying by, sometimes seeming to hover before letting the wind sweep them away, the conspicuous red tail-feather putting them squarely in the unmistakable category. We looked for but did not find the enigmatic Crab Plover which apparently likes the small deserted sandy islands around Nosy Ve.
On our last afternoon in Anakoa I took the camera and spent an enjoyable couple of hours or so photographing the children of Anakoa, one of its best attractions. Slender and healthy looking with beautiful skin tones, they were happy to pose for the camera, scampering for a prime spot and keen to stand in front of a fishing boat or with the village in the background. Even a few passing family groups stopped momentarily for their portraits to be taken. Despite their sometimes threadbare clothing and lack of material things, they looked content and happy and the closeness of familial bonds was easy to discern.
A third trip to Madagascar is in the planning stages; this time around we will likely visit the west (Morondava), the northwest and also go in search of the elusive Aye-Aye.