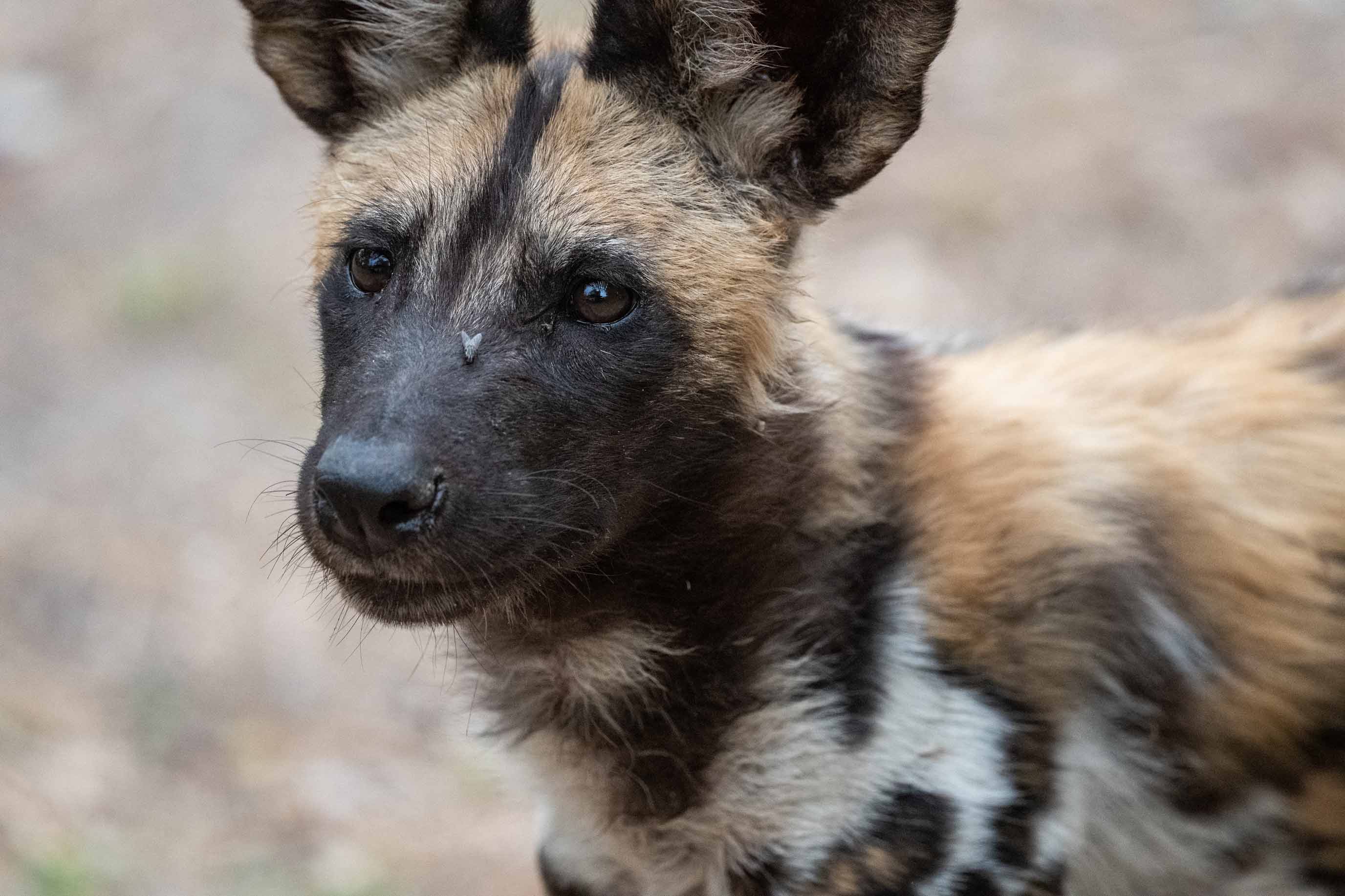 What to do when you arrive at the new Maun Airport in Northern Botswana? Grab your stuff and hustle to the terminal, to get ahead of the crowd for your (currently) obligatory rapid Covid test. It will take 30 minutes or maybe a bit more to go through the process. When Kathy and I flew into Maun for a 10-night safari last November, I thought it was handled effectively and with as little inconvenience as possible.
About an hour later we were off on a charter flight to Sanctuary's Chief's Camp on legendary Chief's Island in the Moremi Game Reserve, considered by many to be the single best game viewing area in Botswana.
Did it live up to expectations? Absolutely. On our very first game drive of barely two hours, we encountered African Painted Dogs, a leopard and a lion which interacted in an almost bizarre way with a baby impala.
African painted dogs are scarce, endangered and altogether fascinating. Starting one's Botswana mammal checklist by ticking the painted dog box is a rare treat indeed. There were eight of them and although the photo opportunities that afternoon were mediocre, it didn't matter. As it turned out we had another bite at that apple coming.
What followed next was something that will live in our imagination forever. It was shocking, hard to watch at times and we had to constantly remind ourselves not to get maudlin about animal behavior. It's simply nature's way with predator and prey, the circle of life, we kept reminding ourselves mentally.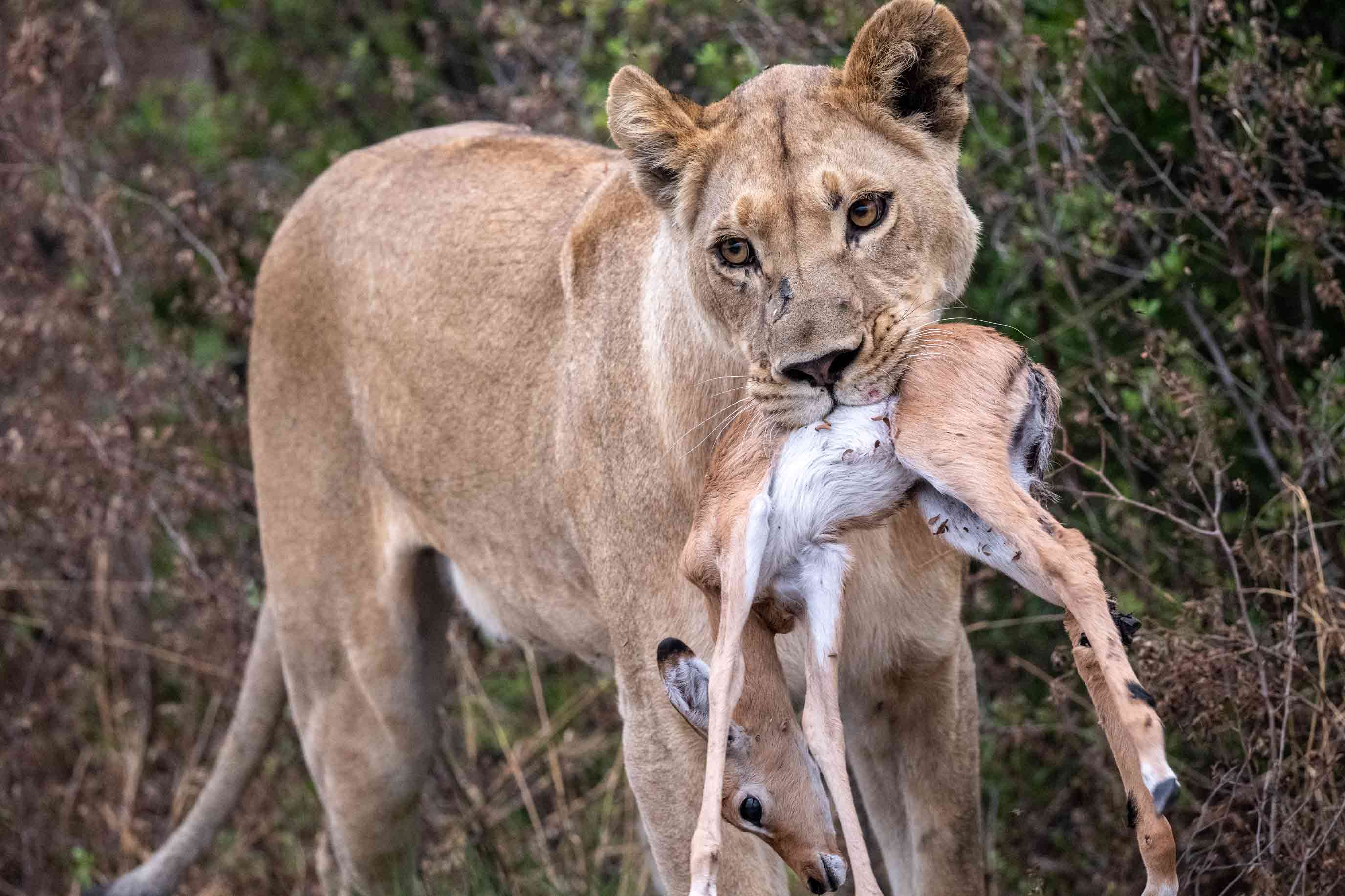 None of that made it any easier, and inevitably our nurturing human emotions kicked in, as we watched a huge, powerful lioness carry around a tiny week old impala lamb in the manner of a dog clutching a toy. To this day, we're puzzled by the lioness' behavior. In all likelihood she just wasn't hungry and kept the baby animal around for a while until she felt like it.
Almost letting the baby impala get away, more than just once, and then recapturing it with one giant paw seemed unnecessarily cruel. But what do we know? The lioness carried its prey from one spot to the next, licking its furry coat almost obsessively and practically treating it like its own progeny. She seemed careful not to hurt it, weird as that may sound. Several times the lamb cried out almost as if it were asking for help. There was none forthcoming. Towards the end of the sighting, when it became clear that the impala lamb's ultimate demise was near, we left the scene. Some things are best left totally to the imagination.
While none of our other game-viewing drives out of Chief's Camp reached quite the exalted level of the very first one, there were several other distinct highlights. Anyone spending three nights or more at either Chief's Camp or the nearby Mombo camp can expect a similar list:
More than one sighting of the same pride of lions which consisted of four powerful adult females, several cubs of different ages and two strikingly maned males. We sat and watched them for extended periods of time. Seeing the cubs interact with each other and with the adults. Observing the overt expressions of affection between the adult females towards their siblings and offspring. Yet also seeing their not so nice side when they were quite severe in rebuffing the youngsters from suckling, for whatever reason.
Two cheetahs - a female and a sub-adult - lying up under a bush and surveying the terrain. Due to their vulnerability to other big cats and hyenas, cheetahs are by far the most vigilant of the cats. If you sit and watch them for a while you will notice that they are constantly looking around, turning their heads left and right. While they're beautifully adapted to run down small antelope and gazelles, their sleek, speedy bodies lack the brute power of their rivals.
Multiple sightings of elephants, mostly of some impressive and even extraordinarily huge bulls which are known to dominate the area. At the time of our visit several veld fires were actively burning on Chiefs Island. The resulting smokiness in the air created fantastic photographic conditions, particularly for capturing large mammals such as elephants. Seeing them in the distance against the tree line with the residual smoke casting a romantic, even mystical pall over everything, was literally a gift from the heavens. Keen photographers are only too aware that dust, smoke, mist and fog are their friends.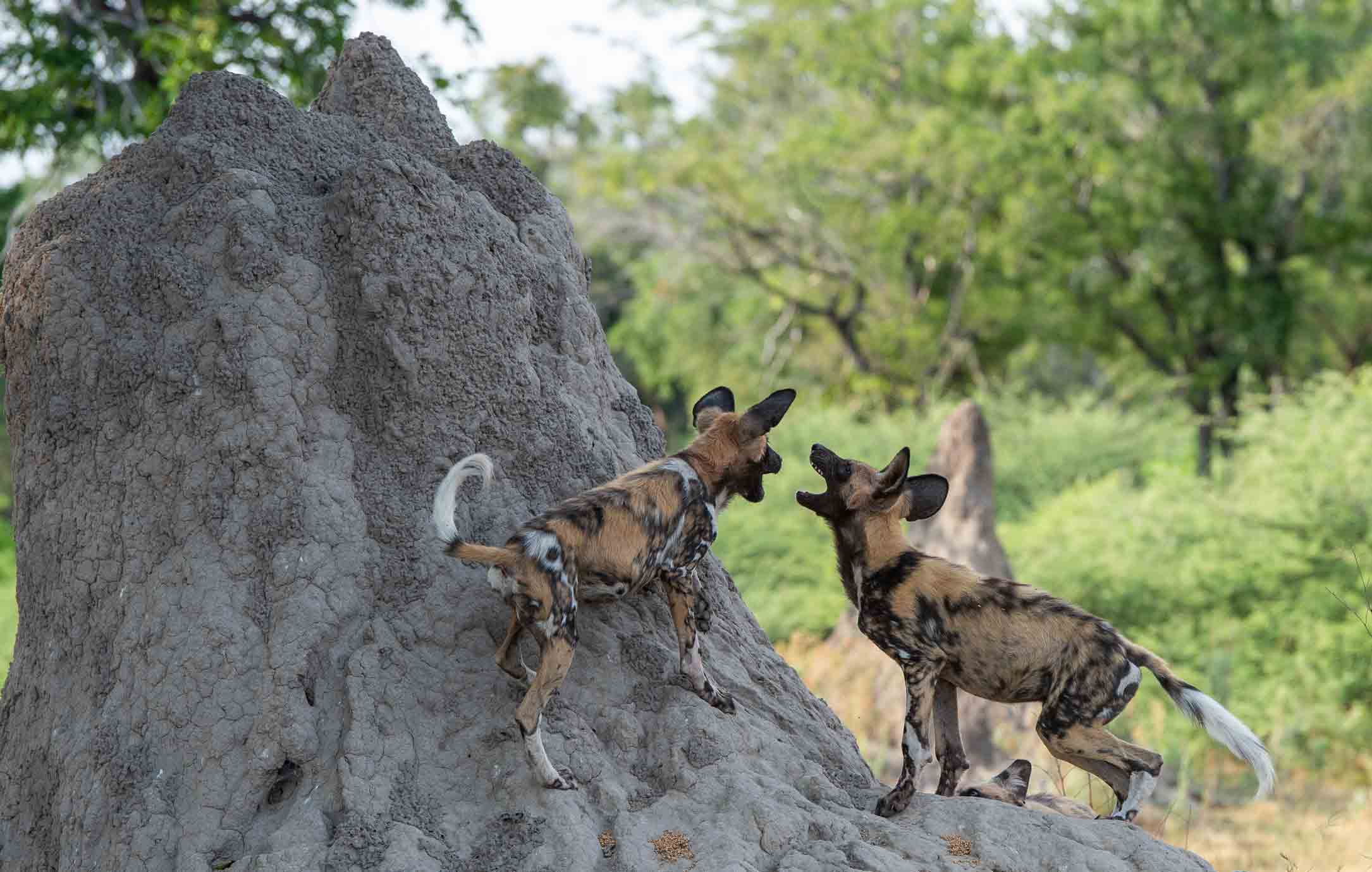 A simply spellbinding sequence of events when the pack of African Painted dogs congregated around a large anthill and the youngsters started chasing each other around, up and down the anthill. We didn't talk much. Just kept our binoculars or camera lenses focused on them, taking it all in. Jumping and playing. Rushing each other, tackling each other, creating ambush scenarios and demonstrating an admirable joie de vivre. Such energy! Such joy! We observed and mentally and otherwise captured the memory for all time. Fully realizing that even if we spent a lifetime observing wildlife, a similar set of circumstances may never present itself again. I remember thinking at the time that sightings like those are why I am never less enchanted at the thought of the next game drive or bush adventure. Something extraordinary can happen any time. And it often does.
Visiting the hippo pool where we observed and photographed the antics of a good sized pod of hippos of about 30 in total. The particularly demonstrative dominant male had a long history of violence written all over him in the way of scars from old and up to now victorious battles. Scars and the sometimes grievous wounds which cause them, is the price of maintaining supremacy in the brutal life of a male hippo.
Yet another fascinating occurrence which was a first for Kathy and myself, despite decades of wildlife observation and multiple sightings of African Painted dogs. We had never heard the hauntingly beautiful and unmistakable contact call of a painted dog which had been separated from the pack. And was trying to relocate and rejoin them. This somewhat owl-like hooting call carried far over the woodland terrain, as the seemingly agitated animal ran around in circles, its nose to the ground, desperately trying to pick up the scent and the direction in which its lost pack members had gone. We saw the lost painted dog again the following day. Still searching. Still calling.
Sprinkled in between there were sightings of several plains game species including some which are in their own way every bit as memorable and striking as the big cats or any of the other so-called Big Five mammals. These include giraffes - particularly common in the area - as well as Burchell's Zebras, wildebeest, kudus, impalas, warthogs, reedbuck, tsessebe and lechwe. Amazing animals all.
Botswana is a superb birdwatching destination and over the three days at Chiefs camp we racked up an enviable list of sightings of the literally hundreds of species to be found in the country. From massive ostriches to huge birds of prey, kingfishers, bee eaters, shrikes, rollers, owls, herons, egrets,storks, pigeons and parrots, the list seems endless.
Beyond the game and wider wildlife experience, we were kept entertained and well fed and generally taken care of by a genuinely friendly and caring camp team.
Particularly memorable was a traditional African barbecue with beef fillet, boerewors sausage, BBQ spare ribs, and chicken satay with a host of side dishes. Take your pick from pap (African polenta but made with a much finer grain), samp (hominy corn), spinach, tomato and onion sauce, corn on the cob and cauliflower gratin.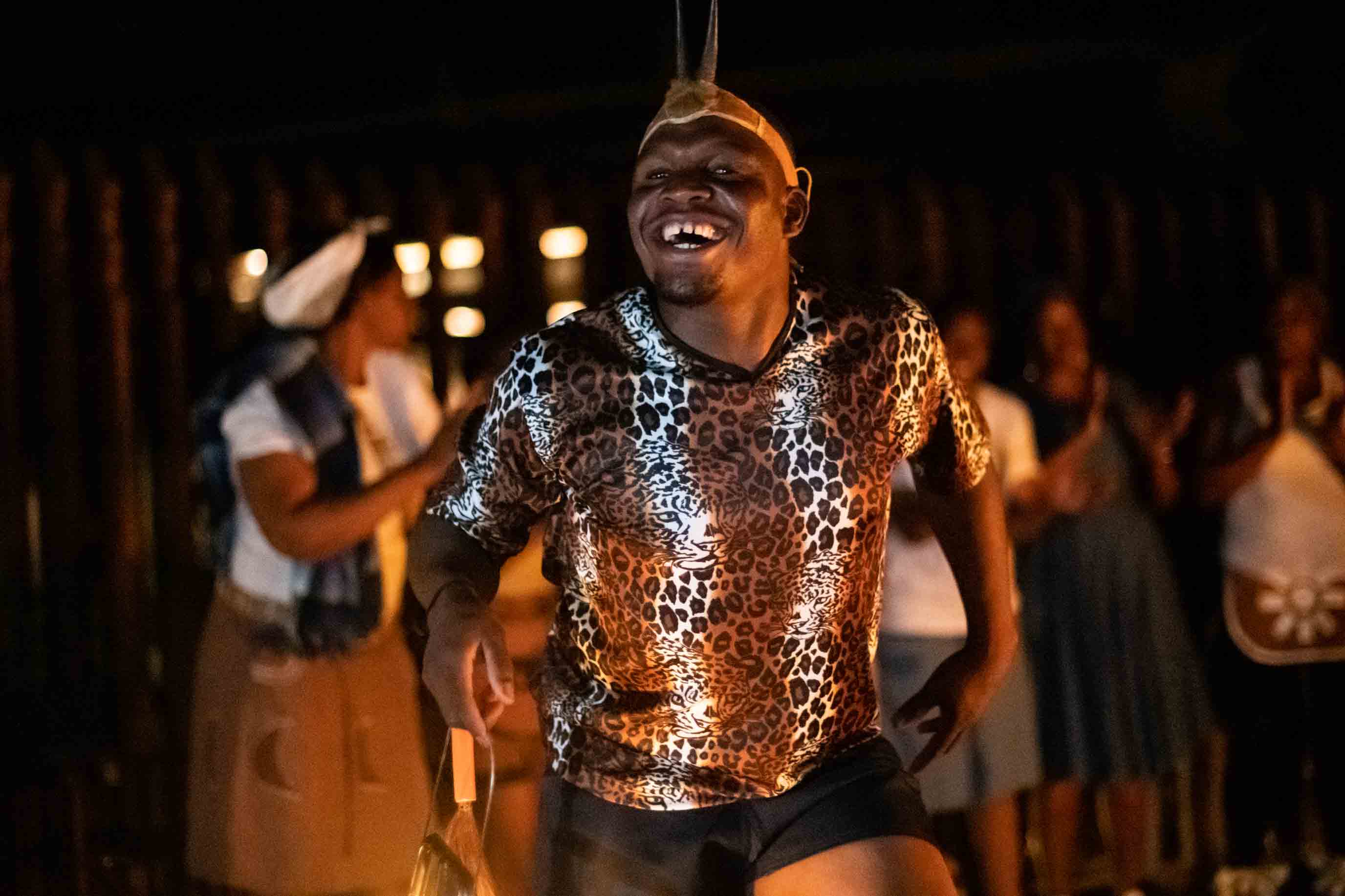 That evening we enjoyed a choir performance which was sweet and nicely done. Such beautiful voices!
A standout lunch which was served in a clearing right in the bush was presented in the style of a Mongolian barbecue where diners select from an appetizing array of proteins (beef, chicken, shrimp) as well as starches such as pasta or rice and many colorful and green veggies and onions. Stir fried with a dash of oil and your choice of sauce in super sized woks over a blazing hot coal fire, it was visually spectacular, interactive and tasty to boot.
The lunch spot overlooks a busy water hole which was visited by several breeding herds of elephants while we enjoyed our meal. That evening we stopped for sundowner drinks in a pretty area. As the sun was setting,we could see a large herd of Cape buffalo making their way across the landscape, kicking up a large plume of dust in the process. We resolved to return to the area the next day to relocate the herd.
The rooms and main lodge and dining room at Chiefs Camp are stylish, of a good size and with all the convenience and amenities one might wish for on safari.
Sanctuary's Chief's Camp met and exceeded our every expectation in terms of delivering an exciting, diverse and hugely enjoyable safari experience. We will continue to highly recommend this property to our clients as a year round destination in northern Botswana. Best visited from around June through October but providing guests with a first class experience in the shoulder and low demand season as well. In fact it is a much better choice than the Kruger Park area in the green season months of December through March.