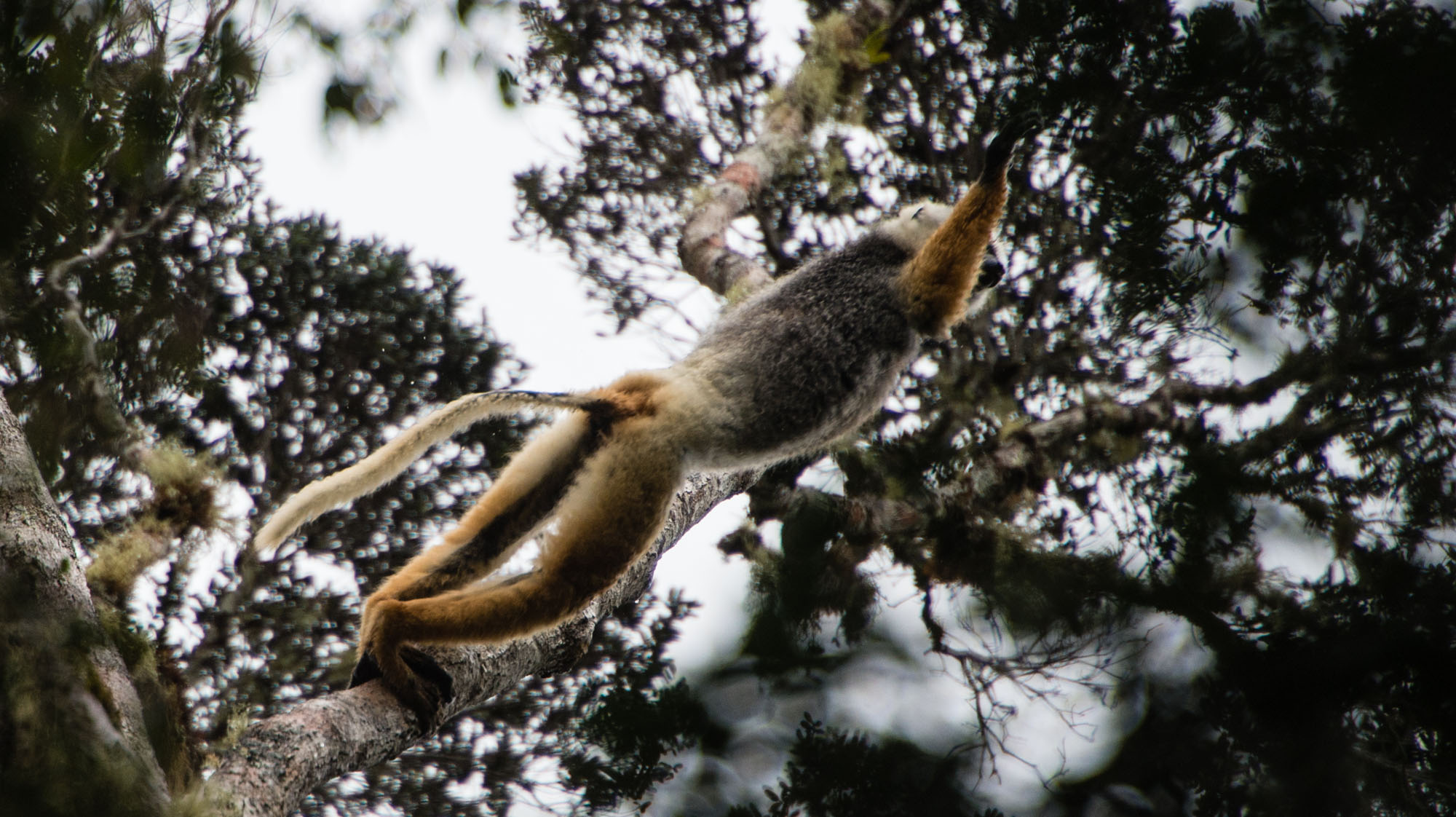 Strange, wonderful Madagascar – Part 1
After a couple of visits to Madagascar  I'd have to say I found it to be a truly strange and wonderful yet mildly maddening country, that is definitely not for everybody.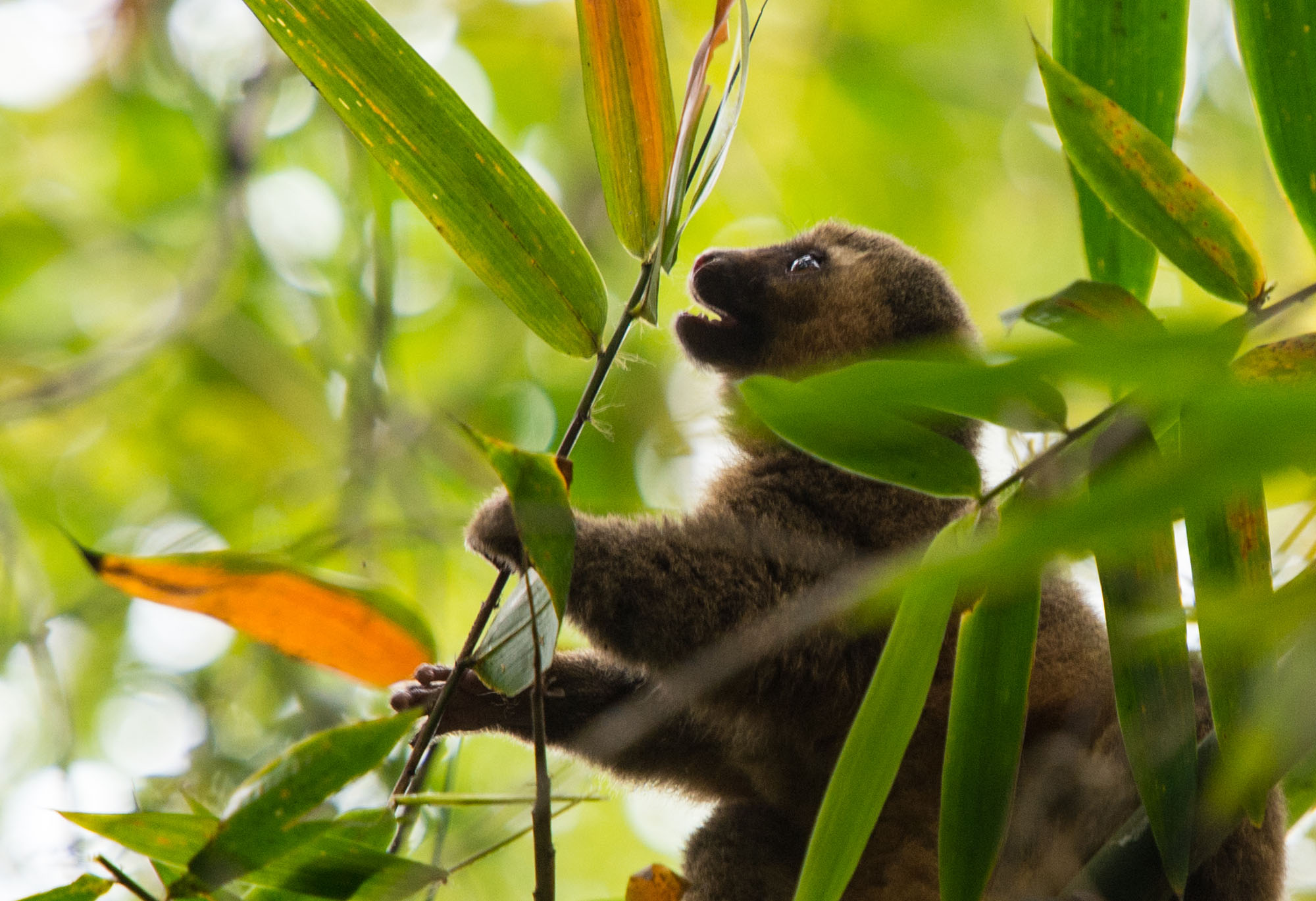 A very strange place
Strange? Absolutely. Madagascar is often associated with Africa, having split off the African mainland some 165 million years ago, yet it is very unlike Africa in almost every way. It is not for nothing that Madagascar is often referred to as the Eighth Continent.  Strange trees, strange plants, even stranger animals, and almost everything you see found only in Madagascar.  So different on so many levels.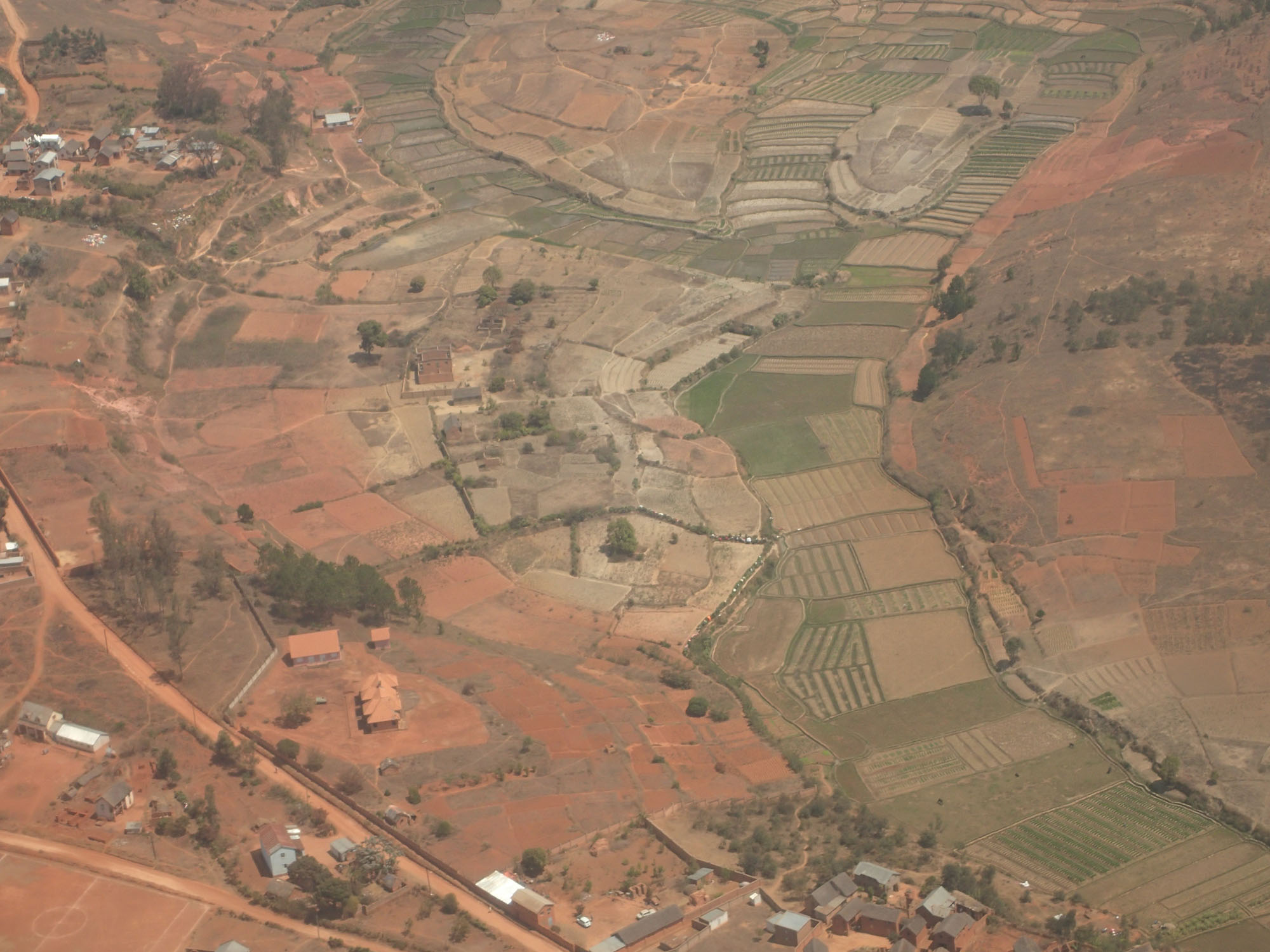 Not even once did I feel like I was in Africa, while in Madagascar. To the contrary, I might as well have been in an Asian country, judging by the features of the people and the many rice paddies which are tucked away into the valleys and hillsides. Or perhaps it could have been some hidden corner of France, where time had stood still, the roads had not been worked on for 20 years, and many people still drive aging Peugeots and Renaults.   Now fast being replaced by Chinese cars.  A sign of the times.  Another not so great relic of Madagascar's French colonial history?  The dense layers of bureaucracy which most visitors thankfully only encounter upon entering and leaving.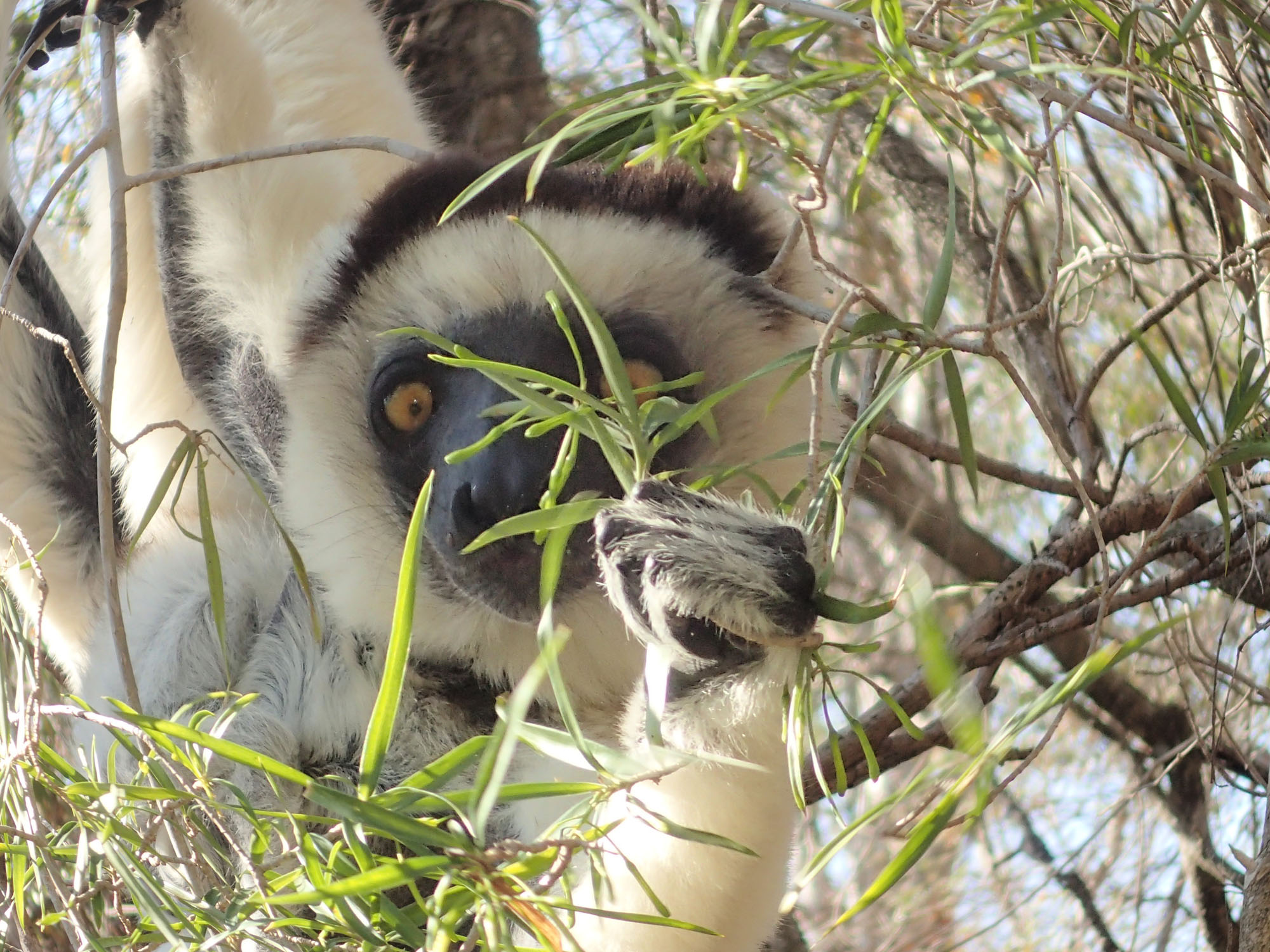 Wonderful Madagascar
Wonderful? Undoubtedly. I am not a great monkey fan, and I generally consider the few African monkey species which I have seen, especially the cheeky Vervet monkeys, to be a bit obnoxious. By contrast, Madagascar's lemurs are stunning. It took me all of 15 seconds to fall in love with the first species of lemur I had a good look at, namely the Ring-tailed Lemur, at Berenty.  Subsequently I have seen many other lemur species, some quite rare and difficult to find but even the most common of these animals are exceptional.  They are mostly arboreal, so be sure to take a pair of quality binoculars with good light-gathering properties as you will often be observing animals in the gloom of a forest interior.  The pay-off?  Great views of unique, fascinating creatures.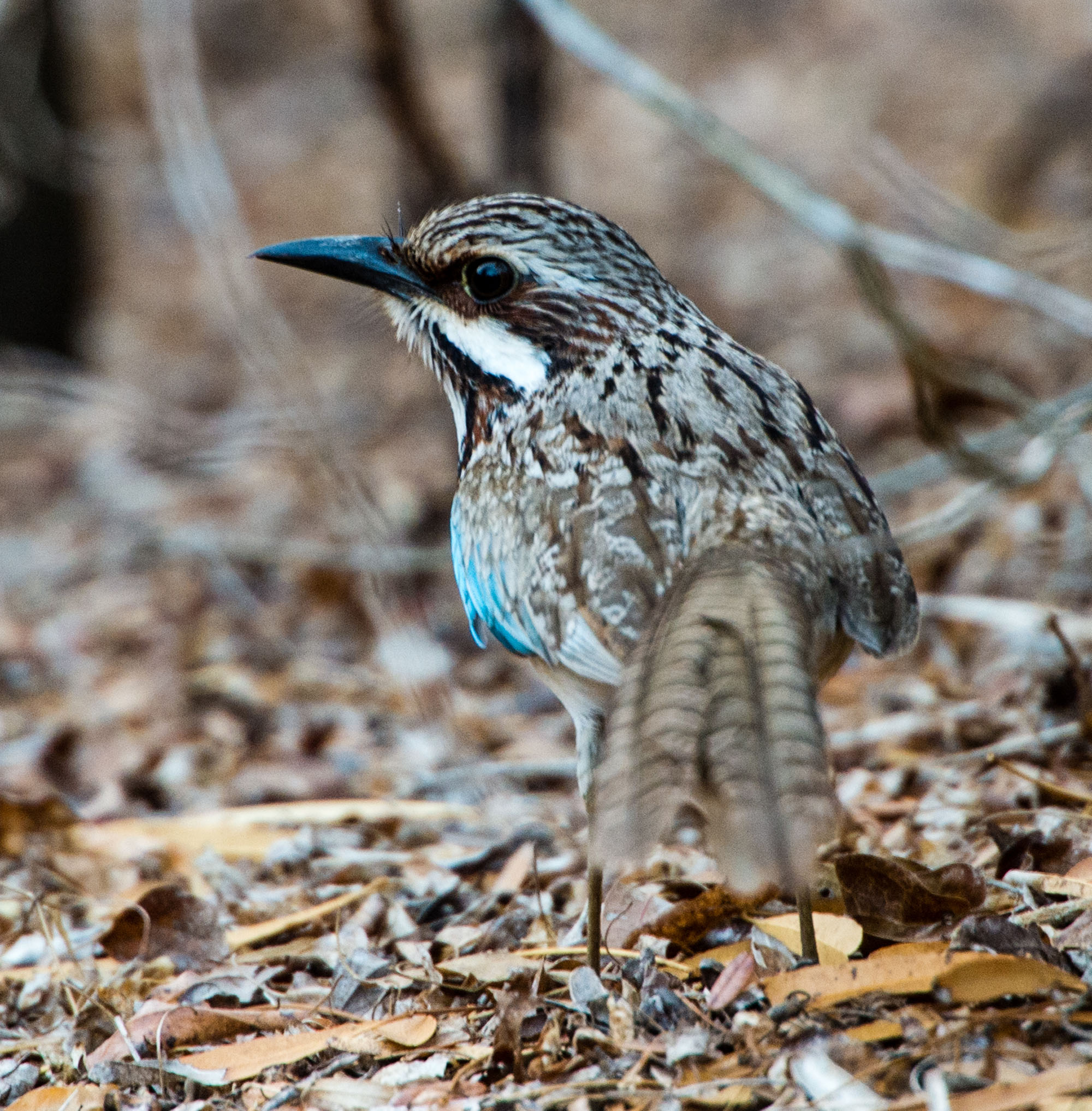 The same was true of the birds. On my last two visits to Botswana I had to work really hard to come up with even one new 'life' bird. So what an absolute pleasure it was to be in a country where I was seeing not just new birds all the time, but several entirely new families of birds, most of which are found only in Madagascar! 
It is not fair to have them at the bottom of my 'wonderful' list, but the Malagasy people – especially the children – were equally fascinating. We just simply did not have enough time to enjoy the many cultural offerings which Madagascar no doubt has in abundance.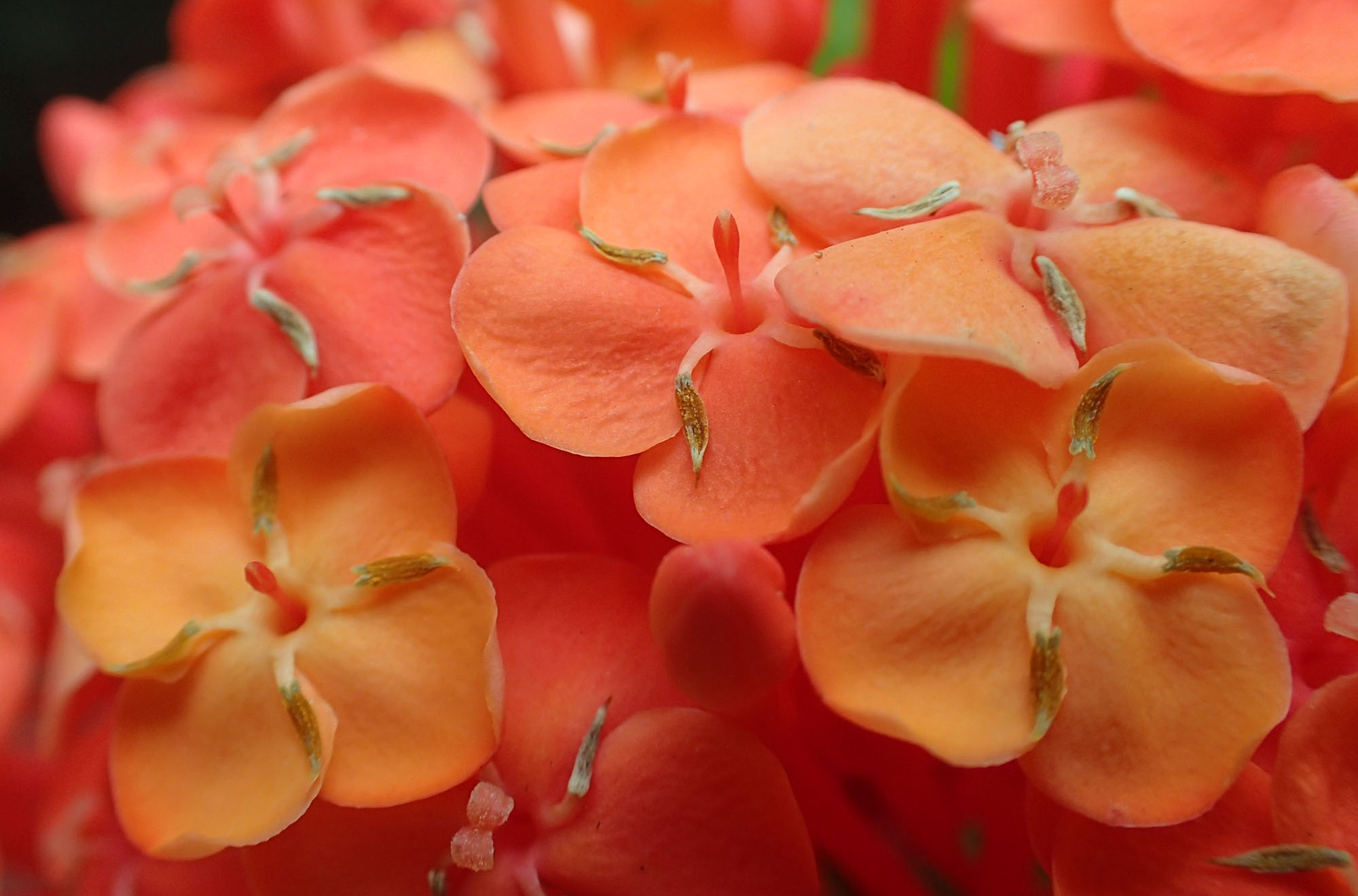 Maddening Madagascar
Mildly maddening? Most assuredly. On the day of our departure from Ivato Airport in Tana, by way of example, we had checked our luggage and received our boarding passes for the flight back to Johannesburg. Some 20 minutes after the flight was supposed to have departed, a blunt announcement was made in French and Malagasy that the flight would be delayed, because – "L'aéroport est fermé". The airport is closed. Down came the shutters on the coffee kiosk, a split second before the blinds dropped in front of the duty free shop. In the time it took to utter a four-letter word, every single airport employee had decamped. We were stuck in a dingy departure lounge with nowhere to go, for the next 90 minutes.  Missed our connection in Johannesburg?  Of course.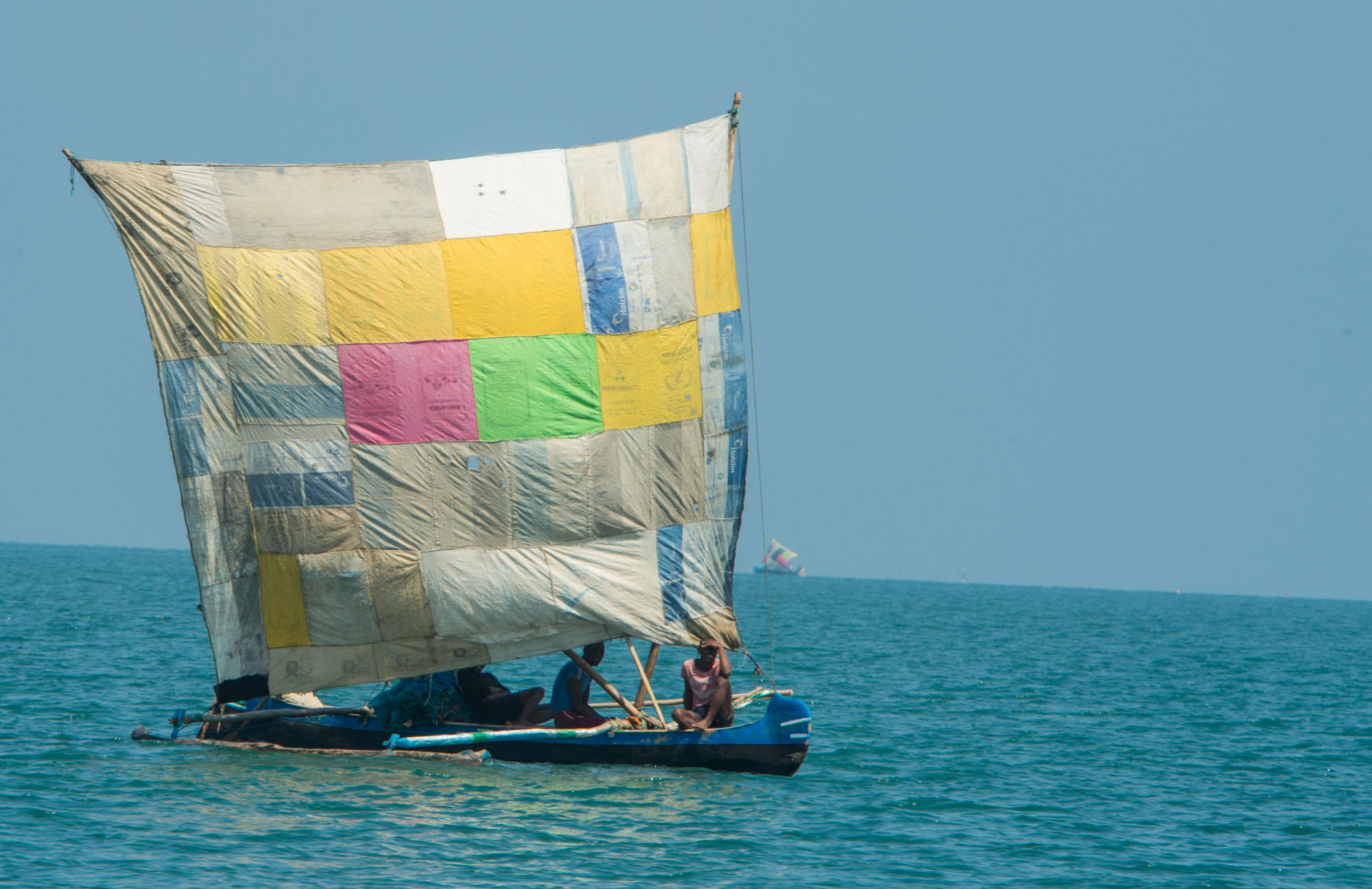 Madagascar can be a frustrating place to visit because of the lack of infrastructure and a pervasive sense of laissez faire.  On almost every level, it is the antithesis of our rushed, over-scheduled and convenience-seeking existence.   Things happen when they happen which is not always according to schedule.  In cities and towns the roads are often congested, the traffic sometimes chaotic.  In some areas the accommodation options leave much to be desired and things we take for granted like hot water and decent lighting are not reliable.  The language barrier doesn't make it any easier – it definitely helps to have some French. Be patient, smile and re-orient yourself to not be as hyper-critical as you would be in a more developed, more sophisticated environment.  You will be amply rewarded.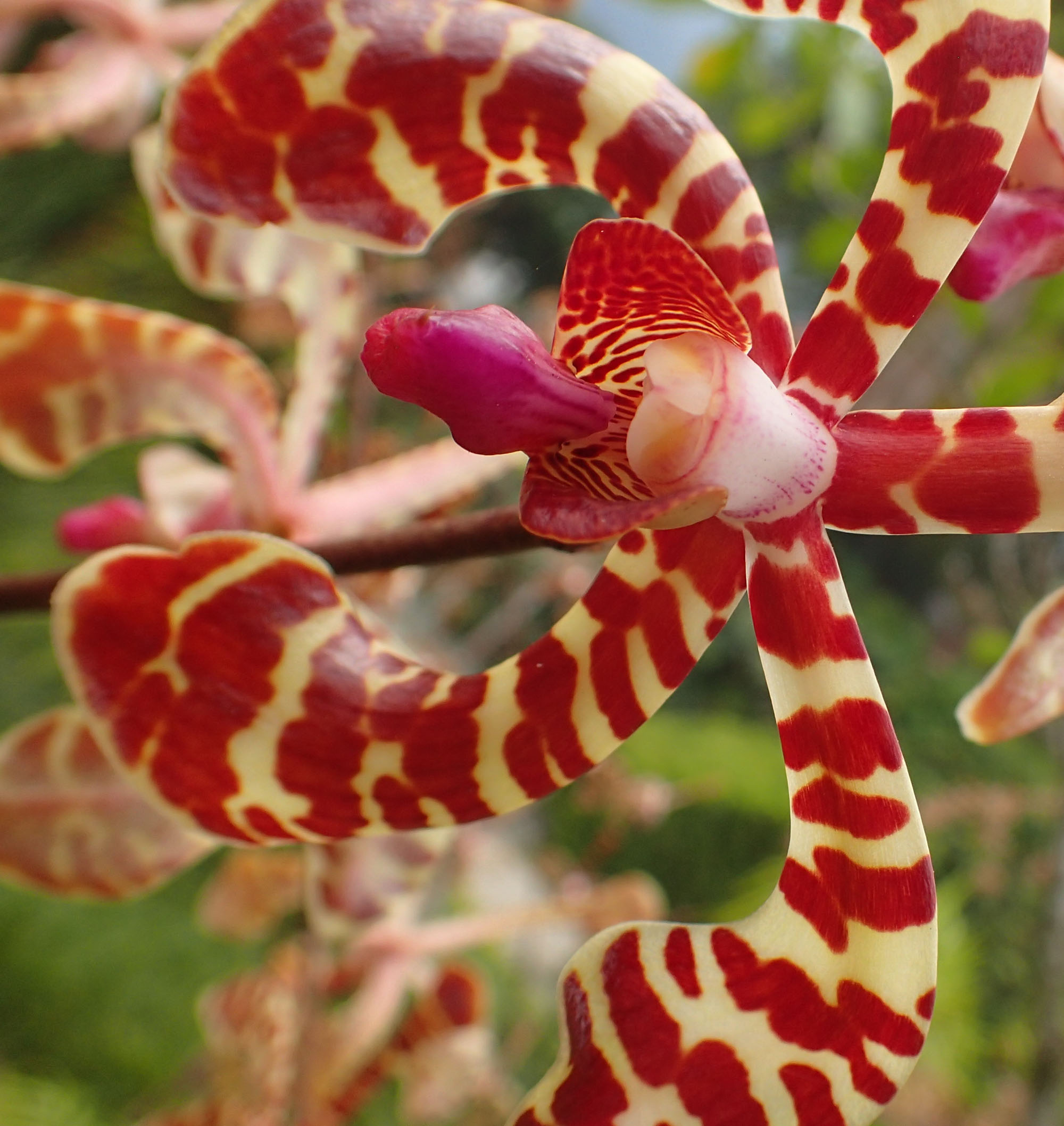 Hope for the future
There are encouraging signs, though.  For one thing, there is – nowadays – more understanding of the plight of the country's endemic animals and over the last 20 years, the number of national parks and the size of areas under conservation have grown significantly.  So there is definitely hope for the future! Put Madagascar on your list of places to visit soon and you can be a part of a brighter future for this much-maligned and very much side-lined country.  Madagascar needs responsible eco-tourism probably more than any other country in the world.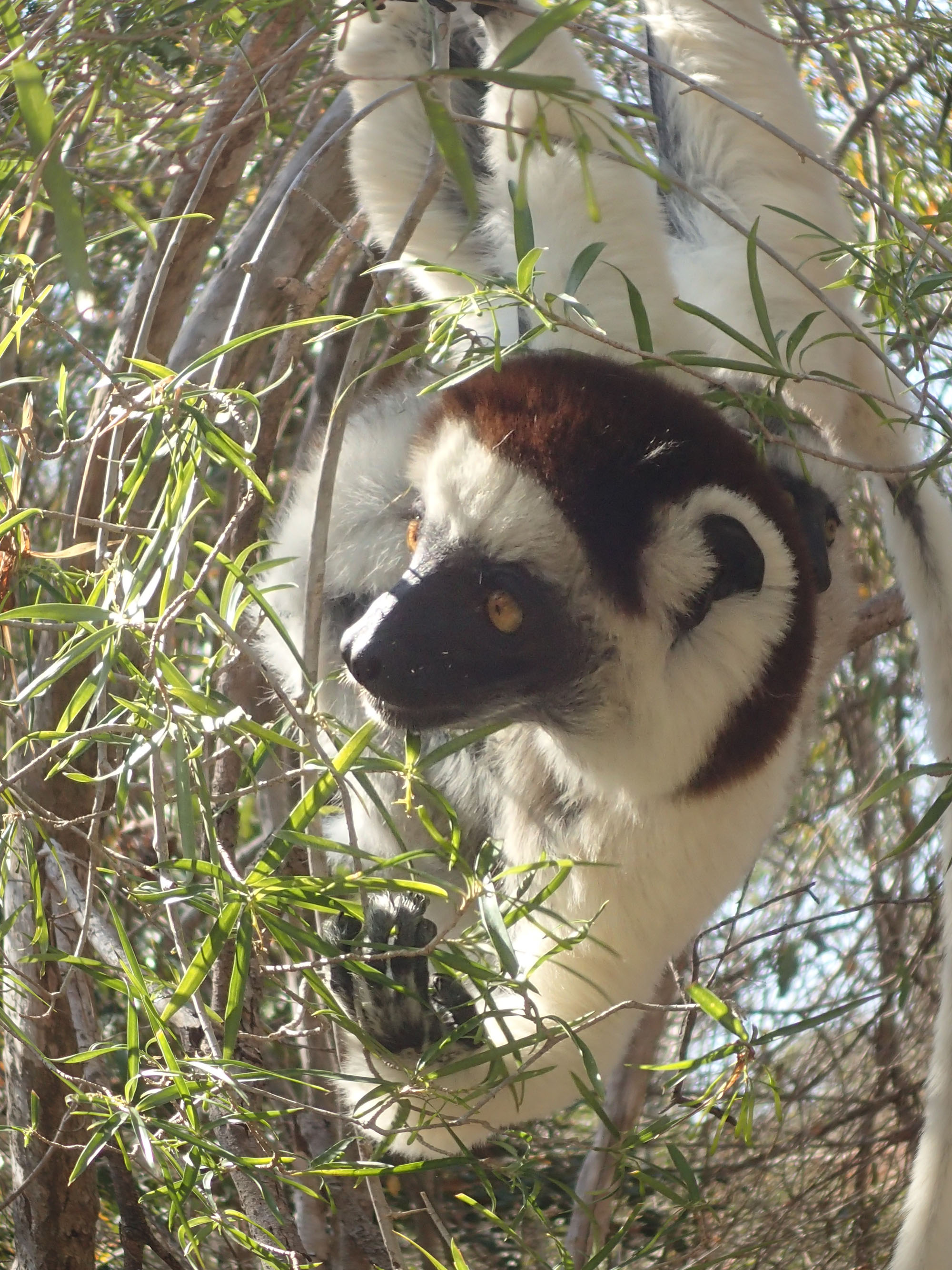 My memories of my very first trip to the Red Island remain strong and vibrant.  Seeing my first lemur – a Ringtail at Berenty.  First hearing the haunting call of an Indri at Andasibe.  My first tentative steps into a real spiny forest.  It might as well have happened last week.  Madagascar is so different, so unique and so impactful a place to visit, that the memories are etched very vividly.
Madagascar is also one of those places which improve with the passage of time.  As the months and years slip by, one's recollections of a trip there change for the better.  Gone are the memories of the bad roads, long distances, stuff that doesn't work. And in sharper relief are the impressions of lemurs, endemic birds, reptiles, truly magical forests and of course the amazing people.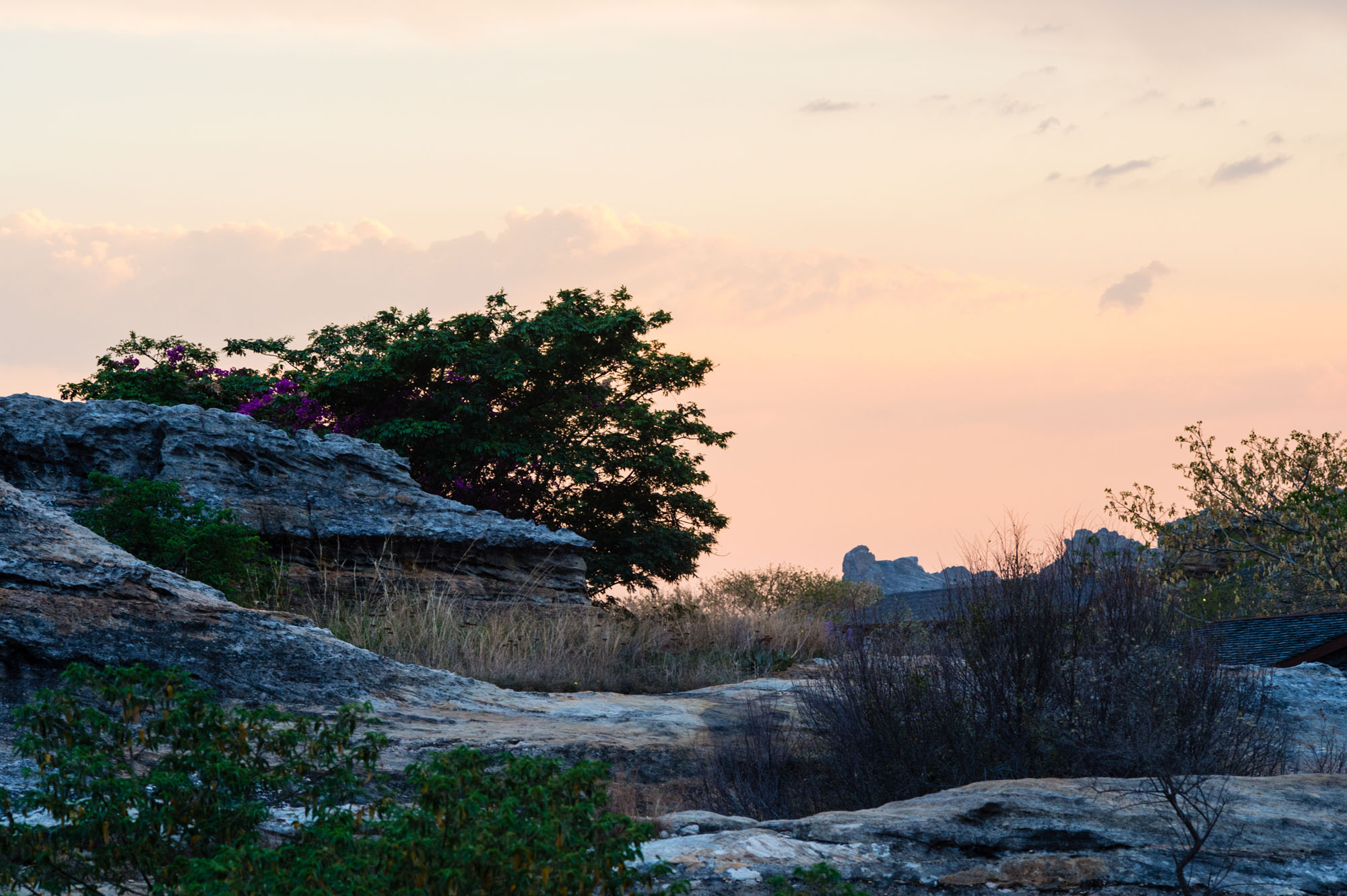 Antananarivo
Few things can prepare one adequately for the dusty, spare look of poverty which typifies much of Tana. Parts of the road from the airport into town reminded me of Oljoro Road in Arusha, the only other place I had been to that exhibited the same kind of mind-boggling amalgam of pedestrians, young and old, dodging all forms of transportation ranging from pushcarts to bicycles to Range Rovers to the ubiquitous taxis and mini-buses, with dogs, zebu cattle and donkeys thrown into the mix just to make it exciting. If anything, the array of streetside shops and stands in Tana was even more amazing than in Arusha.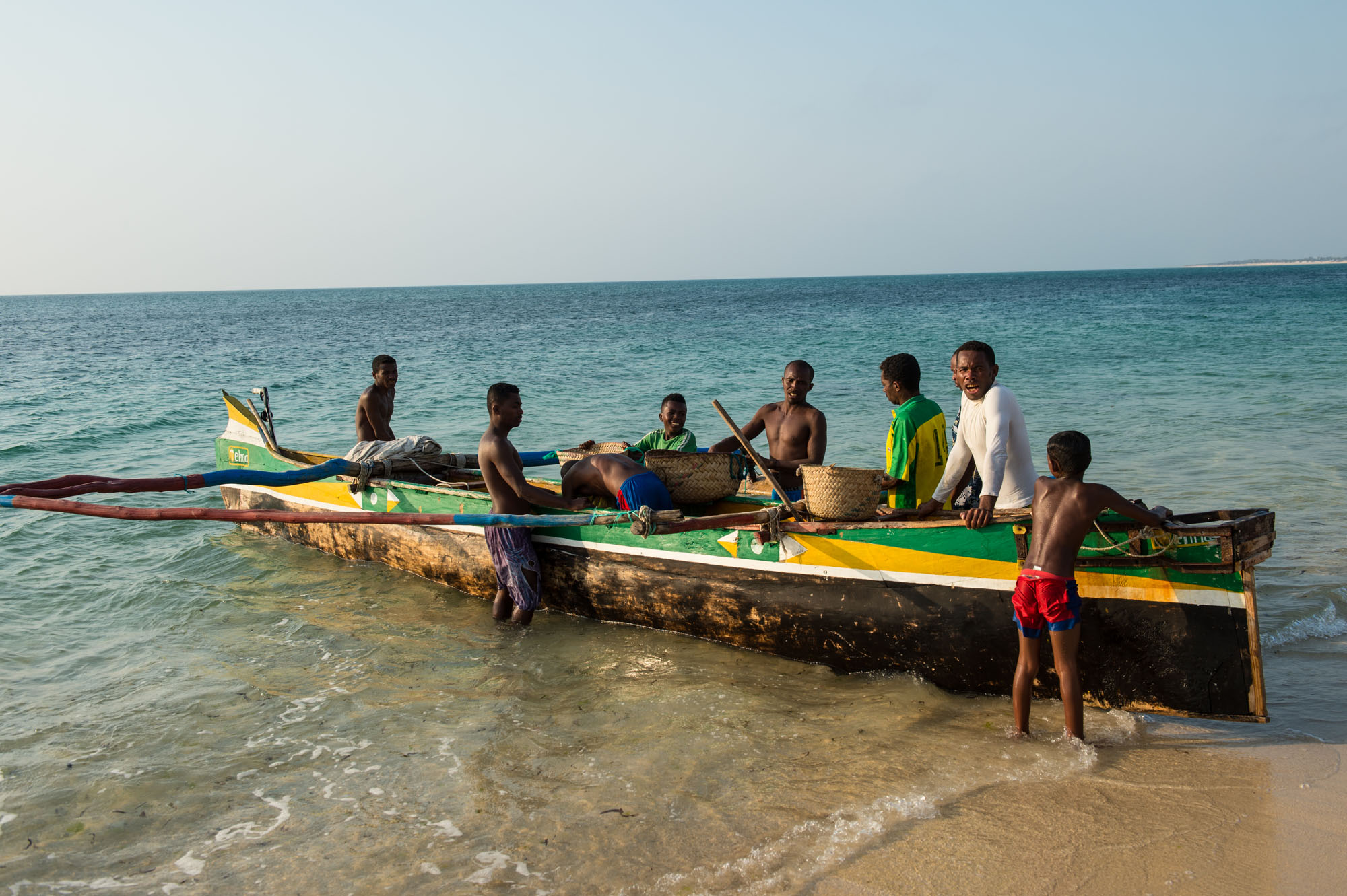 There were primitive butcheries, with chunks of raw meat spread out on a counter or strung up on hooks, dozens of colorful fruit and vegetable stalls, almost as many rice, grain and dried bean merchants, auto parts, bikes and pieces of bikes, and junk stands defying any description. On every block, someone was cooking kabobs on a charcoal-fired brazier, or deep-frying some local version of donuts, which I was tempted to try once or twice. Maybe next time.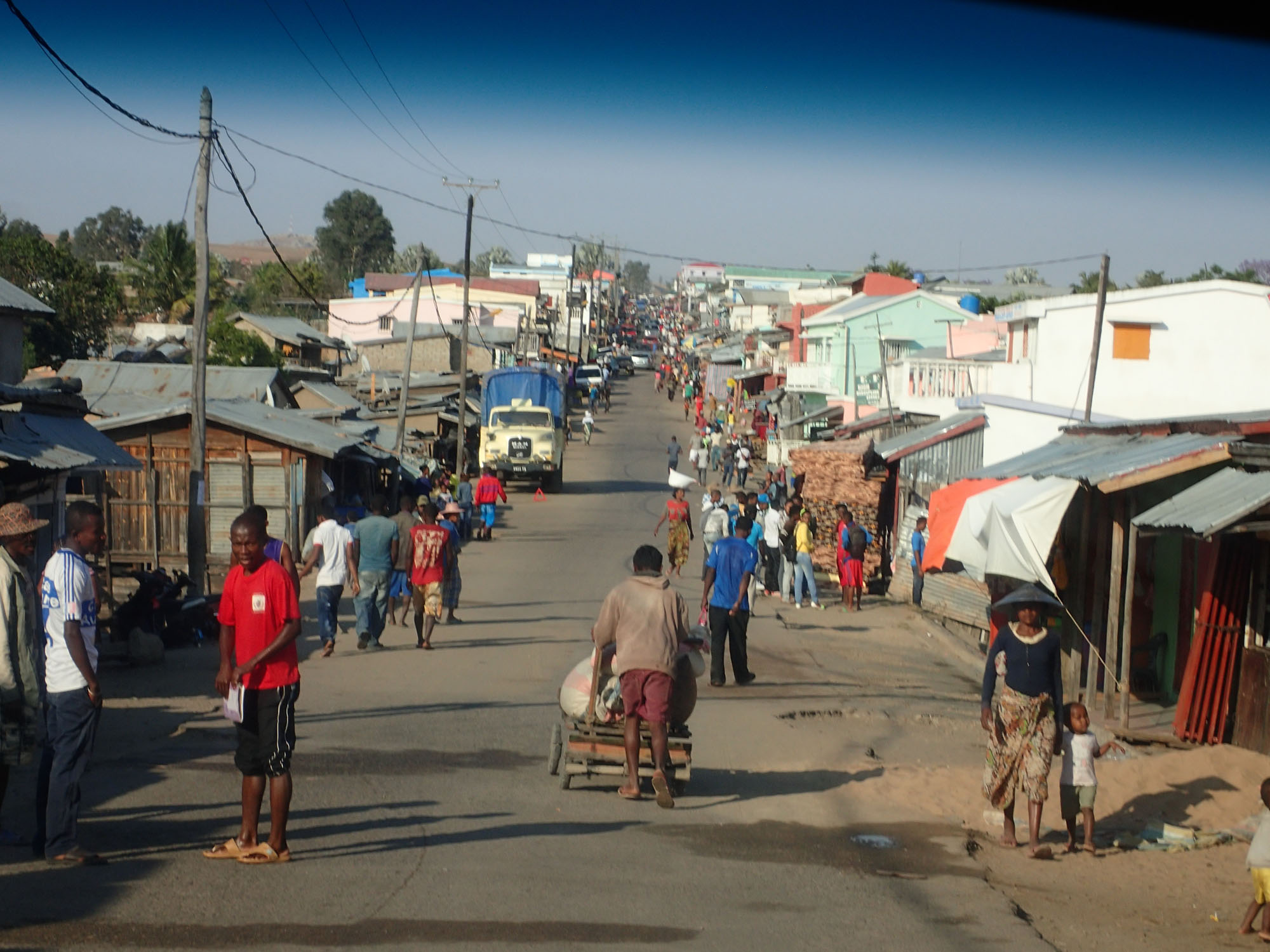 The road to Andasibe-Mantadia (Perinet)
It takes about 2.5 to 3 hours from Tana east to Perinet, on a good but rather narrow, winding road, designed and built by the Chinese.  The drive from Tana to Andasibe seemed shorter and less daunting the second time around. Our Boogie Pilgrim driver was competent and careful and I never once felt uncomfortable about speeding or inattentiveness or anything else. Always cautious and defensive.
We made a couple of stops en route, the most interesting one being at an old, rather dilapidated but still fully functional iron bridge over the Mangoro River. It was everything you'd expect from a bridge in Madagascar. Rusting away quietly, narrow with no space for pedestrians, and a narrow-gauge railroad track right next to the auto roadway. We were fortunate to see an old and rather antiquated train set roll by, while we were scouting around for some special birds.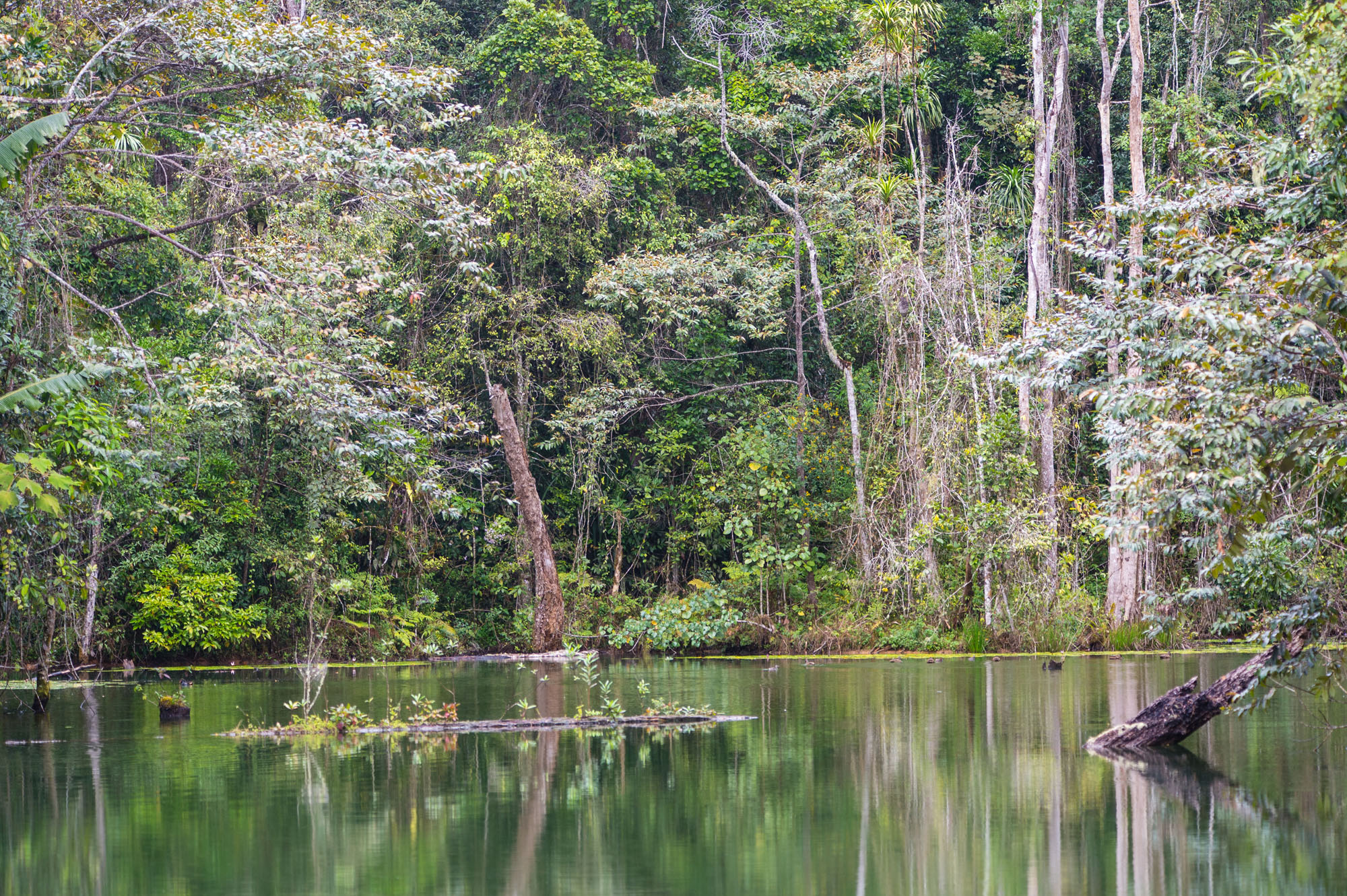 Andasibe-Mantadia
The Andasibe-Mantadia forest complex is likely Madagascar's most popular forest destination, for several reasons.  It is relatively easily reached from Tana on a good road; there are several accommodation options to fit every budget, good restaurants and some wonderful forests with well-maintained trails to explore.   But mostly it is about the lemurs.  The most impressive of all of them – the Indri Indri – can be seen here quite easily.  They are noisy – the call of the Indri is near unforgettable – and conspicuous due to their size and black and white coloration.  But never easy to photograph due to the pesky back-lit conditions.  Better to put the camera away, pick up the binoculars and observe the stunning athleticism of these powerful animals as they jump gracefully from one branch to the next or from one tree to another.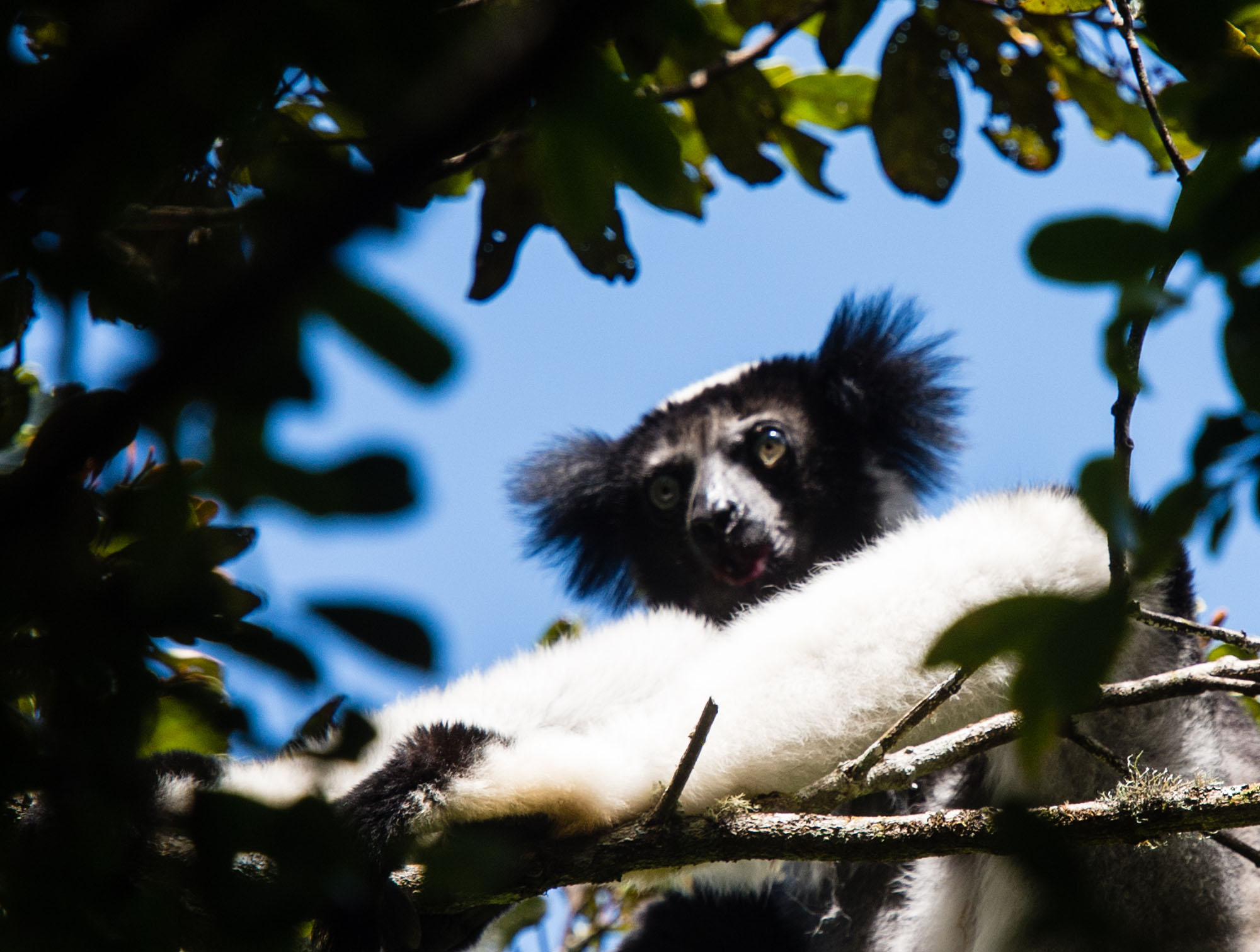 Our first sighting of them consisted of a family of very relaxed Indris, foraging and moving around in the lower reaches of the trees. Peering at them through our binoculars, we could see why they are described as looking like cuddly teddy bears.  Our next find was a grey bamboo lemur, which looked more like a weasel or a squirrel, clambering about quite high up in the trees. Later on, we heard the haunting contact call of the Indris and we had another excellent sighting of a female Indri with its 2-month old baby. Isolating them in the telescope, we watched the baby, which was all black with large green eyes, move around on its mother's belly.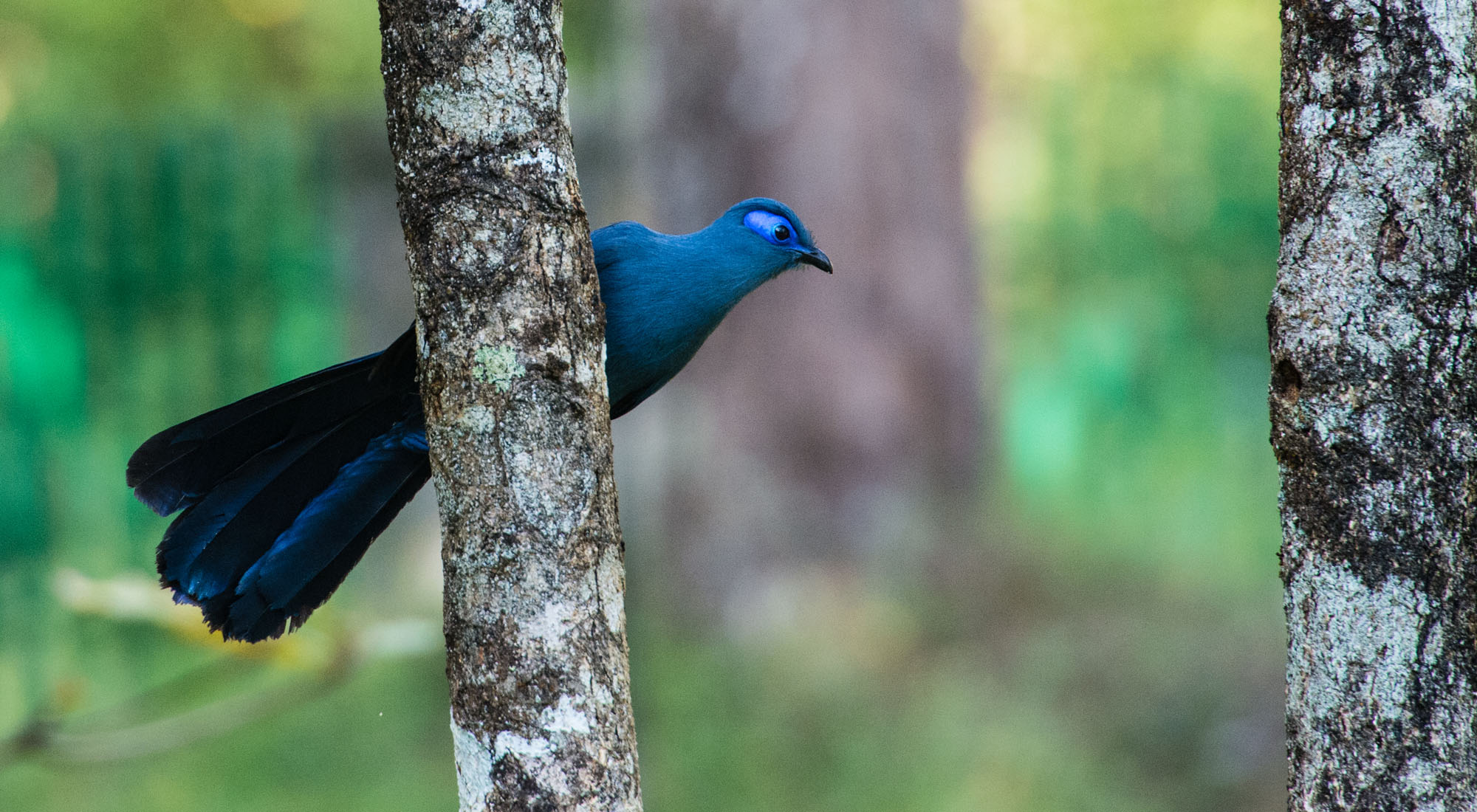 There is of course a lot more to Andasibe-Mantadia than the Indri.   There are several other lemur species including the stunning Sifaka.  Also tenrecs (a type of hedgehog), chameleons including Parsons, the biggest of its kind in Madagascar, superb birds, beautiful scenery, orchids and water-lilies, fascinating insects, reptiles.  I could go on.  Definitely plan on spending three or four nights here to do the area even a modicum of justice.  The walks – particularly in nearby Mantadia Forest – are time-consuming and if you are looking for some of the rare bird species rushing around is not going to do it.  Also it takes an hour or so to get from Andasibe to the trailhead at Mantadia; it is about 10km along a pretty dreadful road.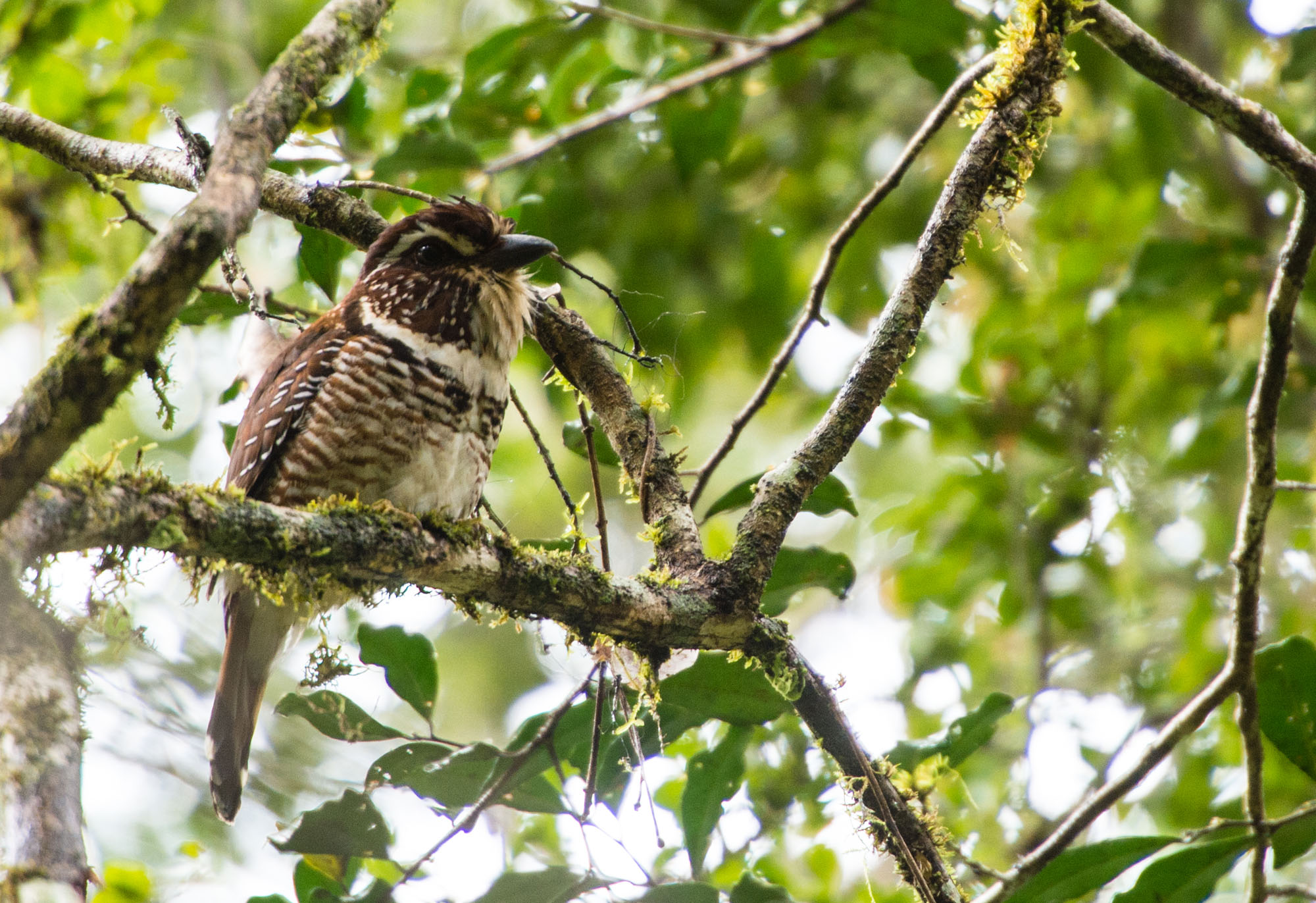 For keen bird-watchers there are many highly sought-after birds to be found and seen at Andasibe-Mantadia including the blue coua, Madagascar wood rail, various vangas, the velvet asity, sunbirds, the quite superb pitta-like ground roller, short-legged ground roller and many others.  We did not miss many of the local specials due to the skills of our Boogie Pilgrim birding guide, with the assistance of an excellent local guide.  We were treated to great views of Hookbilled Vanga in the 'scope, found the pretty Blue Vanga, several types of sunbirds,  Madagascar Cuckooshrike, Madagascar Paradise Flycatcher, Madagascar Malachite Kingfisher, Ward's Flycatcher, Madagascar Little Grebe and several other waterbirds. The bird of the forest at Andasibe was definitely the unique Nuthatch Vanga, climbing up a tree-trunk in nuthatch-like fashion. Unlike true nuthatches, these birds do not climb downwards.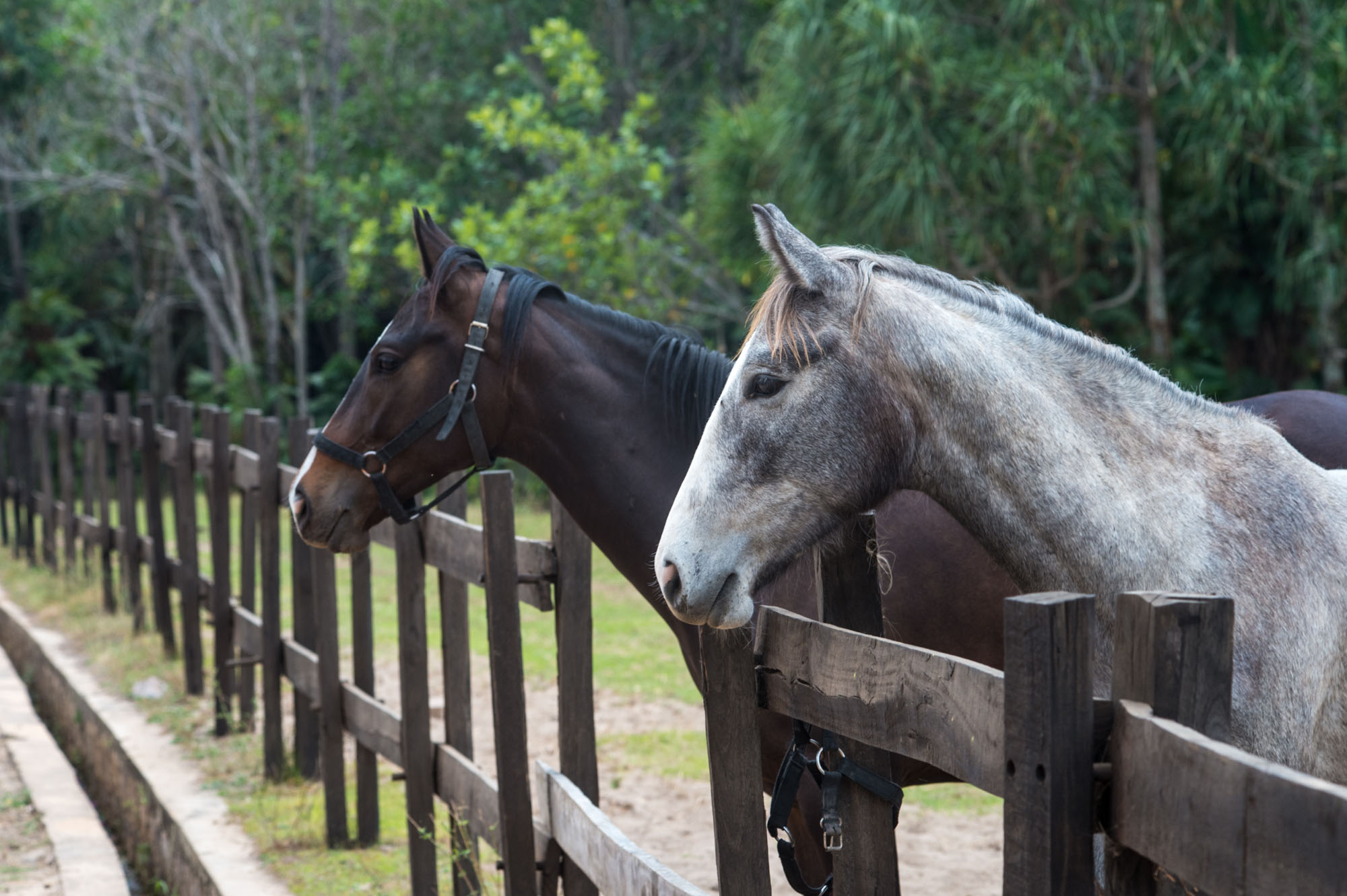 Our accommodation for the three nights there, the hotel Feon'ny Ala is quite basic but what it lacks in charm it makes up for in location.  Right where you want to be, close to the Andasibe park entrance.  The restaurant was good and popular and the local beer like the Three Horse brand tasty and inexpensive.  A couple of the menu items we enjoyed were an excellent chicken curry and chicken with fresh ginger, both served with mounds of rice as is customary in Madagascar. Fresh crepes with local preserves and some very good coffee with sweetened condensed milk completed a memorable dinner.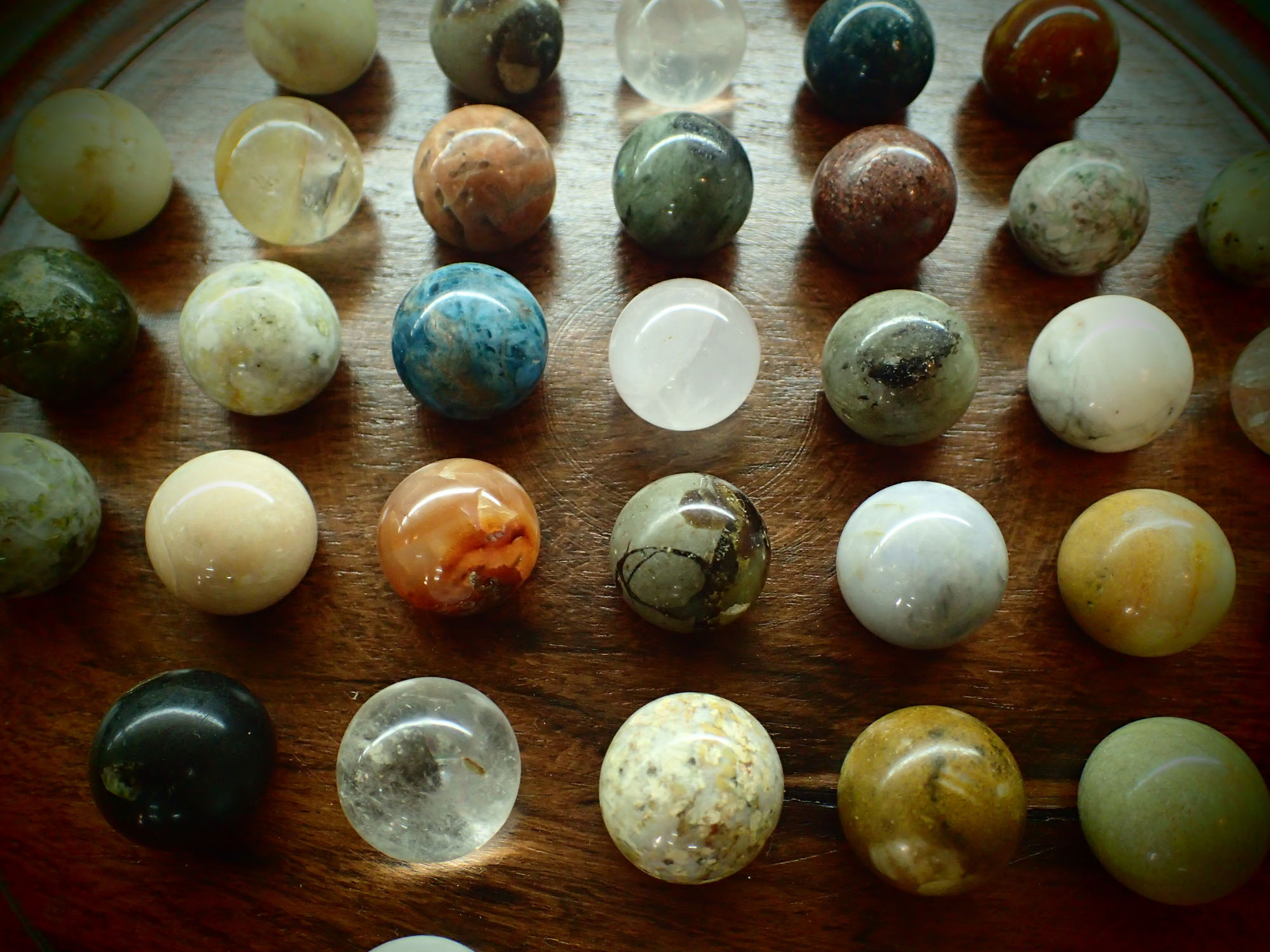 In summary Andasibe-Mantadia simply cannot be omitted from a Madagascar trip.  The primary forest of Mantadia is gorgeous to behold and the thought that so little of this habitat remains in Madagascar is depressing.  One morning, in search of a couple of endemic water birds, we came upon a small, pristine lake tucked into a quiet glade, right at the edge of the forest.  Not a major landmark or well-known sight, yet so striking that we all stopped talking.  We simply stood there and looked at the beautiful reflection of the trees and sky in the crystal clear water, with some ducks dabbling in the background, realizing that we were sharing a special moment in an extraordinary place.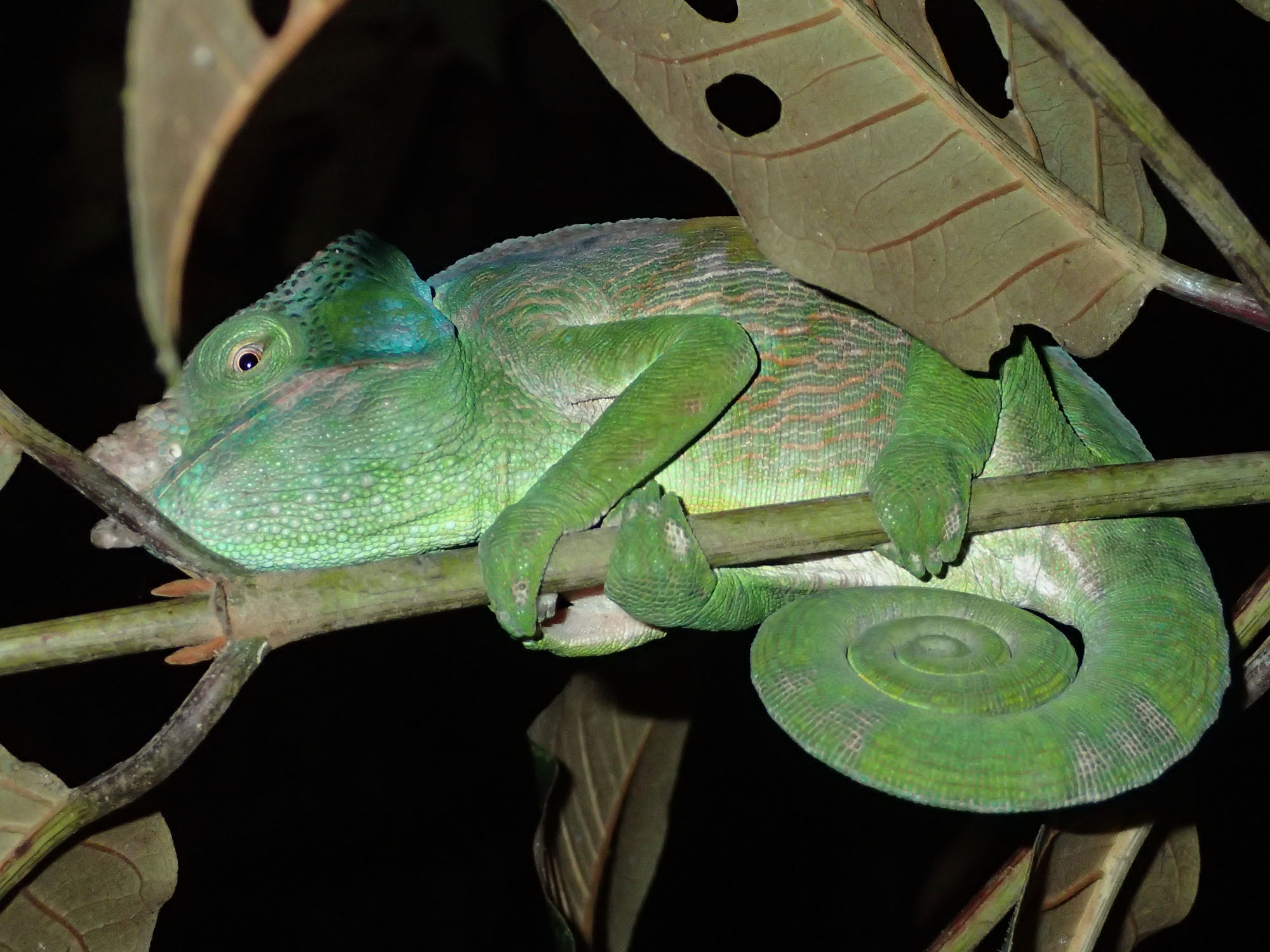 Ranomafana National Park
What Ranomafana does not have in the way of good quality accommodation options, it makes up for by the spade-full in atmosphere, setting and bio-diversity.  The primary protected forest area is gorgeous, green and lush but also quite challenging with major changes in elevation.  So be prepared for some long hikes along fairly steep uphills and downhills, fortunately with well-maintained stone steps pretty much everywhere.  If you go stomping around in the forest interior you may pick up a few leeches.  They are icky but harmless and easily removed.   None of our party of 4 visitors – who stayed mainly on the trails – got any on us.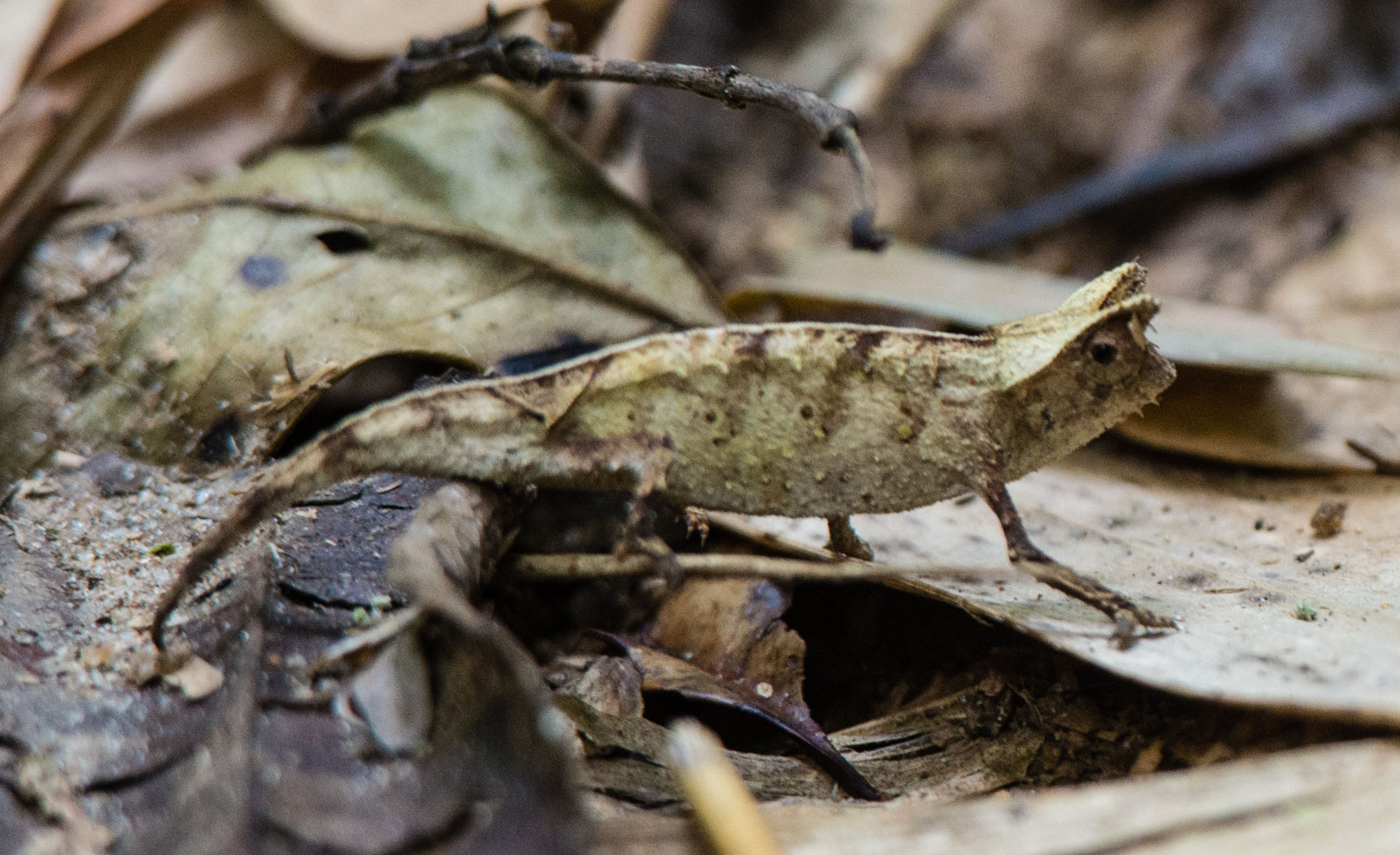 Our private guide Bruno Raveloson and two expert forest guides worked quite hard and over the course of two days at Ranomafana we saw some fantastic birds, several new (for the trip) lemur species and a few fascinating insects and reptiles such as a Giraffe-necked weevil, more chameleons including exceedingly tiny ones and a couple of cryptic-colored geckos.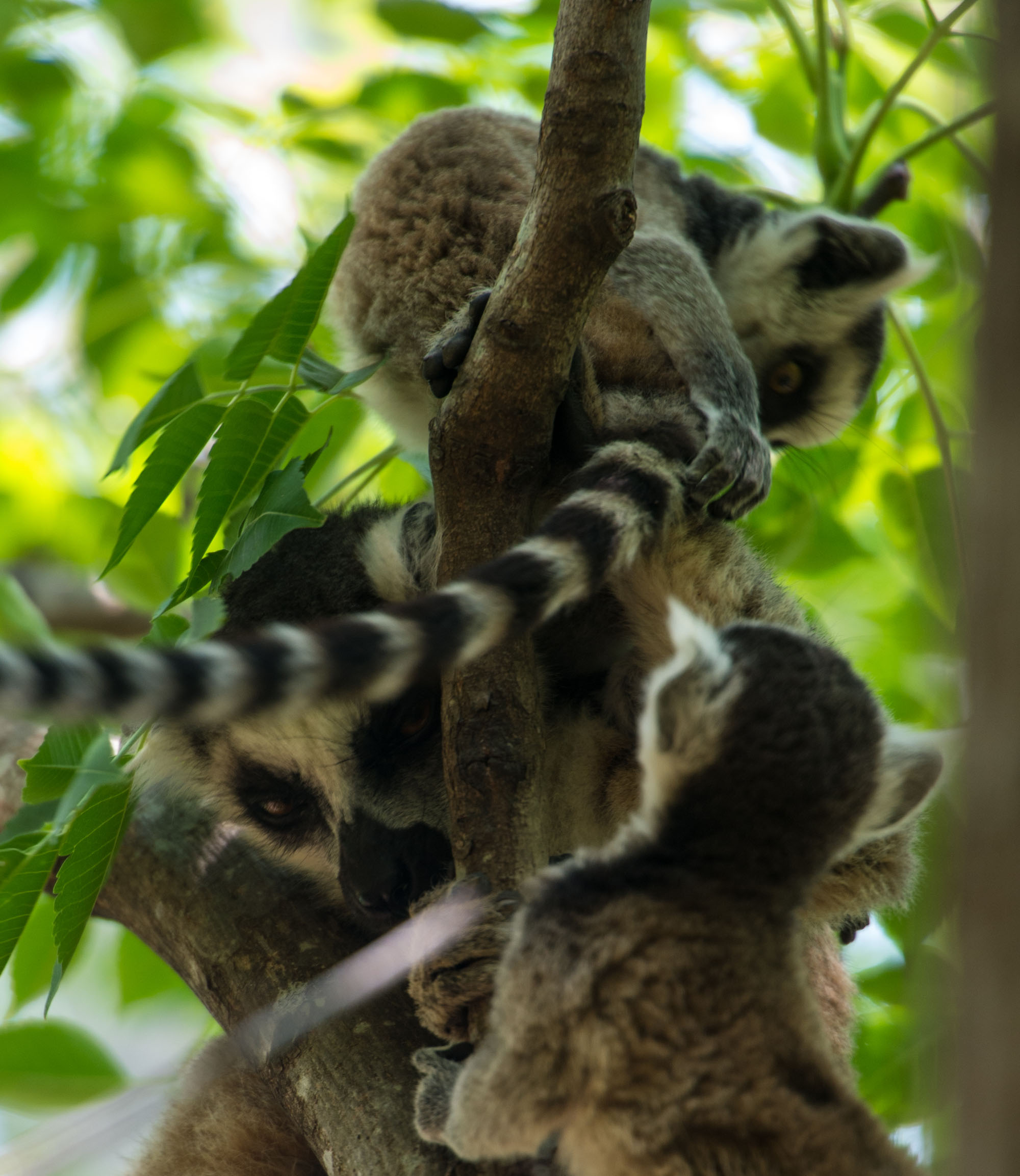 If you are intent on exploring all aspects of its natural history Ranomafana is a most rewarding place.  For people simply rushing from one lemur sighting to another it may be disappointing as the lemurs are spread out and often high in the trees.  In the high season there are many other visitors around, particularly on the shorter trails.  So get a good guide, take your time and walk well beyond the 2 or 3-hour circuit to make the most of it.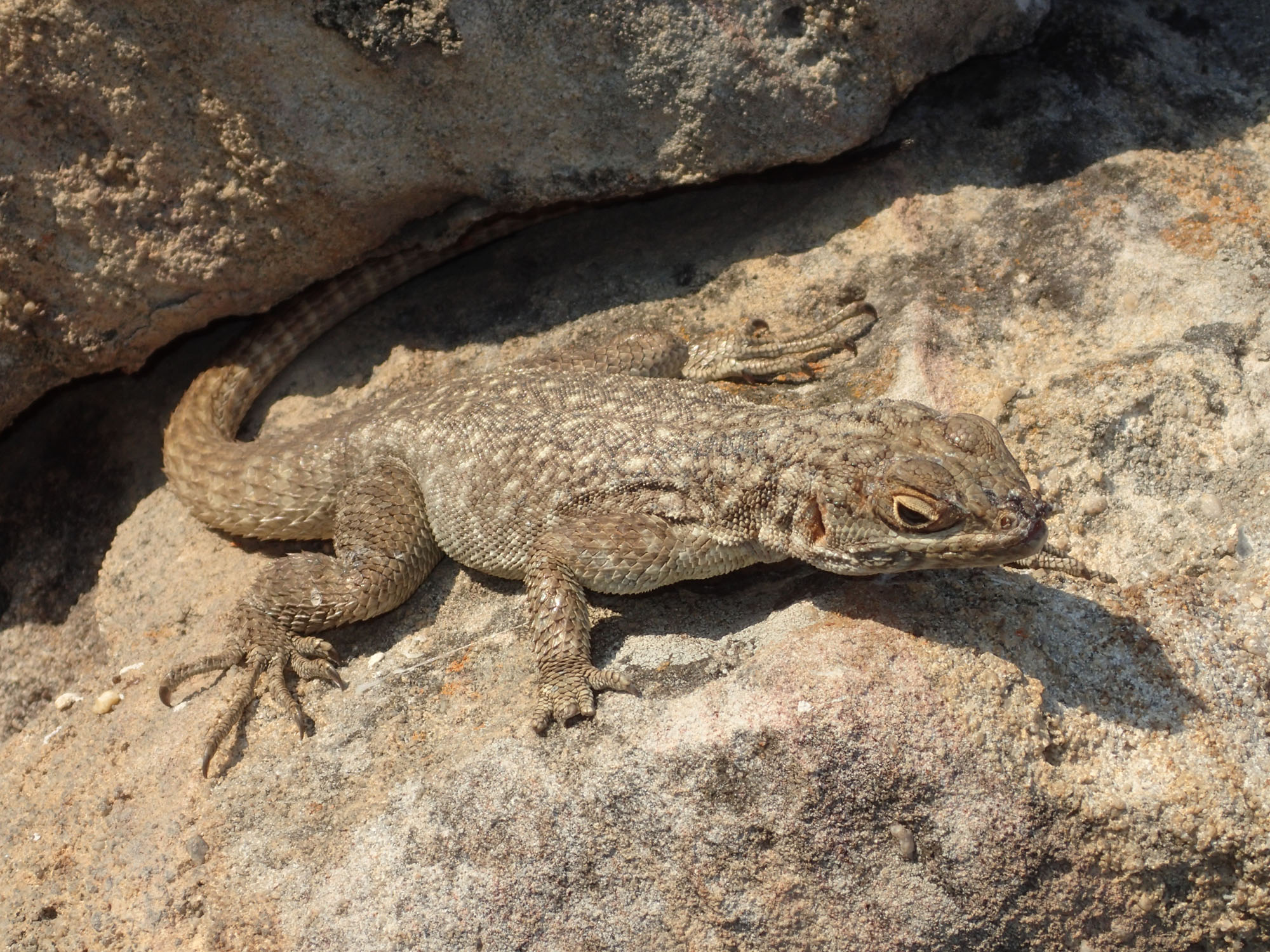 We did just that and were amply rewarded with some of the best lemurs of the trip.  Ranomafana is well-known for its bamboo lemurs including the Great Bamboo lemur and the recently discovered Golden Bamboo lemur.  Red-bellied lemurs and Milne-Edwards Sifaka can also be seen.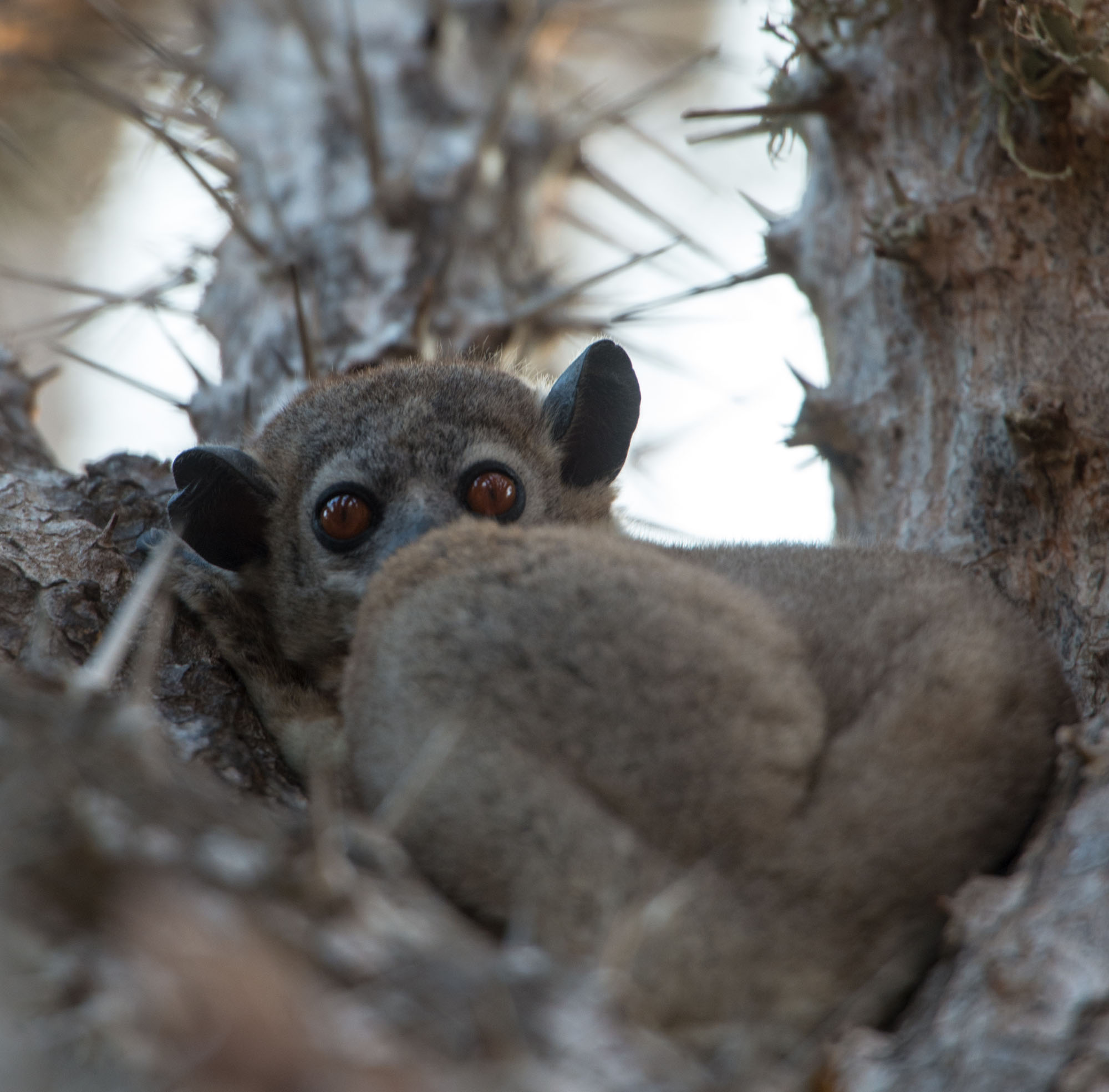 In next Friday's blog post we continue our look at the weird and wonderful 'Red Island', the 'Eighth Continent', Madagascar.  Our focus will shift to Berenty and its Ring-tailed lemurs,  the bizarre spiny forest of Ifaty and Anakao, a relaxing beach resort, perfect for your last few days in this most amazing of countries.
YOU MIGHT ALSO BE INTERESTED IN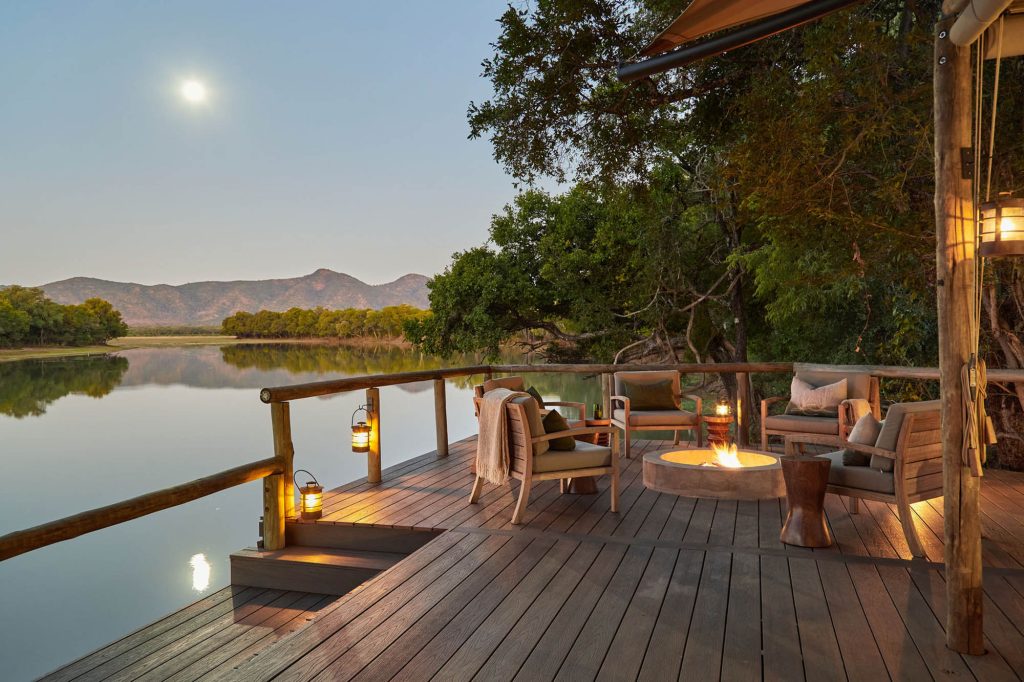 10th Sep 2021
Chindeni and the Bushcamp Company, Zambia
By late July we found ourselves at Chindeni, a small Bushcamp Company property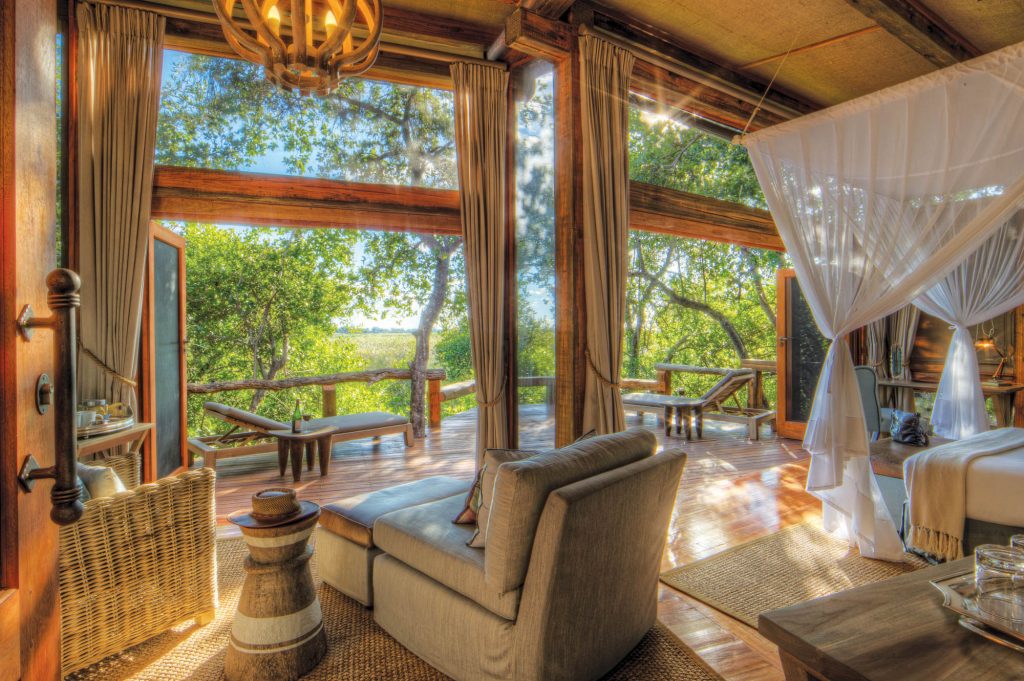 3rd Oct 2022
Camp Okavango, Botswana
Camp Okavango is in the heart of the permanent part of the Delta. In this idyllic setting there are no vehicles, and it is just a short walk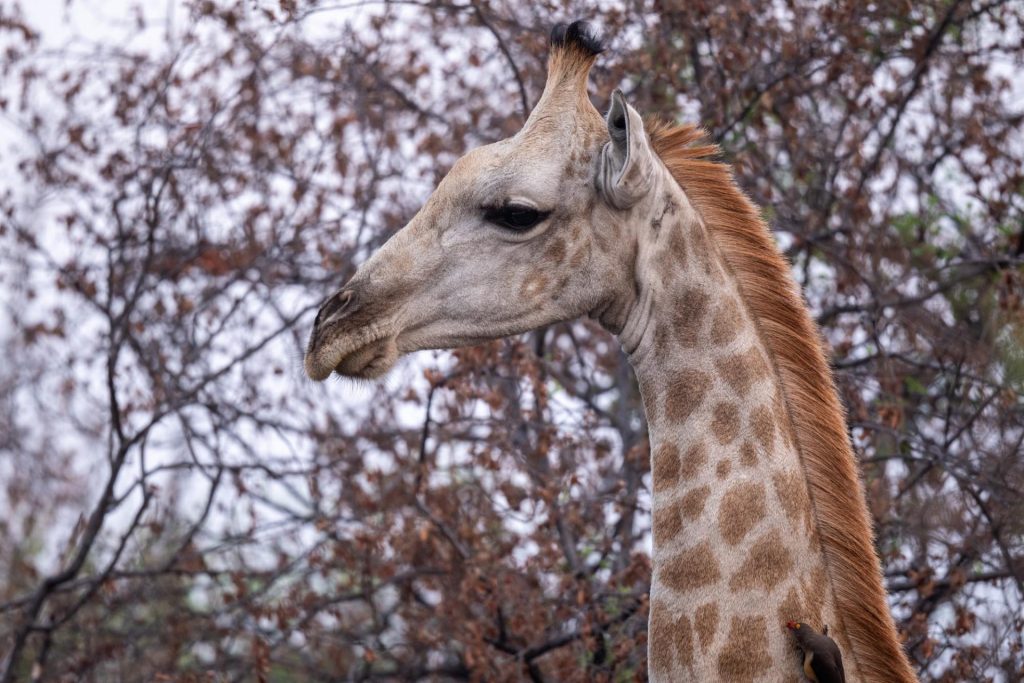 26th Mar 2023
Photography on safari
Fish Eagle Safaris was an early adopter of digital photography. Company founder Bert somewhat fondly recalls using a first generation Sony Mavica
SUBSCRIBE TO OUR NEWSLETTER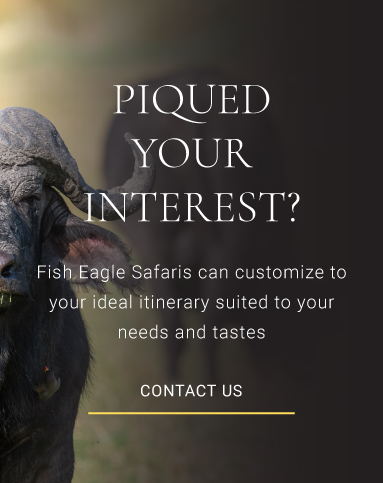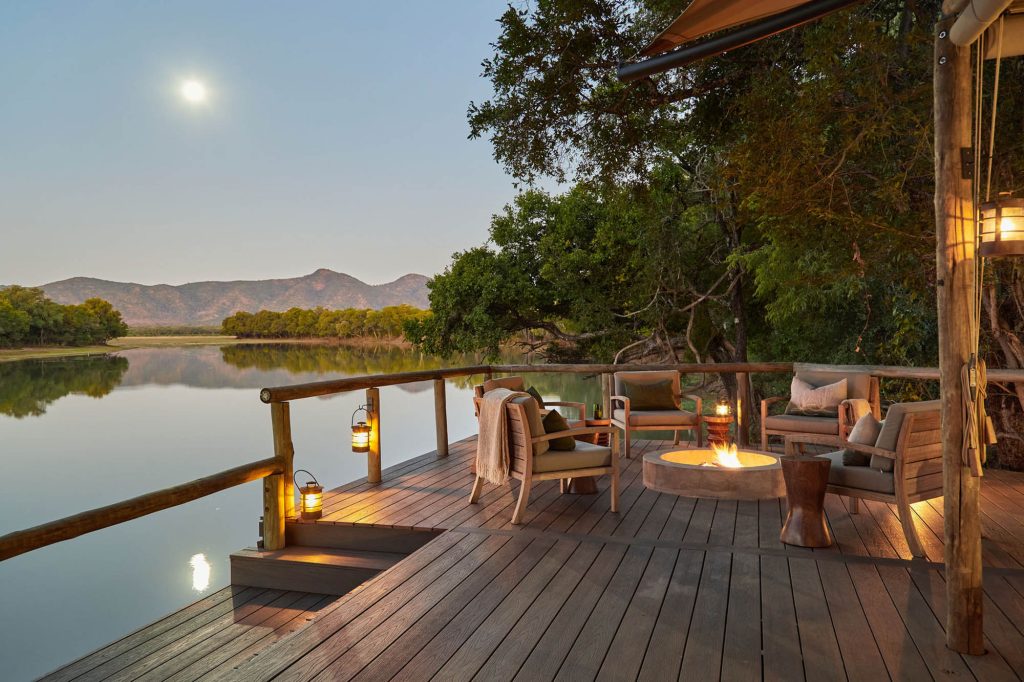 10th Sep 2021
Chindeni and the Bushcamp Company, Zambia
By late July we found ourselves at Chindeni, a small Bushcamp Company property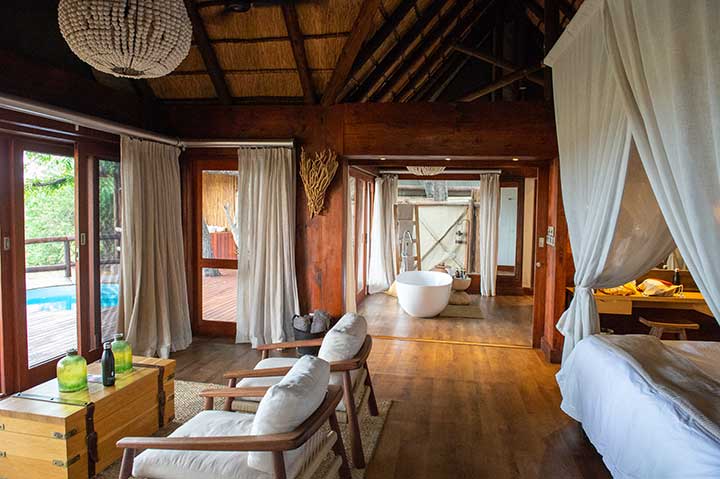 4th Aug 2022
On Safari At Belmond Eagle Island Lodge, Okavango Delta
What is the 'secret sauce' for an unforgettable few days on safari in Botswana? It starts with the animals, of course. The elephants, lions, giraffes, hippos