We visited several other properties during our recent trip in South Africa and Zimbabwe. Every one of these deserve a detailed review but we will focus on what sets them apart.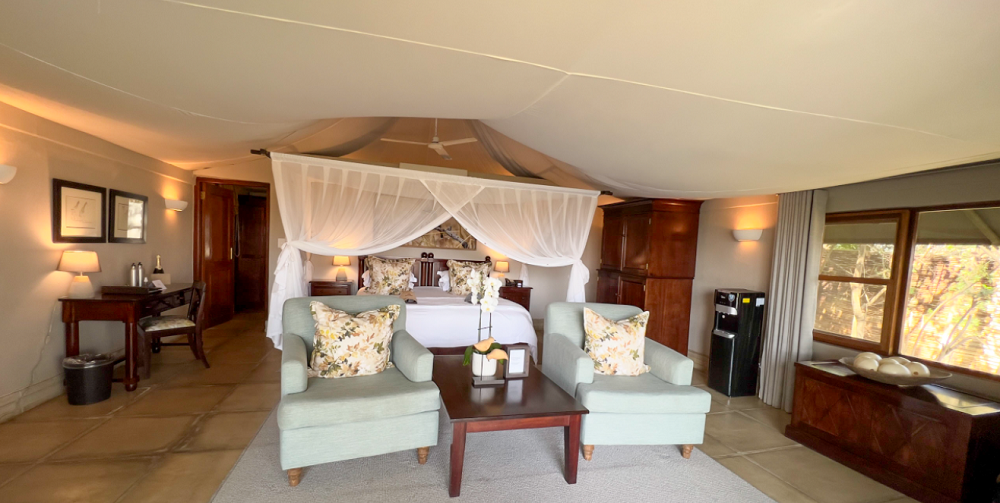 SAVANNA PRIVATE GAME RESERVE – SABI SAND
If there is a safari camp which strikes the perfect balance between creature comforts and activities (game drives mostly) this property is it. The rooms are simply exquisite and every little thing is perfect, from the snacks and drinks which are included (the variety!) to the heated plunge pool, the beautiful garden setting, the waterholes on the periphery of the camp, the dining (wow) and the outstanding staff. Did I mention the game-viewing and the guiding? Fantastic. On a morning drive, our guide Jamie and tracker Ronald expertly located a pride of lions and before we knew it, we had seen all of the Big Five mammals.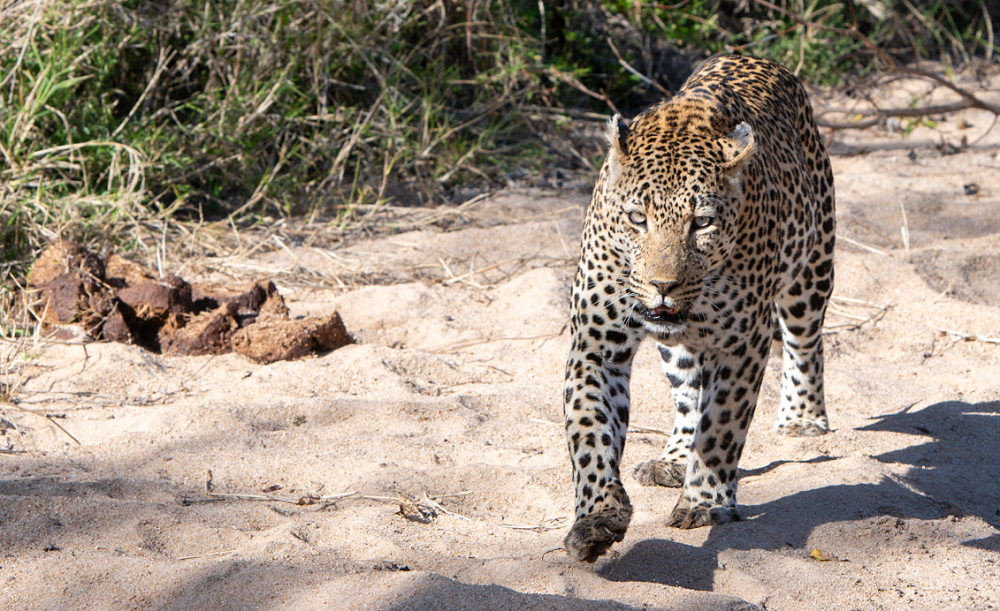 At one stage we were watching three female lions seemingly poised to take on an adult buffalo bull with five white rhinos within view just thirty meters to the right. Not 30 minutes later we were following Ravenscourt – a simply gorgeous movie star of a leopard – as he walked in and out of a natural drainage line close to the homestead belonging to the Mackenzie family, who owns Savanna. I think I would be morally obliged to sell my camera equipment if I didn't get a great leopard shot that morning. Stay a few days and you might find yourself dining in an old railcar dating back to the days of the Selati Railroad, or making a visit to a nearby village which is home to many of the camp staff.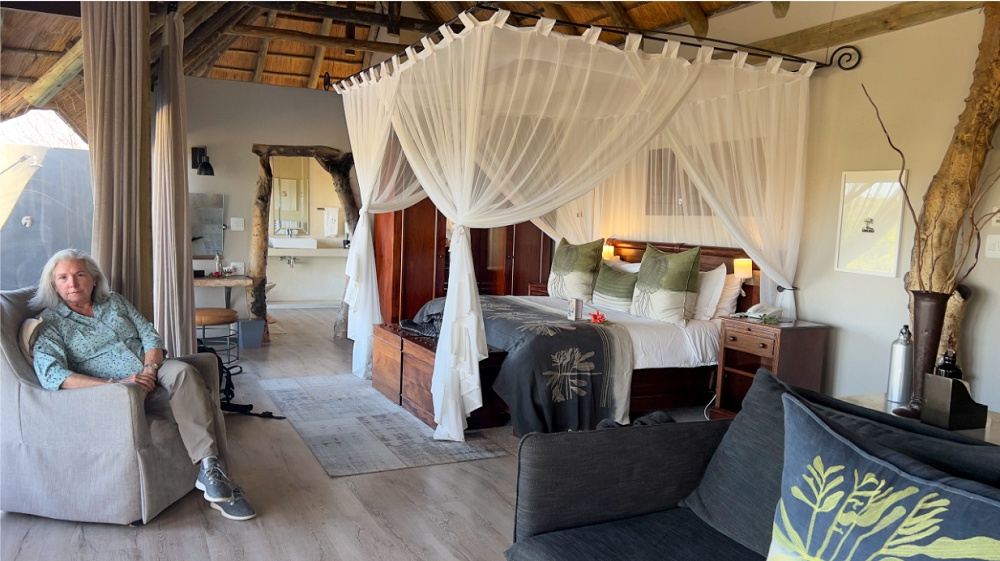 LEOPARD HILLS PRIVATE GAME RESERVE
This was my second visit to Leopard Hills Private Game Reserve and if anything, it was even better than the first. The stunning lounge and dining room complex overlooking the woodland and water hole, the superbly appointed rooms and the inviting library and boma complex all brought back fond memories. Our ebullient guide Justin De la Rey imparted knowledge seemingly effortlessly and displayed a well-developed sense of ethics in his careful approach to a leopard den site. Justin and his colleague, expert tracker Ronald Gumede, are a formidable pair. We will definitely be requesting them for future guests.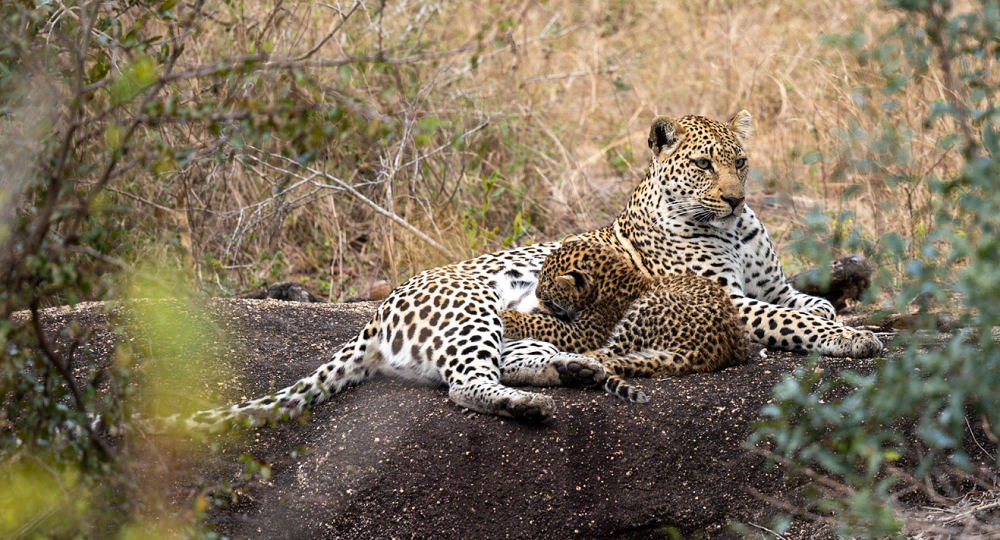 The food? Next level. Every meal was outstanding, topped by a singularly memorable boma experience. Head chef Cobus Muller personally introduced the menu and every item exceeded my expectations. Boma meals often disappoint with overcooked, dry meats and mundane side dishes. Not this one. Lamb chops, pork spare ribs, oxtail stew – it was impossible to make a bad choice. The expertly prepared side dishes included traditional South African pap with a tomato sauce, potatoes in a lyonnaise style, cauliflower au gratin, corn on the cob and curried dahl. We could go back just for the food.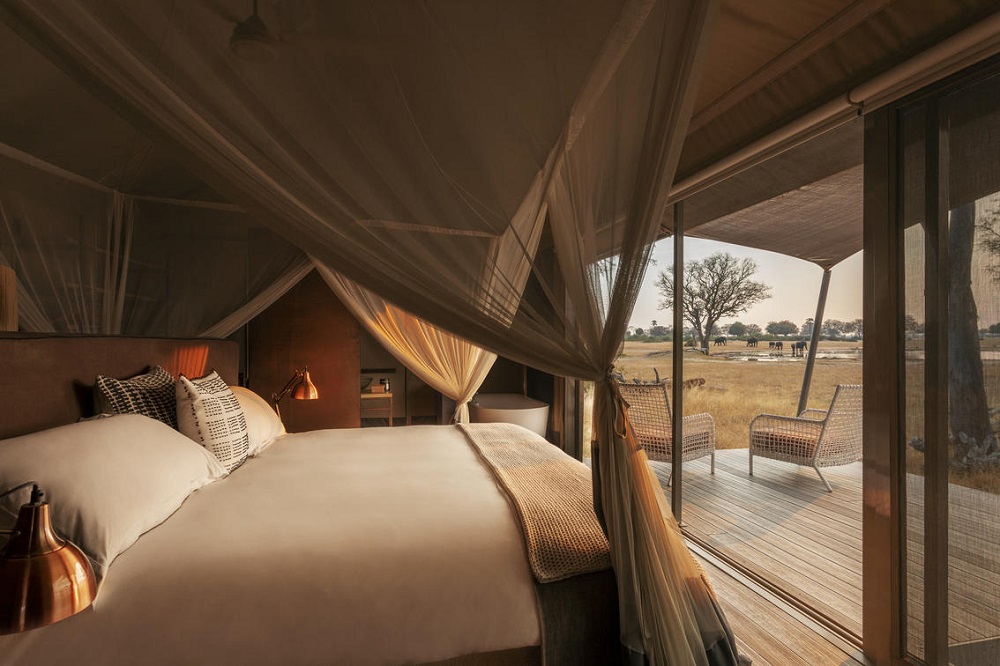 LINKWASHA CAMP, HWANGE
Linkwasha is Wilderness' flagship tented camp in Hwange National Park, located in a stunning setting of teak forest bordered by open grassland and salt pans in southern Hwange. Our two days there with guide Farai Chuma were packed with excitement as he reintroduced us to the joy and fascination of seeing a true professional wildlife guide in action.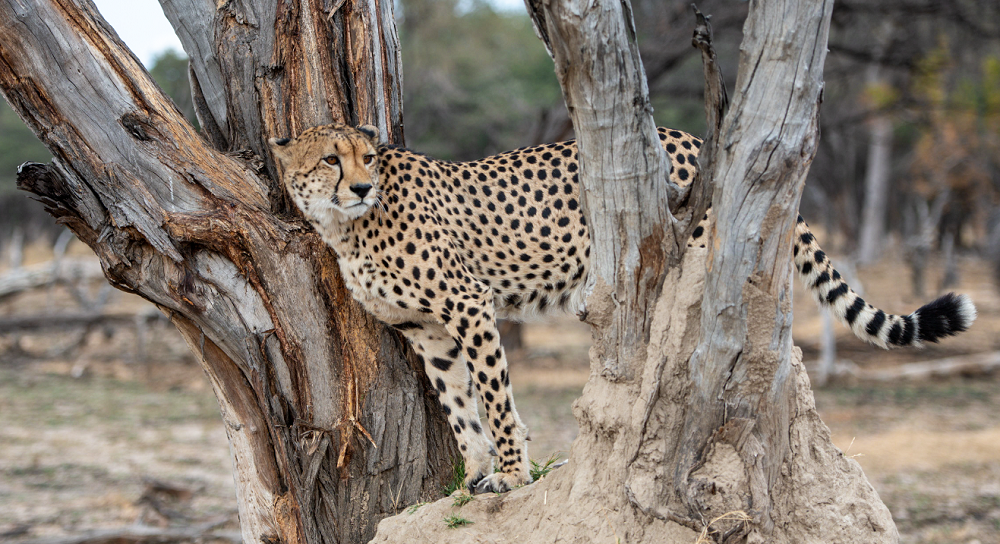 Always careful and safety conscious, Farai helped us find everything we had come to see, notably cheetahs. Two magnificent male cheetahs gave us the full show. Employing every trick in their playbook, they started off by demonstrating their mutual affection, cuddling up and rubbing their faces together. Which was great, but small potatoes in comparison with what came next. Following each other at about 50 meters or so, the two brothers climbed on anthills, jumped onto logs, scrambled up tree trunks and scent-marked multiple times, several times staring right into my lens. All while Farai had us lined up in just the right spot to capture the action. His knowledge of exactly which specific trees or other objects the cheetahs would use to scent mark was uncanny. We predict great things for Farai – who will hopefully complete the final phase in the process of obtaining his 'full pro' Zimbabwe guiding license this coming December. We hope to have him guide some of our guests in future.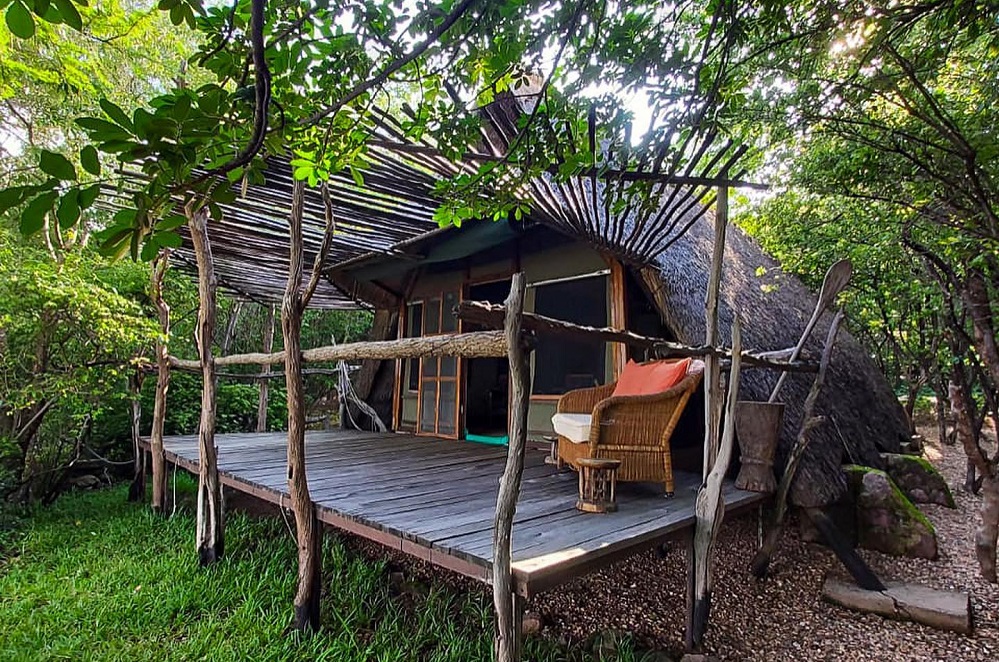 MUSANGO SAFARI CAMP, LAKE KARIBA
With long-time owner and story-teller in chief Steve Edwards operating the throttle, Kathy and I and two other guests – from Germany – traversed quite a few kilometers by boat in and out of Musango Safari Camp, tucked away in a dense forest on a private island with views in every direction. Bumi Hills, Lake Kariba, the Matusadona mountain range; depending on the light and the time of the day, they create a remarkably photogenic setting. To say that the experience at Musango is multi-layered is to do it a disservice. It is much more than that. By the time we had to say farewell to Steve, Robin and Graham – who is poised to continue the Musango tradition – we felt like we had hardly scratched the surface. It was only on the last day that we were introduced to Steve's truly incredible collection of stone age tools, preserved organisms (scorpions and more) and simply stunning fossil finds. Most of which Steve had personally collected while tracking black rhinos all over Matusadona National Park.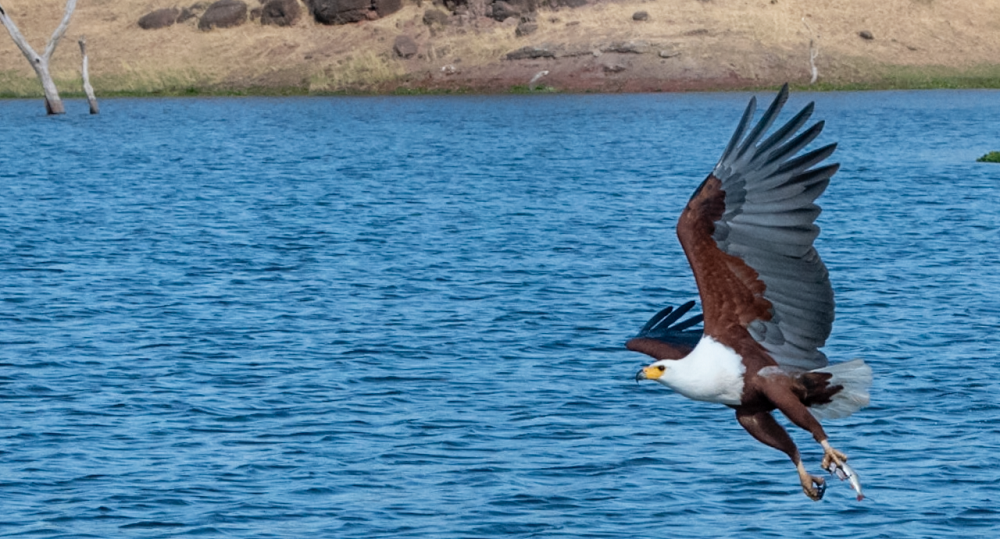 Rhino tracking is no longer on the list of Musango activities, but not a whole lot else has changed since Steve and his wife Wendy opened the lodge some 30 years ago.  You can still sit quietly in a special bird hide in the forest, waiting for colorful birds to hop into view, perching on a stick right above a sizable birdbath. The attractions of Lake Kariba itself haven't changed either: sundowner outings on a covered pontoon, tiger fishing during the warmer months, a boating safari observing elephants and buffaloes & whatever else is present along the shoreline. On one morning outing along the Nyamasango river, we racked up an impressive number of bird sightings, culminating in an African fish eagle being enticed to swoop in and snatch up a fish from the surface of the water. Did I get the classic shot of the eagle with talons extended? Alas not, but Klaus – one of the German guests – did.
While we missed them during our stay, a pride of lions regularly make their way into the area close to the camp. Above all, this little slice of paradise is the ideal spot for a change of pace from bumpy safari rides. Take a seat and look out over the most gorgeous watery amphitheater stretching out to the horizon. Where at night the lights of the kapenta fisherman far away on the lake could easily be mistaken for a bridge to Zambia. Enjoy a local beverage while listening to one of Steve's stories and appreciating his finely tuned sense of humor. And prepare yourself for the most delectable meals, served al fresco. PS. Do not pass on the starter. It would be a mistake.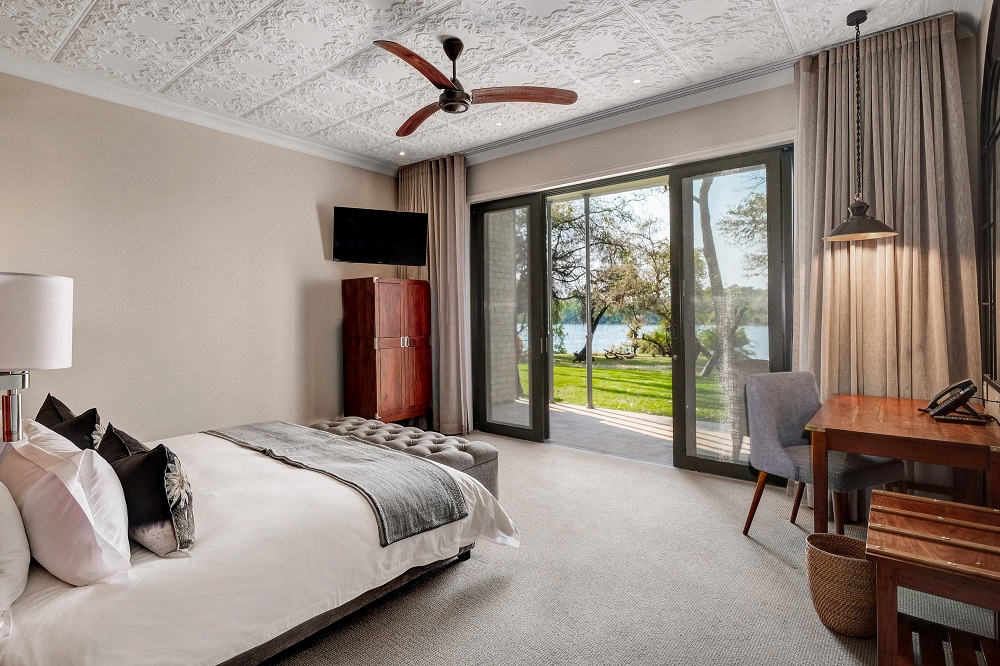 PALM RIVER HOTEL, VICTORIA FALLS
The Palm River is a brand new addition to the many hotels, guest houses and lodges populating the area close to the Falls and beyond. We give it an enthusiastic thumbs up for four reasons: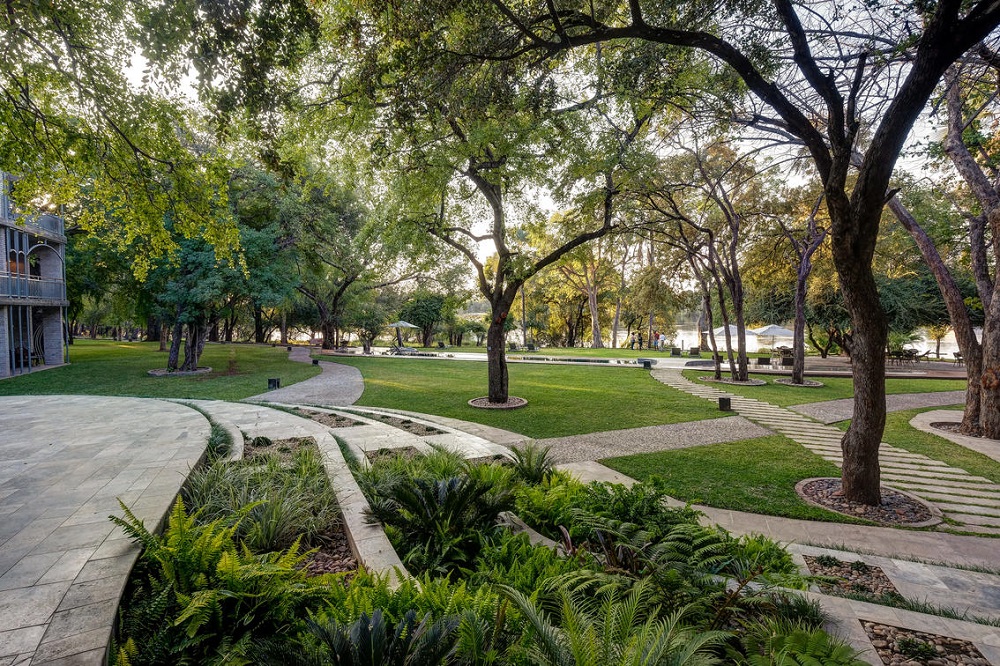 *Its location right on the banks of the Zambezi, which practically makes it unique among all similar hotels in Vic Falls.
*The rooms. Excellent design with views toward the Zambezi, high ceilings, great lighting, ultra comfortable bed, pre-stocked minibar (included – pay for restocking only), large bathroom with good walk-in shower, double sink, plenty of storage space,  effective air-conditioning and a safe.  
*Beautiful natural garden setting with tightly cropped lawns, an easily negotiable (non-slippery) walkway, a pool just far enough away from the common area and an inviting open-air bar and dining area.
*The food. Both dinner and breakfast were delectable, as was the 3:30 pm afternoon tea. Smoked salmon on a thin piece of bread, individual carrot cake and delicious sugar cookies. A nice selection of coffee – espresso machine with several choices – and premier tea bags.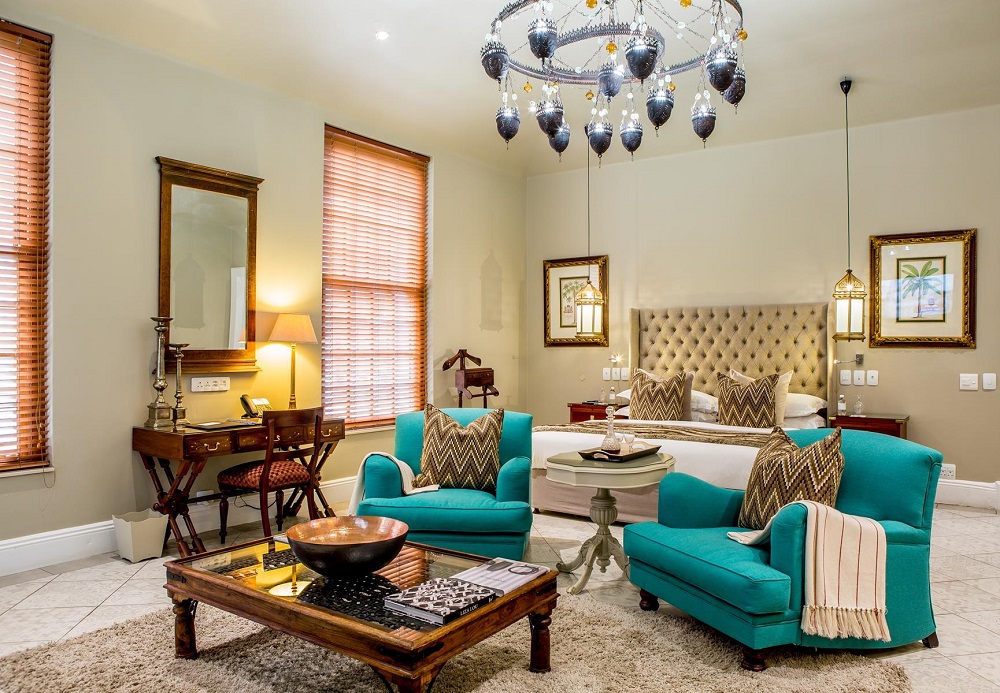 FAIRLAWNS BOUTIQUE HOTEL & SPA, SANDTON
There have  been several major structural changes and reconfigurations at Fairlawns Boutique Hotel & Spa in Sandton since our previous visit several years ago. All of which were done quite seamlessly as the place felt very much the same. Step through the door and you immediately know you're in a rarefied environment. The interior look and feel, the artifacts, the silky smooth check-in process; even the gracious porter who accompanied us to our room. Fairlawns is classy in a good way: not overly pretentious or avant garde, just warm and chic. Our room (#2) was spacious and comfortable with good lighting, a nice bath and pretty decent WiFi. Breakfast was excellent. Dinner was good too with the exception of one dessert choice which missed the mark. We will continue to recommend the property as a great spot to spend a couple of nights in the way of a 'mini-holiday' at the start or end of a safari. A place to savor an al fresco meal, lounge poolside, enjoy the highly acclaimed spa and simply relax. Want to venture out to restaurants or other attractions in the area or do some shopping? No problem. Fairlawns is less than four miles from Sandton City, one of southern Africa's premier shopping centers.
YOU MIGHT ALSO BE INTERESTED IN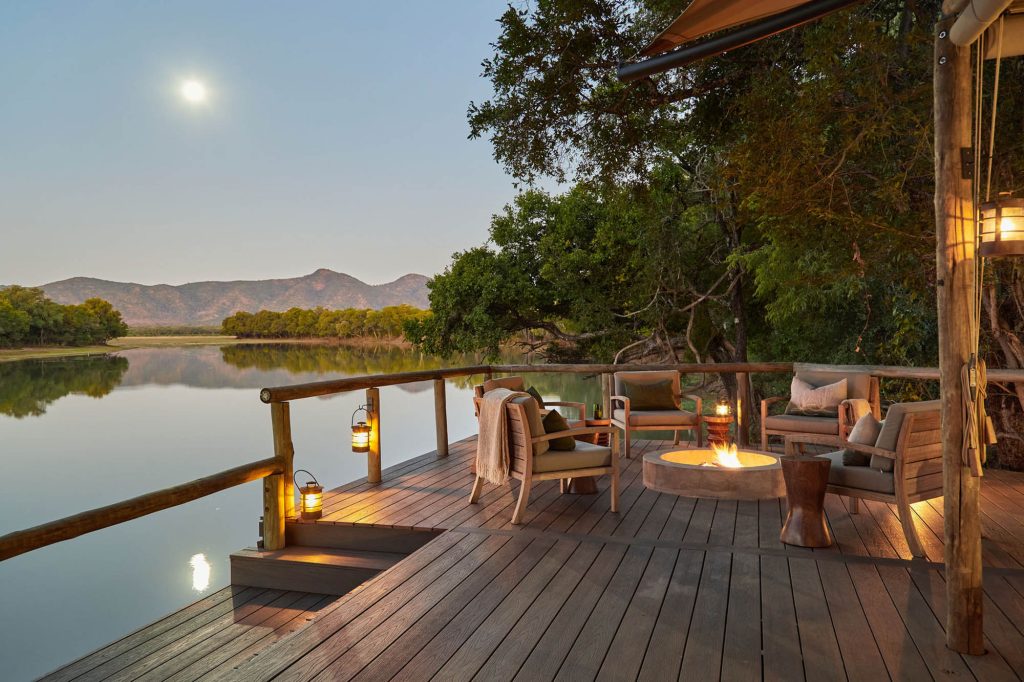 10th Sep 2021
Chindeni and the Bushcamp Company, Zambia
By late July we found ourselves at Chindeni, a small Bushcamp Company property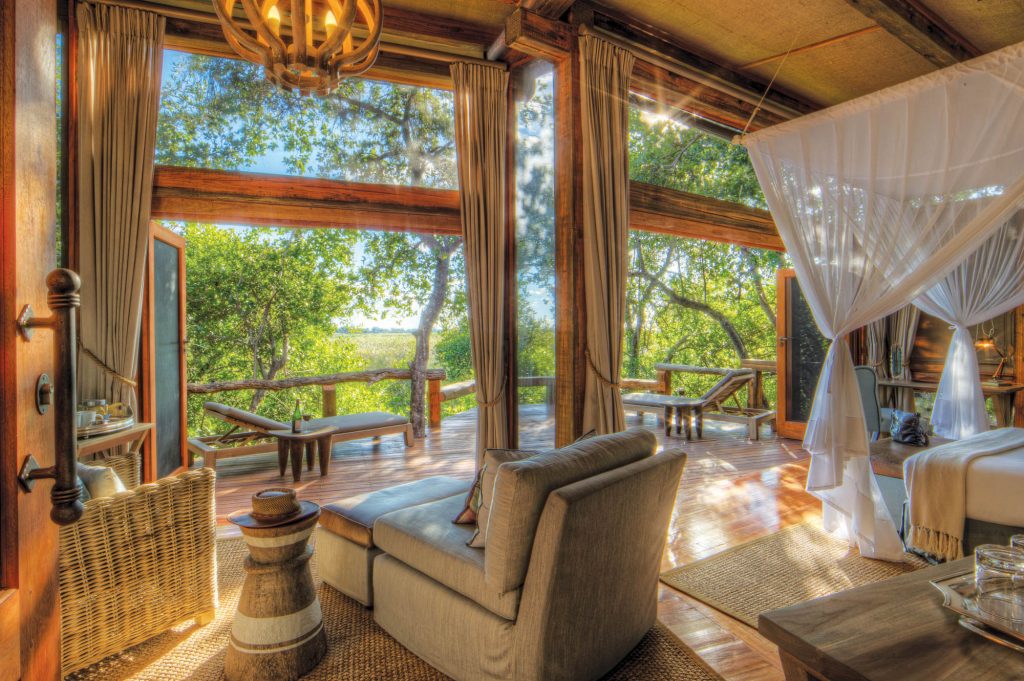 3rd Oct 2022
Camp Okavango, Botswana
Camp Okavango is in the heart of the permanent part of the Delta. In this idyllic setting there are no vehicles, and it is just a short walk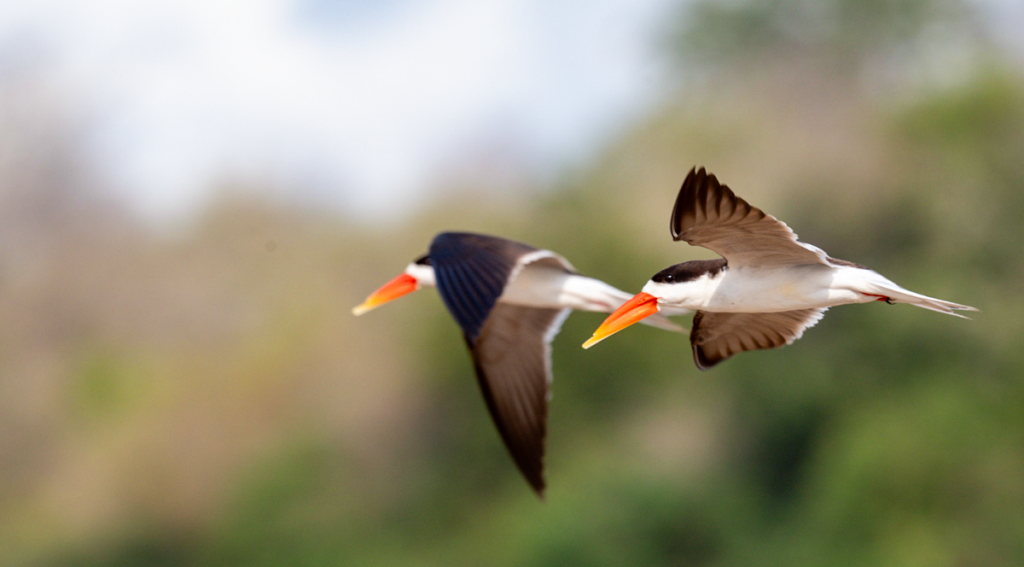 14th Oct 2023
From My Safari Notebook: Wildlife Photography
Birds in flight and wildlife photographers have an uneasy relationship. Things go wrong as often as they go right. Getting focus-lock on a moving subject
SUBSCRIBE TO OUR NEWSLETTER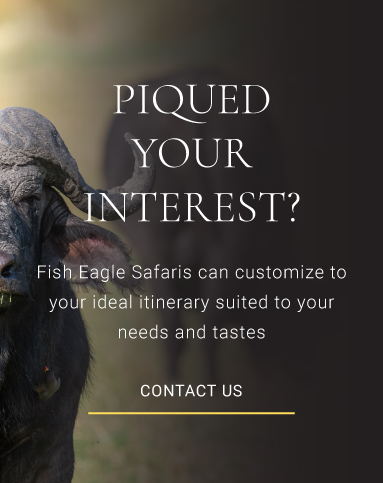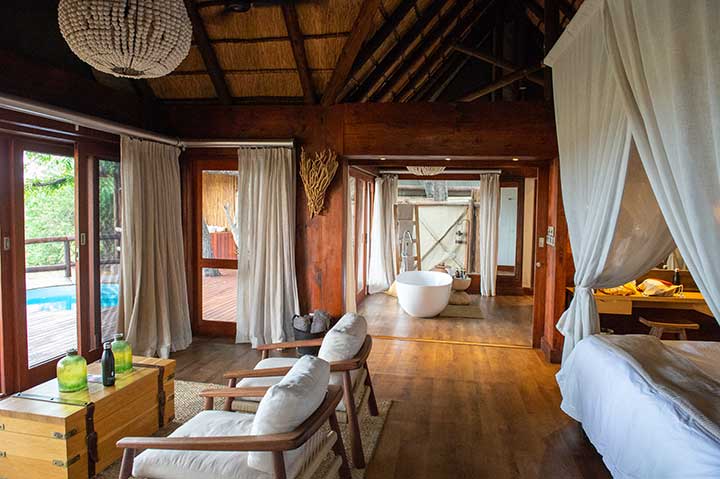 4th Aug 2022
On Safari At Belmond Eagle Island Lodge, Okavango Delta
What is the 'secret sauce' for an unforgettable few days on safari in Botswana? It starts with the animals, of course. The elephants, lions, giraffes, hippos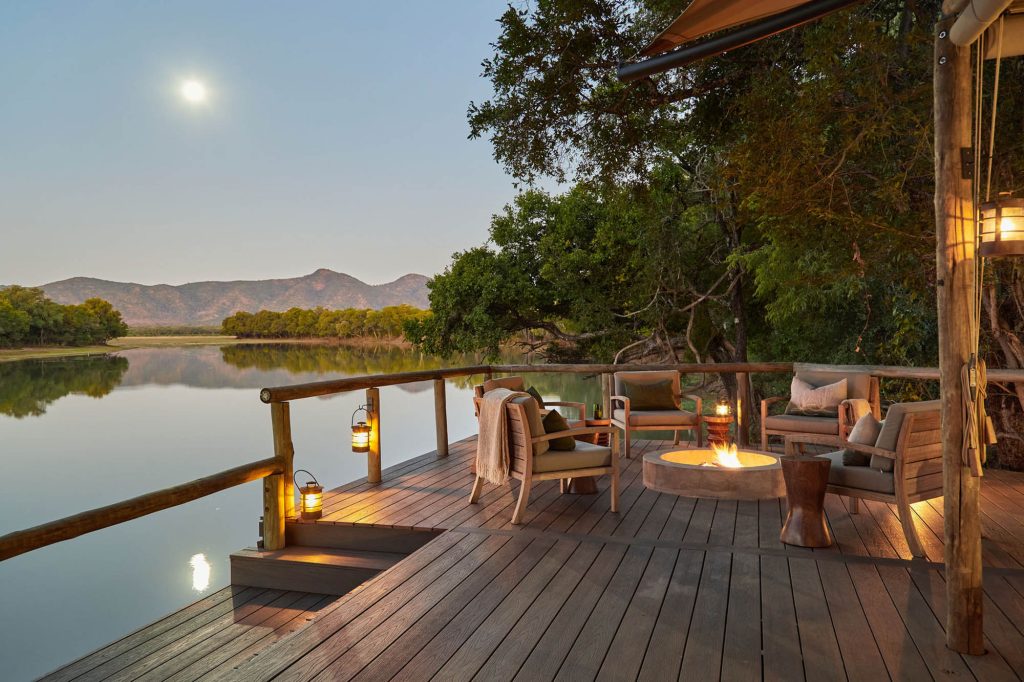 10th Sep 2021
Chindeni and the Bushcamp Company, Zambia
By late July we found ourselves at Chindeni, a small Bushcamp Company property