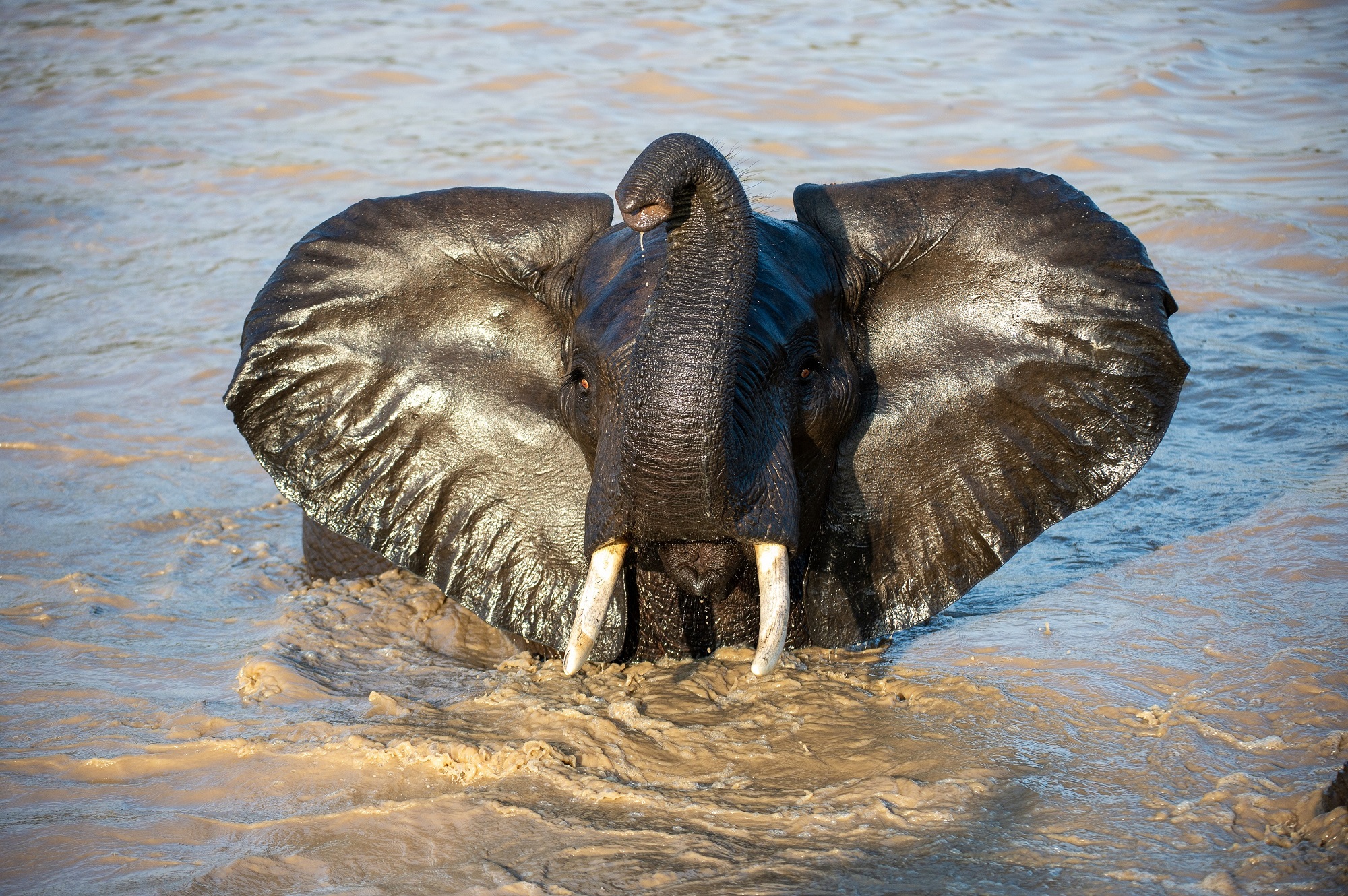 Timbavati Game Reserve, Kruger Park
The Timbavati Game Reserve, a massive privately operated game sanctuary adjacent to the west of the central portion of Kruger Park, is sometimes overshadowed by its better known neighbor to the south, the Sabi Sand Reserve.
In reality, there's not much to choose between the two reserves, in terms of the overall safari experience. In short, they are both excellent. In some ways the Timbavati in fact outshines its more popular rival to the south. It is more remote, the vehicle density is less, and the prices are on average a good bit less than the Sabi Sand, making Timbavati the best value option of the private reserves. The guiding is good to excellent in both reserves. Guiding proficiency is usually more closely associated with a specific lodge than with a reserve.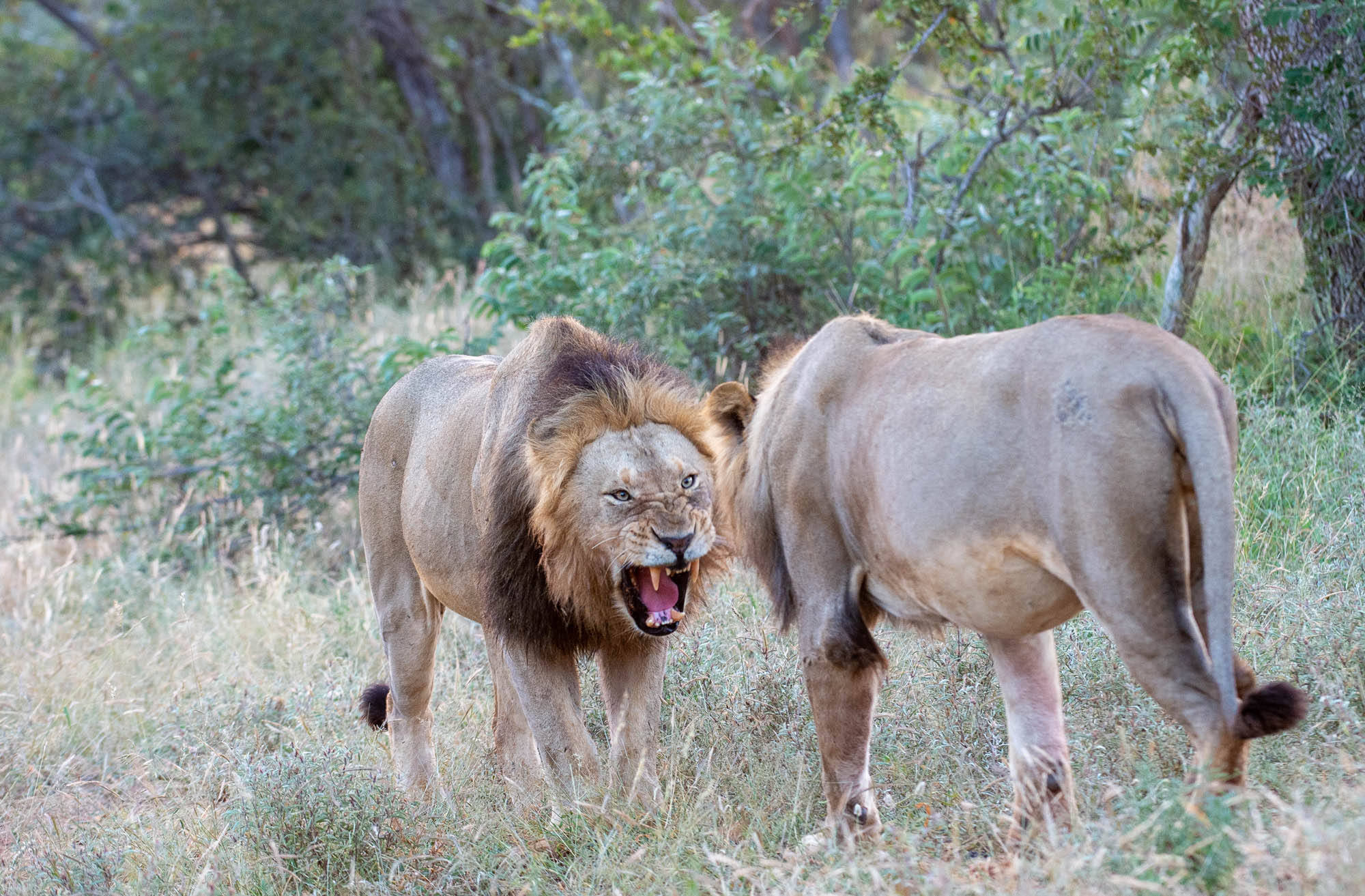 All in all, the Timbavati is about as 'bushveld' as it gets, with a typical mix of acacia thickets, patches of riverine bush, open savannah and large swathes of mature woodland. Its average altitude above sea level is barely 500 meters, which makes for balmy, dry winter months from about May through August and September, which is also the ideal time to visit. Like the Sabi Sands, the Timbavati is also completely open to the Kruger Park on its eastern boundary, allowing for free and unfettered movement of animals from the national park.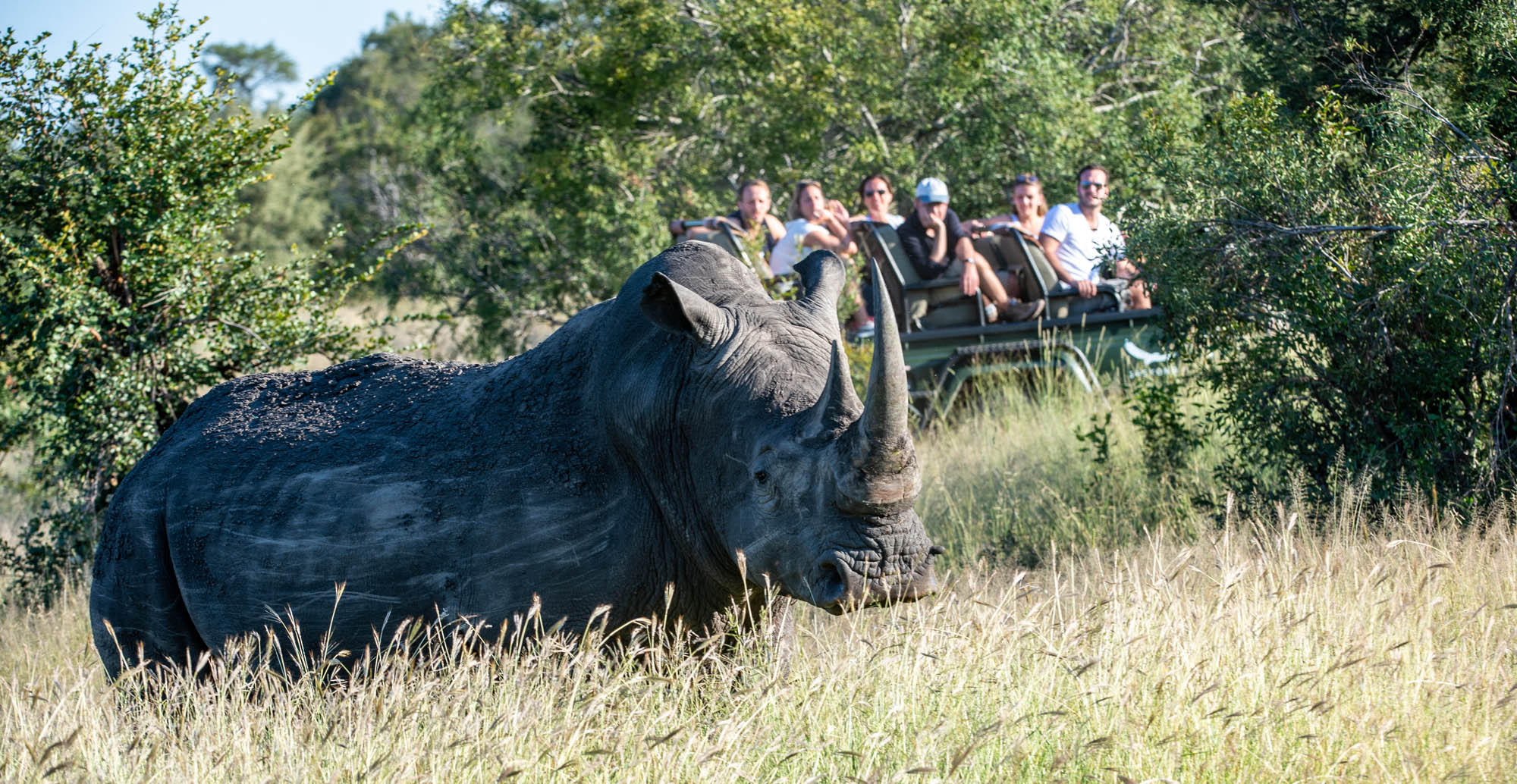 KAMBAKU RIVER SANDS
On a return visit to the Timbavati last May, I spent several days at four different camps, and re-discovered the appeal of this attractive slice of African wilderness. My first stop was Kambaku River Sands. Kambaku River Sands is a well-managed property in a game-rich area of the Timbavati. Right from the word go I sensed that they had their act together and everything I experienced over the course of my short stay validated the first impression. Starting with the 10 luxury suites. They are huge and super comfortable, with a large mosquito net enclosed bed, air-conditioning, a sitting area with chairs and a table, ample lighting, tea and coffee making facilities and a spacious separate bathroom with indoor and outdoor shower and good-sized ball and claw bath.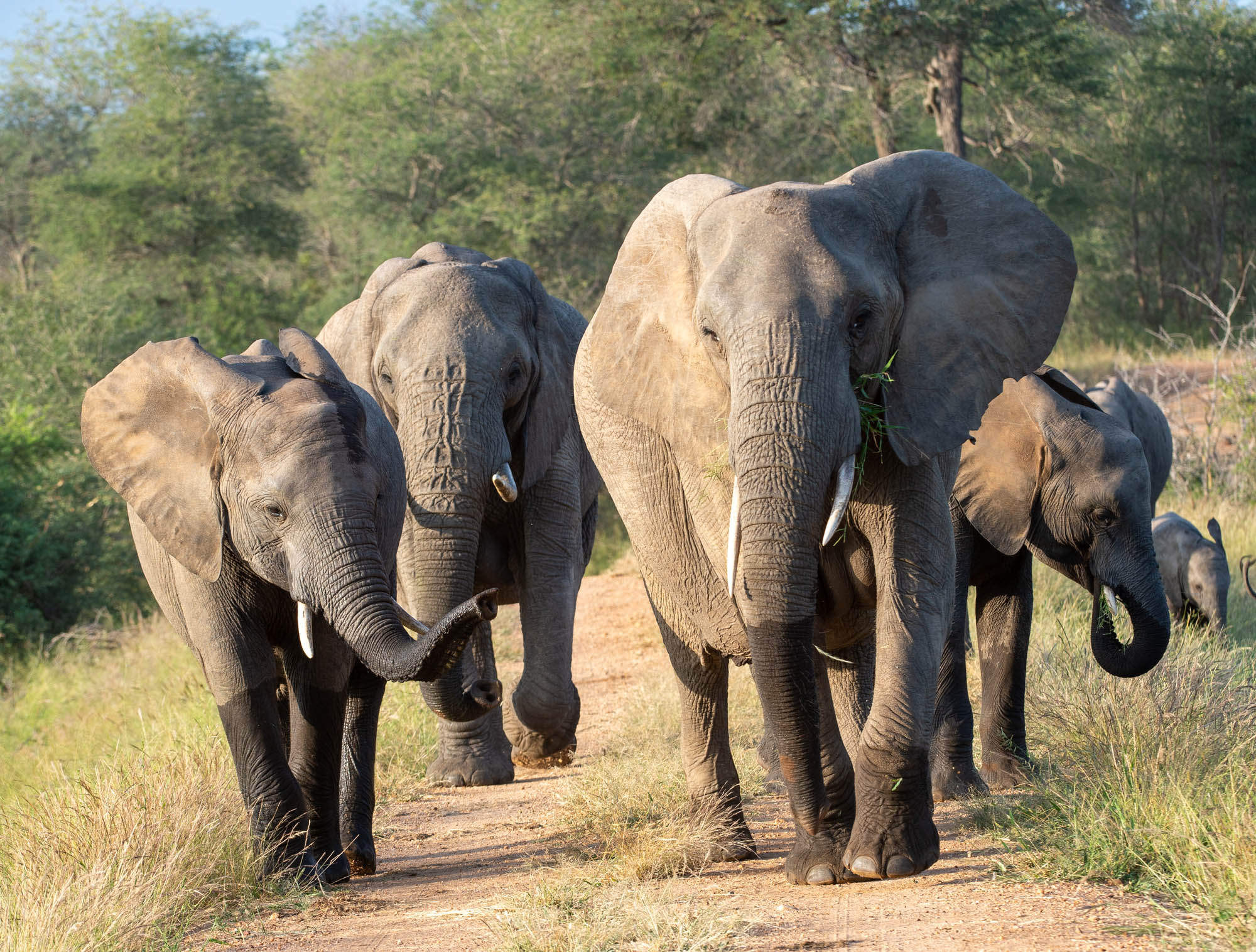 The food offerings were excellent throughout, from lunch on arrival, dinner and brunch the next morning. Nicely prepared and imaginatively presented, and extremely tasty. Clearly a lot of thought goes into menu planning and food & beverage service. I did not have much time to spend at the expansive and beautifully wood-crafted bar, but it looked most inviting. As a unit the lounge and dining room complex is attractive and functional with lots of space and spots where couples and small groups can get together before or after meals, or around the outdoor pool. Elephants come to drink from the pool from time to time, and there is a separate waterhole within sight of the deck as well.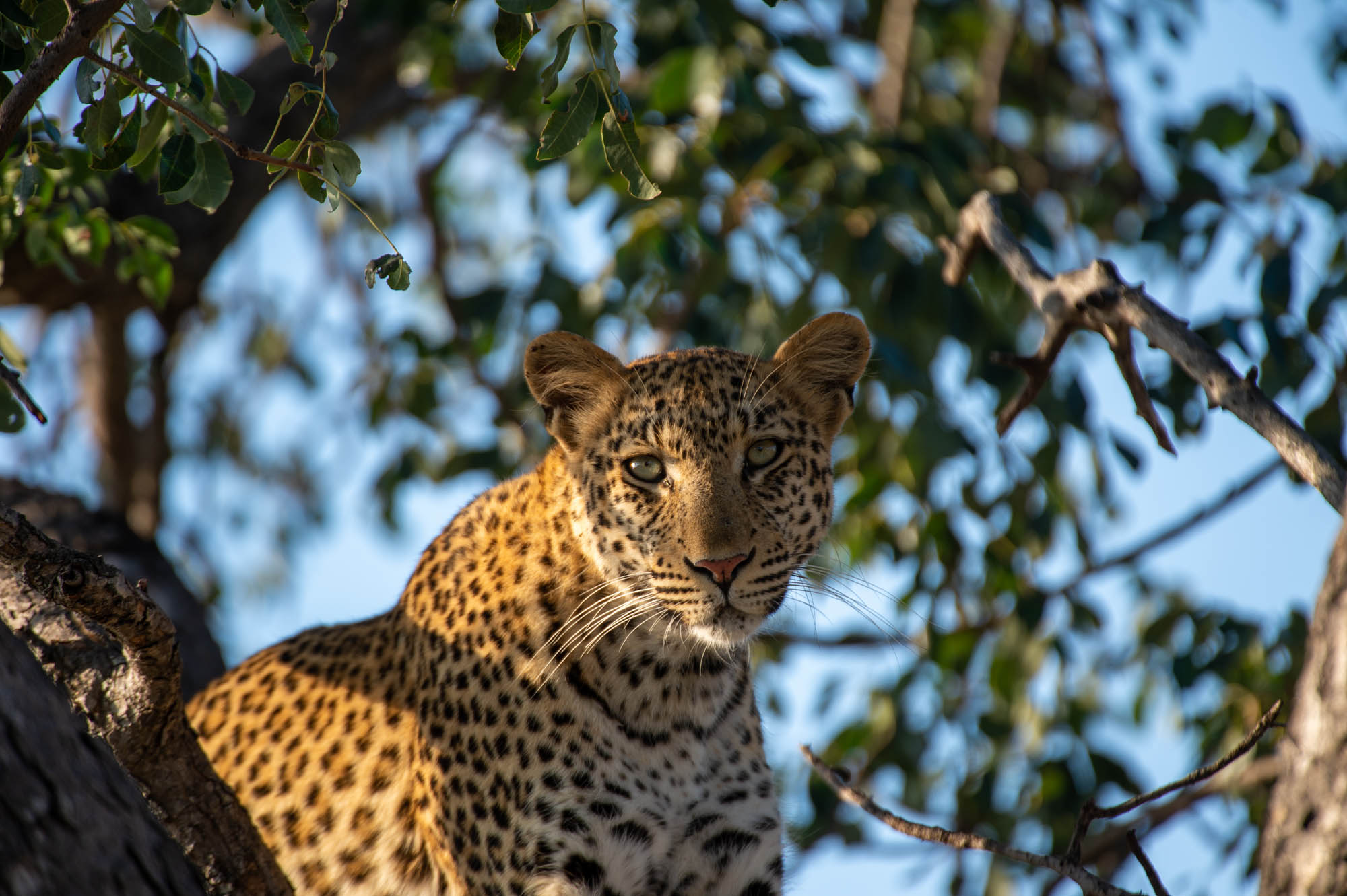 In just two game drives out of Kambaku I saw a ton of stuff, including a fantastic sighting of a young female leopard in a tree. We also saw some lions at night, there were lots of elephants, and all the usual plains game species including zebra, impala, wildebeest, giraffe and kudu. The bush was still quite thick (early May) so clearly game-viewing will be even better as the dry season advances.
The following morning's game drives out of Kambaku produced an elephant sighting which was just as spectacular as the 'leopard in a tree' of the previous day. Being early May, there was not a great abundance of animals. The area is densely wooded and after the rains game viewing can be challenging. However when you do come up on something good, there are few, if any other vehicles around.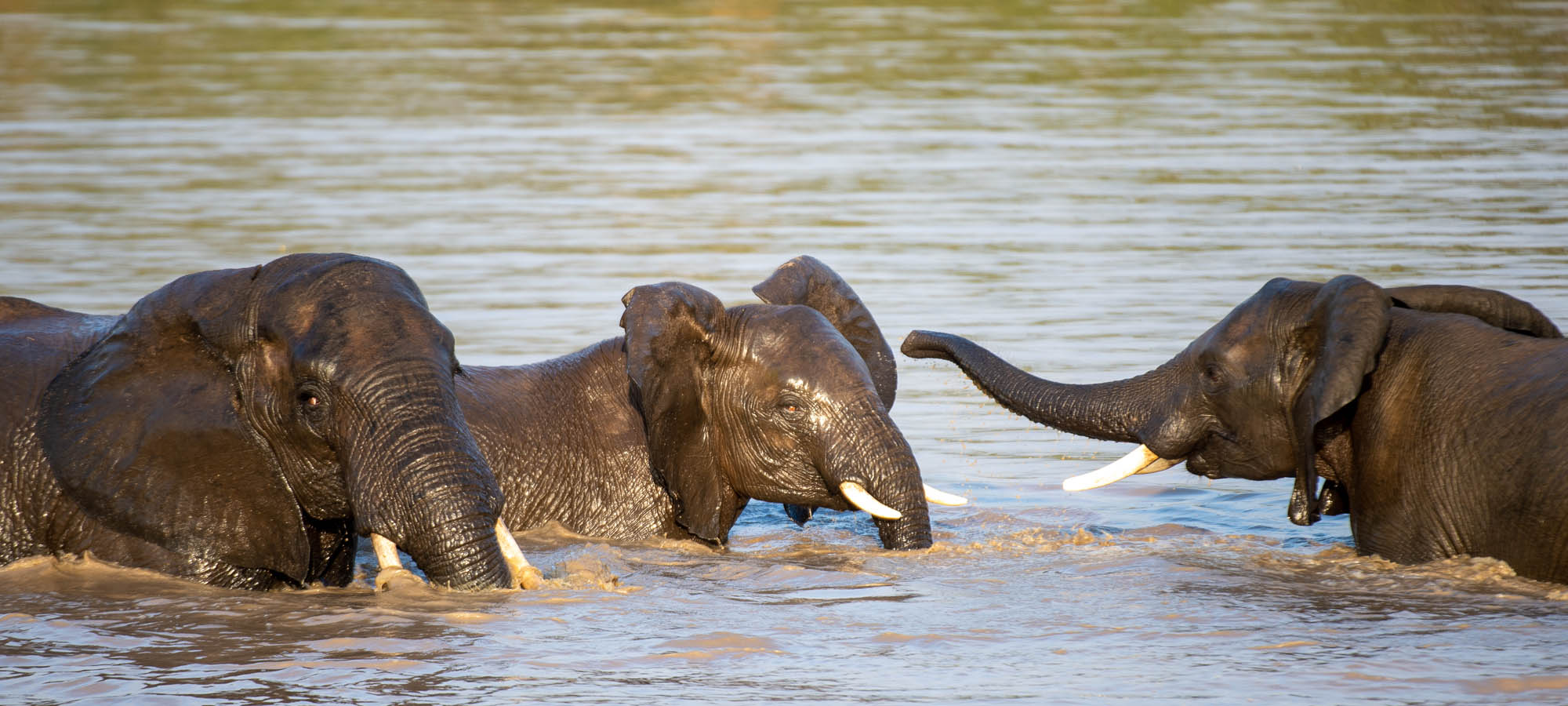 A spectacular elephant sighting on this drive had just two vehicles witnessing it. Which is almost too bad because it was a 'once in 20 years' type of sighting: an amazing spectacle with about 20 young elephant bulls testing their strength in a quasi-serious jousting contest, half-submerged in a lake. Right in front of us. In near perfect light. If you visit Africa maybe one time only and experienced only this, you'd understand why a photo safari is such a satisfying experience on so many levels.
There's the sheer visual appeal of it, naturally. A hankering to see big mammals alive and kicking in their natural habitat is just skin-deep in most people, I suspect.
There's the sense of discovery and of seeing new things, all while completely escaping the daily grind of our overscheduled, overly busy lives.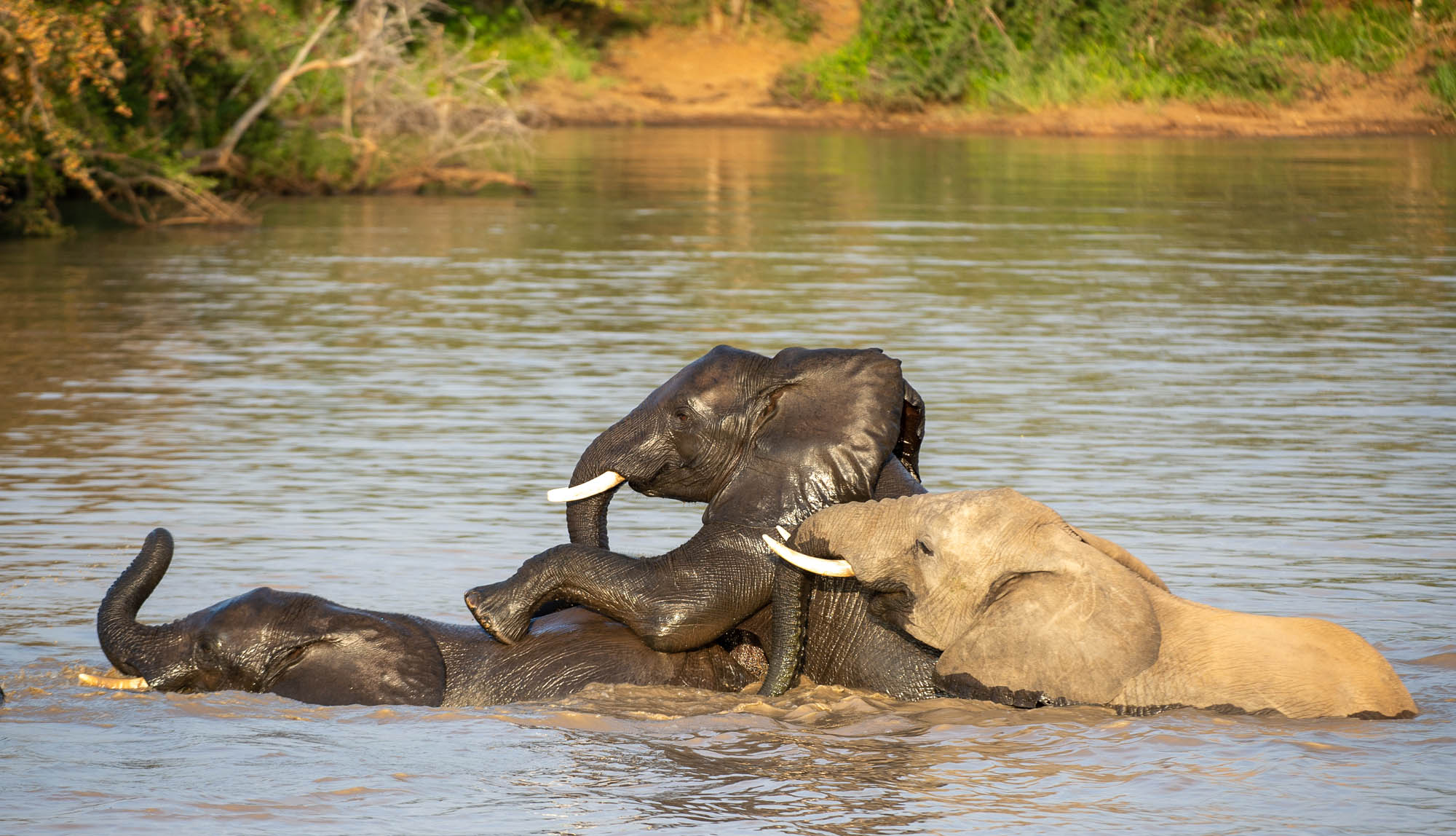 There is an underlying sense of apprehension and a tinge of danger, in the proximity of particularly the big cats but also elephants. Return visitors will recall that very first time their guide drove them right up to a pride of lions. You know it is safe and you are told that the big cats don't pay attention to people sitting still in the vehicle. But what if…
The sense of anticipation and the surprise element. Don't we all thrive on being pleasantly surprised? On safari it happens often and sometimes when you least expect it. Just like the following day's events would reinforce, a game drive isn't over until it is over. Anything can happen and often does, sometimes in the last few minutes of a drive.
Of course, you also get to stay in some wonderful places, hosted by people whose only mission is to keep you happy and content.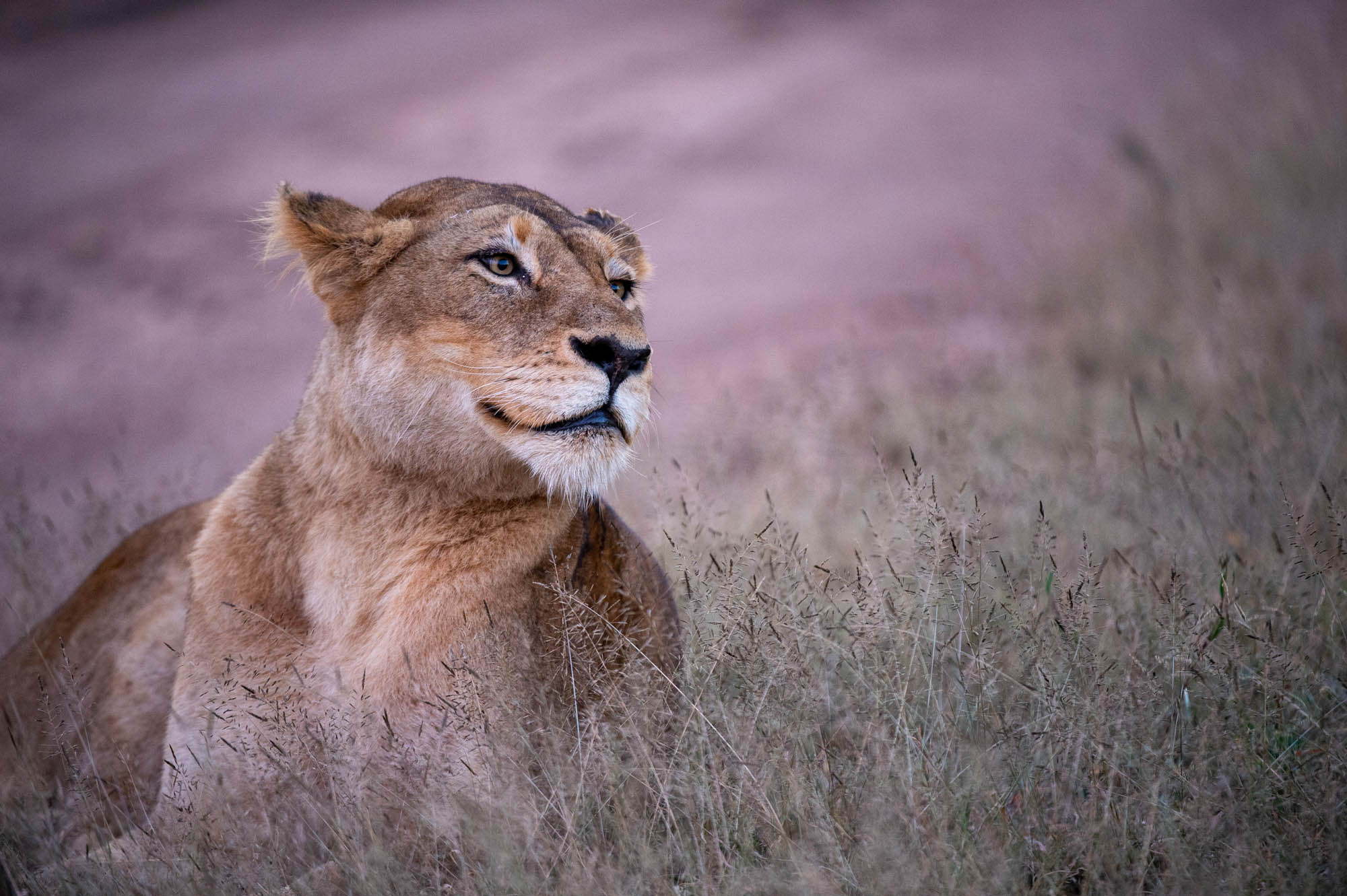 KINGS CAMP
Returning to Kings Camp after an absence of several years, it was reassuring not to have to work too hard to remember the first time. Other than a few small changes (a new spa area, new decking, more outdoor spaces) it had remained essentially the same. A timeless classic where all your African safari expectations are met and exceeded. The near palatial rooms with mosquito net enclosed king bed, an inviting clawfoot bathtub, inside and outside shower and plunge pool (in the honeymoon suites), will wow just about anybody.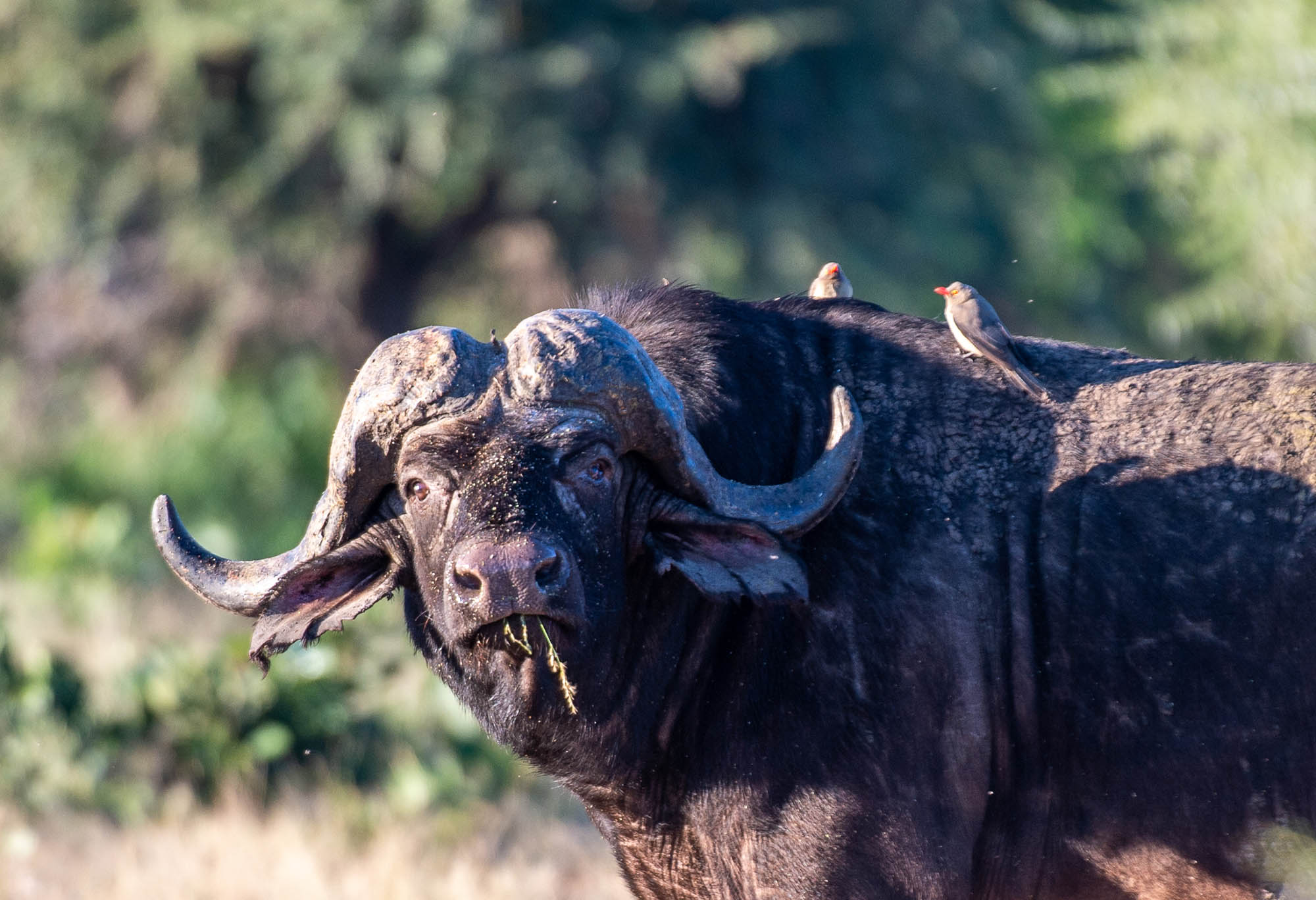 Both meals I enjoyed at Kings Camp were exemplary: a delicious breakfast on my day of departure and a multi-course boma dinner the night before. The array of menu items was quite impressive and enticing, ranging from lots of fresh veggies to a deconstructed mixed salad, pork belly, roast chicken, braised oxtail stew, and a stir fry station. With several other side dishes and finished off with a lovely malva pudding for dessert.
The two game drives from Kings Camp with my guide Remember were fun and memorable. Remember is a caring, careful and highly experienced guide who knows the area intimately and takes his time to impart some interesting facts and observations about the various animals, birds, plants, and trees seen.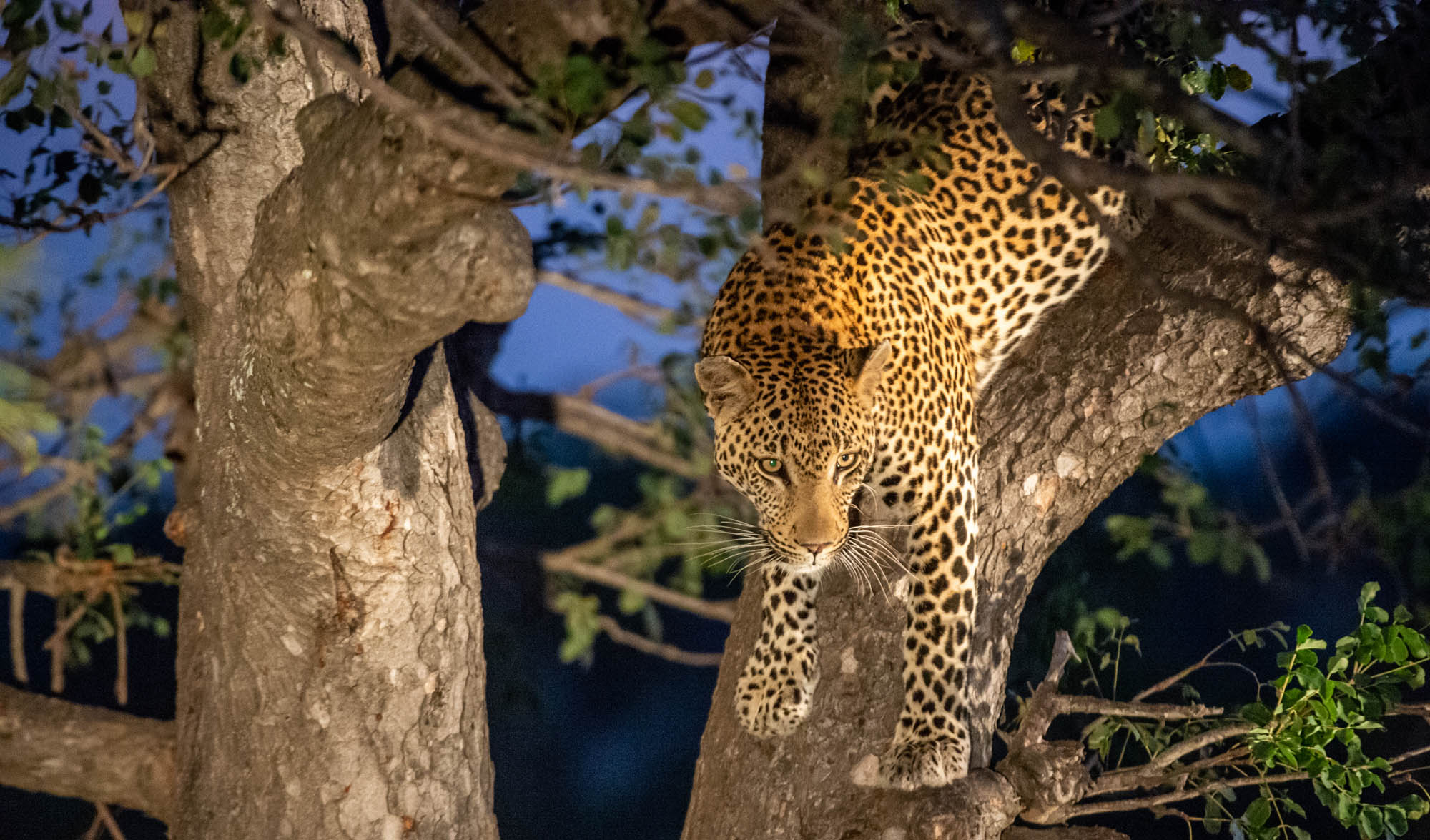 The afternoon game drive started out being quite slow but that changed – right towards the end of the drive – with another 'leopard in a tree' encounter. Add to the mix some scavenging hyenas as well as an interloper young male leopard, and things become fascinating in a flash.
We watched spellbound as the younger male got wind of the smell of a carcass in the tree, from which he eventually displaced the older and much heavier male. In the gathering darkness I managed to capture a few arresting images of the older male exiting the tree, his demeanour and body language reflecting caution and maybe even apprehension. He was in no mood for a fight in which he stood to lose everything.
The next morning we enjoyed a similarly entertaining and meaningful episode, watching a coalition of two male lions re-connecting early that morning. Greeting each other like brothers with big grins and some head rubbing, they settled down for a siesta while we went off on a successful search for a female leopard. Great stuff!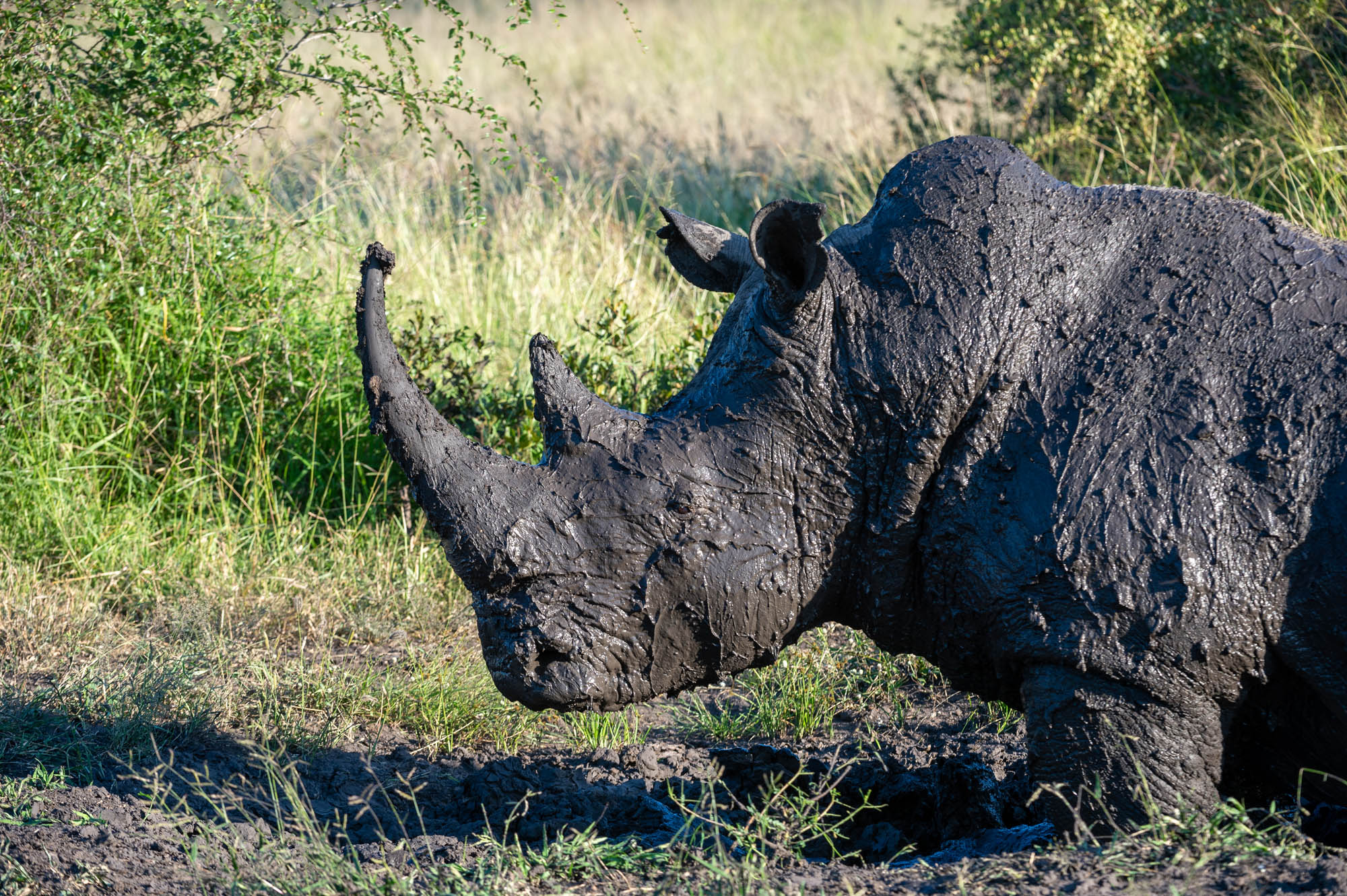 NGALA TENTED CAMP
By midday in early May, I was enjoying an impeccable lunch at Ngala Tented Camp, a deluxe property on the border of Kruger National Park. With nine elegant tented rooms – operated by the redoubtable AndBeyond company – Ngala Tented Camp is one of very few properties which we've booked for our clients in the past, sight unseen. It's always turned out well and now that we've been there ourselves, I daresay we will be recommending this place for a lot more guests.
Ngala Tented Camp is intriguing and pleasing visually and artistically, with a blend of old and new, wood and stone, glass and canvas, creating a one-of-a-kind look and feel which is hard to pin down, but easy to like and appreciate.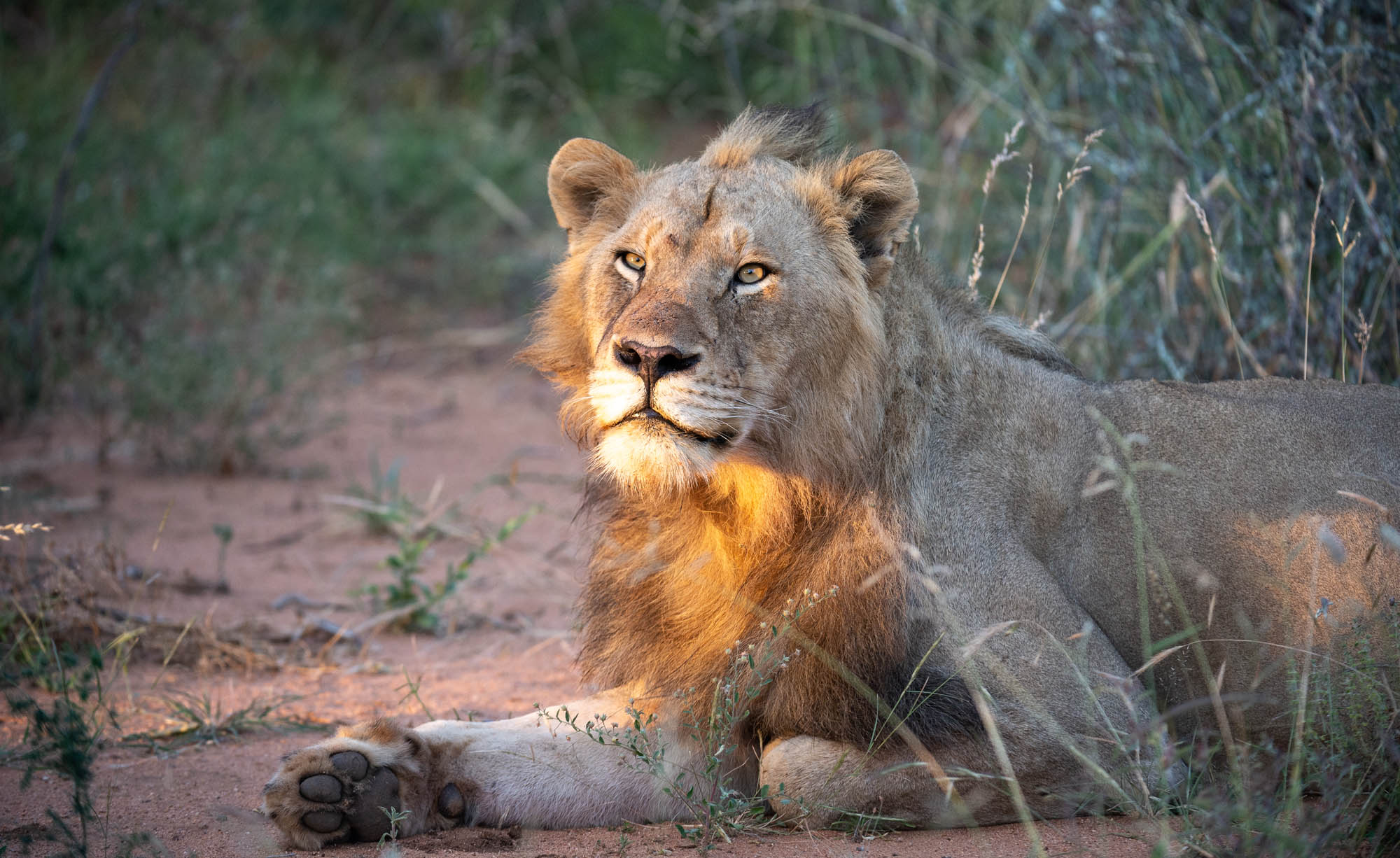 The Ngala Tented Camp rooms likewise hit all the right notes. Not huge but with plenty of space, an exceedingly comfortable bed, a separate bathroom with a big tub (and lots of water with good pressure), a separate enclosed toilet and a particularly nice outdoor shower enclosed in a rock/stone wall.
The room is air conditioned, quiet and private with a range of excellent camp snacks (nuts and fudge), wine, beer and several types of spirits and mixers. There's even a recipe for Ngala Tented Camp gin fizz.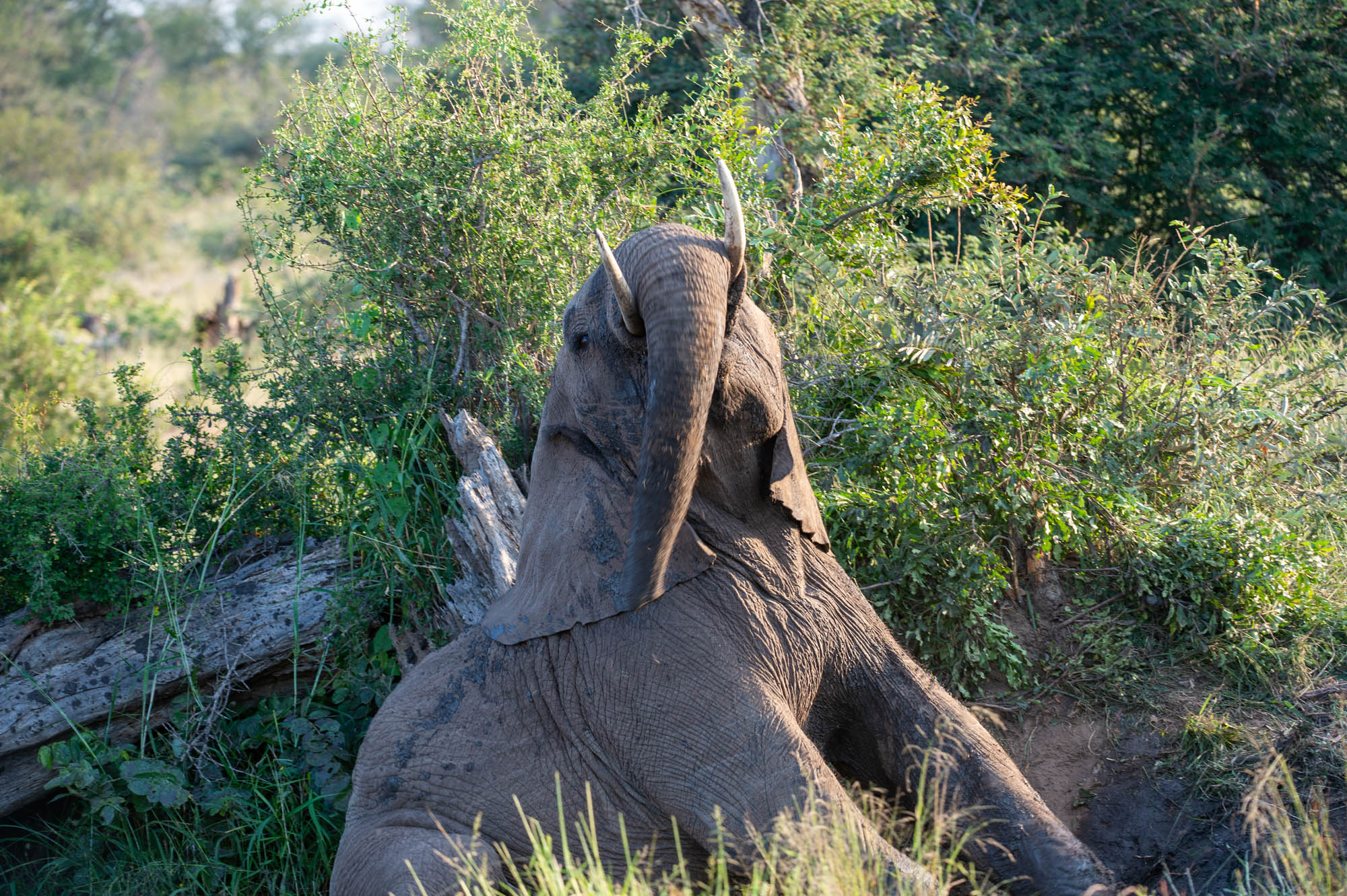 It soon became evident that Ngala Tented Camp is located in a superb game-viewing area. Over the space of two game drives, afternoon and morning, we managed to find and observe the so-called Big Five mammals without much drama at all. Notably, three of the five we saw no more than one kilometer or so outside the camp. In many African safari camps you have to drive for 30 or 40 minutes or more, just to get to where the game is. Not so at Ngala Tented Camp. The game is right there.
Our guide Scott was enthusiastic, had a great sense of humor and managed the most difficult of guiding feats (first timers and veteran safari goers on the same drive) with the greatest of aplomb. Clearly Scott and tracker Ernest are a formidable team, providing their guests with lots of wow moments.
A nice change of pace moment was when Scott got us all out of the vehicle to walk through the bush, making a close approach to a giraffe. Which turned out to be the most relaxed giraffe ever!
TANDA TULA CAMP
My last Timbavati camp on this trip was the well-known and perennially popular and well-established Tanda Tula Camp. Located in the heart of the Timbavati along the Nlharalumi River, Tanda Tula has gained its excellent reputation by doing everything right, consistently. Good accommodation, great food, pleasing camp ambiance and superb guiding make it a great choice for first timers and safari veterans alike.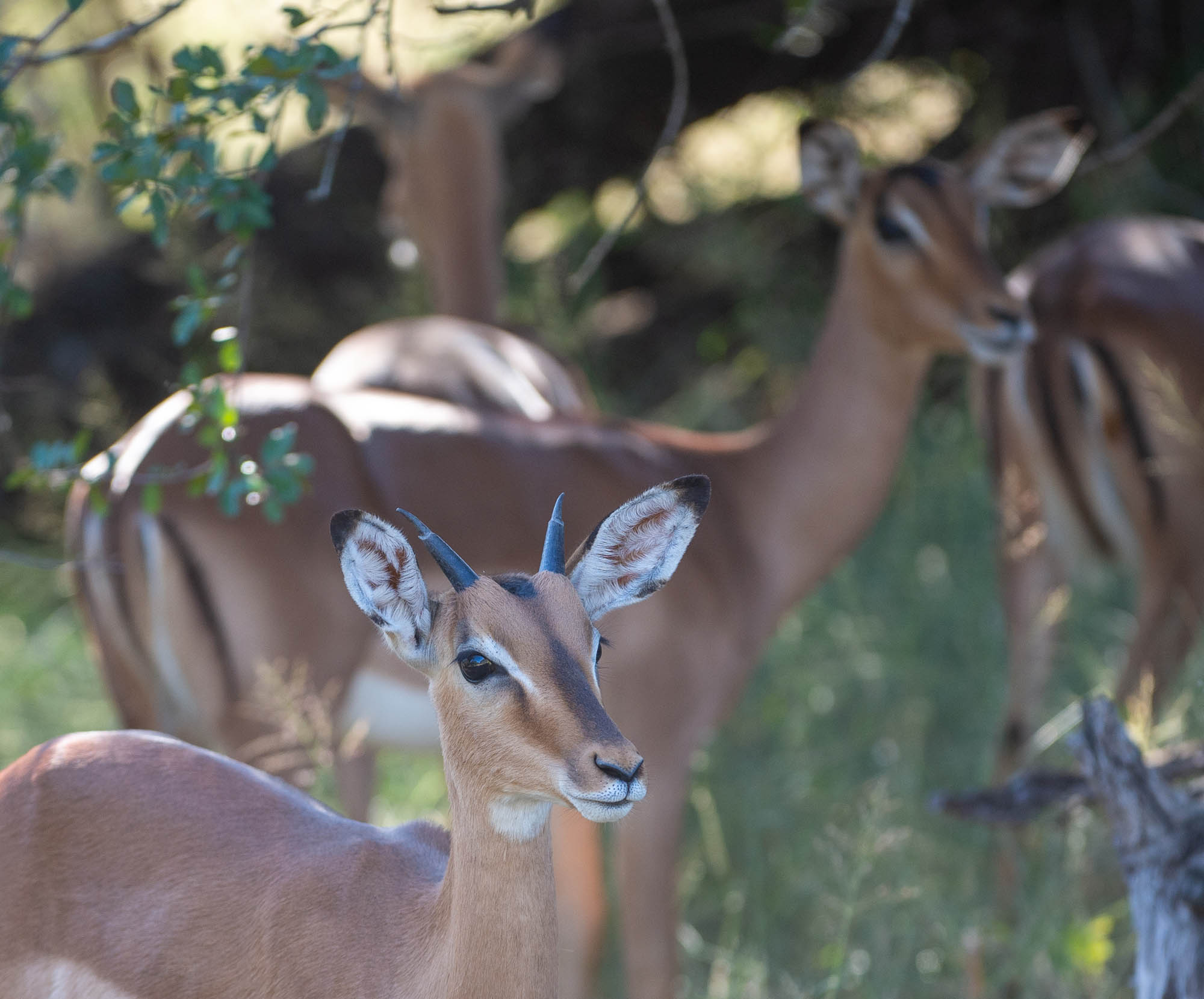 On a couple of game drives with guide Luke and master tracker Jack, I think I gained just as much from the experience as the two young couples from San Francisco for whom it was their first two game drives ever. Yes, we saw the Big Five but it ended up being much more than that, with Luke imparting some witty and well-informed bits of information and background without being pedantic or repetitive. Good, fresh information, not the hackneyed 'Mcdonalds of the bush' drivel. For example, I never knew just how short the 'reign' of a dominant male Impala was. Turns out that he has perhaps as few as eight days as the dominant male in charge of his harem of females, before he is supplanted by a challenger. Guides like Luke take delight in debunking old bush myths and pseudo facts. All the more reason to have a well qualified guide leading you. Likewise Jack, who is one of only 25 master trackers working in this field in South Africa.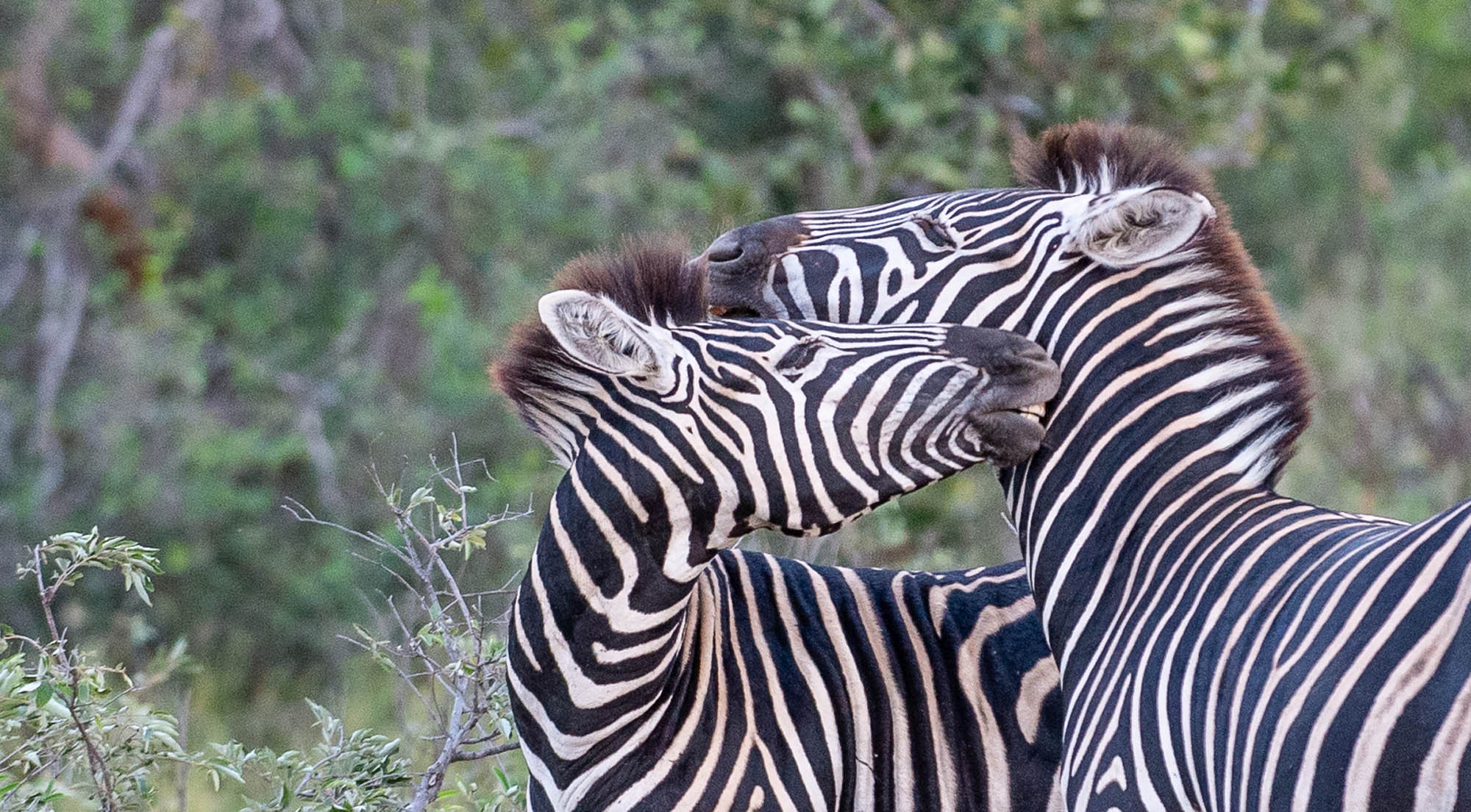 Back at the lodge chef Ryan prepared a couple of the best meals I had enjoyed on the trip to date. A lunch with braised barbecued pork ribs and a delightful dinner with lamb loin chops or braised guinea fowl. The side of sweet potato croquettes and the kingklip (fish) starter were equally tasty and beautifully presented. Camp manager Antony and his staff were friendly and caring and I think all the guests enjoyed the good humor and general sense of well-being which suffused the place. It is not stuffy or serious, just good fun and a great time. Plus the WiFi works well.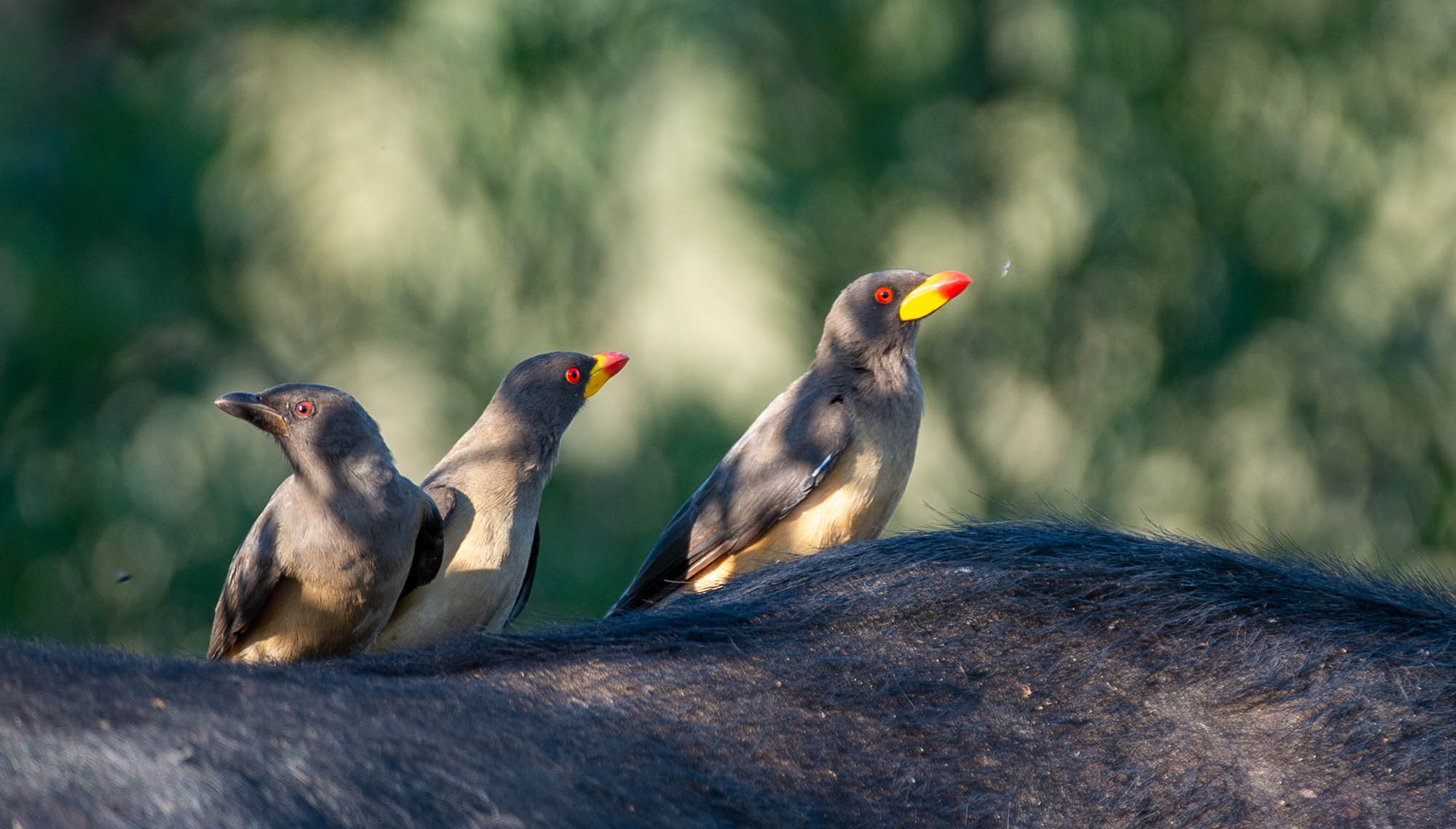 JOHANNESBURG INTERLUDE
I had not spent a night in downtown Johannesburg in a very long time. Having lived in the city in a previous life, I am no stranger to it but this was a new experience. Home for the night was a small boutique hotel – the Hallmark House – chic and ultra modern, located right on the edge of Maboneng, with a mix of accommodation, galleries, retail shops, restaurants and clubs.
Wandering around the place in the late afternoon, I was very much a stranger in his own country, but it was nonetheless interesting to observe from a very different perspective. I was relieved to find an informal dinner spot, a small hole-in-the-wall with every table taken, which is always a good sign. The food was simple but exactly what I wanted, and at least for twenty minutes or so, it re-connected me with a place and time long gone. A traditional ensemble of pap (a rustic version of polenta) with a tomato and onion sauce, a side of spinach and a 'boerewors' sausage, South Africa's celebrated traditional version of bratwurst, characterized by the addition of coriander in the spice mix. Tasted like home.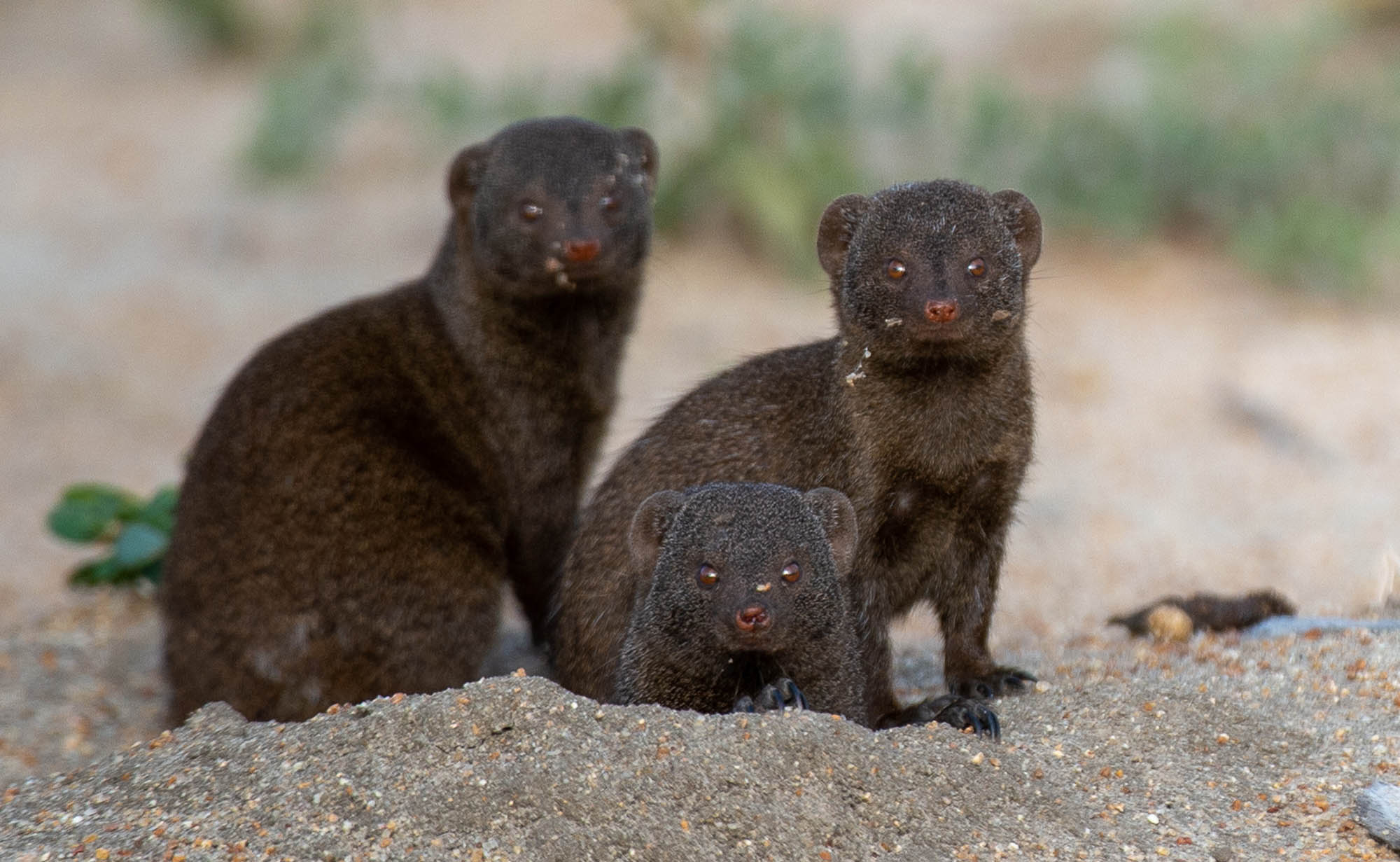 The following morning I had time to capture a few photographs of the Maboneng precinct, particularly some of its ubiquitous examples of street art and graffiti. The graffiti were colorful, brash and ephemeral, with many illustrations already starting to peel away and decay. One hopes that this does not happen to Maboneng itself. That the promise, the sense of renewal and rebirth visible in so much of it, is not dashed by the harsh realities of commerce and circumstances beyond the control of the locals. It remains to be seen.
If you're keen to experience an authentic modern African city environment then definitely yes, spend a couple of nights at the Hallmark House or the nearby CityLodge on the edge of Newtown. Johannesburg has a vibrant arts and music scene – which I hope to explore on my next visit. In the way of a true big city with all of its energy, creativity and fascinating people, there are few better than Egoli, South Africa's city of gold. What makes Johannesburg doubly interesting is the process of renewal that is taking place. Blight and decay are making place for hope and aspiration, innovation and ingenuity. Maboneng being the most visible but hardly the only example. Newtown and Braamfontein have undergone a similar process of renewal and rejuvenation and are now worthwhile stops on your exploration of Joeys.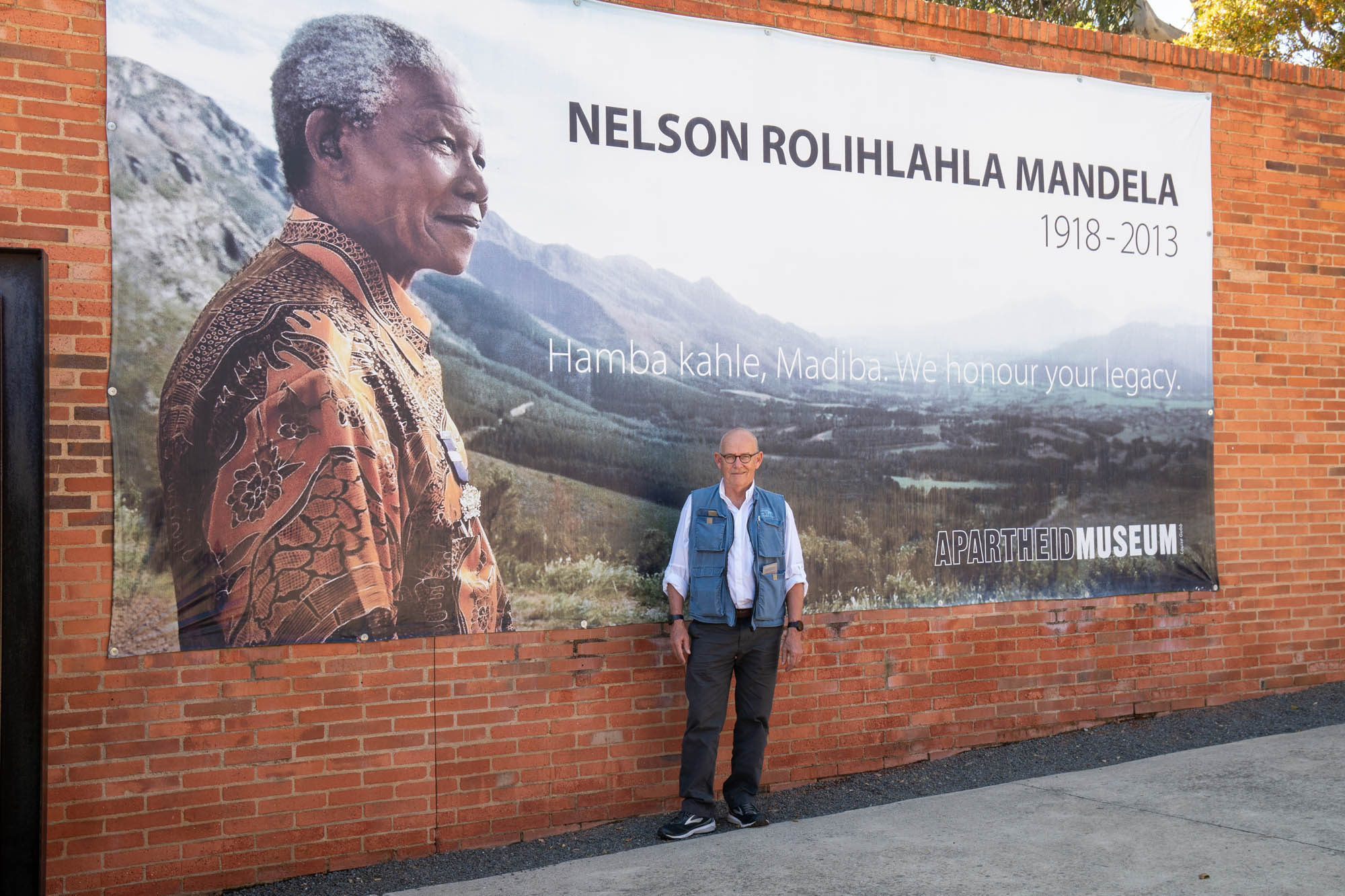 APARTHEID MUSEUM
The young French girl – part of a tour group of some thirty or so students visiting the Apartheid Museum in Johannesburg last May – probably didn't know what to make of the older man she saw crying, just outside the museum exit. The man was leaning against a planter, his head down, tears streaming down his face, clearly emotionally devastated by what he had just seen and experienced. What was he crying about, she might have thought. If she had stopped and asked, the man would have told her that he was crying for his country of birth, for lives ruined, families destroyed, and hopes dashed. He was crying because of regret and guilt, with the realization that the failed system of apartheid was a colossal waste of the human spirit, of lives, time, resources and energy. The French girl saw sadness and pain on his face; what she didn't see was the unresolved inner conflict, the scars left by living through the worst of the apartheid era. Even though the man was lucky not to be one of the oppressed, the double-edged sword of racism wounded him just as deeply. All South Africans were diminished by the system, they just did not all realize it at the time. Being confronted so vividly and strikingly by the harsh reality of the grave injustice done to millions of people, a lot of old, suppressed feelings and memories were brought to the surface. Until then, the man thought that he had made his peace with all of this. Clearly he was mistaken.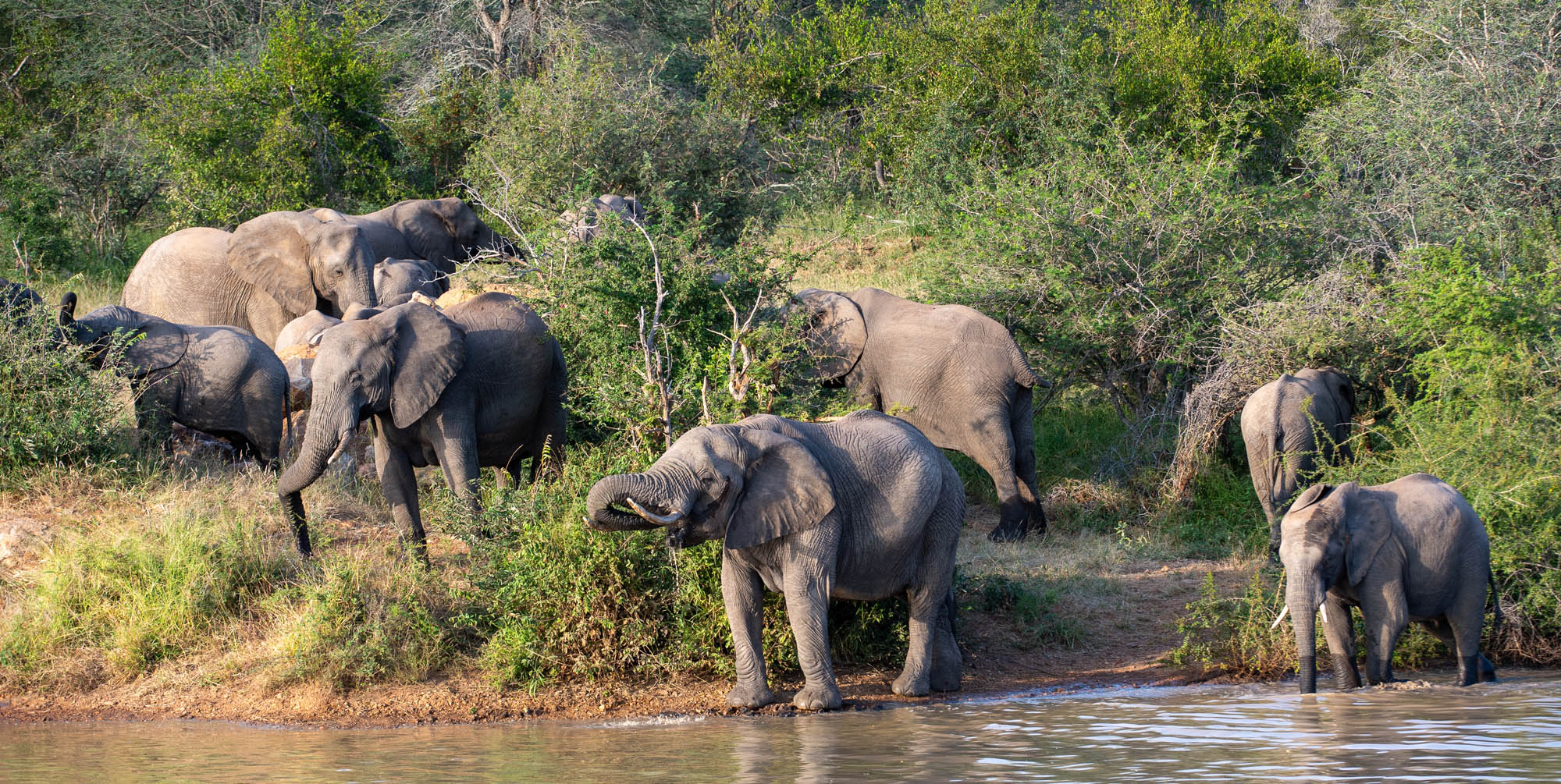 I have always had something else or something better and more pressing to do in Johannesburg than visiting the Apartheid Museum. Until this time. I now regret not doing it sooner. For those of us who lived through it all, it is a bitter pill to swallow. For visitors from abroad, it will be no less impactful and just as shocking to come eye to eye with man's inhumanity to man. The Apartheid Museum is important and powerful. It is also substantial and altogether loaded with information, displays, facts, maps, movies, names, history, interpretation and memorabilia. At a minimum, it takes a solid two hours to make your way around it, and I could see someone easily spending three or maybe even four hours there, if you wanted to get into the details of all the exhibits. Don't rush it.
In part 2 of this South Africa trip report, I make my way to the malaria-free Eastern Cape region. Coming soon.
YOU MIGHT ALSO BE INTERESTED IN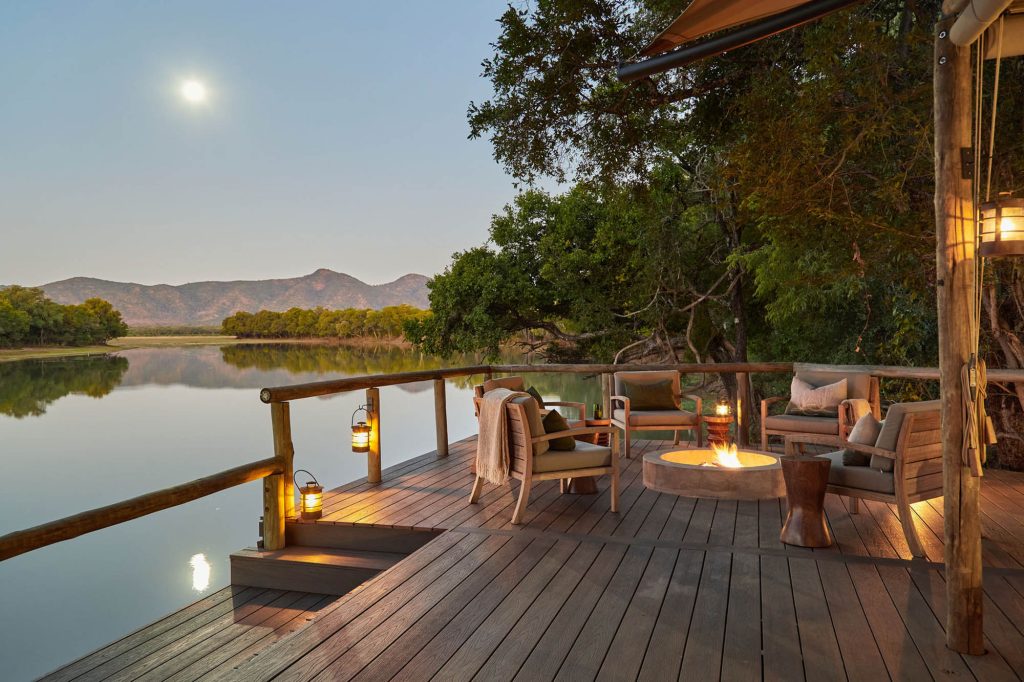 10th Sep 2021
Chindeni and the Bushcamp Company, Zambia
By late July we found ourselves at Chindeni, a small Bushcamp Company property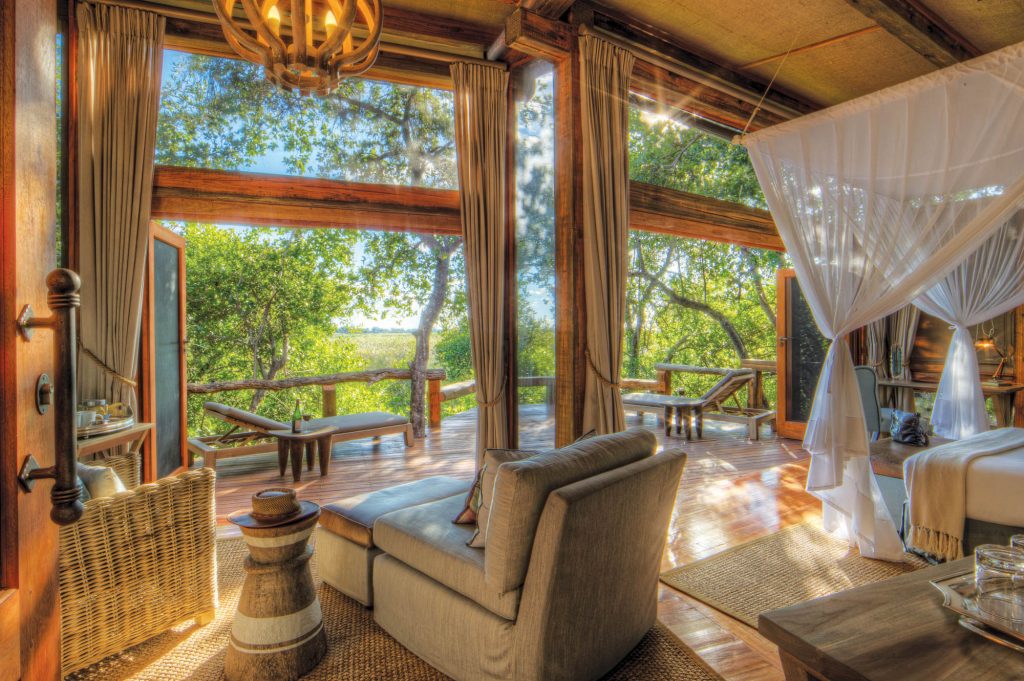 3rd Oct 2022
Camp Okavango, Botswana
Camp Okavango is in the heart of the permanent part of the Delta. In this idyllic setting there are no vehicles, and it is just a short walk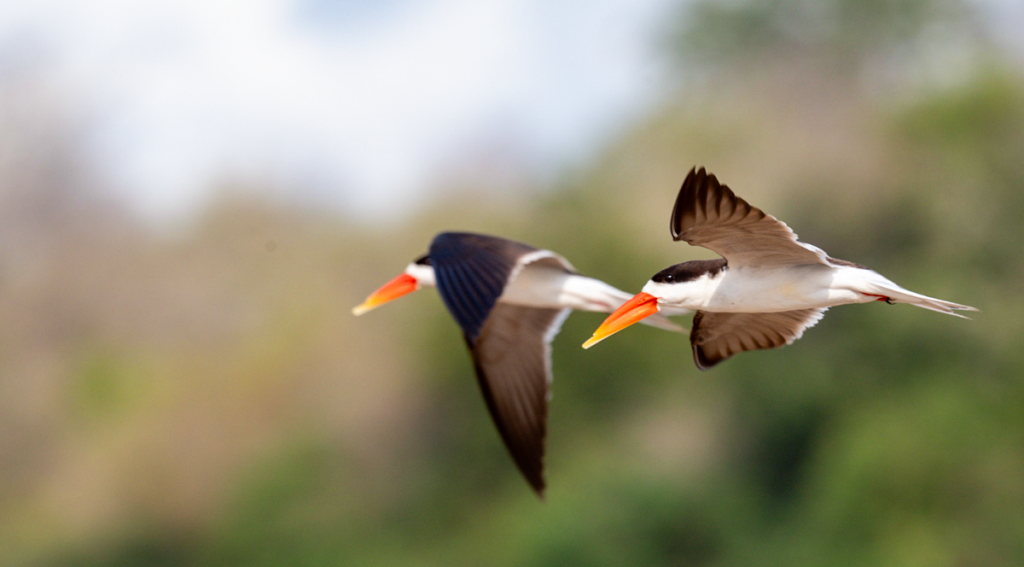 14th Oct 2023
From My Safari Notebook: Wildlife Photography
Birds in flight and wildlife photographers have an uneasy relationship. Things go wrong as often as they go right. Getting focus-lock on a moving subject
SUBSCRIBE TO OUR NEWSLETTER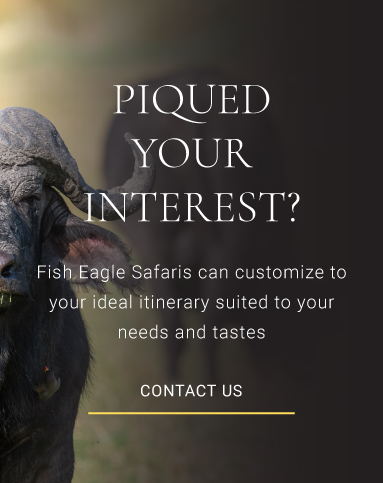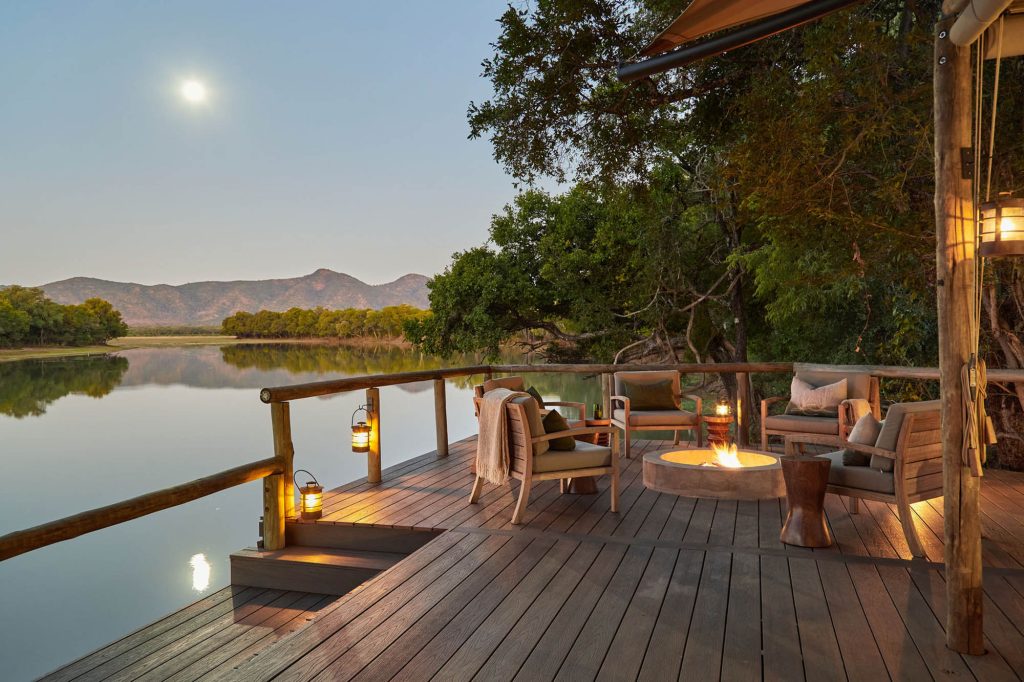 10th Sep 2021
Chindeni and the Bushcamp Company, Zambia
By late July we found ourselves at Chindeni, a small Bushcamp Company property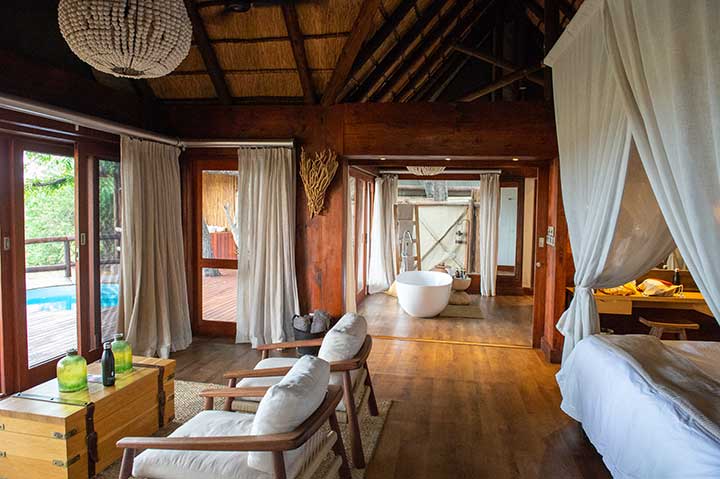 4th Aug 2022
On Safari At Belmond Eagle Island Lodge, Okavango Delta
What is the 'secret sauce' for an unforgettable few days on safari in Botswana? It starts with the animals, of course. The elephants, lions, giraffes, hippos