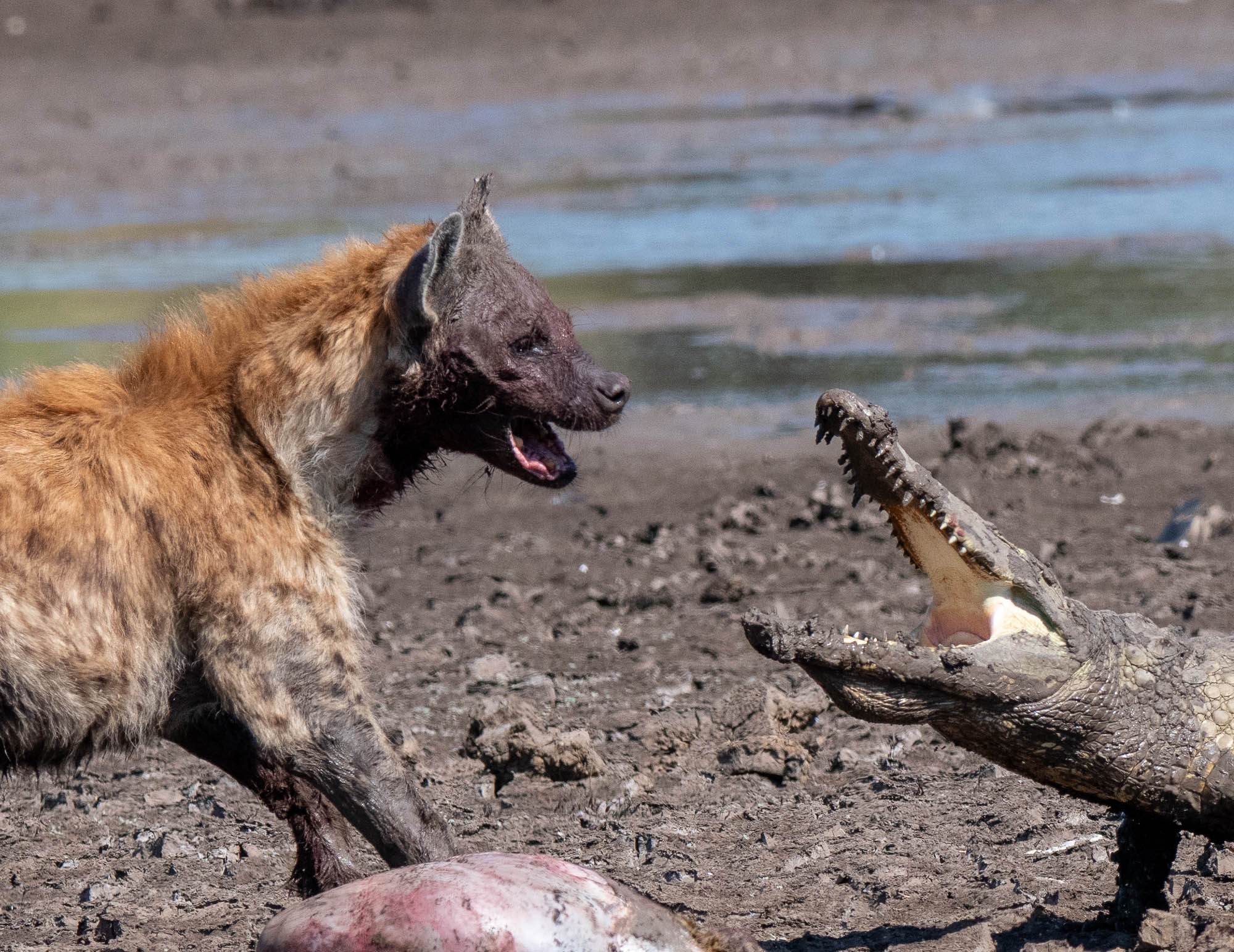 The Hyena and the Crocodile: South Luangwa, Zambia
Even if you travel to Africa regularly, and have been on safari many times, each day brings something new and something exciting. It may be as simple as seeing the same animals in a different light, or witnessing a difference in their behavior, or perhaps seeing them react to the presence of predators. And then there are those really special days on safari, when you see something extraordinary. So it was last month in Zambia when we witnessed an incredible scene of a hyena and a Nile crocodile facing off over the remains of a dead puku antelope.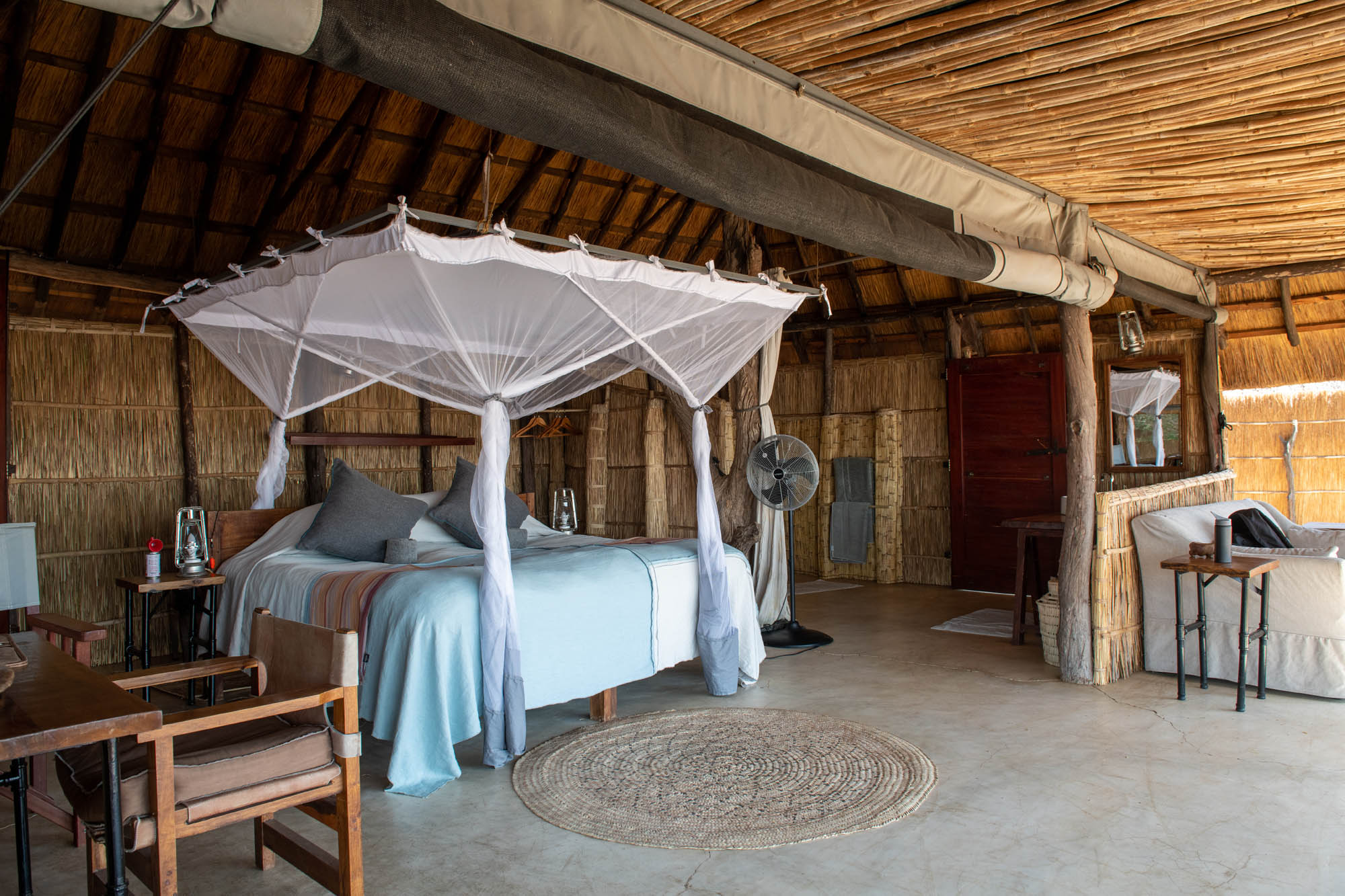 Earlier that day, we had left Chinzombo Camp after an early breakfast, game-driving along the Luangwa River, on our way to Kakuli Camp, where we would be spending the night. We witnessed a good mix of general game, including elephants, buffaloes, zebras, giraffe, impala, puku, warthog and an amazing variety of birds. We also happened upon a couple of young male lions, sleeping right alongside the dirt track we were on. They did not so much as lift their heads upon our approach, merely opening an eye to acknowledge our presence.
As we were approaching a well-known oxbow lagoon along the Luangwa River – known as the Luangwa Wafwa – our guide Innocent saw a solitary hyena feeding on something about 10 meters or so from the edge of the water. It was a long distance away from where we had stopped, to get the binoculars trained on the spot. Upon closer inspection, we saw that it was in fact a female hyena, ripping away chunks of meat from the carcass of a puku antelope.
Photo – Great Plains Conservation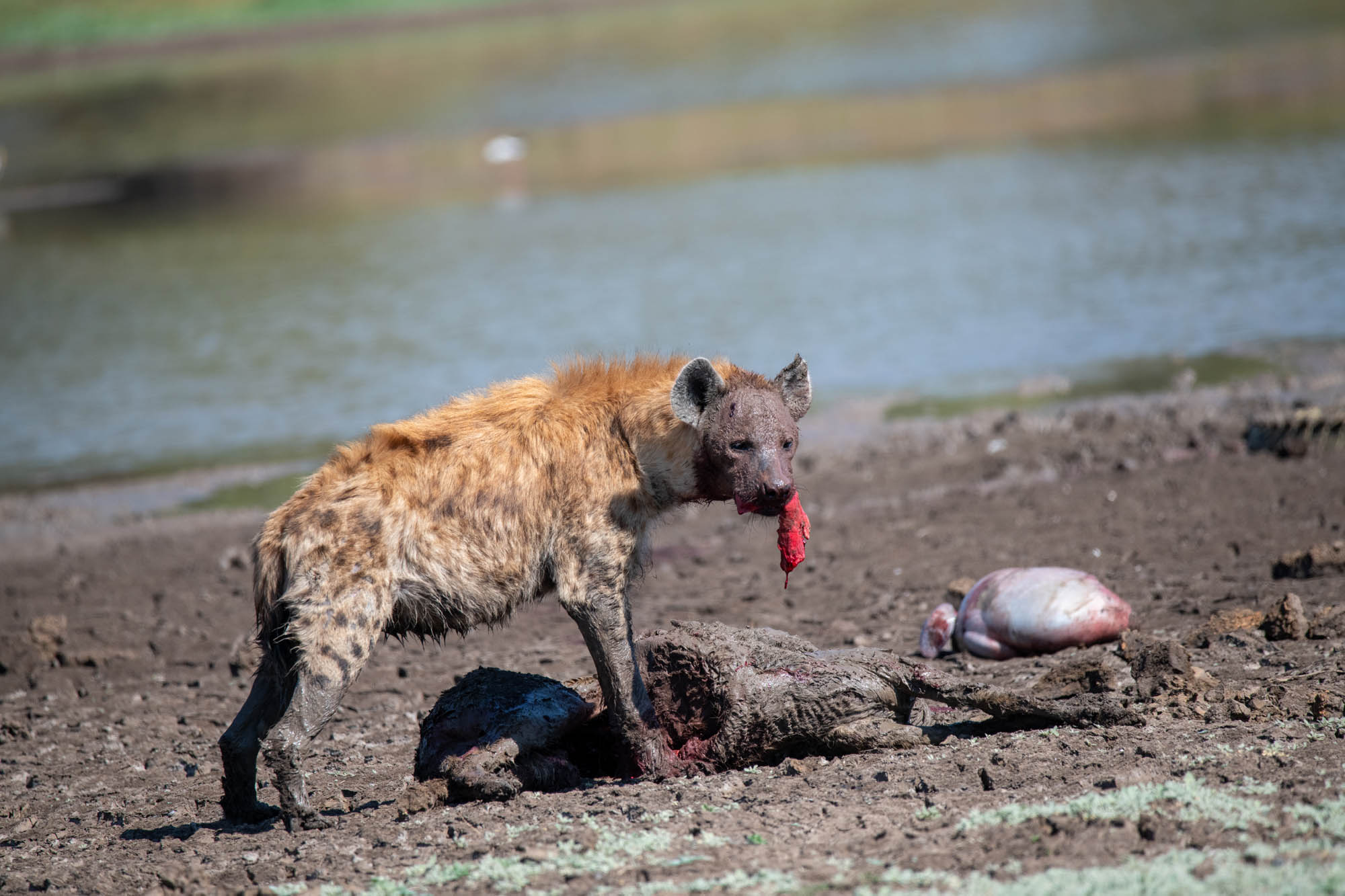 We surmised that the puku had gotten stuck in the mud when it had ventured too close to the water's edge, possibly sometime during the previous evening. We also noticed the presence of several large crocodiles on the edge of the water, not far from the hyena, seemingly resting up. By their general demeanor and positioning, we deduced that they knew exactly what was going on, and that they had an eye – or more than one – on the hyena and the puku. Crocodiles rarely ignore the opportunity of a 'free meal'…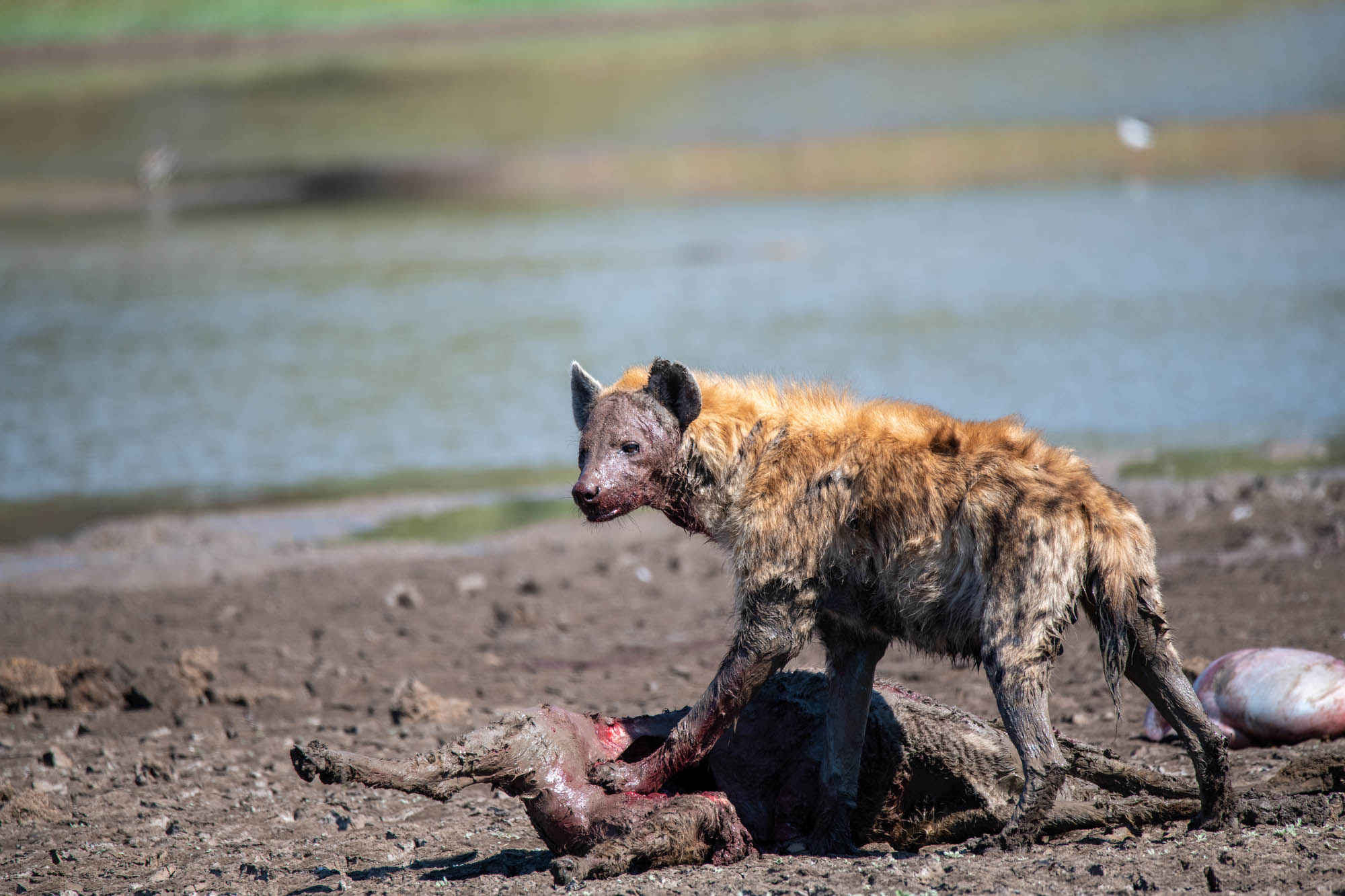 Somehow the puku's distended stomach got separated from what remained of the carcass and this is when things got interesting. As we had anticipated and secretly hoped for, one of the crocodiles lifted its head and started to waddle closer to the dead puku, clearly wanting to get in on the feeding action.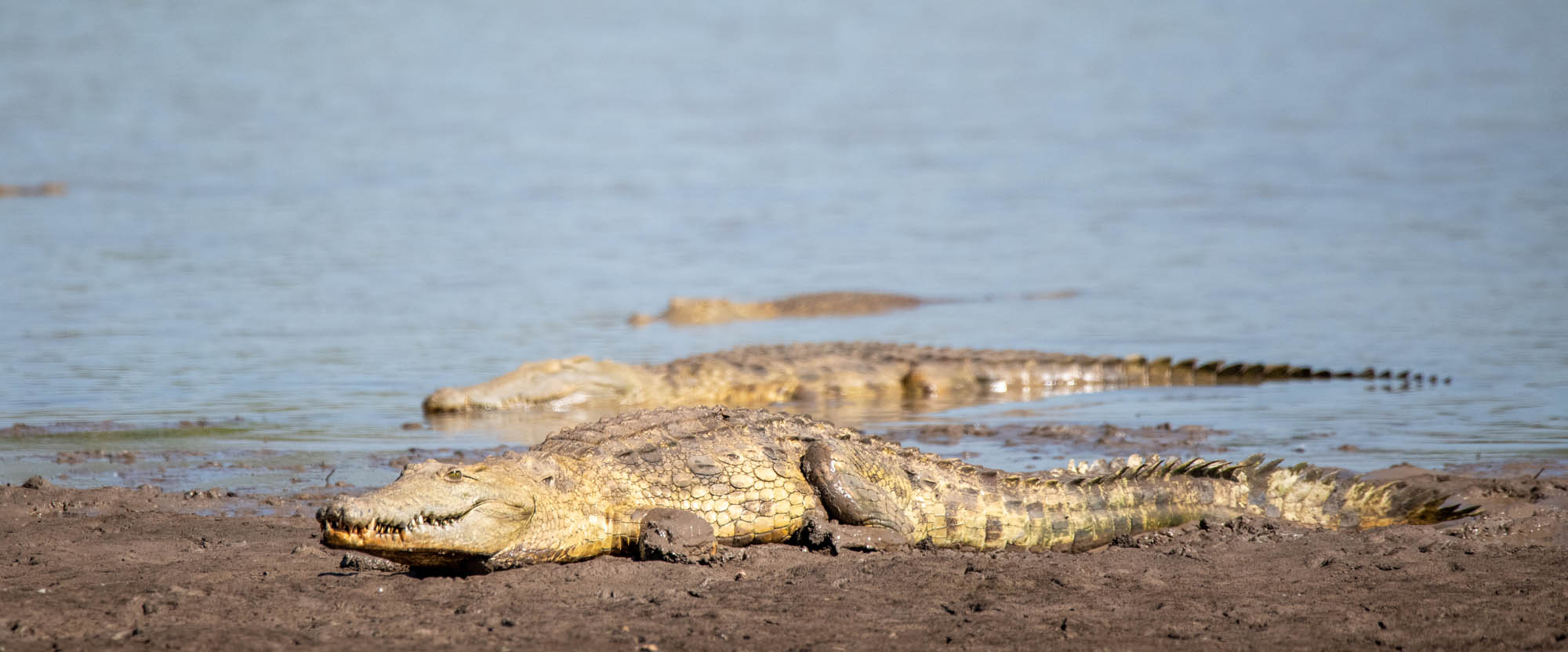 Although it was stuffed to the gills, the hyena would have none of it. She stoutly defended her prey from the crocodile, twice getting into a scuffle of sorts with the crocodile, at least once succeeding in biting the crocodile on its nose, and another time on its tail. Even though we were a good 50 meters away, the tension was palpable. The hyena's aggression was on full display.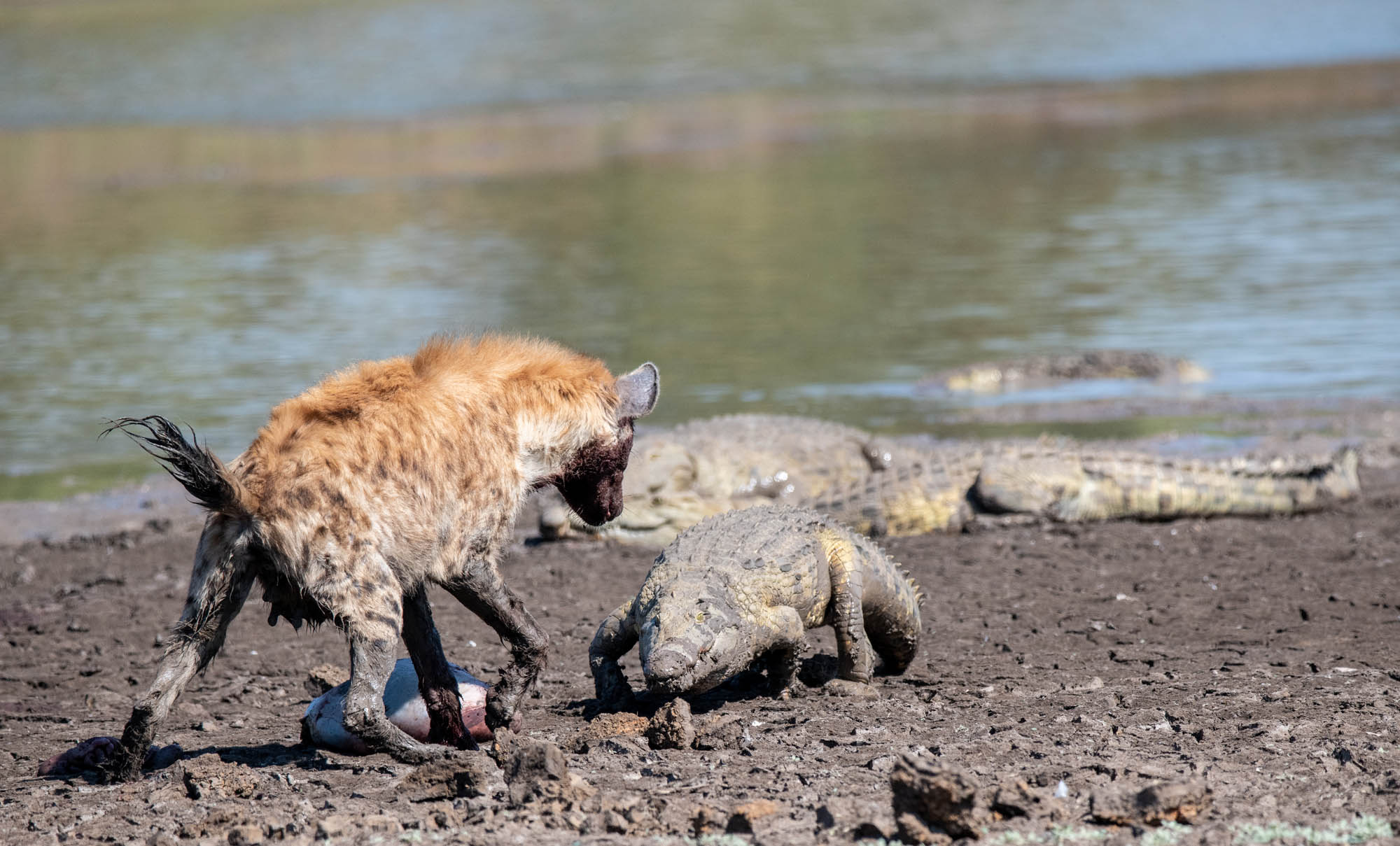 With its jaws wide open, displaying its fearsome teeth, its body tensed and its tail cocked, its intent was clear as daylight. Stay away! Eventually the crocodile retreated back towards the water, realizing that not even the threat of its own formidable jaws was going to make a difference. This hyena was going nowhere.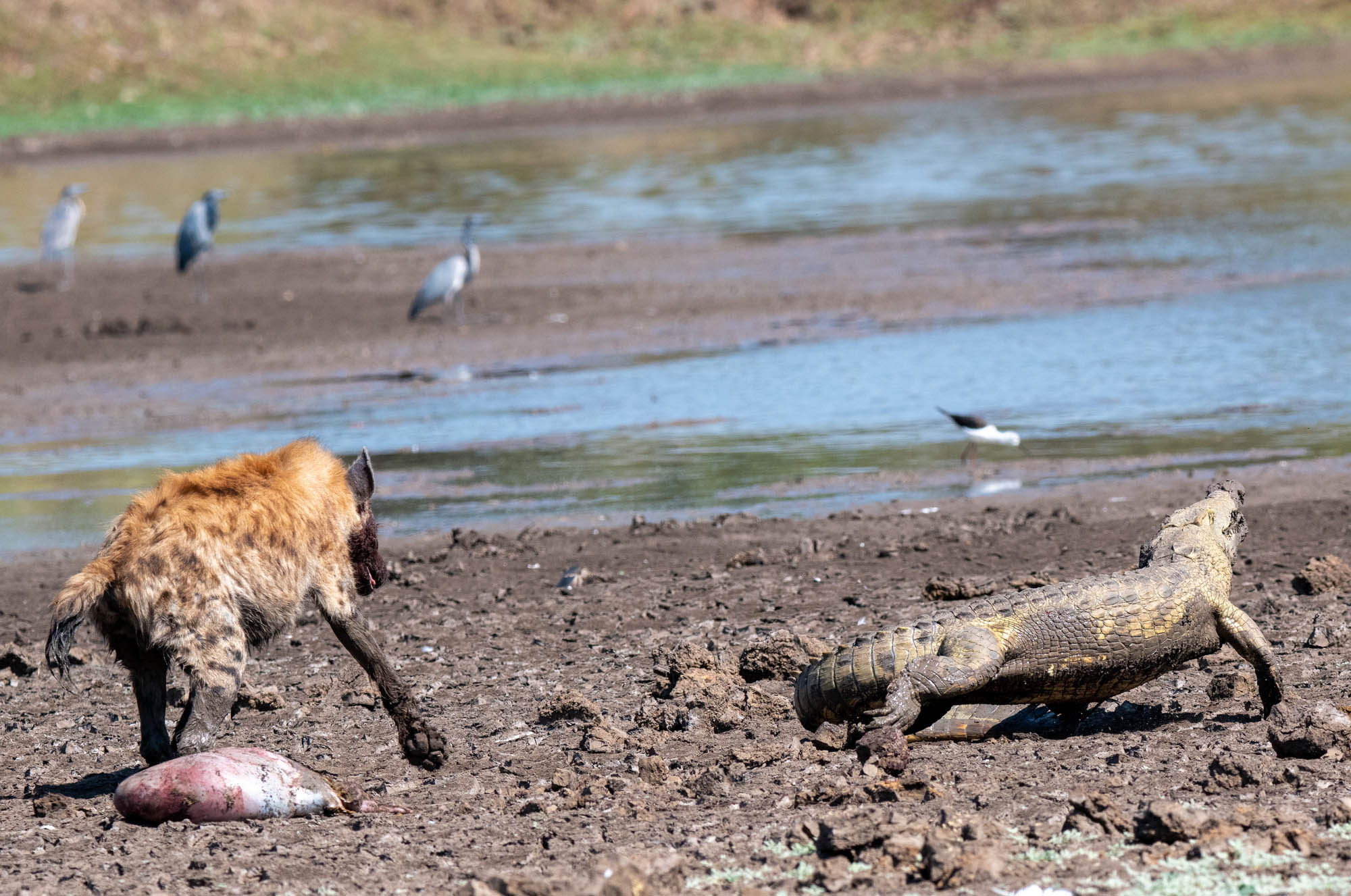 None of us, including our guide, had ever seen this type of behavior. Of course, it was one of those rare incidents where several unrelated things intersected at a specific time and place. A dead antelope close to water, and crocodiles within sight. A solitary hyena feeding from the carcass. All of this in daylight. And of course we had to show up at the right time. As the scene played out in front of our eyes, we looked at each other in disbelief, not only about what was going on, but also because there was nobody else around to see it. In this usually busy area, we were the only vehicle around, for the entire time.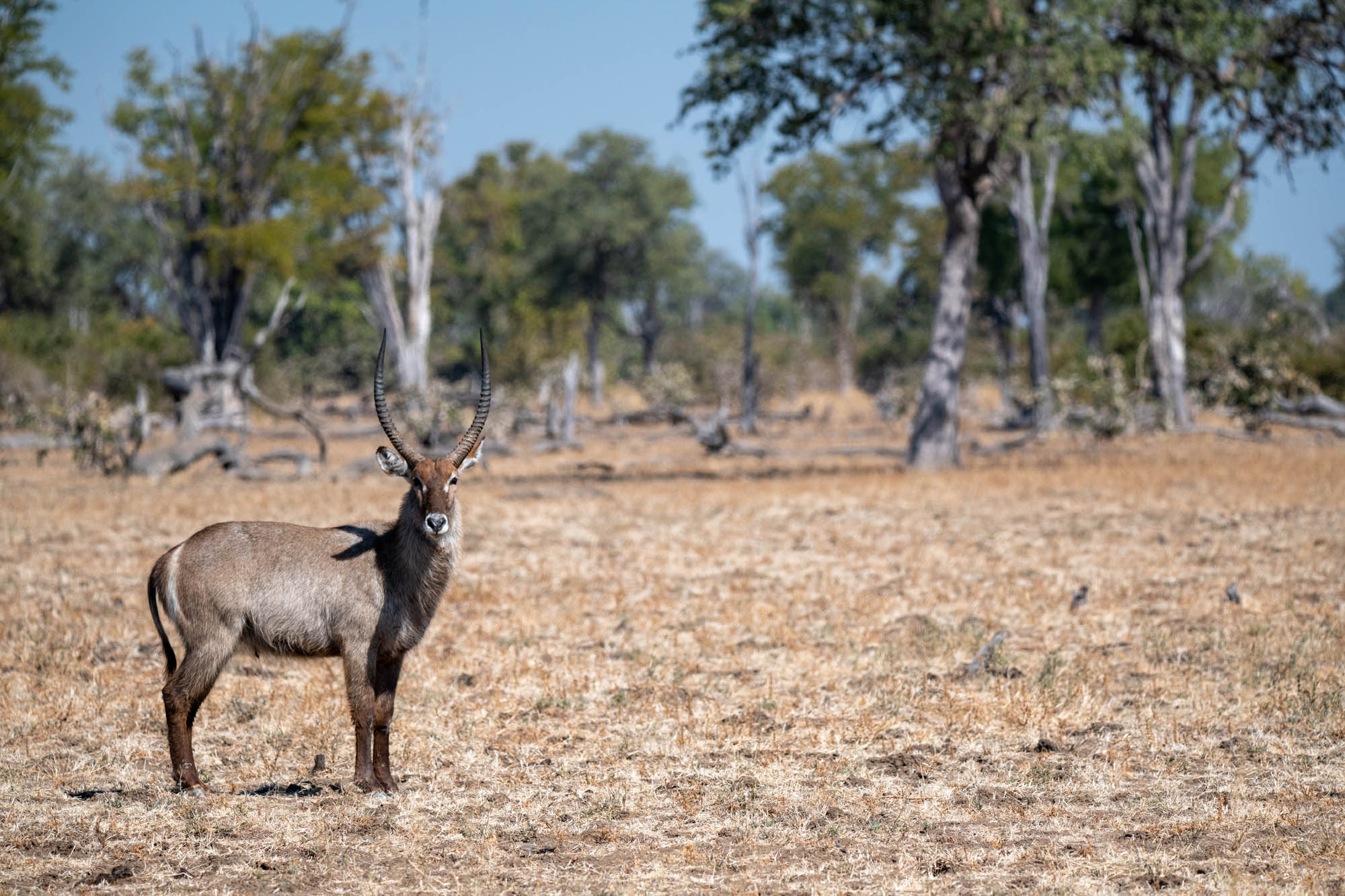 Eventually we had to leave the animals to their fate, driving further along the Luangwa River in the direction of Kakuli Camp. An hour or so later, we were in camp, enjoying the beautiful views over the Luangwa River, from the lounge area of this small bush camp. As it happened, we were just in time for a delicious brunch, and then we enjoyed a short siesta until we met up again for tea around 3:30 in the afternoon. Served with chocolate cupcakes, lemonade and fresh fruit. What a treat!
As it turned out, the afternoon game drive was quite exciting too, the highlight being two different sightings of African Painted Dogs. Initially a small group of four and then a solitary one, an hour or so later. Shortly afterwards, we were treated to a 'surprise' sundowner event, with drinks and snacks offered right on the edge of the Luangwa River, with an absolutely fantastic view over the water.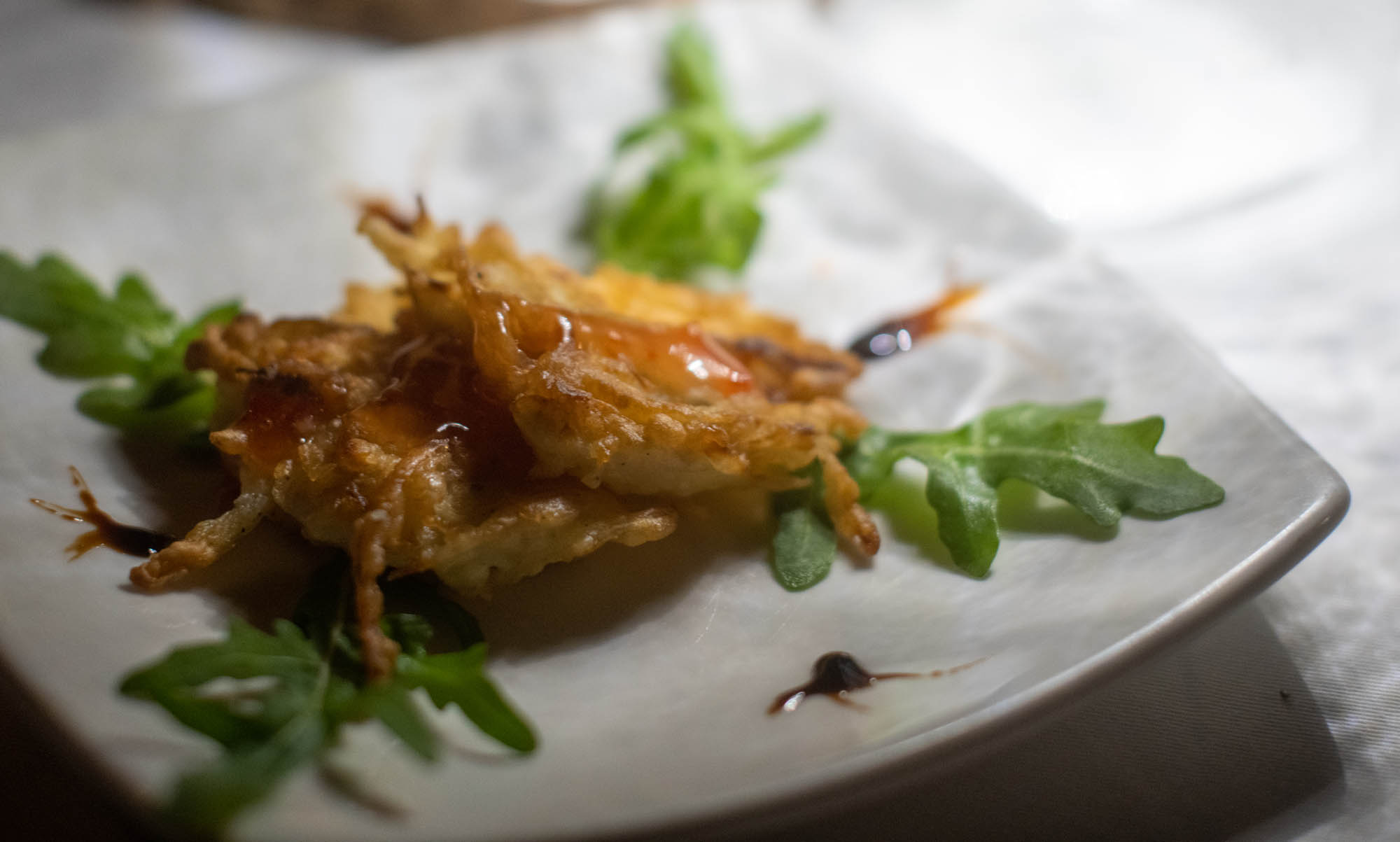 After a quiet drive back to camp, we sat down for a delicious dinner with an onion fritter starter, a delicious main course of grilled tilapia and a local version of 'New York' cheesecake, for dessert. We were grateful that we did not have to face angry hyenas or hungry crocodiles, to be able to enjoy our meal.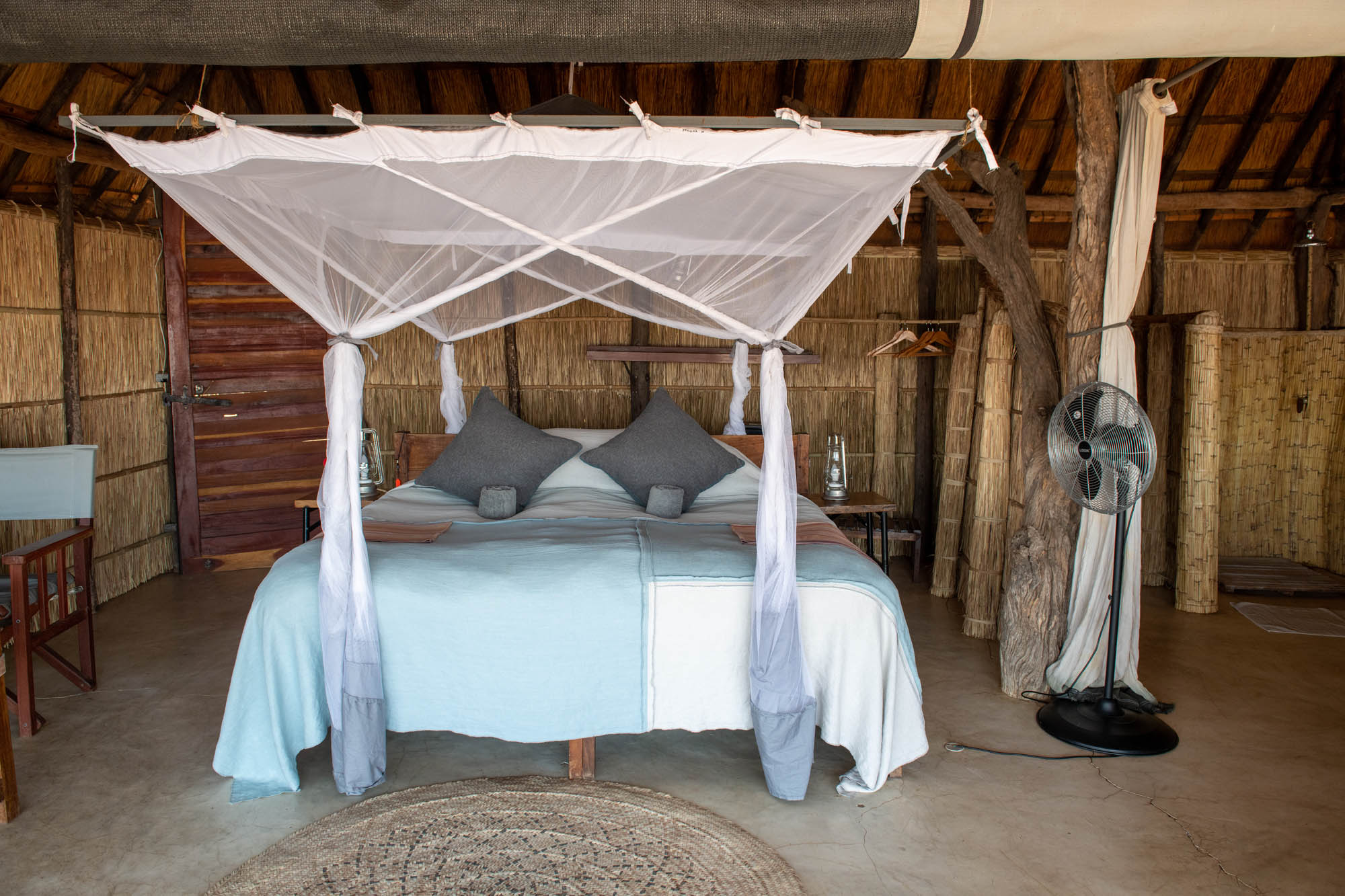 KAKULI CAMP
Kakuli, meaning old buffalo bull, was the nickname given by locals to Time & Tide's founder Norman Carr, who began the tradition of walking safaris in South Luangwa National Park.
Its five bright and airy rooms (including a two-bedroom, two-bathroom family suite) are designed to make the most of the panoramic setting. Freshly redesigned in 2018, each offers a feather-top bed, indoor and outdoor showers, and a covered open-air seating area.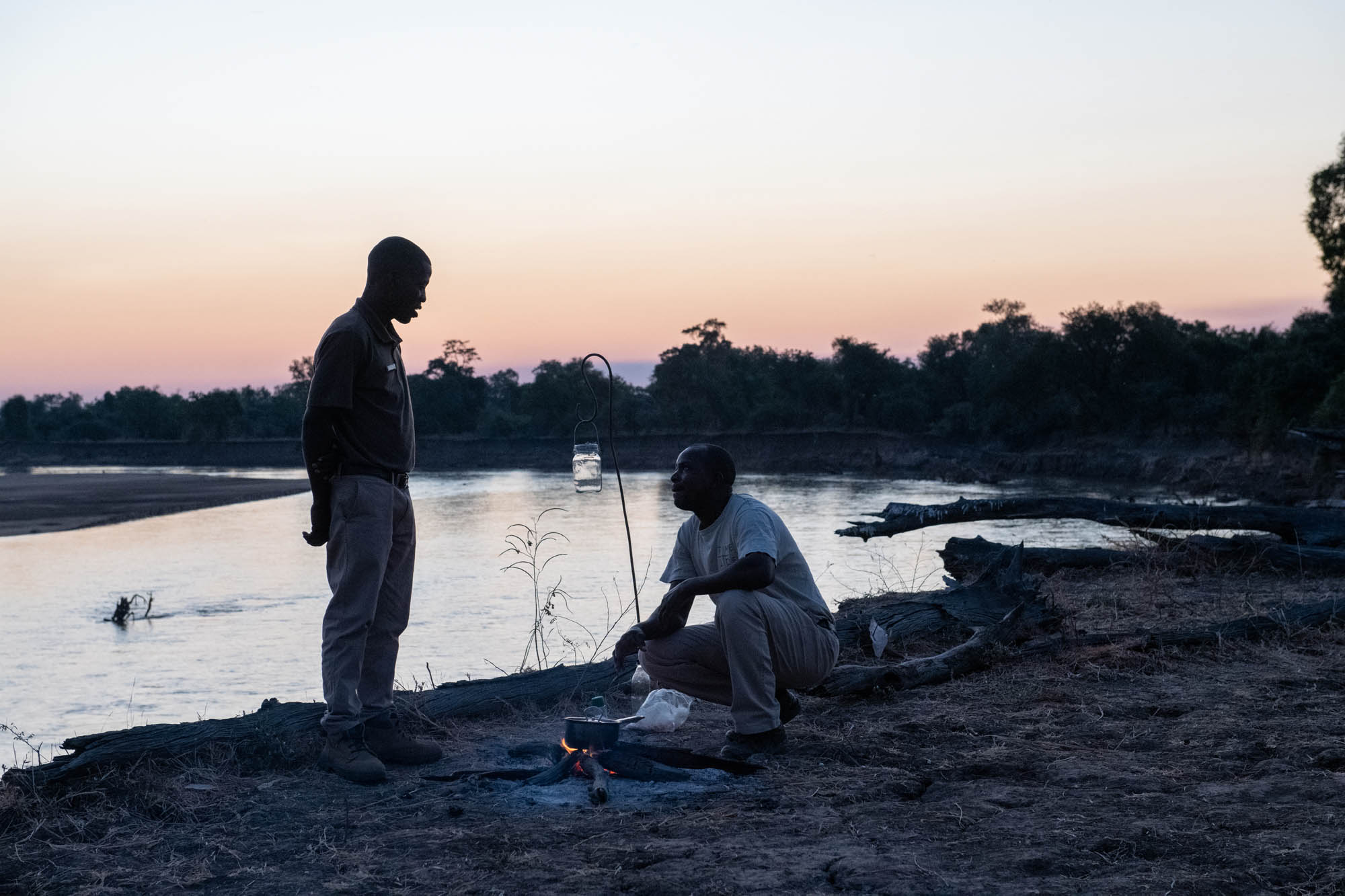 The elevated main lounge overlooks the river and a permanent lagoon. Beneath it, a wildlife hide offers up-close views of visitors stopping by for a drink. We spent a bit of time there, observing several different bird species. The camp makes a great base for exploring by vehicle and on foot, with a resident lion pride, a seasonal colony of jewel-like carmine bee-eaters, and with visitors often seeing multiple different leopards on a single drive.
During the lush emerald 'secret season', it is possible to venture out by boat and on foot to enjoy some of the best opportunities for wildlife and landscape photography. The following day, we were scheduled to do a foot safari ourselves. We would venture out into the bush, all along the Luangwa River, about halfway to another Time & Tide property – Mchenja. More about that in our blog next week.
YOU MIGHT ALSO BE INTERESTED IN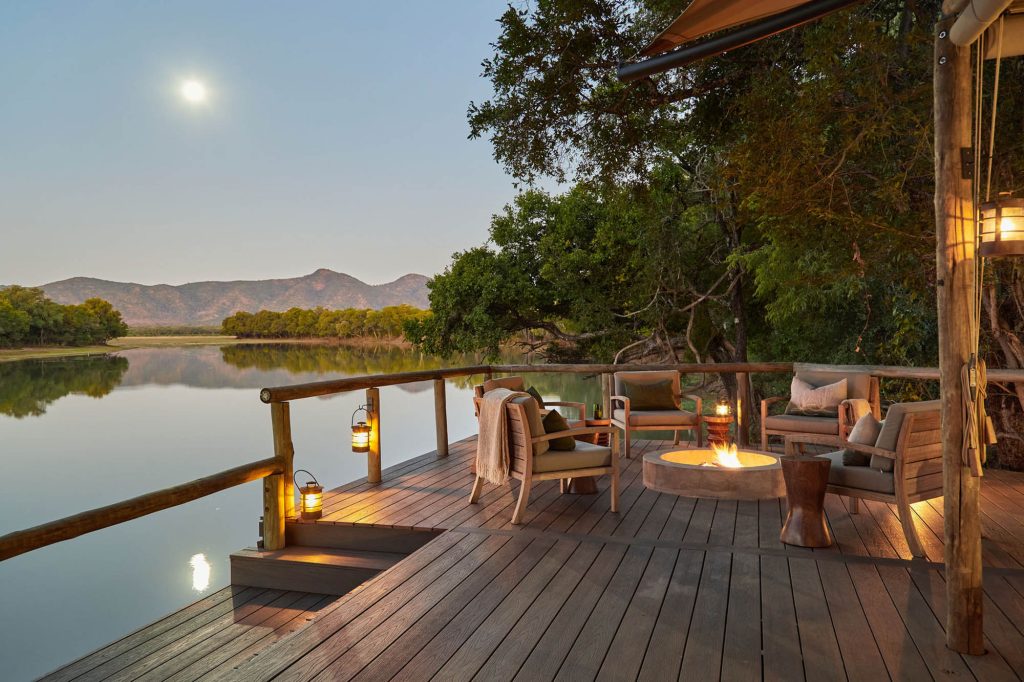 10th Sep 2021
Chindeni and the Bushcamp Company, Zambia
By late July we found ourselves at Chindeni, a small Bushcamp Company property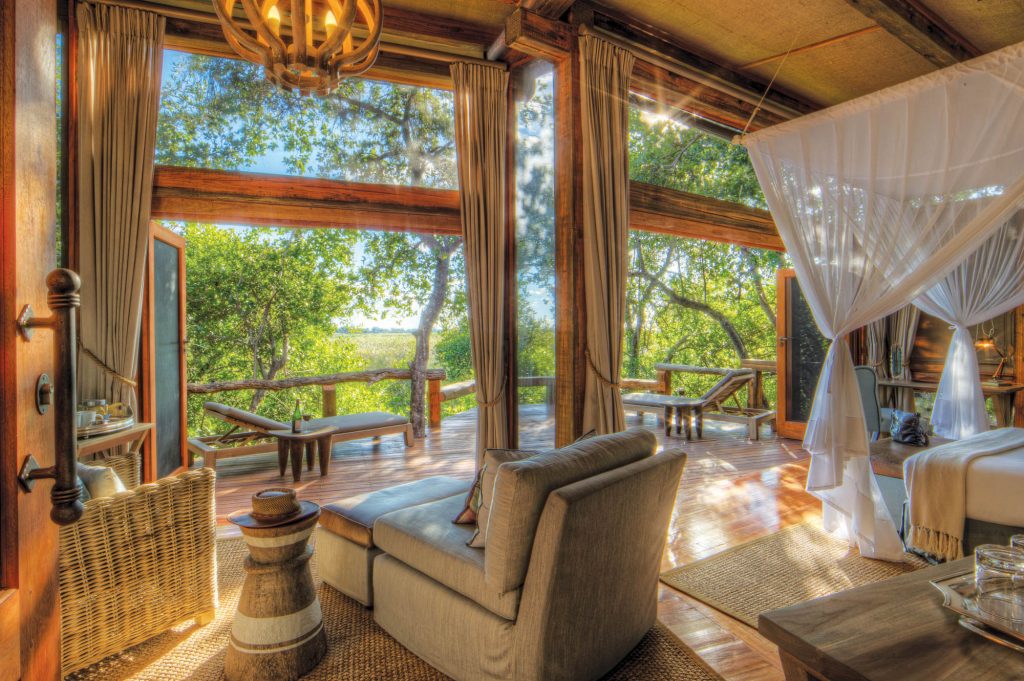 3rd Oct 2022
Camp Okavango, Botswana
Camp Okavango is in the heart of the permanent part of the Delta. In this idyllic setting there are no vehicles, and it is just a short walk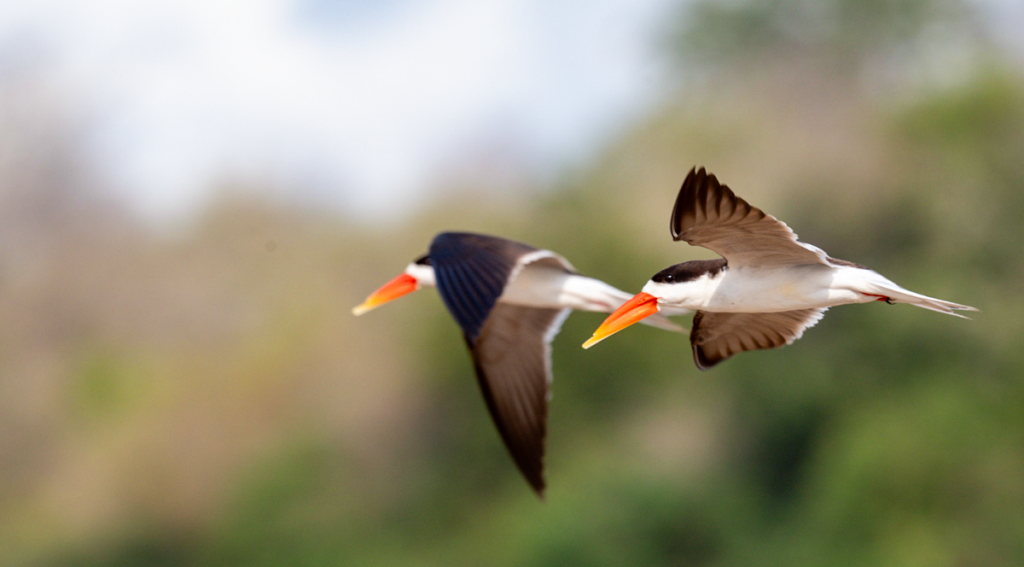 14th Oct 2023
From My Safari Notebook: Wildlife Photography
Birds in flight and wildlife photographers have an uneasy relationship. Things go wrong as often as they go right. Getting focus-lock on a moving subject
SUBSCRIBE TO OUR NEWSLETTER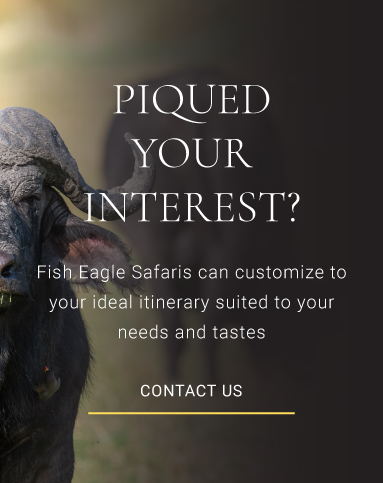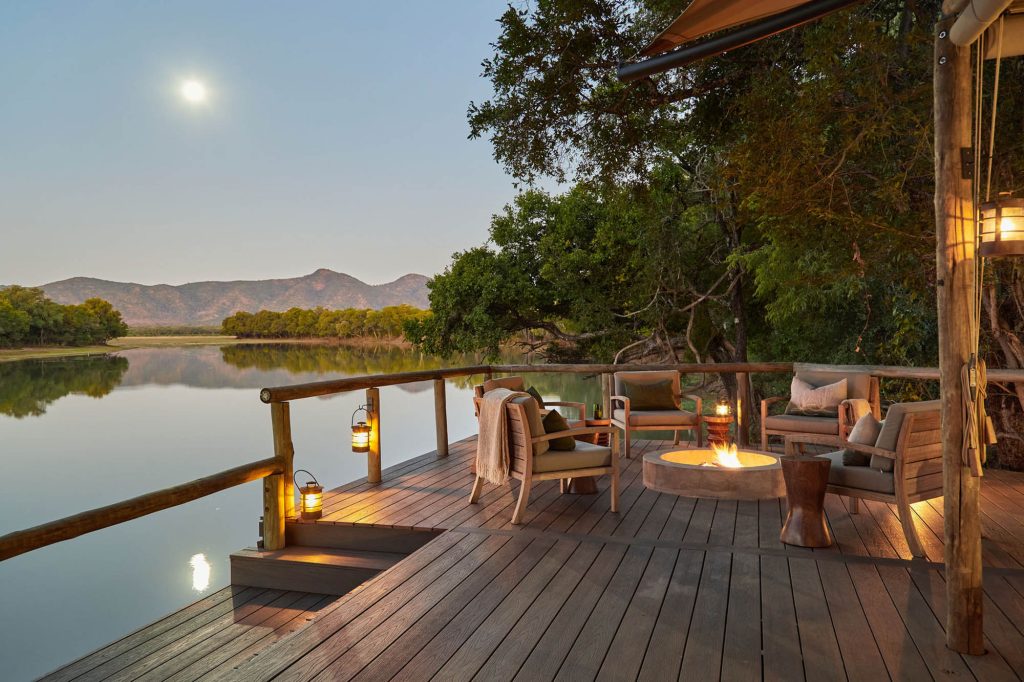 10th Sep 2021
Chindeni and the Bushcamp Company, Zambia
By late July we found ourselves at Chindeni, a small Bushcamp Company property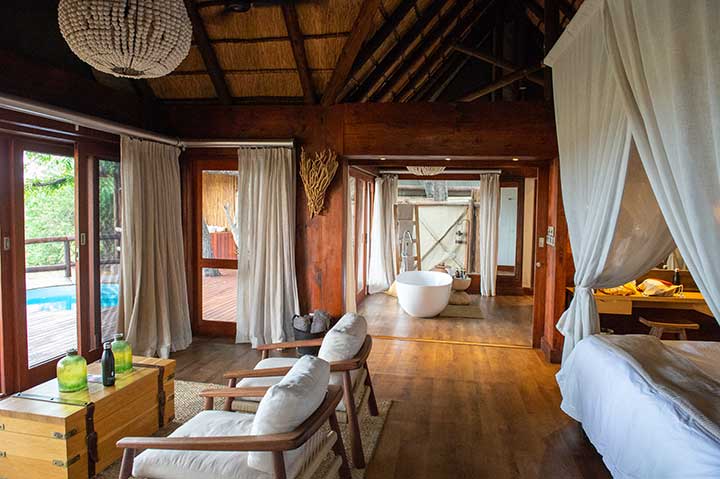 4th Aug 2022
On Safari At Belmond Eagle Island Lodge, Okavango Delta
What is the 'secret sauce' for an unforgettable few days on safari in Botswana? It starts with the animals, of course. The elephants, lions, giraffes, hippos