$cat_name = 'category'; $categories = get_the_terms($post->ID, $cat_name); foreach ($categories as $category) { if ($category->parent) { echo $category->name; } } ?>
Dec 15, 2008
Botswana and Zambia Trip Report for December 2008
Share: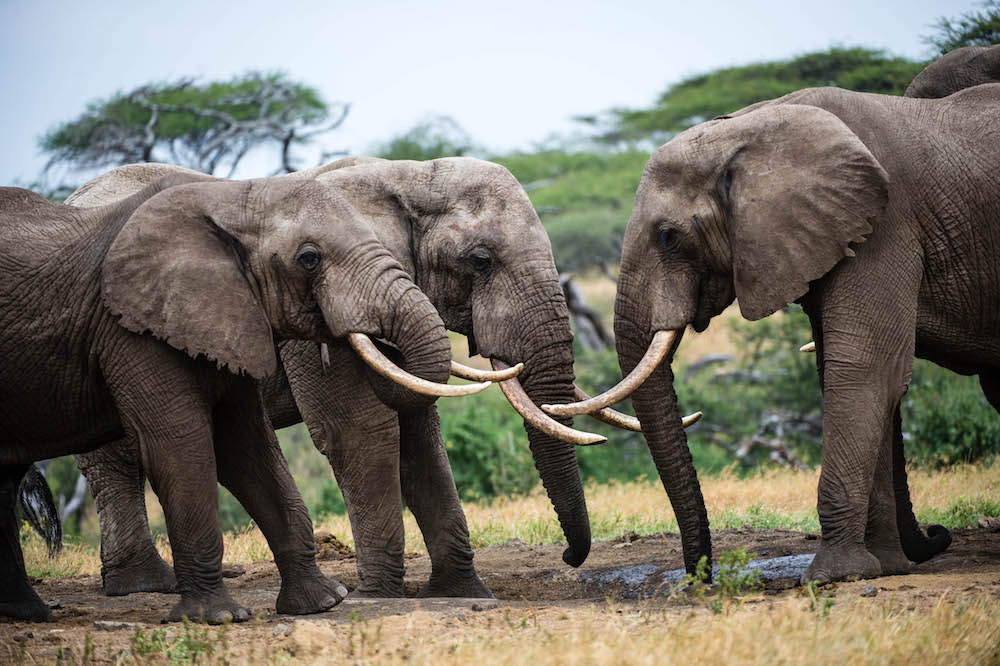 Botswana and Zambia Trip Report for December 2008
AFRICA TRIP REPORT PART 1: A GLIMPSE AT THE
KALAHARI DESERT
What is there to be said upon one's return from a trip to Botswana? That it was fun? Definitely. That it was educational? For sure, especially when visiting 6 different camps in as many days. That it was exciting? But of course. A safari is all about excitement, anticipation, even a glimpse of danger when you find yourself just about within spitting distance of some of the largest and most powerful mammals in the world. It is exhilarating, yet peaceful at the same time. Between game drives or other activities, there is ample time to relax and do (almost) nothing, perhaps gazing out over a watering hole or lounging by the pool with a book.
It is also quiet, almost startlingly so. The absence of practically any ambient noise is immediately noticeable on arrival at one's first camp. At night, it is easy to imagine hearing the swish of a shooting star, while the roaring of lions is only too real, sometimes uncomfortably close to camp. In the mornings, the absence of city noise becomes less noticeable, because this is when the bush explodes with the calls of a myriad of birds: francolins, robins, hornbills, kingfishers, louries, parrots,
doves – all intent on getting an early start in yet another wonderful day in the paradise that is Northern Botswana.
Visitors often travel to Botswana to find wildlife and come back talking about all the wonderful people they met. I can't imagine that anyone could not be touched by the warmth, spontaneity, genuine friendliness and dignity of the Botswana people. Spend a little more time in fewer places and you are likely to make some lifelong friends!
Over the course of half a dozen or so parts of this trip report, I will touch upon these and other facets of what it is like to be on safari in Africa.
After a brief stop in Johannesburg, our first destination was a remarkable camp on the edge of the enigmatic Kalahari Desert.
3 December 2008: EN ROUTE
Due to poor connections between Houston and Washington Dulles Airport, I had to fly into Washington Reagan Airport/DCA on Continental and then transfer to Dulles/IAD. I was dreading the transfer between the airports but it turned out ok, an uneventful $30 Super Shuttle ride which didn't take much more than 40 minutes or so. As always, the SAA flight from the US to Johannesburg was long and tiring, but there were a couple of bright spots. For one, there is no refueling stop in Dakar on the flight out of Dulles to JNB (except in the summer months of June, July & August). This makes a significant difference of more than 2 hours on the total elapsed time. So I would advise anyone intending to fly between the two countries to use the non-stop Dulles flight if at all possible. Also, the vegetarian (no dairy) meals were tasty and more than adequate. And they were served before the regular meal service.
4 December: JOHANNESBURG
We arrived in Johannesburg as scheduled at 1540 on December 4. That evening I enjoyed a family reunion which took the form of dinner at a restaurant in the Emperor's Palace casino complex. It was nice to see my mother and brothers and their spouses again – everyone looked good and we chatted until after 1000P. Somewhat surprisingly I was not feeling too tired – yet.
5 December: Leroo La Tau Camp, Kalahari Desert
I was impressed with the breakfast buffet at the Mondior Concorde Hotel – better than most deluxe 5-star hotels I've ever stayed at. In addition to the usual buffet items, 3 kinds of bread, scones, pastries, cereals, a cold meat platter, and eggs to order, they offered Maltabella porridge (a childhood favorite), an excellent variety of fresh fruit (orange, pineapple, mango and more), and soy milk without having to request it.
At just after 1000A , we boarded 'Jessica', a commuter jet, for the 1hr 40 minutes flight to the northern Botswana town of Maun, the gateway to the Okavango Delta. In short order we were underway by road to Leroo La Tau, our first stop. It took about 2 hrs on a good asphalt road to reach this recently rebuilt property, which is located on the Boteti River in the southern portion of the Makgadikgadi National Park.
In the dry winter months from about May through November, the area attracts large numbers of zebra and wildebeest, amongst others. We were there during the 'Green Season' when game-viewing isn't quite as productive, but we enjoyed some good sightings of kudu, lion and elephant, amongst others.
While at Leroo La Tau, we had some great views of this black-maned Kalahari lion in his prime. There are some signs that the lions in the area, who were previously in conflict with a nearby farming community but now effectively separated by a fence, are resuming their natural priding behaviour. It is important to know that the game-viewing area is not fenced in – it stretches for hundreds of kilometers towards the Makgadikgadi area.
After dinner at Leroo La Tau, members of the staff entertained guests with a singing and dancing performance. This does not happen every night, so we were quite pleased to be treated to several traditional songs, done in a sweetly harmonious fashion. I think we were all struck by the wonderful attitude of the staff at this camp, everybody smiling all the time! I would have loved to have been able to spend a bit more time at LLT. Prospective visitors would do well to schedule three nights here, and to take a full day trip (with picnic lunch) into the Makgadikgadi Pans National Park.
PART 2: INTO THE OKAVANGO DELTA
In summer, safari days start early. Very early. Like 0530A. Yes you read that right – five thirty in the am. It gets hot from around 1100A so the idea is to get out early and enjoy a morning activity – whether it is a mokoro outing, game-drive, walking or whatever, while it is still relatively cool and nice, and the animals and birds are active. Later in the day pretty much everything takes a siesta, with animals resting in the shade, birds hunkering down, and wise safari-goers resorting to a hammock or taking a nap. Maybe back to the pool…
On this 6th of Dec. it was raining lightly, so we slept in until 0700A. I woke up very refreshed after a solid 8 hours of sleep – there is nothing like a good restful night of sleep to overcome jetlag. After breakfast, we drove back to Maun and boarded our Cessna Caravan flight to Kanana, a camp in the south-western part of the Okavango Delta. Flying in light aircraft is part of the fun of a safari, although it can be a little alarming the first couple of times. Actually seeing the pilot flying the aircraft is a novel experience for many people, as is hearing the stall warning indicator bleep just before touchdown, or observing the tops of trees sweep by under the fuselage on short finals. As they say in the classics, trust me, these young men and women know what they are doing. They are meticulous with pre-flight inspections and safety procedures and aircraft maintenance is handled strictly by the book. So relax and enjoy the flight!
The Cessna Caravan in which we flew from Maun to Kanana. Although it is a single-prop aircraft, it is quite powerful and relatively roomy inside, compared with the much smaller Cessna 206. Even so, the Caravan's luggage compartment is quite shallow, hence the requirement for guests to take softsided bags of approx. 10 by 12 by 24 inches.
Kanana is a quiet, peaceful camp in the beautiful southwestern part of the Okavango Delta, on the Xudum River. It is typical of much of the Delta, consisting of islands dotted with palms, figs, ebony and knob thorn trees, home to a myriad of birds, plants and animals. My room was a traditional Meru style safari tent with en suite bathroom (toilet and shower with hot & cold water). The tents are raised off the ground on a teak deck, and each of the 8 tents have great views over the waterways of the Delta. The tents are large and comfortable, and none of them are more than a short stroll from the central dining and lounge area. Of course, there's no wireless internet, in fact there is not even cell phone coverage. So, if you absolutely positively HAVE to send a text to your buddy, bring a satellite phone. But maybe you shouldn't. Places like Kanana where you can truly appreciate nature in peace and quiet are becoming fewer and fewer. Kanana has a lovely setting and very relaxing atmosphere; I was immediately struck by the abundance of bird calls. Here, it is easy to slow down, break away from the relentless pace of modern society and settle into a routine which quickly restores mind and body. So if you ever find yourself at Kanana, put away the Blackberry, pick up the binoculars, just listen and lose yourself in a place that has not changed much since Livingstone first laid eyes on the Victoria Falls.
Our group enjoyed a superb late lunch consisting of various salads, some pasta with a tomatobased
sauce, and fresh locally baked bread. I can honestly said that we did not have a bad meal
even once while on safari. It was simply astonishing what the various camps came up with, considering
that they get fresh veggies and fruits & other perishables only once a week, and other provisions
usually once a month. Kanana stood out; the food was really superb.
Some of us also tried a bit of fishing, and after several attempts, I caught a fair-sized Nembwe (a
kind of a bream) using a spinner. Definitely a highlight. Yes I know a vegan isn't supposed to be
catching fish, but my 'victim' was promptly released to live for another day. The two other fish
caught by our guide were not quite as lucky, being sacrificed as bait for an African Fish Eagle. The
guide strung some reeds through the fish's gill openings to make it buoyant, and then tossed the fish into the water, attracting the Fish Eagle's attention. Soon enough the massive eagle swooped
in low over the water and grabbed the fish with its talons, flying off to a nearby perch to devour it.
Like its close relative the Bald Eagle, the African Fish Eagle is not shy to pick up a free meal every
now and then, in fact it will quite happily exist as a scavenger if that is what conditions dictate. No
wonder Benjamin Franklin was not thrilled with the Bald Eagle having been chosen as America's national
bird. Somehow I think we would have been worse off if his choice – the Wild Turkey – carried
the day.
PART 3: HIPPOS, CROCODILES AND SUNDOWNERS
On 07 December, our game drive from Kanana turned into an owl extravaganza, with superb views of two of the largest owls in Southern Africa, namely the rare and elusive Pel's Fishing Owl, and the massive Giant Eagle Owl, with its rather odd and very pronounced pink eyelids. We had some very good views of the Pel's Fishing Owl for just a few moments before it flew into thicker cover. However the Giant Eagle Owls put on quite a show, and we were literally standing right below a juvenile at one stage, observing the interaction between it and its parents, and listening to them calling back and forth. It was a fascinating excursion.
I can't stop talking about the food at Kanana and it is too bad that I didn't take some photographs. For lunch this day there was, in addition to several other items, some superb salads containing corn, beans, tomato and brown rice. All my favorites!
In the afternoon we flew to Camp Okavango in the heart of the permanent part of the Delta. This camp made a good impression right from the start, with the well-maintained and manicured airstrip. At Camp Okavango, there are no vehicles, it is just a short walk from the airstrip right into camp.
The camp grounds at Camp Okavango are heavily vegetated with some massive trees right in front of the large, almost sprawling dining, lounge and patio complex. The huge garden harbors tons of birds, but unfortunately I did not have enough time to do it justice with some 'serious' birding. We did see a Paradise Flycatcher flitting about; it had a nest just off the boma (fireplace) area.
Greg and I took off with our guide B-Man on a short fishing excursion by skiff. Even if we never reached the area which we did (for fishing) the journey itself would have been worth it. What an amazing experience it was to glide through this narrow waterway, with high 'walls' of papyrus and reeds on either side, avoiding shallow sandy spots, and observing many birds, as well as a few small crocodiles, and water monitors en route. The suddenly, there was a hippo, completely out of the water, right in our way. Our boatsman was fortunately properly trained for such an event. Instead of slowing down or stopping, which could have led to a nasty confrontation, he barreled on. The hippo submerged and dove out of our way, and we pretty much went right over the spot which it had occupied just seconds earlier. Looking back we noted that the hippo had resurfaced and was giving us the hippo version of the upturned middle finger in the form of a belligerent posture and stare. That was almost too exciting. And it happened much too quickly for photographs! As for the fishing, I'm afraid despite our best efforts we were unsuccessful. B-Man did catch a really good size 3-spotted bream though.
In the afternoon we observed a basket-weaving demonstration by some of the local staff who do their weaving after hours and in their spare time, with the items being sold at the camp curio shop.
At around 4:00p, our group went out on a canoe outing to an area not far from the airstrip, for our
afternoon activity. It was a fun and relaxing outing with sundowners being served on a small island,
complete with an 'island bar' setup. During the outing we saw many differents types of birds, including
the rare and highly endangered Wattled Crane, as well as some water-adapted mammals and
many of the spectacular plants found in the Okavango Delta, such as the beautiful water lilies.
PART 4: THE MOREMI GAME RESERVE
On the morning of 8 December, we were up early for a walking excursion from Camp Okavango. Before we got underway by boat, there was time for a healthy breakfast consisting of muesli with rice milk, a fresh fruit salad and some toast, with rooibos tea on the side. All the camps also serve eggs to order, usually with beef or pork sausage, bacon and other side dishes.
Refreshed and energized, we enjoyed yet another exhilarating boat ride (same route as on the previous day's fishing excursion) to an island about 30 minutes away. This time around, we had our
cameras ready but there was no hippo barring the way… We did make a small detour into a backwater
area where we observed a pod of hippos, though. And inquisitive they were too, coming
closer and closer to the boat until our skipper decided it was time to move on.
The island where we walked – I believe it is called Lopis Island – has some very diverse habitat
consisting of open floodplain, with patches of woodland, and a nice strip of fairly dense riverine forest
with sausage trees and large mangosteen trees amongst others. We saw a few elephant at a
distance and walked towards a group of giraffe who no doubt saw us coming a long distance
away. To make the walk even more interesting, the guides drew our attention to several interesting
plant species and talked about their medicinal and other uses.
Back in camp, it was time for — lunch! As always, the vegan & vegetarian members of the group
were more than adequately catered for with salads, an excellent and flavorful lentil dish with rice, a fruit salad and a vegetarian tart.
That afternoon, we took a short flight of about 10 minutes to Xakanaxa airstrip, for a brief road
transfer to our next camp, Okuti. The design of this camp takes a bit of getting used to, with a type
of plastic sheeting used instead of the more commonly seen canvas. I was pleasantly surprised by
the interior of the rooms though – they were exceedingly spacious and very comfortable, complete
with inside and outside showers. Although the rooms were quite close to each other (the
available camp area at Xakanaxa is very limited) there is plenty of privacy and I was not bothered
by any noise or conversation from adjacent rooms. The deck area and pool were very nice, and
this camp would be a particularly good option for family parties with young children.
Our afternoon game drive from Okuti was on the quiet side but we did manage to locate a leopard
right by the side of the road – this area is well-known for consistently good leopard sightings.
Unfortunately there were as many as 6 vehicles at the leopard sighting at one stage.
Our morning game drive in the Moremi Game Reserve on 9 December was one of the most productive
of the entire trip, as we encountered a large herd of buffalo, a couple of leopards in the
same area (which is unusual as they are mostly solitary hunters), several giraffe, zebra, wildebeest,
impala and warthog.
PART 5: ON TO SAVUTI AND CHOBE
By midday on December 9, our small group was back in a Cessna Caravan for a flight of about 25 minutes to Savute Safari Lodge, a superb camp on the edge of the Savute Channel which stopped flowing a couple of decades ago due to tectonic shifts. There are indications that the channel may once again be starting to flow for at least some distance from its origin in the Linyanti floodplain.
We were immediately impressed with the abundance of wildlife at Savute. The 'game drive' from the airstrip to the lodge was fantastic! There were lots of elephants to be seen pretty much everywhere, even though the camp staff repeatedly told us that all the elephants had already left (dispersed) after the onset of the rainy season. You could have fooled us!
Birdwatchers would have been astonished at the abundance of storks of which there were hundreds and hundreds to be seen of 5 different species, namely marabou (everywhere!), European, woolynecked, openbill, yellowbill and Abdim's. There was also a veritable barrage of birds of prey ranging from eagles to buzzards to kites and kestrels. Finally, there were literally thousands of swallows, martins and swifts hawking insects in flight. I have been birding for more than 20 years and I have never seen such a concentration of birdlife in one area.
Savute is known as a predator stronghold and camp manager Kobus Lubbe gave us a useful and interesting introductory talk about the most visible predators in the area, namely the lions, leopards, wild dogs and cheetahs. Of these, lions are seen most frequently: over the previous 300 days there had been 248 lion sightings. Lions in the Savute area habitually hunt elephants and they employ a special technique to bring down and kill these lumbering giants. The lion dynamics of the area are in a transitional phase, with a couple of younger males recently having moved into the area. It remains to be seen how the various competing alliances and prides will re-align over the next few months. Leopard sightings from Savute Safari Lodge have been on the increase; Kobus estimated that there were some 15 to 20 leopards resident in the area. Wild dogs, which are a highly threatened species, only number from about 2,000 to perhaps 4,000 total in Africa. There are 12 wild dogs presently recorded in the Savute area. As for cheetah, there are estimated to be three males resident in the area, with females passing through from time to time.
Very early on the morning of December 10, I was enjoying a cup of tea just outside the dining room at Savute Safari Lodge. It was a typical African summer morning: cool, clear and totally peaceful. Thoughts of schedules, deadlines and budgets were far from my mind and for a few minutes there, I felt truly connected to the surroundings. My senses felt as if they were in overdrive. With one ear I was trying to sort out bird calls, with another listening for the low moan of a lion which had been calling around camp the previous night. At the same time I was staring at a massive dung beetle negotiating a sandy patch right in front of me. Becoming one with nature is a rare experience for most city dwellers, and I treasure the few 'out of Africa' moments which invariably crop up on a trip like this. On a visit that is less hectic, with a few 3-night stays included, it is easy to fall into the rhythm and pace of the bush, and to truly appreciate the oasis of peace and quiet beyond the game drives and other activities.
Alas, later that morning after a last game drive (lots of elephant, hundreds of birds, especially at the former Savute Marsh) it was time to move on again, this time an uneventful 30-minute flight to Kasane. From there, it was a quick and pleasant road transfer to the well-known Chobe Game Lodge, inside Chobe National Park. I had spent some time at CGL some years ago in the dry season, when the game-viewing was excellent. This time around, the game-viewing was a bit more quiet, but the lodge was looking great.
For visitors who would like to experience a safari, but who are not quite ready for a tented camp or for the expense of flying into the Delta or elsewhere, Chobe Game Lodge is a great option. Yes it is much larger than other lodges, but it offers a lot of activities and services that are not available in the bush. It offers game drives as well as very interesting boat excursions on the Chobe River for some great looks at hippo, amongst others. Resident professional guides also offer star gazing and guided walks, there is a beautiful swimming pool, a riverside boma area where traditional dancers perform, internet connections and a workout room complete with a treadmill. There is even a pizza oven built from the internet!
The pizza oven at Chobe Game Lodge which was constructed from plans found on the internet. Unfortunately we did not have time to ascertain whether the plans were good, but I am told the pizza is!
Chobe Game Lodge has a very well stocked shop with curios, clothing, handbags, handwoven baskets, jewelry, books, DVD's and more. Bring dollars.
The food at Chobe Game Lodge was excellent and abundant. Amongst others I enjoyed the terrific salad buffet which is more than a meal unto itself. On the day that we were there, the restaurant offered a Mongolian barbecue night, with an amazing array of meats and other stirfry options. The next morning, for breakfast, there was likewise a huge variety of meats, sausages, eggs to order, vegetables, salads, yoghurt, cereals, three kinds of fresh bread and more.
Our morning pontoon boat outing from Chobe Game Lodge was similar to the one I had undertaken
on my previous trip. Like then, we got some good close-up looks at hippo and elephant, some
crocodiles, various species of birds and the locally abundant Puku antelope.
PART 6: VICTORIA FALLS, ZAMBIA
On December 11 we said our goodbyes at Chobe Game Lodge and proceeded to the border post at Kazungula, prior to entering Zambia. This so-called road/boat transfer (the alternative is a light air transfer from Kasane to Livingstone) takes about 2 hours. It involves a rather interesting boat trip across the Zambezi River, followed by a real third-world experience of standing in line at the immigration office on the Zambia side of the border, paying your US$50 (no change made!) visa fee and hoping that the person who is handling your luggage has got everything under control.
Somehow or other our driver managed to maneuver his way out from amongst the many trucks lining up to cross the border, and we drove via the town of Livingstone to our last overnight stop. This was Stanley's Safari Lodge, an impressive and striking stone and thatch edifice overlooking the Victoria Falls, with a vapor plume from the falls visible in the distance.
At Stanley's Safari Lodge we enjoyed a very welcome light lunch consisting of a fresh mixed green salad, bread rolls and an excellent vegetable torte. The meat-eaters were treated to what appeared to be fried breaded chicken wings.
My room at Stanley's was fabulous but somewhat wasted on a single traveler: a massive 'honeymoon suite' which was completely open to the front, with a gorgeous view over the Zambezi Valley and the Victoria Falls in the distance. The huge king size bed is just a few metres from a good-sized private plunge pool, and there is a fireplace, a lounge, an outdoor shower, and a large bathroom with a natural rock bath. Really an amazing room for an adventurous traveler looking for
something out of the ordinary. I was anticipating a problem with insects that night, but there were
hardly any to be seen and I felt very cozy inside the large mosquito net.
That afternoon, we drove back through Livingstone town to the location of the new Toka Leya
Lodge, a Wilderness Safaris property just upstream of the Victoria Falls. I was impressed with the
stylish rooms, wonderful common areas & expansive deck overlooking the Zambezi River.
Our last group dinner was a fun and entertaining event, as were most of our meals. Everybody
genuinely seemed to like each other and each other's company and there never was a shortage
of stories, anecdotes, jokes & light-hearted banter. I would travel with this group again any time!
On December 12 I woke up in a massive bed elevated over the Zambezi valley, with the exotic
sounds and calls of turacos, redchested cuckoos, trumpeter hornbills, an African cuckoo and some
robins providing a splendid background soundtrack. Our last day in Africa would be very special. By
0700A we were ready to board a boat for a short trip into the middle of the Zambezi River, for a
breakfast outing to Livingstone's Island. This turned out to be a superb adventure, which I would
recommend for somewhat intrepid visitors, especially if they are able to jump into and swim in the
pond right by the edge of the Falls. It was a most amazing experience to be suspended in the cool
water of the Zambezi, just a few feet from the very edge where the river plunges over an almighty
cliff.
Visitors to Livingstone Island can walk to this spot for a photograph; it is afterward that the
prospective 'swimmers' get to take their clothes off and swim (yes there's a current!) to another
rocky point, from where they can jump into the natural rock pool.
Early that afternoon, we were off to Livingstone Airport for the less than 2 hr flight back to Jo'burg.
After a not-too-onerous immigration procedure (no problems with my brand new US passport!), and
some last minute shopping, it was all aboard on the l-o-n-g flight back to the USA. My best advice
to anyone who does have the time, is to break up this return journey by spending another (last)
night in Jo'burg. It just gets to be too much to have an early morning activity, then fly to Johannesburg
in the early afternoon, only to have to face a huge long overnight flight back to the USA. Of
course sometimes there is no way around this, as was the case in our particular instance. The flight
itself was fine, but I was not. Something I had eaten at Vic Falls (come to think of it, the fruit looked
a bit suspect…) caused my digestive system to rebel which was not fun. Fortunately it was a short
lived event, by the following day (Saturday night) I was ready for a vegan barbecue sandwich at
Field of Greens…
All in all the trip was a great success though; I learnt a lot, saw several new places and camps, met
some really fantastic people and I am full of enthusiasm for the new year.
In early February Kathleen and I will be heading to Tanzania for a somewhat longer (2 week) trip, to
go and take a look at some of the southern Tanzania reserves such as Selous and Ruaha, and to
visit Ras Kutani south of Dar-es-Salaam as well as Zanzibar.